Finding Nemo: The Big Blue…and Beyond at Disney's Animal Kingdom
"In the Big Blue World!" That's a tune you're likely to hum along to after watching a performance of Finding Nemo: The Big Blue…and Beyond at Disney's Animal Kingdom.
If you can't get the song out of your head, you can always park-hop to Epcot later in the evening and ride The Seas with Nemo and Friends. Waits are usually less than five minutes after 7:00 p.m., but that queue takes a while to get through. (If you know, you know.)
In all seriousness, an updated Finding Nemo musical debuted a few months ago at Animal Kingdom. So I stopped in one afternoon to see the new version.
Below, we'll go over how long I waited in line, performance times, and the best way to exit after the performance ends. Additionally, I'll share my thoughts on the updated performance.
Spoiler–it's pretty spectacular.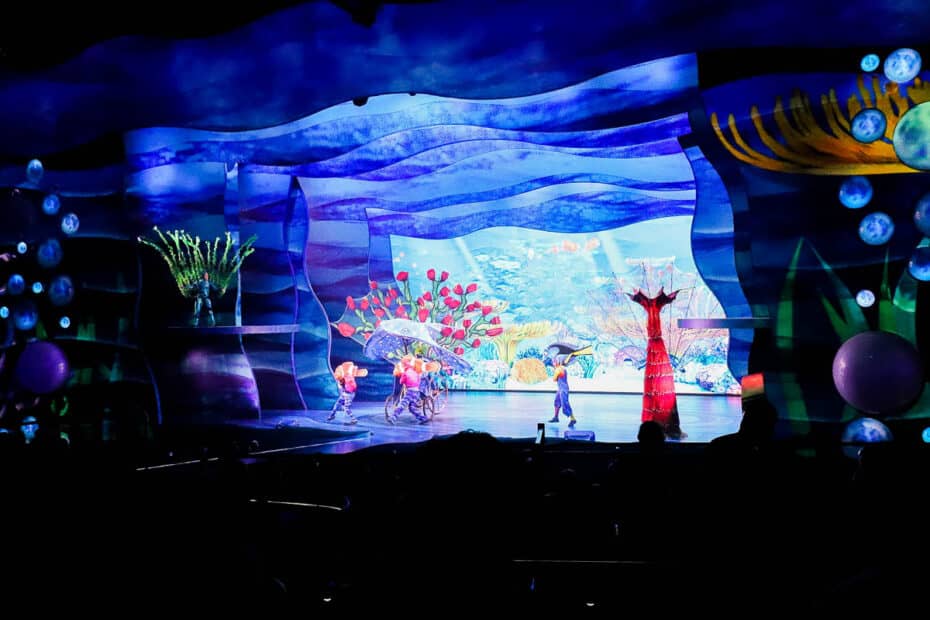 Finding Nemo: The Big Blue…and Beyond Review
It was an atrociously hot Sunday afternoon in the middle of August. My plans for the day were to visit Animal Kingdom and park-hop to Epcot.
However, it was so hot that I had decided I only wanted to go to Epcot. Unfortunately, my theme park reservation required that I visit Animal Kingdom first and at least scan my band.
Since it was nearly 2:00 p.m., I decided I would park my car at Animal Kingdom, trek to the entrance, scan my band, and leave.
I know. The whole idea of having to do this is as senseless as the current theme park reservation system. Spontaneity has been turned into a grand idea rather than an action.
Anyway, there were several things at Animal Kingdom that I needed to update. So ultimately, I decided to stay and headed to Dinoland for my weekly spin on TriceraTop Spin.
After that, I started to make my way toward Expedition Everest. That's when I encountered a long line waiting for Finding Nemo: The Big Blue…and Beyond.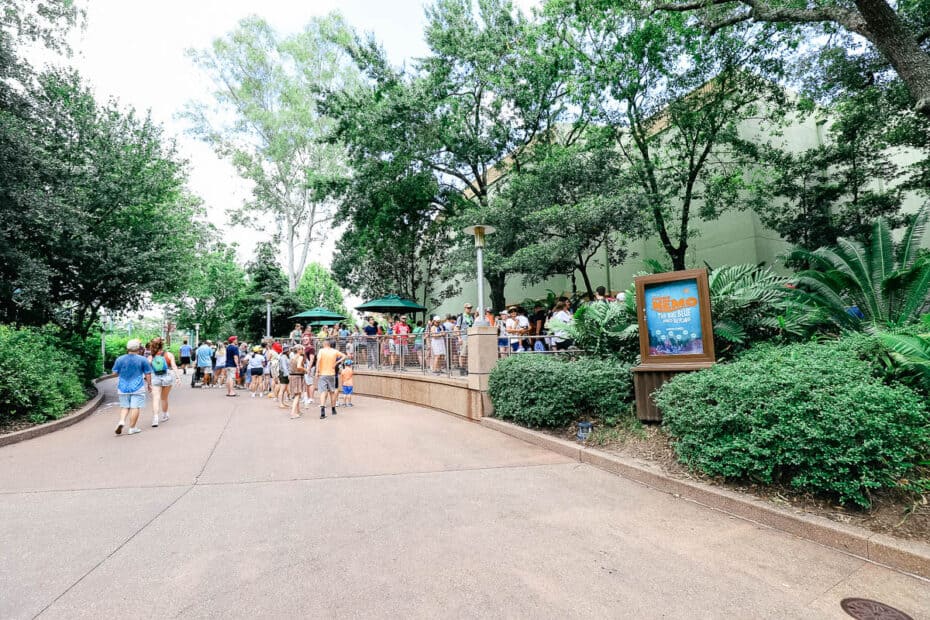 Okay, the next show was at 2:30 p.m., and it was currently 2:08 p.m.
Showtimes for this performance are typically at:
10:30 a.m.
11:30 a.m.
12:30 p.m.
2:30 p.m.
3:30 p.m.
4:30 p.m.
Of course, these times are subject to change. So make sure to check the My Disney Experience app or here on Disney's site for the exact times on the day of your visit.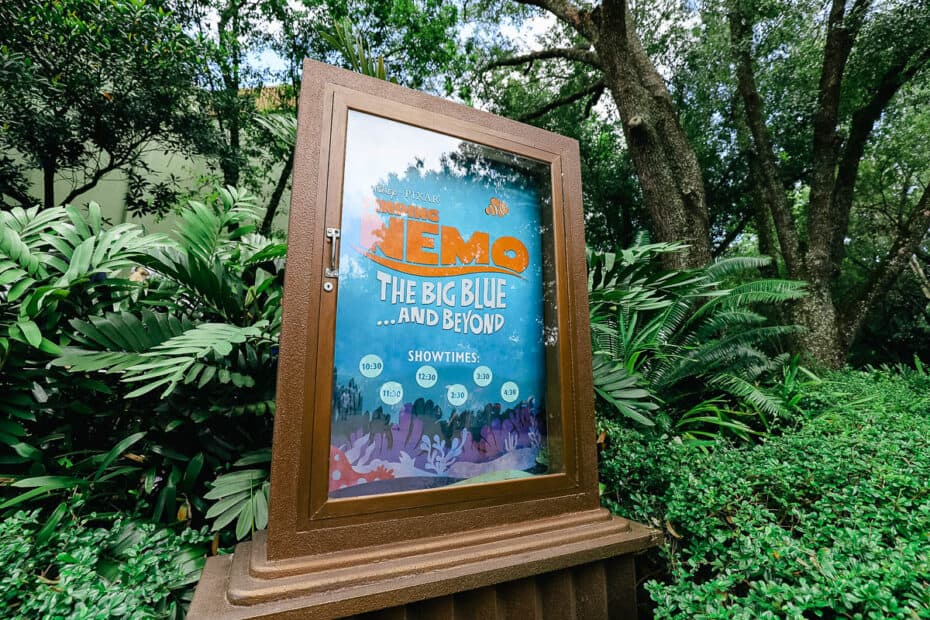 Since the line spilled out of the queue, I wondered if I would ever make it inside. It had been a while since I last saw Finding Nemo. Realistically, I knew the theater could accommodate quite a crowd, but it was hard to imagine all of these people fitting inside.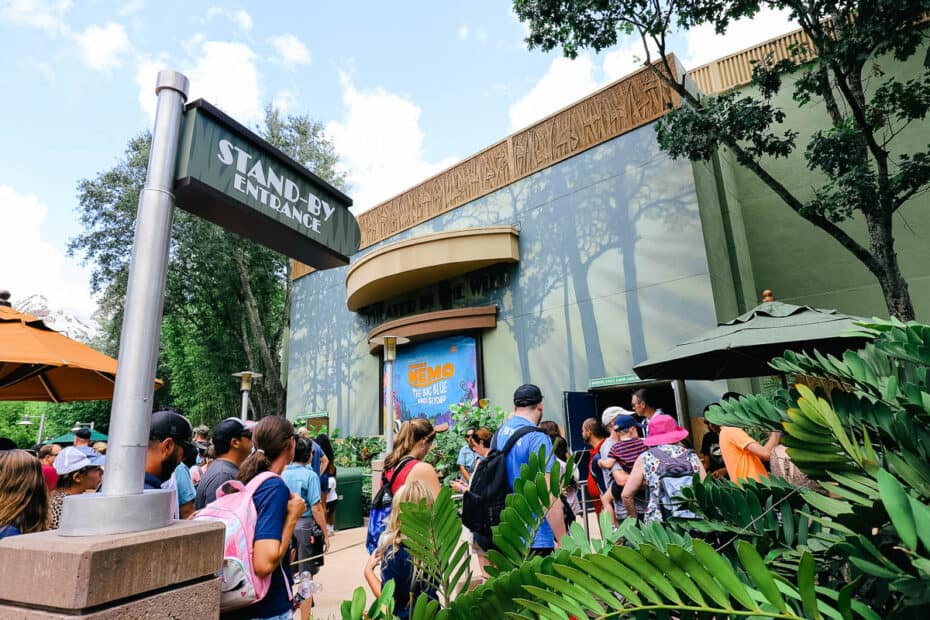 Surprisingly, I made it inside the theater and found a seat by 2:22 p.m. Regarding seat selection, some room was still available in the front section. But I opted to sit on the third row of the middle tier.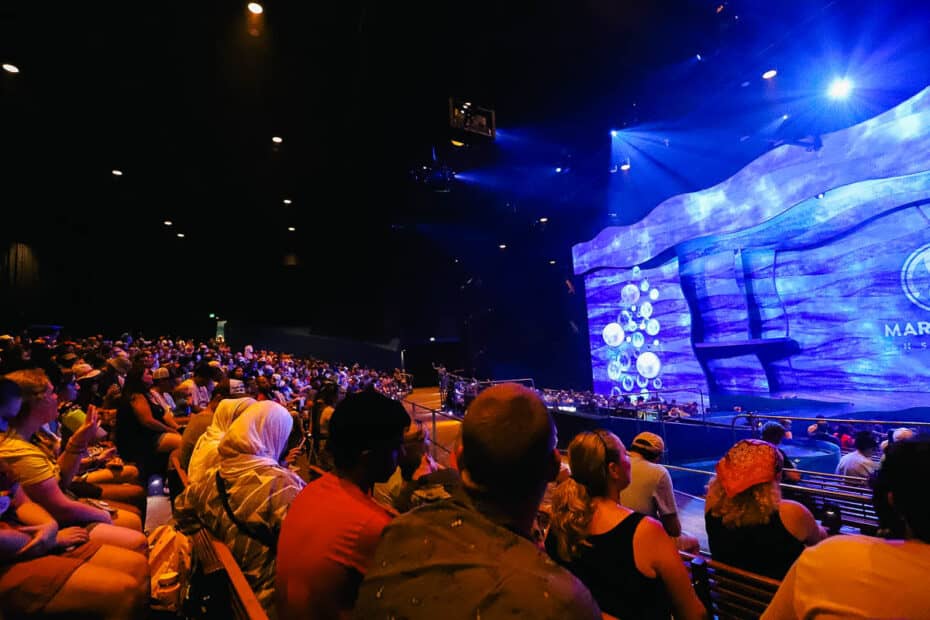 At this point, you might be curious as to whether or not you should use a Lightning Lane experience for this performance. In most instances, I would say you are probably okay without one.
However, if this show is important to you or someone in your family, it might be worth securing a Lightning Lane. You'll enter the theater approximately 25 minutes before the show starts.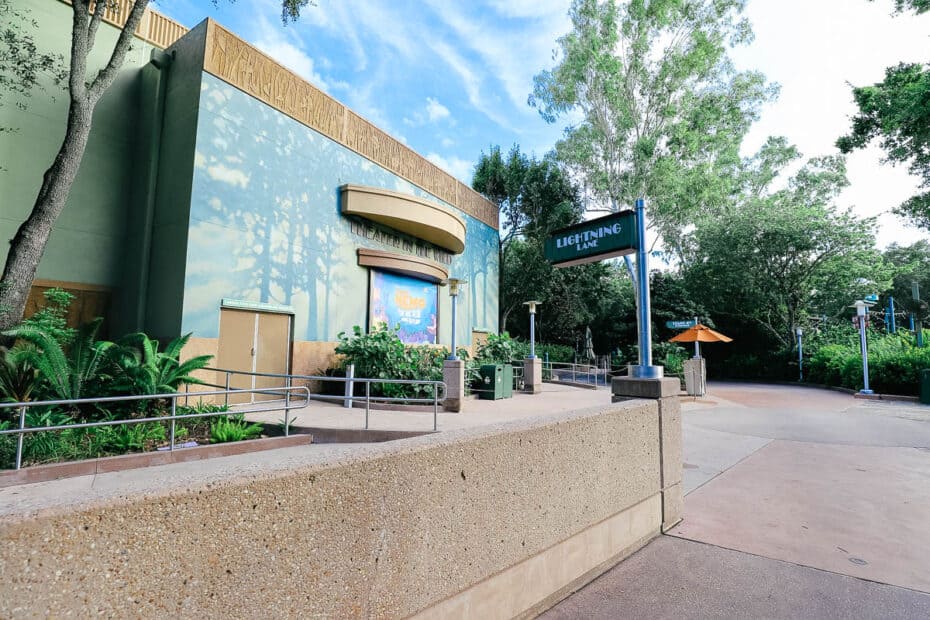 Getting into the theater early means being able to pick your seats. Most guests will want to sit in the front section close to the middle of the stage.
However, if you want a broader view of everything, I would sit as close to the front of the middle section as possible.
During various segments, some performers run along the walkway between the front and middle sections. So you will feel up close to some of the thematic elements during those moments.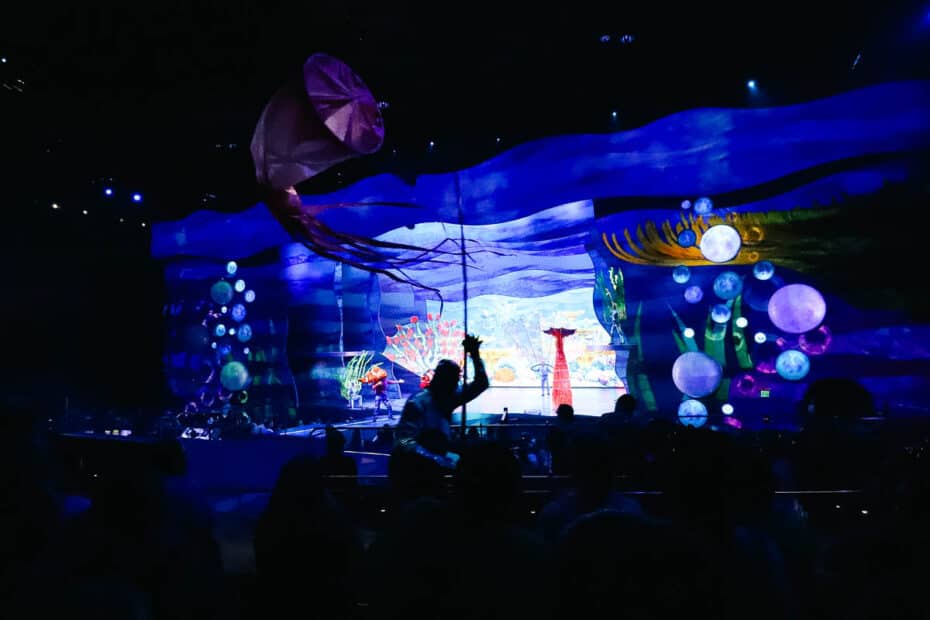 Seating in the theater is made up of benches similar to a baseball stadium.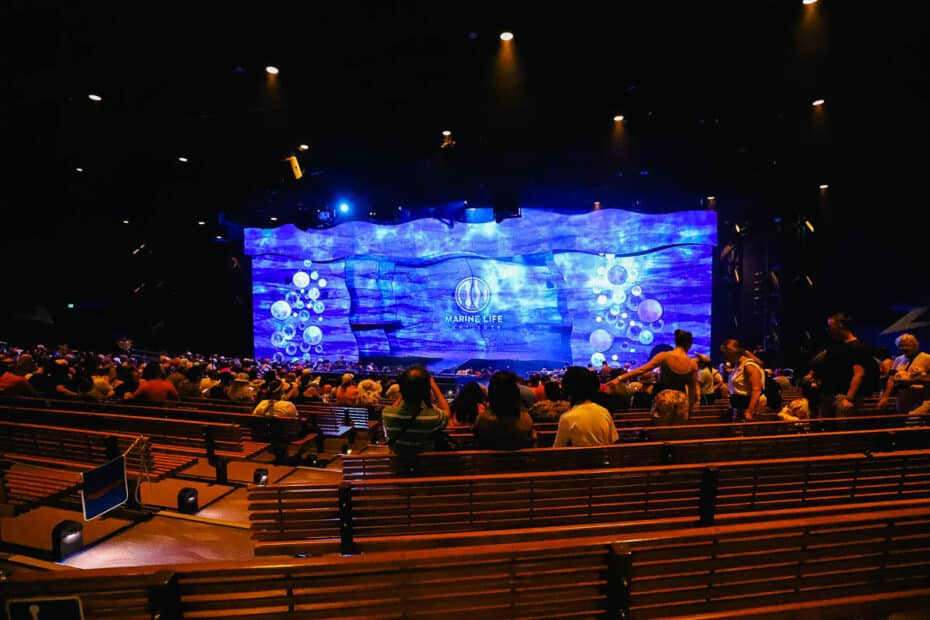 Finding Nemo began at promptly 2:30 p.m. and ended at 2:55 p.m. Therefore, if you use Lightning Lane to enter the theater early, you're probably looking at a total investment of an hour.
However, I got in line at 2:08 p.m. So there's not much difference unless you joined the standby line significantly earlier.
As the story goes, the show starts with Nemo and his dad swimming through the ocean. Nemo wants to get out and explore the big blue world, but his dad is reluctant.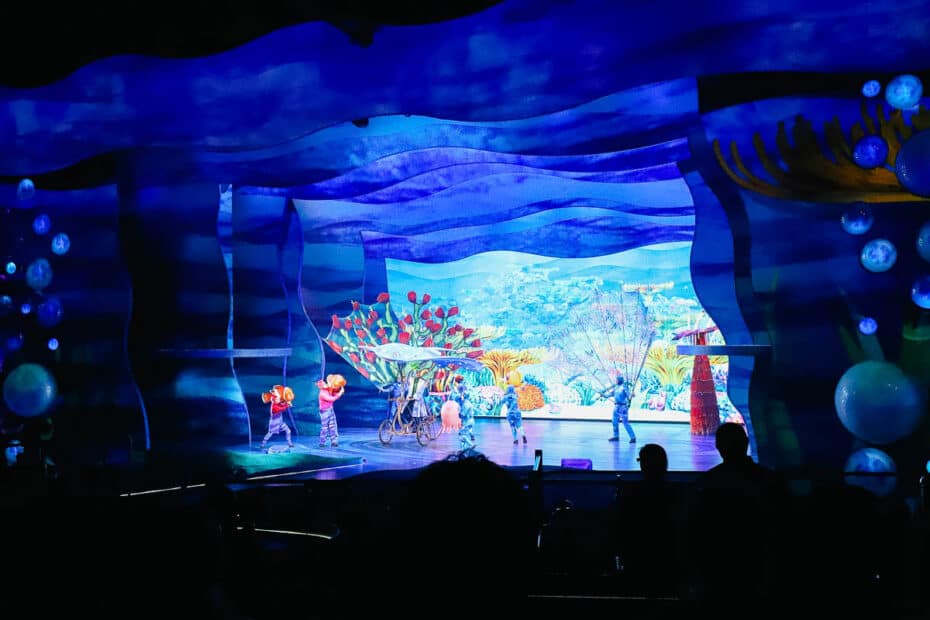 A disobedient Nemo goes off on his own regardless of his father's warning. Within a short time, he's scooped up into a fisher's net and deposited in an aquarium at a nearby dentist's office.
On his journey to find Nemo, Marlin meets Dory, who joins in the search. Well, as far as she can remember.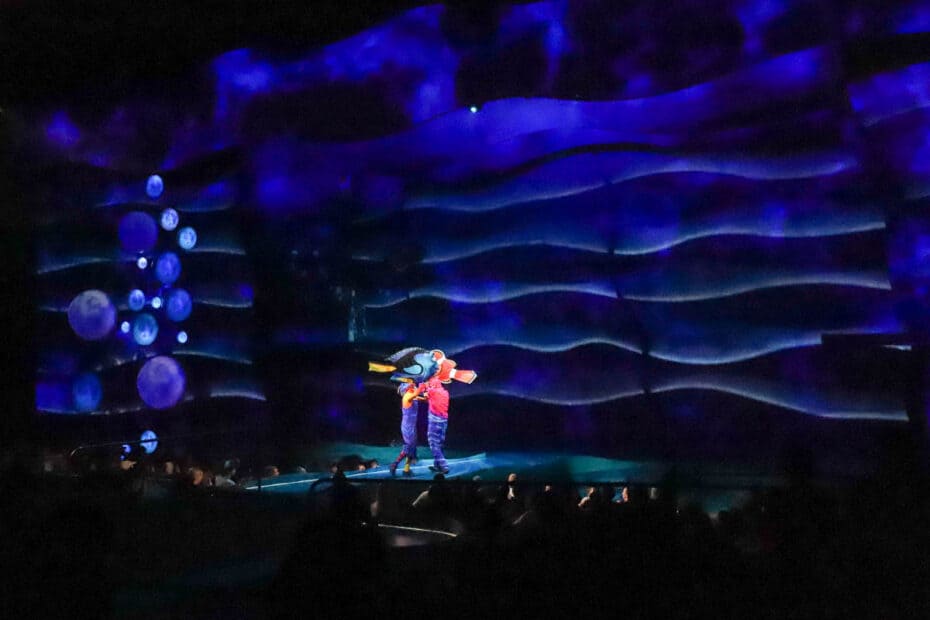 Along the way, they have a scary encounter with Bruce the Shark.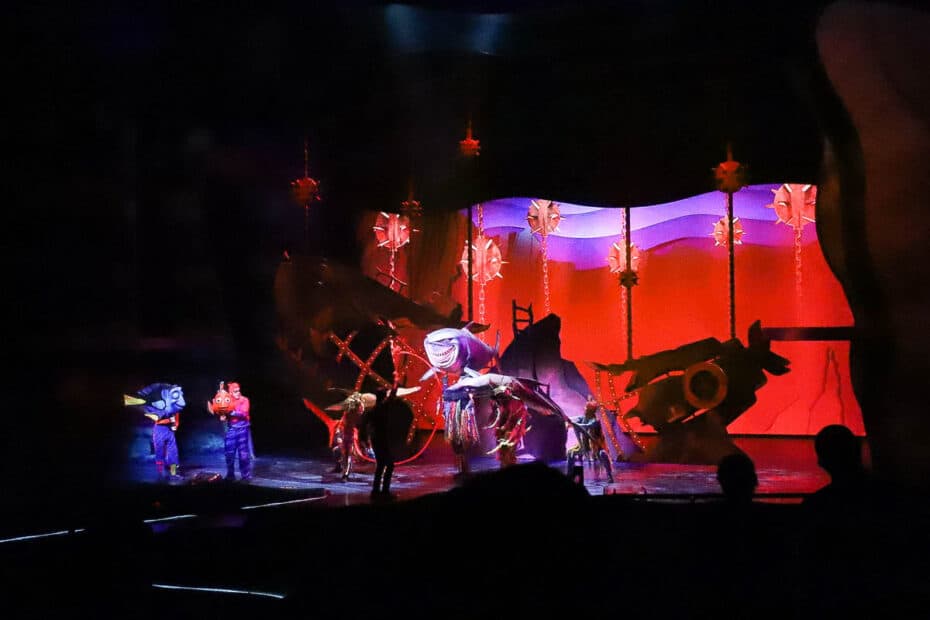 Soon after, they run into Crush, and the popular song "Go With the Flow" is performed.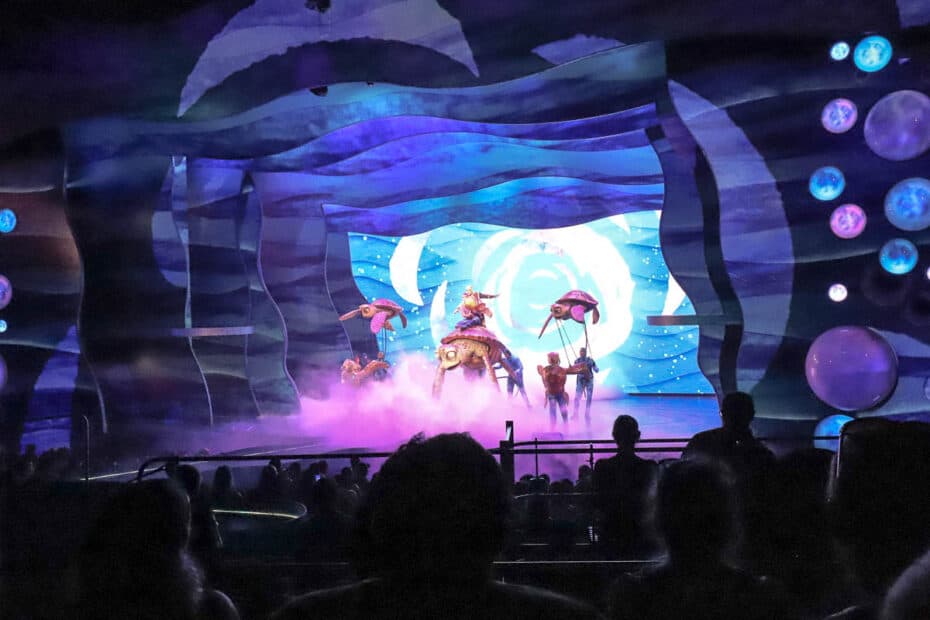 Meanwhile, Nemo and his new friends are hatching a plan to break out of the aquarium. If they don't escape soon, they'll meet the fate of Darla, the dentist's niece, who is coming in for an appointment.
She gets a new fish every time she visits, meaning the previous fish probably didn't fare so well under her care.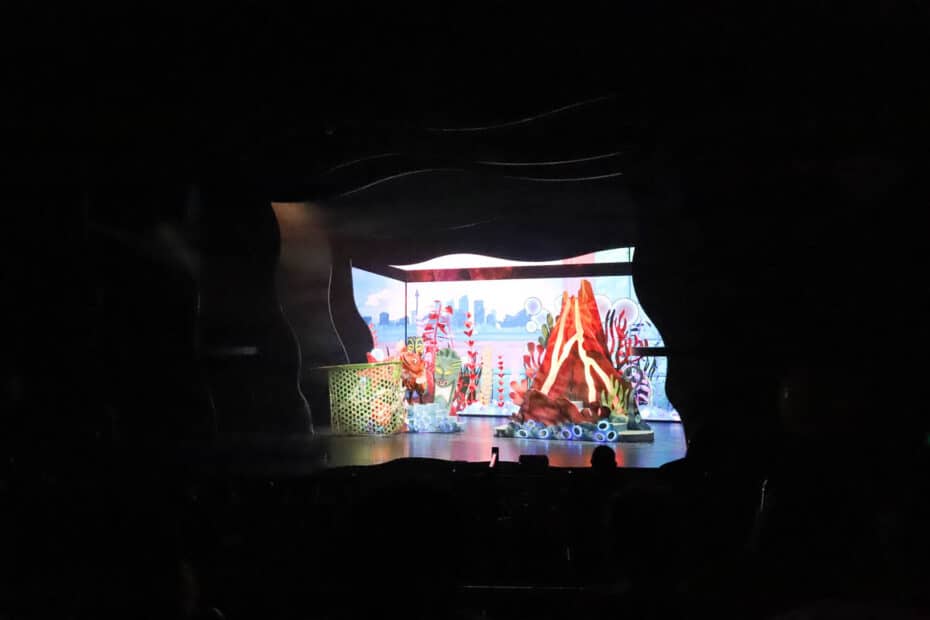 Ultimately, the plan works, and Nemo is reunited with his dad. Finding Nemo's finale features "In the Big Blue World."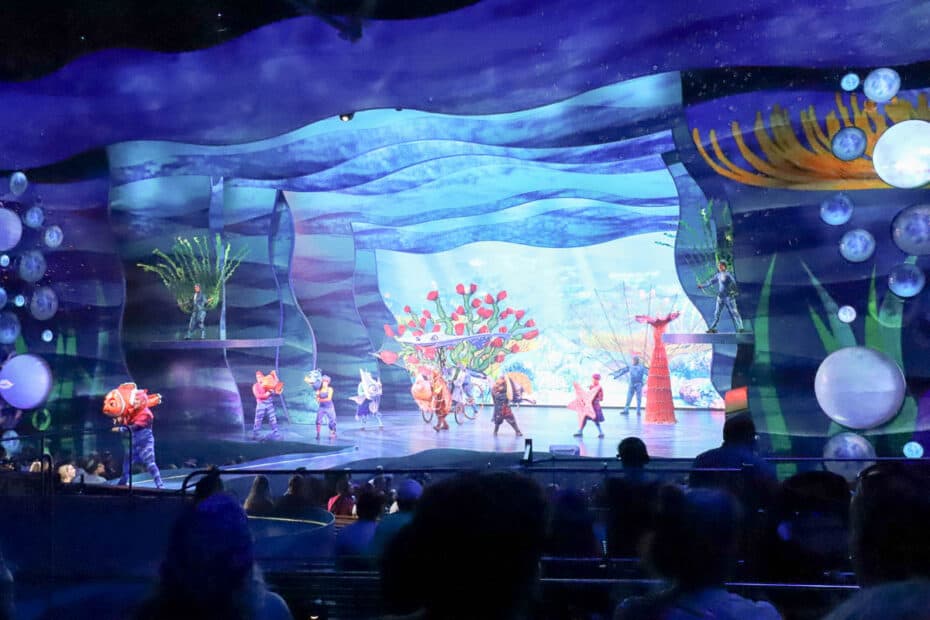 So we're back to humming along to the catchy tune long after exiting the theater.
Speaking of exiting the theater, I have a tip. Long ago, someone told me it was best to wait until after the show was over and the crowd had cleared before exiting.
Of course, that person was right, he was almost always right. Almost. And I'm sure he would want me to impart that same wisdom to you.
Since I try my best to do a good job at this whole blogging thing, I take a lot of notes. My notes for this day indicate the show ended at 2:55 p.m., and I waited for the crowd to clear.
By 3:01 p.m., everyone was out, including me lagging behind. Indeed, waiting those few extra minutes beats standing in a mass of people attempting to move forward any day.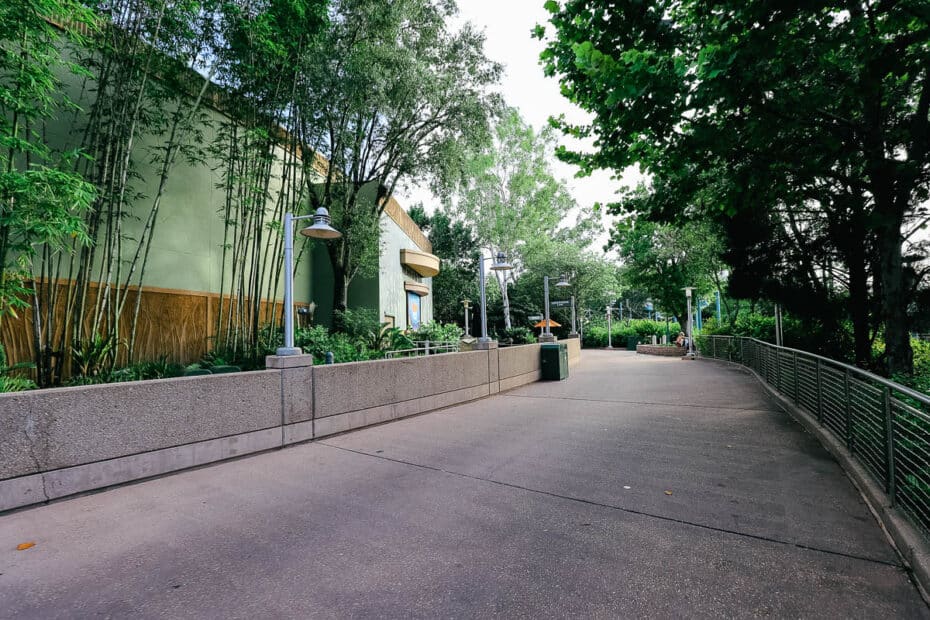 Overall the performance, actors, songs, and storyline were outstanding. Also, I decided that the next time I see the performance, I will try to sit in the front section.
Usually, I like to be able to see everything. But I have a feeling that sitting closer to the performance is an entirely different experience.
In the meantime, I have many other updates to get to on the site. Then we'll be back in the resorts and parks covering Christmas. Soon!
For more attractions at Disney's Animal Kingdom, you might enjoy these favorites:
In the comments
What are your thoughts on Finding Nemo: The Big Blue…and Beyond? Do you plan to take in the performance on your next visit to Disney's Animal Kingdom?