Primeval Whirl has permanently closed at Animal Kingdom in Walt Disney World. This closure coincided with an additional announcement that Rivers of Light, the nighttime entertainment for the park also closed for good.
Primeval Whirl is a spinning roller coaster attraction located in Dinoland U.S.A. at Disney's Animal Kingdom. The ride is dino-themed similar to the rest of the land. The most important thing to know about Primeval Whirl is that it has moved to seasonal operation in recent years. It's also a bit of a rough ride, let me explain.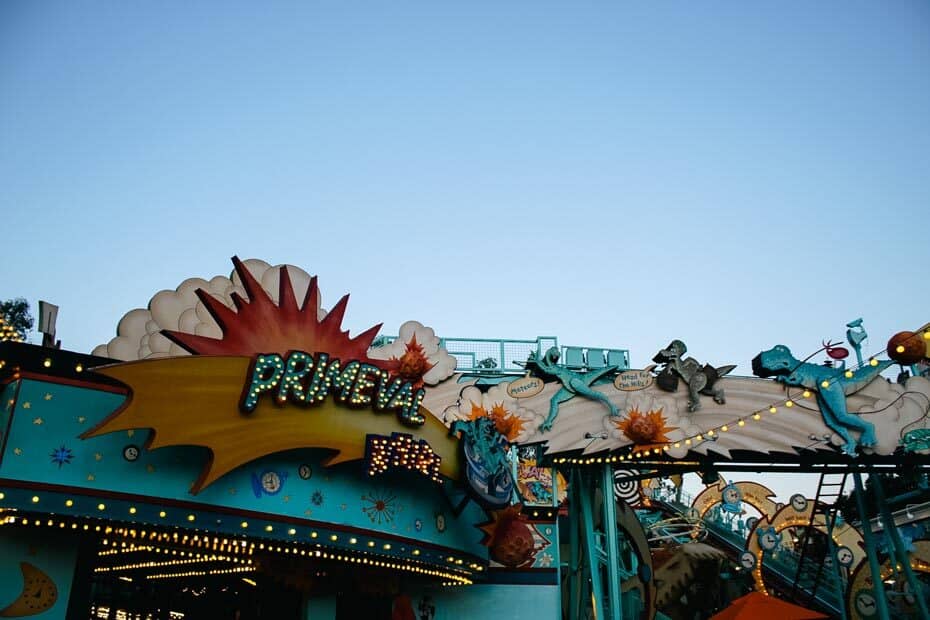 Primeval Whirl
Animal Kingdom

Location:

DinoLand U.S.A

Height Requirement at Disney:

48″

Animal Kingdom FastPass:

Yes

Ride Type:

Unique Spinning Coaster

Seats Per Vehicle:

Usually four

Disney Rider Switch:

Yes

Extra Magic Hours:

Mornings

Good For:

Thrill Seekers

Scary Factor:

High

Must-Do List:

Low

Perfect For:

Tweens, Teens, and Adults

Special Mention:

This attraction operates seasonally,
so it might not be open.
Primeval Whirl- Permanently Closed
While I've ridden Primeval Whirl quite a few times over the years, it's not an attraction that I would recommend for most. Primeval Whirl also ties with Rock 'n' Roller Coaster for having the tallest height requirement at Walt Disney World. This one comes in at a full 48″.
A few years back my niece had ridden Expedition Everest, so I only assumed she would be able to ride Primeval Whirl. And that wasn't the case when we were stopped outside the attraction by a cast member for a measurement. The cast member mentioned they really had to watch because most guests just assumed they could ride it, as we did.
Primeval Whirl does have overhead restraints that come down over you after you sit down in the spinning contraption. Not only that but the restraints are large and pull down over two to three people squished together in one seat area. We usually ask to ride in our own restraint, but if you are riding with someone smaller they'll probably lump you together.
It wouldn't be so bad, but the ride is pretty rough. If you have physical ailments, I wouldn't recommend riding it. The way things are looking lately, I probably won't be riding it anymore either. It might warrant a trip to the chiropractor for an adjustment or worse.
The idea of Primeval Whirl is you are traveling in a time machine back to the Pre-historic era where dinosaurs are beginning to experience a little impending doom. You'll find yourself dipping and dodging a few meteor showers. These sudden jerky movements mixed with spinning are what makes the attraction so unpredictable and rough.
Over the years, we've had a few laughs on the ride, and overall teenagers seem to love it. At least mine does. So like anything else at a theme park, ride at your own risk, but maybe consider your risk a little greater on this one.
Visit the entire list of rides at Disney's Animal Kingdom.
Or you might enjoy these other thrill rides in the park: