New! Disney Genie Service Details for Walt Disney World
Disney just announced a new service, Disney Genie, that will change the way you experience the Walt Disney World parks!
The new Disney Genie service will be built into the existing mobile app and can be used to create an itinerary, find the best times to ride favorite attractions, join a walk-up list for dining locations, and so much more.
It's like having your own personal assistant in the palm of your hand. Wait! Did I forget to mention it has a personal assistant feature inside the app? The video Disney released today shows the example of a guest asking, "How late does the monorail run today?" Genie answers!
With this new technology, it appears guests will not have to worry about missing out on any of the magic waiting for them around every corner! However, some features do come with a price.
Let's take a closer look at the details!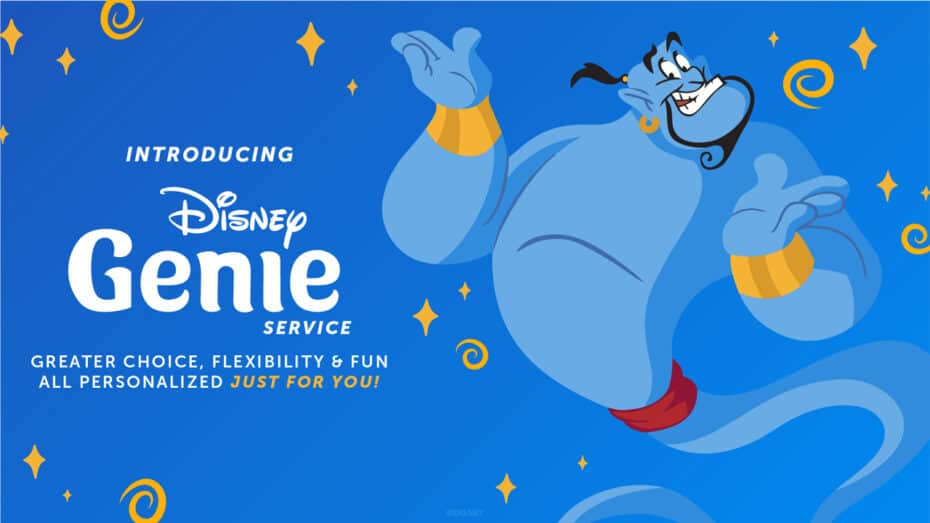 Disney Genie for Walt Disney World
Here's a brief list of what we know so far about Disney Genie. We'll expand on each of these items below for more details. Most of you will be interested in learning about the two options for the Lightning Lane entrance.
Built into the existing mobile app, My Disney Experience.
Provide Genie with your wishes and it will create an itinerary.
Itineraries update continuously.
It helps predict when you can experience quicker access to attractions.
Provides a Tip Board that will display all your favorite things.
A virtual assistant is built into the app.
Two different options for purchasing access to Lightning Lane.
Audio Experiences in the Disney Parks
New Disney Photo Pass Options
Easy Access to join restaurant waitlists, make dining reservations, and mobile order.
For starters, you won't have to download a new app to have access to Disney Genie. It will be built right into My Disney Experience. These new features will be immediately available within the app when Genie goes online this Fall.
Next, you can tell Genie what your wishes are for the day. Per the video, Disney shows guests selecting favorite items like princesses, favorite snack options, and desired attractions. By letting Genie know what you want to do, it will begin to create an itinerary for your day.
Additionally, the itinerary is supposed to be continuously updated throughout your day. That way, if a ride goes down or waits times skyrocket, it can adjust your schedule to provide you with more ideal rides or experiences. The idea behind this is that it will improve your experience while reducing your wait times.
It sounds to me like that original underpromise, overdeliver method that Disney has been so well known for in the past. Hopefully, this new Genie works out.
Speaking of updating, the new addition to the app will work to help you find the best times to experience attractions quicker in the parks. It appears that Disney will use their data to project the best times for you to experience popular rides in standby.
Genie will also provide a Tip Board. This is supposed to collect your favorite items and provide them all in one easy-to-access place within the app.
One of the features that piqued my interest was the virtual assistant. We will definitely be testing this out in the parks to test the accuracy and benefit of the information it provides.
Here is the video from Disney with the initial announcement.
Disney Genie Brings the Lightning Lane Experience
Okay, let's get to the most anticipated news, the Lightning Lane. This is the big, new experience that Disney Genie brings to the table for Walt Disney World.
There will be two options for accessing this new Lightning Lane entrance to rides. Additionally, it appears that in some instances, you'll want to use both of these options in conjunction with each other.
Disney Genie+
Individually Selected
Per the Disney Parks Blog here, the Disney Genie+ (Disney Genie Plus) at Walt Disney World will cost $15.00 per ticket per day. This is an item that will be purchased with your tickets initially.
The Genie + upgrade will allow you to choose the next available time for a number of rides and grants you access to the Lightning Lane entrance. You will be able to select one attraction at a time as you go through the day. The announcement mentions that this service will be available at popular attractions like Big Thunder Mountain Railroad and fan favorites like Haunted Mansion.
The second option is to individually purchase a time to arrive at 1 or 2 specific attractions (per park) and access the Lightning Lane. Pricing for this option will vary depending on the date and the attraction. Apparently, this option will be for the big-ticket rides in the park, like Seven Dwarfs Mine Train at Magic Kingdom or maybe Flight of Passage at Disney's Animal Kingdom.
This video from Disney doesn't specifically list the attractions that will be included in the "individually selected" options. However, it does clarify (at about 1:14 minutes in) that different attractions will be offered with the Genie + version. Reminder, Genie+ is the option that you pay in advance, not the "individually selected" options you'll purchase on the day of your visit.
The video goes on to say that over 40 attractions at Walt Disney World will be available within the Genie+ service. In addition, the new Lightning Lane entrance will replace the former FastPass+ line in the parks.
At about 6:22 minutes in the video above, Disney goes over how the Genie+ will work. They explain that you will select the next available time for the attraction you desire to experience. I took this screenshot below to point out a few things.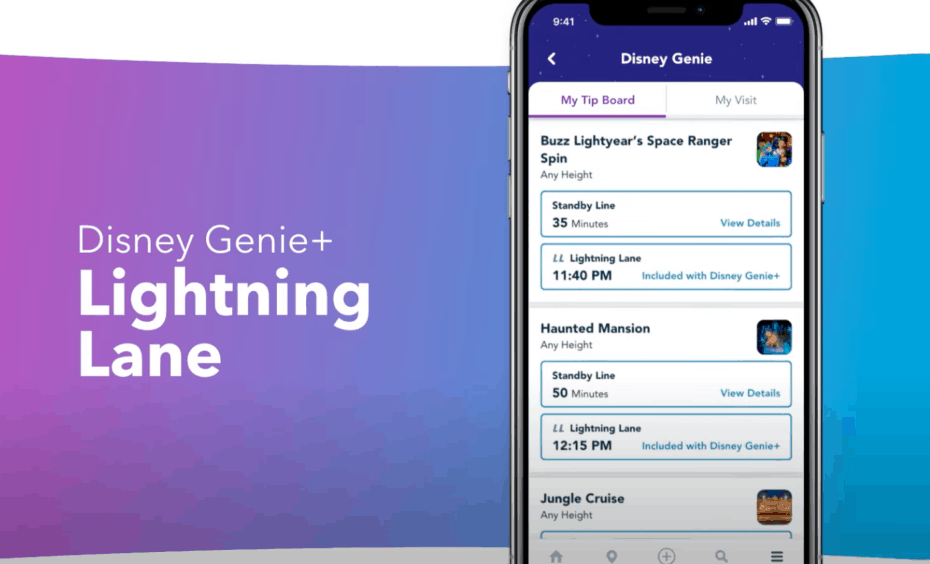 For starters, the time on this person's mobile device is 9:41 (presumably a.m.) and it appears that there are attractions listed with the current standby line or the option to select Lightning Lane. Remember, you can only use one Lightning Lane at a time with the Genie+ service.
So you will want to choose wisely and select the one closest to your current time. That is, the attraction that you want to ride, that's closest to your current time.
After making your selection, you'll return to that attraction at the arrival time provided in Genie+.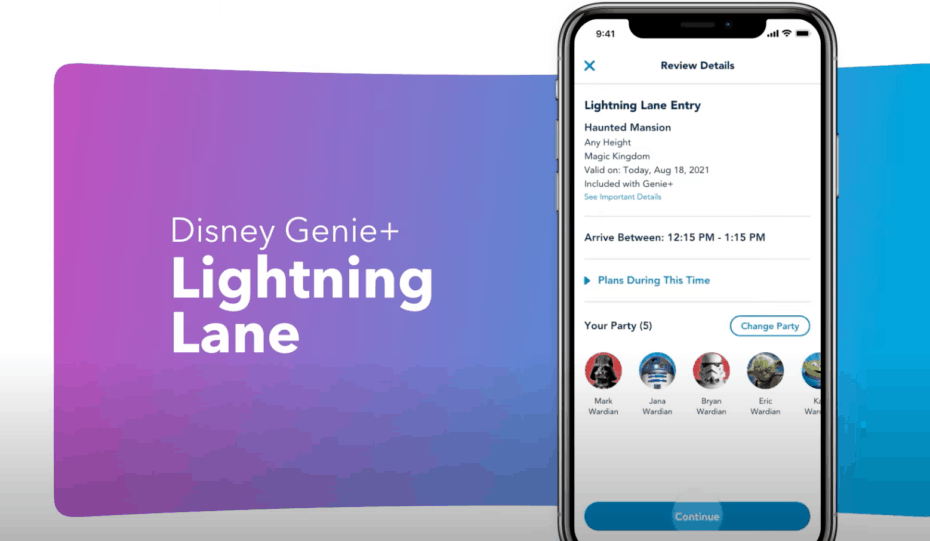 As to when you can select the next ride, it will likely be after you join the queue for the attraction. Or it could be at the end of your Genie+ arrival window. This is not specified yet.
Initially, at Walt Disney World all guests will be able to make their first Genie+ selection at 7:00 a.m. the morning of their park day. Remember Genie+ is purchased in advance with your ticket.
The "individually selected" attractions for Lightning Lane can be purchased at the park opening. However, on-site resort guests will have the advantage of being able to purchase Lightning Lane at 7:00 a.m. on the day of their visit.
Initially, annual passholders will be able to purchase Disney Genie+ on the day of their visit. In the video, they say at the launch of the product this will be the option, but they will be exploring different options as they move into the future. It sounds like they want to see how their passholders respond before they make a full commitment.
Per the announcement, all rides will be subject to availability. All attractions will continue to offer standby or a virtual queue like Rise of the Resistance.
Genie+ will not be a requirement. It will truly be a plus item that will hopefully enhance your day.
Additionally, Disney confirmed that they are retiring the FastPass+ program at Walt Disney World. And their article suggests that this new transition for extra-cost ride experiences will be an overall improvement, even if you elect not to participate. As with all things, time will tell.
Other Disney Genie Details
Other details that were released about the new Disney Genie include the following:
Improvements will be made to Disney's Guests with Disabilities Access Service (DAS). There is no formal announcement yet. However, the Parks Blog notes that guests will be able to enroll in the service before their trip. Additionally, it says there will be the option to select certain attractions from within the app.
New audio experiences will be available at certain places within the Disney Parks. We'll have more details as this becomes more clear.
Additionally, at Walt Disney World, there will be new "augmented reality photo lenses" for guests using the Disney Photo Pass service. This technology adds digital content through the camera lens to your surroundings, creating a "live" effect.
Lastly, one of the things that caught my attention with the new announcements was the dining part. Similar to My Disney Experience, guests can use Genie to make dining reservations, mobile orders, AND join walk-up lists at restaurants.
This is a huge deal for guests who decide they want to eat table service and don't have a reservation. Or perhaps you never were able to secure a reservation for that coveted dining location, and maybe, just maybe, there will be an option to join a waitlist? While that remains to be seen, I am hopeful that more options to dine will become available without the constant need to pre-plan.
Final Thoughts on Disney's Genie
Disney's newest service, Disney Genie, is set to launch in the Fall of 2021. With it comes the option to upgrade to Genie+, a new, paid subscription service that replaces the old free FastPass+ system.
Here is an infographic Disney has provided that goes over the Key things To Know for Genie+.

Personally, I am hopeful about this new option. We'll take a closer look in the future at how this new service works. As a Resorts Gal, I don't mind the idea of paying a little extra if I really want to ride something. And sometimes, I don't mind standing in line for a sought-after attraction. Just not all the time.
The idea of doing everything I want in the Parks and still getting to enjoy plenty of time around the resorts sounds appealing. But we'll reserve the rest of that judgment until we see how it all plays out.
As more details emerge about how this new feature works, we'll share our thoughts here! What do you think? Will the new Genie+ service improve your next vacation? Or are you upset about the loss of FastPass+?