Printable Walt Disney World Packing List (2022)
Time to start packing for your Walt Disney World Vacation? Don't want to forget anything? Below you'll find a printable Disney World Packing List.
When it's time to start thinking about packing for a Disney vacation, the more you realize it isn't your average vacation.
Not only that, but you might even have plans to stay at the Walt Disney World Resort. Meaning you probably won't have immediate access to transportation off the resort property. Many people fly and travel directly to their resort from the airport.
After arriving, many guests spend the entire week getting around Disney using free transportation options. And if you were to forget something, you probably won't have immediate access to a car to drive into town.
If this sounds like your situation, you probably need our Disney packing list. Plus a few tips to help you plan, along with guidance for items you don't want to forget.
This review provides you with a free downloadable and printable Disney World packing list. It's designed as a fillable PDF, so you can check it off as you go. I've also placed blank lines in areas where you can type in extra items that might apply to you specifically.
I recommend printing out the packing list and highlighting all the items you need. For example, some things on the list might not apply to you, like baby essentials.
When packing, check the highlighted items as you add them to your list.
Toward the bottom, I'll share a few products that I use when I visit the parks. These may be items you already have and haven't thought about packing.
Or they could be something you might want to purchase pre-trip to avoid higher prices while on vacation.
Keep in mind that these are only suggestions. Like the items on the packing list, you might not need every single one of them.
Disclosure: There are affiliate links on this page, meaning Resorts Gal may be compensated if you make a purchase. These come at absolutely no cost to you and help support our business.
Disney World Packing List
Whether or not you are staying at a Disney resort, this packing list will help you establish what you don't want to forget before leaving. For many years prior, we made a nine-hour driving trip down to Orlando or a one-hour trip by plane on an average of six times per year.
The trips we made via airplane were much more stressful to pack for than when we had a vehicle.
So I came up with the idea to make a packing list that will accommodate most groups. I will admit that the trips we made in our vehicle, we almost always ended up at some point with a grocery store or Target run.
However, these trips were usually for extended stays where we spent a week or more on Disney property.
With that being said, here is the Disney packing list I came up with, considering every potential item you might need.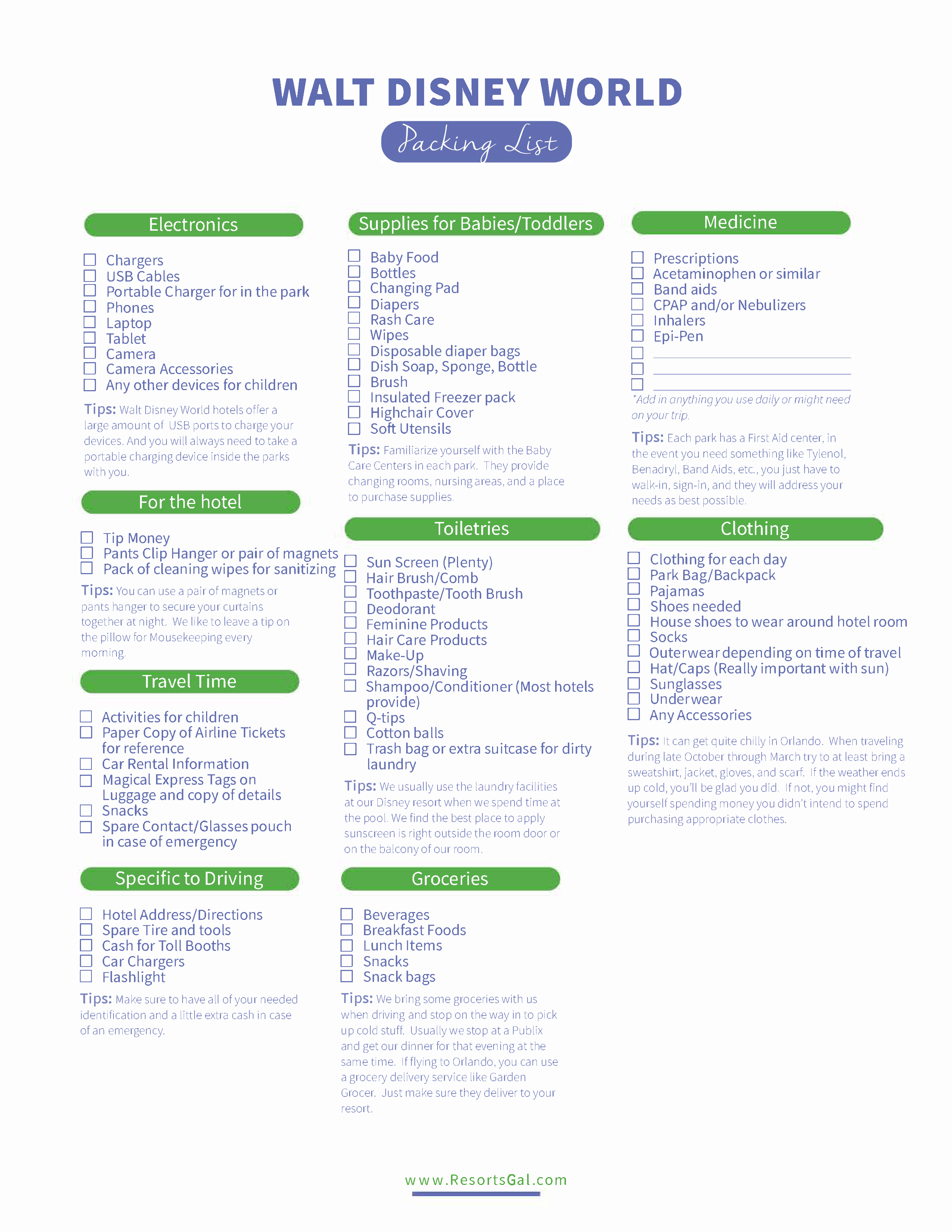 You can download the free PDF Disney Packing List here.
Disney World Packing Tips
As you might tell, I've added a few tips underneath each section of the packing list. These tips are all from experience. Hopefully, the list will provide insight into what you might need.
Electronics: Walt Disney World offers many USB ports to charge your devices. You'll find a significant number of USB ports in all the more updated hotel rooms. With that being said, I would never visit the parks without a portable charger.
If you use the My Disney Experience app for touring, you'll be on your phone quite a good bit. I almost always run my initial phone charge out. Often, I then use the majority of my re-charge.
Baby Care Centers: Each park has particular areas known as Baby Care Centers. Any of you traveling with a small child will want to familiarize yourself with these locations before visiting. Baby Care Centers offer private changing rooms, nursing areas, and a place to purchase extra supplies.
First Aid Centers: I always recommend taking a small plastic bag of any needed medicines or emergency items with you in your park bag. Thankfully, every park offers a first aid center if you were to need an unexpected item like Tylenol, Benadryl, or maybe even a Band-Aid.
All you have to do is walk in the center sign in, and someone at the desk will address your need as best possible.
I visited a center to pick up a Tylenol one day when I had a headache. And then we visited again on another occasion where my son was experiencing an allergic reaction.
So if you are in the park and begin having an issue, stop here. If your issue were to escalate, this would be the best place for you to get help quickly.
For the Hotel: I have a tip for those who fear being awakened every morning by light streaming in where the curtains don't fully close. You can use a pants-style hanger or hanger with clips to secure the curtains together.
Most hotel rooms have these types of hangers. You might also bring a pair of magnets with you to do the trick in securing hotel curtains.
We almost always plan a day at the pool when we are on vacation. Nearly every resort has a laundry facility located by a quiet pool area.
Doing a load of laundry or two helps minimize the number of clothes you need to bring, especially when you're restricted to suitcase weights while flying.
You can use the LaundryView site here to see what machines are available before heading down. Set the site to your specific resort and save this on your phone.
You can also use the allergy-free detergent boxes available. They run about $3 per load, but I find this is more reasonable than traveling with laundry detergent.
Don't forget sunscreen, and remember that even on a cloudy day, you'll still need it. I have found that the best place to apply sunscreen is on a hotel balcony when available.
If no balcony is available, then stand right outside the doorway of your hotel room. Just remember to keep your magic band on if the door closes and you need back inside.
Clothing: While it's not always the norm, it can be pretty chilly in Orlando from October through March. If traveling during these months, I recommend bringing a jacket, gloves, sweatshirt, and a scarf.
If the weather ends up cold, you'll be glad you did. However, when you don't bring these items, you'll likely spend extra money in the parks for something you only temporarily need.
Driving: Make sure to have all the necessary items listed for driving, but keep your identification and a little extra cash handy. And don't forget those quarters and dollars for the Florida toll booths.
Once you reach the Florida Turnpike, you'll probably go through at least three toll booths before arriving at Walt Disney World.
*Since I originally wrote this article, most of the toll roads in Florida are pay-by-plate. They'll send you a bill when you get home.
Groceries: We usually bring non-perishable items when driving and stop at a Publix grocery store closer to Disney for a few colder things. Our habit is to drive all day, eat lunch in the car, and eat a late supper when we get to Disney.
Often we pick up chicken or something from the deli to eat when we get to our hotel room. Then we'll usually have a few leftovers to enjoy sometime the next day.
We would pick up other items like sandwich meat and microwaveable bacon to help us save the cost of a few meals and snacks while on vacation.
If you fly to Disney, you can use a grocery delivery service like Instacart. Just make sure they deliver to your resort before placing the order.
I've also added a few Disney park bag packing tips to help eliminate mess and keep you hydrated. They include:
Wet Wipes: These are great when you grab one of those Mickey Ice Cream Bars to sit down and enjoy while you are waiting on a parade. Nearly every single time I'm at the parade, I pull mine out and share them with a nearby mom.
Their kid is usually a mess, and after you've been waiting for the parade, the last thing you want to do is get up and fight the crowd while simultaneously missing the Festival of Fantasy parade and/or not being able to get back to your area.
Portable Chargers: This is my number one item not to forget! Please make sure you remember to charge them daily.
Water Bottle: In recent years, I started carrying a water bottle with me on my daily visits. Taking my own water bottle is a habit I wish I had made earlier. Nearly all counter services offer a free cup of ice water by request.
I prefer to get my free cup and then add it to my water bottle. I've had a few good water bottles and a few not-so-great ones.
I'll share down below which one I currently use in the parks. You might also want to fill your water bottle up with ice before leaving the hotel every morning.
Here are some of my favorite items for a Disney vacation, along with some essential things you should think about before packing.
All the ideas on this list are available on Amazon Prime with 2-day shipping, so if you procrastinate on getting a few items, you can get them quickly. Of course, if you don't already have Amazon Prime, you can always grab a free trial here.
Many people want to know the best backpack to carry to Walt Disney World, and the answer is quite a few. These are all backpacks that I am very familiar with and have personally brought to the Disney Parks.
First is my current backpack, the Alice in Wonderland medium city pack by Kipling. This backpack is my newest addition.
But I've carried a similar style Kipling backpack for the past two years. If Alice doesn't meet your fancy, you can check a variety of their backpacks and other styles here.
As far as best Disney backpacks go, I can also recommend Jansport. My prior backpack we used in the parks for over eight years was a Jansport, and it stayed in pretty good shape.
In fact, I recently had to force my son to throw the backpack away because it was beyond well-worn.
If you want something that you can use for other trips, a solid color backpack like these will work as well. Just make sure you get the size that works best for you!
Speaking of the size, you might also like the mini Disney Loungefly backpacks review. These are probably the most popular backpacks right now, and you'll surely see a lot of them while spending time at Disney.
When in the parks, you'll want to carry a few ponchos. As for me, I prefer the disposable kind.
That way, you can use them and throw them away when you are finished. If you get to Disney and have to purchase one, you'll end up spending a good $15 per poncho.
With that being said, sometimes the disposable ones are hard to find in kid-size. A few family packs are available here, but I haven't tried this kind.
I can tell you that adult-sized ponchos are typically too large for a child to wear. And that's how I ended up purchasing a more expensive poncho for my niece. We still have that poncho and use it when she visits with us.
Below is the portable charger I carry with me in the parks. I've had one for several years now and have gotten my money's worth with the one-time initial investment.
There are a few more options available here.
Often I see children waiting to meet characters and parents scrambling to find something they can use for an autograph book. It's usually because all the other kids are getting their books signed ahead of you.
The autographs are a big deal for kids, and the characters all sign in unique ways.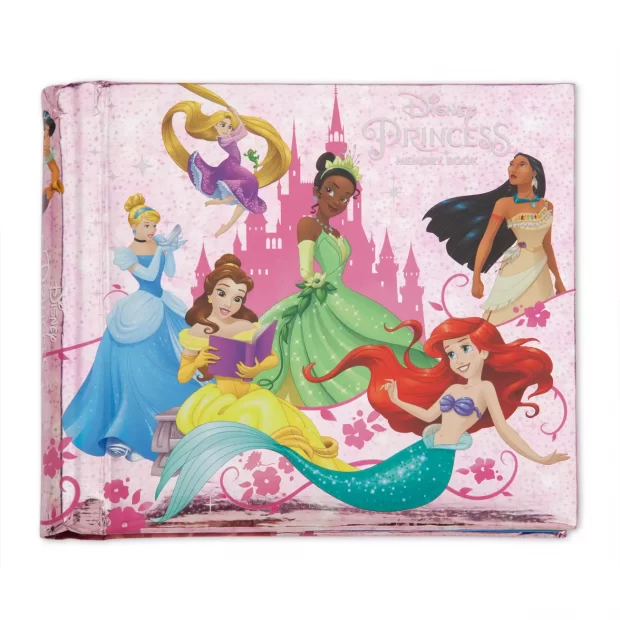 Make sure to pick one up and pack it in your park bag in advance. These are great for use at most character meets and character dining. You can find the ones I recommend here on shopDisney.
Shoes are probably one of the most important factors to consider when packing for Walt Disney World. They are also a very personal choice, so if you have a brand that works well for you, stick with them.
I've tried many different kinds of shoes, and these are the ones that I wear.
These Crocs Meleen Twist Sandals have worked well for me over the past five years. I own several pairs of them and wear them around the house, to the parks, and the water parks.
Initially, they usually wear a bit across the top of my foot when I'm breaking them in. So please make sure that you break in any shoes before your visit. You can find these here.
Since I originally wrote this article, I've also started wearing Hoka recovery slides. You can find them here on Amazon. I wear them everywhere!
A few years ago, I began working out with a personal trainer. She immediately observed my tennis shoes and informed me I wasn't getting the support I needed. Little did I know! She suggested I purchase ASICS.
At the time, I thought she was crazy because I wore expensive shoes that had a good reputation. I can't tell you the difference these made, and for the most part, they come in at a lower price than the brand I formerly wore. This is the pair I'm currently wearing.
There are a variety of styles available here.
Lastly, here is a pair of dressier sandals for an evening out. These fun shoes get me compliments every time I wear them, and they are incredibly comfortable and affordable.
Now I wouldn't wear them out on an average date night, but I would and do on Disney date nights!
I've had good luck with the Baretraps brand and also own these:
You can shop all of the Baretraps available on Amazon here.
Hopefully, this Disney packing list and tips provided you with a few helpful ideas for your vacation! For more information on planning a Disney vacation try these articles:
In the Comments: Did you find this Disney World packing list helpful? Are there any major items we left out? What is the most common thing you forget to pack for vacation?