Photos: Christmas at Walt Disney World
Christmas is nearly upon us! And since I know you are likely preoccupied with other things, I put together a few photo posts from my travels over the last few months.
This article will look at Christmas photos from Walt Disney World during the holiday season. Disney's holiday season started reasonably warm this year before turning briskly cold. Temperatures in the mid-fifties are briskly cold in Orlando, in case you were wondering.
Surprisingly (?) a heatwave came through during the early portion of December. I more than welcomed the warm temps (we're talking 85 degrees in the morning and 75 at night) and the ability to stay out later without feeling like I might freeze.
Unfortunately, another cold wave is on its way, and I fear I'll have to bear it since I've returned home for the holidays. Besides, I don't usually travel to the Orlando area during the first two months of the year. So I'm settled in for the long run of winter.
As for the Christmas holidays, I wish you, your family, and your friends the merriest season. But, most of all, I wish good health to all of you. Additionally, I want to thank you for any time you might have taken to read this blog. It means so much.
We've all had a rough go over the past few years. I've yet to decide whether or not the timing of starting this website was a good thing or a bad thing. Either way, we'll strive to move forward into the New Year. I do enjoy it and hope you do too.
Okay, enough rambling. We can look at a few photos now. We'll start with Hollywood Studios. Imagine that.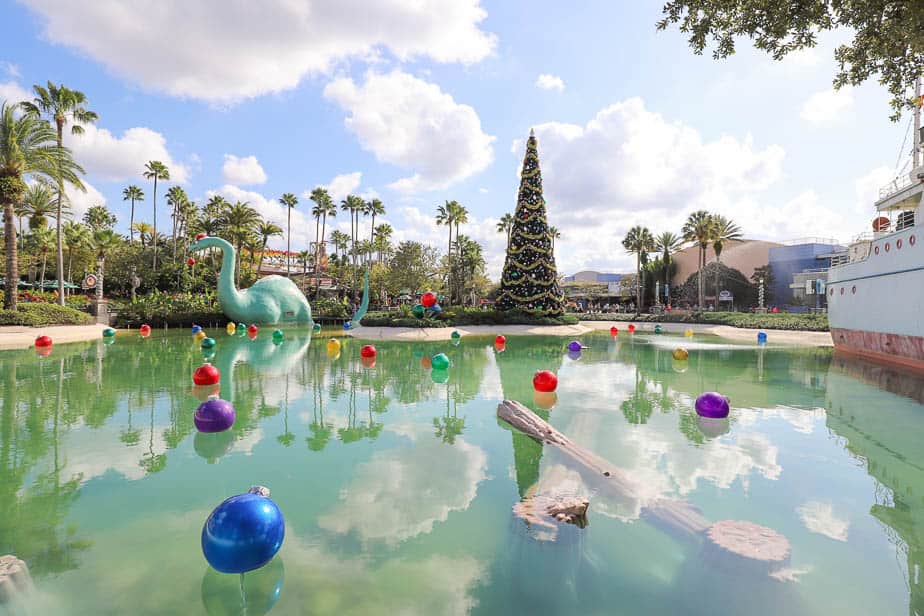 But I've decided that Hollywood Studios does have the best decorations as far as Disney World goes. To me, it's the park that resembles Christmas the most.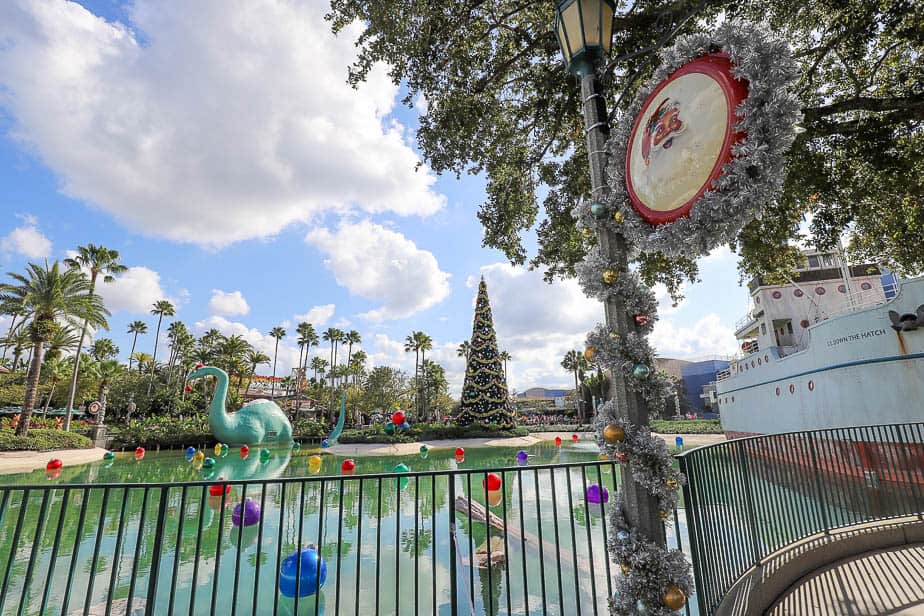 The vintage decorations from a few years back add to the park's overall theme.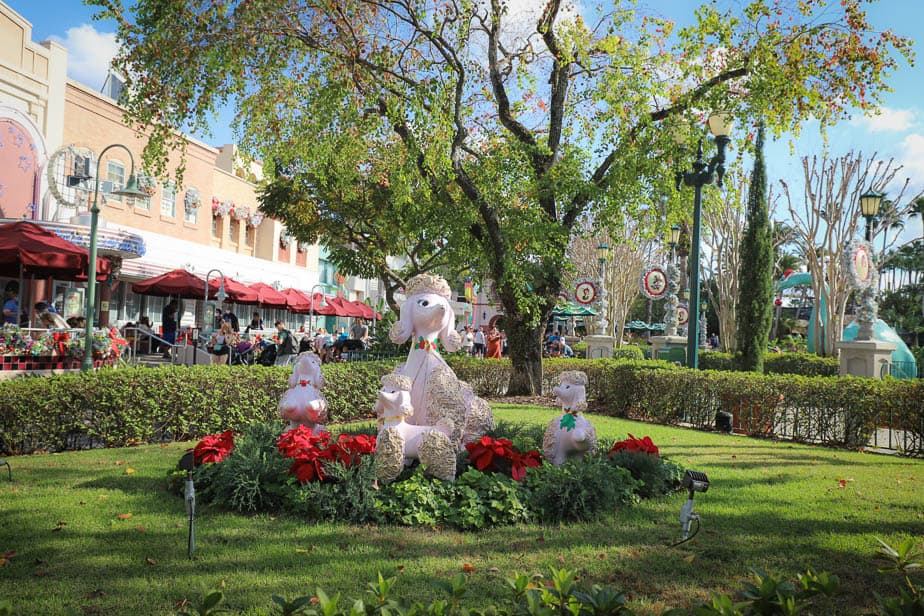 And they play the best music here! Have you ever noticed?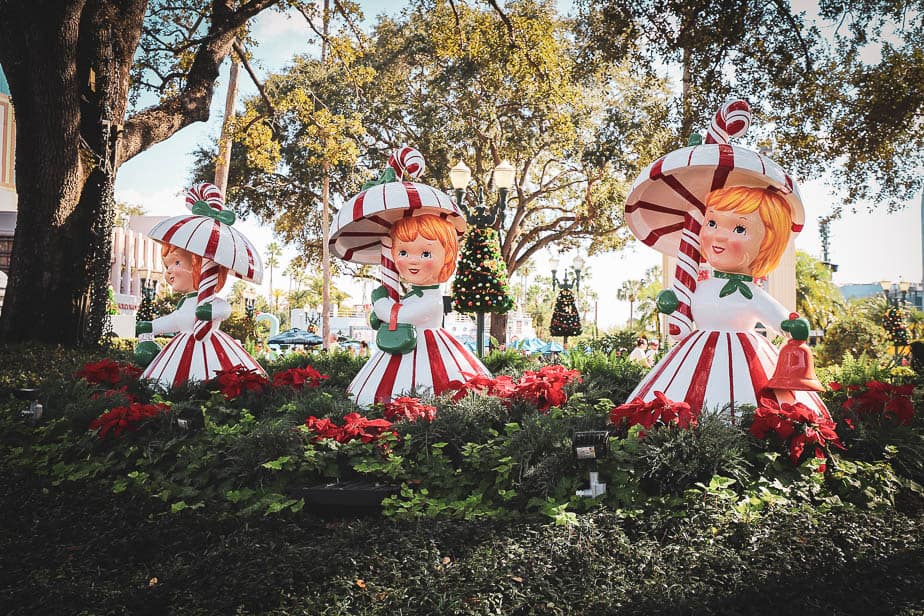 These girls are holding a bag, a basket, and a bell.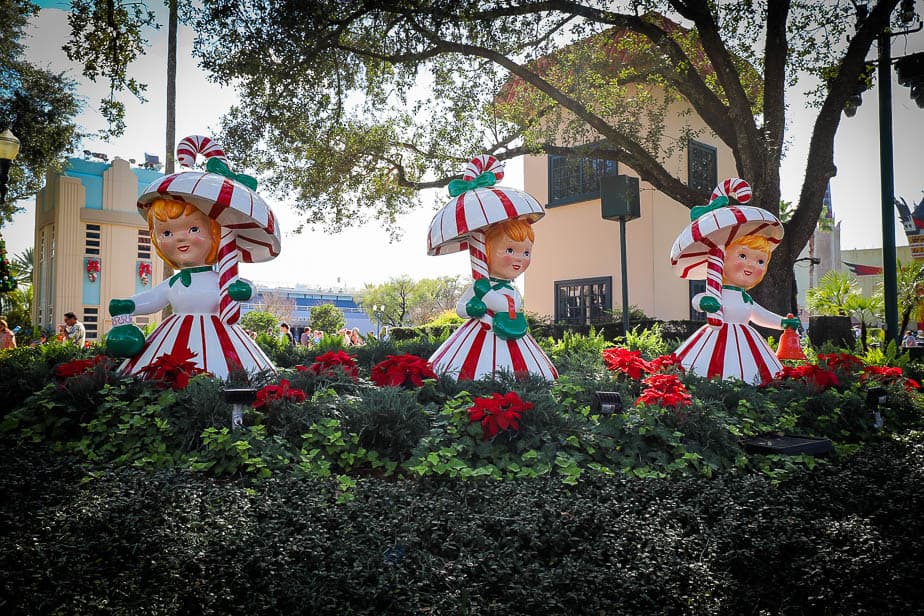 The street poles around Hollywood Studios have Christmas trees attached.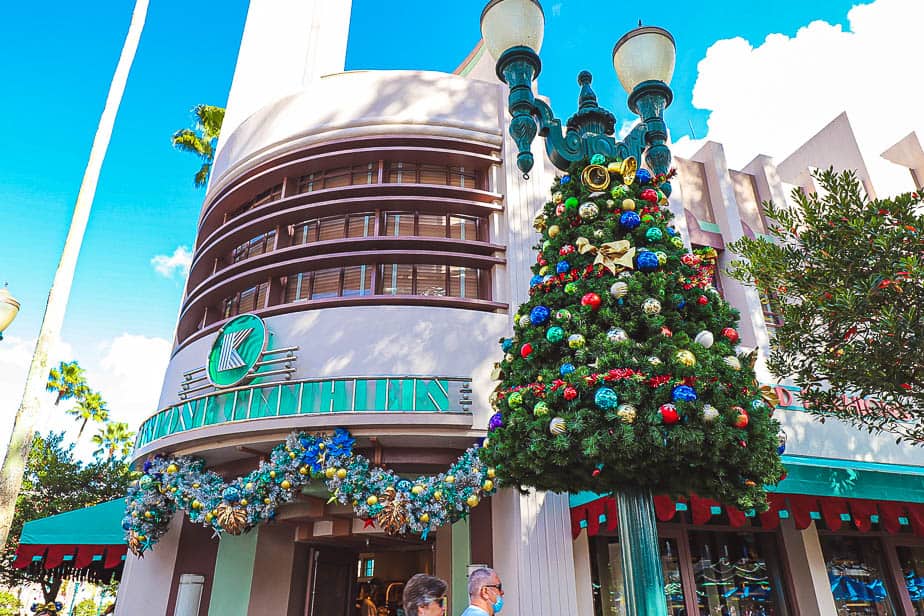 And almost everywhere you look, you'll see different decorations.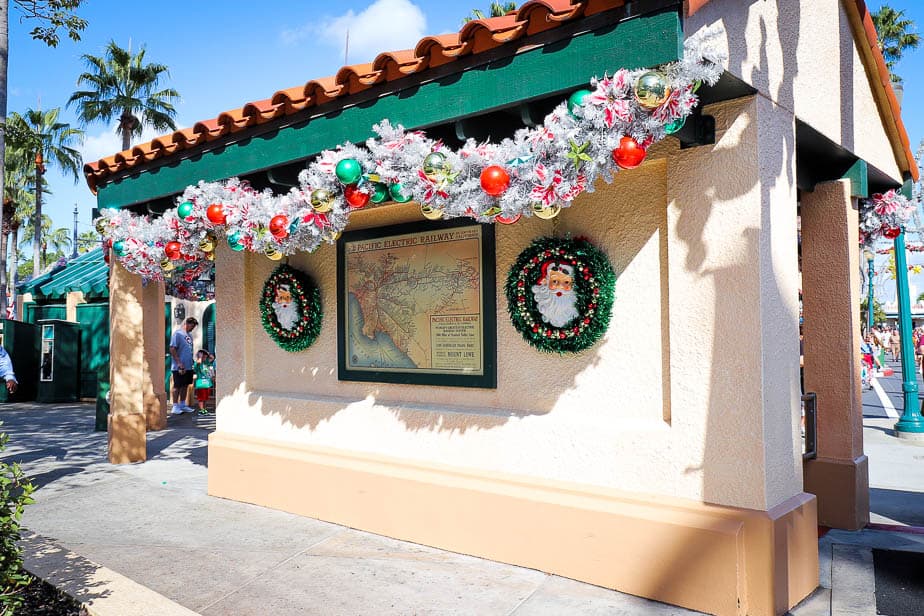 These Santa wreaths in the picture below are unique.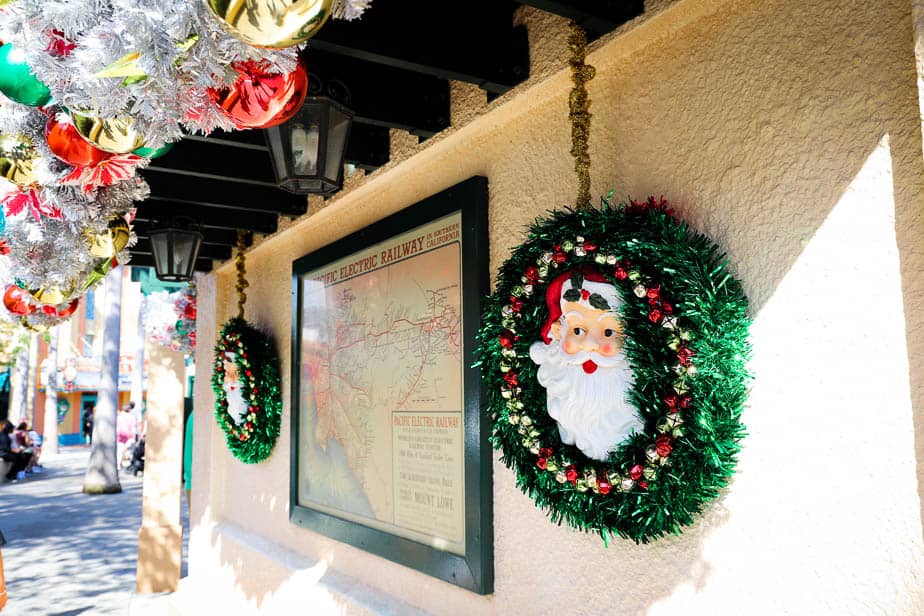 Here are a few more photos of the storefronts.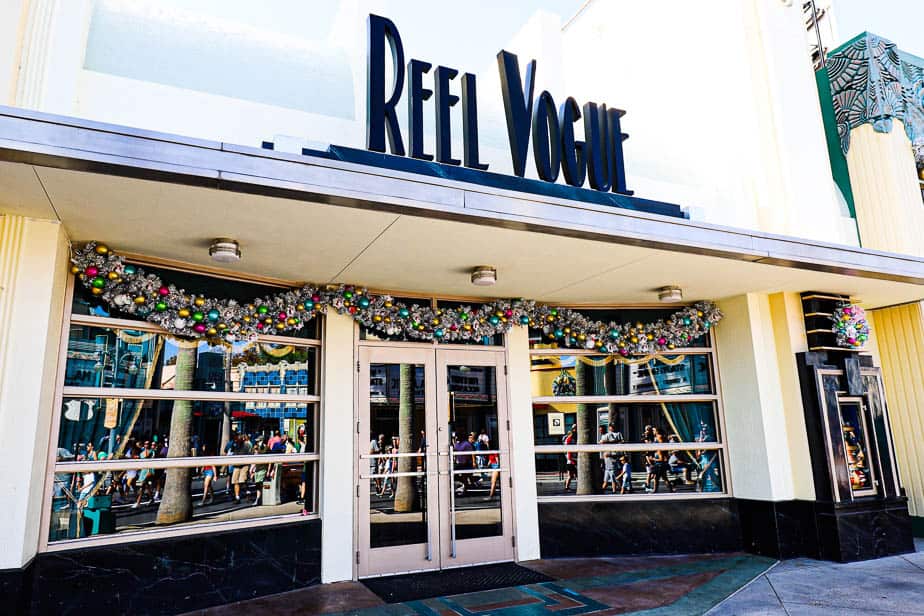 So cheerful.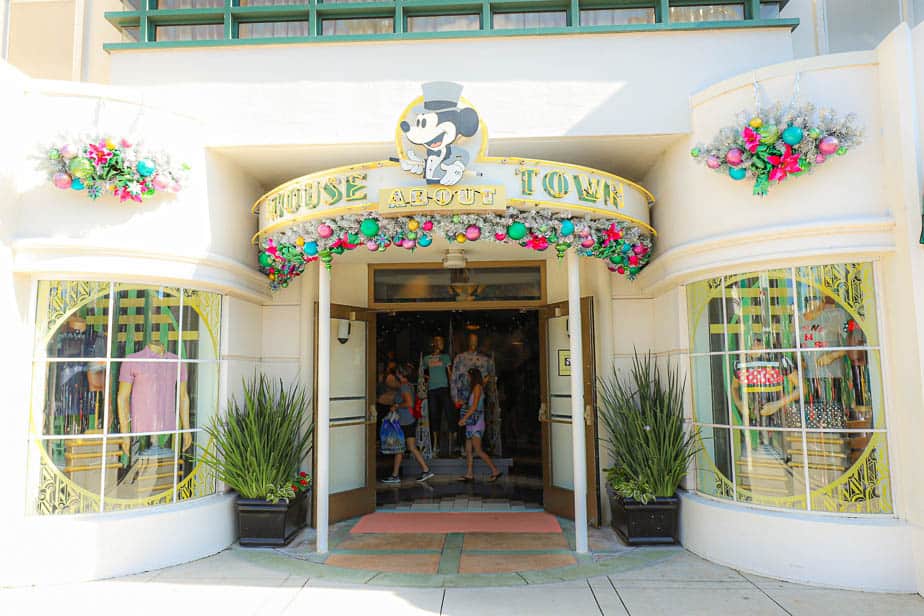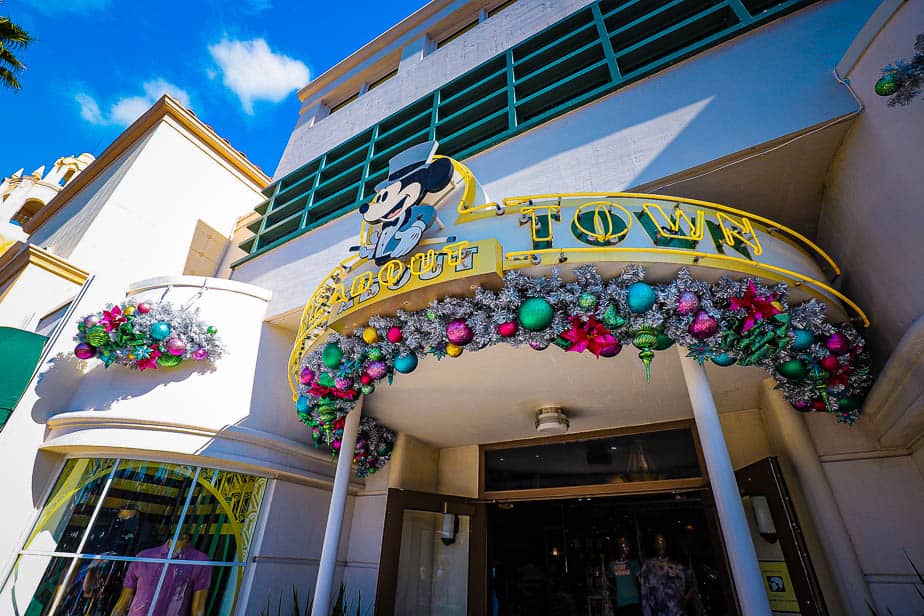 If I had to pick a favorite, it would be the wreath with the snowman.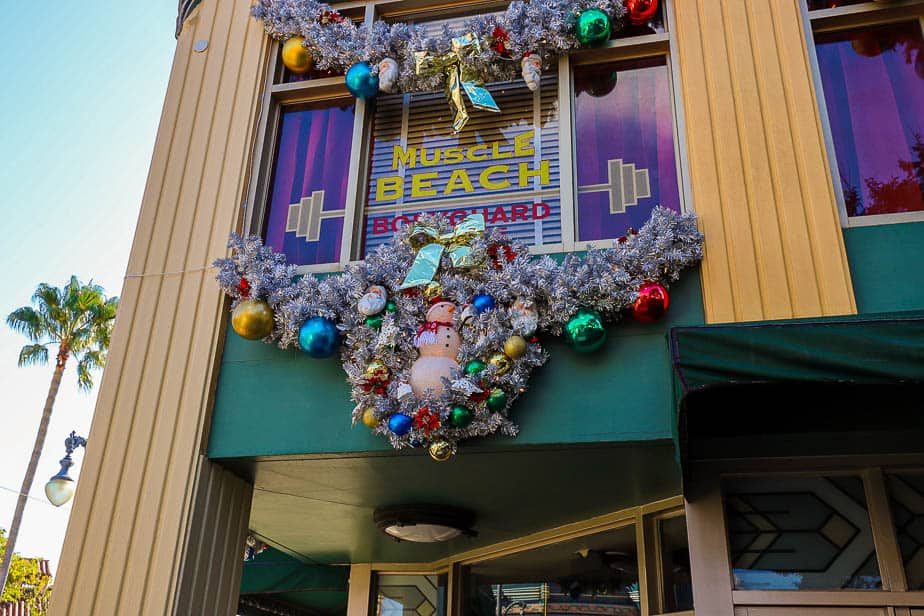 He is the cutest.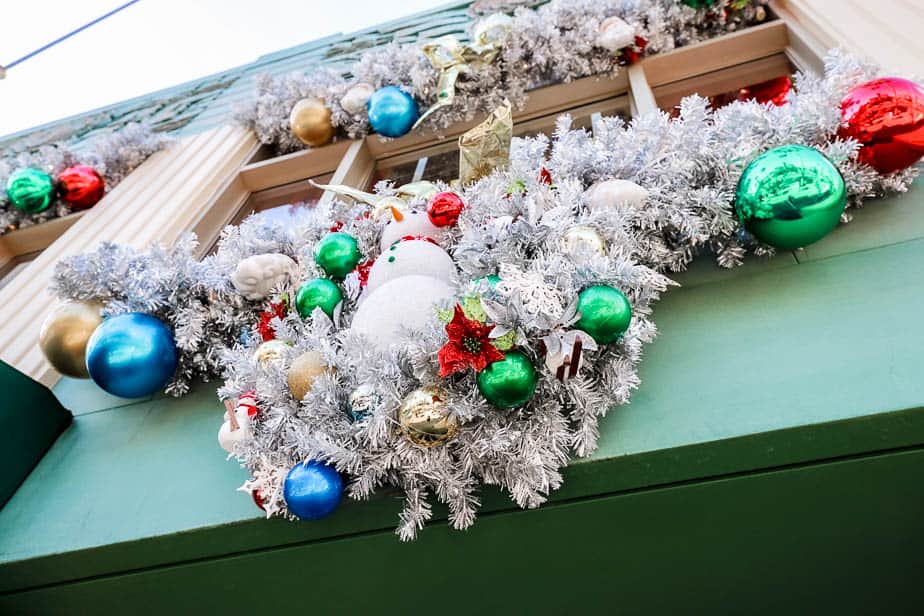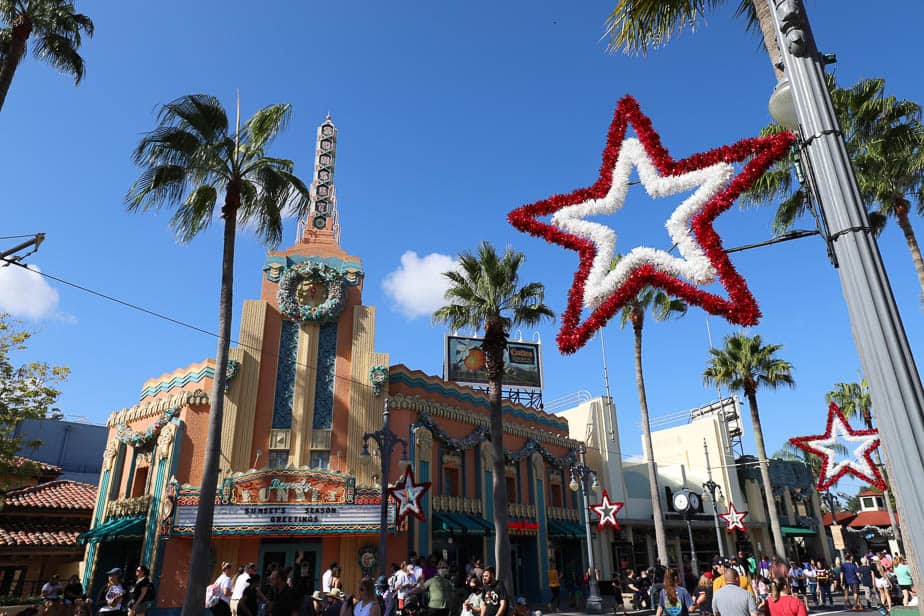 If you visit Disney World over Christmas, I recommend checking out Echo Lake at Hollywood Studios. The lake is extra beautiful at Christmas. Not only that, it's lovely in the direct sunlight.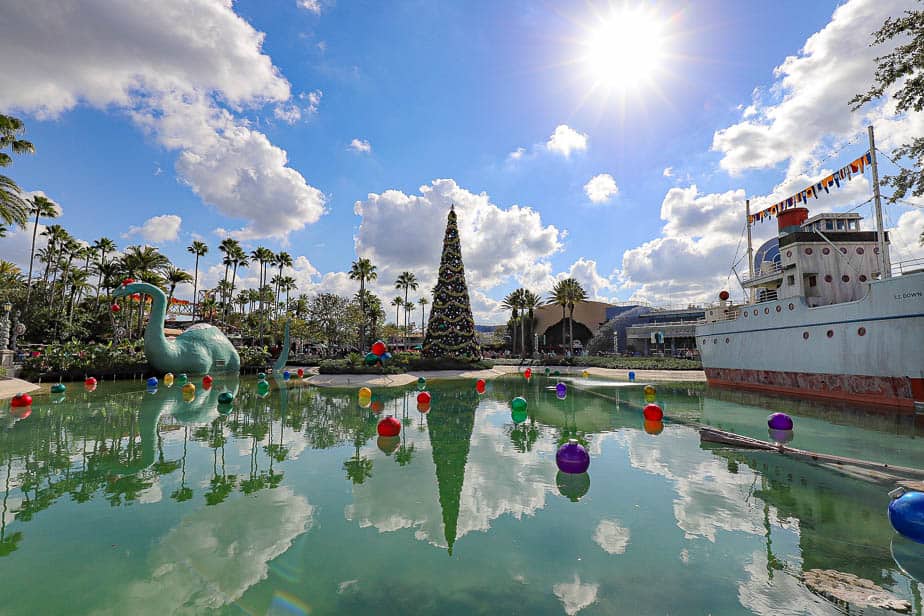 And then again at sunset.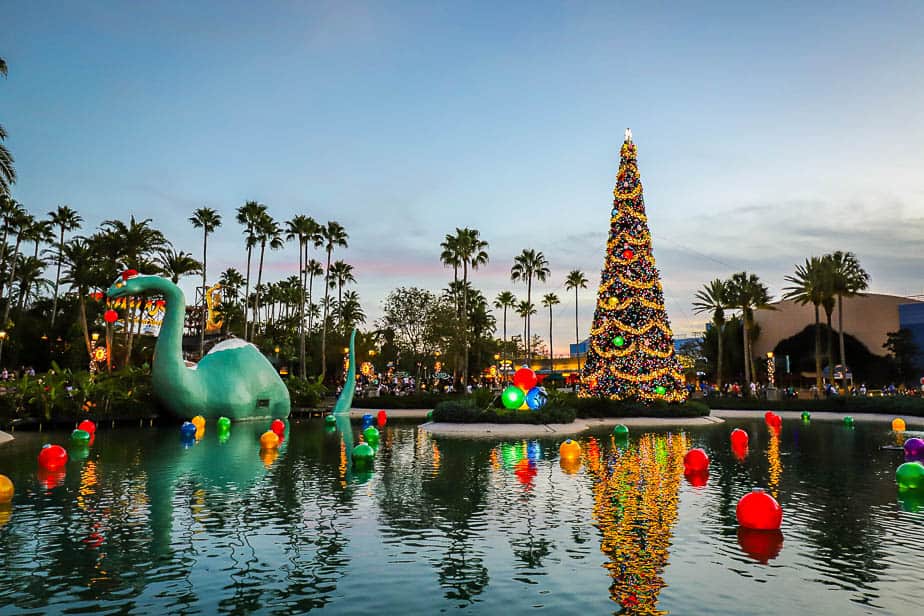 While you're at it, walk back by at night. These photos probably don't do the area justice.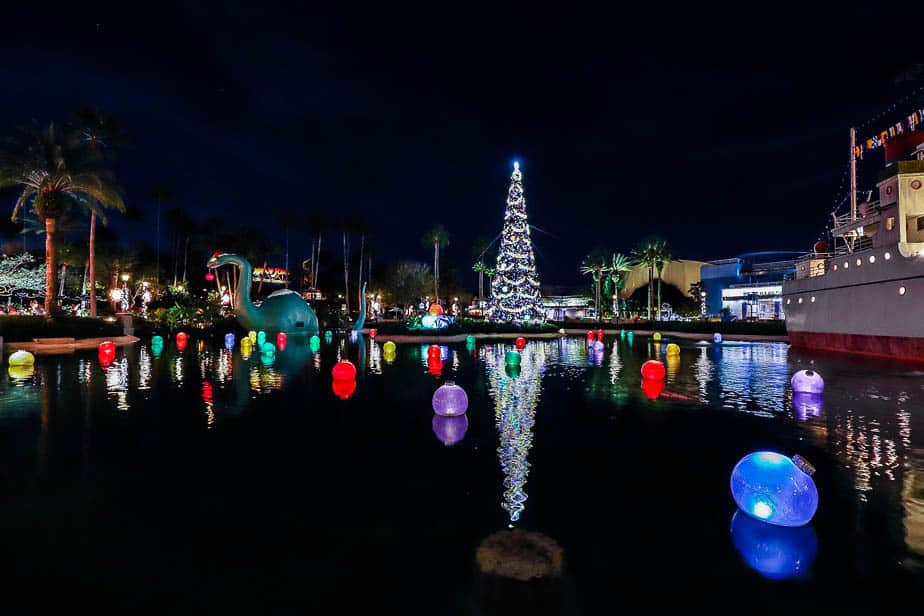 Anyway, these charming light poles around the lake are wrapped with tinsel. Each has a darling sign with Santa, a reindeer, or bells.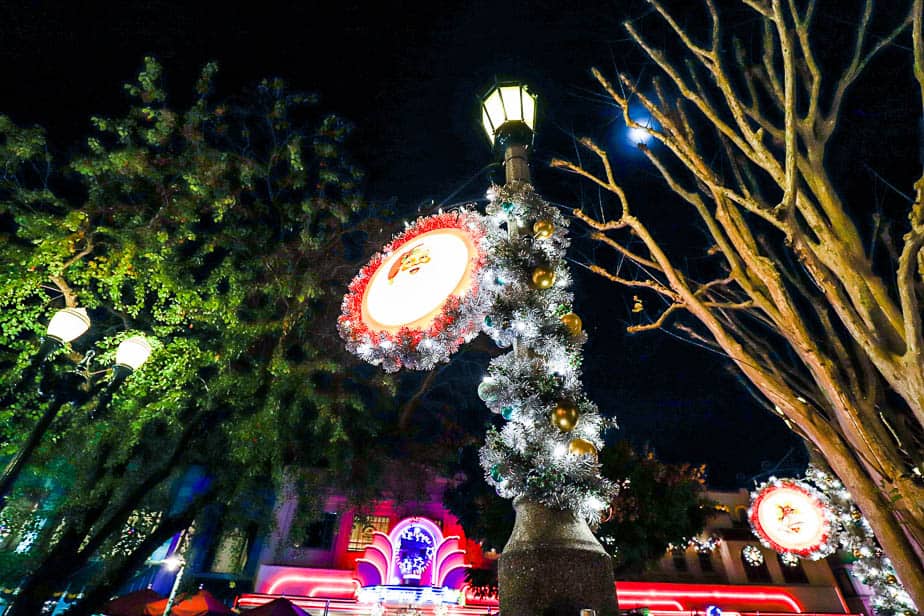 Moving on, we'll take the Disney Skyliner from Hollywood Studios to Pop Century.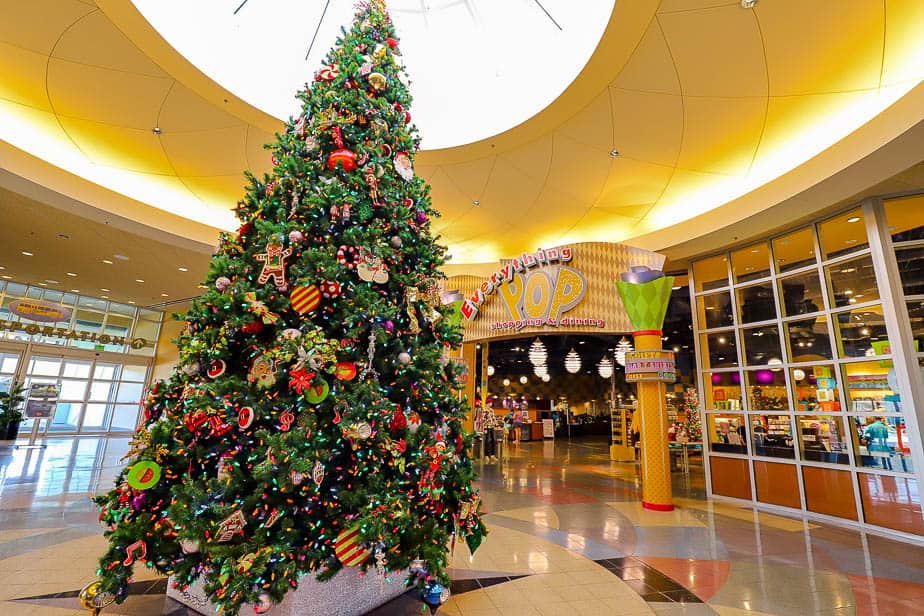 For you regulars, we'll have a good bit of content soon for Pop Century and Art of Animation. However, if you're wondering which resort is best in the meantime, check out this article, Pop Century vs. Art of Animation: Which is Best?
Meanwhile, here is a look at Disney's Art of Animation's Christmas tree.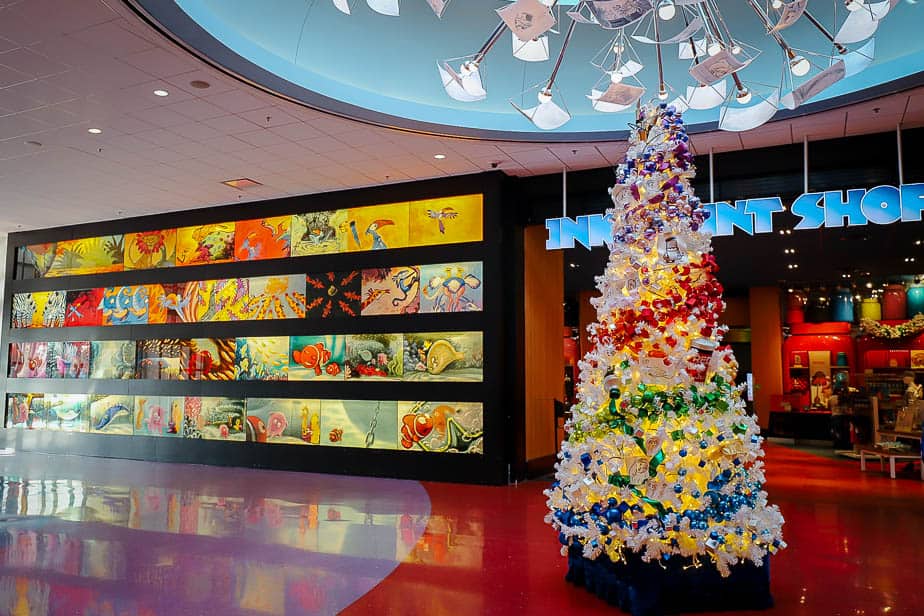 It is a beautiful tree with a white base tangled in all the colors that liven the surrounding lobby.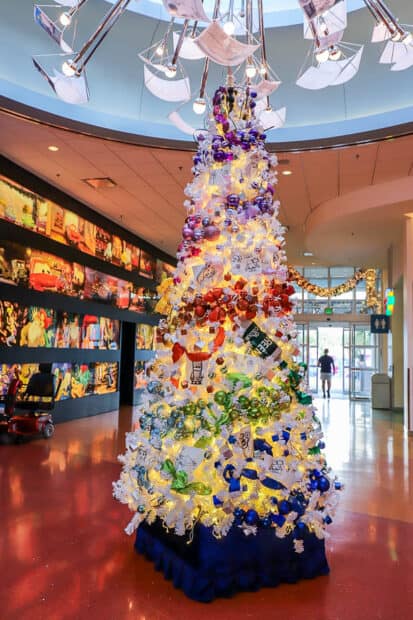 Additionally, bright wreaths hang in the lobby area featuring sketch drawings.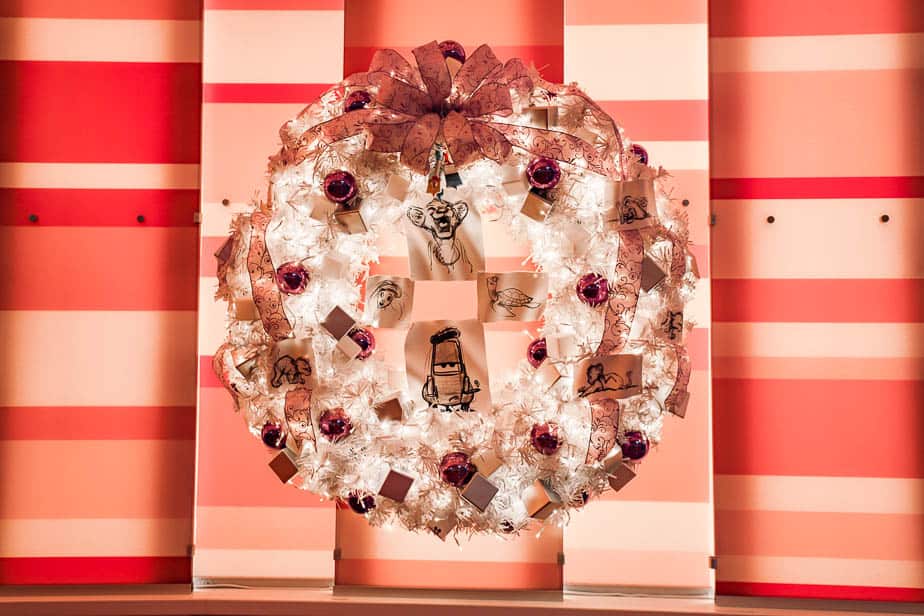 Moving across the property, we'll hop into the Animal Kingdom Lodge to look at its Christmas tree. It's worth the trip over for a visit if you have time.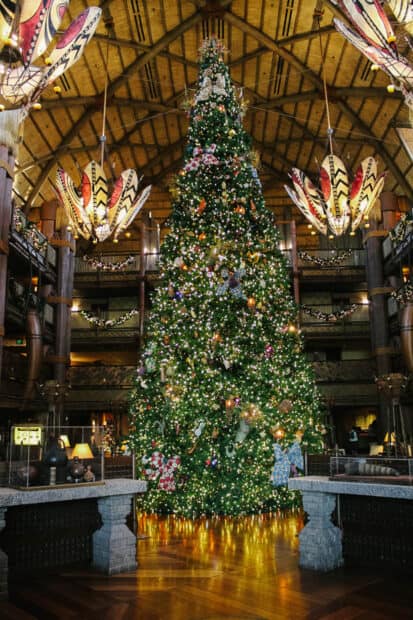 I've spent a decent amount of time at Kidani Village over the past few months. Kidani is the secondary Disney Vacation Club Resort that sits next door to the Lodge.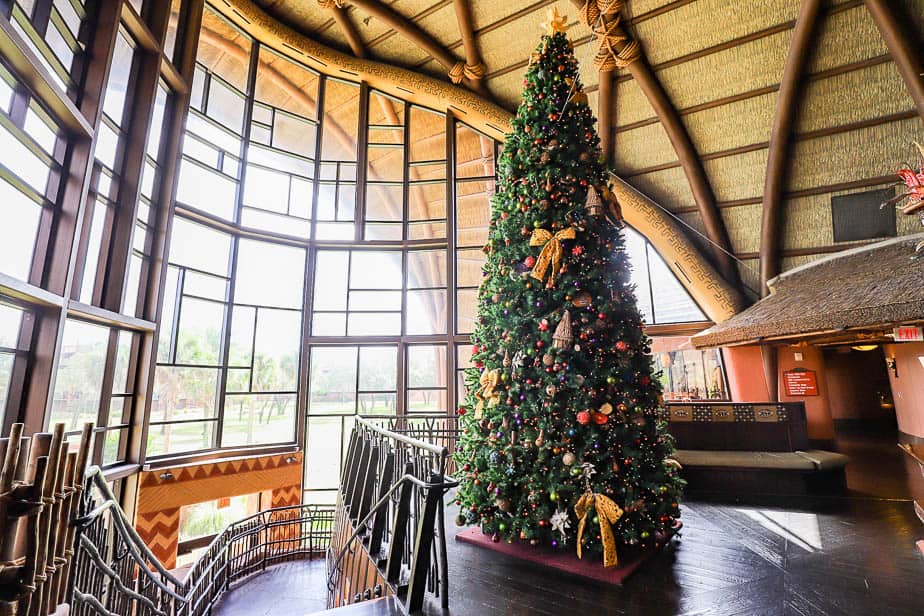 Everything here is peaceful and serene.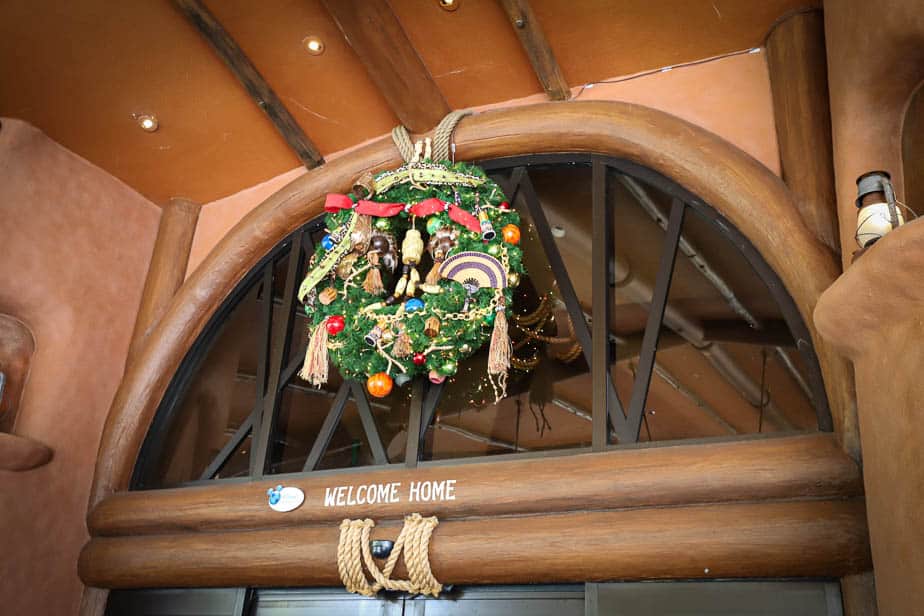 Related: Christmas at Disney's Animal Kingdom Lodge
You may remember that we've recently started to cover Disney's Port Orleans French Quarter here on the site. Thankfully, this Disney World Resort is again open to guests. And it's even decorated for Christmas!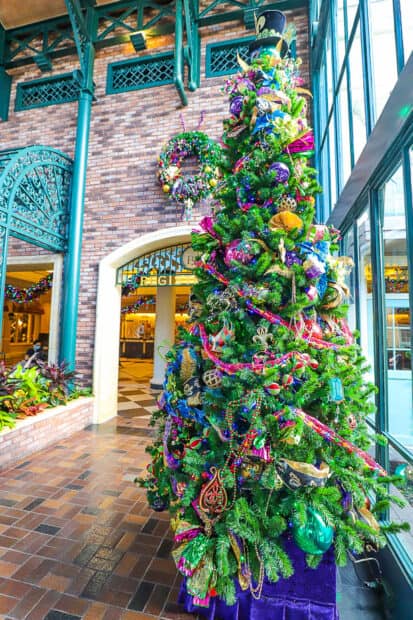 Everything here has a purple and green color scheme. However, it looks completely different with the colored lights on the evening decor.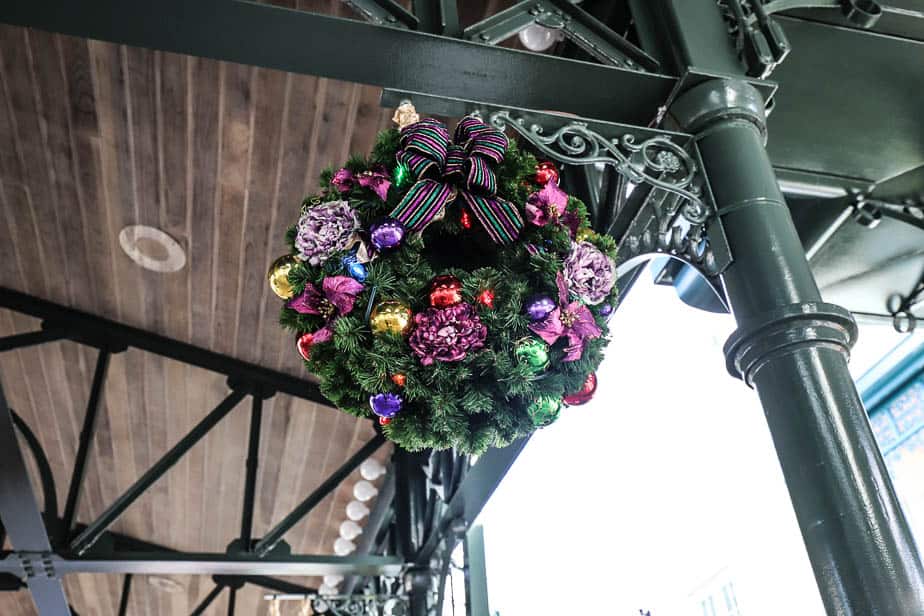 And I finally made it down to Port Orleans Riverside for a visit. They, too, have reopened for business. Unfortunately, while the tree is pretty, I didn't get a great photo.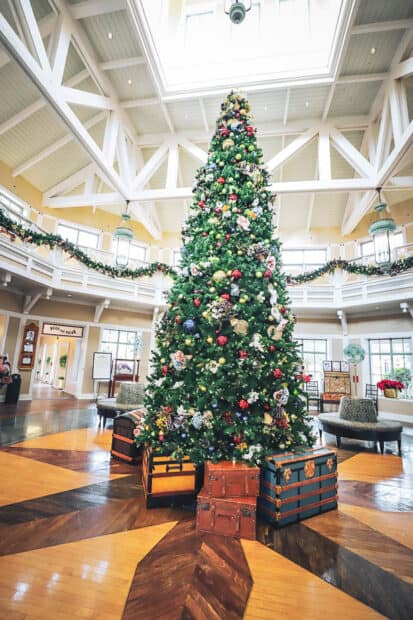 However, the garland strung throughout the lobby was stunning.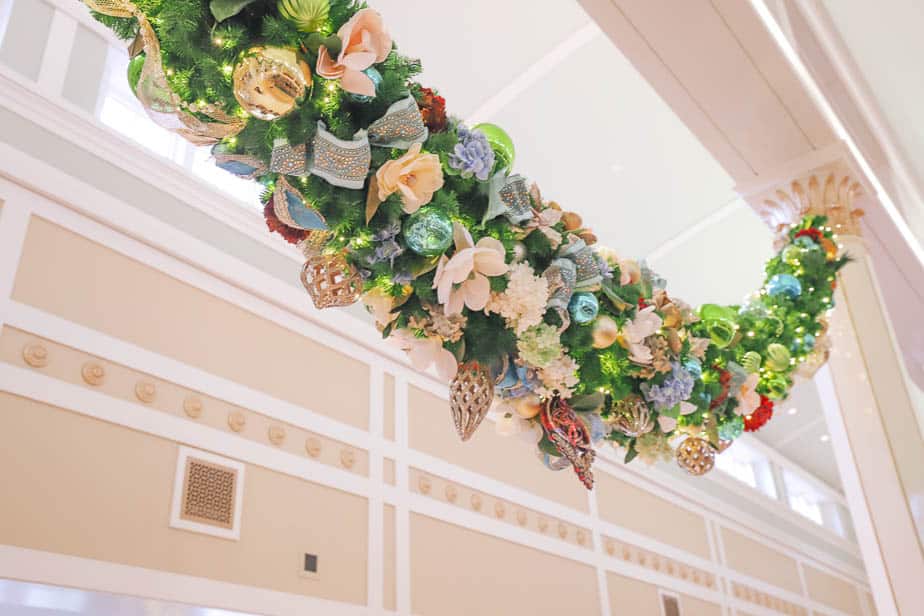 Here is a closer look.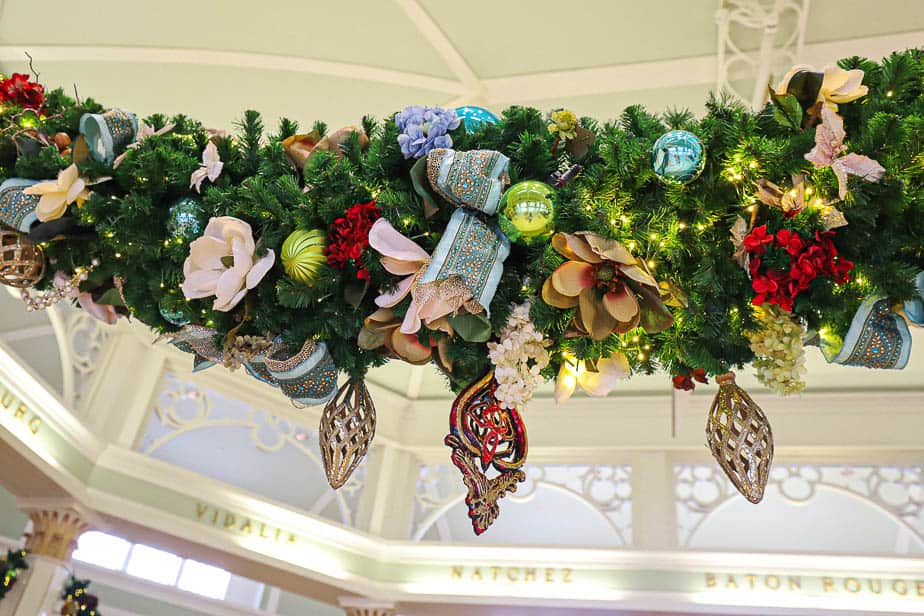 And here is a photo of one of the wreaths.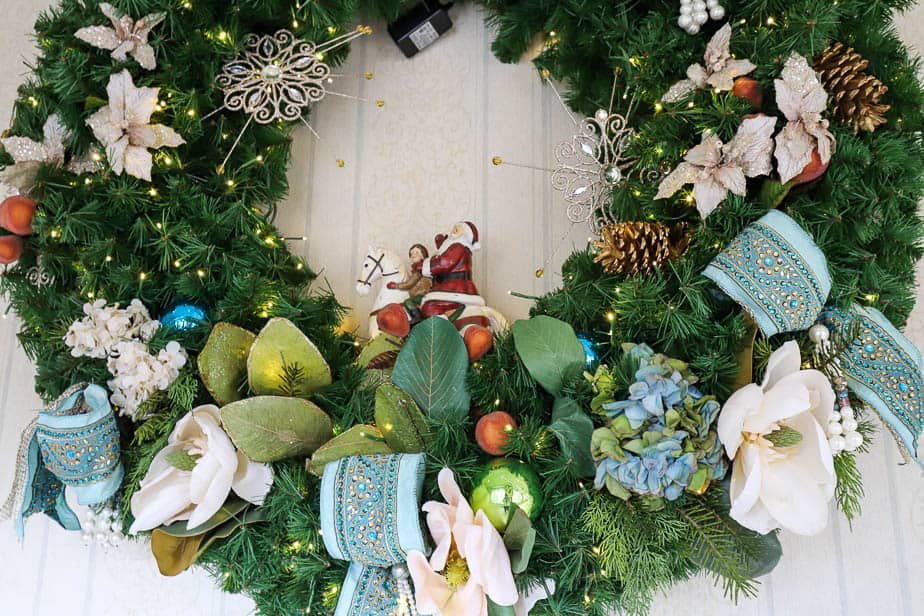 Next, we'll pop into Disney's Boardwalk Inn. We are jumping around because this is (mostly) the order in which I took these photos.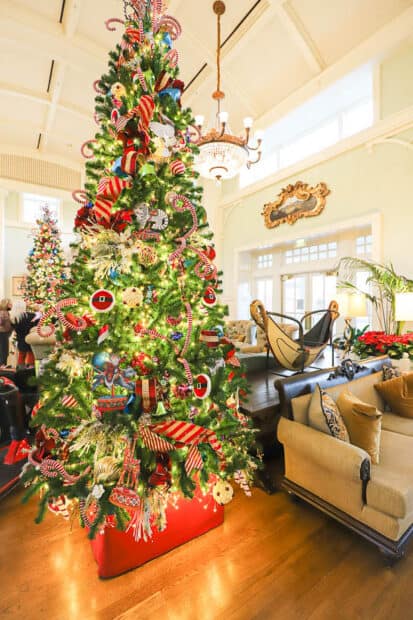 Unfortunately, gingerbread displays did not return to the Boardwalk this year. However, the decorations are still as lovely as ever. I thought this Santa Claus riding a wolf was interesting.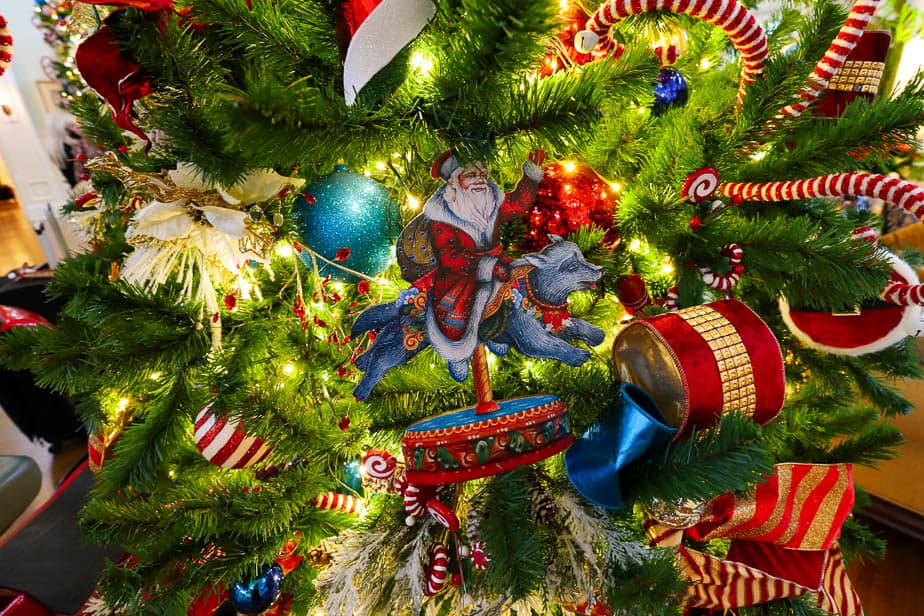 The garland here is always on point.
Isn't it?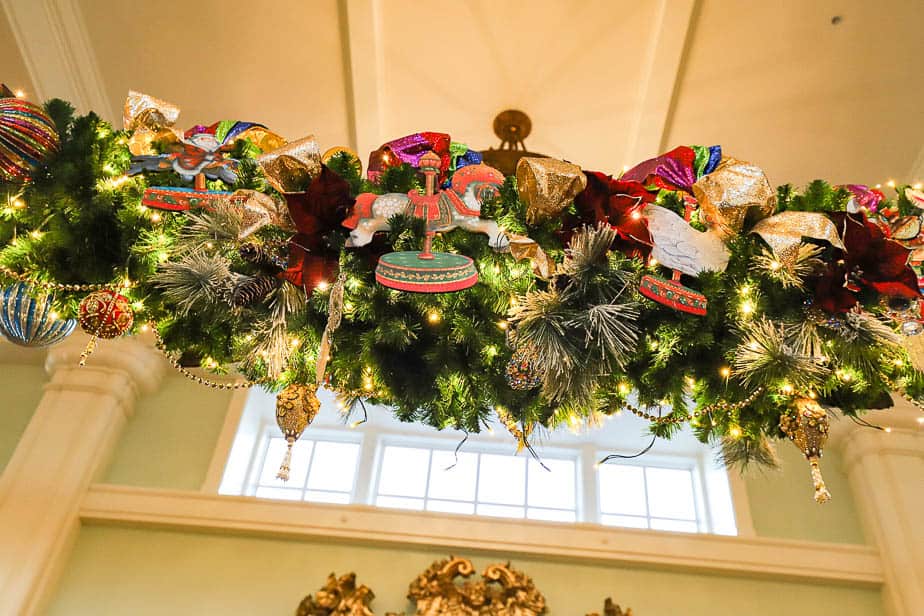 Maybe next year, we'll see the entire holiday display return.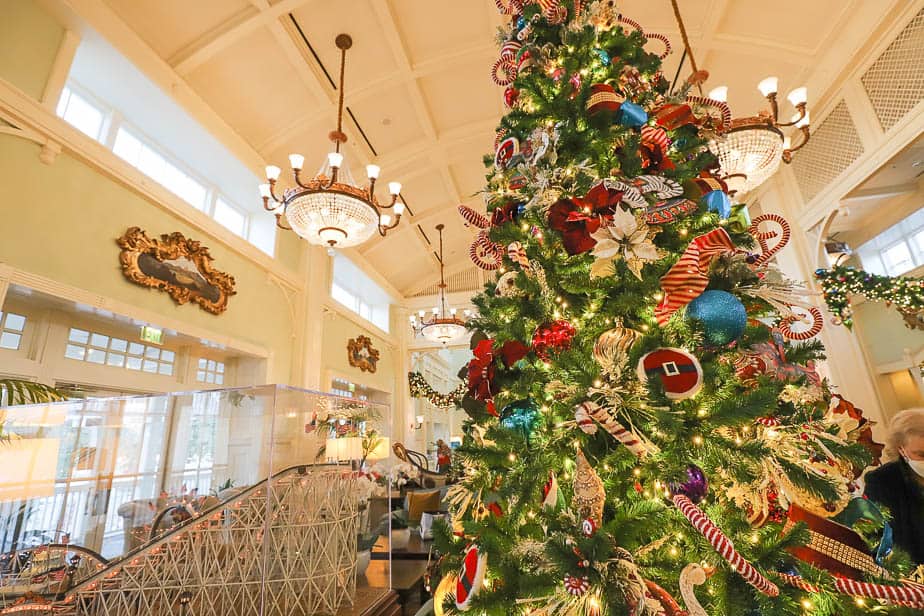 Here are a few close-ups.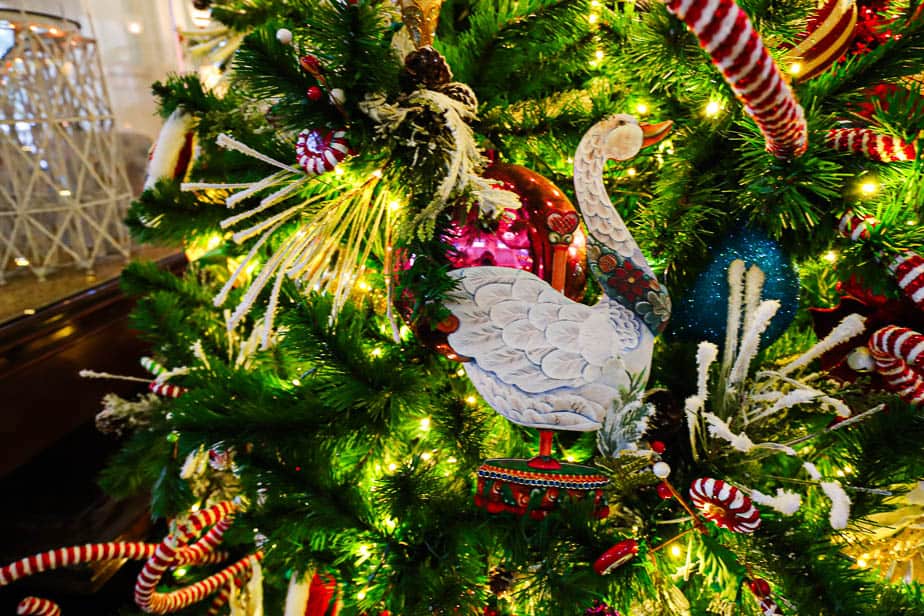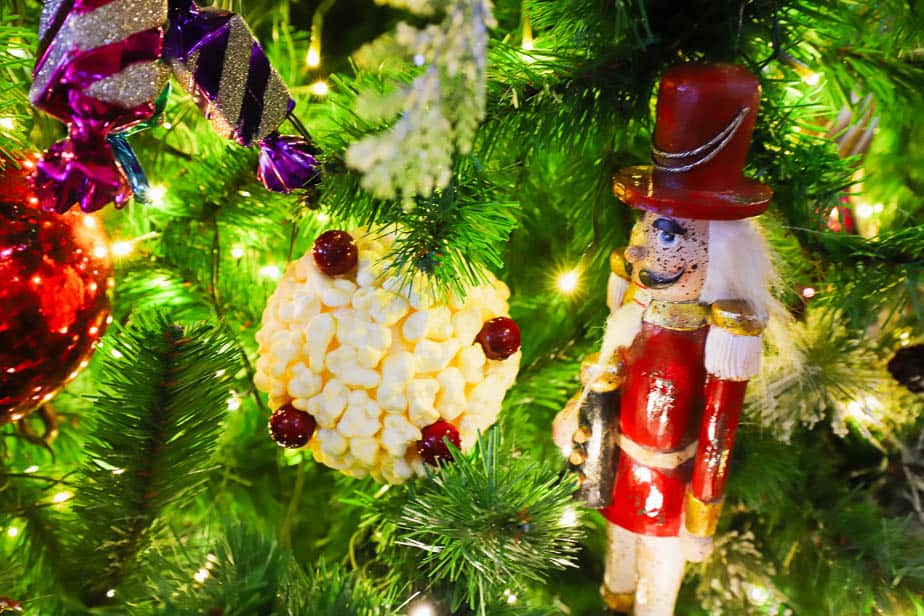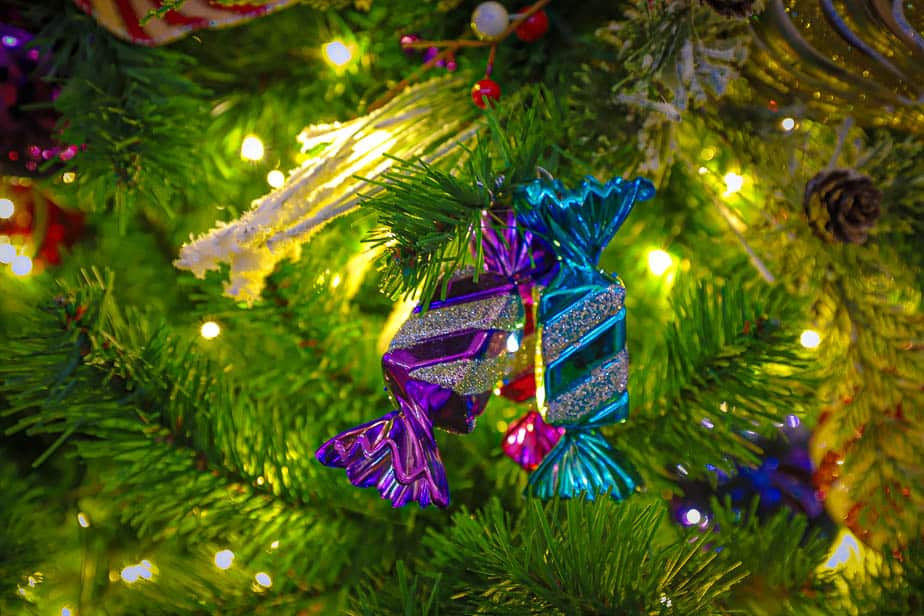 For more photos, try our photo tour of Disney's Boardwalk at Christmas.
We see the same Christmas decorations as last year at Disney's Riviera Resort.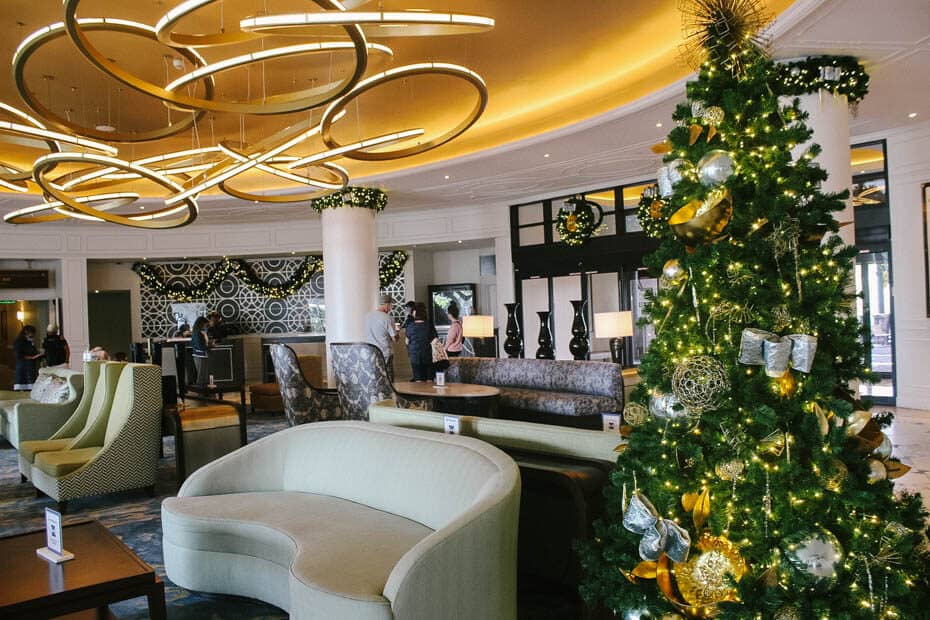 The decor is subtle and pretty at the same time, kind of like the resort.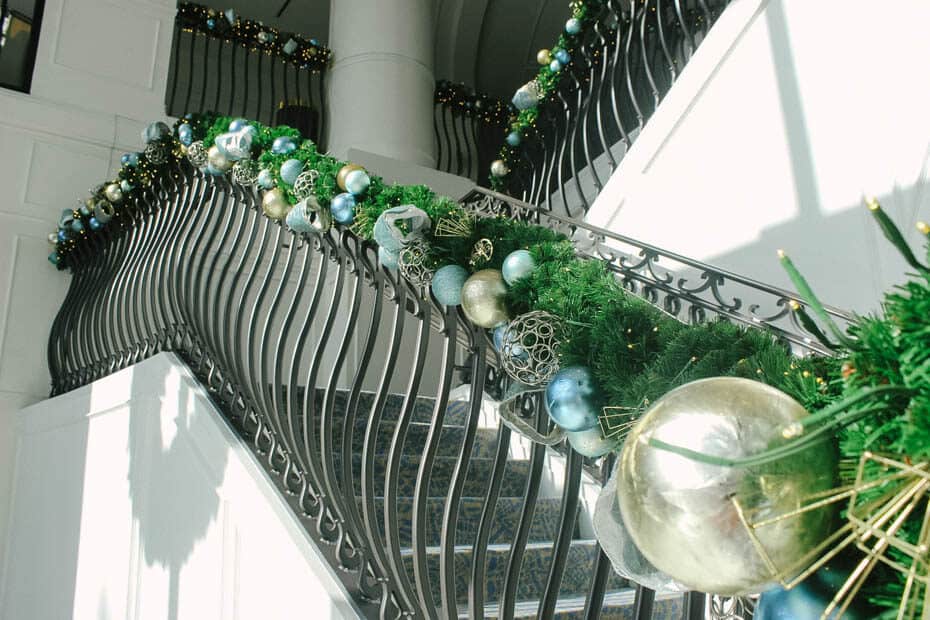 More importantly, Riviera has the best dining options. I even stopped at Le Petit Cafe to see what was in their dessert case.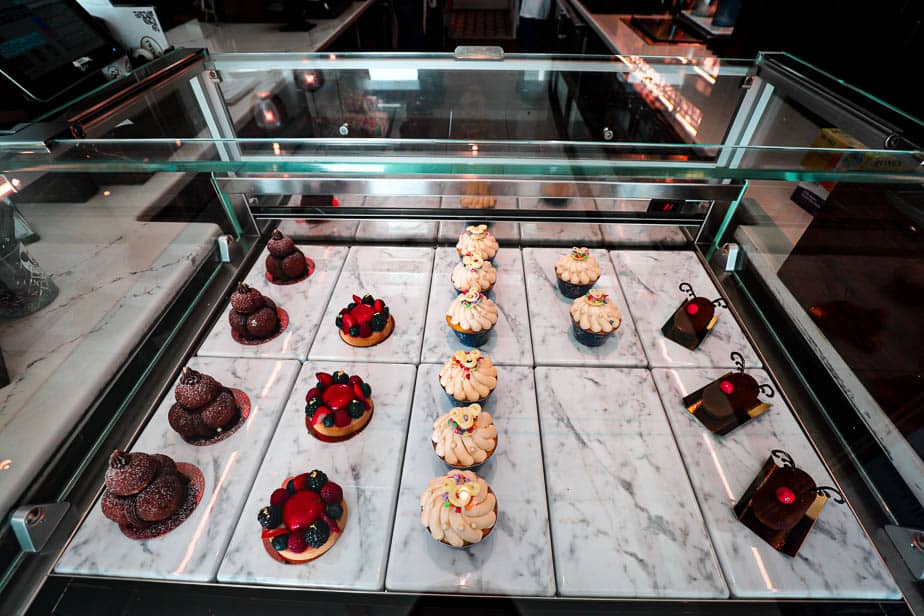 Next to the case, there was a display of gingerbread cookies! These cookies are beautiful. On one side, they have a gold dusting of the Riviera logo. Additionally, the logo is printed in chocolate and gold on the backside.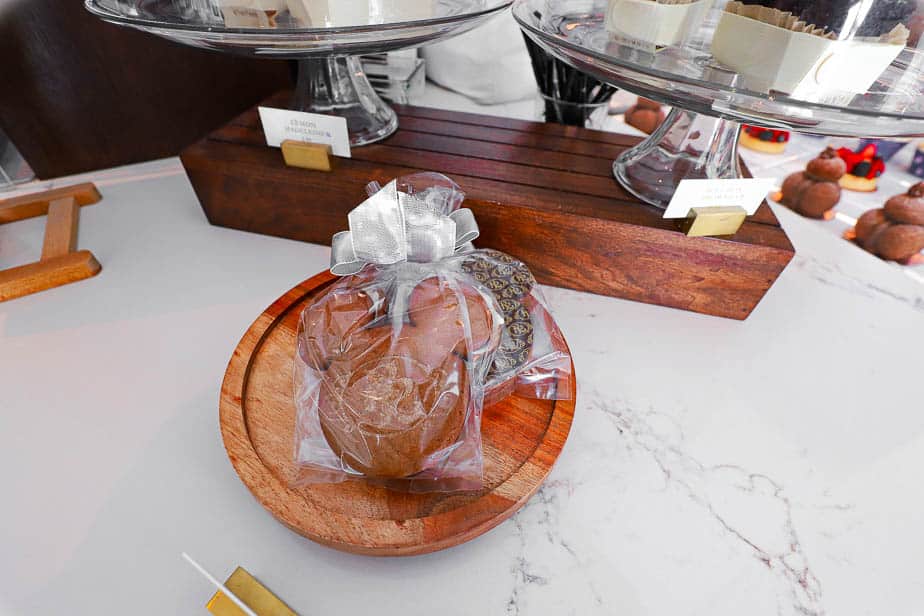 Each package came with two cookies and cost a little over $6.00. I enjoyed the cookies, but I must warn you the combination of chocolate and gingerbread was very rich.
Related: Restaurants at Disney's Riviera
Unfortunately, I didn't get a chance to walk over to Disney's Caribbean Beach during my visit. But I do have a Christmas photo or two from last year.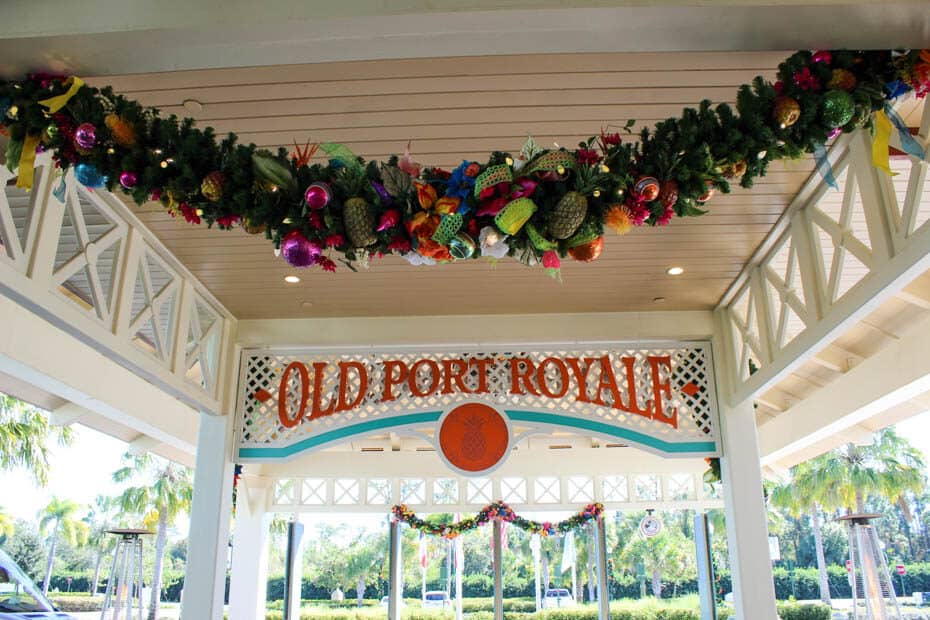 The decorations here are always pretty with the florals and bright colors.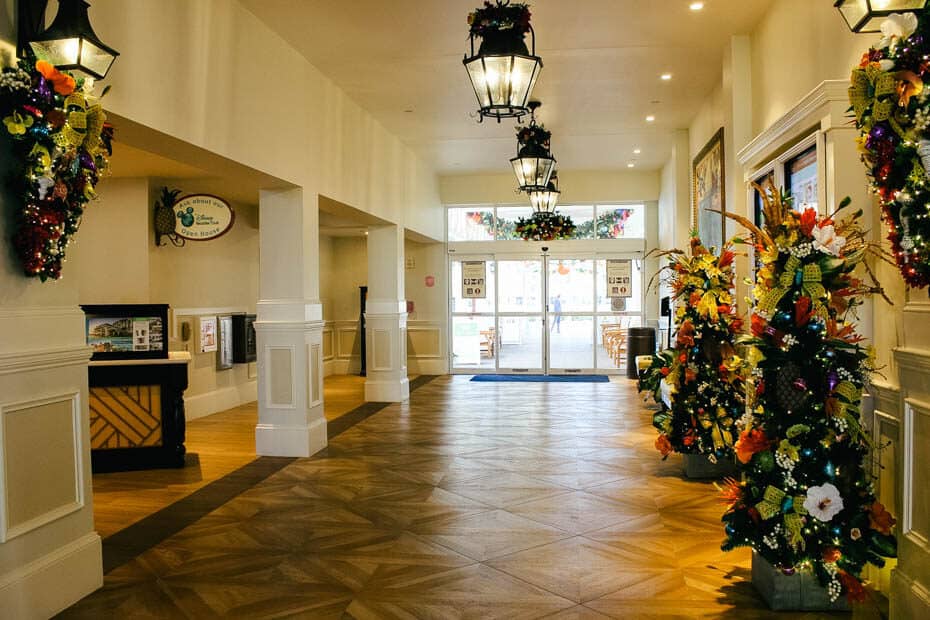 If you want to stay along the Skyliner and are on a budget, you might consider staying at Disney's Caribbean Beach. We have a full review of the resort here.
Near the Magic Kingdom, the Contemporary's outdoor Christmas tree is gorgeous. A friend of mine at Fairy Tales and Fitness recently shared that this was the largest Christmas Tree at Walt Disney World at approximately 70′ tall.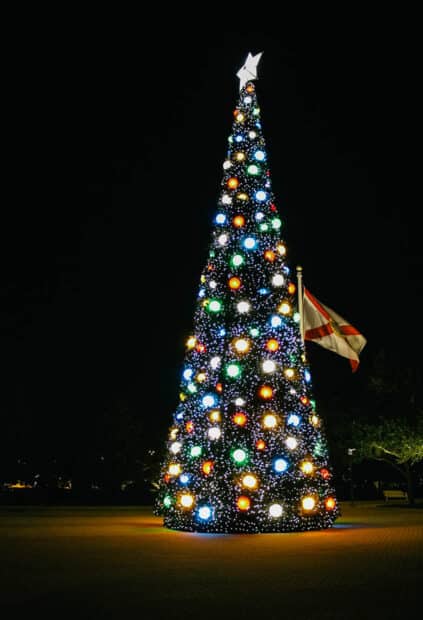 It's well worth taking the time to walk out in front of the resort for a closer look.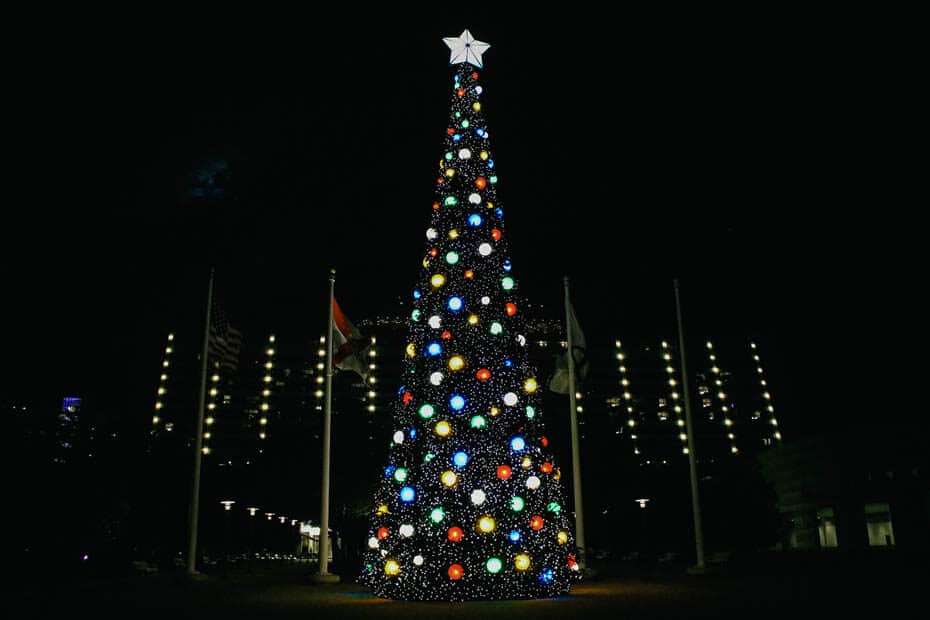 Our next stop is at Disney's Grand Floridian Resort and Spa to see their Christmas display.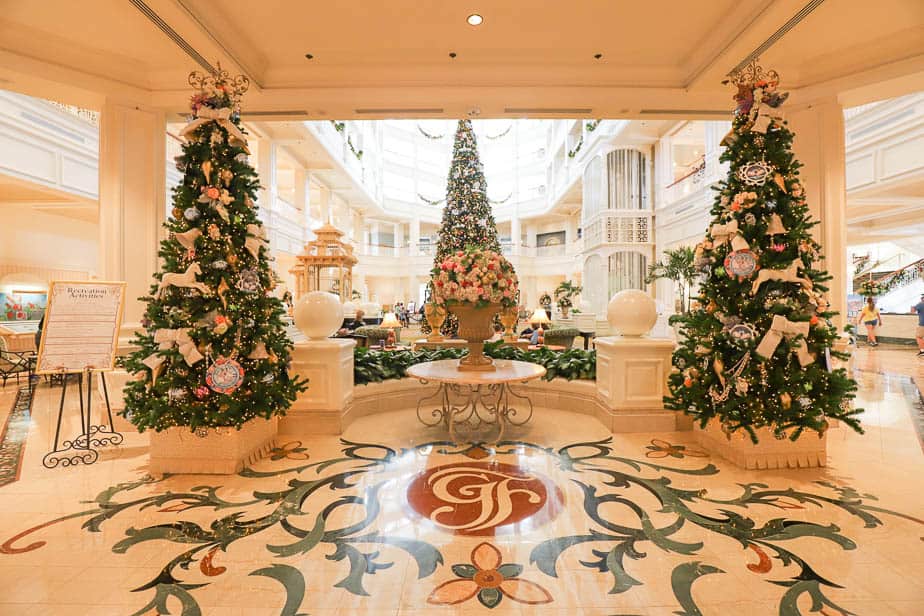 We looked at the gingerbread house displayed in the lobby in early November. This year's house is a little different, as it celebrates the 50th Anniversary of Disney World.
Related: Gingerbread House at Disney's Grand Floridian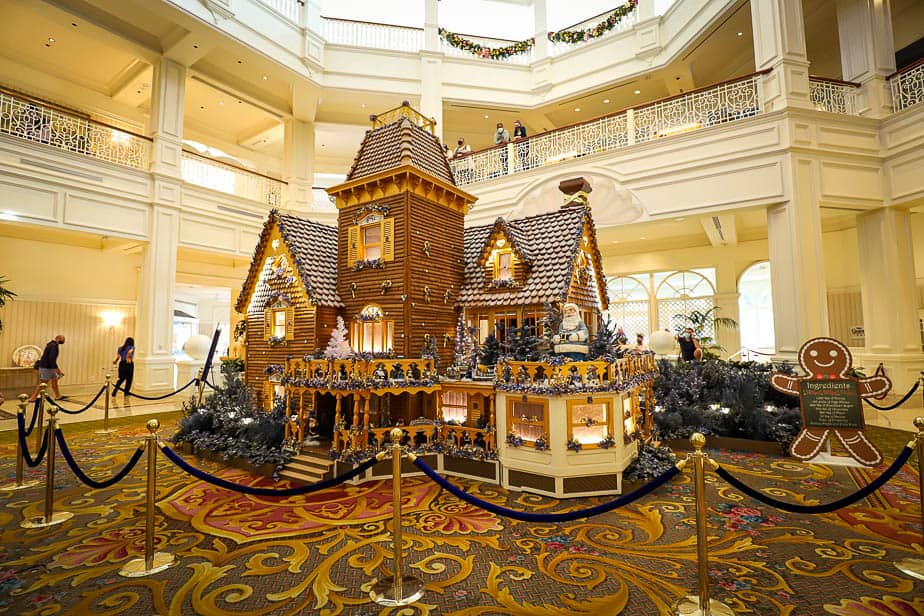 The chefs created a stunning home this year.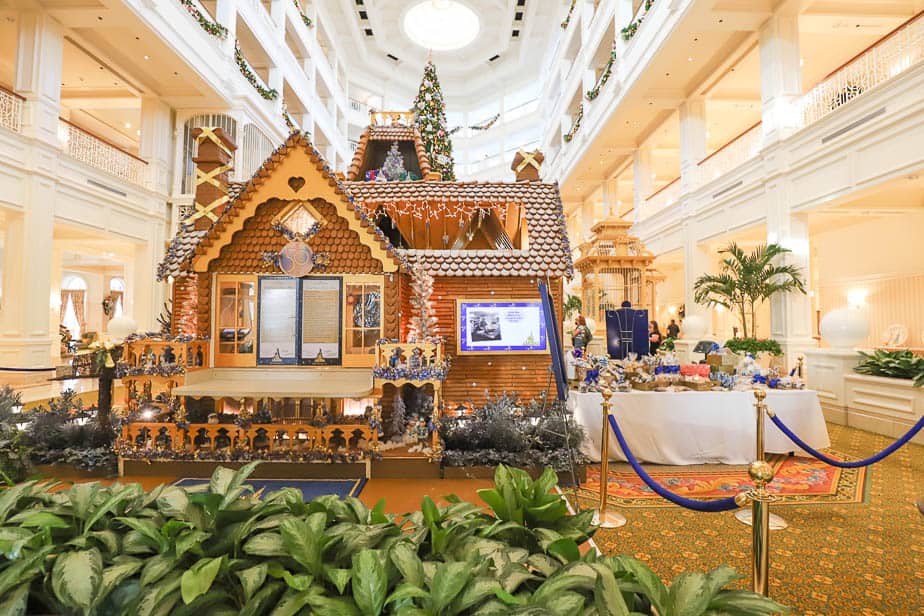 Not only that, the Grand Floridian is decked to the nines regarding Christmas decor.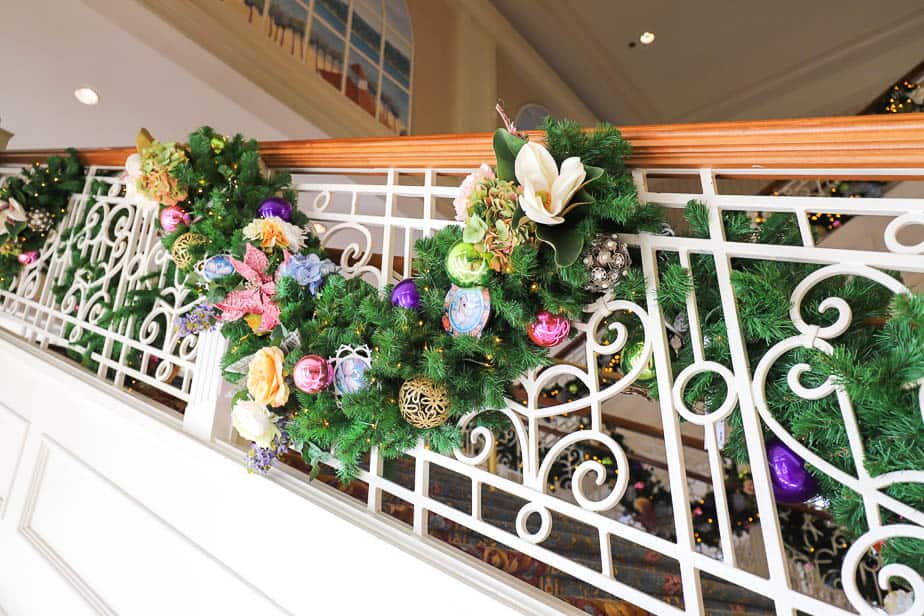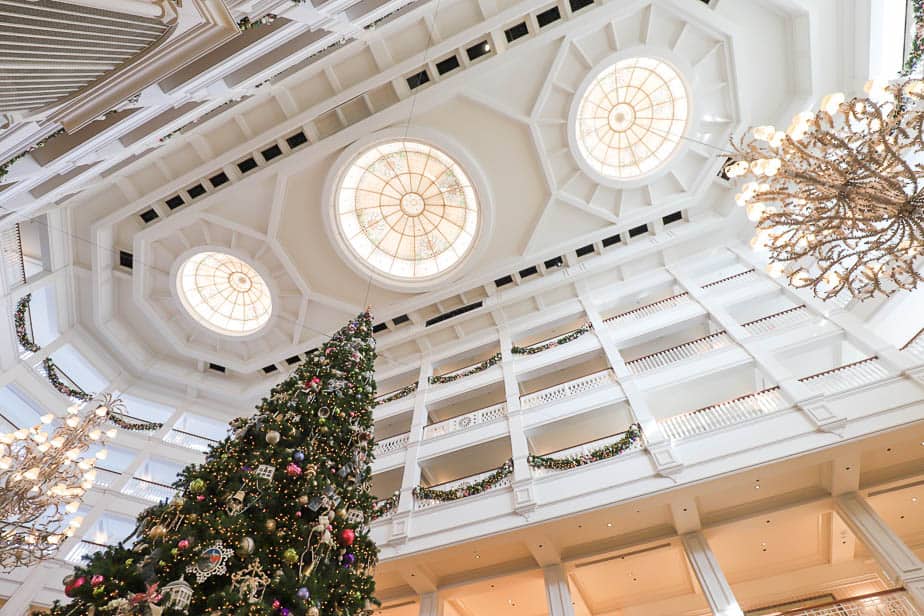 And fresh flowers are back at all of the resorts!
Related: Grand Floridian at Christmas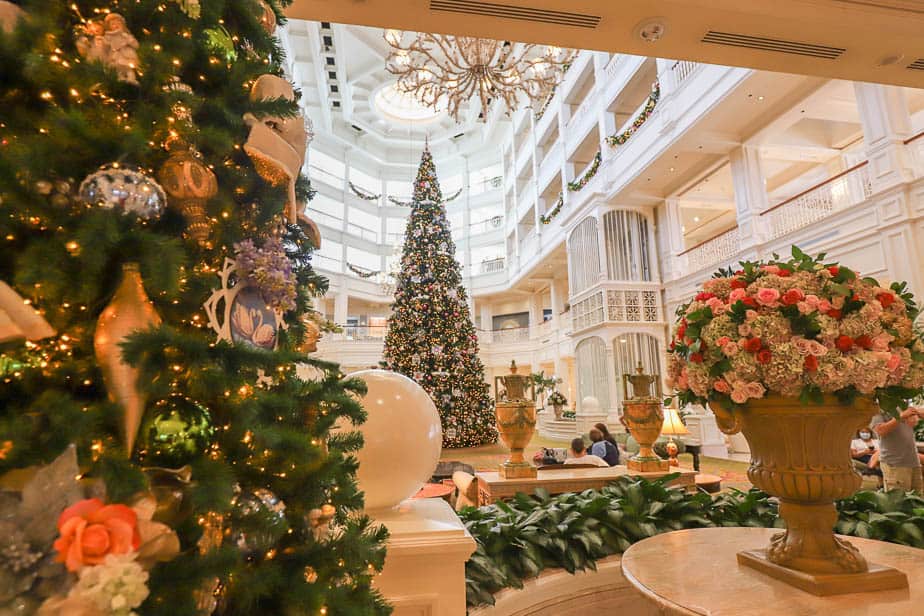 We can all agree that Disney's Beach Club knows a thing or two about decorating for Christmas.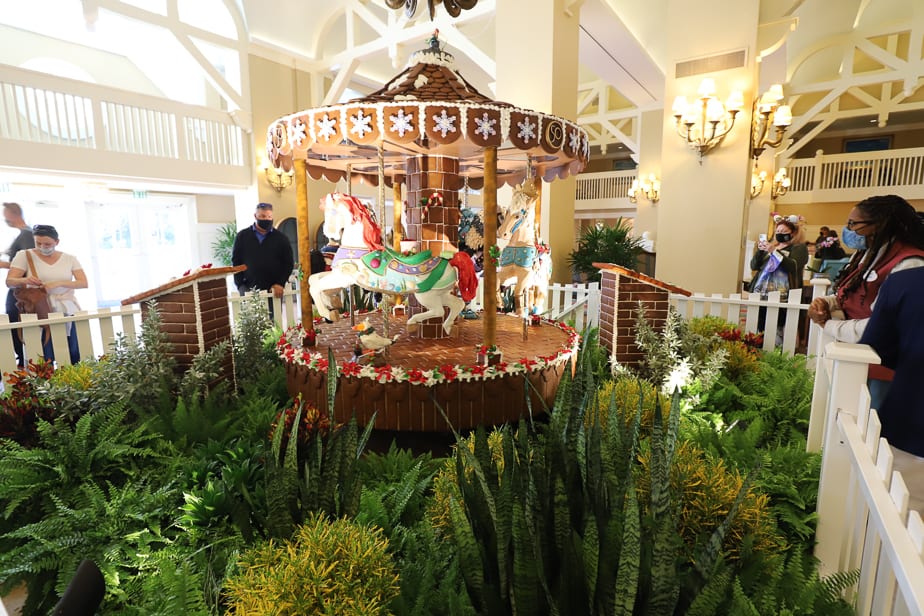 Last year's gingerbread carousel features The Little Mermaid.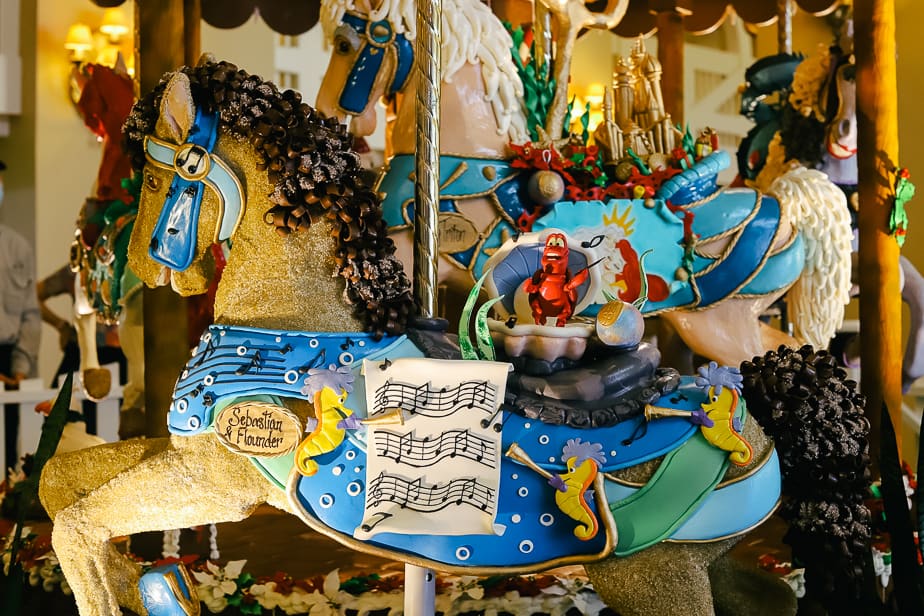 Everyone needs a Sebastian.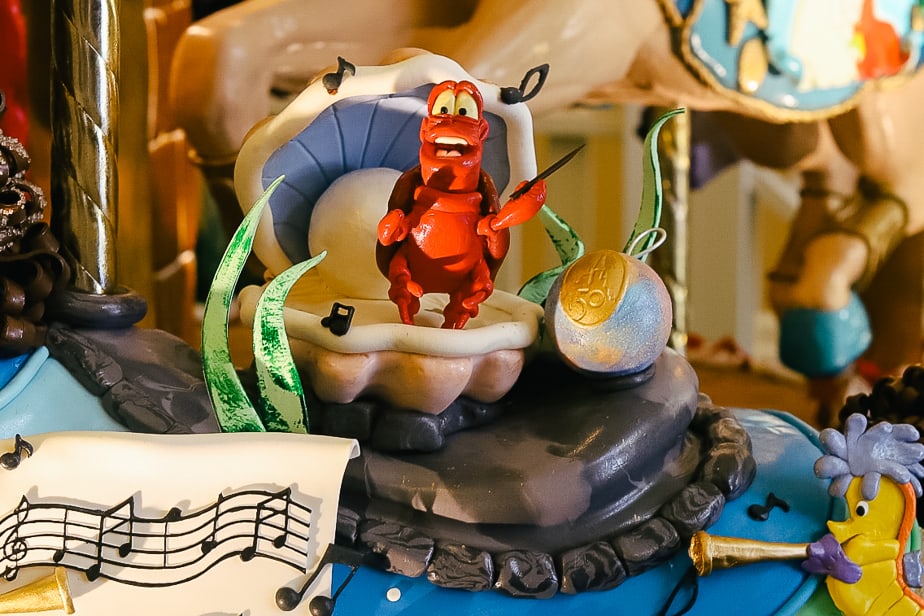 Thankfully, Ariel can't get too far since she's spinning nearby on the carousel.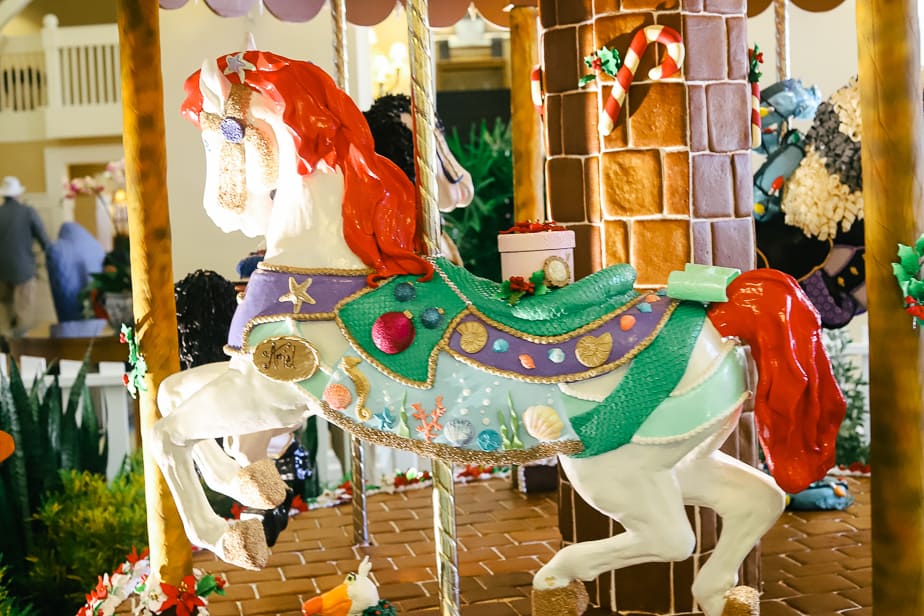 However, in 2022 we see a new gingerbread carousel featuring Disney Princesses!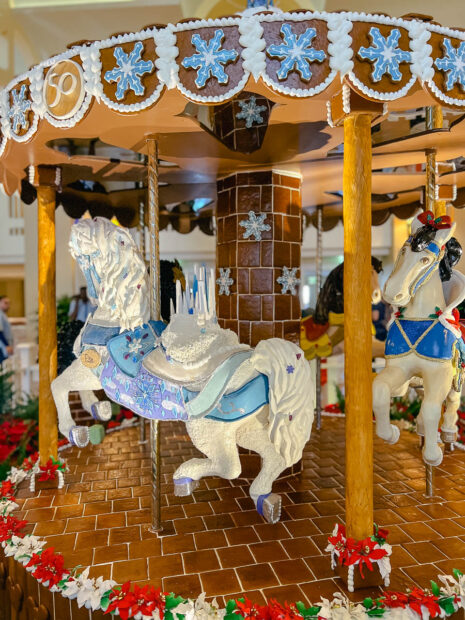 Related: Every Single Gingerbread Display at Walt Disney World
The Yacht Club is formally dressed in Christmas attire with its boat-inspired decorations.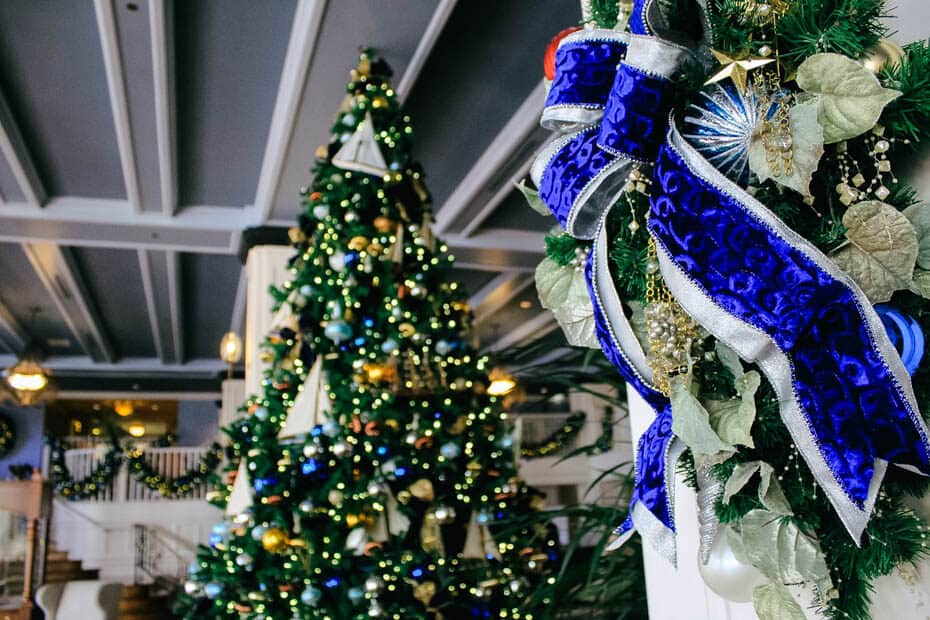 It's a beautiful tree.
And the train village is set up in the corner of the resort.
good morning 🚂 pic.twitter.com/XHOskiEmN0

— Amber (@ResortsGal) December 17, 2021
Briefly, we'll hop back over to a few parks to check out a few more Disney World Christmas photos. We'll start with Animal Kingdom.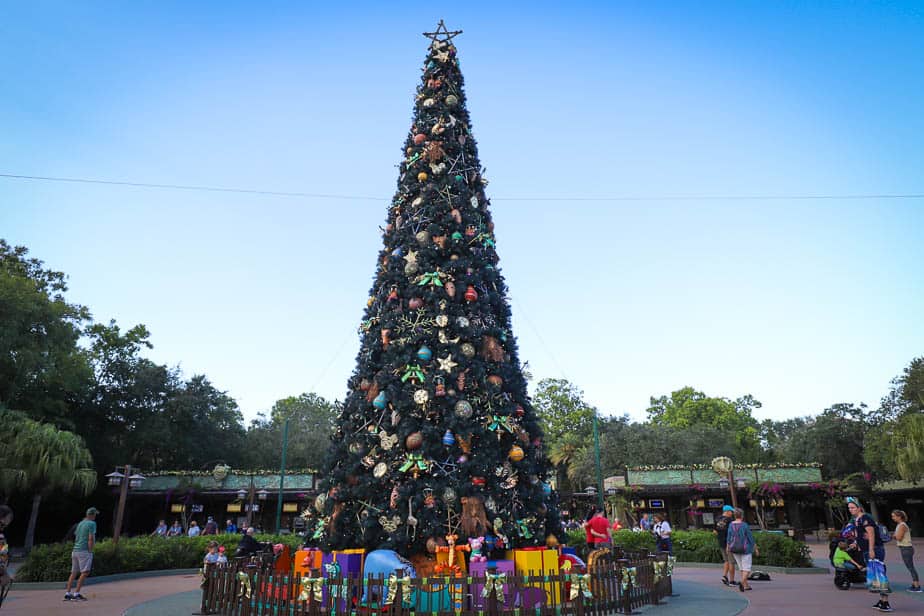 The decor here is gorgeous.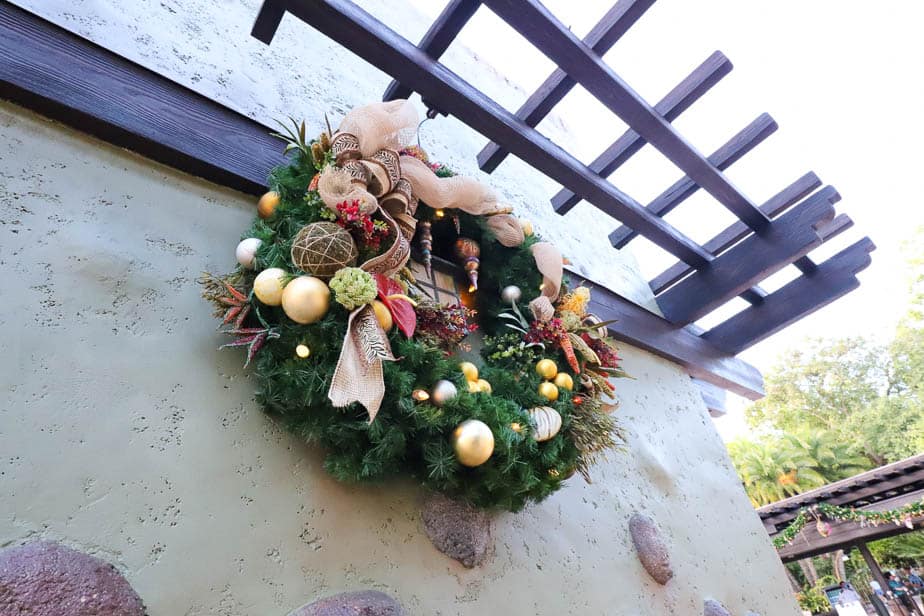 I love that it is inspired by nature and blends perfectly with the surroundings.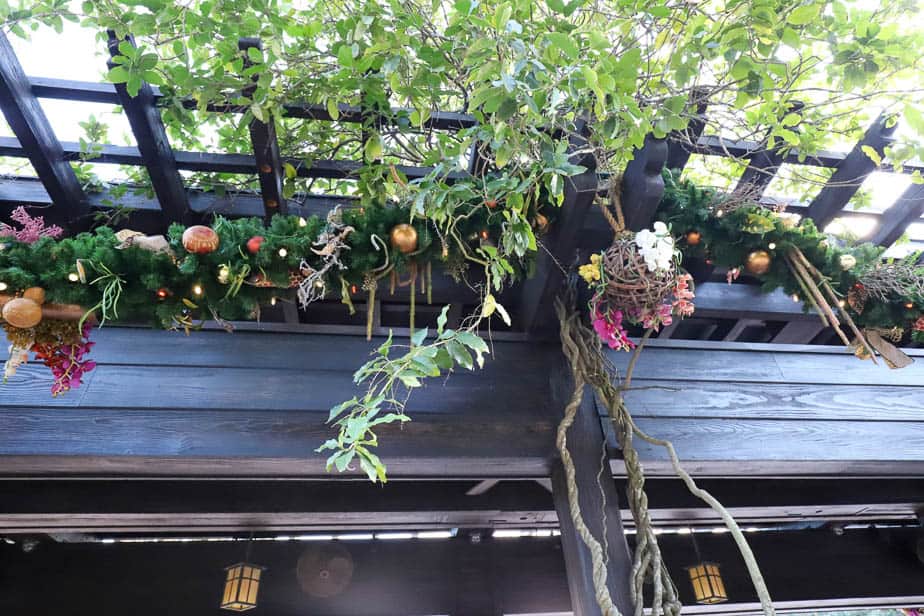 Here are a few more photos.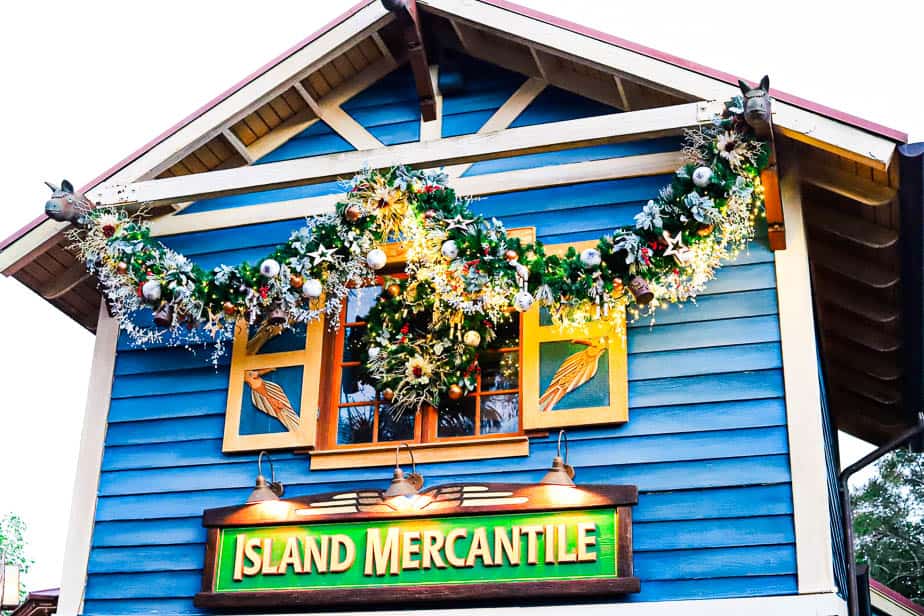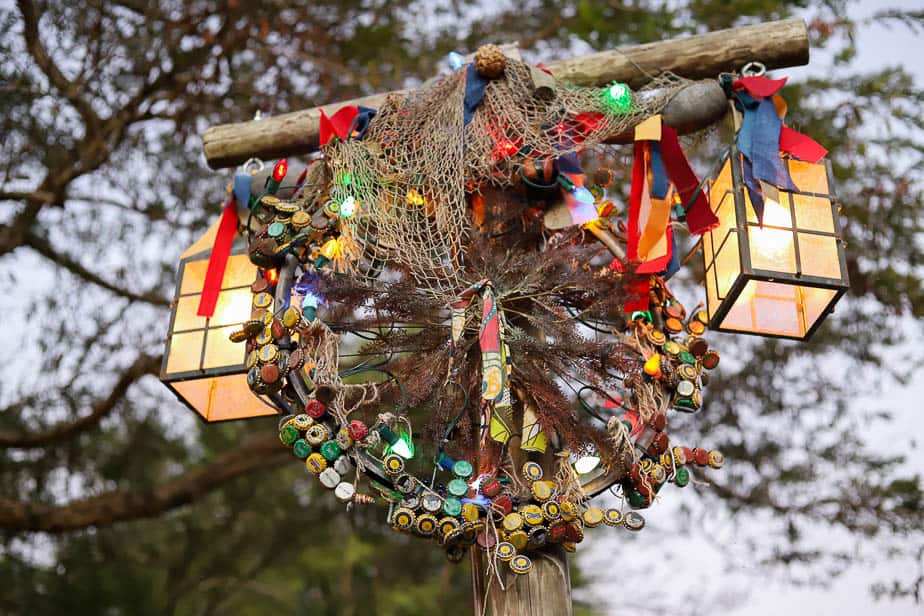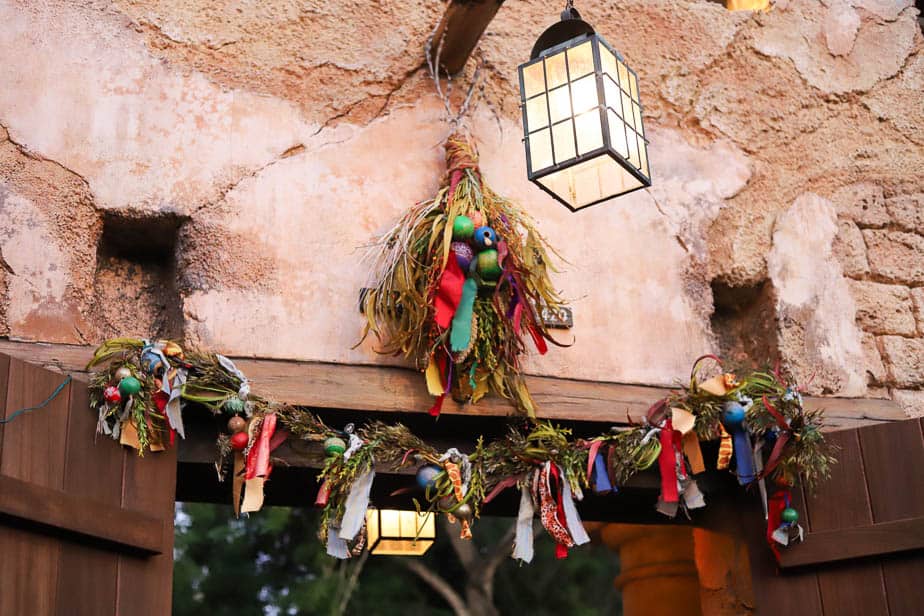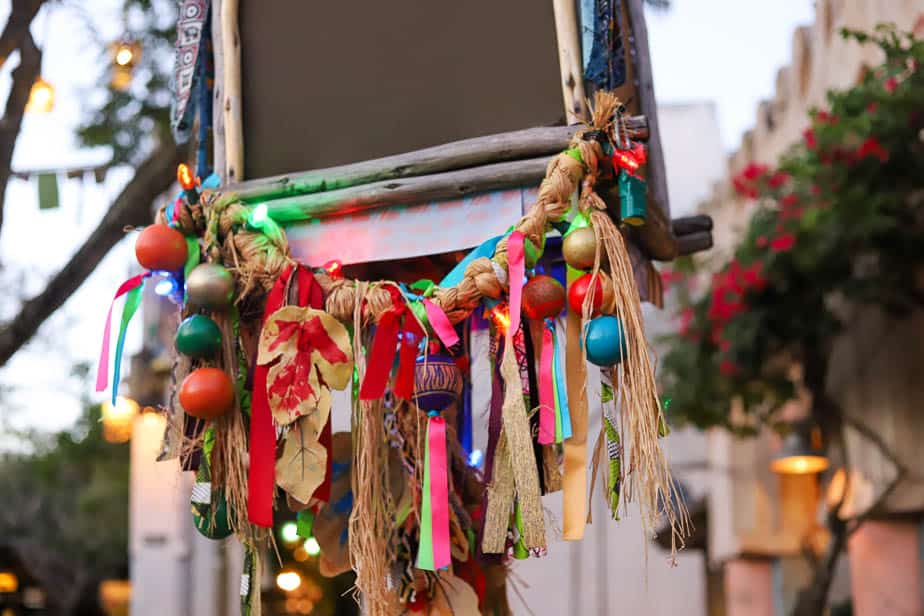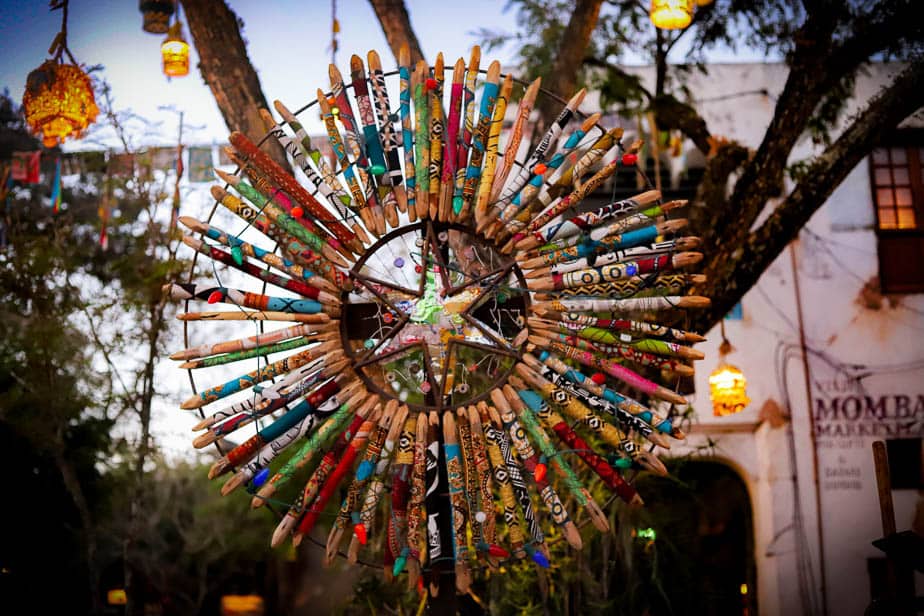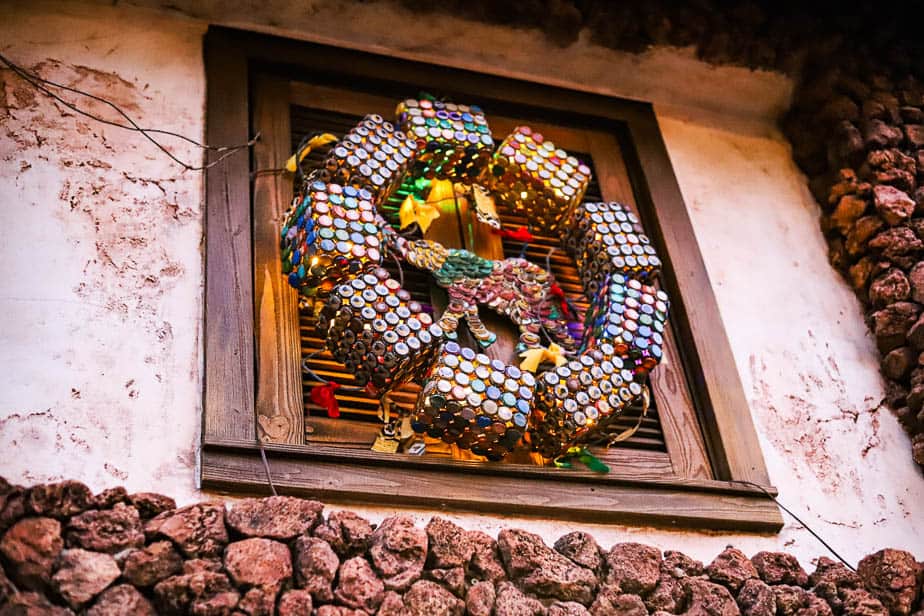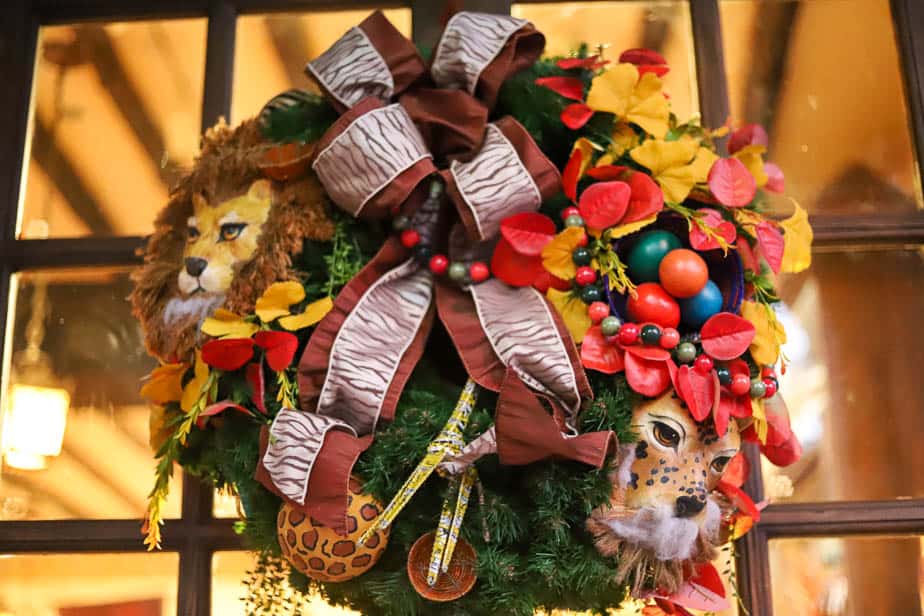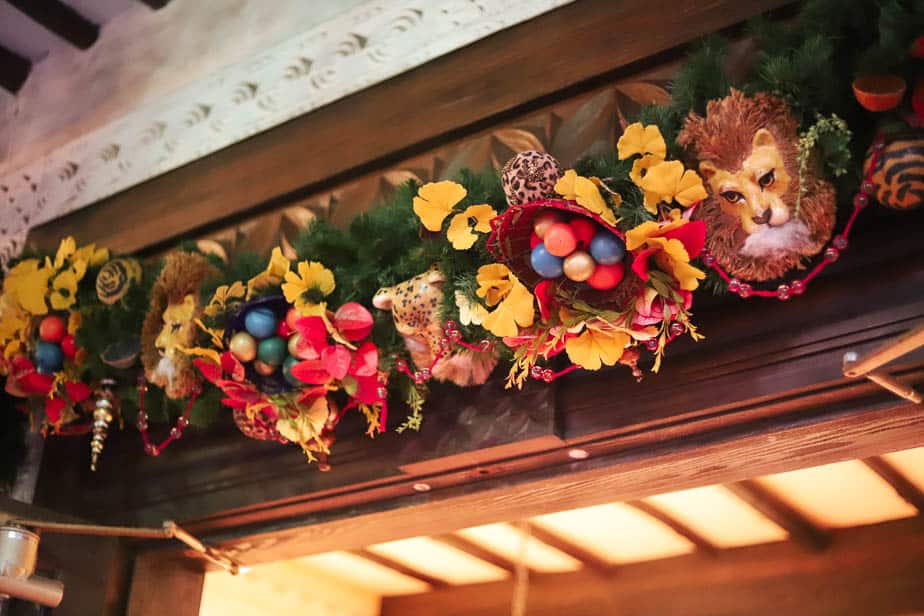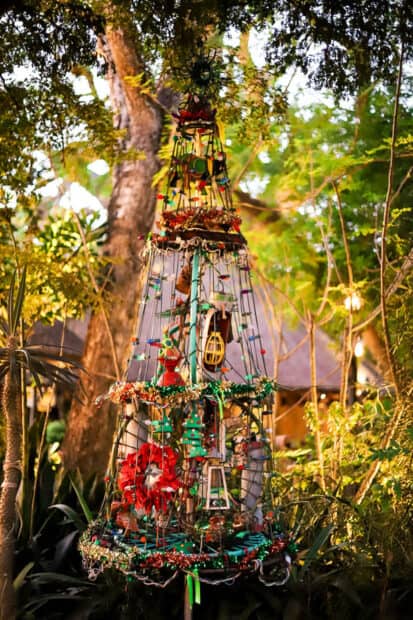 All of the parks are beautiful at different times of the day.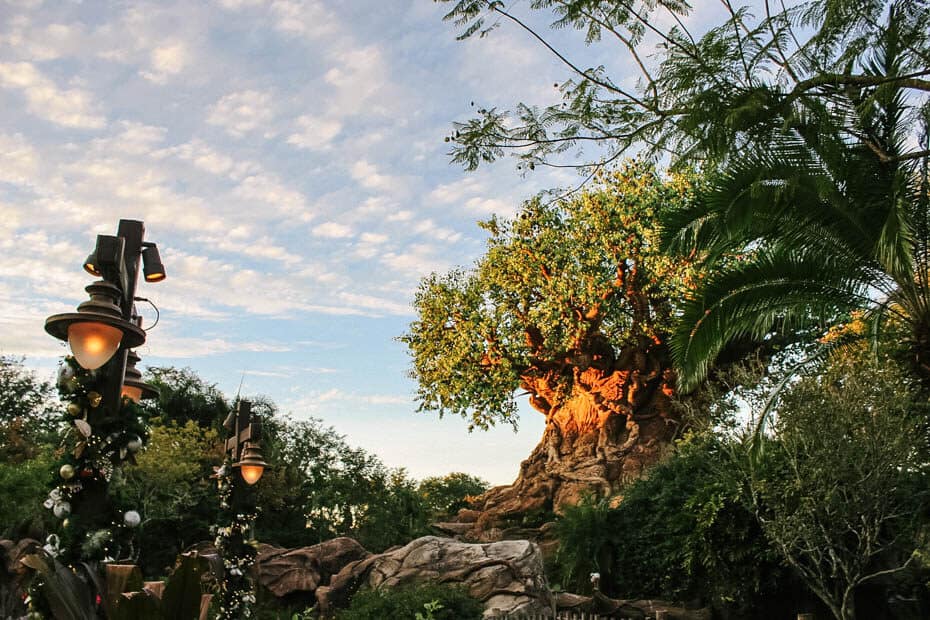 But I especially enjoy the sunset hour.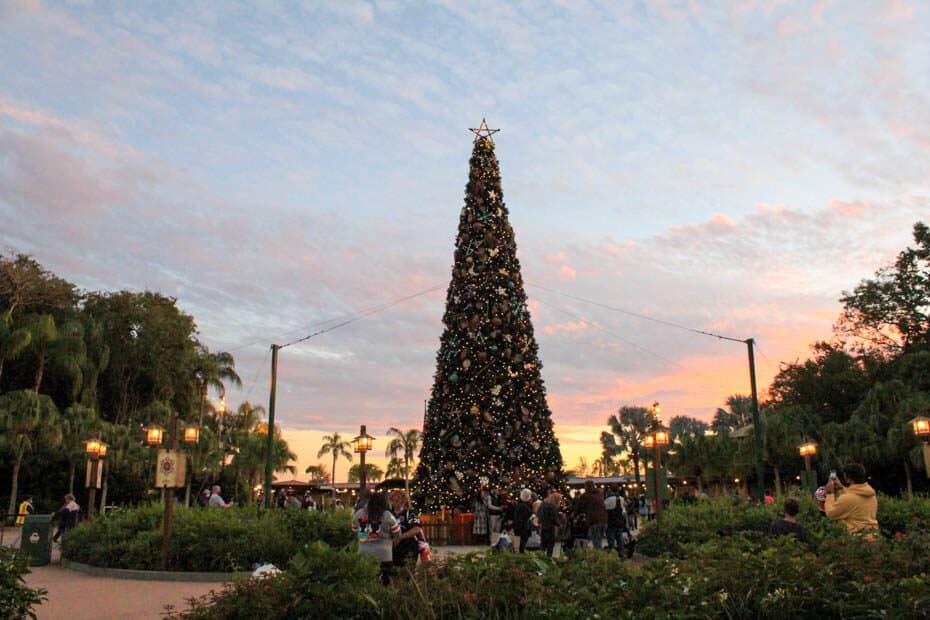 And as the day turns dark, these animal lanterns add a little extra charm.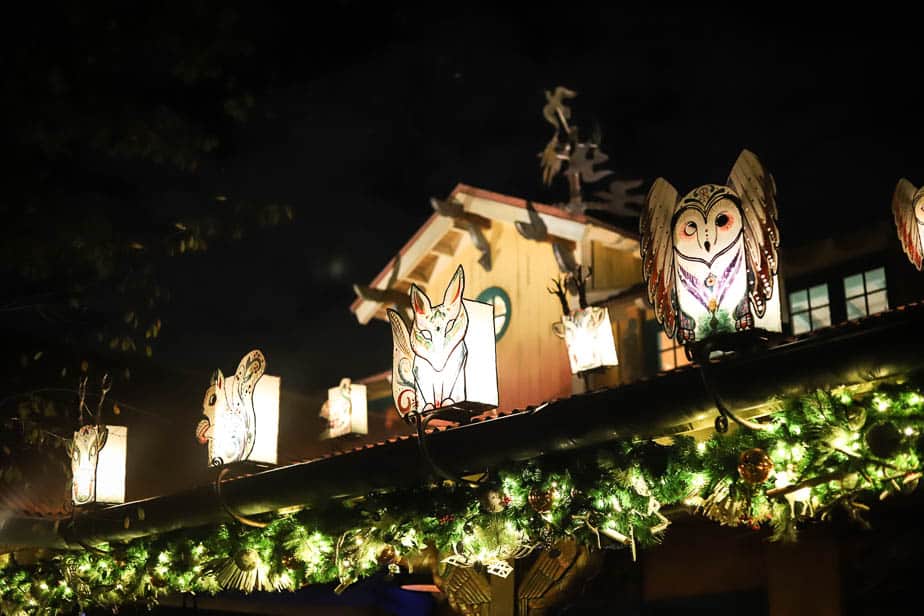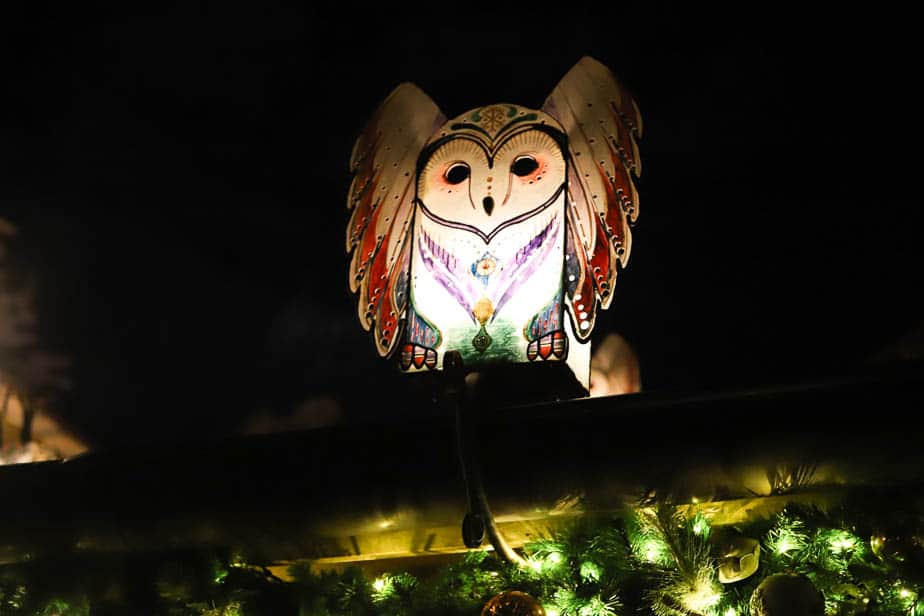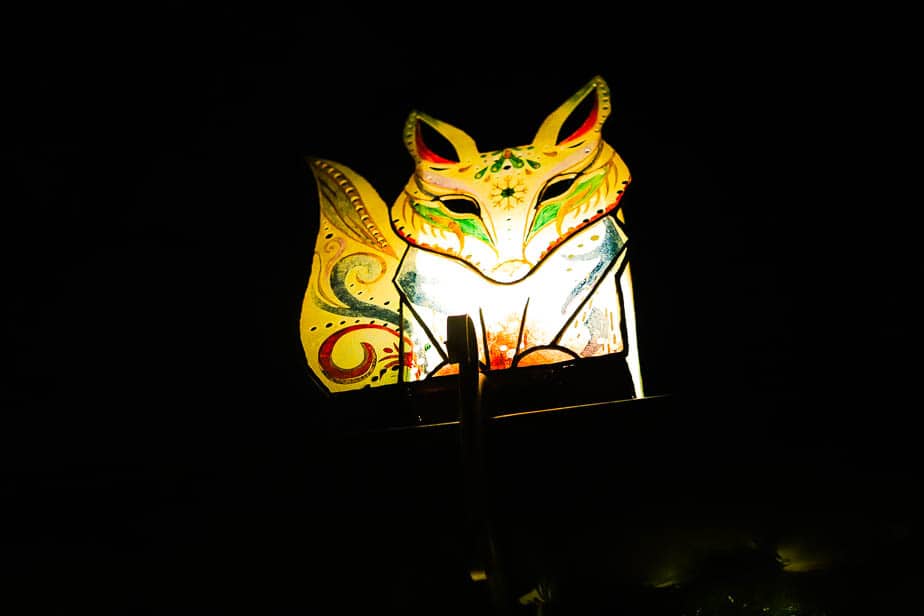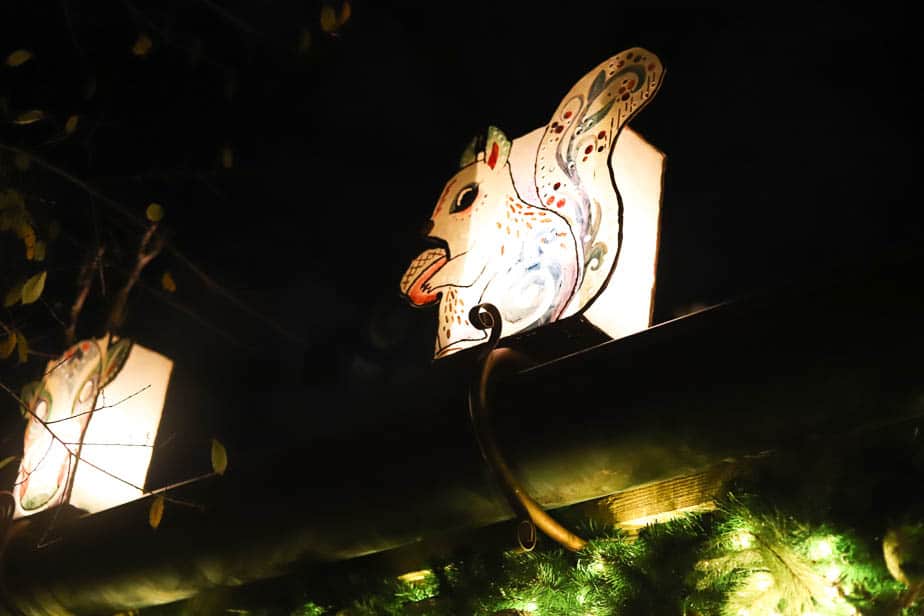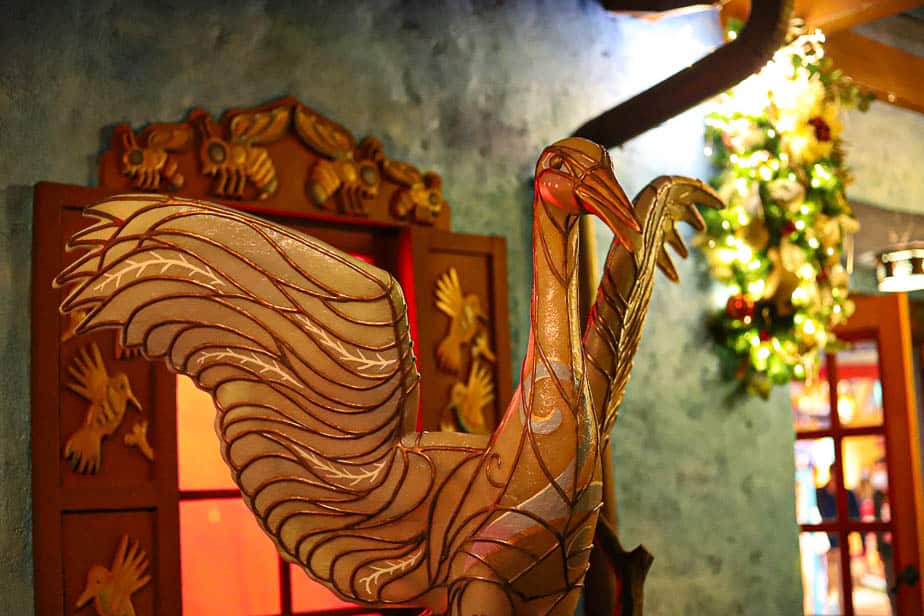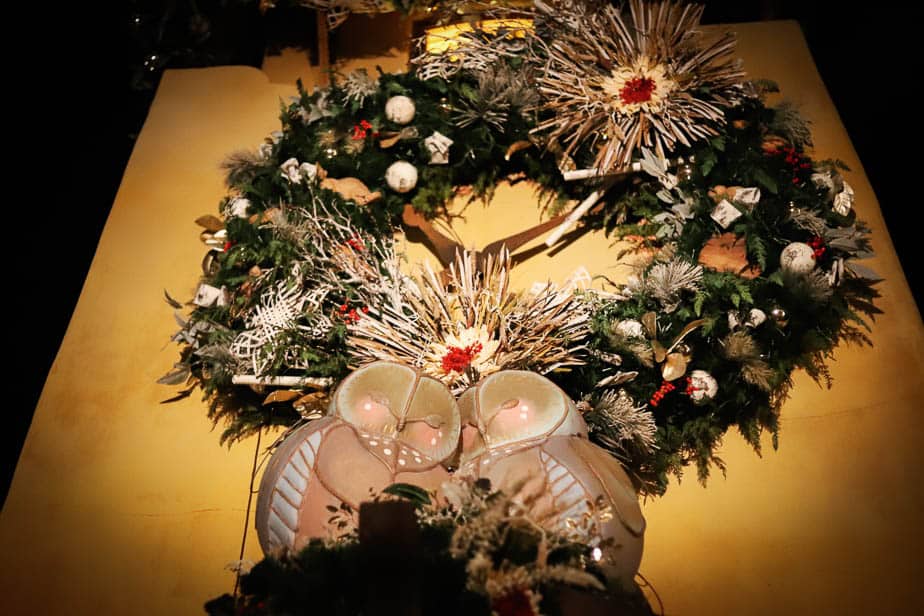 Last year we did a post with tons of pictures around the park. You can check it out here to see more photos.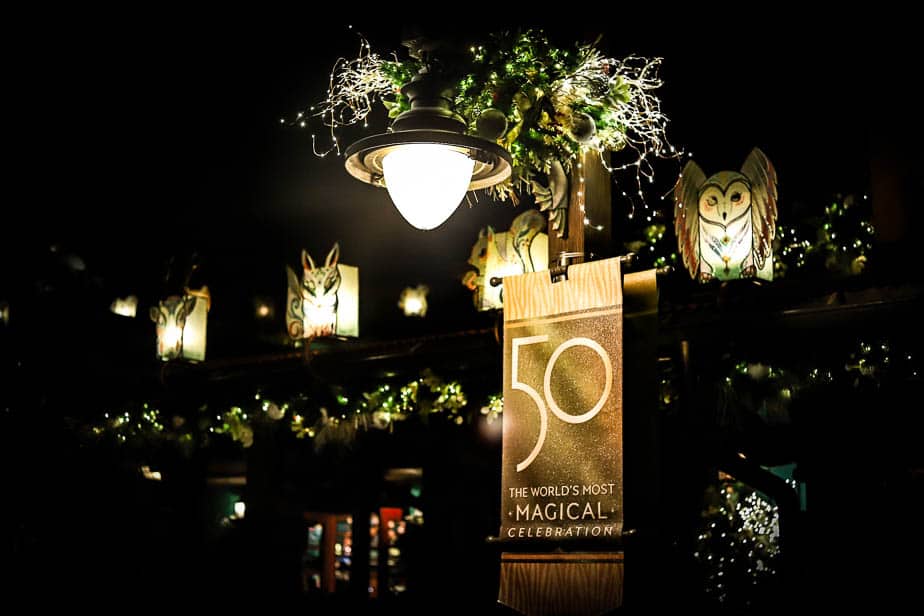 While I spent a reasonable amount of time at Epcot, I didn't take many photos. Most of my days are spent at the resorts or looking for characters in the parks.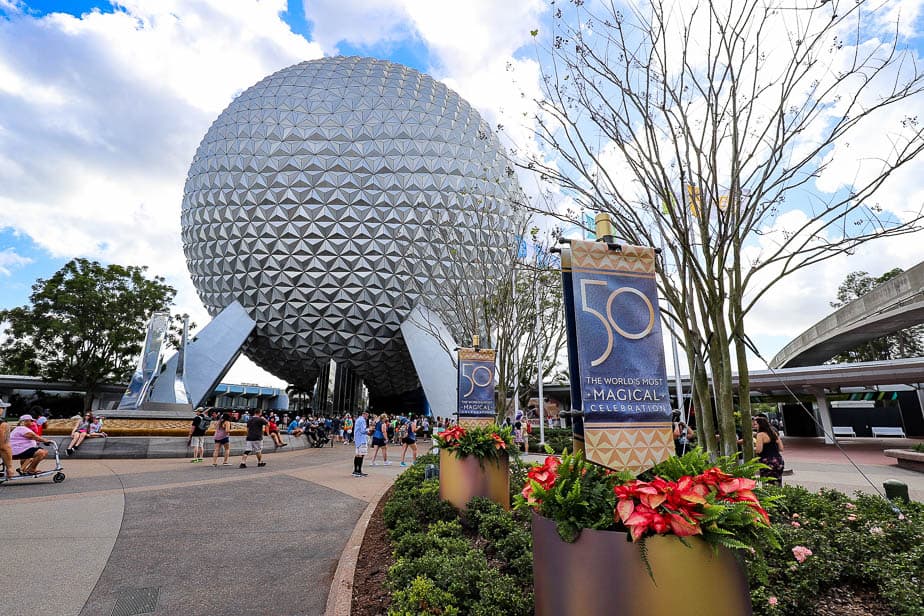 I ran into Winnie the Pooh in his Santa hat by the Imagination Pavilion.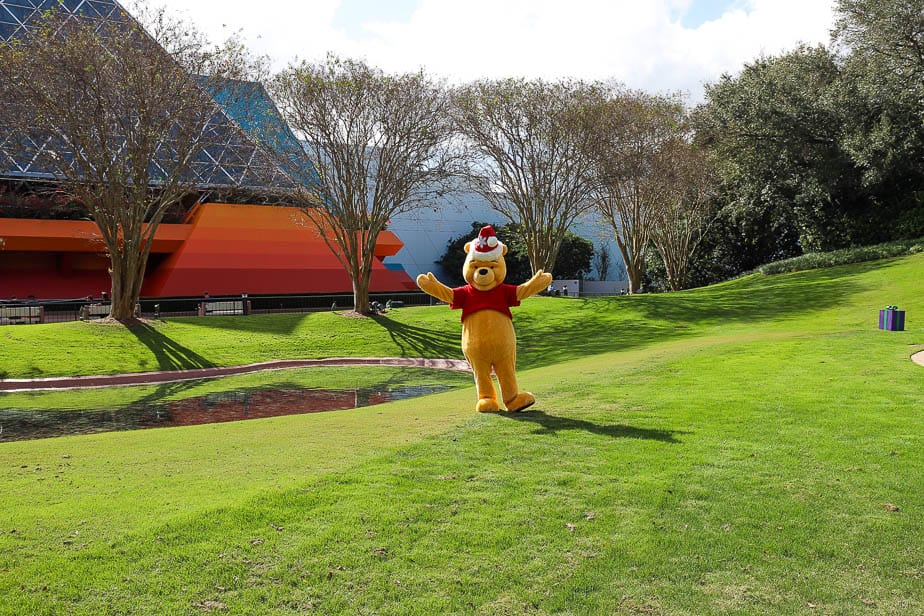 And I thought these poinsettias planters were beautiful!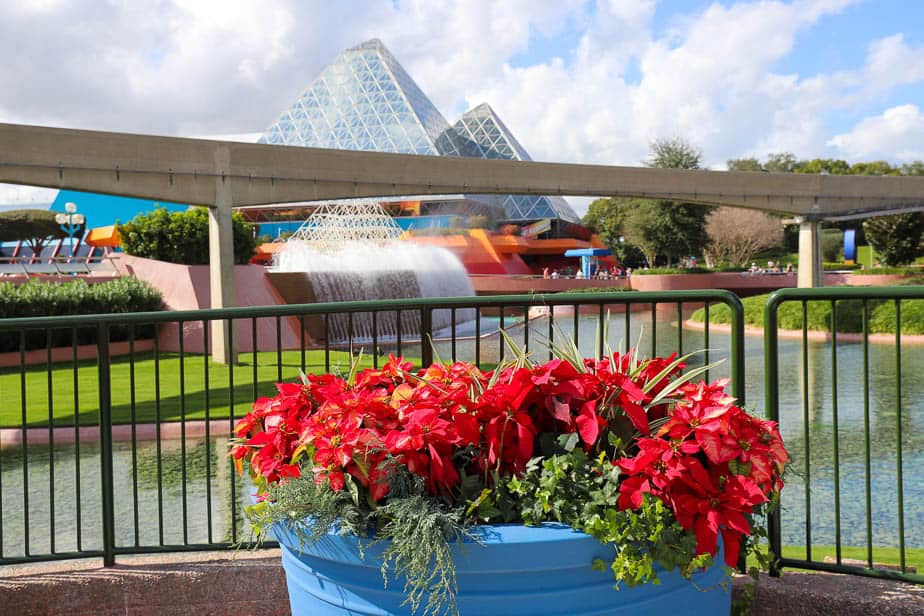 Lastly, we'll stop at Magic Kingdom during the Very Merry After Hours event. The photo below was taken after the first Christmas parade. Unfortunately, this evening was downright chilly, and many guests left after the first parade.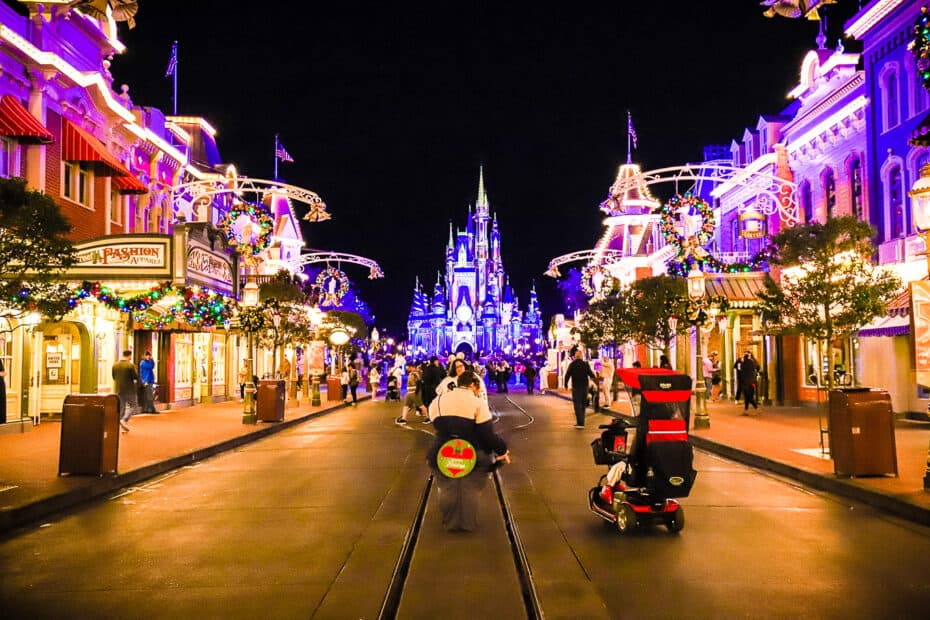 It is rare to see the park so empty during an event.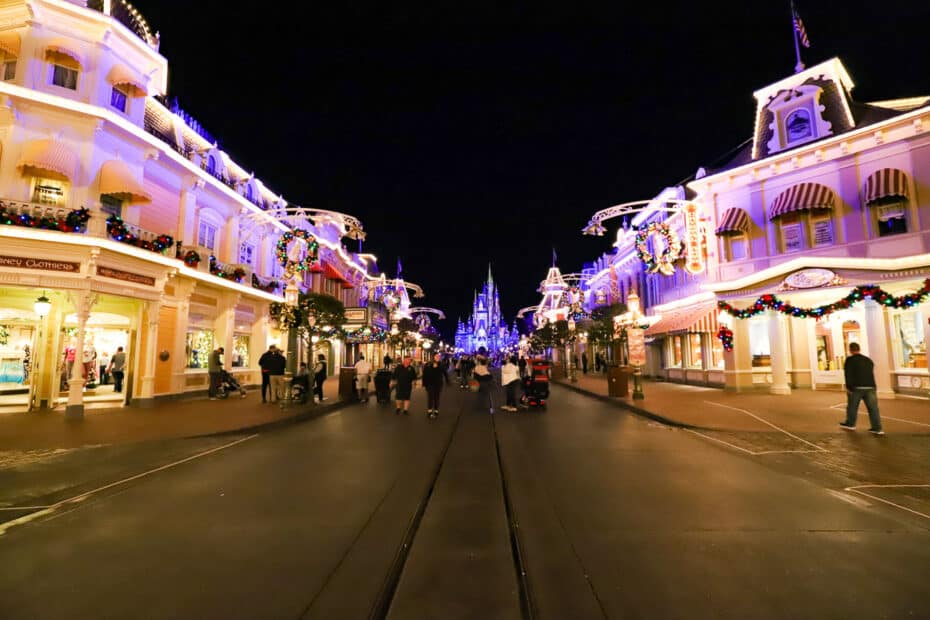 We left earlier than any of us would have liked. But when the temps are low, it's hard to stay outside. And since limited stores are open during these events, they tend to get crowded. So I hung out in the Emporium for a while, and it was packed.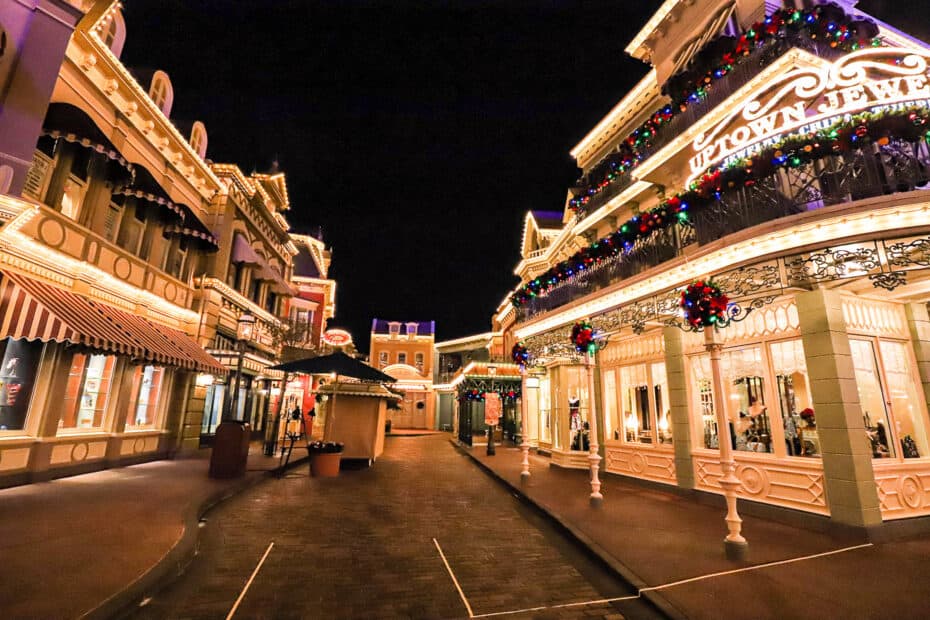 I did manage to get a few photos of the window displays on Main Street U.S.A.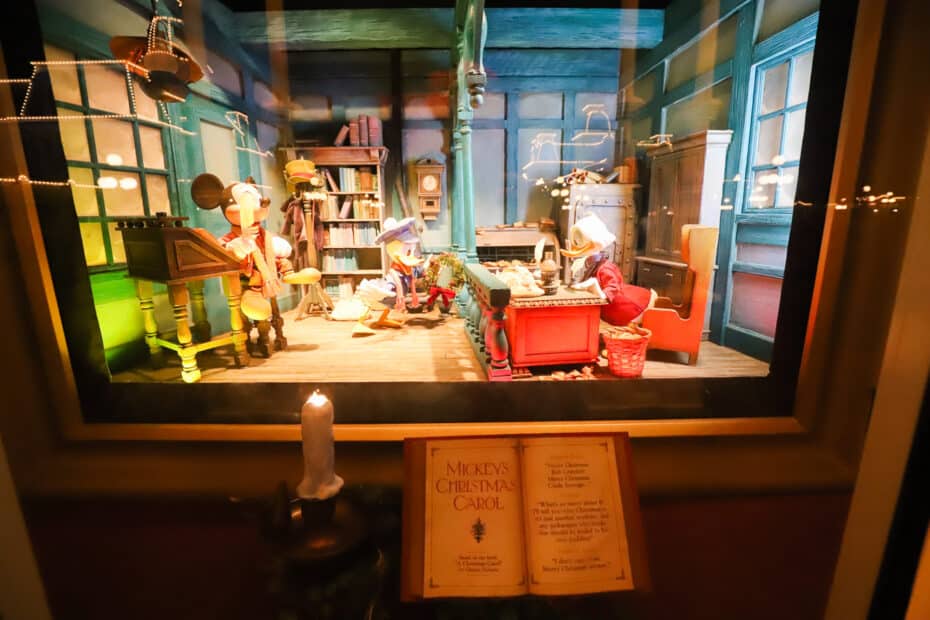 Each window features a scene from Mickey's Christmas Carol with fun moving components.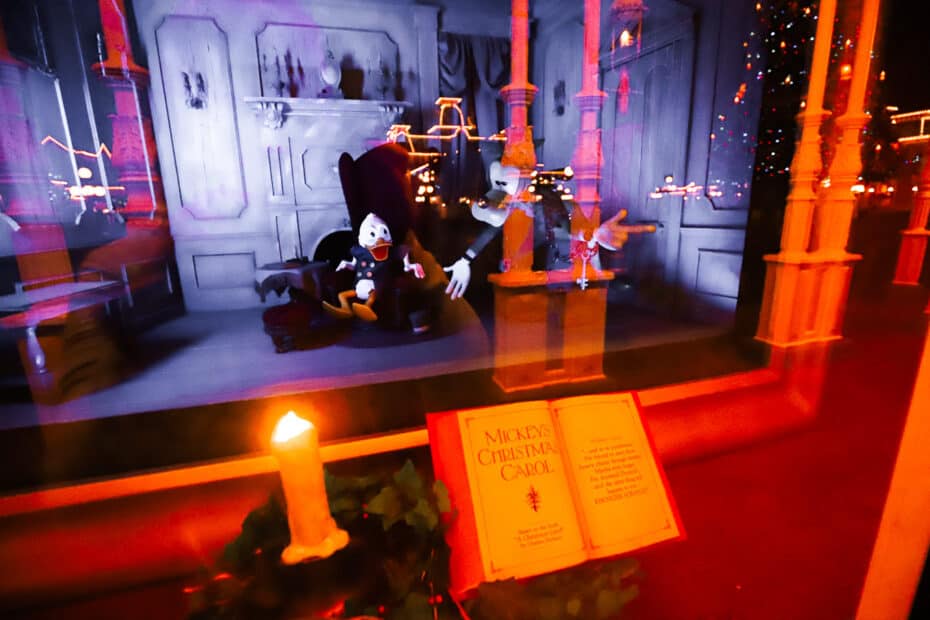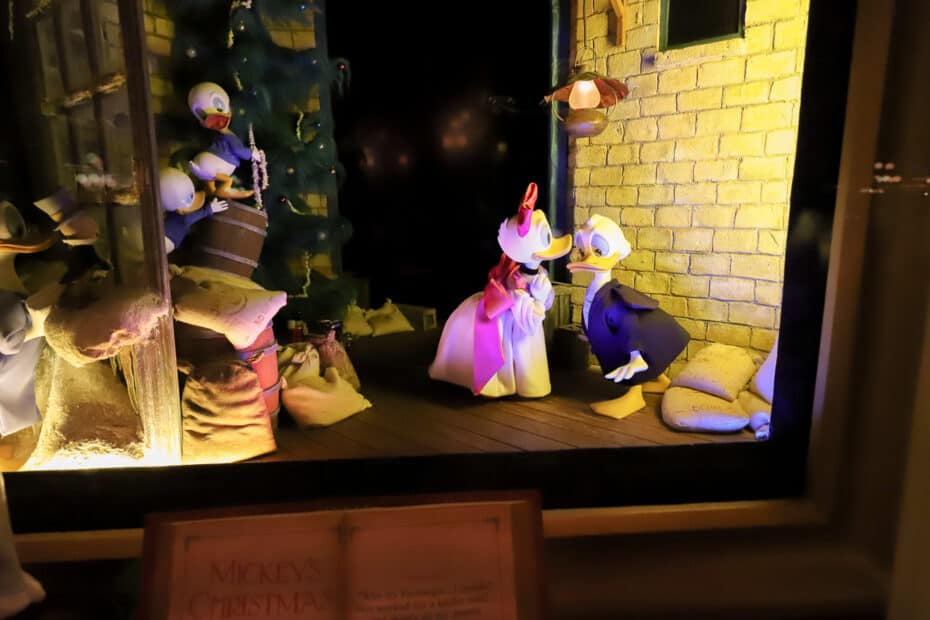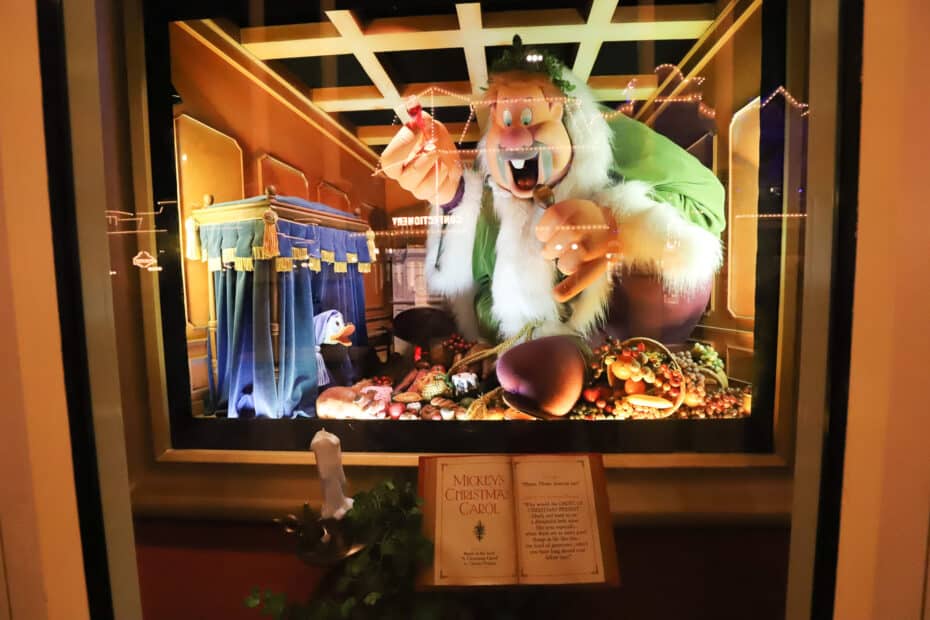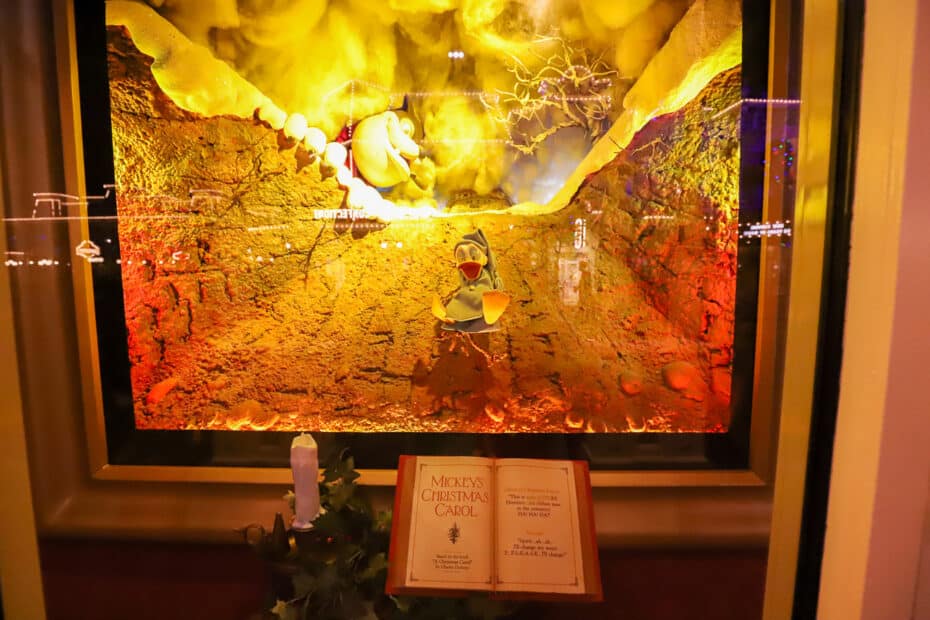 Thankfully, it was all a dream, and Scrooge had a chance to redeem himself.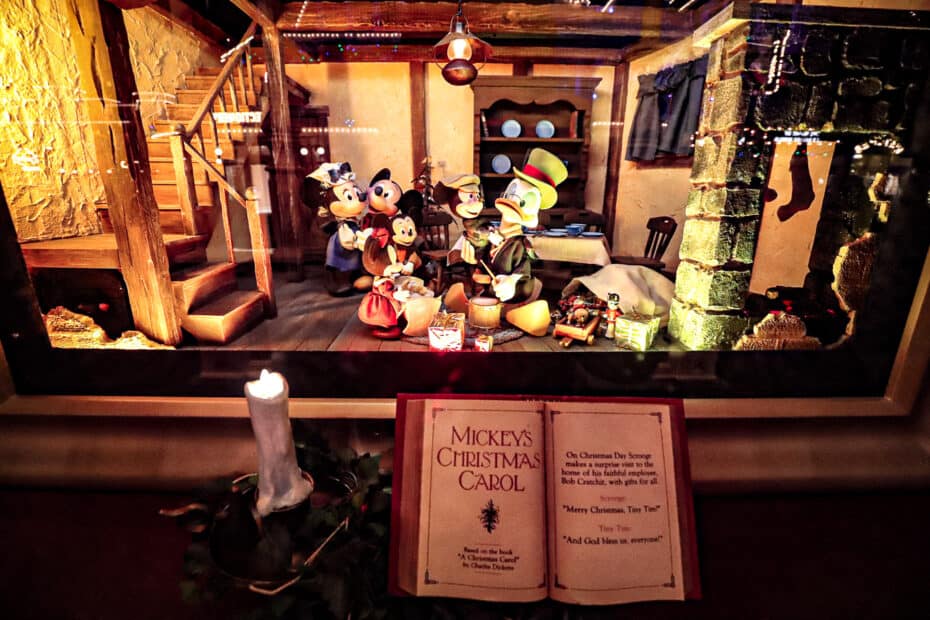 Here is the tree at Magic Kingdom.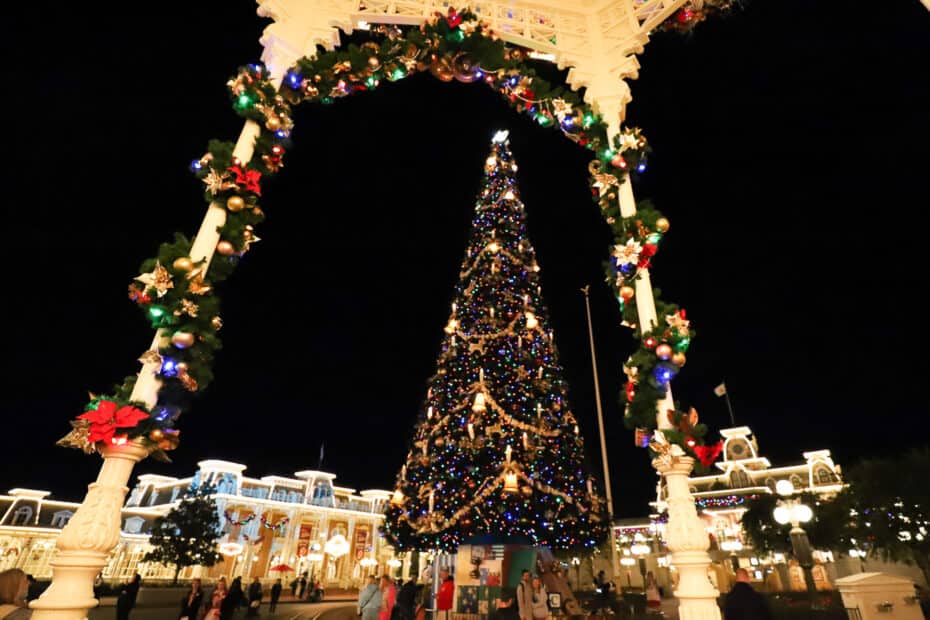 And we'll browse a few floats from Mickey's Once Upon a Christmastime Parade.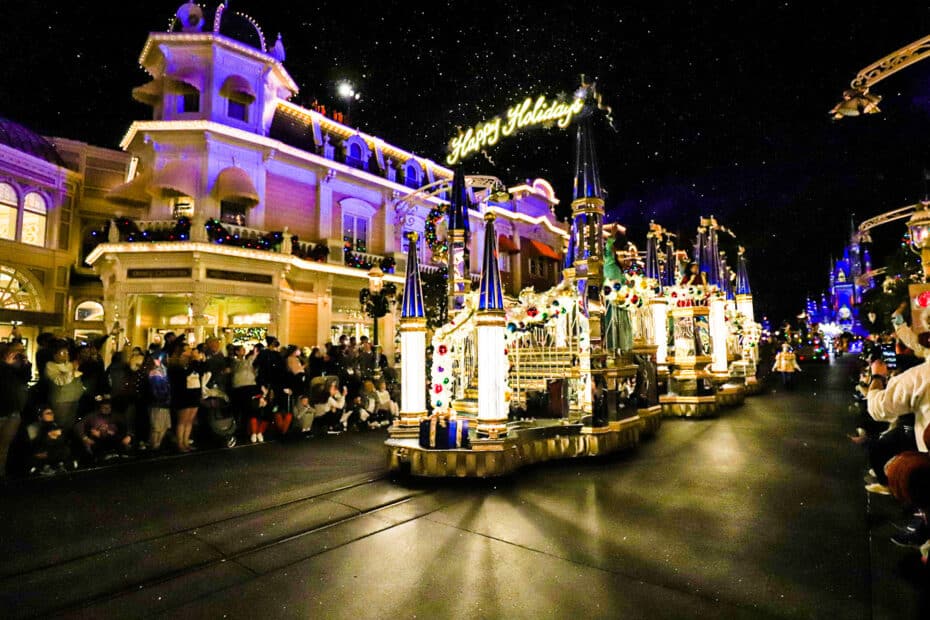 The snow effect on Main Street is magical.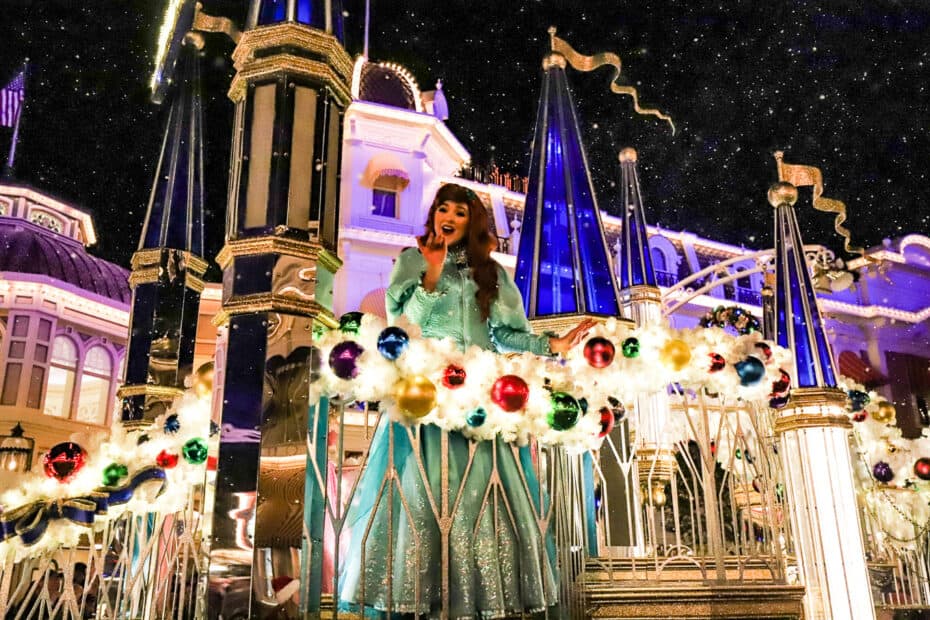 Couldn't we just have Duffy?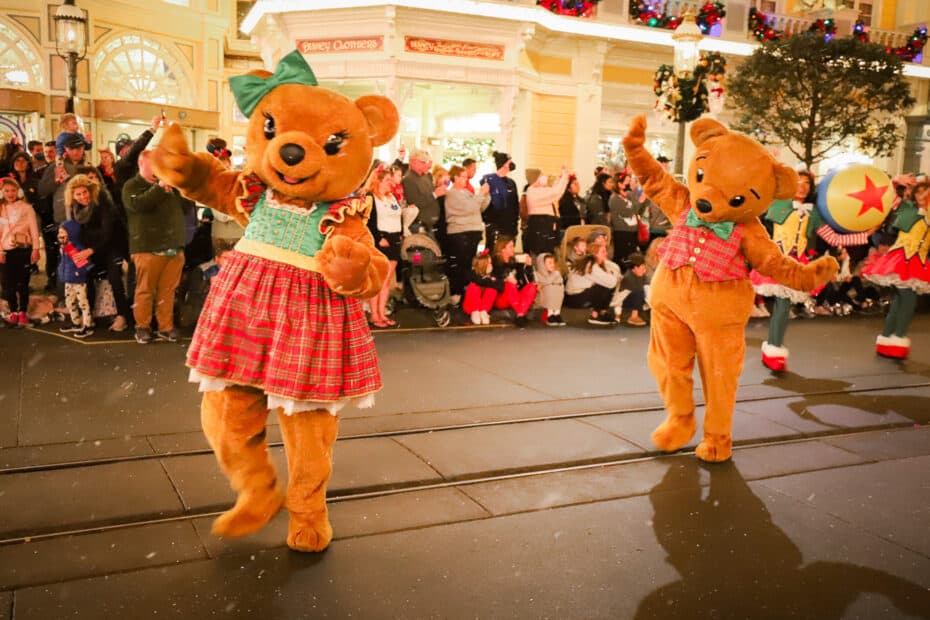 The Toy Soldiers are the best!
And the reindeer aren't far behind!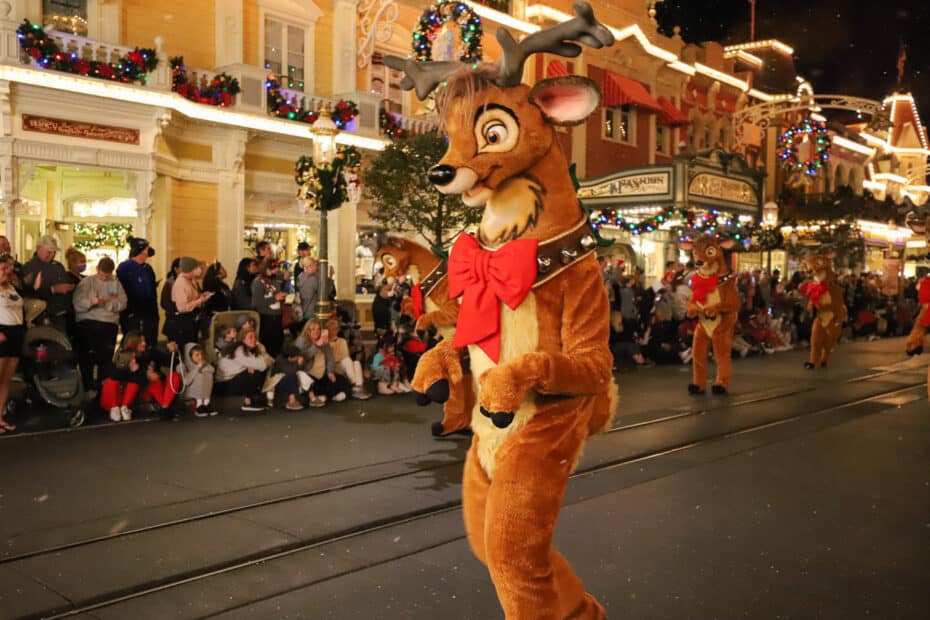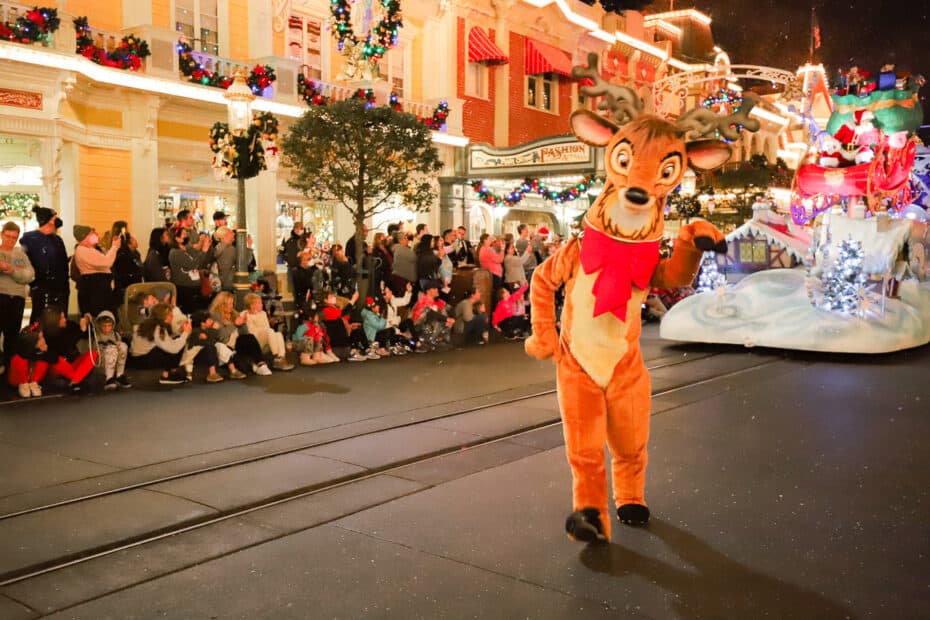 Santa comes through at the tail end of the parade.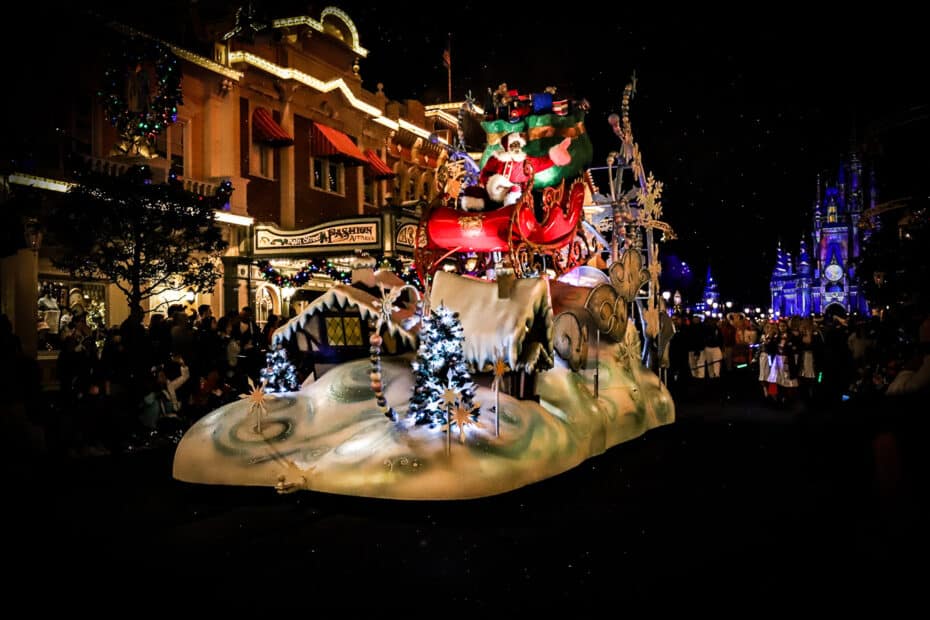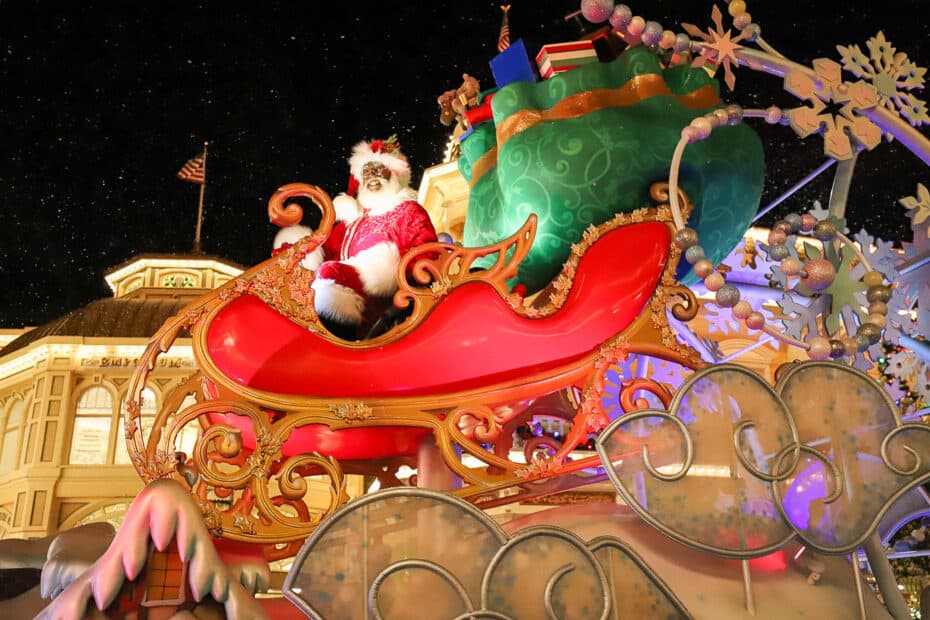 A few other character sightings in the parade include Goofy and Max.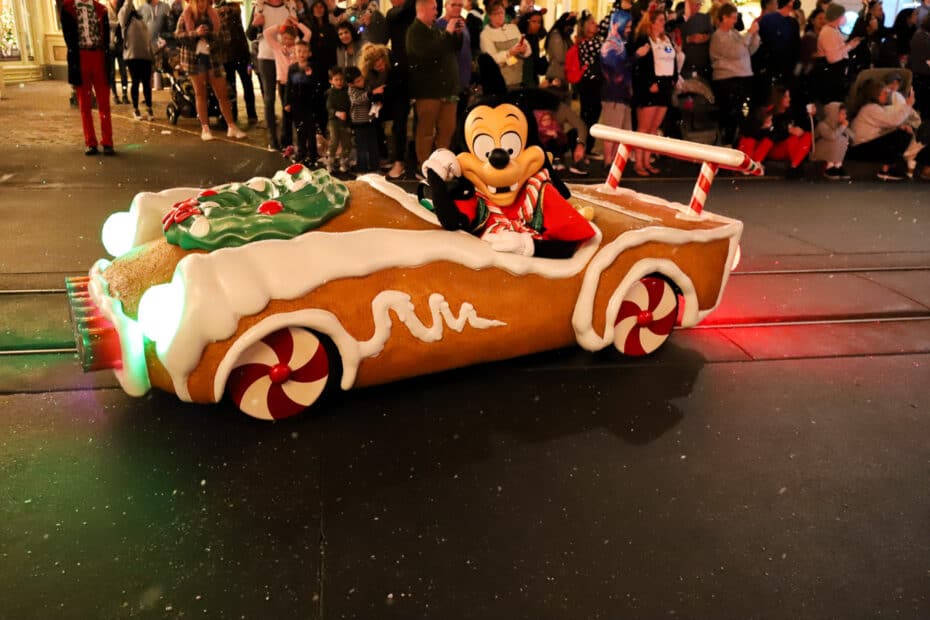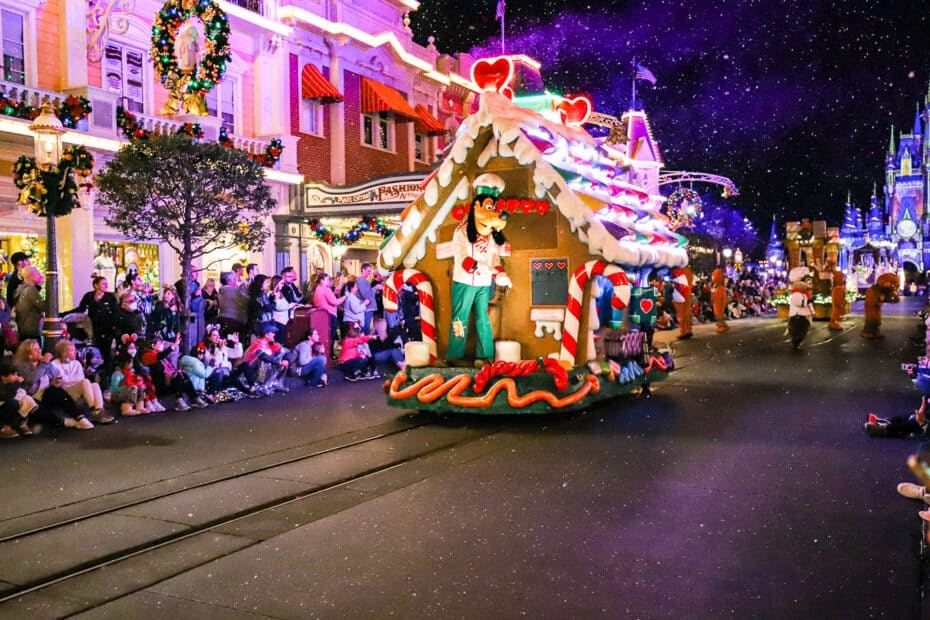 Here comes Olaf.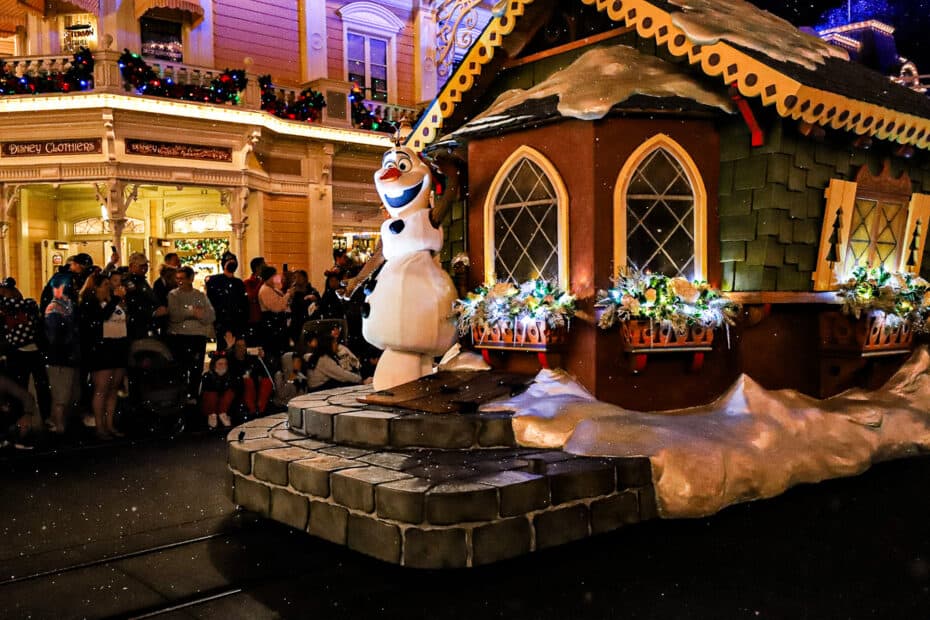 Look at the festive attire Donald and Daisy are sporting!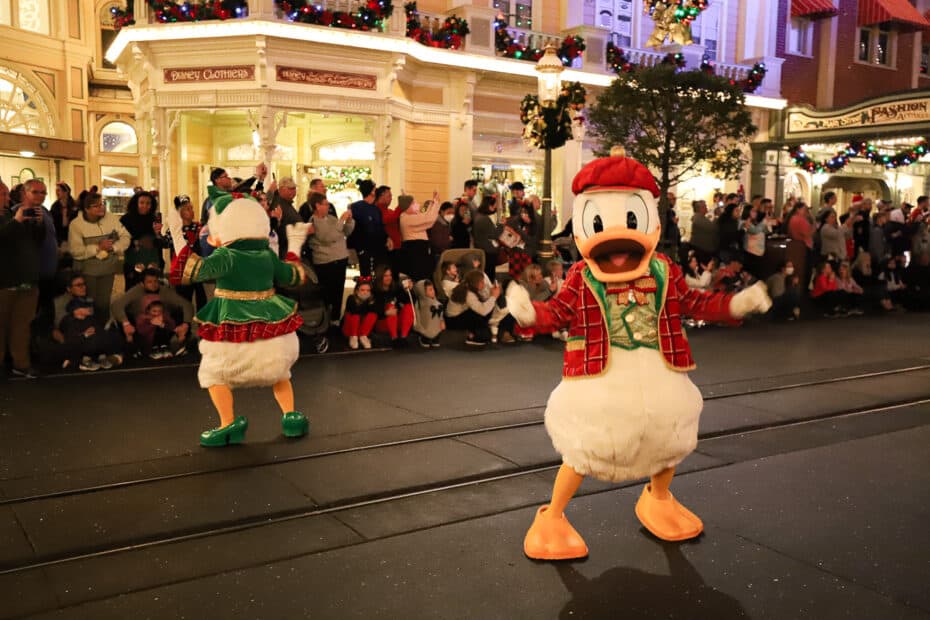 And let us not forget (not ever) Mickey and Minnie Mouse. Thankfully, you can now meet Mickey Mouse daily at Magic Kingdom. And Minnie Mouse meets over at Red Carpet Dreams at Hollywood Studios.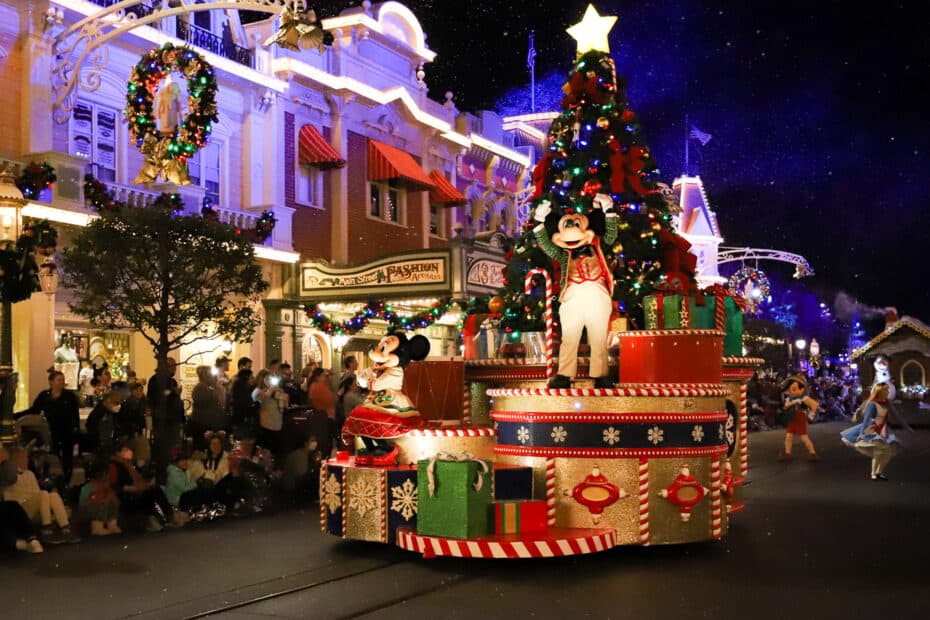 I hope you enjoyed these Walt Disney World photos during the Christmas season!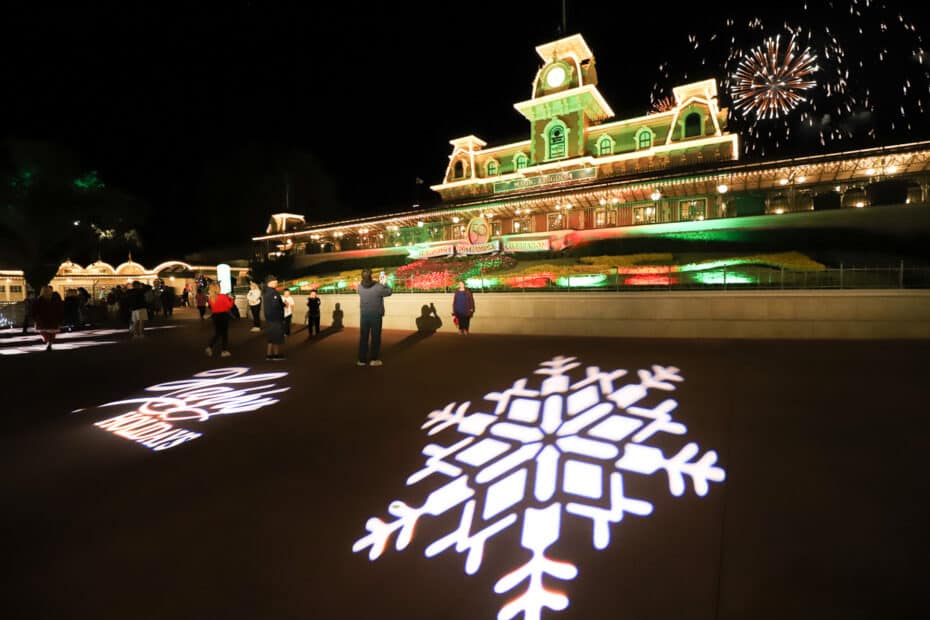 Next up, I've got a fun and light Animal Kingdom photo post planned. And then we'll get back to the resorts.
Feel free to leave a comment below and share which one of these Disney World Christmas photos you liked the best.
---