Is the Appleseed Orchard at Epcot's Food and Wine Worth a Stop? (2022 Review)
For some reason, the Canada Pavilion gets two booths instead of one. What makes even less sense is that one booth has only savory items while the other has dessert.
Not only that, but this dessert booth, formally known as the Appleseed Orchard, has only one food item. The booth is inside the pavilion's attraction, Canada Far and Wide, a Circlevision film.
So you can't see the film if you visit during Epcot's International Food and Wine Festival. But you can get a very American piece of pie….in Canada.
Below we'll review said pie and look at one of the non-alcoholic beverages. Then you can decide whether or not the Appleseed Orchard is worth a stop on your next visit.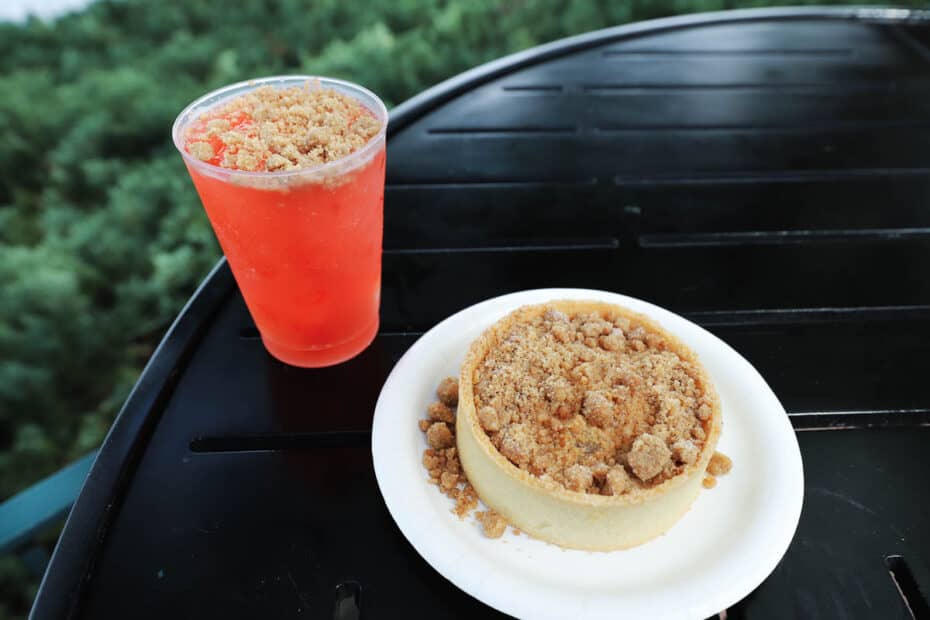 Appleseed Orchard Menu Items
Below is the sole food item and price for the Appleseed Orchard this year:
Apple Crumble Tart ($4.75)
Beverages:
Frozen Apple Pie (non-alcoholic $4.75)
Cinnamon Apple Cider (non-alcoholic $3.75)
Bold Rock Imperial Apple Hard Cider ($5.00 or $9.00)
Original Sin Hard Cider McIntosh ($5.00 or $9.00)
Blake's Hard Cider Co. Saint Cheri Bourbon Barrel Aged Cherry ($5.00 or $9.00)
Big Storm Brewing Co. Apple Blonde Ale ($5.00 or $9.00)
Playalinda Brewing Caramel Apple Pie Ale ($5.00 or $9.00)
3 Daughters Brewing Apple Pecan Brown Ale ($5.00 or $9.00)
Apple Blossom Sky ($11.50)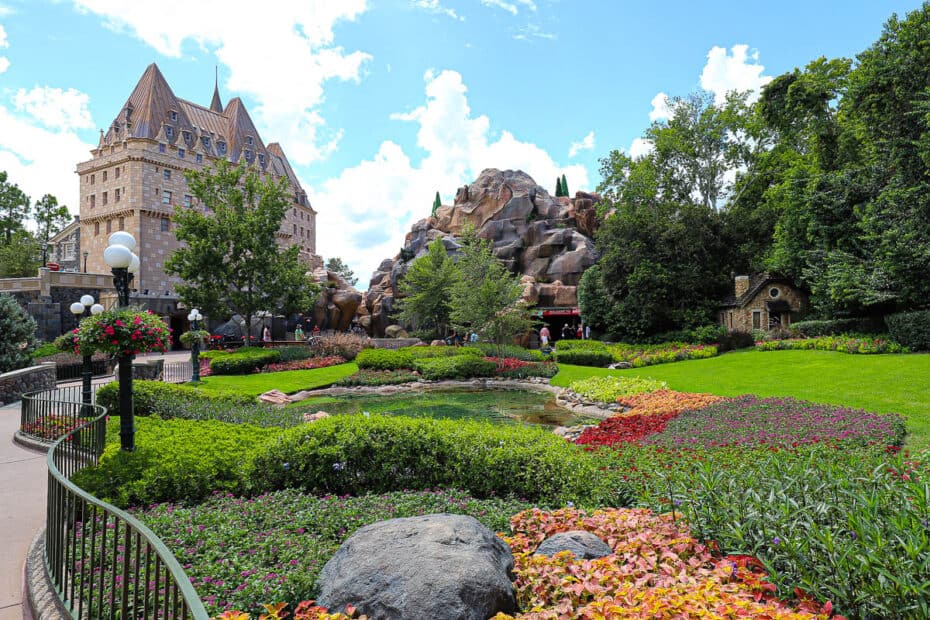 You can enter the Appleseed Orchard at the entrance of Far and Wide. Notice they have signage covering the attraction's name at the bottom of the waterfall area.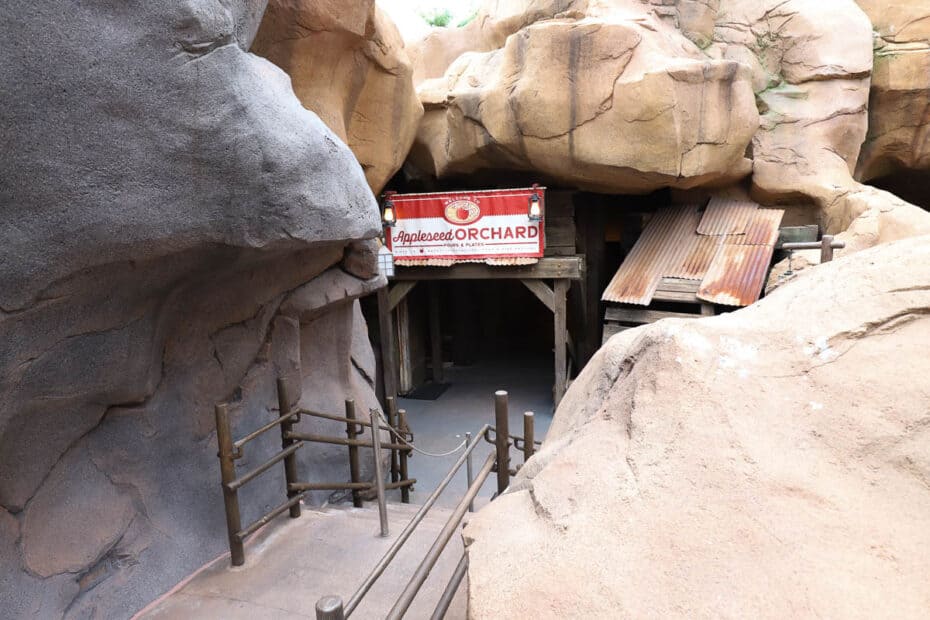 Or you can walk through the replica of Victoria Gardens and enter at the attraction's exit. This is the simpler of the two options.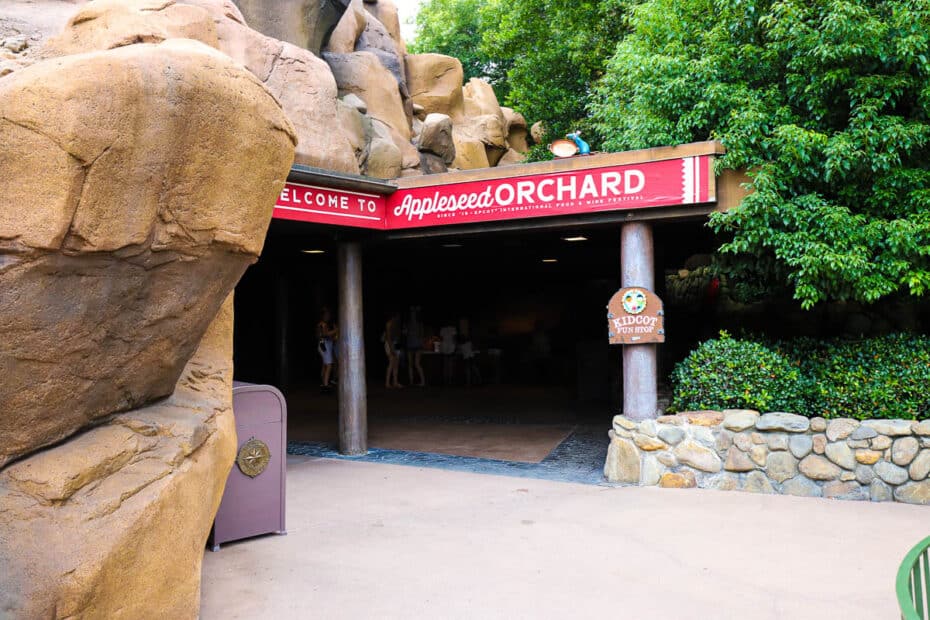 At the least, it's cool and dark inside the theater, so you can catch a break here. Unfortunately, however, there is no seating.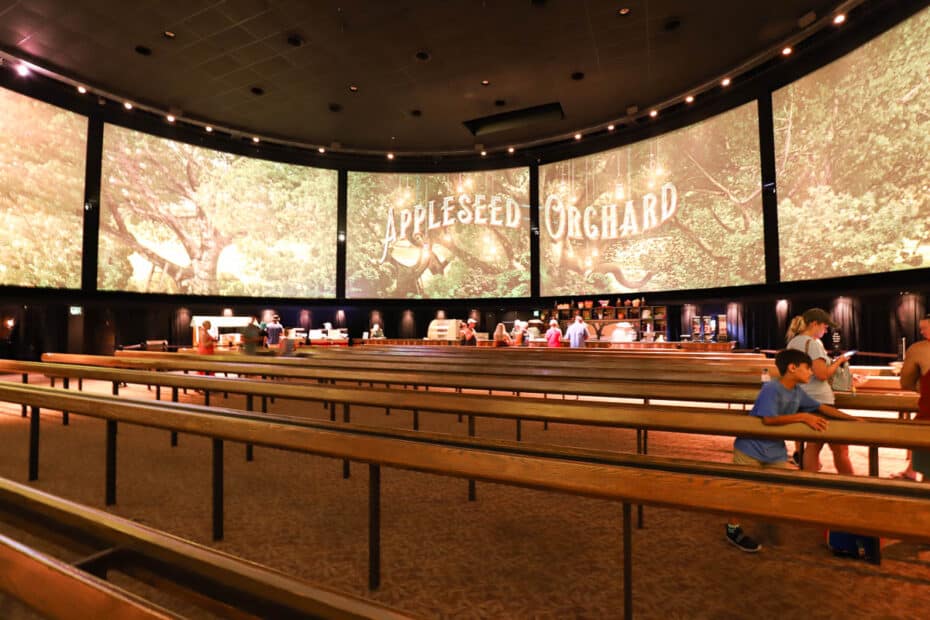 Apple Crumble Tart ($4.75)
Given the terrible lighting, I trudged my pie and shake out to the World Showcase. Usually, I like a nice view of the Italy Pavilion in the background. However, the Harmonious barges tend to obstruct those views these days.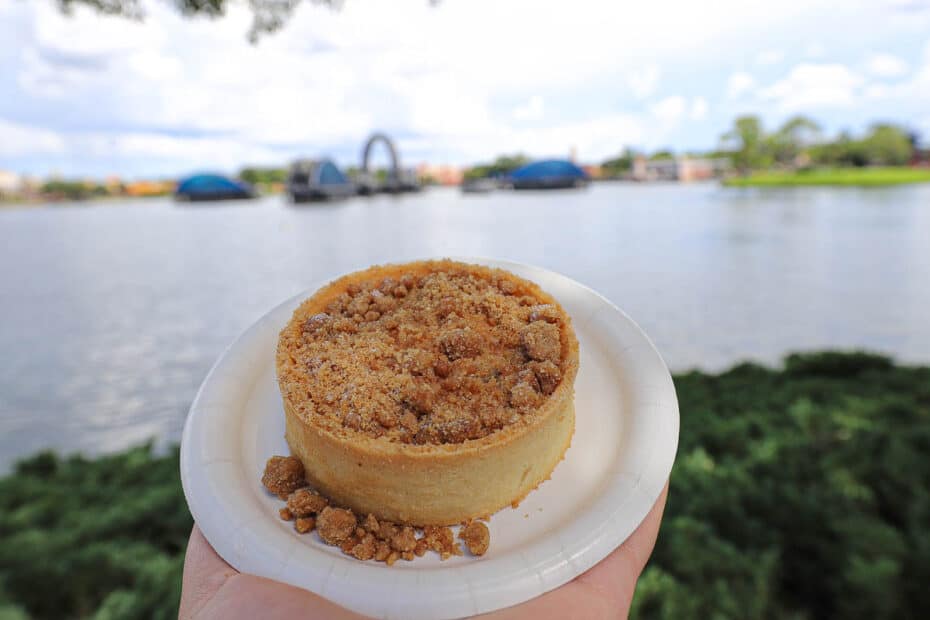 Nevertheless, I raise my food as a nod to Italy. We'll probably head there last.
As for the tart, I was expecting great things. Before visiting this booth, I had an informal lunch at the Swanky Saucy Swine. Since that booth wasn't offering a dessert, I felt it was the perfect time to work the Appleseed Orchard into my schedule.
Unfortunately, the tart was mediocre. It could have been fantastic had it been a dish served warm. But my tart wasn't even lukewarm.
The flavors were that of a traditional apple pie, but it was overly sweet. You can do much better for dessert at the festival, specifically the chocolate bread pudding at the Mexico food booth.
With that being said, the pie is a more-than-average size dessert for less than $5.00. And if your portion is served warm, you might have a nice piece of the pie. Sorry, it's a tart.
Frozen Apple Pie (non-alcoholic $4.75)
Since the Appleseed Orchard was lacking on the food front, I decided to add the Frozen Apple Pie to my order. Unfortunately, I'm not supposed to eat things that are synthetically red or green (think pistachio cake in Morocco), so I only tried a small bite.
I had already seen the cider pictured on social media and mistook it for the frozen pie shake. And that's what you have here.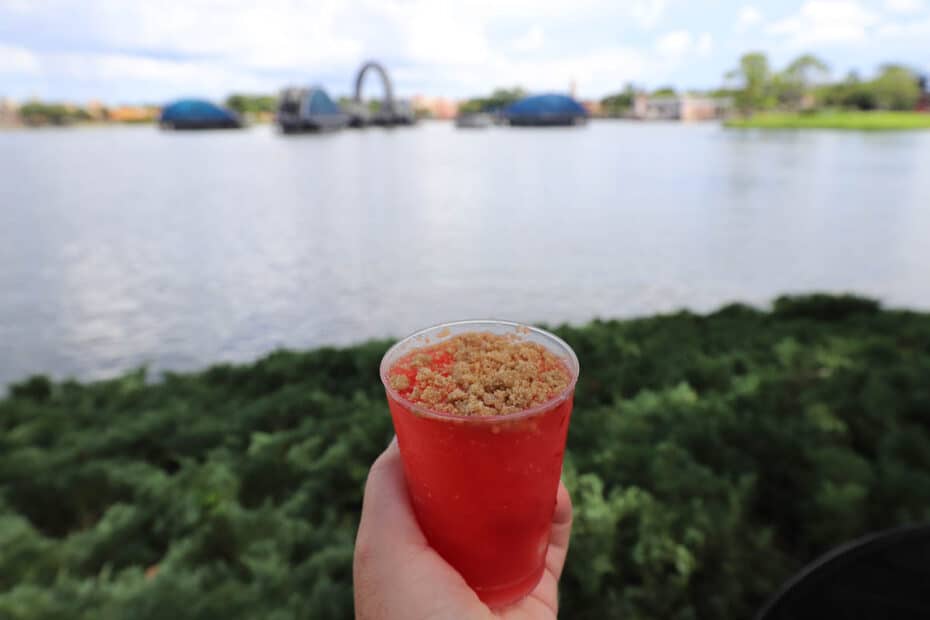 You'll probably want to grab a spoon because there's a legit frozen pie inside the drink. Other than that, the drink tasted like a mix of sugar and butter. It was pretty rich.
Since the shake comes frozen, it has the potential to be refreshing. But overall, it's a little too rich. (And I only had a bite!)
For something frozen and refreshing, try the Strawberry Freeze at Earth Eats. It was delicious, and the red color in that drink was from frozen strawberry puree.
Overall, the Appleseed Orchard is a decent stop but by no means a must-do. If you are craving an apple-y dessert, stop in for a bite. Or don't.
For other Food and Wine booths, try these:
Or try our entire guide to the 2022 Epcot Food and Wine Festival.
What do you think about the Appleseed Orchard? Is anything here worth a stop for you?