2023 Epcot International Festival of the Arts (Menus, Prices, and Artful Food)
Epcot's International Festival of the Arts is a charming festival focusing on various art forms. One of those types of art is available for purchase and meant to be consumed immediately–food.
This article will preview the food studios at Epcot's 2023 Festival of the Arts. Additionally, we'll look at the menus, prices, and what we tried.
As for the dates, this year's Festival of the Arts began on Friday, January 13, 2023, and will run through Monday, February 20, 2023. So if you have an upcoming visit during the festival, you might want to peruse the menus below and pick a few items to try.
Related: List of Festivals at Epcot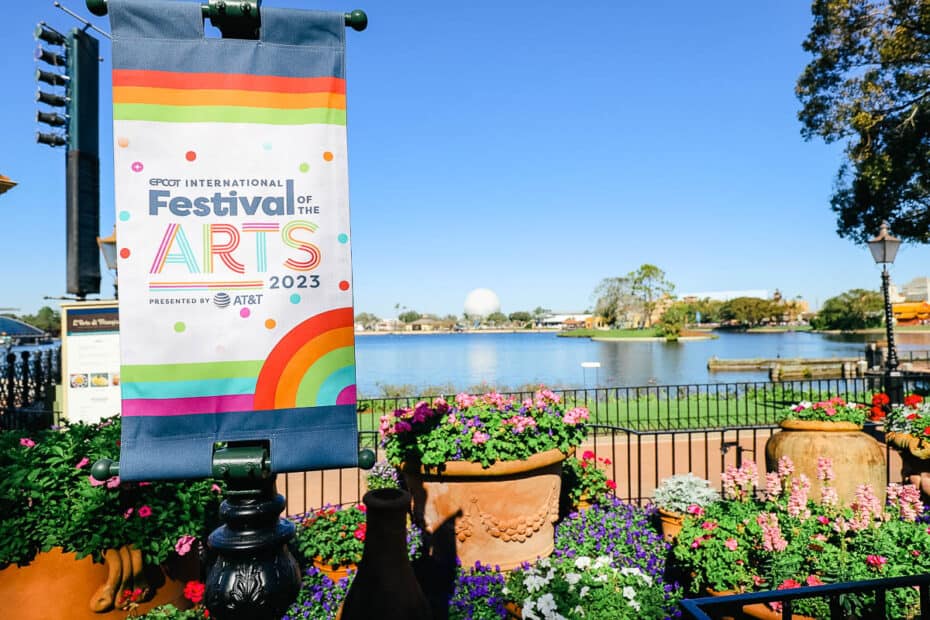 List of Food Studios at Epcot's Festival of the Arts
There are 16 food studios at the 2023 Epcot International Festival of the Arts.
Moderne
The Craftsman Courtyard
El Artista Hambriento
Figment's Inspiration Station
The Painted Panda
Pastoral Palate
L'Arte di Mangiare
The Artist's Table
Goshiki
Vibrante & Vívido: Encanto Cocina
Tangierine Café: Flavors of the Medina
L'Art de la Cuisine Française
Gourmet Landscapes
The Deconstructed Dish
Deco Delights
Pop Eats
Below we'll go over the menus and prices for each food studio. Where applicable, I've shared photos of the items we tried.
Moderne (Near Test Track)
Moderne is new to this year's Festival of the Arts. Yet, it quickly became the most controversial food studio.
On the festival's first day, we overheard more than a few complaints about the scallops dish. Unfortunately, Moderne's menu lists "scallops," but the dish comes with only one lone scallop.
So if you're planning on sharing, you might take this menu snafu into account. Or you can ask if anything has changed before ordering.
Below you'll find the menu items with prices for Moderne and the things we tried.
Moderne Menu Items with Prices:
Compressed Watermelon Tataki with Pickled Watermelon Rind, Yuzu Pearls, Watermelon Foam, and Wasabi (plant-based) ($4.75)
Angry Crab: Whole Crispy Soft-Shell Crab with Green Papaya Salad, Mango-Sriracha Fluid Gel, Coconut-Lime Foam with Pomegranate, and Mango Crush Pearls ($7.25)
Pan-Seared Scallops with Vanilla-Butternut Squash Purée, Brown Butter Cauliflower Purée, and Lime Foam (Wonderful Walk of Colorful Cuisine item) ($7.50)
The Tropics: Lilikoi Mousse, Guava Cake, Coconut Crémeux, Compressed Pineapple, and Mango Gel ($5.00)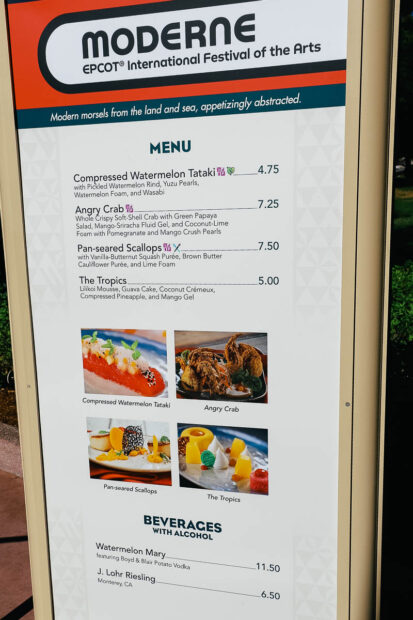 At this studio, we ordered the Compressed Watermelon and the Angry Crab.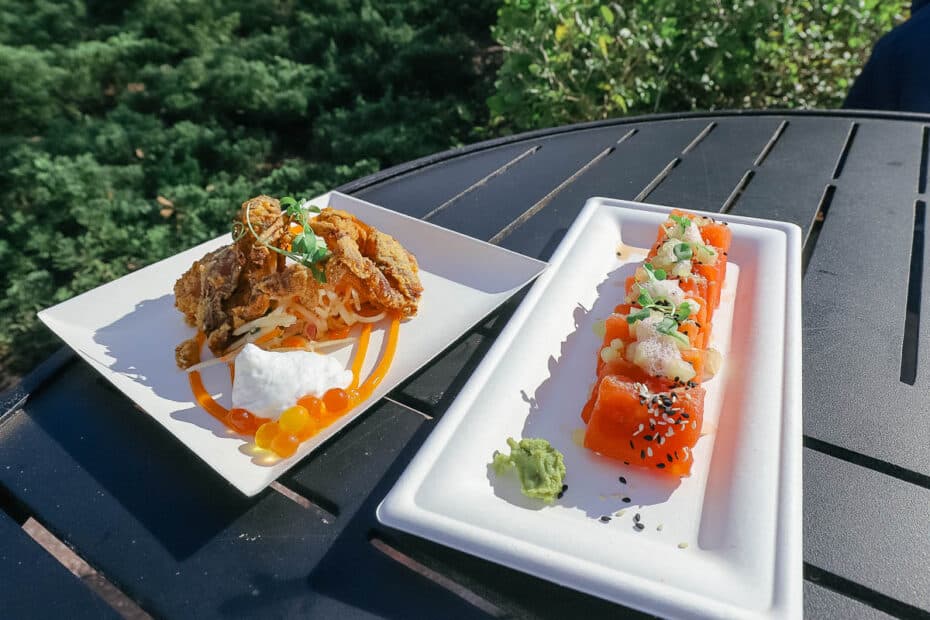 I'm unsure where the name "angry crab" comes into play, but I thought this was a fun presentation. Maybe, if I were a crab, I'd be angry too. Who knows?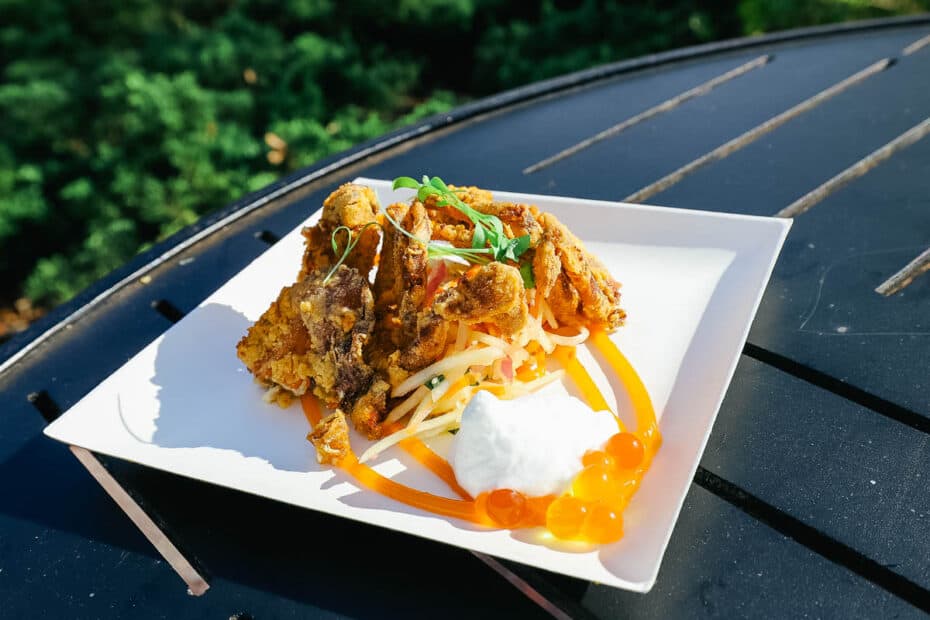 As far as taste goes, my notes say so-so, which is how I felt about the dish. Overall, it was too much grease. Unfortunately, there wasn't enough substance for the dish to stay warm long enough to enjoy.
However, the foam, which was more of a mousse, paired well with the orange drizzle. I kept going back to taste this bright burst of flavor.
Next, we have the compressed watermelon tataki. Yes, that's wasabi on the side. If you enjoy watermelon, it's hard to go wrong with this dish.
I felt like it was a good value, given its reasonable price. Flavorwise, this dish offers fun textures, and the wasabi gives it a real kick, so use it sparingly.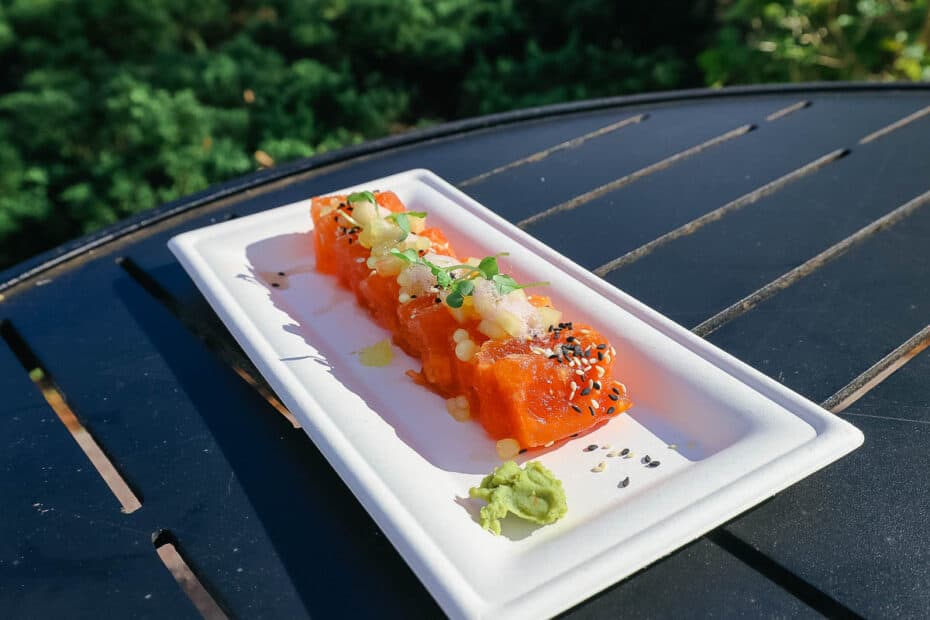 Craftsman Courtyard (Near Creations Gift Shop)
Craftsman's Courtyard is located around the corner from Moderne, between Test Track and Creations gift shop. This is one of the studios I was looking forward to trying.
Craftsman's Courtyard Menu Items with Prices
Beef Wellington: Mushroom Duxelles, Prosciutto, and Puff Pastry with Red Wine Demi-Glace and Baby Vegetables ($8.50)
Cast Iron-Roasted P.E.I. Mussels with Sautéed Tomatoes, Garlic, and Fresh Herbs ($7.50)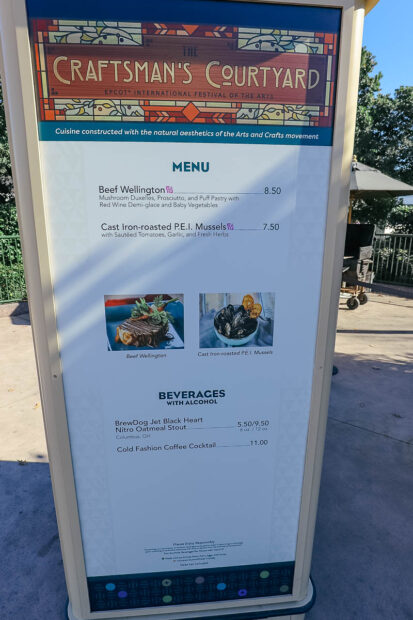 We went with the Beef Wellington, and I have mixed opinions about the dish. It was, and I don't say this lightly, one of the most tender pieces of meat I've ever had. You could cut into it with a butter knife.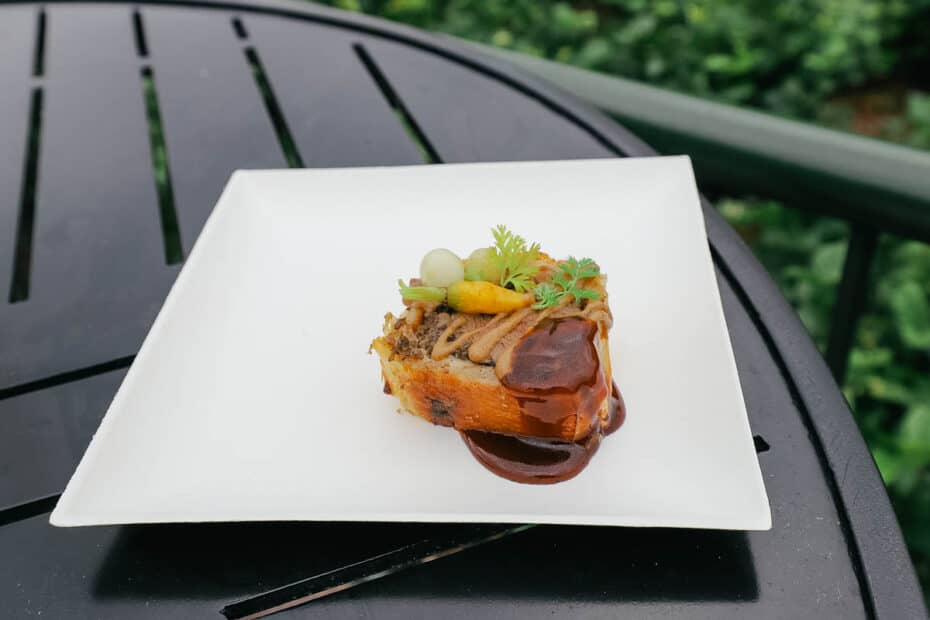 However, my serving was cold, and I waited in a long line to order it. So it should have been fresh and warm.
My other issue was the demi glaze. It was not great and reminded me that a decent steak doesn't need sauce. As far as the pastry and mushrooms, they were good, just cold.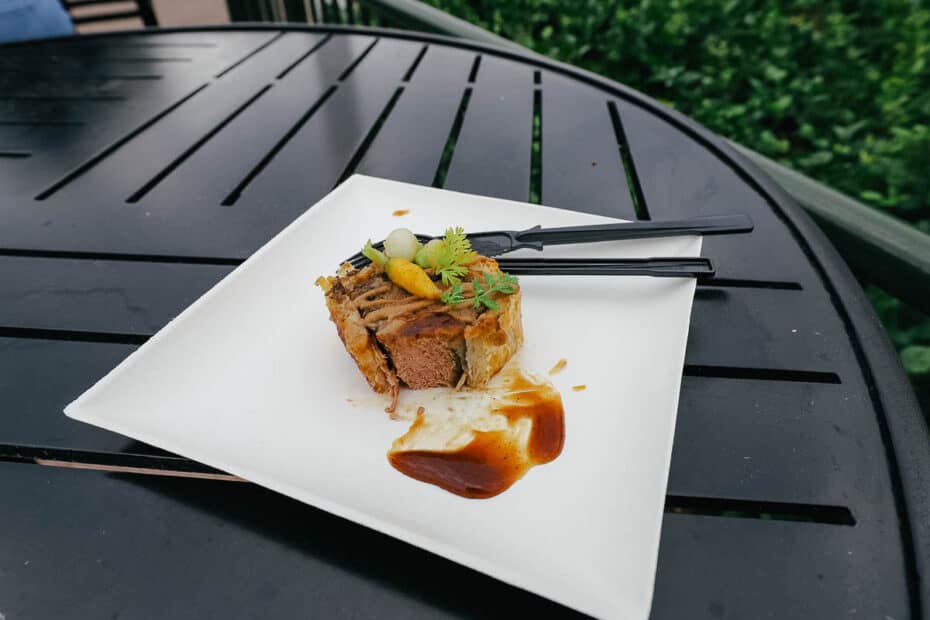 El Artista Hambriento (Mexico Pavilion)
We haven't tried anything from El Artista Hambriento yet, but here are the menu items.
El Artista Hambriento Menu Items with Prices:
Carne Asada: Chipotle-Marinated Beef Sirloin, Sweet Potato Purée, and Crispy-Fried Onions ($10.00)
Huarache de Champiñones: Guajillo Chile and Corn Masa Huarache with Pinto Beans, Oyster Mushrooms, Nopales, Queso Fresco, and Pea Tendrils ($7.50)
Flan de Coco: Coconut Flan, Guava Sauce, and Whipped Cream (gluten/wheat-friendly)($6.50)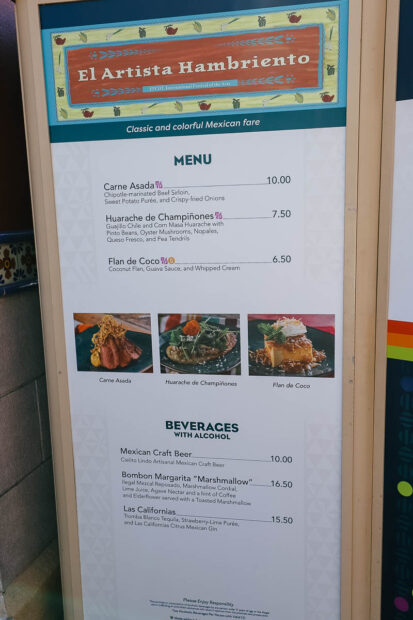 Figment's Inspiration Station (The Odyssey)
Unfortunately, we haven't tried anything at this new food studio. However, this is the location to pick up the Figment popcorn bucket, which must be mobile-ordered in advance.
Figment's Inspiration Station Menu Items with Prices:
Fruit Pizza: Watermelon, Compressed Cantaloupe, Berries, and Berry Balsamic (plant-based) (gluten/wheat-friendly) ($3.75)
Pop't Art: Sugar Cookie with Blueberry Filling ($4.50)
Rainbow Cake with freeze-dried SKITTLES® bite-sized candies ($4.75)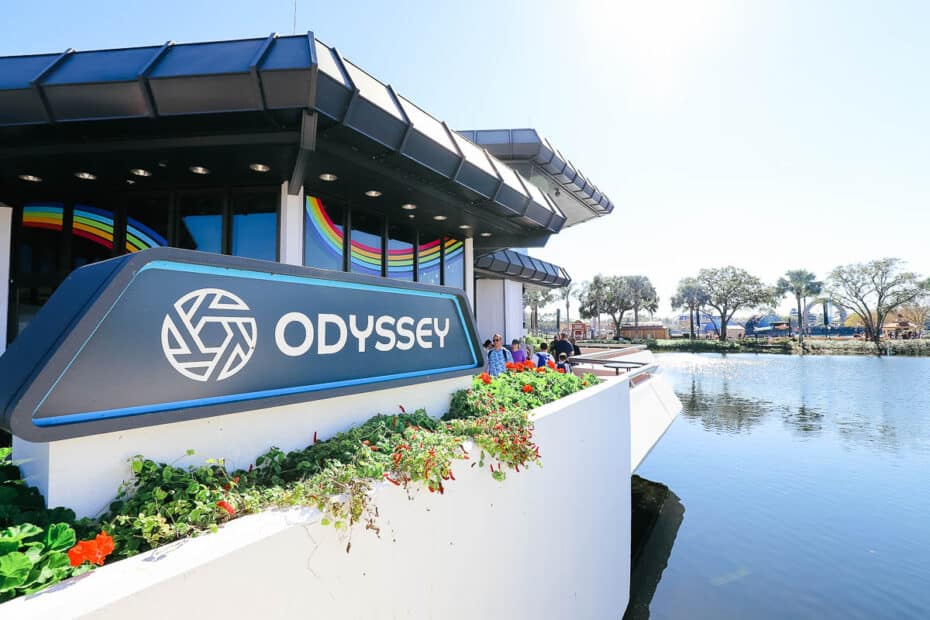 The Painted Panda (China Pavilion)
Our next stop was The Painted Panda in Epcot's China Pavilion. This location consistently offers quality food items, no matter the festival.
The Painted Panda Menu Items with Prices:
General Tso's Chicken Shumai ($10.75)
Char Siu Pork Bun ($8.50)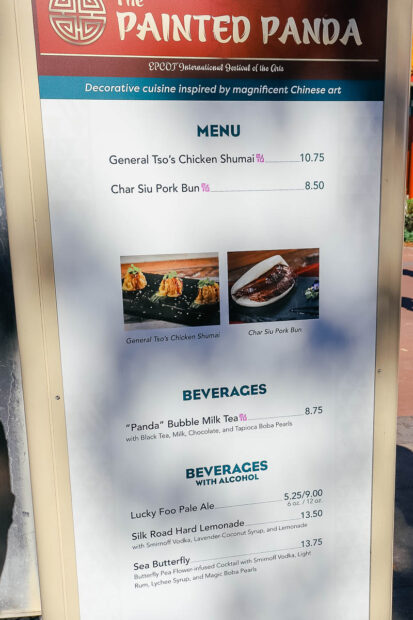 On this visit, I ordered General Tso's Chicken Shumai. Overall, it was reminiscent of a potsticker.
Per my notes, the shumai was a pleasant bite, especially when mixed with the cucumber slices underneath. It's a simple dish that is filling and shareable.
My only complaint was that $10.75 felt steep for three bites of food.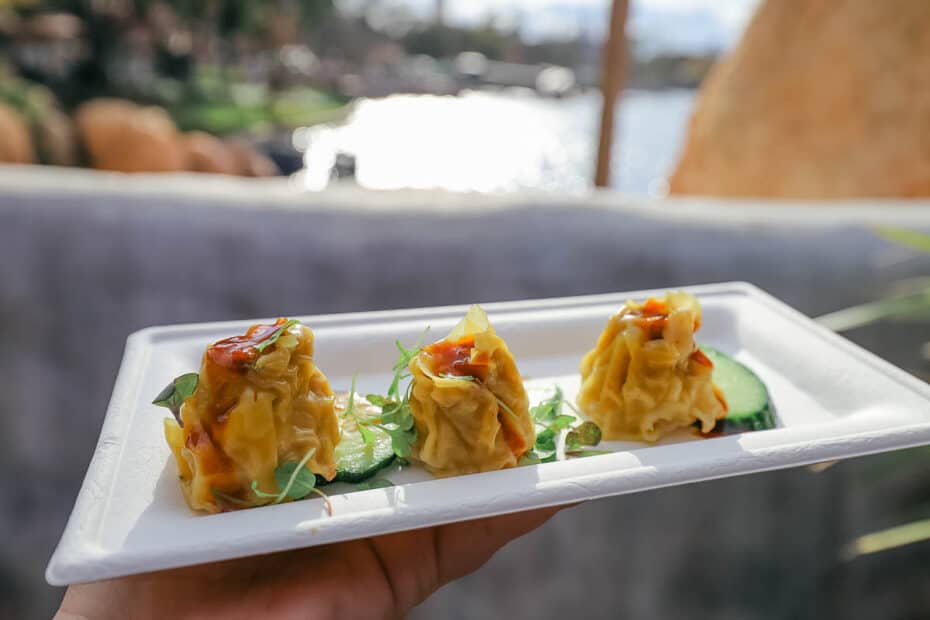 Pastoral Palate (Germany Pavilion)
Another food studio that was high on my "must try" list was the Pastoral Palate in Germany. All three of the menu items here sounded more than appealing.
Red Wine-Braised Beef Short Rib with Parsnip Purée, Broccolini, Baby Tomatoes, and Aged Balsamic ($8.50)
Wild Boar Cassoulet with Duck Confit, Ham Hock, and Wild Boar Sausage ($9.25)
Black Forest Cake: Chocolate Mousse with Morello Cherries and Chantilly Cream ($4.75)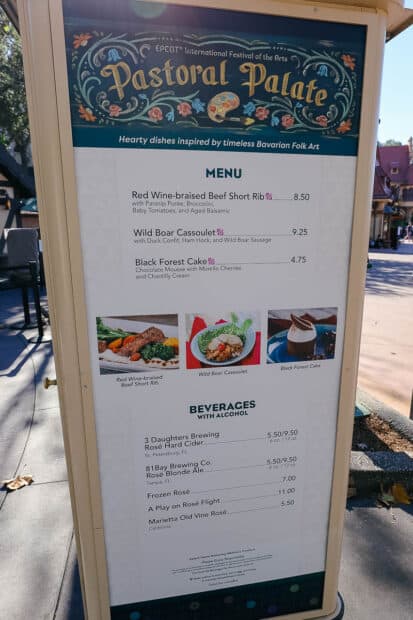 Here we ordered the Wild Boar Cassoulet and the Black Forest Cake.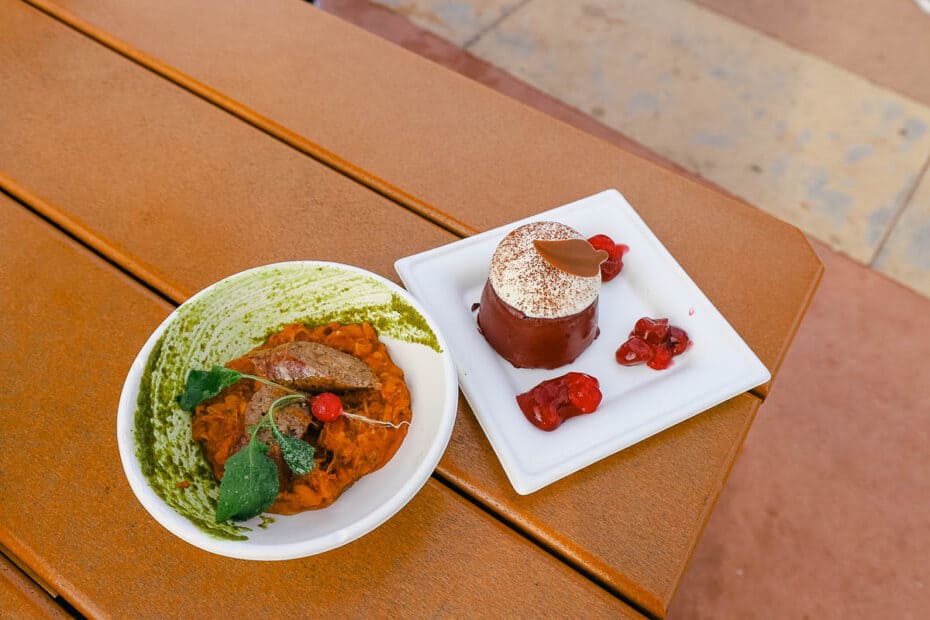 I must have had one of those moments where I zoned out while overlooking the menu. Somehow, I had casserole on the brain and ended up with beans, the main ingredient in cassoulet. (I don't eat beans because I cannot stand the mushy texture.)
Obviously, I didn't think this one through very well. However, it was a delicious bite if you can get past the mush. And it was served piping hot.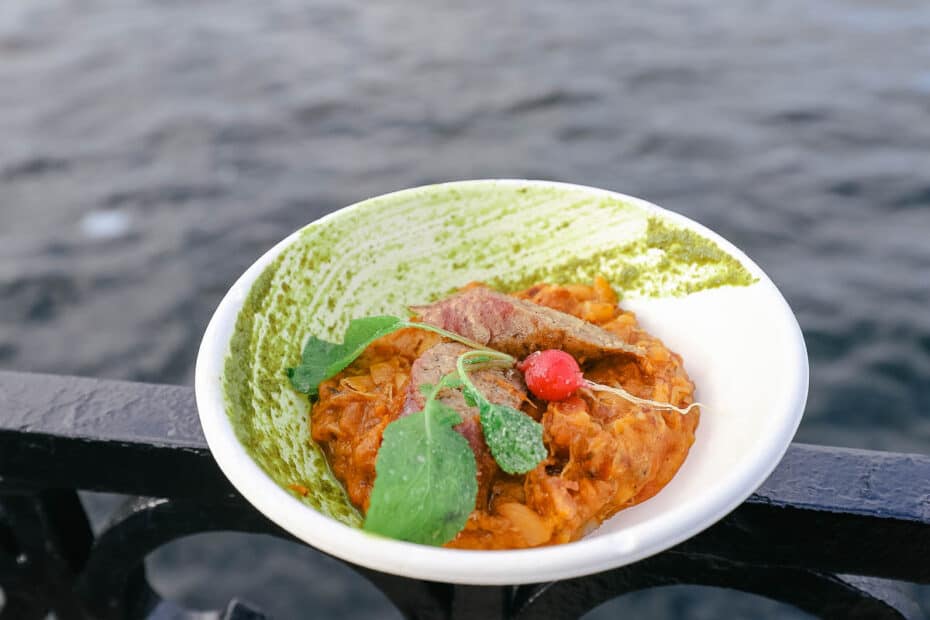 More importantly, we had the chocolate cake, which looked stunning. However, there was hardly any cake inside of it. I don't know about you, but I want cake when I decide to indulge in cake.
Inside the chocolate shell, there were layers of mousse and cherries. Unfortunately, the cake portion was a thin layer with no substance.
It had a pleasant taste, with the cherries adding a sour note. But to me, the best part was the Chantilly cream on top.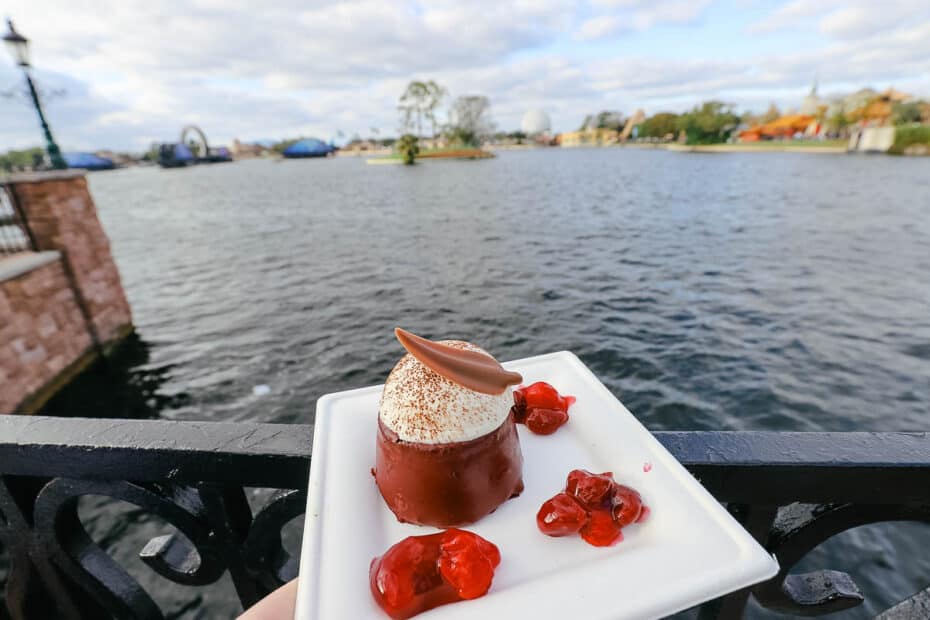 While I didn't try this next dish, the table next to me asked if I would like to take a photo of their short rib. I ended up wishing I had ordered the short rib over the cassoulet. It looks like a tasty meal.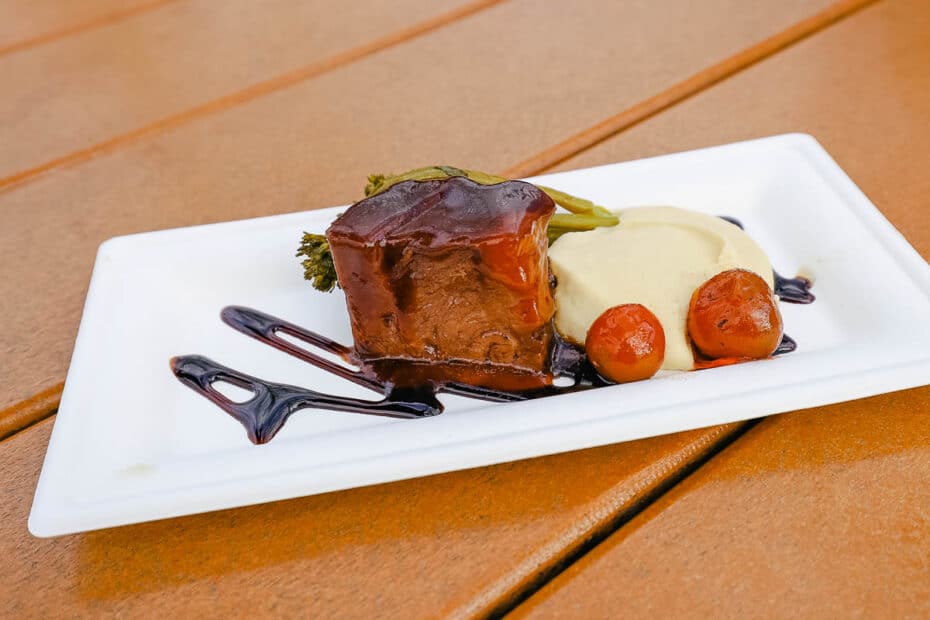 L'Arte di Mangiare (Italy Pavilion)
We run into Italy's food studio as we continue around the World Showcase. I was at Epcot the day before photographing some of the menus and noticed the $8.00 price for the chocolate pudding.
So I decided then and there I wasn't paying $8.00 for chocolate pudding. Here are the other menu items:
Mozzarella Fritta: Flash-Fried Breaded Fresh Mozzarella with Artist Palette Condiments ($8.25)
Ravioli ai Funghi, Perle Tartufate: Wild Mushroom-Stuffed Pasta with Truffle Butter and Truffle Pearls ($9.25)
Budino al Cioccolato: Chocolate Pudding with Colorful Chocolate Décor ($8.00)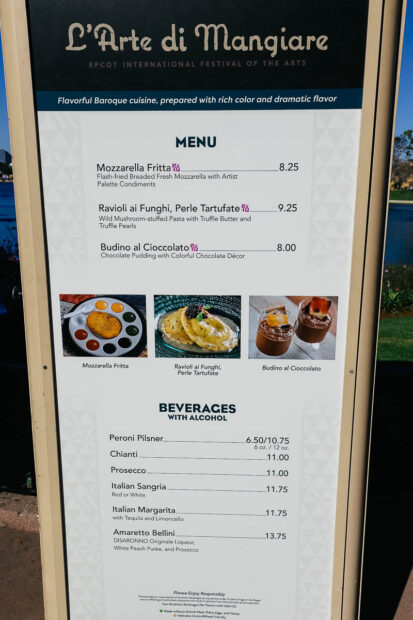 The Artist's Table (American Adventure Pavilion)
For whatever reason, I tend to stereotype the food booths in American Adventure negatively. So then I eat there to be reminded that I am wrong.
Before the festival, I didn't expect this studio to be a contender for the best dishes. However, the items we tried were two of the best dishes I had at the festival.
Three-Meat Meatloaf with "Peas and Carrots": Green Pea Pudding, Carrot Ketchup, Shaved Carrot Salad, and Snap Peas ($6.50)
Duck and Dumplings: Smoked Duck Breast, Ricotta Dumplings, Petite Vegetables, and Duck Jus ($7.00)
Hummingbird Cake: Banana Cake with Pineapple, Coconut, Pecans, and Cream Cheese Frosting with Banana Sorbet ($4.75)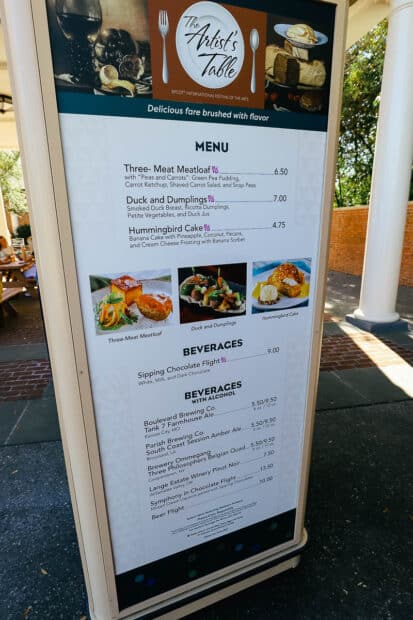 Here we have the Duck and Dumplings and the Hummingbird Cake.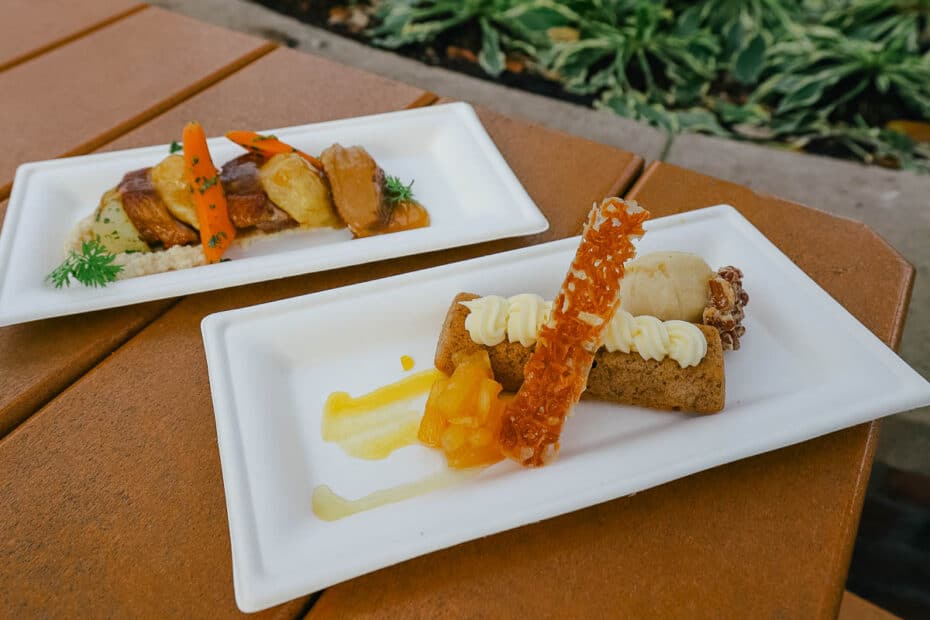 I couldn't get over this duck. First, it was so tender and juicy. Then, on top of that, the duck was smoked, oozing the perfect amount of flavor. Additionally, nestled in between the hearty helping of duck sat ricotta dumplings.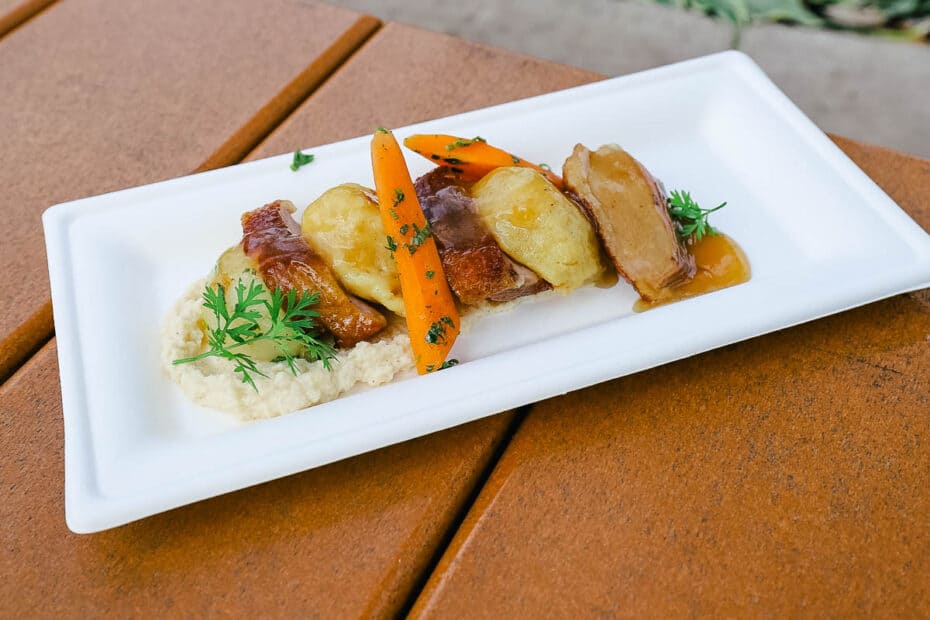 Everything about this dish was a win and something I would order again. For $7.00, it felt like they were paying me to eat it.
I also found little fault with the Hummingbird Cake pictured below. This delicious bite of cake burst with pineapple, banana, and coconut flavors.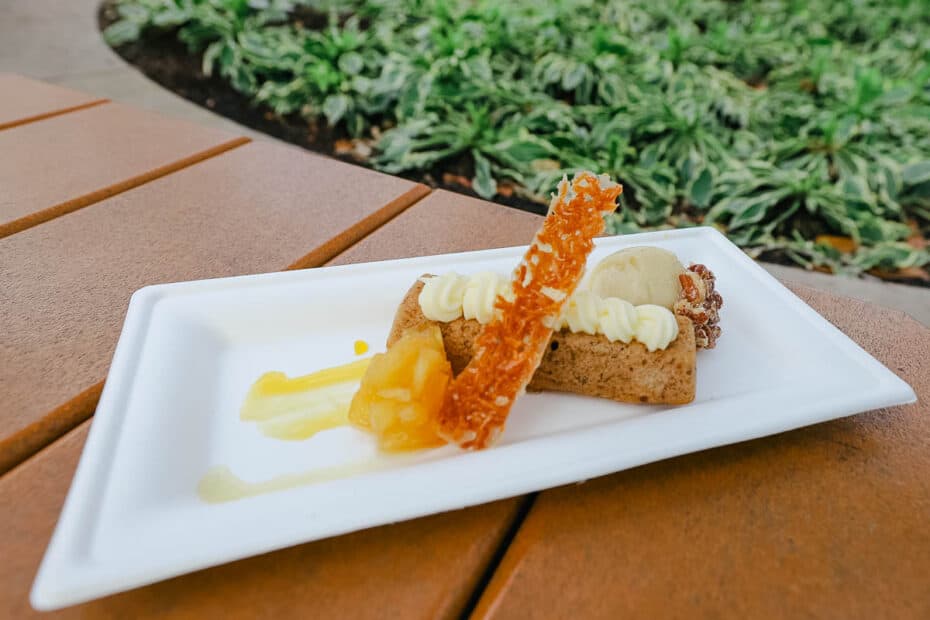 My only issue was that the banana sorbet was entirely too sweet. But that didn't stop me from eating every single bite of all the other items on the plate.
Goshiki (Japan Pavilion)
Here are the menu items at Goshiki:
Rainbow Katsu Sando: Pork Cutlet Sandwich with Tangy Tonkatsu Sauce and Cabbage in Rainbow Sweet Bread ($6.50)
Sushi Donut: Donut-Shaped Sushi featuring Salmon, Tuna, Shrimp, Cucumber, and Sesame Seed over a decorated plate of Wasabi Aïoli, Sriracha Aïoli, and Eel Sauce ($8.25)
Ichigo Daifuku: Mixed Beery Mochi, Sweet Azuki Bean Paste, and Mascarpone ($6.75)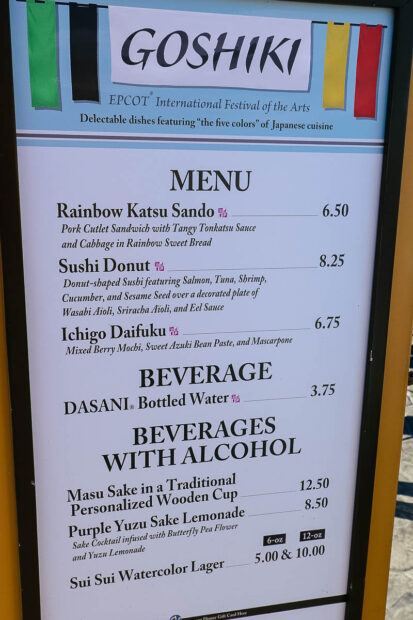 Vibrante and Vívido: Encanto Cocina (Near Morocco Pavilion)
Here are the menu items at Vibrante and Vivido:
Chorizo and Potato Empanada with Turmeric Aïoli and Annatto Aïoli (Wonderful Walk of Colorful Cuisine item)
Spicy Ajiaco Soup with Guajillo and Árbol Chili-Spiced Chicken, Potato, Avocado, Corn, and Crème Fraîche (gluten/wheat-friendly)
Passion Fruit Mousse with Dragon Fruit Jam (gluten/wheat-friendly)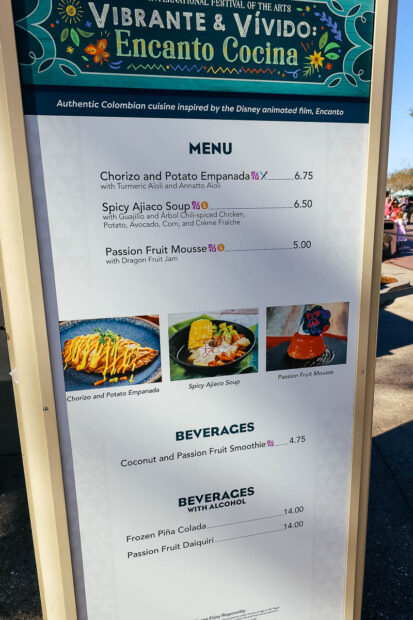 Tangierine Café: Flavors of the Medina (Morocco Pavilion)
You'll find Flavors of the Medina inside Tangierine Cafe at the Morocco Pavilion. Tangierine Cafe has yet to reopen and is still serving as the festival booth for the pavilion.
We had planned to order the Carrot Three Ways. But unfortunately, we haven't gotten back to it yet.
Here are the other items available:
Grilled Kebabs with Carrot-Chickpea Salad and Garlic Aïoli ($5.75)
– Chermoula Chicken (gluten/wheat-friendly)
– Moroccan-spiced Lamb (gluten/wheat-friendly)
Stone-Baked Moroccan Bread with Hummus, Chermoula, and Zhoug Dips ($5.00)
Carrots Three Ways: Chermoula-Spiced Grilled Carrots, Pickled Carrots, and Carrot Ginger Purée (plant-based) (gluten/wheat-friendly) ($4.25)
House-Made Crispy Almond Phyllo Pockets with White Chocolate Pomegranate and Milk Chocolate Orange ($4.75)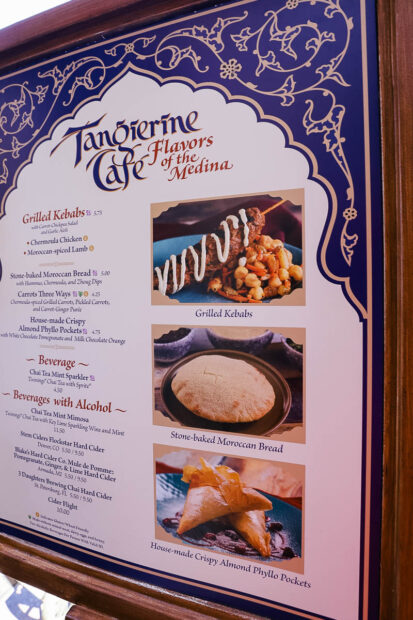 L'Art de la Cuisine Française (France Pavilion)
France always has the longest lines, but it's usually worth it. Here are this year's menu items:
Crème de Brie en Petit Pain: Warm Creamy Brie in a House-Made Bread Bowl ($9.75)
Croissant à la Truffle Noir d'Hiver: Black Winter Truffle Croissant ($9.50)
Mille-Feuille de Betteraves aux Herbes et Noix de Cajoux: Plant-Based Napoleon with Beets, Cashew-Herb Filling, Pepper-Pine Nut Sauce and Balsamic Vinegar Caviar ($12.75)
Moelleux aux Noisettes et Chocolats Valrhona: Molten Chocolate and Hazelnut Cake with Pure Origin Valrhona Chocolates and Passion Fruit-Mango Sauce ($9.00)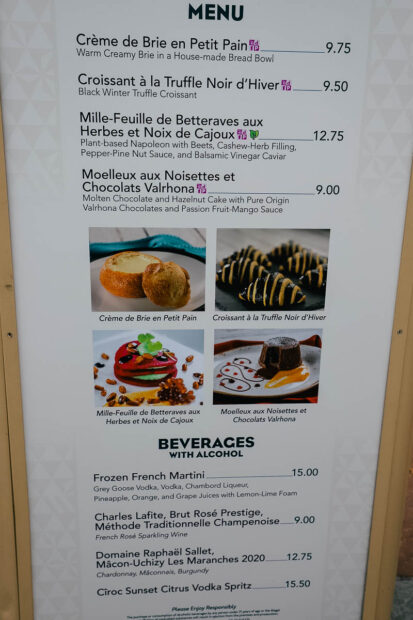 My only issue with this studio was the high-price points. I don't mind expensive items on the menu, but everything here felt expensive, even the melted Brie bread bowl.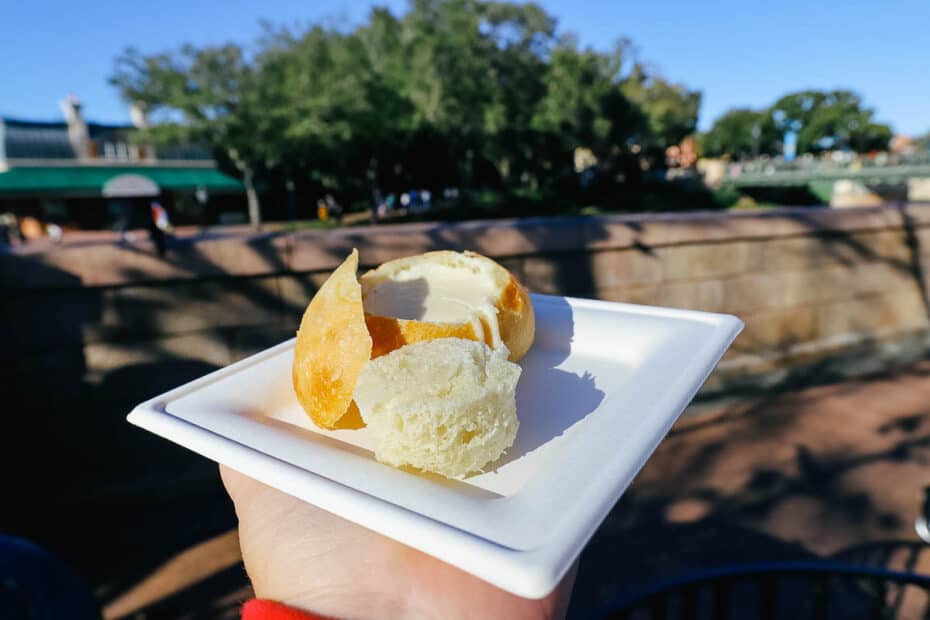 However, the bread tasted like perfect sourdough, and this dish was served warm with yummy melted cheese. This is a bit of an indulgence that I would happily order again.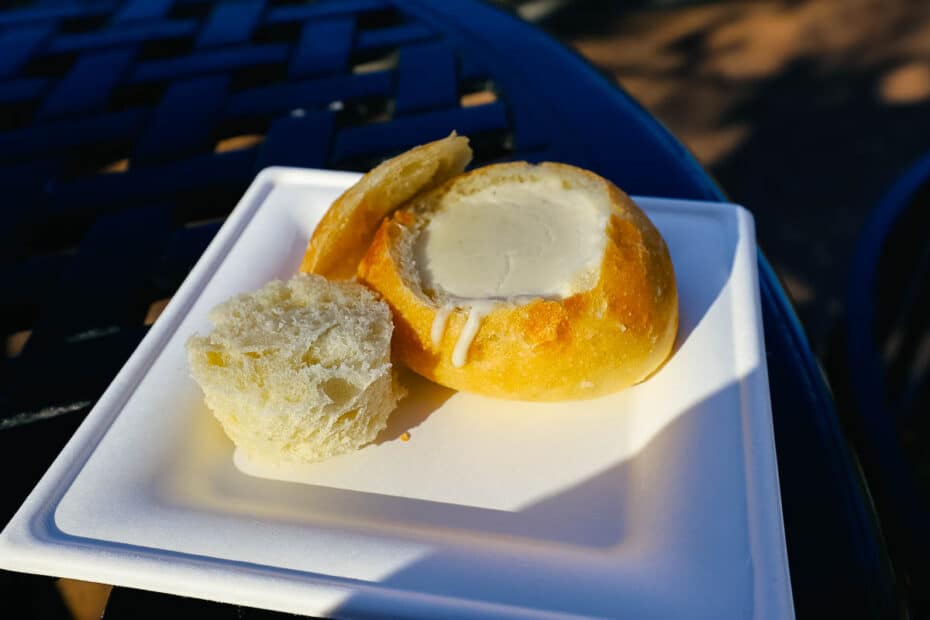 Seriously, it's bread and cheese. What's not to like?
Gourmet Landscapes – Canada Pavilion
Another studio high up on my list was Gourmet Landscapes. However, it left me feeling a bit ambivalent.
Here are the menu items:
Blood Orange-Braised Beet Tartare with Mustard Vinaigrette, Pickled Clamshell Mushrooms, and Golden Beets (Plant-based) ($5.50)
Roasted Bone Marrow with Onion Marmalade, Pickled Mushrooms, and Petite Lettuce ($10.50)
Wild Mushroom Risotto, Aged Parmesan, Truffle Shavings, and Zinfandel Reduction ($9.75)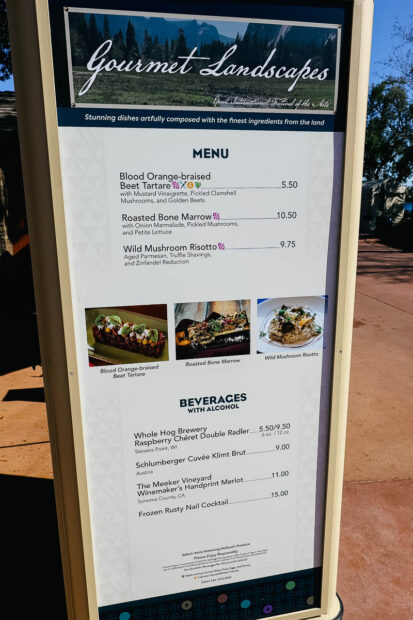 There was no doubt I was ordering the bone marrow and the risotto, pictured below.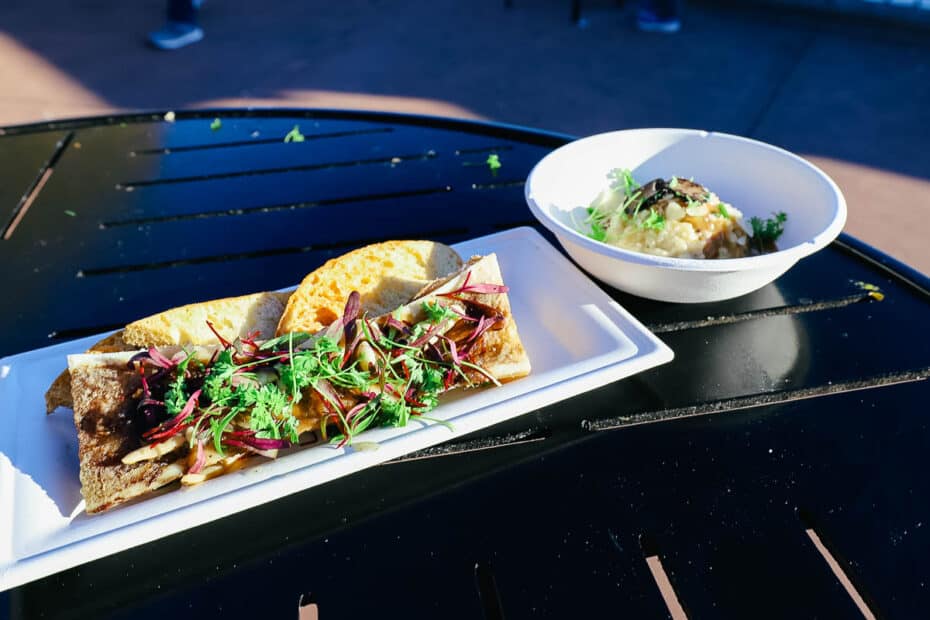 As someone who makes risotto reasonably often, I was left on the fence about this dish. I liked it but didn't love it.
It wasn't as creamy as I would have liked, but it was flavorful. Unfortunately, it was entirely too salty. However, it was one of the more significant portions of food I received, so it gets points for that.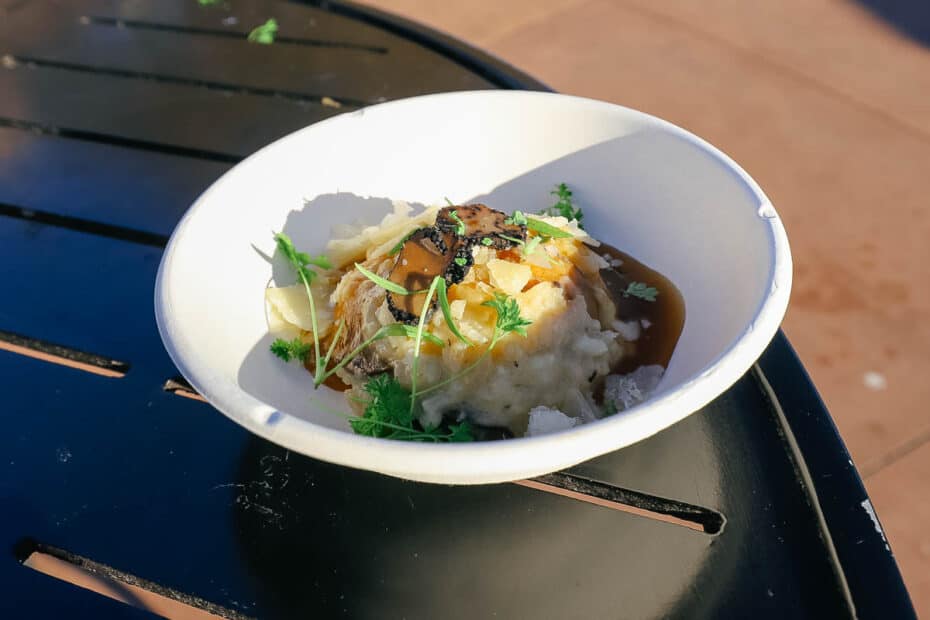 Surprisingly, I'm also ambivalent about the bone marrow dish. My bone only had the tiniest amount of marrow. There wasn't enough to cover one slice of the three accompanying pieces of crostini.
However, that one bite was a lick-your-plate-clean kind of good. So I'll give it that.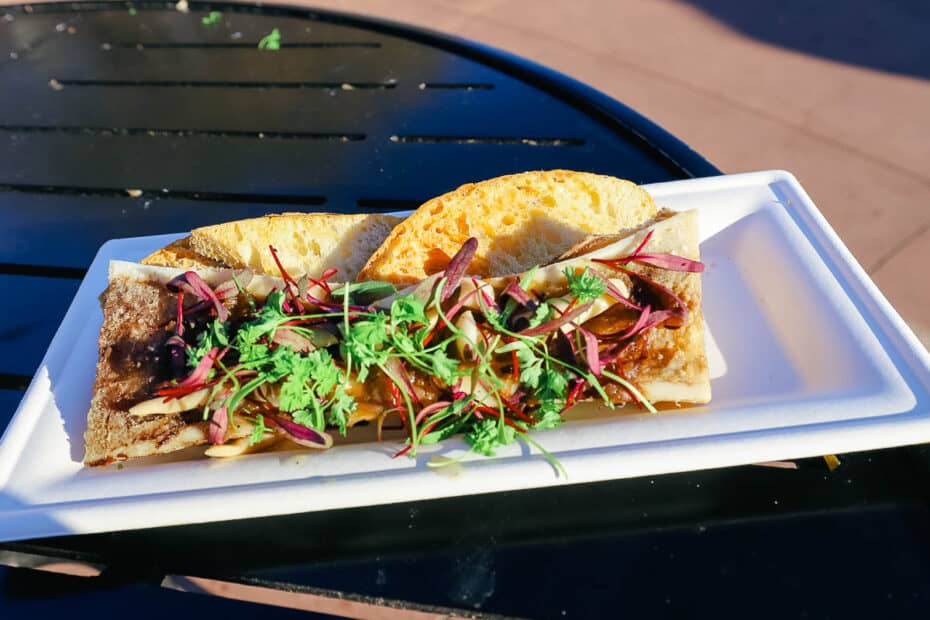 If you're interested in bone marrow, give this one a try. But don't expect there to be much.

The Deconstructed Dish (Across from Canada Pavilion)
Similar to The Artist's Table, this next studio gets rave reviews. Before the festival, a friend told me it was one of his favorite booths and that I had to try it.
Here are the items:
Deconstructed BLT: Pork Belly, Soft-Poached Egg, Onion Bread Pudding, Watercress Espuma, and Tomato Jam ($7.00)
Deconstructed French Onion Soup: Beef Broth Ravioli, Gruyère Cream, Onion Bread Pudding, and Onion Textures ($6.50)
Deconstructed Key Lime Pie: Flexible Key Lime Curd, "Key Lime" Mousse, Graham Cracker Cake, and Meringues ($6.25)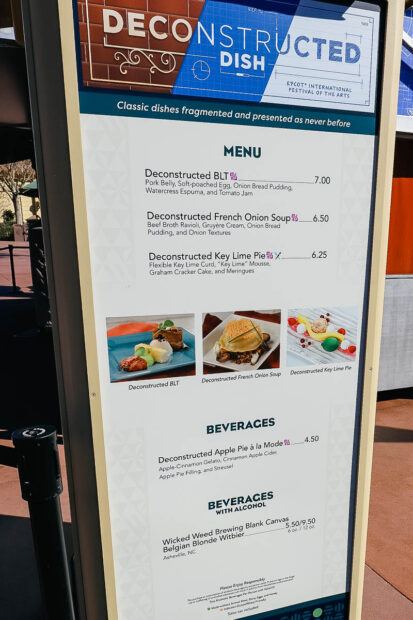 Wow, as a foodie, I was a bit skeptical. This food looked too pretty to eat.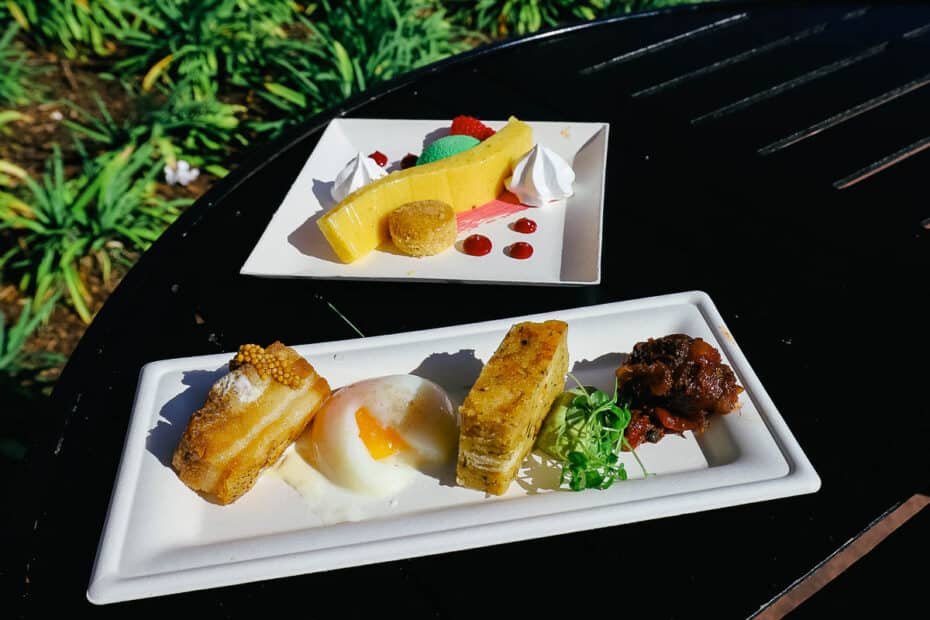 First, we have the deconstructed BLT, which consists of pork belly, an onion bread pudding, and tomato jam. When you assemble each of these into one bite, you end up with this mouthful of food that leaves you blown away.
How can such a simple dish be turned into a deconstructed masterpiece? But wait, there's more.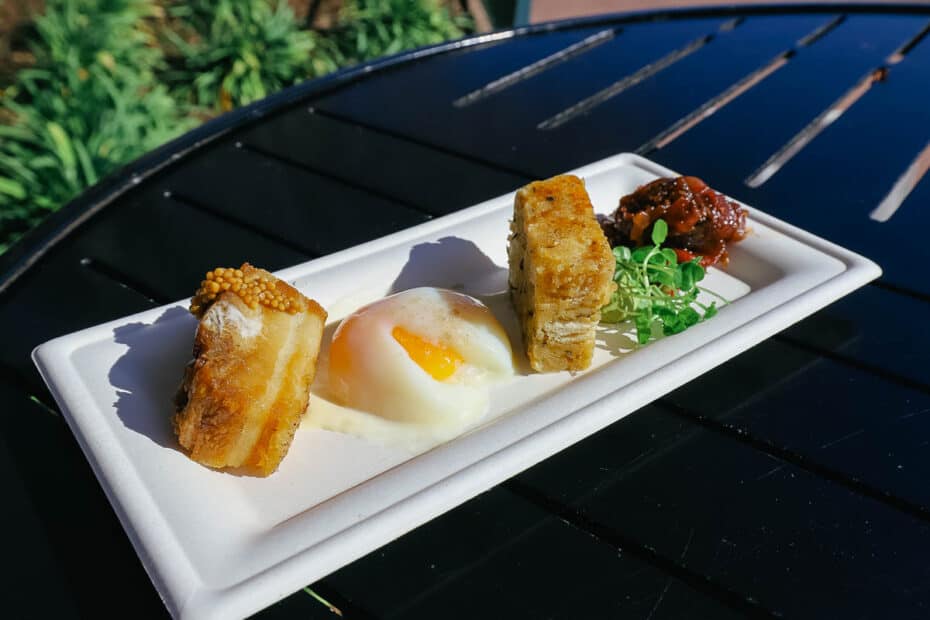 Divine. It's hard to find a word that describes this Deconstructed Key Lime Pie. The long piece in the center is a key lime curd. However, when you cut into the sugar-coated lime, you find a key lime mousse.
This dish tastes delicious and is enhanced with textural elements of similar flavors that somehow don't compete with each other.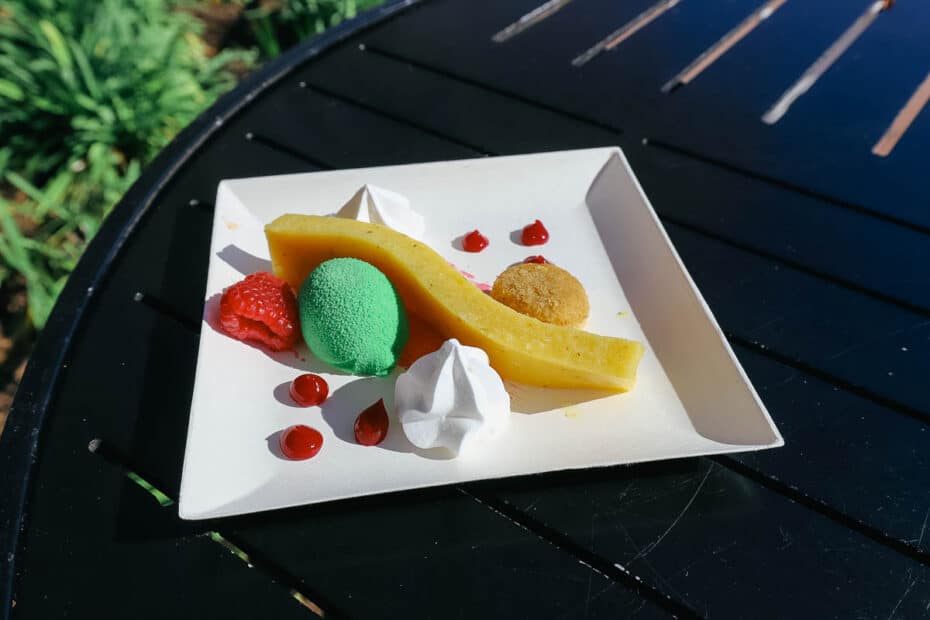 Thankfully, food doesn't always taste like food.
Deco Delights (Near Port of Entry)
Unfortunately, by the time I got to Deco Delights, there was no more room.
Here are the menu items.
Dulce Chocolate Mousse with Chocolate Crémeux and Dark Chocolate Truffle ($5.25)
Decadent Valrhona Chocolate with Dark Chocolate Mousse, Chocolate Brownie, and Cassis Mousse ($5.00)
Orange Mousse with Lemon Cake and Raspberry Meringues ($5.00)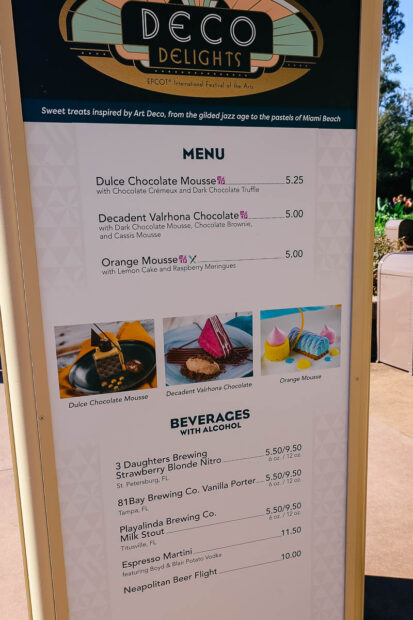 Pop Eats – Near Port of Entry
Lastly, we have Pop Eats, which returns with its popular tomato soup and grilled cheese combo. Additionally, the Almond Frangipane Cake has become a bit of a festival staple.
Tomato Soup with Grilled Cheese ($5.75)
Tomato Soup with Pimento Cheese, Bacon, and Fried Green Tomato Grilled Cheese ($6.50)
Almond Frangipane Cake layered with Raspberry Jam and Belgian Chocolate ($4.75)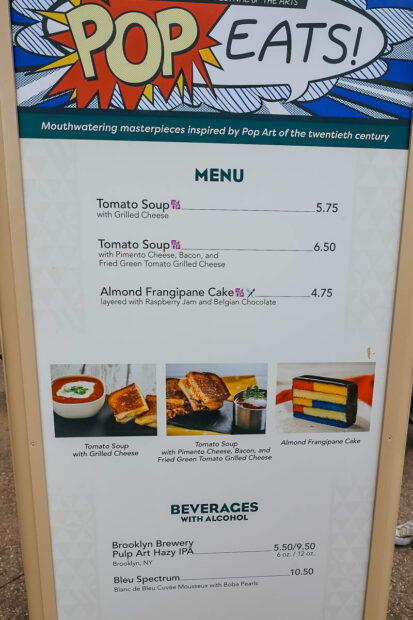 Video of Food Items (Epcot International Festival of the Arts)
Below is a video of the food items we tried if you would like a different perspective.
Hopefully, our preview of some of the menu items gave you an idea of where to start. As always, if you're planning a vacation based on one of the Epcot Festivals, we recommend staying at a nearby resort.
Those who stay in the Epcot Resorts Area can enjoy walking to and from the park at their leisure. It's so nice to visit the park for a couple of hours and take breaks without it taking forever to get back to your room.
Here are the reviews for those nearby hotels:
In case you missed it, we recently stayed in a standard guest room at Disney's Yacht Club to provide a review of Disney After Hours at Hollywood Studios and attend the start of Epcot's International Festival of the Arts.
In the Comments
Are you attending this year's Festival of the Arts at Epcot? What menu items look appealing to you?
---