Where to Meet Santa at Epcot in 2023 (with Photos)
Santa has a gorgeous meet-and-greet location at Epcot again this year. You'll find Santa in The Odyssey Pavilion, which is in the World Celebration area between Test Track and the World Showcase Promenade.
Below, we'll walk through Santa's meet-and-greet at Epcot. If you want to meet Santa, this is an excellent indoor location. It's also the perfect spot to have a family photo commemorating your holiday visit to Epcot.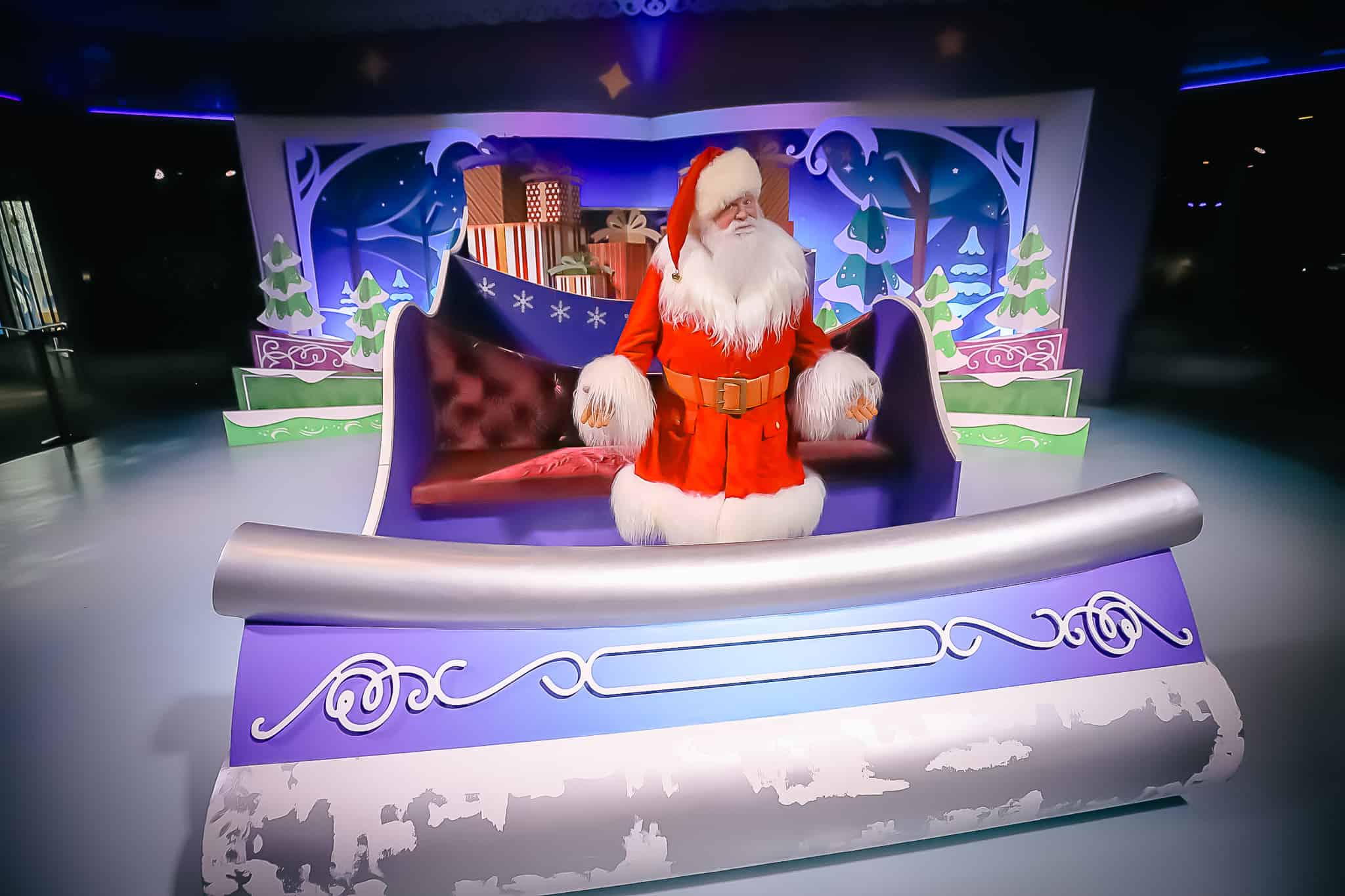 Santa's Meet and Greet Times at Epcot
Santa meets intermittently between 11:00 a.m. and 7:00 p.m. Here is an example of his scheduled times in the My Disney Experience app.
11:00 a.m.
12:30 p.m.
2:00 p.m.
3:30 p.m.
5:00 p.m.
6:30 p.m.
You'll want to check the app for exact times on the day of your visit. He is listed in the character section of the app. But make sure to filter for Epcot so you get the correct location.
Santa's Location at Epcot
Santa meets inside The Odyssey Pavilion. Below is a photo of the building that has entrances on each side.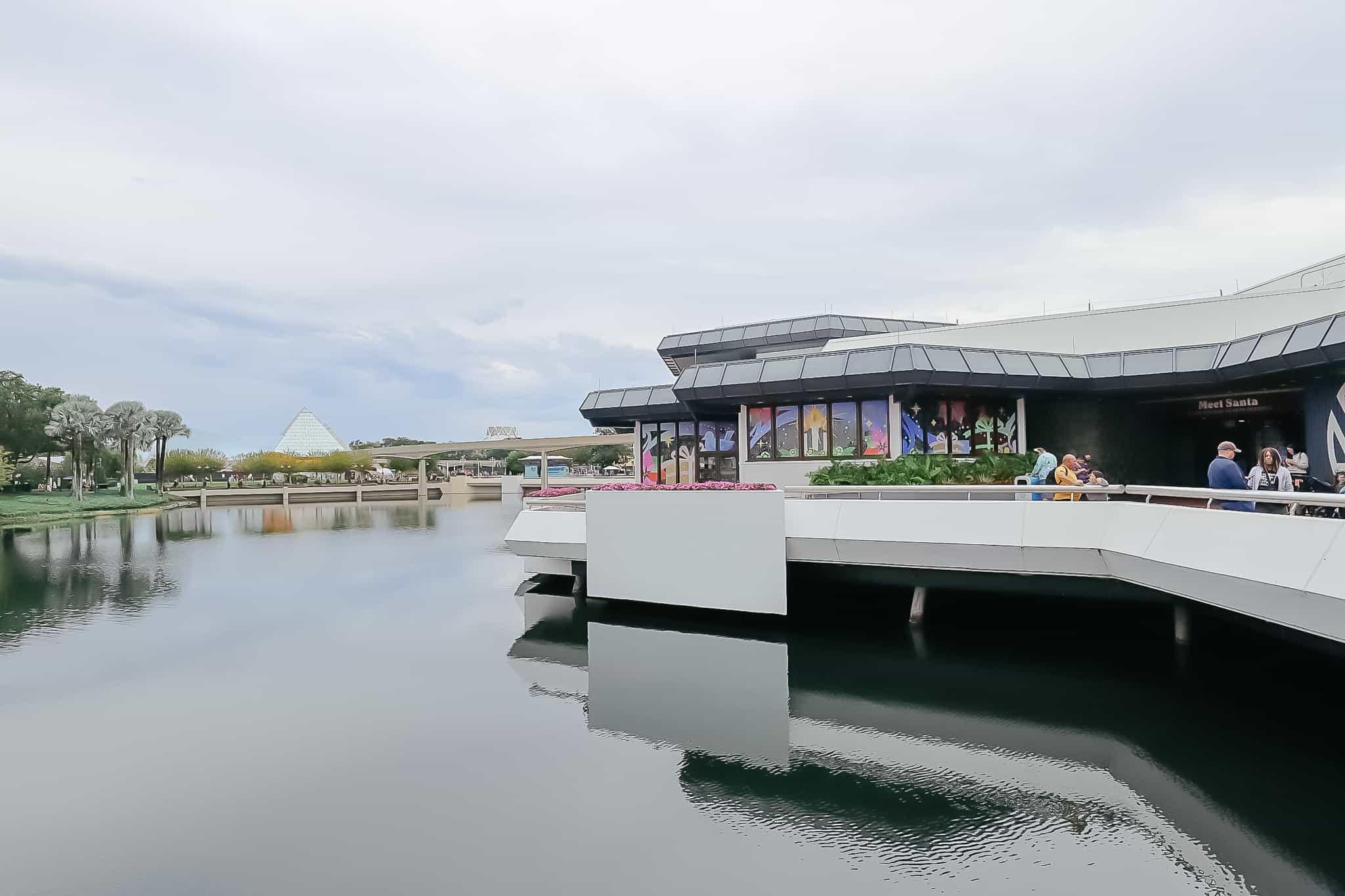 If you're walking along the World Showcase Promenade, you might see this sign that says, "Meet Santa," with an arrow pointing to the Odyssey Pavilion.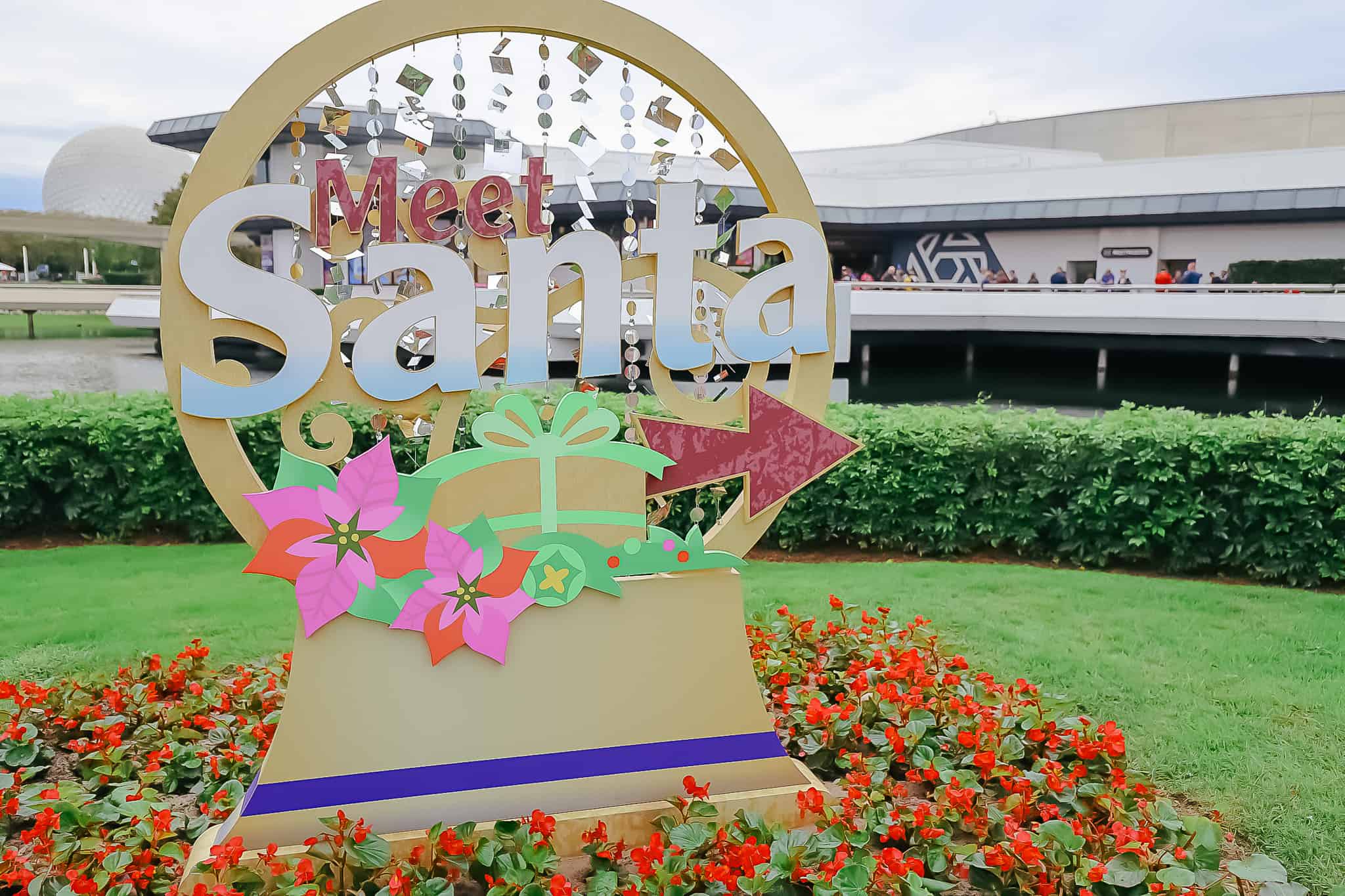 Both entrances indicate that you can meet Santa inside. This location is also home to the Holiday Hearth Desserts kitchen, where you can purchase seasonal treats, including the popular Spaceship Earth cookie.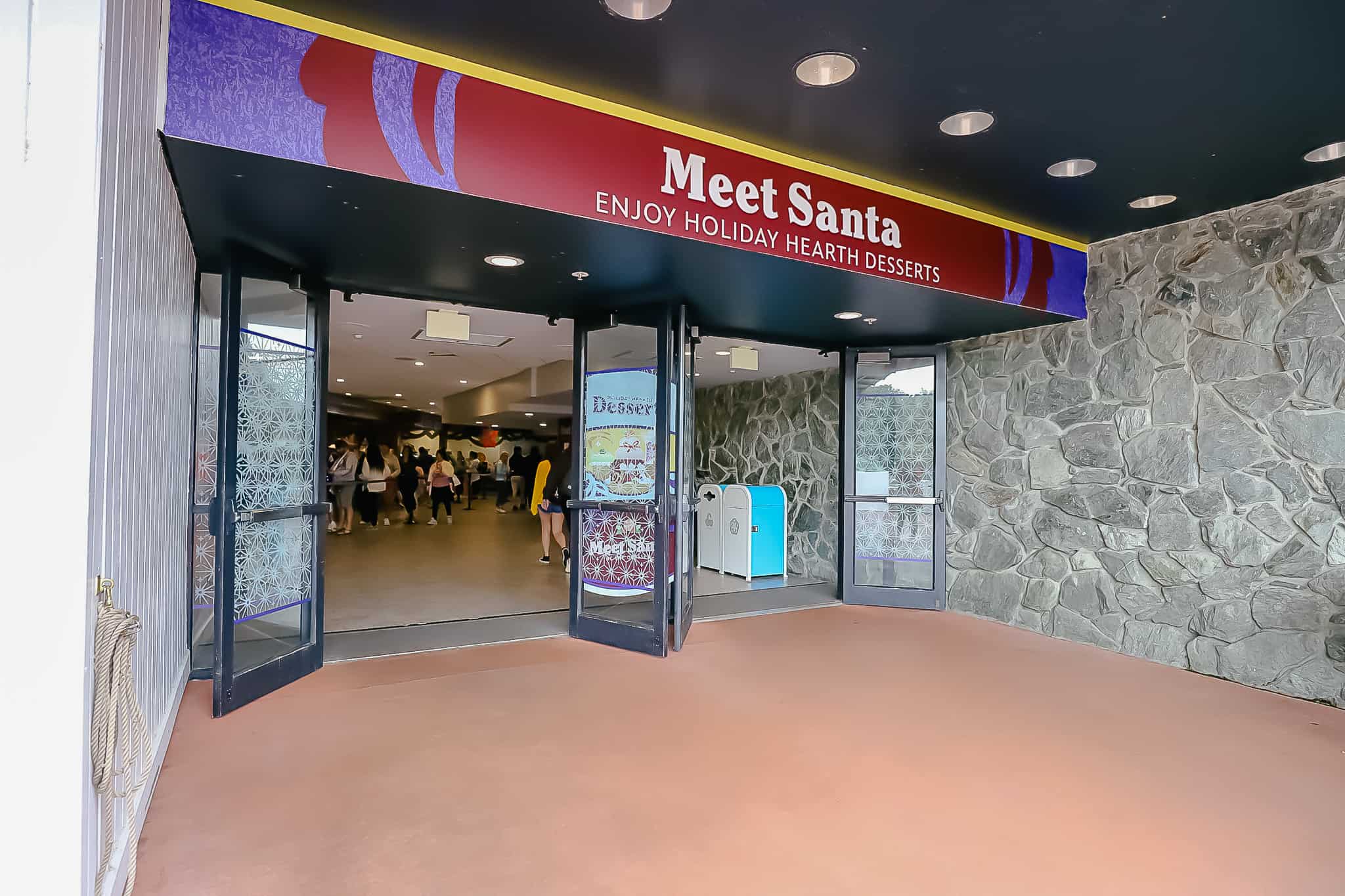 You'll find an ample open space with tables and chairs inside the Odyssey Pavilion. This area is somewhat of a transitional space used for various purposes over the years. Santa's meet-and-greet sits toward the back of the room. Here are a few photos of the location.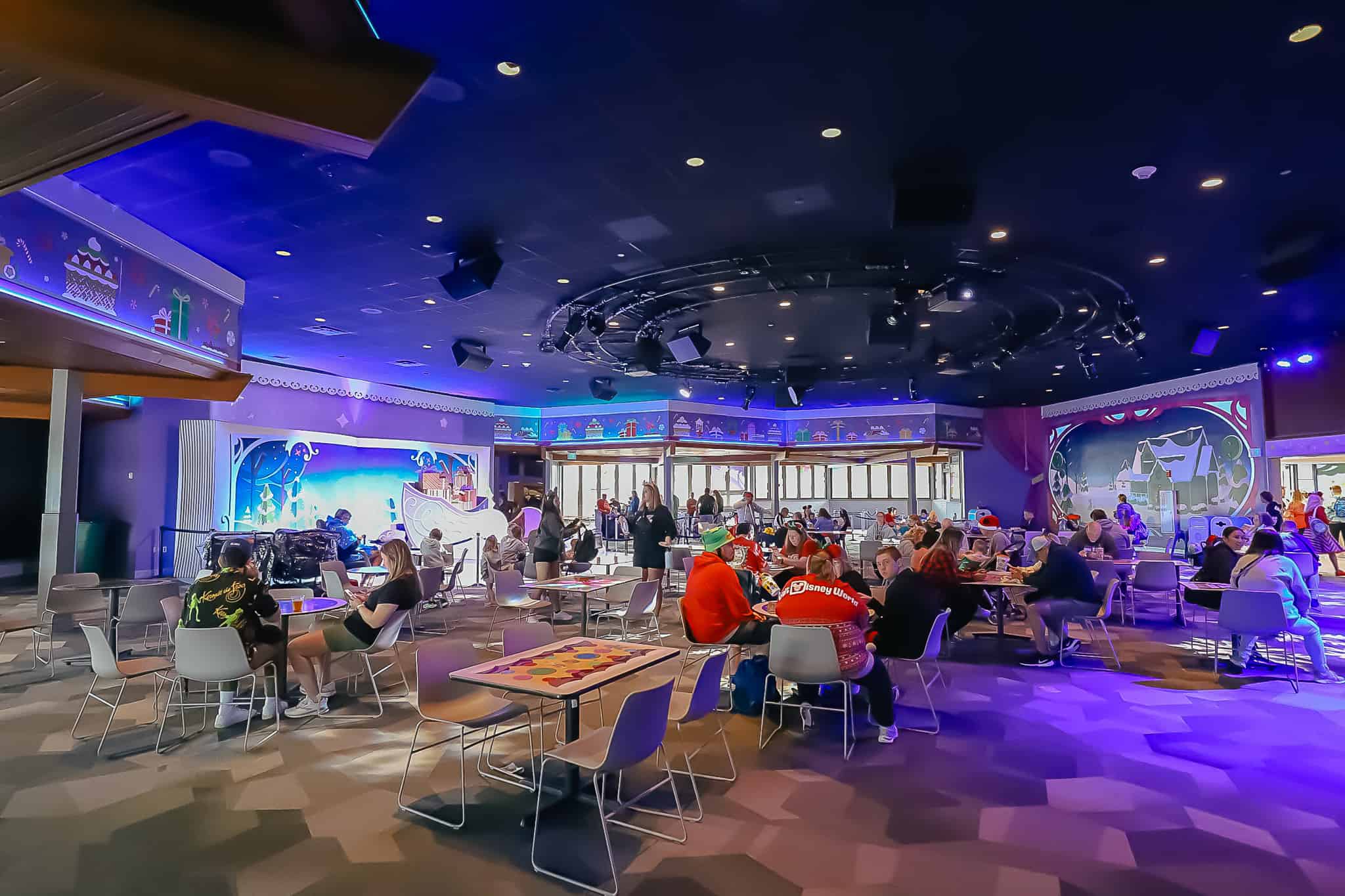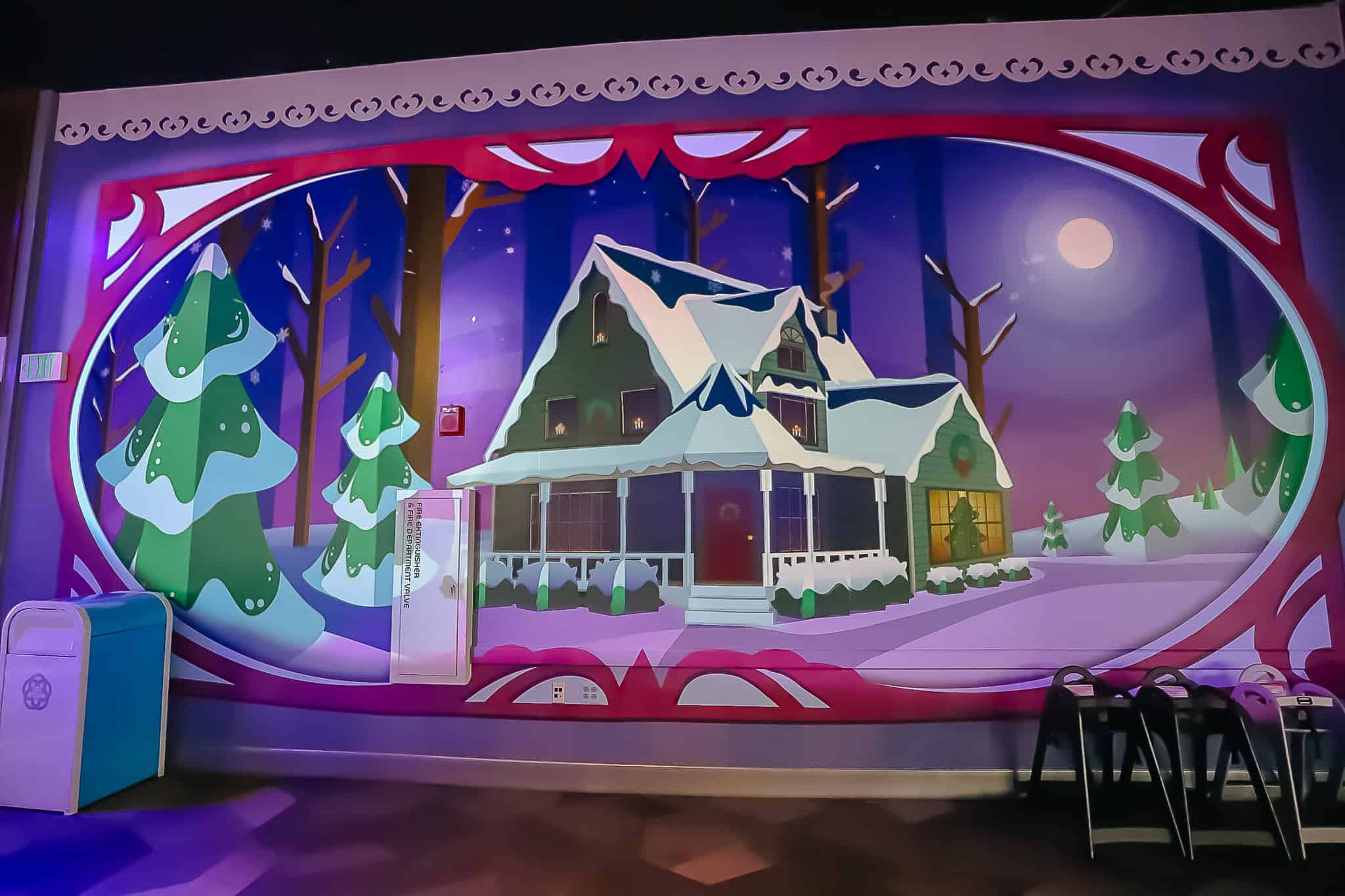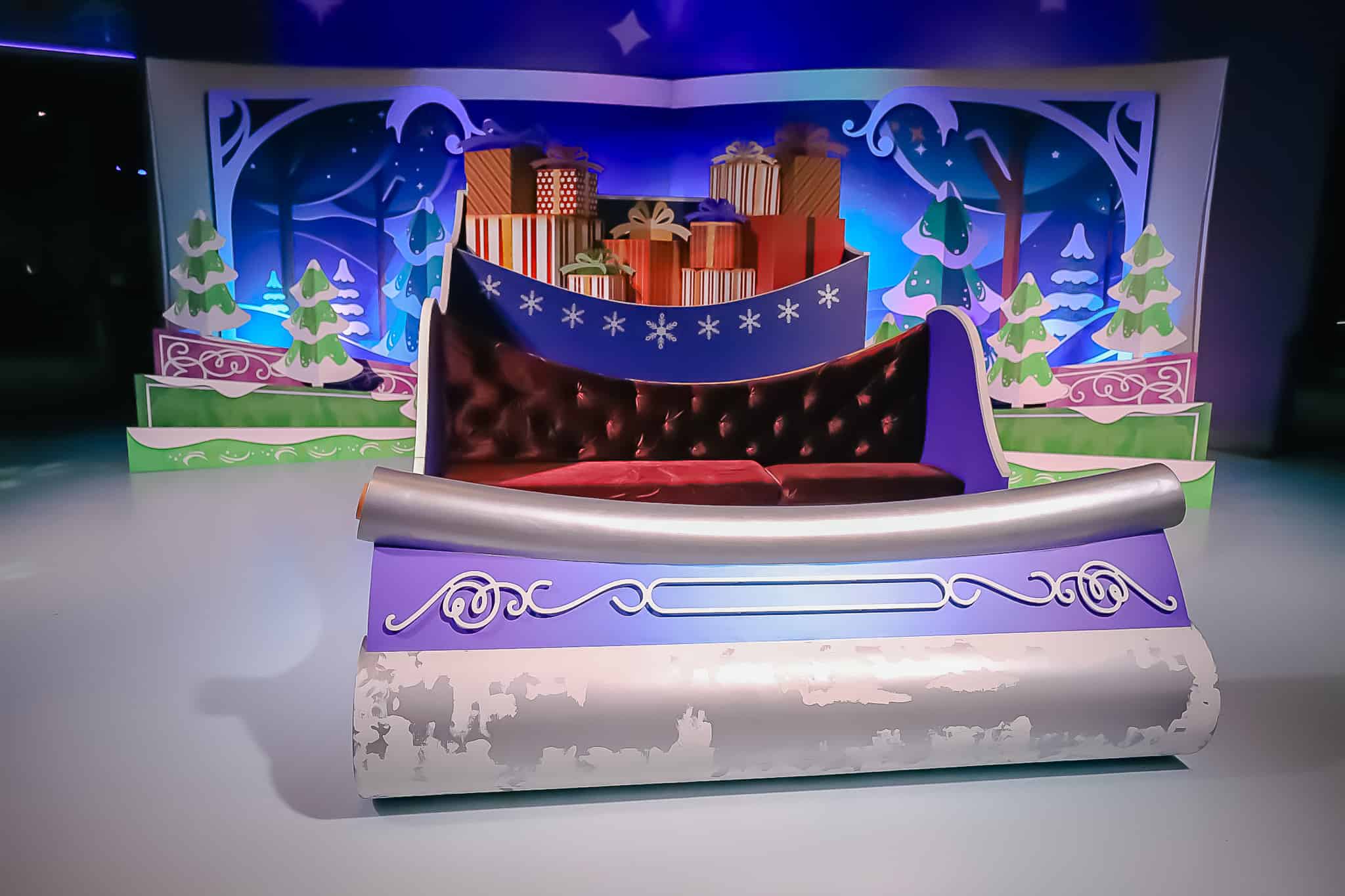 A queue is roped behind the meet-and-greet area. Depending on when you visit, you might encounter a long line. We waited 40 minutes to meet Santa at Epcot on the first day of the Festival of the Holidays. Santa will meet here through December 24, 2023. From my understanding, he's pretty busy later that night and off on a much-needed vacation with Mrs. Claus shortly after.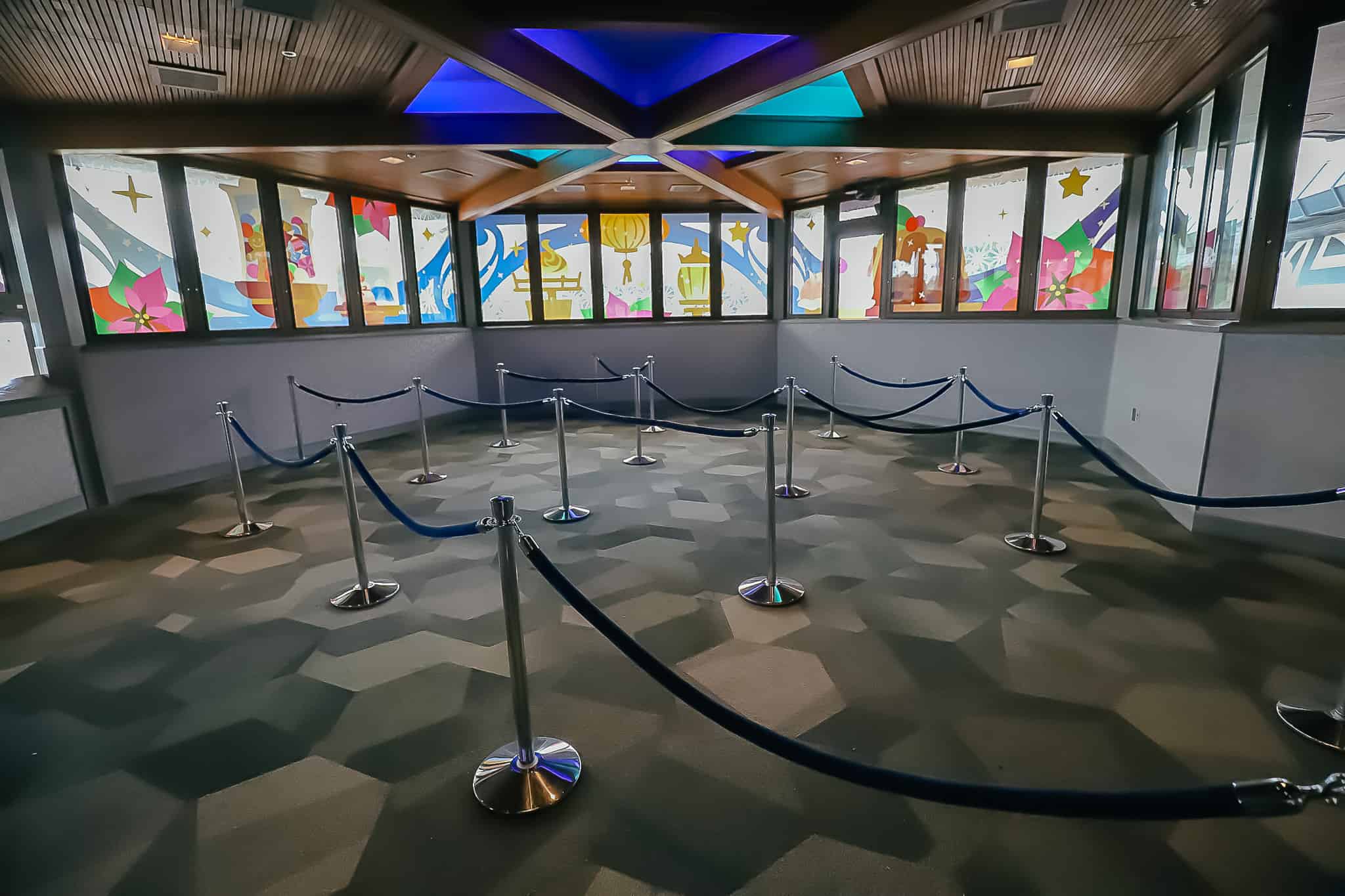 Santa's sleigh is quite sizable, with two rows. So even if you're a large party, taller guests can stand on the back row, while others can sit on the front row.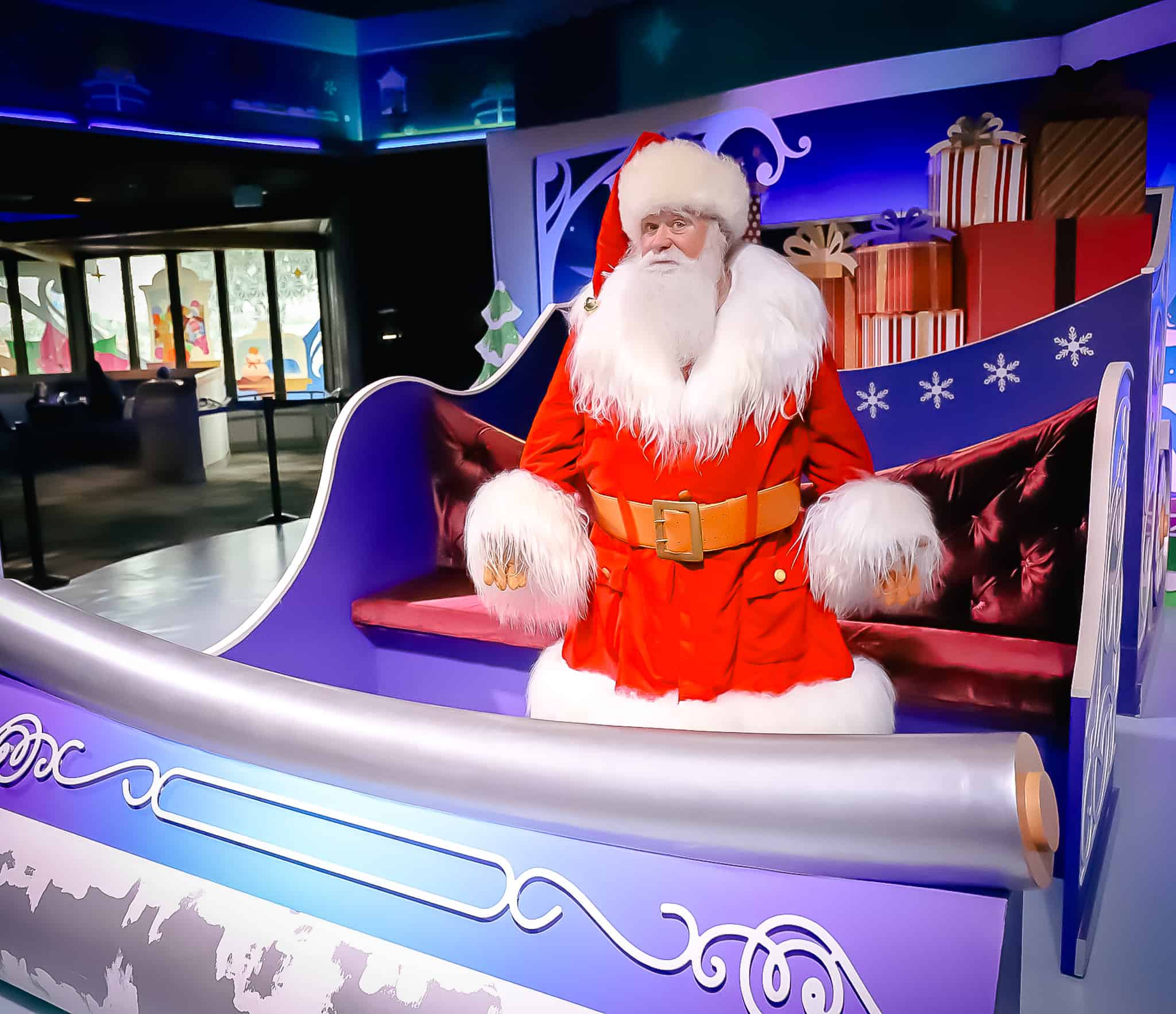 A PhotoPass photographer is available to take family pictures. If you don't have the Memory Maker add-on, you might ask them to take a family photo with your phone or camera.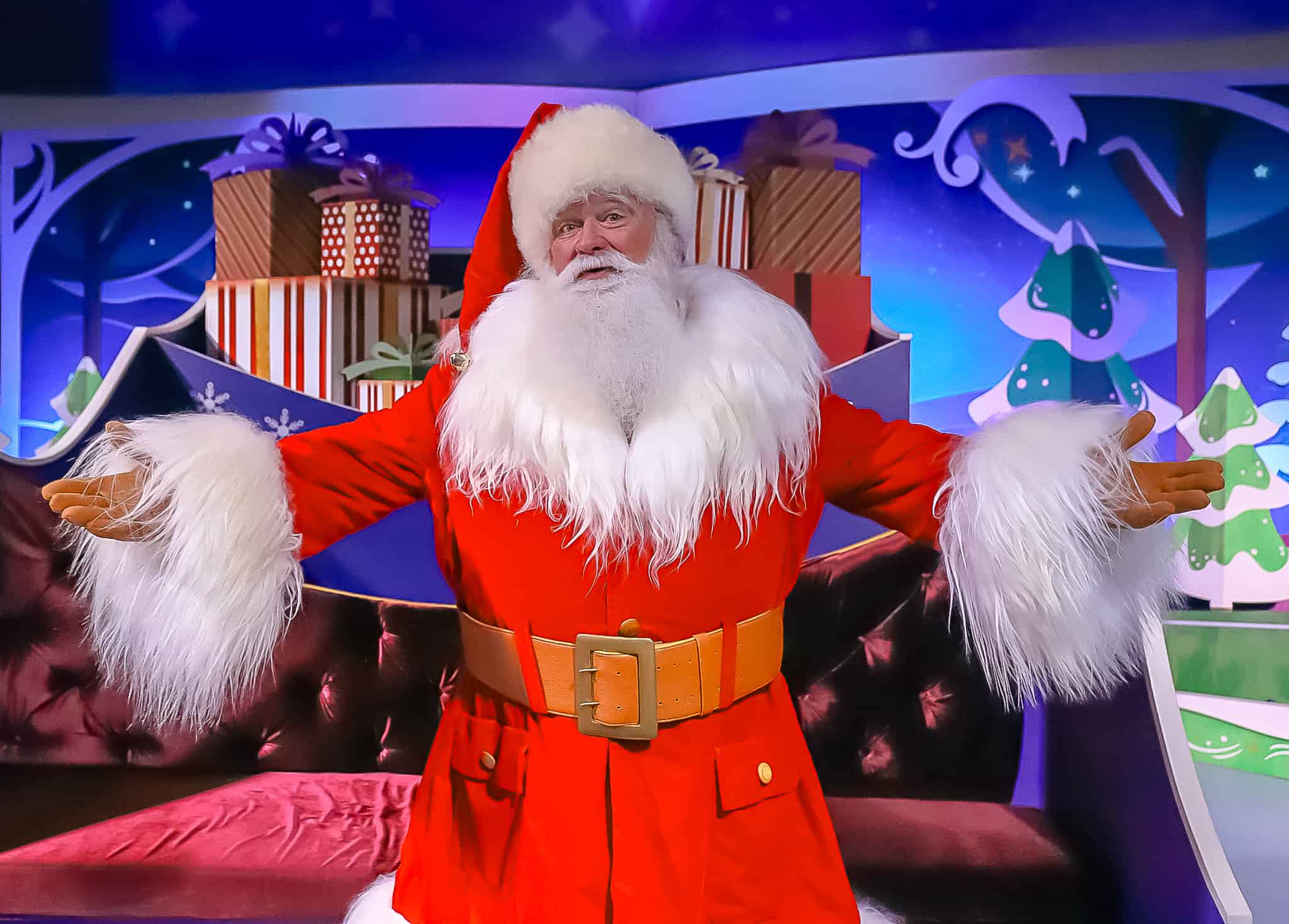 Santa was exceptionally kind and posed for a few photos before he went on break. However, I can assure you that seeing guests meet Santa Claus while you're waiting is not for the faint of heart. As usual, I found myself humbled seeing Santa meet a few guests who were likely going through a tough time.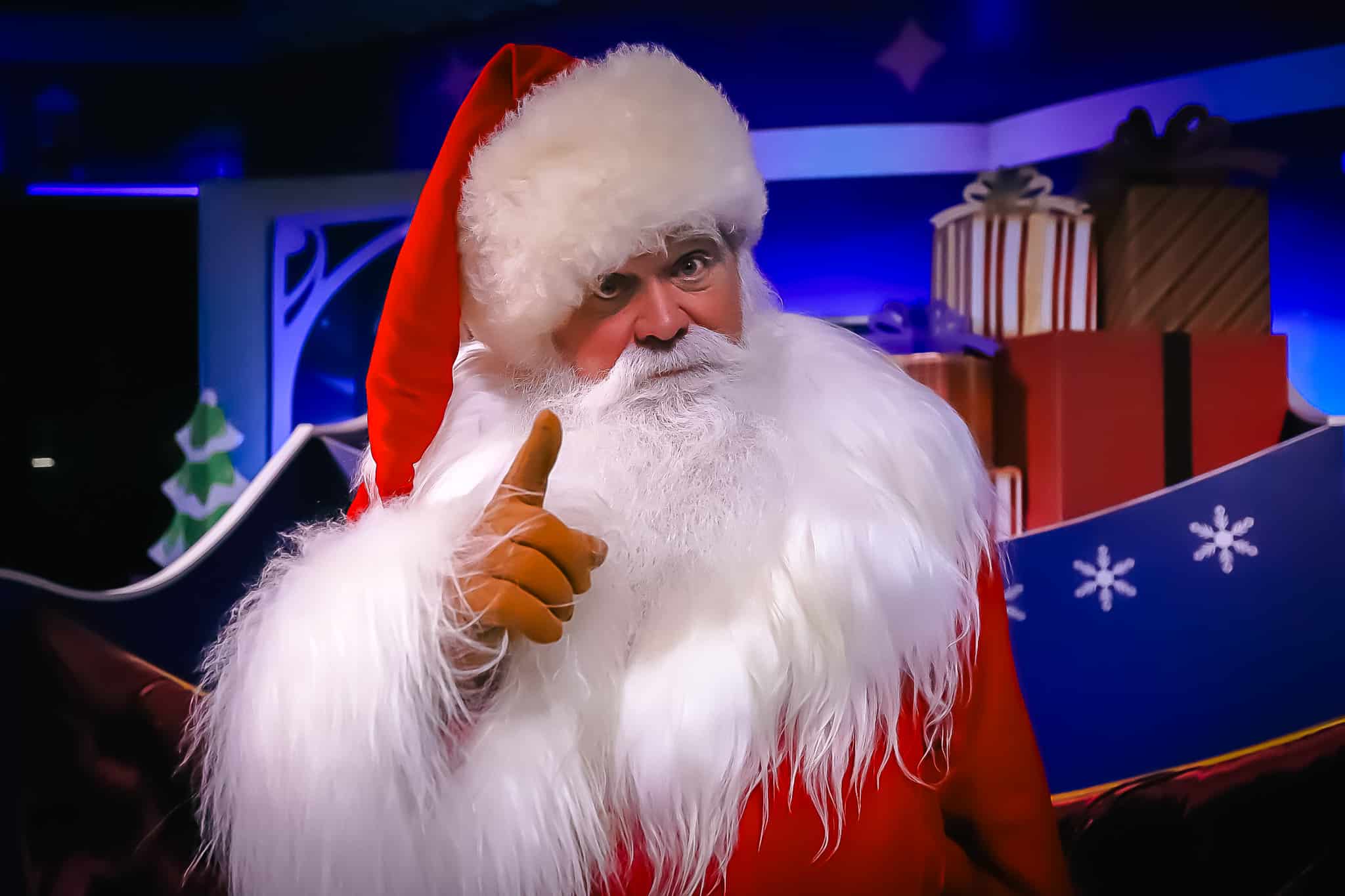 So I reminded myself that the wait takes however long it takes. It's always wonderful to see someone offering a little hope. It's also nice that all the characters who meet at Disney World take their time to make each person feel important.
We have a list of every location to Meet Santa at Disney World:
*At Magic Kingdom, Santa meets daily in the Glade Gazebo near Liberty Square. Or at Animal Kingdom, you can see him in a festive flotilla.
Do you hope to meet Santa at Epcot? What do you think about this meet-and-greet? Do you like the setting?