Meet Santa at Epcot in 2022 (at The Odyssey)
Hey Santa…at Epcot! Santa has a gorgeous new meet-and-greet location at Epcot this year. You'll find Santa in The Odyssey building, located in World Celebration near Test Track.
Below we'll walk through Santa's meet-and-greet at Epcot. If you are interested in meeting Santa, this is an excellent location, given it's indoors.
Additionally, this is the perfect stop to have a family photo made commemorating your holiday visit to Epcot. Let's look closer.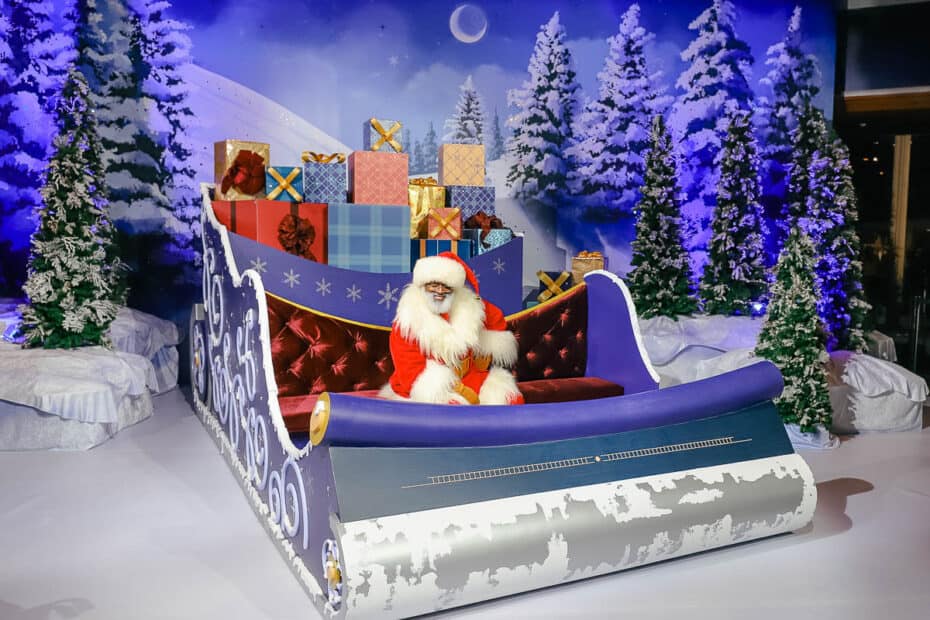 Santa's Meet and Greet Times at Epcot
Here are the current times listed for Santa's meet-and-greet opportunity at Epcot.
11:00 a.m.
12:00 p.m.
2:00 p.m.
3:30 p.m.
5:00 p.m.
6:30 p.m.
*Check the My Disney Experience app for exact times on the day of your visit. You can do so by selecting "characters" at the top of the drop-down list. Then filter for Epcot on the left side and select "show list" on the right side. Finally, locate Santa on the list, and his times will appear for that day.
Inside The Odyssey, there's a large open room with tables and chairs. This area is somewhat of a transitional space that's been used for a variety of different purposes over the years.
You'll see the queue for Santa's meet-and-greet toward the back of the room. On this afternoon, Santa had taken a break, so the line was roped off.
If you arrive early and a line hasn't formed, you might opt to wait at one of the nearby tables and chairs.
In the middle of the room, there's a large set with Santa's sleigh and a beautiful winter backdrop.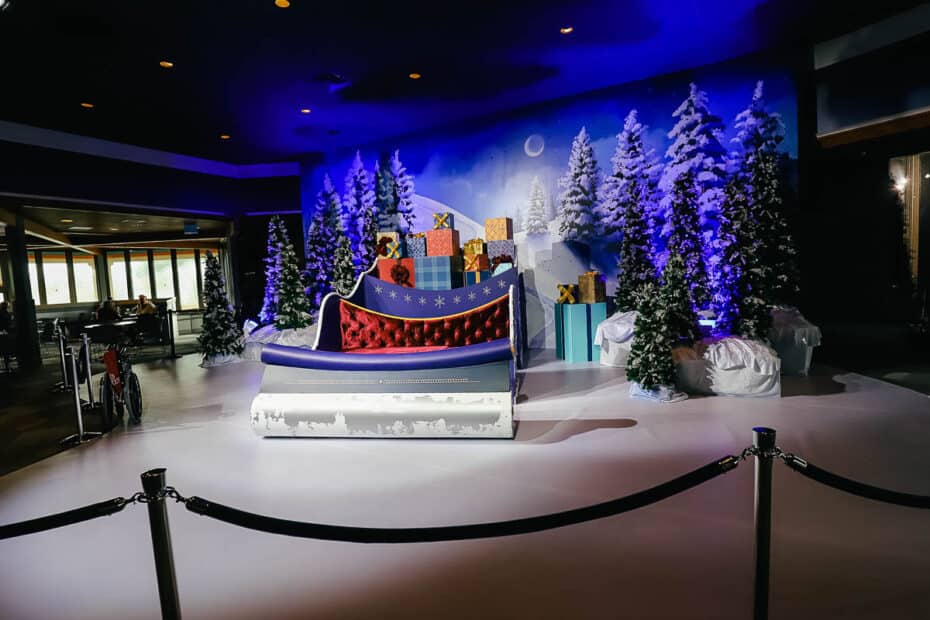 Santa's sleigh is quite sizable and has two rows. So even if you're a large party, some taller guests can stand on the back row, while others can sit on the front row.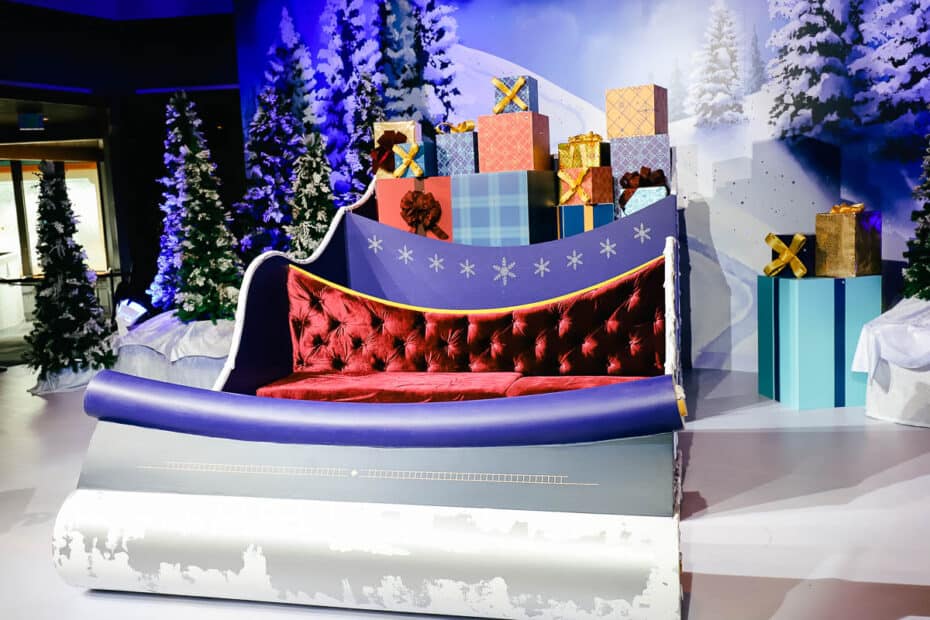 A PhotoPass photographer is available to take family pictures. If you don't have the Memory Maker add-on, you might ask them to take a family photo with your phone or camera.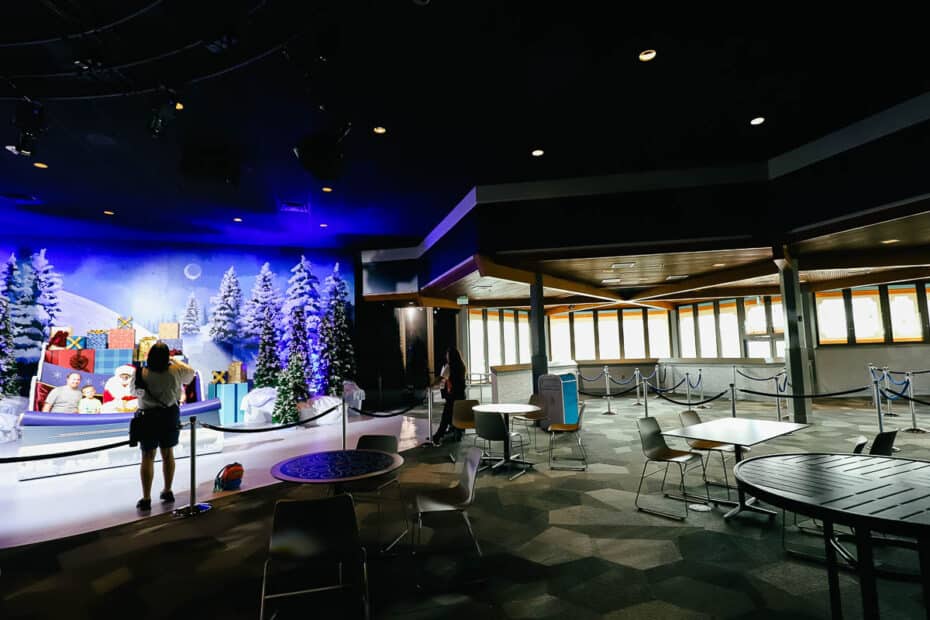 Santa was exceptionally kind and posed for a few photos before he went on break. However, I can assure you a few moments of watching guests meet Santa Claus here is not for the faint of heart.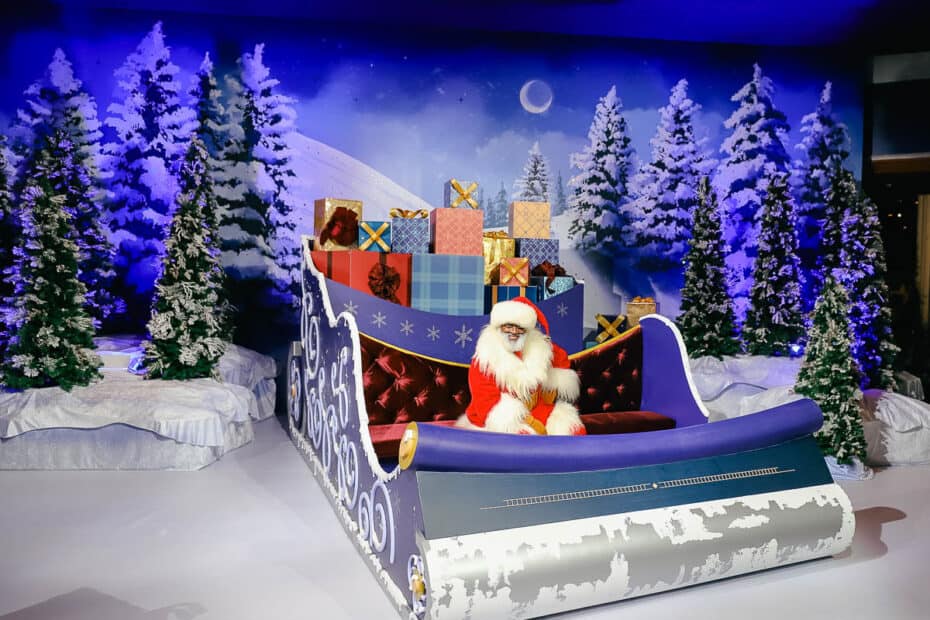 Seeing Santa's interactions with a few special guests, I found myself more than a little weepy. It's always wonderful to see someone offering a little hope and who doesn't mind taking their time to make each person feel important.
For more Santa meets at Disney World, you might check out Meeting Santa at Mickey's Very Merry Christmas Party.
Additionally, you can see Santa at Hollywood Studios as part of Santa's Merry Motorcade.
At Magic Kingdom, Santa meets daily in the Glade Gazebo near Liberty Square.
Or at Animal Kingdom, you can see him in a festive flotilla. That cruise is covered in our overview of Christmas at Animal Kingdom Park.
Lastly, Santa meets at Disney Springs. We'll try to get over that way for an update soon.
In the Comments
Do you hope to meet Santa at Epcot? What do you think about this meet-and-greet? Do you like the setting?