Living with the Land's Merry and Bright Nights (Returns in 2021)
Update: The Merry and Bright Nights holiday overlay on Living with the Land is back for 2021!
If you've ever visited Epcot before then, you've probably taken a spin on Living with the Land. It's the attraction where you float through a greenhouse with edible plants used in restaurants on Disney property.
But what you might not know is that this attraction is a little extra special during the Christmas holiday season. When the sun sets, the experience becomes Merry and Bright Nights on Living with the Land.
During the day, you'll see a few signs on the attraction that remind you to come back for a different experience in the evening.
For example, the sign below says, "After the sun sets, ride Living with the Land for a special sparkling tour. Enjoy a peaceful evening cruise and view twinkling holiday light displays throughout the greenhouses."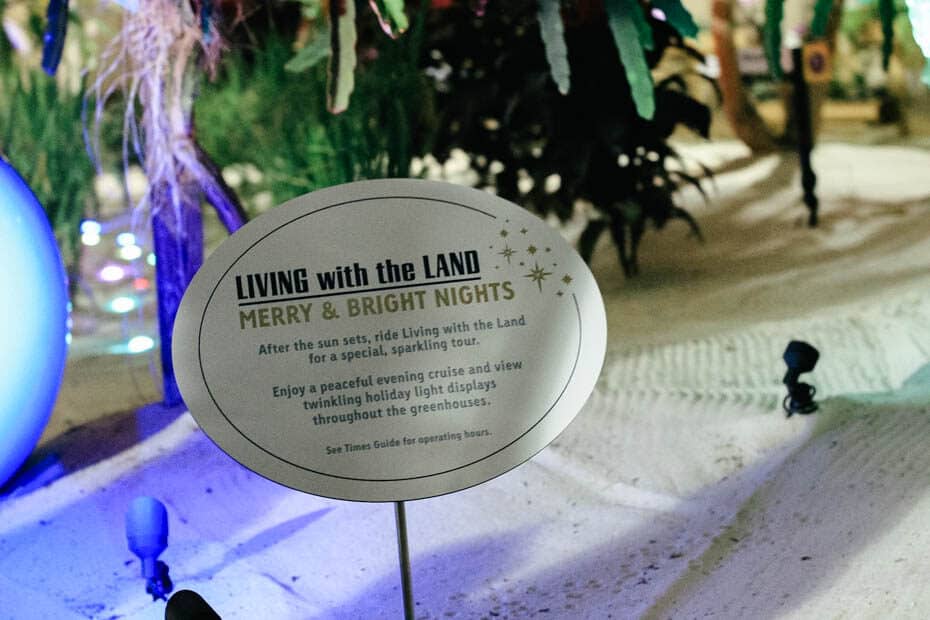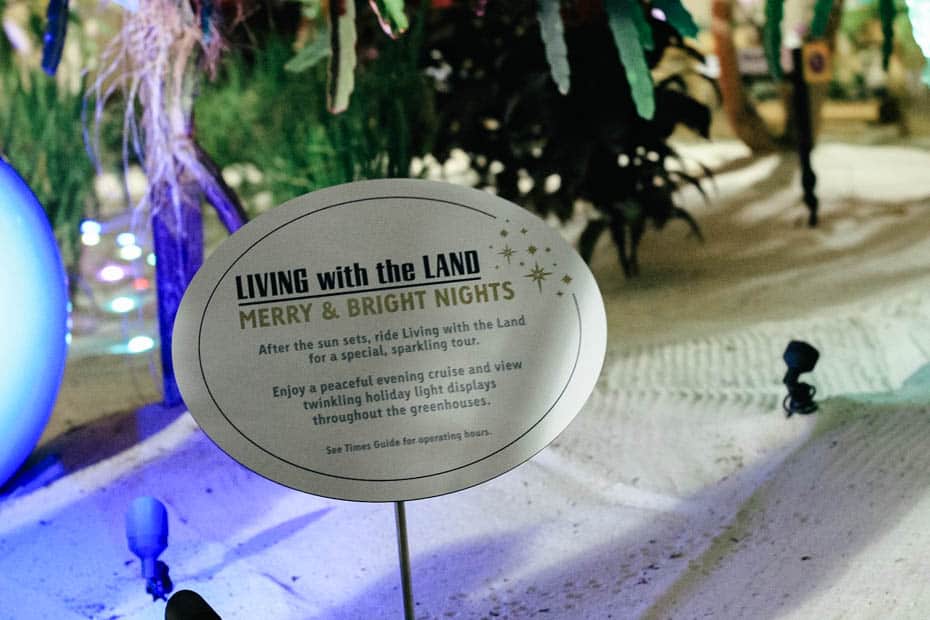 The sign also says to see the daily times guide for operating hours. Usually, Living with the Land closes at around 7:00 p.m. However, during Merry and Bright Nights you can generally expect it to stay open until the park closes.
While this is mainly a casual review for your enjoyment, we'll still cover a few specifics. For instance, you can locate this attraction inside The Land Pavilion at Epcot.
Funny story, when I was standing outside taking this photo, a lady walked up and asked the cast member what this was, referring to the building. The cast member said, "Oh, it's a ride."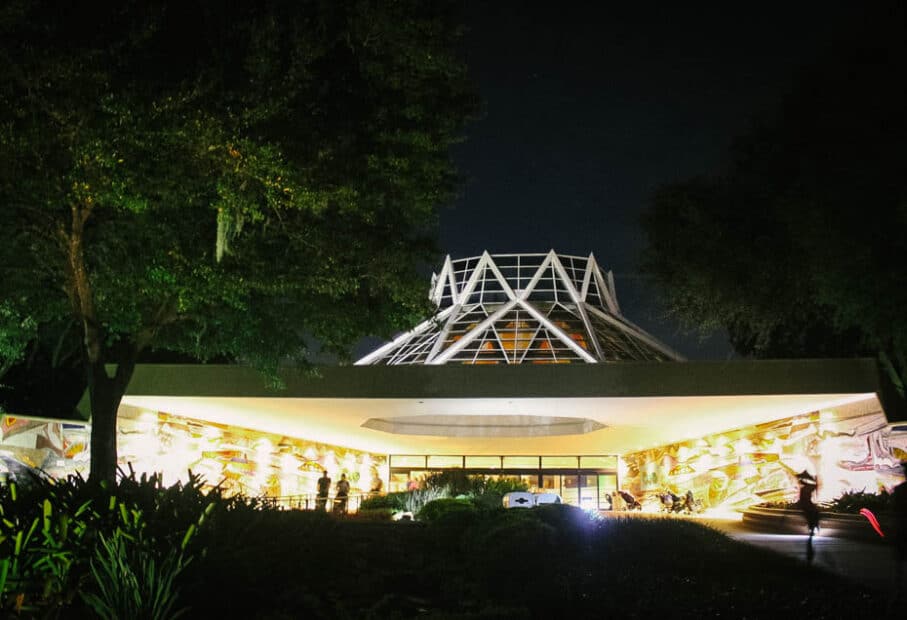 Can you imagine how appalled I was? Standing there thinking it's two rides, a movie, a place to eat, and there are restrooms. But I didn't say anything.
Unfortunately, these were probably first-time visitors, clueless as to what to do or where to go. I hate to think about guests visiting Epcot and missing out on a major attraction as Living with the Land. Soarin' is okay too, I guess.
Not only that, these guests weren't even aware of this special holiday offering that was taking place during their vacation dates. Thankfully, that won't be you since you are reading and preparing yourself.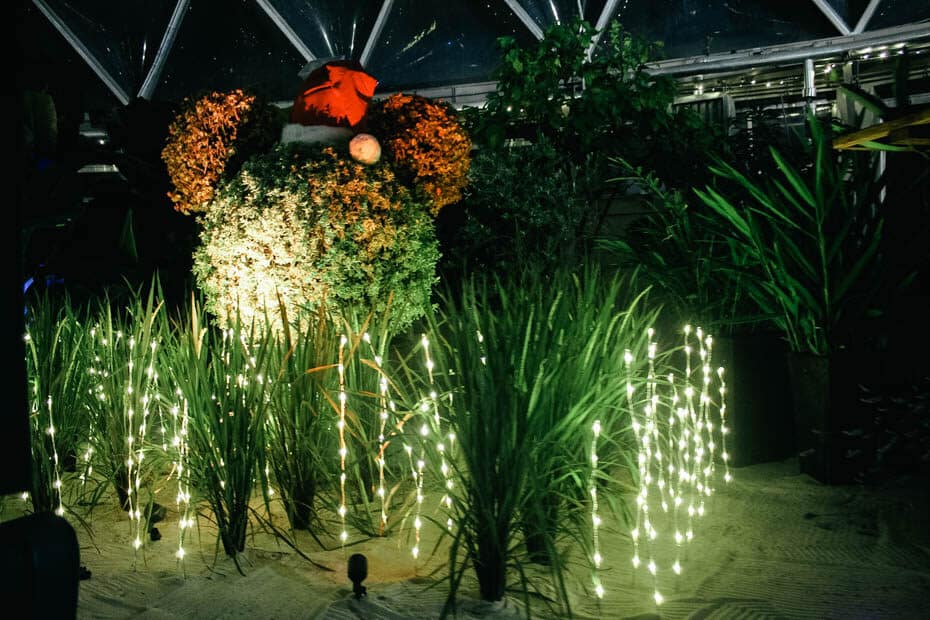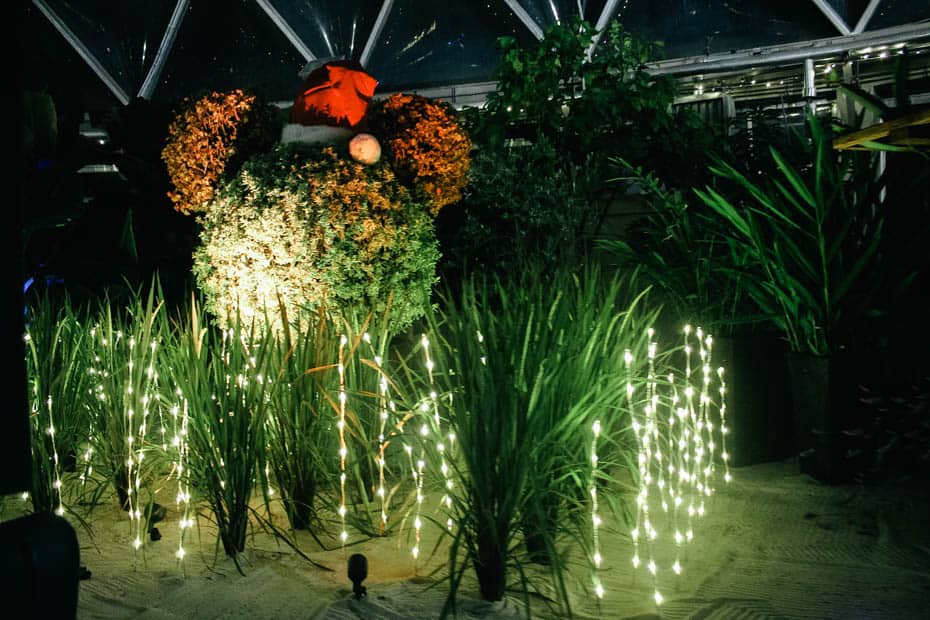 Anyway, when you board Living with the Land, you'll go through the first couple of faux ecosystems like normal. But as you approach the greenhouses, everything begins to change.
The tunnels are the start of Merry and Bright nights. The tunnels are fully lit with large colored Christmas bulbs.
You can see the colors reflecting on the water ahead of you. Make sure if this ride is your jam to request the front row. It's truly the best experience.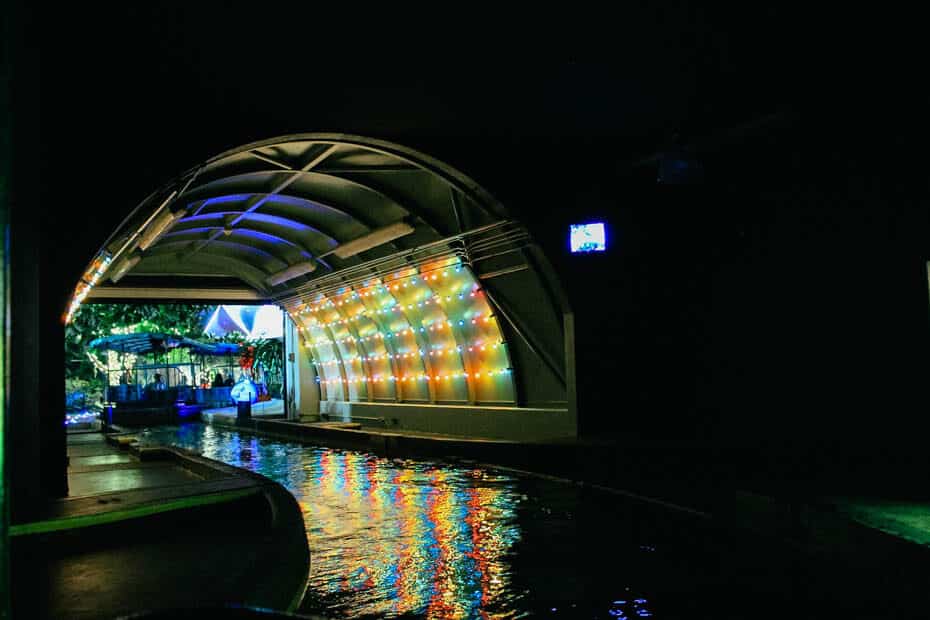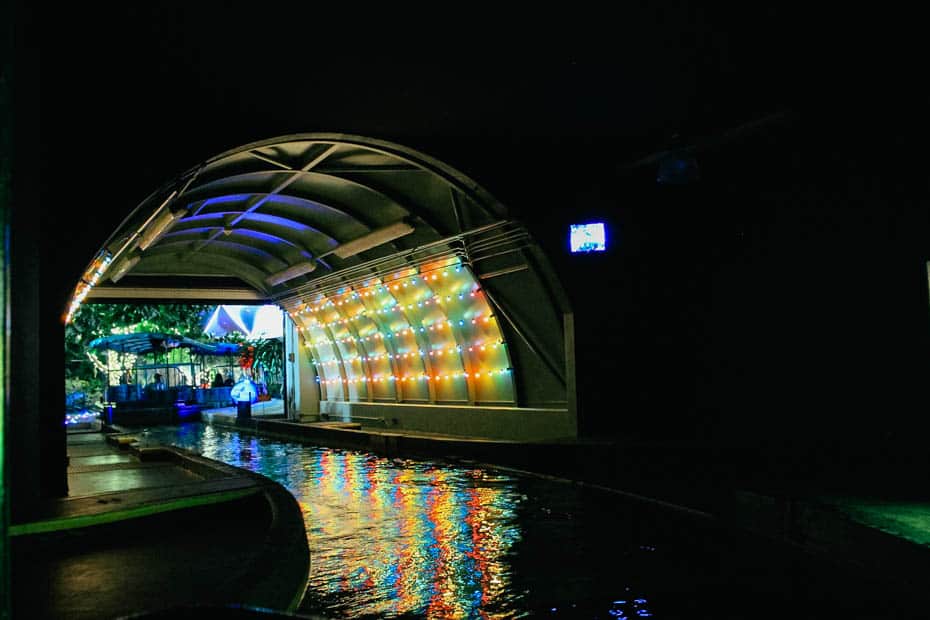 Isn't she lovely? Isn't she wonderful?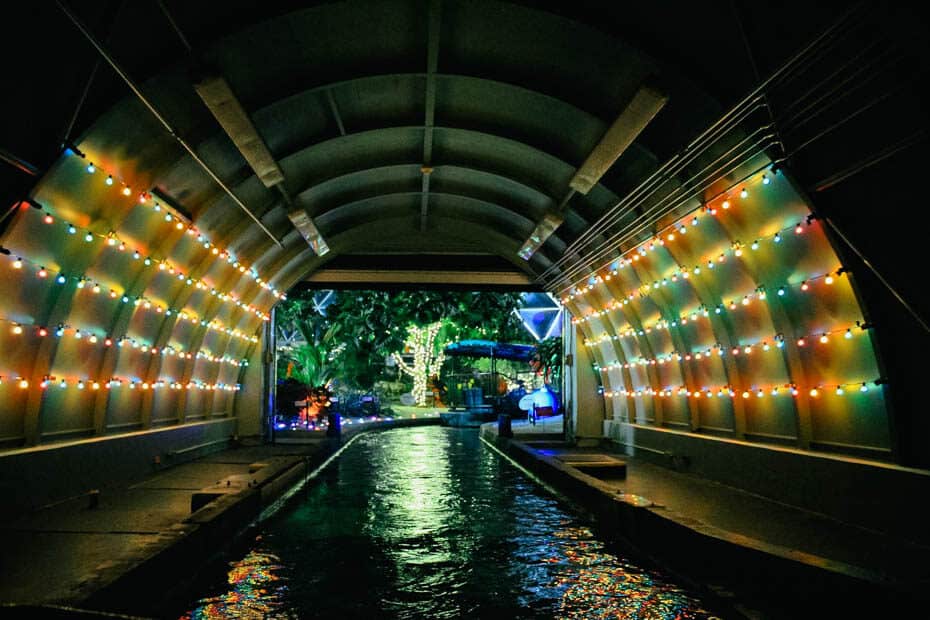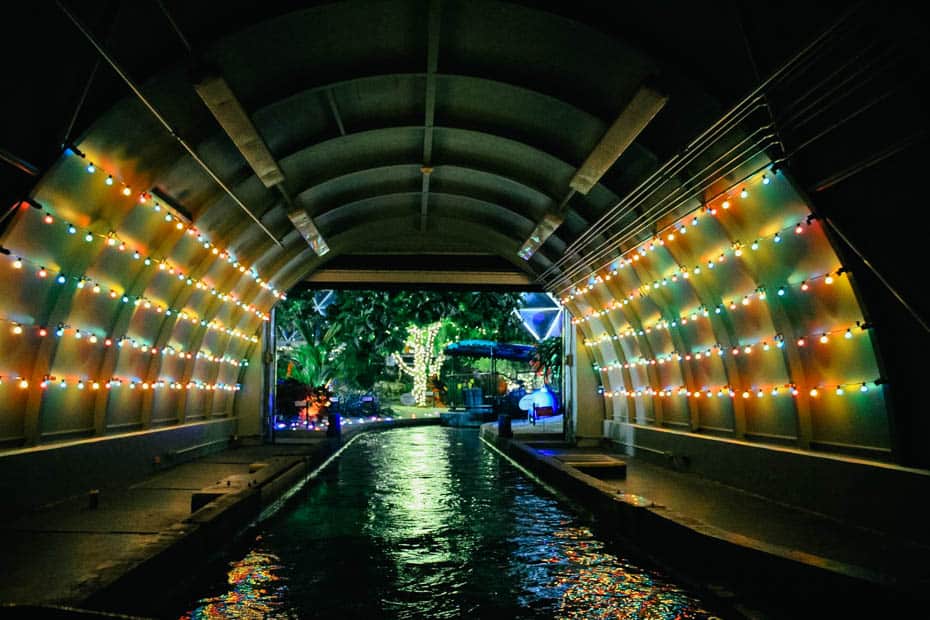 I promise not to sing the whole way through.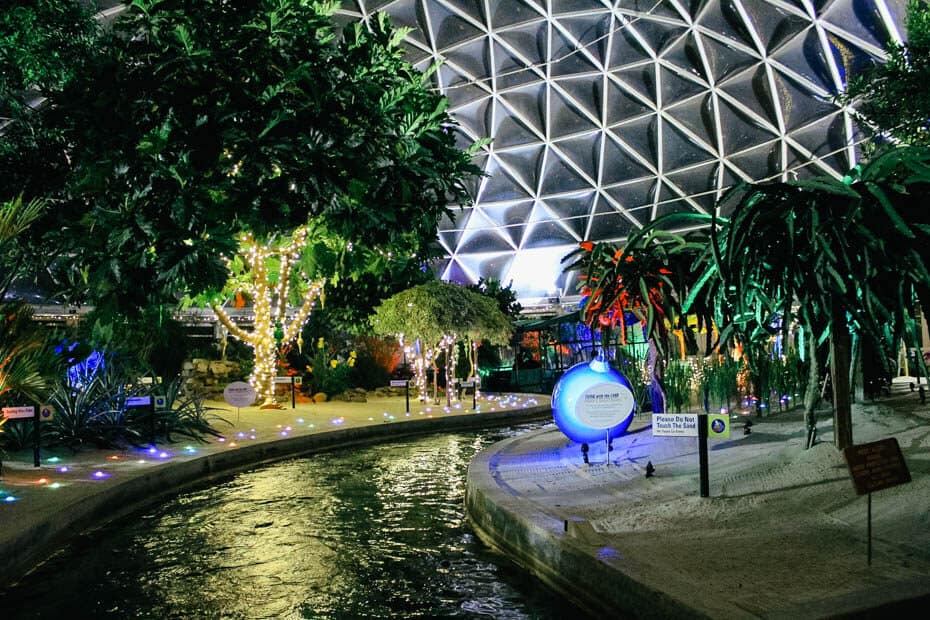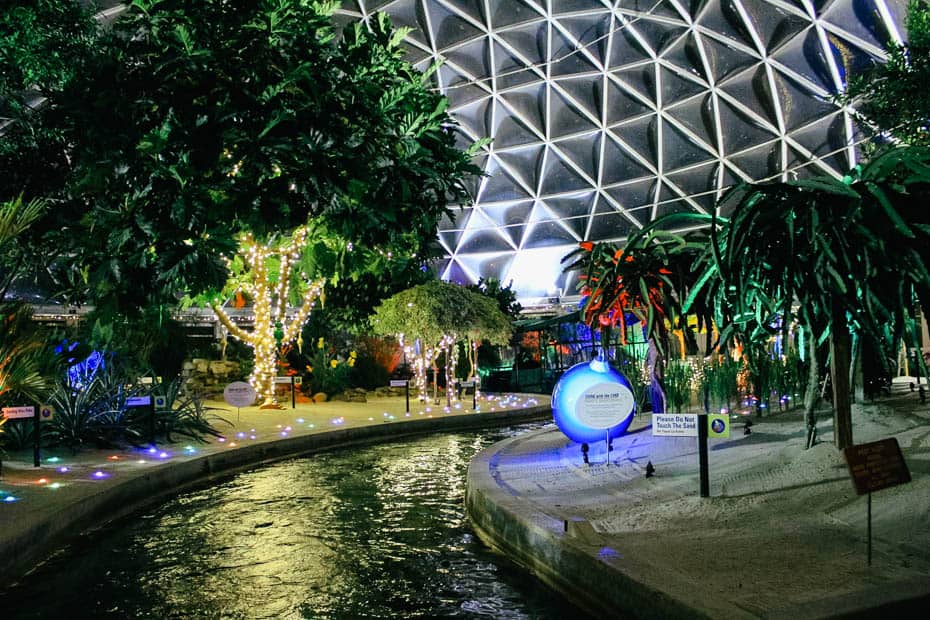 There are different kinds of lighting everywhere you look in the greenhouses.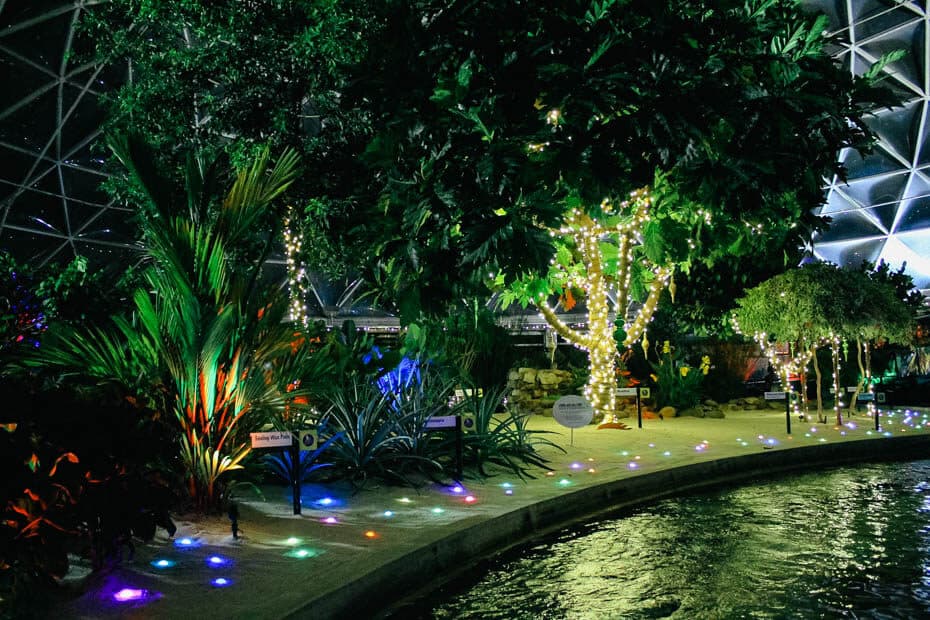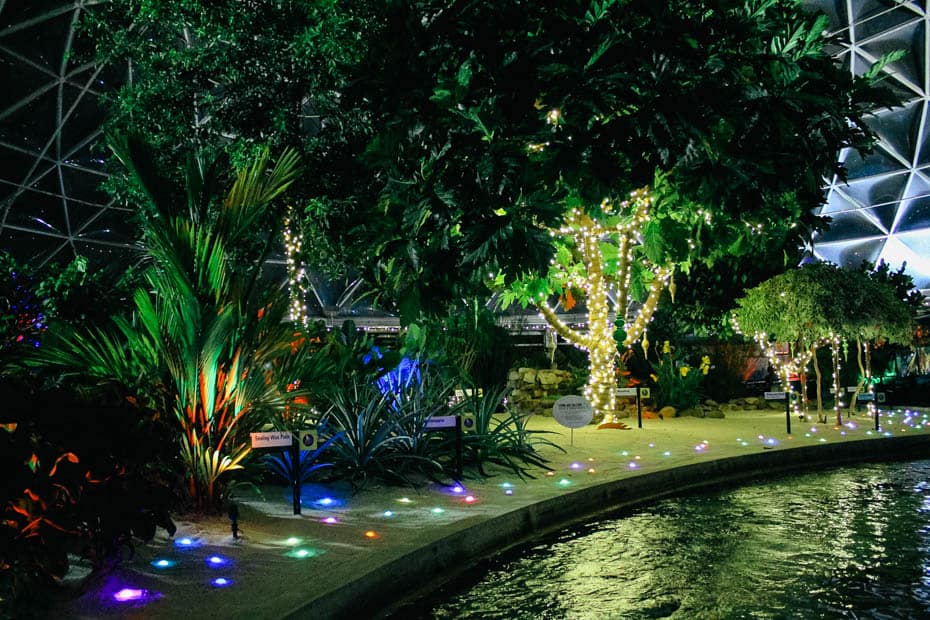 Oversized Christmas ornaments are placed in various areas throughout the landscape.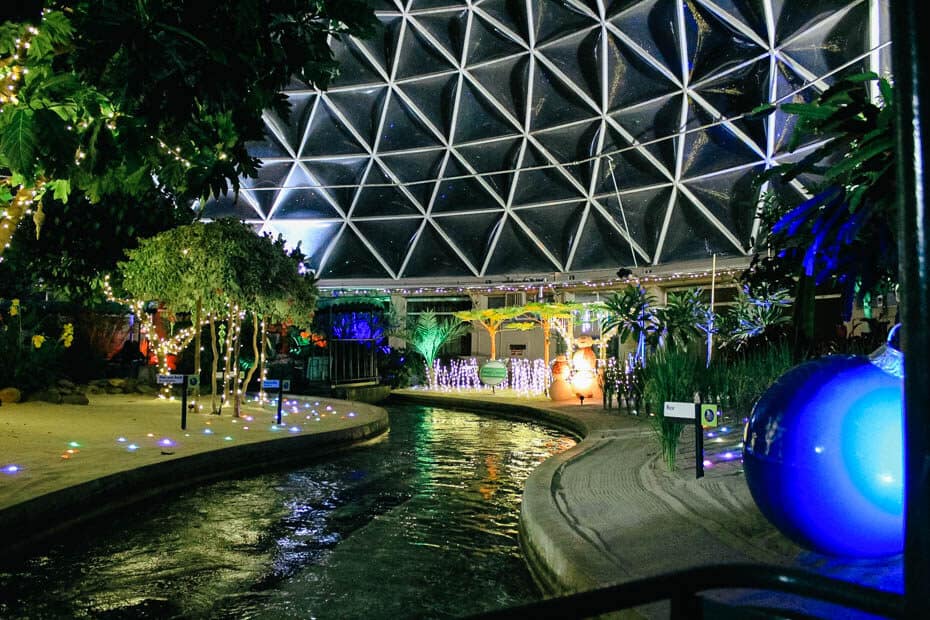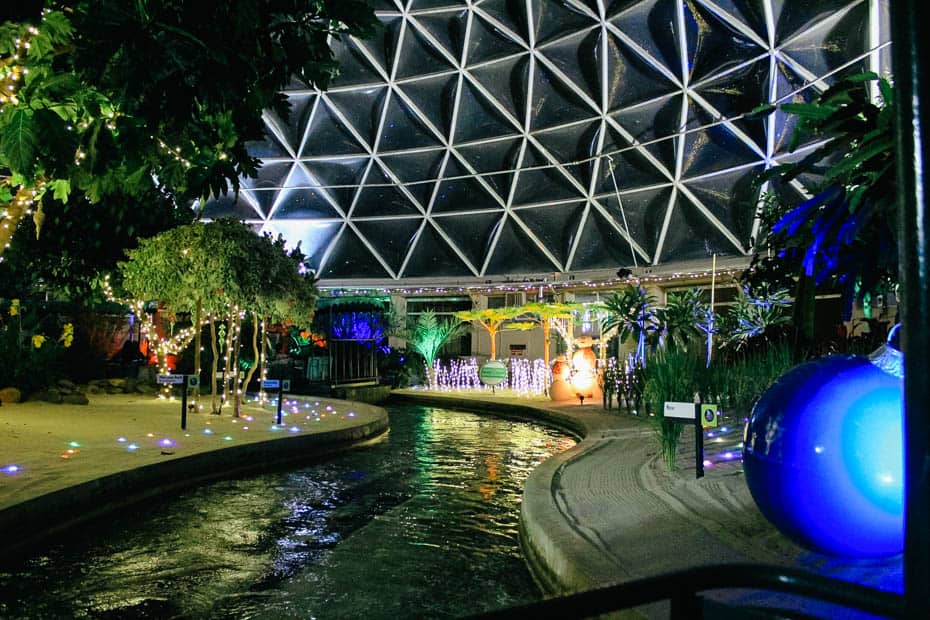 Even the water garden with lily pads has light projections.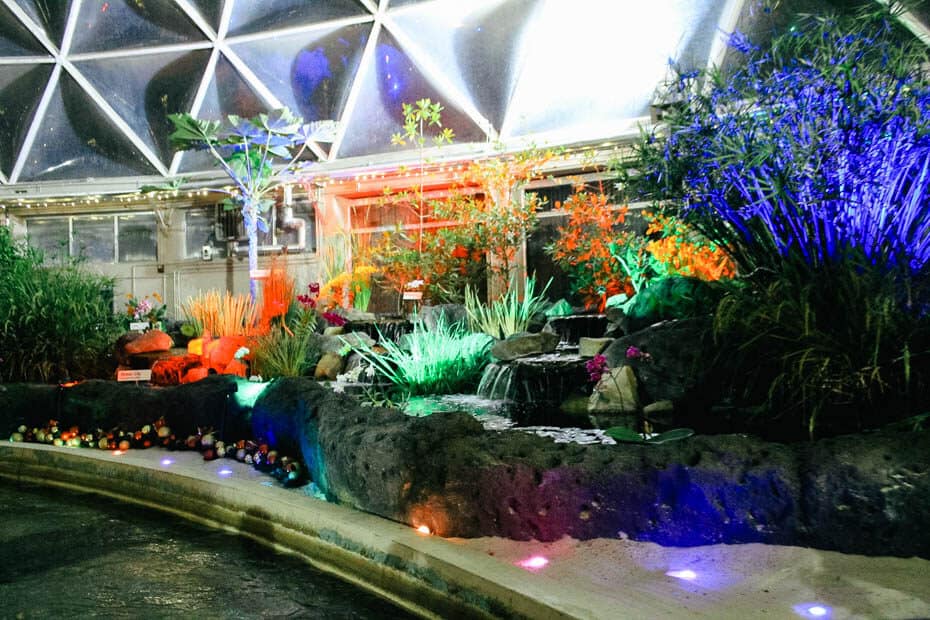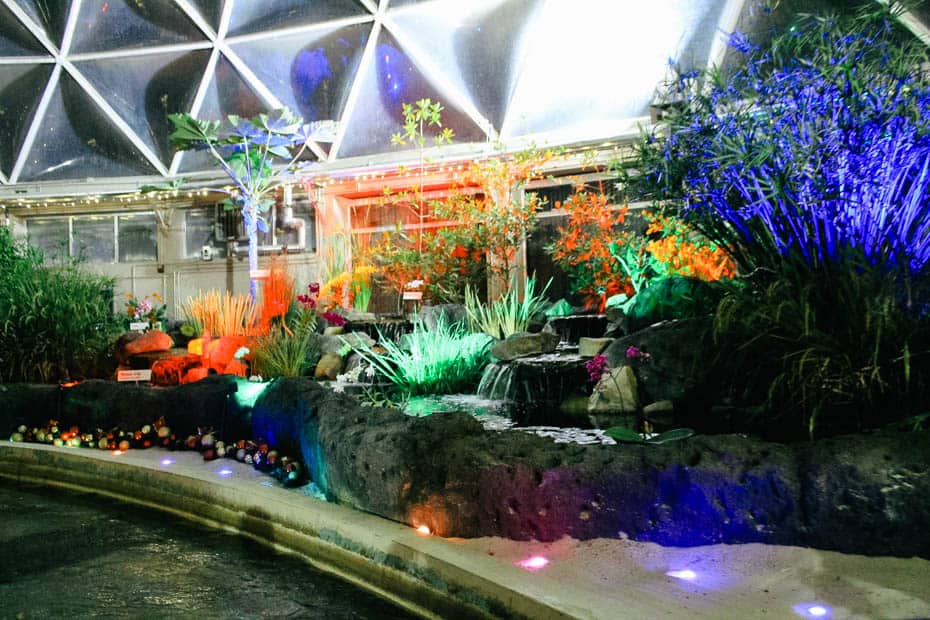 Let me tell you when Disney found out what these light projections could do, they started placing them everywhere. Most of them are nice looking, though.
Hi sand-man Family! There is no snow in the greenhouse.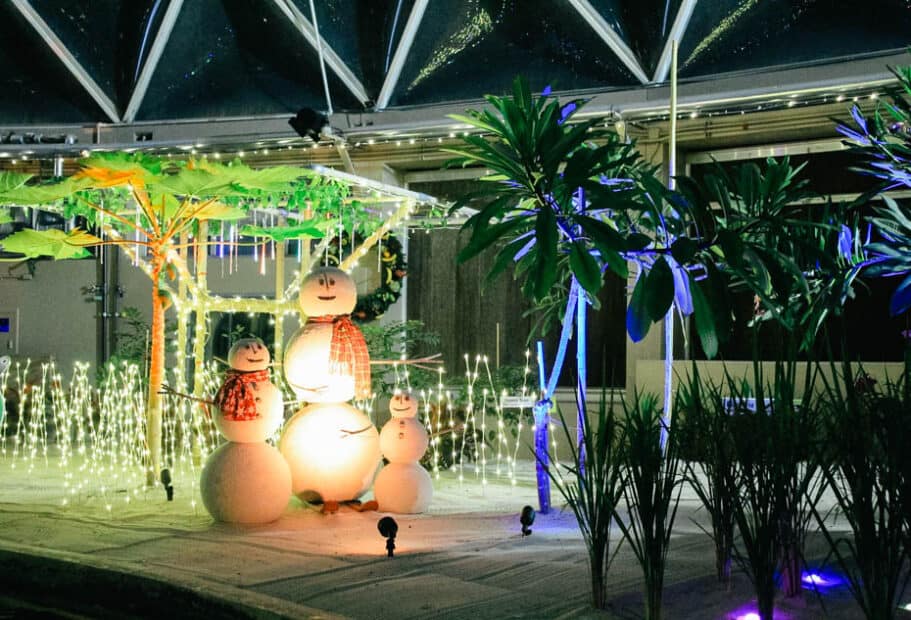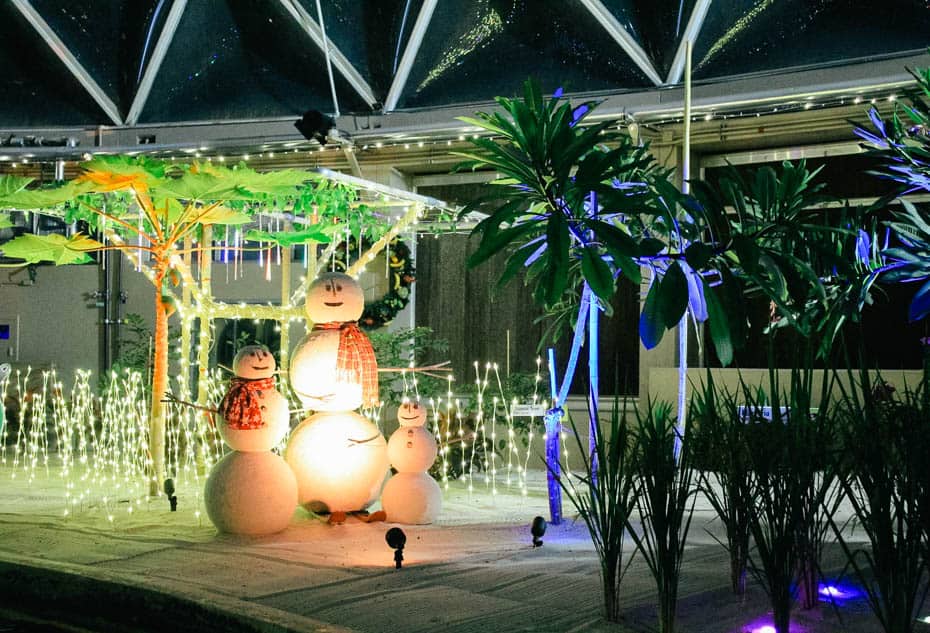 They did an excellent job with the light placements.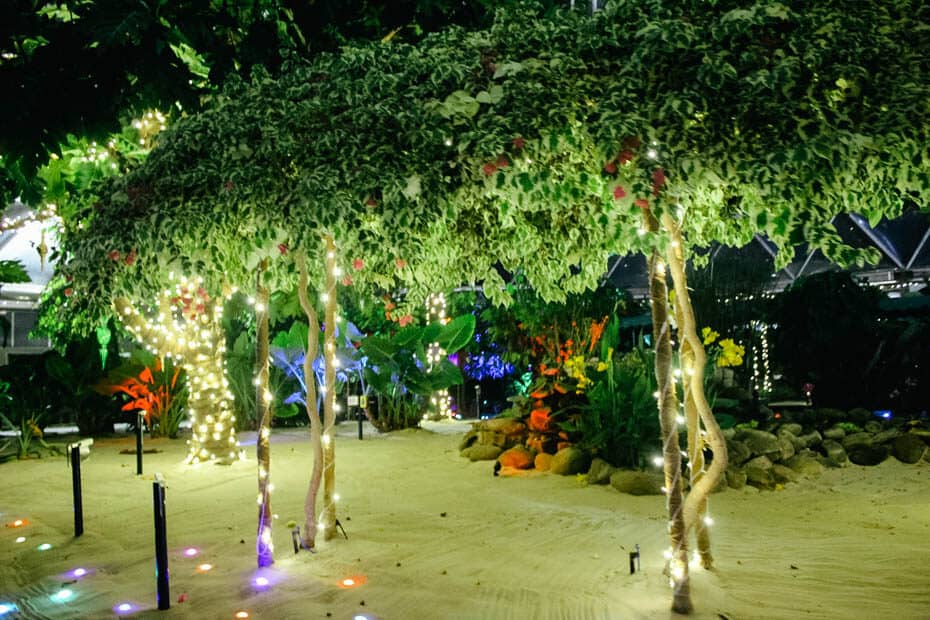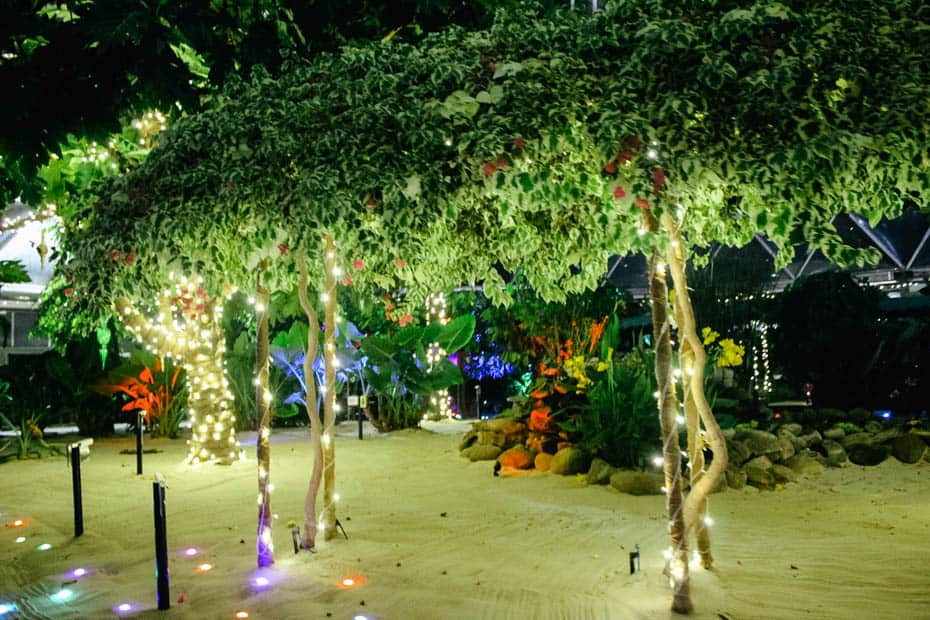 I love the lights in the trees more than anything. They make me think of all the twinkling lights in the trees around the castle at Magic Kingdom. All twinkling lights remind me of that.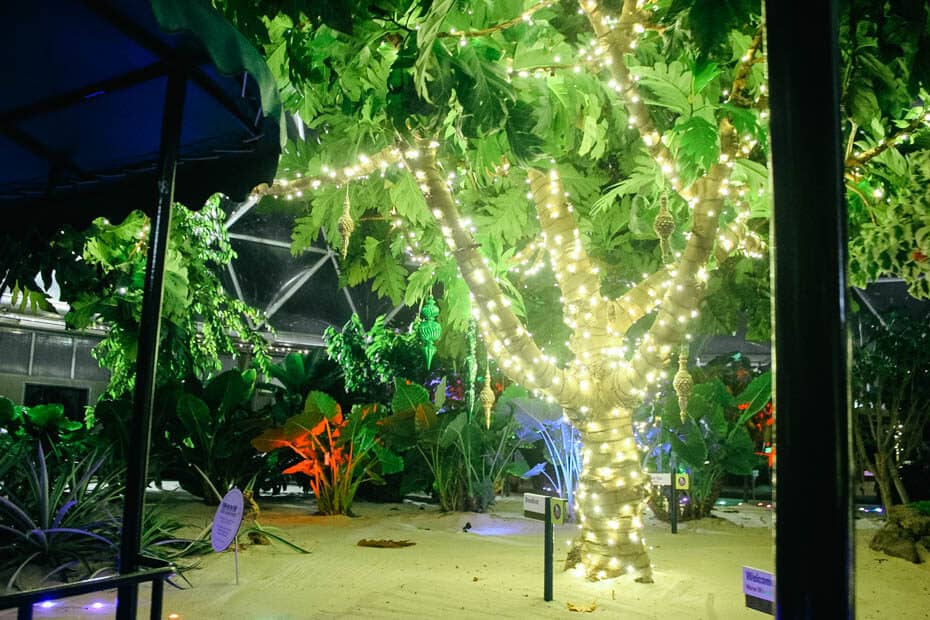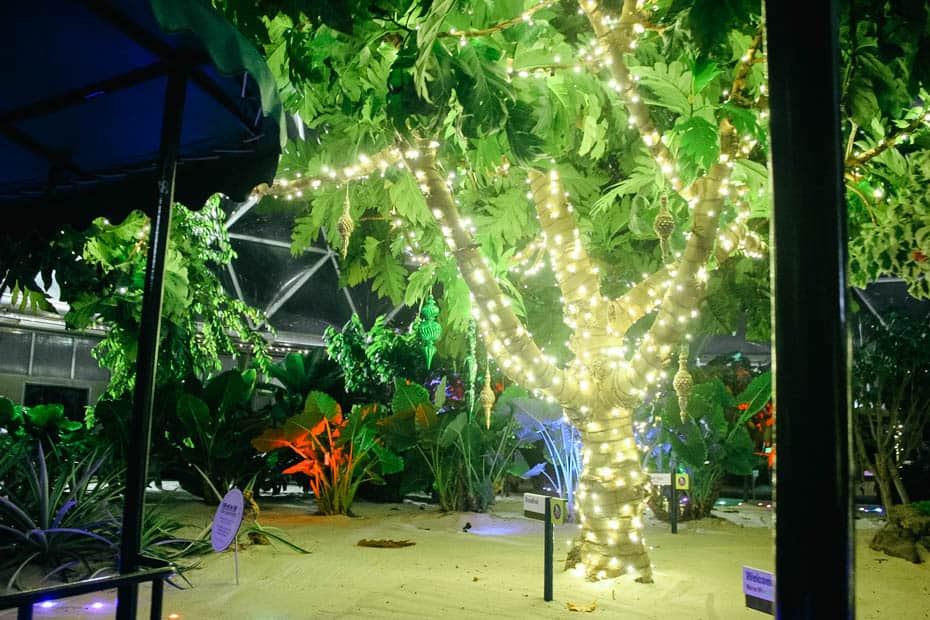 They even put in some lights that appear to resemble grass.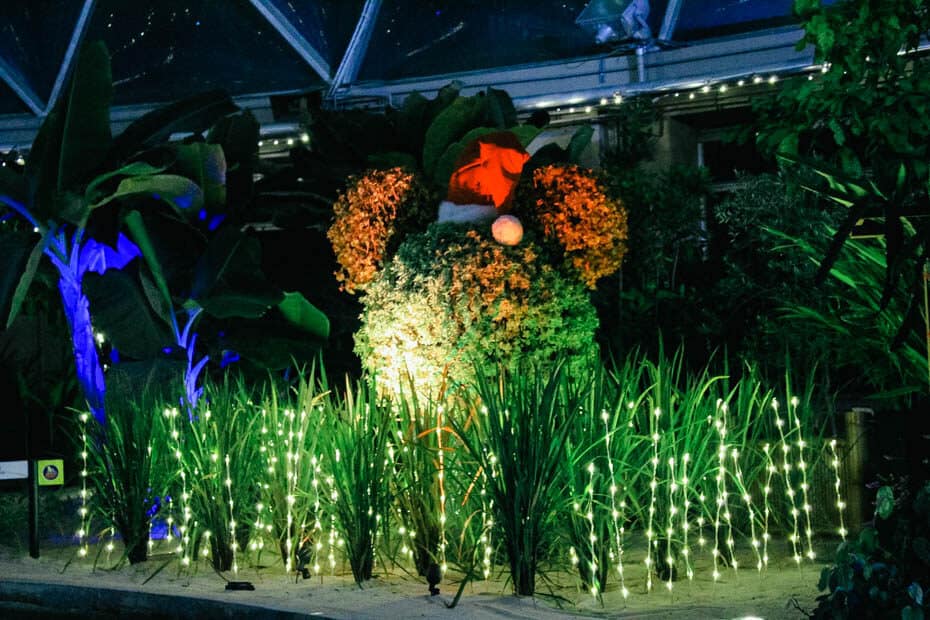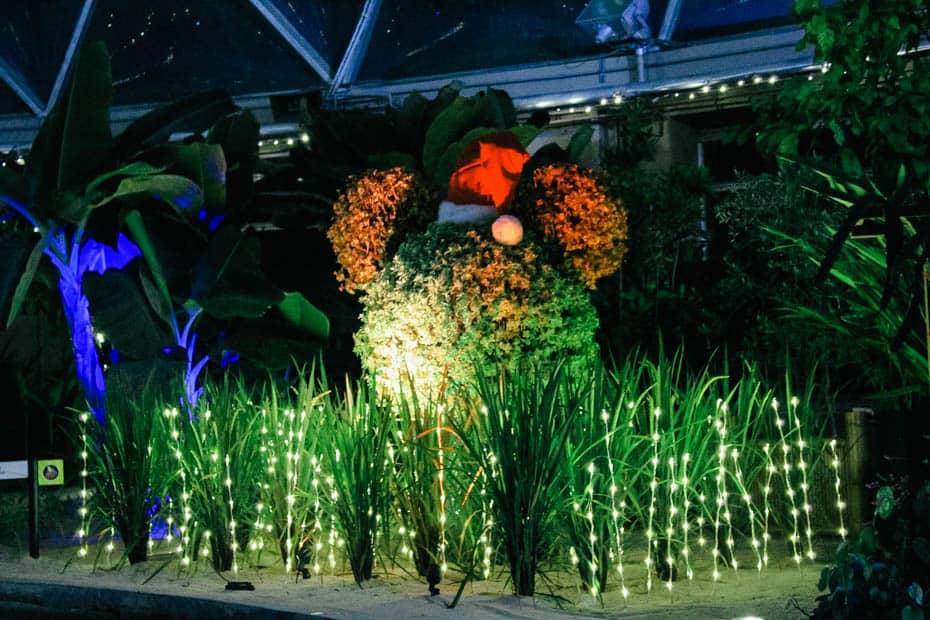 And if you are looking closely, there are all these tiny different colored lights in the sand.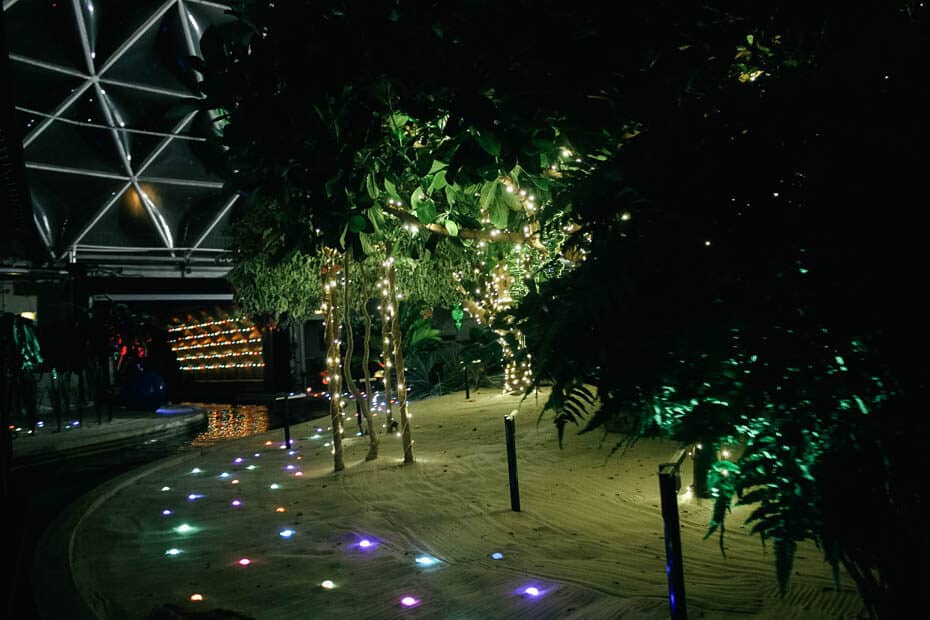 They reflect on the greenhouse glass in places.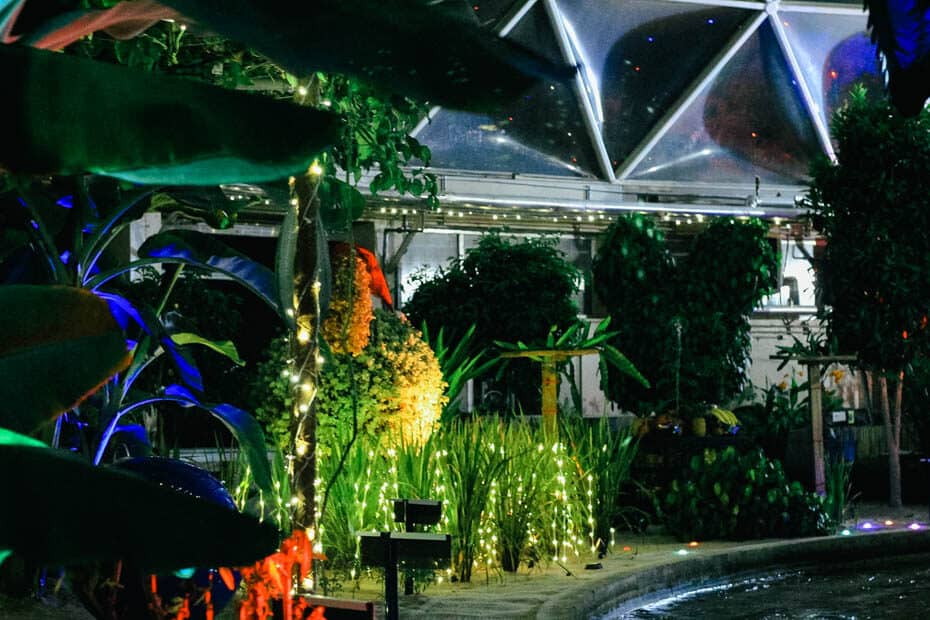 Below we have reindeer Mickey in topiary form. He hadn't quite grown into his full self yet.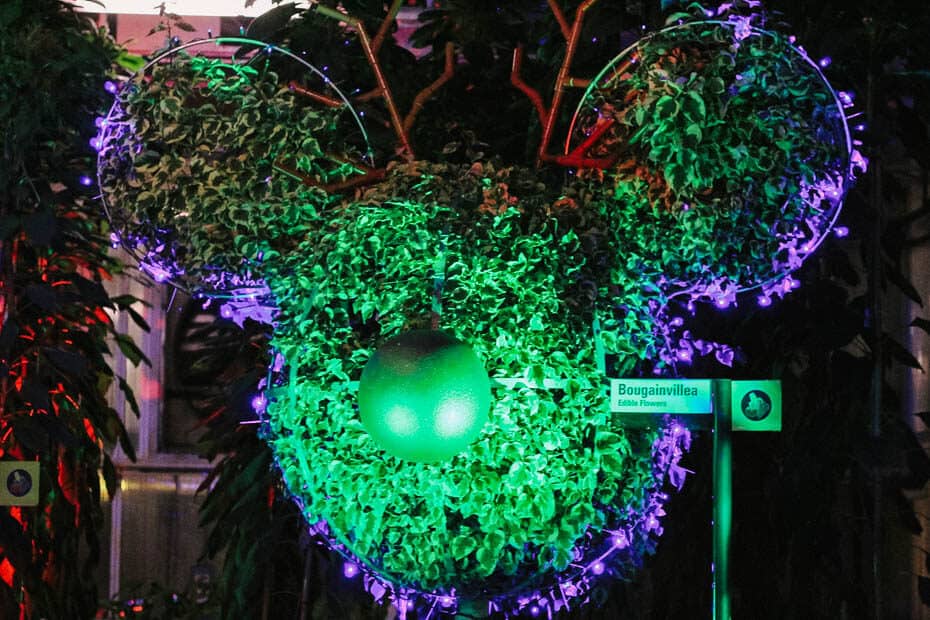 The fish tunnel was illuminated with Christmas-y colors.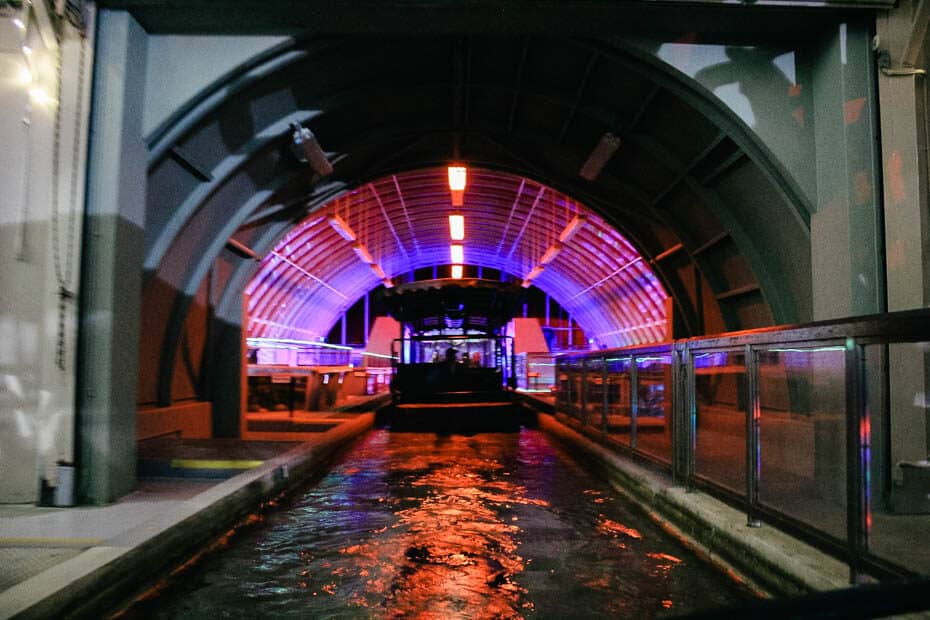 Nice.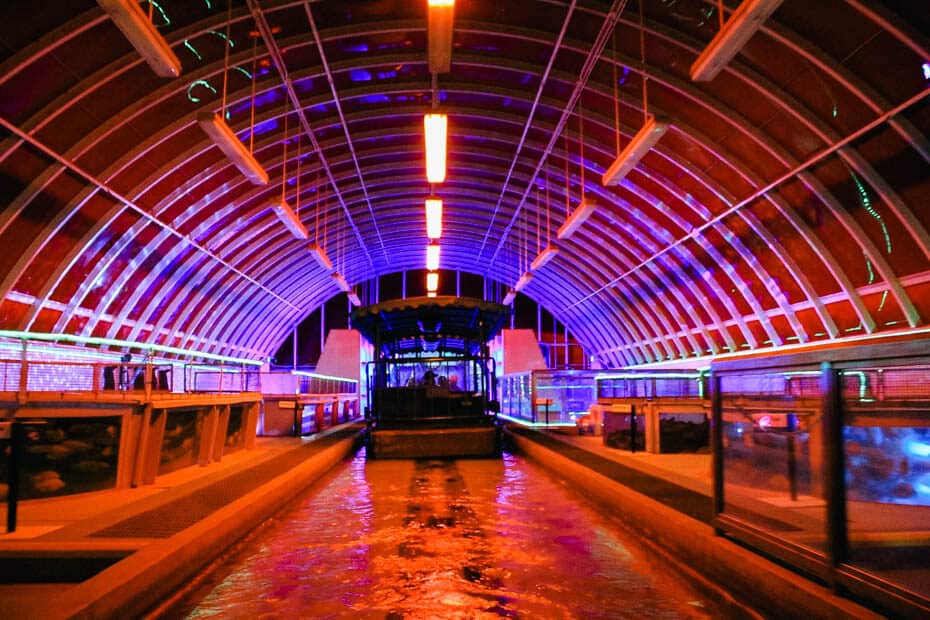 Fancy.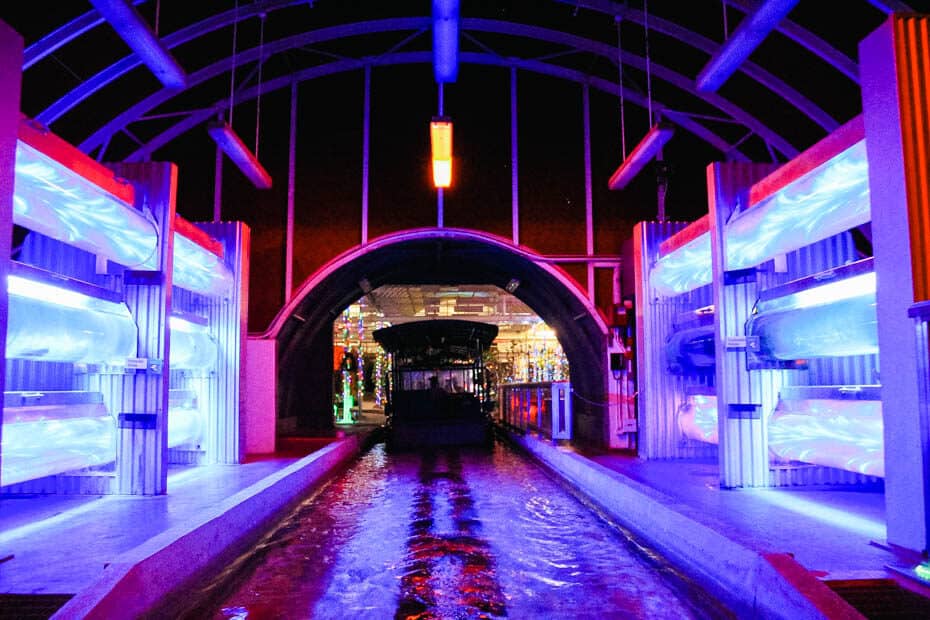 I love you, Merry and Bright Nights!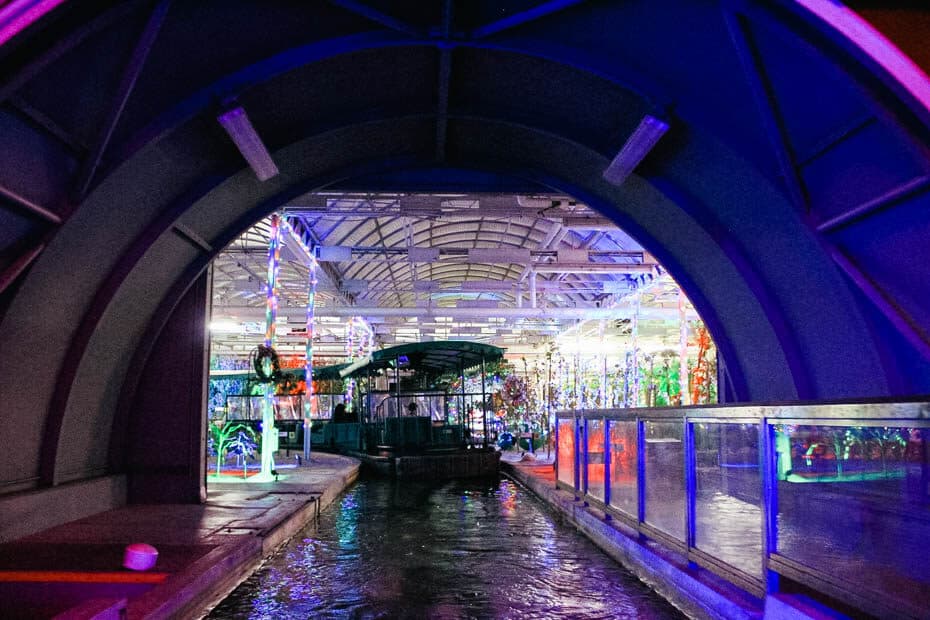 When you exit the fish tunnel, you'll be back in the large portion of the greenhouse.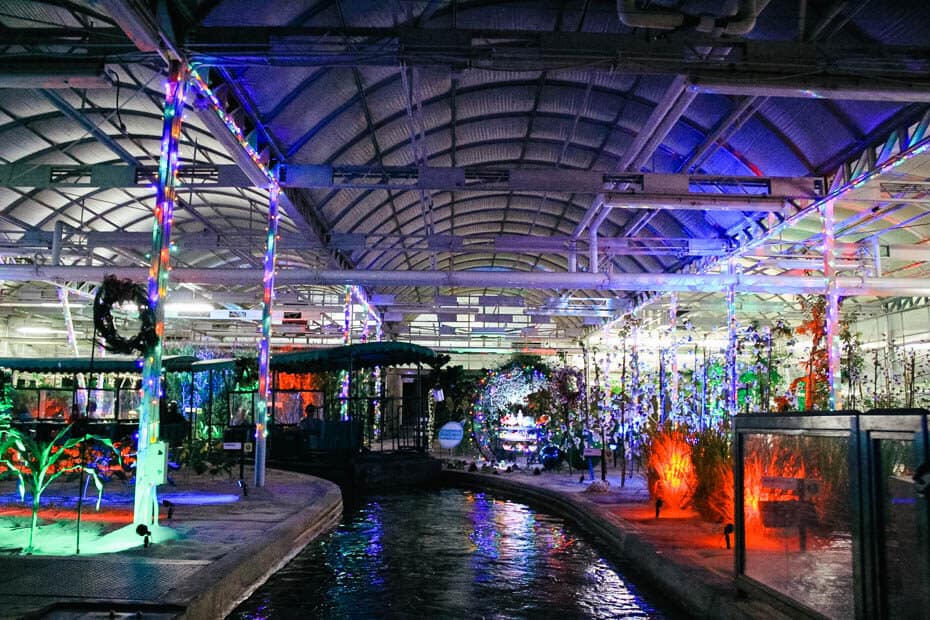 There are a few fun displays representing the season.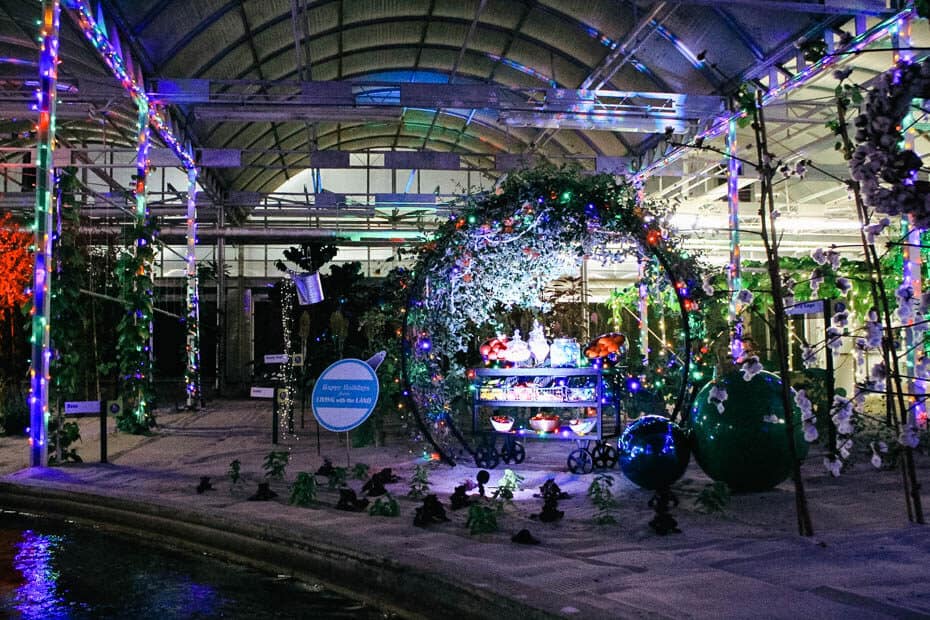 These look like some of the different fruits and veggies grown on the attraction.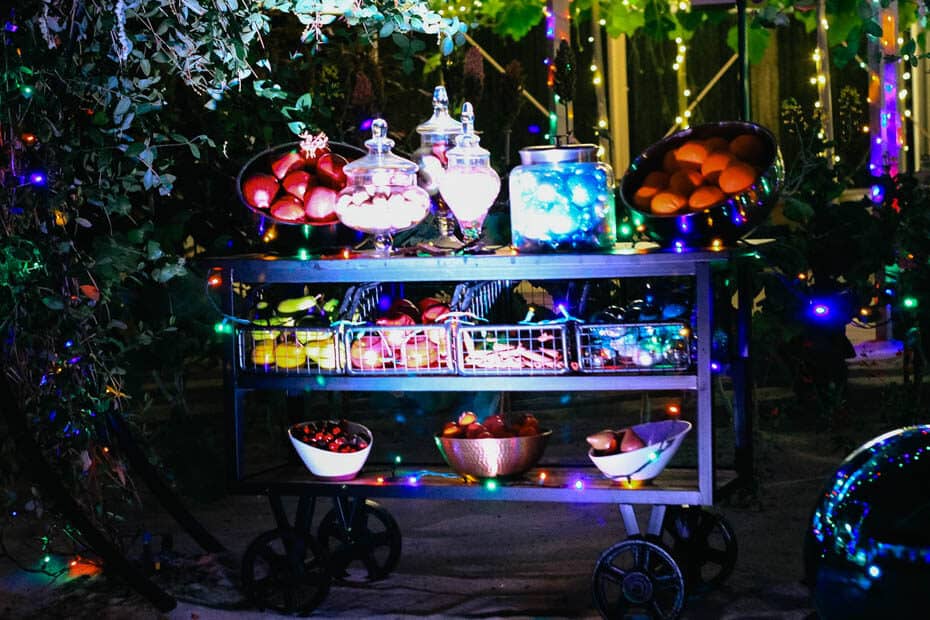 This archway had plants and ornaments hanging from it.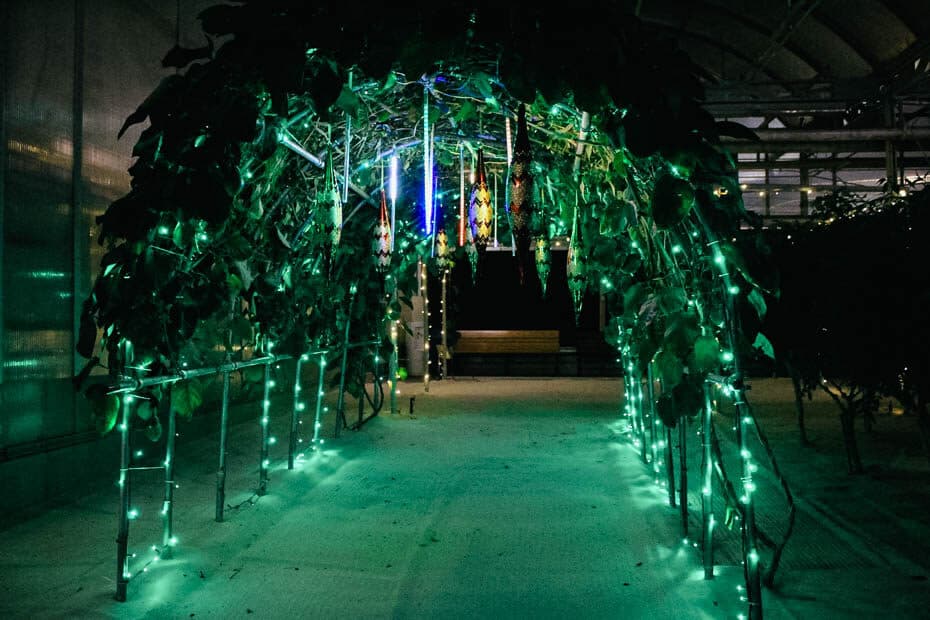 And it smells so good with all of the different herbs and plants.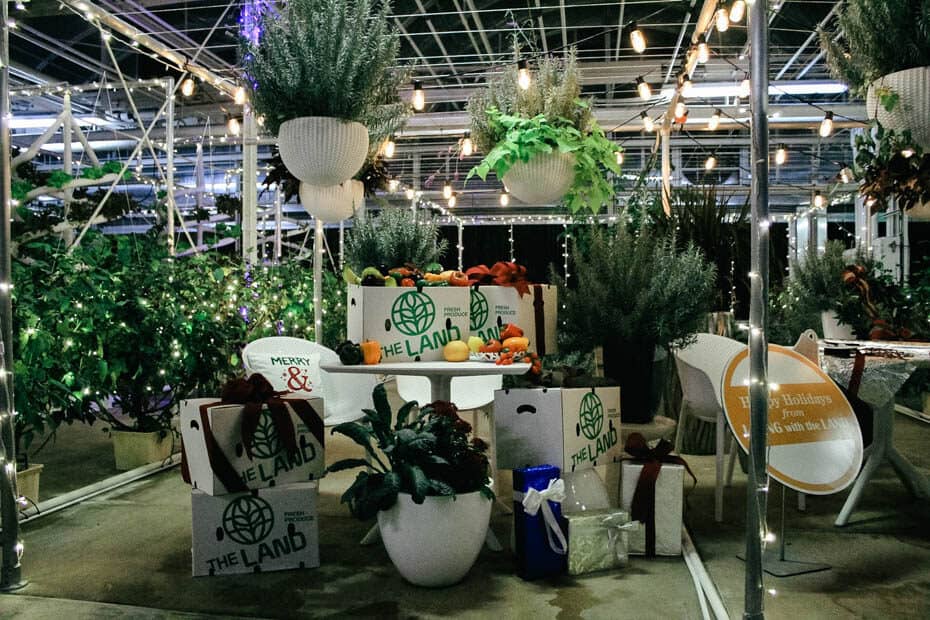 Below there's a section of snake gourds.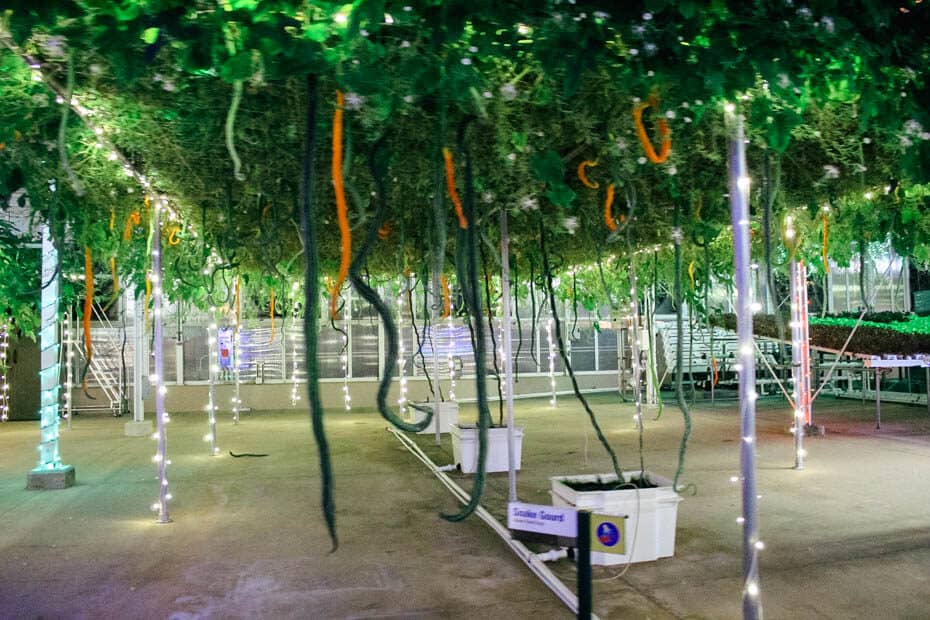 And you might see some fun-shaped pumpkins.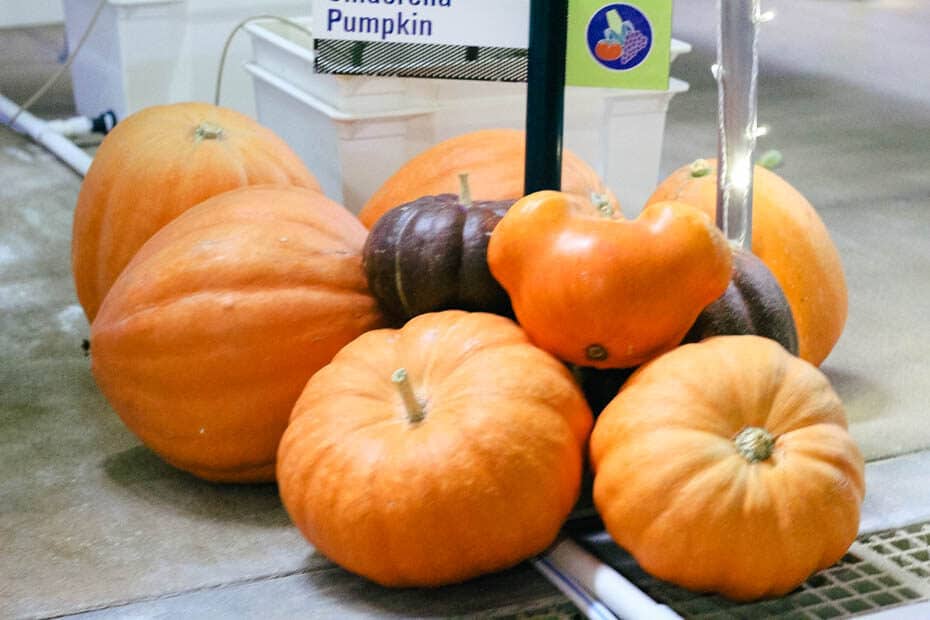 Look up, and you'll see how they get their fun shape.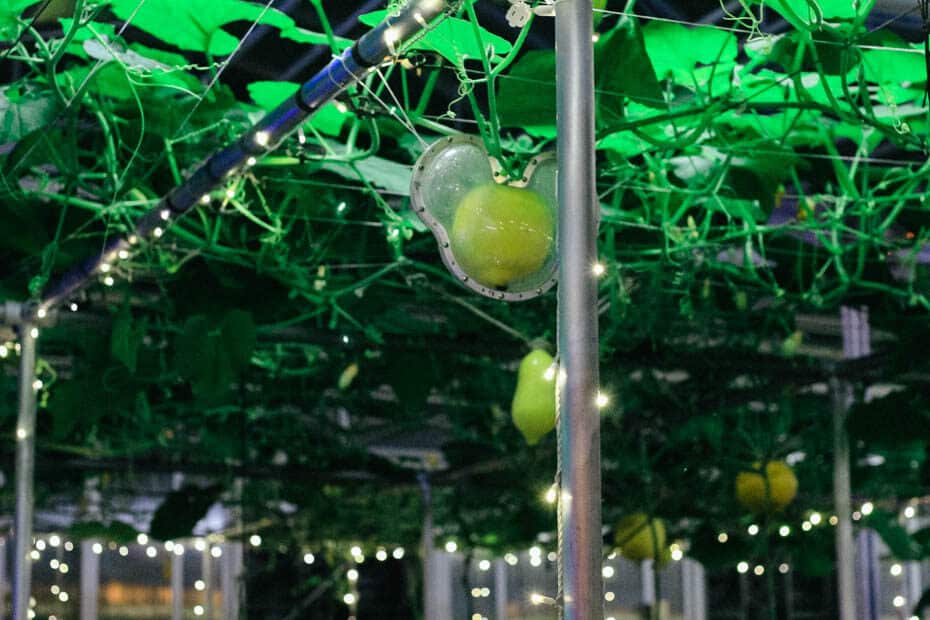 These gourds had some sparkling balls in the mix.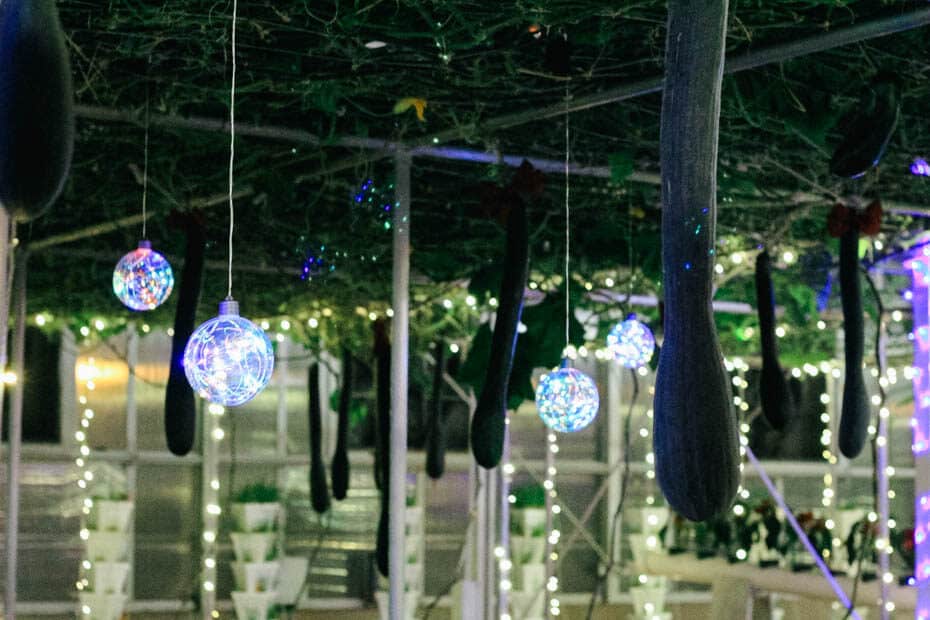 And the Mickey Mouse made from lettuce had these fun green lights hanging above it.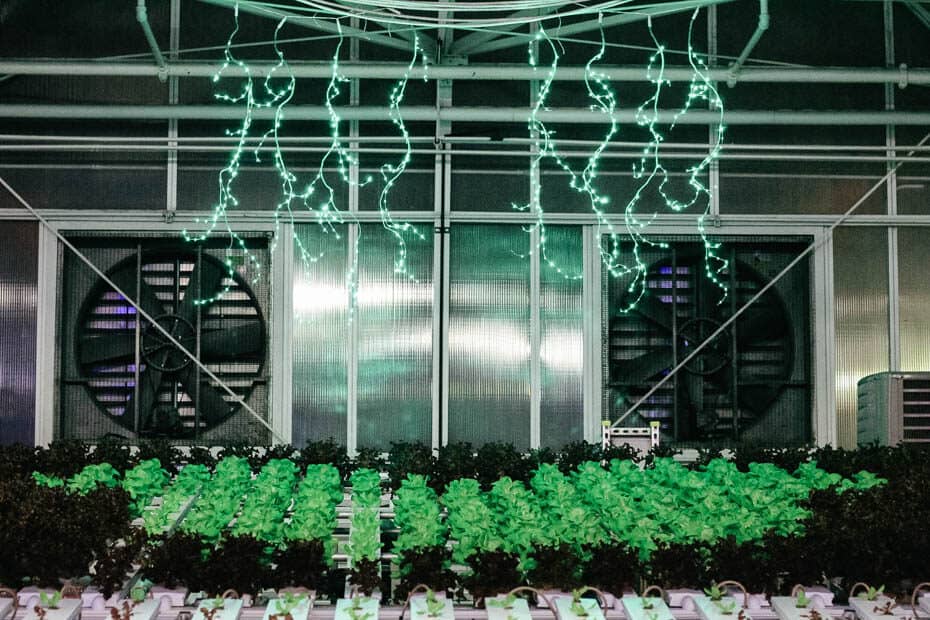 Even though I took a lot of photos, there are many things I haven't included.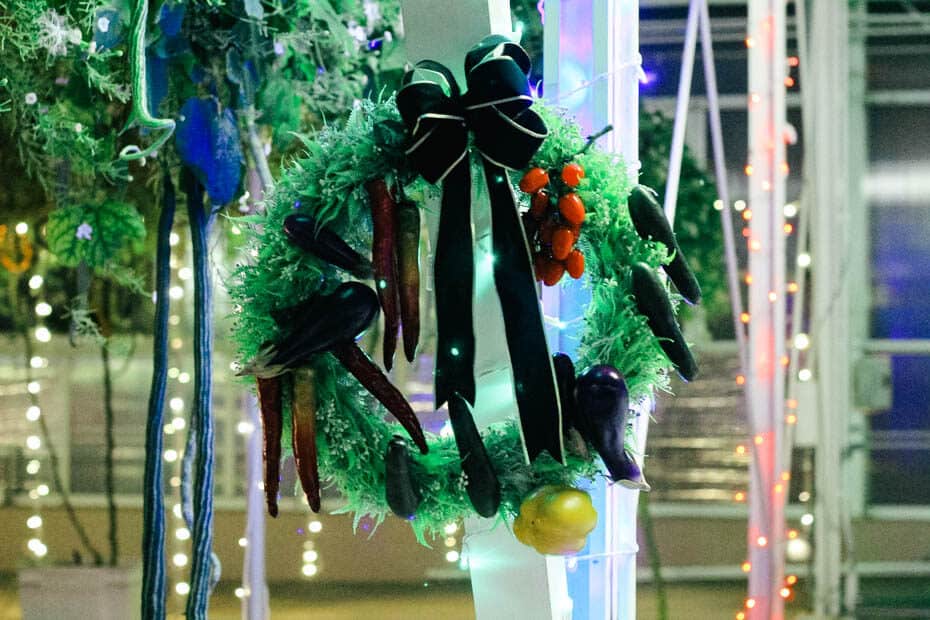 You'll probably want to ride this attraction at least twice during the evening. The later, the better. There shouldn't be too much of a line after 7:00 p.m.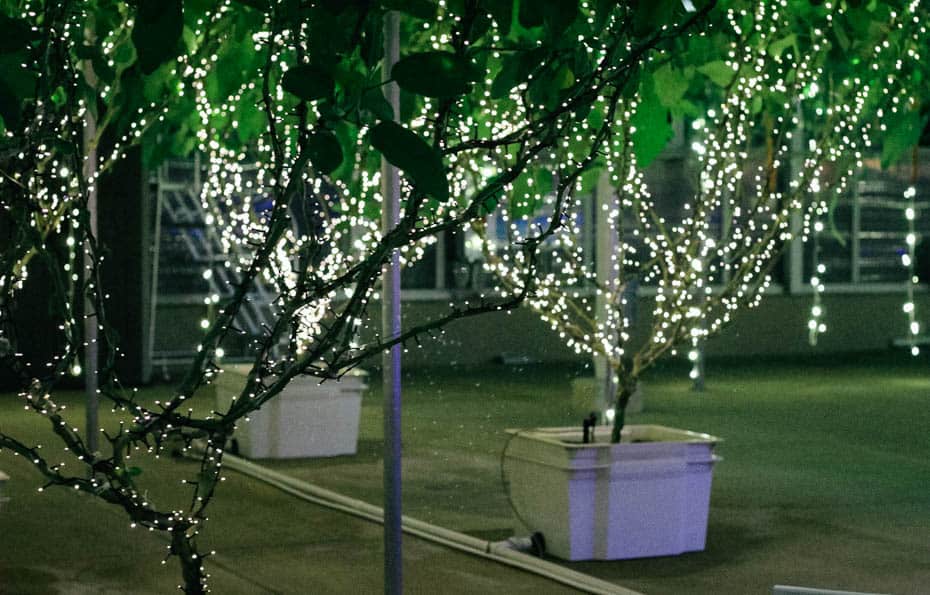 Or if you aren't visiting for the holidays this year, you can always come back here to look at the pictures.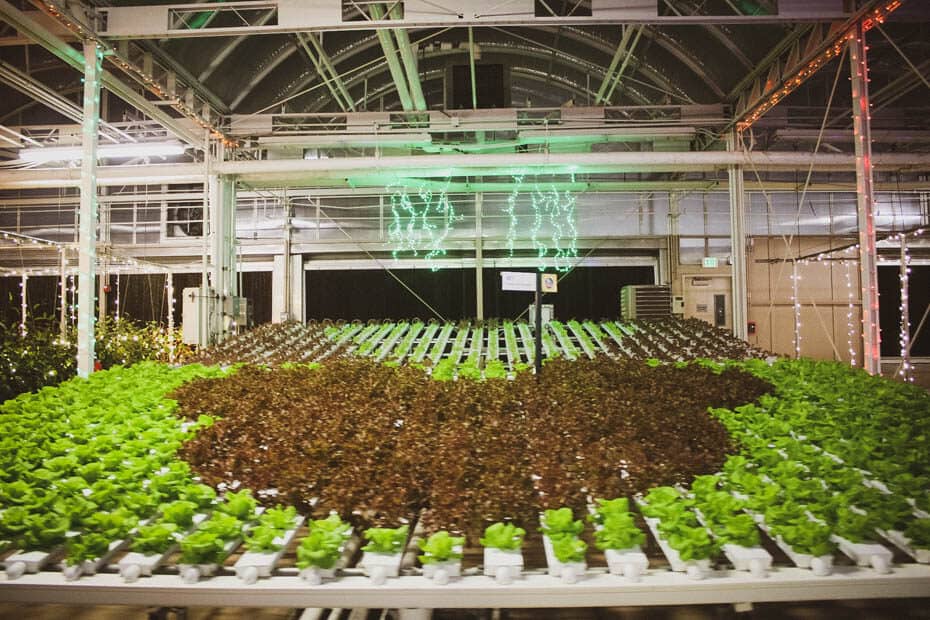 If this is your type of thing. It s mine.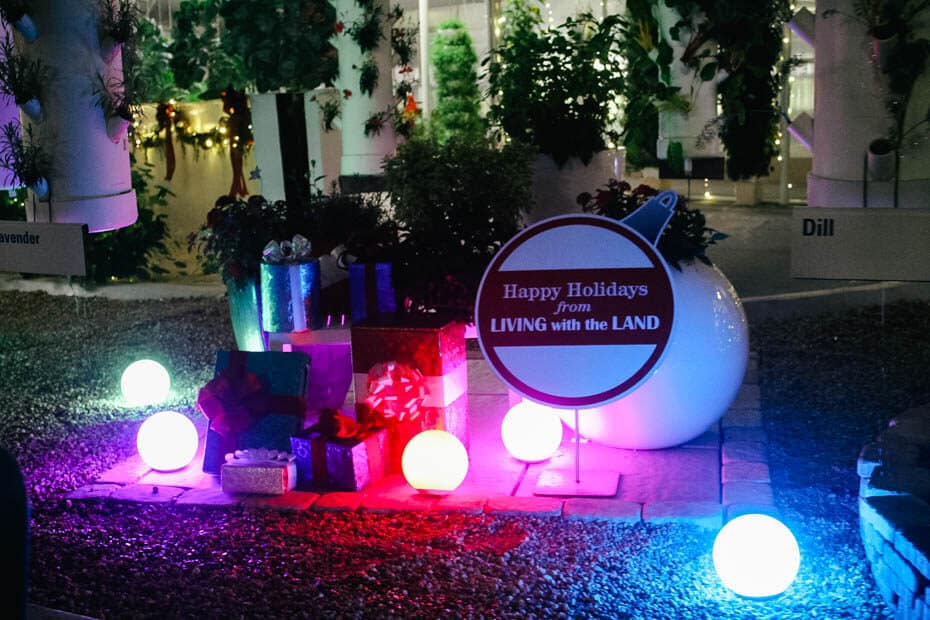 The greenhouses are so much more than just an attraction to me.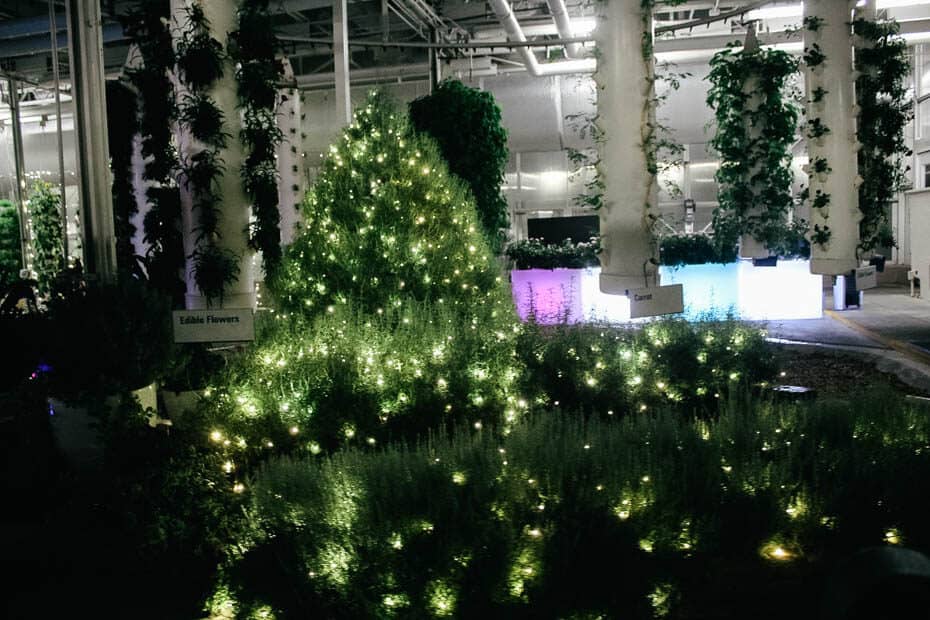 They inspire me to eat healthier, learn to grow things, take care of the earth, and do better.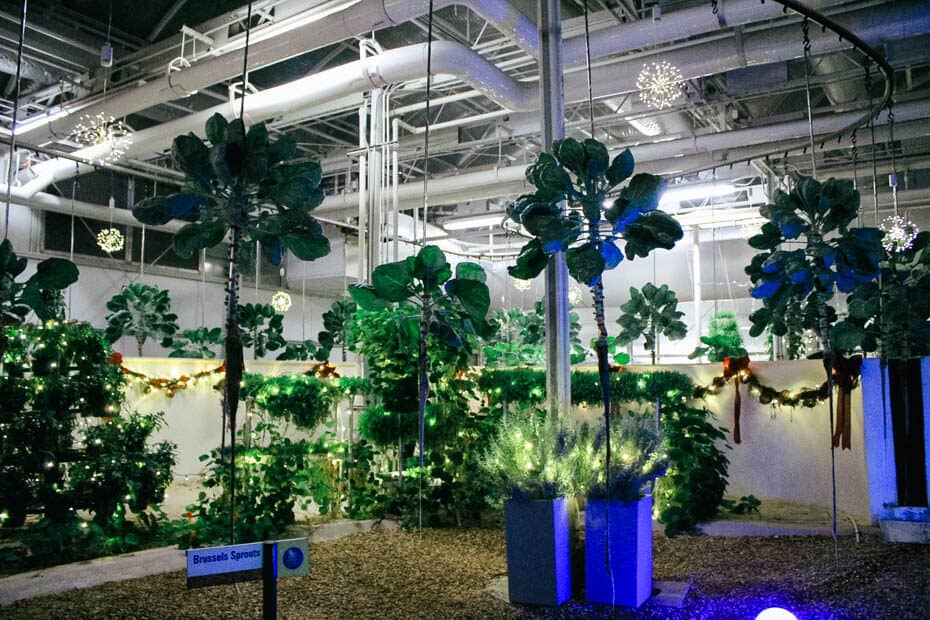 As we near the end, there are a few more light displays.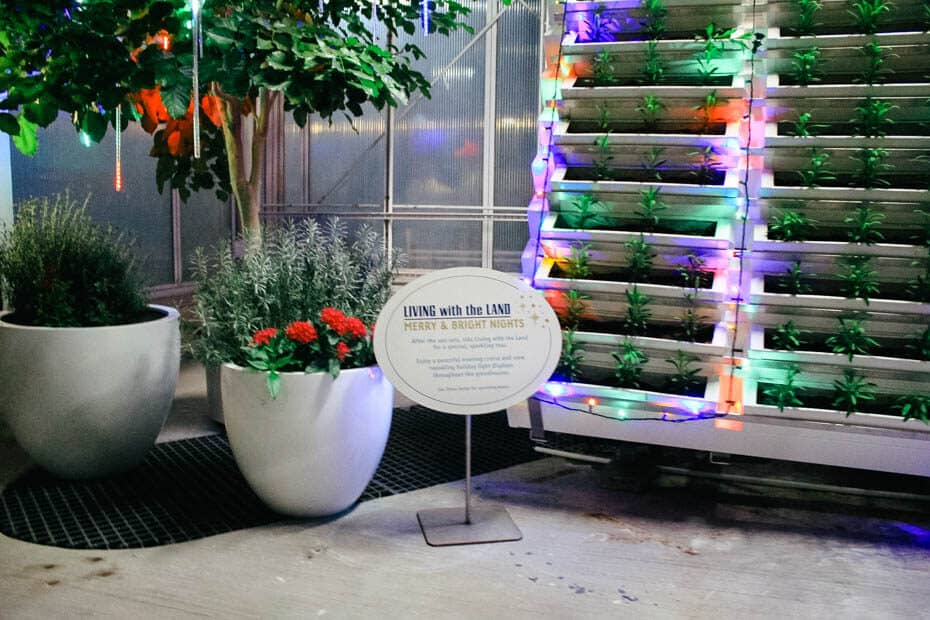 Even the Biotechnology Lab has hung their stockings in the window.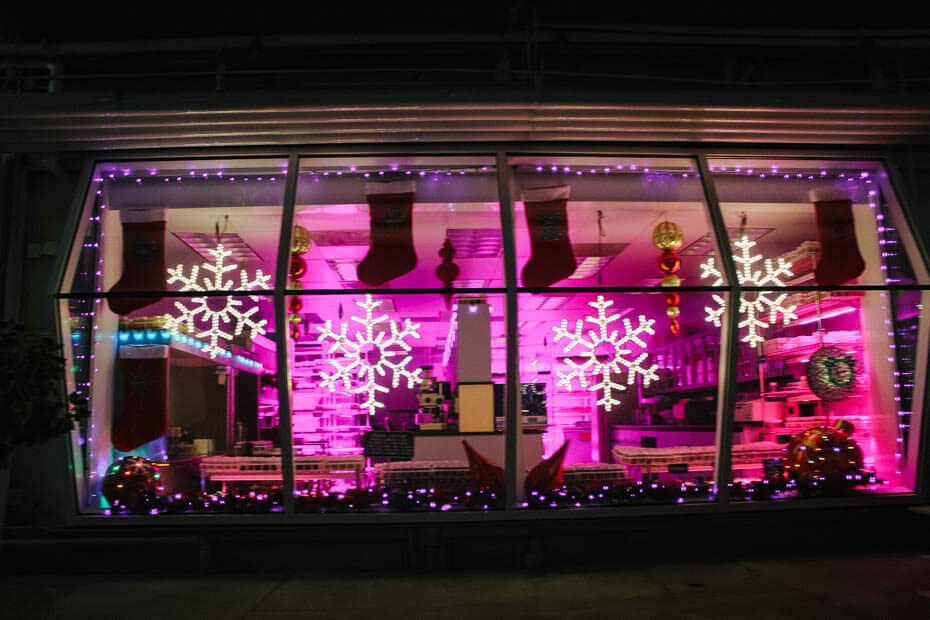 The snowflakes are pretty with the purple backdrop.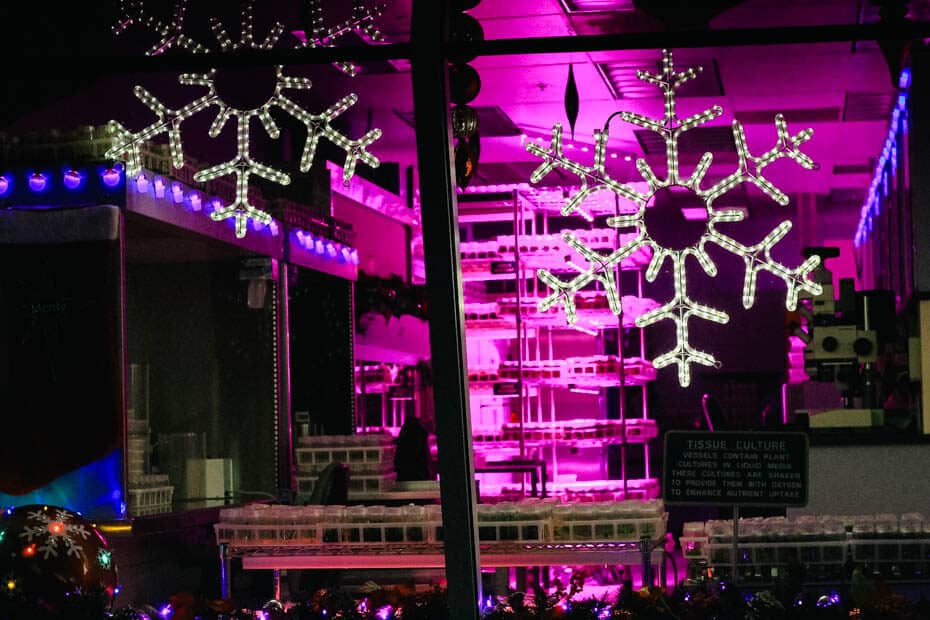 Next thing you know, you'll exit the ride only to find yourself walking across the pavilion to join the line again. Th 's what I do anyway.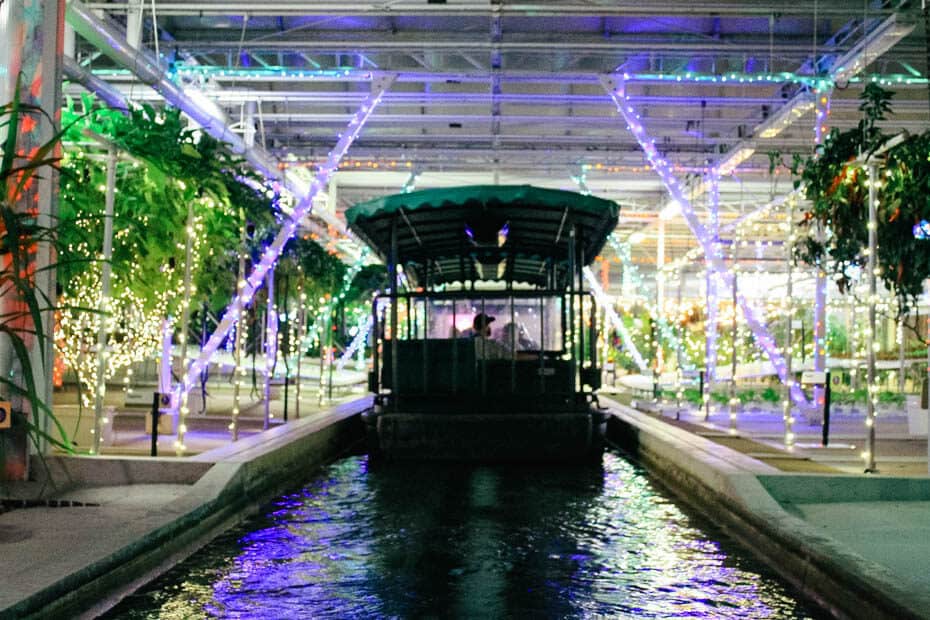 Thanks for coming along today on our Merry and Brights Nights tour of Living with the Land at Christmas!
If you are looking for more Christmas at Disney, make sure to check out these other articles:
While we cover a good deal of information on the site, Resorts Gal specializes in providing detailed information about the Walt Disney World Resorts. Bro se our Disney World Resort Reviews to begin planning your next Disney vacation.
If you are considering staying near Epcot, you might enjoy these Epcot hotel reviews.
So have you had the opportunity to ride Living with the Land during the Merry and Bright nights? Wh are your thoughts on this holiday overlay?