Favorite Epcot Photo Spots
Epcot has some of the most beautiful photo spots! In this article, we'll take a photo walk through Epcot. We'll tour some of the different pavilions and other scenery.
The photos of Epcot used in this article range from 2019 through 2022. Unfortunately, the views of Spaceship Earth across the World Showcase Lagoon are no longer available.
When the setup for Harmonious was added, many of the beautiful views were tarnished. Harmonious is the newer nighttime entertainment that debuted in 2021.
Epcot's World Showcase is a favorite place to explore for many of us. There are eleven countries featured in this area. Each country has a pavilion with shops, dining, and other entertainment, related to that country.
During the Flower and Garden Festival, you'll see a variety of florals set up throughout the World Showcase. Epcot has four different festivals throughout the year.
Related: Epcot Flower and Garden Photos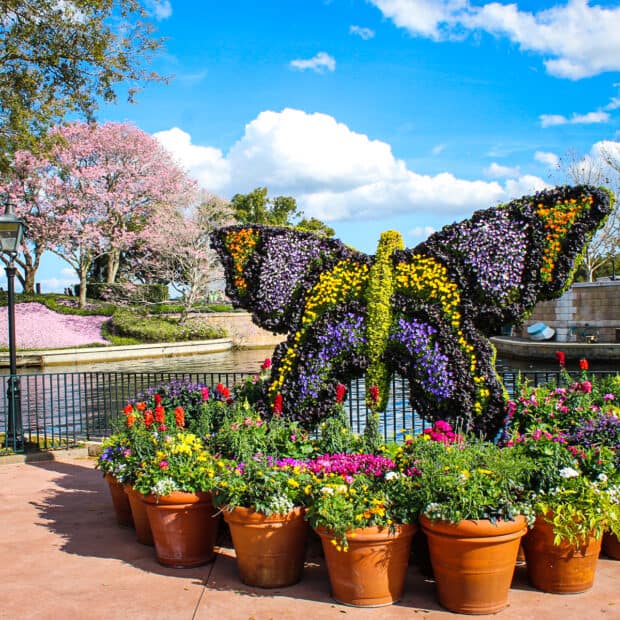 While in the park, I always notice how nicely everything seems to be centered around Spaceship Earth.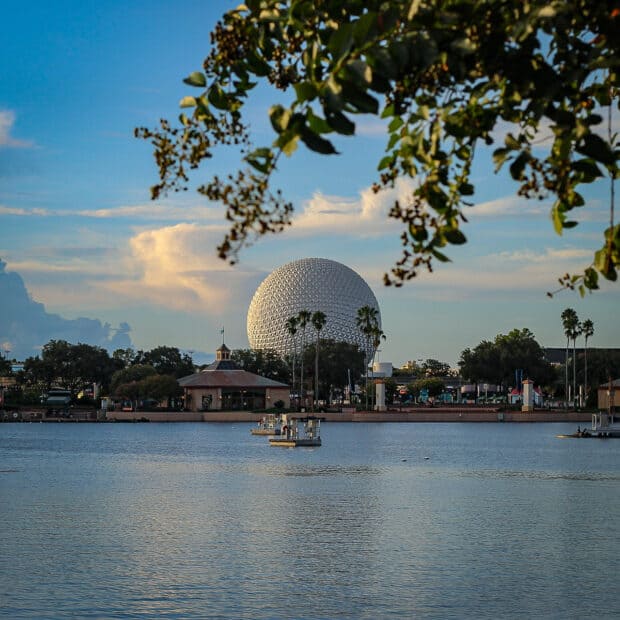 In the springtime, the trees around the France Pavilion are gorgeous. The photo below shows one of my favorite Epcot photo spots.
Related: France Pavilion at Epcot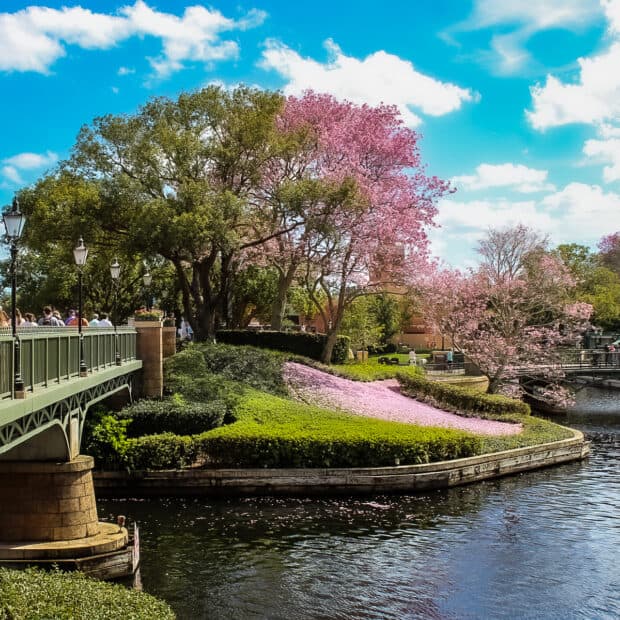 In late 2021, La Creperie de Paris and Remy's Ratatouille Adventure opened in the France Pavilion. The creperie has become a favorite destination.
Related: La Creperie de Paris Review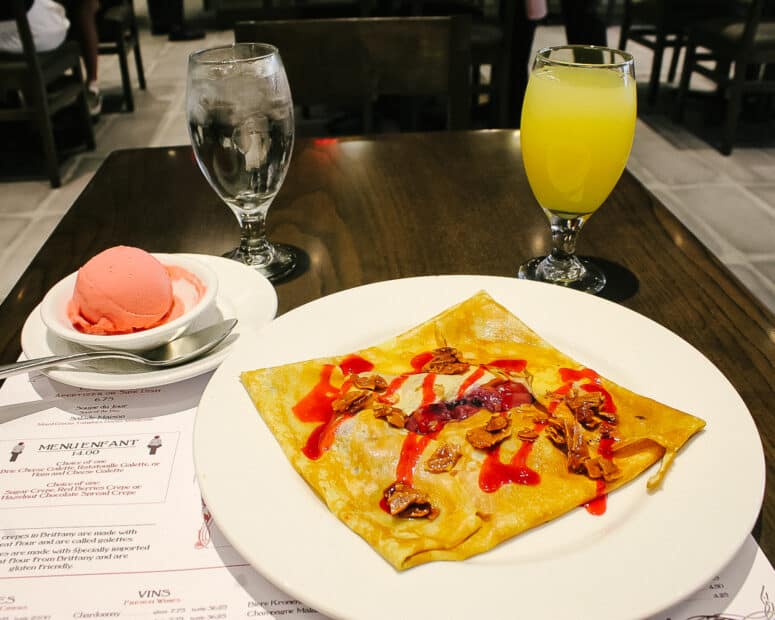 The United Kingdom Pavilion has extraordinary gardens to tour. I would imagine the average World Showcase traveler stops in here frequently. I know I do.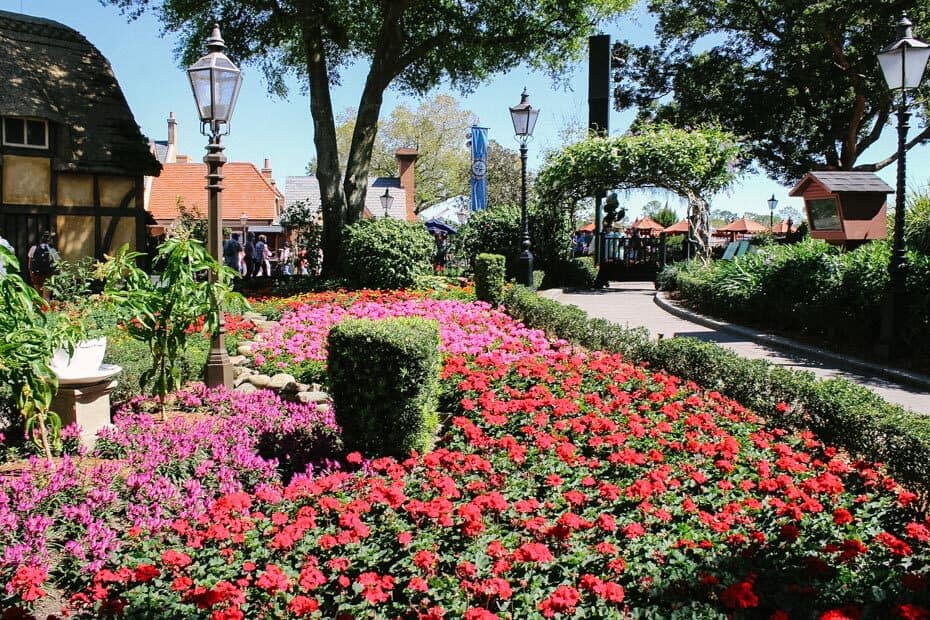 The gardens make for an excellent photo spot at Epcot. You might even run into Mary Poppins!
Related: Meet Mary Poppins at Disney World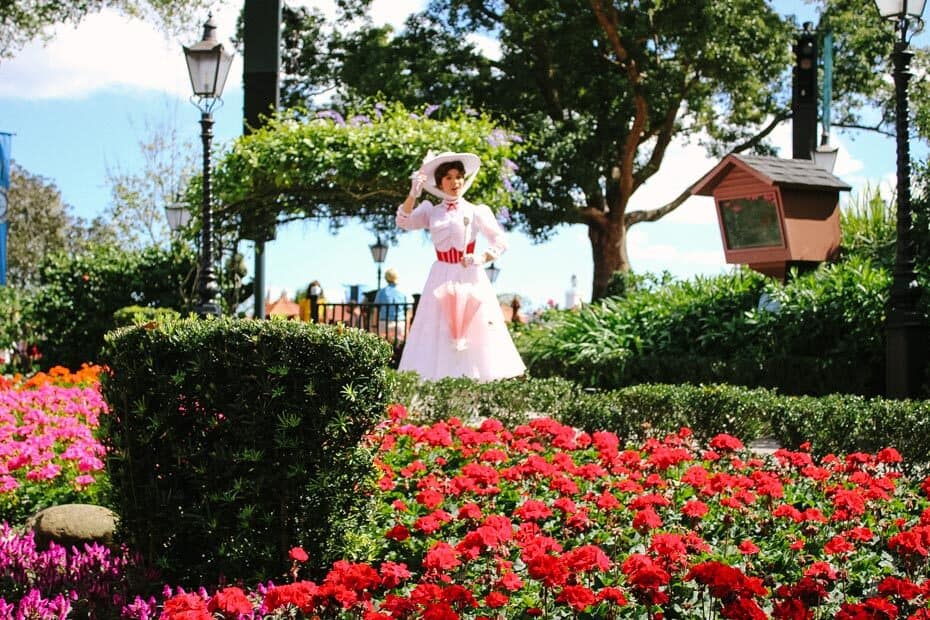 Breathtaking!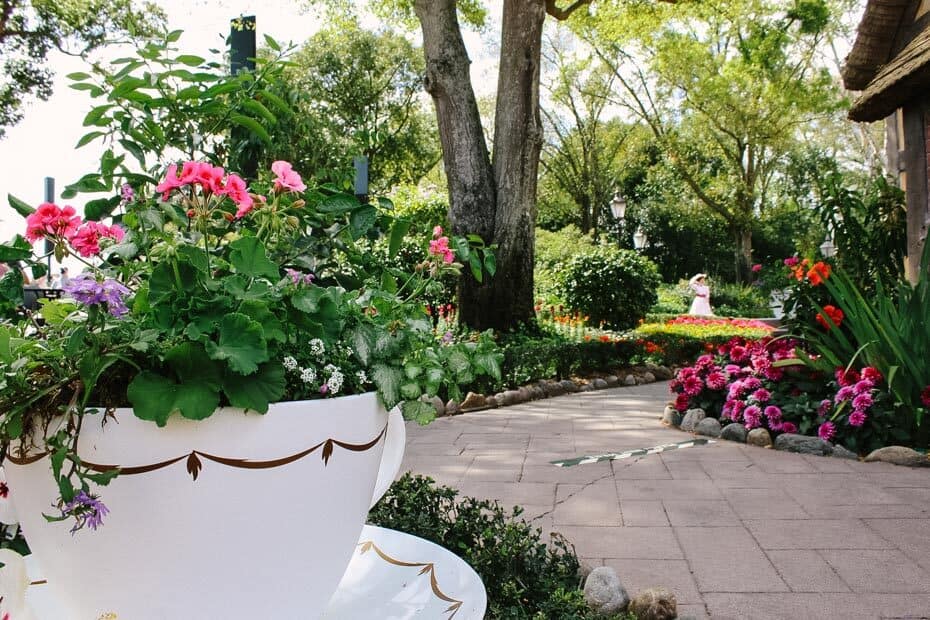 There is always time to stop and smell the roses. Or might I say take pictures of flowers?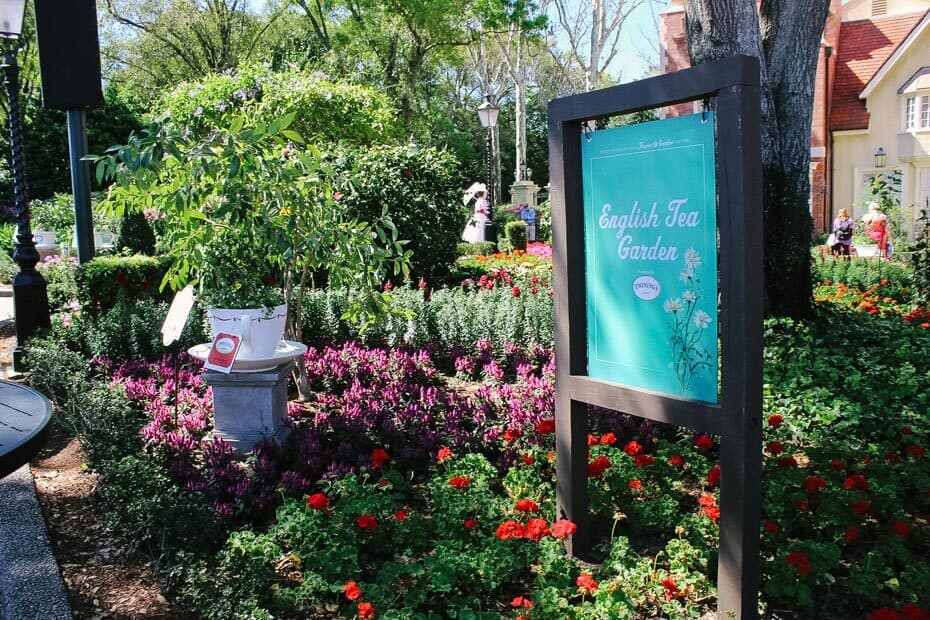 It's always a good time to catch an image of a Friendship boat gliding across the lagoon.
Related: Disney's Friendship Boats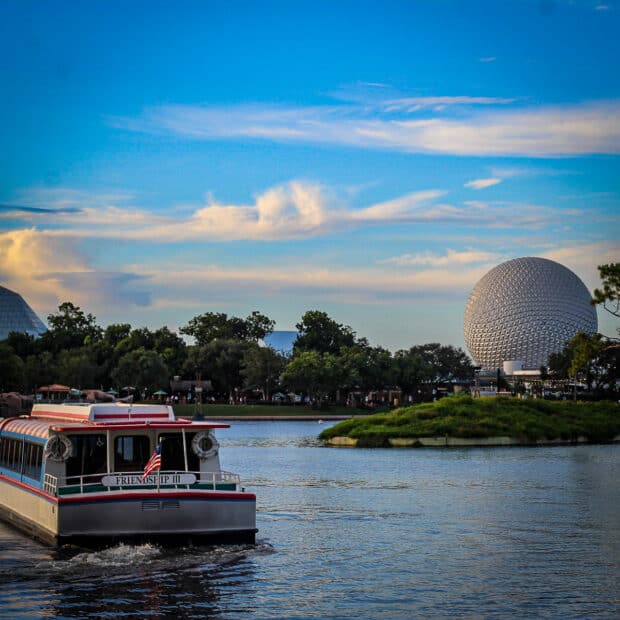 The Canada Pavilion is another favorite Epcot photo spot! Especially around the time when the sun is setting.
The sun drops over the waterfall and mountains as it sleeps for the evening, making for some exquisite image captures.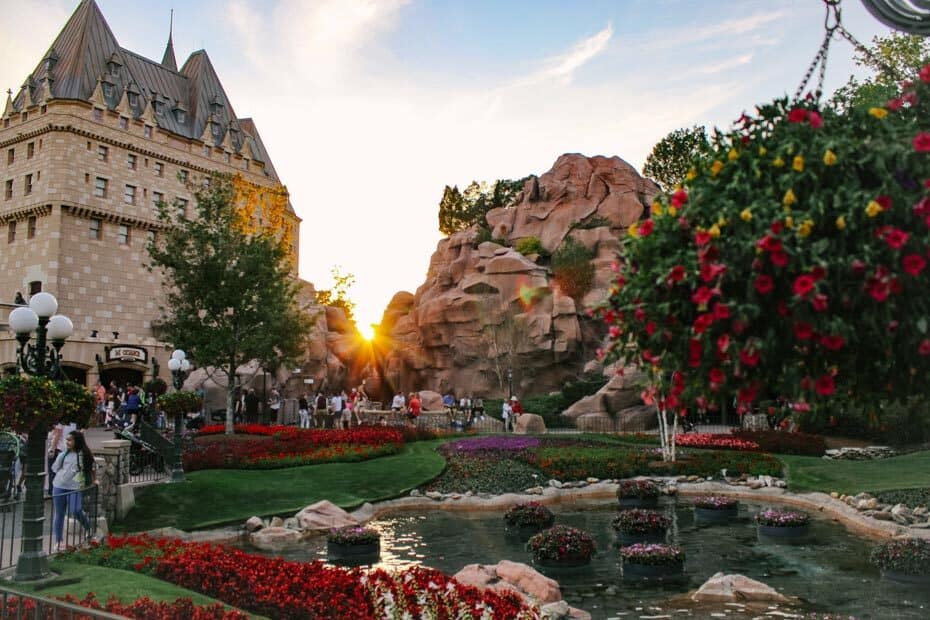 And the gardens in the pavilion are stunning. They represent Canada's finest, Victoria Gardens.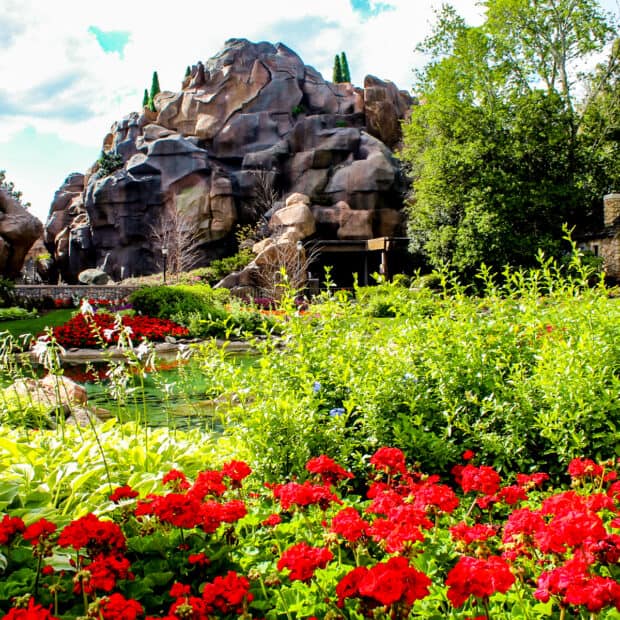 Related: Canada Pavilion at Epcot
This area is always fun to explore, and there are a lot of great backdrops if you are looking to take that best Disney selfie or a family photo!
The pyramid shown in the photo below is home to the Mexico Pavilion.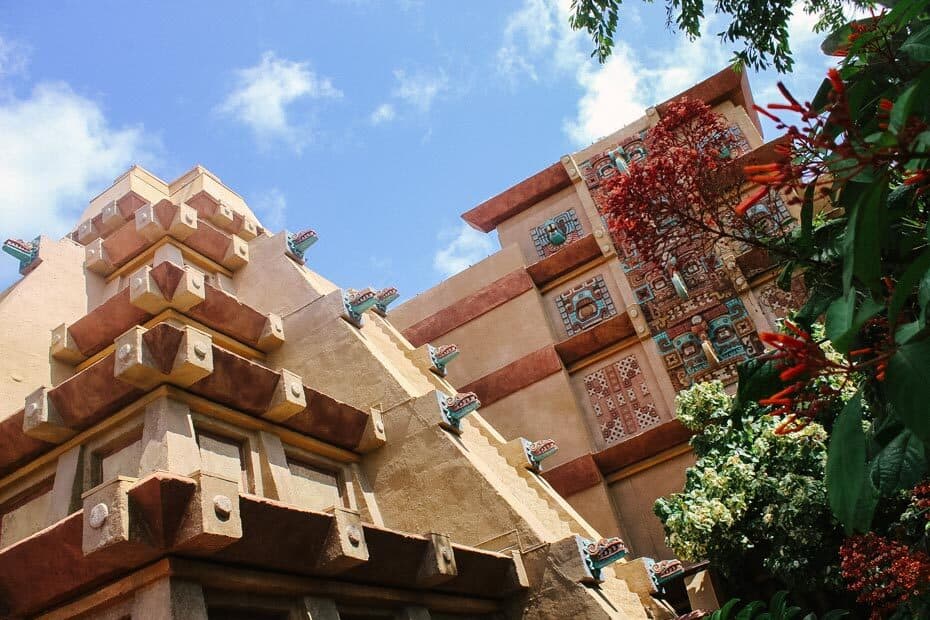 There are several different Epcot photo opportunities here. However, it's dark inside the pavilion, so photos can be difficult.
However, you can always take a photo of an obligatory La Cava del Tequila margarita on the ledge posts. Most prefer the avocado flavor.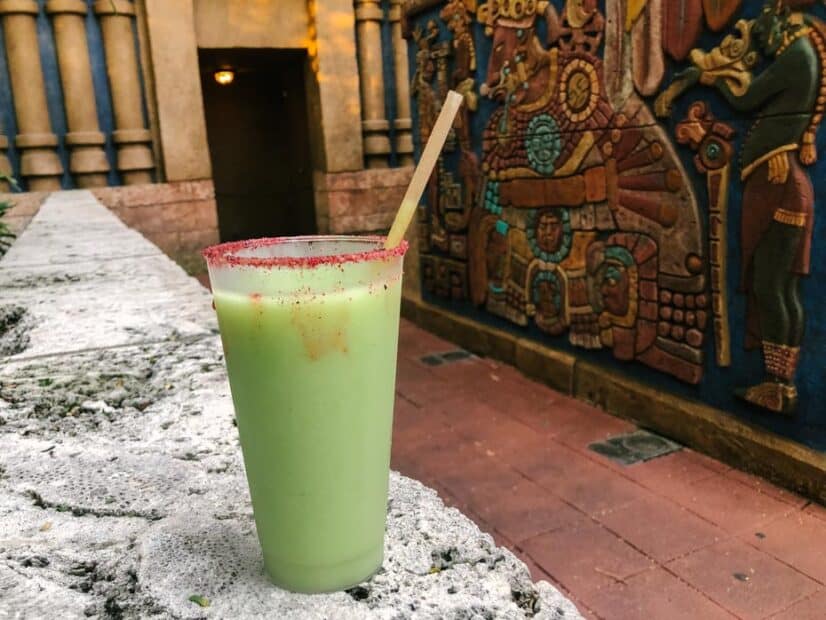 Related: Mexico Pavilion at Epcot
Next, we run into the Norway Pavilion. My favorite photo spot here is of the flowers growing on the rooftops! It's not something you see every day in these parts.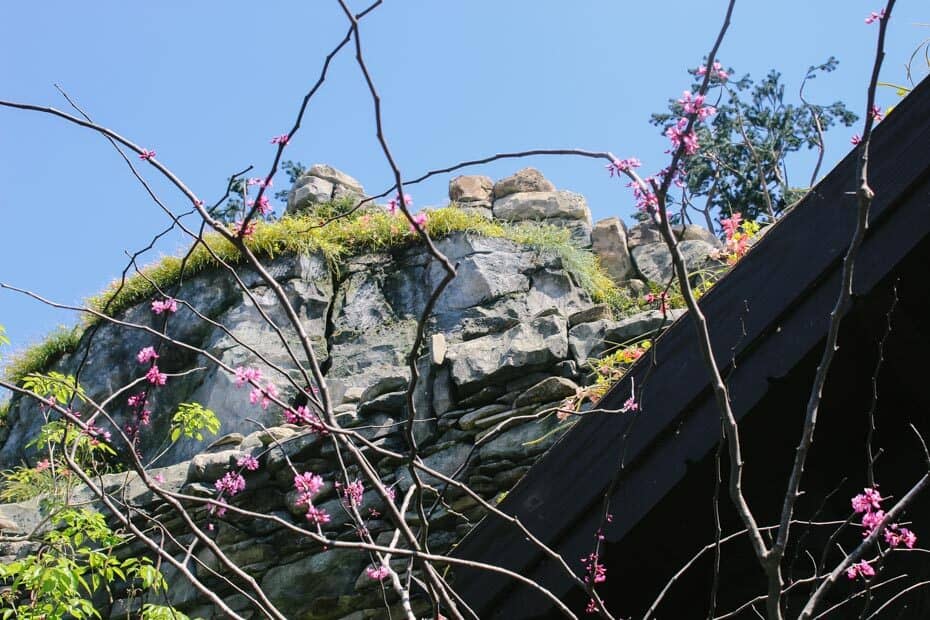 Related: Norway Pavilion at Epcot
As we continue along, we stumble upon the China Pavilion. There are many photo spots here centered around the Temple of Heaven.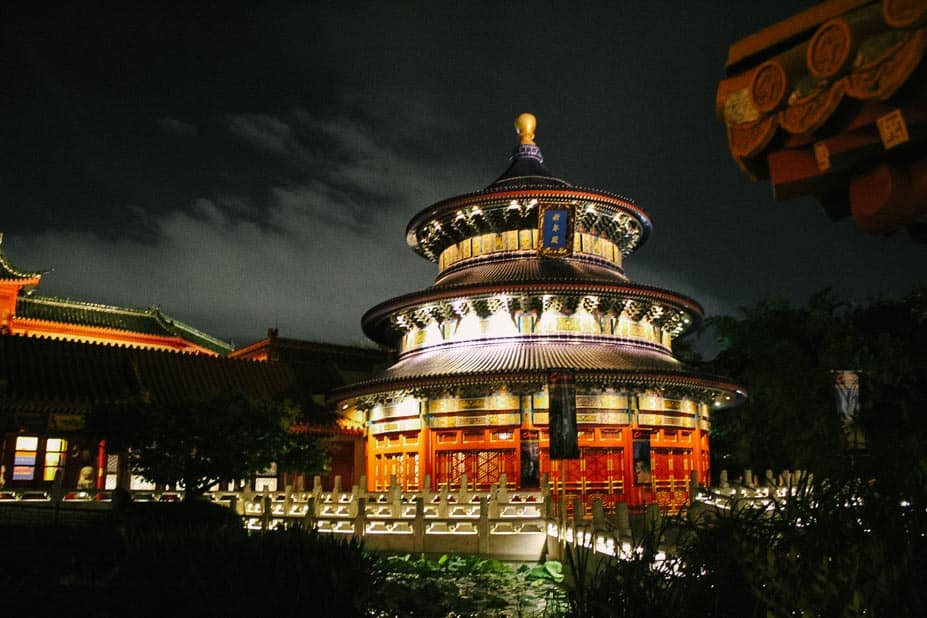 China has some beautiful places to take pictures during the day or night.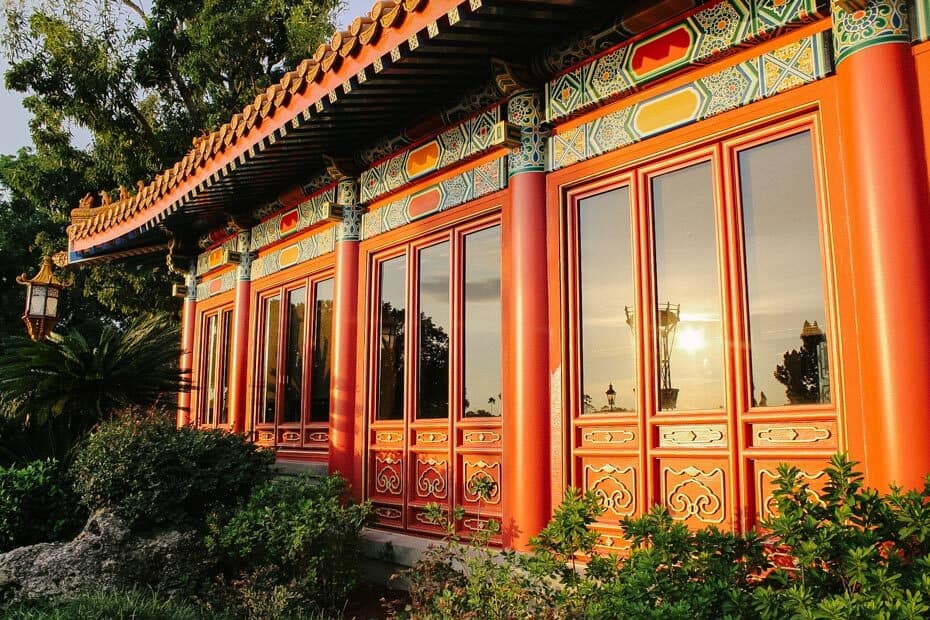 Related: China Pavilion at Epcot
The Italy Pavilion at Epcot has several excellent photo spots.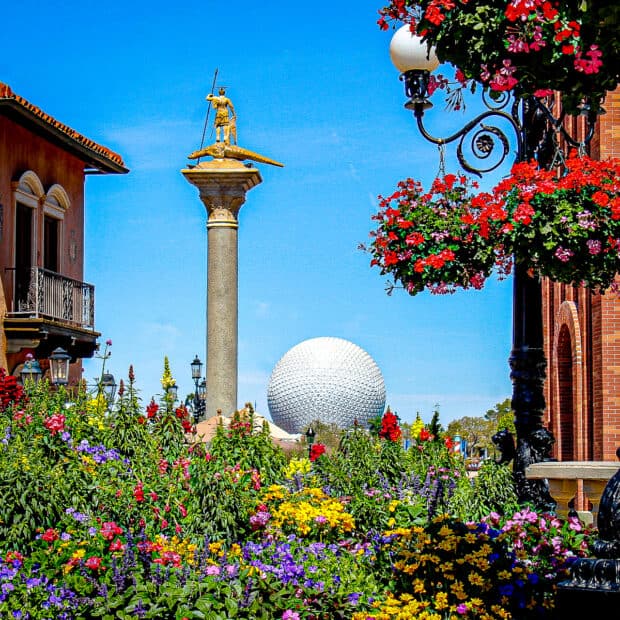 It's also my favorite pavilion in the World Showcase. So naturally, I have several favorite Epcot photo spots to share here.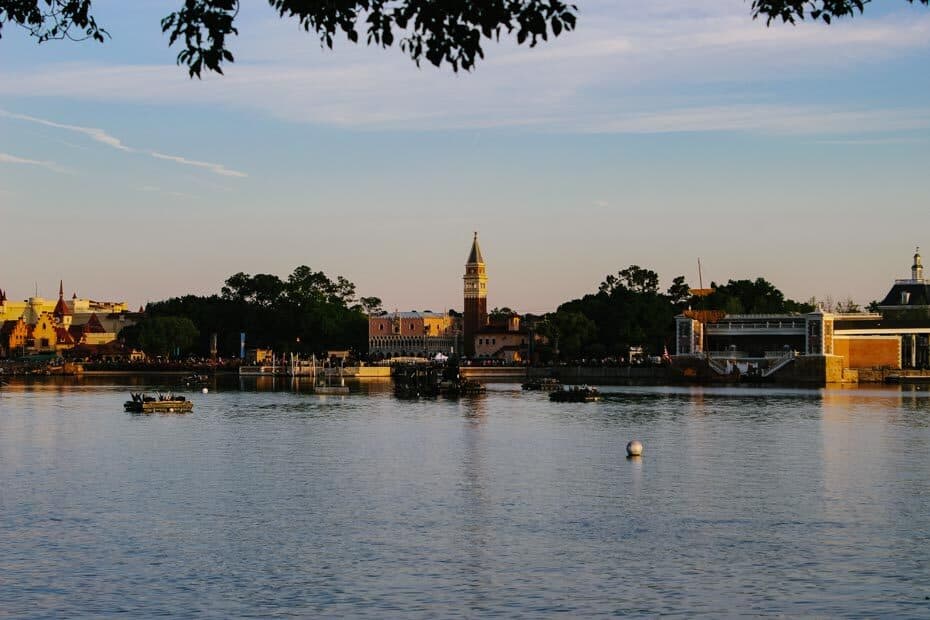 This pavilion is excellent if you want to get away from the crowds and take some memorable photos.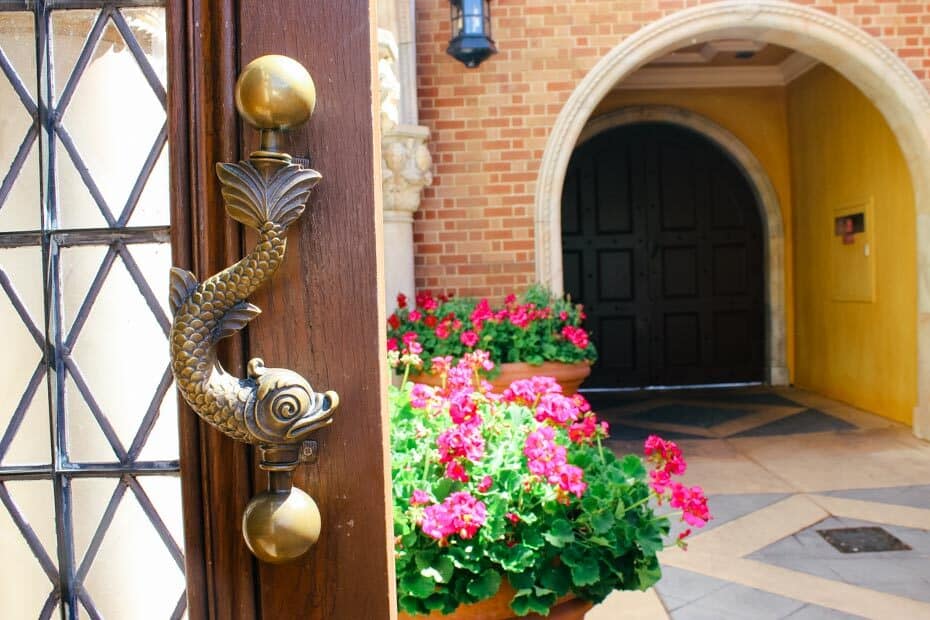 I've always wanted a door with a fish handle. Hopefully, it's not too slippery. I'm joking.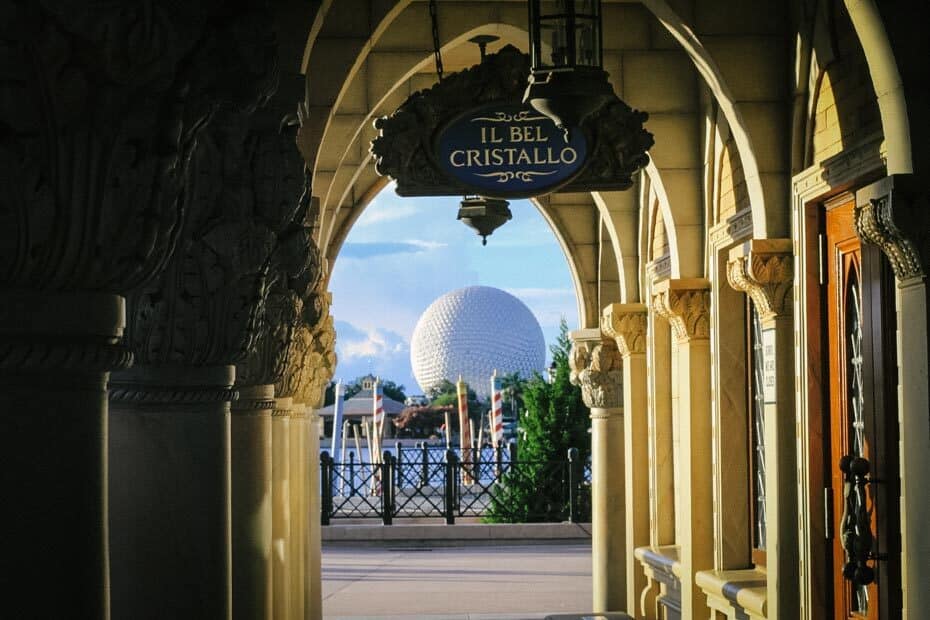 Toward the back of the pavilion, there's a cart with a donkey. When it's open, the cart has a selection of beverages and ice cream treats.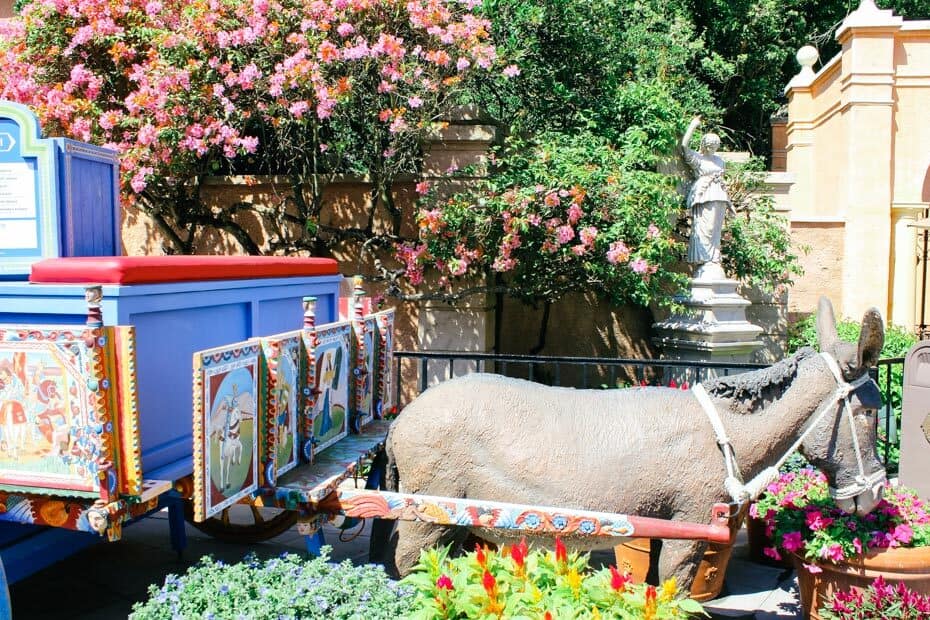 Here is a cute angel statue in the distance.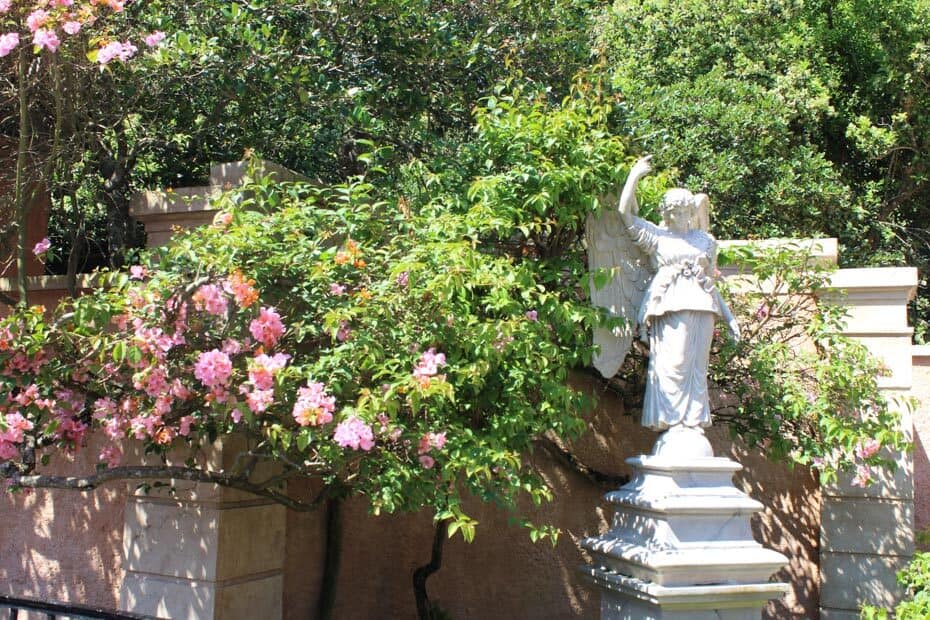 Anyway, this Epcot photo spot would be fun if you stood there with the angel and pretended she was giving you directions.
The statue makes me think of the kind of person I strive to be in life.
This day-and-age it's not always easy. But, I try to remember that I haven't walked in anyone else's shoes, felt their feelings, or had to bear their burden. Compassion on the giving or receiving end is a beautiful thing.
Related: Italy Pavilion at Epcot
The Japan Pavilion is full of photo spots! In addition, there are gardens, private sitting areas, and little bridges. It's another one of the more relaxing spots in the World Showcase.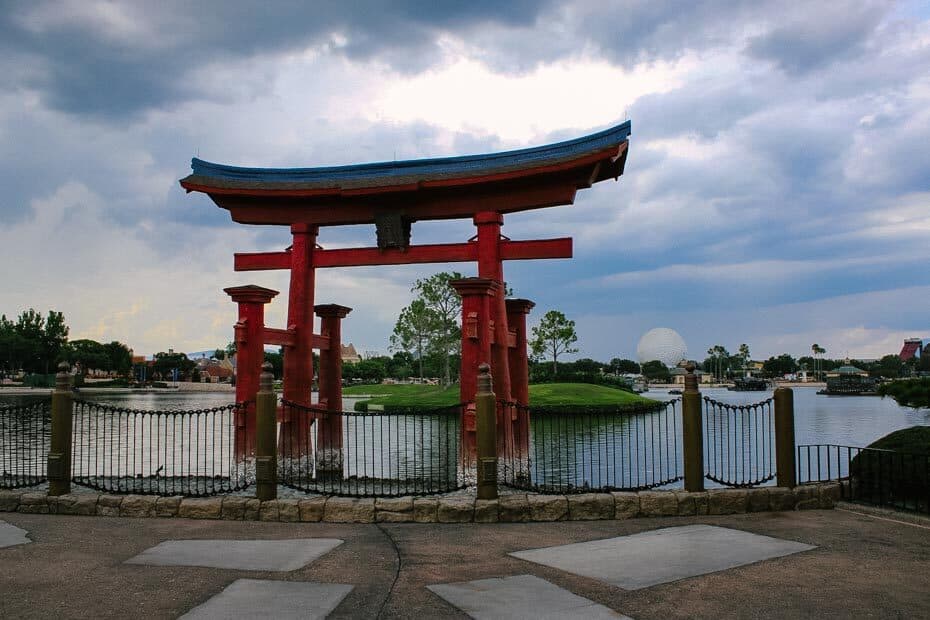 There is usually a Bonsai tree garden on display here in the Spring. Below is one of my favorite photo spots.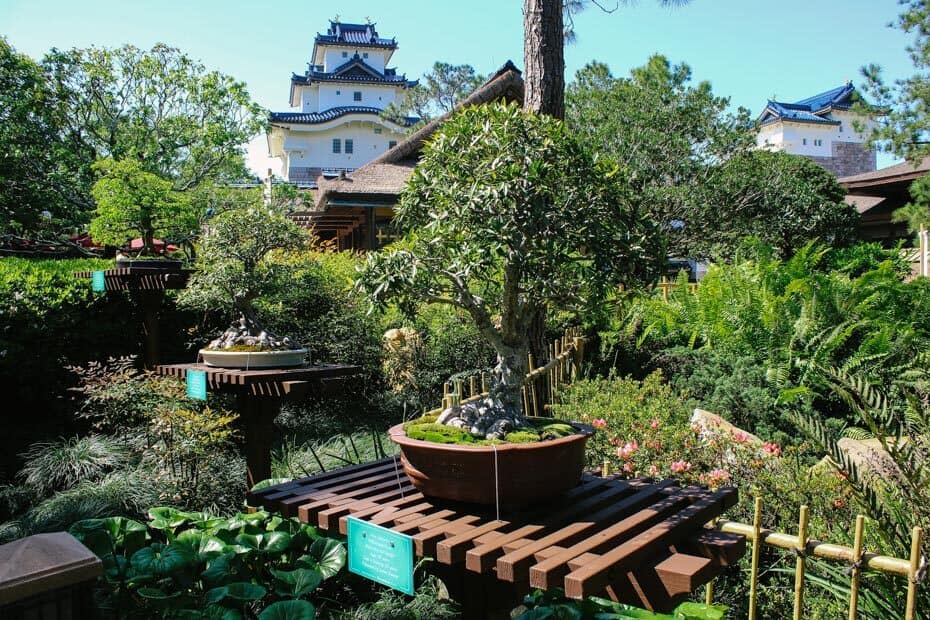 Climb up to the second-story balcony toward the entrance of Teppan Edo to get a better view! This area is an interesting spot to enjoy fireworks in the evening.
It's not a must-try, but it is different if you have seen the show several times.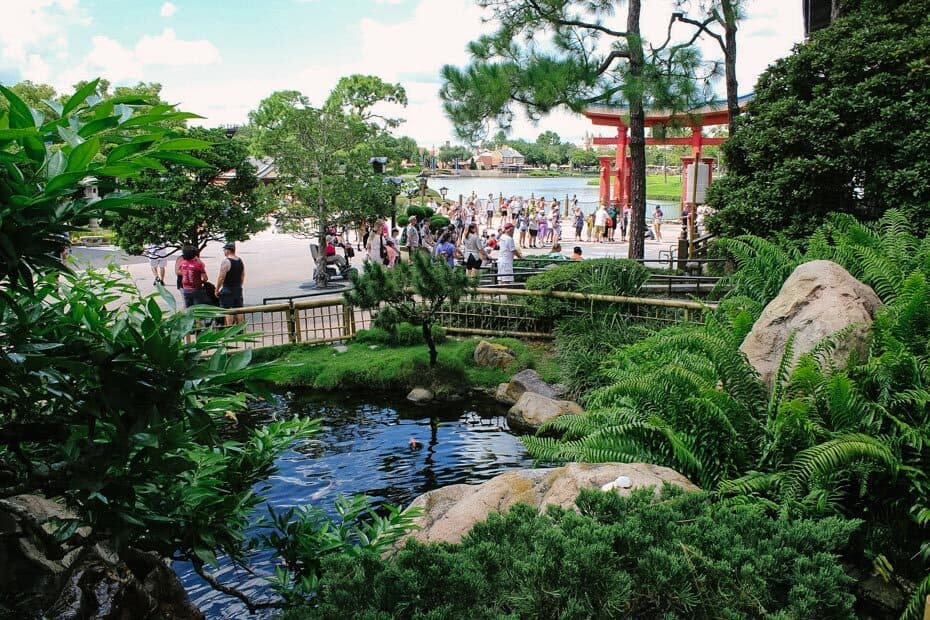 You can also have dinner with a view if you like.
Related: Japan Pavilion at Epcot
Here are a few photos of the Morocco Pavilion.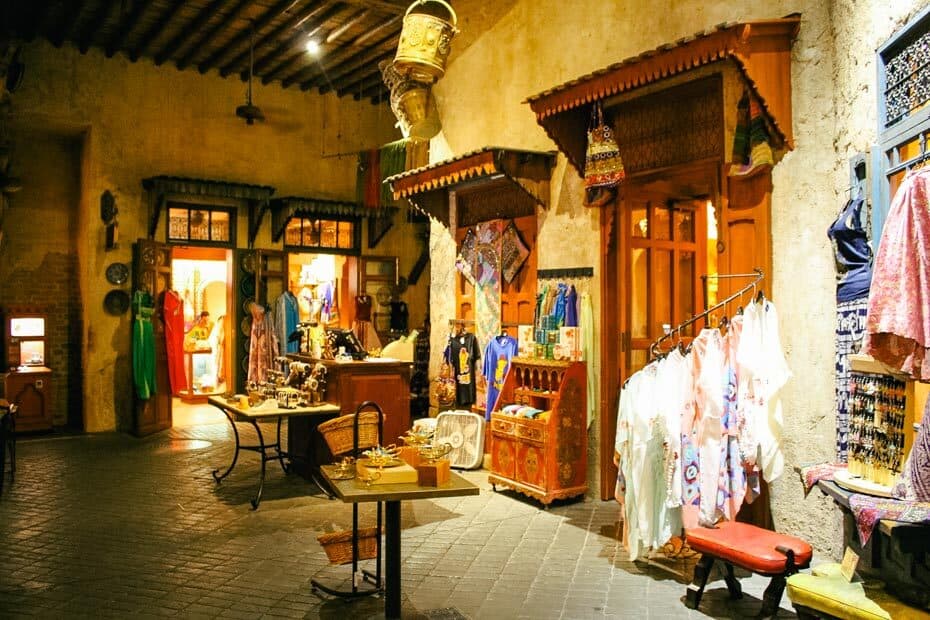 If you haven't spent much time exploring Morocco, you are missing out. It comes in as my 2nd favorite country represented in the World Showcase. Truth be told, I probably spend more time here than I do in any other country.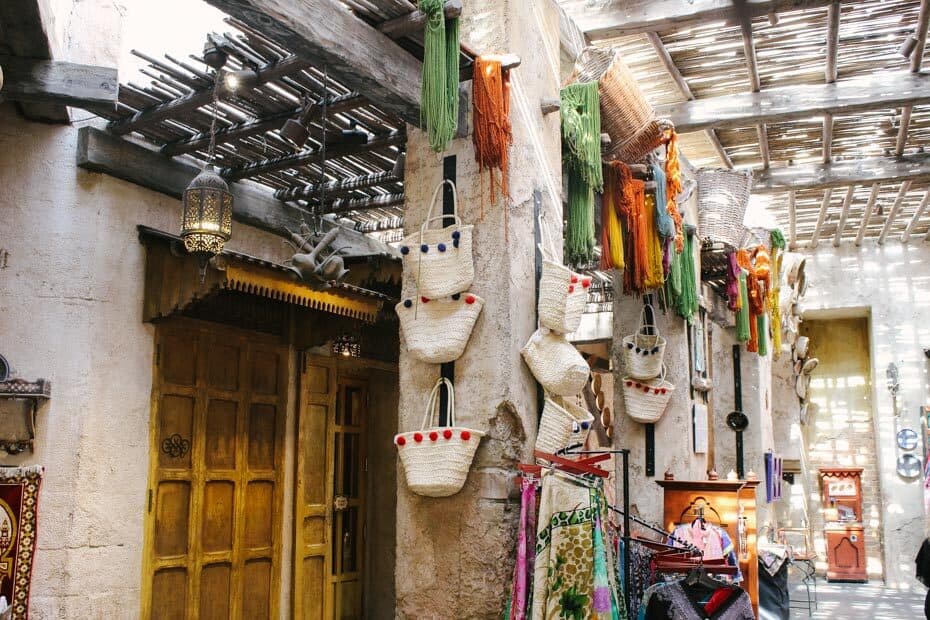 There are many detailed areas with neutral backdrops and pops of color. The coruscating light fixtures throughout the pavilion complement the feel of the country.
Even the camel appreciates them.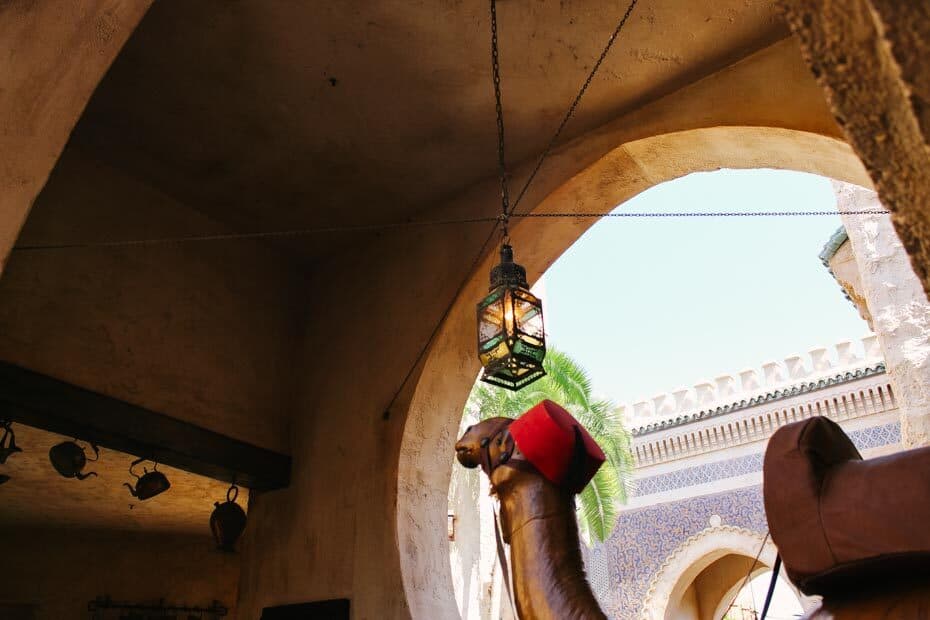 On second thought, maybe he is the keeper of the light fixture? Perhaps he alerts a cast member when the light bulb burns out to replace it.
Regardless he stares at the fixture all day. I wonder what he's thinking.
There are plenty of treasures to be found in Morocco if you are in the browsing mood. I have the most beautiful jeweled butterfly hair clip that I purchased here. It gets worn quite often.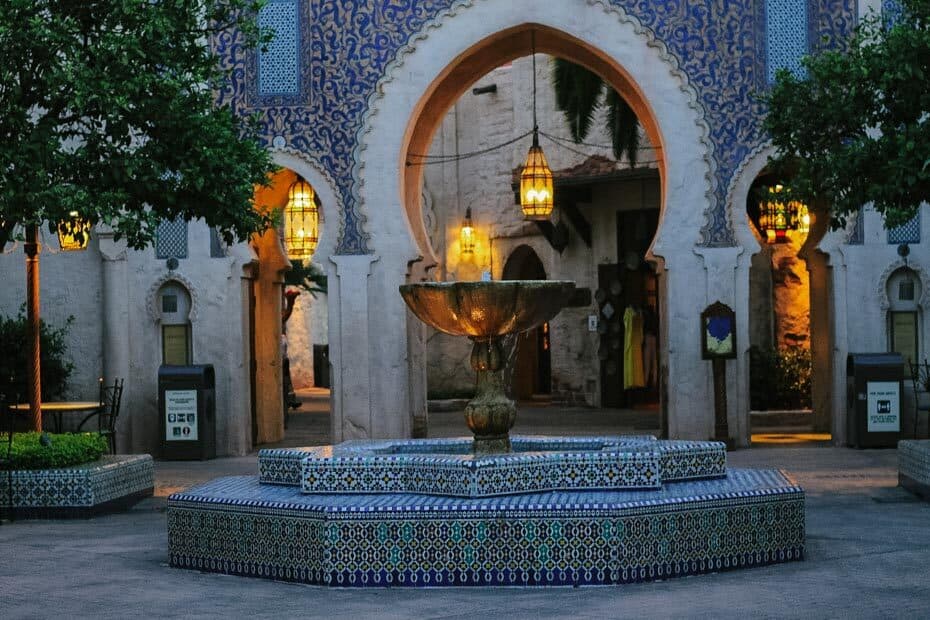 There is so much to see here, don't forget to look up!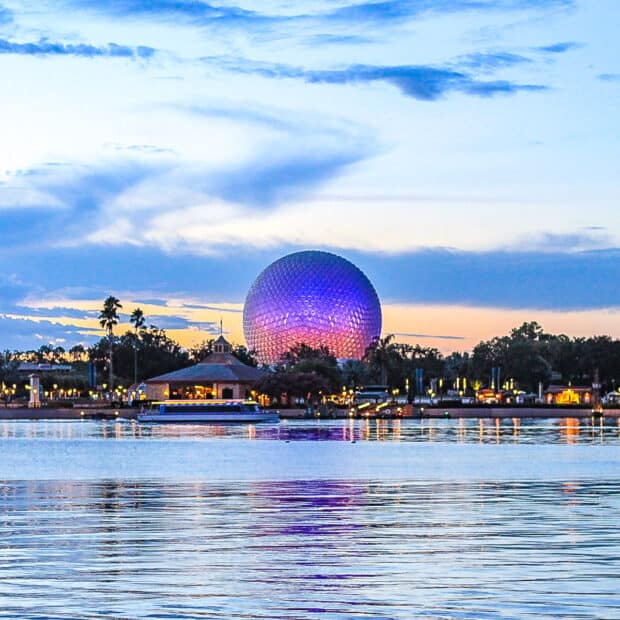 The World Showcase is also a special place to be at sunset. The sun setting over the lagoon is always a sight to behold. Just take a moment to be present in your surroundings. The photo opportunities are endless.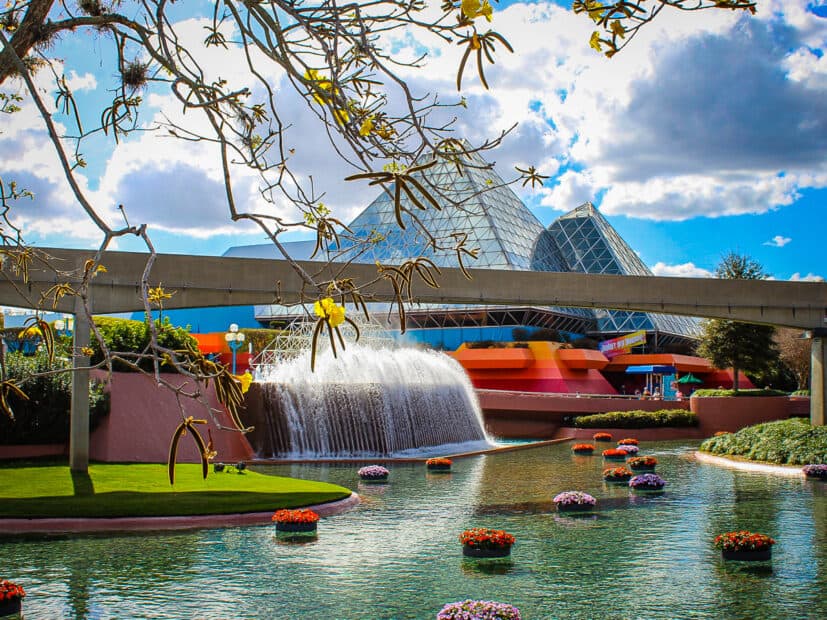 Hopefully, you enjoyed these photos of Epcot. Eventually, I plan to rework this entire article and provide a good deal more photos.
If you're planning to spend a good deal of time at Epcot during your vacation, you might consider one of the resorts in the Epcot area.
Here are a few we recommend:
Or you might consider one of these Skyliner Resorts:
In the comments: What are your favorite photo spots at Epcot? Do you spend a good deal of time in the park?