Awesome Planet is a newer film located in the Land Pavilion at Epcot. The film focuses on the wonders of earth and why it's so important that we respect and care for our planet.
While there's not too much that can be said about a 10-minute film, I do think that it's worth taking a break in your day to see it. Below, I'll go over the details on adding this to your schedule with a few suggestions for best time to see the film.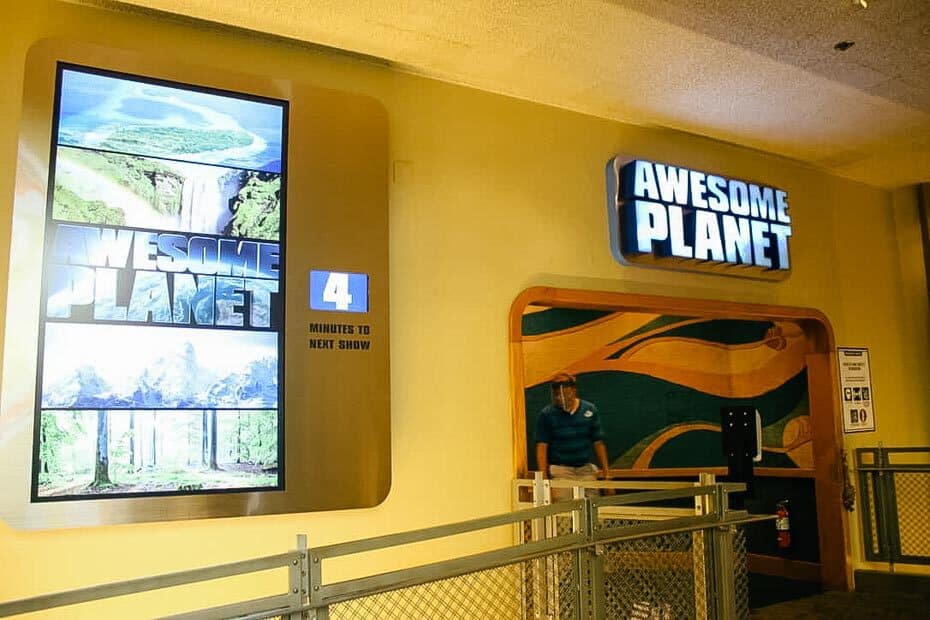 Here's all the need to know details for Awesome Planet.
Awesome Planet
Epcot Attractions

Location:

The Land Pavilion


Disney Height Requirement:

None


FastPass:

No


Ride Type:


Film

Seats Per Vehicle:


Theater

Duration:


10 minutes

Good For:

Everyone

Scary Factor:

None

Must-Do List:

Low Priority

Perfect For:

Rainy Day

Special Mention:

This new film debuted in
early 2020.
Awesome Planet
When you visit the Land Pavilion at Epcot, Awesome Planet will be the first attraction you encounter on the upper floor. If you have visited Epcot before, you might remember that you enter the Land on the top floor. There are escalators, stairs, and elevator options to access Living with the Land and Soarin' on the bottom floor.
This sign in the picture below hangs outside the entrance of Awesome Planet. It indicates the time left before the next screening.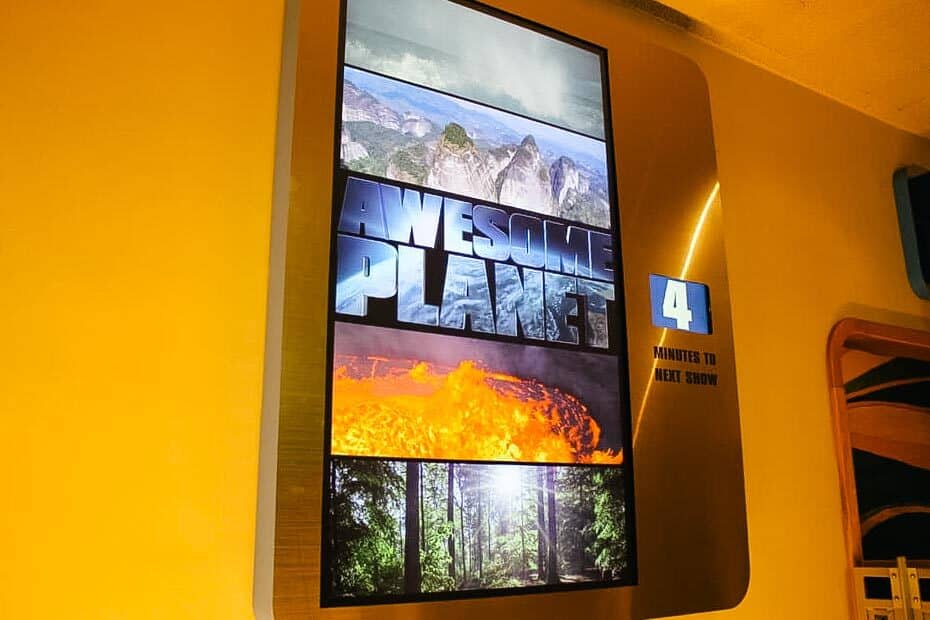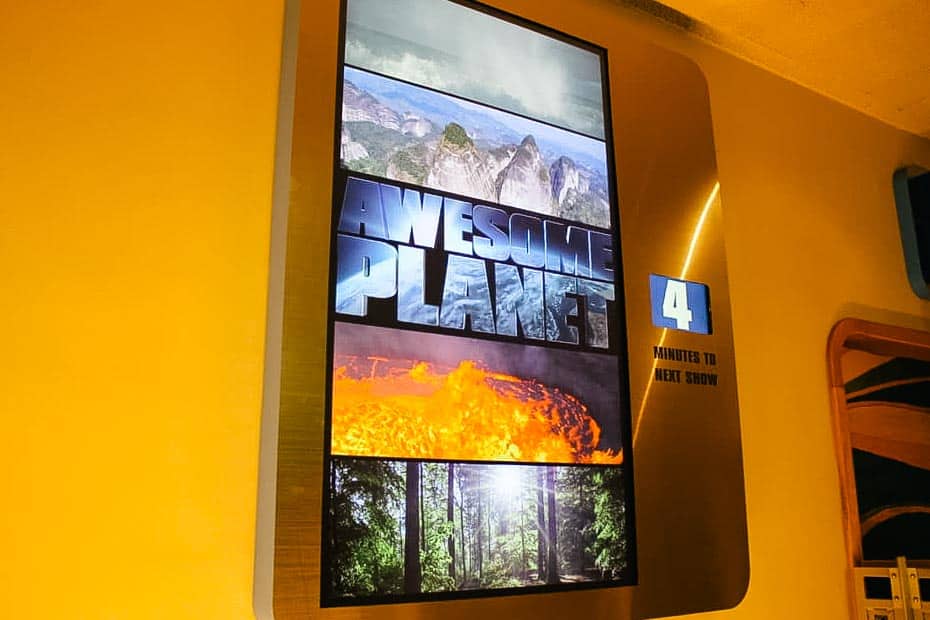 You can make your way inside to the waiting area. Here you'll get to see one of my four wonders of Epcot.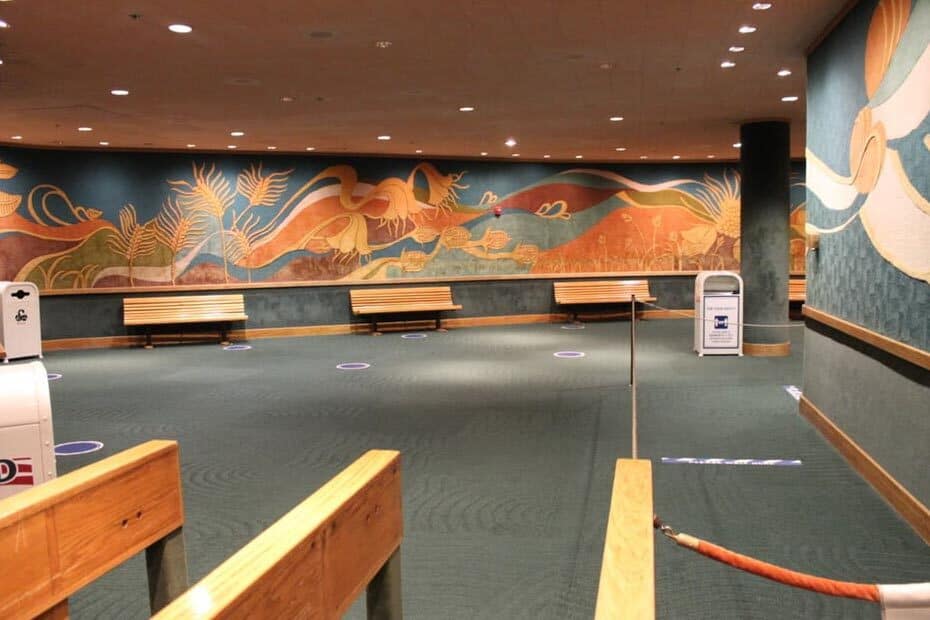 Walls of carpet! You can see some of the other wonders over at the Epcot Experience.
It's a lovely carpet mural.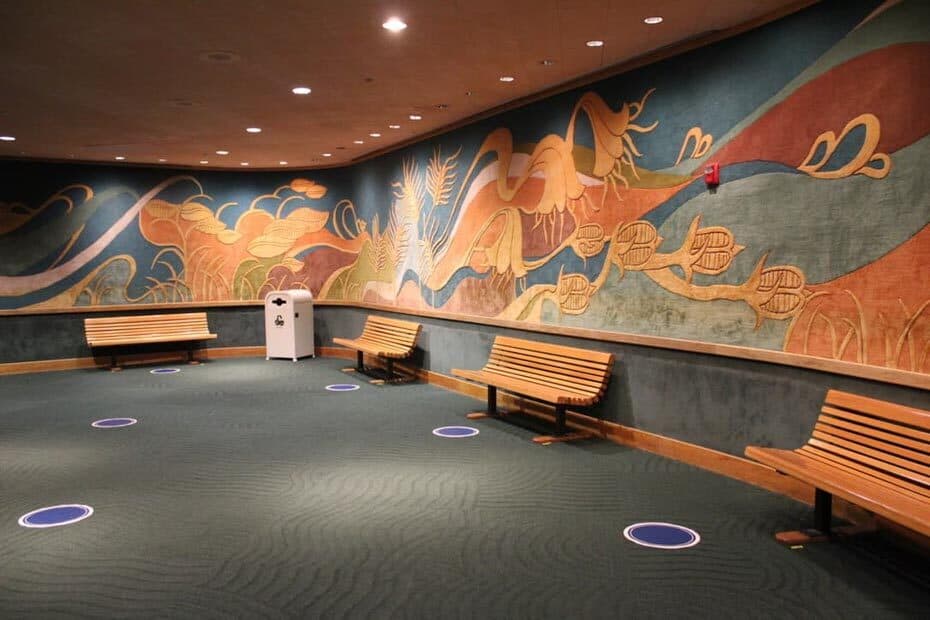 Here's a look at the theater. It's somewhat similar to Impressions de France.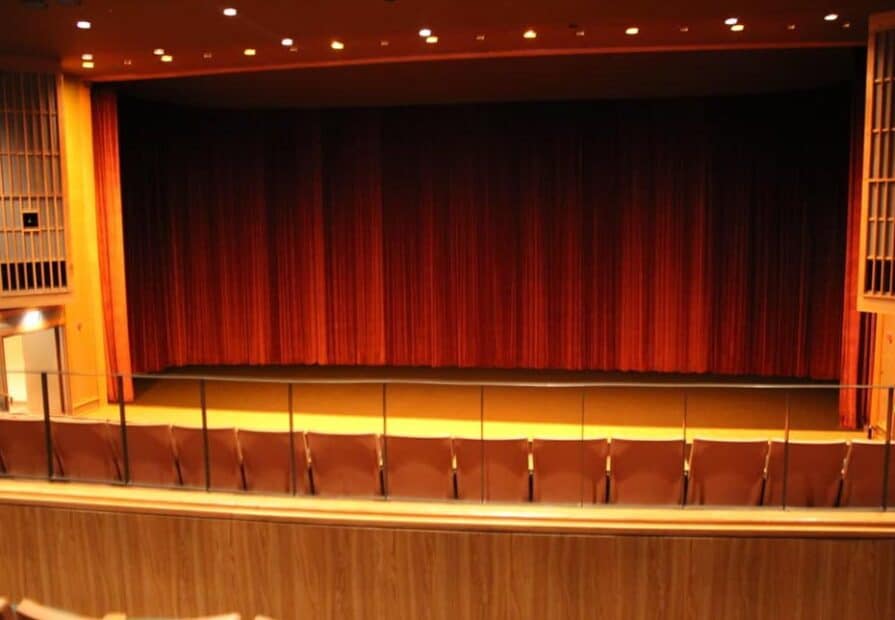 After everyone is seated, theater will darken and Awesome Planet will run its course.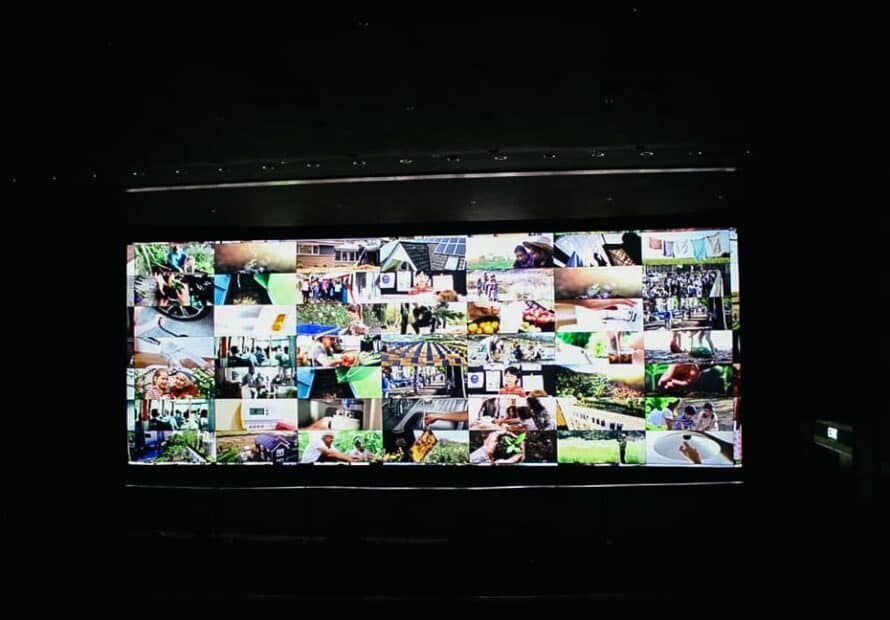 I found Awesome Planet to be the superior of the new films that were somewhat recently released at Epcot. Awesome Planet actually debuted on the same day as the Beauty and the Beast Sing-Along and Canada Far and Wide back in January of this year.
The sing-along is pretty rough in my opinion, while Far and Wide wasn't really inspiring.
As far as the best time to see Awesome Planet, I suggest doing it late morning or early afternoon when wait times for other attractions are at their longest. The film is by no means a must-do attraction, but sometimes everyone needs a break from the hustle and bustle of theme park touring. Awesome Planet makes for a good place to take that break.
Epcot is also the best park for touring on a rainy day. With the Land, Imagination, and Seas pavilions sitting next to each other, this area of Future World provides a good amount to do in the event of bad weather.
Make sure to check out these other popular Epcot attraction reviews:
While we cover a good deal of information on the site, Resorts Gal specializes in providing detailed information about the Walt Disney World Resorts. Browse our Disney Resort Reviews to begin planning your next Disney vacation. If you plan on spending a good deal of time at Epcot, I recommend considering one of the nearby Epcot Resorts. Preferably, Disney's Beach Club (review) if you are pool people like me.
And if you are planning a trip to one of the Disney water parks, check out our full ride guide to Disney's Blizzard Beach.
As for Awesome Planet, I hope you'll take the opportunity to check it out on your visit.