Big Thunder Mountain Railroad at Magic Kingdom
Big Thunder Mountain Railroad is a popular roller-coaster attraction at Magic Kingdom park in Walt Disney World. If you have ever heard mention of the wildest ride in the wilderness, this is the one!
Riding Big Thunder Mountain Railroad is a must for any theme park fan. Unfortunately, it's not an attraction that everyone can enjoy.
This Disney World ride has a height requirement, and some of the drops might be a little intense for young children to handle. If you're traveling with small children or have health issues, take advantage of this article, so you know what to expect when you get on the ride!
In this review of Big Thunder Mountain Railroad, we'll look at the height requirements and what you can expect with this attraction. And I have to warn you. This is one of my favorite attractions in the park. Therefore, I might be a tiny bit biased, but I'll do my best to keep the facts straight.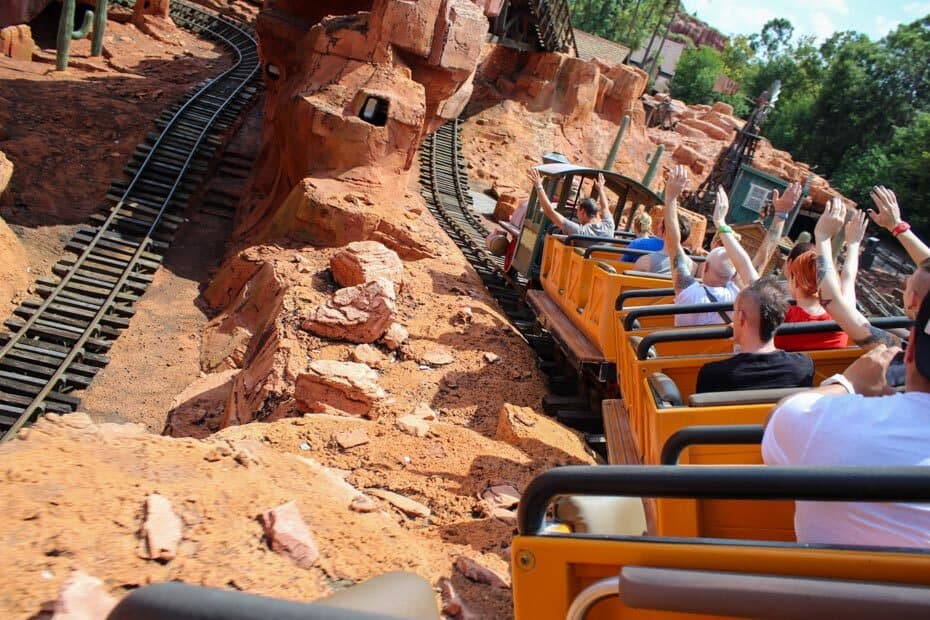 First, we'll take a look at the quick reference chart for Big Thunder Mountain Railroad.
Big Thunder Mountain Railroad
Magic Kingdom

Location:

Frontierland

Disney World Height Requirement:

40″

Eligible for Disney Genie+



Ride Type:

Thrill, Roller Coaster

Seats Per Vehicle:

Generally 2 or
1 adult with 2 kids

Disney Rider Switch:

Yes

Good For:

Children

Scare Factor:

Mild to Medium

Must-Do List:

High Priority

Perfect For:

Kids, Tweens, Teens, Adults
Mild Thrill Seekers

Special Mention:

Make sure to secure any hats or glasses.
This here's the wildest ride in the wilderness.
Big Thunder Mountain Railroad
Big Thunder Mountain Railroad is specifically located in the back of Frontierland next to Splash Mountain. The train-style roller coaster is a favorite with most guests. You can see the mountain from most points of the land.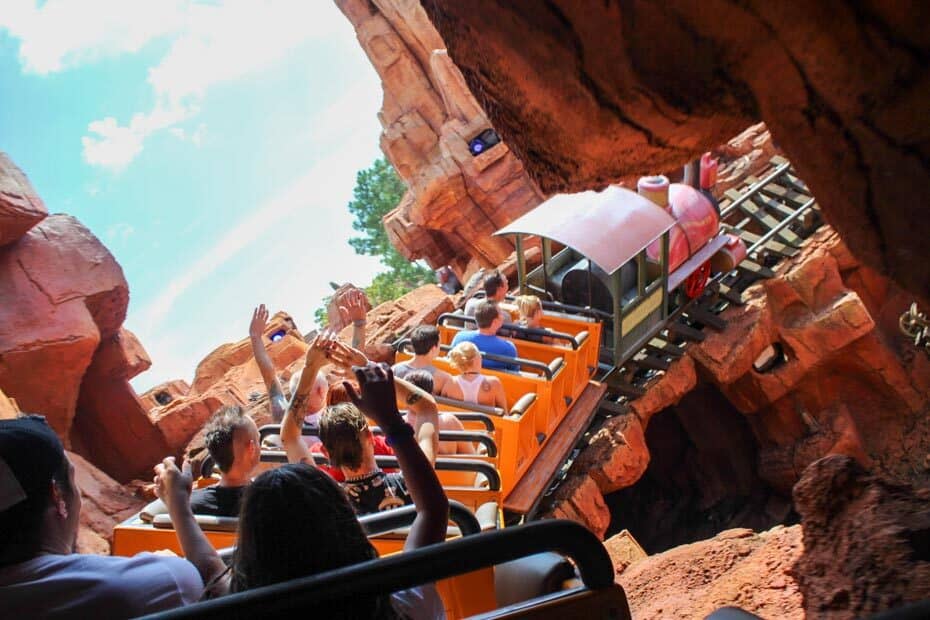 The theming of Big Thunder reflects that of an old gold mine. While waiting to board, you'll find yourself on a descent into the mine shaft. Signs out front indicate a path called Nugget way.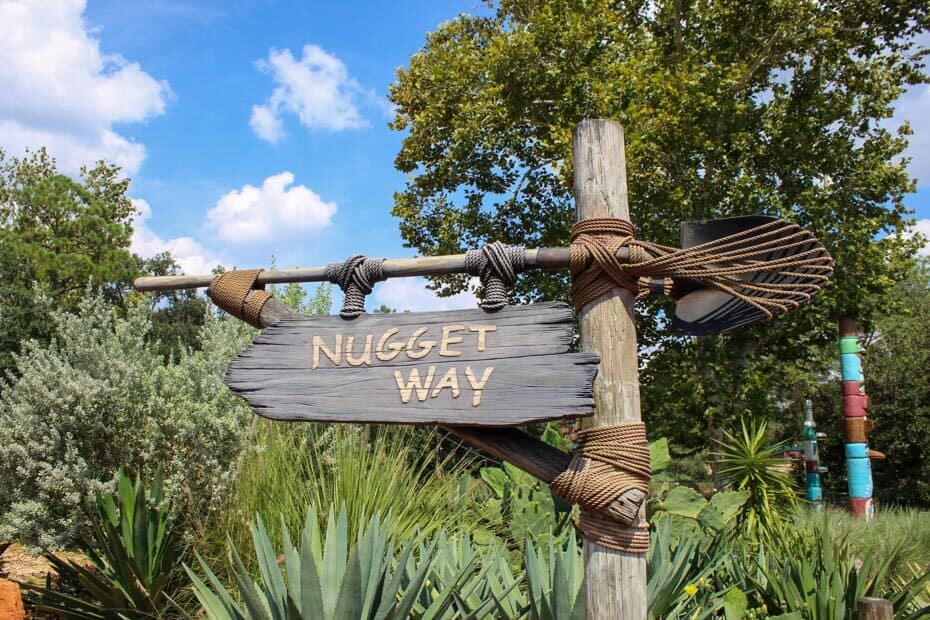 Here's a look at the entrance to the queue for the roller coaster.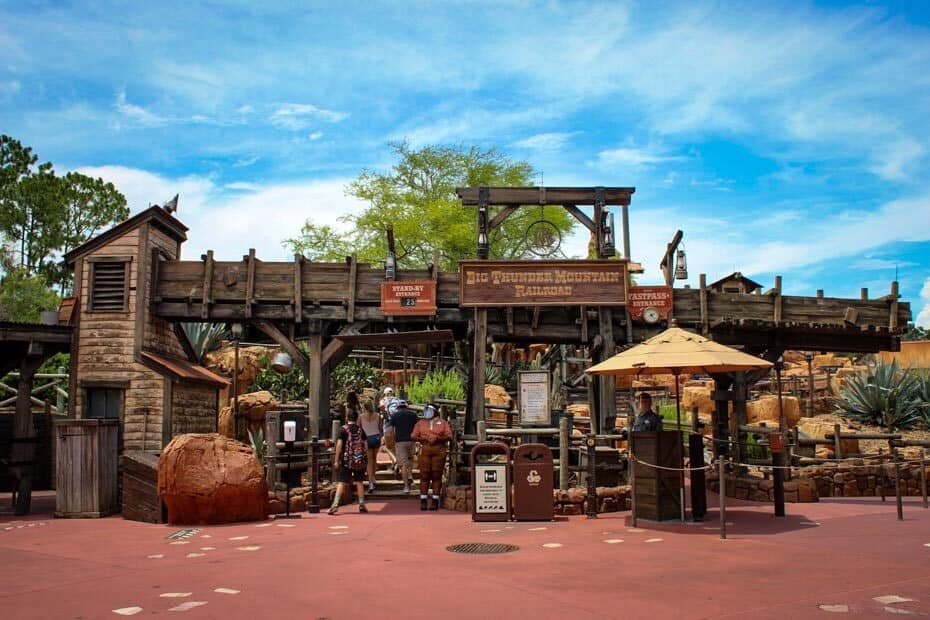 Out front, you'll find standard warnings indicating that Big Thunder Mountain Railroad is a thrill attraction and not suitable for all guests. Make sure children meet the 40″ height requirement.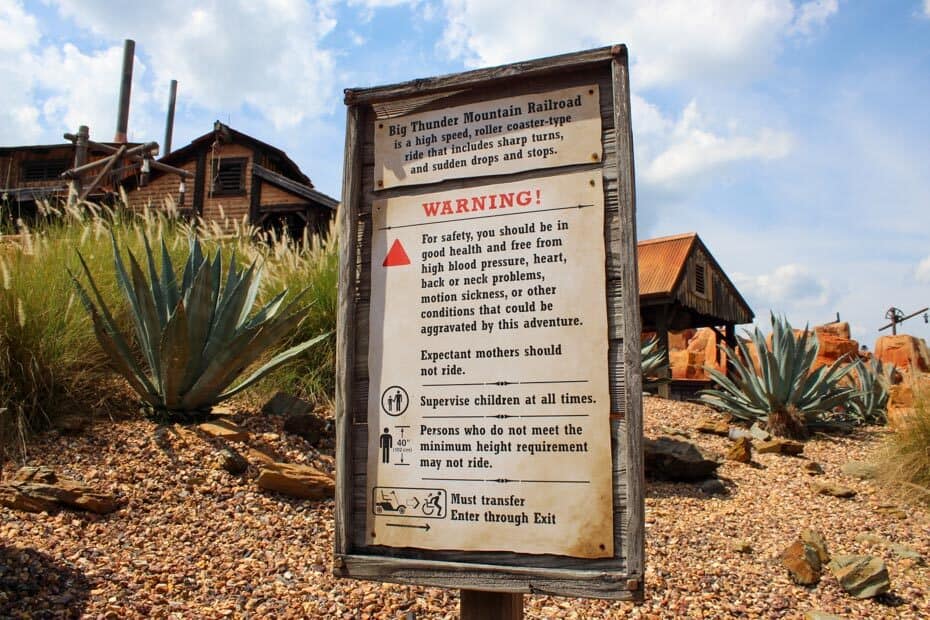 The queue of Big Thunder Mountain has a few interactive elements but is usually fairly fast-moving.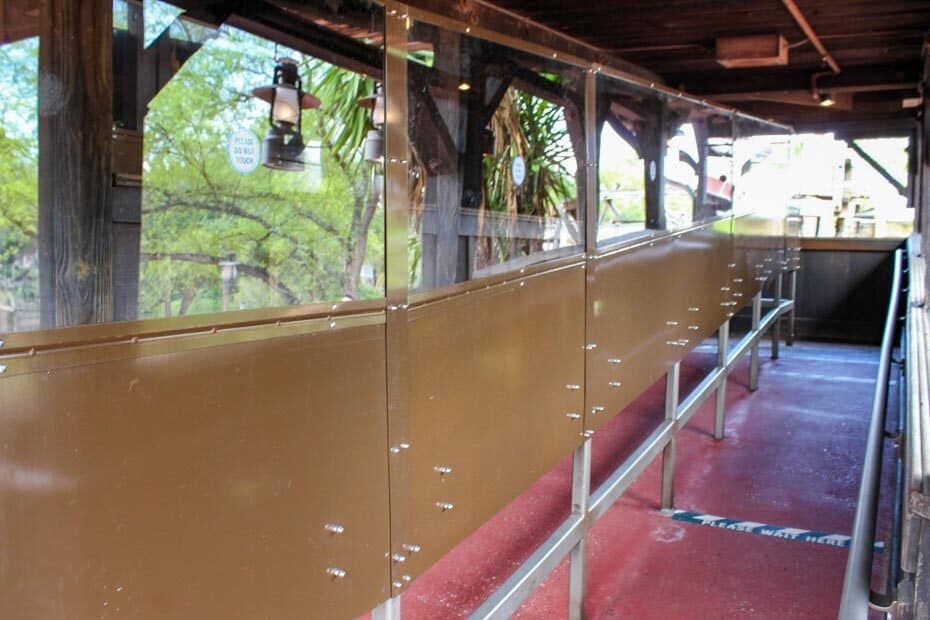 At one point, the line will split, and you can decide whether to go to the right or left side. It doesn't make any difference which side you choose, just keep your party together.
It will appear pretty quickly that either your line or the line beside you moves along much faster. This is because each line at the bottom is called in rotations. So within a few minutes, the opposite line will start moving faster. Make sure to remember this, and don't try to skip over to the other side.
Soon after, you will board your train car. There is one lap restraint bar that comes over guests. From my experience, larger adults will provide a decent amount of slack between the lap bar and smaller children riding with them. Make sure your child holds on well.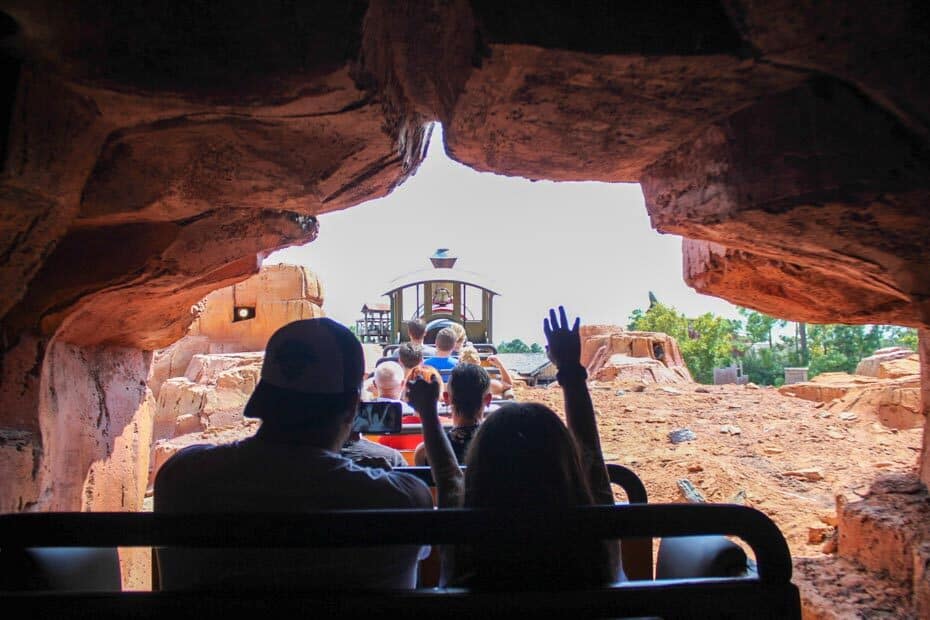 Big Thunder Mountain Railroad is a roller coaster that has small to medium drops. The ride also offers a good amount of side-to-side sliding inside your individual train car.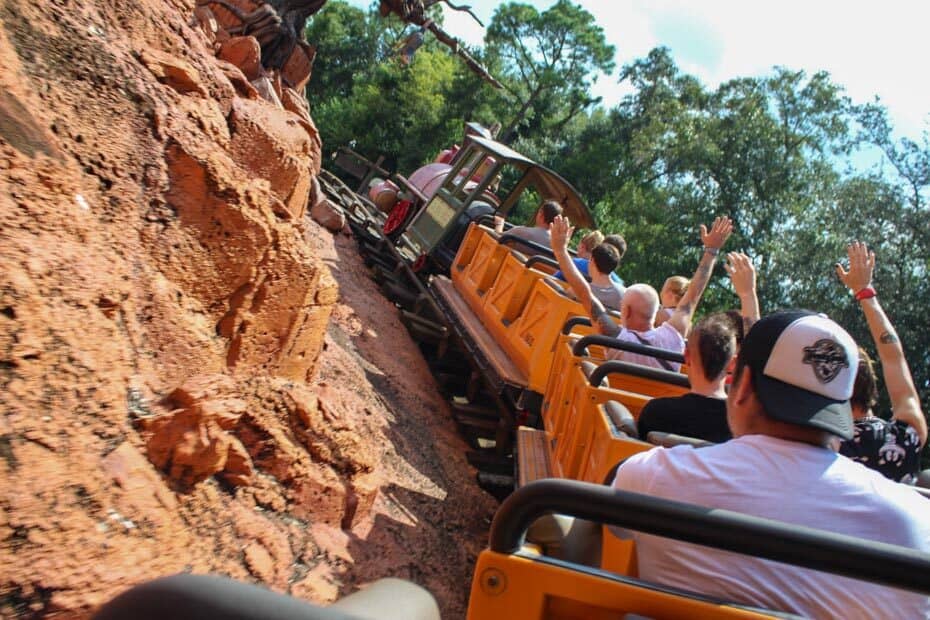 Similar to the Barnstormer, this attraction can be considered a good introduction to roller coasters. However, the actual ride lasts a good bit longer and is much more exciting than the Barnstormer.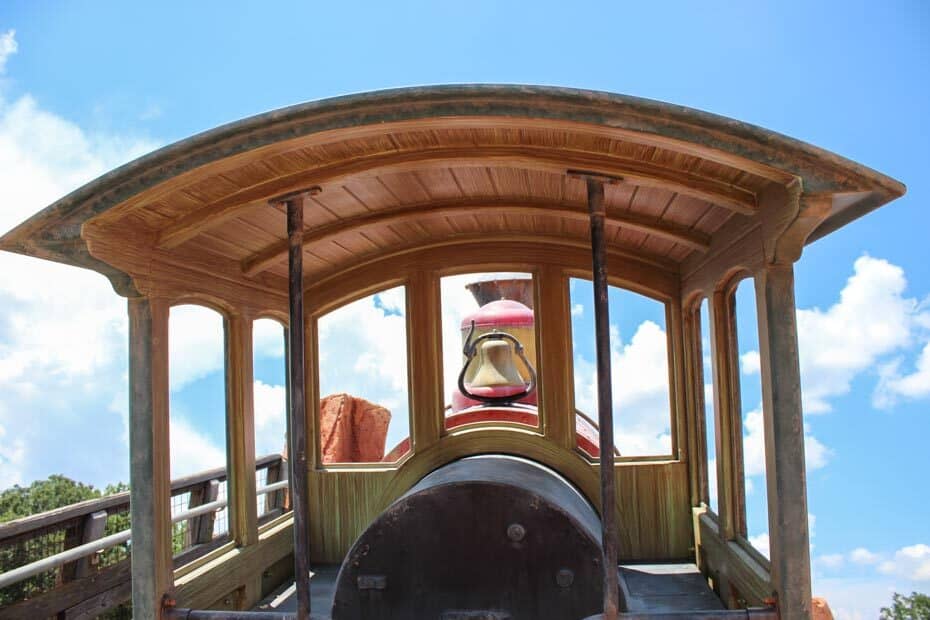 Once you board the train, you'll race off into a dark cavern where you might be sprinkled with a little water. Then, you'll race back outside and encounter a few hills with drops. The ride tends to have slow moments of anticipation as you climb the hills before racing off again.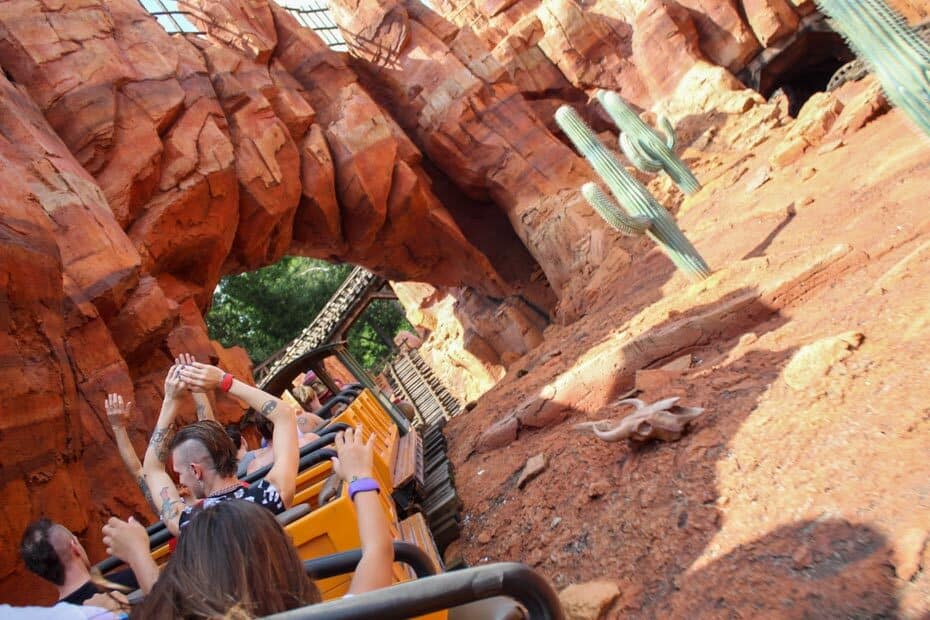 Some guests prefer to ride up front, while others think the back is a more thrilling ride. If you do have a special request, just ask the cast member, and they will take care of you when possible. Usually, that means having to skip the current boarding and being in your desired place on the next one.
Here are a few more photos of Big Thunder Mountain Railroad.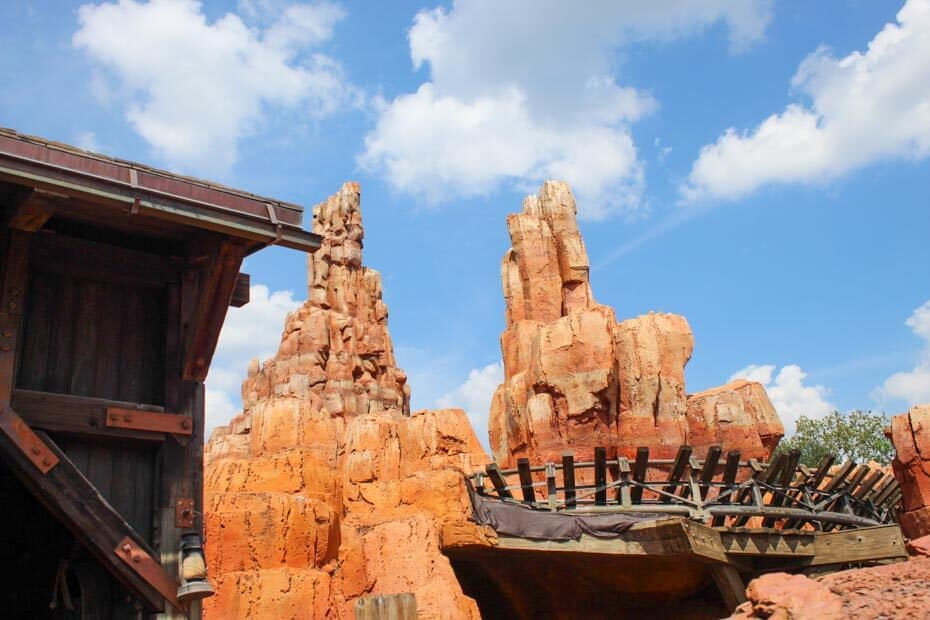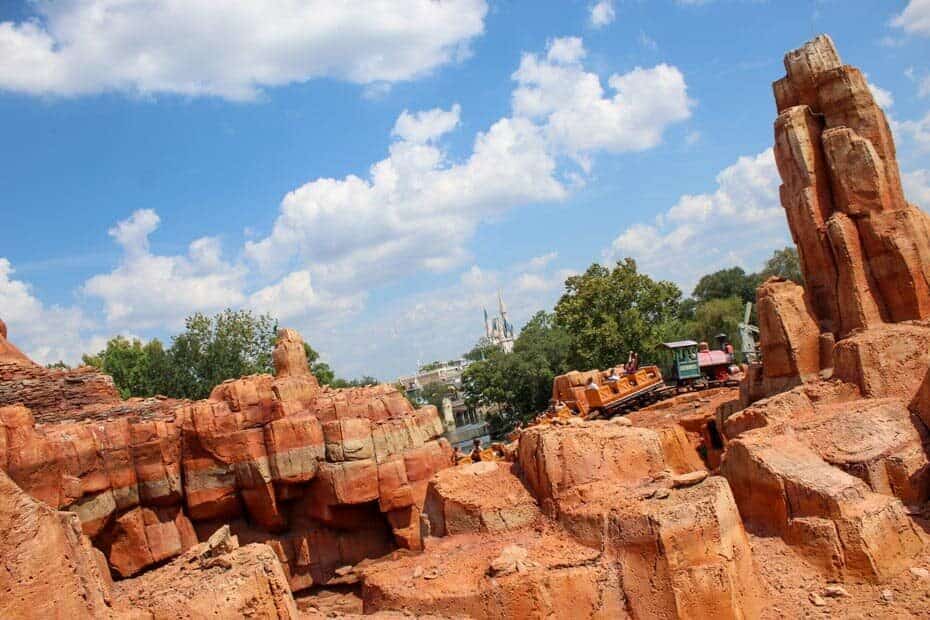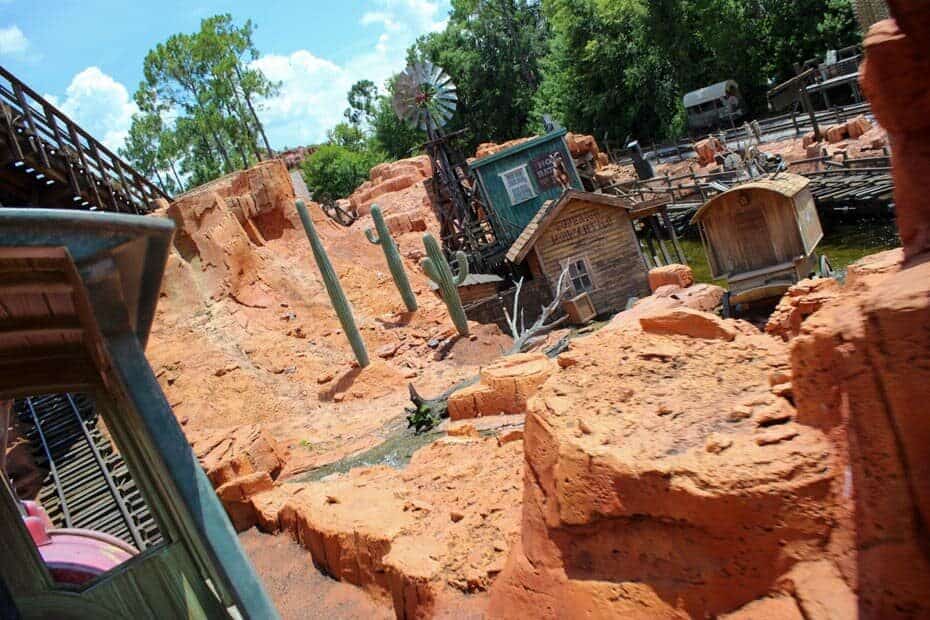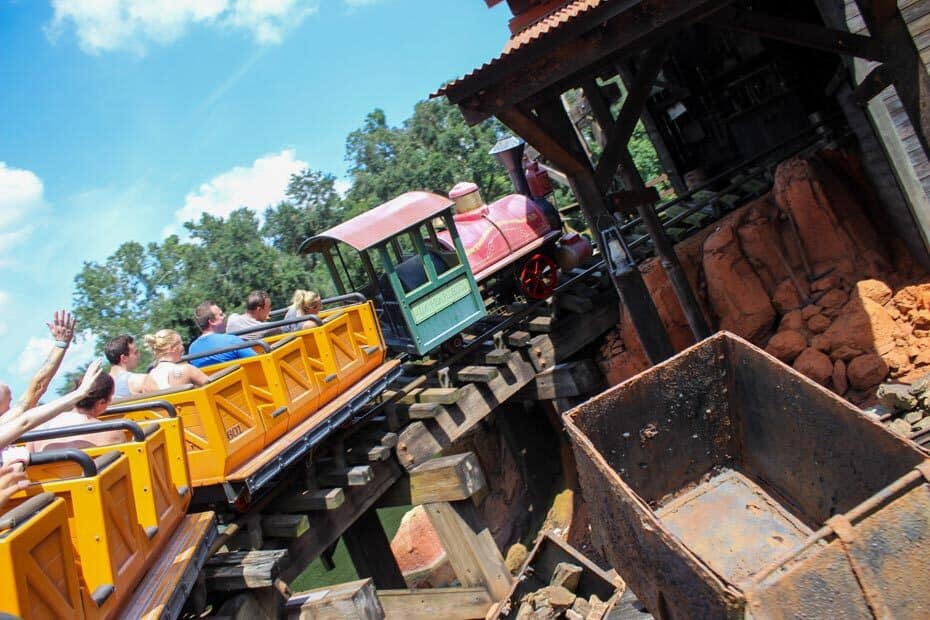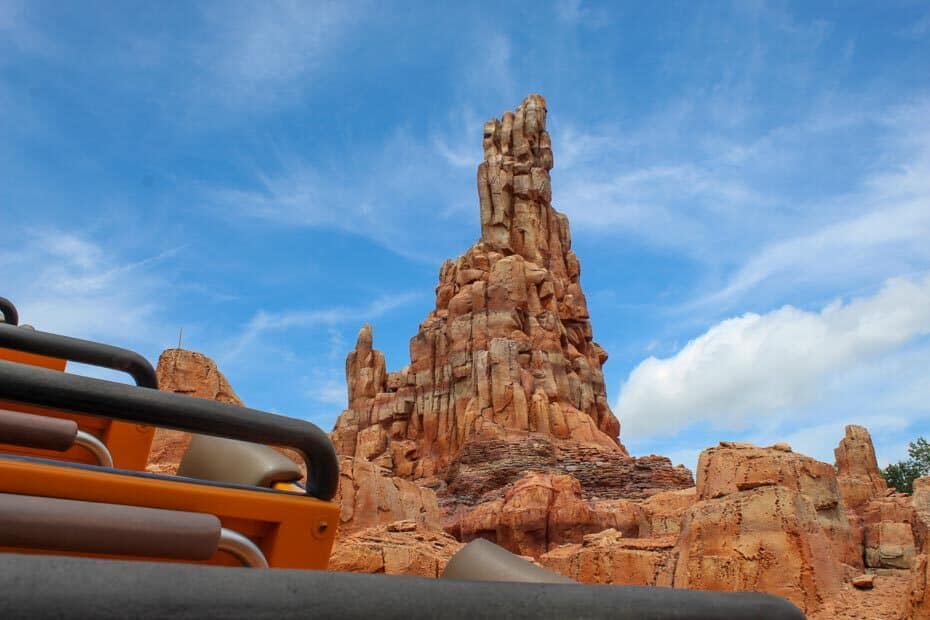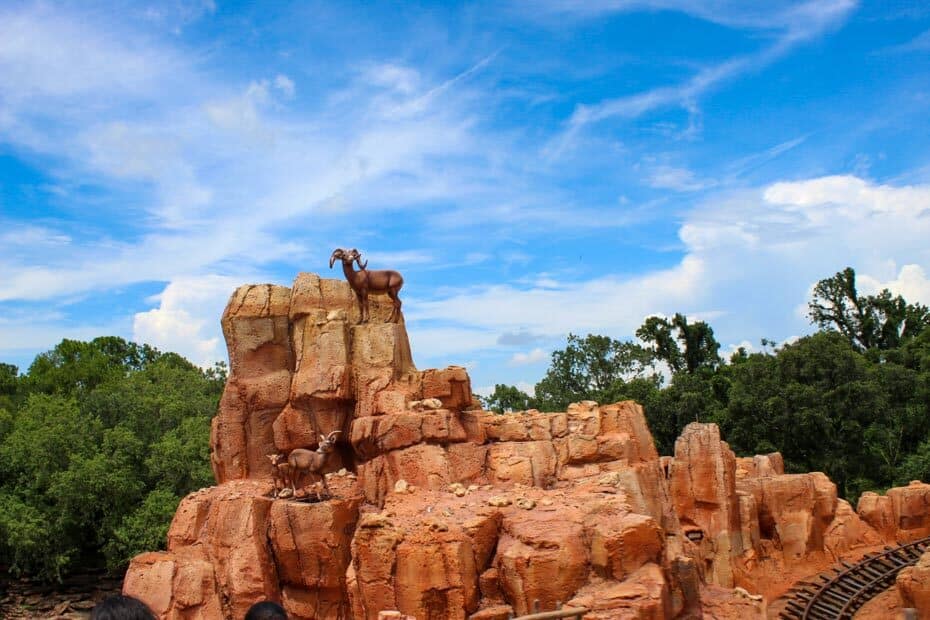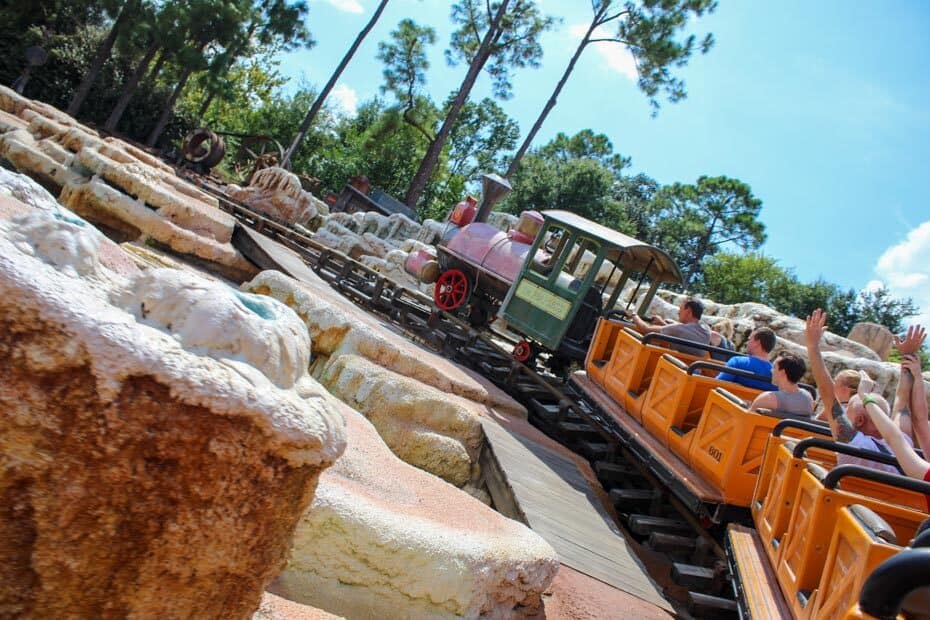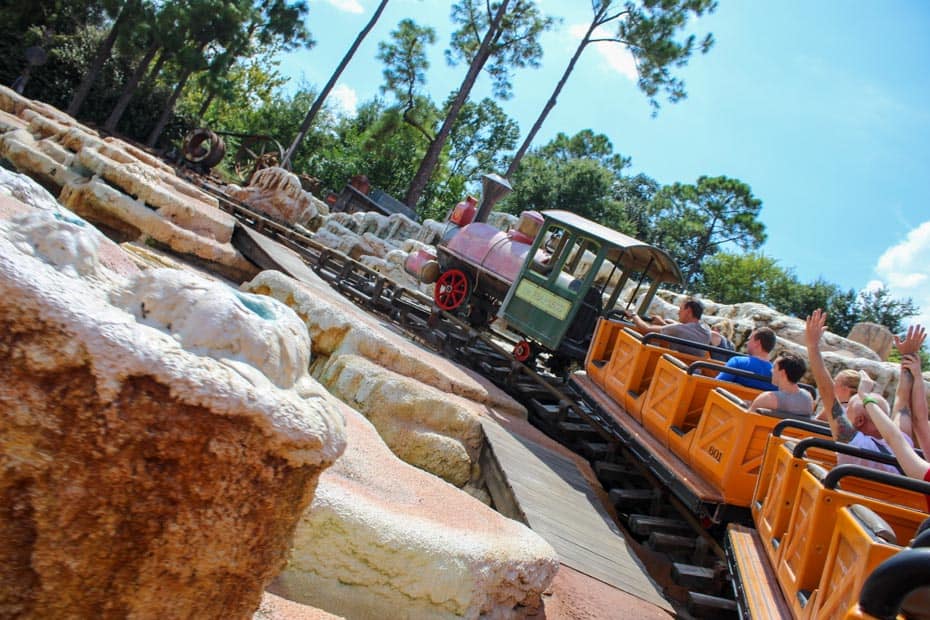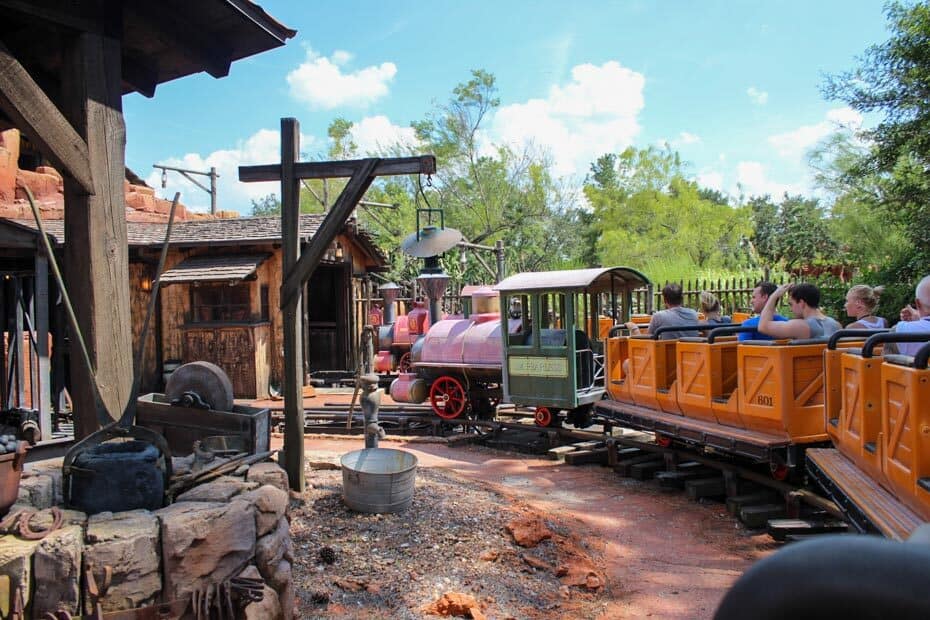 Every time I ride this attraction, I always say that I get the feeling that I'm on one of those Disney commercials on television. It makes me smile and laugh no matter what.
The gentle drops add just the right amount of tickle without being too much. And the way it forces you to lean in just a little bit closer with your friends and family really brings a smile. You can't help yourself.
When the train pulls back into the mine, everyone always seems to be giggling and proclaiming they want to do it again. Big Thunder Mountain Railroad, simply put – is a feel-good ride.
Know Your Disney Rules When Riding With Children-Any child under the age of seven or younger must be accompanied by an adult fourteen years or older.
Check out Big Thunder Mountain Railroad via Youtube: Complete Ride Experience
The best time to ride Big Thunder Mountain Railroad is typically first thing in the morning before 11:00 a.m. You might also easily ride it during the Festival of Fantasy parade around 3:00 p.m. (When parades come available again.)
Lastly, you might ride Big Thunder Mountain during or immediately after the evening fireworks. The fireworks tend to draw crowds away from popular attractions making for shorter lines.
If you are privy to early theme park entry benefits, you might also consider riding it during that time.
Anyone planning a trip to Walt Disney World might enjoy these reviews in the same area of Big Thunder Mountain Railroad.
If you are planning a trip to Walt Disney World, make sure to check out our reviews of the Disney World Resorts. The Magic Kingdom Area Resorts include:
Additionally, the Disney World monorail review provides useful tips and information. We keep it updated quite often.
Lastly, you might want to check our overview of every ride at Magic Kingdom.
As for Big Thunder Mountain Railroad, it truly is the wildest ride in the Wilderness! Enjoy! Does everyone in your party meet the height requirement for it?