The Many Adventures Of Winnie the Pooh Ride at Disney World
The Many Adventures of Winnie the Pooh is a classic and well-loved attraction at Disney World in the Magic Kingdom. The ride offers an opportunity to visit The Hundred Acre Wood and see favorite characters like Pooh Bear, Tigger, Piglet, and more!
This Many Adventures of Winnie the Pooh ride review goes over everything you need to know in advance about experiencing this attraction on your vacation.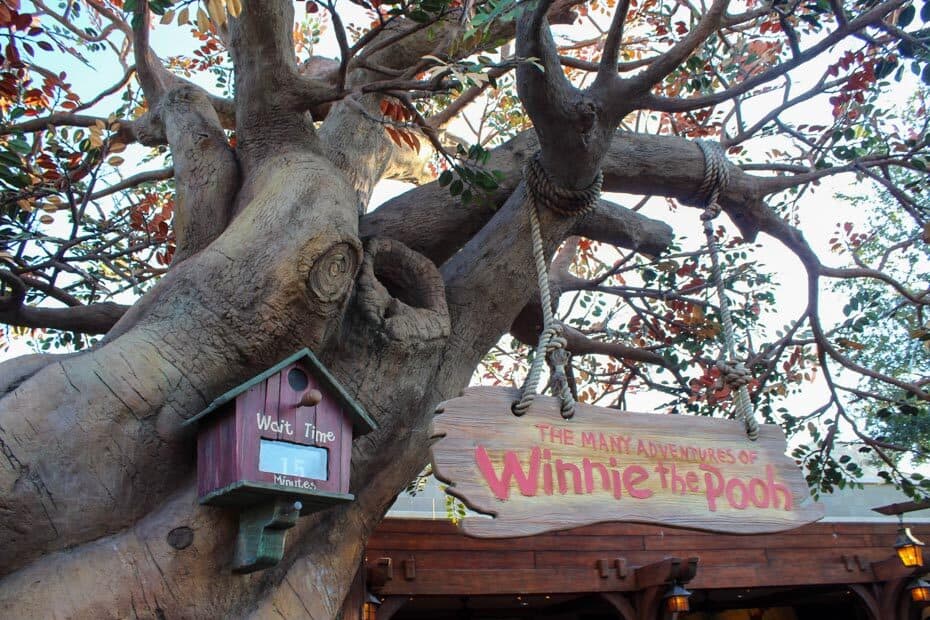 Here's the quick reference chart with need to know details for The Many Adventures of Winnie the Pooh.
The Many Adventures of Winnie the Pooh
Magic Kingdom

Location:

Fantasyland

Height Requirements at Disney:

None

Magic Kingdom FastPass:

Yes

Ride Type:

Slow-Moving

Seats Per Vehicle:

2-3 per row

Rider Switch:

None

Extra Magic Hours:

Mornings and Evenings

Good For:

Fans of Winnie the Pooh
Children
Everyone

Scary Factor:

None except maybe Heffalumps & Woozles

Must-Do List:

Medium

Perfect For:

All Ages

Special Mention:

This attraction offers an interactive play while you wait area.
The Many Adventures of Winnie the Pooh Ride
The Many Adventures of Winnie the Pooh is located in Fantasyland across the walkway from Seven Dwarfs Mine Train. This ride will be a good fit for the majority of guests visiting the park.
Normally, this is a fairly fun place for children to wait in line. The queue offers a play-while-you-wait area, but at this time it is closed off due to social distancing.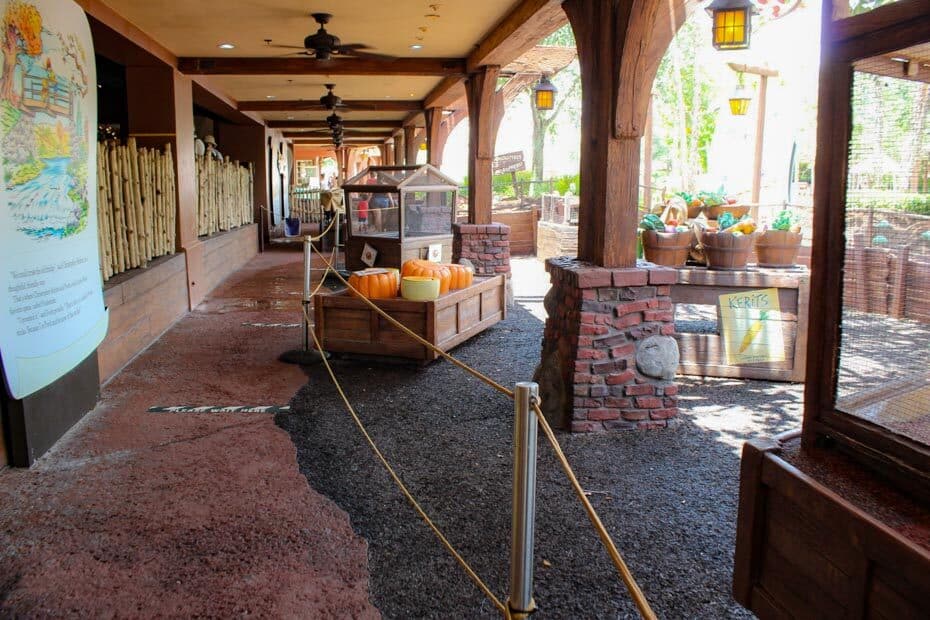 The theme of play-while-you-wait continues as you wind your way around the queue. While obviously germ-y, I still feel these kind of elements are a nice touch. No pun intended.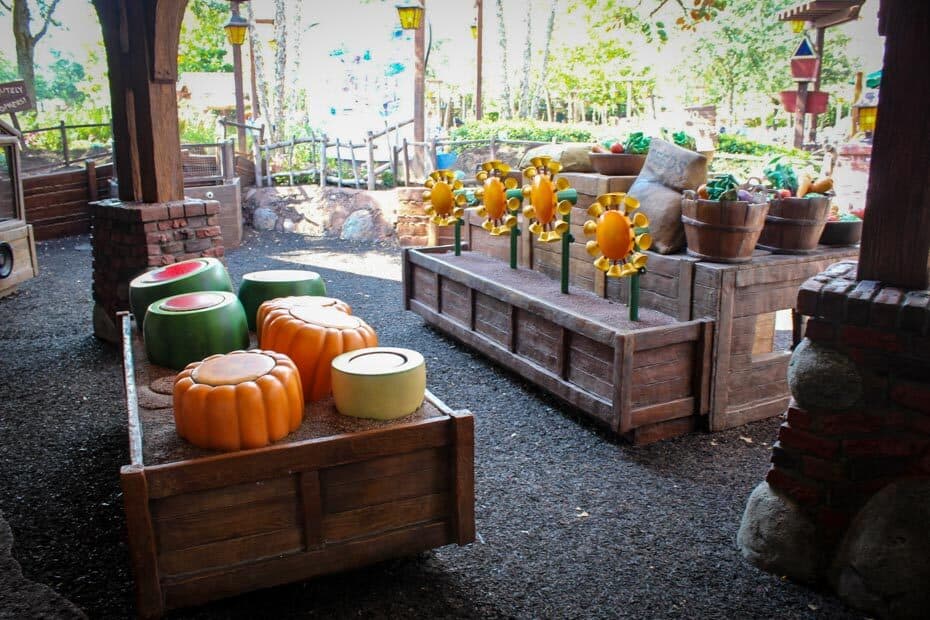 If we ever get back to those days, just remember to carry a pack of wet wipes to tidy up with after they are done. Another fun element in the Many Adventures of Winnie the Pooh line is the storybook pages. You can read along as you make your way through the queue.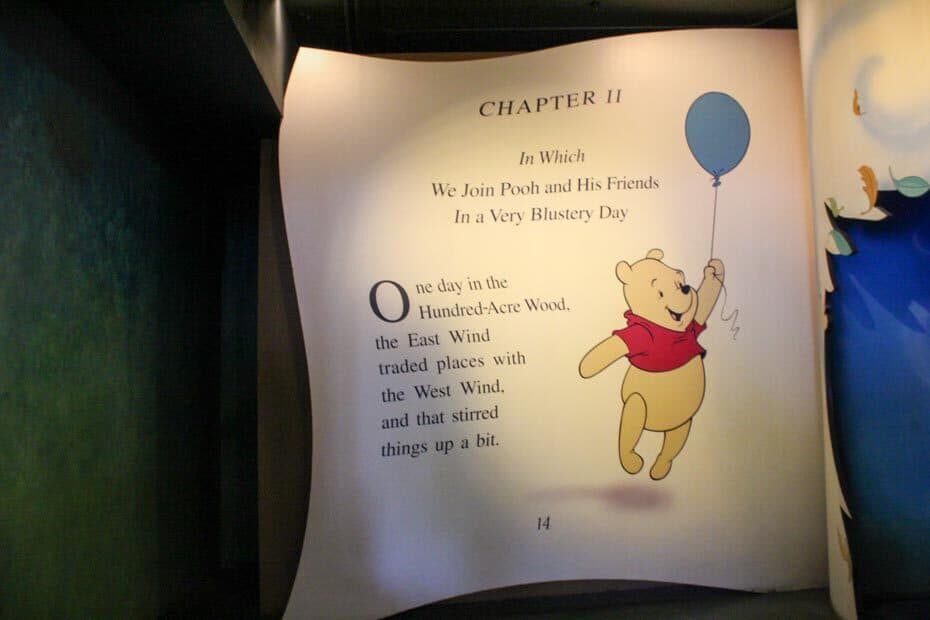 This particular portion of the story is a little more special to me than some. I have my very own CR.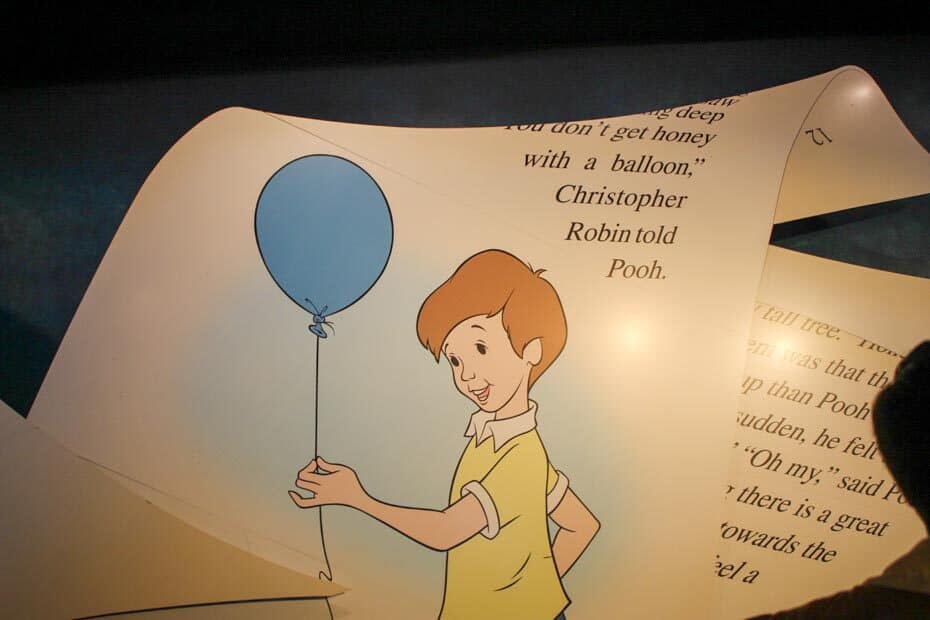 Guests will board a ride vehicle shaped like a honey pot and set off down a slow-moving track into The Hundred Acre Wood.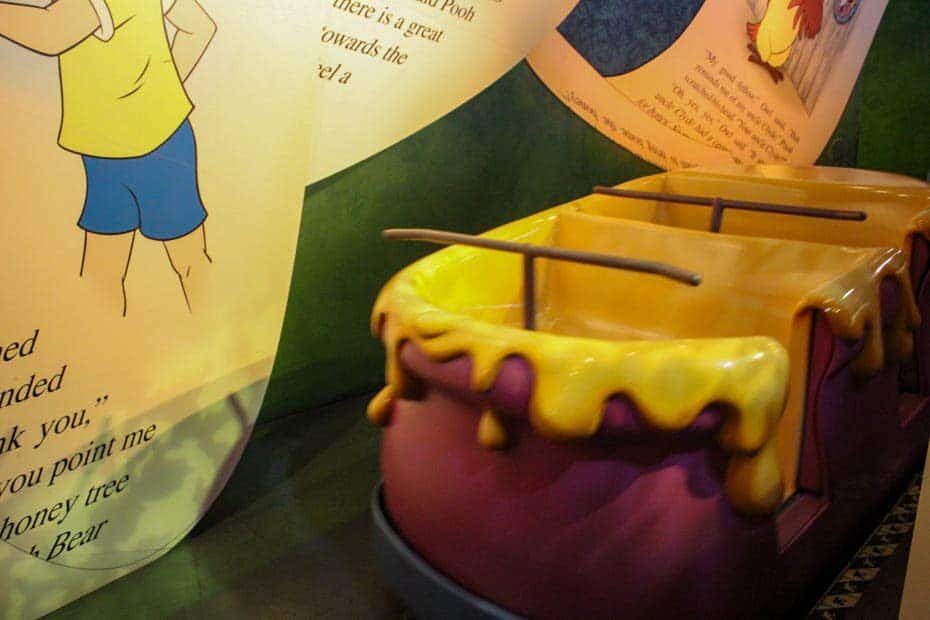 Each car holds two guests on the front row and two guests on the back row. One adult might be able to ride with two small children on one row if needed. There is a lap bar restraint that covers the whole row.
The ride doesn't offer too much movement other than the bouncing with Tigger scene about mid-way through.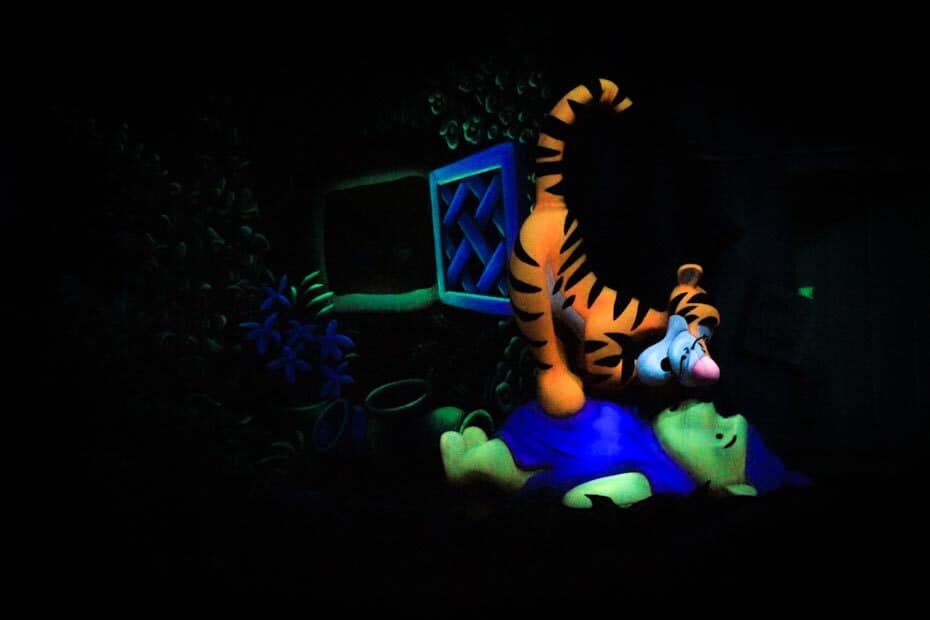 But bouncing is one of the wonderful things about Tigger.
You'll encounter poor Piglet in a bit of a bind. Hang on Piglet!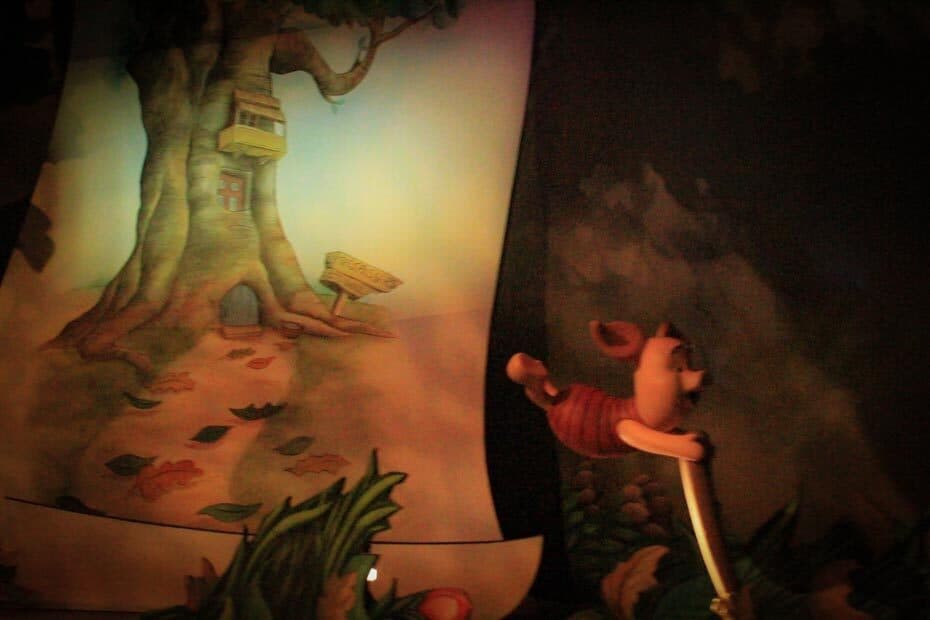 Thankfully, Tigger is there to extend a hand.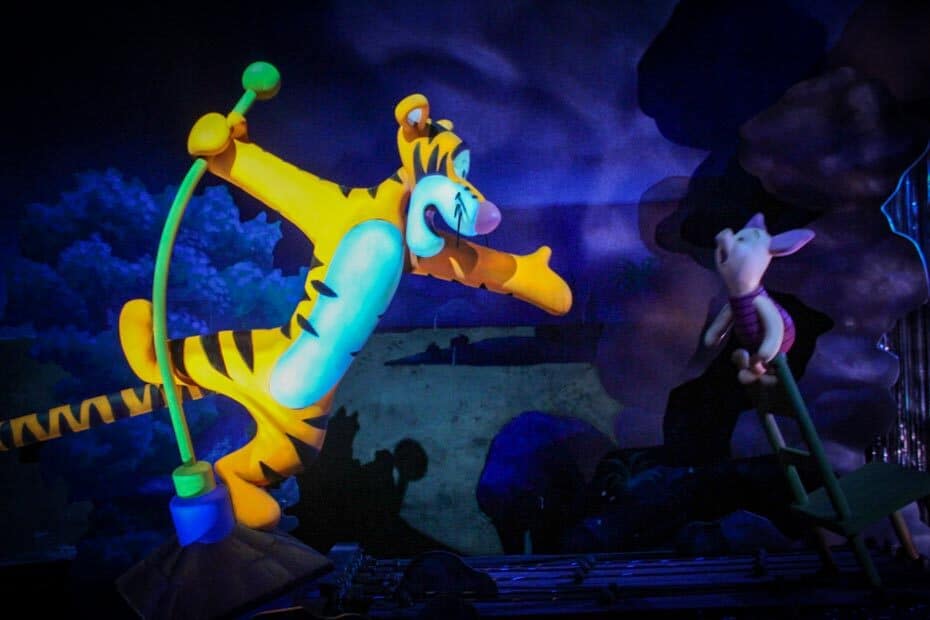 And The Many Adventures of Winnie the Pooh wouldn't be complete without seeing a few friends like Rabbit and Eeyore.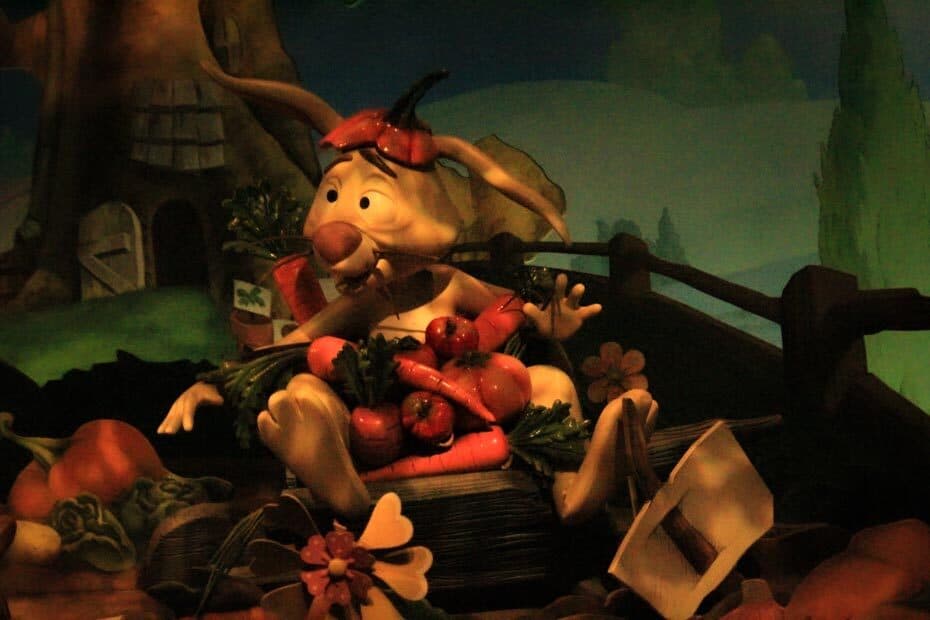 Don't forget to look up and see wise old Owl in the treehouse above.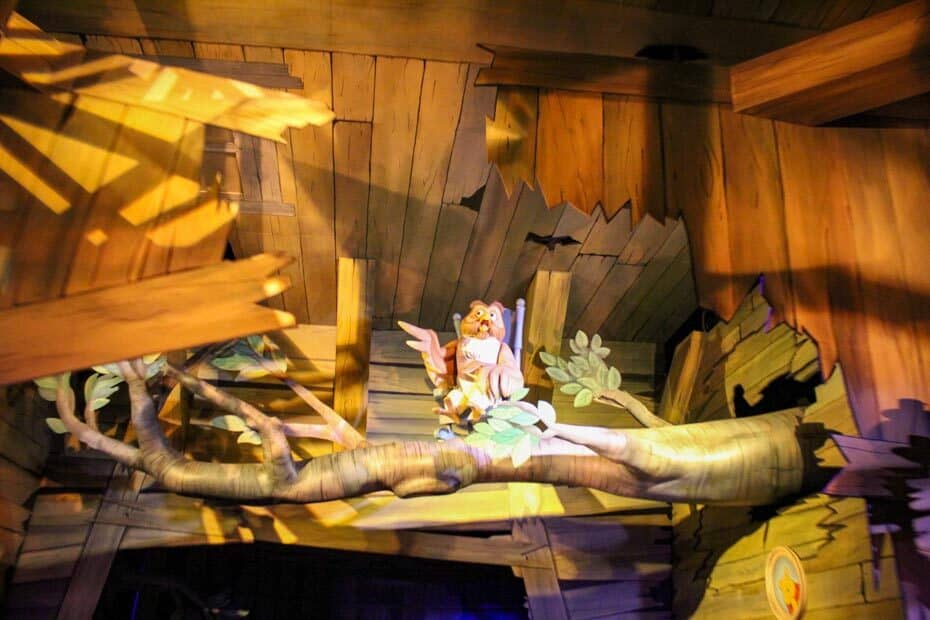 Before you know it you'll be singing, "Heffalumps and Woozles."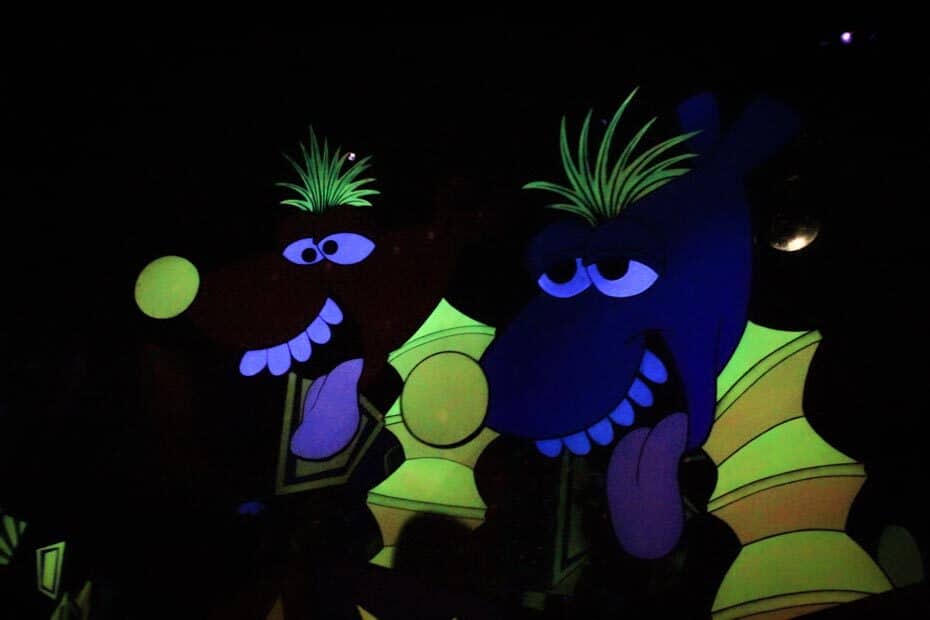 Oh silly me, I meant, you'll be singing, "Hooray."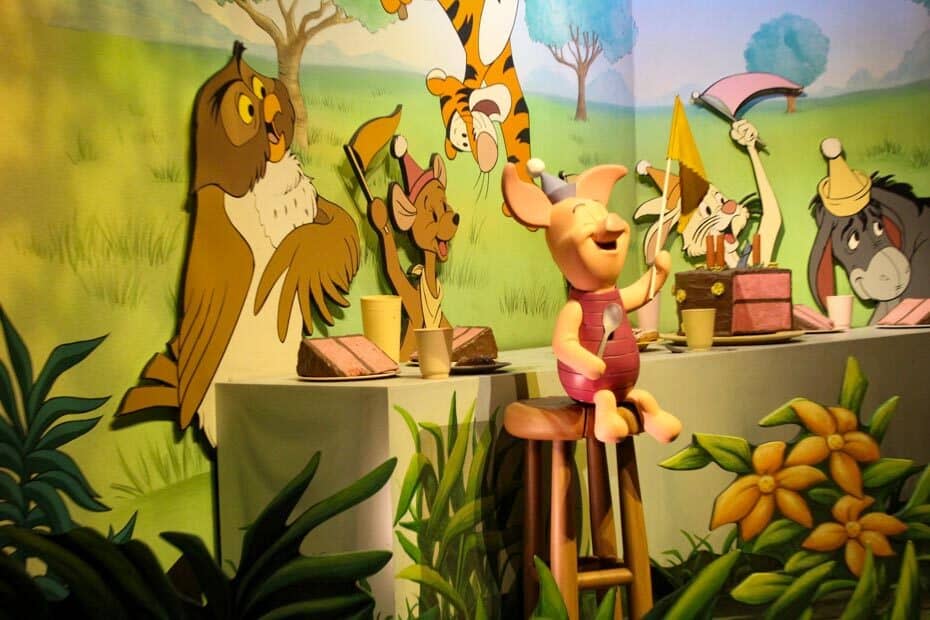 Or as Pooh Bear says, "Oh Bother."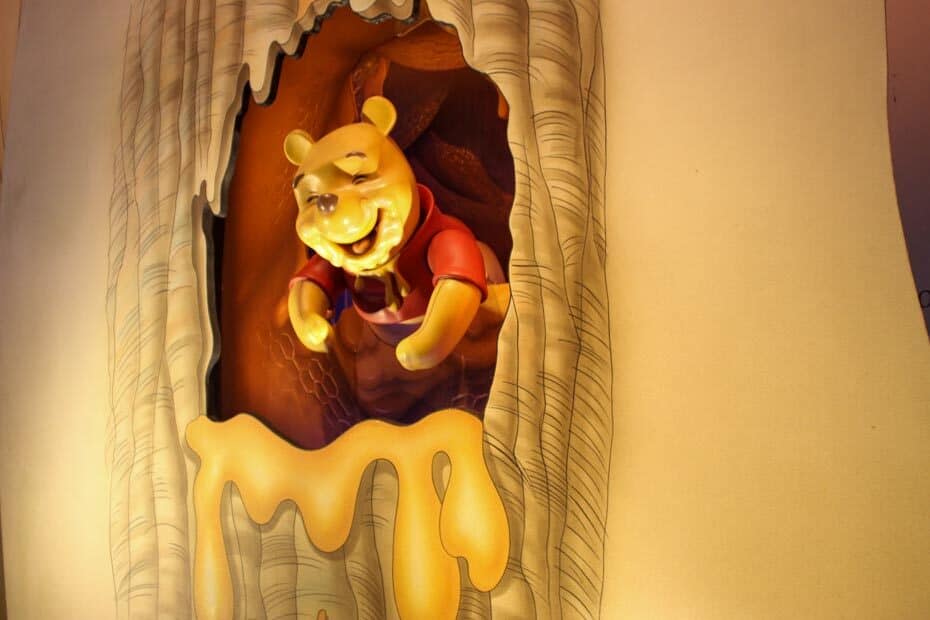 Best Time to Ride: The Many Adventures of Winnie the Pooh usually meets to lower waits in the earlier and later portions of the day. But if you come by in the afternoon don't be surprised to encounter a decent wait time.
Many Adventures of Pooh can easily hold up to about 50-minute waits during the busier time of the day.
Additionally, when FastPass is available it's an attraction where standby is greatly affected by the number of FastPass+ riders ahead of you. If there aren't many guests riding FastPass+ the standby line will move rather quickly.
However, it can sometimes feel like a long wait here with little movement when numerous people continue to cut ahead via the FastPass line.
Lastly, The Many Adventures of Winnie the Pooh ride exits into Hundred Acre Goods. That's a Fantasyland store primarily selling Winnie the Pooh merchandise.
Hope you enjoy your adventure! And TTFN, TA Ta For Now!
To preview The Many Adventures of Winnie the Pooh via Youtube try here: Complete Ride
Make sure to check out the full list of Magic Kingdom attractions. Or you might like to check out the following ride reviews in the same area:
Resorts Gal specializes in Disney World Resorts, Characters and Dining. Make sure to check out our guide to the Walt Disney World Resort Hotels. It will help you decide which resort works best for your next vacation.
For planning dining reservations, we have a full list of our Disney restaurant reviews available. Normally, we recommend planning at least one Disney World character dining meal and a Disney signature dining reservation.
If you are planning to meet characters in the parks, I keep an updated list of Disney World Characters here. That review will like to every meet available in each of the four parks.
Lastly, our most popular reviews include the best Disney Springs restaurants and I keep a timeline going of Disney Loungefly mini-backpacks.
Leave a comment below and let us know your favorite attraction at Magic Kingdom. Are you a fan of The Many Adventures of Winnie the Pooh?