Seven Dwarfs Mine Train Review
Seven Dwarfs Mine Train is one of the most popular attractions in the Magic Kingdom at Walt Disney World. The coaster opened quite a few years back and has become an integral part of Fantasyland.
However, Seven Dwarfs Mine Train is still the new kid on the block when it comes to Magic Kingdom attractions. That is until the Tron coaster debuts at some point in the future.
This attraction is the ride that the majority of guests head to at park opening. And it continues to stay busy throughout the remainder of the day.
This review of Seven Dwarfs Mine Train will go over the all the details you need to know to experience this fun attraction on your vacation.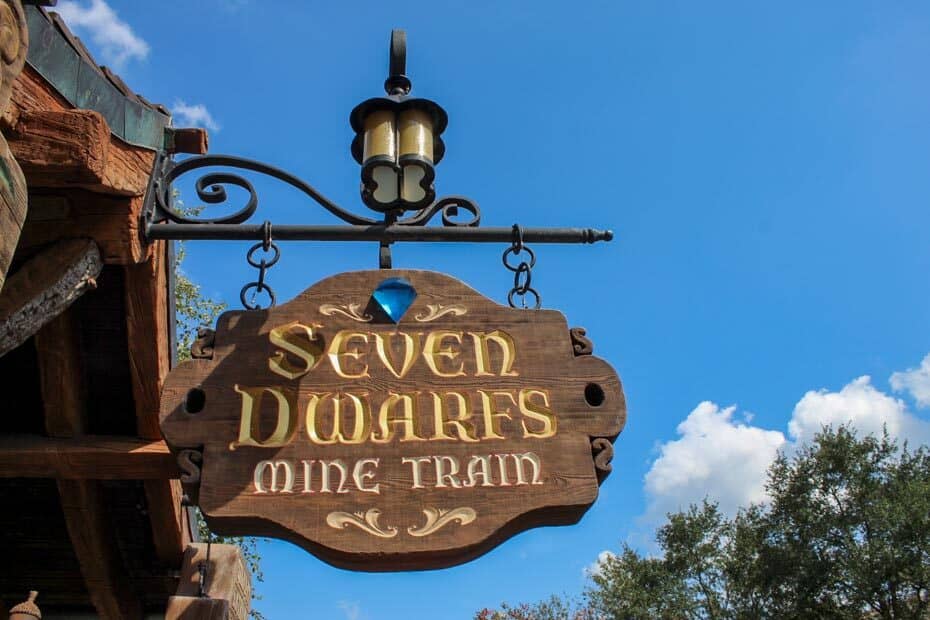 Here's a quick reference chart for the Seven Dwarfs Mine Train.
Seven Dwarfs Mine Train
Magic Kingdom

Location:

New Fantasyland


Height Requirements at Disney:

38 inches

Magic Kingdom FastPass:

Yes


Ride Type:


Gentle roller-coaster


Seats Per Vehicle:


2 per row

Rider Switch at Disney:


Yes

Extra Magic Hours:

Mornings and Evenings

Good For:

Fans of Snow White & the Seven Dwarfs
Mild Thrill Seekers

Scary Factor:

Mild

Must-Do List:

High Priority

Perfect For:

Children, Tweens, Teens, and Adults

Special Mention:

On ride photo opportunity
Seven Dwarfs Mine Train Review
Seven Dwarfs Mine Train is a headliner attraction located in the New Fantasyland expansion at Magic Kingdom Park. The majority of guests do head here first thing in the morning to experience the attraction in hopes of not waiting a long time in line.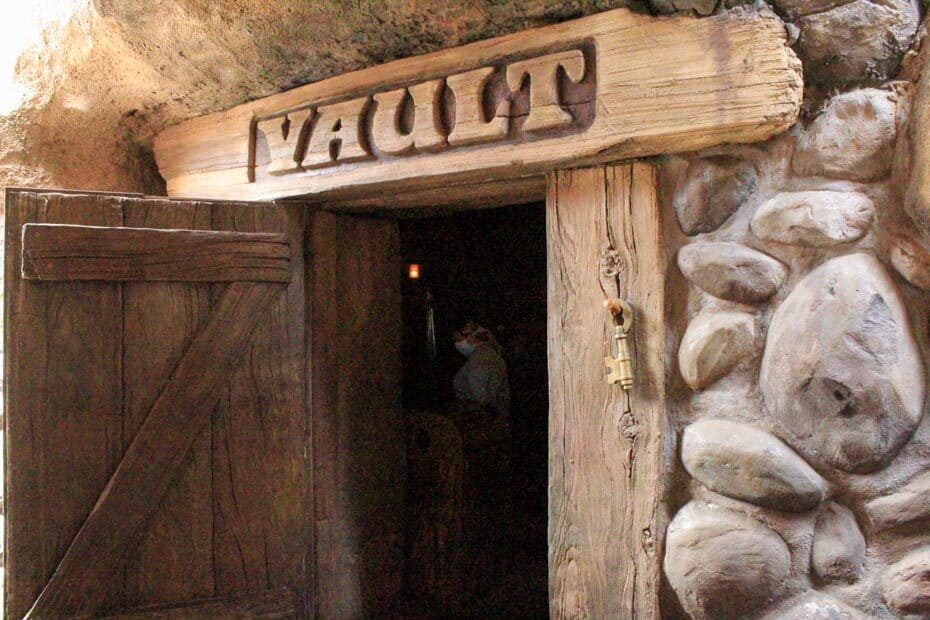 Need to Know: Seven Dwarfs Mine Train does offer FastPass+ when it's available. At this time FastPass is not available. If and when it does return you will want to do your best to secure this experience as one of your initial three options.
The queue for Seven Dwarfs Mine Train normally offers multiple interactive elements. This usually helps keep children (and some adults) entertained while waiting in the standby line.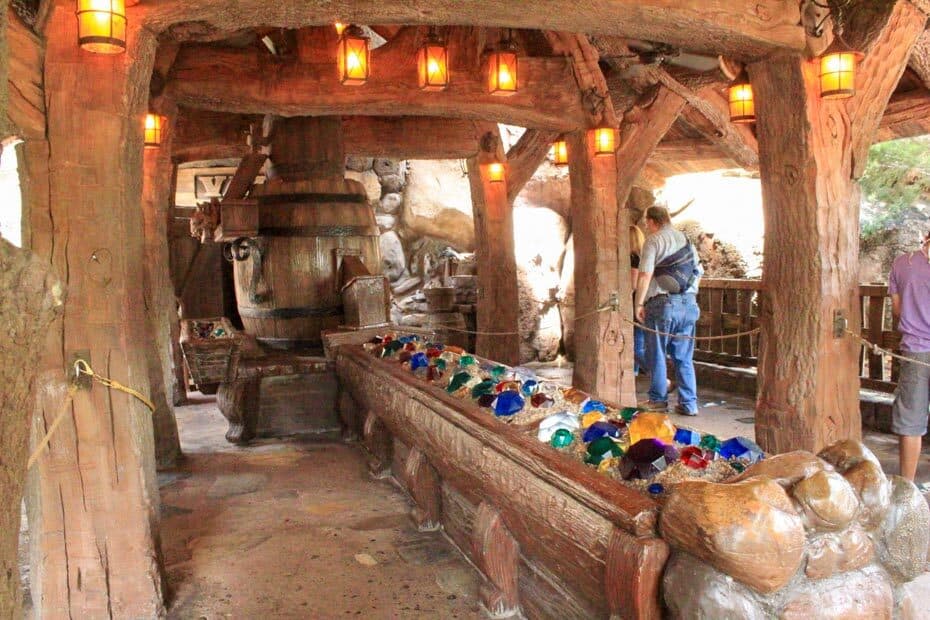 However, most of these elements are currently roped off given the circumstances of 2020.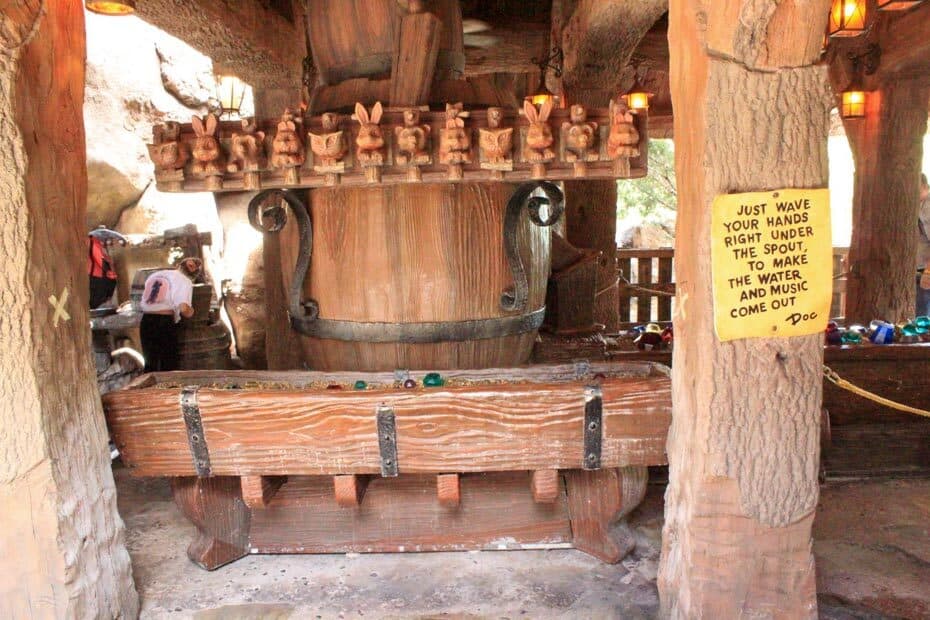 And now it resembles more of what you see in the picture below with social distancing reminders and barriers between sections.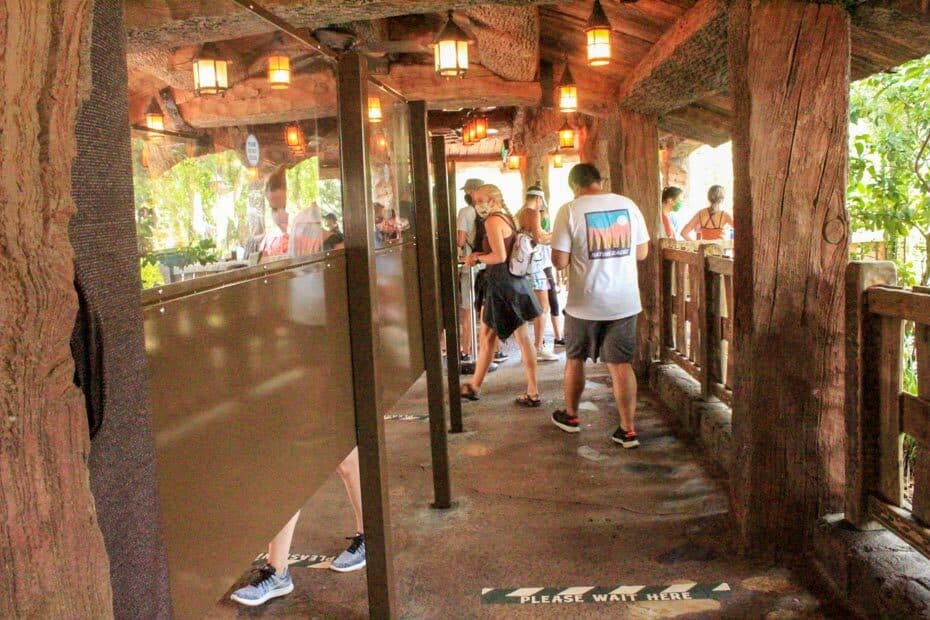 As you approach the loading area or the mine train, you'll notice these overhead videos. It's a good idea to watch a few as they direct you what to do when climbing aboard.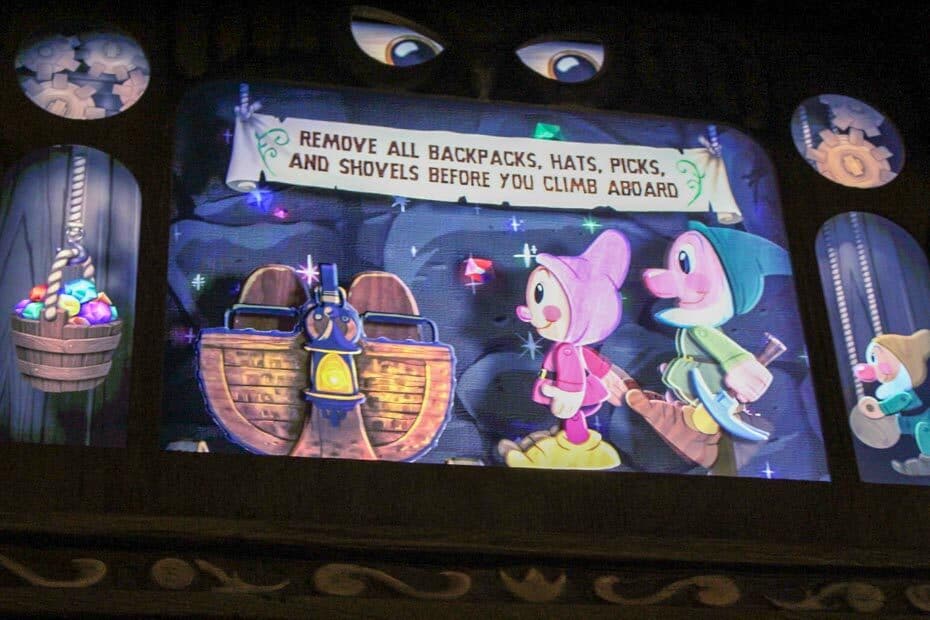 I lost my hat on Slinky Dog last year, and it was never recovered. So I always recommend securing or removing your hat and any sunglasses.
Seven Dwarfs Mine Train starts inside and goes in and out of the mine. Therefore you will not want sunglasses on for the entirety of the ride. Unless they are diamonds goggles you pick up down in the mine like Dopey here.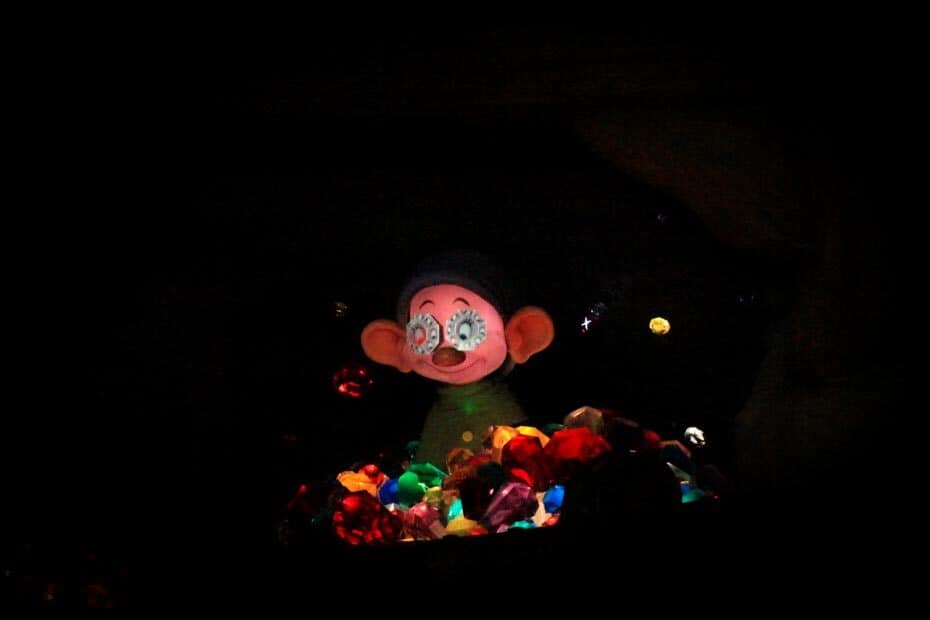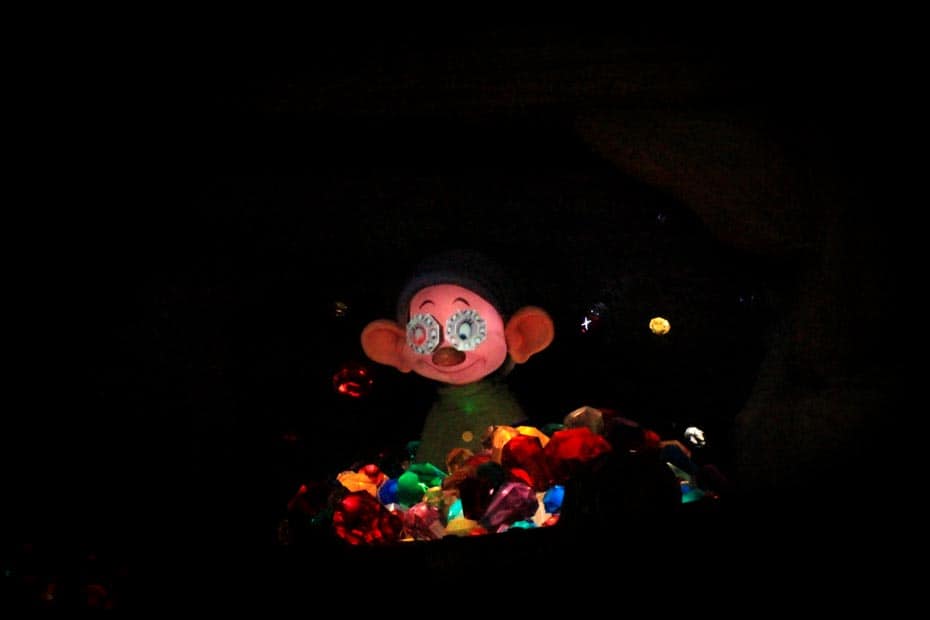 Seven Dwarfs Mine Train Photo Opportunity: For those that have the Memory Maker, Seven Dwarfs Mine Train has an on-ride video option for you. Once you come up out of the mine area where you see the Seven Dwarfs at work, you'll immediately be recorded for several seconds. The video will be accessible in your My Disney Experience account.
I'm usually busy trying to take a photo of the Beast's castle in the distance. It's a pretty nice view if you know to look for it.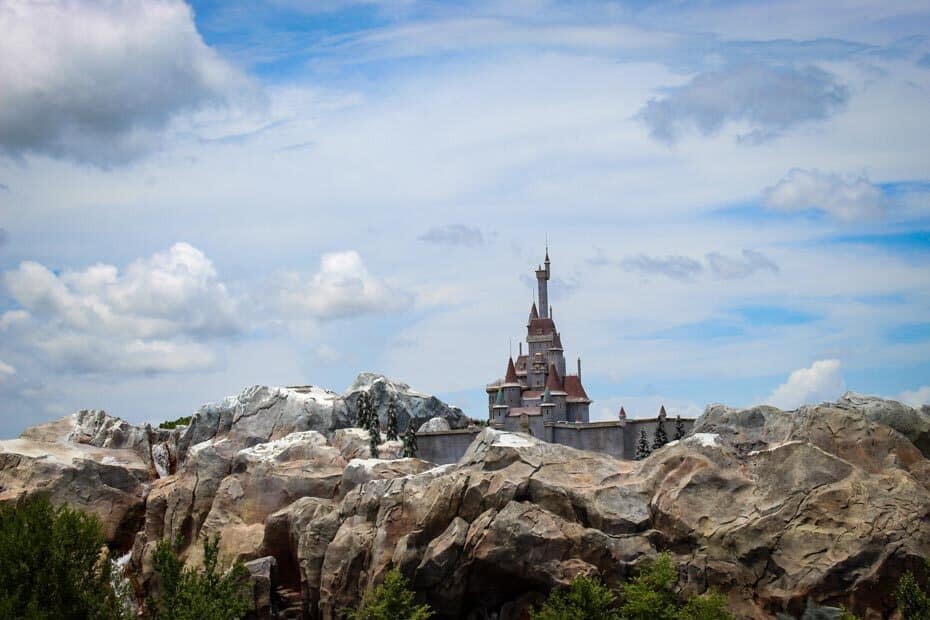 Is Seven Dwarfs Mine Train scary?
Seven Dwarfs Mine Train is the most gentle roller coaster I've experienced in all of the Disney theme parks. It even pauses in the middle for a look at everyday life in the mine for the seven dwarfs.
When my niece was around the ages of 6-8 years old, she was wary of experiencing attractions like Expedition Everest and Rock 'n' Roller Coaster. However, she loved the Seven Dwarfs Mine Train. She would ride it over and over if she could. And for reference, she would panic if we encouraged her to ride something she felt might be scary.
Which leads us to, how long is Seven Dwarfs Mine Train?
The attraction comes in at just under three minutes, so it will end very abruptly. It can be a considerable amount of time to wait for such a short ride.
The drops on Seven Dwarfs Mine Train are very gentle. There is one close to the beginning and kind of an elongated up and down after exiting the mine. Below is where a mine car is exiting the mine area.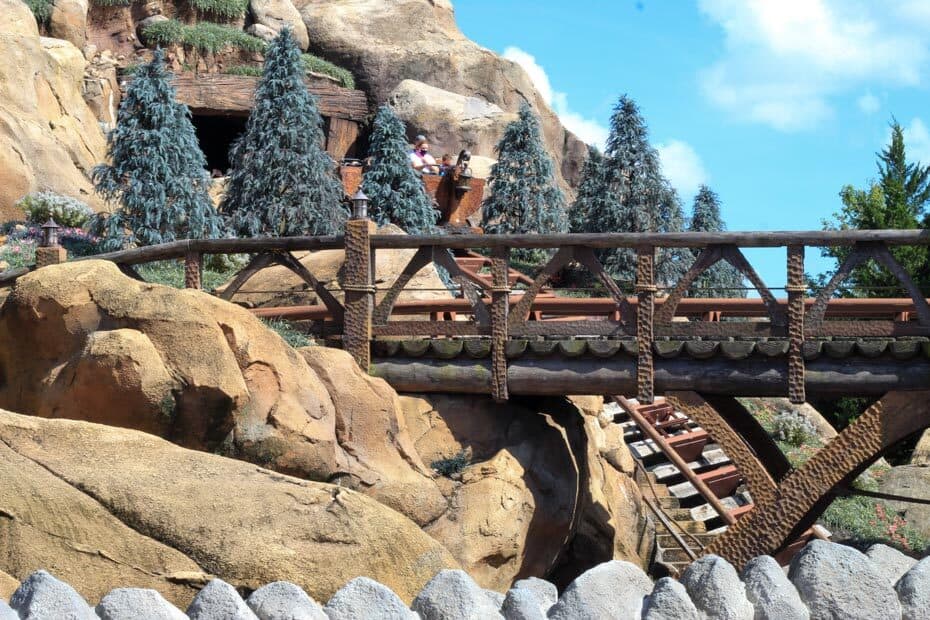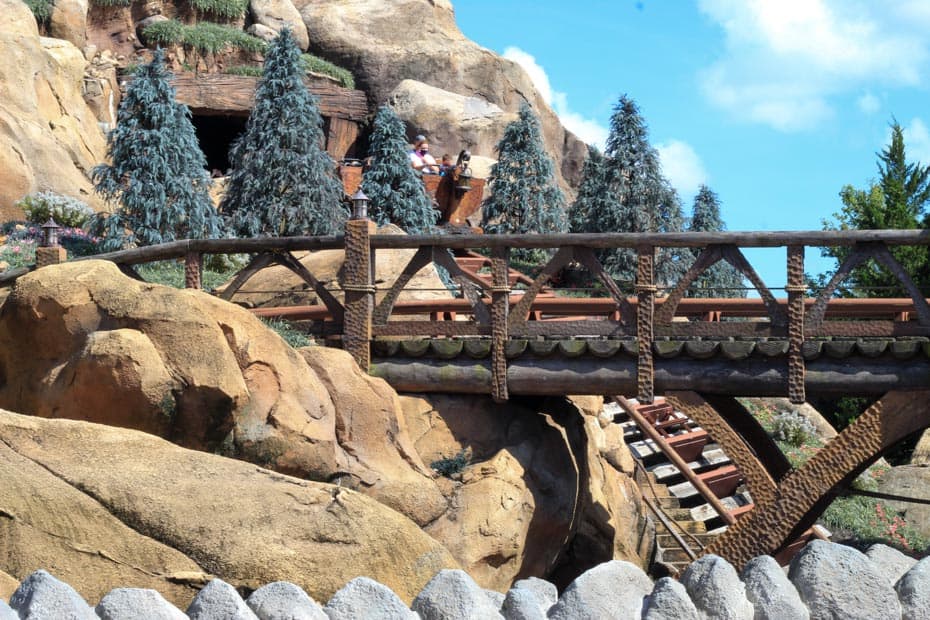 Guests can stand out to the side of the attraction and watch this portion if they like. It's kind of fun to see the ride in action.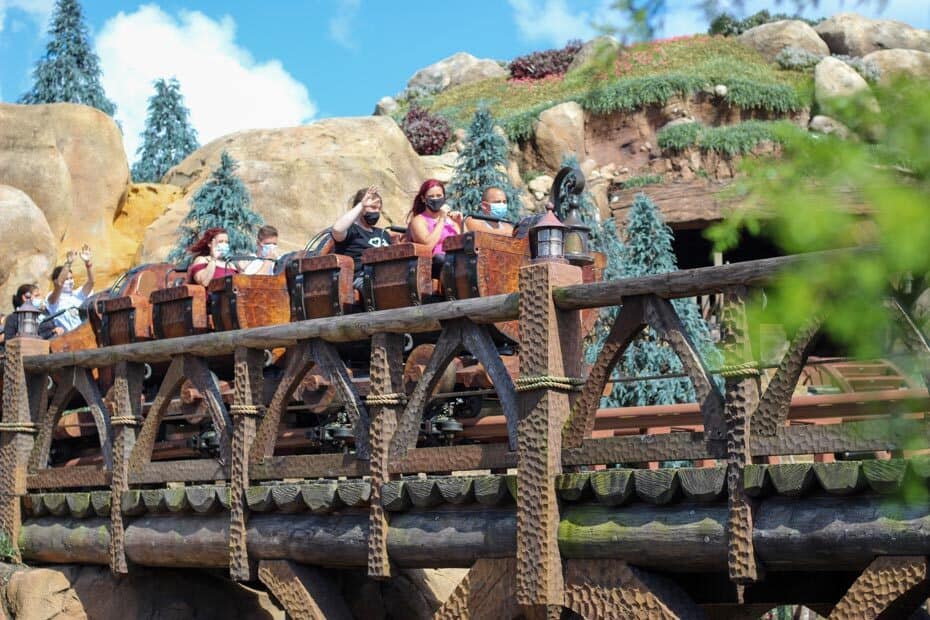 At the very end your mine car will stop in front f this long set of windows. If you stop at just the right point you'll see the old hag knocking at the door with her poison apple.
But most will have a view directly into the cottage where the Seven Dwarfs are playing and dancing along with Snow White.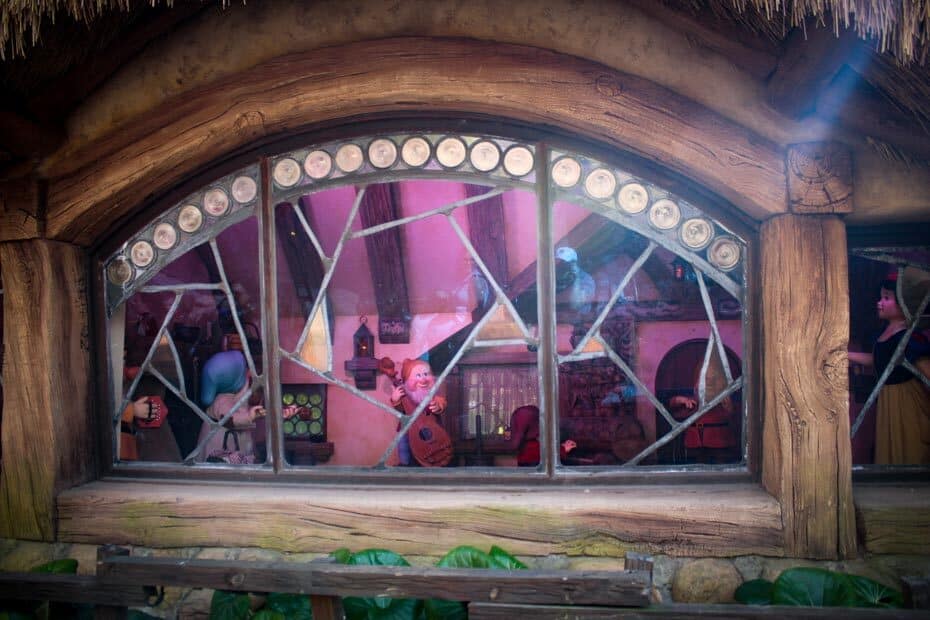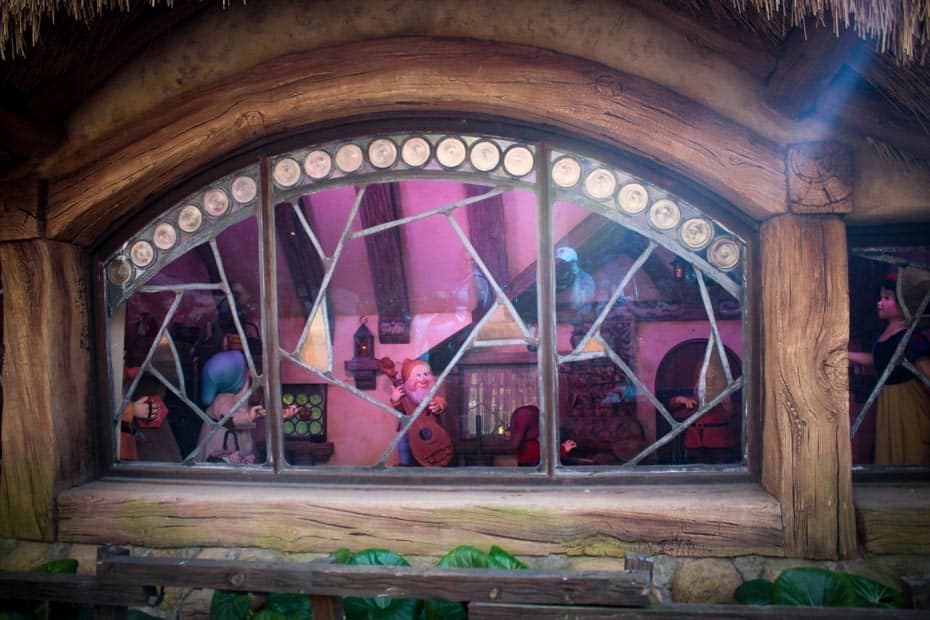 Bashful is endearing looking on as Snow White dances with Dopey. You can tell he is longing for a dance as well.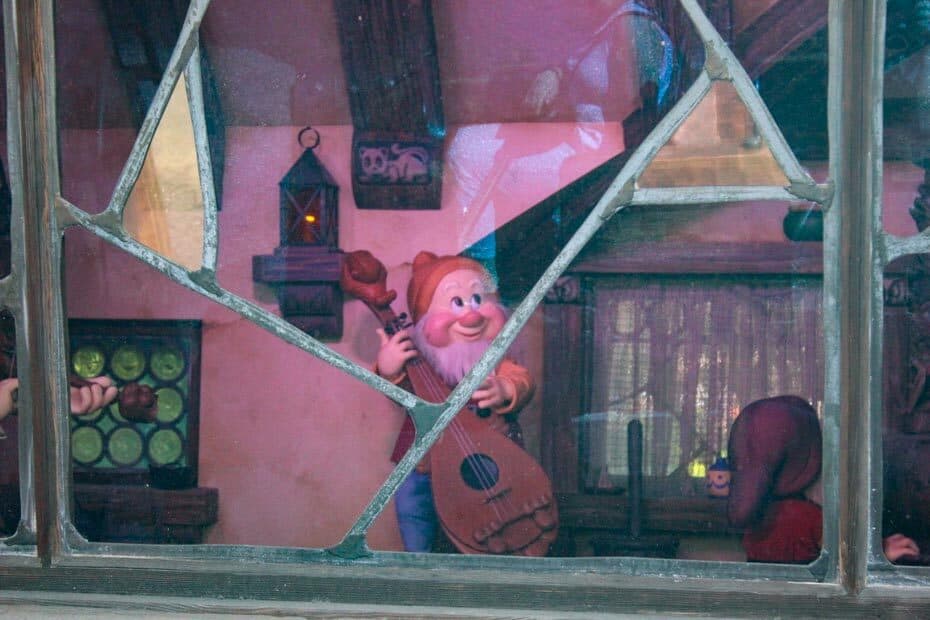 One of the things I want to mention is that when you exit Seven Dwarfs Mine Train you'll notice the cottage to your right. This is actually the same cottage that you see at the end of the ride, just the opposite side. It took me a really long time to realize that.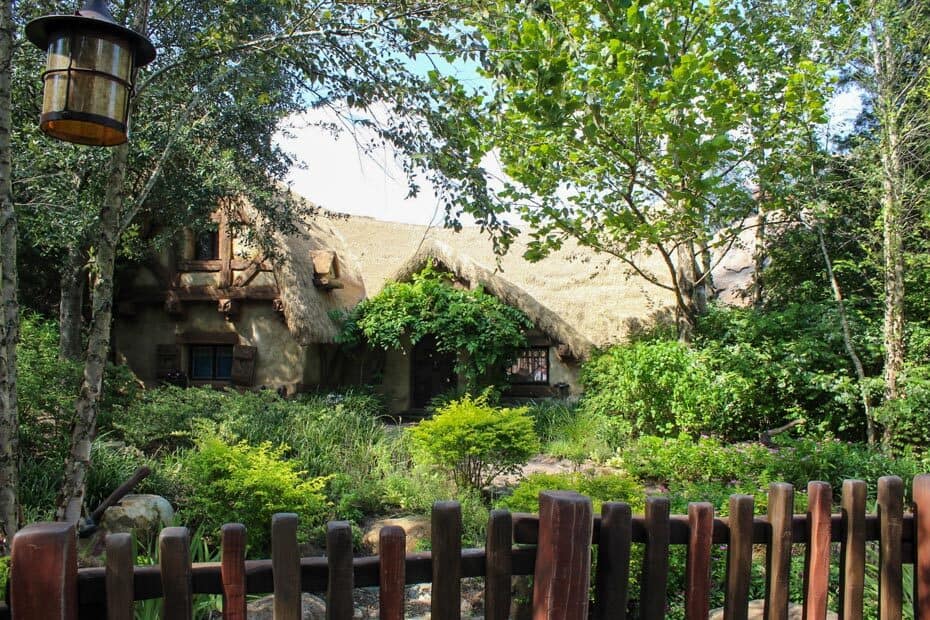 Anyway it makes for a nice little photo spot, but so many people exit in a rush that I don't think it's noticed too often.
Most guests will want to ride Seven Dwarfs Mine Train at least twice during their visit to Magic Kingdom. Normally, I advise guests to ride once using FastPass and then choose to ride either first thing in the morning or the last thing at night.
As long as you get in line for any attraction before the park closes you will get to ride. That means if the park closes at 9:00 p.m., get in line at 8:55 p.m. for the shortest possible wait.
The idea behind this is that the FastPass line is cut off at park close so the only guests in line for an attraction are the ones ahead of you. There's no additional line streaming in during your wait.
However, during these uncertain times, I recommend riding it when you see fit. Most days, what appears to be an extremely long line will still move somewhat swiftly.
Here's a look at Seven Dwarfs Mine Train via YouTube at the Coaster if needed: Complete Ride
One more important thing about not only Seven Dwarfs Mine Train but all the attractions in the park is to remember the following statement.
Know Your Disney Rules When Riding With Children-Any child under the age of seven or younger must be accompanied by an adult fourteen years or older.
You might also like these specific attractions in the immediate area:
Resorts Gal specializes in Disney World Resorts, Characters and Dining. Make sure to check out some of our resources like our Walt Disney World Resorts with reviews here. That page provides a list of every single resort we have available for Disney World and the surrounding Orlando area.
For planning dining reservations, we have a full list of our Disney restaurant reviews available. Normally, we recommend planning at least one Disney World character dining meal and a Disney signature dining reservation.
If you are planning to meet characters in the parks, I keep an updated list of Disney World Characters here. That review will like to every meet available in each of the four parks.
Lastly, our most popular reviews include the best restaurants at Disney Springs and I keep a timeline going of Disney Loungefly mini-backpacks.
So, do you plan to ride the Seven Dwarfs Mine Train on your next visit to Disney World? Let me know in the comments below.