Tom Sawyer Island at the Magic Kingdom
Tom Sawyer Island is an actual island in the middle of Magic Kingdom at Walt Disney World. Specifically, the island is located in the center of the Rivers of America between Frontierland and Liberty Square.
To access the island, you must board a raft in Frontierland and sail across to the attraction.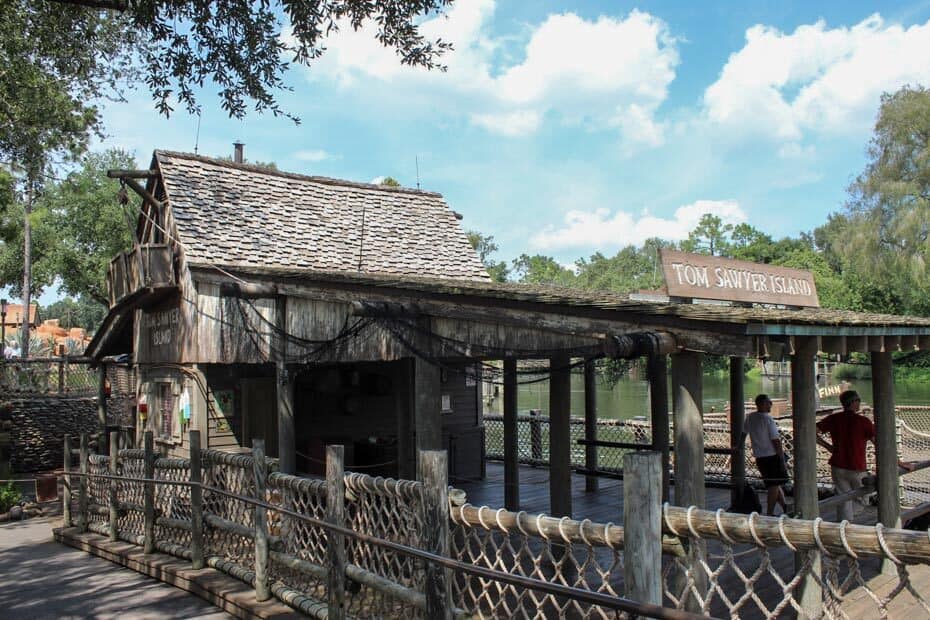 The table below provides details about hours of operation and other important information.
Tom Sawyer Island
Magic Kingdom

Location:

Frontierland

Height Requirement:

None

Eligible for Disney Genie+

NA

Ride Type:

Raft to an Island and Explore

Seats Per Vehicle:

10+ on Raft

Rider Switch:

None

Good For:

Children

Scare Factor:

Low

Must-Do List:

Low Priority

Perfect For:

Taking a break
Sightseeing
Kids that need to run off energy.
Nostalgia for Mark Twain fans

Special Mention:

You have to take a raft ride to access the island.
Tom Sawyer Island
When you visit Magic Kingdom, you can take a log raft over to Tom Sawyer Island. The opportunity allows you to return to the days when exploring the great outdoors was an everyday adventure.
This delightful island offers the chance to have your own self-guided tour. Activities on Tom Sawyer Island include crossing a suspension bridge, find a hidden fort, and venture through caves and tunnels.
Take in scenic views from the island of Haunted Mansion and the Liberty Belle Riverboat while you're at it.
Here's a look at the Tom Sawyer Island map. It shows the layout of the map and a few of the activities.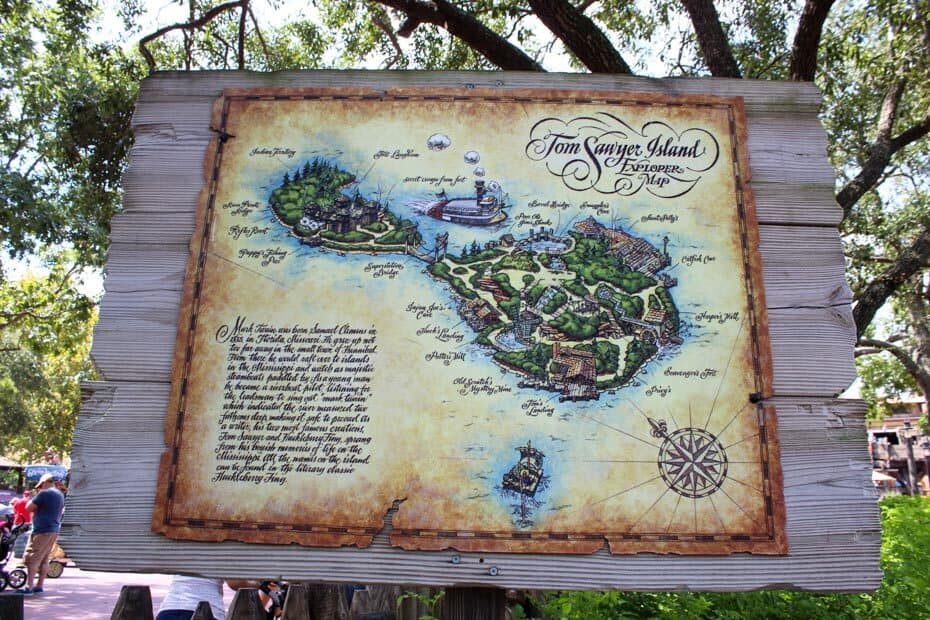 Tom Sawyer Island typically operates from mid-morning until early evening, closer to dusk. So there might be a wait for the next raft to dock and take you over to the island.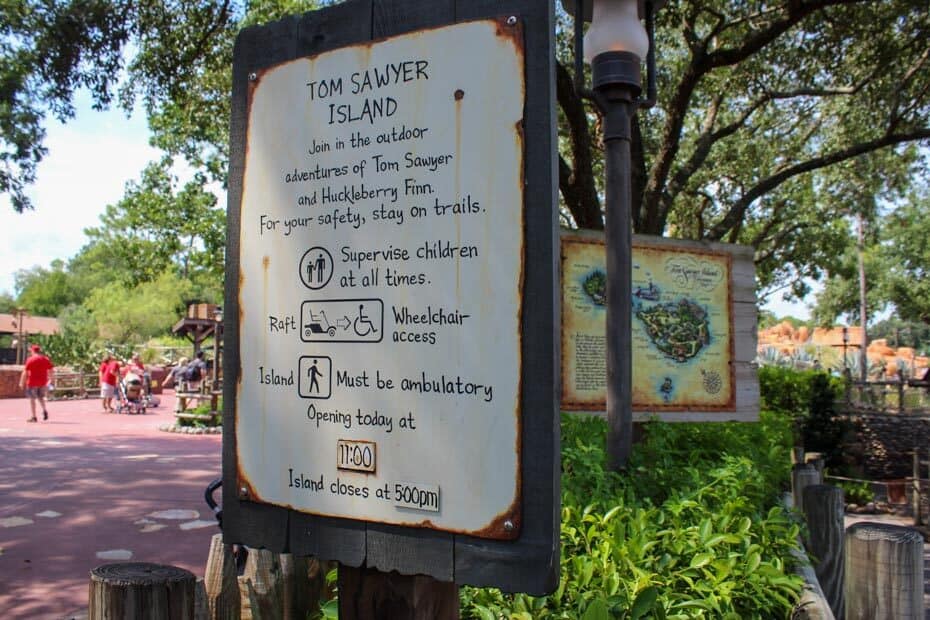 Additionally, you might have to wait on the raft when returning from the island.
Tom Sawyer Island is an attraction that most children will love because it provides more of a play area experience. However, guests on limited times will want to consider their highest priorities first.
It's very difficult to visit Magic Kingdom and get the majority of attractions accomplished in one day. And that's not including characters, dining, and priority entertainment.
Whatever you decide, I'm sure you'll enjoy your visit to Tom Sawyer Island. And if you can't make it, add it to your list for next time.
For more Magic Kingdom attraction reviews, make sure to check out our full guide. Or you might like the following reviews of attractions in this specific area of the park.
Planning a trip to Walt Disney World? Check out our full list of Disney World Resort Reviews. That article contains a list of every resort review we have available on the site.
Additionally, you might enjoy our list of the best off-site resorts near Disney World. While there are many advantages to staying on property, the cost has risen significantly in recent years. Another resource is our guide to the best Marriott hotels near Disney World. It includes several budget-friendly options.
For dining, we keep an updated list of Disney Restaurant Reviews. In addition, there are a number of great options on our Disney Signature Restaurant Guide. Additionally, you might enjoy adding in a character dining experience during your stay.
As for Tom Sawyer Island, I hope you'll have enough time to visit. Have you ever taken the time to cross over the Rivers of America to the island? Let me know in the comments.