Tomorrowland Speedway at Magic Kingdom
The Tomorrowland Speedway at Disney World's Magic Kingdom is an attraction perfect for anyone not old enough to drive! The Speedway is a racetrack offering children the opportunity to drive real, gas-powered cars.
While adults probably aren't crazy about taking a ride down the track, the kids love it! What kid doesn't want to drive a real car?
This review covers all of the details to prepare you to be chauffeured around the Tomorrowland Speedway. So climb in the passenger seat, buckle up, and start looking forward to those years ahead when you get to teach the teenager to drive.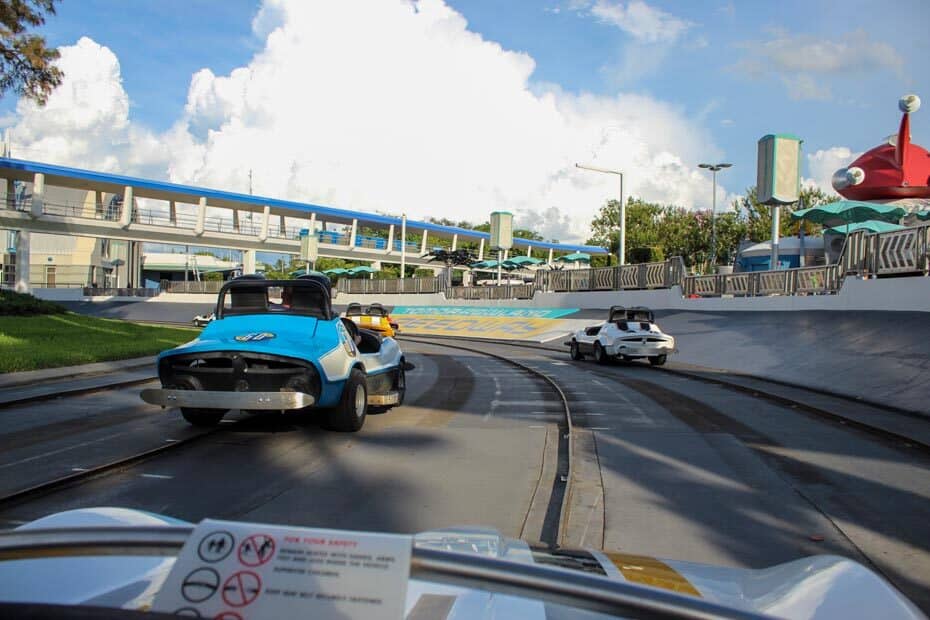 The table below goes over specific information you need to know in advance for the Tomorrowland Speedway.
Tomorrowland Speedway
Magic Kingdom

Location:

Tomorrowland

Magic Kingdom Height Requirement:

32″ (To Drive)

Magic Kingdom FastPass:

Yes

Ride Type:

Drive your own car on a track.

Seats Per Vehicle:
Two per car

Rider Switch:

Yes

Extra Magic Hours:

Morning
Evening

Good For:

Children

Scary Factor:

None

Must-Do List:

High for children
Low for adults

Perfect For:

Kids who want to drive their own car!

Special Mention:

Parents if your child is old enough to ride alone you can walk up the
stairs at the ride exit and sit in the stands.
Tomorrowland Speedway
The Tomorrowland Speedway attraction holds a lot of special memories for most guests. When Walt Disney came up with this concept he knew it would be a hit with children.
And that's the main reason he began building the Disney parks. Families needed a place to spend quality time together.
The cars on the Speedway are simple featuring a real steering wheel and gas pedal.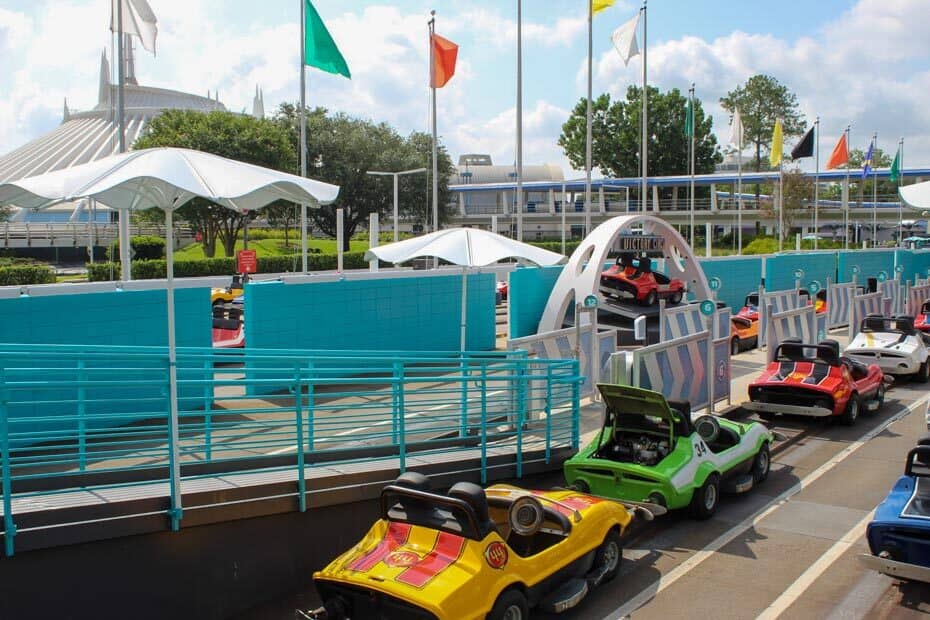 In the event your child wants to drive and can't quite reach the gas pedal, parents can easily reach their foot over and help out.
The outdoor queue for Tomorrowland Speedway is almost entirely outdoors. So make sure that if the wait time is long that you are prepared to stand in the direct sun for that amount of time.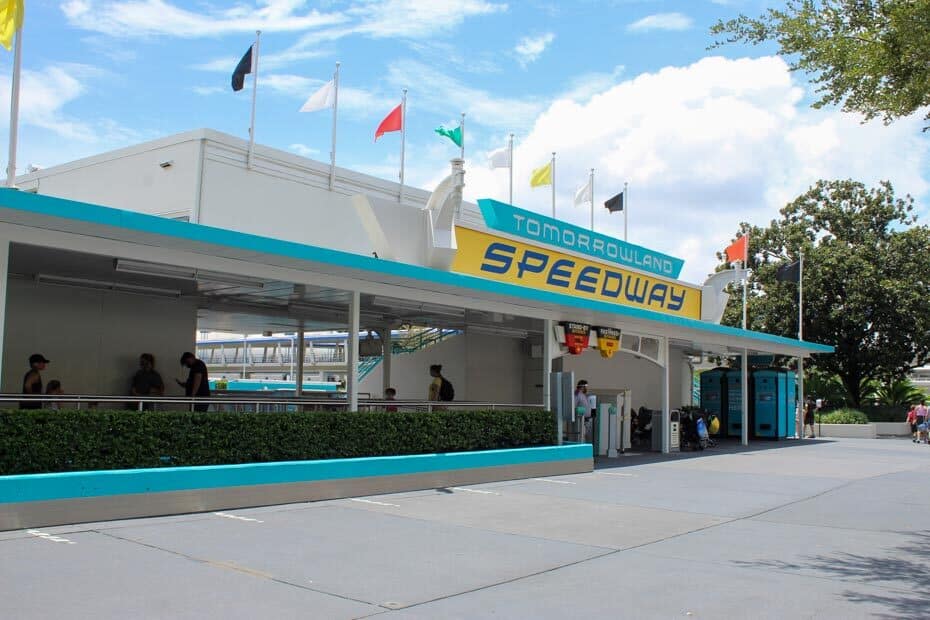 Normally, there are two lines for the Speedway. One is usually primarily standby while the shorter line is allotted to FastPass only when it's available.
Having ridden Tomorrowland Speedway many times myself, I would suggest the following best times to ride:
Earlier in the day before wait times rise, typically before 11:00 a.m.
Anytime in the evening after sunset
Anytime you can bypass the standby with a fourth or more FastPass+ option
Once you get down to the loading area, a cast member will assign you a number where to stand. When the next car arrives at your gate, the guests will exit, and you will board.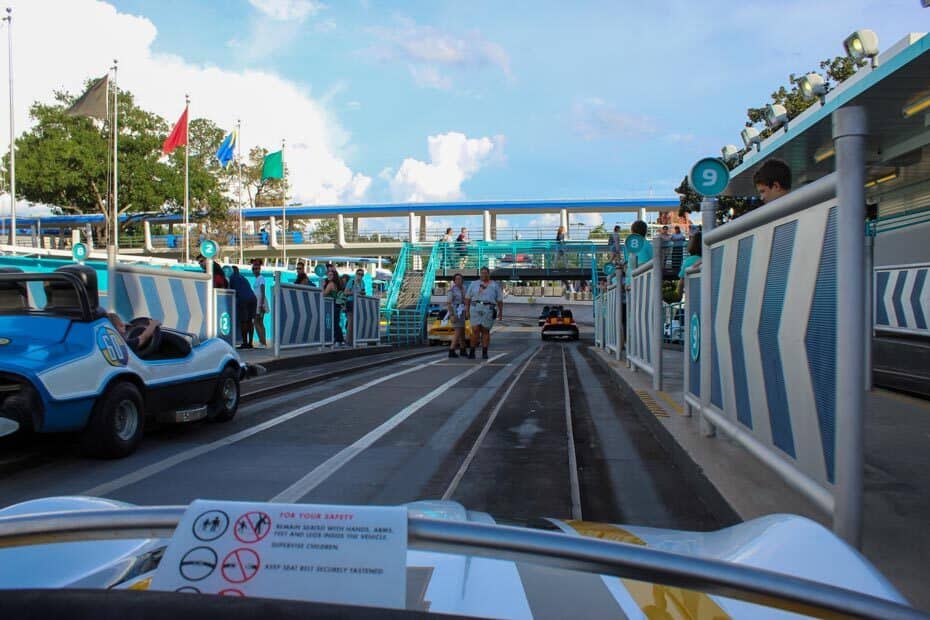 Each car has a fabric strap safety belt that covers the entire seat of the vehicle. This strap stretches across both laps and clips in the middle. A cast member will come by and make sure you have fastened the restraint. After that, they will direct you to take off down the track.
If you have ridden the Tomorrowland Speedway prior you might notice that the track has been shortened in recent years. This is due to Tron construction, which you should be able to see fairly well from different points of the ride.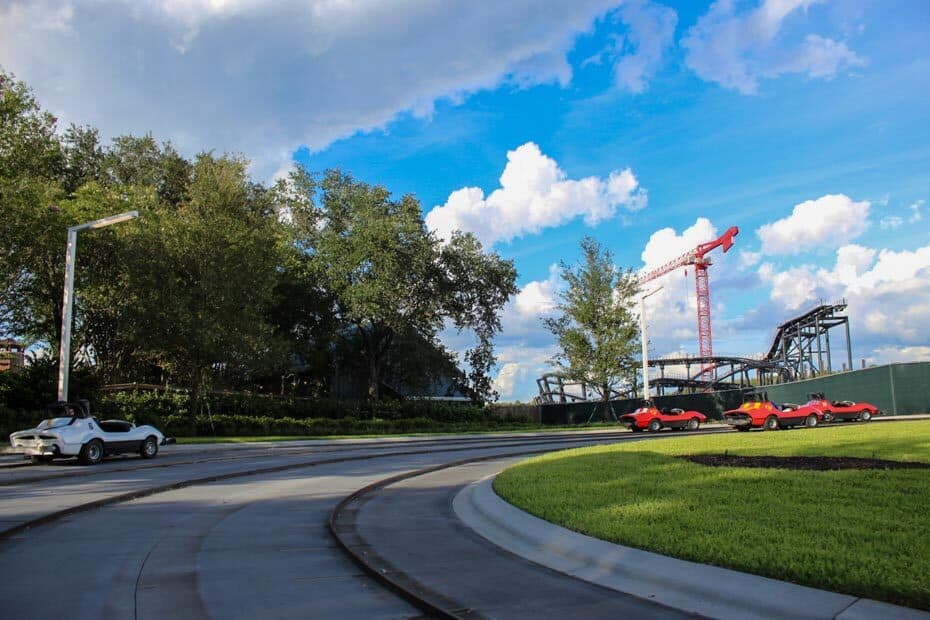 I always enjoy seeing the different views of Tomorrowland from the Speedway. It's fun to look up at the Peoplemover.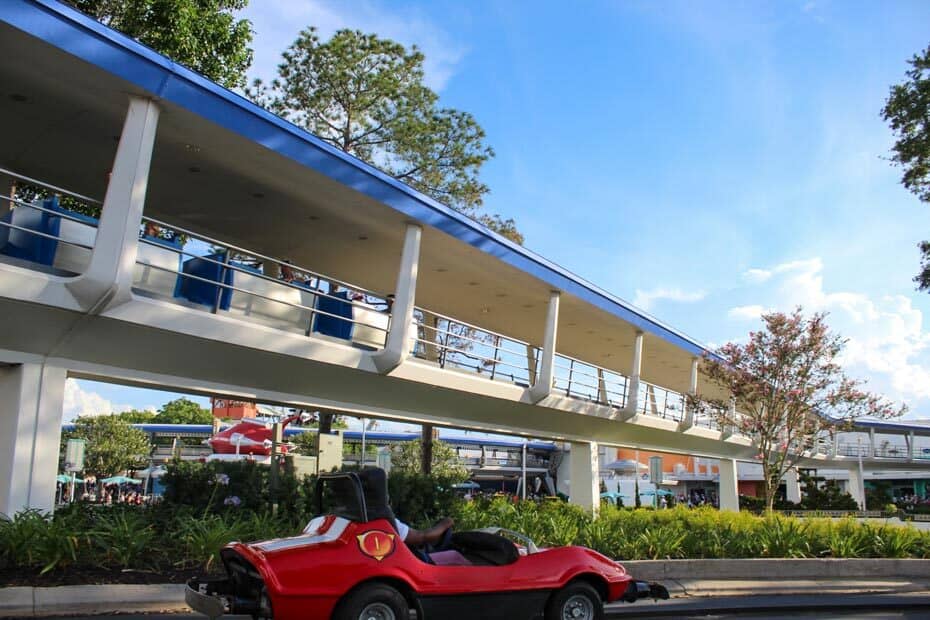 And remember not to bump into the car in front of you.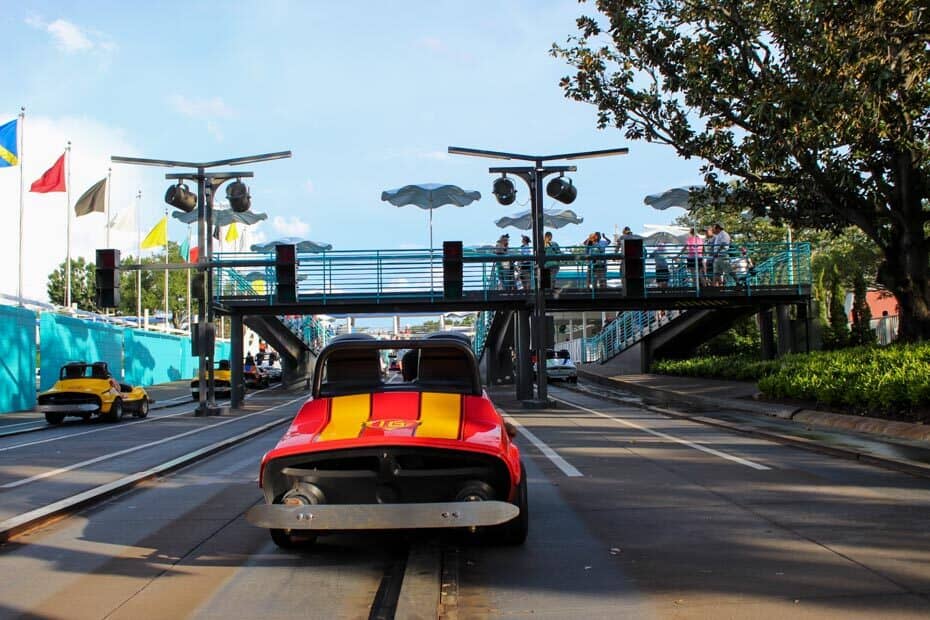 As noted in the table above, there is a set of bleachers where parents can wait and look on if their child is old enough to drive. Here's the part where I insert my "know the rules" script to remind you.
Know Your Disney Rules When Riding With Children-Any child under the age of seven or younger must be accompanied by an adult fourteen years or older.
Don't worry, they'll be fine.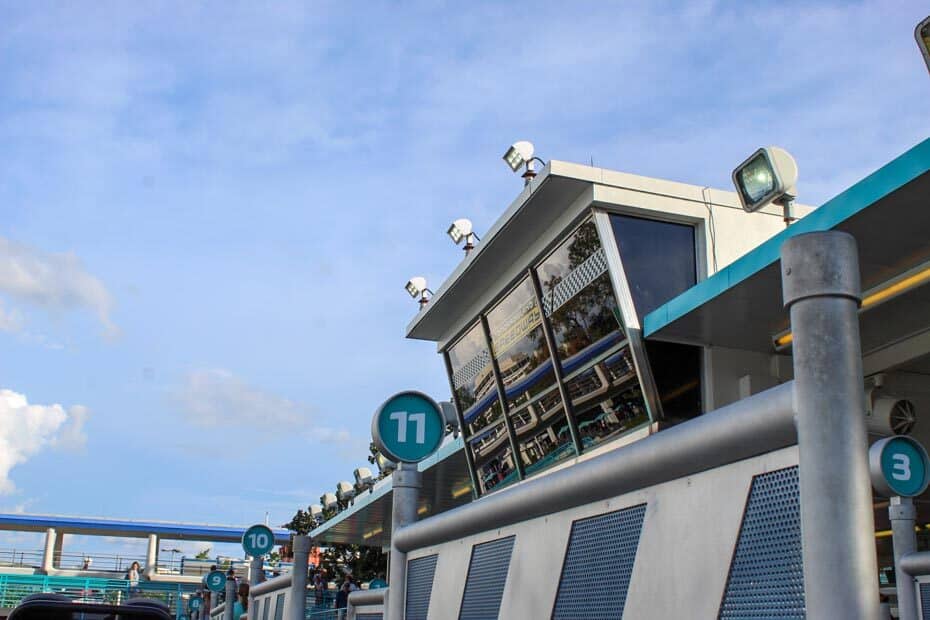 But whatever you do, please don't forget that the Tomorrowland Speedway ride is a big deal to most children. Even if it's not to you. And we were all children once, right?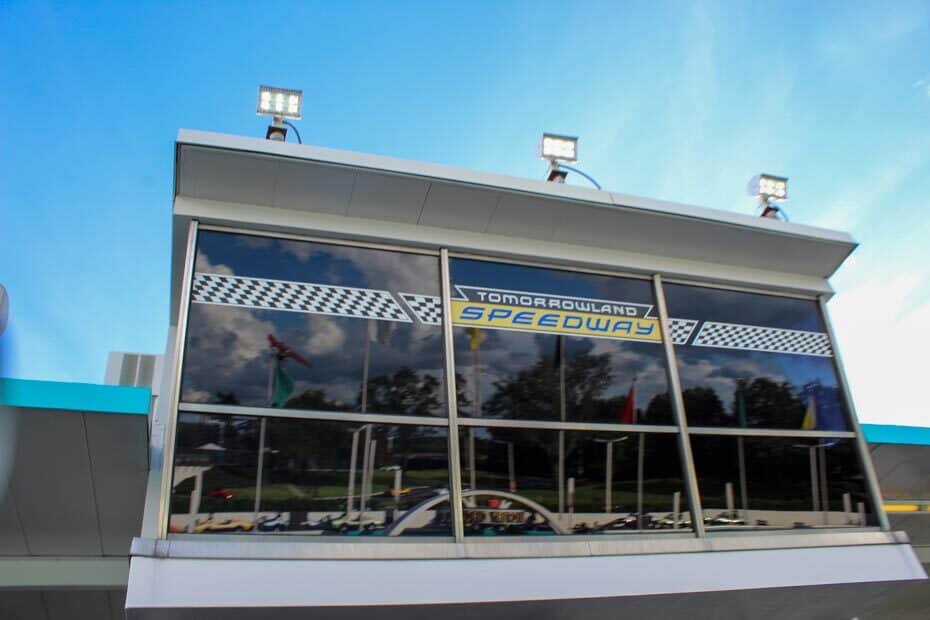 If you would like here's a video ride reference of the Tomorrowland Speedway via YouTube: Complete Ride Experience
And you might like these Magic Kingdom attractions with similar reviews.
Resorts Gal specializes in Disney World Resorts, Characters and Dining. Make sure to check out some of our resources like the list Walt Disney World Resorts with reviews. That article gives a brief overview of every resort at Disney.
For planning dining reservations, we have a full list of our Disney restaurant reviews available. Normally, we recommend planning at least one Disney World character dining meal and a Disney signature dining reservation.
If you are planning to meet characters in the parks, I keep an updated list of Disney World Characters here. That review will link to every meet available in each of the four parks.
Lastly, our most popular reviews include the best restaurants at Disney Springs and I keep a timeline going of Disney Loungefly mini-backpacks.
Do you plan on taking a spin around the Tomorrowland Speedway on your next Disney vacation?