Walt Disney World Railroad at Magic Kingdom
The Walt Disney World Railroad at Disney World's Magic Kingdom is a train that circles the park with three different stops. At this time, the train is not operating due to new roller coaster construction in the park. But it is slated to return in the future.
In this review, we will cover the Walt Disney World Railroad at Main Street Station. It's a little different from the two other stops in the park, and I think you'll agree.
Walt Disney was many things to many different people, but one of the ways I find him so special was his love for trains. Maybe it's because I have a child of my own who grew up playing with trains. Or perhaps it's a memory of one of my first field trips in elementary school where we got to take a real train ride.
But it's probably because of all the train ride memories circling the Magic Kingdom over my lifetime. And those include memories made with friends, family, and loved ones.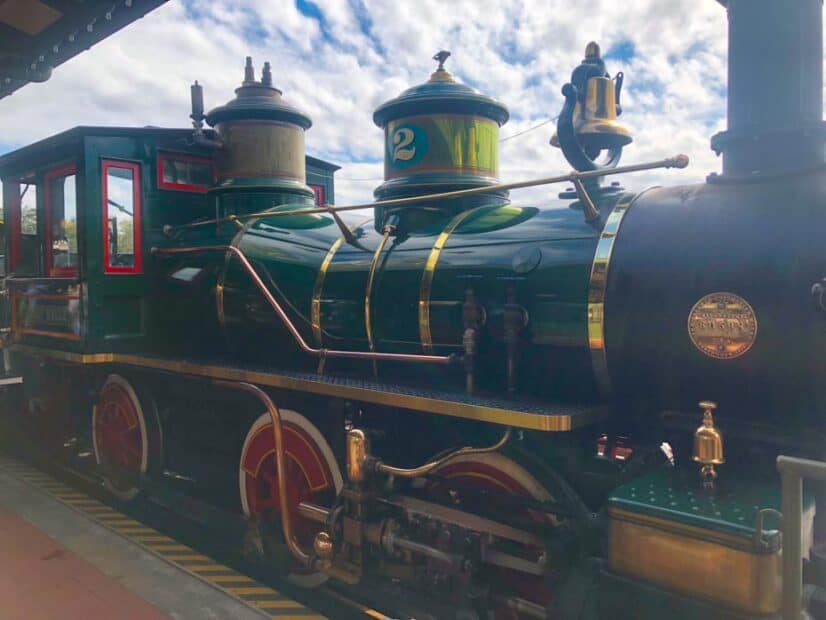 Here are a few details about the Walt Disney World Railroad at Main Street Station.
Main Street Station
Magic Kingdom

Location:

Main Street U.S.A

Height Requirement:

None

Disney Genie+ Eligible

NA

Ride Type:

Train Ride

Seats Per Vehicle:

Four to Five per row

Rider Switch:

None

Good For:
Everyone
Nostalgia Seekers
Taking a Break

Scare Factor:

None

Must-Do List:

High

Perfect For:

All Ages

Special Mention:
Currently closed due to Tron
roller coaster construction.
Walt Disney World Railroad
Upon arrival at the Magic Kingdom, you'll be greeted by the Main Street Train Station portion of the Walt Disney World Railroad. Since the train isn't running, it's often out front making this perfect picture backdrop even more pleasant.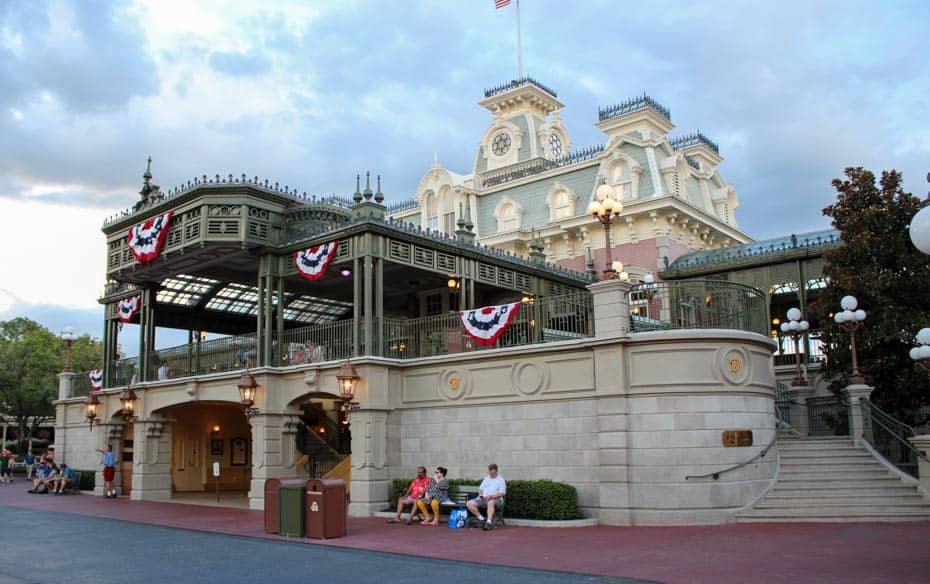 Once you enter Magic Kingdom, you might even like to take the first staircase up to the train station level and take in the views of Main Street. There'll be a staircase on each side of both entrances.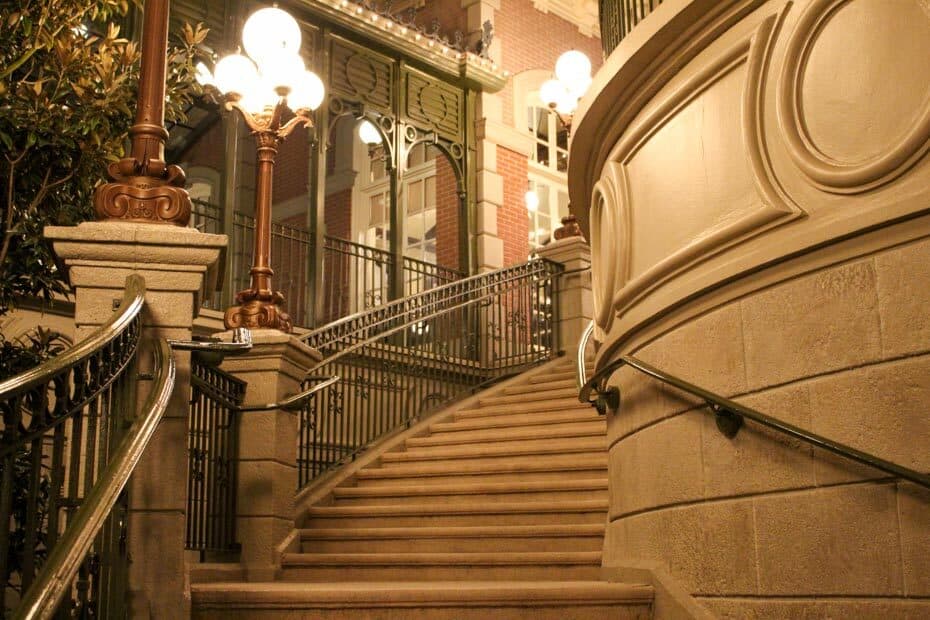 And your view should be somewhat similar to the picture below, depending on what season Main Street is sporting.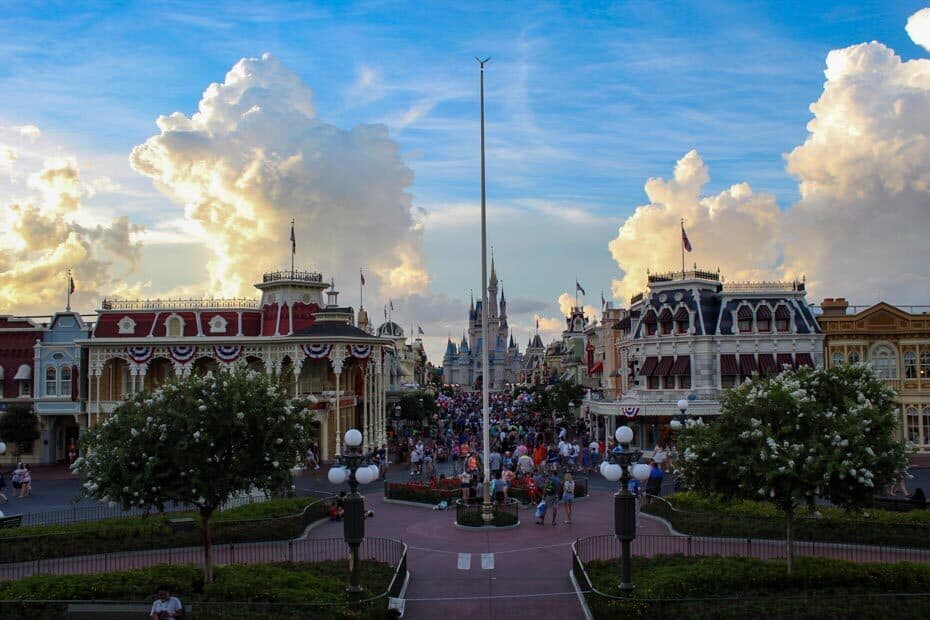 Here is where you'll be standing to take in those views. You can probably tell there's an extreme amount of details.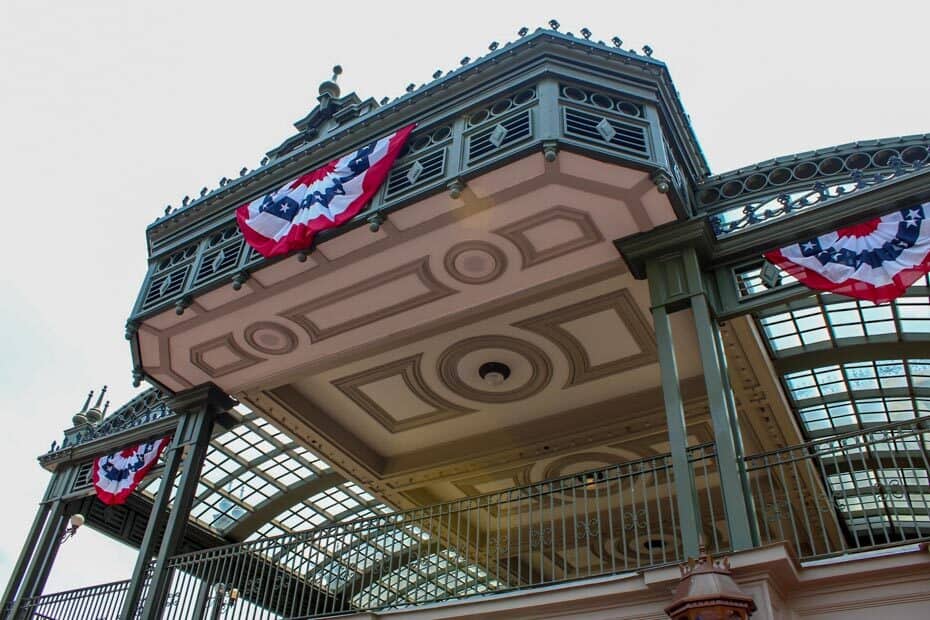 Both levels of the train station offer a mini-museum of sorts. There are a few items and informational displays. Anyone with an interest in trains might want to take some time to explore here. It's rarely crowded.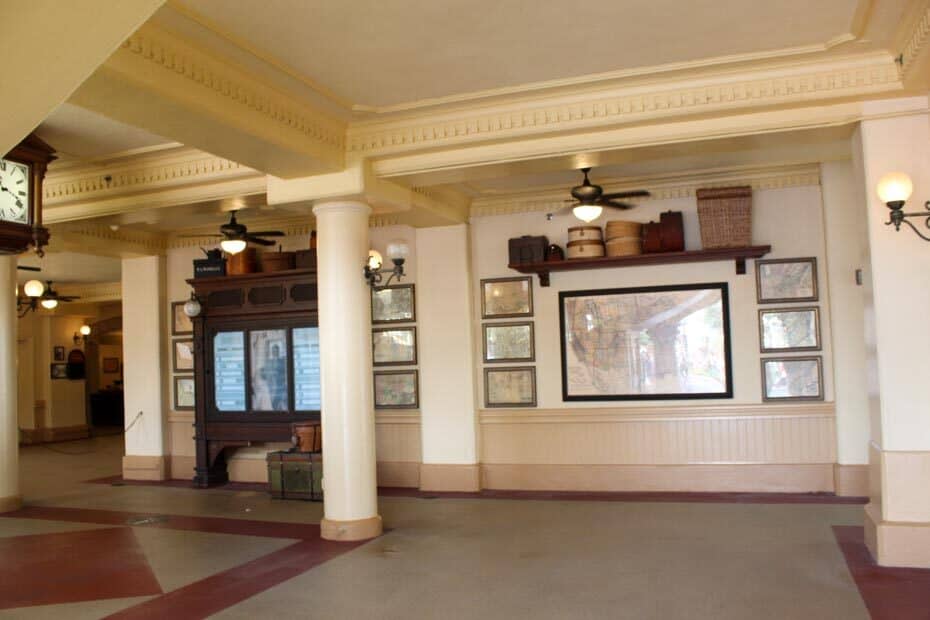 Four trains circle the Walt Disney World Railroad.
Roger E. Broggie
Roy O. Disney
Walter E. Disney
Lilly Belle
Each train represents someone pretty important. For instance, Roger E. Broggie was the first Imagineer ever. He helped Walt Disney create a scaled-down train ride in Walt's backyard that became the model for the Disneyland Railroad. He is also well known for his work in helping develop audio-animatronic technology.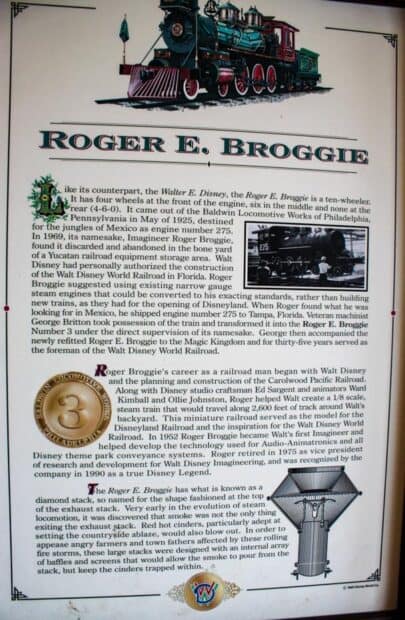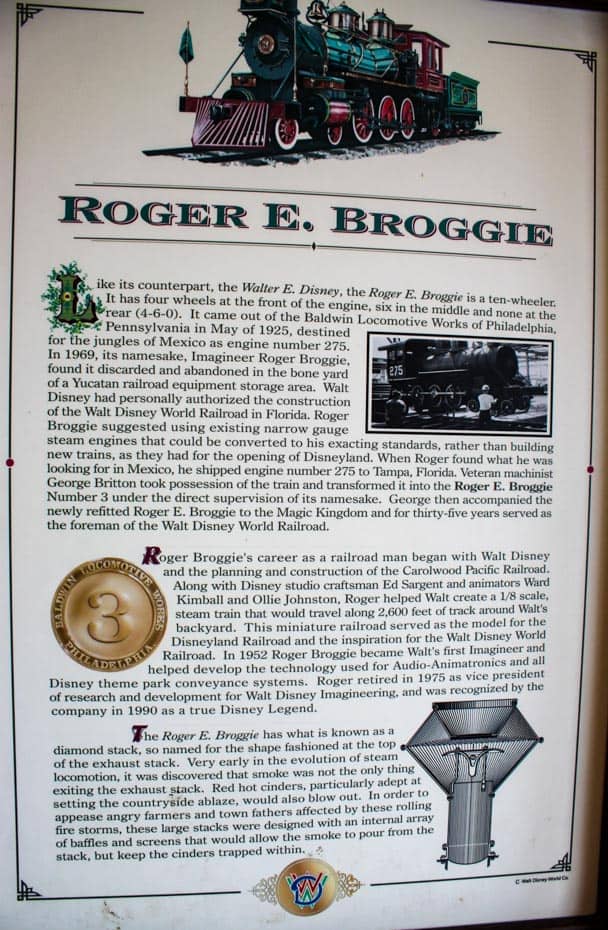 Next, there's the Roy O. Disney named after Walt's brother Roy. Without Roy, most of the things that we love and know about Disney wouldn't have ever been possible. Roy Disney is credited for running the Disney business behind the scenes, leaving Walt with the time he needed to create and invent.
Not having someone like Roy on your side could be detrimental to any business. So make sure to stop and have your picture made with him and Minnie down below the train station on Main Street.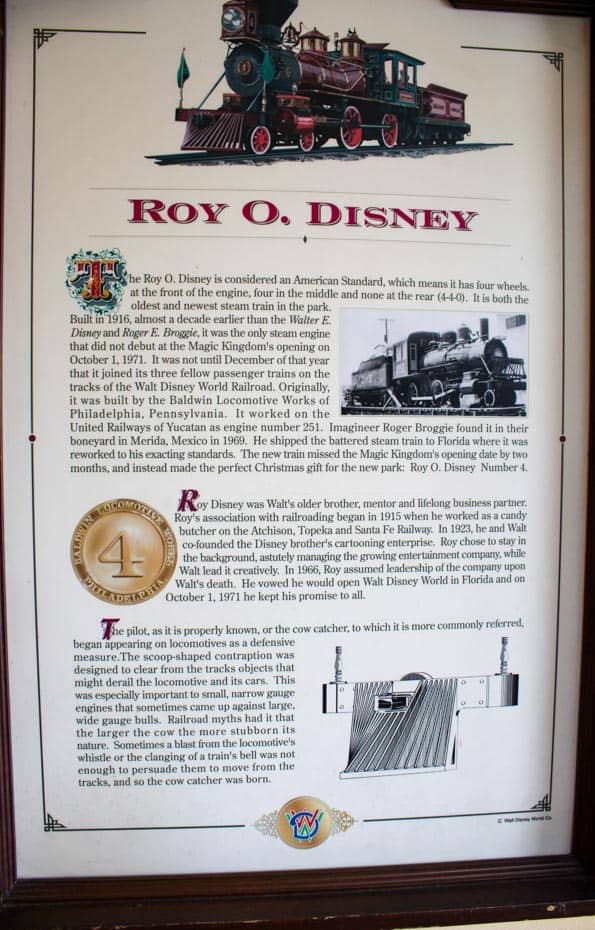 The third train is the Walter E. Disney, named after our beloved founder and fellow dreamer. Who else would have his own personal train in their own backyard that traveled over 2600 feet of track?
Additionally, you can find Walt Disney with Mickey (the Partners statue) down in front of the castle. It's another great photo option.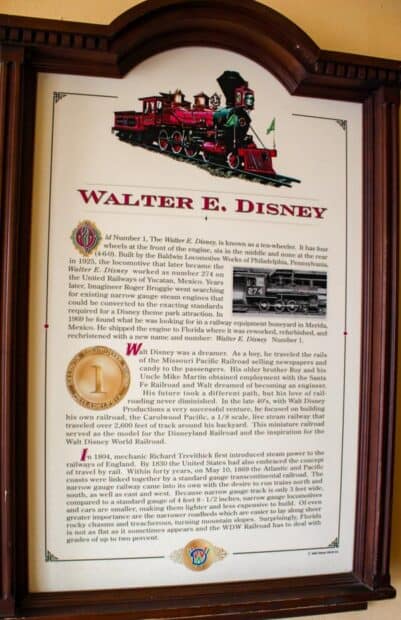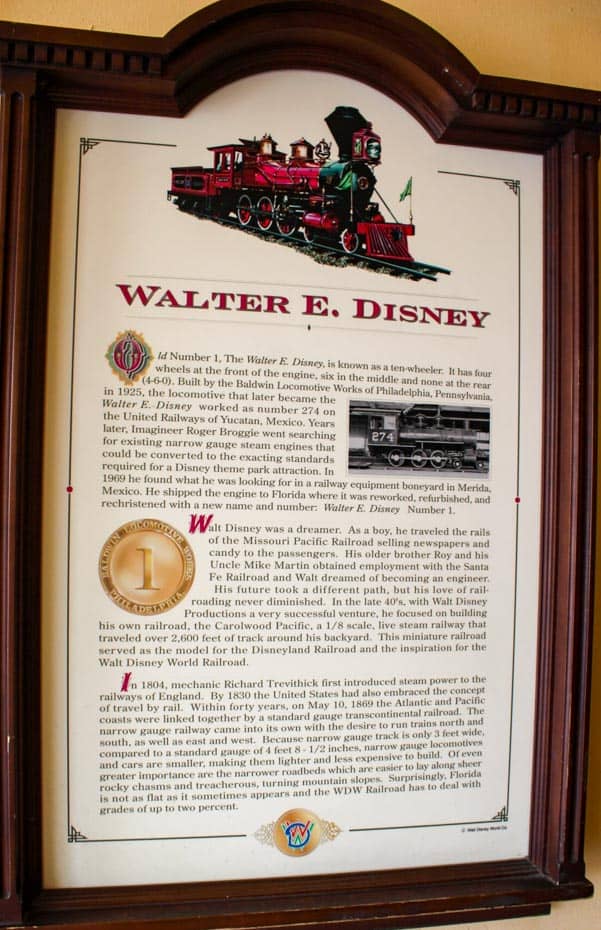 Last but not least, we have my personal favorite. This train is in honor of the woman behind the man, Lillian Bounds Disney, Walt's wife.
They met when Lillian applied for an animation job at the cartoon studios and were married for 41 years. If you can read the fine print below, it also goes on to tell how she granted Walt permission to run his backyard railroad tracks through her flower beds.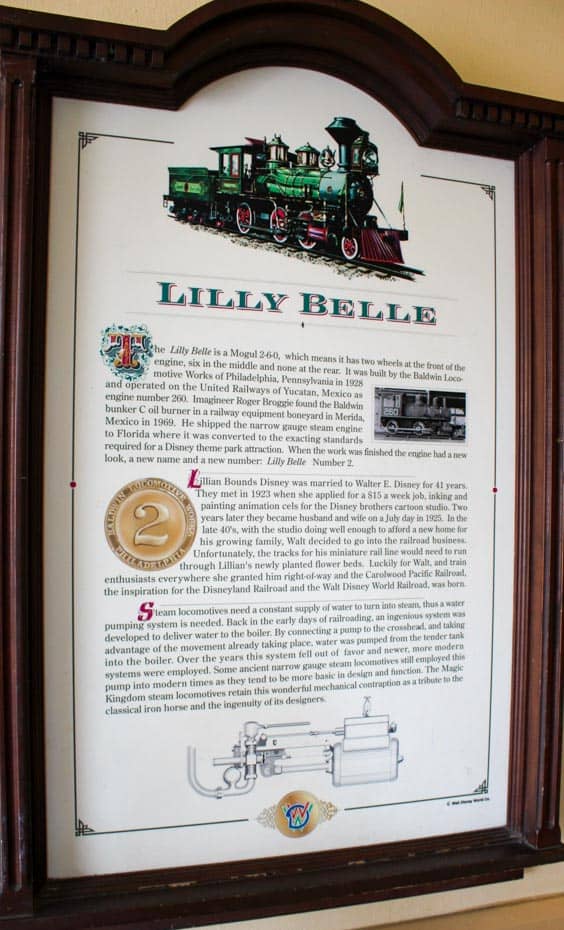 Below are a few other pictures of items you'll find inside the train station: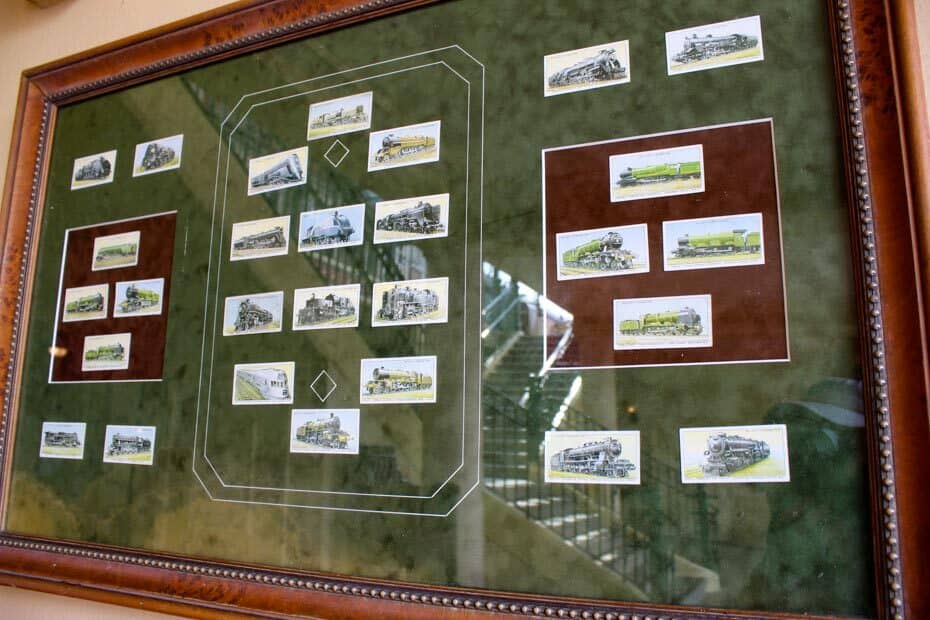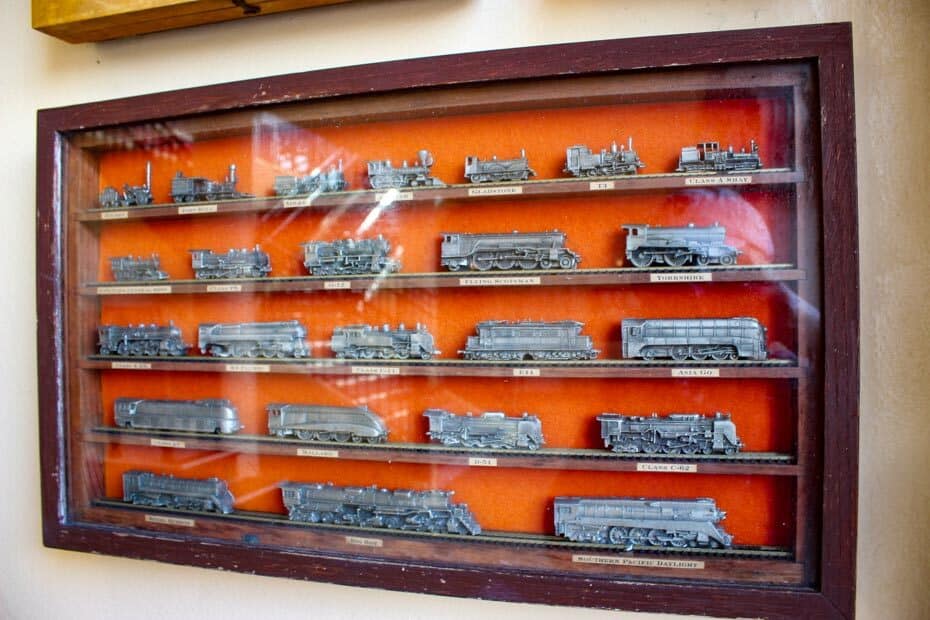 When the Walt Disney World Railroad is running, the train ride lasts approximately 20 minutes full circle. Additionally, the train will stop at Frontierland and Fantasyland Station.
I recommend using the train to take a break in the heat of the day or as a form of transportation to get around the park when little ones get tired feet. It does take up some extra time, but the ride is delightful.
I'll post an update when things get back to normal, and the train is operating again. The Walt Disney World Railroad is expected to resume normal operation when the new Tron attraction is completed.
You might enjoy these other Magic Kingdom rides:
Resorts Gal specializes in Disney World Resorts, Characters, and Dining. Make sure to check out some of our resources, like our list of Disney World Resort Hotel Reviews. That article gives a brief overview of every resort at Disney.
Additionally, we have an article covering our recommendations for the best off-site hotels near Disney World.
Transportation-wise, it's important to know how to use options like the Disney World Monorail. And as of late, the Disney Skyliner Gondola system has become a wonderful way to travel!
For planning dining reservations, we have a full list of our Disney dining reviews available. Normally, we recommend planning at least one Disney World character dining meal and a Disney signature dining reservation.
If you are planning to meet characters in the parks, I keep an updated list of characters at Disney World here. That review will like to every meet available in each of the four parks.
Lastly, our most popular reviews include the best restaurants at Disney Springs, and I keep a timeline going of Disney Loungefly mini-backpacks.
I don't know about you, but I hope the Walt Disney World Railroad will be open sooner than later. Let me know your thoughts down below.