Disney's Magic Kingdom During Christmas (Everything You Need to Know in 2022)
Before you visit Magic Kingdom during the 2022 Christmas season, there are a few things you'll want to know. So for this article, I thought we'd take an updated look of what to expect at Magic Kingdom over the holidays.
For starters, Magic Kingdom closes early an average of three nights per week during the holiday season to host a private-ticketed event, Mickey's Very Merry Christmas Party. Most guests will want to be aware of these dates and plan to visit other parks on those days. Or, where applicable, guests might hop to another park on those evenings.
Meanwhile, some of you might have plans to attend the Christmas Party on one of those evenings. However, if you haven't purchased tickets, you're probably out of luck.
At the time of this update, all tickets for this year's party have sold out. Unfortunately, it's not likely that anymore will come available.
With that said, Magic Kingdom is decked to the nines for the holiday season. So even visiting as a regular guest on a non-party day is sure to put you in the Christmas spirit.
Let's take a closer look.
This article was updated on November 21, 2022.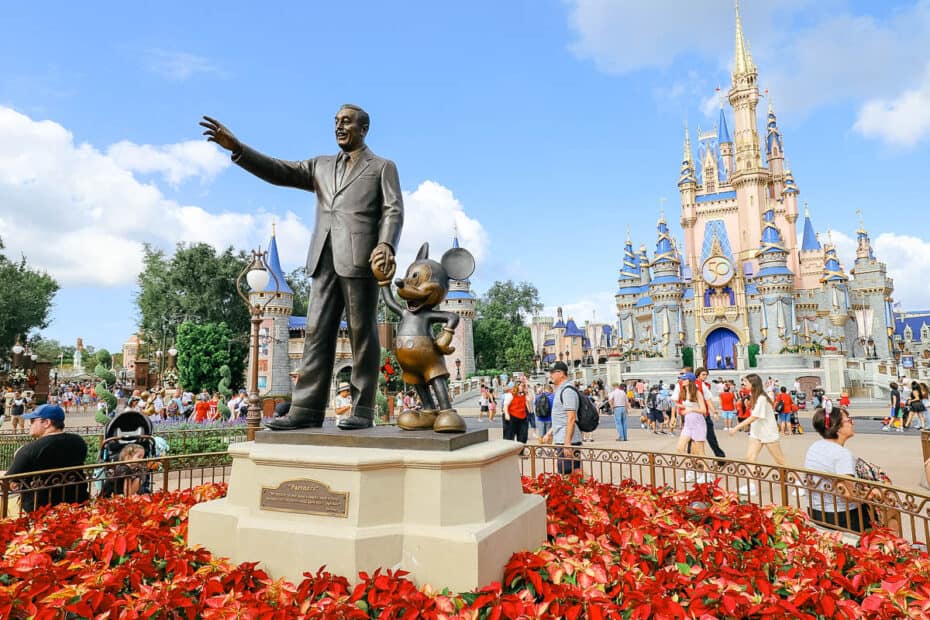 Christmas at Magic Kingdom in 2022
For those of you visiting Magic Kingdom Park over the Christmas season, there are several entertainment offerings you might want to plan:
Mickey's Very Merry Christmas Party (extra-ticketed event)
Holiday Projections on Cinderella Castle
Mickey's Once Upon A Christmastime Parade (week of Christmas)
Step-In Photo Boxes
Jingle Cruise
Holiday Decorations Throughout the Park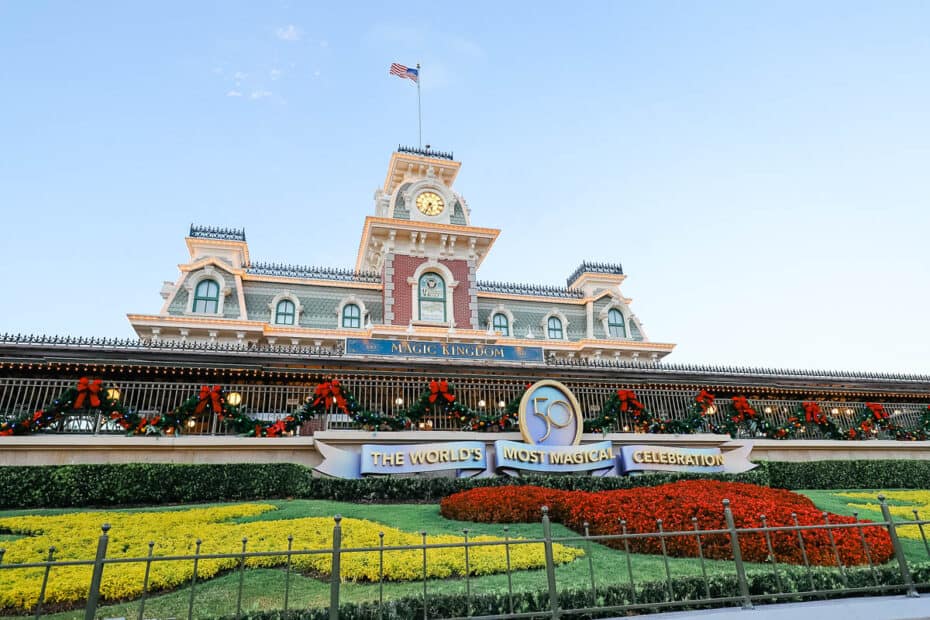 Below, we'll go over each of these items. Then we'll preview a few photos of the holiday decorations at Magic Kingdom.
Mickey's Very Merry Christmas Party
As we discussed, tickets have sold out for the 2022 holiday party season. However, if you have tickets you'll want to plan for the party accordingly. There's much to do in a little amount of time.
Additionally, if you're planning a trip for the next year, you might want to consider attending one of the Christmas parties. Mickey's Very Merry Christmas Party offers event exclusive entertainment like the castle stage show, Mickey's Most Merriest Celebration.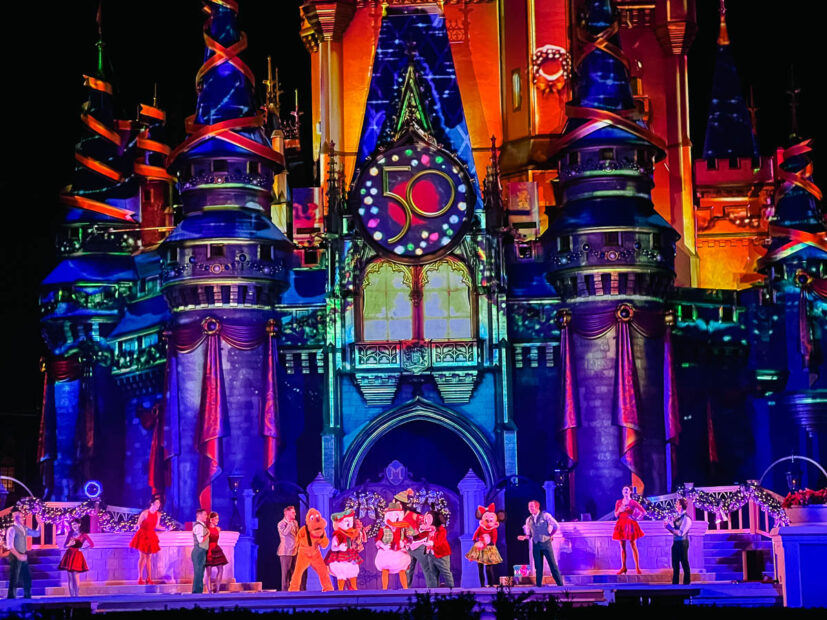 Mickey's Once Upon a Christmastime Parade comes through twice a night during the party. It's one of the best holiday offerings available at Walt Disney World.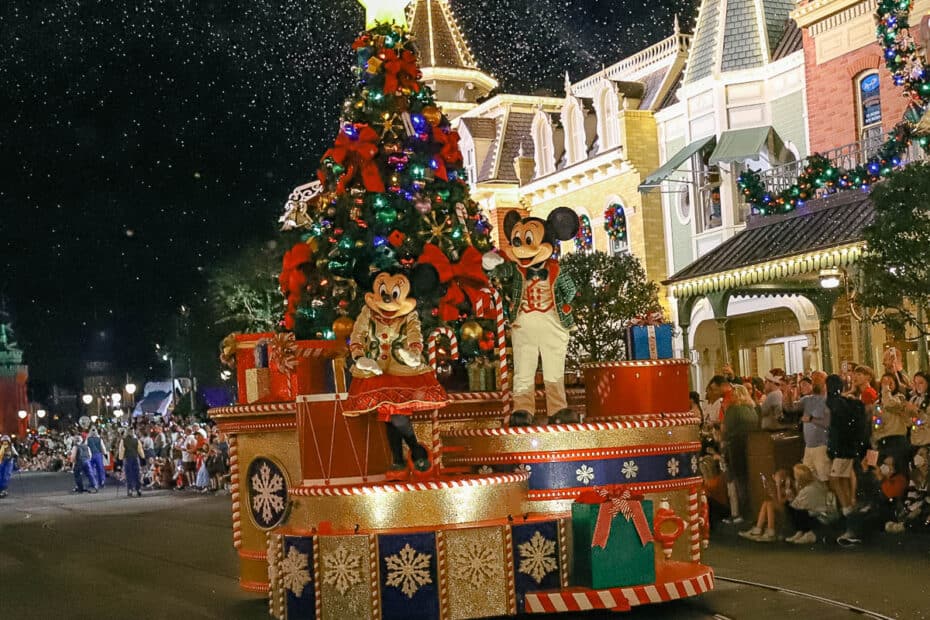 Additionally, you must attend the party in order to see Minnie's Wonderful Christmastime Fireworks Show.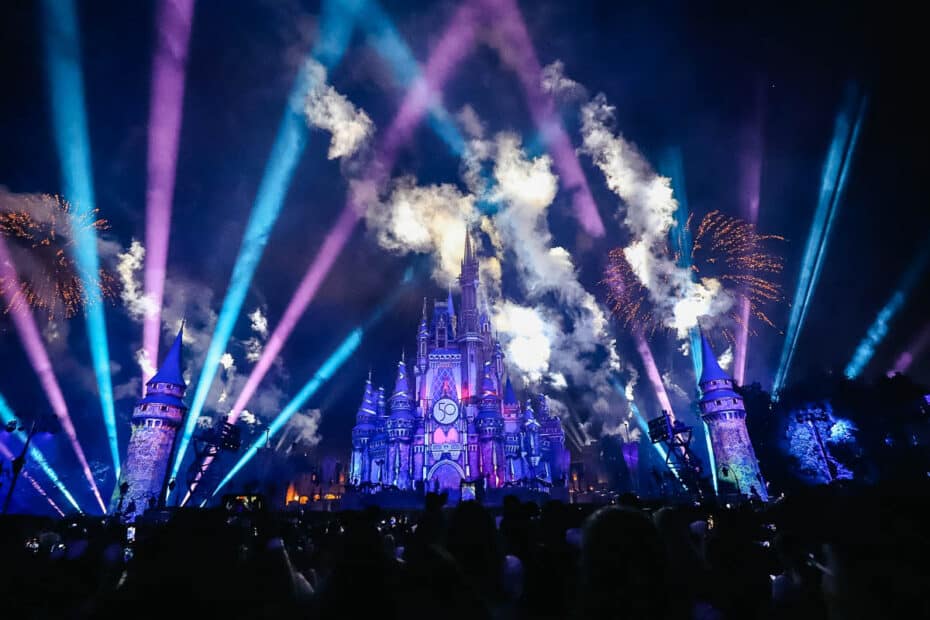 If the appeal of those event exclusive offerings hasn't sold you, there's so much more. For instance, there's a darling song stage show called, 'A Totally Tomorrowland Christmas'.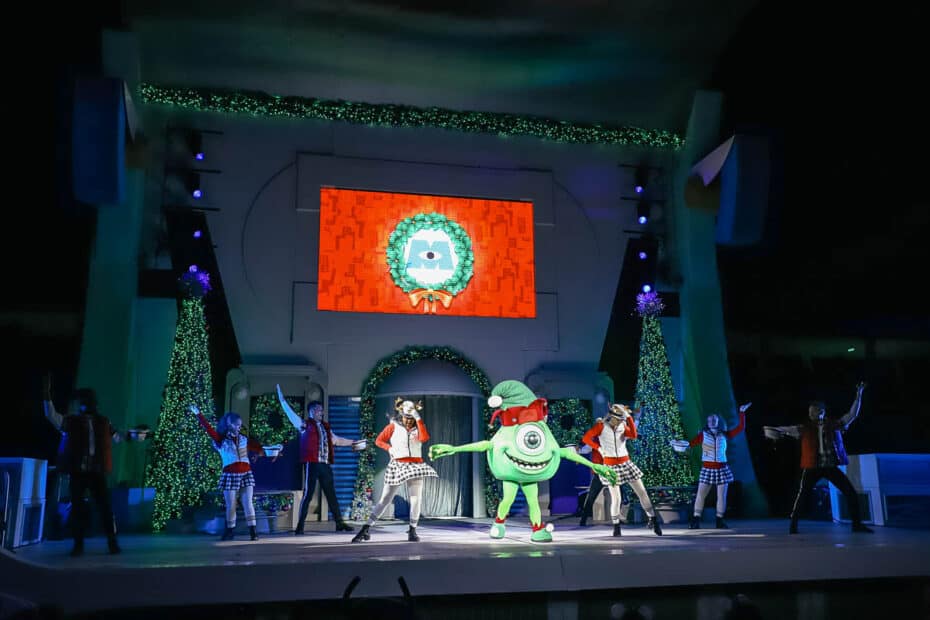 Plus there are holiday treats, special PhotoPass options, and character greetings galore. If you have plans to attend this year's party, don't miss our review and walk through of our entire experience.
Related: Mickey's Very Merry Christmas Party Review
Oh and many of the character meets at the Christmas Party are exclusive to the party. You'll even get to meet Minnie Mouse in her holiday dress.
Related: Characters at Mickey's Very Merry Christmas Party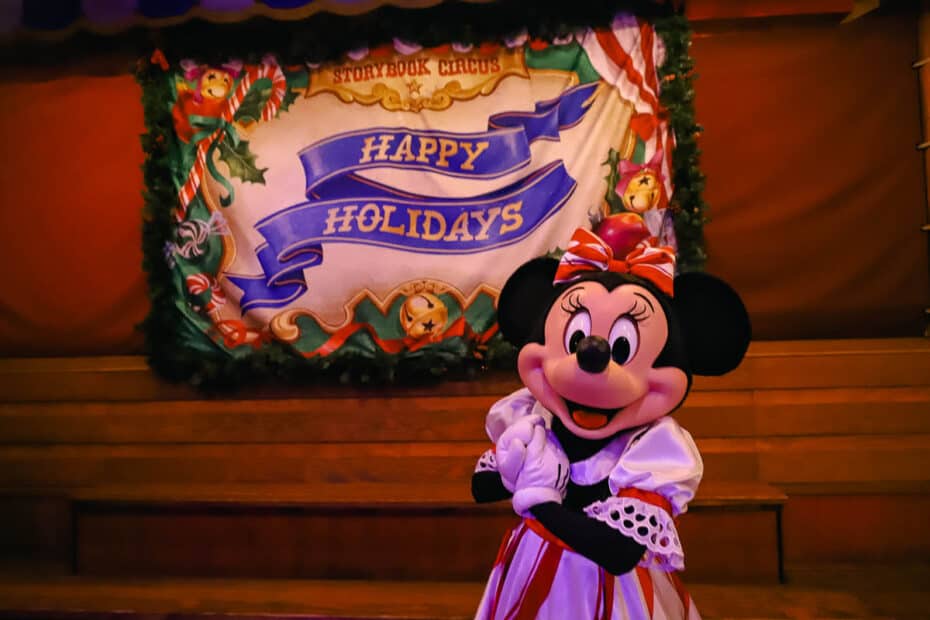 Holiday Projections on Cinderella Castle
Every evening (party or not) Cinderella Castle transforms into a beacon of light at dusk. This usually happens around 6:15 p.m. and continues throughout the evening approximately every 15-20 minutes.
Stunning projections are displayed on the castle. However, during the holiday season, festive projections are rotated in with the special 50th-anniversary celebration.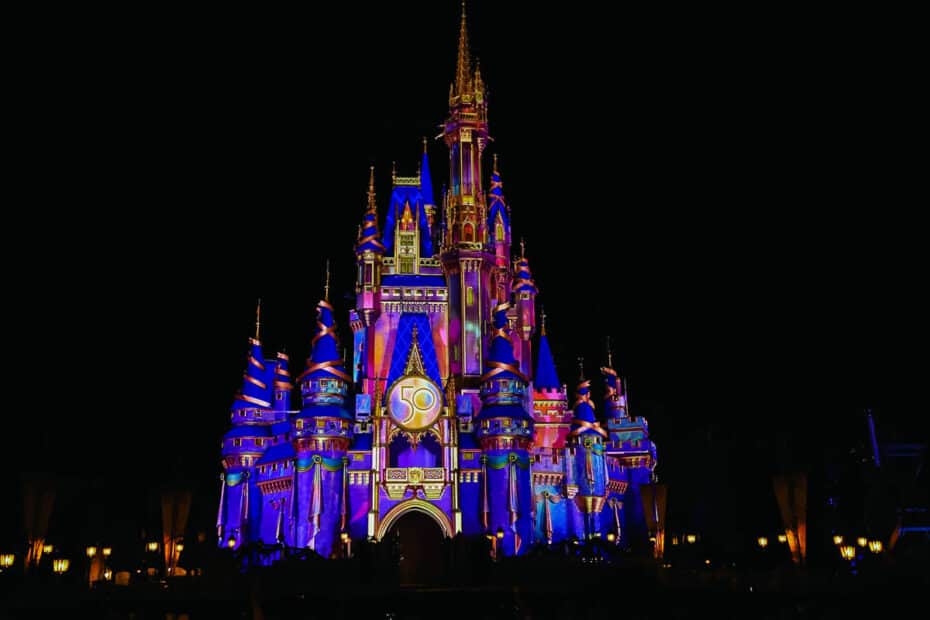 Mickey's Once Upon a Christmastime Parade
While Mickey's Once Upon a Christmastime Parade is exclusive to party guests, the parade usually replaces the Festival of Fantasy parade during the week of Christmas at Magic Kingdom.
So if you're visiting during the week of Christmas, check here on Disney's site or the My Disney Experience app for the exact times on the day of your visit. At this time, the Christmas parade is scheduled to run twice per day from December 23rd through December 31st.
Related: Mickey's Once Upon a Christmastime Parade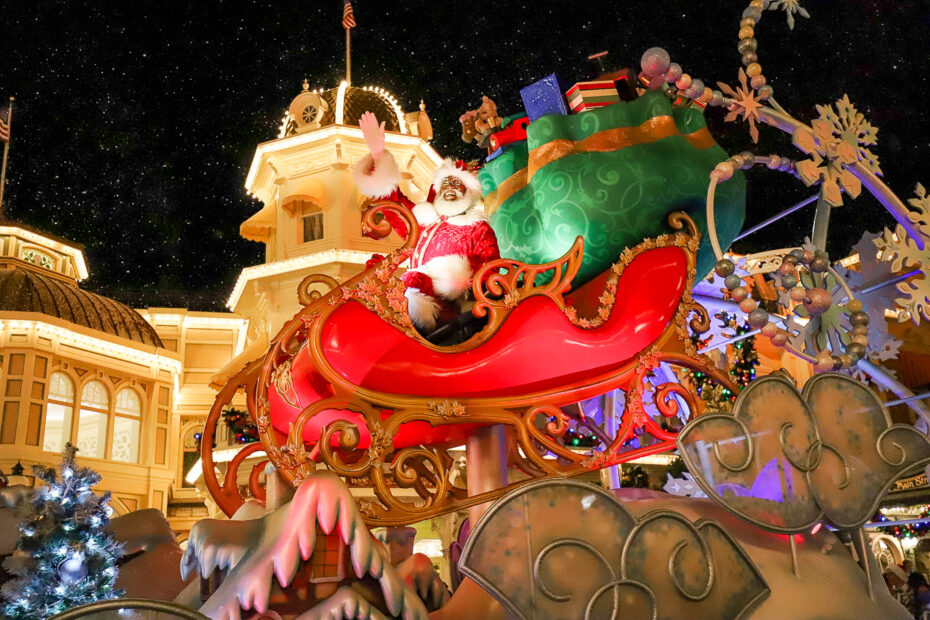 Step-In Photo Boxes
While touring Magic Kingdom, you will probably run into a few photo frames. Guests can stand inside the frames and have a festive holiday photo made.
Typically, there are PhotoPass photographers available for those with the Memory Maker. If you don't have the Memory Maker upgrade, you can always ask someone to take your family photo with your camera or mobile phone.
Here is the one in Tomorrowland, near the entrance of the former Stitch's Great Escape.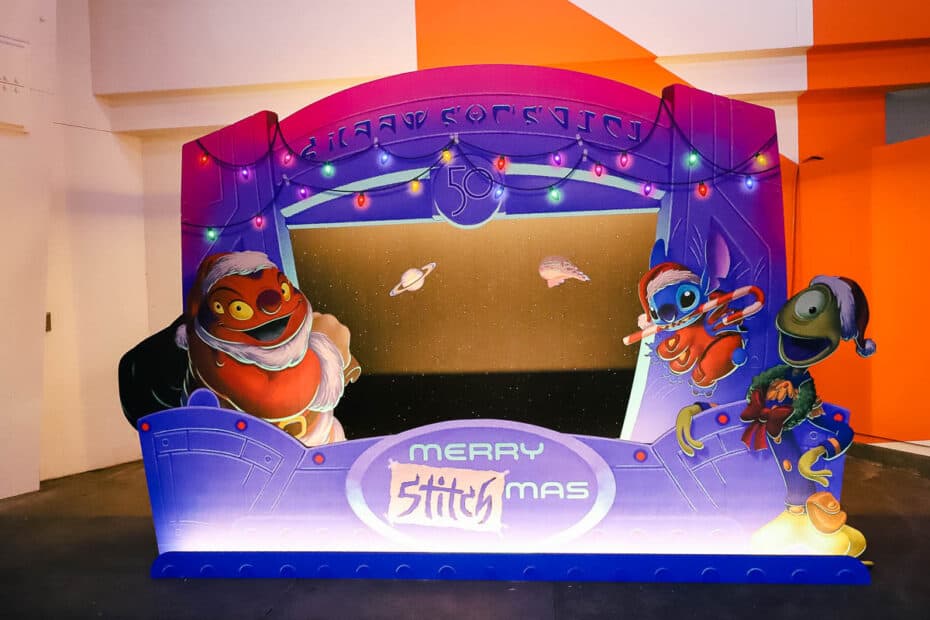 Another one sits on the right-hand side of the castle hub. This frame is precious.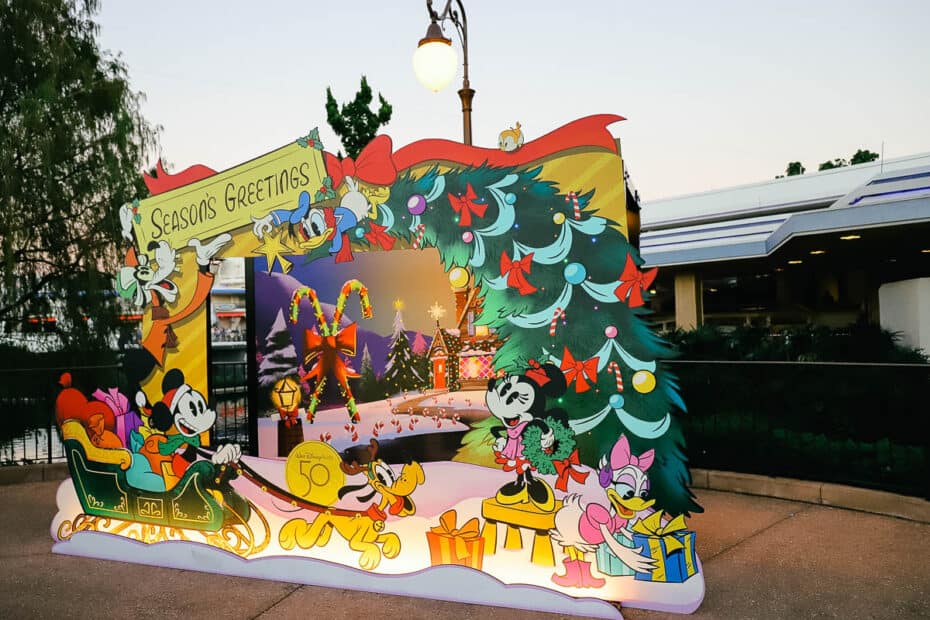 Lastly, there's a tropical step-in photo frame available in Adventureland.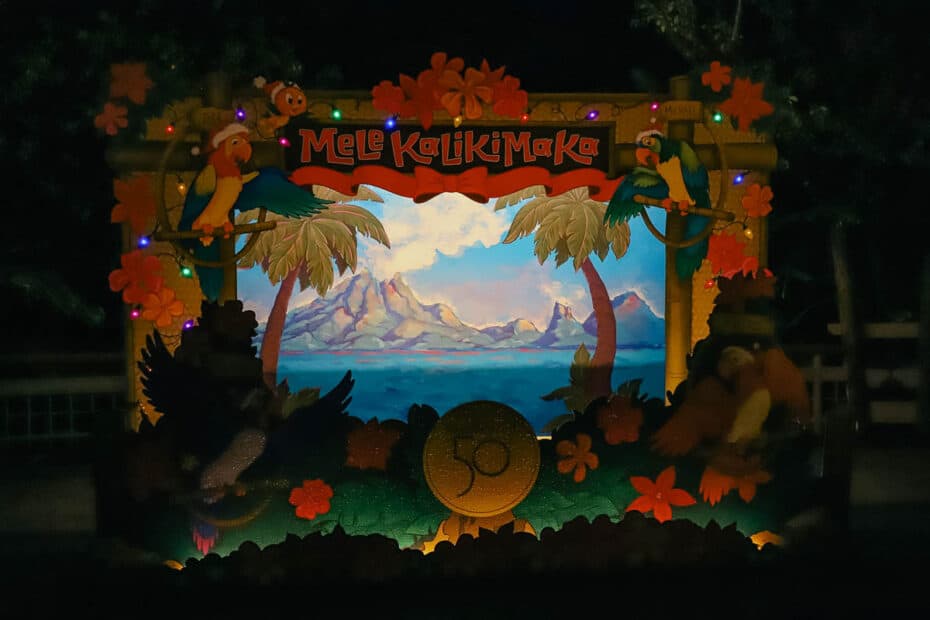 Jingle Cruise
Over the holiday season, Magic Kingdom's Jungle Cruise attraction has a holiday layover. It turns into the Jingle Cruise. Expect lots of festive decor and holiday appeal during your river cruise.
However, be warned, given the popularity of the layover, lines are typically long. But I think it's worth the wait.
Christmas Decorations at Magic Kingdom
While the Christmas Party encroaches on normal operating hours at Magic Kingdom during the holiday season, the park is still coated in Christmas.
And when I say coated, I mean it's literally dripping with Christmas decor, especially along Main Street, U.S.A. From the moment you enter the park, you'll hear the bells softly ringing and feel as though you've been transported to the land of Christmas.
Holiday decorations begin outside of Magic Kingdom. These topiaries featuring Mickey and Minnie sit out in front of the turnstiles.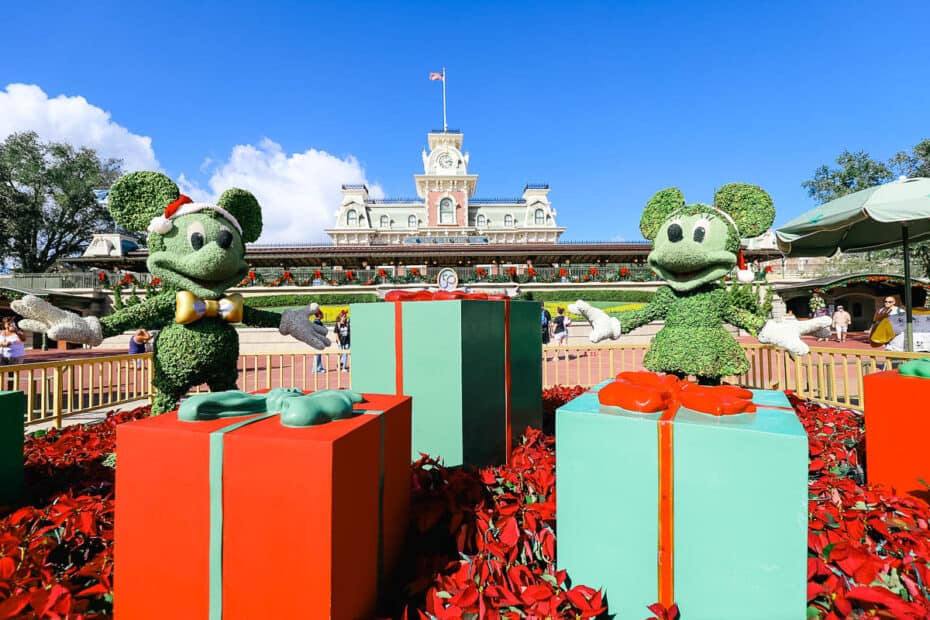 After entering the park, you can get a good look at the Mickey floral that sports poinsettias for the holiday season. PhotoPass photographers are typically out in this area taking family photos.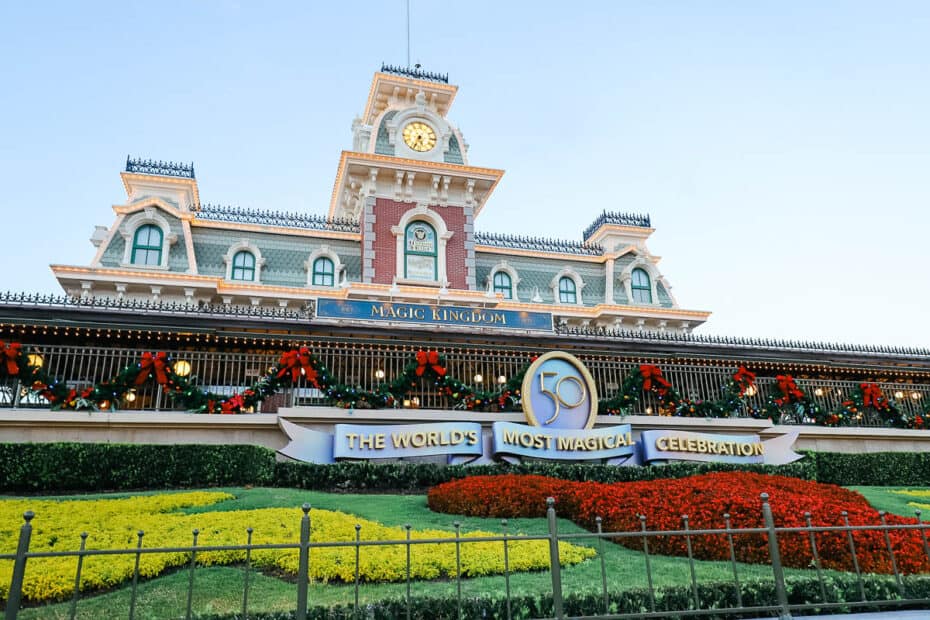 Once inside, you'll see a few toy soldiers strategically placed in Town Square.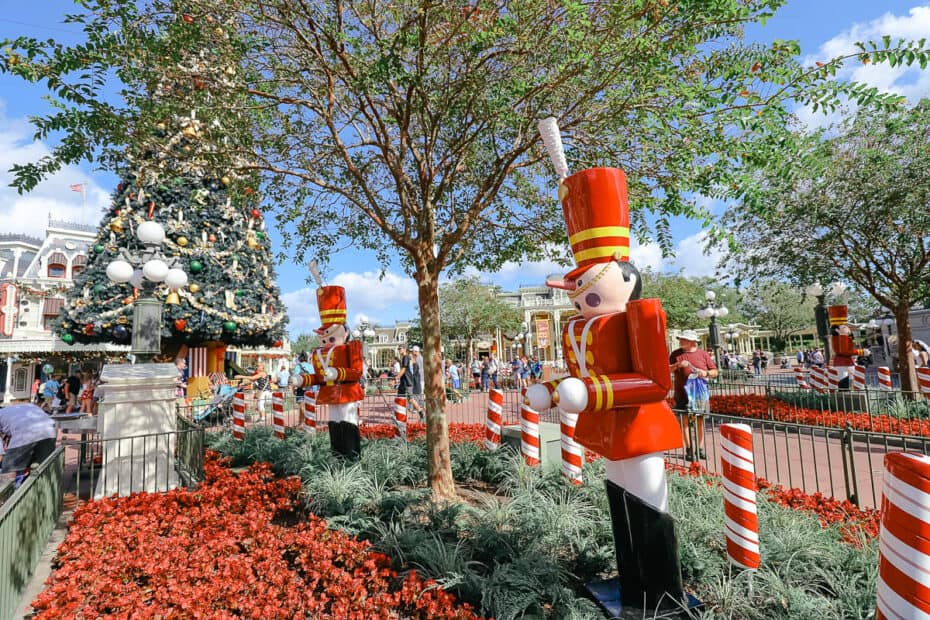 Magic Kingdom's grand Christmas tree sits in the middle of Town Square.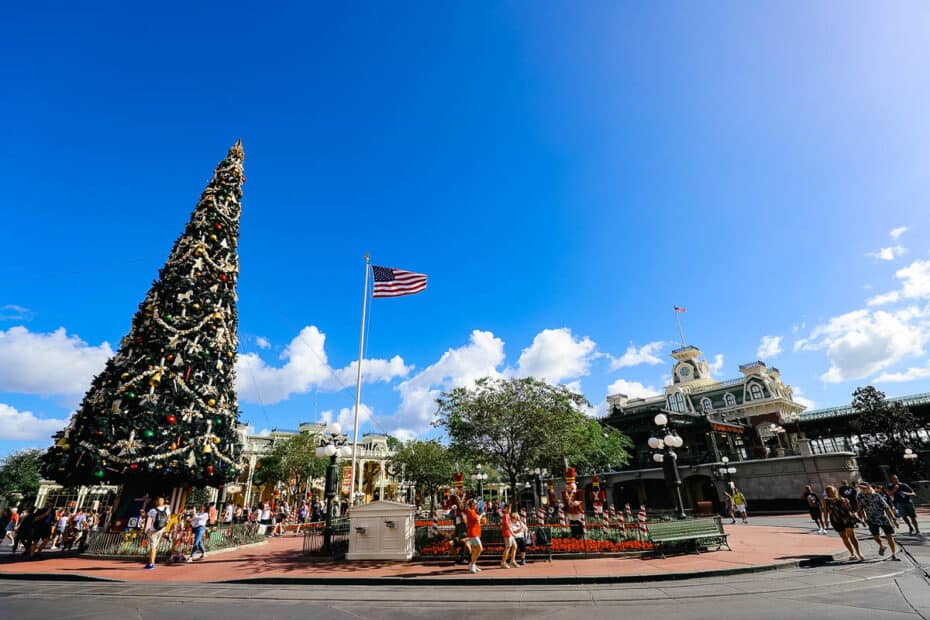 It's a beautiful tree with traditional decorations.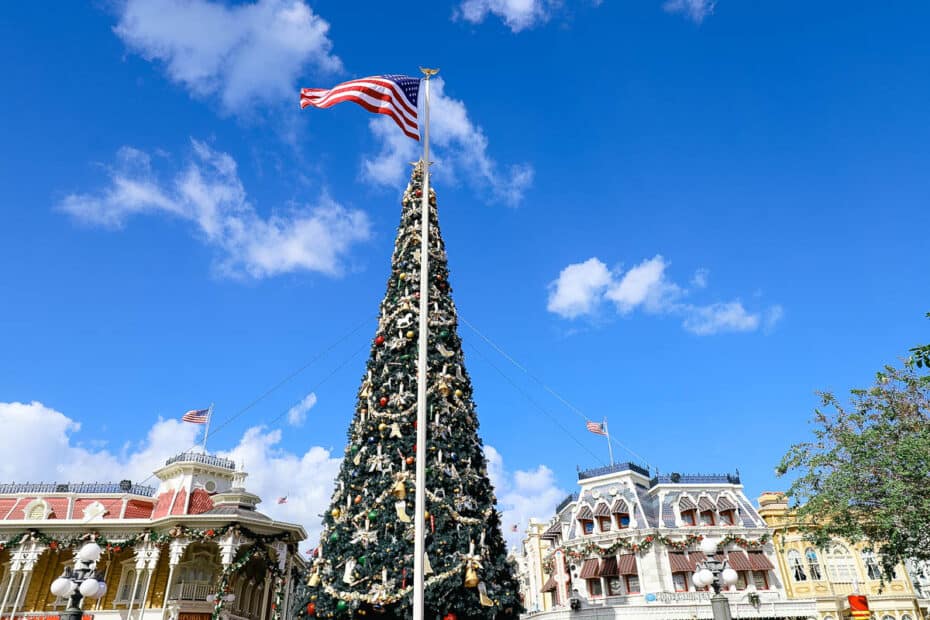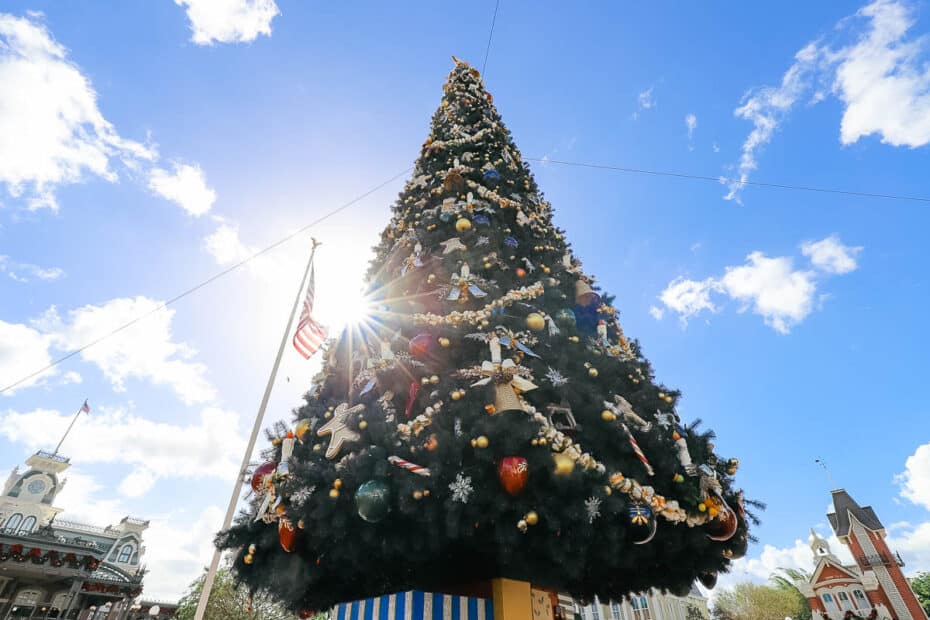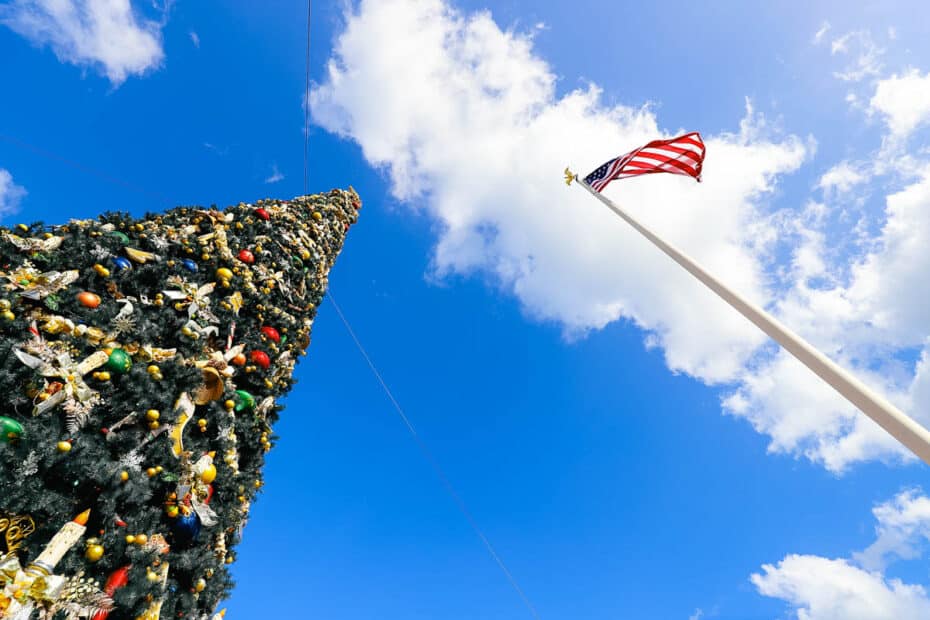 Over at the Emporium, we begin to see garland wrapped around every detail possible.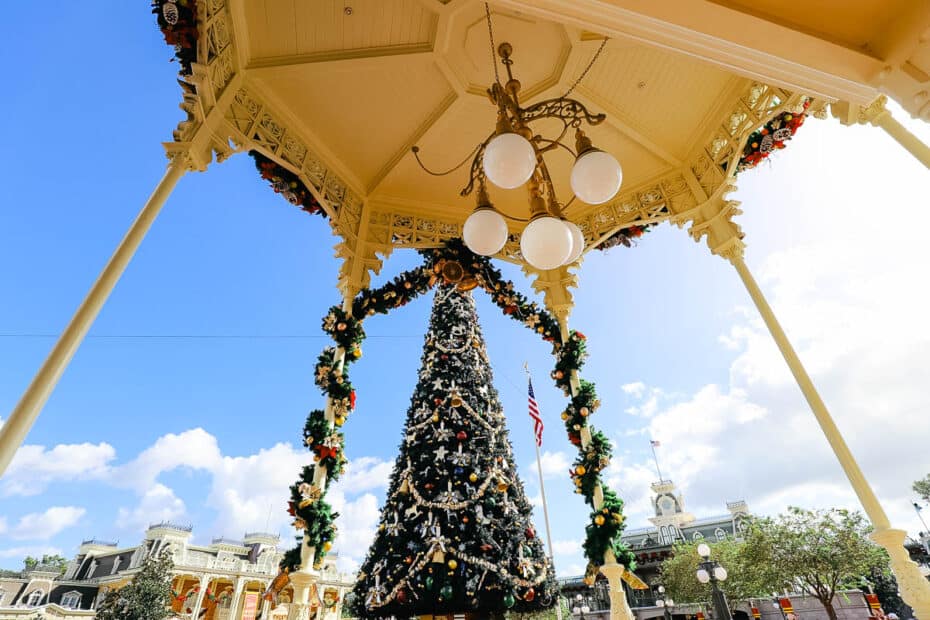 All of the Christmas decorations at Magic Kingdom are lovely.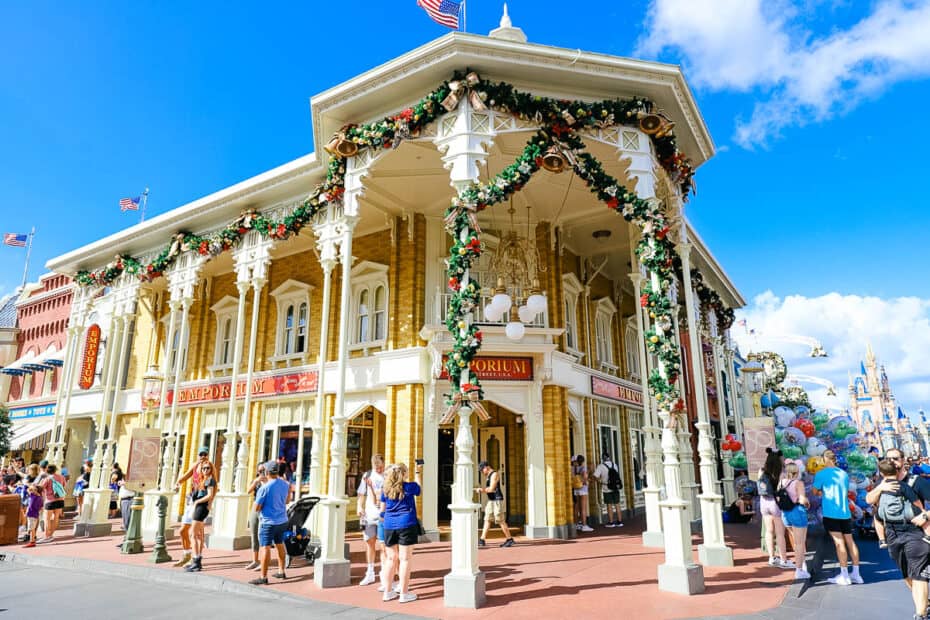 Here is a rare glimpse down an almost empty Main Street as cast members clear the area for a cavalcade.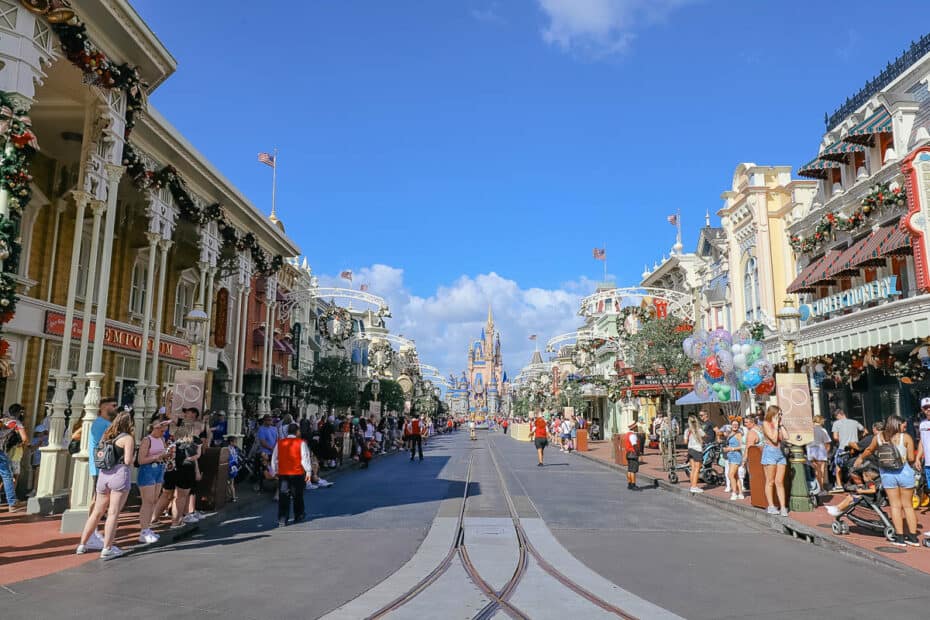 Over at the Main Street Confectionery, we see more holiday decor.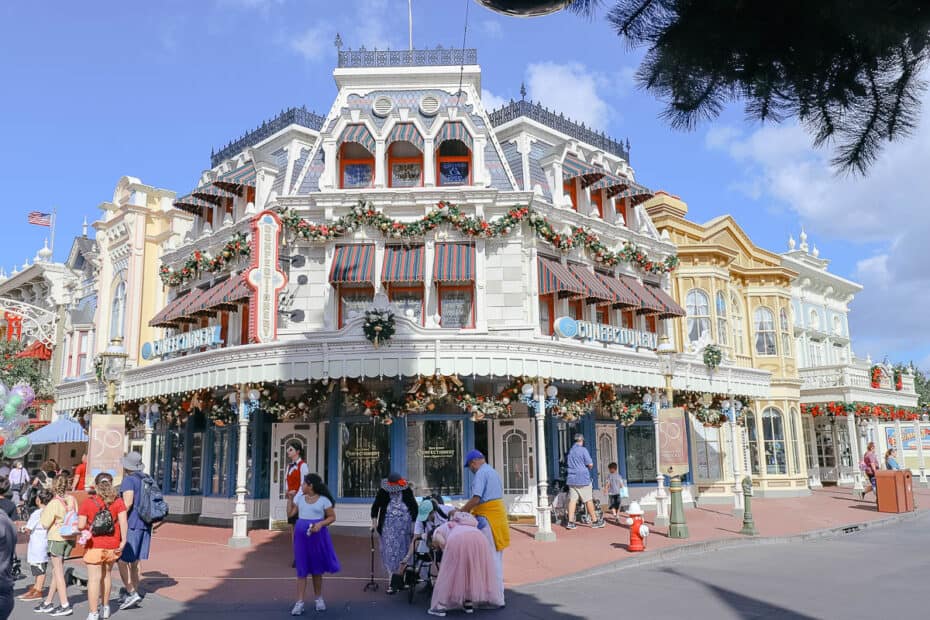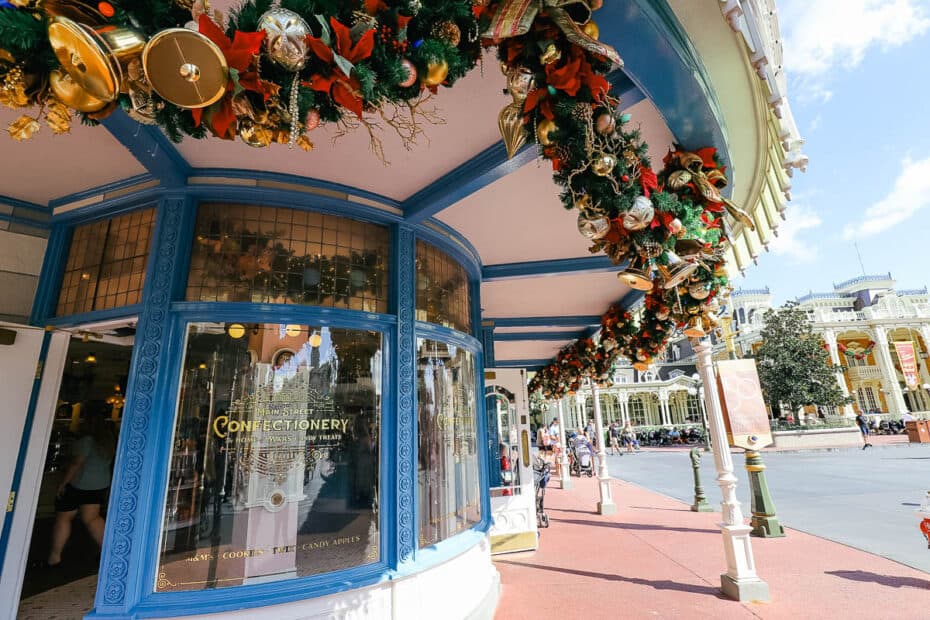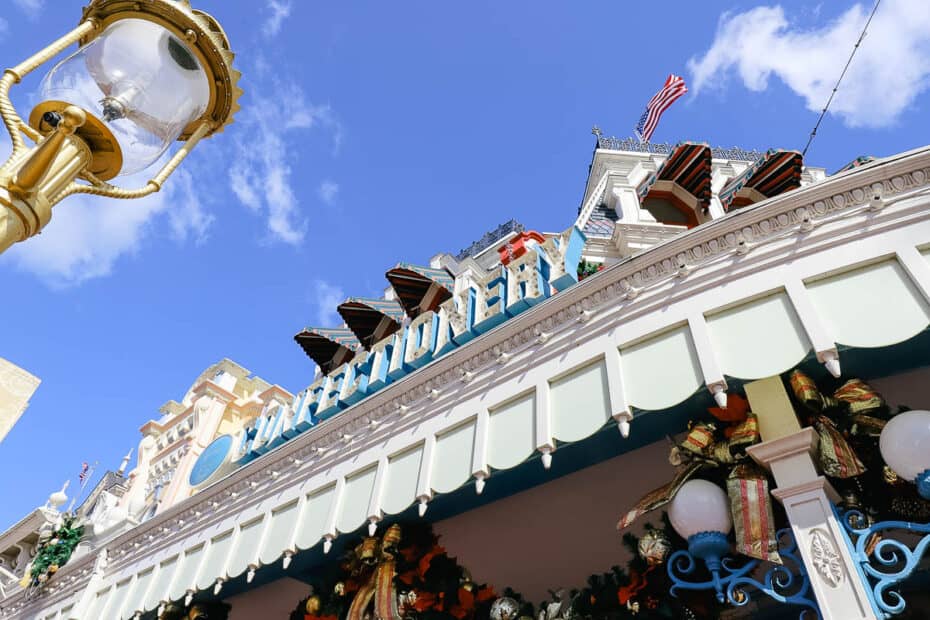 There are plenty of fun photo opportunities in the area. Some of my best times at Magic Kingdom are spent on Main Street. I truly believe the longer you linger here, the more fun you'll have.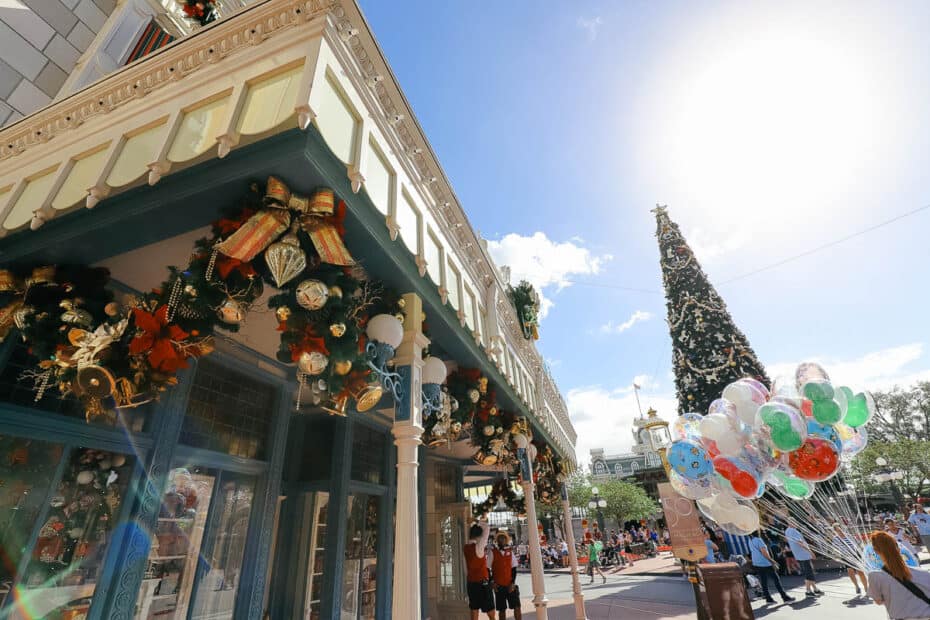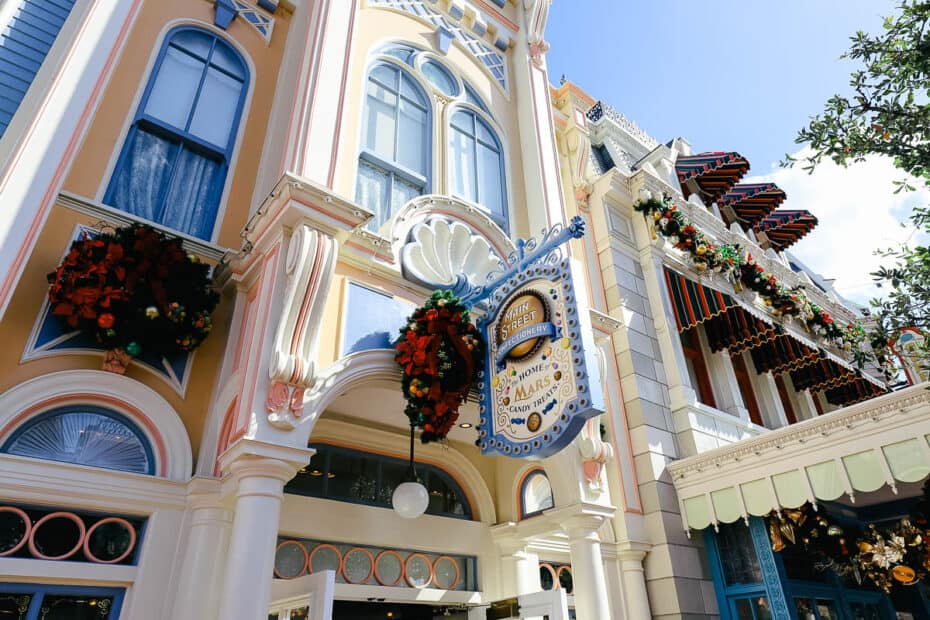 Mickey-shaped wreaths are wrapped around the posts. These aren't the traditional wreaths we've seen in the past. But I believe these colors are being used to match the 50th-anniversary decor.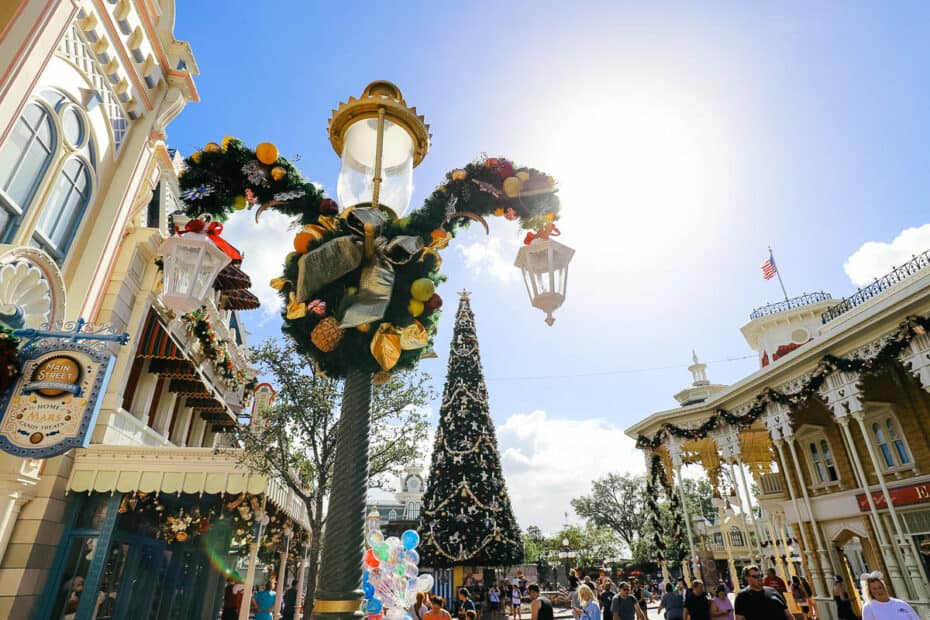 I don't need the bells to ring…But they are a pretty accent.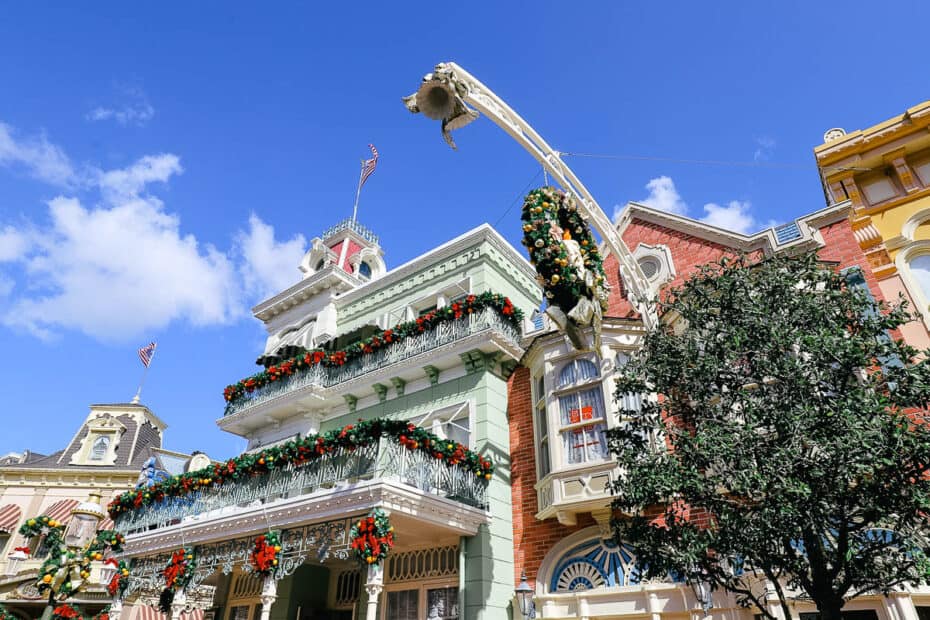 Sometimes even the sunshine poses for a holiday photo.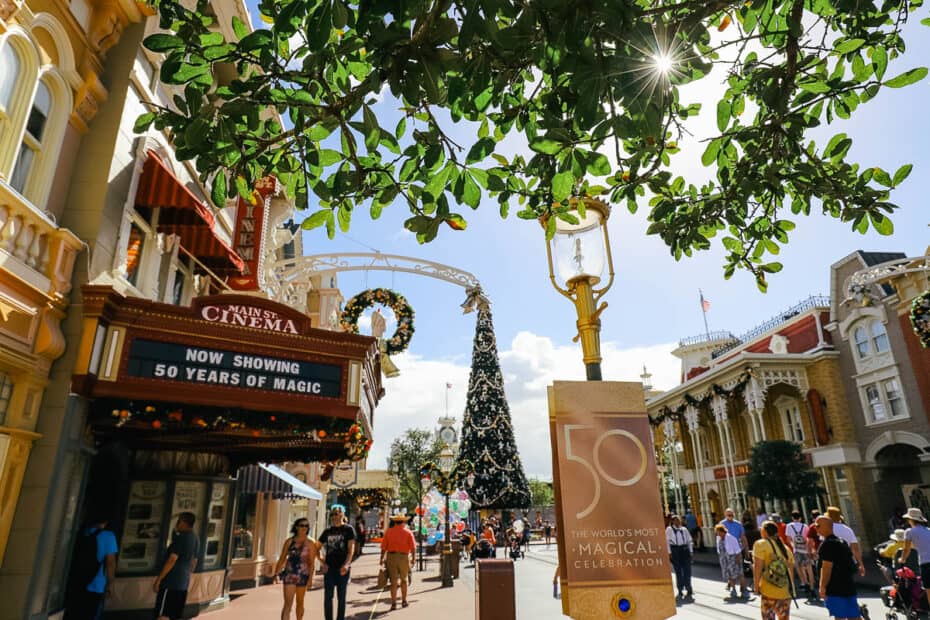 While these pictures portray some of the beauty of Magic Kingdom at Christmas, it's difficult to express the feeling you get when you're here.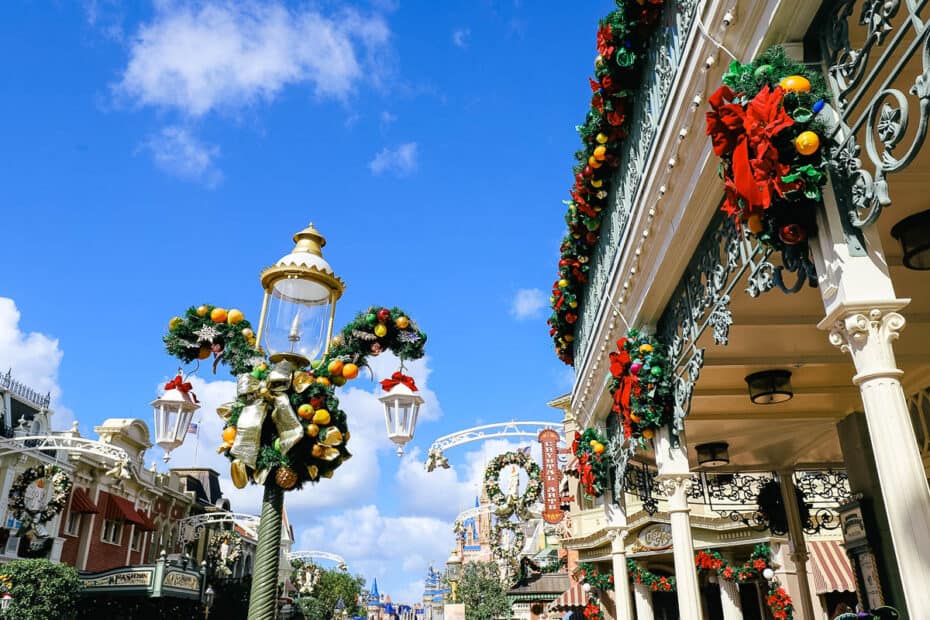 It's magical.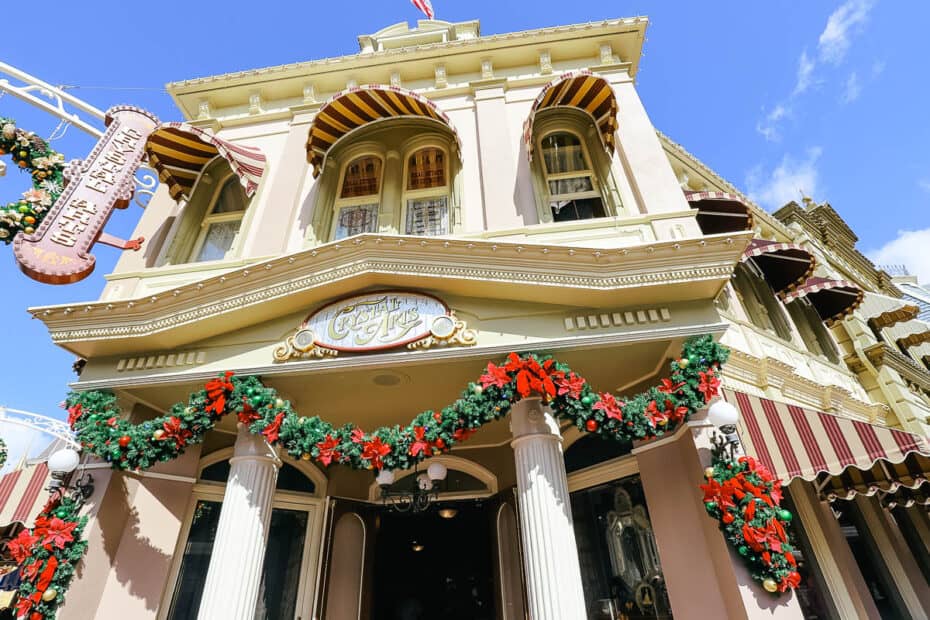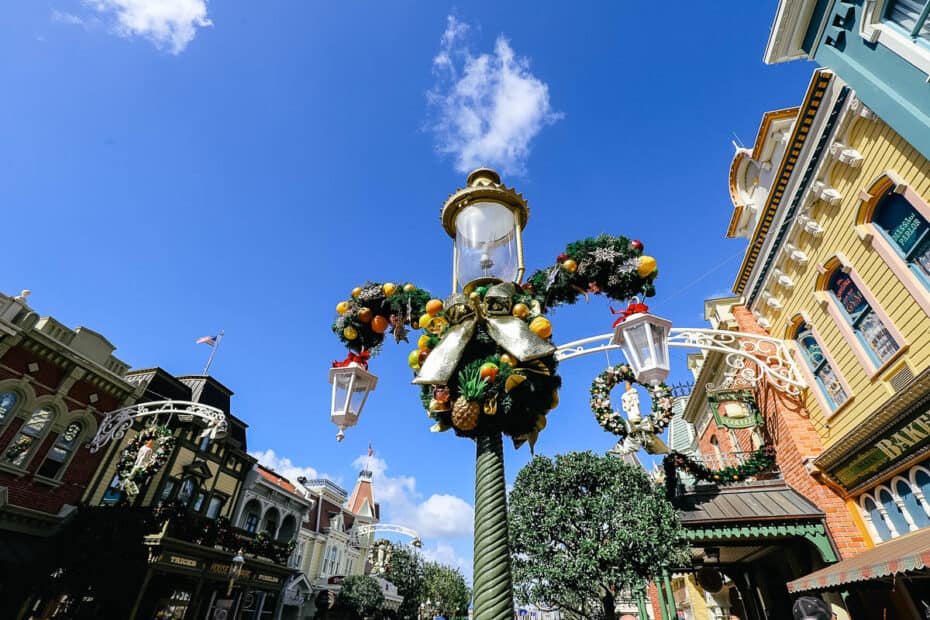 Around the outer hub of Cinderella Castle, we see a few traditional wreaths.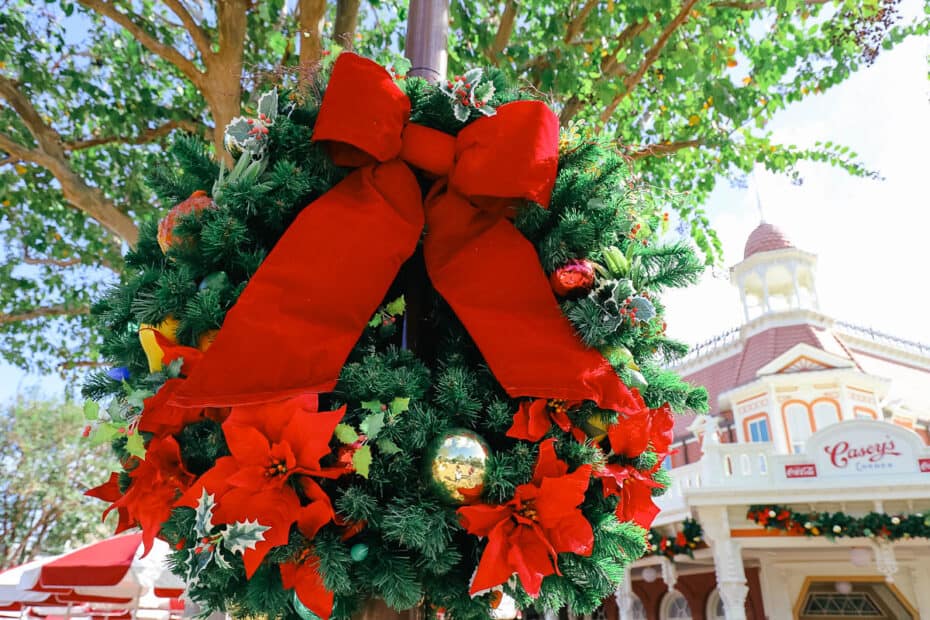 However, the inner circle has wreaths that complement the colors of the castle.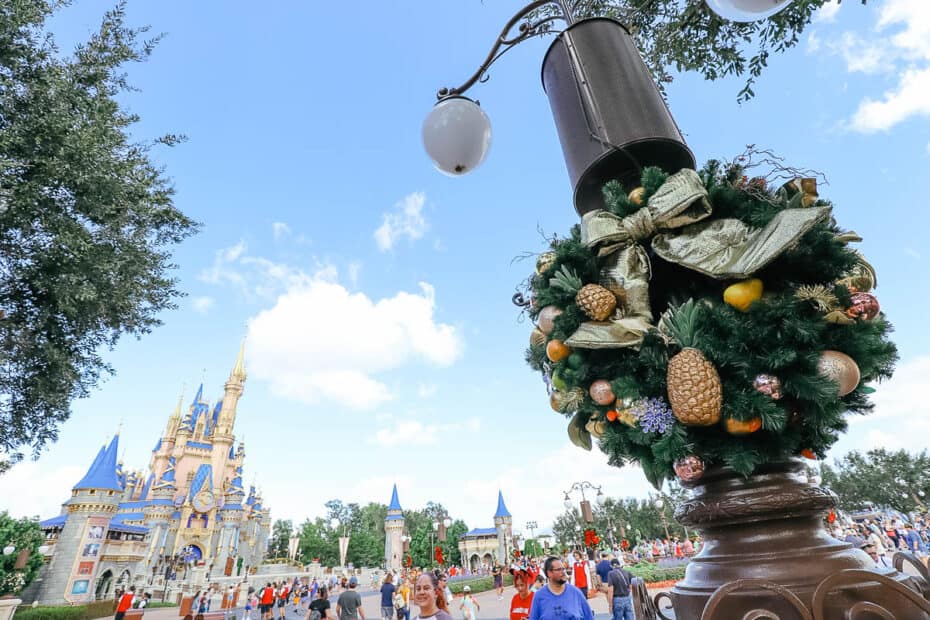 They are all pretty.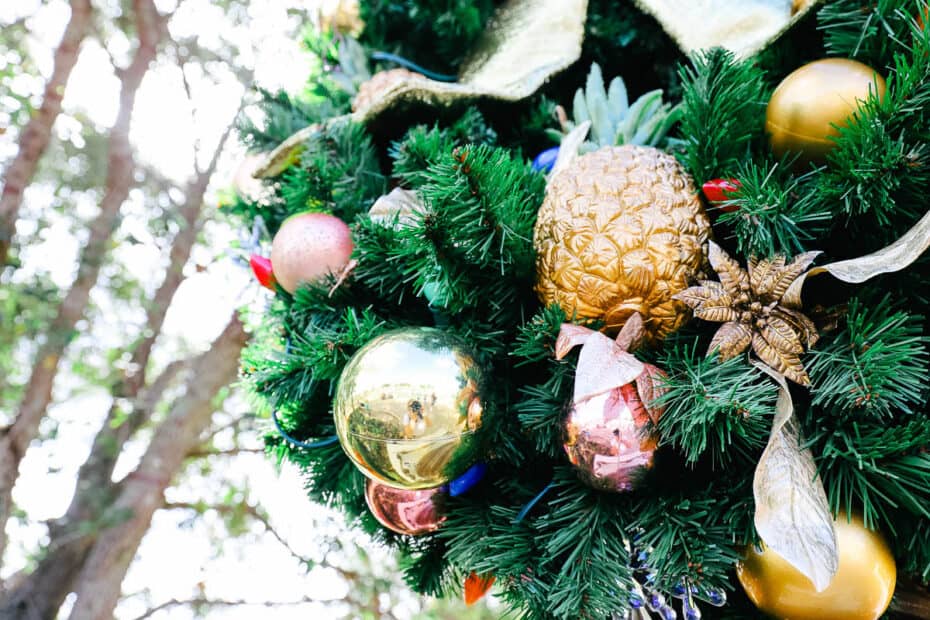 Beautiful shades of pink and red poinsettias have been planted around the Partners statue.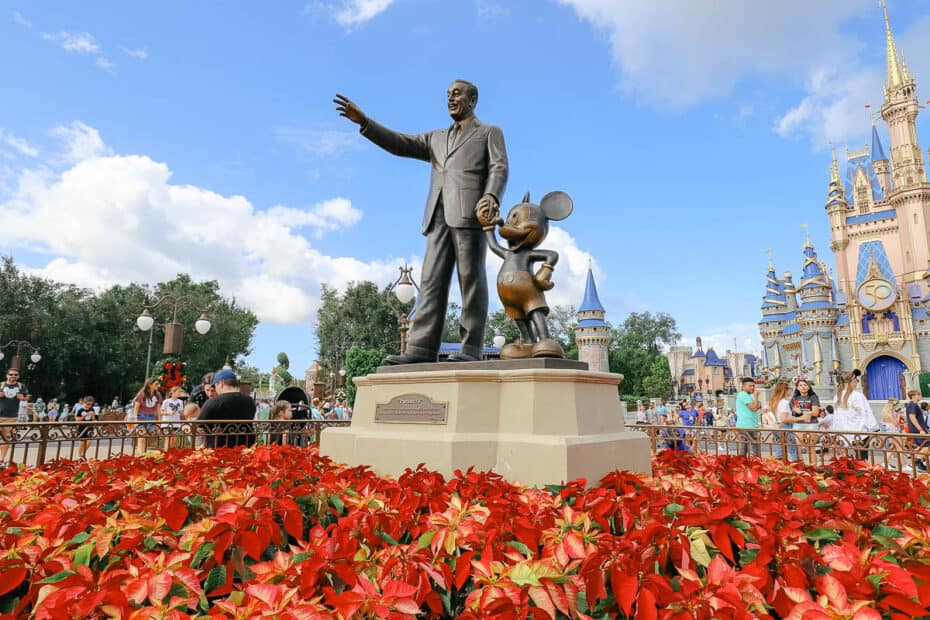 Cinderella Castle itself doesn't have any holiday decorations. Unfortunately, we didn't see the return of the castle dream lights for the 2022 holiday season.
However, they probably wouldn't work with the 50th-anniversary decorations. So in the meantime, we can hope to see the dream lights next year.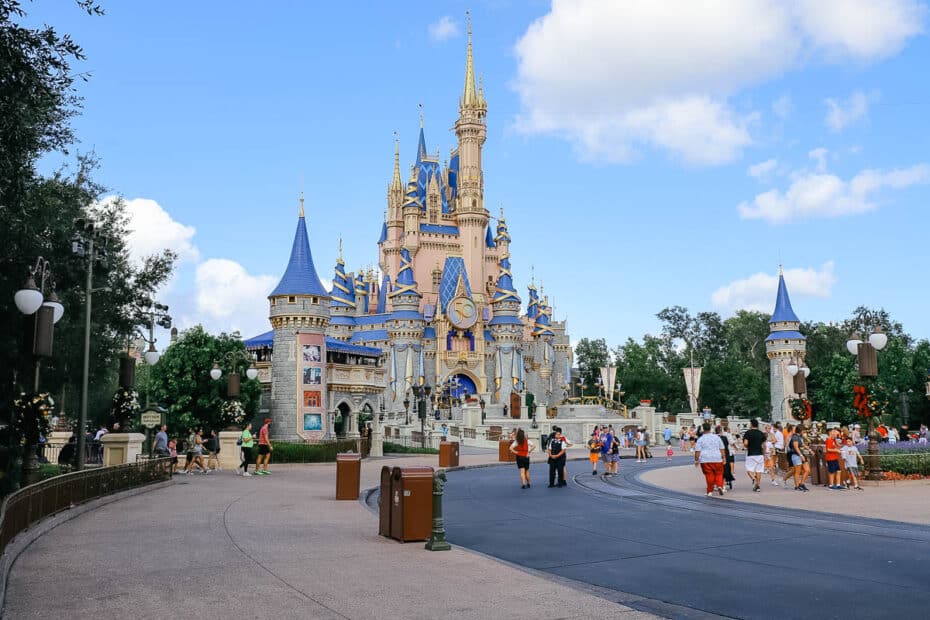 Here is a look back down Main Street as the sun begins to set.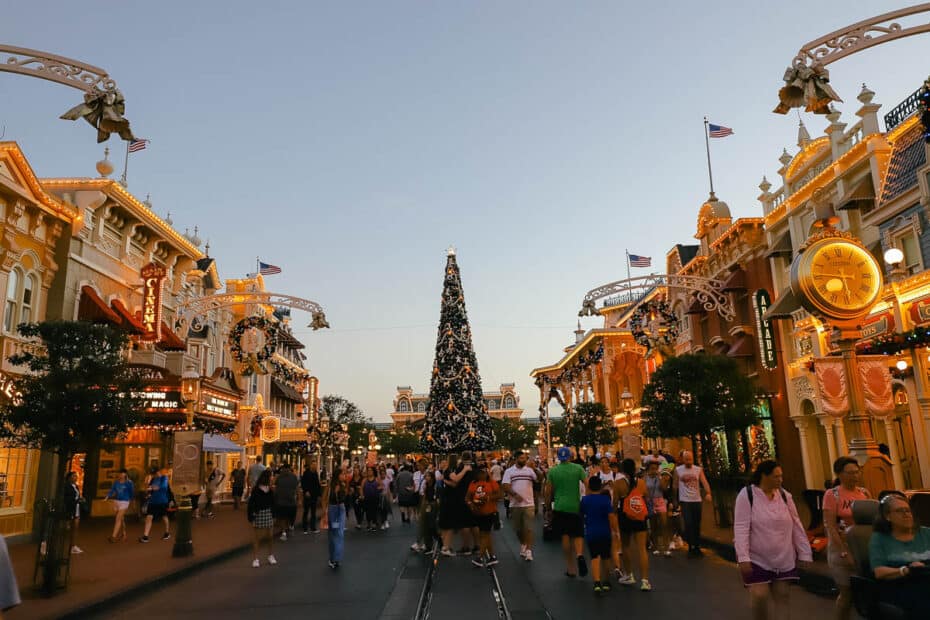 That's when Main Street U.S.A. begins to light up in a different way.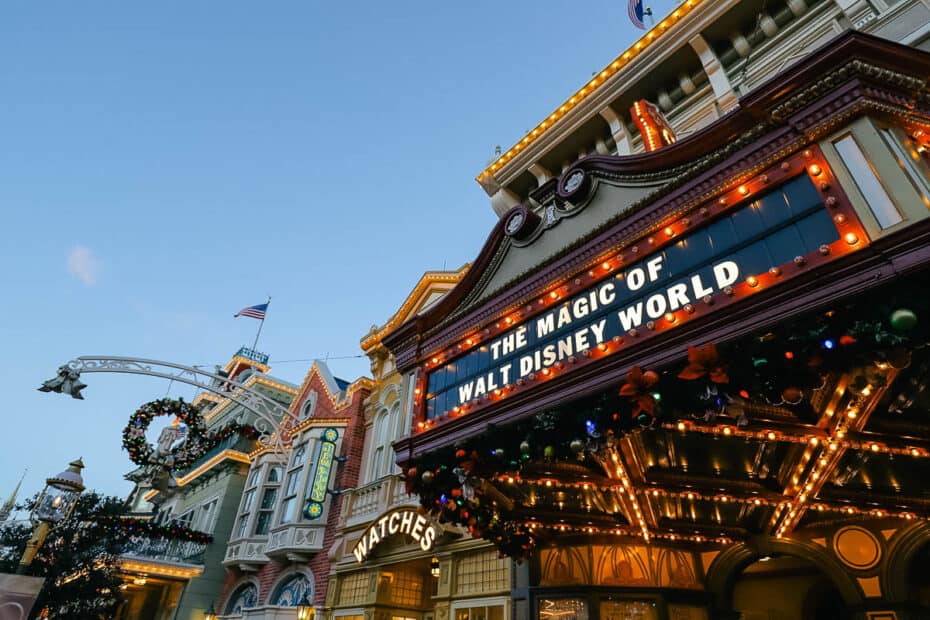 Here are a few more photos: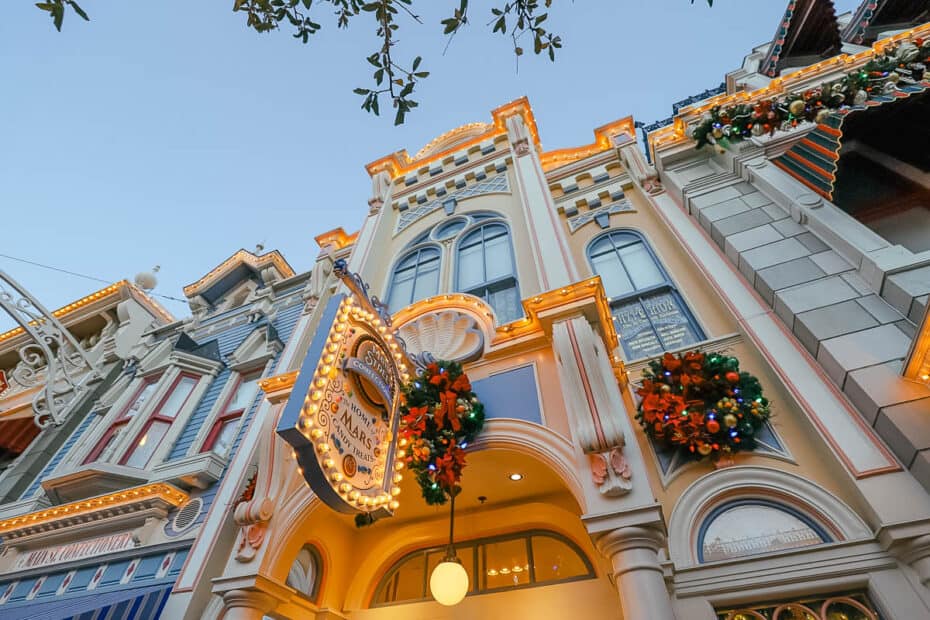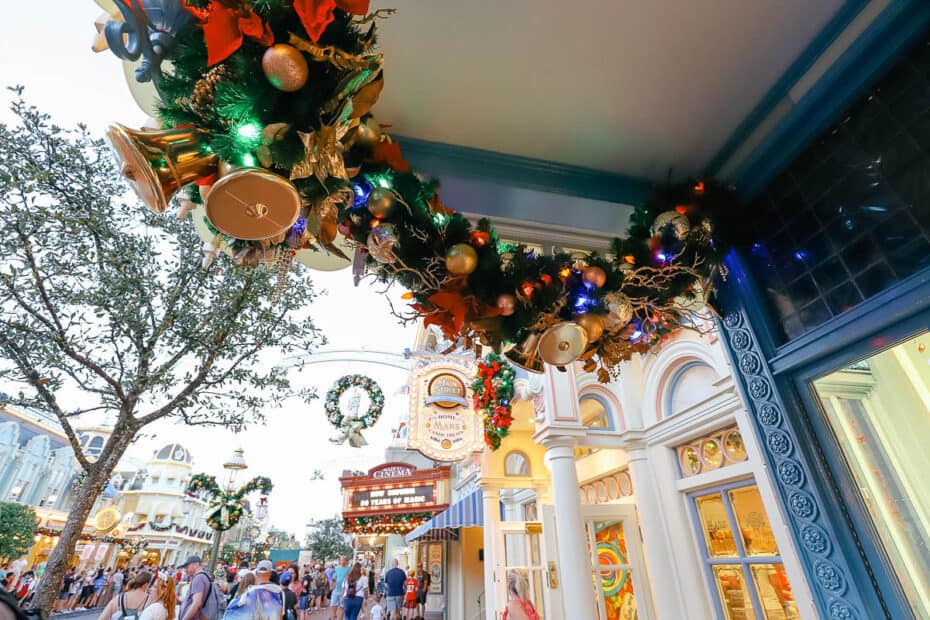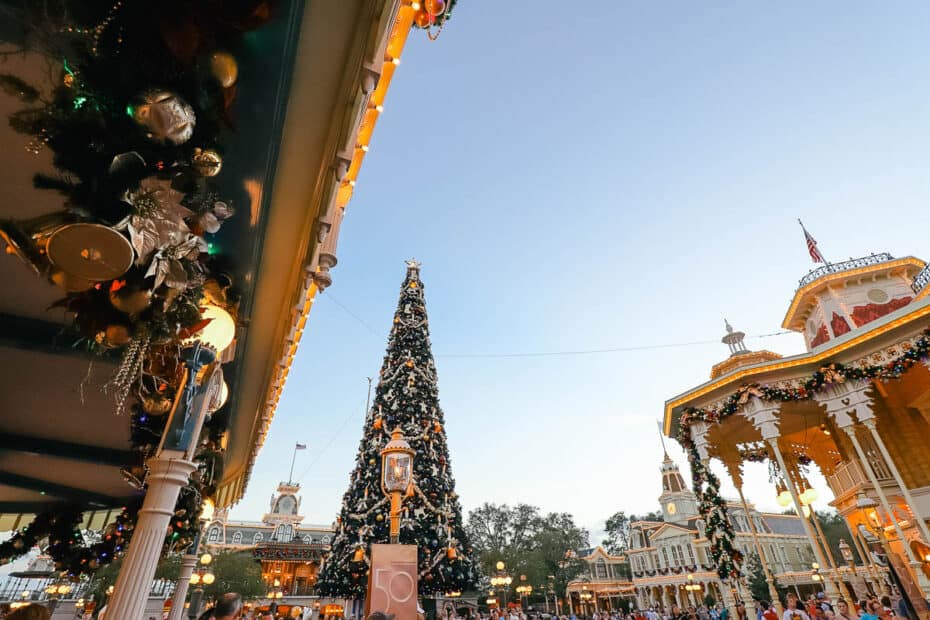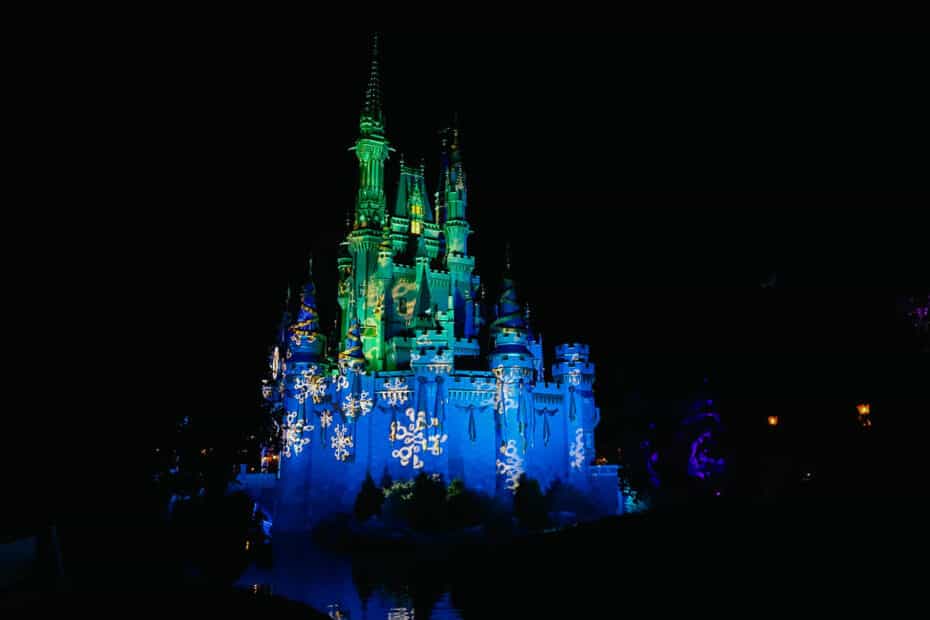 For more Christmas at Walt Disney World, you might enjoy the following articles:
Resorts Gal specializes in Disney World Resorts, Characters, and Dining. Make sure to check out some of our resources, like our list of Disney World Hotel Reviews. That article gives a brief overview of every resort at Disney.
For planning dining reservations, we have a complete list of our Disney restaurant reviews available. Usually, we recommend planning at least one Disney World character dining meal and one Disney signature dining reservation.
If you are planning to meet characters in the parks, we keep an updated list of Disney World Character Meet and Greets. That review links to every meet available in each of the four parks.
Lastly, our most popular reviews include the best restaurants at Disney Springs, and our timeline of Disney Loungefly mini-backpacks.
In the Comments
Are you visiting Magic Kingdom for Christmas this year? What do you think about the holiday decor?