Magic Kingdom at Christmas (The Ultimate Guide)
Merry Christmas from Walt Disney World's Magic Kingdom! If you have ever been to the Magic Kingdom at Christmas then you already know that no other Christmas will probably ever compare to the ones spent here.
The Magic Kingdom is magical on any day of the year. But from early November through the rest of the Christmas season the park transforms into an extraordinary wonder.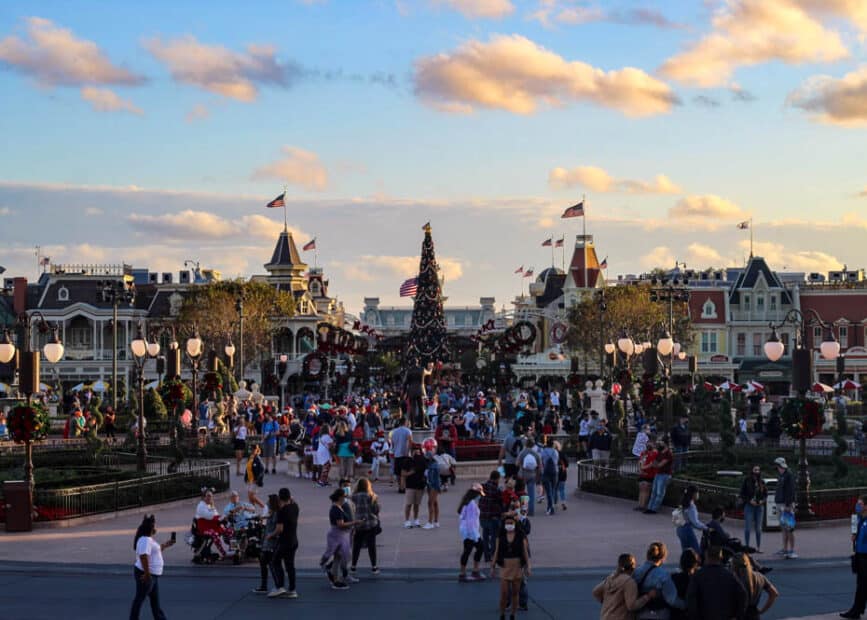 Like our other Christmas in the parks reviews, I invite you to take a holiday stroll with me through the Magic Kingdom at Christmas. I'll make sure to include all the things you'll want to see if you are visiting this year.
And for those that are looking ahead to future trips, these photos will provide you with an idea of what to expect this time of year. We will start with the entrance to the park where the Mickey Christmas floral is planted in front of the train station.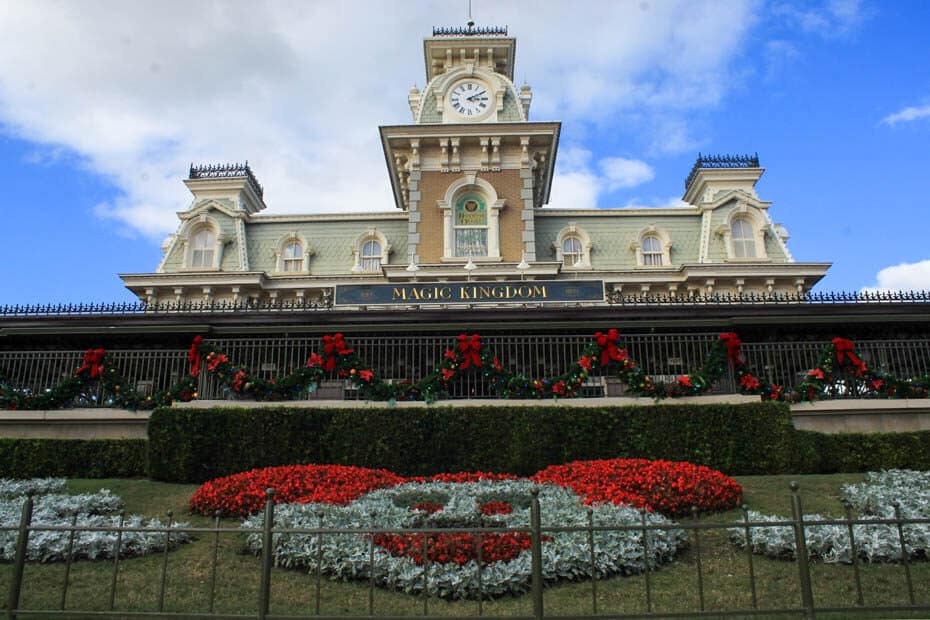 The train hasn't ran in a few years due to construction in the park. Additionally, several partitions have went up since I took the photo above.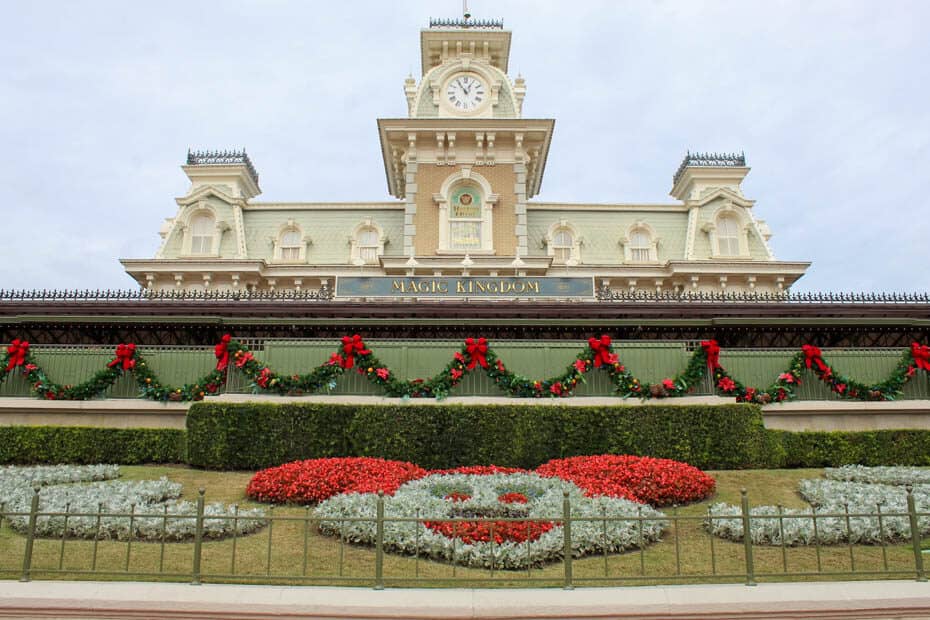 As for myself, I am very eager for the return of the train. It's a must do item, and I've missed the casual ride around the park dearly.
Entering the Magic Kingdom, we are greeted by the large tree located in Town Square. You might notice the support system suspended in the air that helps keep it stable.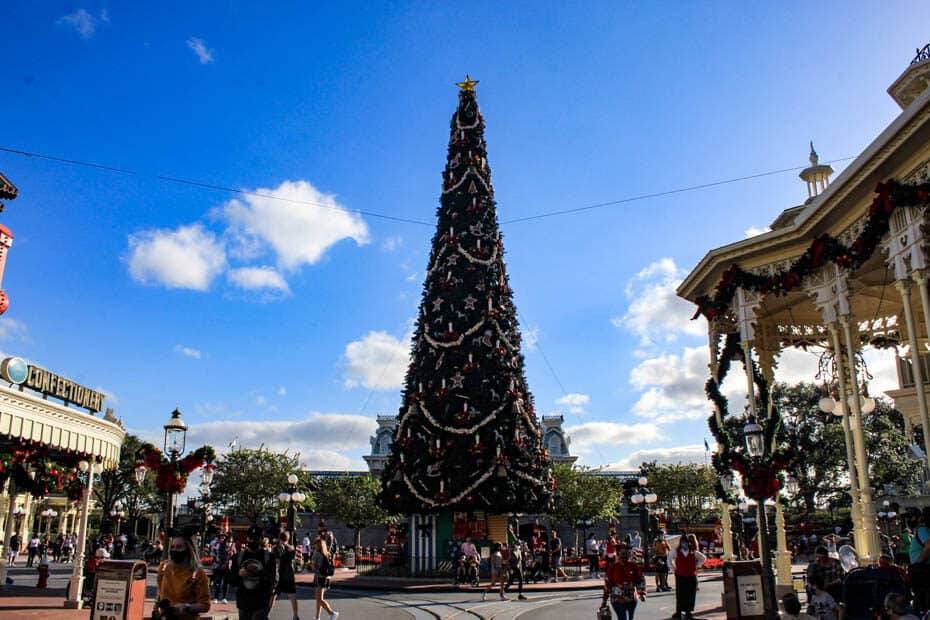 Upon close inspection, we see the tree is decorated with bronze bells, red bows, candlesticks, gingerbread, and more.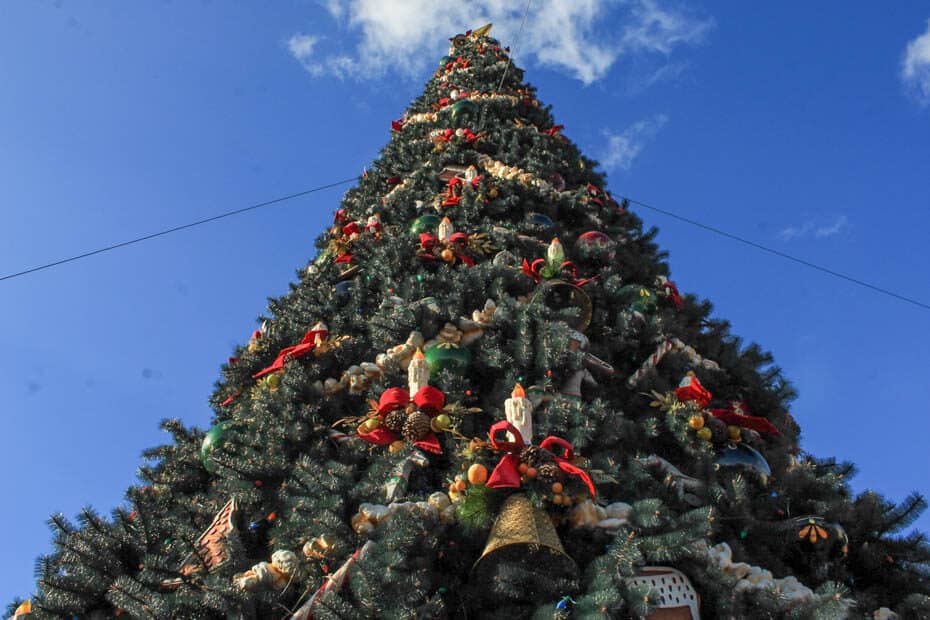 Toy soldiers representing the Christmas classic, Babes in Toyland, stand guard out front.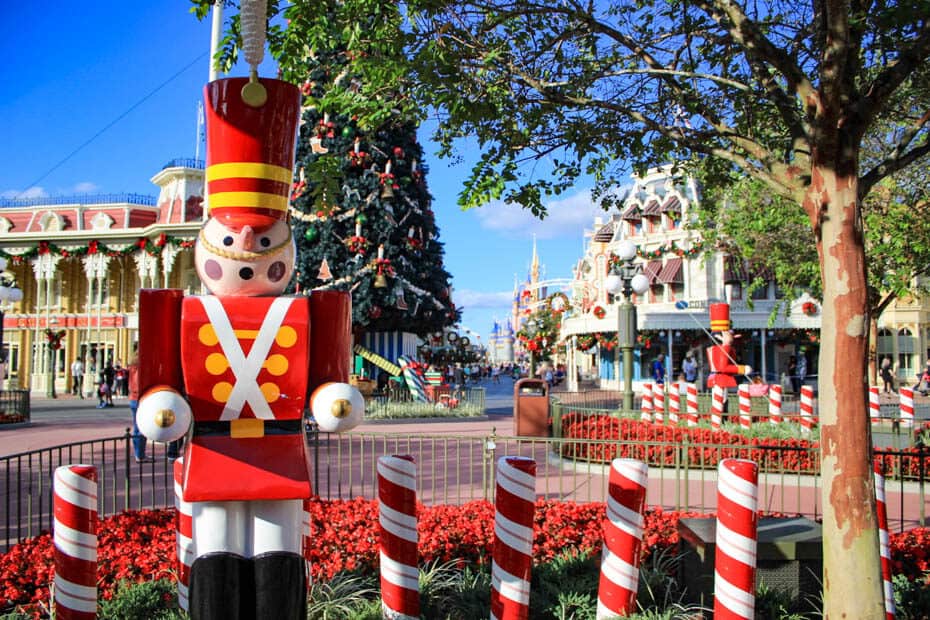 I might have went a little overboard with taking photos in this area. This was my favorite Christmas movie as a child.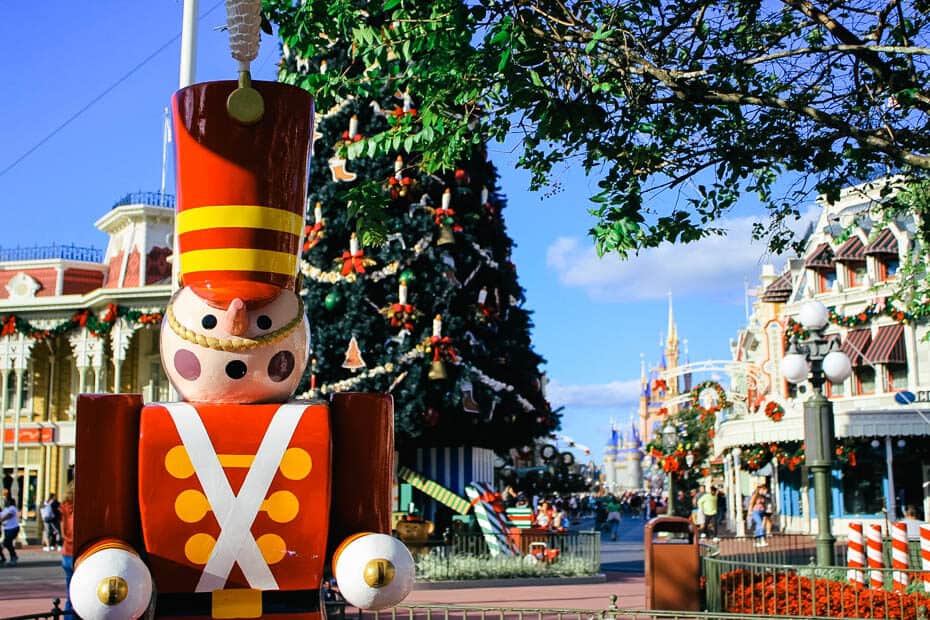 My aunt had a large collection of movies and I spent a week with her every year from Christmas until New Years. She was the one who introduced me to this special movie. I'm pretty sure it's available on Disney+ if you would like to check it out.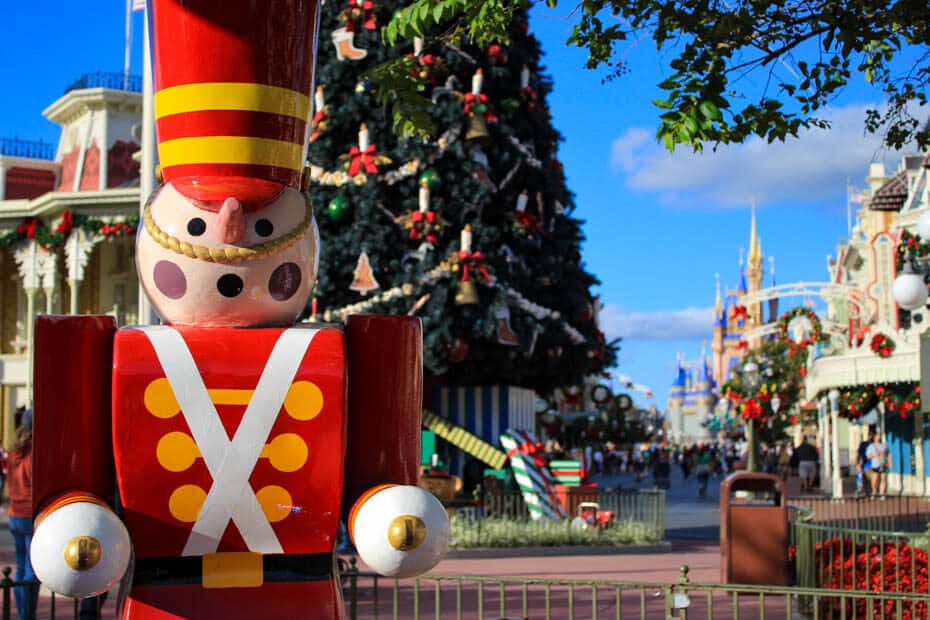 The tree is gorgeous against the blue skies and the American flag complements it well.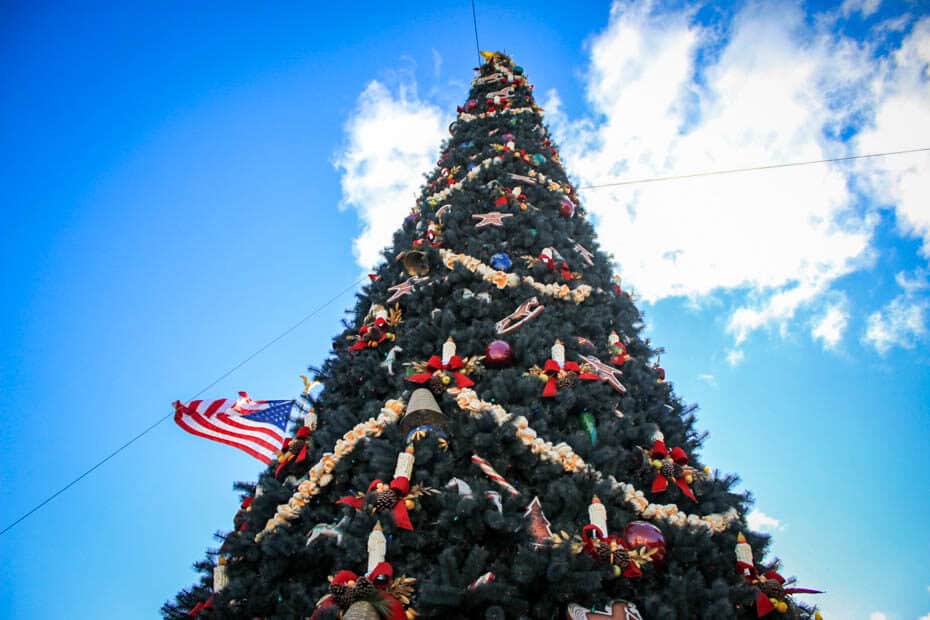 Every day around 5:00 p.m. there's a flag retreat ceremony, details are included in the Disney World Main Street U.S.A. land review.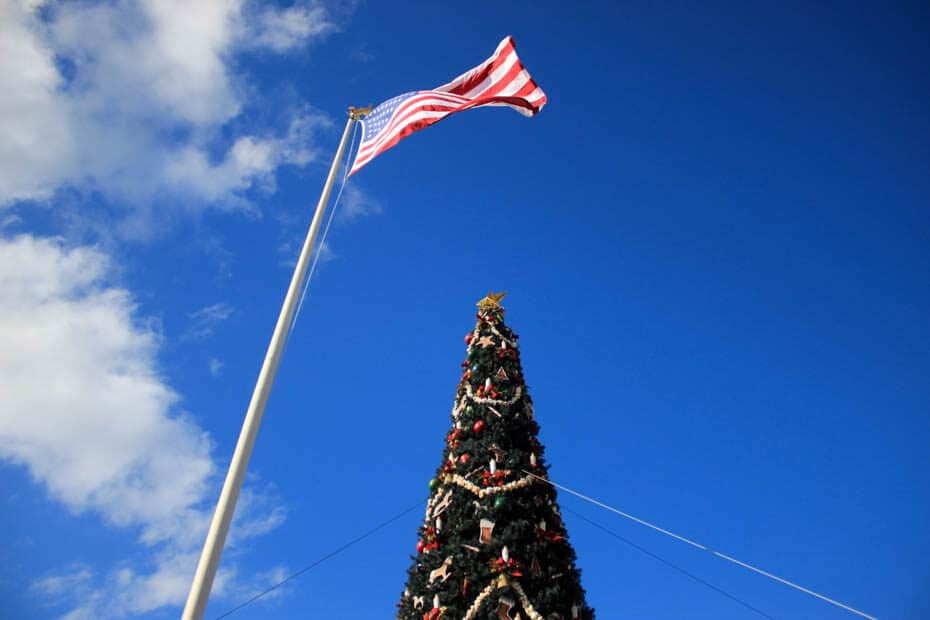 The tree is topped with a large golden star that lights up in the evening.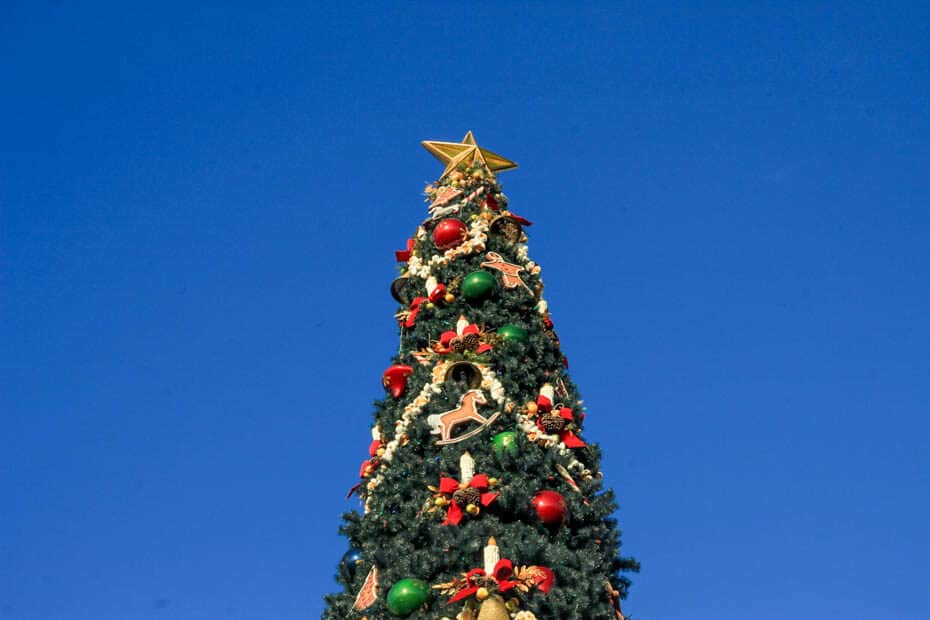 Underneath the tree, there are a few wrapped presents.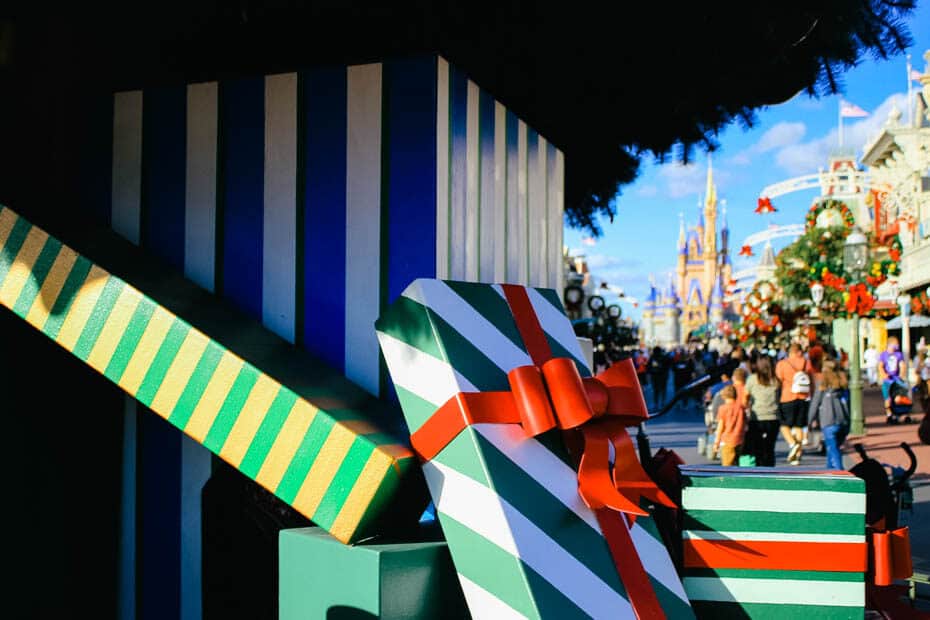 Miniature toy soldiers ready to blast the cannons.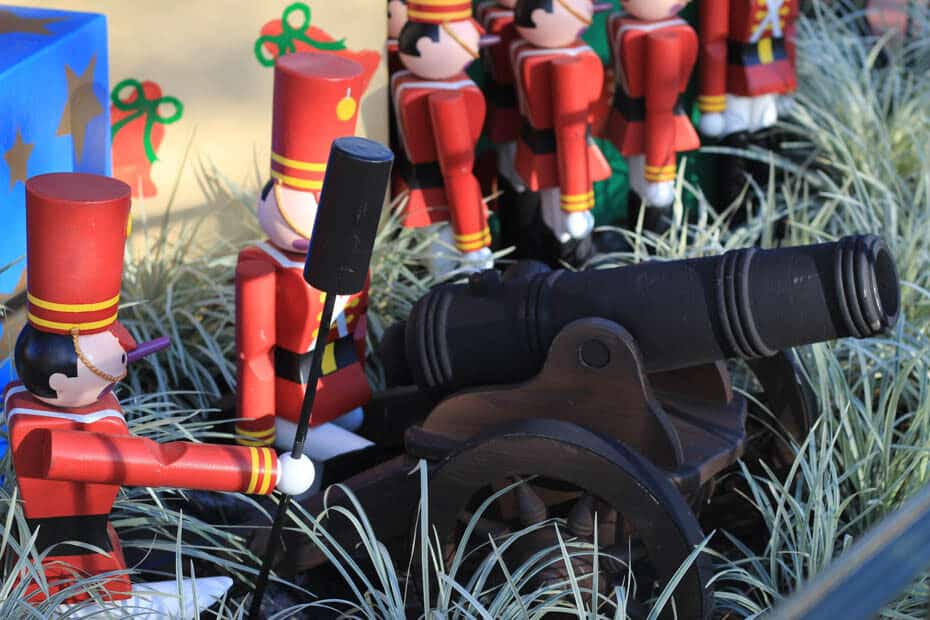 There's a train set that wraps around the base of the tree.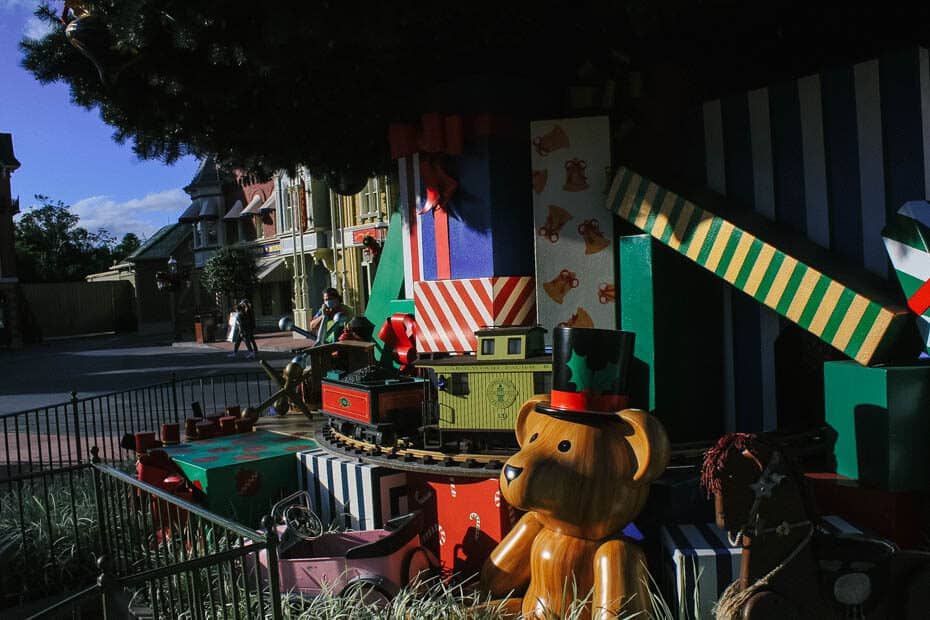 And this large wooden teddy bear with top hat.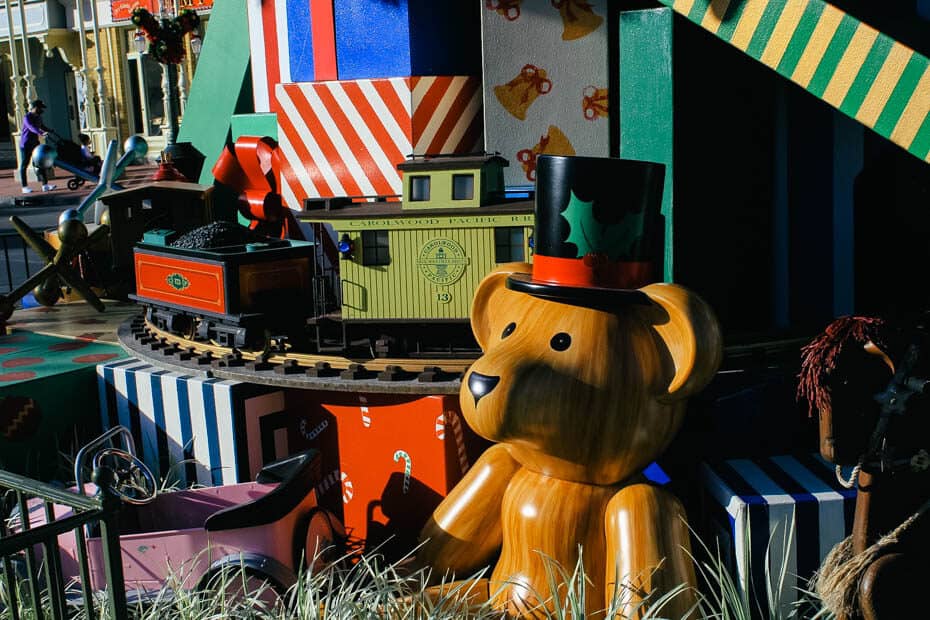 There will be a PhotoPass photographer in this area taking pictures the majority of the day.
Moving on down the street, let's take a closer look at a few shops.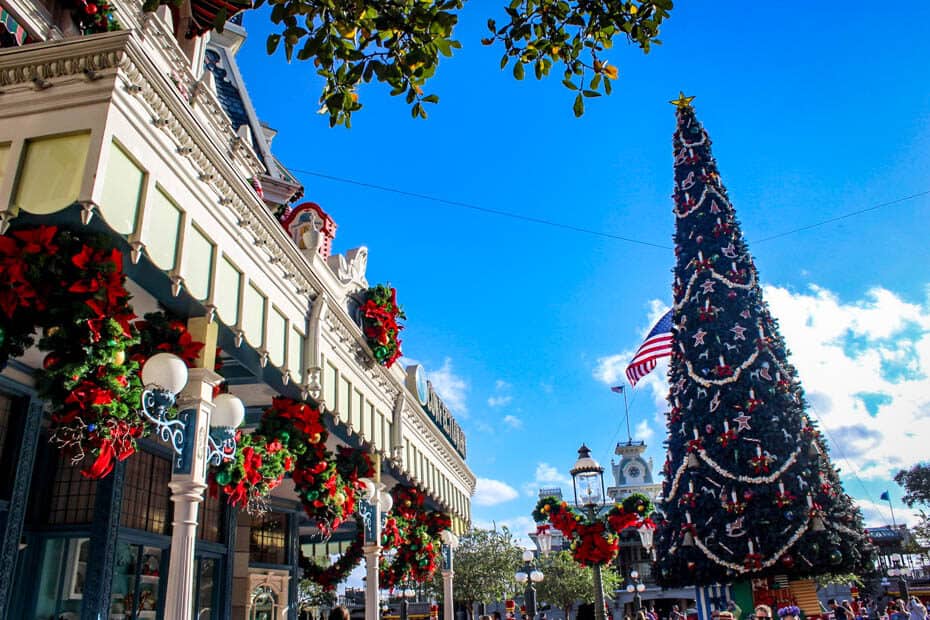 Starting with the best shop, the Magic Kingdom Confectionery.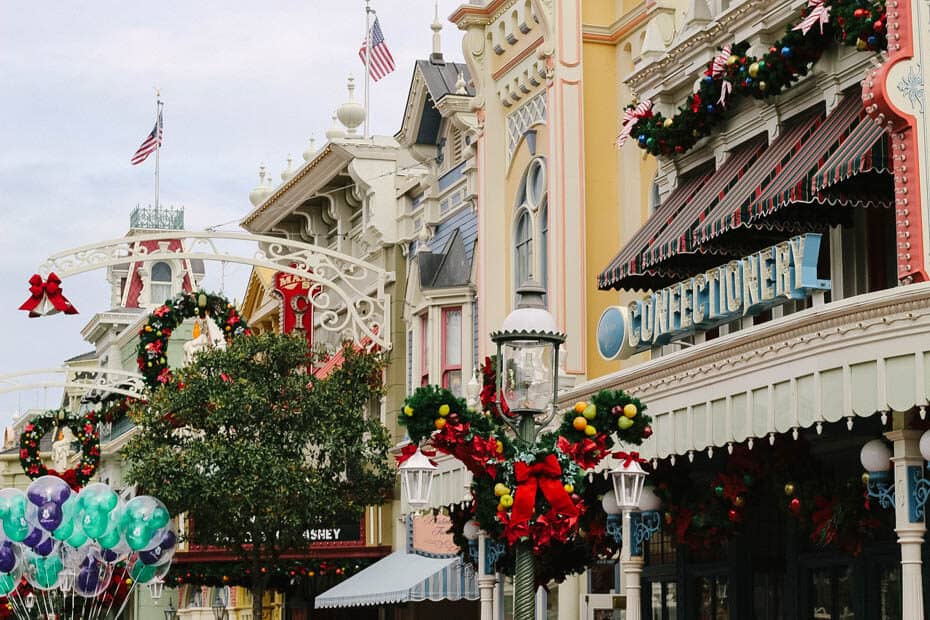 Here's a little view of the train station from underneath the awning of the Confectionery.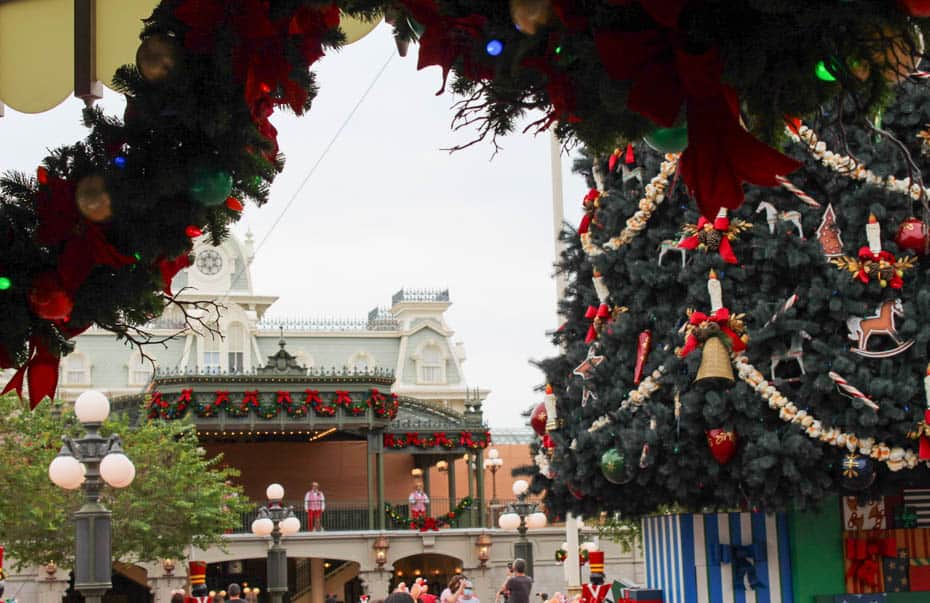 One thing you'll want to know in advance is that all of the stores that are open have fairly strict capacity limits at this time. Therefore, it is not uncommon to have to wait in line just to enter one of the stores.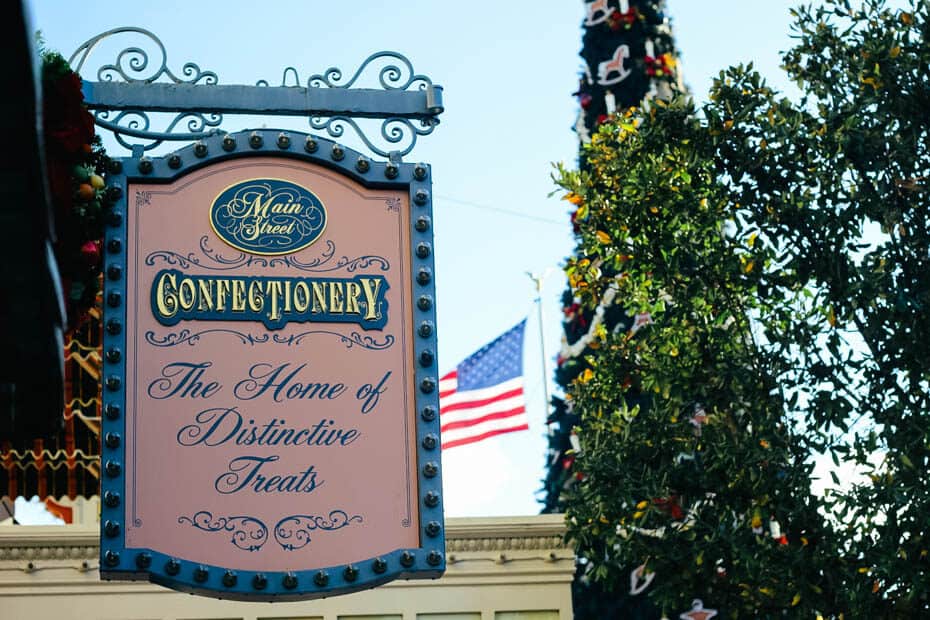 So if you want to stop in a few stores, don't wait until the end of the day when everyone else will have the same idea.
Typically, most of the windows on Main Street are decked out for Christmas. This year the Emporium does not have the normal window display of Disney's A Christmas Carol like usual.
But the windows of the Confectionery are decorated in their usual fun Christmas style.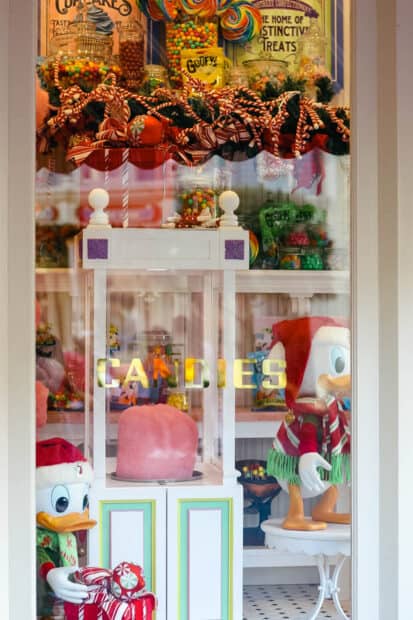 Candies. That's pretty much all I think about this time of year.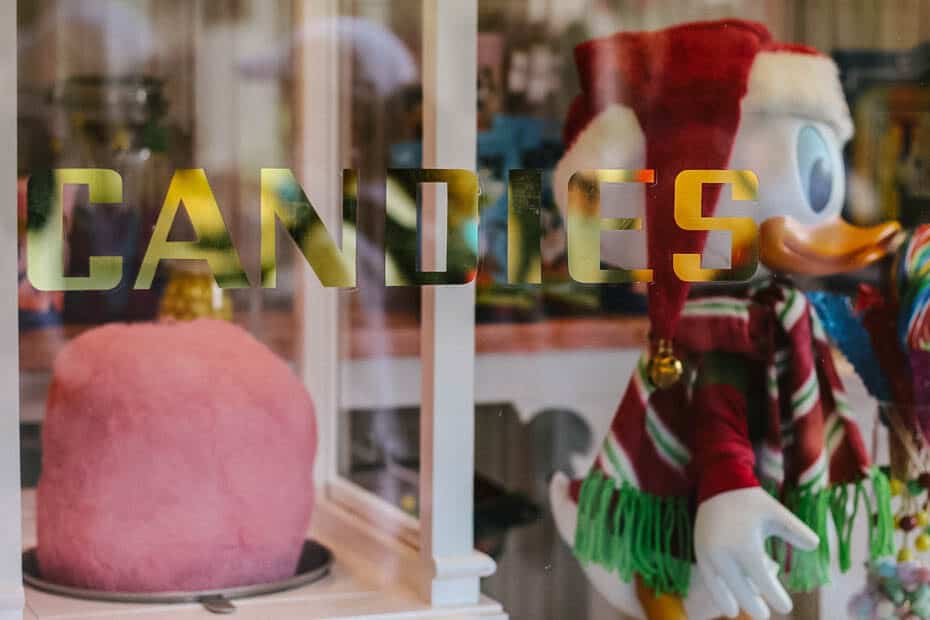 That mischievous face is adorable.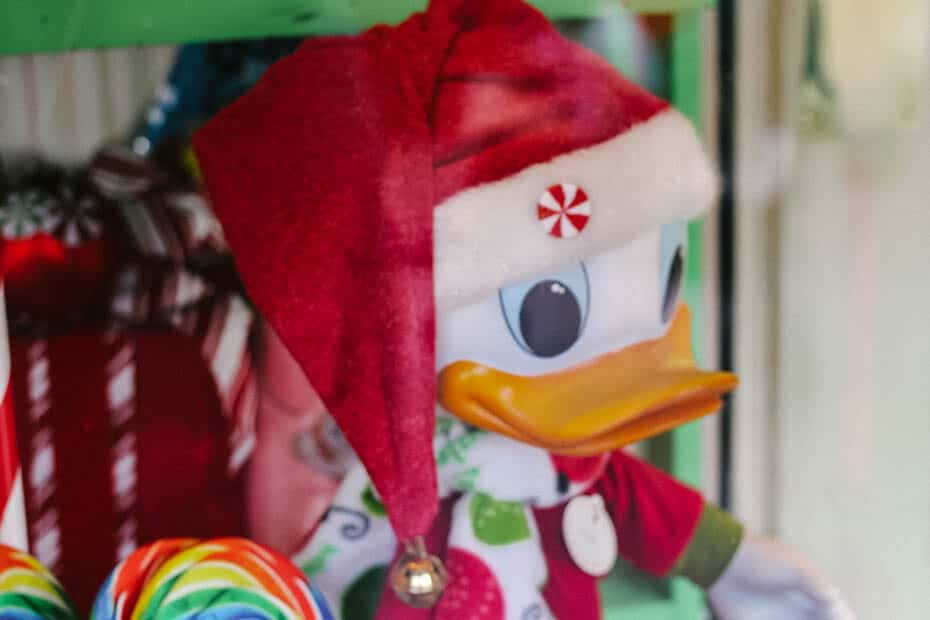 This sign is always a sight for sore eyes. Can't you just smell the sweetness as it escapes the corner door making its way out onto the street?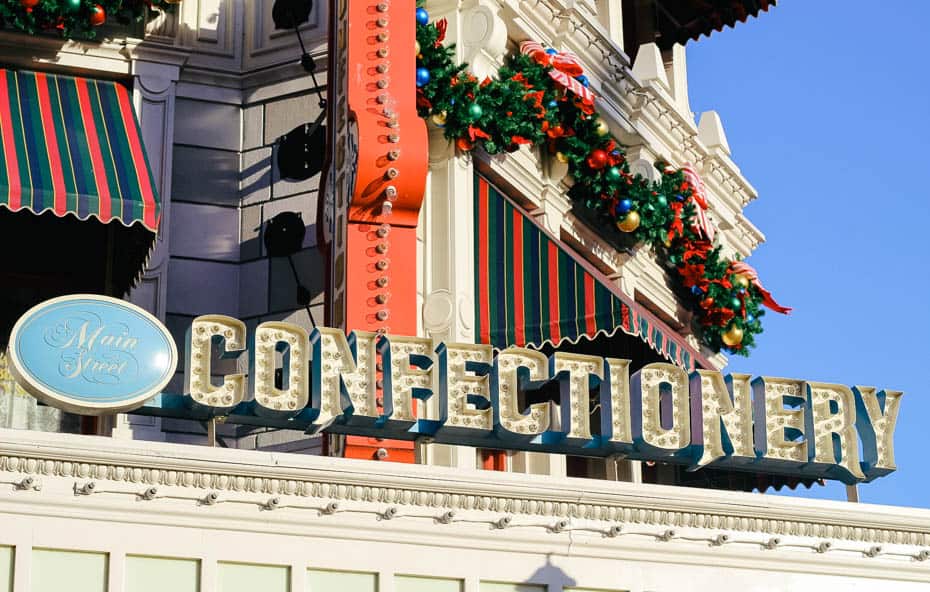 The Magic Kingdom's Christmas decor continues down the street.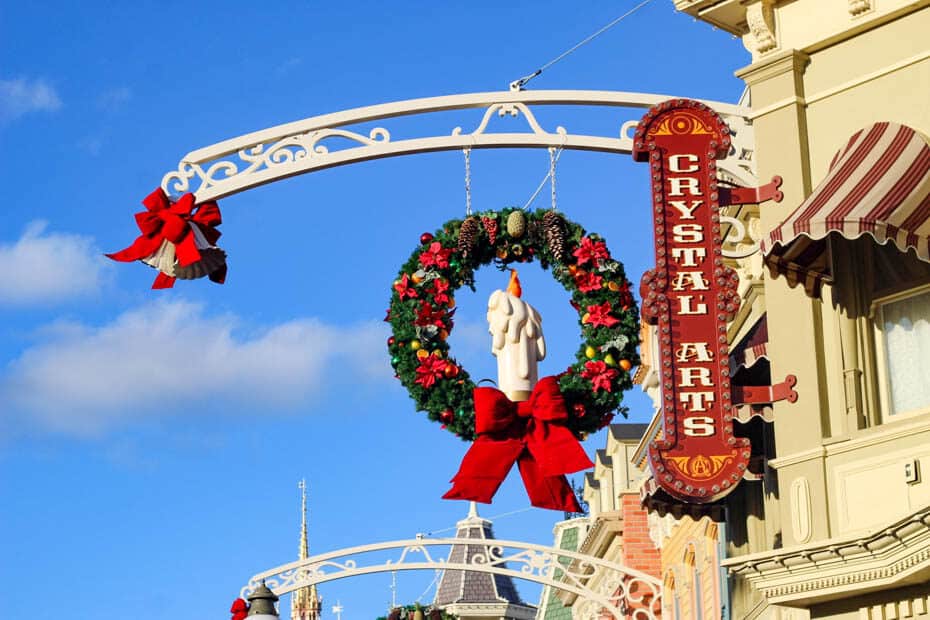 Make sure to pause, take your time, and look up above.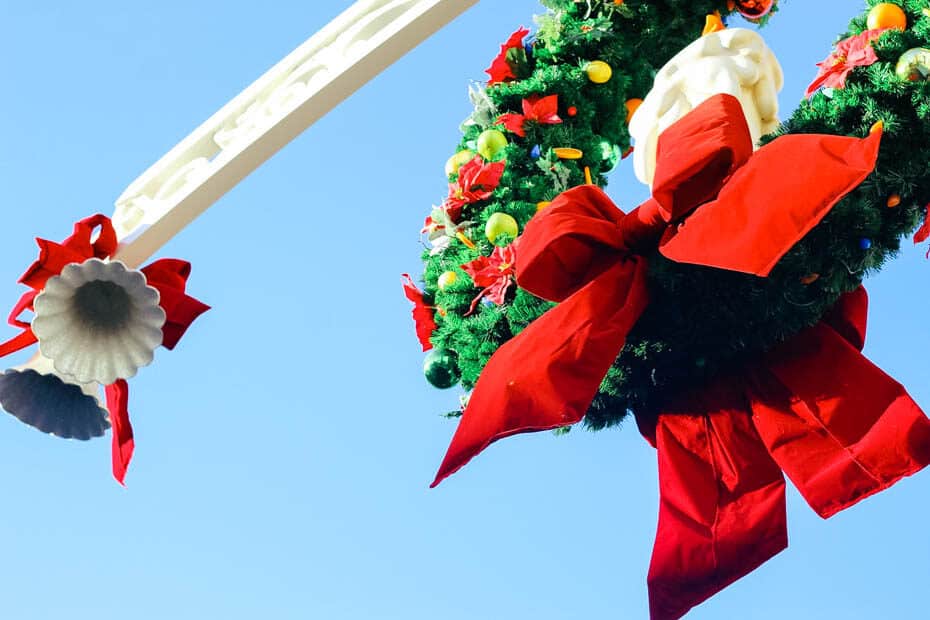 Sometimes I come here and spend a couple of hours without ever leaving Main Street. I think about how many guests walk through in a hurry, on their way to a ride, that never stop and take it all in.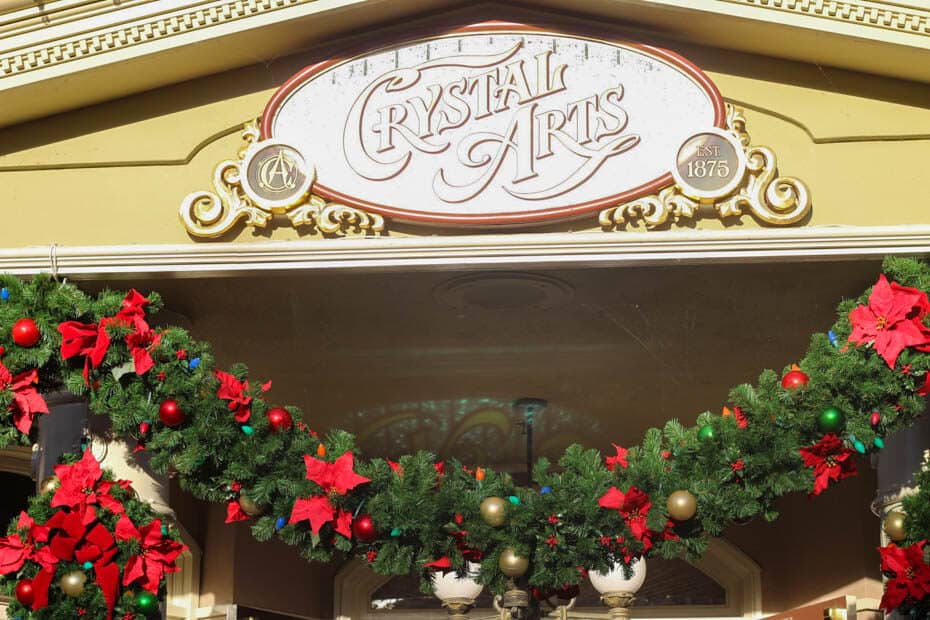 I'm sure they have the intention to spend time here before they leave. But by the end of the day, they are worn out as they make their way to the park exit.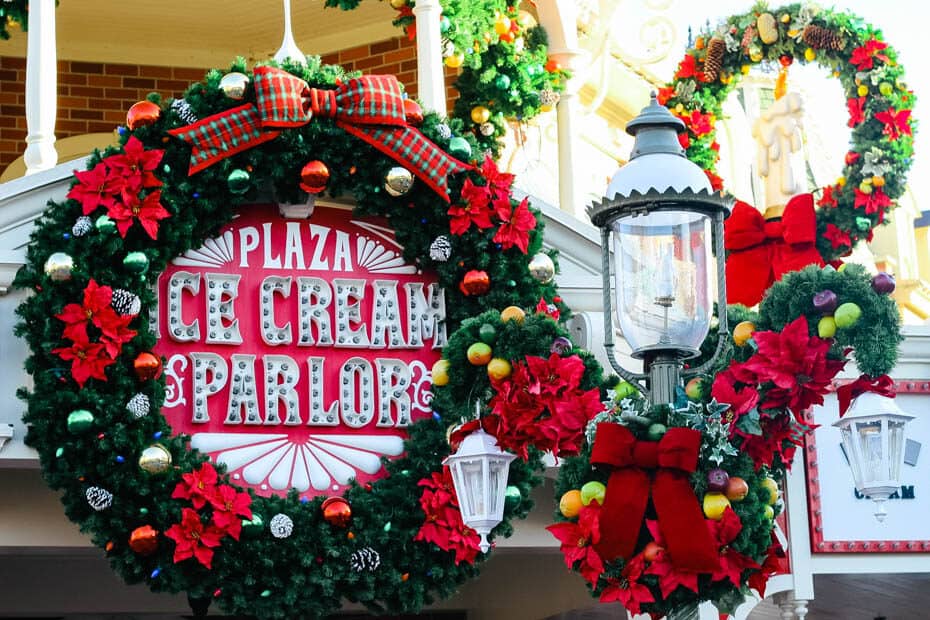 Meanwhile, I'm camped out on the curb, leaning against a rail, or sitting under an umbrella with a coffee on the side street.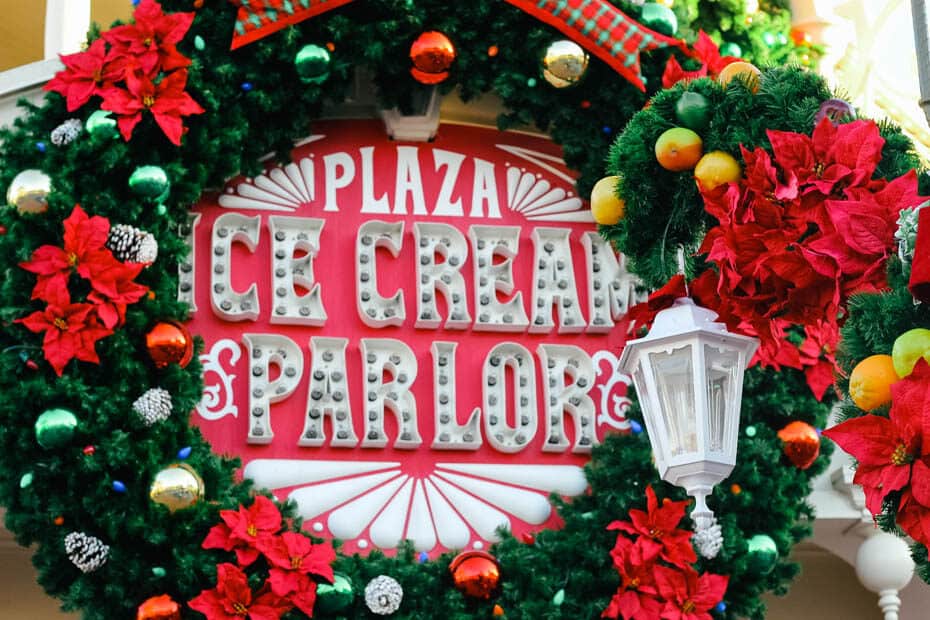 You'll find me browsing coffee mugs at the Confectionery or weaving in and out from shopping in the Emporium. It takes up nearly the entire side of the street. It's fun to check out all of the different window displays to see if there's anything new. Especially at Christmas.
Then I make my way into Uptown Jewelers to see the latest charms and handbags. As you can see every one has put on their best look for Christmas at Magic Kingdom.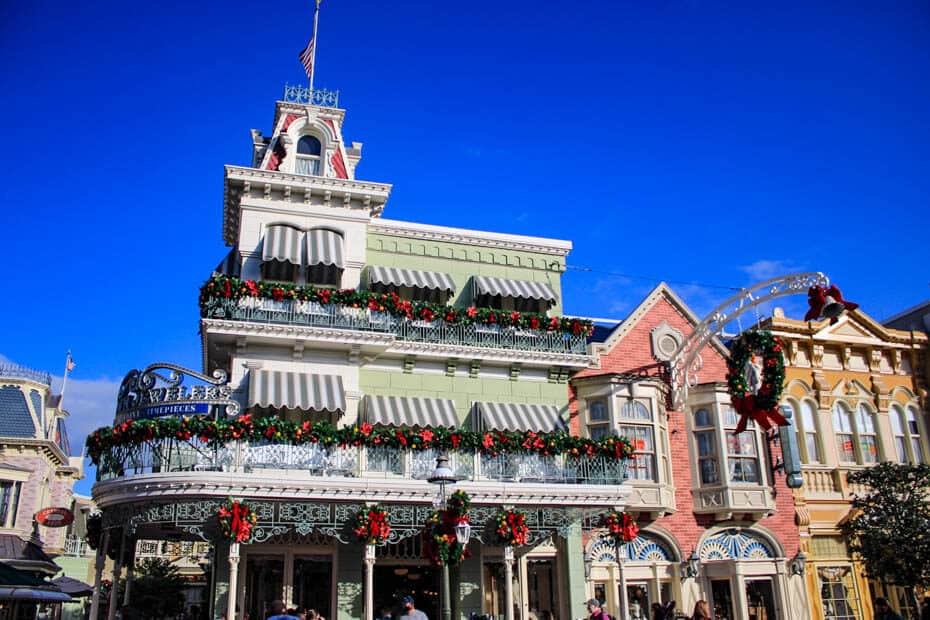 The reason I'm sharing this with you is to encourage you to spend a little extra time here on your next visit. You'll be all the better for it. There are so many things here that will put a smile on your face.
A few more Christmas photos before making our way to the castle.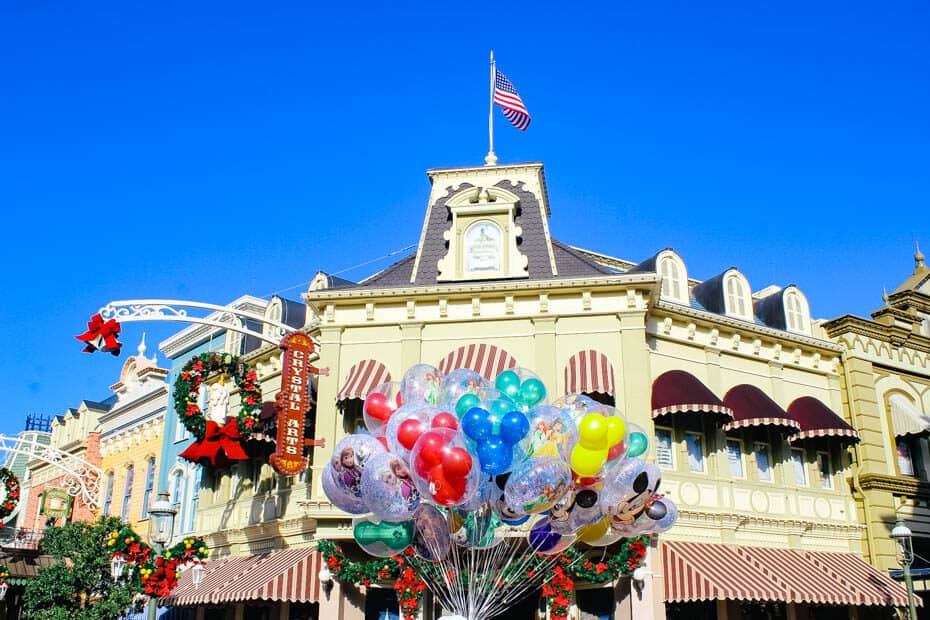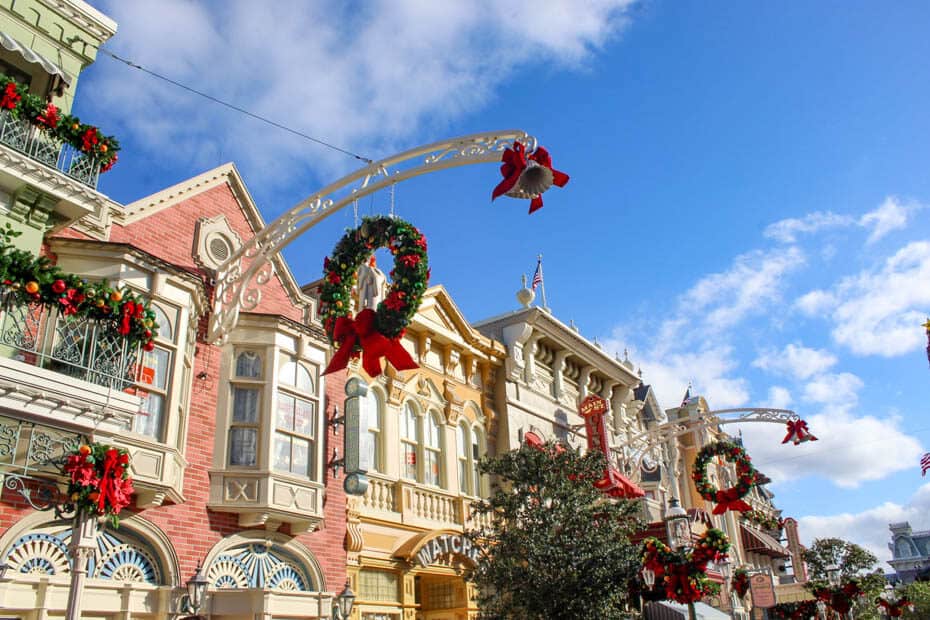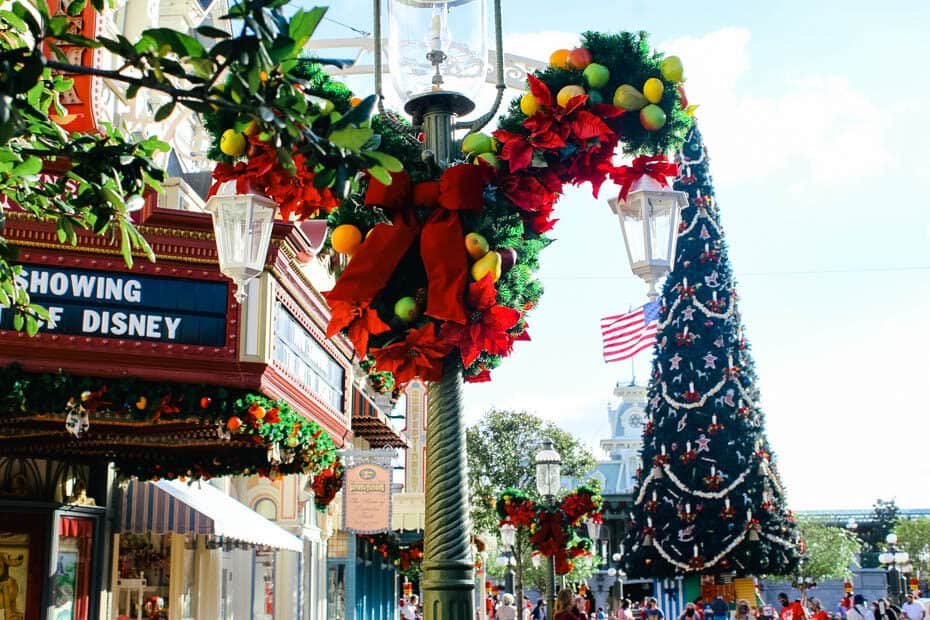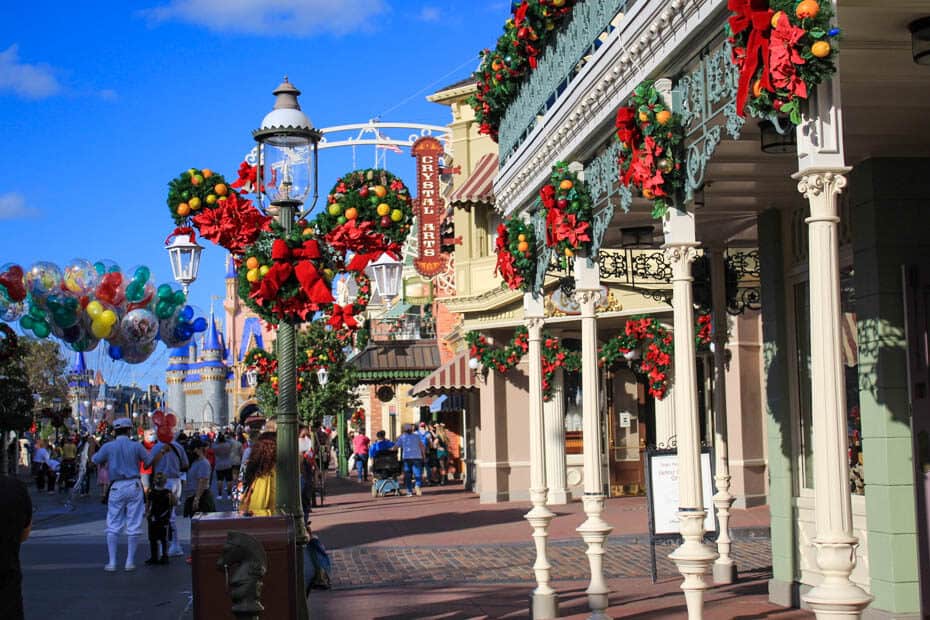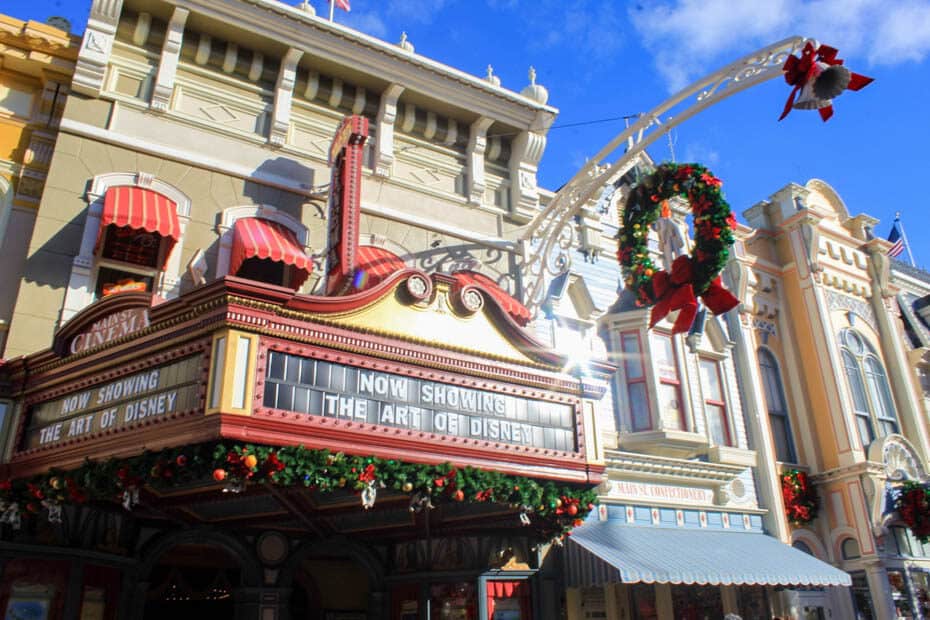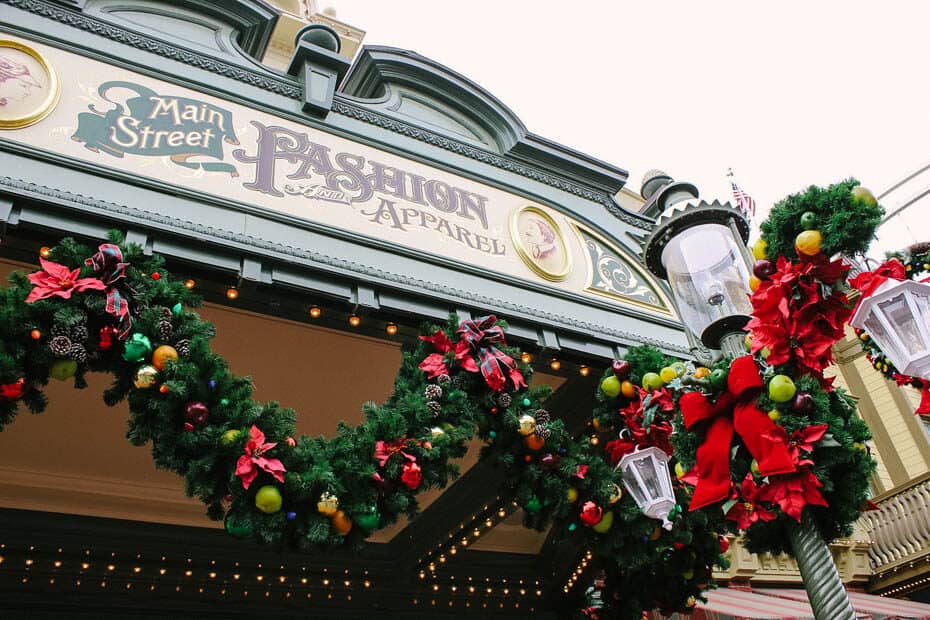 There she is in the distance.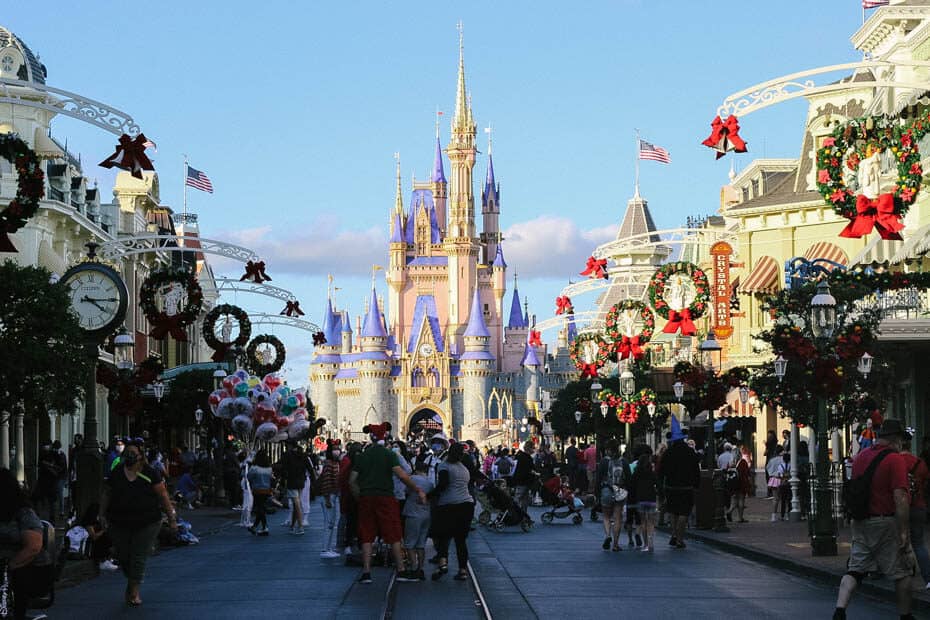 Her new look goes well with the Magic Kingdom's Christmas decor.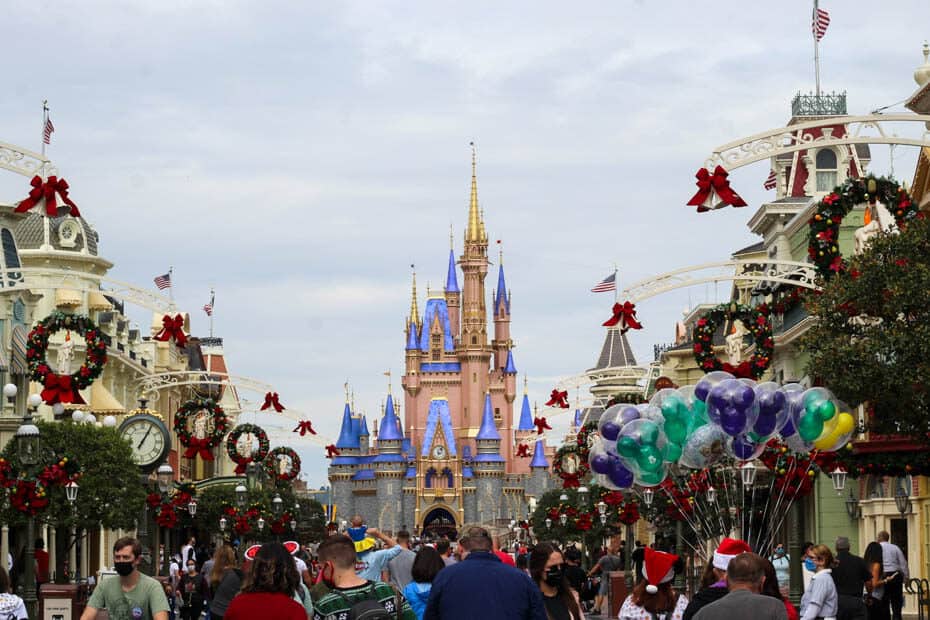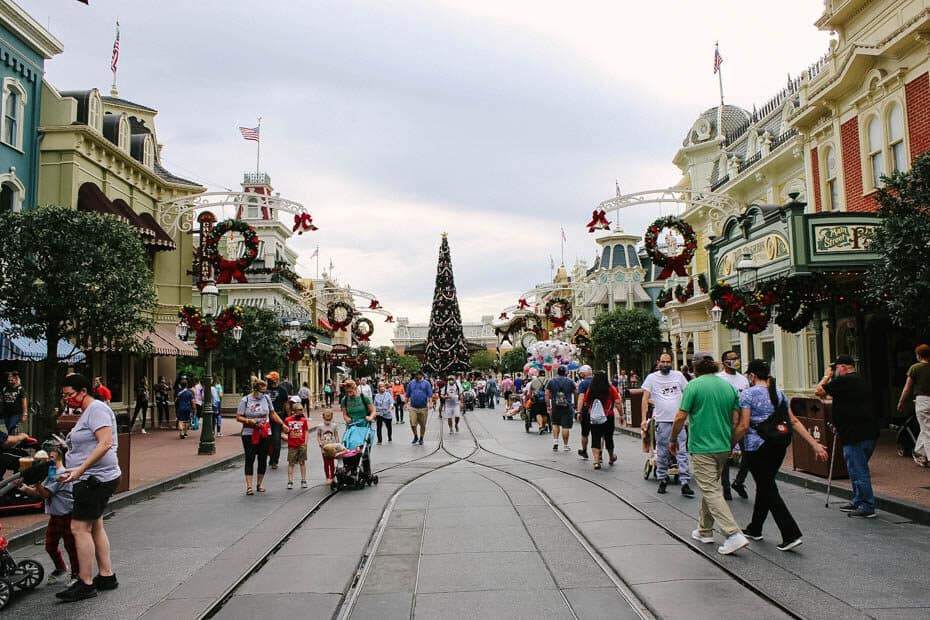 Another perk for spending a little time on Main Street is the variety of entertainment offerings available. Right now the Dapper Dans are performing at different times of the day from the train station balcony.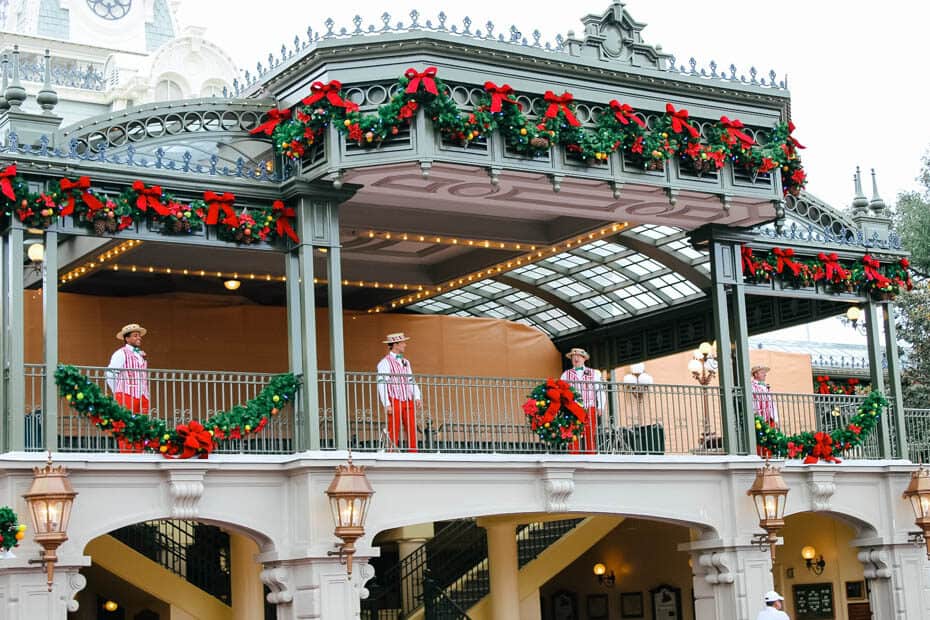 And you might run into a few favorite characters greeting guests from a distance. This happens off and on all throughout the day. Additionally, Mickey and friends are usually out waving goodbye to guests again at closing.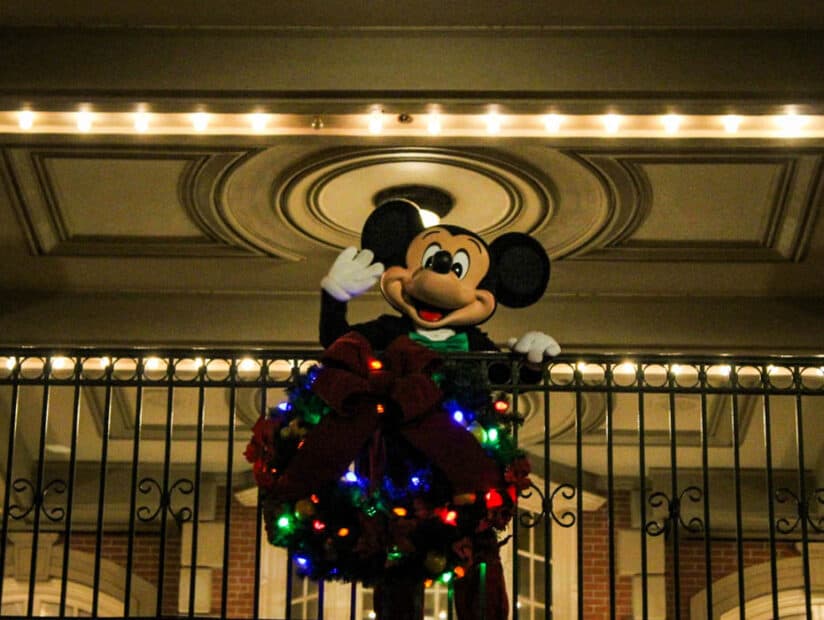 Perhaps, one of the most popular forms of entertainment right now is the pop-up cavalcades.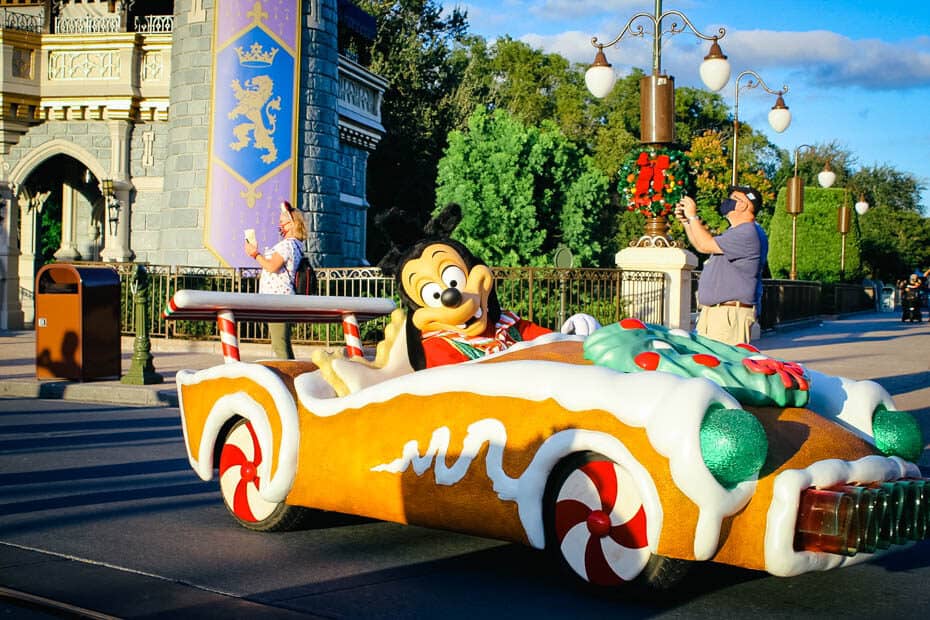 There are four to five different Christmas cavalcades that come through during the day up until sunset. You might see Goofy and friends, Mickey and friends, Santa, Fantasyland Friends, and the Princesses.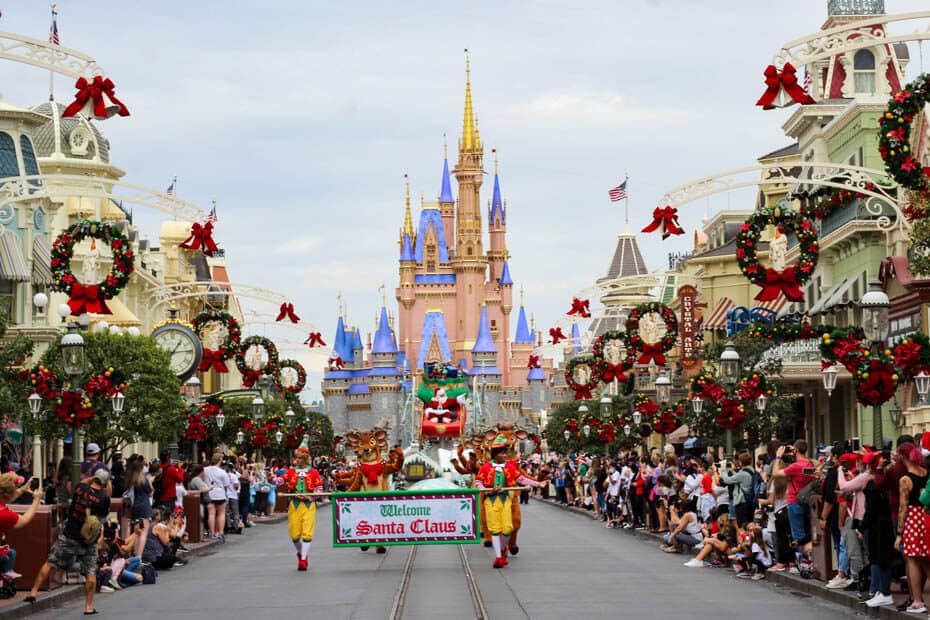 I have a full review on where to meet Santa at Disney World here. It goes over every option in detail for the different parks.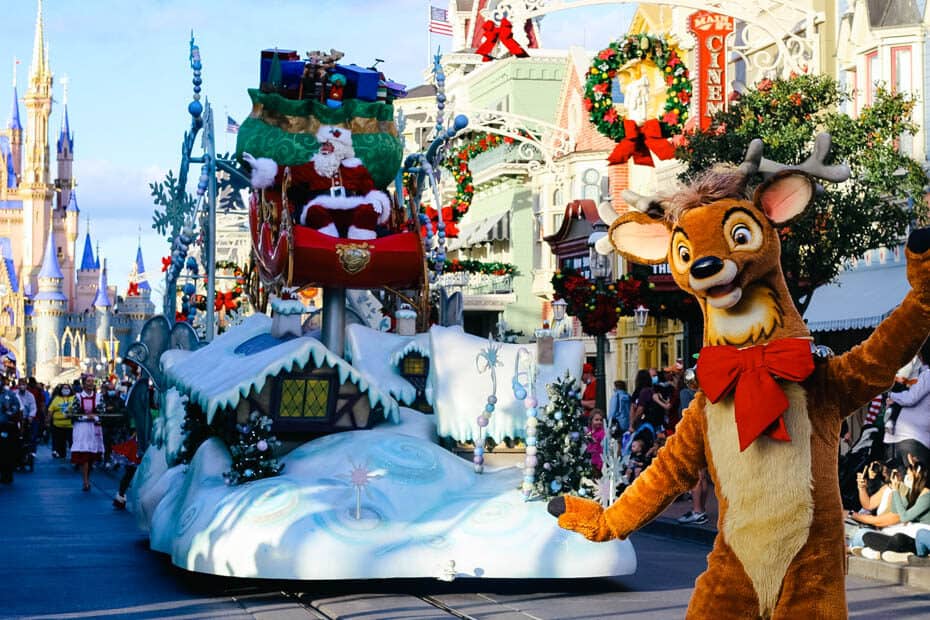 As we make our way up to the castle hub, we make a brief stop for a photo.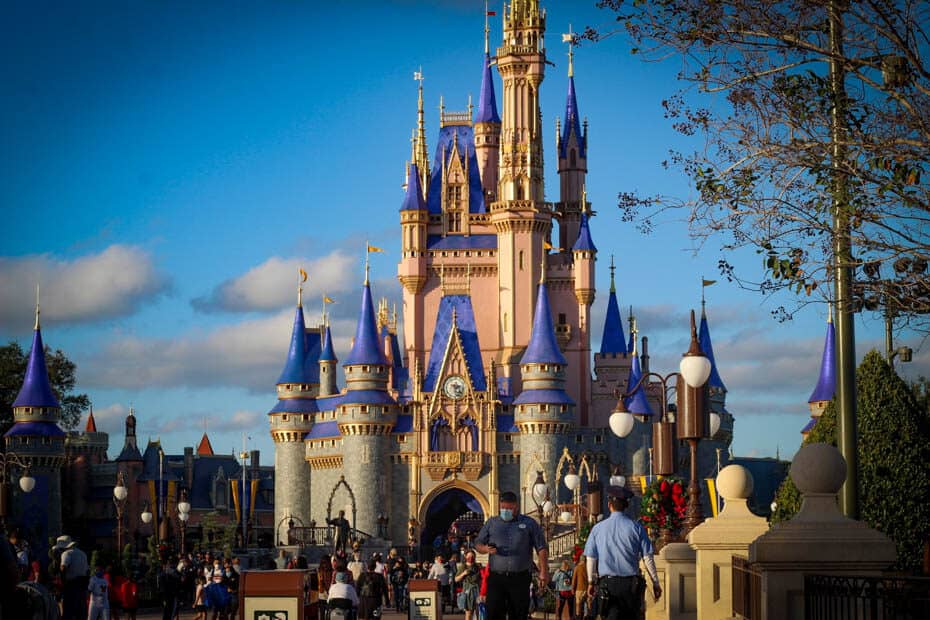 There will also be PhotoPass photographers up in this area. Many people like to have their pictures made in front of the Partners statue. Right now it is surrounded by red poinsettias.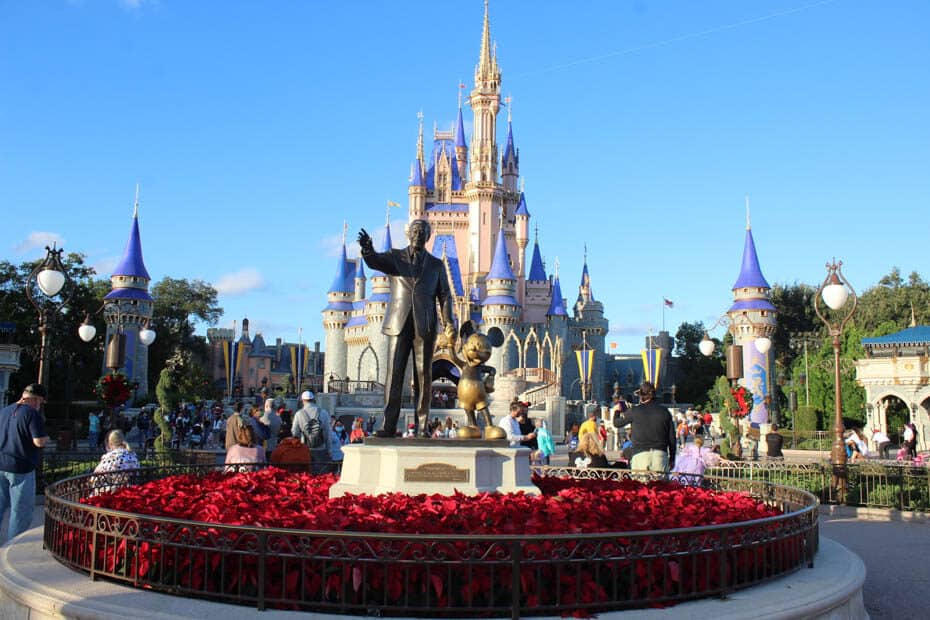 The colors and florals used at Christmas in the Magic Kingdom are really nice.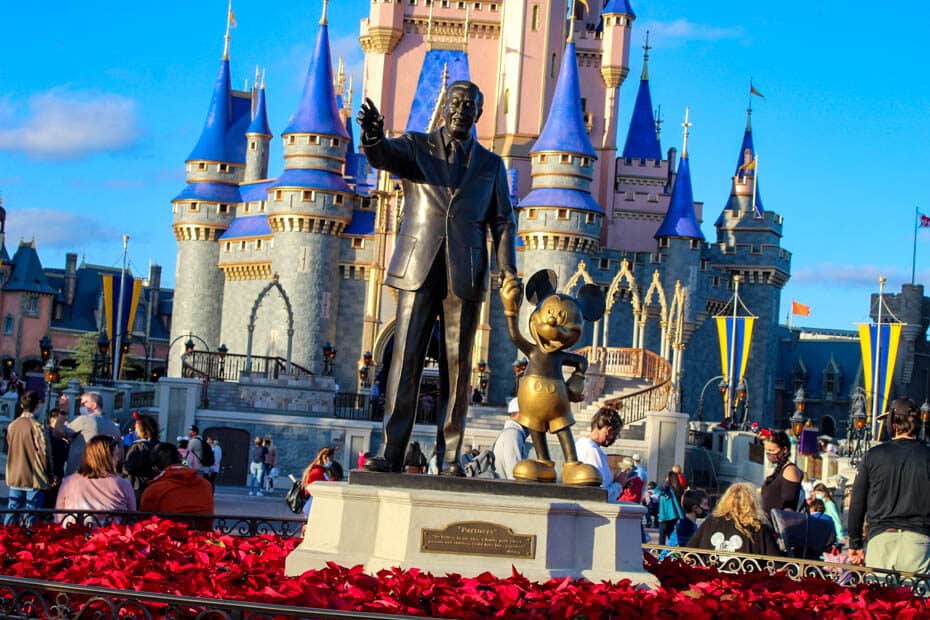 You might walk up the newer walkway from Liberty Square to take in a little side view.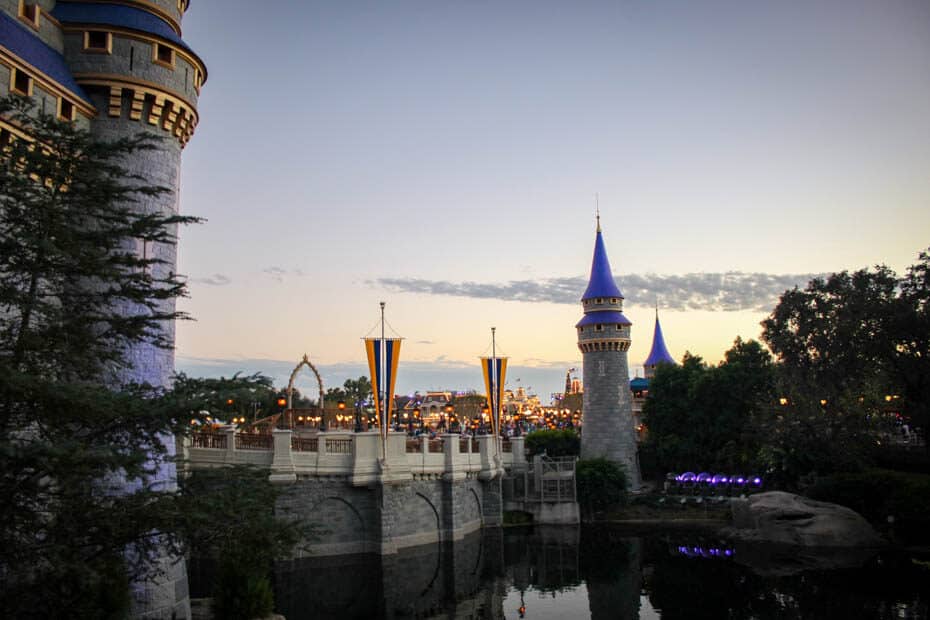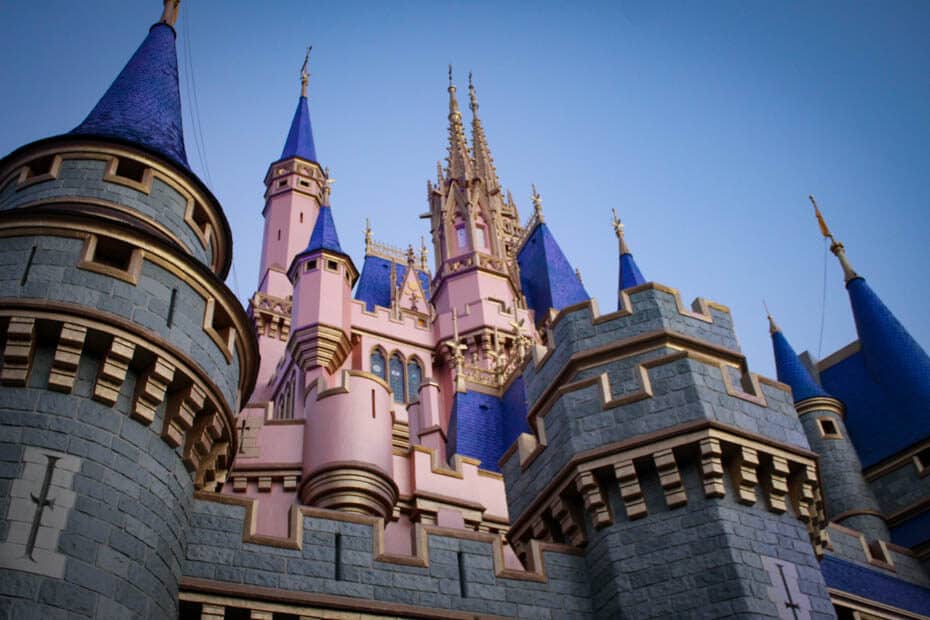 And surprise! Cinderella's Coach is out for photo opportunities behind the carousel. This usually only happens during special holidays. It's rare that she's been out a couple of weeks.
There will be a PhotoPass photographer out taking pictures. And in the evening hours, the carriage lights up.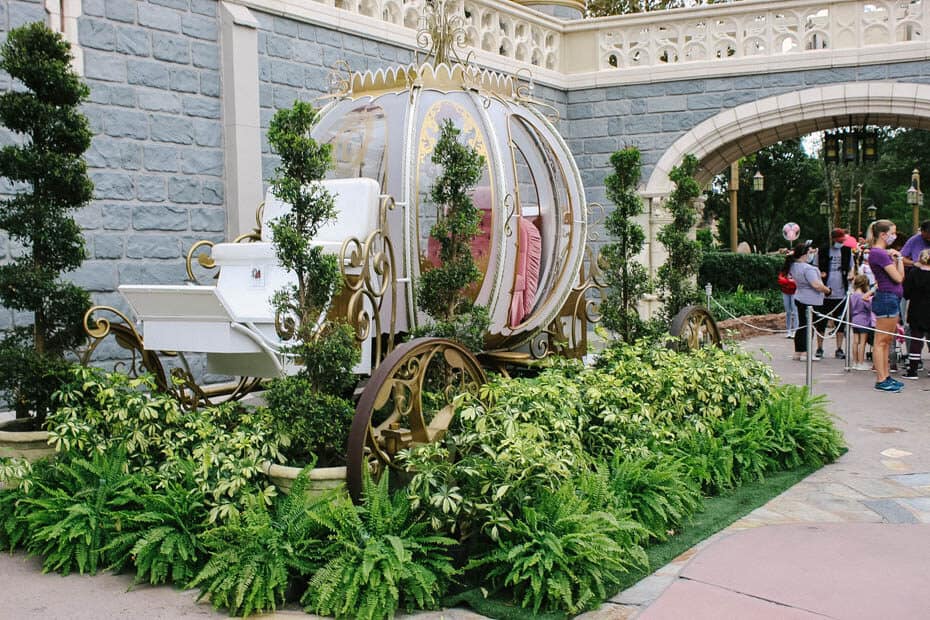 You might remember several years back they had the actual carriage used in the live-action Cinderella movie on display at Hollywood Studios. This isn't the same carriage, but it is still quite special.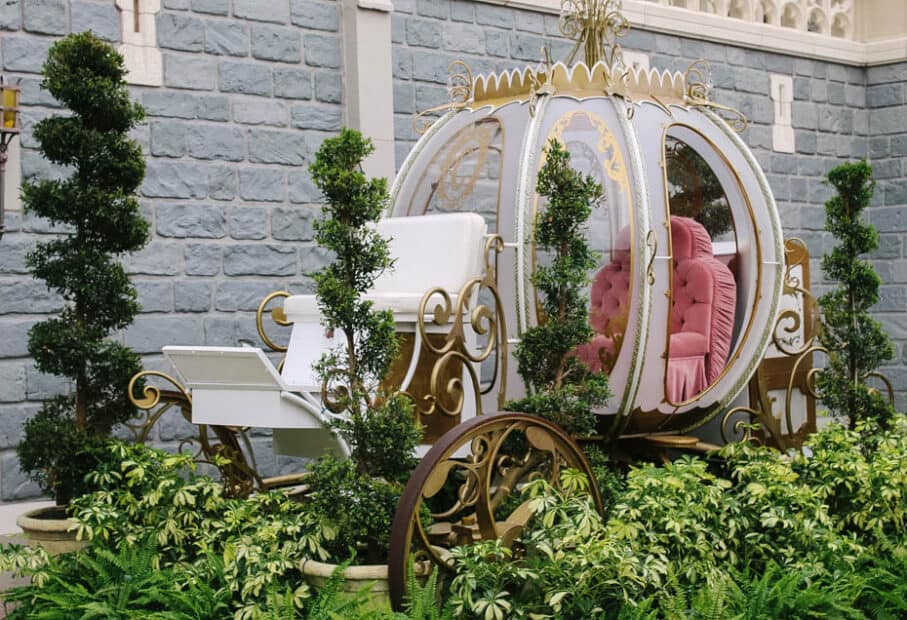 The back of the castle has a little extra garland added for Magic Kingdom's Christmas.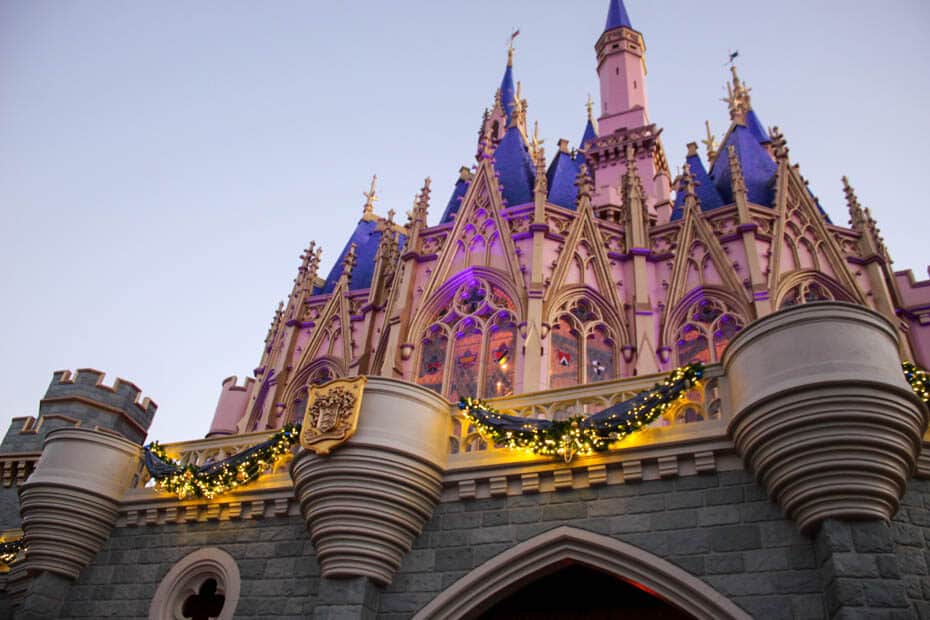 It is a nice touch, but the back of the castle hasn't ever really needed any help.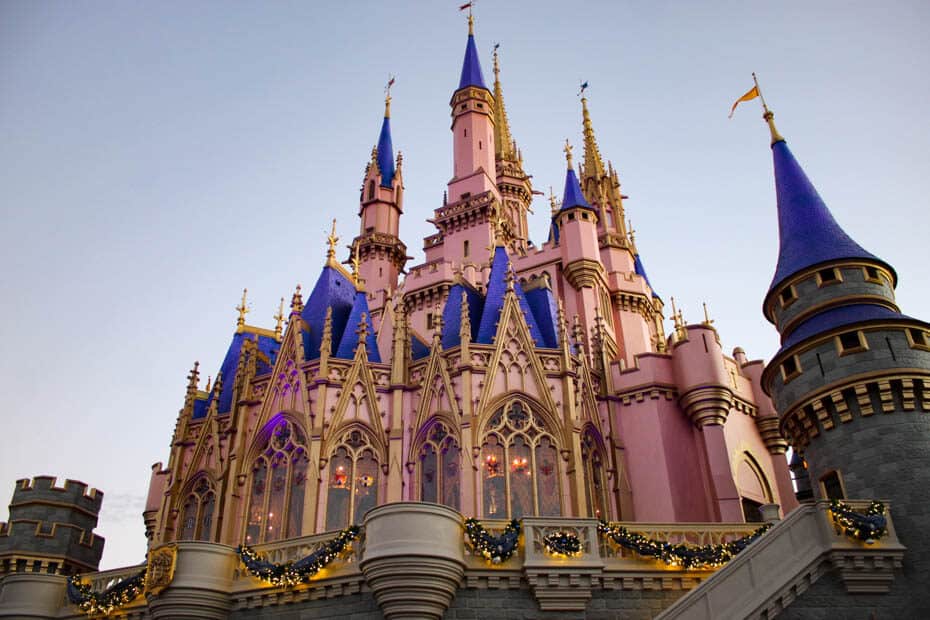 As the sun begins to set, you'll want to make your way back through the castle and toward the front of the hub. While this looks like a decent amount of guests gathered in one location, it's nothing compared to what a normal Magic Kingdom Christmas crowd might be like.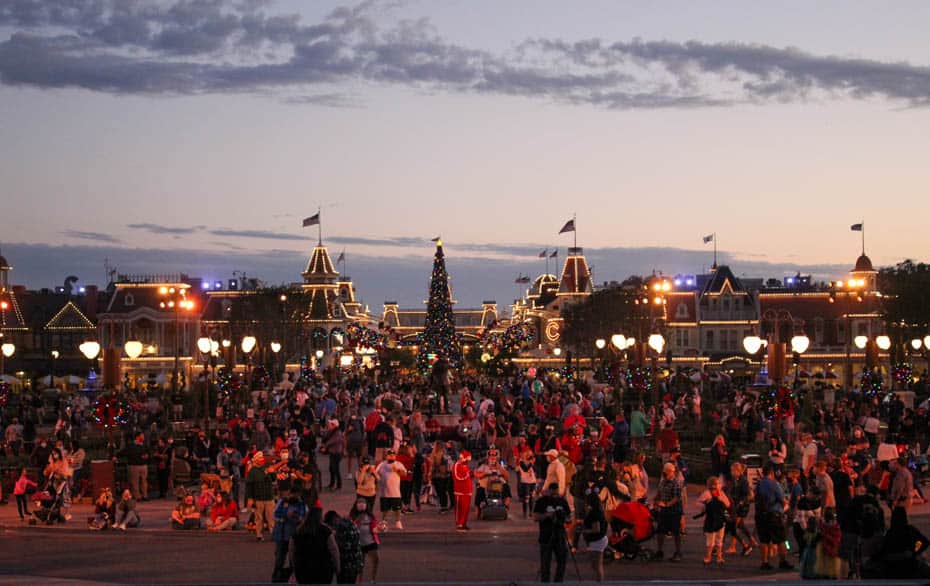 Here is a look at the castle right before it gets completely dark. Also, the last pop-up parade usually comes through around this time.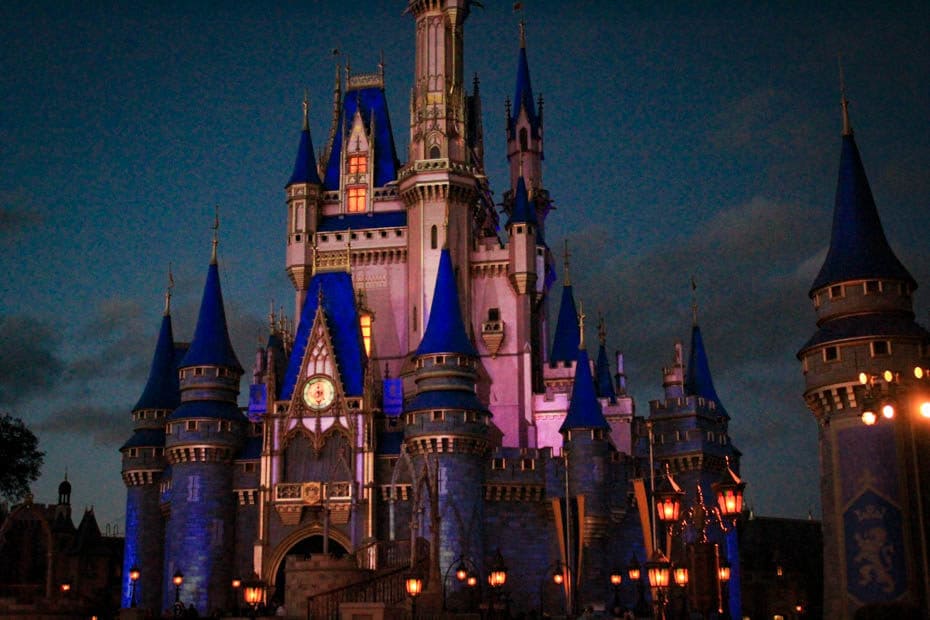 As soon as it gets dark, the evening castle projections begin. There are four different looks.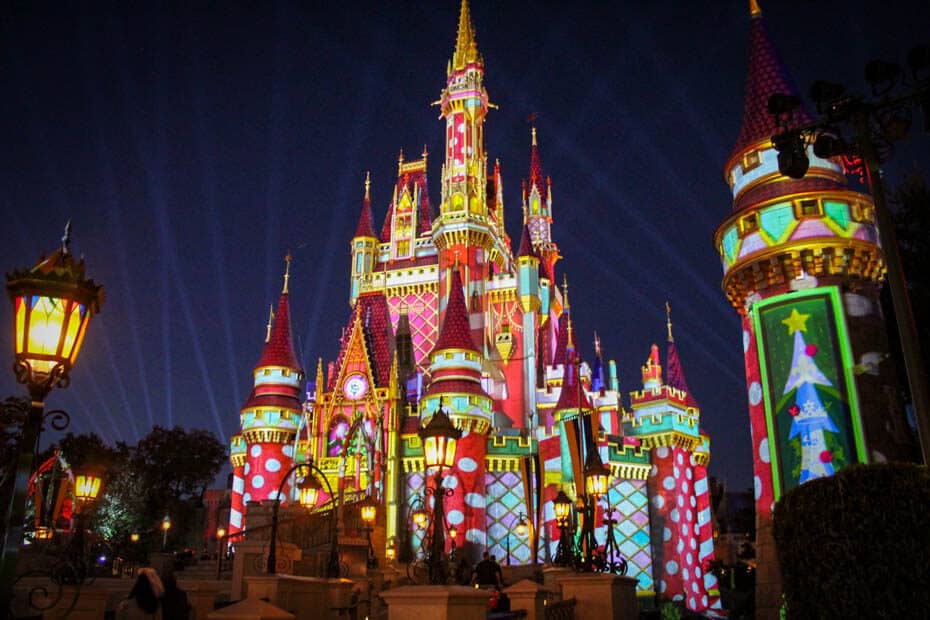 Each projection tends to last for about 15 minutes.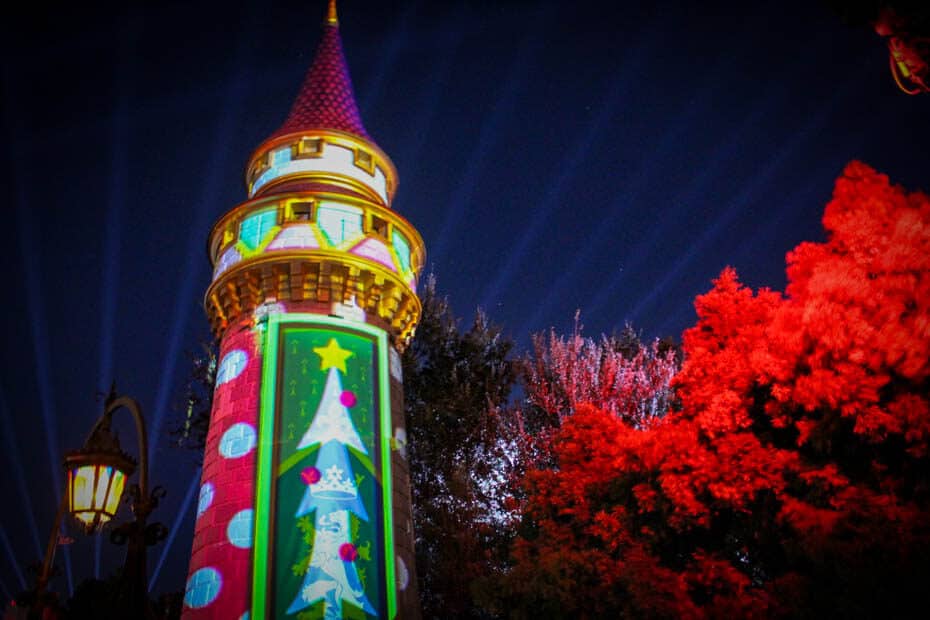 Then there will be a small burst of fireworks.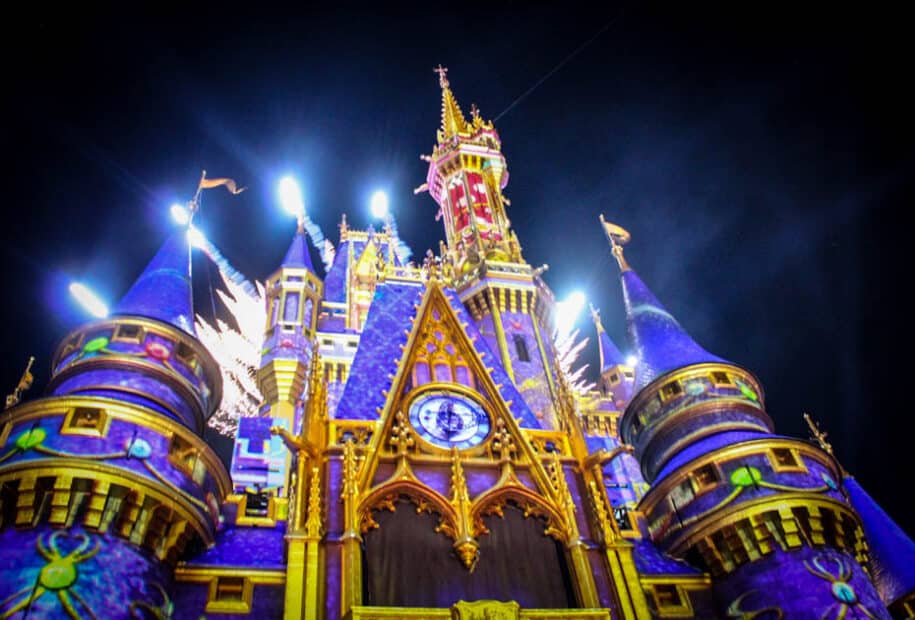 Right before she takes on a new look.
These projections are far more stunning than I would have ever imagined.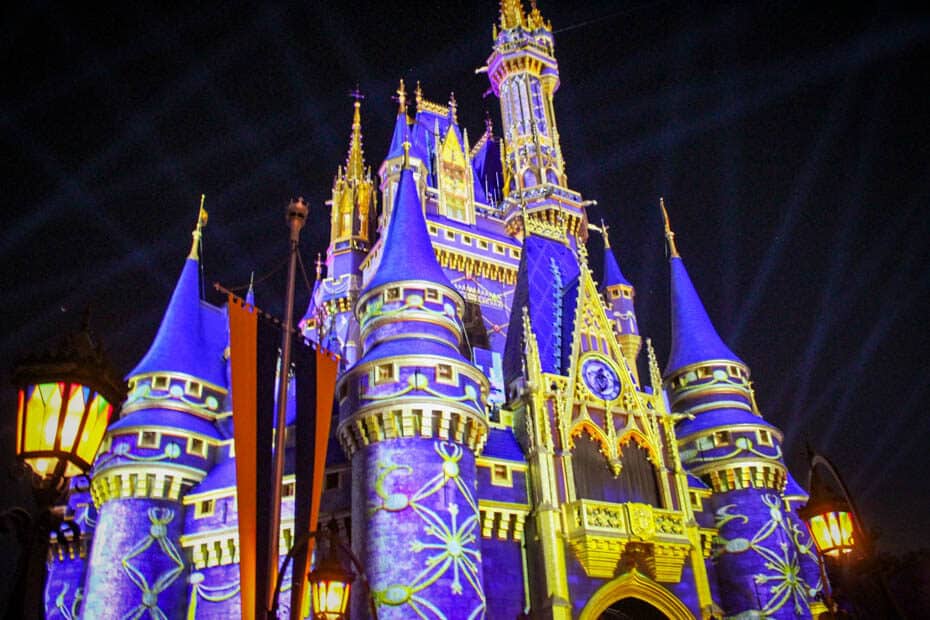 These Magic Kingdom Christmas castle projections will continue until the park closes.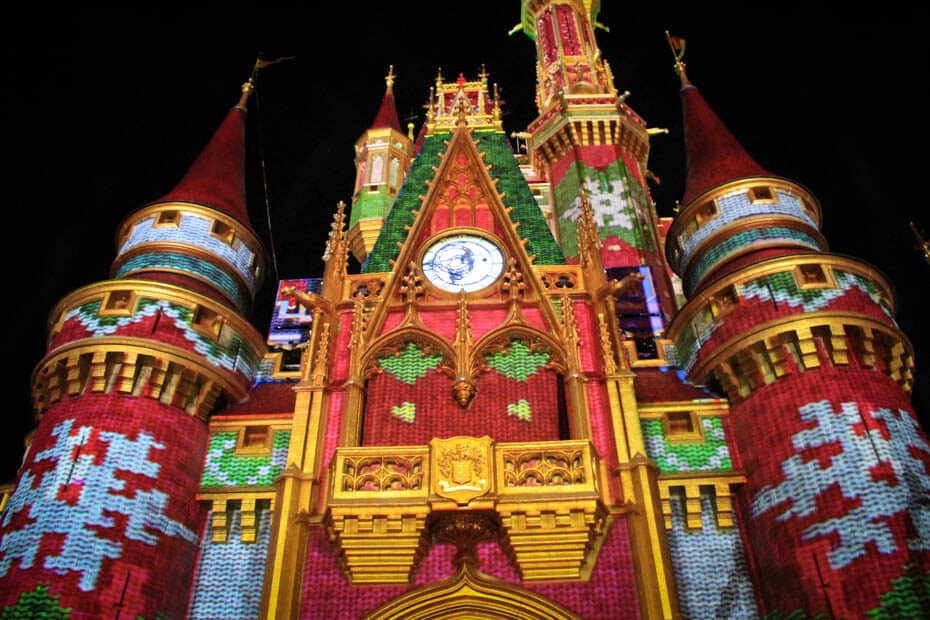 Which makes it nice for guests to be able to come through and enjoy them at their leisure. It also helps prevent large crowds from forming like they normally do for fireworks and the castle lighting.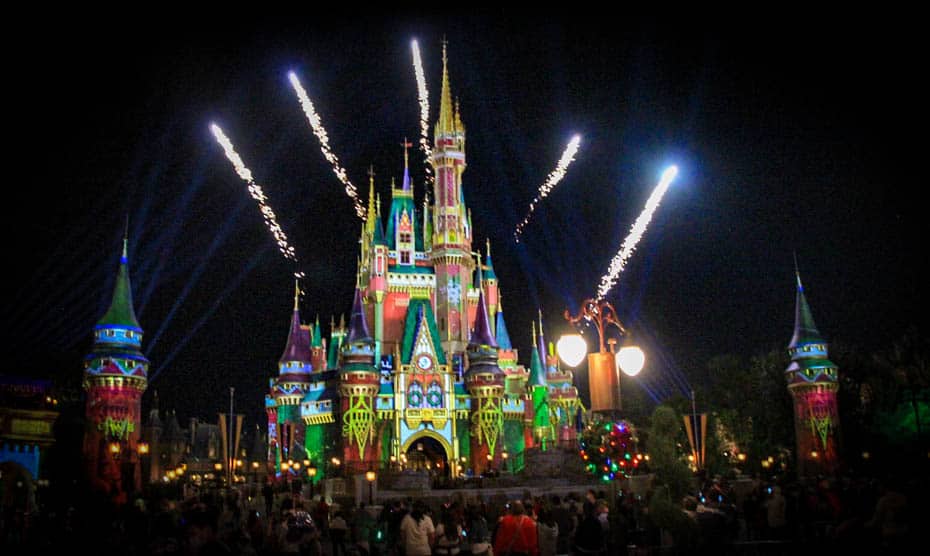 Given the circumstances, Disney had done a nice job of adding plenty of Christmas touches.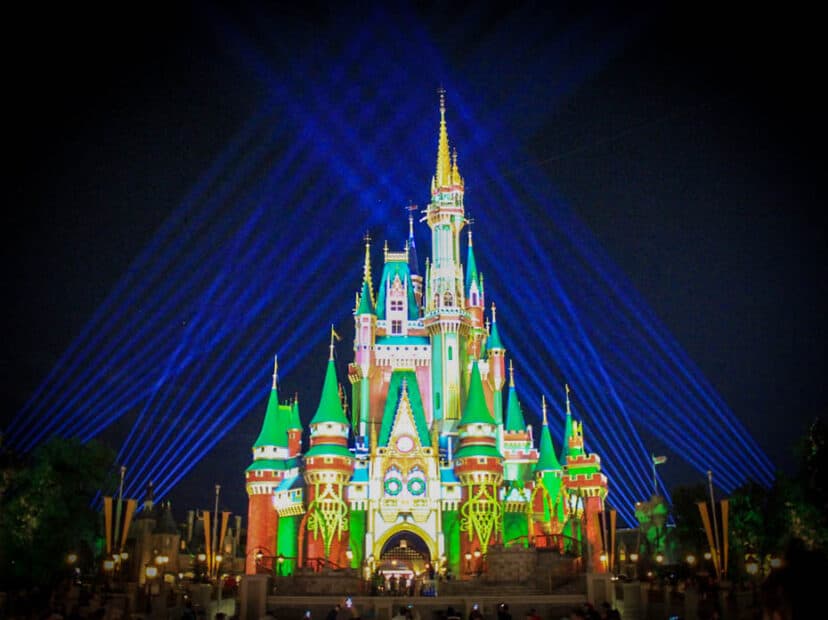 The other lands do have touches of Christmas here and there, but everything we covered here is the main event.
Of course, Jungle Cruise fans will want to check out the infamous Christmas version of the Adventureland attraction. It goes by the name, Jingle Cruise this time of year.
I recommend trying to get this in fairly early because it will have long lines throughout most of the day.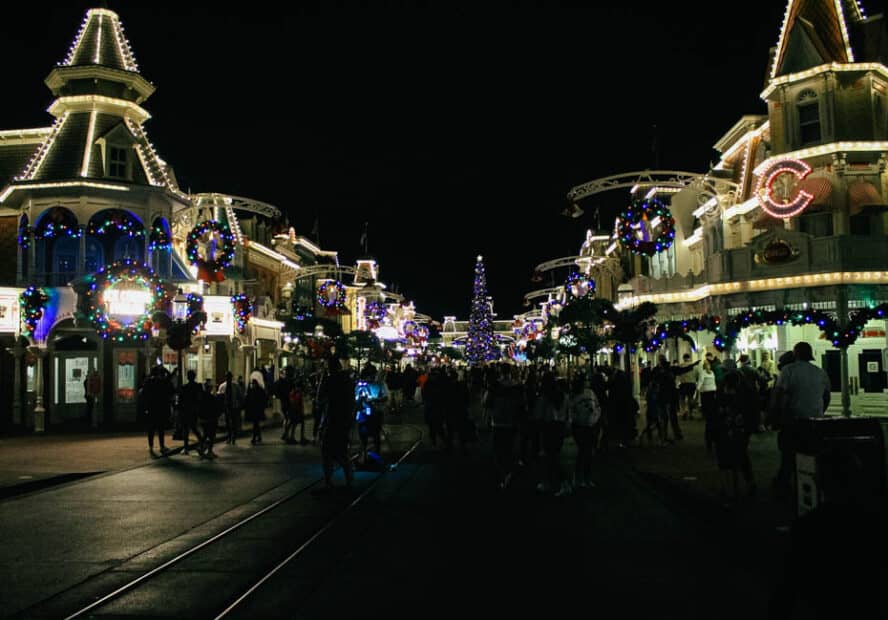 Magic Kingdom's Christmas is just as festive in the evening with all the Christmas lights.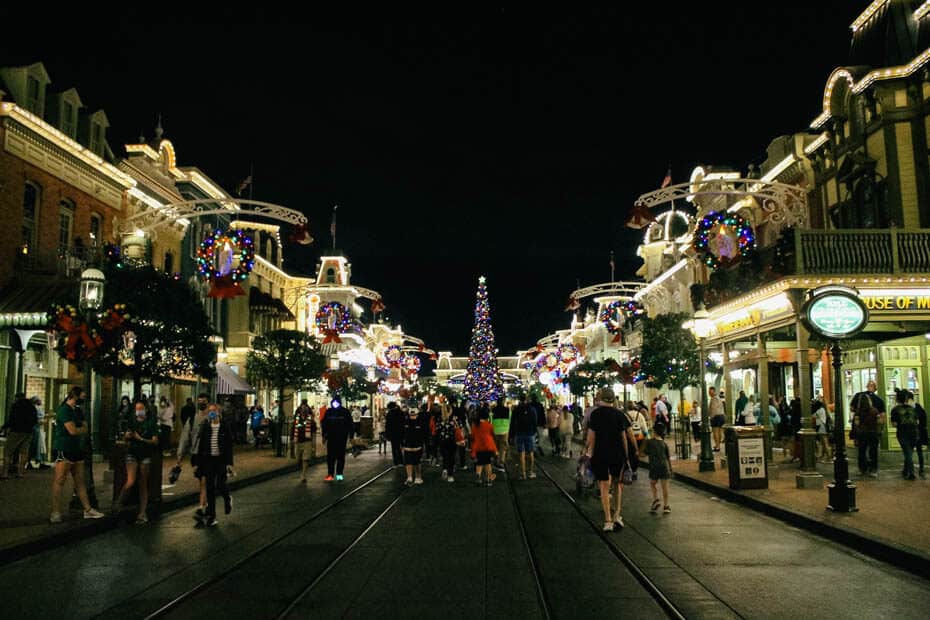 There will be vendors out selling balloons. The ones that light up are a lot of fun.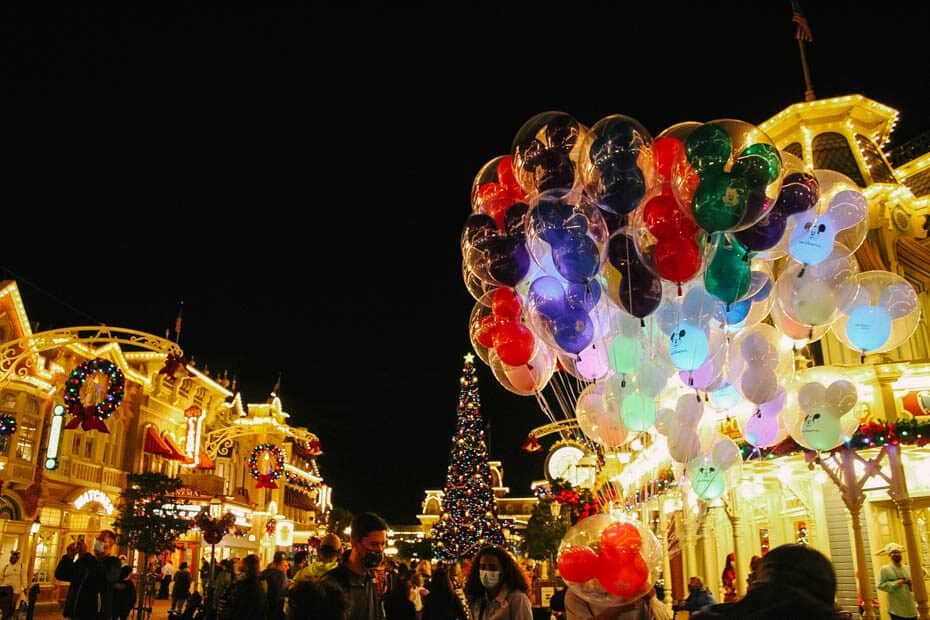 Over the years, I've purchased several of these balloons. If you are visiting by car, they are easy to carry home and from my experience last almost a full month. The cost is around $15.00 last time I checked, and they do require cash for the purchase.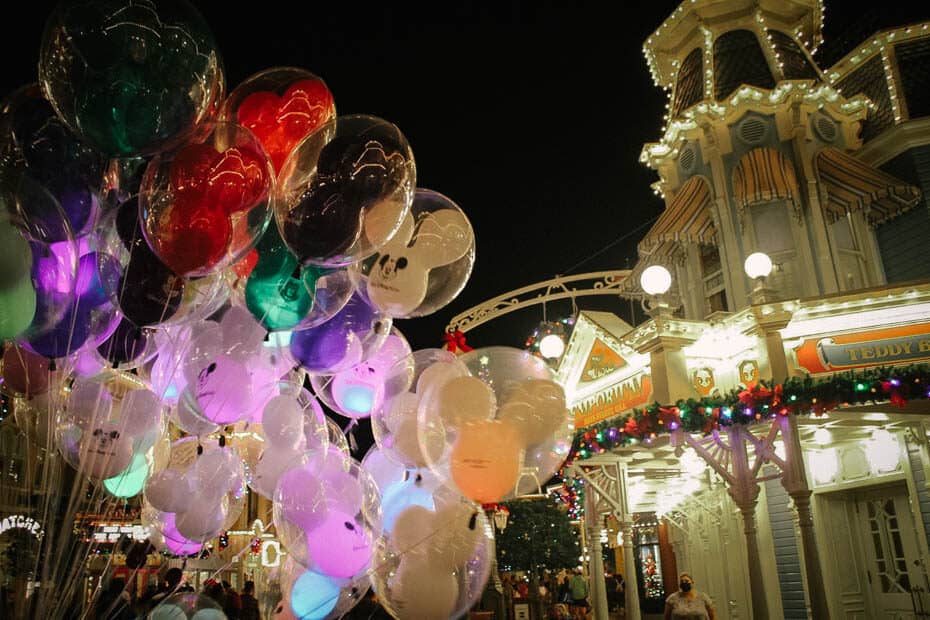 When the children were younger and we flew to Disney, I would purchase one on the first night of our trips. Then on the last day, I would let my son or niece find a younger guest in our hotel's lobby and ask them if they would like to have it.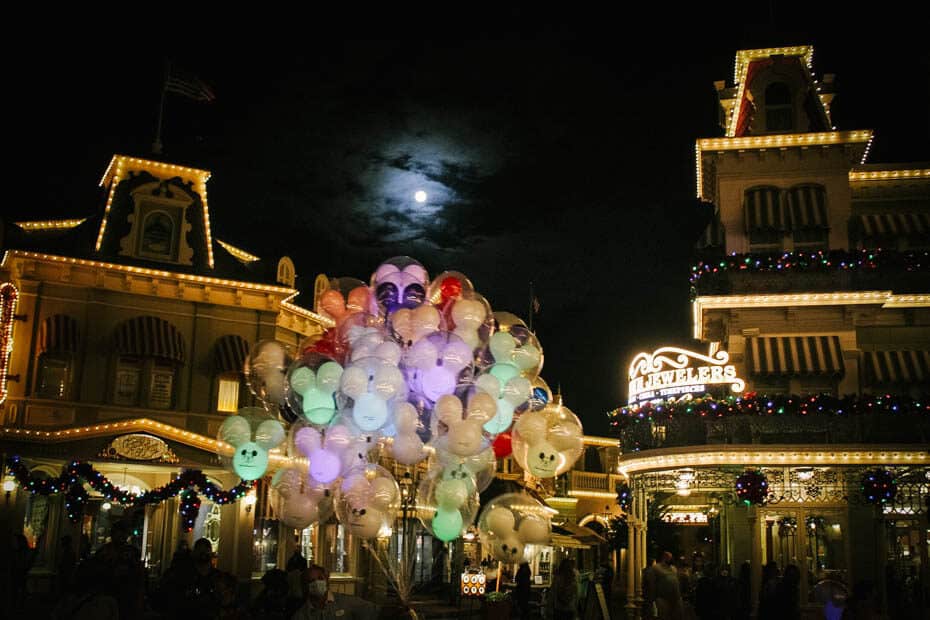 These light poles always make me smile.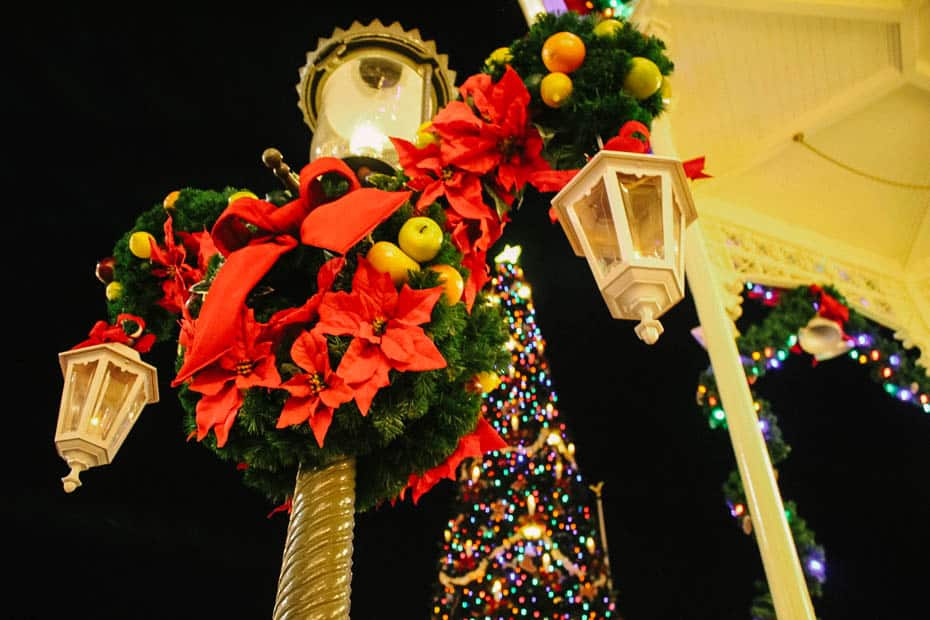 Below you can see a few guests waiting in line to have a nighttime picture made in front of Magic Kingdom's Christmas tree.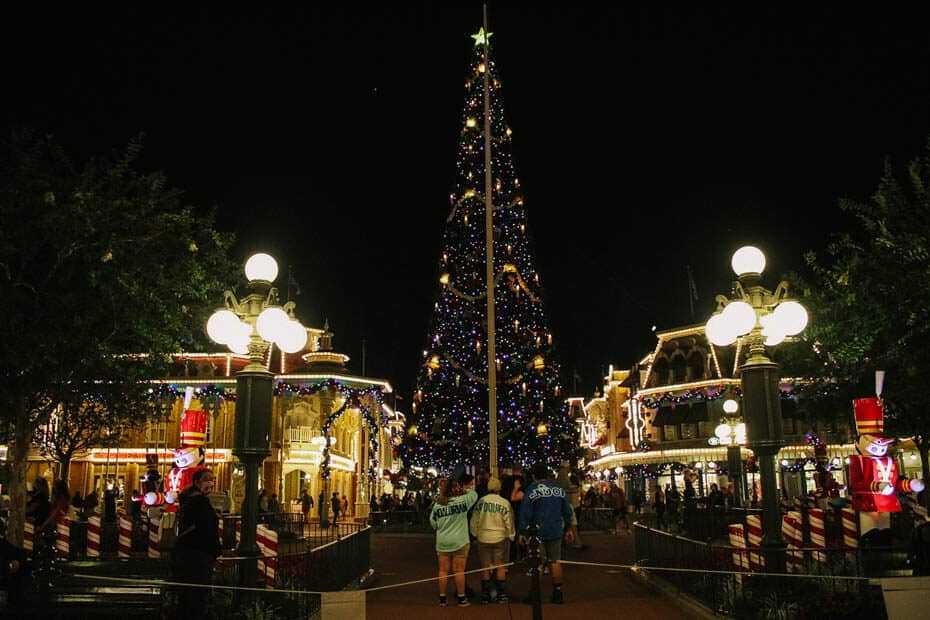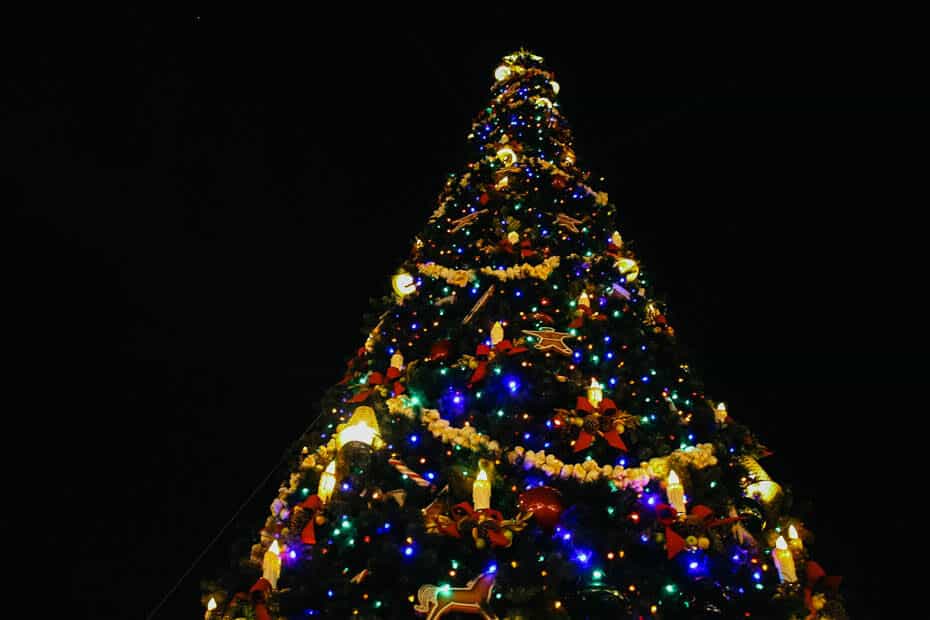 Still in awe.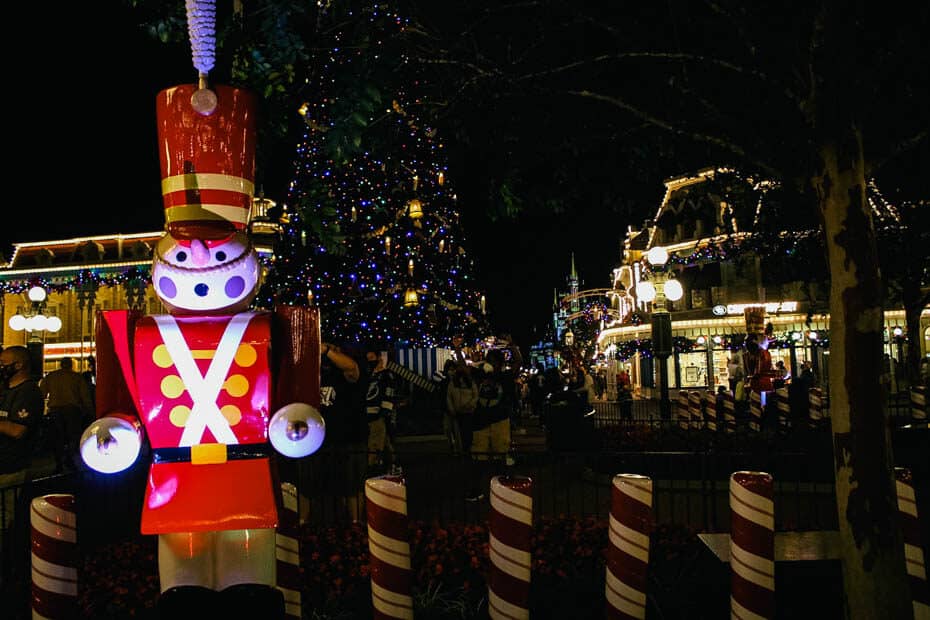 Somehow, we've managed to make our way back out front to the park's entrance.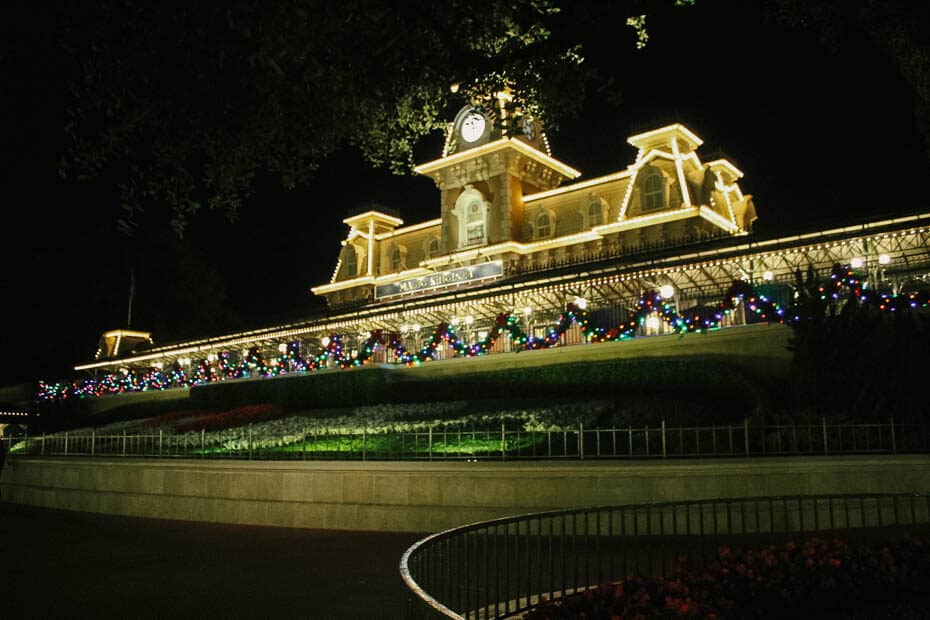 At this point, I always tend to take a look back and hope it's not too long before I return. For those of you longing to return, I hope that things will be better as the new year progresses. I also hope you will be able to begin planning your next visit to the parks before you know it.
While the magic might be a little different this season, it's definitely still there. Thanks for allowing me to share some of it with you. I have a feeling that the same magic lives on in your heart anyways.
It does mine.
For more nostalgia, Christmas photos, or Christmas planning you might want to check out these reviews:
Resorts Gal specializes in Disney World Resorts, Characters, and Dining. Make sure to check out some of our resources like the list of Disney World Hotel Reviews. That article gives a brief overview of every resort at Disney.
For planning dining reservations, we have a full list of our Disney restaurant reviews available. Normally, we recommend planning at least one Disney World character dining meal and a Disney signature dining reservation.
If you are planning to meet characters in the parks, I keep an updated list of Disney World Characters here. That review will like to every meet available in each of the four parks.
Lastly, our most popular reviews include the best restaurants at Disney Springs and I keep a timeline going of Disney Loungefly mini-backpacks.
Merry Christmas from Magic Kingdom!