Mickey's Halloween Party at Walt Disney World
Mickey's Halloween Party, also known as Mickey's Not So Scary Halloween Party, is a special ticketed event at Magic Kingdom Park in Walt Disney World. The party is held during the Fall months of the year.
By Fall, I mean the dates for Mickey's Not So Scary Halloween Party typically begin in mid-August and end around the first of November. Mickey's Halloween Party nights are usually three times per week on Sundays, Tuesdays, and Fridays.
2021 Update-There were no special ticketed events in 2020. We will update this review when we know more about whether there will be a Halloween party in 2021.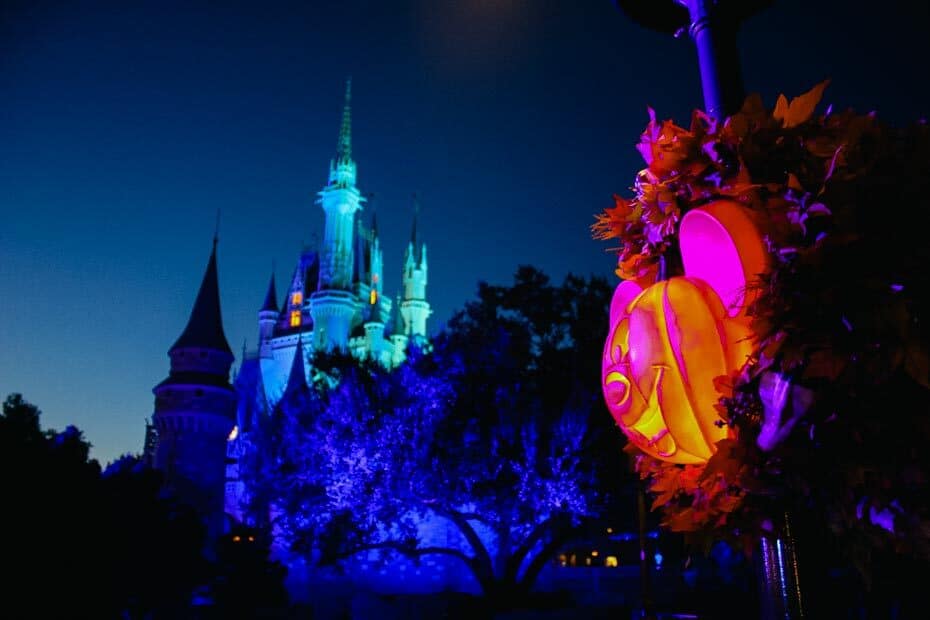 This Mickey's Halloween party review will strive to cover if this event is right for you and your group. I will also discuss how to make a list of priorities to help maximize your time at the event.
Prioritization is going to be key in planning your evening. The party has grown so much over the years that there is no way possible to do everything over the course of one evening.
Going into this review, my idea was to do a full guide on how to do everything in one night at the party. But the more I thought about it, I realized that was unrealistic. This isn't like touring one of the four theme parks or a water park. It's a special ticketed event that formally starts at 7:00 p.m. and ends at midnight.
Magic Kingdom does allow ticketed guests to enter the park starting at around 4:00 p.m. on party nights. Guests can enjoy a few rides and begin to meet a few of the characters that come out early. This might also be a good time to enjoy an early dinner prior to the Halloween party festivities beginning.
Realistically, this event is a one night deal for most partygoers on most evenings. It's one of those things you might call a one-shot-rodeo. You get in, do what you can, and it's over. The odds are you won't be back for a second time in one year.
Mickey's Halloween Party Review
The fact that this is a special ticketed event makes the actual day of Mickey's Halloween party usually less busy and the party night busier. I've been to several days of the party where I could walk on the majority of the rides.
Some of that has been due to the fact that it is September and children are in school. There are also often a few weather occurrences that might keep a little of the population at bay this time of year. Namely, prime hurricane season.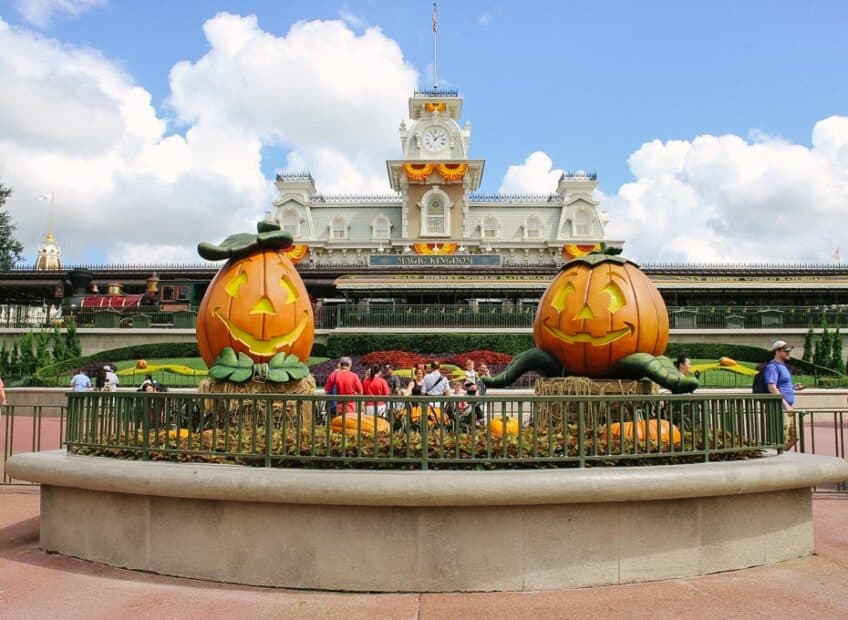 This special park ticket doesn't require same-day admission. You can enter the Magic Kingdom with only the party ticket after 4:00 p.m. This is another one of those things that make the party more crowded. There are a lot of people who might be on a six or seven-day vacation and only purchase five days' admission and then an additional ticket to the Halloween party.
Mickey's Halloween Party offers a lot of variety from the average evening along with a special nighttime parade. These are things that you don't get on a regular day at Magic Kingdom. This last season has brought us several new additions including new fireworks, Disney's Not So Spooky Spectacular.
People that feel like they have done everything in the past will want to see the newer entertainment and purchase a party ticket. Therefore as we all know new stuff in general means more crowds at Walt Disney World.
One of my last considerations is that Mickey's Halloween Party has multiple unique characters that are only available on these special nights. Want to meet Jack Skellington and Sally? Plan to wait about two hours of your evening. I'm not kidding.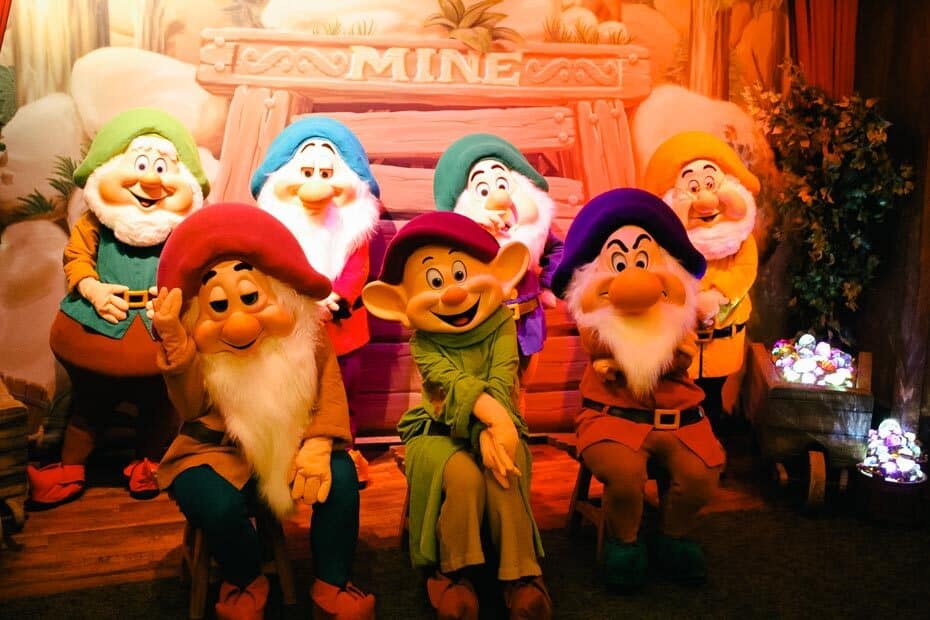 If you get away with any less than that, then consider it a steal on time! Not only that but I went to meet the Seven Dwarfs around 6:35 p.m. on this visit and the line was already over an hour and a half long! We will delve into characters a little further down. Just understand that even if you aren't a big character person, that many Disney people are and they go specifically to meet these characters.
Let's take a look at how we are going to break this down and then work our way through:
Mickey's Halloween Party Guide Map
Top Mickey's Halloween Party Must Do's
Event Exclusive Entertainment
Character Meets
Halloween Twists Lists
Trick or Treating
PhotoPass Opportunities List
Specialty Food & Beverage for Purchase List
Allergy-Friendly Candy Centers
Tips
Mickey's Not So Scary Halloween Party Map
If you pick up the guide to Mickey's Halloween Party on your visit you might find yourself a bit overwhelmed. It's packed full of items. I've been to this party many times in the past and I even felt overwhelmed the first few hours of my party day. I had a plan and had picked up a couple of guides over a week in advance. At one point, toward the start, I thought how can people pay to come here and actually enjoy this? But don't worry, that feeling went away and I left Mickey's Halloween Party excited to return again in the future.
Here is the map, so you can get a look at what all is available.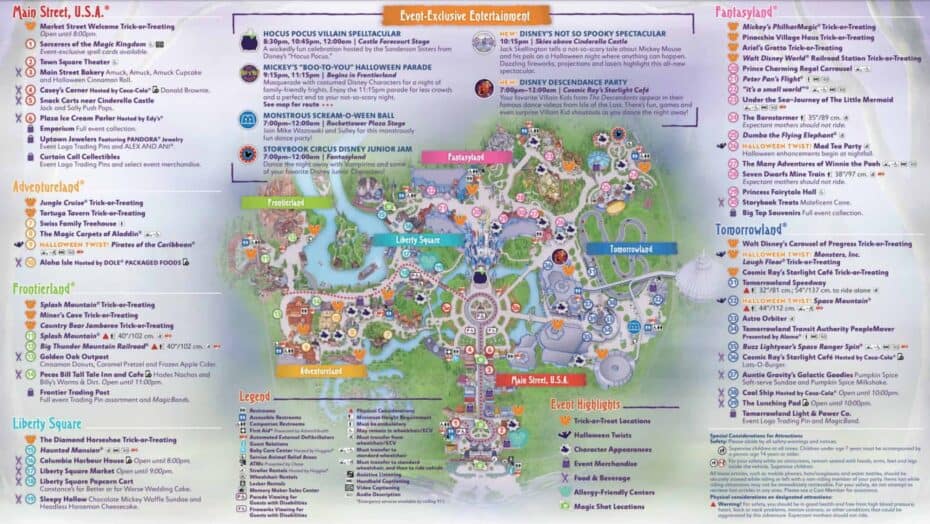 Most people will want to prioritize the Event Exclusive Entertainment and Characters. This might be a little surprising coming from me, but my #1 thing to do this year at the Halloween Party is Disney's Not So Spooky Spectacular!
I have fallen in love with this year's new fireworks. It moved me in the most unexpected of ways. Part of me wants to tell you all about it, and another part doesn't want to spoil the fun surprises that are incorporated into the show.
Disney's Not So Spooky Spectacular
For me, the spectacular not only brought back a lot of fun Halloween memories from my childhood. But it also evoked a lot of emotion because some of my most favorite Disney things are included. It's very similar to the style of Happily Ever After Spectacular fireworks in that it has the castle projections sharing a story with you. But it's unique in a way that offers an actual look at Mickey, Minnie and the gang visiting a Haunted Mansion. From the beginning, it got huge bonus points with me for the inclusions of the classic characters we know and love.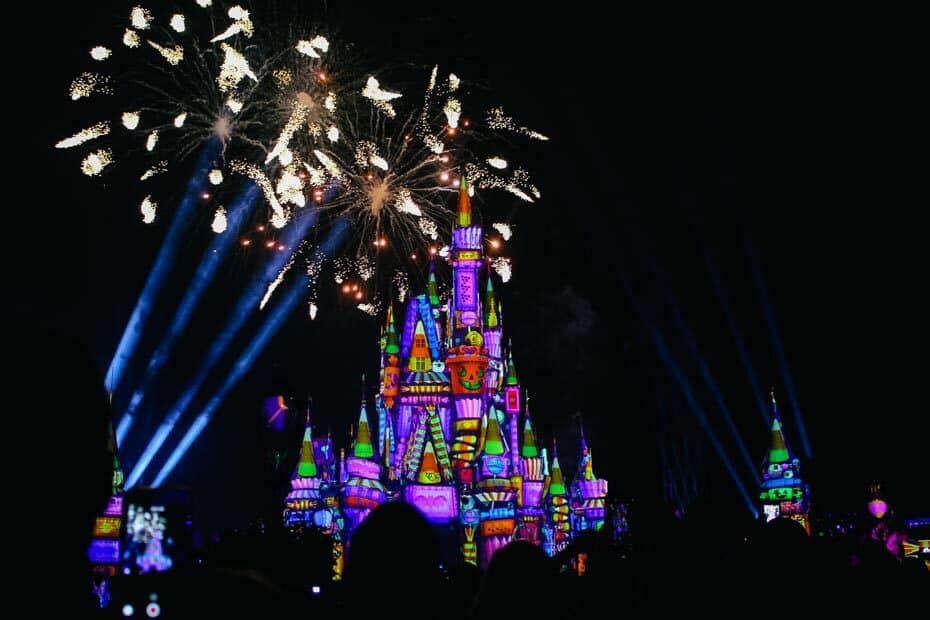 There's also this dreamy Sleeping Beauty-Esque moment that features ghost ballroom dancers. And so much more! If you are going, you have to see it!
Mickey's "Boo to You" Halloween Parade
For years the "Boo to You" parade has been my favorite event at Mickey's Halloween Party. And this year it's going to run a close second to the fireworks spectacular. The good thing about the "Boo to You" parade is that it's offered twice per evening.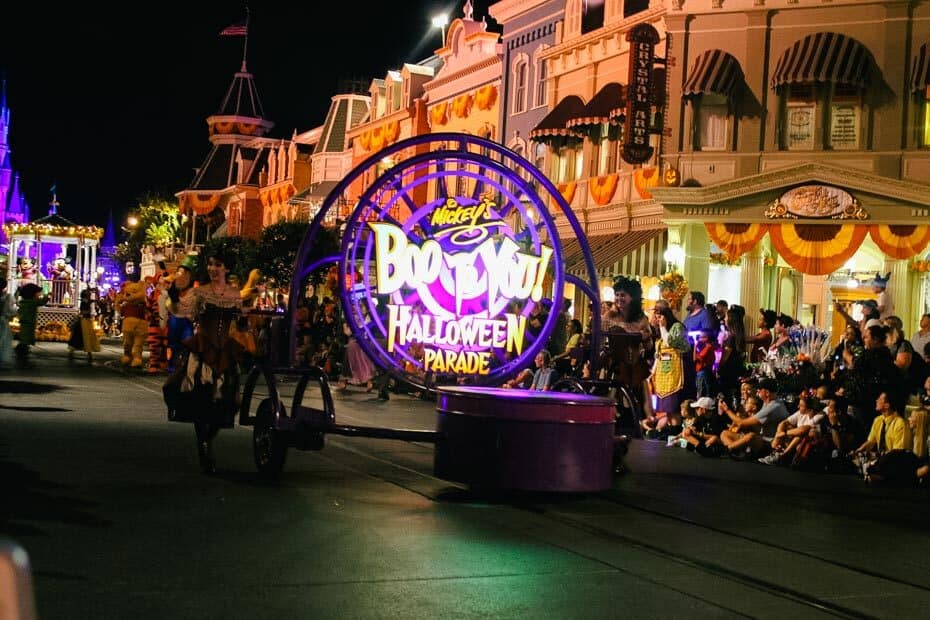 In the past, a common tip has always been to go to the second parade for fewer crowds. But that's not as wise a tip nowadays. On the evening of my party, the second parade appeared to be much more crowded than the first. I also noticed that the guide map suggests attending this 2nd parade for fewer crowds and a perfect end to your party. So I went with the first parade and ended up walking through at the end of the last parade in one of those mass exits.
Hocus Pocus Villain Spelltacular
The Hocus Pocus Villain Spectacular is a show performed on the stage at Cinderella Castle. It's full of Disney Villains as the name promises. You can expect to see the Sanderson Sisters, Oogie Boogie, Lady Tremaine, Cruella de Ville, and the list goes on and on.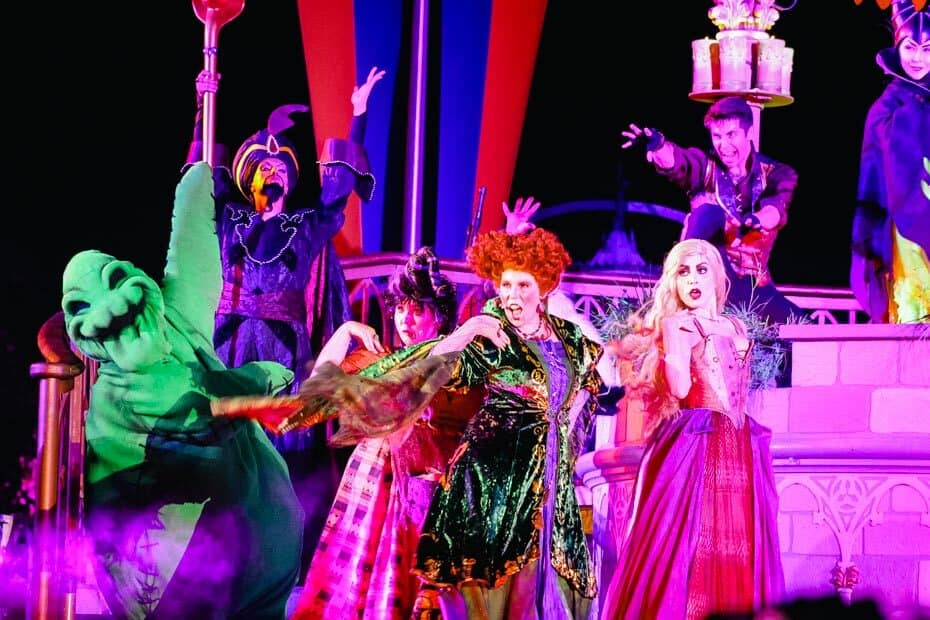 This show has three nightly performances and the last show is the ending entertainment nightly at the party.
How to Prioritize these Event Exclusives:
There are a couple of options for seeing these three events due to two of them having multiple timings. Here is how I would put them together:
Attend the 1st Villain Spelltacular at 8:30 p.m. (Get a spot around 8:00 p.m. with a snack or counter service meal up close to the front.)
Next, attend the 1st Boo to You Parade at 9:15 p.m. (If you got a spot on the front of the hub where the parade loops around for the Villain Spelltacular then just stay put or move up to Main Street.)
Then go to the ONLY Disney's Not So Spooky Fireworks Spectacular at 10:15 p.m. (Immediately move back to the Cinderella Castle Hub after the Boo to You Parade passes if you moved to Main St.)
Here's how my night went:
8:10 p.m.–I secured a place within the innermost rim of the castle stage. Everyone in this area was sitting. A lot of people bring plastic table cloths or towels to sit on in these areas.
8:50 p.m.–The show lasts around 15 minutes so I moved back to Main Street about this time to secure a spot for the parade. I elected to stand in front of the toy/keepsakes entrance of the Emporium about midway down Main St U.S.A.
9:32 p.m.–This was my first good glimpse of the Boo to You parade coming down Main St. The parade steps off over in Frontierland and takes the same route as the Festival of Fantasy. I recommend seeing the parade on Main Street because the view with Cinderella Castle in the background adds to the entire experience. You might wait a few more minutes to see it, but it's worth it.
As soon as the parade passed by us I moved back up the street to the left of the Partners Statue (Walt Disney and Mickey Mouse). This is a good area to view fireworks but I think if you stayed in the hub area for the full experience it's good to just stay in place. The castle projections are fun and I have found it's good to be up close and personal.
10:27 p.m.–The fireworks had started promptly at 10:15 p.m. and they ended twelve minutes later.
This plan took up my time for the evening from 8:10 p.m. until 10:27 p.m. That's basically about 2 and a quarter hours of my night. But within this time you can have a snack, take in the stage show, parade and fireworks without using up a whole lot of physical energy.
Option 2 Plan:
Fireworks at 10:15 p.m.
Villain Spelltacular at 10:45 p.m.
Boo to you Parade at 11:15 p.m.
The way to look at these two plans is with the first one you still have time to meet characters or other items of preference before and after the exclusive events. If you go with the second plan you have more time to finish up before heading over to the exclusive events.
Personally, I think as far as getting Mickey's Halloween Party activities accomplished during this evening the first plan will give you the most opportunity. Let's take a look at all the other options that you might want to add to your plan for the evening.
Another point is sticking with the first plan will get you through the night. These parties can be exhausting if you are trying to do a lot. I know that many people get to that point where they just don't care anymore and leave. This plan will at least get you through the three main events and you won't feel guilty if you have to leave after the fireworks.
Event Exclusive Entertainment
There are actually a total of 6 Event Exclusive Entertainment events in the Mickey's Halloween Party Map. If you have smaller children who are fans of these popular character items you probably want to check them out.
Monstrous Scream-O-Ween Ball

What is it? Tomorrowland Dance Party on the Rocket-Tower Plaza Stage, Characters from Monsters Inc. will be out on the dance floor.
When? 7 p.m.–12 a.m.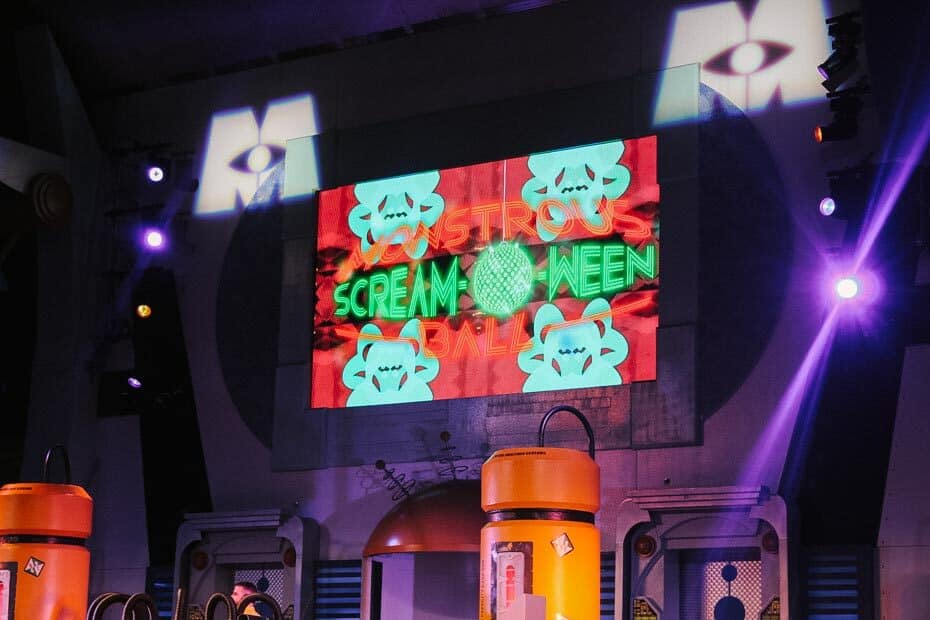 StoryBook Circus Disney Junior Jam

What is it? Disney Junior in Fantasyland with Fancy Nancy, Vampirina and Doc McStuffins
When? 7 p.m.–12 a.m.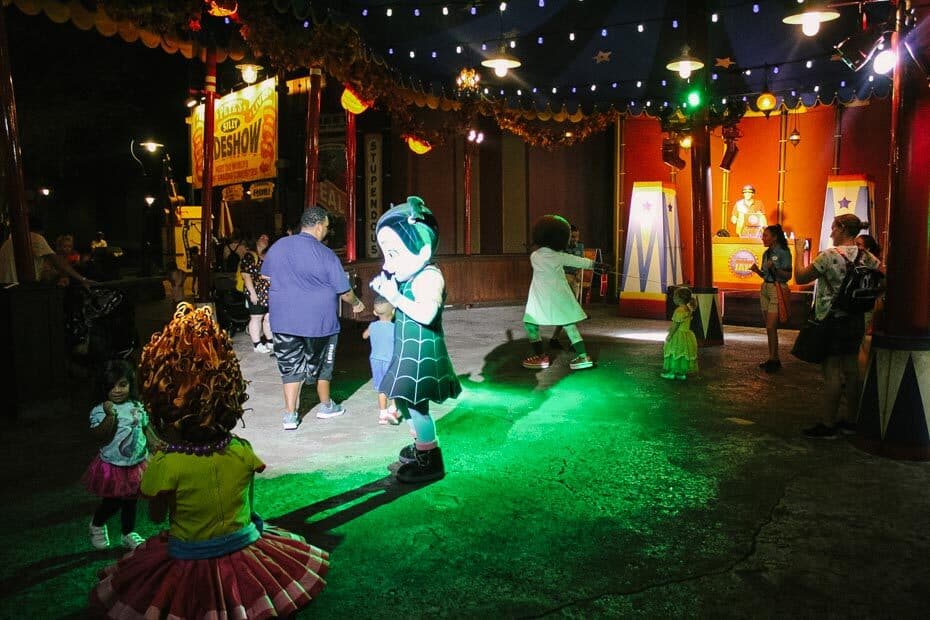 Disney Descendance Party

What is it? Descendants themed dance party in Cosmic Ray's Starlight Cafe
When? 7 p.m.–12 a.m.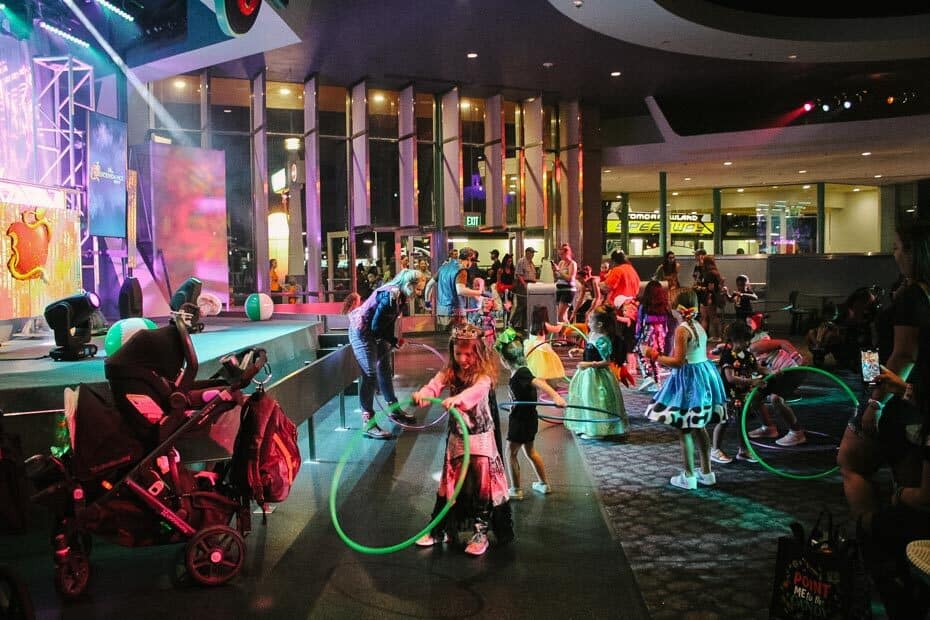 The other 3 are the ones we discussed in the priority exclusives:
Hocus Pocus Villain Spelltacular
Mickey's "Boo to You" Halloween Parade
Disney's Not So Spooky Spectacular
This could be a post within itself but for now, I'm just going to post a list with some initial information. There are a total of 18 character meeting locations at Mickey's Halloween party. Most of these meets have two or more characters at them. They also can have extremely long lines that will take up most of your evenings.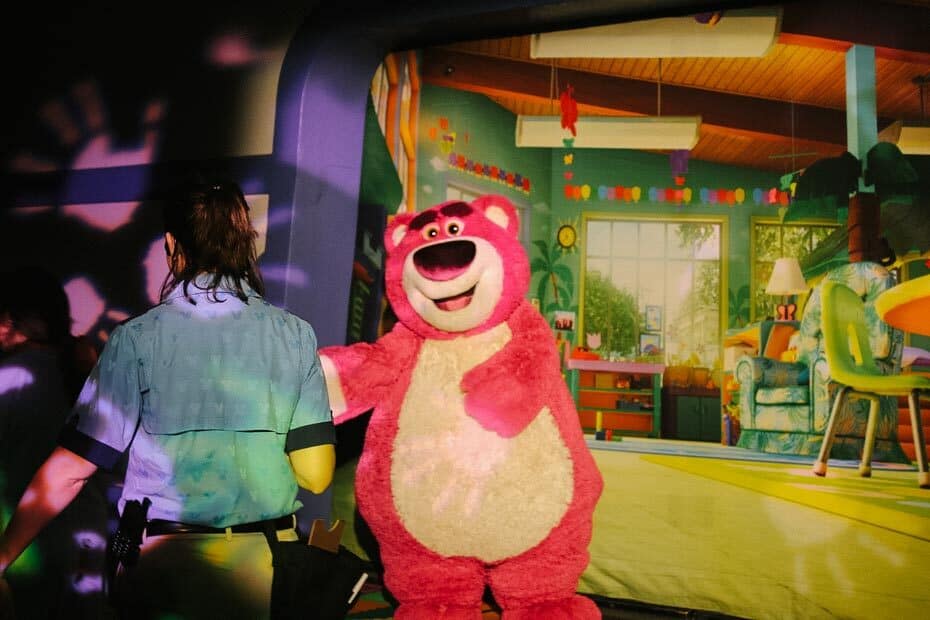 Main Street, U.S.A.
Jack Skellington and Sally at Town Square Theater
Mickey Mouse in his Halloween Costume at Town Square Theater
Adventureland
Jafar outside Agrabah Bazaar area
Aladdin and Abu at Agrabah Bazaar
Moana in the Tiki Room
Jack Sparrow across from Pirates of the Caribbean ride
Tarzan, Jane and Turk
Liberty Square
Grave Diggers in the Liberty Square Gazebo
Fantasyland
Gaston & Belle on the side of Bonjour Gifts
Prince Eric and Ariel across from The Little Mermaid ride
Seven Dwarves in Pete's Silly Slide Show
Minnie Mouse on one side of the Casey Junior Splash area
Donald and Daisy Duck on the opposite side of Casey Junior Splash area
Princess Fairytale Hall stays open with all 4 Princesses
Winnie the Pooh and Friends to the left of The Many Adventures of Winnie the Pooh ride
Alice and the Mad Hatter in front of Mad Tea Party
Queen of Hearts with the Tweedles to the side of Mad Tea Party
Tomorrowland
Lots-0′ behind Buzz Lightyear's Space Ranger Spin
Rock N Roll Stitch in the Stitch Character Meet location across from Monsters, Inc Laugh Floor
If you want to meet any of these characters or all then you need to form a plan. The Mickey's Not So Scary Halloween Character Guide is the best place to start. It's located in the character section of the site.
Halloween Twists
There are four Halloween Twists at Mickey's Halloween Party this year. Here is a list of the ride overlays and unique to the party items:
Pirates of the Caribbean
Mad Tea Party
Space Mountain
Monsters, Inc. Laugh Floor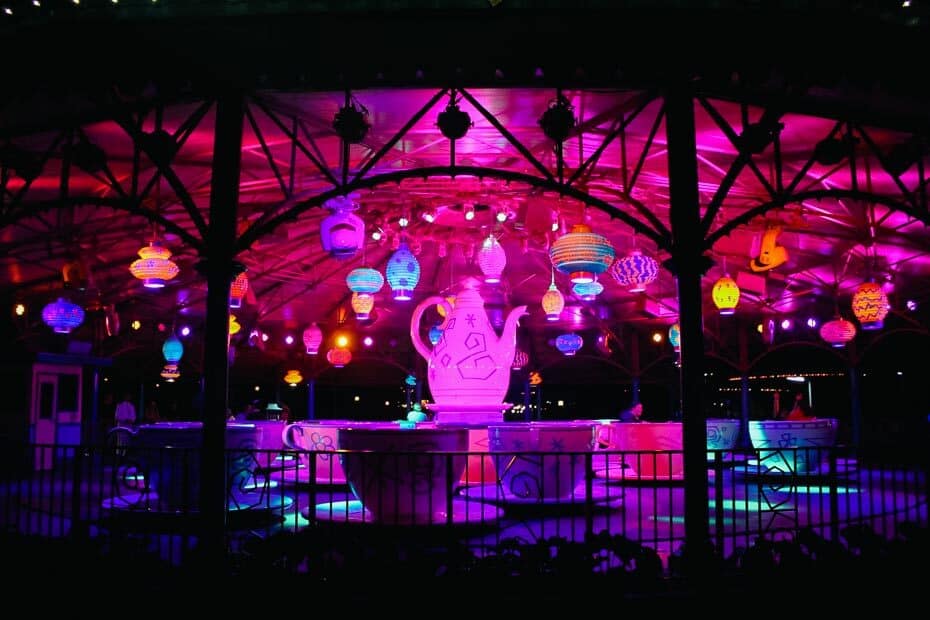 Trick or Treating at Mickey's Halloween Party
I didn't have the time to do a lot of trick-or-treating at Mickey's Halloween Party. However, I noticed in my observations that the lines were extremely long.
So at one point in the evening, I decided to go through the Country Bears queue. I turned on the stop watch on my phone just to get an idea. It took 5 minutes and 20 seconds from the start to the time I received candy. According to my screenshot, this was at 7:25 p.m. that evening.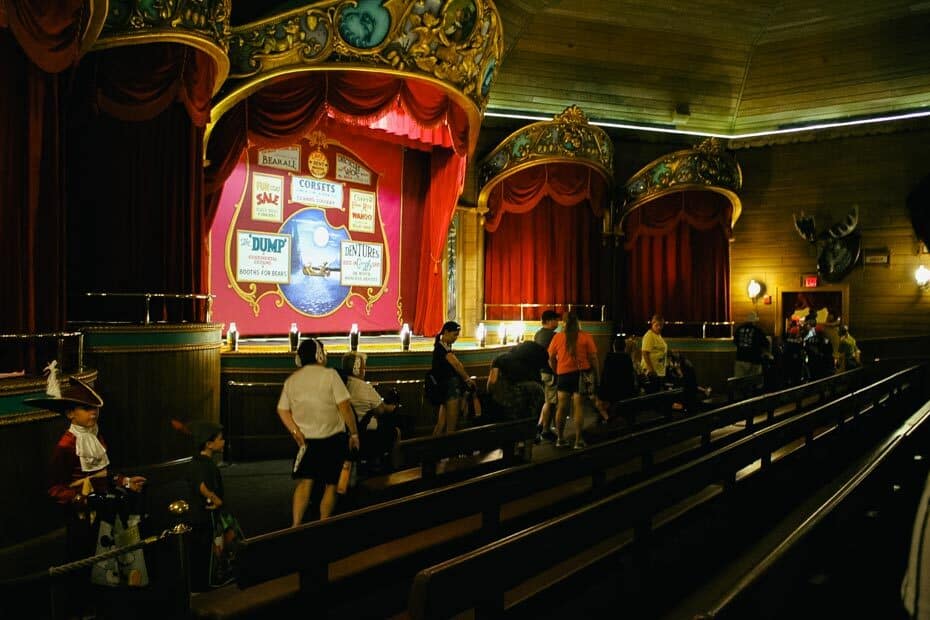 Now if there is no line then, by all means, pick up some candy. But if you went to all 12 locations and waited in line an average of 5 minutes (not counting travel time around the park) that would be one full hour of collecting candy.
To play the devil's advocate here I do talk to a lot of people in line and while I'm in the parks in general. Several people expressed that they felt it was the only safe place to take their children trick or treating. A lot of times I'm shocked at the amount of people trick or treating, but if you look at it from that point of view it completely makes sense.
Trick or Treat Checkpoints
The locations are scattered all over the park but here is a list for reference if you are writing out a plan and want to remember these checkpoints.
Market Street Welcome–(This is the initial entrance to the party where you receive bags and they give out these large packets with multiple candy types here. Make sure to get this one upon check-in.)
Adventureland–Jungle Cruise, Tortuga Tavern
Frontierland–Splash Mountain, Miner's Cove, Country Bear Jamboree
Liberty Square–The Diamond Horseshoe
Fantasyland–Mickey's PhilharMagic, Pinocchio Village Haus, Ariel's Grotto, WDW Railroad Station
Tomorrowland–Carousel of Progress, Monsters Inc. Laugh Floor, Cosmic Ray's
Allergy Friendly Centers at Mickey's Halloween Party
If you suffer from food allergies you can receive a token at each trick or treating location. There is even a green bag as shown below that indicates food allergy trick or treaters.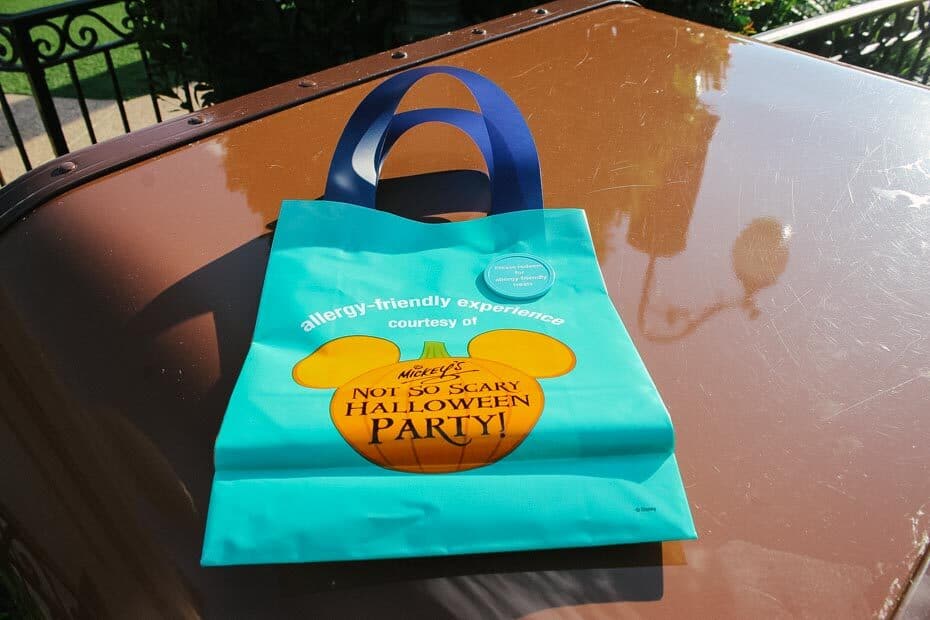 So to reiterate you go through the regular trick or treat lines, there you receive a token instead of candy. Then you take your tokens to the allergy-friendly center to pick out treats in exchange for your tokens.
The location of the Allergy-Friendly Centers are:
Market Street Welcome Center
Liberty Square
Mickey's Halloween Party Photos
Additionally, you will find four event-exclusive magic shots at Mickey's Halloween Party. The locations for these four special PhotoPass opportunities follows:
Entrance to Magic Kingdom
Main Street, U.S.A at Town Square Flagpole
Main Street, U.S.A at Casey's Corner Area
Haunted Mansion Entrance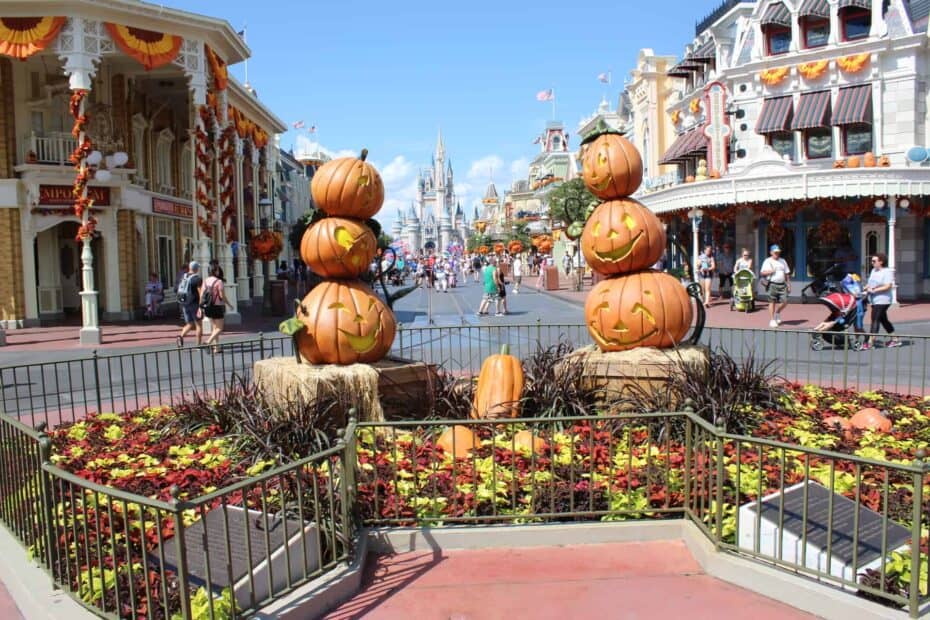 Specialty Food and Beverage Items
You will probably find yourself feeling famished at some point during the party if you are anything like me. For this party, I only went with one treat (a juice) but I had also eaten a large meal at Skipper Canteen prior to the 4:00 p.m. party start.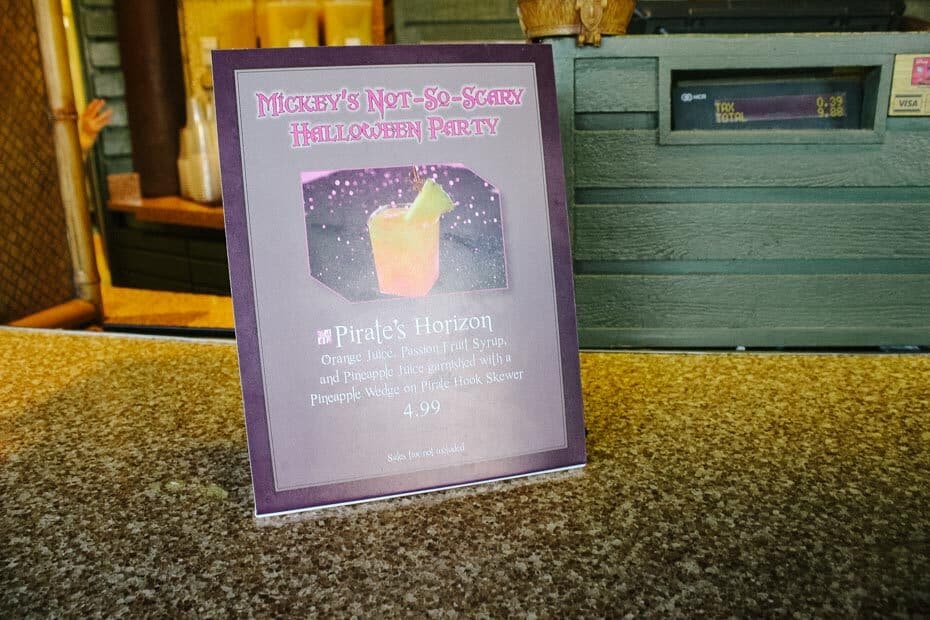 Here is a list of the advertised items if you want to try something out of the norm:
Main Street Bakery–Amuck Amuck Amuck Cupcake–Cupcake featuring peanut butter, chocolate and toffee.
Snack Carts near Cinderella Castle–Jack and Sally push pops. These are those cake and icing mixed push pops. It says the Sally is Gluten Friendly.
Liberty Square Popcorn Cart–Constance's For Better or For Worse Wedding Cake Obviously this is designed to mimic a more murderous looking wedding cake.
Auntie Gravity's Galactic Goodies–Pumpkin Spice Milkshake–This is a pumpkin flavored shake topped with candy pumpkins and comes with a Mickey straw.
Sleepy Hollow–Headless Horseman Cheesecake–Flavors of pumpkin, chocolate and orange are combined to come up with this concoction.
Here's the one I tried and is also not listed in the guide:
This was a fun item that tasted sweet, yet really refreshing. It also looks like candy corn so it blends in well with the whole Halloween theme.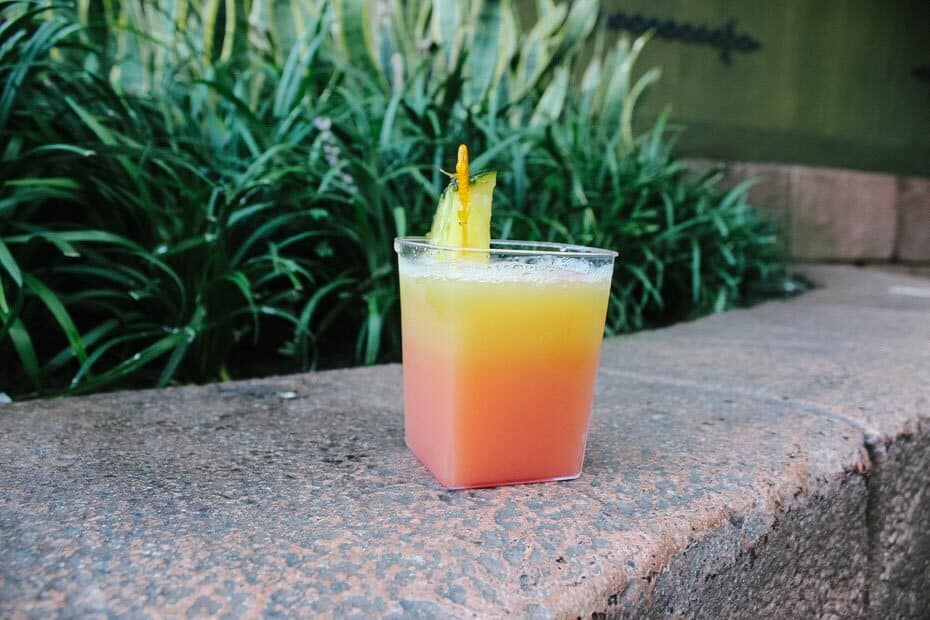 *Try these items at your own discretion. They look like a lot of fun but if you have a favorite item already or are looking for a heartier meal like counter service chicken nuggets that might be a safer bet to sustain you through the night.
Tips For Mickey's Halloween Party
There are a lot of tips for the party, but so many depend on your priorities. The #1 tip that I can give you is to go in with a plan. As I have mentioned before I like to type out an idea and times guidelines for specific things in the notes section of my phone.
Another note is that I went into this party as more of an observer than someone actively trying to participate in all the items available. I spent most of my night taking notes, pictures, and observing wait times for rides and characters.
I would break the night down into 3 portions:
Pre Party Hours from 4:00–7:00 p.m.
Event Exclusive Entertainment–Spelltacular, Parade, Fireworks 8:00–10:30 p.m.
Late Party Hours 10:30 p.m.–12:00 a.m.
If your priority is meeting characters then start with Jack and Sally and work your way around to as many as you can get until about 7:00 or 7:30 p.m. Grab a bite to eat (counter service or treat) and get a spot for the evening entertainment. After the event exclusives head back to finish meeting characters as desired.
If your priority is to ride as many rides as possible use FastPass+ to book three rides prior to the 7:00 p.m. event start time. Then do as many others as you can in the meantime. Take that break and grab a bite to eat while waiting for the evening events to start. Then after the three exclusives head back out to hit the rides you desire with low wait times.
Mickey's Halloween Party Extras
I hope you didn't think I forgot the Haunted Mansion fun! Mickey's Halloween Party offers a few misty moments here and there in the park.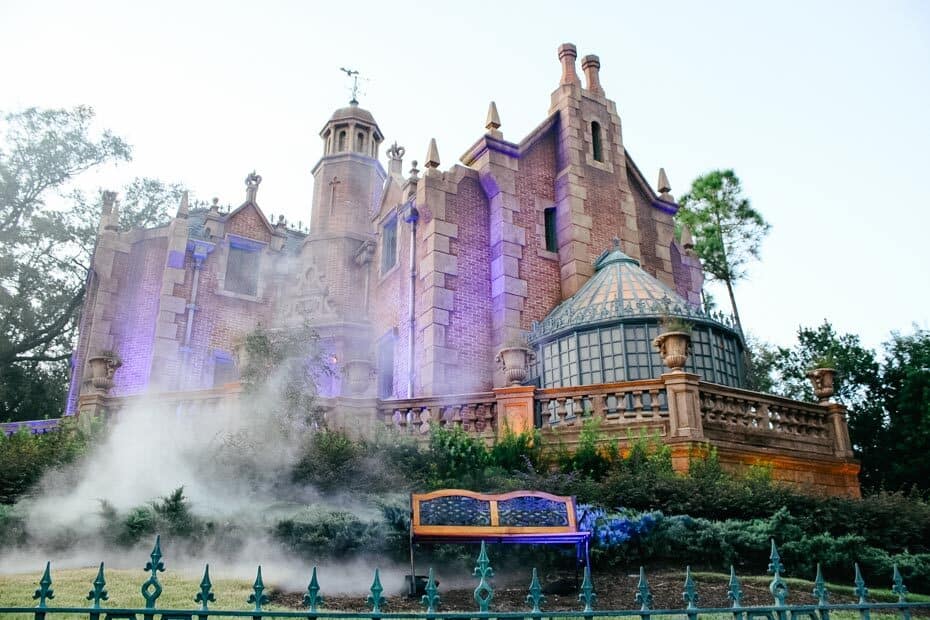 One of my favorite stops is to see Carlotta out on the lawn of Haunted Mansion and catch up on all the local ghost gossip. She appears throughout the party, taking breaks here and there. The darker the evening gets the more she tends to light up. Her butler is with her this year offering an even more hilarious spiel.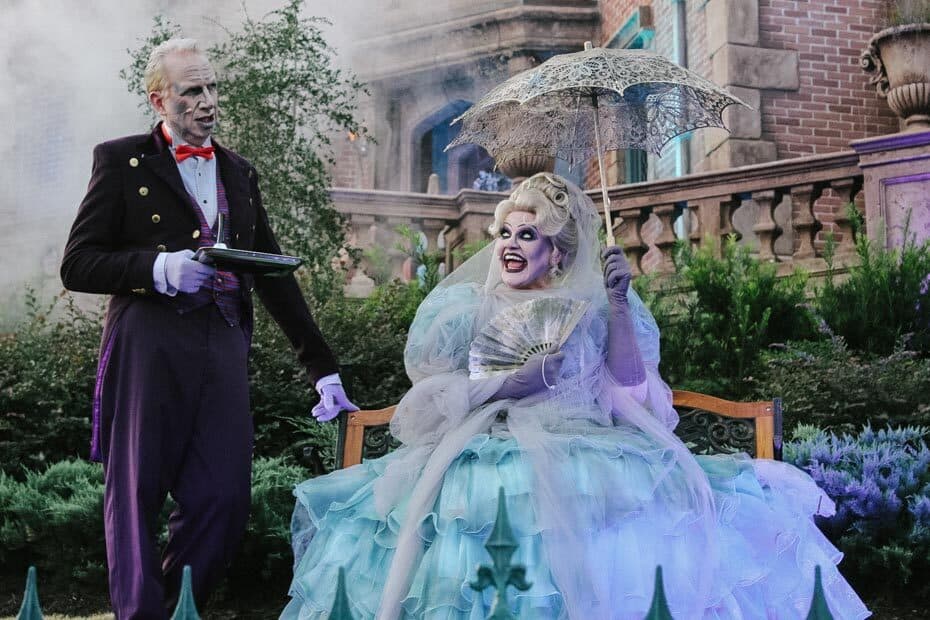 If you get to attend Mickey's Halloween Party it is a real treat. I left feeling excited and good about my ticket purchase. At the beginning of the evening, I wasn't quite so sure I would feel that way. But things improved when I made it over to the Haunted Mansion about sunset and those grim grinning ghosts managed to put a smile on my face. As they usually do.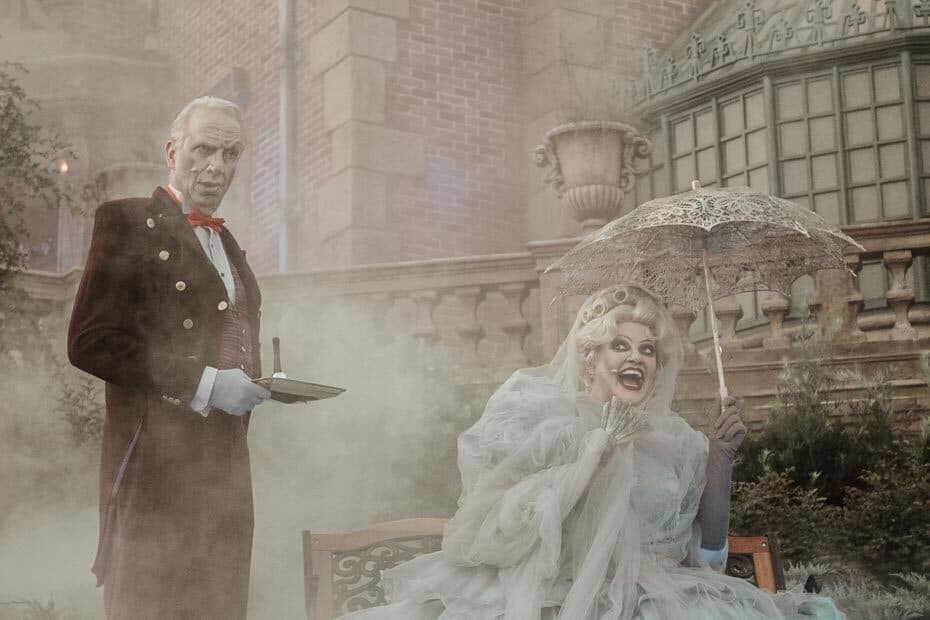 I'm really thankful for this party, and glad "it's really not so scary." Have a good time at the party! Make sure to leave a comment if you have any questions or reach out to me on social media.
Here are a few more pictures: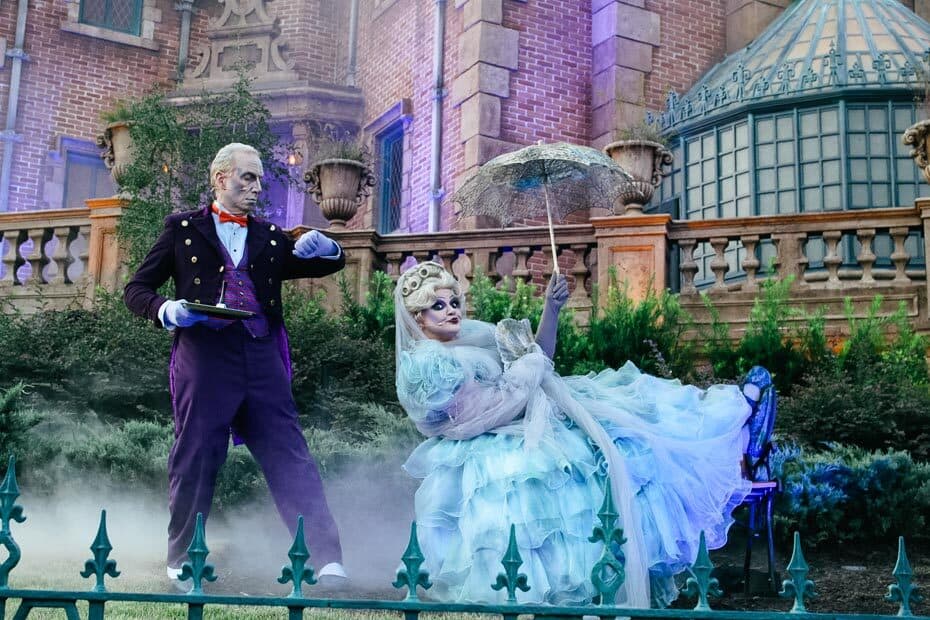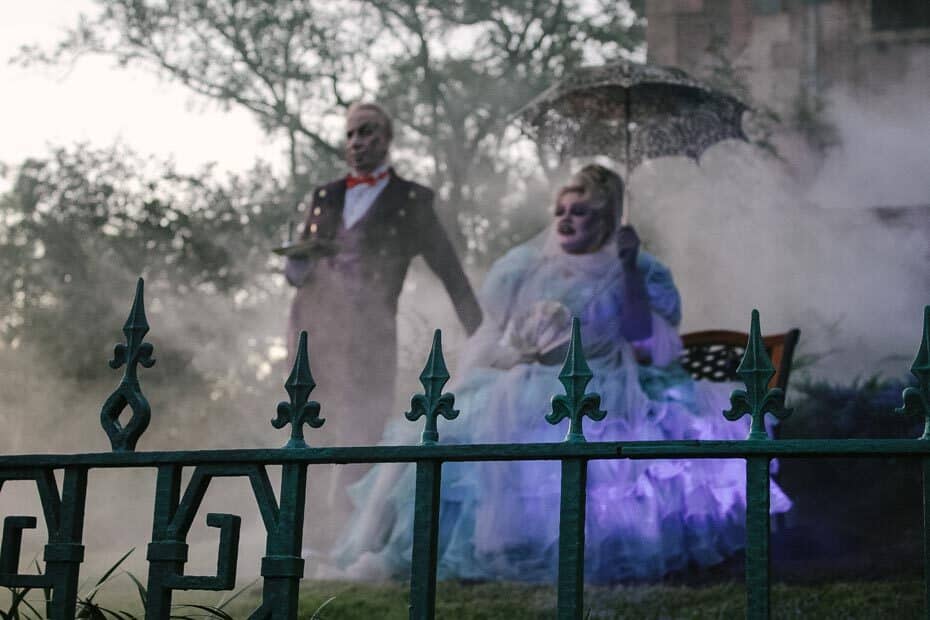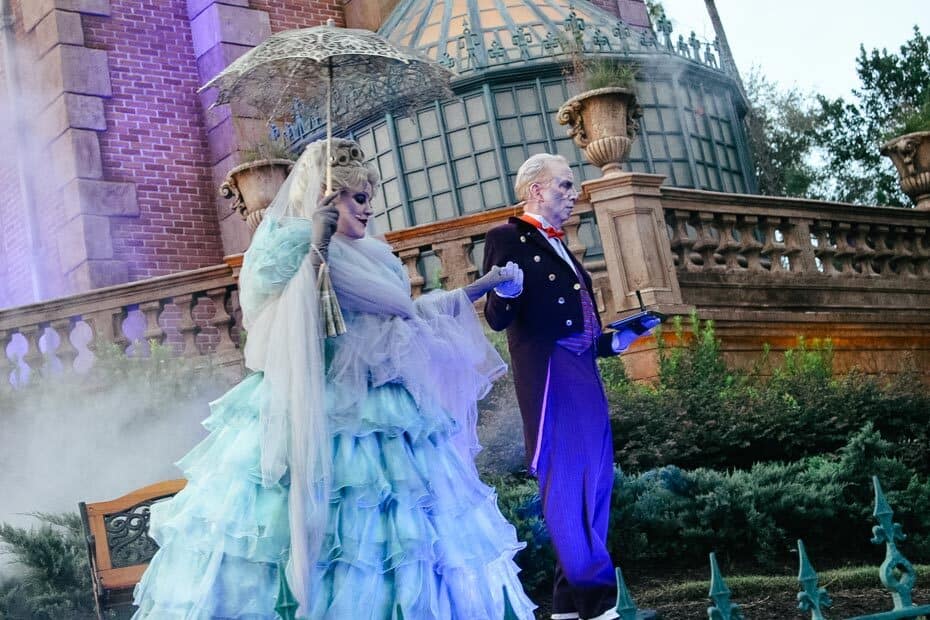 For more reviews about touring Magic Kingdom, make sure to check out the Magic Kingdom by land series:
Resorts Gal specializes in Disney World Resorts, Characters and Dining. Make sure to check out some of our resources like the list Walt Disney World Resorts with reviews. That article gives a brief overview of every resort at Disney.
For planning dining reservations, we have a full list of our Disney restaurant reviews available. Normally, we recommend planning at least one Disney World character dining meal and a Disney signature dining reservation.
If you are planning to meet characters in the parks, I keep an updated list of Disney World Characters here. That review will like to every meet available in each of the four parks.
Lastly, our most popular reviews include the best restaurants at Disney Springs. Additionally, I keep a timeline going of Loungefly Disney mini-backpacks, there's usually a new release for Halloween every year.
Leave a comment and let me know your favorite thing at Mickey's Halloween Party!