How to Plan Your Evening at Mickey's Very Merry Christmas Party
Mickey's Very Merry Christmas Party is in a class of its own. So much so that I wish I had purchased more tickets for this year's party.
Considering tickets sell for well over $150.00 on most party nights (and we attended twice), that's a statement you usually wouldn't hear from me.
It is expensive. But both evenings were full of unexpected delight, charming character meets, an exuberant parade, and the most endearing fireworks performance I've ever seen.
But I'm not writing this review of Mickey's Very Merry Christmas Party to sell you own it. Unfortunately, almost all 2022 party dates are completely sold out.
However, since I went (twice), I feel obligated to share with you how my night went. As you probably know, I focused on seeing as many characters as possible on the first evening of the party.
Characters are an integral part of Mickey's Very Merry Christmas Party. If you didn't already know, an abundant number of guests visit for the sole purpose of meeting characters exclusive to the party.
Here at Resorts Gal, we try to serve those readers with a thorough walk-through of as many characters meets as possible. Unfortunately, due to the overwhelming length of some lines, you could spend all night meeting characters and not get to all of them.
Related: Meeting Characters at Mickey's Very Merry Christmas Party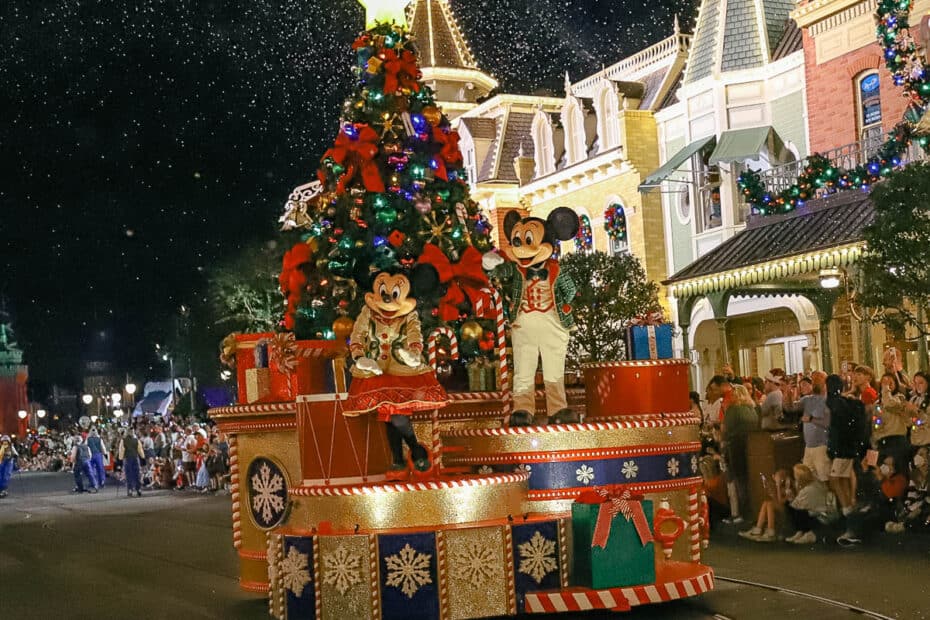 So on the second evening of the party, I played the role of a guest and focused on combining a mix of event entertainment, character meets, and I managed to squeeze in a ride on one attraction.
Yes, I rode one attraction, the Peoplemover. However, I only rode it because I was tired and needed a break.
As someone who's visited Walt Disney World numerous times and attended many parties, I've developed a strong opinion about experiencing attractions during extra-ticketed holiday parties.
While Mickey's Very Merry Christmas Party provides access to most attractions with the promise of shorter lines, you miss the actual party if you spend your evening in these lines.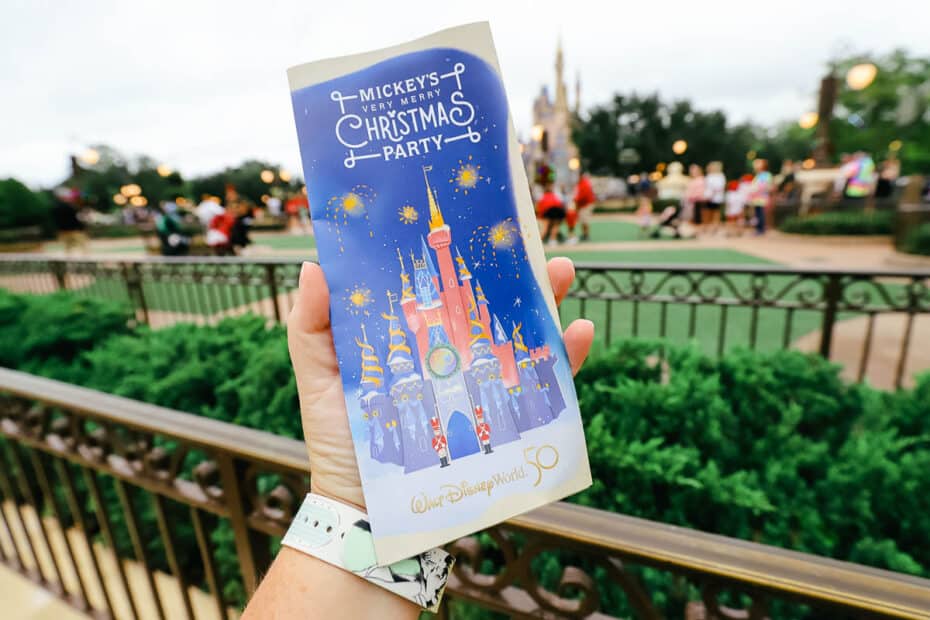 We used to be guilty of spending the majority of our time riding attractions at the Christmas Party. So much so that we never focused on the unique offerings only available to party guests.
Long ago, we even had dinner at Be Our Guest at 7:00 p.m., when the party started. So, we were not only paying extra money to attend the party but also spending more money on an expensive meal.
At the very least, we should have had dinner wrapped up by 6:30 p.m., which leads to another opinion worth your consideration.
Mickey's Very Merry Christmas Party formally begins at 7:00 p.m. and lasts until midnight. Guests attending the party can enter the park with their party ticket as early as 4:00 p.m.
My advice is to have dinner at the Magic Kingdom between 4:00 p.m. and 7:00 p.m. if you visit the party early. Or have dinner before you get to the party and arrive between 6:00 p.m. and 7:00 p.m.
Another thing to consider is how long your family can reasonably "party" without wearing down. If you take advantage of those extra hours between 4:00 p.m. and 7:00 p.m. and get worn out, you might leave the party early.
Having more of something is not necessarily better. For instance, I arrived at the park a few minutes early at the first party and got in line for a wristband.
By midnight, I was worn out and felt like I was dragging myself out of the park. Had I been attending the party as a guest and not for the blog, I can assure you I would have left early.
At the second party, I decided to do things differently and arrived a few minutes after 6:00 p.m. I grabbed a sandwich and fries on the way to the party so I wouldn't be hungry later in the evening.
On the evening of the second party, I felt rested when I arrived. While I was still tired at the end of the night, I wasn't exhausted like the previous party.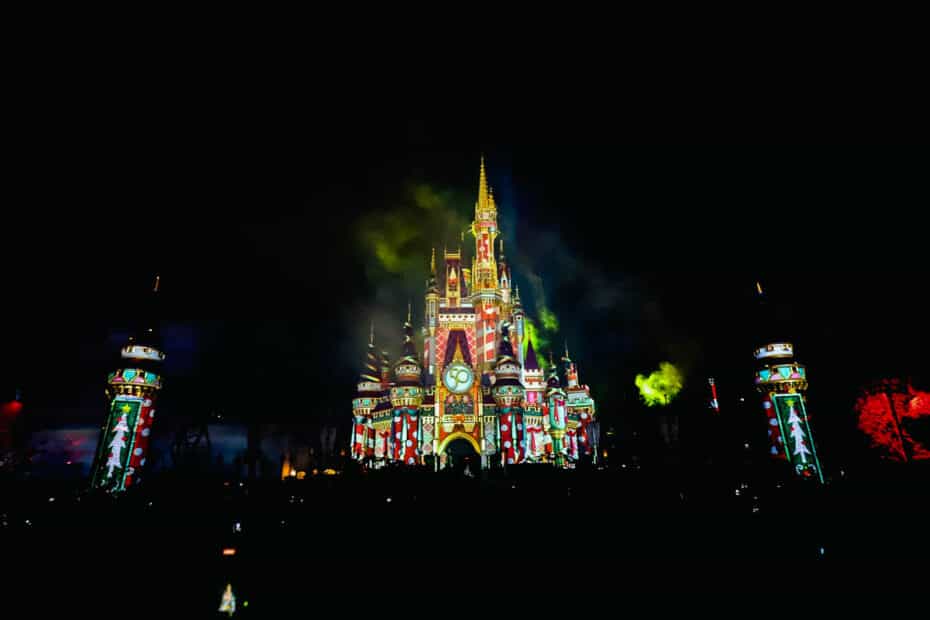 When you first arrive at the party, you'll need to acquire a wristband. Wristbands are given out at the turnstiles at Magic Kingdom after scanning your band.
Additionally, there are several wristband distribution areas inside the park for those who are already visiting as ticketed day guests. For example, I picked my wristband up for the first party at the Chamber of Commerce on Main Street, U.S.A.
After that, it's up to you to make the most of your party visit. This is where having a simple written plan comes into play.
Between 4:00 p.m. and 7:00 p.m., you'll have a relatively loose schedule depending on your priorities. For example, if meeting characters is a priority, you'll want to arrive at the party at 4:00 p.m., collect your wristband, and immediately join the line to meet Sandy Claws and Sally.
This character meet is exclusive to Mickey's Very Merry Christmas Party and tends to have exceptionally long lines. Jack and Sally's line begins to form at 4:00 p.m., and they start meeting at 4:30 p.m.
They meet next to Mickey Mouse inside Town Square Theater. However, Mickey doesn't visit in his Christmas Party attire until 7:00 p.m.
Related: Meet Jack and Sally at Magic Kingdom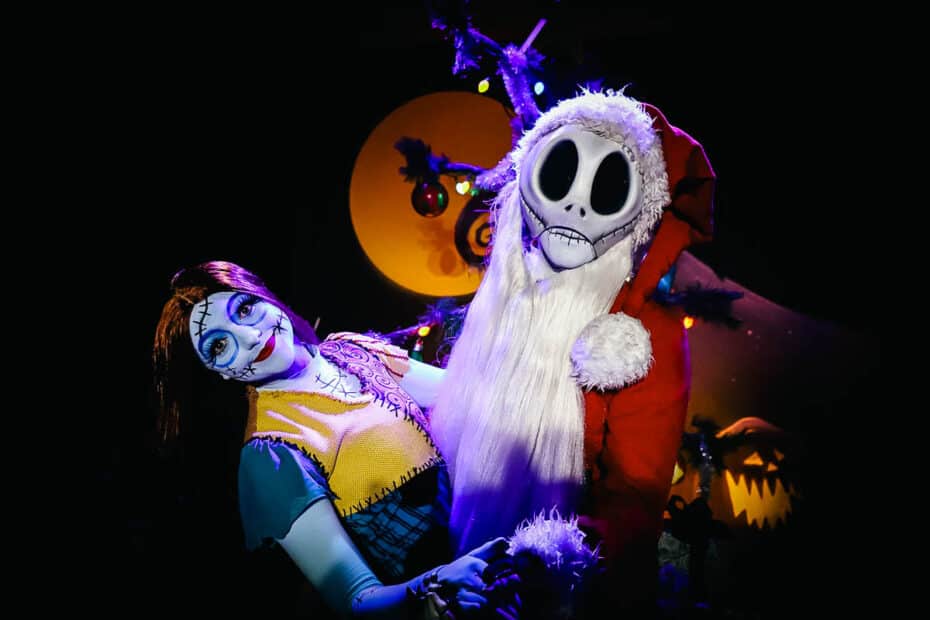 Unfortunately, there are no other character meet-and-greets that start this early. Winnie the Pooh and Friends usually come out at 6:30 p.m., which is the earliest character meet aside from Jack and Sally.
Additionally, this is typically the second-longest line of the party. So if you're interested in meeting them, I would get in line at the Thotful Spot by 5:50 p.m.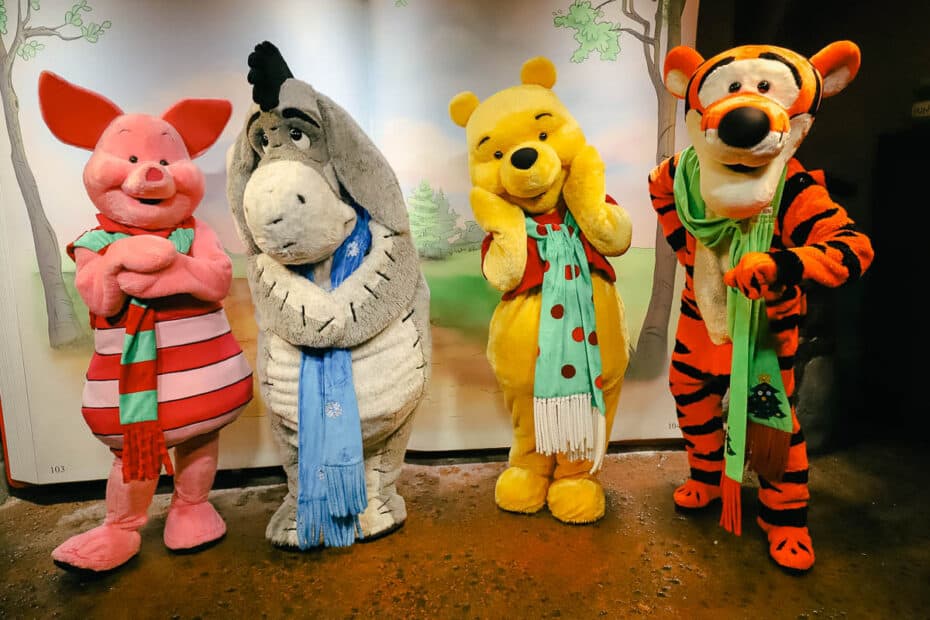 Those who get to the party at 4:00 p.m. but aren't interested in meeting characters might use this time to ride a few attractions or have dinner. Formal party offerings won't begin until 7:00 p.m.
Everyone visiting the party will receive a holiday ornament. It's a snowflake that commemorates the 50th-anniversary of Walt Disney World.
I thought this was a nice touch. (Ornaments are available on Market Street each evening of the party until 8:00 p.m.)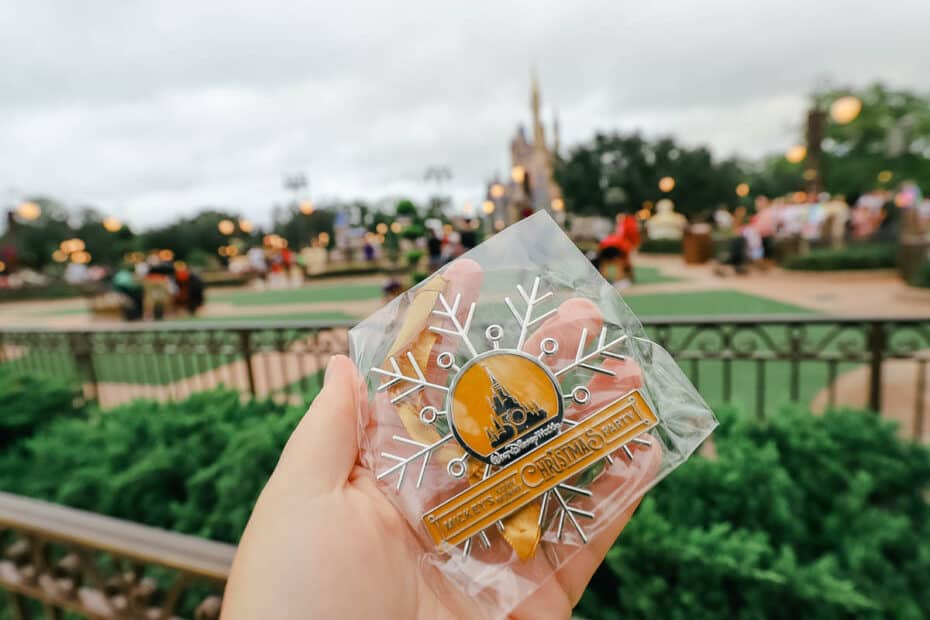 Additionally, you'll receive a commemorative print as you exit the park at the end of the night.
Back to the evening of the second party, I decided to meet Prince Eric and Ariel at 7:00 p.m. So I got in line for their meet at 6:45 p.m. and met them at 7:10 p.m.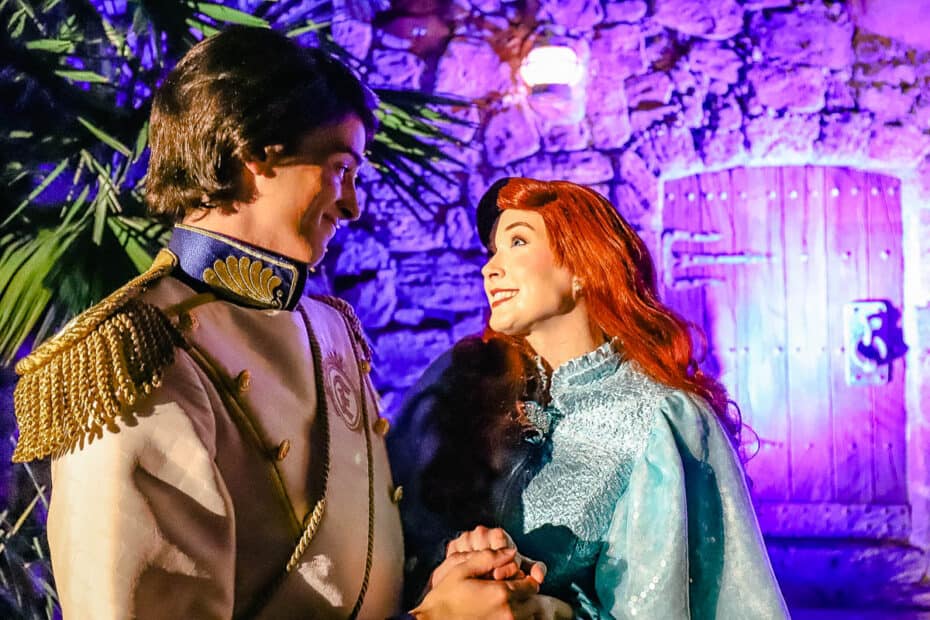 Since this meet and greet didn't take as long as I anticipated, I decided to meet Santa Goofy. I got in line for his meet (nearby) at 7:14 p.m. and met him at 7:32 p.m.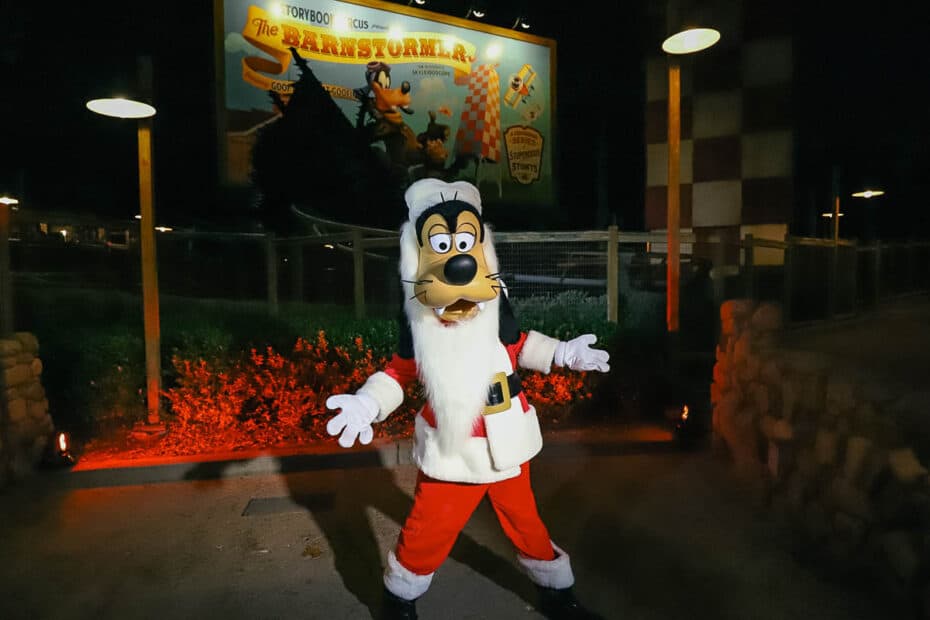 Afterward, I walked to Tomorrowland and picked up an iced tea from Joffrey's. Then I caught part of the "A Totally Tomorrowland Christmas" that began at 7:45 p.m.
However, this was not part of my plan, and I knew I needed to secure a spot for the Christmas parade. So I continued to Main Street, U.S.A.
Unfortunately, pickings were slim when I got to the area, but I found a spot on the second row. Thankfully, most guests on the front row sit on the curb so those behind them can still see the parade.
At 7:55 p.m., there weren't any spots left on the front row. So there's a huge time investment required if you want to get a place on the front.
There are two parades each evening, one at 8:30 p.m. and the other at 11:00 p.m. A popular tip is to wait and watch the second parade for lower crowds.
But, from my experience, I think you should watch the first parade if at all possible. That way, you don't risk missing it or getting worn out by the time the second parade comes through.
With that said, I do think that all guests should commit to seeing the parade. It's a dazzling event with tons of performers and characters.
Mickey's Once Upon a Christmastime Parade is magical for all, but the children especially love it. And you get the added benefit of snow flurries (bubbles) if you watch it from Main Street, U.S.A.
However, if you prefer to see the parade with fewer crowds, you can watch it from the step-off point in Frontierland. Unfortunately, you won't get the extra pixie dust that you receive from Main Street.
And I'm not just talking faux snow. When you watch the parade from Main Street, you also get the view of Cinderella Castle in the background, a sense of camaraderie with those around you, and a special pre-parade performance exclusive to guests waiting on Main Street.
Why do guests waiting on Main Street get a special pre-parade? Those who choose to stick it out on Main Street, U.S.A., are in for the long haul.
Since this is where the parade ends, the wait here will be significantly more than anywhere else. On this evening, the parade turned from the castle hub onto Main Street at 8:45 p.m.
So I waited 50 minutes to get a viewing spot on the second row of guests. Since the guests ahead of me remained seated, I had an excellent viewing spot.
The pre-parade comes out around 8:20 p.m. and lasts for approximately five minutes. It's a fun performance intended to entertain those patiently waiting.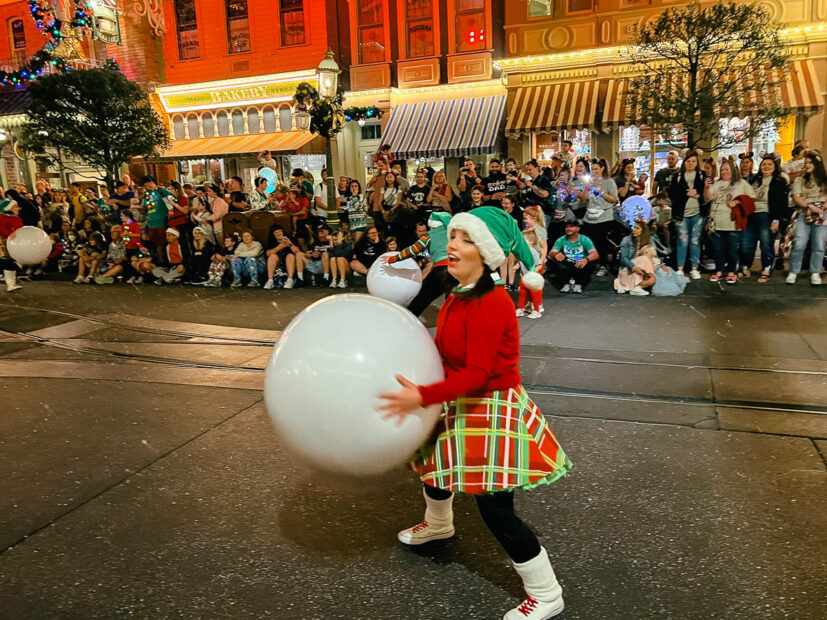 Then the parade comes through with magnificent floats and tons of characters.
Related: Characters in Mickey's Once Upon a Christmastime Parade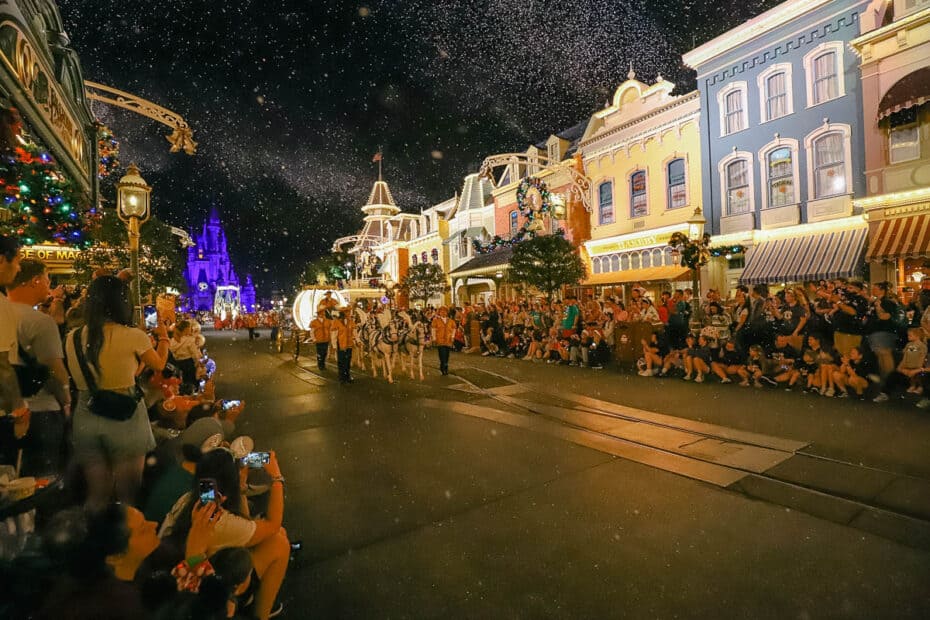 After the parade, the crowd immediately begins to disperse. To maximize party time, I immediately headed down Main Street toward Cinderella Castle.
Here I found a spot for the castle forecourt stage show, Mickey's Most Merriest Celebration, which began at 9:25 p.m. Thankfully, there wasn't a long wait for this performance after the parade.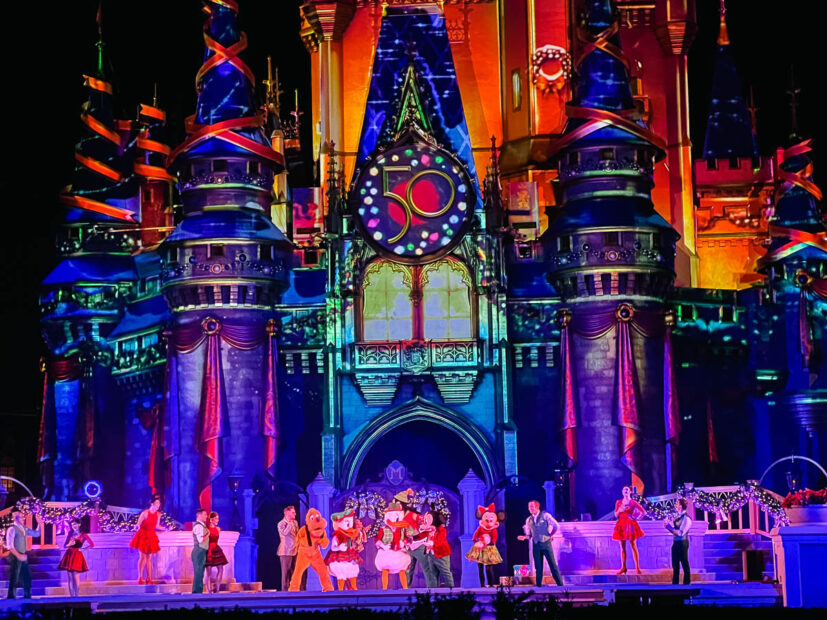 Mickey's Most Merriest Celebration is a darling performance featuring classic characters. Preferably, you'll want to stand near the center of the hub behind where the pavement begins to slope.
The closer you get to the stage, the more you'll find yourself looking up instead of at eye level, making it more difficult to see the performers.
What I love most about timing my evening this way is that I can stay in the same spot or slightly adjust for the upcoming fireworks show.
Minnie's Wonderful Christmastime Fireworks Show begins at 10:00 p.m. Unlike other popular event entertainment, the fireworks are only offered once during the evening.
These fireworks differ from what you see on a typical evening at Magic Kingdom. Remember to pay attention from the very start. Tinker Bell tends to fly a little early on party evenings.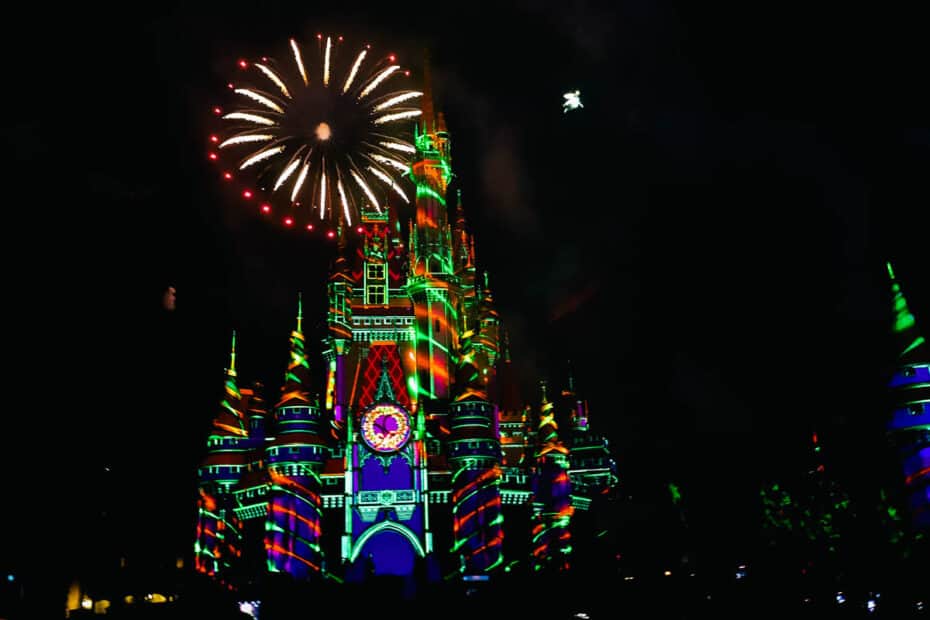 After the fireworks are over, you'll want to have an idea of where to head next. For me, this meant heading straight to another character meet.
Lines for character meets drop during the event entertainment because the entertainment tends to draw guests away. So this evening, I went straight to the Santa Claus meet-and-greet at Mickey's Very Merry Christmas Party.
Hey, Santa!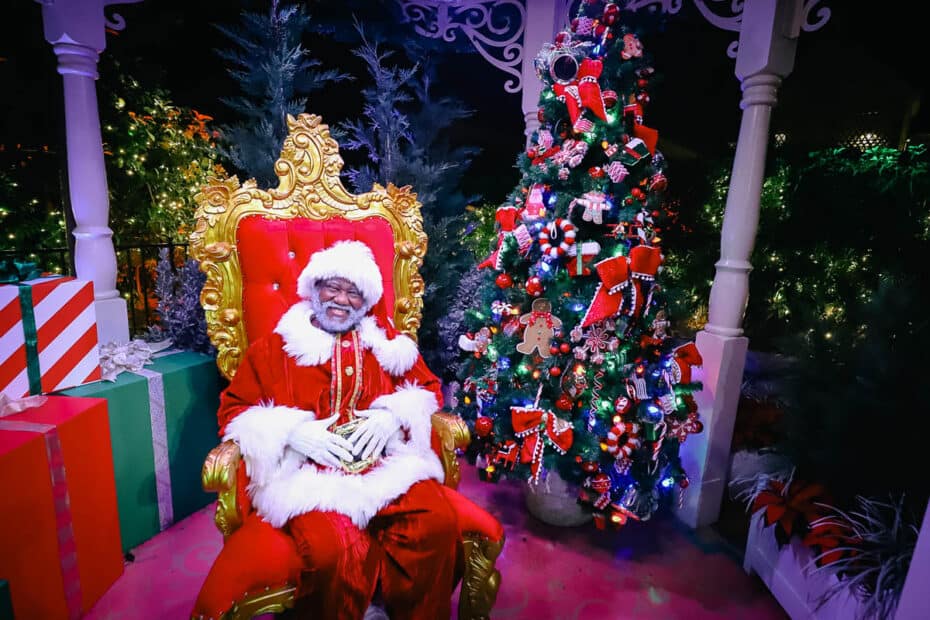 After this, I walked through Frontierland and, by chance, happened upon the Reindeer Wrangler's performance. Their times are listed in the My Disney Experience app underneath the entertainment drop-down.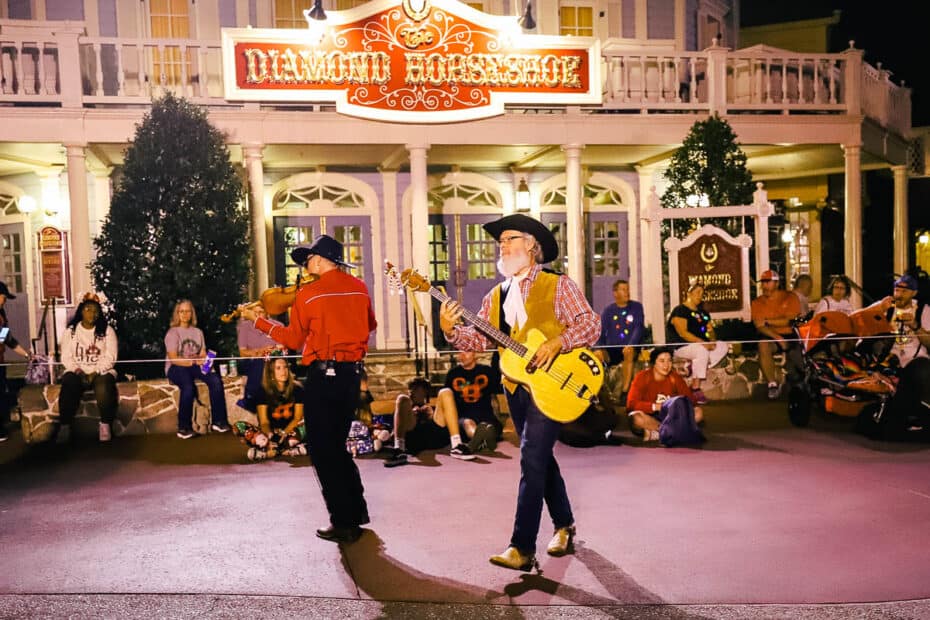 Then I was off to meet Belle in her holiday dress. On the way, I noticed that Haunted Mansion had a holiday overlay, so I quickly snapped a photo.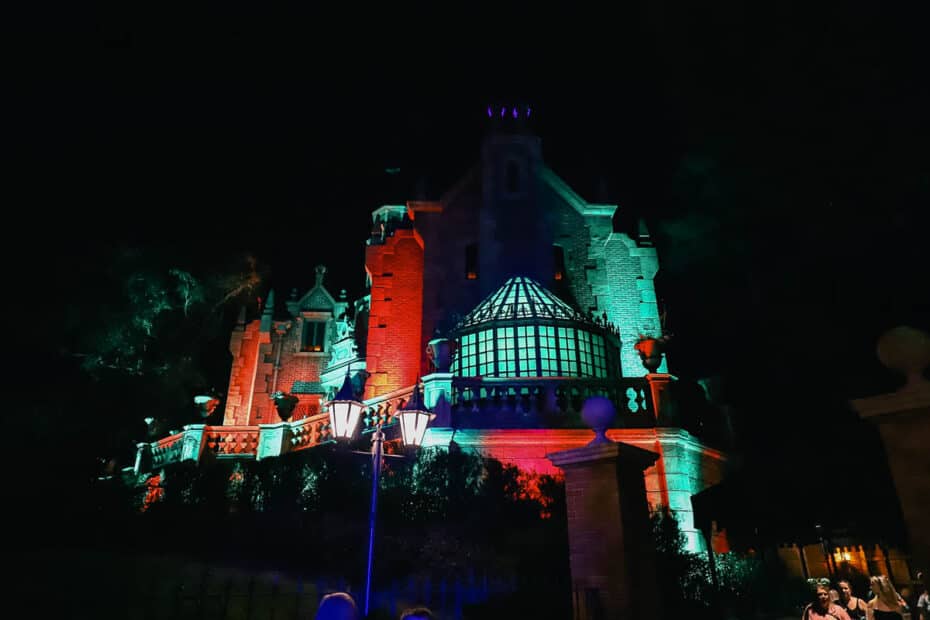 When I got to Belle's meet and greet, she was taking a break. Somehow I managed to be first in line for her return at 11:00 p.m.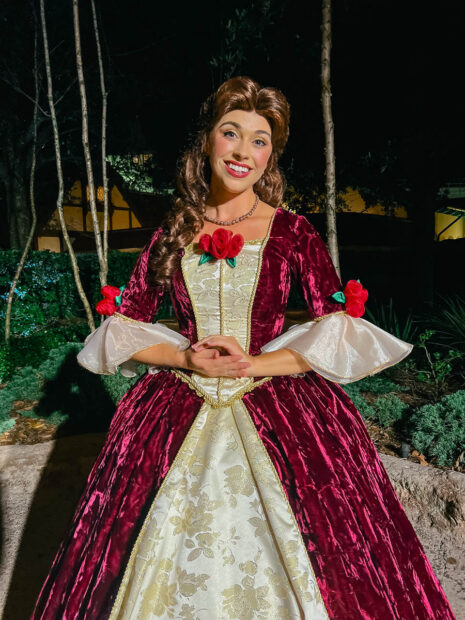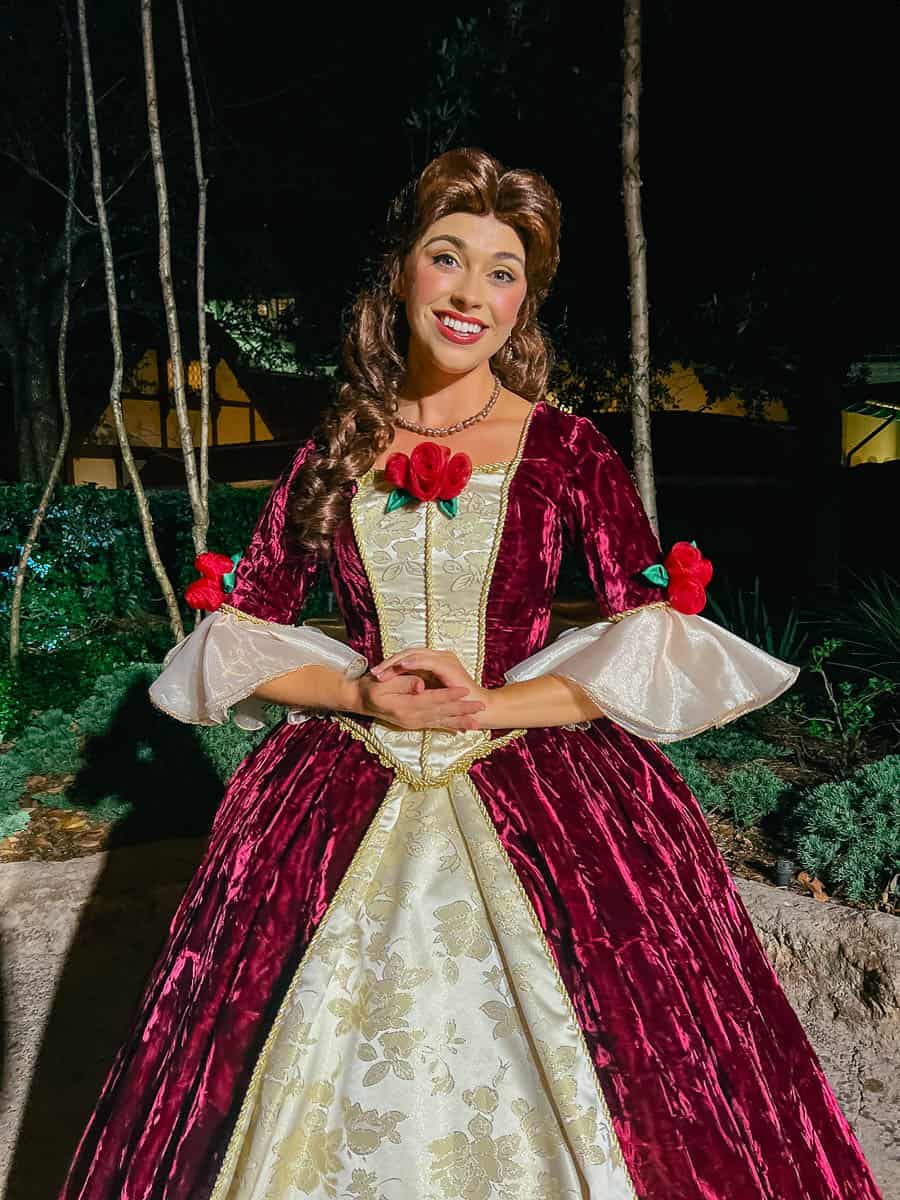 This timing worked out perfectly because I was able to meet Belle in her Christmas gown at 11:00 p.m., leaving plenty of time to catch "A Totally Tomorrowland Christmas" at 11:35 p.m.
So after meeting Belle, I made my way over to Tomorrowland. On the way, I ran into another festive holiday display on Space Mountain.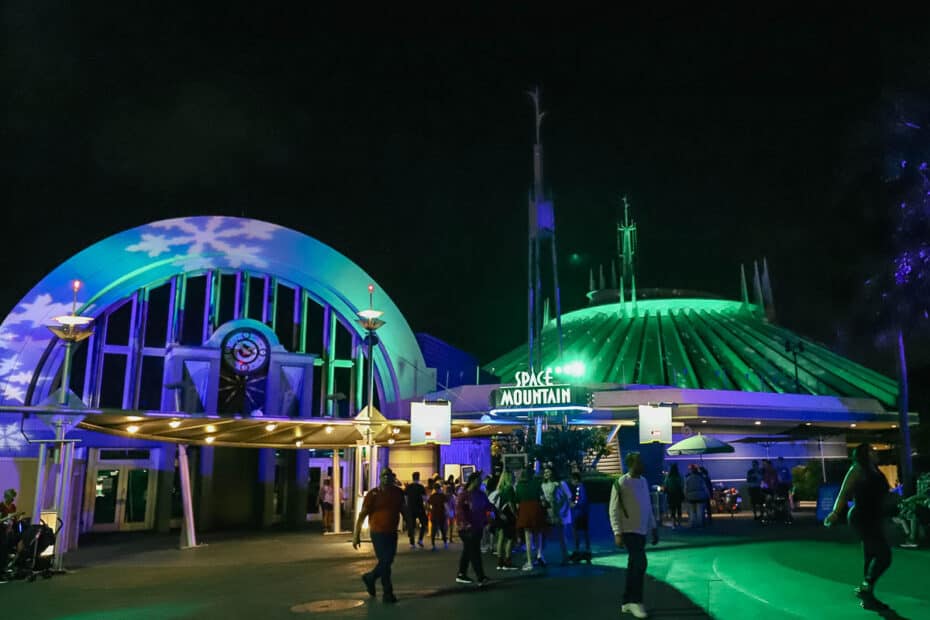 Since I had a few minutes to spare and there wasn't a line, I decided to ride the Peoplemover. Remember when I said I was tired and needed a break?
After exiting the attraction, I realized I had missed the first few moments of the performance. But that was okay, too, since I had seen the beginning before the parade.
Characters in " A Totally Tomorrowland Christmas" include Buzz Lightyear, Mike Wazowski, and Santa Stitch. It's worth taking the time to see this fun number.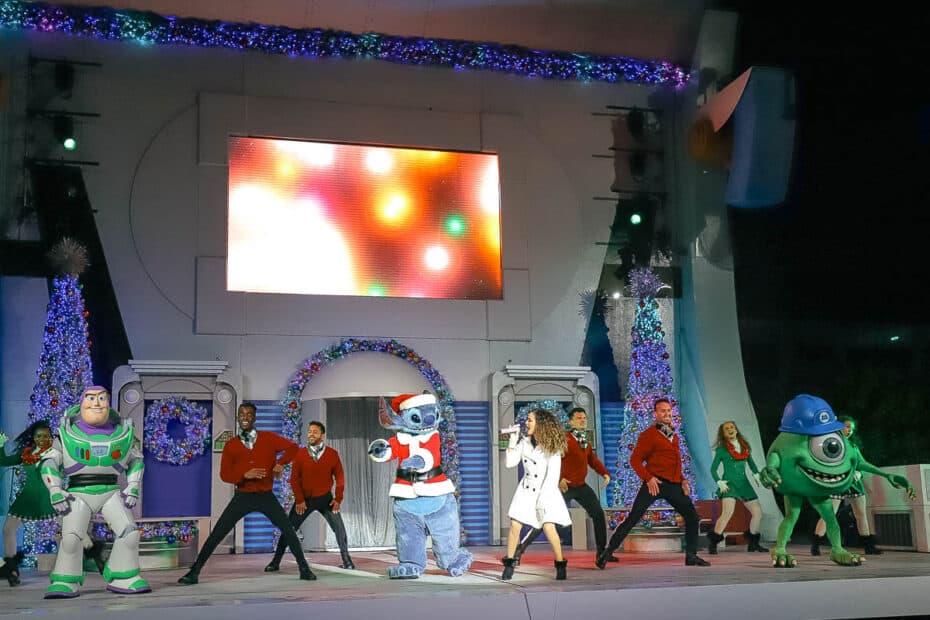 By this time, it was late, and I wanted to spend a few minutes on Main Street, U.S.A., before leaving. Had I not met Mickey Mouse in his Christmas costume at the first party, I would have probably taken the time to get in line there last.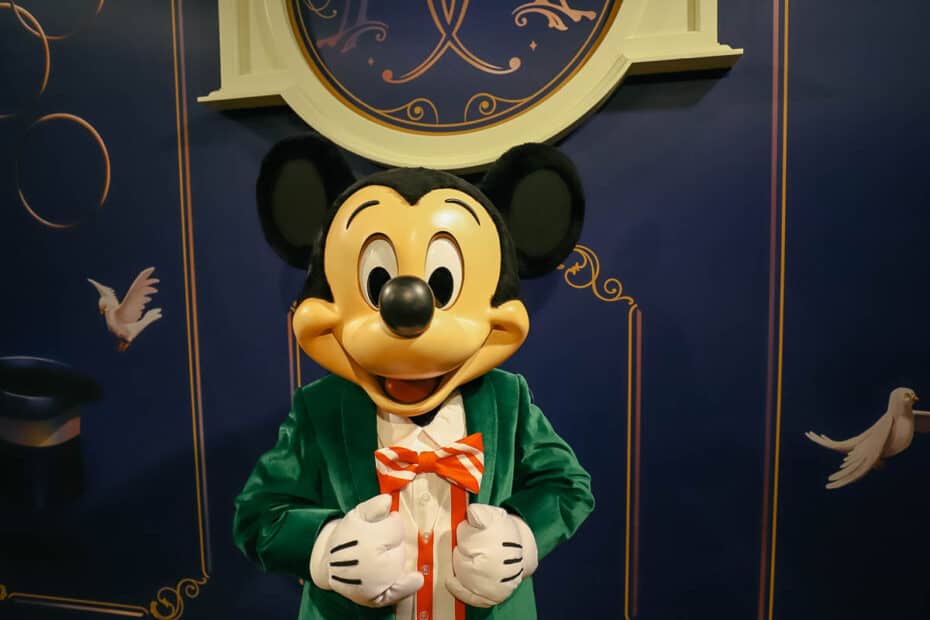 Ultimately, I had a wonderful evening at Mickey's Very Merry Christmas Party. Thankfully, the weather was pleasant, and the mood was Christmas-y.
Additionally, I felt good about the amount I accomplished between 7:00 p.m. and midnight. Here's a recap of how my evening went:
Secured a Wristband and Ornament
Met Prince Eric and Ariel
Met Santa Goofy
Purchased an iced tea and secured a spot for the parade.
Mickey's Once Upon a Christmastime Parade
Mickey's Most Merriest Celebration stage show
Minnie's Wonderful Christmastime Fireworks
Met Santa Claus
Saw the Reindeer Wranglers
Met Belle
Saw A Totally Tomorrowland Christmas
Lingered on Main Street
Here's what I missed:
Other Character Meets
Club Tinsel (designed for tweens)
Storybook Circus Disney Junior Jingle Jam (small children)
PhotoPass Options
Holiday Treats
*All of the character meets available at the party are listed here in our guide. I recommend picking a few of them that are important to your group and plan them accordingly.
*Several PhotoPass options are available with magic shots for guests attending the party. Options for the Memory Maker add-on are available here on Disney's site.
Lastly, holiday treats are provided by Cheryl's Cookies at several locations during the party. Make sure to pick up a party guide map for reference.
Here is one of the holiday step-in photo frames at Magic Kingdom.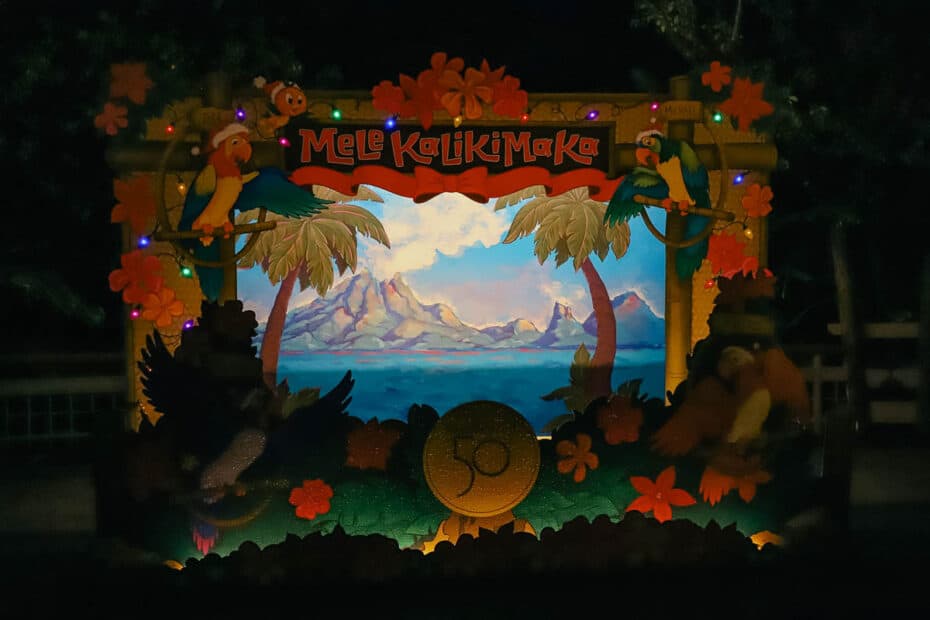 For more Christmas at Walt Disney World, you might enjoy the following articles:
We also have an entire list of every gingerbread display at Walt Disney World.
Hopefully, this review of Mickey's Very Merry Christmas Party was instrumental in planning your visit to the party. If you have any questions, feel free to leave them below in the comments.