The Beach Club Resort in Disney World (A Review)
Disney's Beach Club Resort is one of the most desirable hotels at the Walt Disney World Resort. This Beach Club Resort review will take a look at the resort in its entirety. We'll cover rooms, dining, amenity, and all the other things this resort has to offer.
Staying at Disney's Beach Club is like having the best of both worlds. First, you are privy to the hotel's long list of amenities. Secondly, the resort's location factor is within walking distance to two of the theme parks. And that's only the icing on the cake for this charming Disney vacation destination.
Over the years, I've had the opportunity to stay at the Beach Club many times. And without hesitation, I can tell you that I'm always prepared to return.
Disney's Beach Club offers a calm, serene feel that whispers welcome home as soon as you enter the front door. From the florals in the lobby to the seashell accents and carpets mimicking the depths of the ocean, the resort welcomes you.
It's the kind of place that you never really want to leave. And often, many end up wondering when they will be able to return.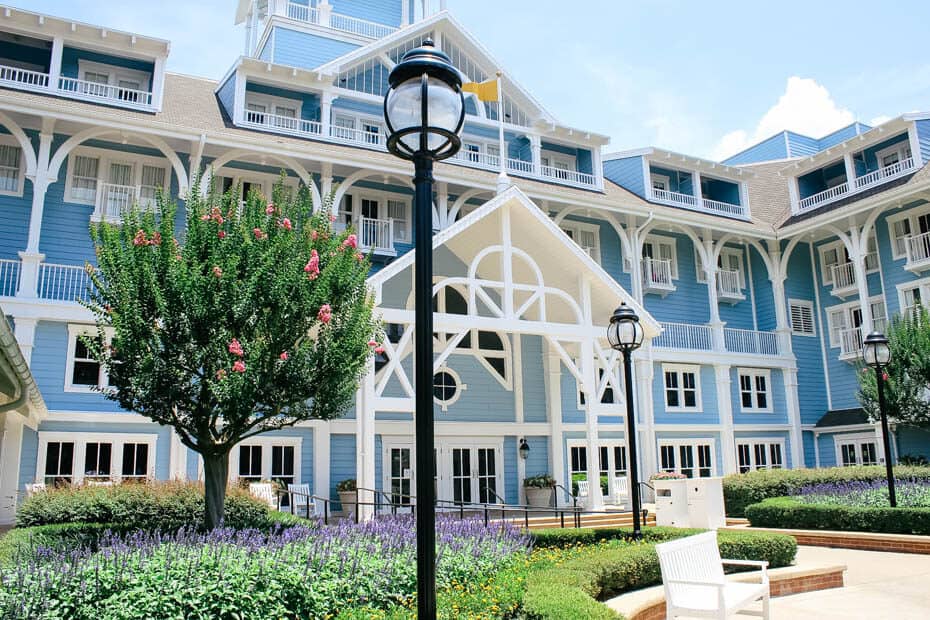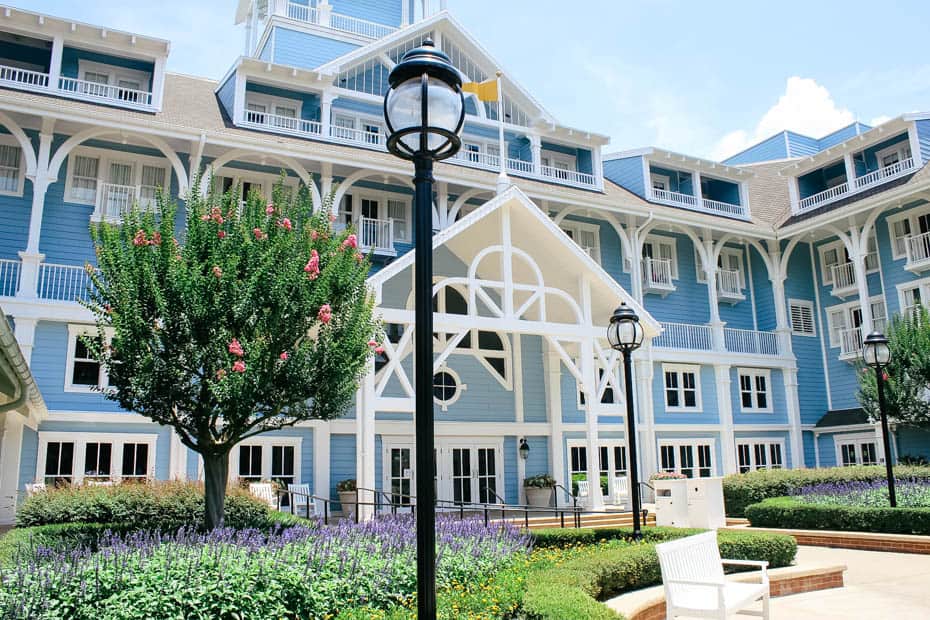 They say, "home is where the heart is." So please allow me to share with you the one piece of real estate at Disney that I care about more than any other.
Before we get too far into Disney's Beach Club review, let's take a brief look at the hotel's map. Beach Club is on the right-hand side of the map with the brown-tone roof. Sister resort Yacht Club is on the left side.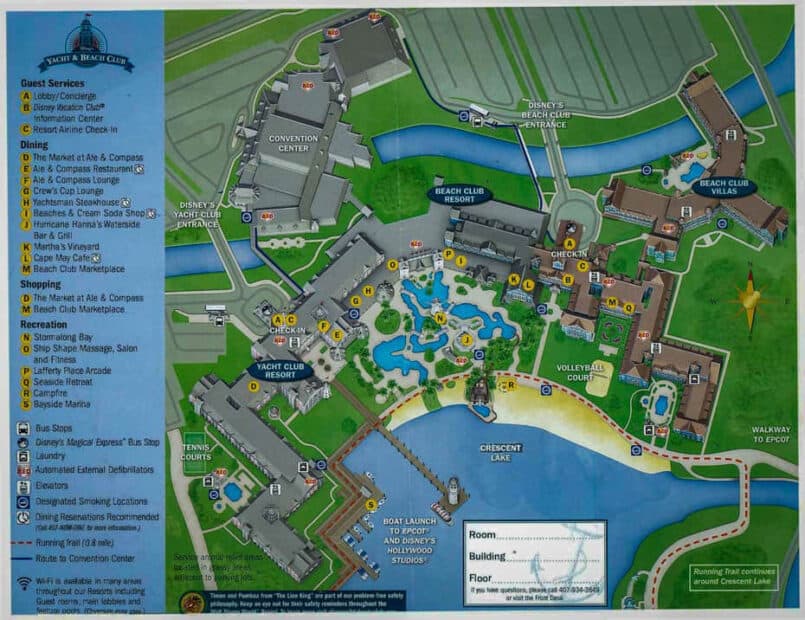 While separate, the two resorts actually combine to make one large resort, Disney's Yacht and Beach Club. Anyone visiting that has their car might want to make a note of the address.
Disney's Beach Club Address: 1800 Epcot Resorts Blvd, Lake Buena Vista, FL
Location for most is a huge factor when considering which Walt Disney World Resorts to stay at. For me, the Beach Club gets a full 10/10 for location. It's tough to find fault here.
The hotel is located in the Epcot Resort Area and is situated on stunning Crescent Lake. Beach Club sits next door to Epcot and is across the lake from the Boardwalk Resort.
Across the lake is this view of Disney's Boardwalk. It takes approximately 10 minutes to walk over, or you can take a Friendship boat if you desire.
Additionally, it takes approximately 5-10 minutes to walk out of the Beach Club's back door and over to the International Gateway entrance to Epcot.
Perhaps the biggest factor is the ability to walk over to Disney's Hollywood Studios. Most guests spend at least two days of their vacation at Hollywood Studios with hopes to conquer the Rise of the Resistance boarding group system.
Being able to walk to the theme park leaves you in control of when you arrive, instead of having to rely on alternate transportation.
Meaning you won't be sitting at a bus stop or in line for a Skyliner gondola at the park opening while everyone else is taking advantage of early morning lines. The walk from Beach Club to Disney's Hollywood Studios takes approximately fifteen minutes.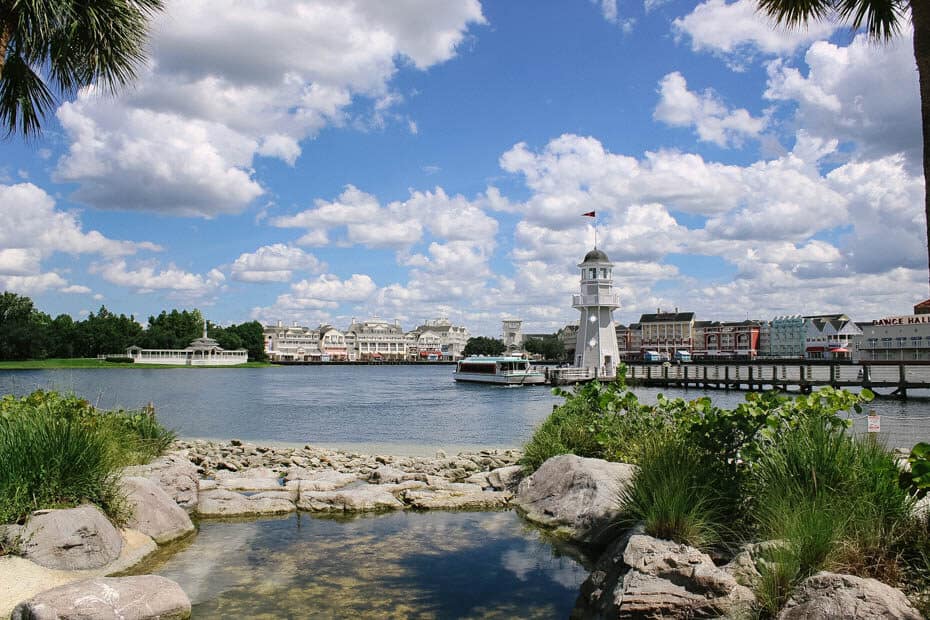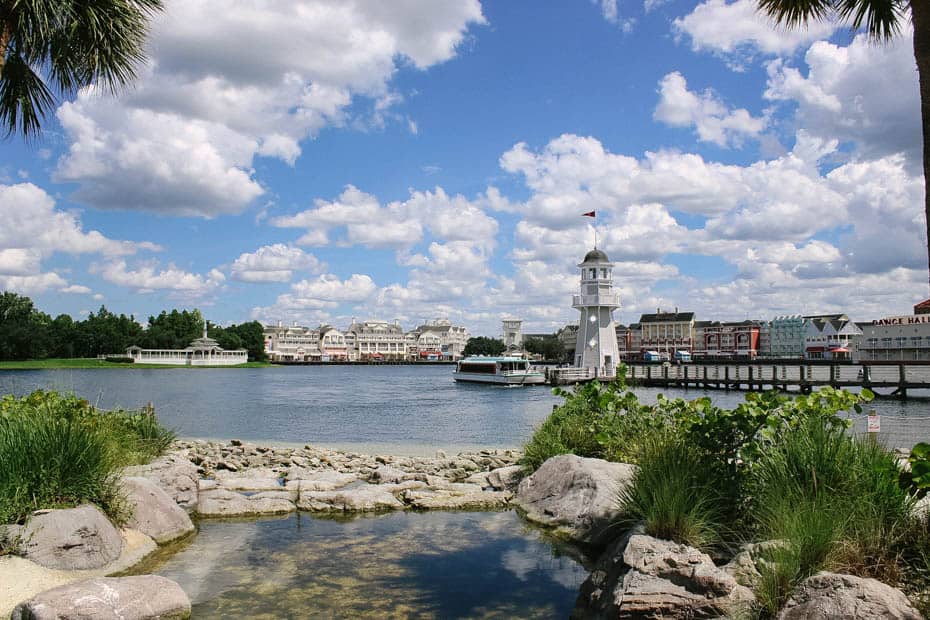 It's a pleasant walk, and I always prefer it over the boat. Not only that, but it's such a great place to decompress after leaving the park. The walkway is never crowded, and it's quiet with plenty of fresh air.
As far as reaching other parks, guests can take Disney bus transportation to reach Magic Kingdom and Disney's Animal Kingdom. You can also take a bus to access Disney Springs and the water parks.
Disney's Beach Club Resort Review
There are so many good things going on at the Beach Club between the charm and location. Disney's Beach Club has 577 rooms and suites. The exterior is a soft blue with white trim. The design was inspired by the look of New England beachside cottages during the mid-1800s.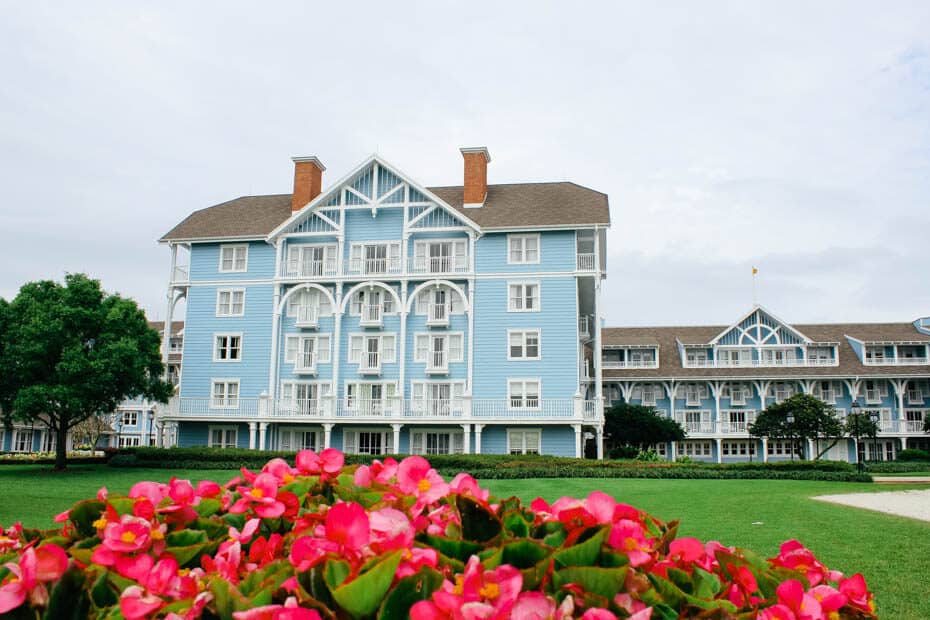 The lobby features beautiful French limestone flooring and fresh flowers on display at most times. We've always found it warm and inviting when returning to the resort.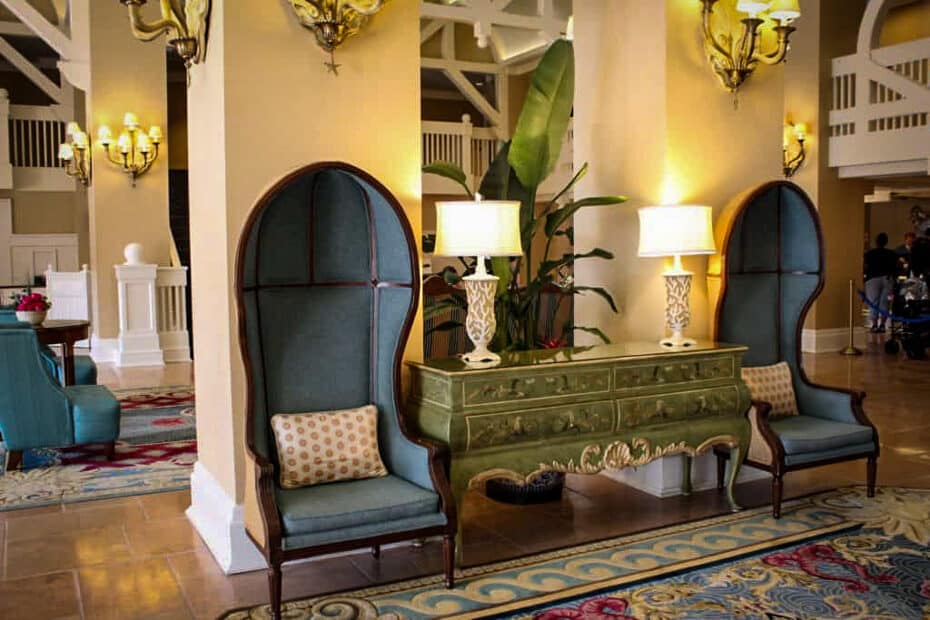 During Christmas at the Beach Club, you'll be delighted by the life-size gingerbread carousel that sits in the center of the lobby. Guests come from all over the property to see it.
Disney's Beach Club Villa Resort is the Disney Vacation Club portion of the hotel. The villas have a soft mint green exterior with their own quiet pool.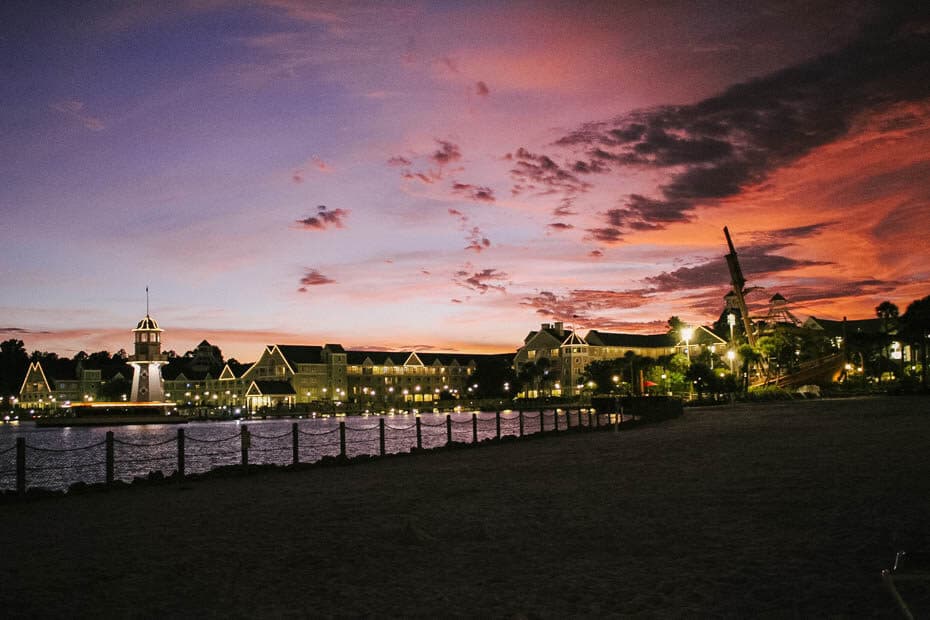 The other huge factor that Beach Club Resort has going for it is the amount of recreation available. We'll get to that a little further down. But know this property can provide a full vacation experience without having to visit a theme park. There's just that much to do here!
Disney's Beach Club Guest Rooms
There are quite a few guest room categories available at Disney's Beach Club Resort to give you an overview. From standard guest rooms to an upgraded water view or villas with kitchens. The sky is pretty much the limit. Here are a few
Standard View
Garden View
Water View
Most of these rooms come with 2 queen beds. However, some rooms have 1 king bed. Additionally, some rooms come with 1 day bed that's extra for a 5th guest.
The above three are available for reserving with club level access. Additionally, these upgrades are also available:
Deluxe Room
1 Bedroom Suite
2 Bedroom Suite
Nantucket VP Suite
Newport Presidential Suite
Lastly, these Disney's Beach Club Villa rooms are available:
Deluxe Studio
1 Bedroom Villa
2 Bedroom Villa
For this review, we'll take a look at standard guest accommodations. During the last refurbishment, the rooms were drastically changed, however, I think they turned out nicely.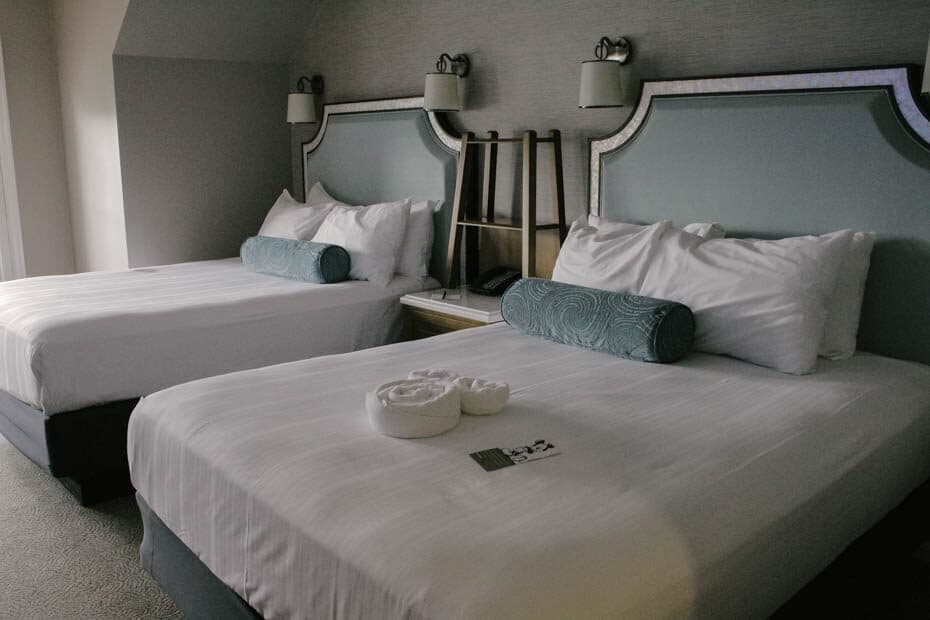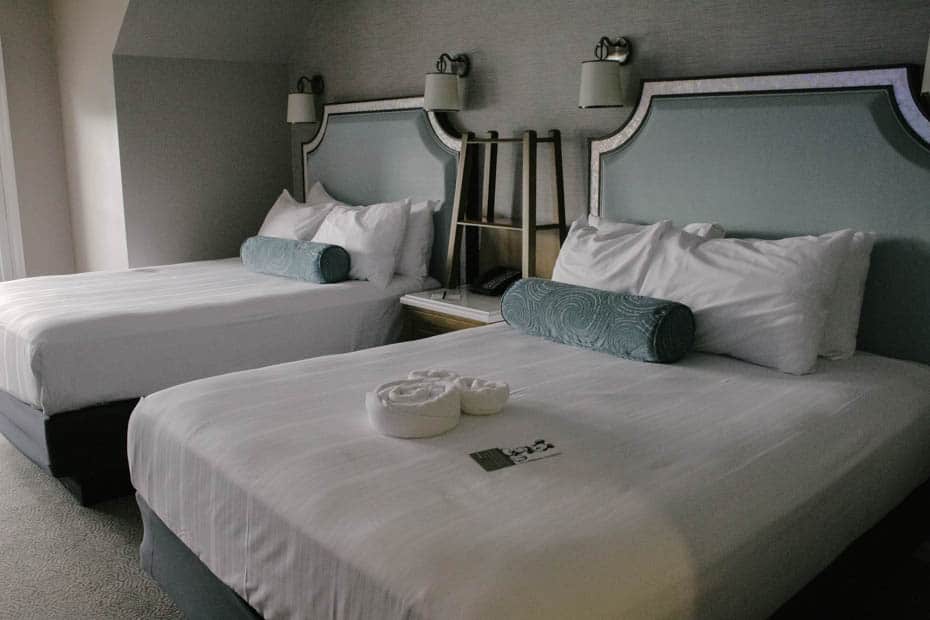 The walls are a neutral gray palette with complimenting seafoam greens and blues. Unfortunately, the renovation was right before solid surface flooring in hotels became popular. With that being said, the carpet is a high-quality grade, and as you can see, they have a neat little bench to remove your shoes and store them underneath.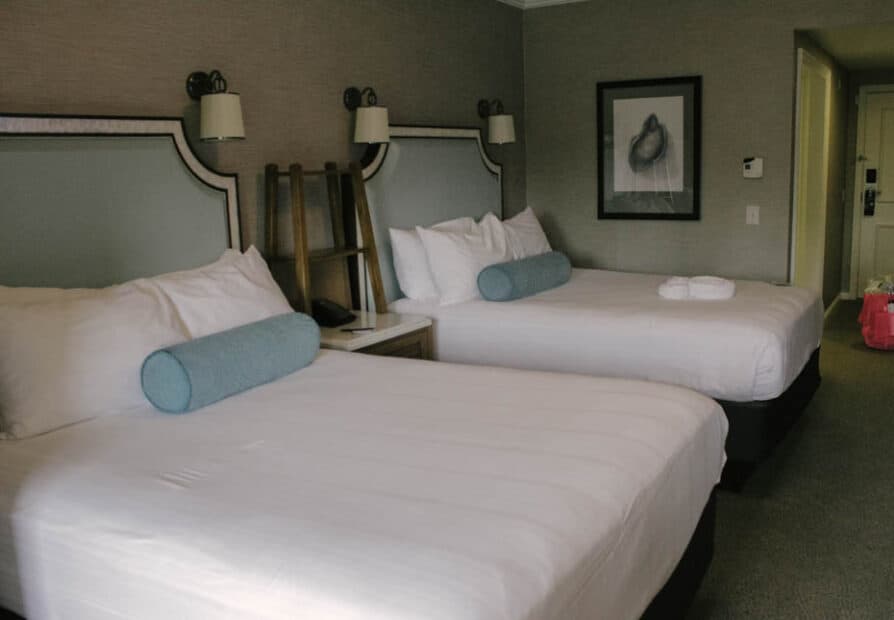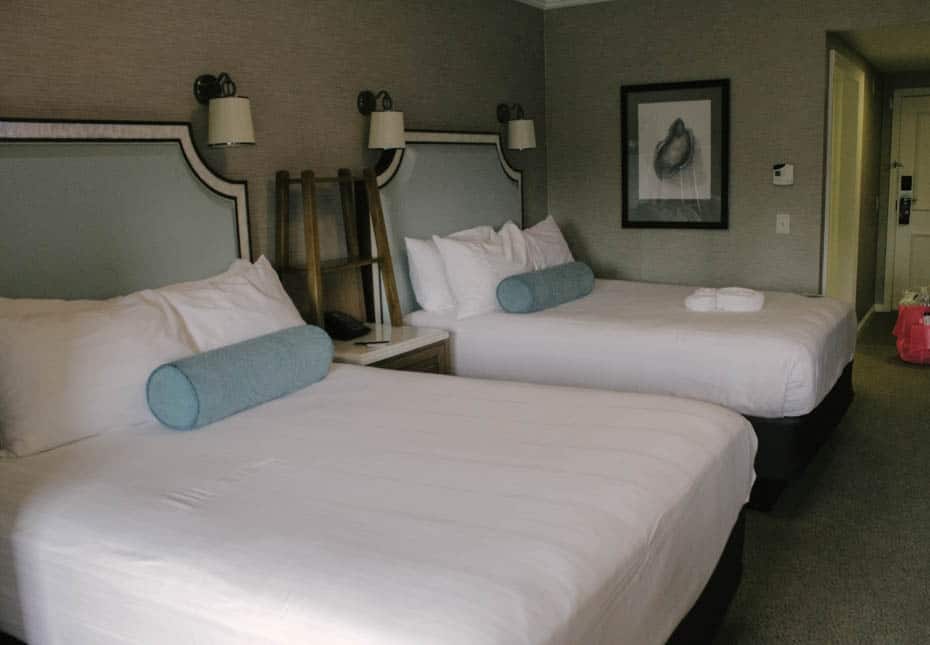 A standard guest suite offers two queen beds. For reference, the deluxe studios at the villas come with a queen bed and one sleeper sofa. The villa rooms also have a small kitchenette.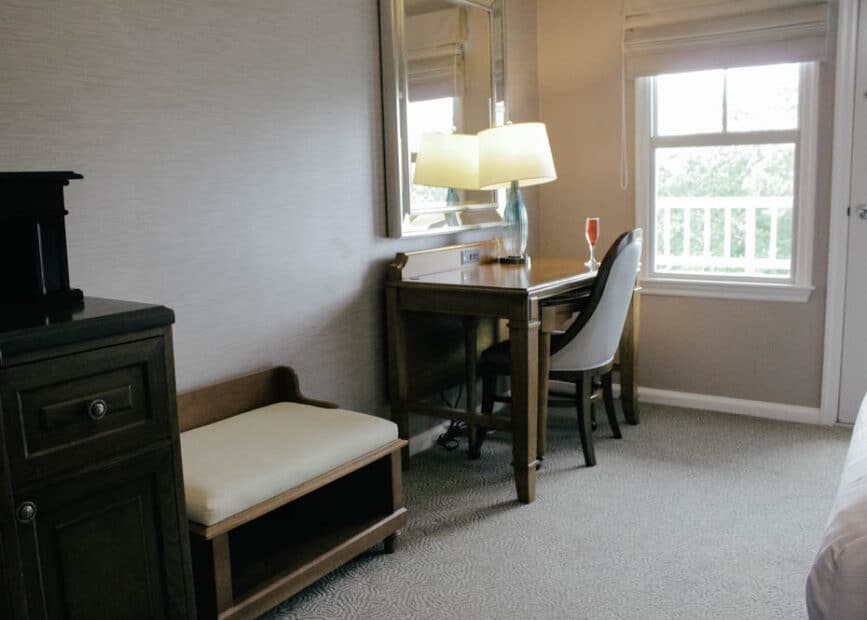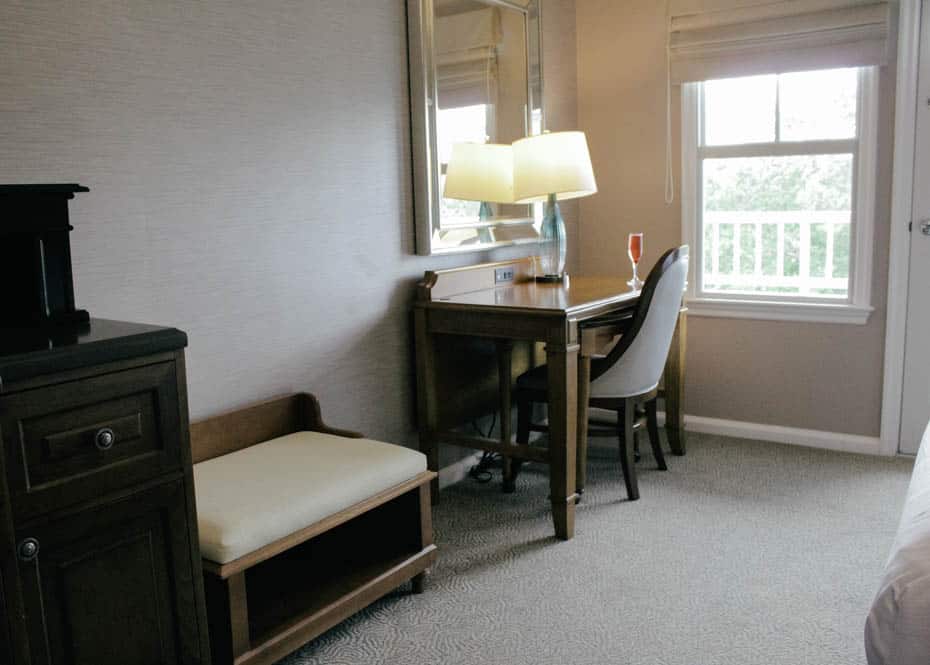 We utilize this desk with the chair shown below quite often when we stay here. The table tucked underneath actually rolls out. And you can move it around as needed.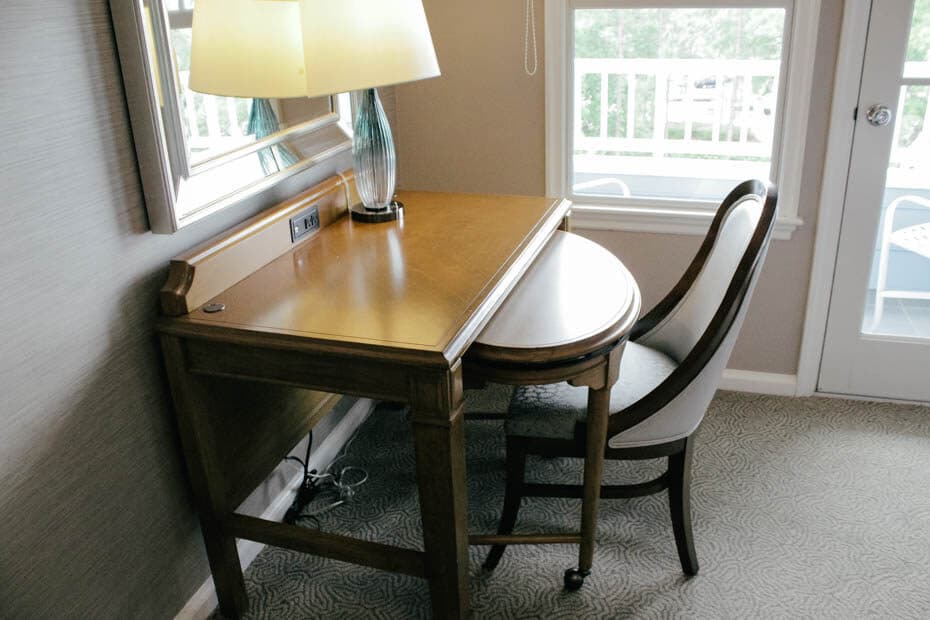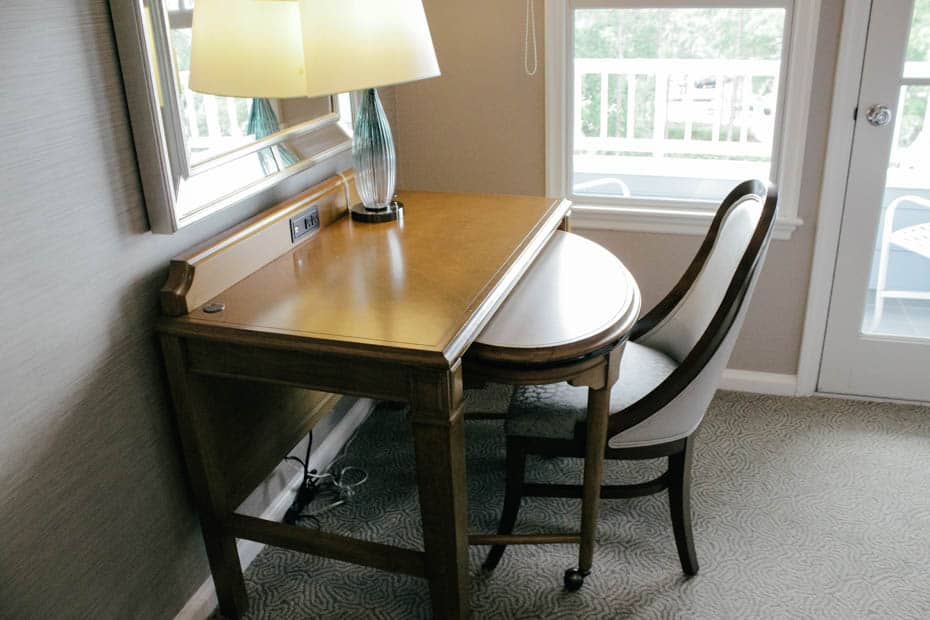 Most of the rooms at Disney now provide a variety of outlets and USB ports for charging. Note there are a few here on the back of the desk portion.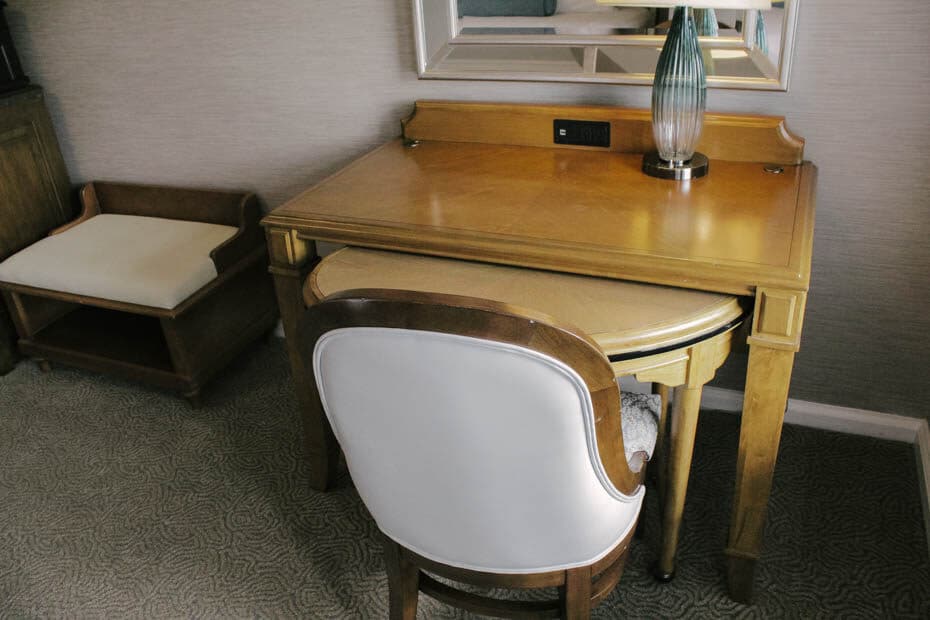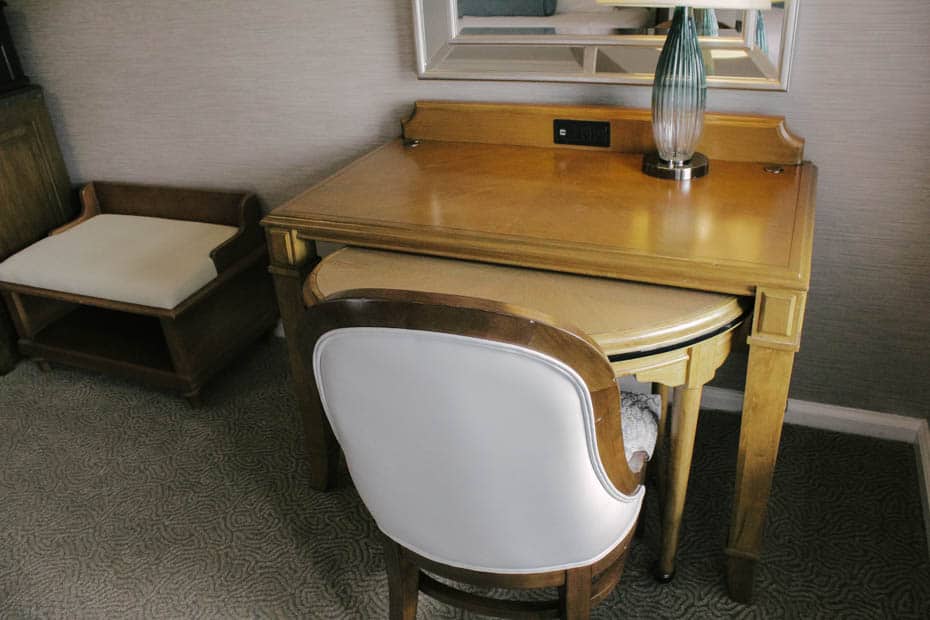 Another win is the bath area. The water closet is separate, and the double vanity provides a nice amount of counter space. There is also a ledge above the counter that comes in handy for storing smaller items.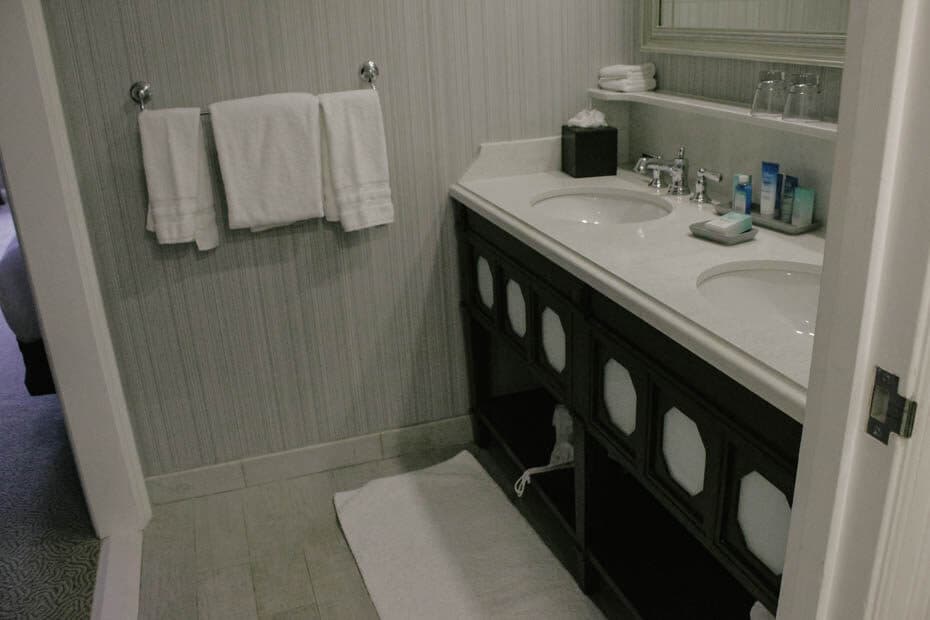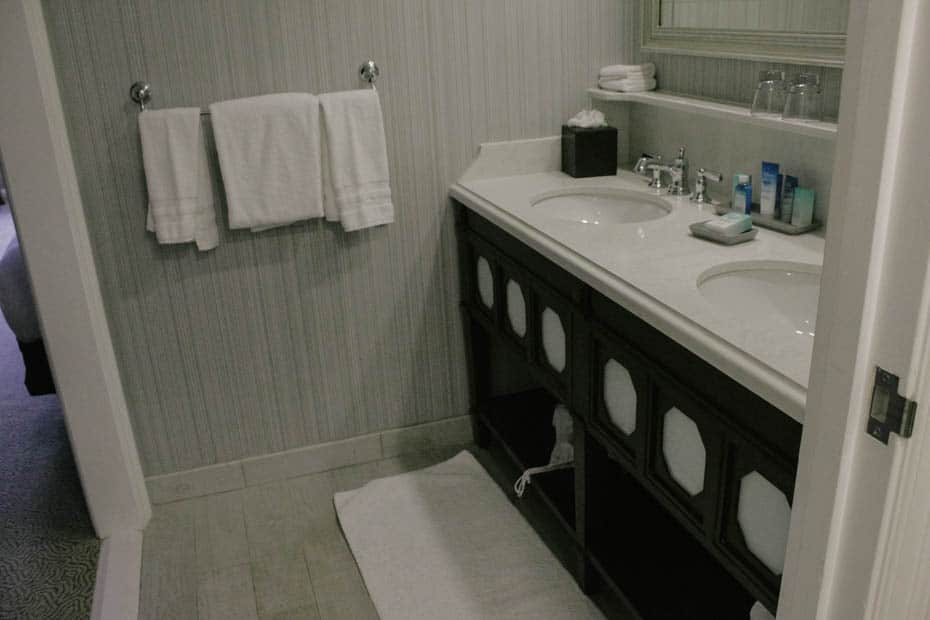 Underneath the vanity, there's an additional large, open storage area. The colors used and solid surface counters make for a clean-feeling space.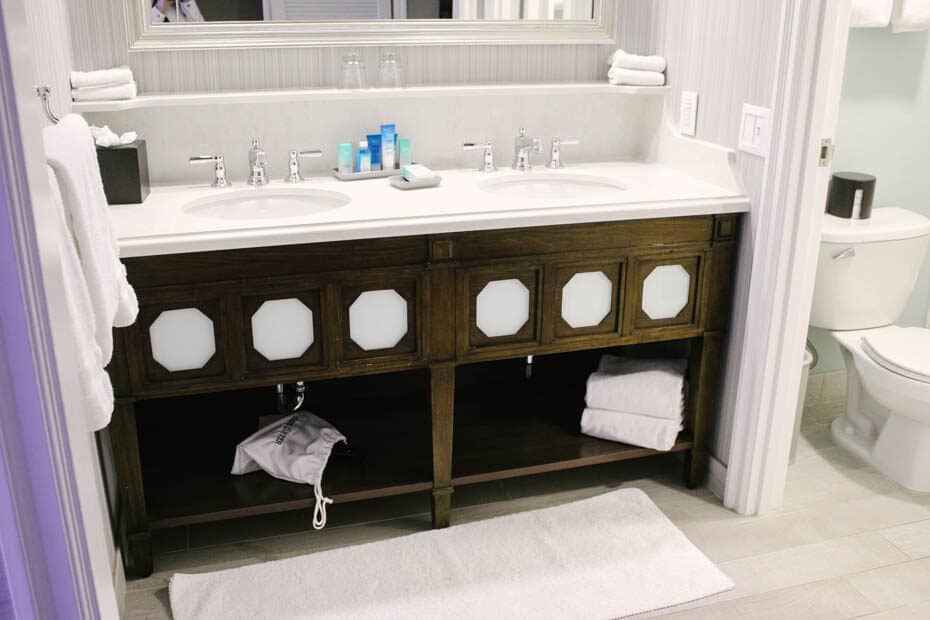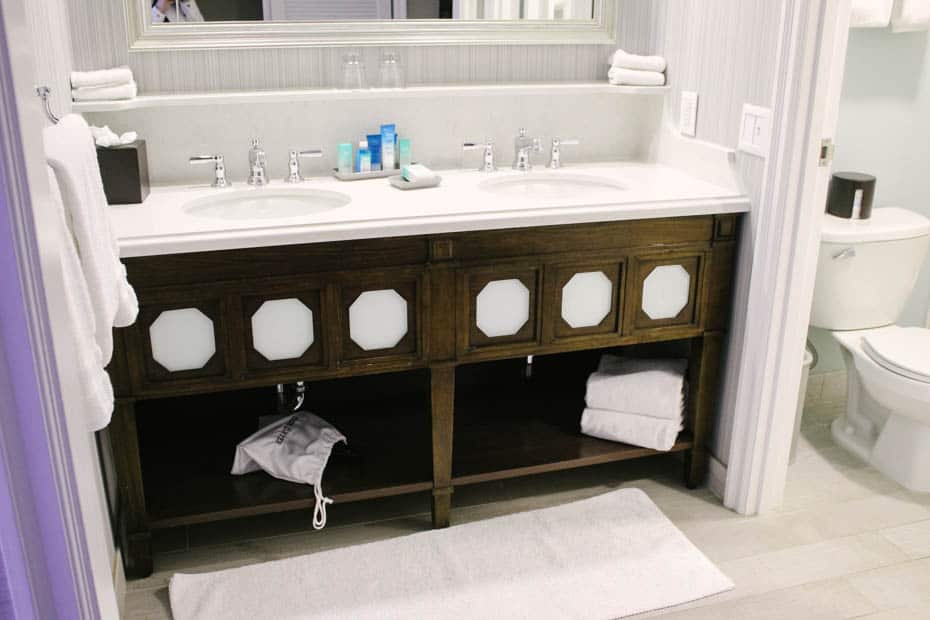 Below is the tub with shower combination.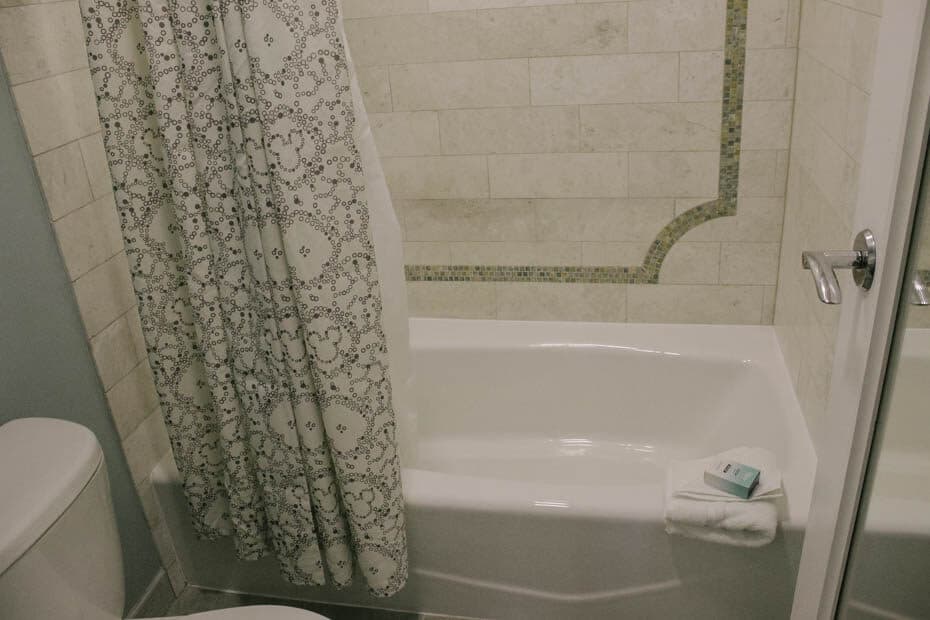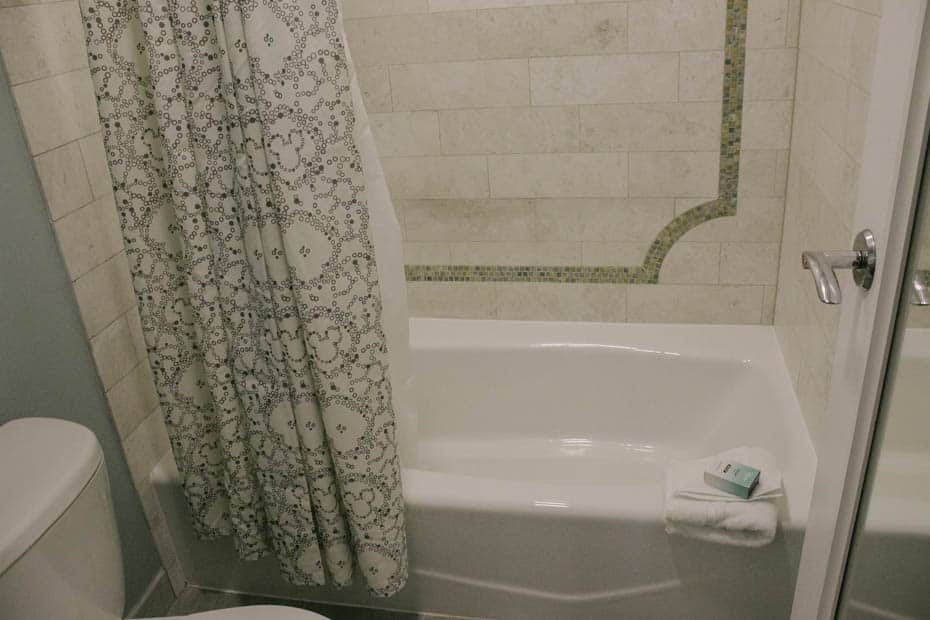 Between the closet areas, you will find a coffee bar and counter area with a mini-refrigerator.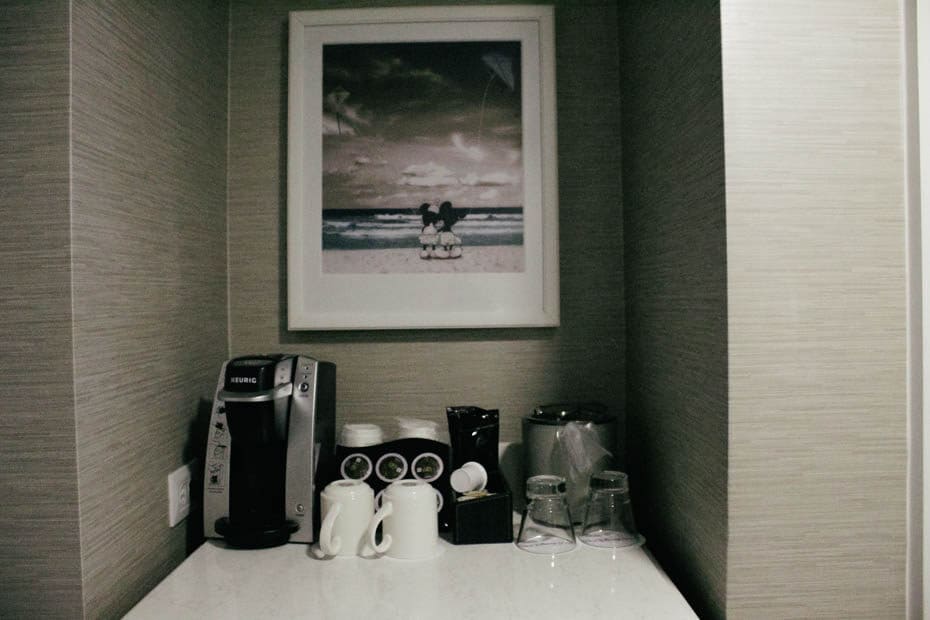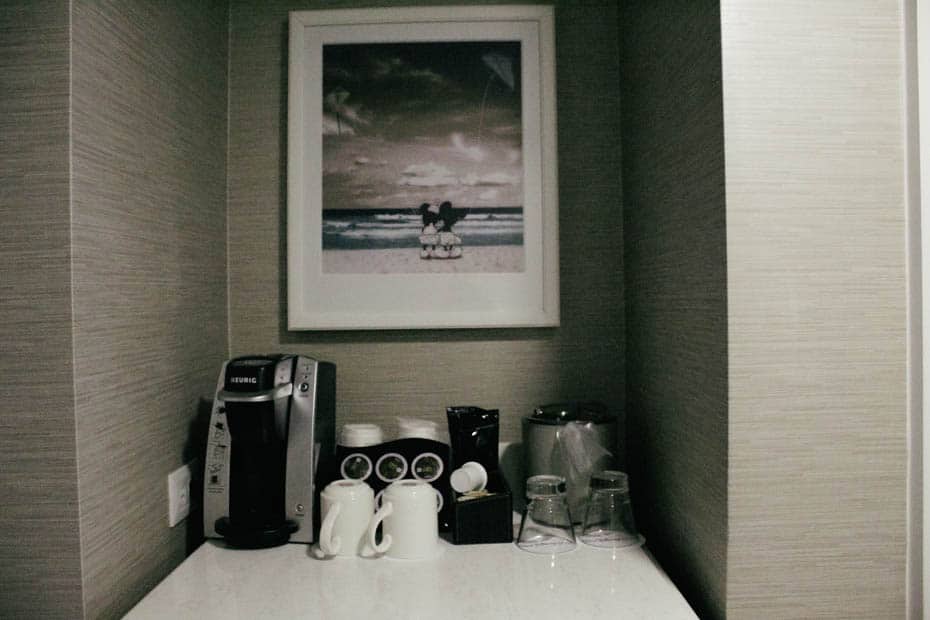 I love the artwork with Mickey and Minnie Mouse staring out into the ocean. Here is a closeup of the different items on top of the coffee bar area.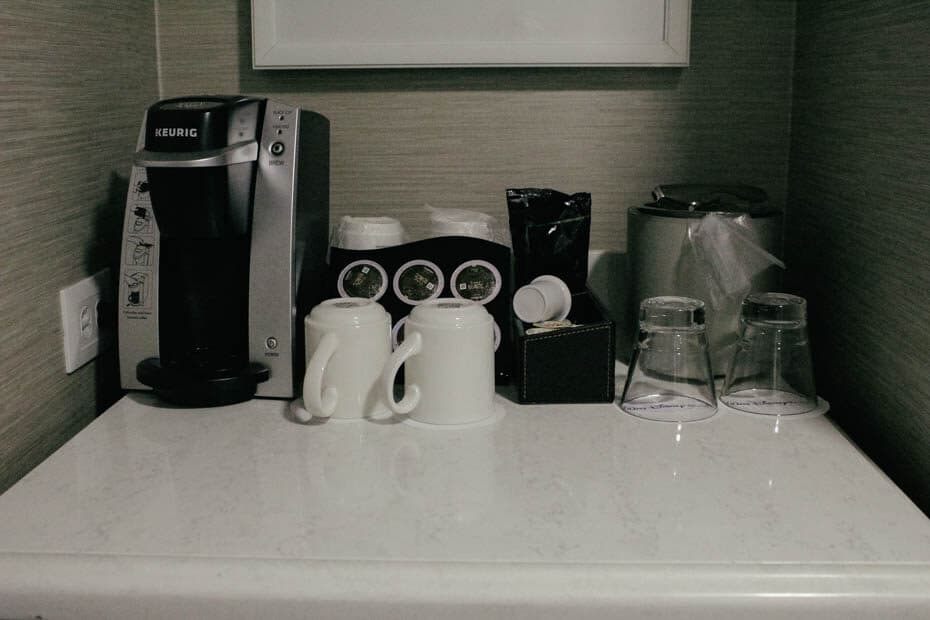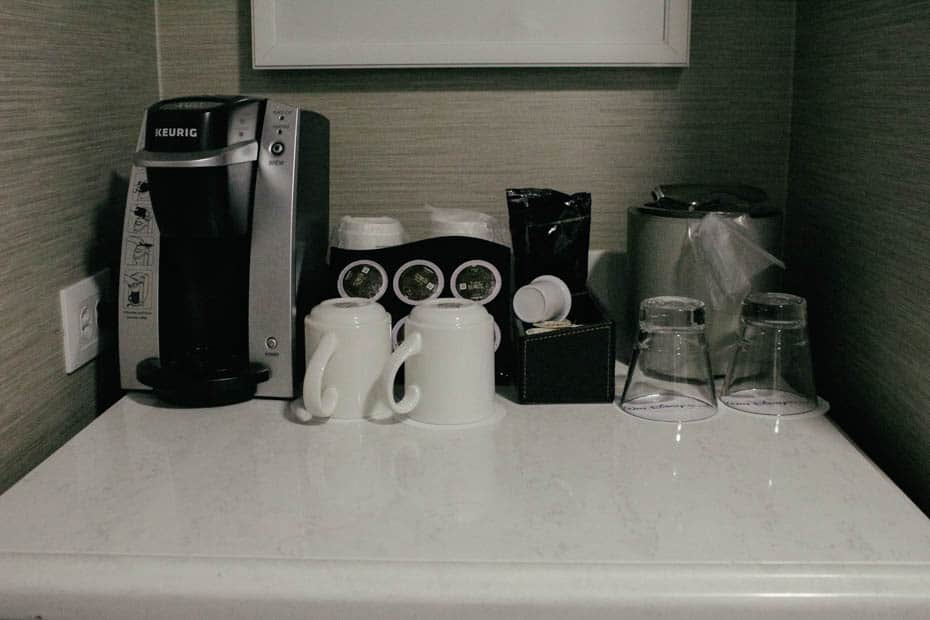 There is a flat-screen TV hanging on the wall with drawer space underneath.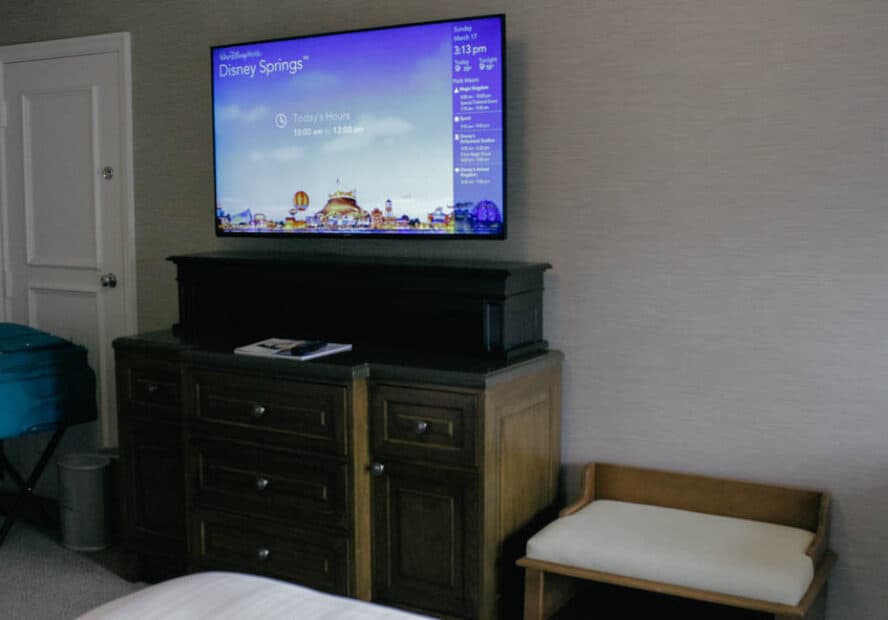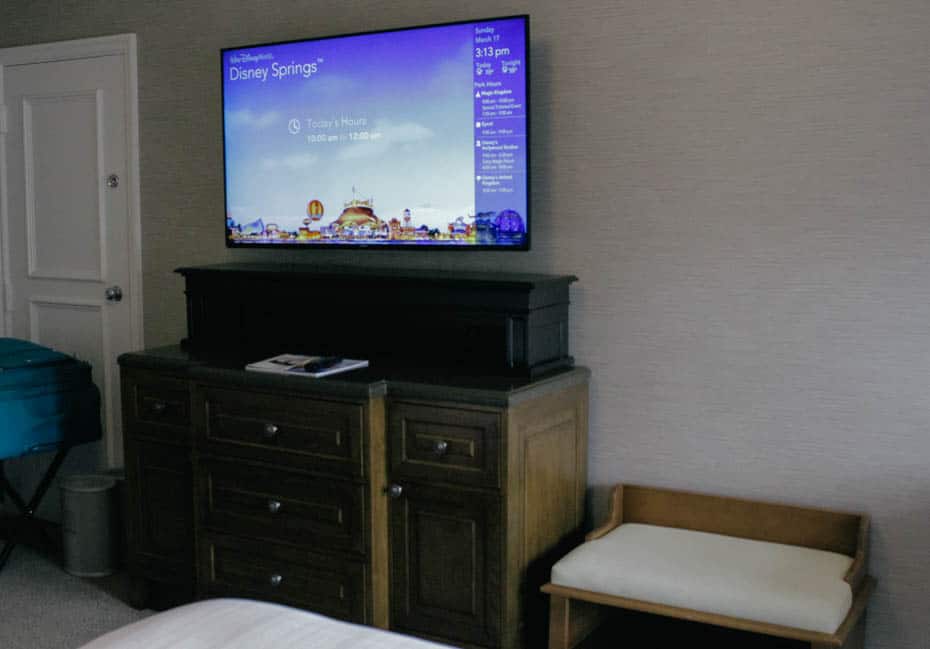 The balcony provides a nice place to step outside and take a breath of fresh air. If I'm staying here and planning some resort-only days, a balcony is a must for me.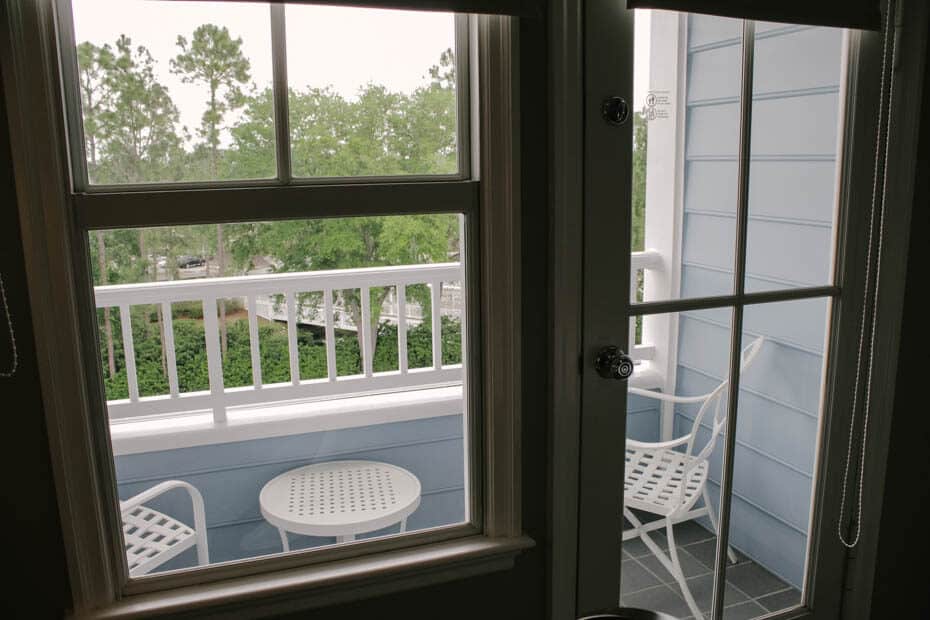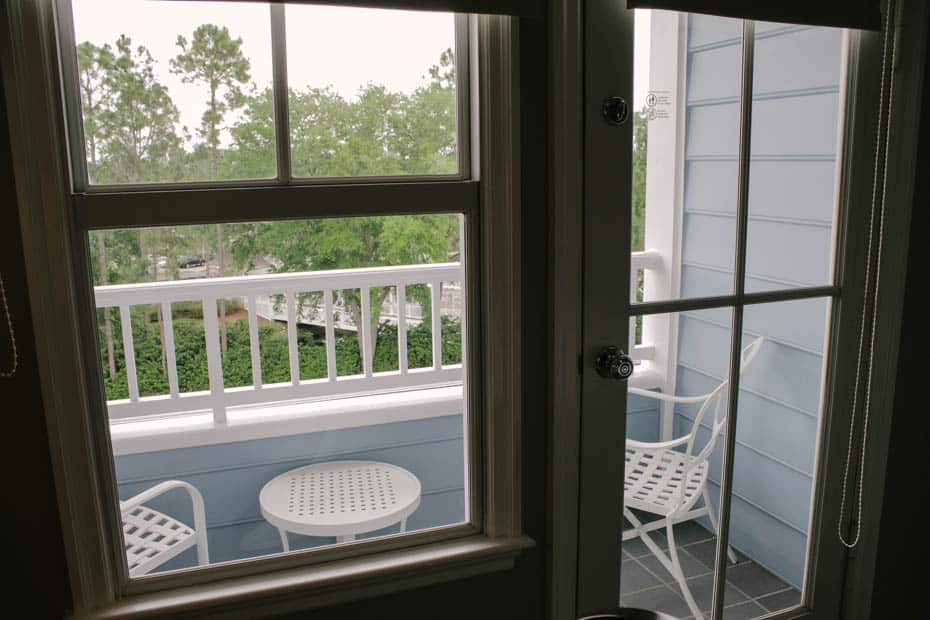 When I'm going to be in the parks a lot, I don't mind so much. However, I find it's always nice to step outside and check the weather when the temperature might be a little iffy. Also, I recommend using this space to apply spray-on sunscreen before heading out for the day.
Not all rooms at Disney's Beach Club offer a full balcony. If this is something important to you, make a special request when online check-in is available.
Recreation at Disney's Beach Club
This Disney's Beach Club review wouldn't be complete without looking over the extensive recreation list.
Perhaps, one of the things this hotel is most known for is its massive pool area, Stormalong Bay. Additionally, you will find other activities like volleyball courts and movies every evening on the lawn.
Related: 5 Reasons You'll Love the Pools at Disney's Beach Club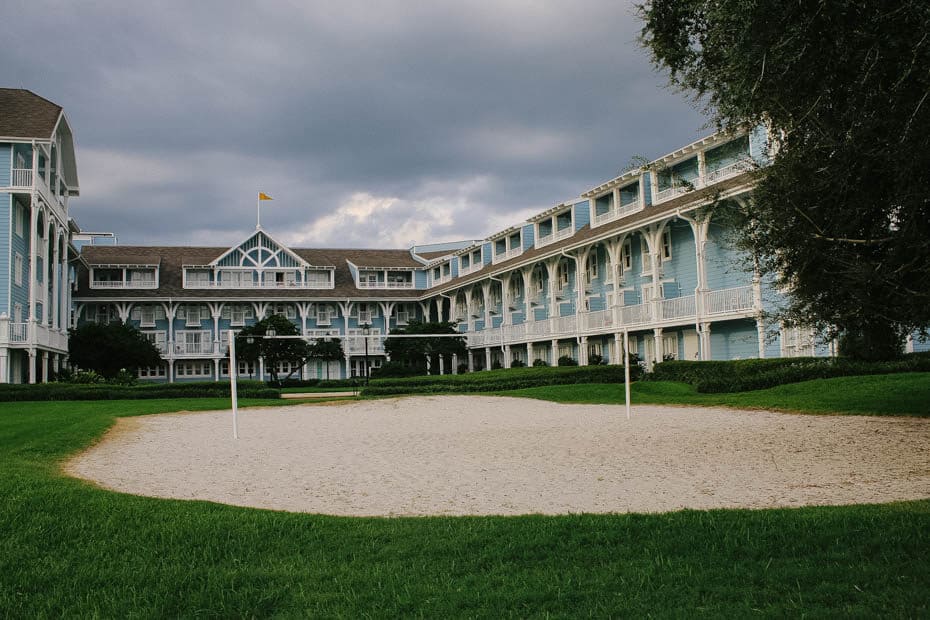 Stormalong Bay is the main pool at this Disney resort. I say pool lightly, but the reality is that it's more of a mini-water park. The feature pool has three lagoon-style areas and an enjoyable water slide.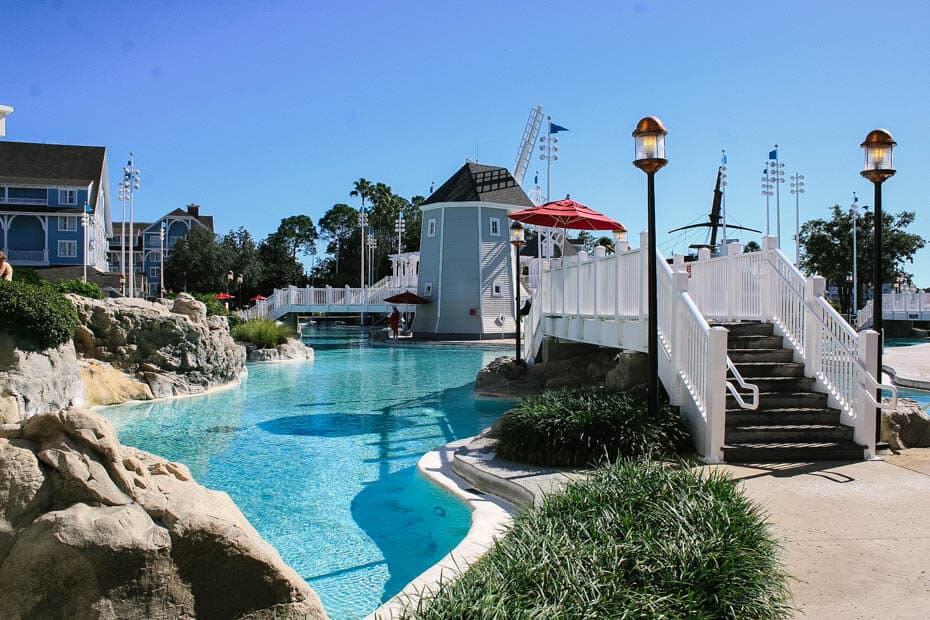 If you have a family that enjoys spending time at the pool, Beach Club is the place for you. The setting is serene, and even when it's crowded, there are plenty of swimming areas and loungers to go around for everyone.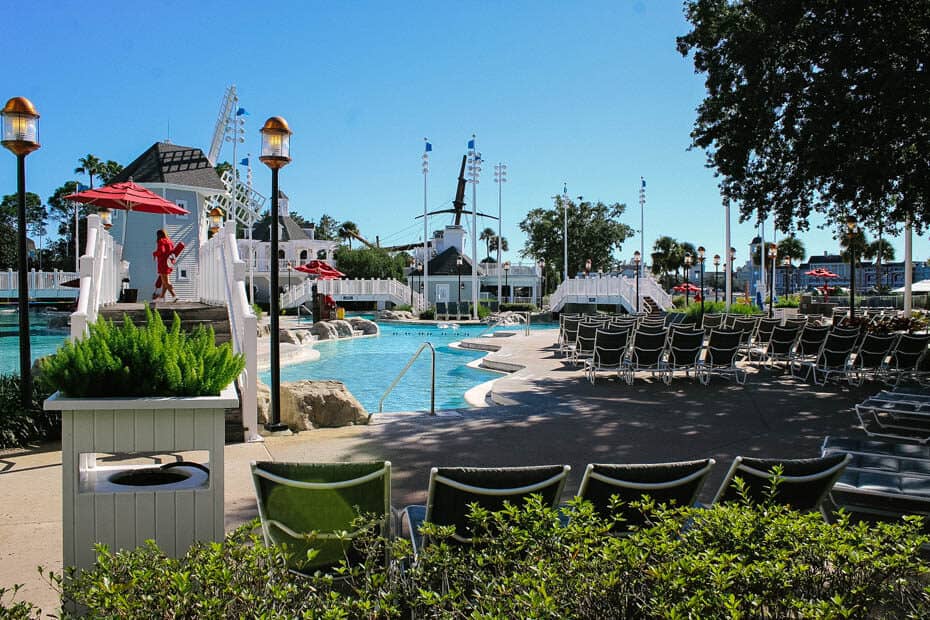 Children and more adventurous adults will thoroughly enjoy the waterslide. There is also a little sand island in the kiddie pool. You can find a spot nearby and watch your kids play and build sandcastles all day long. They probably won't even want to go to Disney World.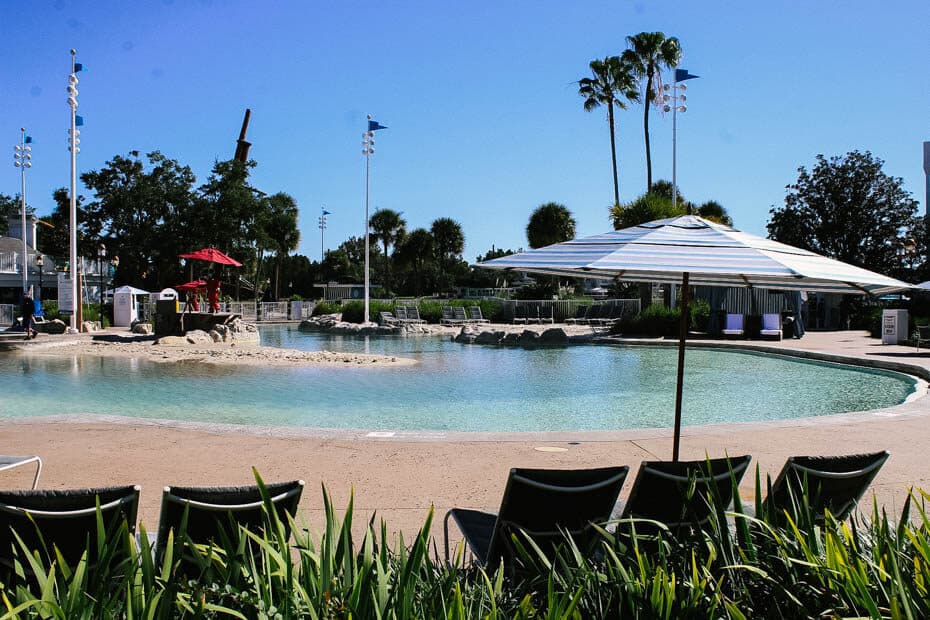 Here is a look at the pirate ship waterslide. The entrance to the slide is across the walkway and the staircase comes out of a pirate ship.
Additionally, inside the ship, you'll find a second kiddie pool area with miniature slide.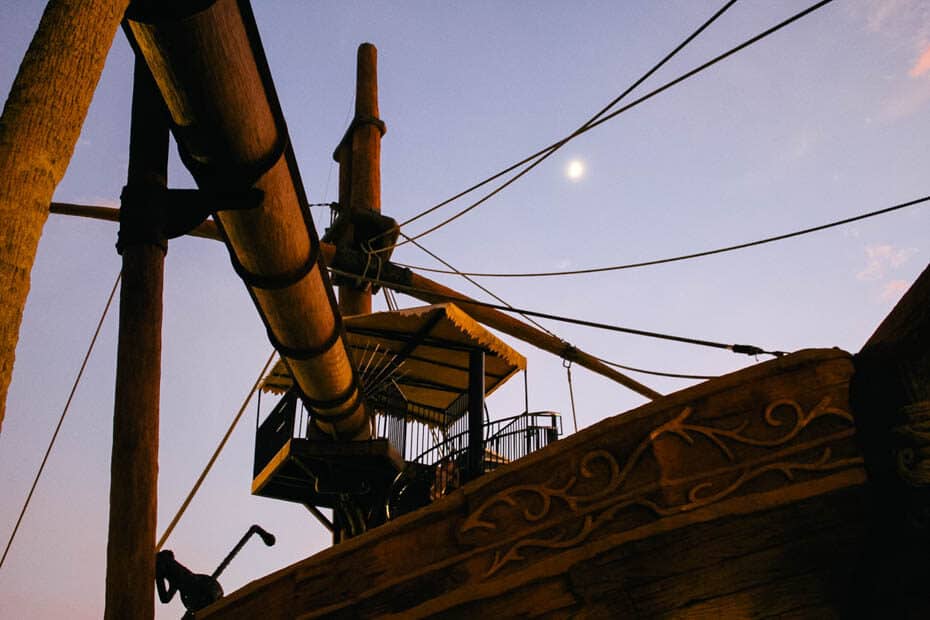 The slide shoots back across the walkway and empties out into Stormalong Bay.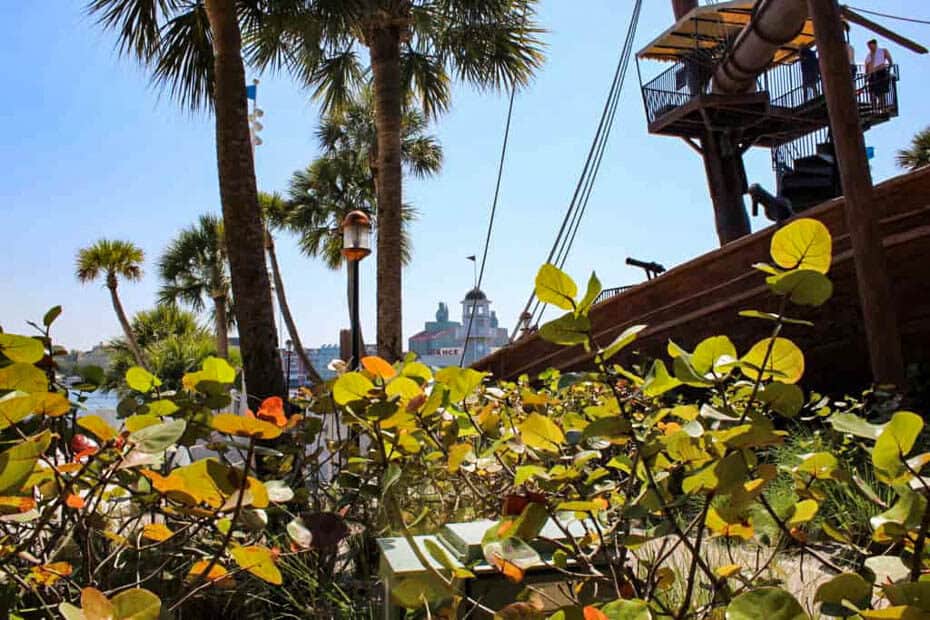 There are several different hot tubs spaced throughout the area. And I failed to mention prior that the majority of the pool's floor has a delightful sand bottom.
Stormalong Bay has a lazy river with inner tubes. A warning here, the lazy river has a swift current and deep water. Children and non-swimmers need to avoid this area. Thankfully, this area is more to itself, and you'll usually find a good number of lifeguards in the area.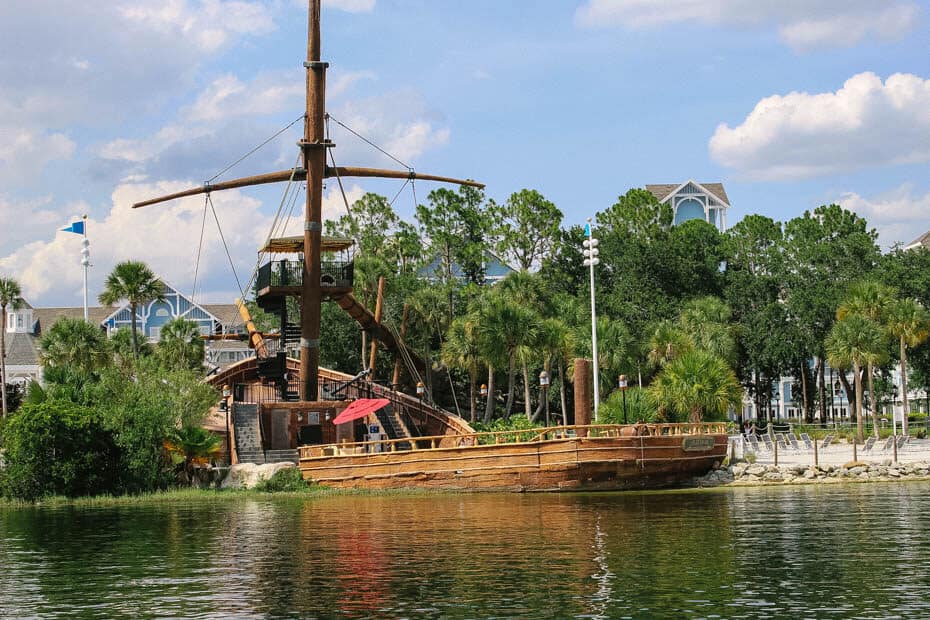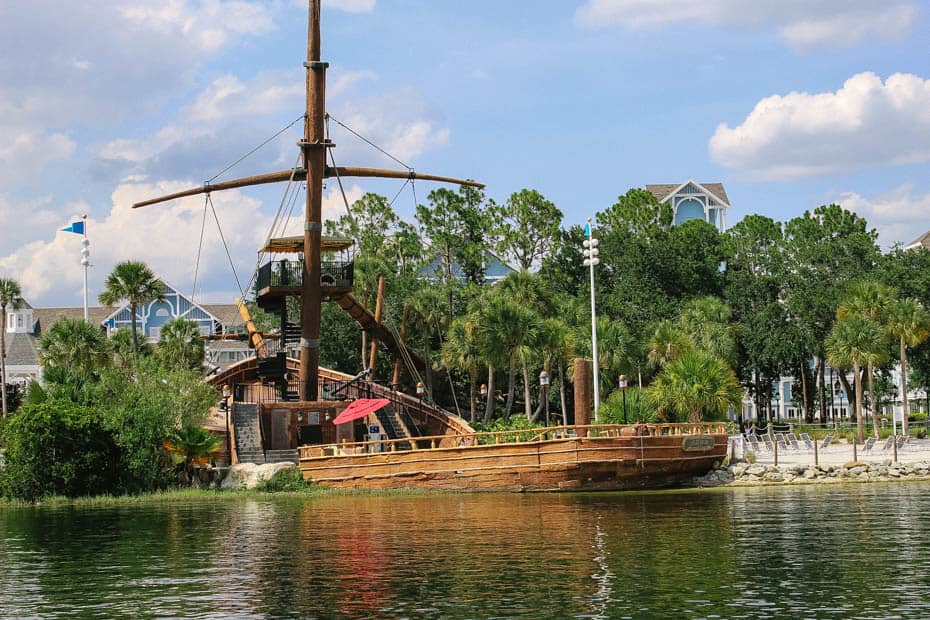 Those looking for a little more privacy will enjoy the two quiet pools available to resort guests:
Tidal Pool (faces Crescent Lake)
Dune's Cove Pool (DVC villa area)
Admiral's Pool (Yacht Club side)
*Poolside Cabanas are also available for rent.
Related Articles: The Best Pools at Walt Disney World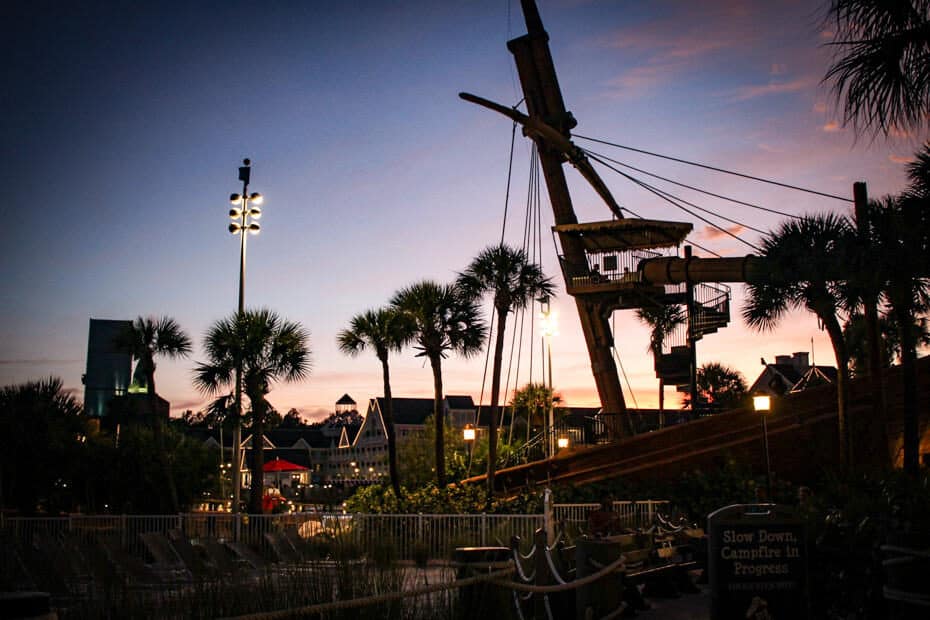 Another one of my favorite places to spend time in this area is the man-made beach that sits out in front of Disney's Beach and Yacht Club.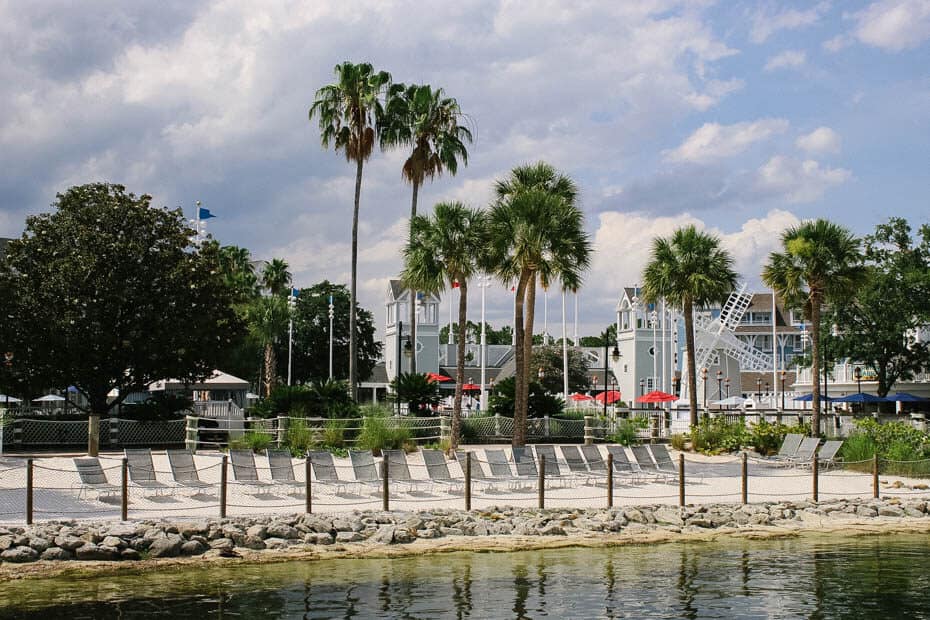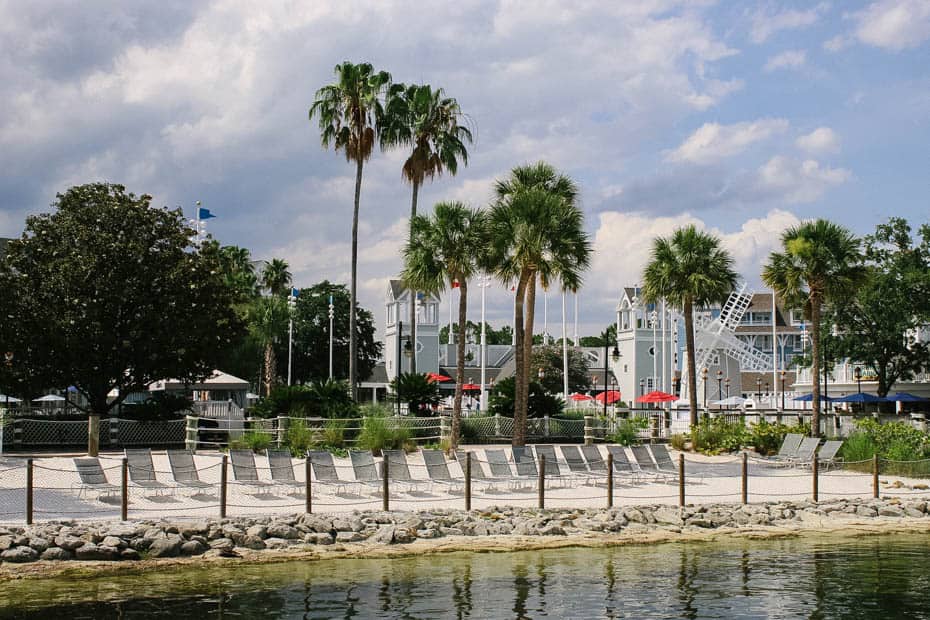 During the daytime, this area is bright and cheerful.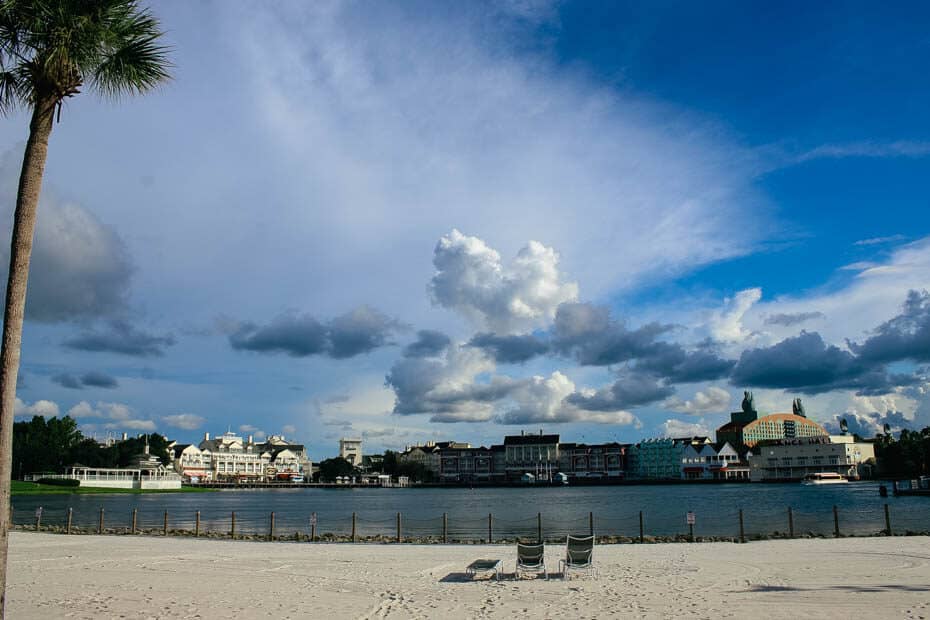 Guests can use the beach at their leisure to lounge. This is also where the nightly movies are held. It's really hard to describe how much I enjoy the area.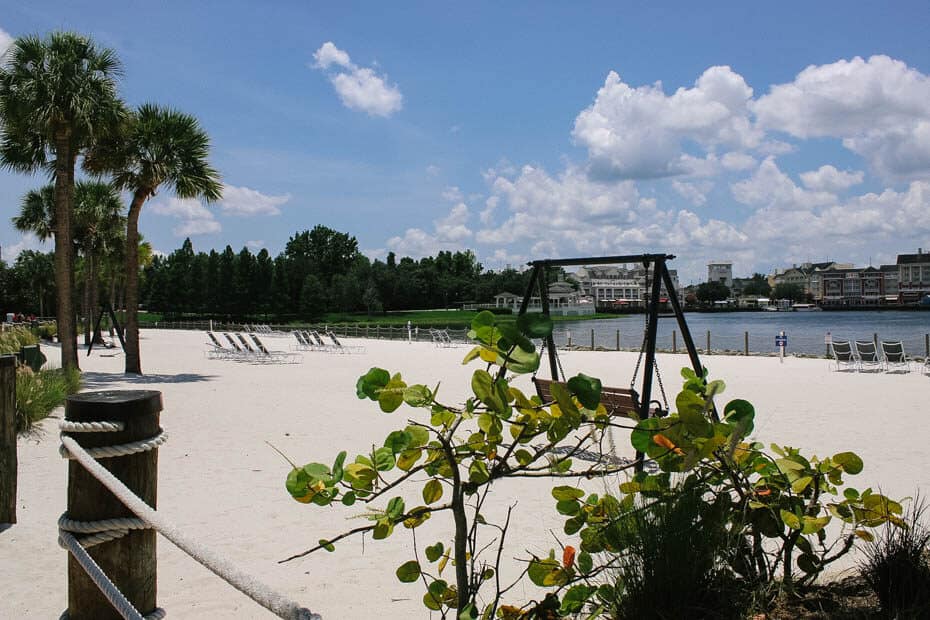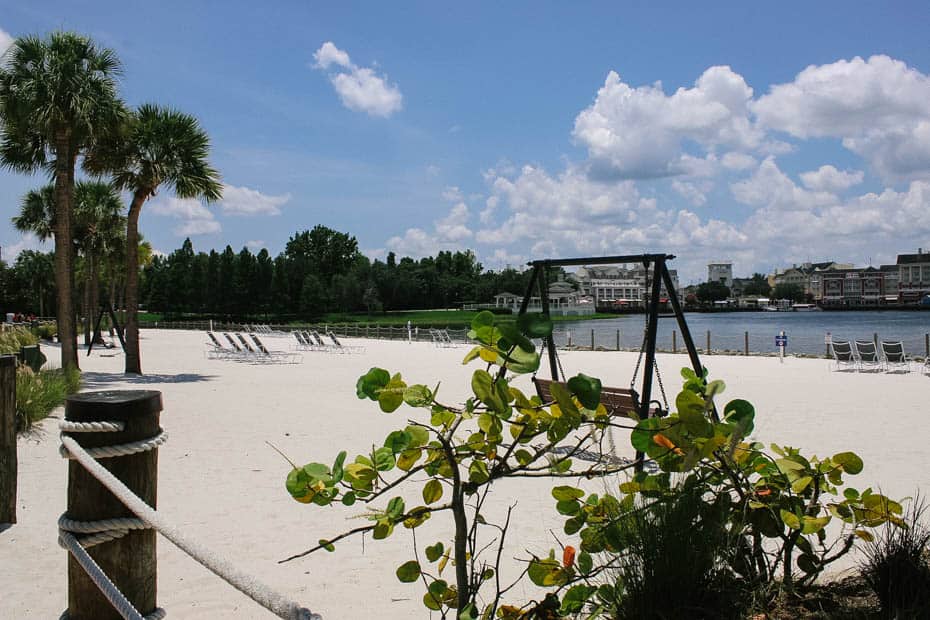 The beach is fairly expansive. Sometimes you might even see portions of the beach closed off for weddings or other private events.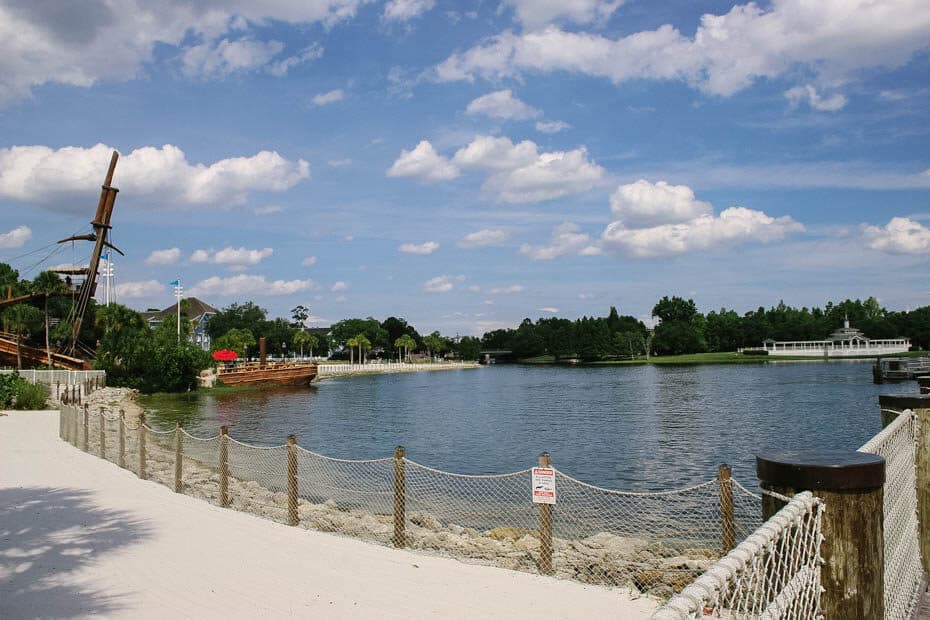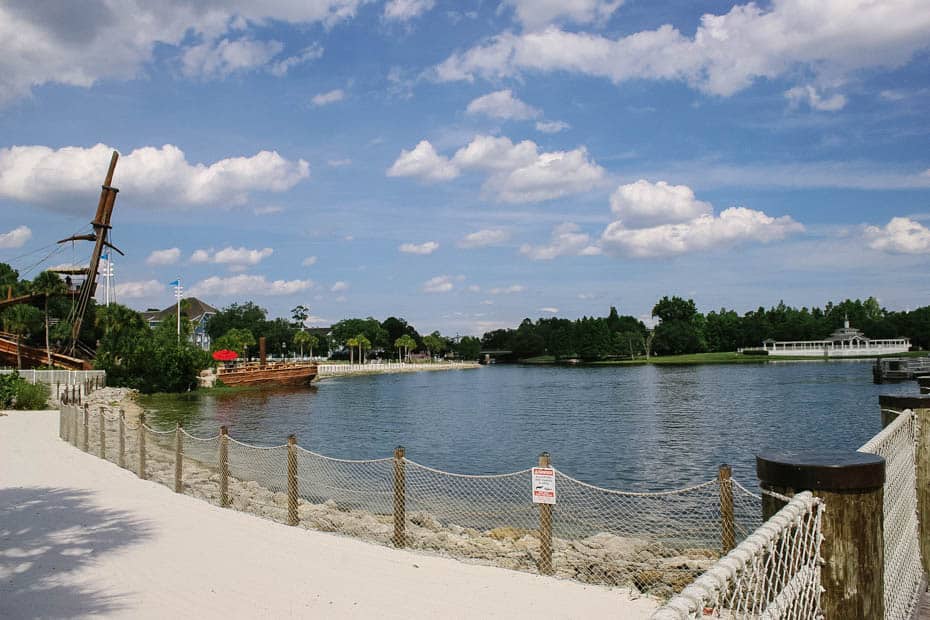 I have spent many a sunset on this swing. I might even be guilty of watching a few Hollywood Studios fireworks from it. (You can't really see them that great from here, but it's still just as pleasant.)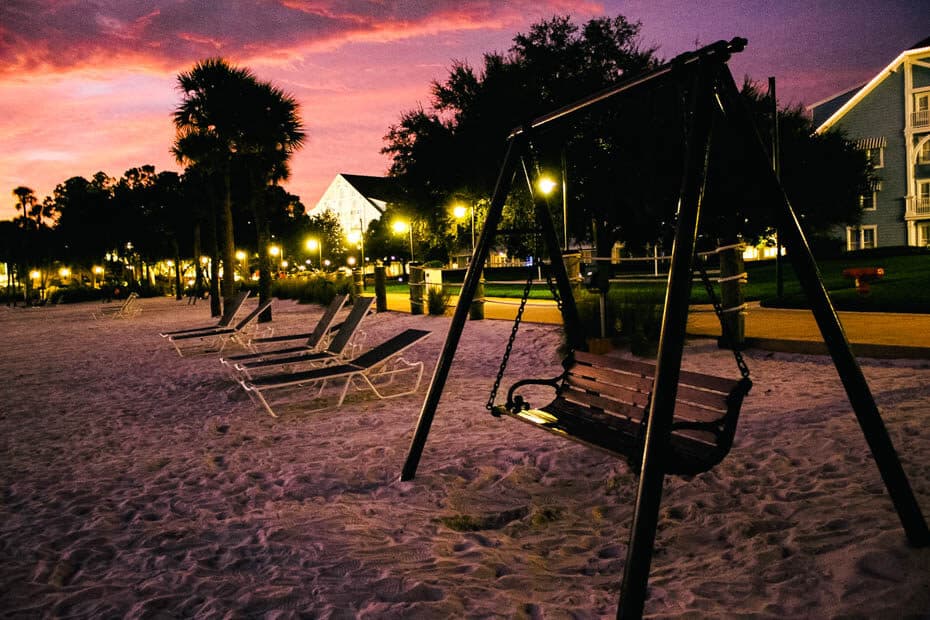 Fireworks had become a regular part of my life prior to this last year. It will be nice to watch them from this spot again in the future.
Like a regular deluxe resort, Disney's Beach Club offers a fully equipped gym. The Ship Shape Health Club is located on the exterior walkway between the resorts. The gym has a sauna, weights, machines, and aerobics area.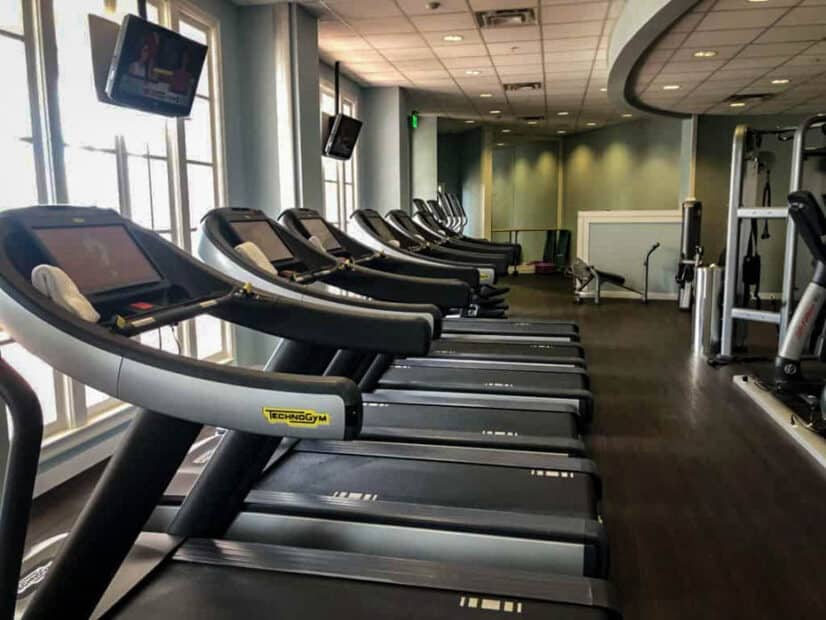 I really enjoy taking the time to get a workout or two in when I stay here. It's rarely crowded and there is plenty of equipment available.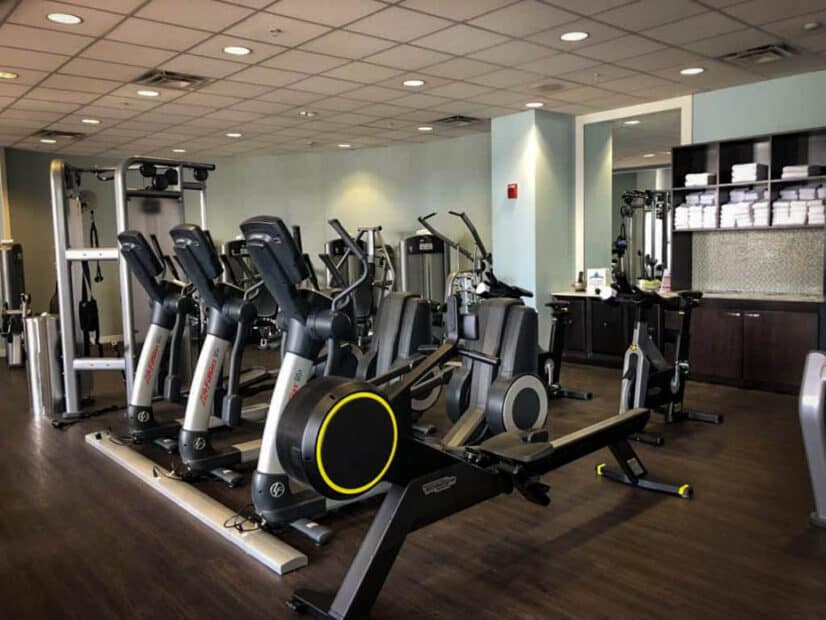 The gym has a nice variety of free weights and a stair climber among other things. The Resorts TV system is provided on all the machines so don't forget to bring your earbuds!
The Lafferty Place Arcade entrance is located outside next to the Ship Shape Health Club and Beaches and Cream Soda Shop.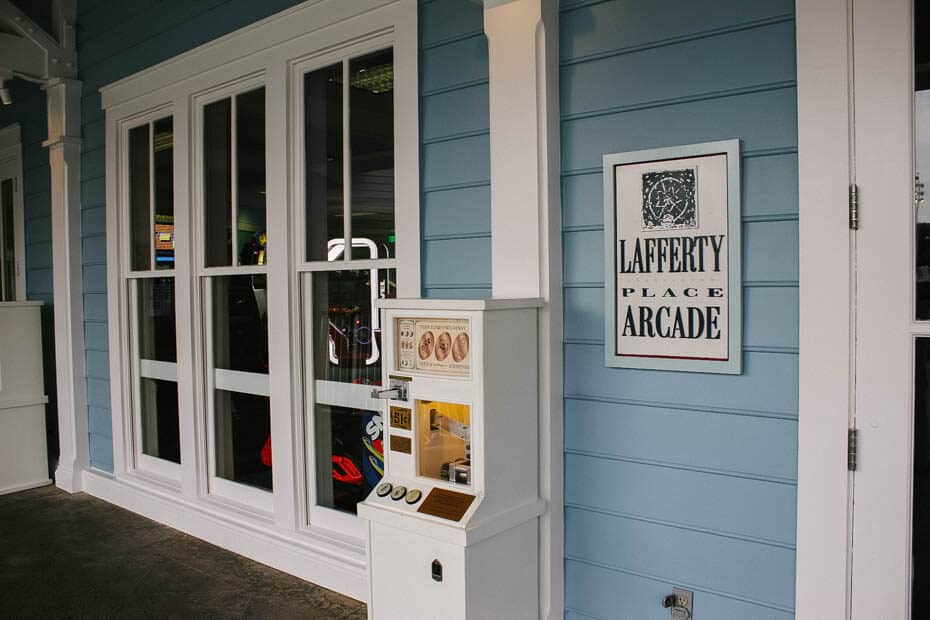 The arcade is not as large as it used to be since part of the space was used to expand Beaches and Cream restaurant next door.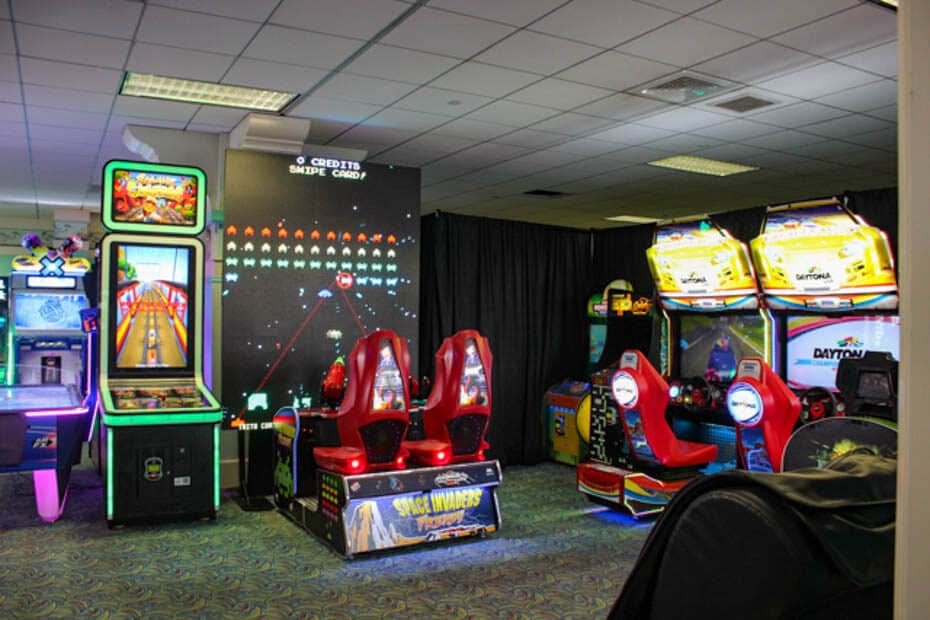 But there are still a good deal of options if you find yourself hanging out here on a rainy day. Most of the hotels at Disney including the value resorts will have an arcade.
Resort Campfire Activities
As the day fades away you might find yourself around a campfire roasting marshmallows at Disney's Beach Club Resort. This activity is usually offered daily at a majority of the deluxe and moderate resorts.
Movies Under the Stars
If you have an evening off and enjoy watching Disney movies, Movies Under the Stars is truly worth stopping by and experiencing. Cast members set up a big movie screen out on the beach of Crescent Lake. A lot of times they provide fresh popcorn for guest's enjoyment. Just pull up a lounge chair and settle in for an outdoor movie experience.
Here is a sample of a recent movie calendar:
Sunday–Tarzan 9 p.m.
Monday–Alice in Wonderland 9 p.m.
Tuesday–Brother Bear 9 p.m.
Wednesday--Inside Out 9 p.m.
Thursday– Sleeping Beauty 9 p.m.
Friday– The Lion King 2, Simba's Pride 9 p.m.
Saturday– Peter Pan — 9 p.m.
I know in the past I've been so busy trying to pack things in at the park. Oftentimes, I have stopped along the walkway and lingered here watching clips of whatever movie was playing. It's one of those unexpected things that's worth taking the time to enjoy.
*The movie schedule above and times change monthly.
Other Activities
While there's plenty to do at Disney's Beach Club Resort, there are a few other fun things on the property or within short walking distance. They include:
Fantasia Gardens Miniature Golf (Less than a 10-minute walk)
Pirate Adventure Cruise
Tennis (Admiral Pool Area)
Motorized Boat Rentals (Located by the Friendship Boats)
Volleyball (Lawn)
Fishing
Jogging Trail (This is a favorite place to run on Disney property.)
All of these items are subject to availability, and most include an additional cost.
Dining Options at Disney's Beach Club
For this review, I wanted to summarize dining options in the immediate area briefly. One of the benefits of the Epcot Resort Area is the numerous Disney dining choices. Types of restaurants at the Beach Club include counter service, a lounge, and a table service restaurant.
First is Beach Club Marketplace, the main counter service option. Inside Marketplace, you'll find the gift shop, a quick-service dining location, and a grab-and-go market.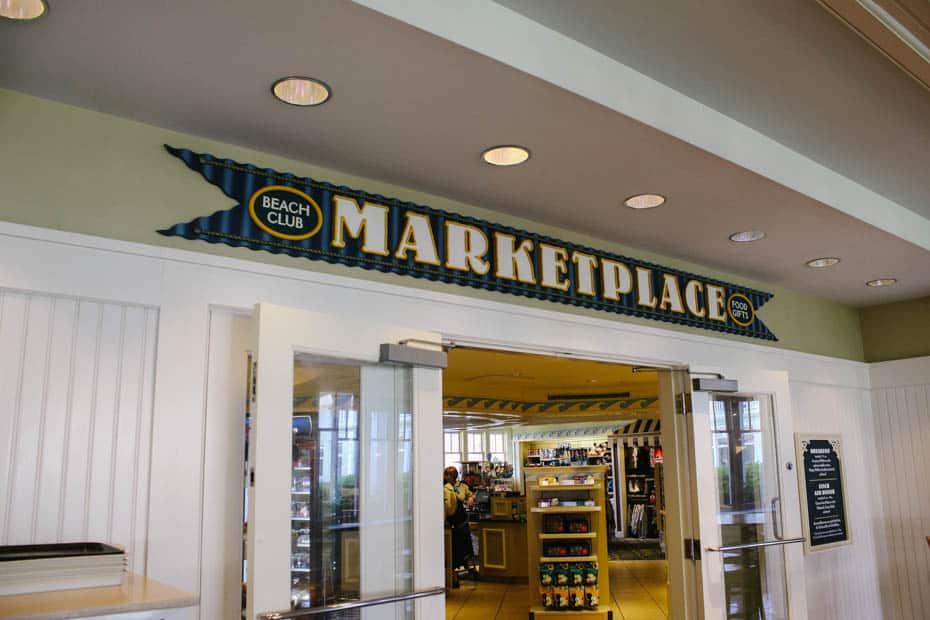 Here is an idea of the selections you might find in the cooler section.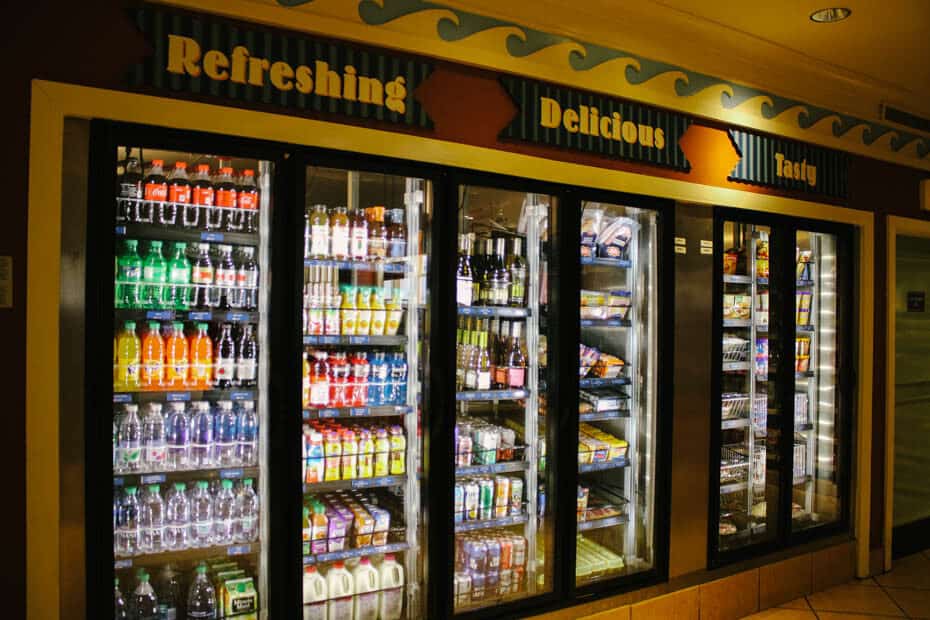 Marketplace's menu offers breakfast items on average from 7:00 a.m.-11:00 p.m. Entrees for lunch and dinner are served on average from 11:00 a.m.–11:00 p.m.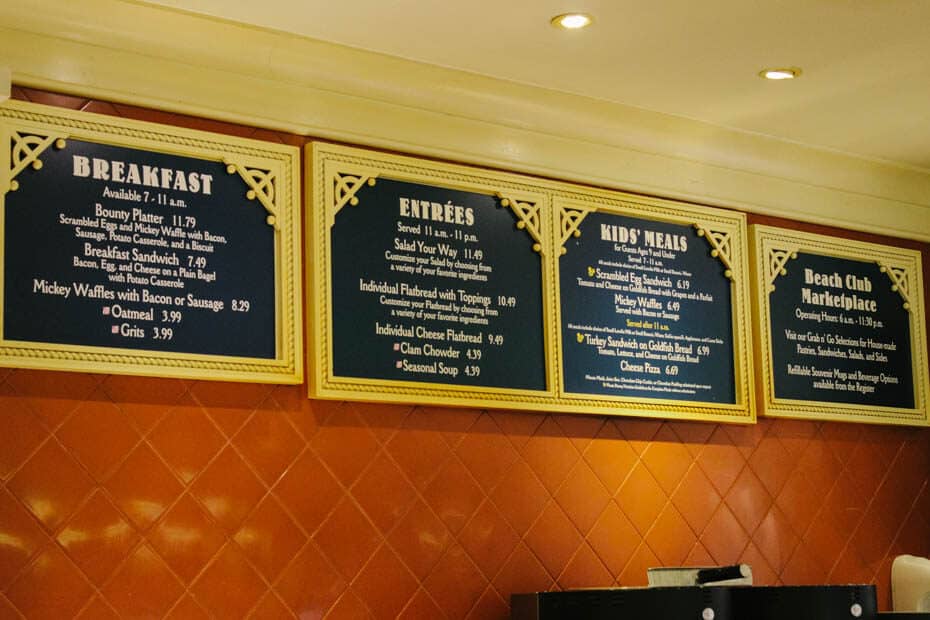 This is a good place to pick up those Mickey Waffles for breakfast!
The table service restaurant at the resort is Cape May Cafe. The restaurant is located off the lobby. They offer a Disney character dining experience at breakfast. In the evenings, it transitions to a fairly popular seafood buffet. Both of these meals do require reservations and can fill up quickly.
Beaches & Cream Soda Shop is another classic restaurant at Disney's Beach Club Resort! It's a cross between a burger joint and an old-fashioned ice cream parlor.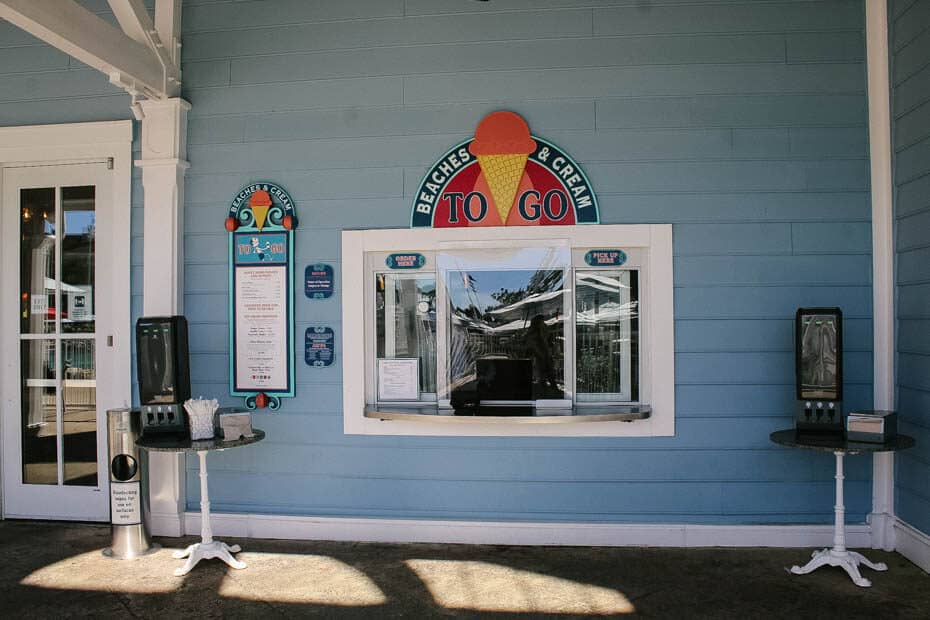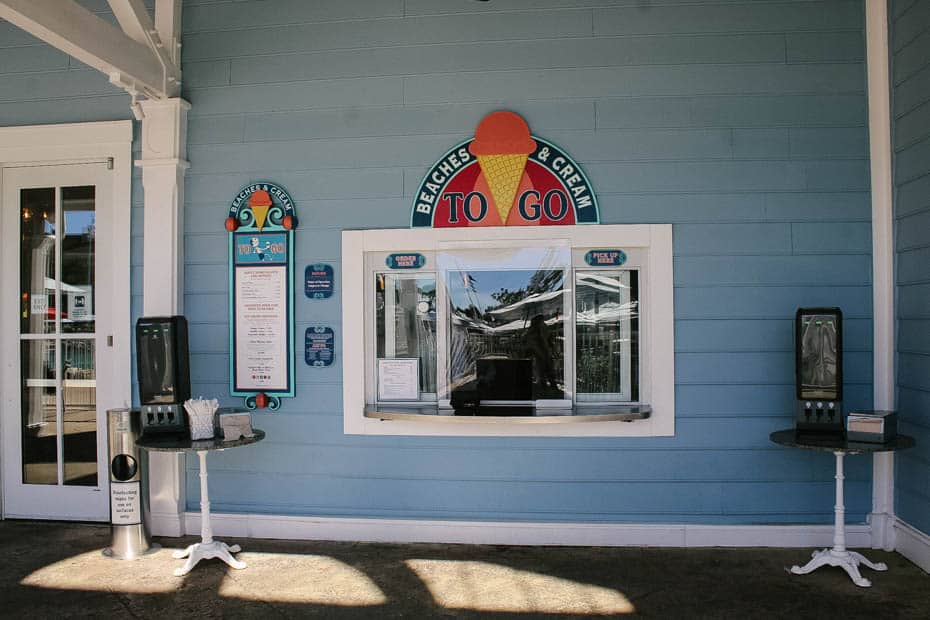 Beaches and Cream is located on the exterior walkway that runs between Beach and Yacht. The restaurant offers indoor and some outdoor seating. They do take walk-ups when availability allows and accept reservations. There is also a walk-up window to order ice cream items.
I stopped in one day during a fairly significant storm and had a patty melt with onion rings. It was quite a guilty pleasure.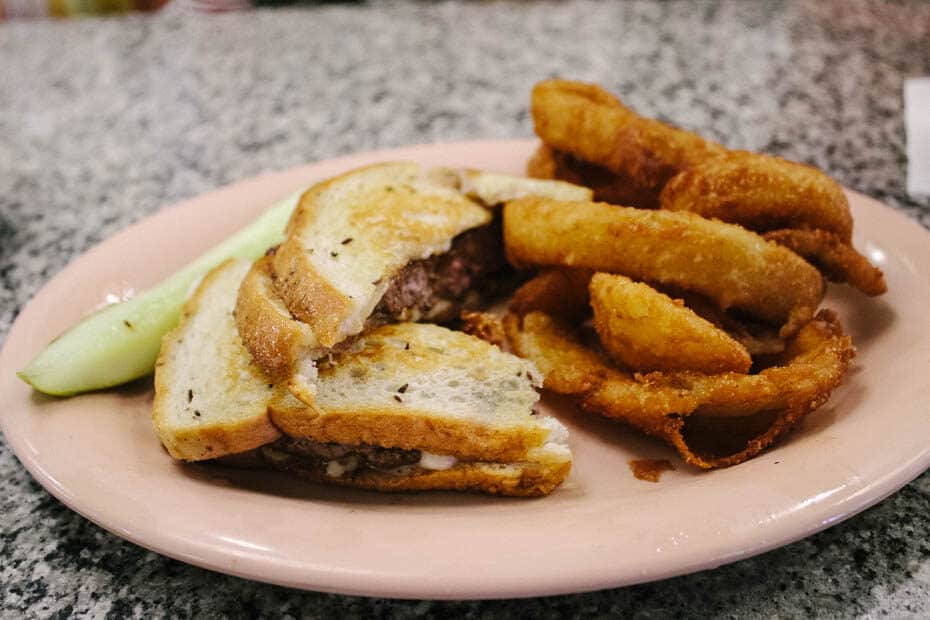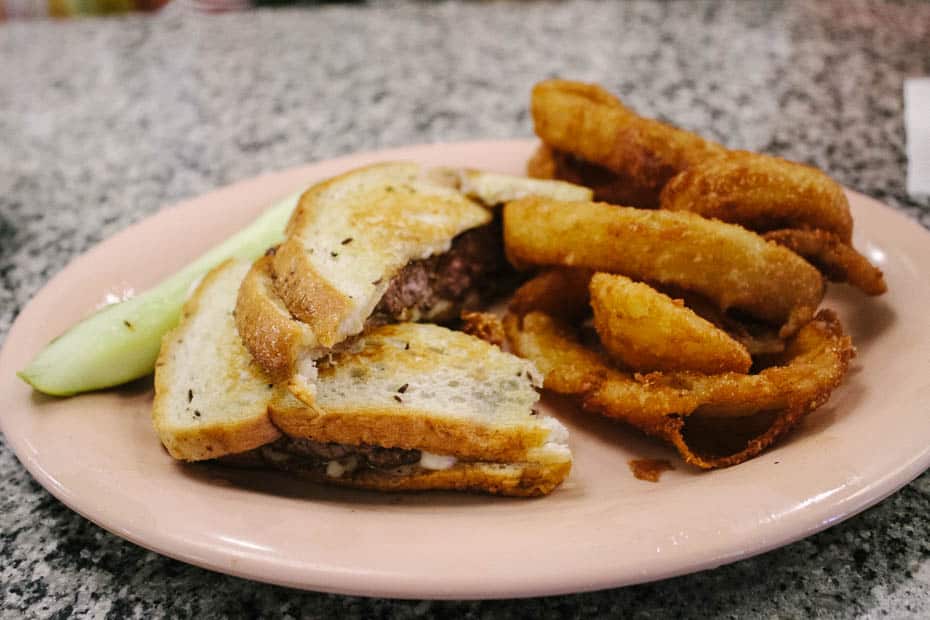 Hurricane Hannah's is the second counter service location and also serves as the pool bar. You'll find it on the exterior walkway that wraps around Crescent Lake. It sits on the outskirts of Stormalong Bay, accommodating both resort guests and passers-by. Anyone can order a meal here and eat at the provided tables and chairs. They will also box your meal to go if you desire.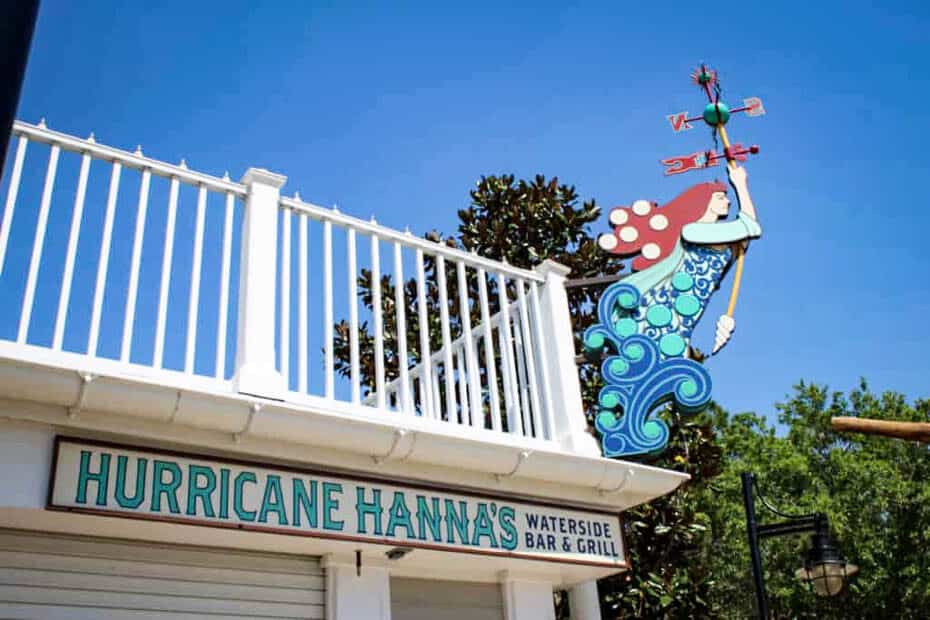 Additionally, cast members are usually available during the busier portions of the day to wait on guests using the pool. I can't tell you how many times we've spent pleasant days here. It's so nice to spend time lounging in the area and have someone bring you a drink or maybe even lunch or dinner. Best days ever.
Martha's Vineyard is the lounge offering at the resort. It is located past Cape May Cafe down the interior portion of the hallway between the resorts.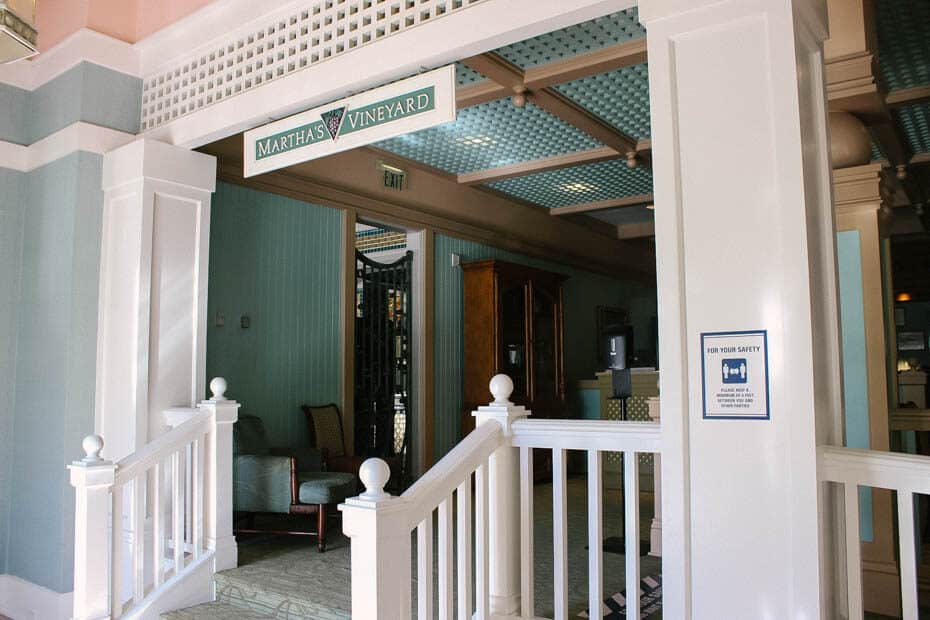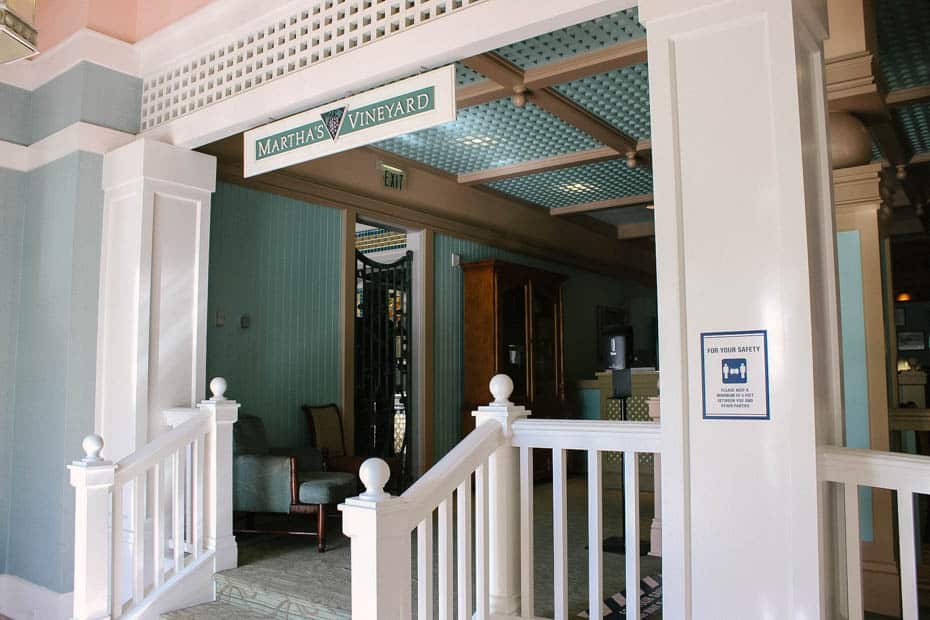 Martha's has a menu with appetizers, soups, entrees, and drinks. Don't let the name "lounge" scare you away from grabbing a bite to eat here.
I came through in December (2020) and took an updated photo of the menu.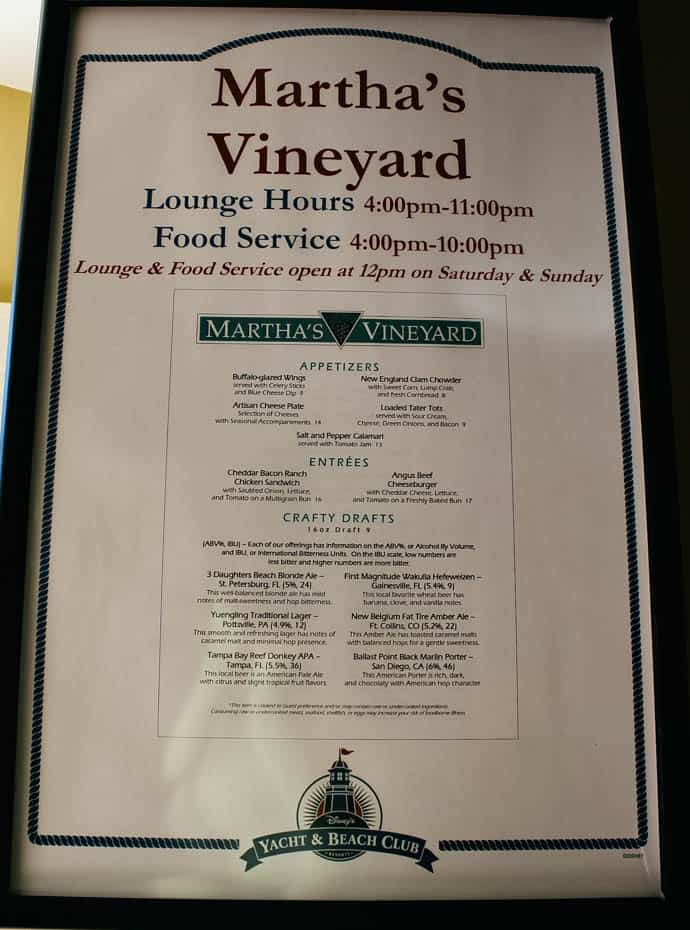 They have an amazing seafood chowder when it's available.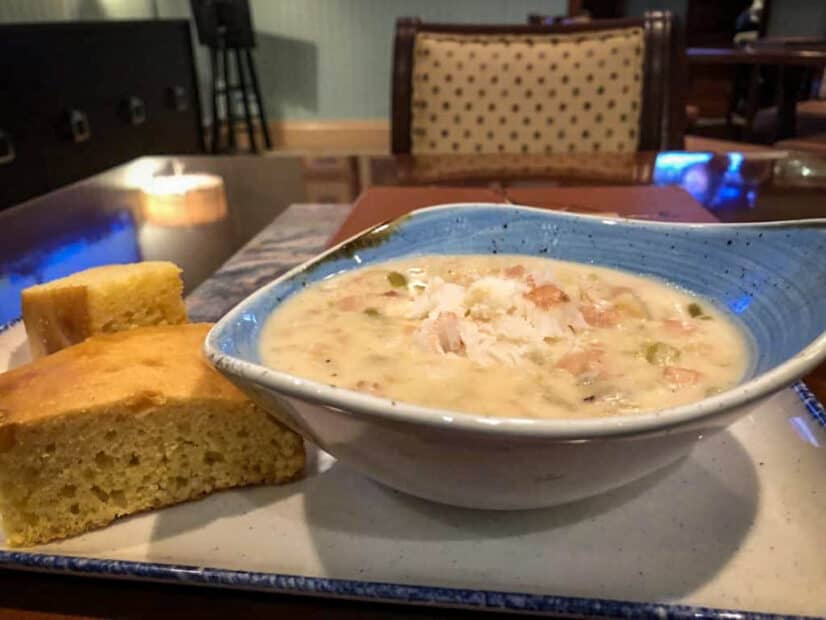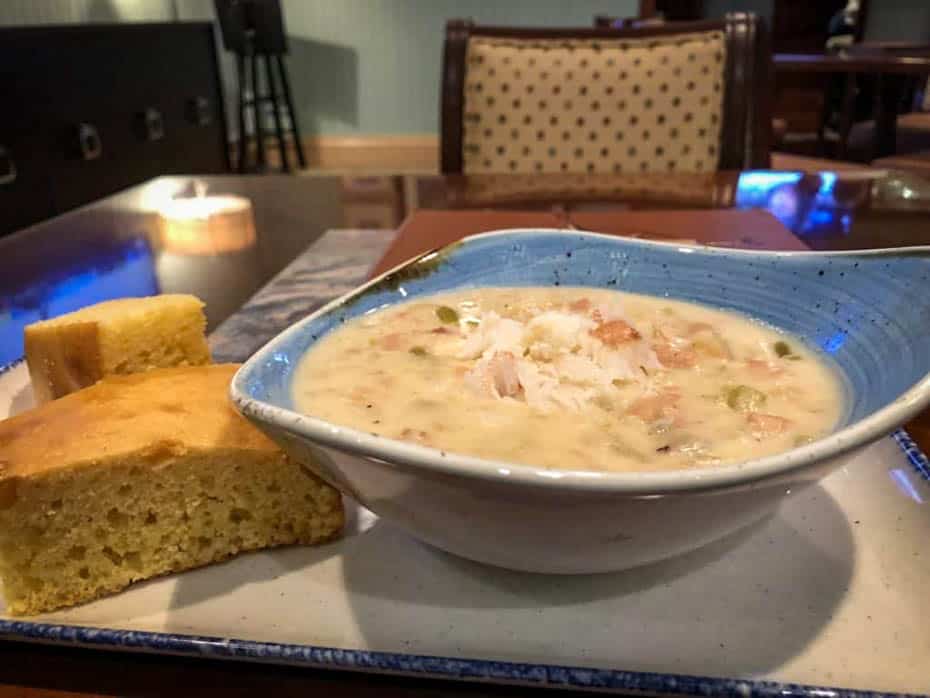 Additionally, the sister resort provides several dining options that are only a few steps away. These include Ale and Compass restaurant, Ale & Compass Lounge, and Crew's Cup.
In fact, I highly recommend having breakfast at Ale and Compass while you are staying at Beach Club. Normally, they offer an enjoyable brunch-style breakfast with a buffet that serves as an appetizer to an entree selection. Right now, buffets aren't available, so make sure to check out the chocolate waffles.
Additionally, you'll find a large number of signature dining options within walking distance:
Yachtsman Steakhouse
Shula's
Todd English's Blue Zoo
Il Mulino
Flying Fish
You can preview all of your options for meals here on Disney's site with menus.
Beach Club's Transportation Options
It wouldn't be a full Disneys Beach Club Resort review if we didn't take a look at the three forms of transportation available to guests. The first form is the Disney Friendship Boats.
The Friendship boats specifically service the Epcot Resorts Area and transport guests to:
Epcot
Disney's Hollywood Studios
Disney's Boardwalk
Swan and Dolphin
Beach and Yacht Club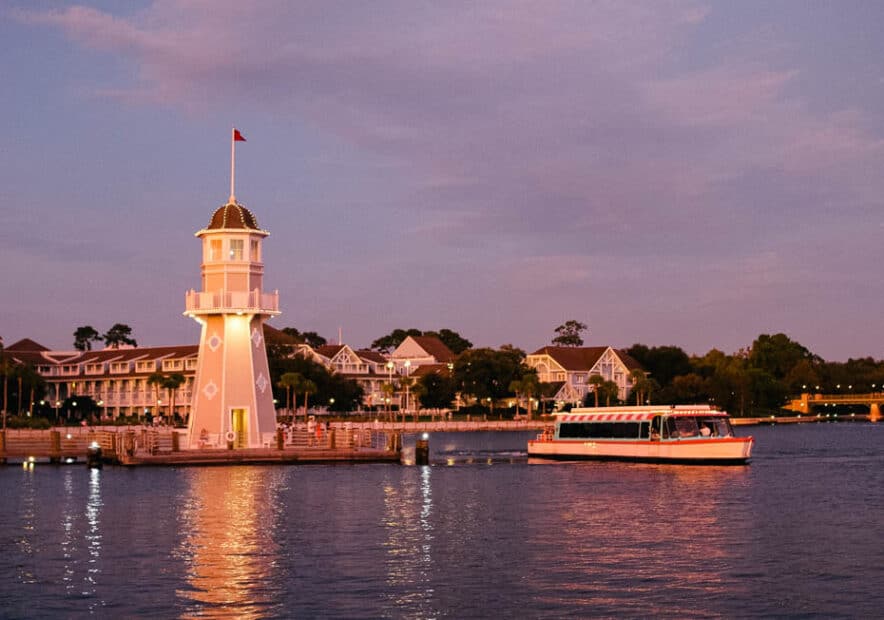 Disney bus service is available to the following:
Magic Kingdom
Disney's Animal Kingdom
Blizzard Beach
Typhoon Lagoon
Disney Springs
To access the bus stop, you'll walk out the front door of the resort. There you'll find a walkway across the canal on the left-hand side. Follow the covered path, and it will take you straight to the bus stop.
The Disney Skyliner is the newest form of transportation available to Disney's Beach Club. It is a short walk from Disney's Beach Club Resort over to the International Gateway at Epcot to access the Skyliner.
You can take the Skyliner to the following:
Technically, you could take it to Hollywood Studios but it would be out of the way.
Lastly, it's important to remember that one of the main factors for staying here is the walkability of the Crescent Lake area. From the back door of Disney's Beach Club you can walk to the following locations: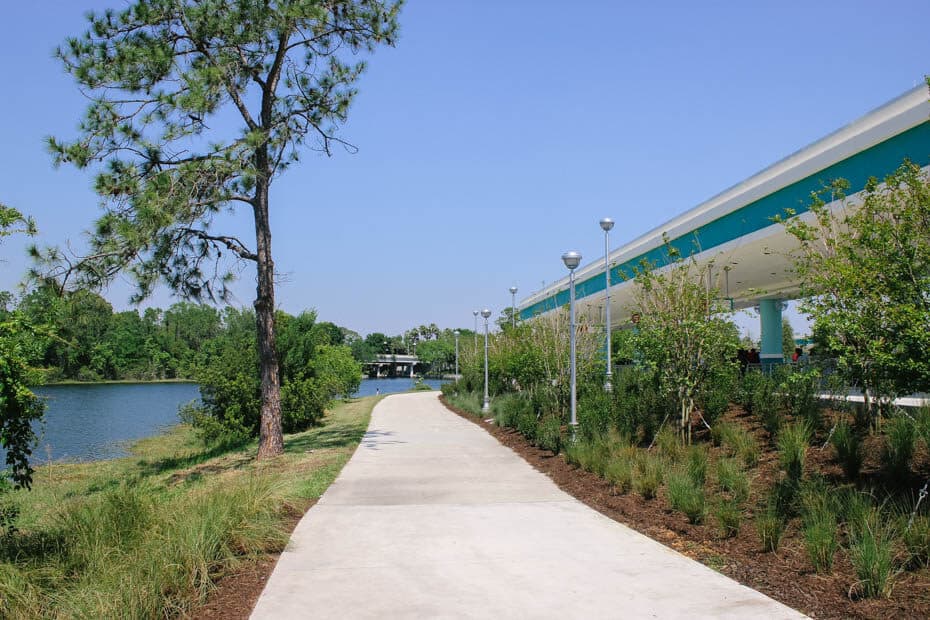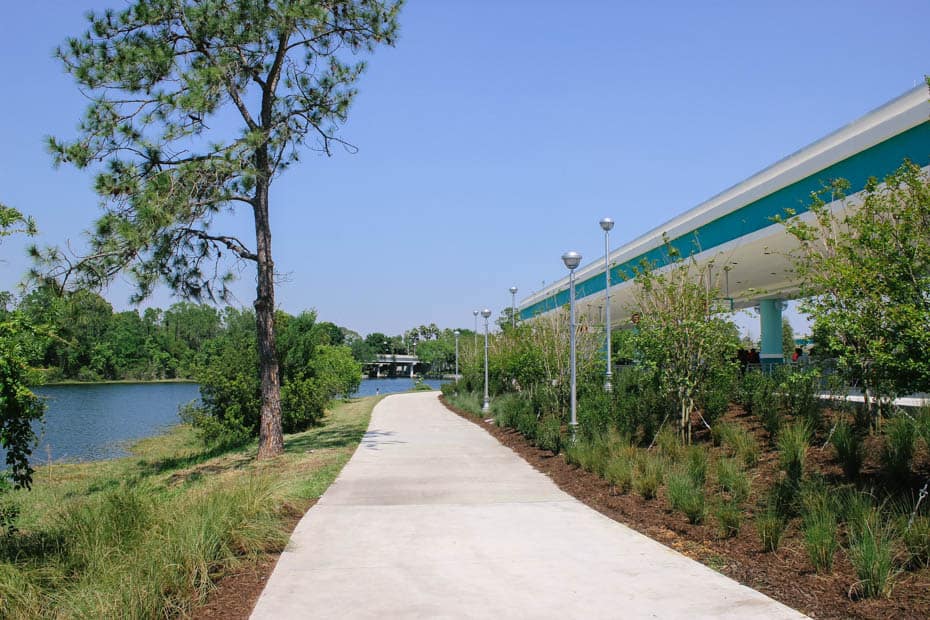 Theming at the Beach Club
What you won't find at Disney's Beach Club Resort is a whole lot of Mickey Mouse. Like all of the moderate and deluxe resorts, there is only subtle Disney theming. However, if you look close, you will find plenty of hidden Mickey's.
With that being said, the Beach Club offers a softer, feminine style that's not girly either. Overall it is very calming and relaxing in decor without all the formality.
There are plenty of spaces to spend leisure time here as well.
This is the solarium. It's located diagonally across from the Marketplace. I find it a good place to have a cup of coffee and read my favorite blog or sometimes a book.
At the end of the long hallway is a large gathering area. If you have friends in town coming for a visit, this makes a great place to meet them. The solarium offers plenty of space to sit and catch up, play a game, or hang out.
And since I visit often, I can almost guarantee there won't be too many people around. It's usually empty, like in the picture above.
I always find it funny because sometimes the lobby and hallway outside will be buzzing full of people, and this quiet nook is just right around the corner. I get the feeling most guests aren't aware it's there.
Outside you'll find a covered eating area. This is a special spot that looks out into the garden. I have seen people enjoying meals and playing cards that appear to be having a lovely time.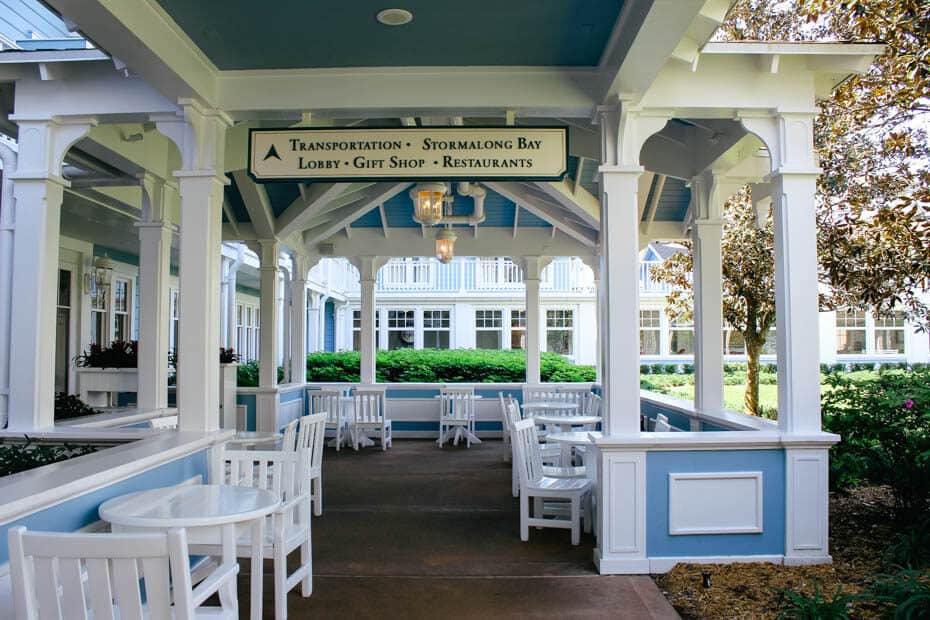 The Marketplace doubles as Disney's Beach Club's gift shop.
If you enter on this side of the store, they usually have a reasonable selection of resort-specific merchandise. Disney Vacation Club members will also find merchandise specific to their membership.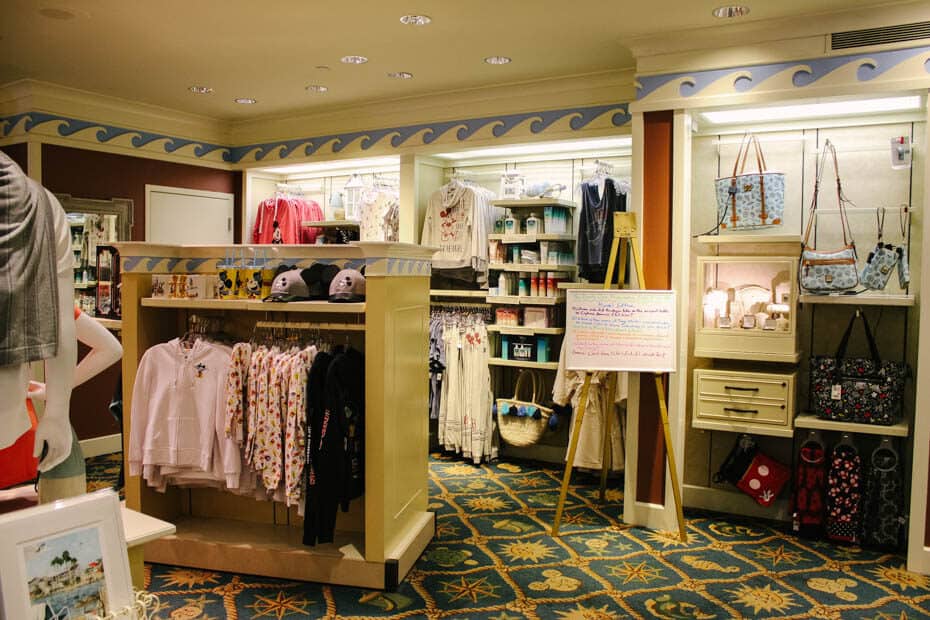 To date, my favorite villa stay has been at the deluxe studio at the Grand Floridian Villas. I haven't had the chance to stay in a Beach Club villa yet.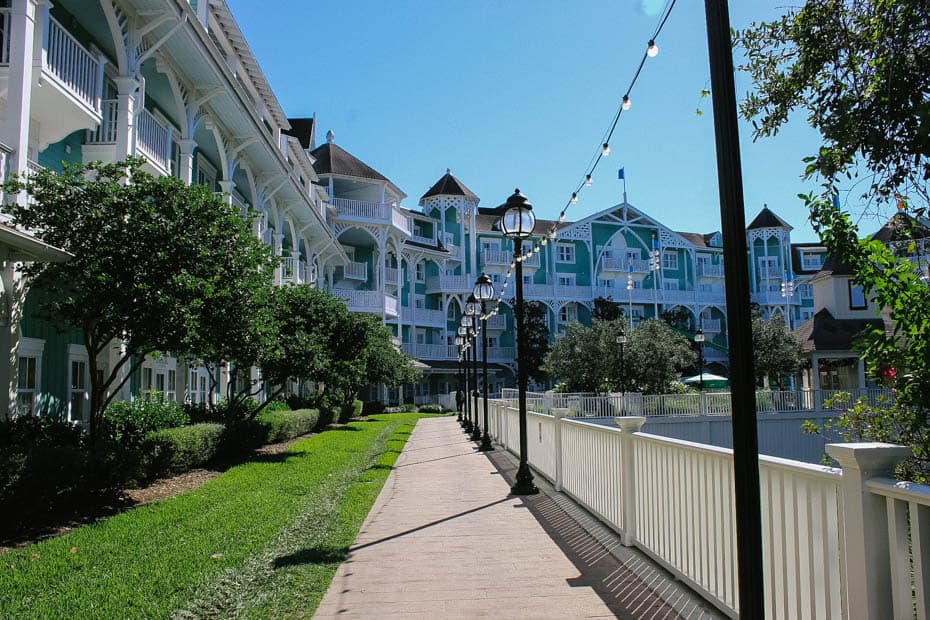 The popular Ariel statue sits in front of the main entrance of the Beach Club Villas. This section of the resort has a separate parking area as well.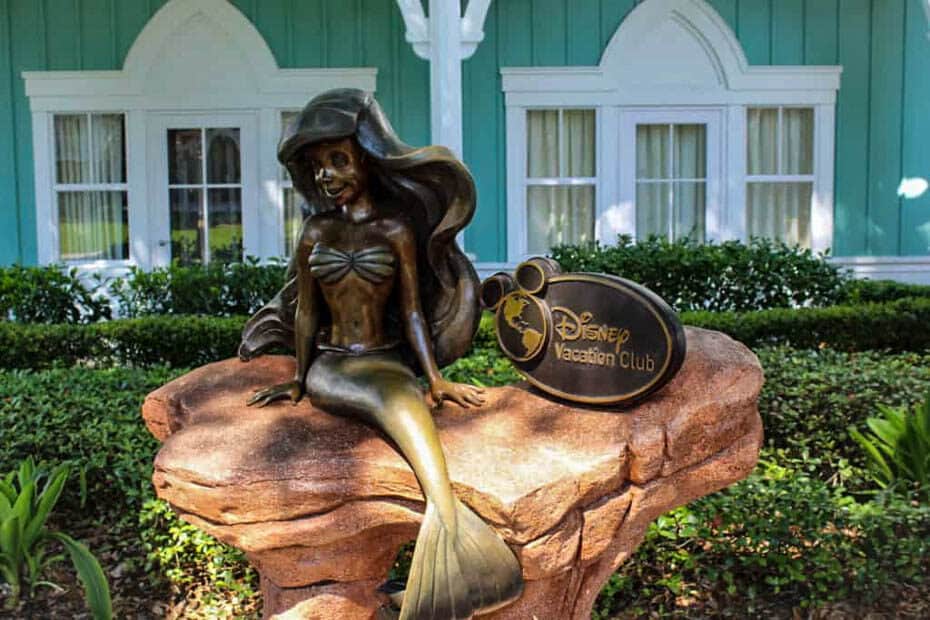 I'm quite sure that I would like it here as well.
Final Thoughts on Disney's Beach Club Resort Review
I hope you enjoyed this review of Disney's Beach Club and were able to find some beneficial information for planning your stay. There are so many positive reasons to stay here on your Walt Disney World vacation.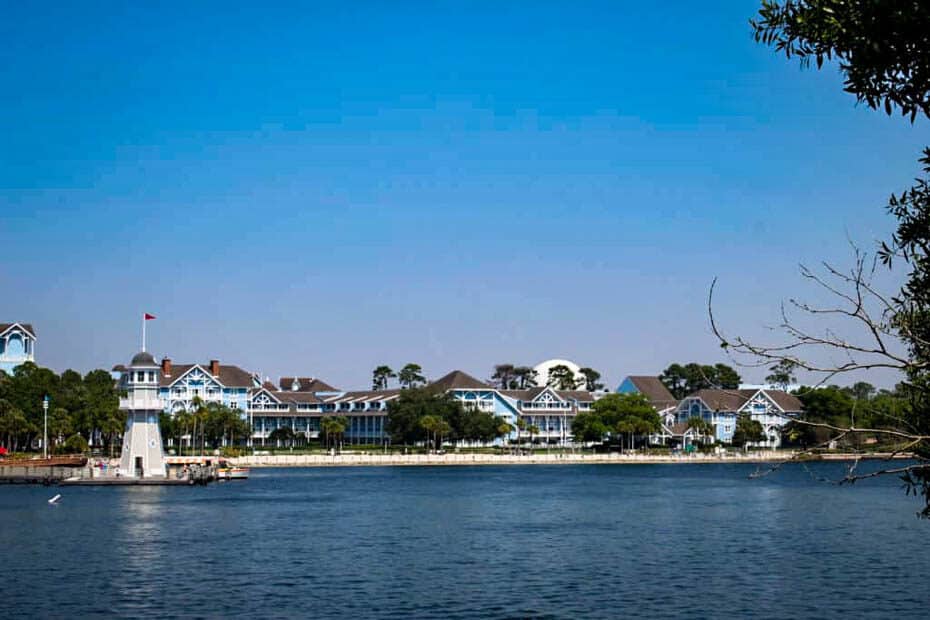 Of course, pricing is on the higher end, as with the majority of the higher-end resorts. Make sure to check with an authorized Disney travel planner to get the best rate possible for your stay. I recommend and use Firefly Travels. You can contact them here if you have any questions or would like to get a quote.
If the price is a concern, but you still want to stay deluxe, you might read the Animal Kingdom Lodge Review. That resort usually offers the lowest price in the line of deluxe resorts.
Disney's Beach Club has the most beautiful atmosphere inside and out. And I've really enjoyed having the opportunity to share a little piece of my heart with you. For comparison, there's a full review of Disney's Yacht Club Resort available. I find little fault with either.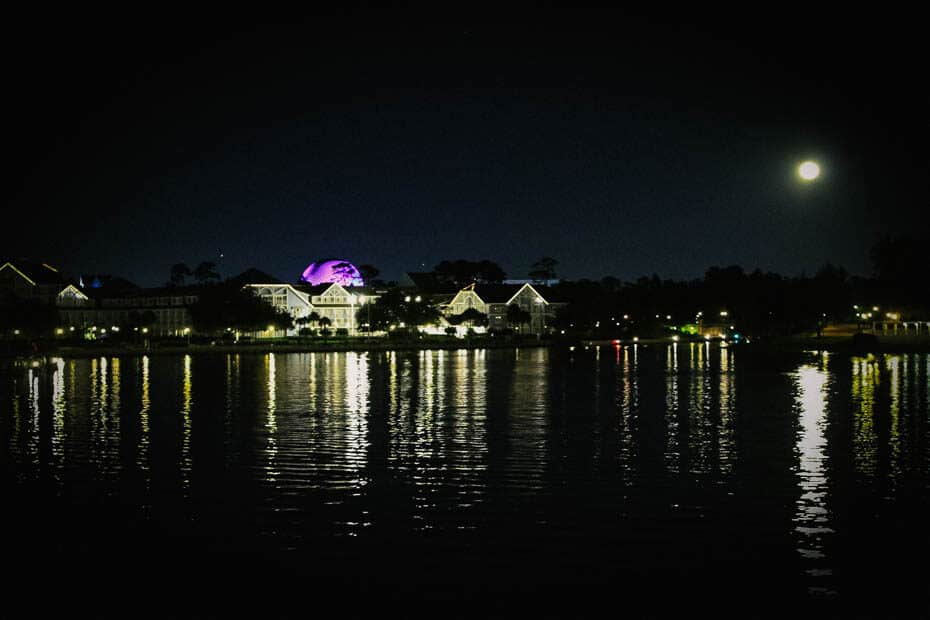 Additionally, there is a separate review of staying at Disney's Beach Club on the Stone Harbor club level floor.
Some of our most popular articles include our ride guide to Disney's Blizzard Beach Water Park and the Loungefly Disney timeline.
Make sure to leave me a comment with your thoughts on this Disney's Beach Club review. Let me know whether you have visited or stayed as a guest before. Or maybe your favorite dining location in the area. I value your comments and opinions, especially when it comes to Disney's Beach Club.