Disney's Contemporary Resort Review
Disney's Contemporary Resort is an original, iconic structure on Walt Disney World property. The 1971 resort was designed with innovative architecture that enhanced transportation options available to guests.
In other words, it's the Disney Resort with the monorail running through it.
In this review of Disney's Contemporary Resort, we'll take a look at the attributes that make this destination desirable. Additionally, I'll mention a few negative aspects that you'll want to consider.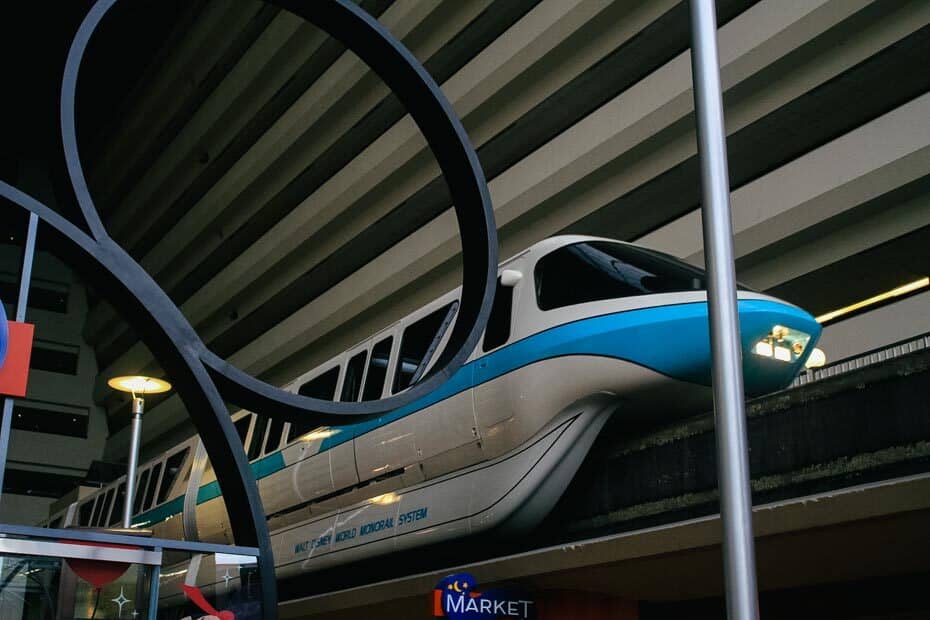 With every full resort review, there is quite a good deal to cover. We'll take a look at the different guest rooms, dining options, amenities, and recreation the Contemporary has to offer.
If you have ever visited the Walt Disney World Resort, you have more than likely ridden through the Contemporary on your way to Magic Kingdom. In addition, the Disney World monorail shuffles thousands through the resort daily as it transports guests to and from the most magical place on earth.
Being on the monorail loop and sitting next door to the popular Disney theme park are the top reasons guests enjoy staying here. Let's face it; it's hard to complain when your hotel is within walking distance of Magic Kingdom.
However, those are just a few perks of this Disney deluxe resort. Over the years, I have found Disney's Contemporary to be a place I can relax. It seems contradictory that a resort so close to one of the most crowded destinations in the world can offer such a large, private backyard. Yet, somehow it does.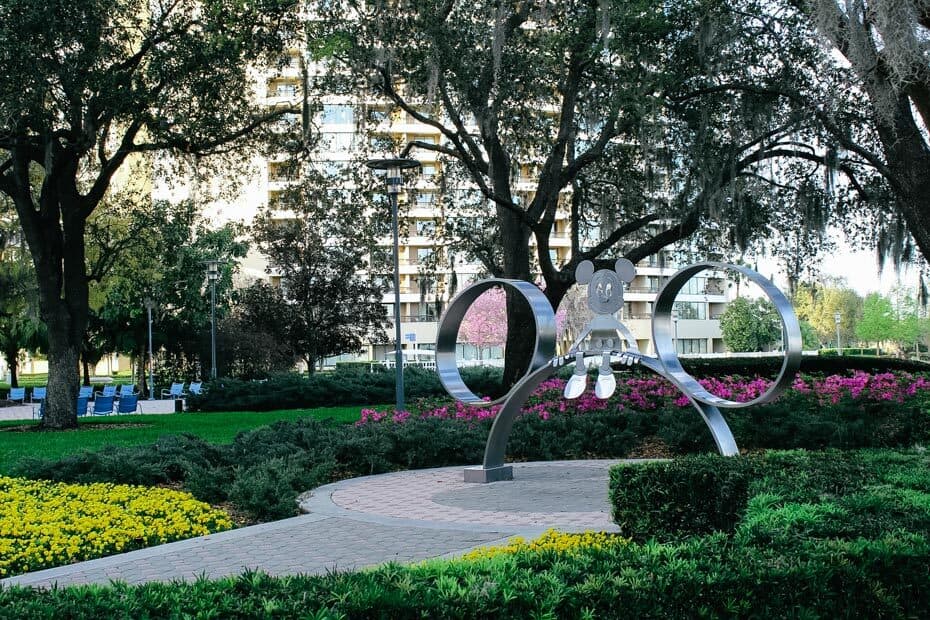 Allow me to share with you all the things that make Disney's Contemporary Resort so appealing.
If you are looking for information specific to a certain topic, here are the things we'll cover.
Disney's Contemporary Resort Review
As mentioned above, the Contemporary is a Disney Deluxe Resort. It is made up of the main tower, a garden wing, and the Disney Vacation Club Resort's Bay Lake Tower sits next door. Both hotels share amenities and are connected by the Skyway Bridge on the fourth floor.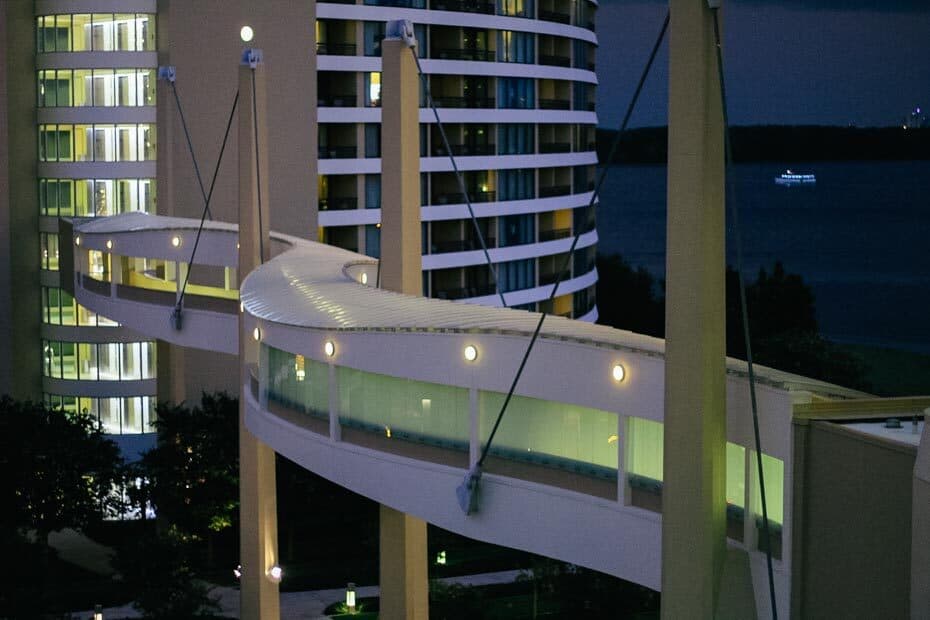 There is a separate review of Bay Lake Tower if you want to learn more about a stay there. It includes a look at a studio deluxe room.
Disney's Contemporary Resort is an A-frame structure with a modern design. To give you a little history, the rooms were pre-constructed and literally inserted into the frame when the hotel was built.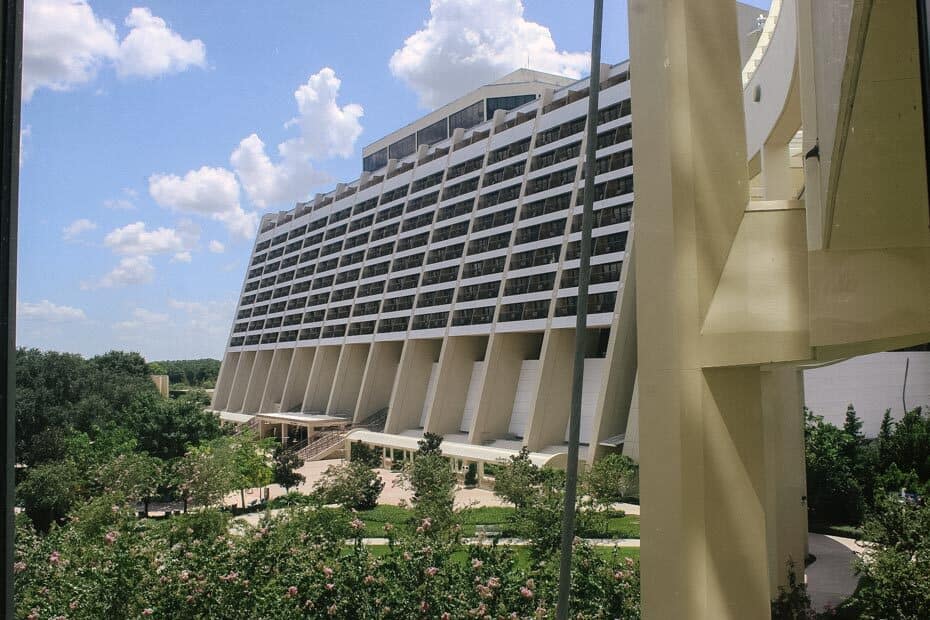 I don't know about you, but I think it's pretty cool that the hotel was built in this manner. Imagine each room being lifted off the ground by a crane and tucked into its appropriate compartment. Talk about Imagineering!
Aside from its setting, the interior of the Contemporary somewhat contradicts itself. While the ground floor offers a boutique lobby area for guests, the fourth floor is the central gathering space within the tower.
The fourth floor is known as the Grand Canyon Concourse. It's the true median offering dining, shopping, a lounge, and an observation deck. Not only that, but the concourse is home to a stunning ceramic mural designed by the Disney legend Mary Blair. You can read more about the art piece here.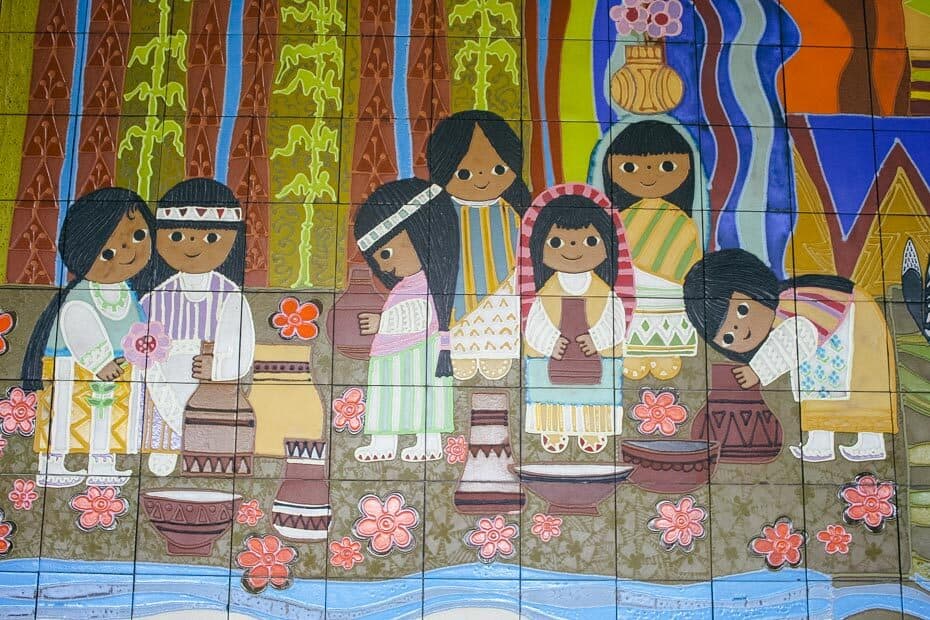 A modern hotel themed like the Grand Canyon? Contradicting, yet it somehow corroborates itself. Even I have to admit these words are a little fancy for me, but Disney's Contemporary Resort is a special place.
Dining
If you are anything like me, you probably like to enjoy a few nice meals while on vacation. One of the positive factors about the Contemporary is the dining choices available.
Additionally, there is a multitude of other options only a monorail ride away at Disney's Grand Floridian Resort and at the Polynesian Resort.
Disney's Contemporary Resort has the following restaurants:
California Grill
The Wave
Chef Mickey's
Contempo Cafe
Outer Rim
The Sand Bar
The Cove Bar
We'll start with my top recommendation for signature dining at Disney, California Grill. The modern restaurant resides on the top floor of the resort. The restaurant is open nightly for dinner service. I have a full review of California Grill here if you would like to learn more.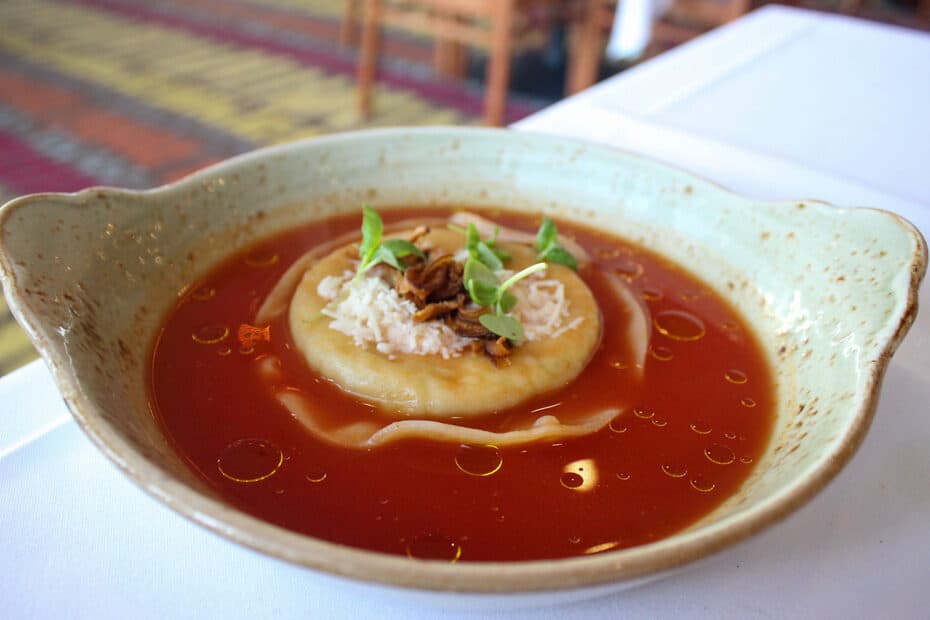 This location serves a wide range of California-inspired cuisine. It's popularly known for having a seasonal menu with staple items like Sonoma goat cheese ravioli, sushi, and entrees. You don't want to miss out on securing a reservation here! Between the food, scenic views of the Magic Kingdom, and the opportunity to return for fireworks (when available), the experience is unparallel to most other restaurants.
Next, we have The Wave, a table service restaurant located on the resort's ground level. They serve breakfast, lunch, and dinner. In addition, there's a bar and lounge area located on the right side of the restaurant. The lounge takes walk-ups if there aren't any reservations available.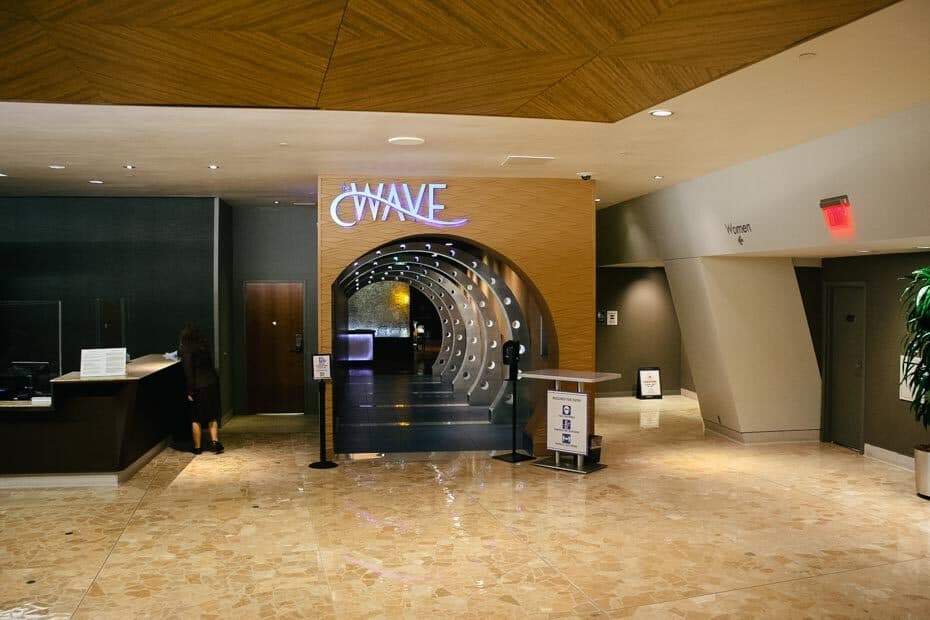 Back up on the Grand Canyon Concourse, you'll run into Chef Mickey's. Unfortunately, it's one of the Disney character dining experiences that I don't recommend. The location is trendy because of the characters and the monorail coming by overhead. However, the food has a reputation for being mediocre.
You can do much better meeting Mickey and friends at the character breakfast at Topolino's Terrace. That meal has wonderful entrees with accompaniments and is overall far more enjoyable.
If you really want to enjoy a meal with the monorail gliding by ahead, do it at Contempo Cafe. It's the Contemporary's counter service location. It sits next door to Chef Mickey's and serves as the resort's counter service.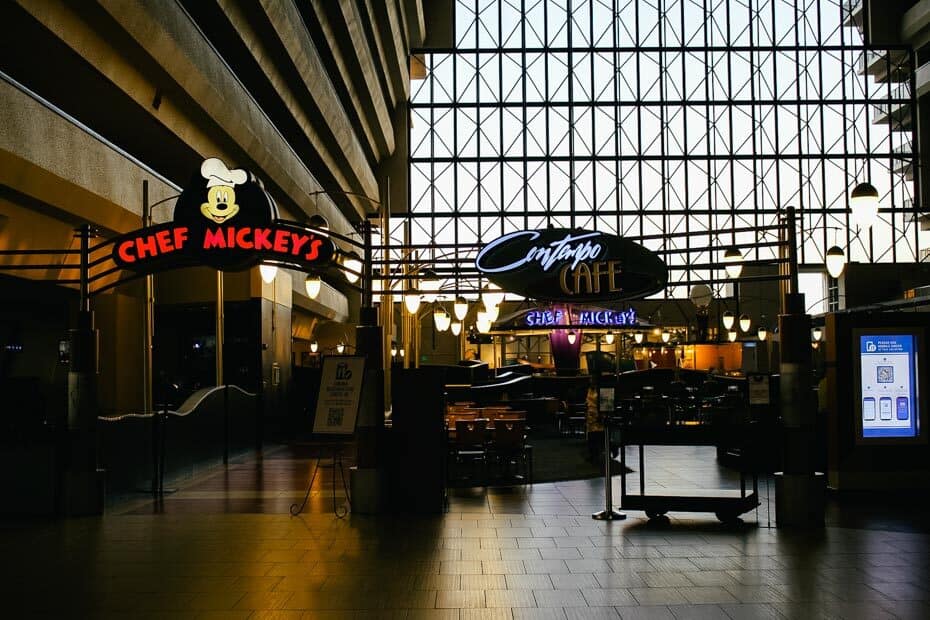 We actually love to eat at Contempo Cafe. Often we will opt to walk over from the Magic Kingdom to have a late lunch or early dinner here. It's a nice break from the crowds during the day.
Additionally, Outer Rim is located on the Contemporary's fourth floor, adjacent to the other dining options. Outer Rim is a fairly generic bar and lounge area that reminds me of an airport more than anything. If you want something a little more custom, pick up a cocktail from The Wave or see if there's any room at the bar at California Grill.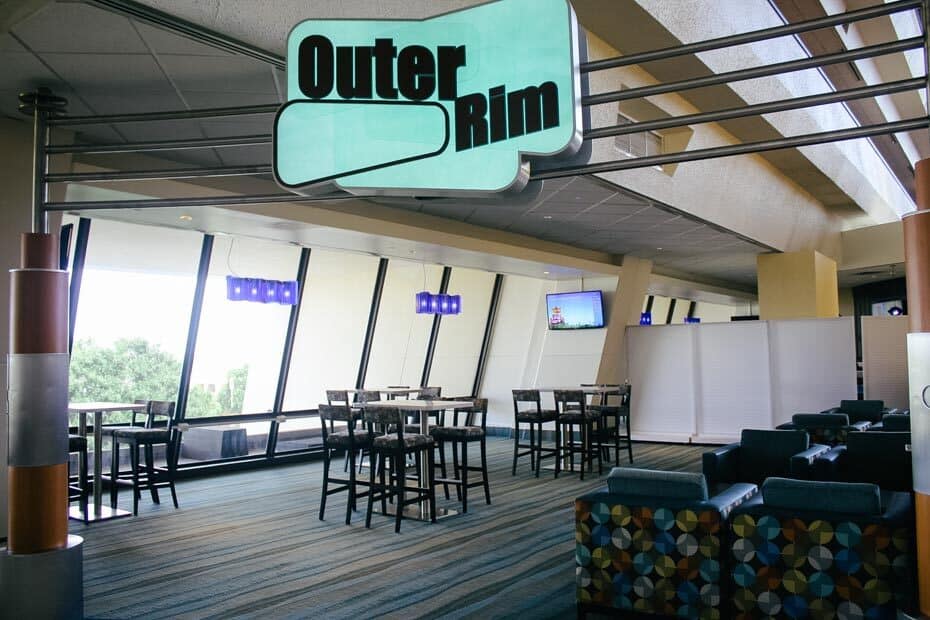 Guests can pick up beverages and counter service items at either of the resort's pool bars. A coffee bar is available on the ground level as well.
If you would like to know more about dining options at the resort, check out our full Contemporary Resort restaurants guide. It includes a more detailed look at every option.
Contemporary's Gift Shops
When it comes to shopping at the Contemporary, you are in luck. There are several nice options, all conveniently located on the fourth floor. One of my personal favorite places to browse Disney merchandise is at Bayview Gifts.
The BVG (Bayview Gifts) is a large store that carries the latest trends. The gift shop usually has a great selection of mugs, and Disney Dooney and Bourke bags, and the latest Disney Loungefly backpacks.
Below are a few Contemporary-specific items available for purchase.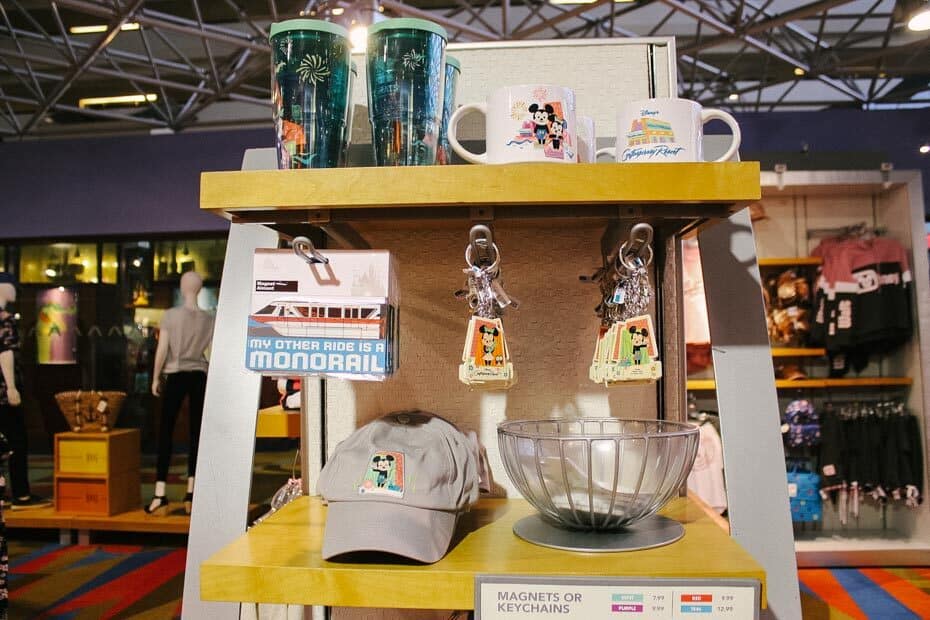 Fantasia is a children's toy store that sits in the center of the fourth floor. This is a great place to let your little one shop and pick up a souvenir. In fact, I often pick up presents for my niece and nephew at this fun gift shop. Fantasia usually has a decent selection of Star Wars merchandise. I've also purchased a few learn how to draw animated character books here.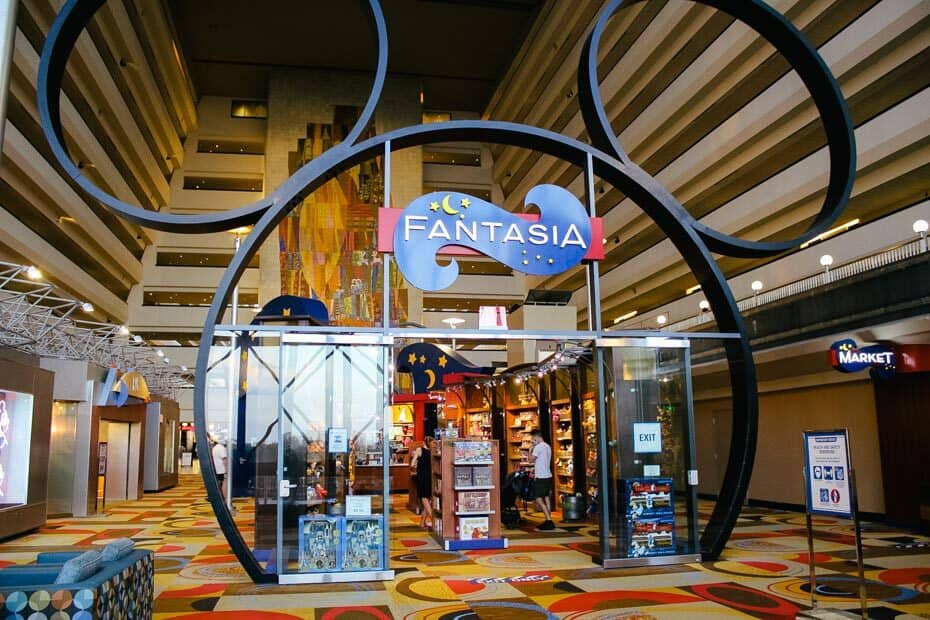 Across from the gift shops is Fantasia Market, which is the resort's convenience store. This is a good place to pick up snacks or available grocery items you might need.
Recreation
In my opinion, the best thing that Disney's Contemporary Resort has going for it is its tremendous backyard. The large space is difficult to describe. It feels like part of a tremendous refuge with wide, open spaces and a variety of landscaping.
You'll find tropical palm trees, a sandy beach that has a volleyball court, and lounging spaces almost everywhere you look.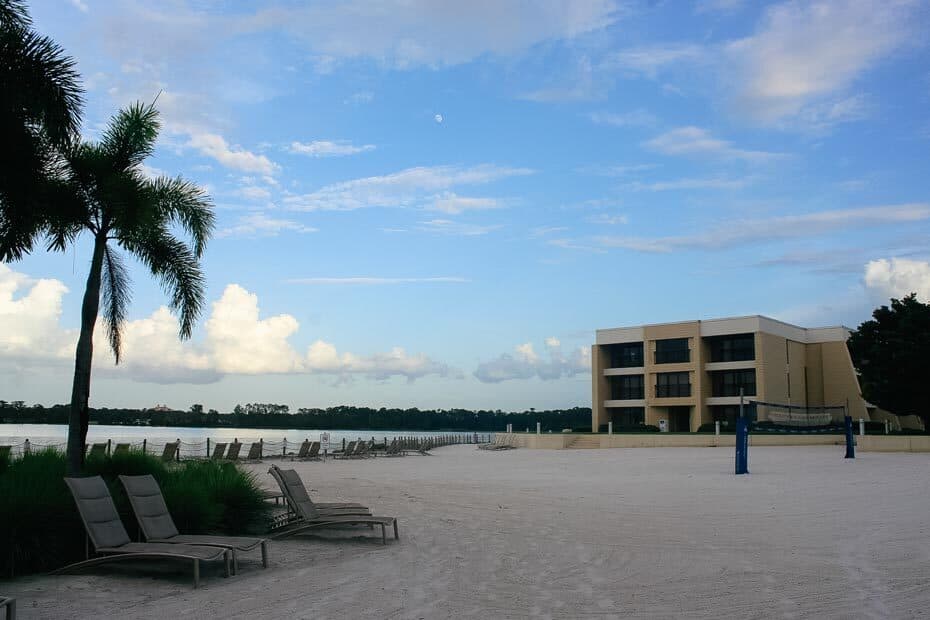 Disney's Contemporary has two pools for guests to take advantage of during their stay. The Contemporary's feature pool is called The Main Pool and has a 17-foot high curvy water slide.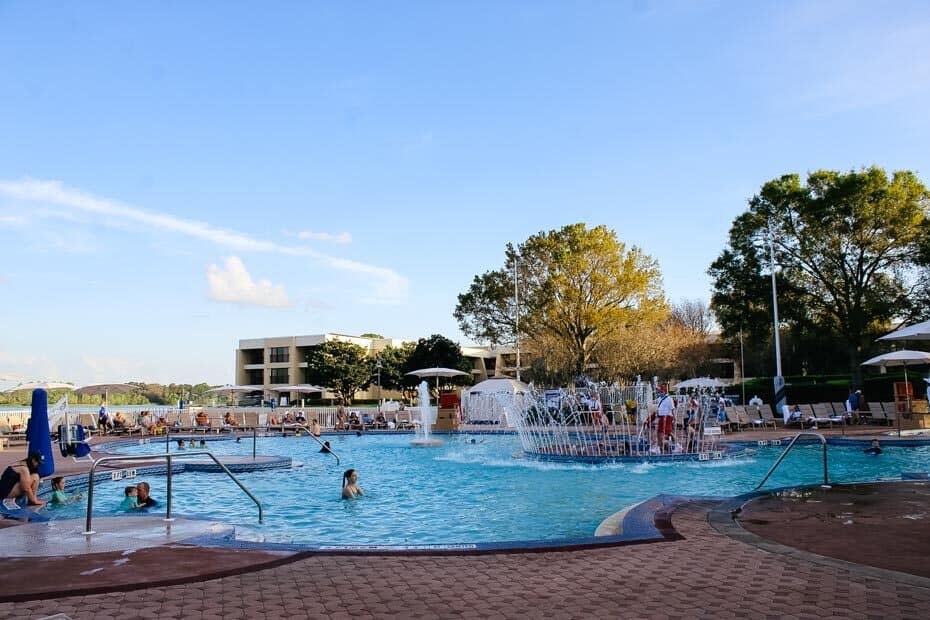 A children's water play area sits adjacent to the pool. In addition, two hot tubs are available around the pool area.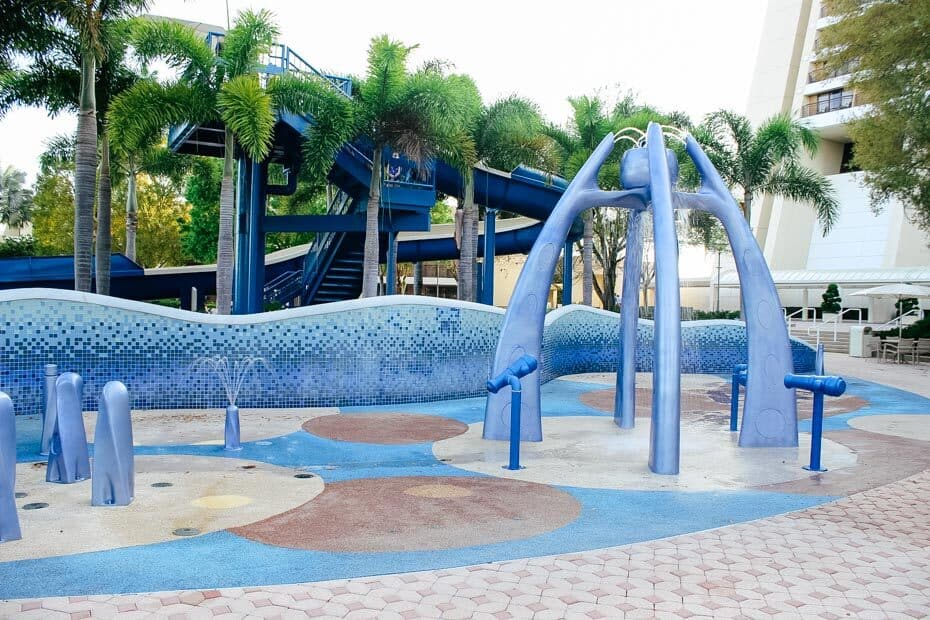 Behind the feature pool is the Bay Lake pool. If you look out toward the pool, it gives the illusion that it's floating out on the lake. This is considered a quiet pool, and you can't beat the absolutely stunning view of the lake from the pool deck. There are usually a few private cabanas for rent if you decide to spend a full day out here. I have a feeling you won't regret it.
Related: Best Pools at Disney World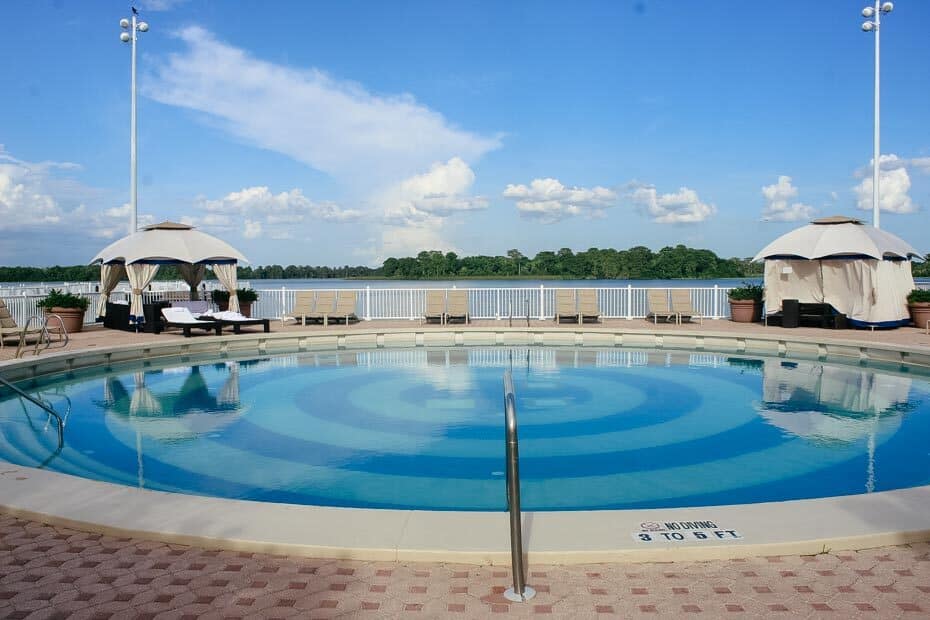 Additionally, the Contemporary participates in the Movies Under the Stars program. That's where they show nightly movies on the back lawn. You'll need to pick up a recreation calendar at the front desk to get an idea of what's playing during your stay.
If you plan a full resort day during your vacation, I highly recommend doing one of these movie nights. They are delightful.
Moving on, the Olympiad Fitness Center is available to guests of both Disney's Contemporary and Bay Lake Tower. The gym is on the third floor and provides a variety of equipment and weights.
Personally, I enjoy running when I visit the Contemporary Resort. They do have a bit of an odd jogging trail. However, it's pretty well marked to keep you going in the right direction. You just can't beat the views of Bay Lake in the distance, especially at sunset.
Related: Disney World Jogging Trails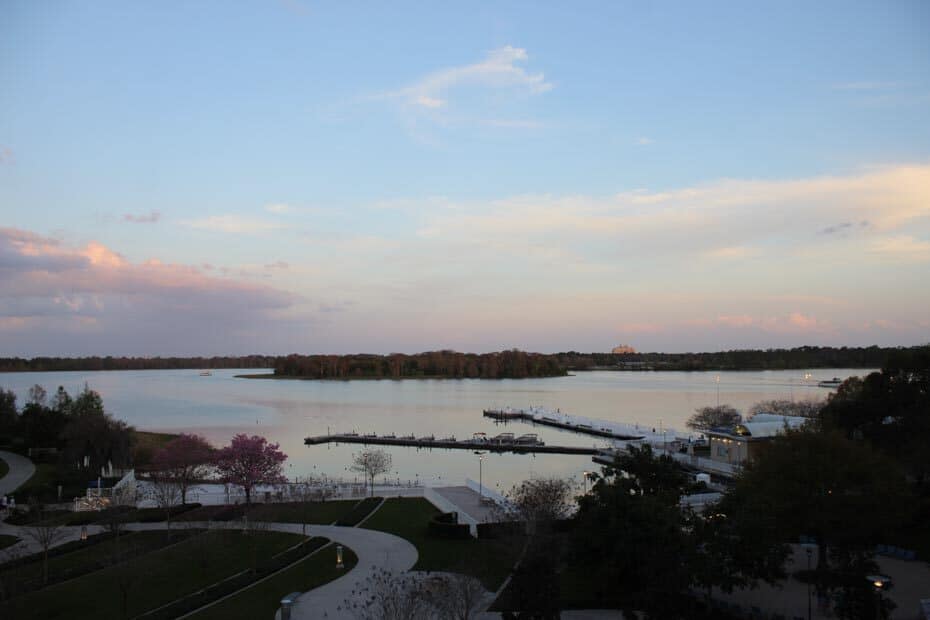 If you have ever read my review of the Contemporary's Garden Wing, you might remember how I got in a pleasant jog on the 4th of July, right before the Magic Kingdom fireworks. And then we watched the fireworks from the resort and ordered room service! A Star Wars marathon was on TV. Can you imagine having a better time than that?
Motorized boat rentals and fishing excursions are available to reserve in advance at the Boat Nook Marina.
A basketball and tennis court is available to all resort guests on the Bay Lake Tower side of the resort. However, you will need to rent a racquet and balls for either sport from the Community Hall inside the DVC wing of the resort.
You might notice there are quite a few table games out in the large leisure area in the picture below. I love to grab a bite to eat and bring it out here sometimes. It's a nice, private area.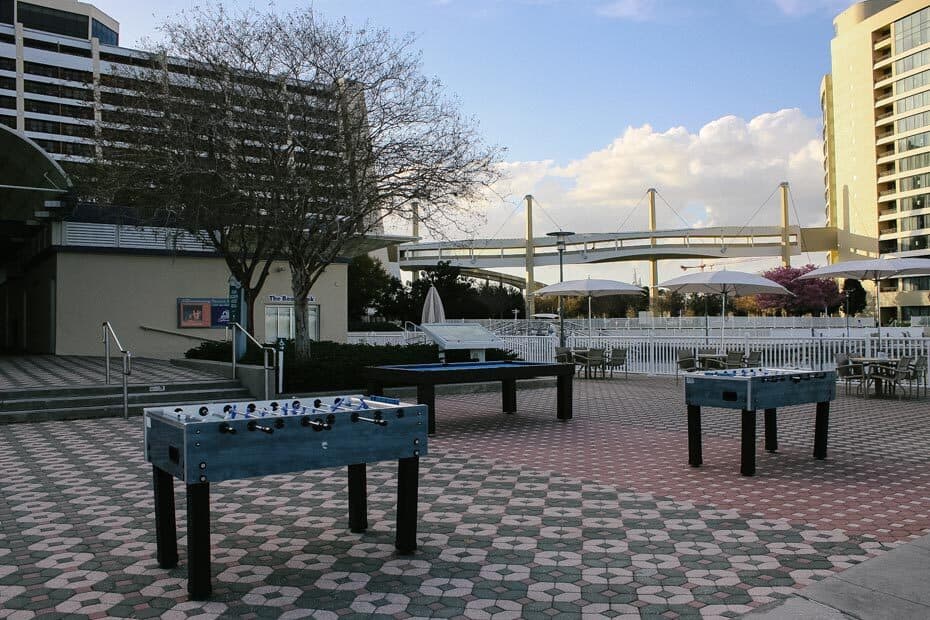 I think this highlights one of the unexpected things you'll find at the resort. Isn't it funny to think about having this huge outdoor space entirely to yourself when there are massive crowds almost literally within your view?
Lastly, the Contemporary arcade, The Game Station, might be a nice place to kill a little time on a rainy day. It is located on the fourth floor of the resort.
Amenity
One of the nicest amenities available to guests of the Contemporary Resort is the option to view Magic Kingdom's nightly fireworks. There are several spaces you can view fireworks, but most will gather on the fourth-floor observation deck. (When fireworks are available.)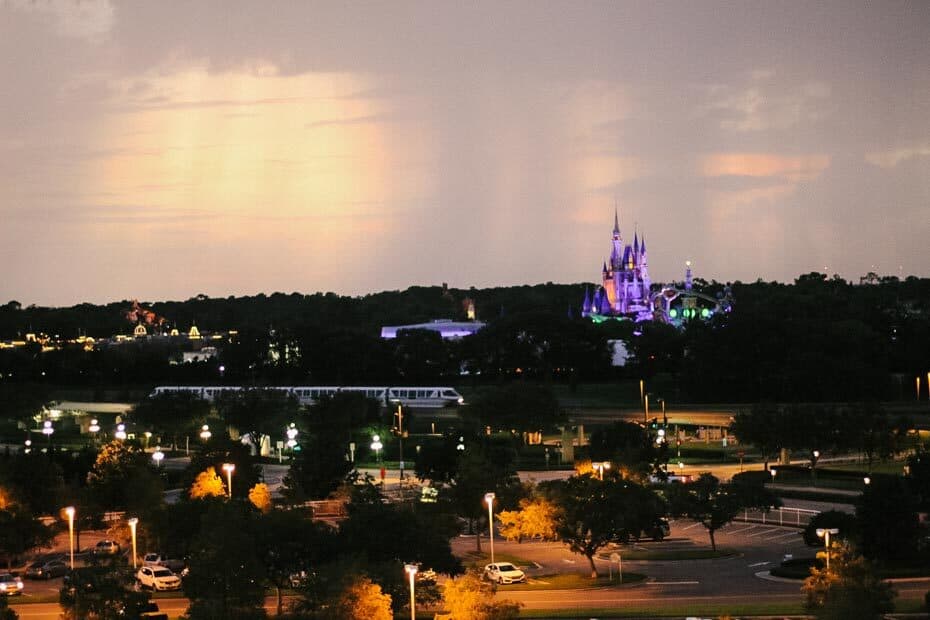 The audio for the fireworks is streamed on nearby speakers. So while you don't see all of the castle projection effects, you still feel like part of the show.
Here is the actual observation deck that's off the concourse floor.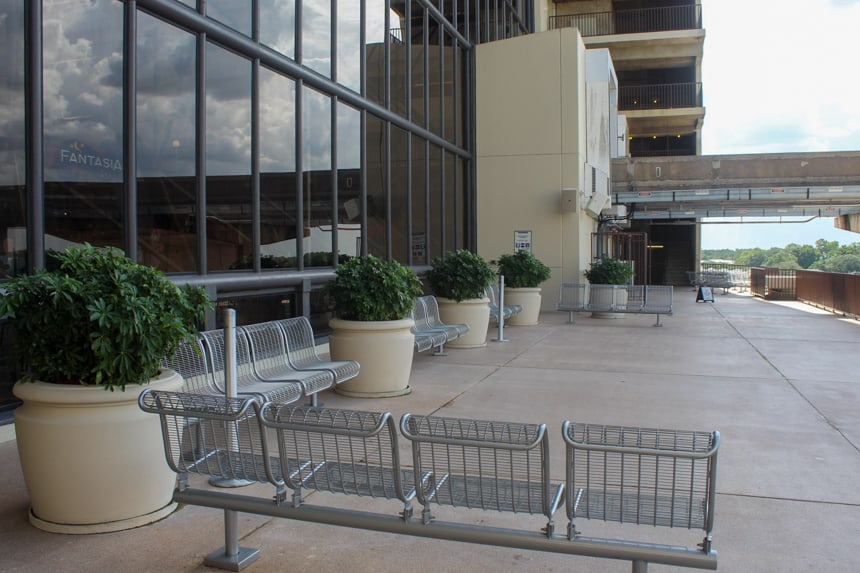 Those that dine at California Grill can watch the fireworks from their rooftop deck. If you have a dinner reservation before the fireworks, you can return with your receipt on the same evening to enjoy the performance.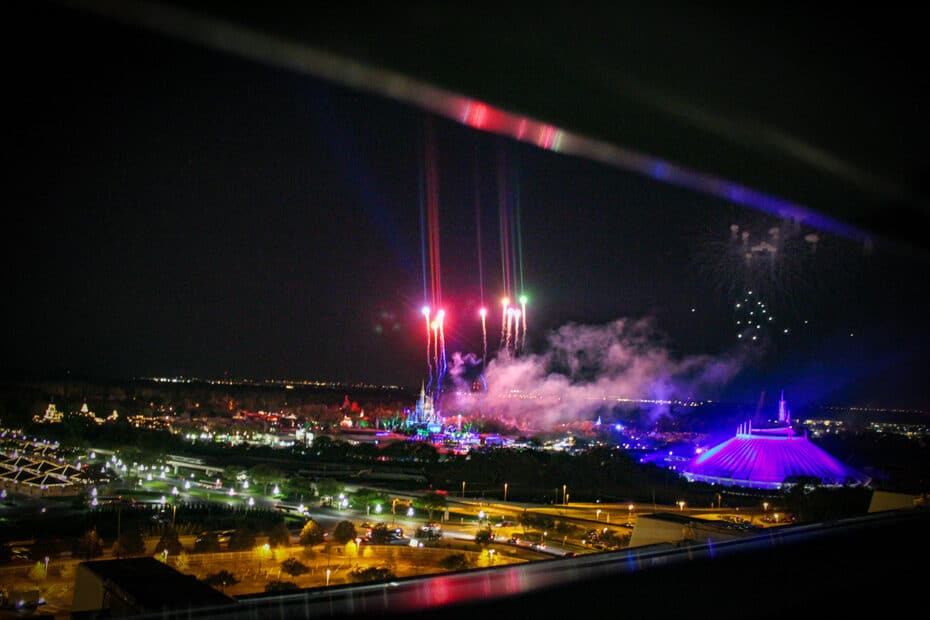 Disney's Electrical Water Pageant passes by the resort nightly. It can be seen from the Contemporary's beach as it heads toward the Wilderness Lodge on its route.
Normally, the Contemporary Resort offers a nightly Pirates and Pals Fireworks Cruise. This is an extra cost item where you enjoy a dessert party in one of the resort's large ballrooms. Before long, Captain Hook and Mr. Smee make an appearance. They will escort you on a voyage across Seven Seas Lagoon for a unique water view of the nightly fireworks. A surprise character meet awaits you when you get back to the boat dock at the end of the evening.
Hopefully, this event will return in the future. Reservations do need to be booked in advance. We did Pirates and Pals when my son was around 11-12 years old and enjoyed the experience.
I felt like he was at the appropriate age. The target age is probably between 5-13 years old. The best tip I can give you is not to plan a full day prior to the party. And possibly even take a nap that afternoon so you'll be able to fully enjoy the experience. A ton of desserts followed by a late evening boat ride can lead to very sleep children…and parents.
Transportation
Like the other resorts in the area, the Contemporary has great transportation options. As far as visiting Magic Kingdom Park, walking is the preferred and fastest method. It's approximately a 10-minute walk over to the theme park.
If you want to avoid the extra steps, guests can take the resort monorail around to Magic Kingdom. It will be a few extra stops going to the park, but the Contemporary will be the first stop when you leave later in the day.
The resort monorail station is accessible via the fourth floor of the resort. There you will go through security and take either the escalator or elevator up to the line for the monorail.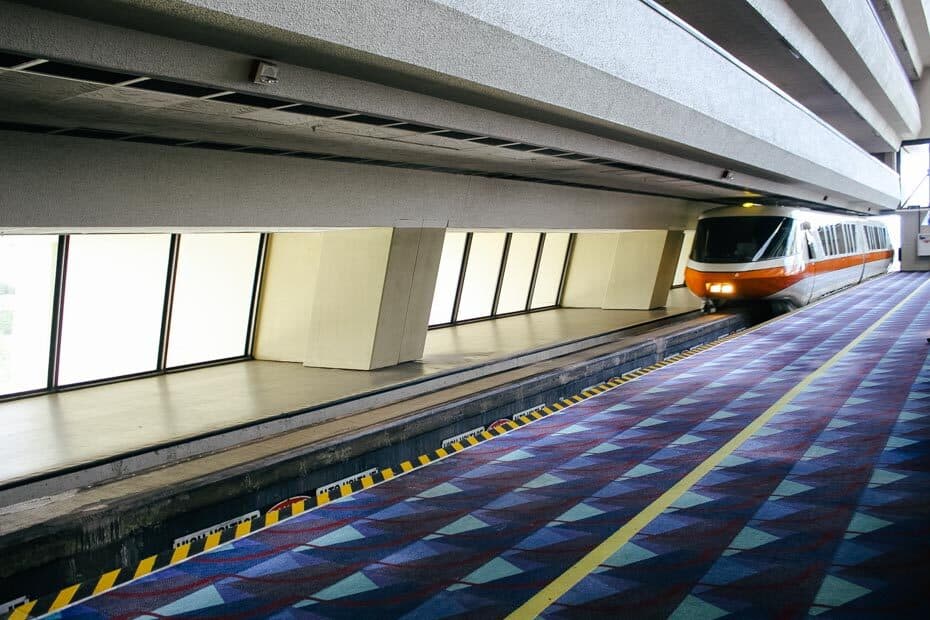 Normally, guests of the Contemporary take the resort monorail to the Transportation and Ticket Center, where they re-board the monorail to Epcot. Until this service returns, you'll need to take a bus from the Contemporary to visit Epcot.
Additionally, buses run from the Contemporary to Disney's Hollywood Studios, Animal Kingdom, Disney Springs, and the Disney water parks. If you are planning a trip to Blizzard Beach, check out our ride guide with attractions, dining, and tips. Unfortunately, Typhoon Lagoon has not reopened at this time.
Lastly, the Contemporary has a resort boat launch that travels in a triangular pattern between Disney's Wilderness Lodge and Fort Wilderness. This service has not returned as of my last visit. If you are staying at the resort, make sure to check availability. Guests use this service to access dining and recreation at the nearby resorts across the lake.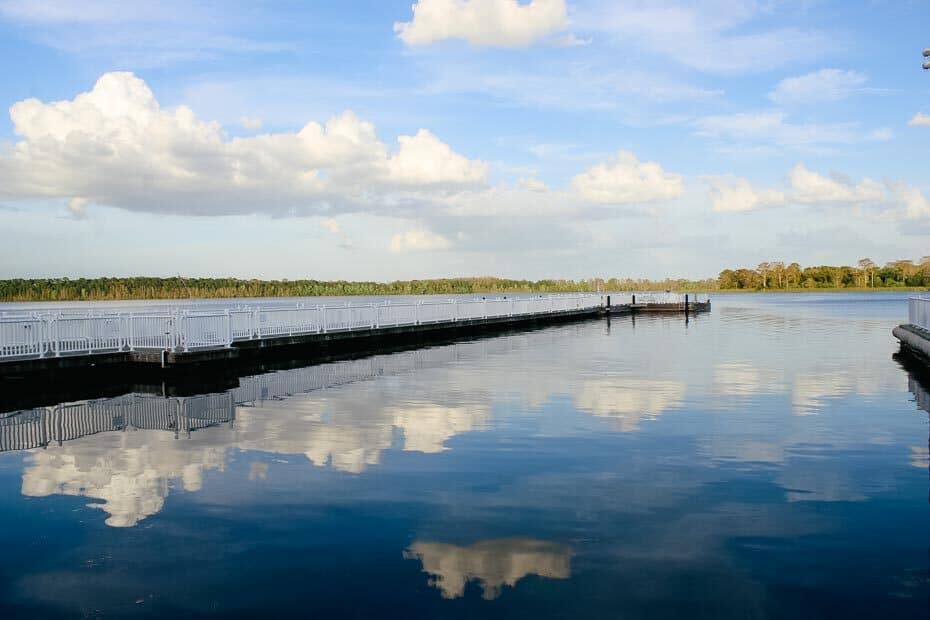 Rooms
As typical, when I finally got around to completing this review, the Contemporary went under refurbishment. This shouldn't be too much of a surprise since the Disney Resorts tend to undergo some sort of refurbishment every 3-5 years.
It is rumored (and likely so) that the rooms in the main tower of the Contemporary are receiving an Incredibles makeover. A few years back, Disney built a test room in the Contemporary featuring Incredibles elements.
However, nearly every single project was put on hold, given the circumstances of this last year.
Additionally, the Moana themed-rooms at the Polynesian should be nearing completion. So I guess moving on to Incredibles at the Contemporary makes sense.
As of April, Disney's website states, "Starting in April 2021, Disney's Contemporary Resort will begin a refurbishment to reimagine guest rooms. While some Main Tower rooms will be unavailable during the refurbishment, most resort areas and amenities will still be available for guests to enjoy."
Additionally, the Contemporary's lobby and The Wave are closing on July 16th. Guests will still be able to walk through a portion of the first-floor lobby to access transportation.
For the time being, I'll break down the types of guest rooms that are available. When the refurbishment is complete, we'll take an updated look at what to expect.
Since the Contemporary Resort is made up of two buildings, each one offers a variety of room types. The main building is referred to as the Tower. Here are the different guest rooms:
Main Tower Standard Room (Bay Lake View)
Main Tower Standard Theme Park View
1 Bedroom (Bay Lake or Theme Park View)
2 Bedroom (Bay Lake or Theme Park View)
Presidential Suite (Theme Park View)
Atrium Club Level (Standard, Theme Park View, Standard King)
Tower Club Level (Bay Lake or Theme Park View)
The second area is the Garden Wing which consists of these rooms:
Standard View
Garden View
1 King Bed Garden View
1 Bedroom Suite
Hospitality Suite
Below is a preview of a garden wing room. It comes with two queen beds and 1 daybed accommodating up to five guests.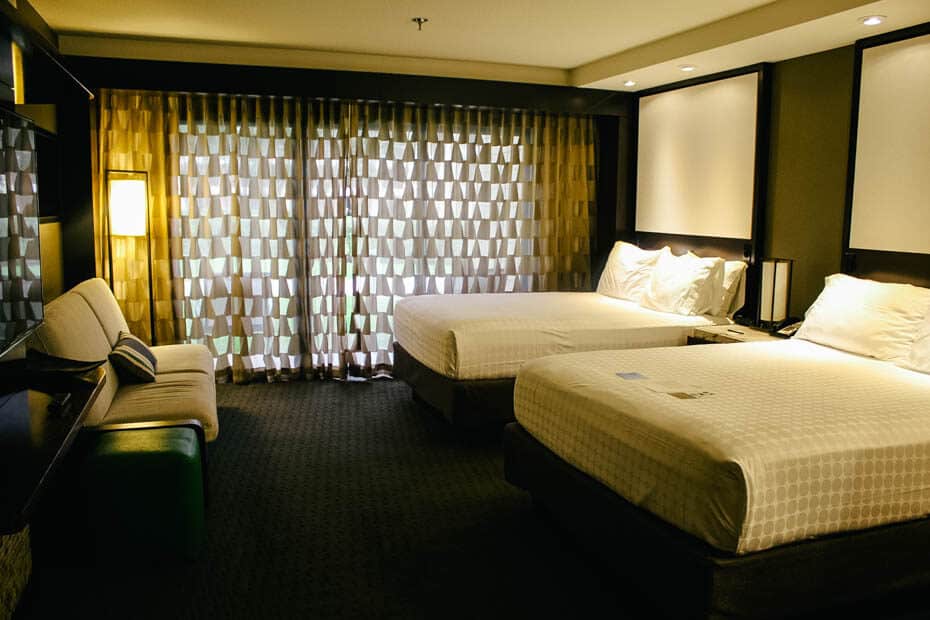 The guest bath was rather large. However, this wasn't a split bath, meaning it would be difficult for multiple guests to get ready at the same time. One of the common complaints about the guest baths at the Contemporary is there isn't any counter space. Hopefully, the refurbishment will correct some of these details.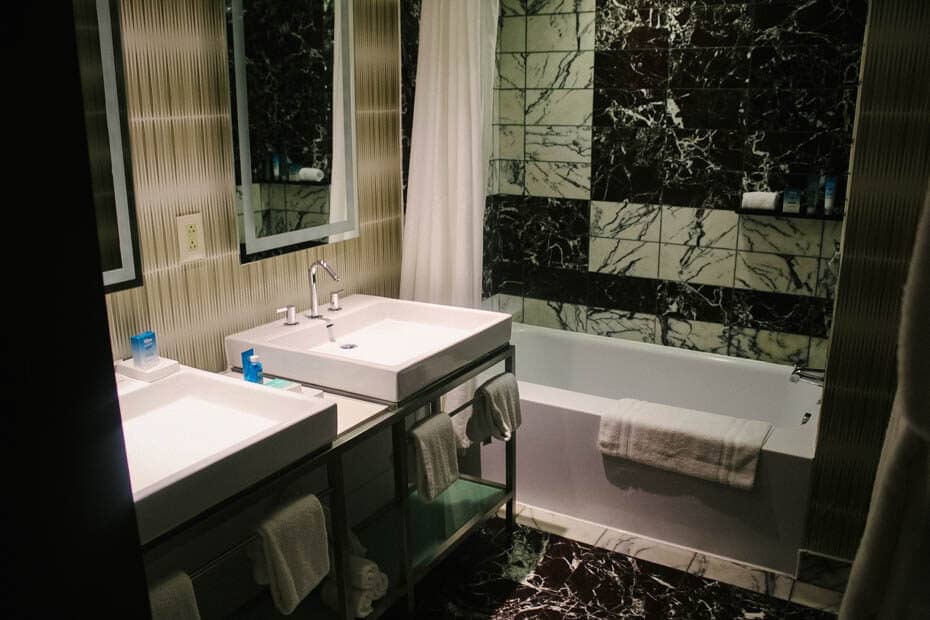 As for the garden view, I could have enjoyed it for much longer than a week-long Disney vacation.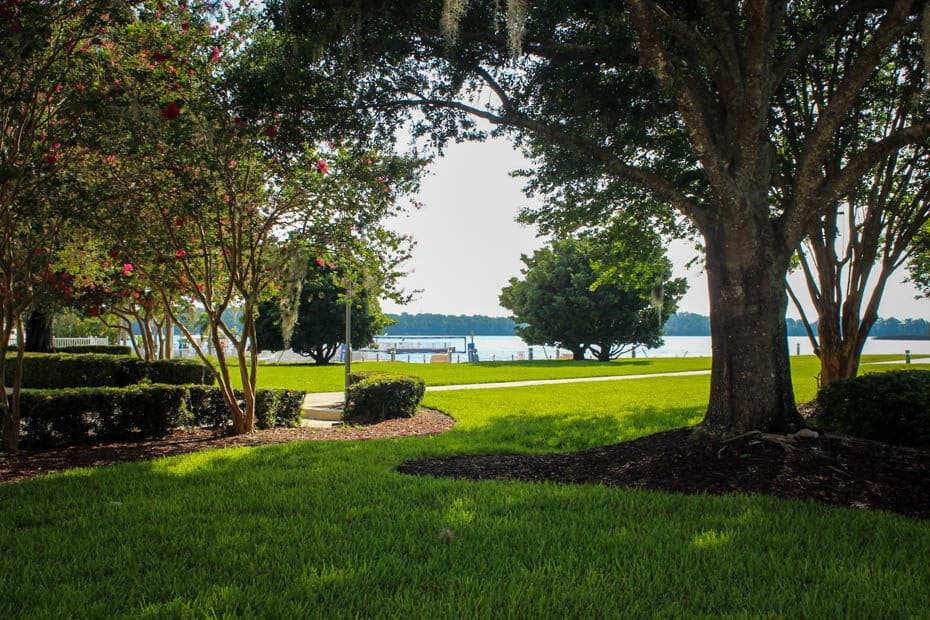 When I stayed at the Contemporary for the first time, I didn't really know what to expect. I ended up pleasantly surprised.
If you expect the resort to be ultra-modern, you might be a little letdown. The main decision you'll want to make is whether or not you want to be in a tower room or in the garden wing. Then you'll need to decide water view or theme park view.
But, if you take the time to enjoy the outdoor spaces, wander around the Concourse, and check out the views from the Skyway bridge, it will probably start to grow on you. If not, wait until you are in a Magic Kingdom crowd about 10,000 people deep and in need of an escape. A short walk back to the tranquil grounds of the resort will be all the remedy you need.
As far as the tower views go, I recently had a theme park view, and it was nice.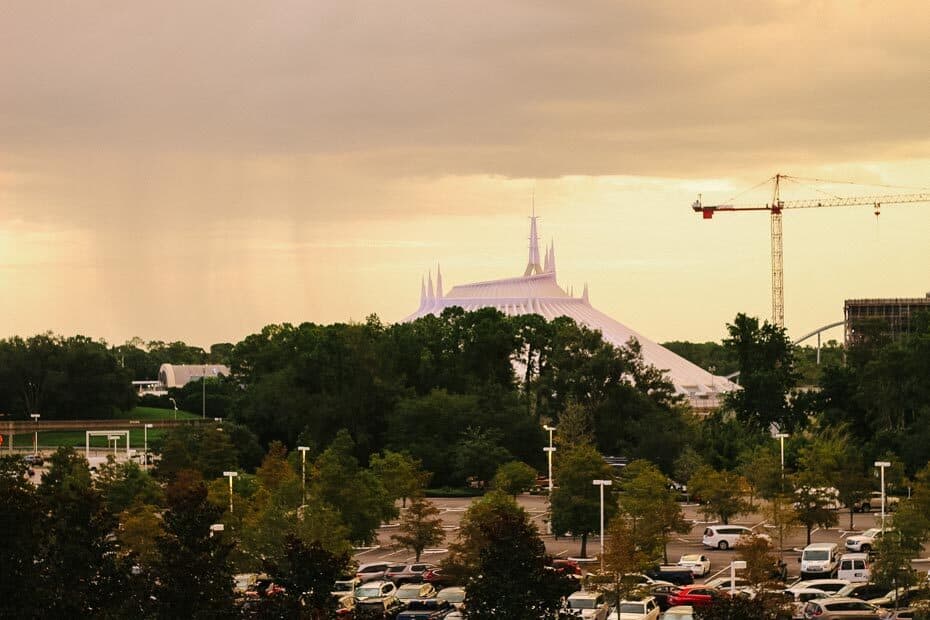 But I would have preferred the Bay Lake view.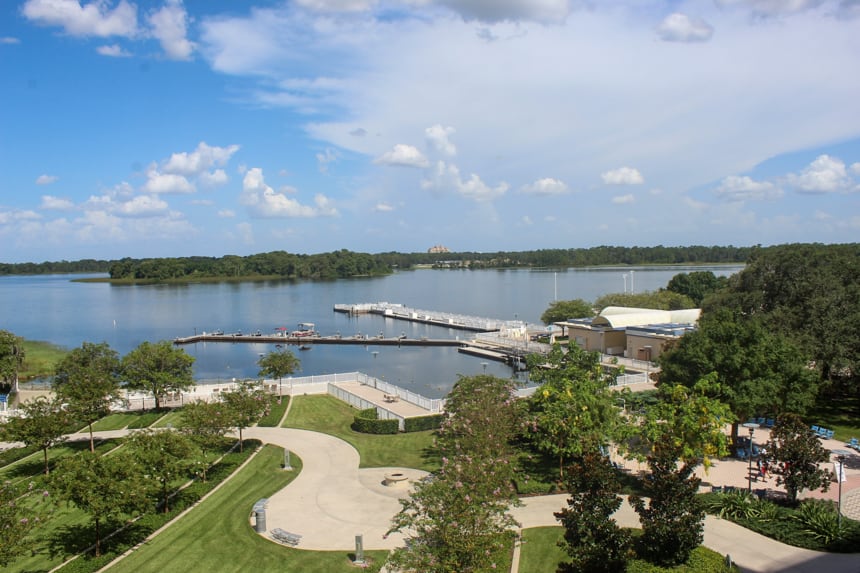 Either option is excellent.
Final Thoughts on Disney's Contemporary Resort
Disney's Contemporary Resort exudes Disney history. The design of it. The artwork in it. The location. It had a train on an elevated concrete beam running through it in the 1970s!
In some ways, it's tragic that no other innovative forms of transportation have been designed by, implemented, or installed at Disney since. Sure we got a Disney Skyliner, but the system was purchased from another company.
On the one hand, you could say that the Contemporary is a mausoleum or time capsule. Not much has changed other than a few updates over the years. Some might even call it dated.
On the other hand, how could it change? Take away a key element of the design, and you ruin it.
With that being said, there's absolutely nothing wrong with it. Ultimately, it's these types of things that you'll have to weigh when planning a stay here. My advice is don't make her out to be something in your mind that she's not.
Disney's Contemporary is beautiful, but she's not 2021 attractive like some high-end hotel in Dubai. And she is expensive even when her rooms come off feeling cold and dark. Before long, those rooms will feel super, with the Incredibles touches going into their new design. I'm trying not to have pre-conceived notions myself.
But that big, gorgeous backyard makes up for everything. At least for me it does.
I hope this review was able to help you get an overall idea of whether or not a stay at Disney's Contemporary Resort is right for your family.
If you are considering any of the Walt Disney World Resorts and would like a quote, you can check with our recommended travel agency, Firefly Travels. You can fill out a contact form here, and someone will be in touch with you shortly.
For those of you considering other hotels, I have a full list of Walt Disney World Resort reviews here on the site. Or you might enjoy these articles like the Disney moderate resorts or the best value resorts at Disney.
You can't go wrong with any of the deluxe resorts but a few of my top choices for Disney Resorts include Disney's Beach Club, especially if your family enjoys the pool.
The newest hotel to date, Disney's Riviera Resort (review here), is spectacular! Think higher end with a mix of French and Italian.
And a stay at Disney's Animal Kingdom Lodge will truly cure most woes. Plus, there's the opportunity to see animals from your balcony when you upgrade to a deluxe studio with a savanna view room at Animal Kingdom Lodge.
But if Disney's Contemporary Resort has been your dream for a while, you truly can't go wrong there either.
Leave a comment below and let me know your thoughts on the Contemporary? Have you spent any time on the grounds? Enjoyed a favorite meal there? I'd love to know your take as well.