Disney's Wilderness Lodge Review
Breathtaking! That's what it feels like when you step inside Disney's Wilderness Lodge Resort. The heart of the Lodge, the lobby, welcomes you home with its stunning details that immediately transport you to the Greater Northwest.
Whether you are visiting for a week-long vacation or are only there for a meal, the Wilderness Lodge has a way of making you covet your time there. It's that special.
In this review of Disney's Wilderness Lodge, we'll explore the resort in detail. From its rustic vibe to its proximity to Magic Kingdom, the resort is one of the most tranquil places to reside while visiting the Walt Disney World Resort.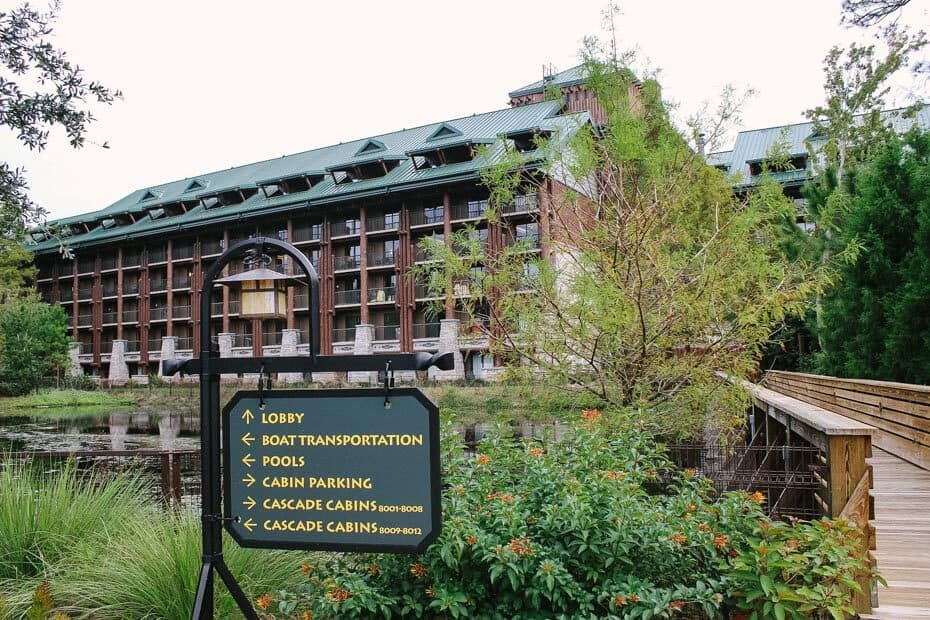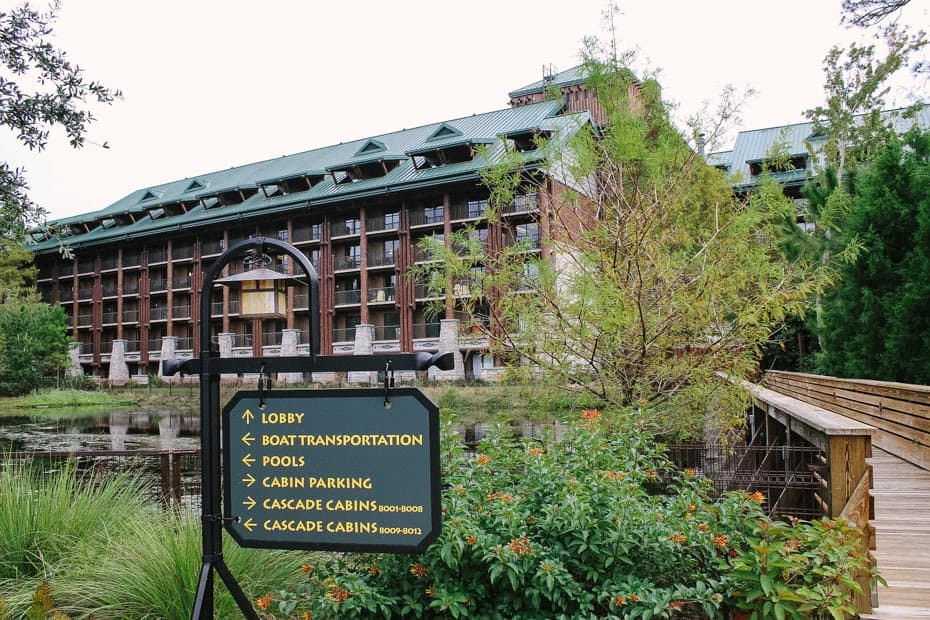 Disney's Wilderness Lodge Review
The Wilderness Lodge is a Disney deluxe resort and part of the Magic Kingdom Resorts area. Additionally, the Lodge is home to two separate Disney Vacation Club Resorts, Copper Creek Villas and Boulder Ridge Villas. I have a separate review of staying in a deluxe studio at Copper Creek.
When you arrive at this deluxe Disney resort, you'll feel as though you have entered a national park. The Florida landscape immediately evolves into large, towering trees reminiscent of great Redwoods. Spanish moss, a Florida native, blends romantically in the surroundings.
If you visit the Wilderness Lodge via boat transportation, you are in for a treat. The dock steps off onto a wooden walkway that journeys through the woods as it wraps its way around to various areas of the lodge.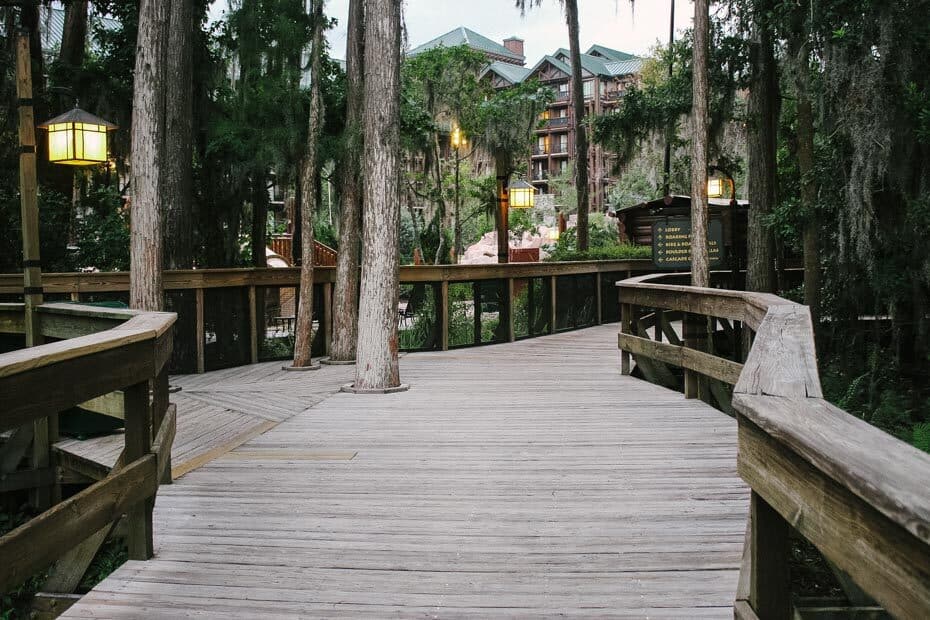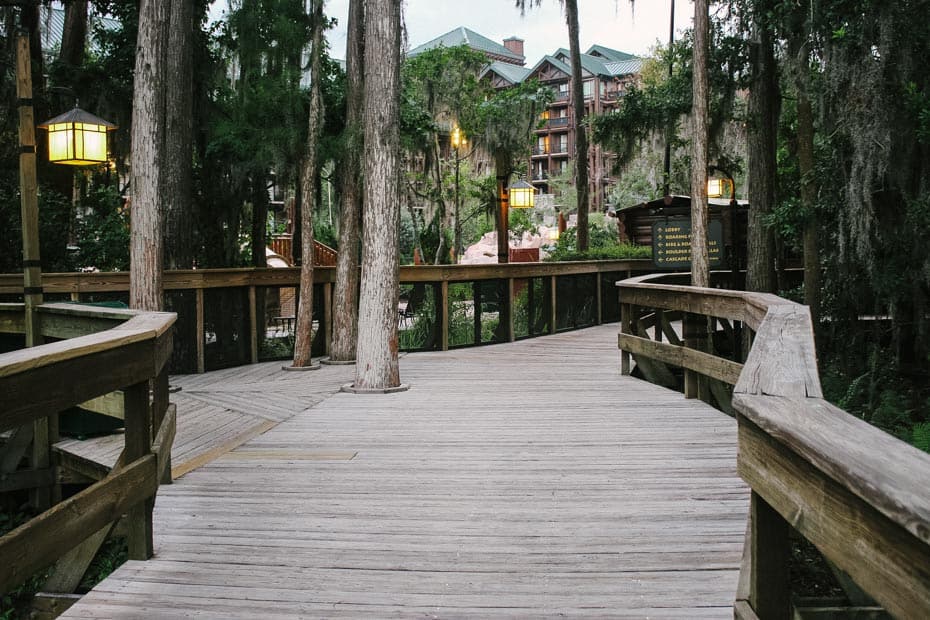 Those that arrive by a personal vehicle or Disney's Magical Express (while it's still available) will be greeted by the front entrance of Disney's Wilderness Lodge. A mix of wildflowers and exquisite landscaping adorn the walkway up to the lobby from the parking lot.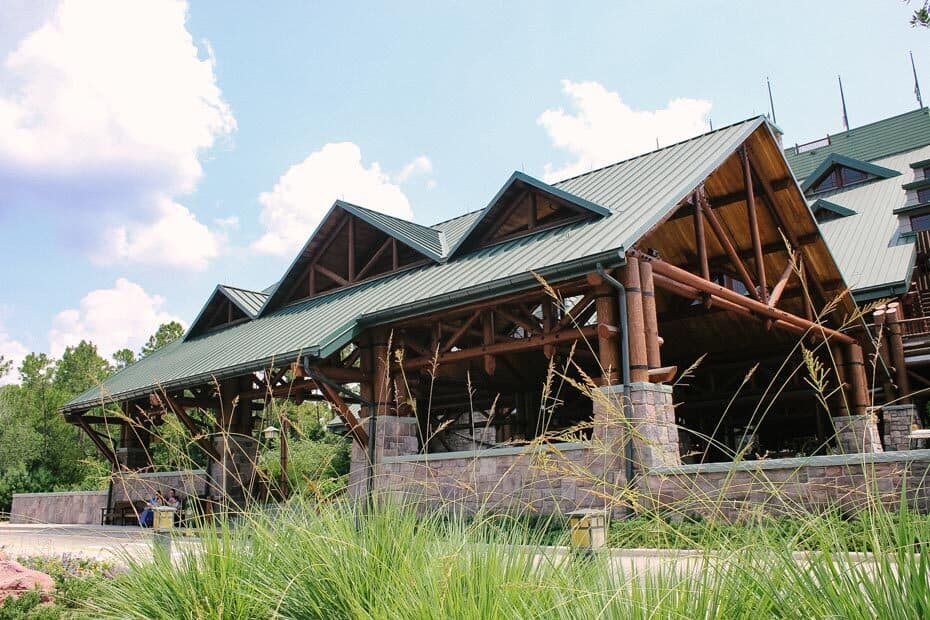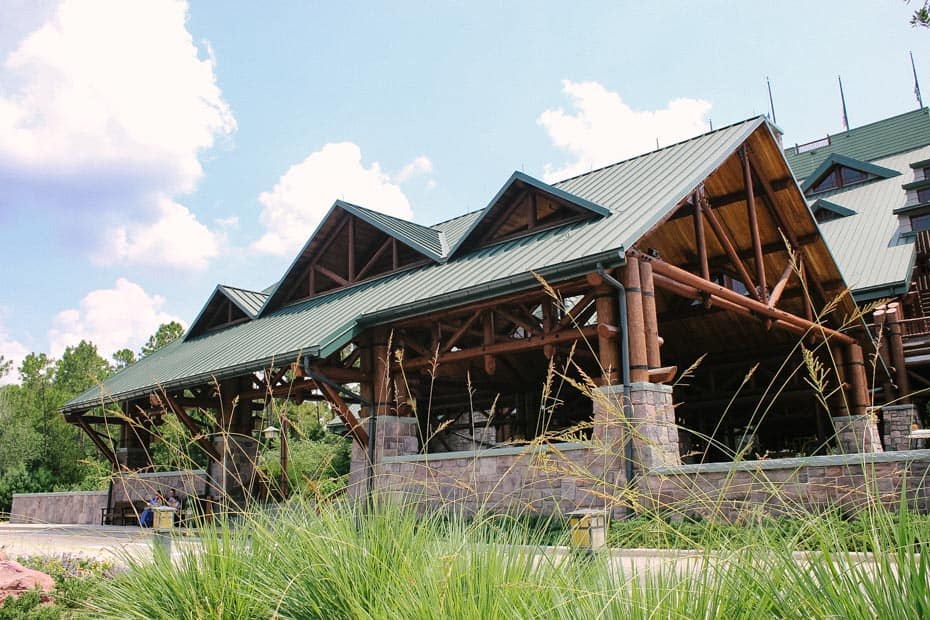 Lobby
As you enter the lodge, expect to be greeted with a "welcome home" from the cast members attending the area. Then, you'll suddenly feel a cool, comforting breeze and realize you're not in Florida anymore. Well, not in spirit anyway.
A fireplace crackles on the far side of the lobby. It's hard to remember you just escaped the "it feels like 110 degrees" temperature outside. And the idea that the Disney parks are just a short boat or bus ride away seems preposterous.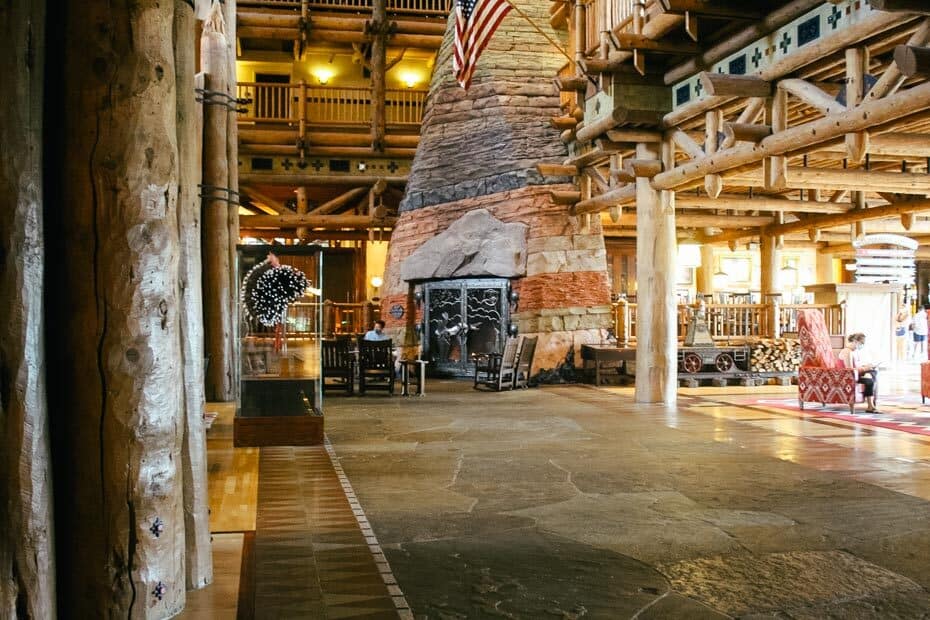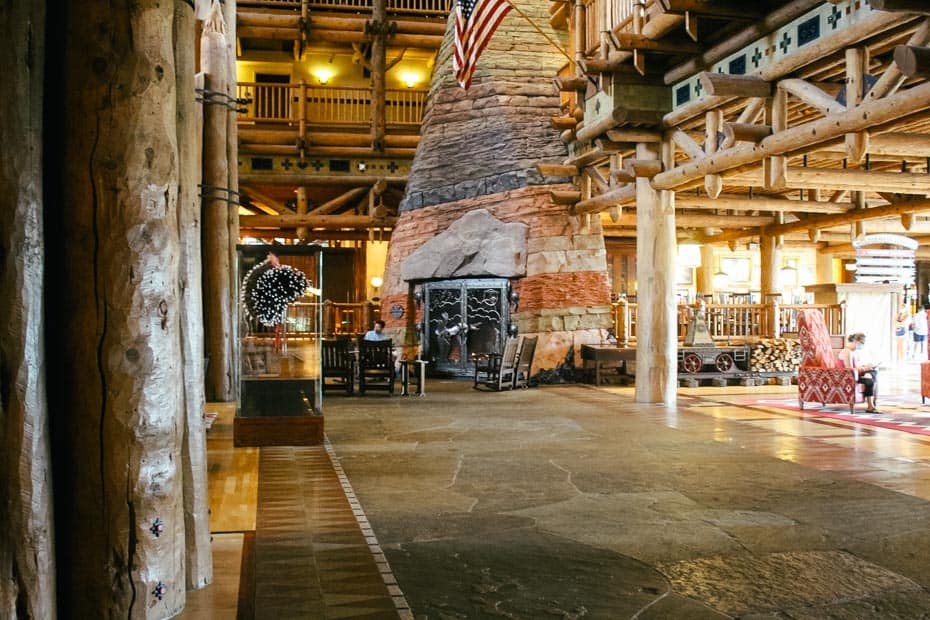 If you've visited the resort before reading this review, I can only imagine the goofy smile on your face right now. You know it's true. Every deluxe resort at Disney provides some sort of transitional feeling upon arrival. But the Wilderness Lodge mesmerizes guests differently.
Maybe it's the sheer starkness of the atmosphere combined with a little Disney magic? Whatever it is, you'll know it as soon as you step foot inside. The only comparable resort I've encountered is Disney's Animal Kingdom Lodge (review), and I think most will agree.
Now that you've gotten an idea of the appeal let's look at the Wilderness Lodge's lobby details that help perpetuate this feeling. Inside you'll encounter an open seven-story lobby with balconies and viewing galleries on most of the floors.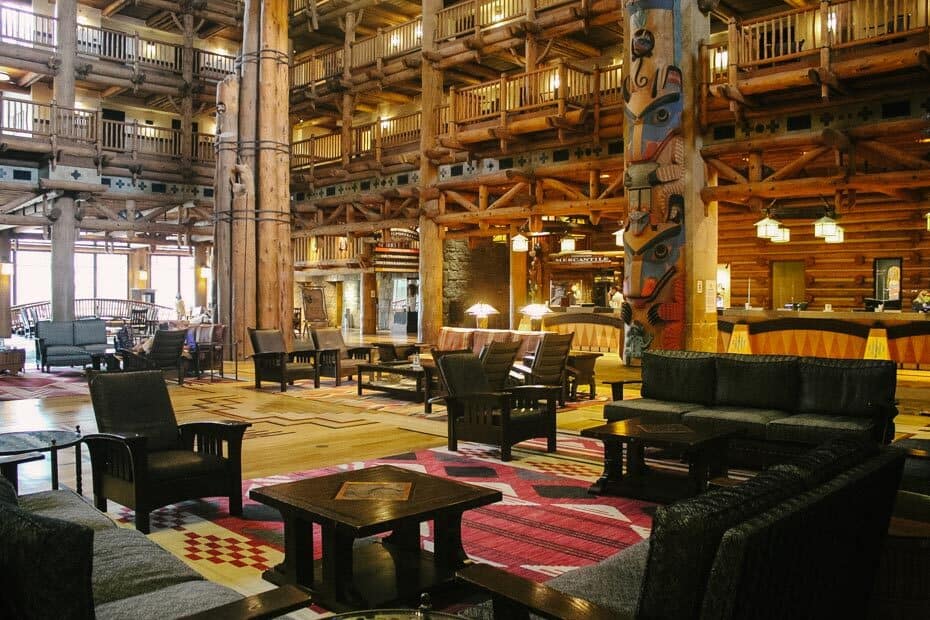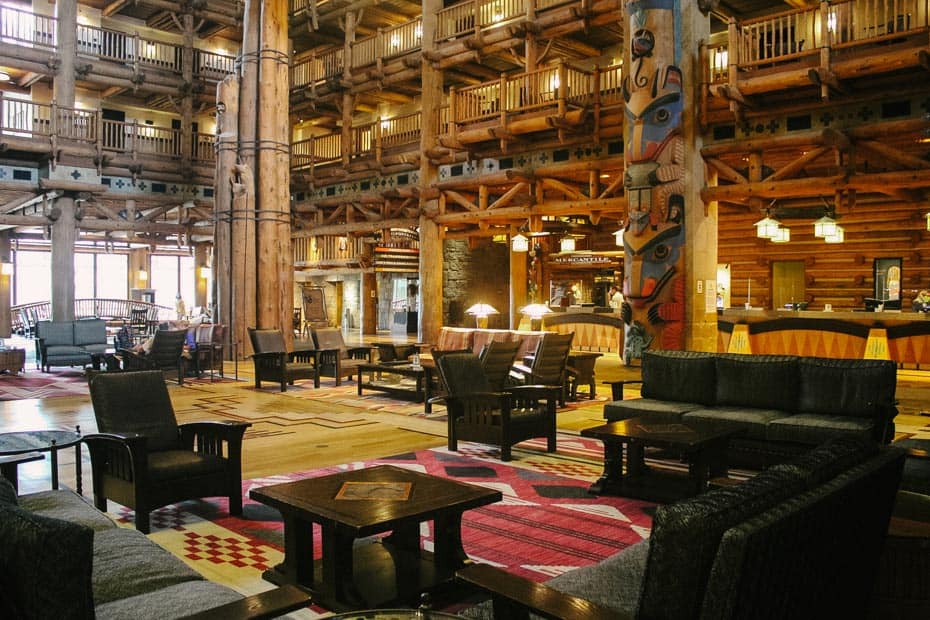 An 82-foot fireplace sits in the far corner. The stone is designed to look like rock formations from the Grand Canyon.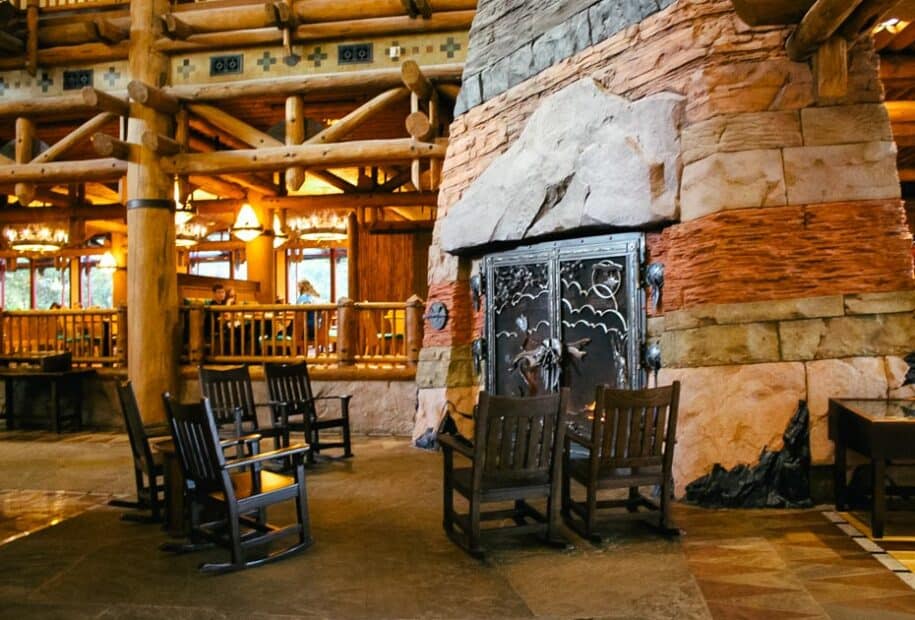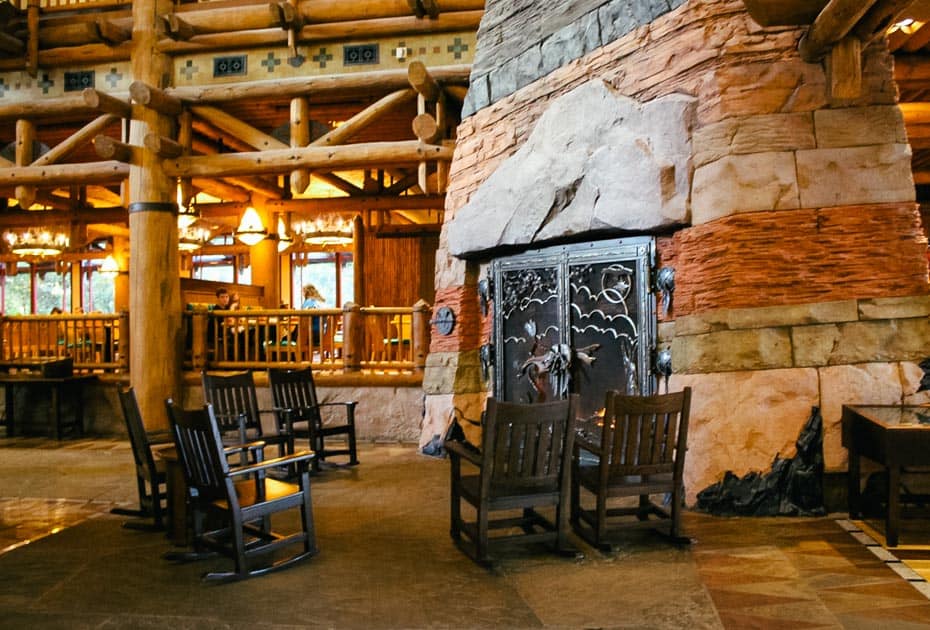 Several totem poles decorate the space providing all the artwork such a large area could ever need.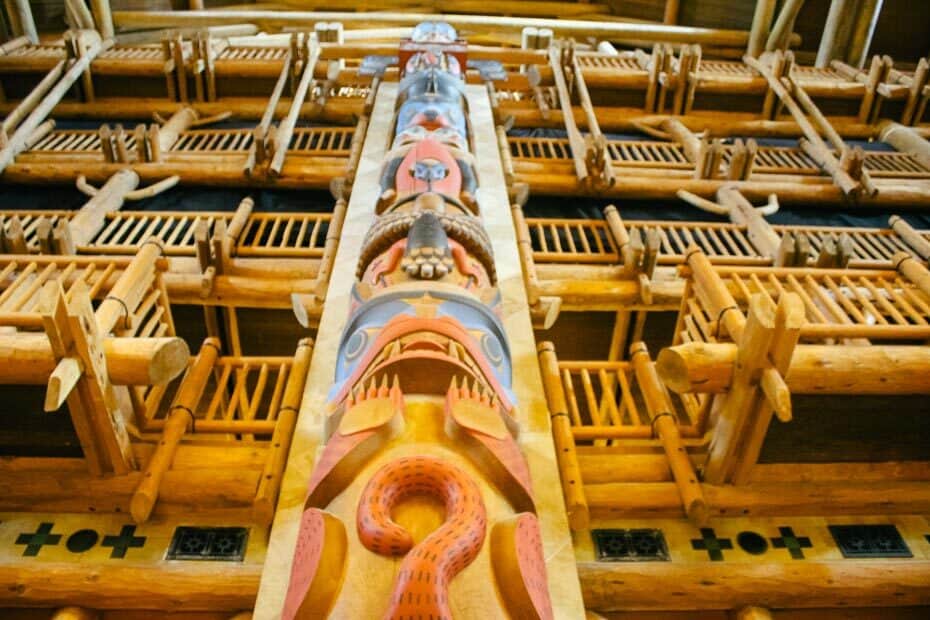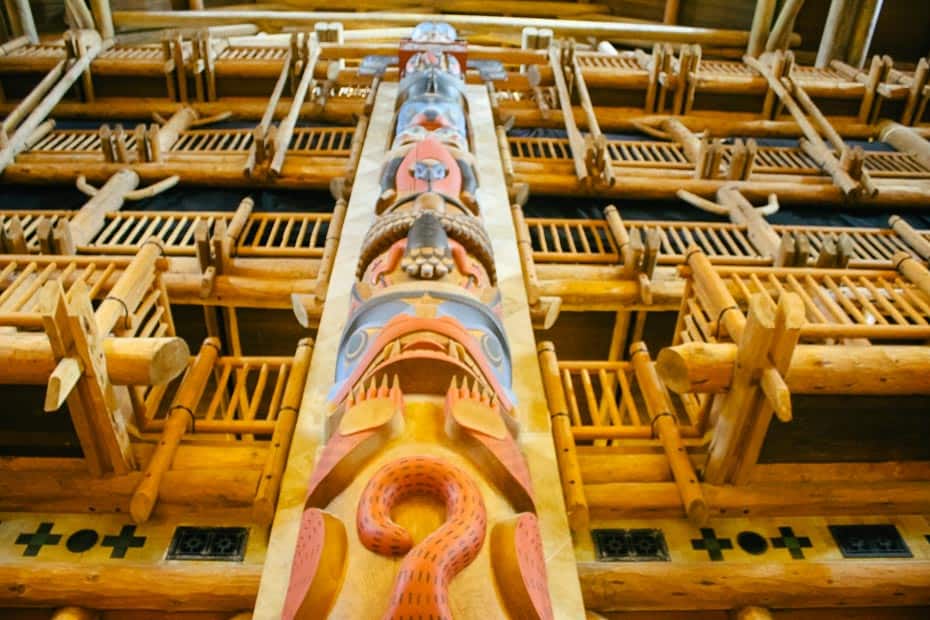 Make sure to notice the wood carvings and details. They are all very intricate.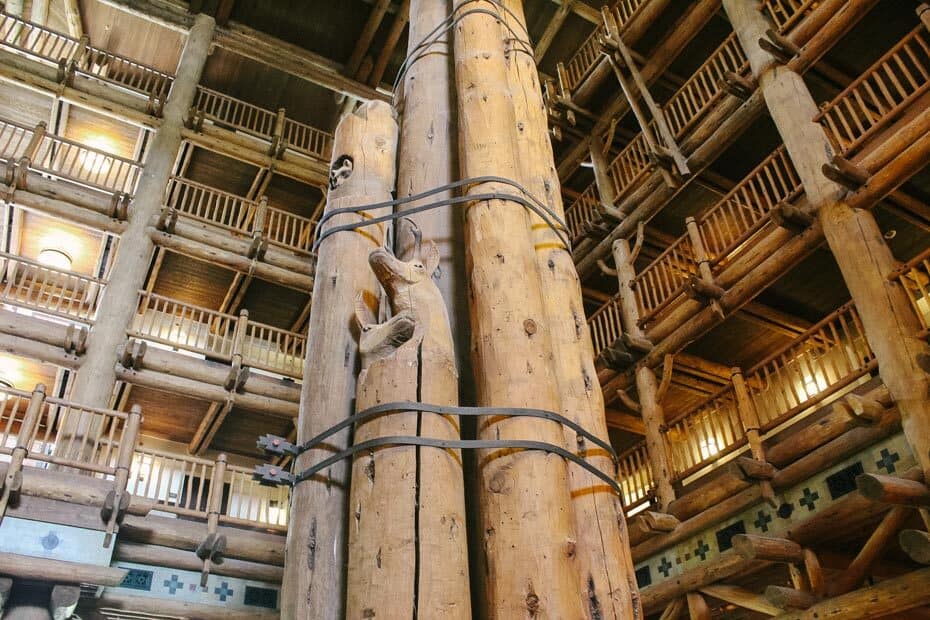 Usually, a couple of traditional Native American headdress are on display.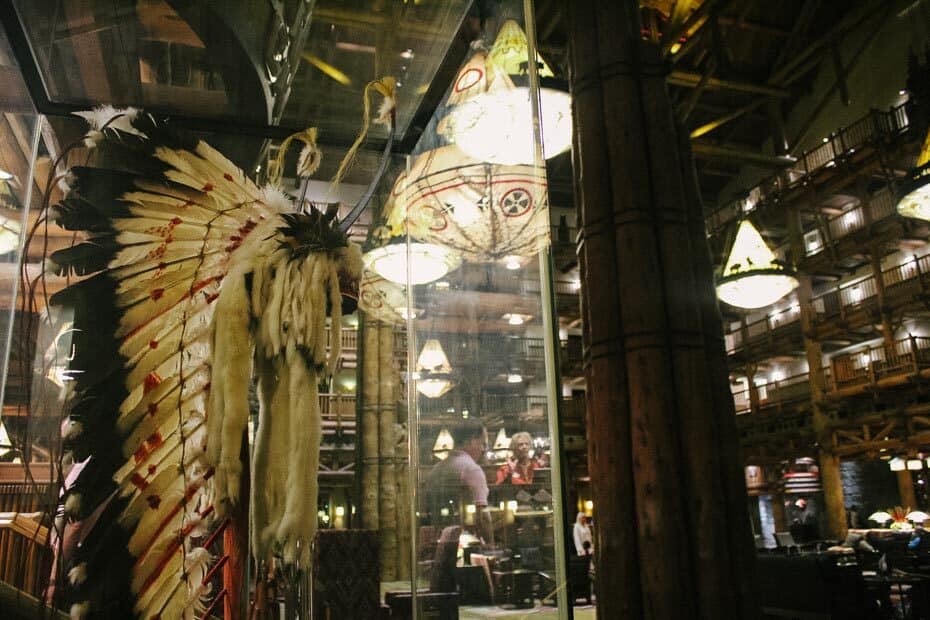 They are, at the very least, interesting to see.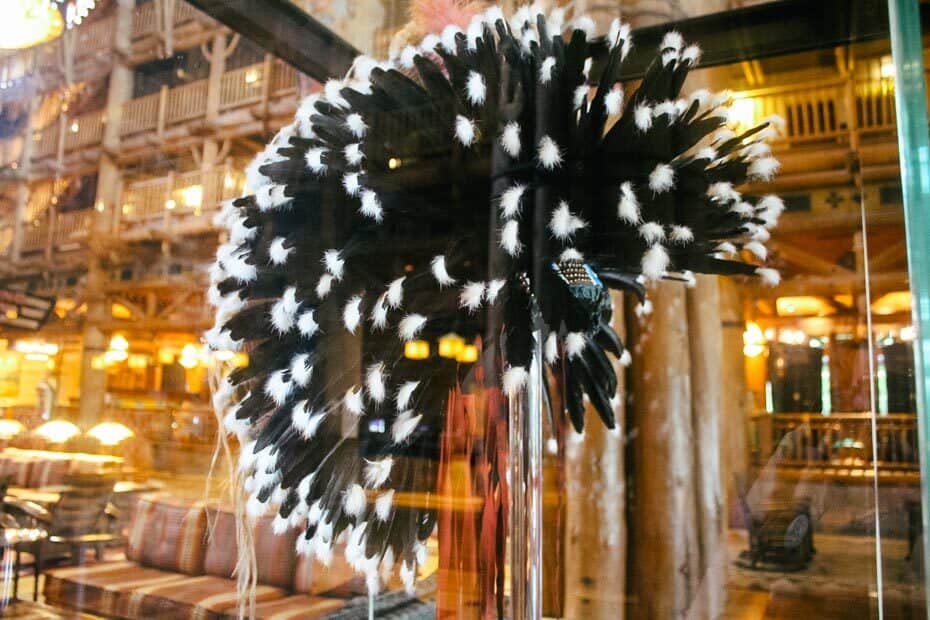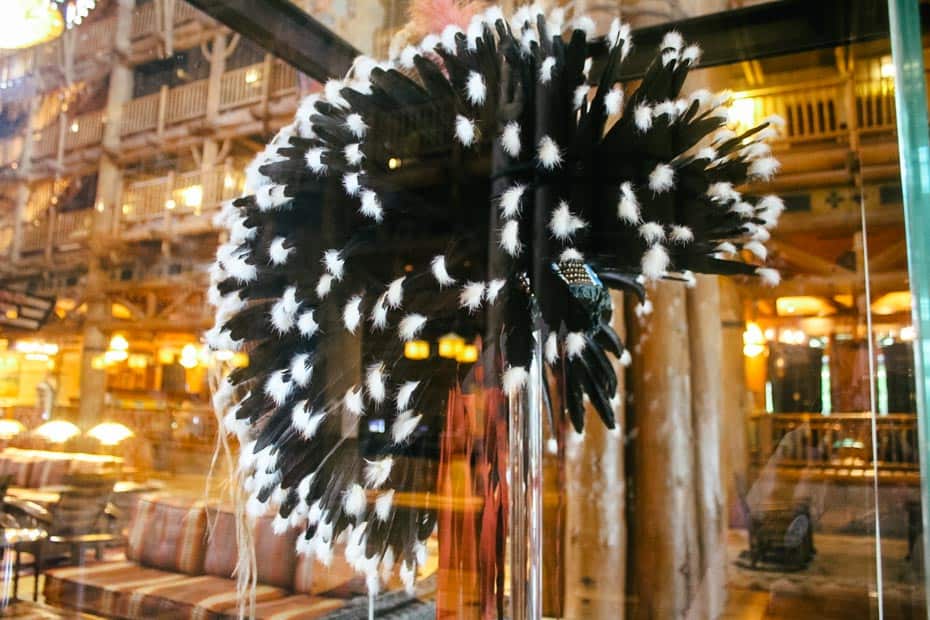 However, most will enjoy learning more about the pieces. Thankfully, informational plaques are provided.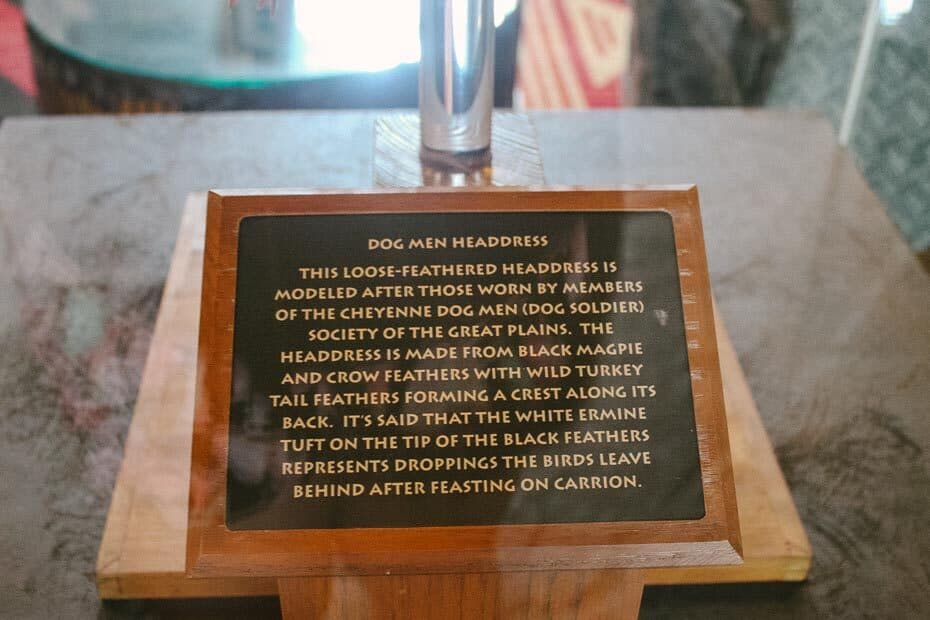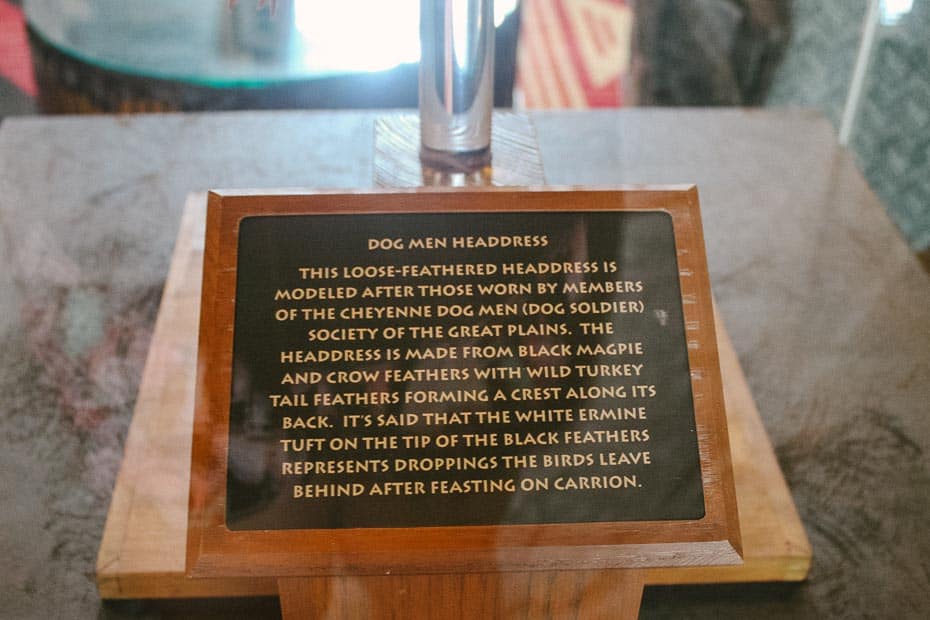 A shadow box of moccasins are a nice edition to the different educational exhibits. Additionally, you'l find a few other pieces on display from time to time.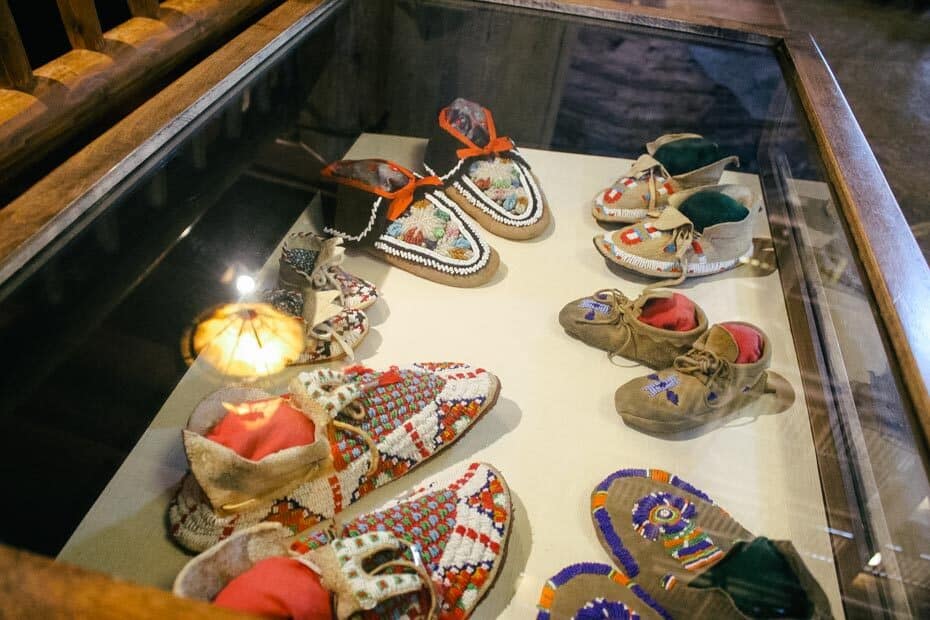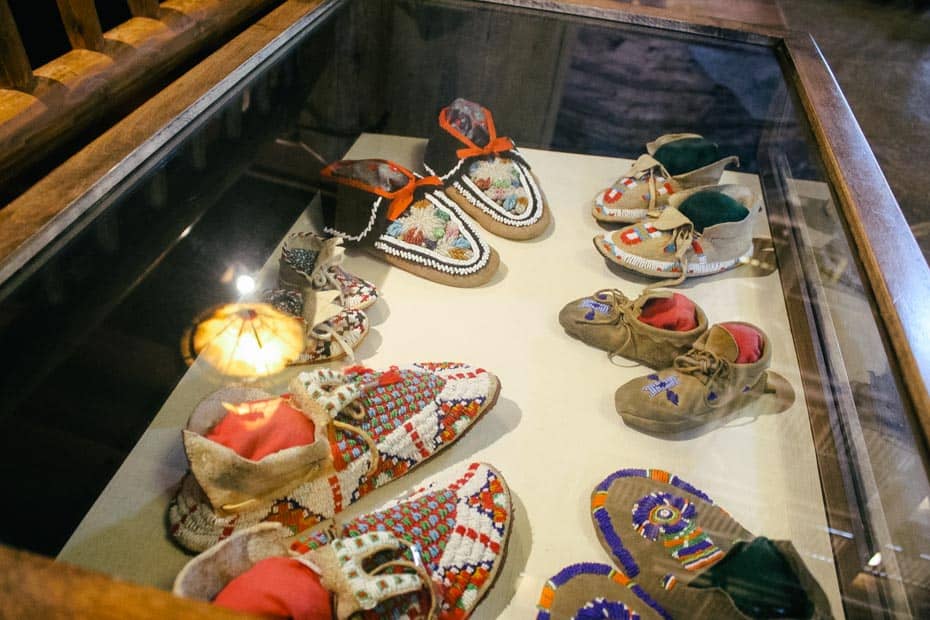 The lobby tends to be a space that invites guests to linger. It's one of those hotels where you probably won't want to spend much time in your room. Don't get me wrong, the rooms are nice. It's just that the resort is so peaceful.
The lobby offers a variety of seating areas. It's a wonderful place to meet up with family or friends during your travels.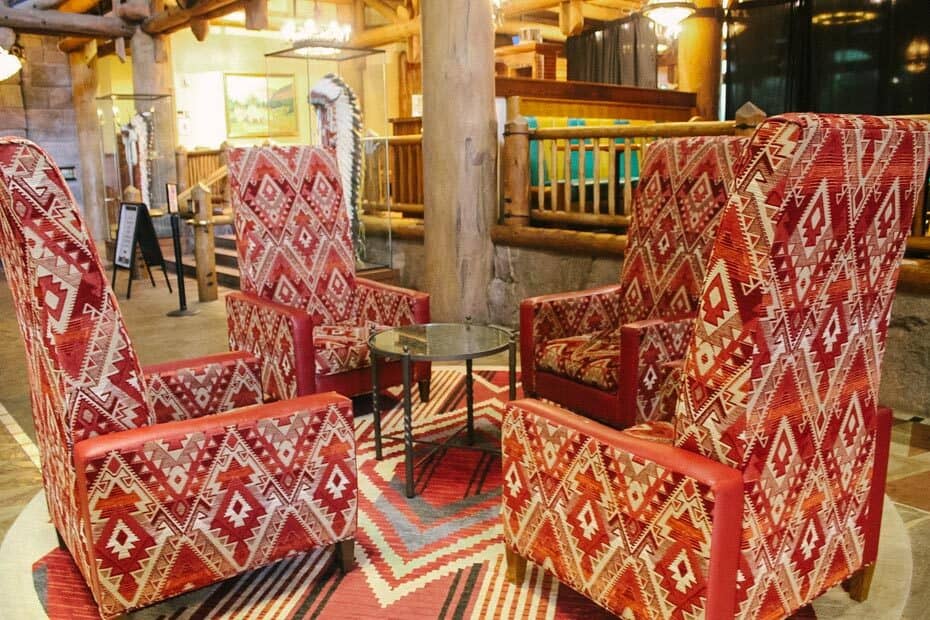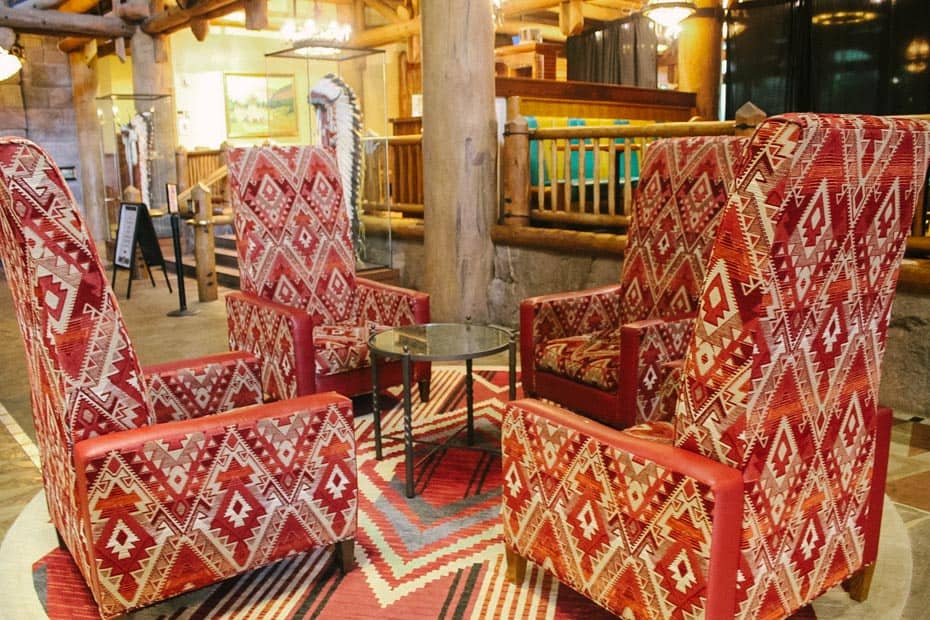 In addition to the main fireplace, several upper floors have sitting areas that overlook the lobby. This private space with a sofa, chair, and fireplace is one of my favorites. Anyone staying here or visiting the resort is welcome to enjoy these areas.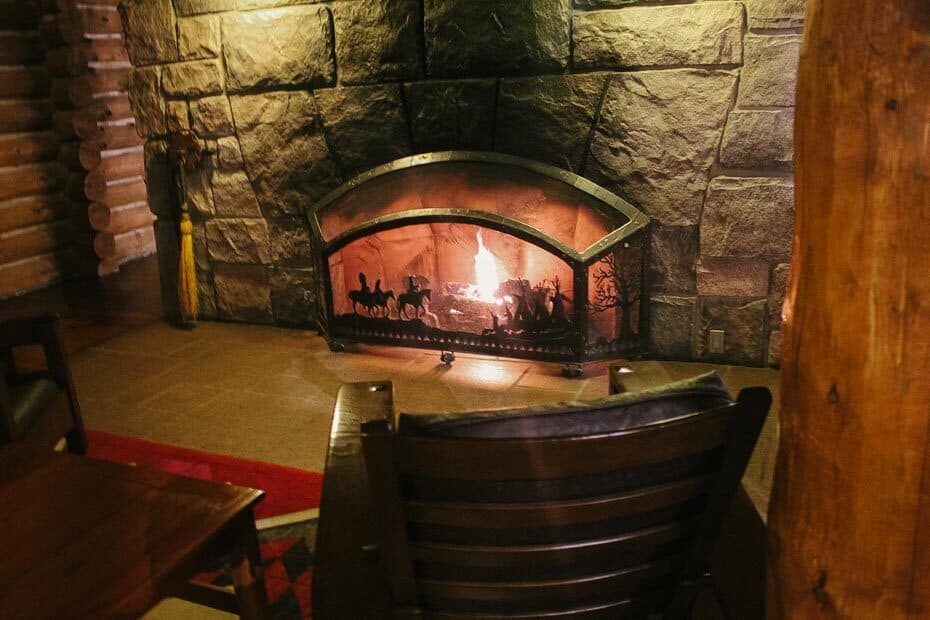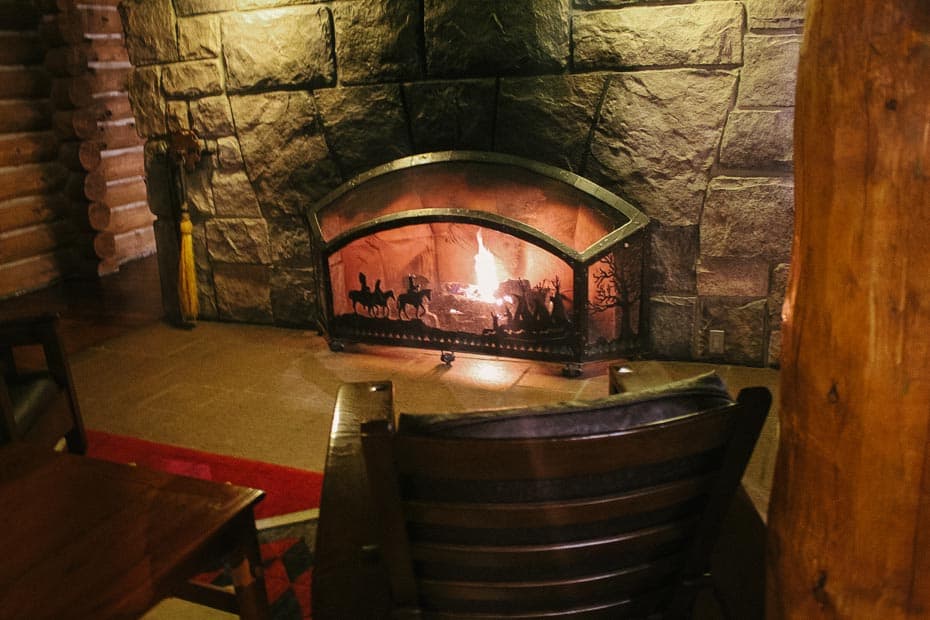 If you visit during Christmas, a trip over to the Lodge is a must-do to see the great tree and decorations. I have a full review of the Wilderness Lodge at Christmastime here.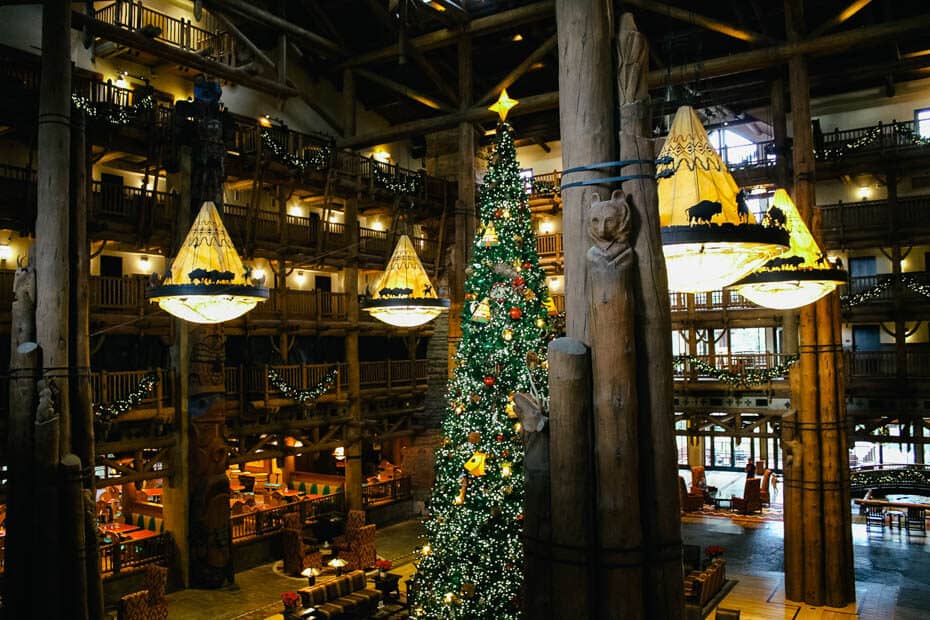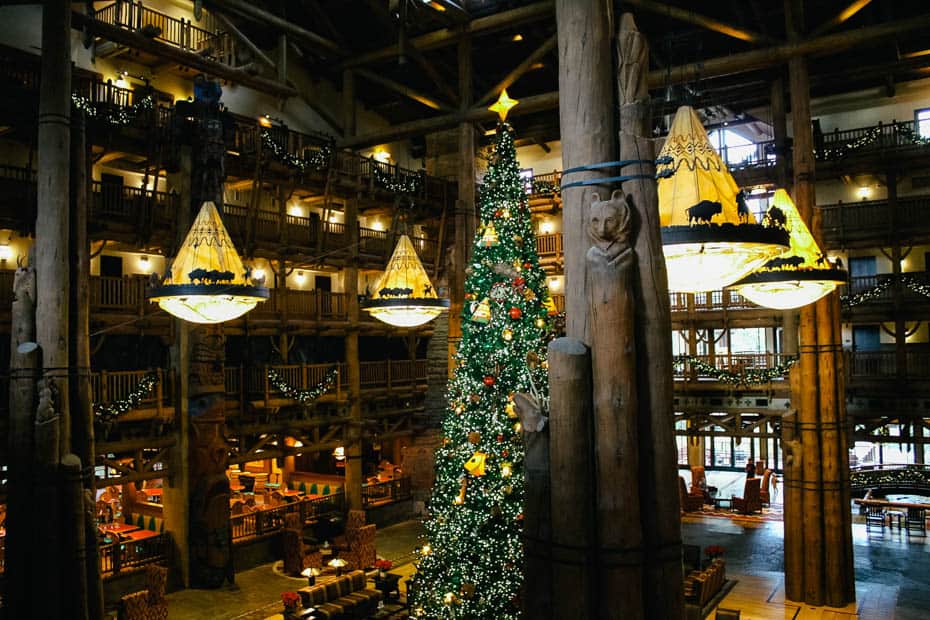 Back down in the main lobby is where you'll find the starting point of Copper Creek Springs. Yes, there is a spring inside the lobby with a bridge over it. Your children will want to cross it at least 1000 times over the course of your vacation.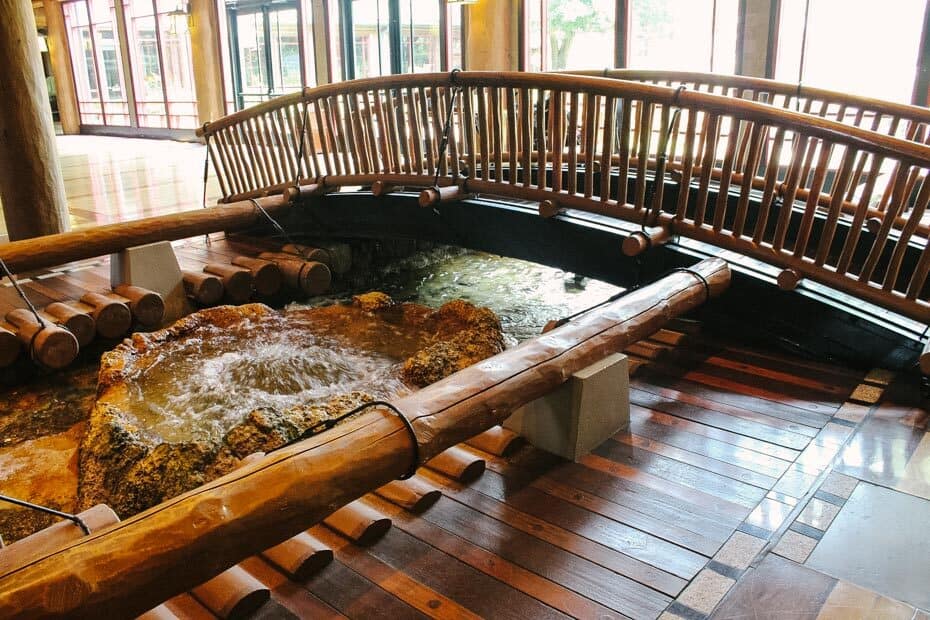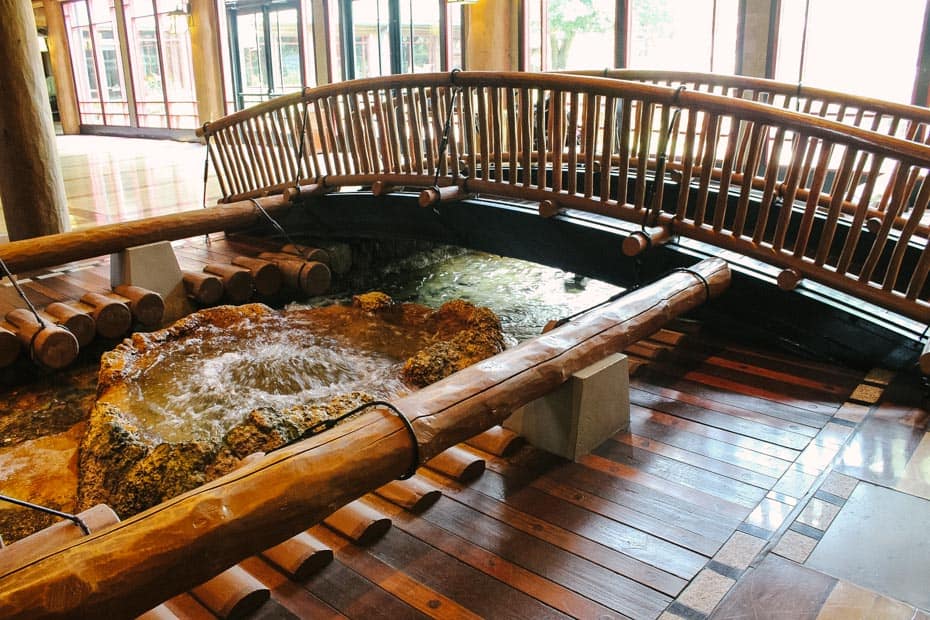 Recreation
As we follow the creek's path, we end up outside in the resort's scenic backyard. You can kind of see below where it begins inside the lobby and flows to the exterior.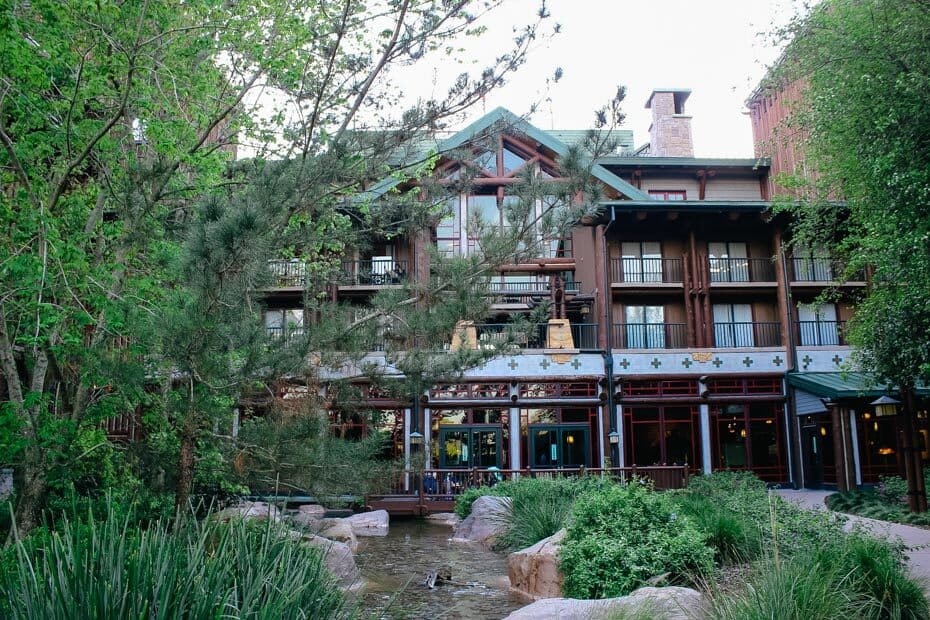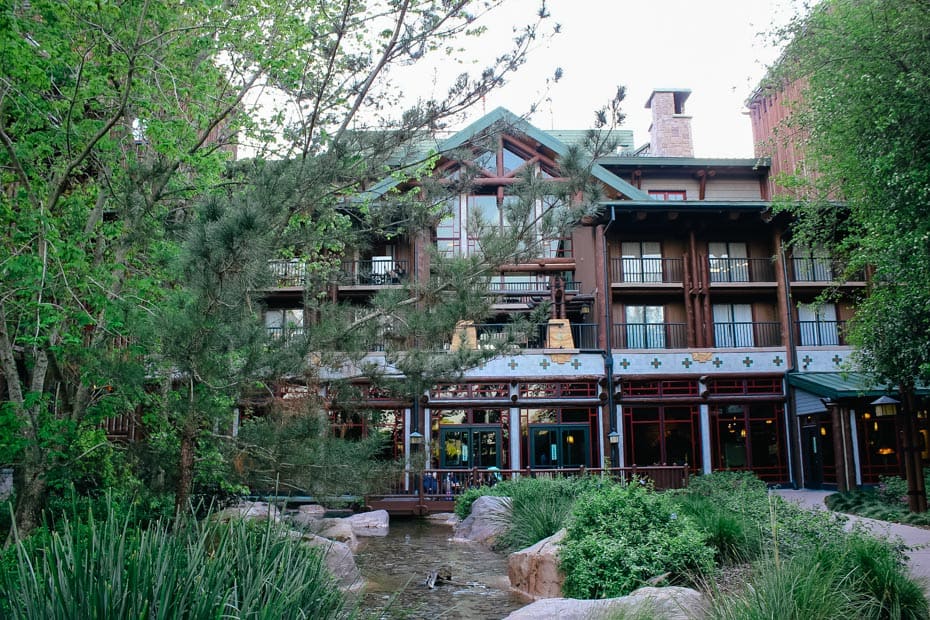 There is a cave to walk through that runs adjacent to the spring.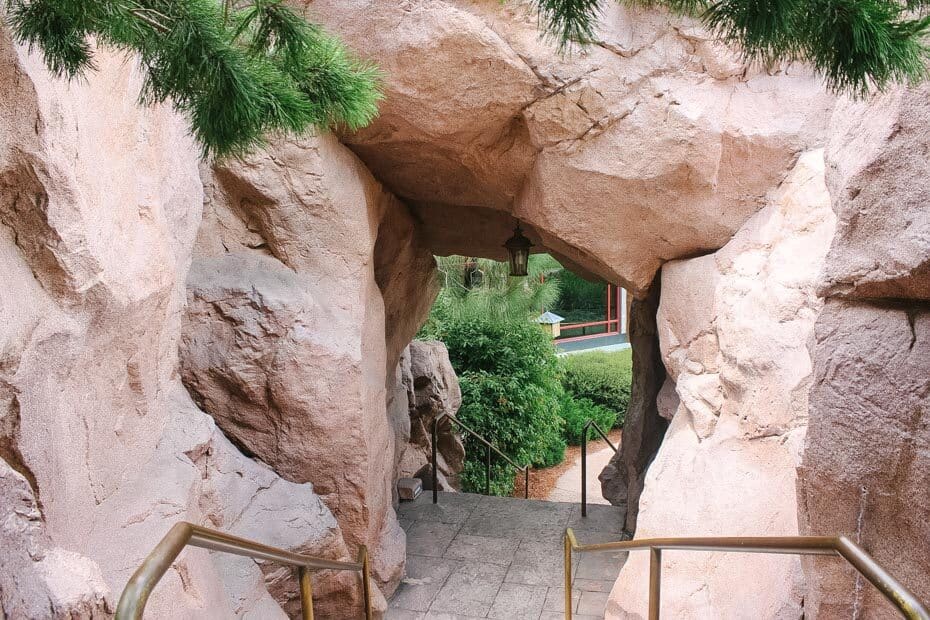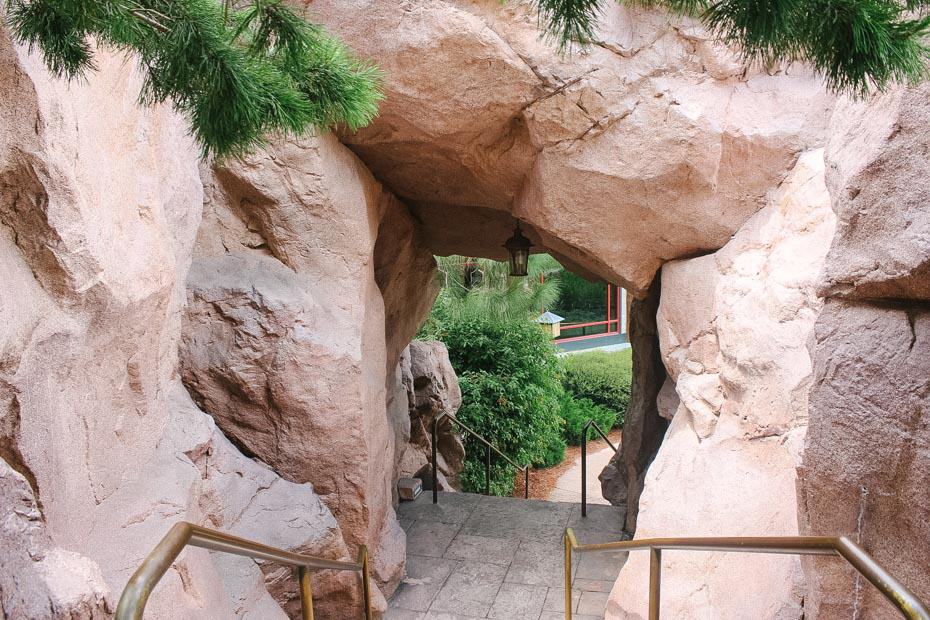 Additionally, an overlook in the area provides views of Copper Creek Falls and the surrounding areas.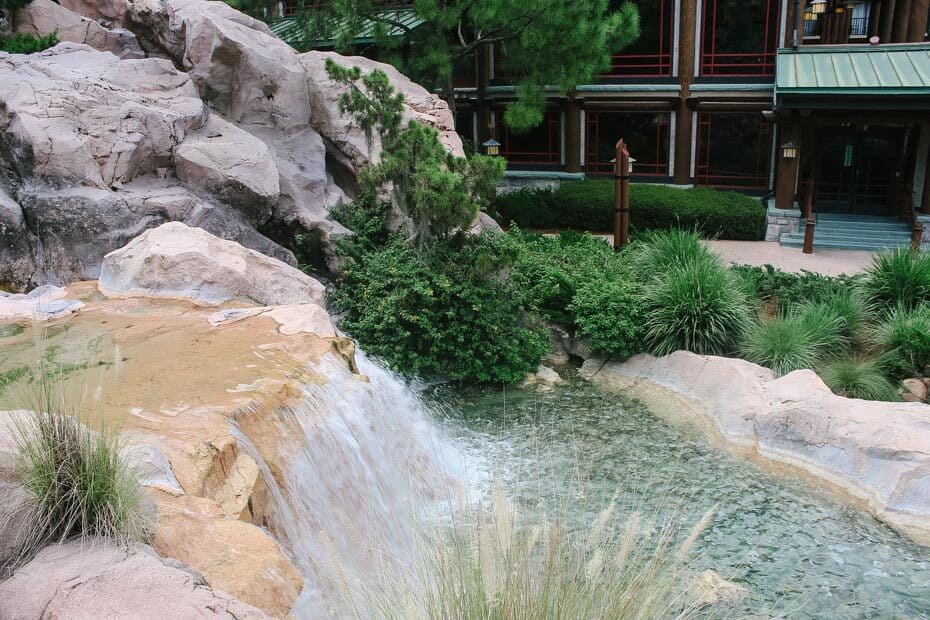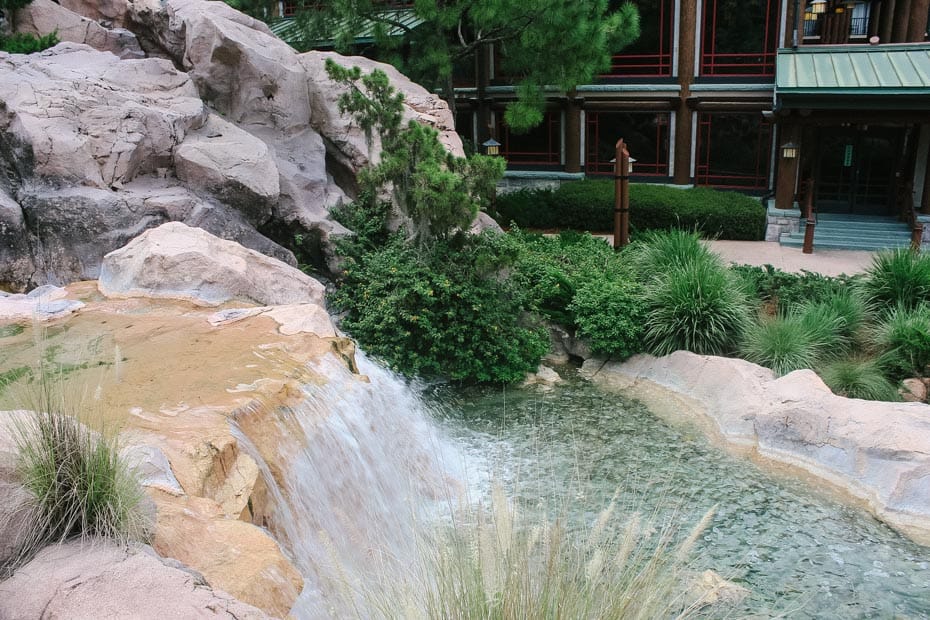 As we make our way down and around, another bridge crosses over the Falls. That door in the distance is the outdoor entrance to the Copper Creek Villas. If you are heading back from the Magic Kingdom boat or pool, you can cut through here without having to traipse through the lobby.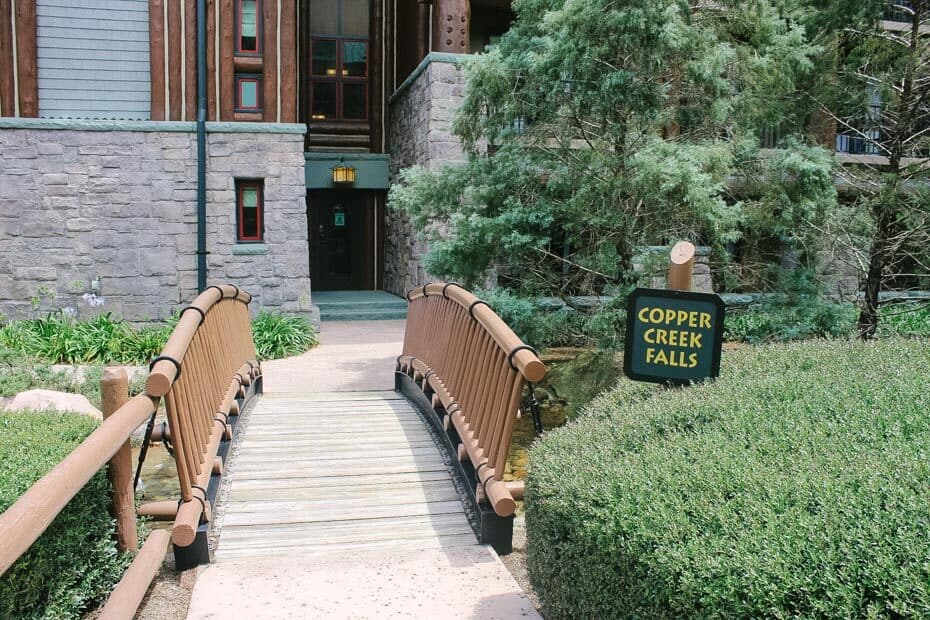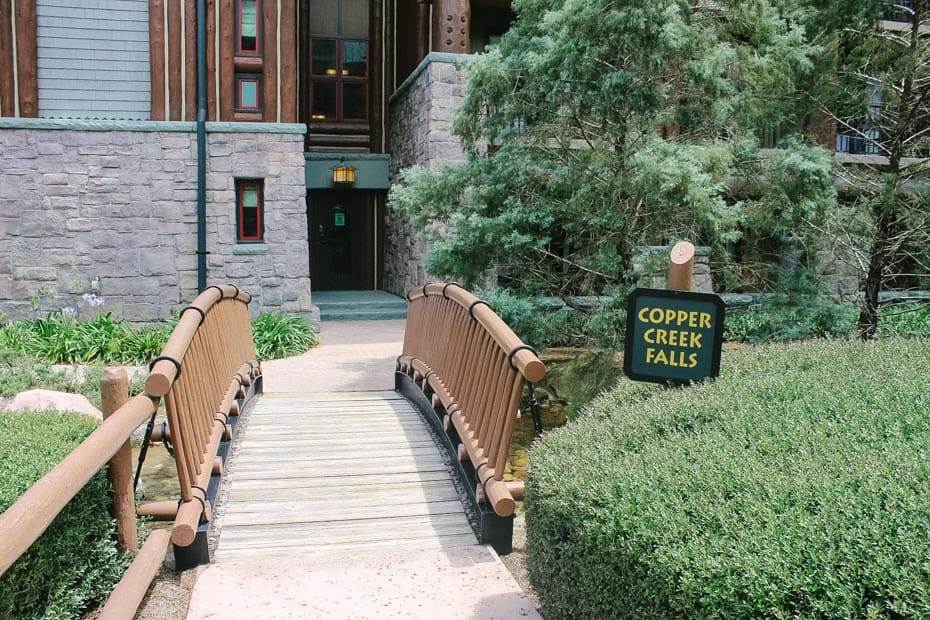 Here is that ever popular photo of the Wilderness Lodge from the base of Copper Creek Falls.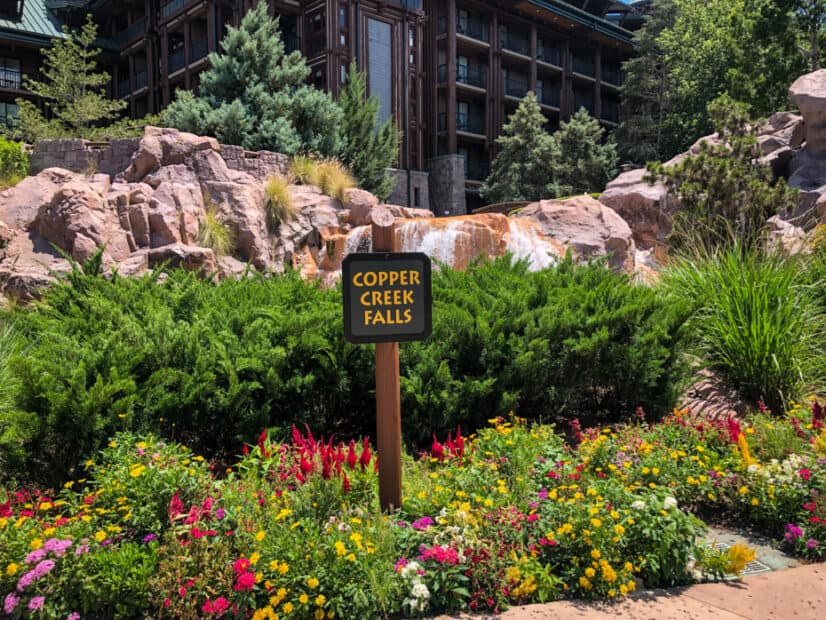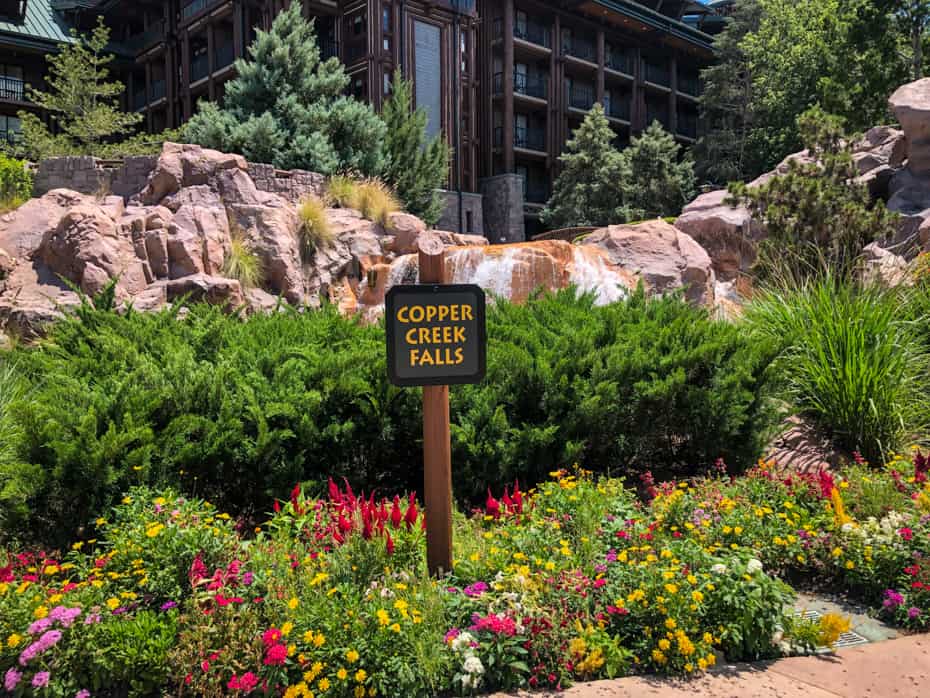 Directly behind the waterfall, sits the resorts feature pool.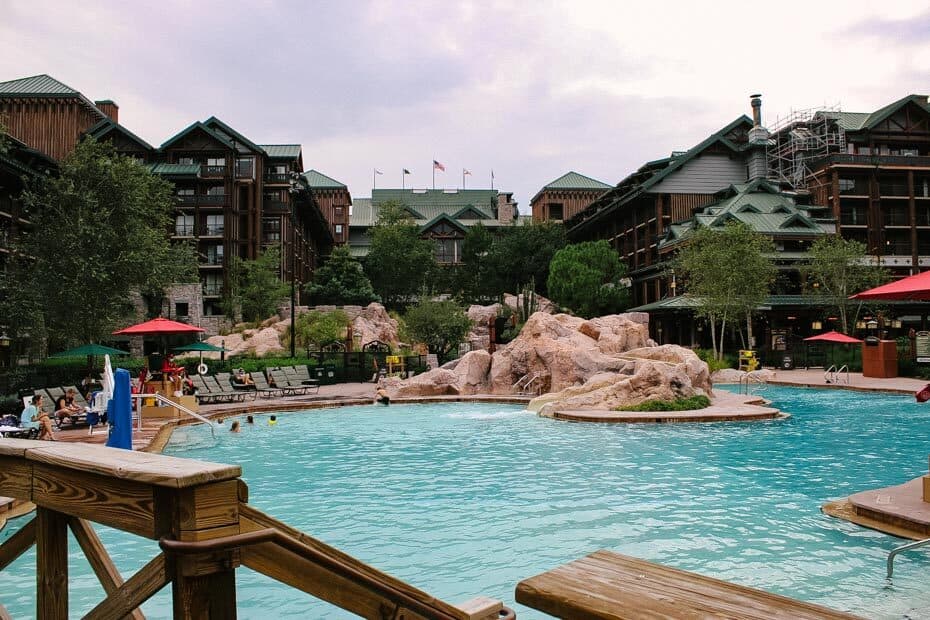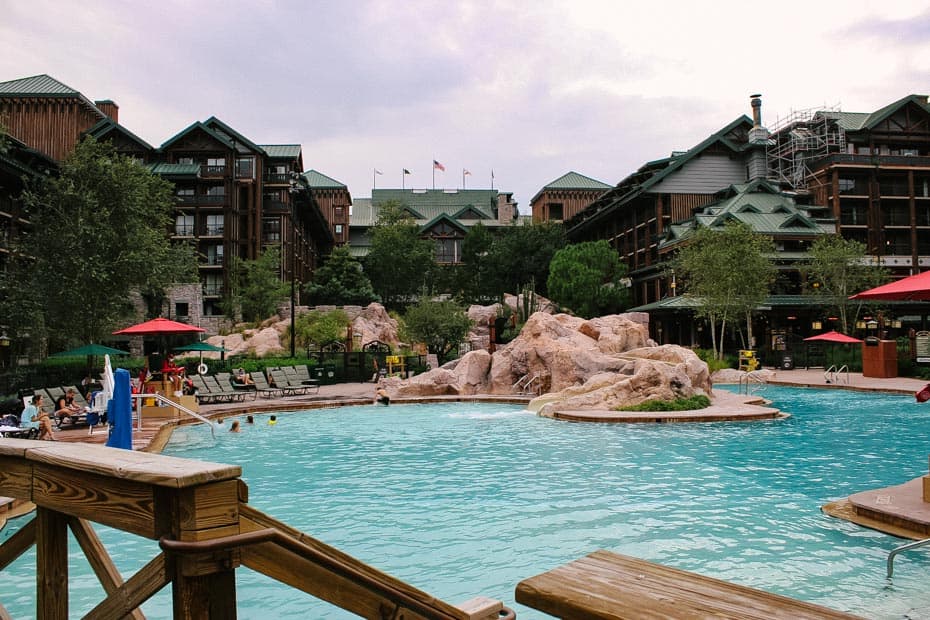 The pool has a 67 foot-long waterslide toward the center.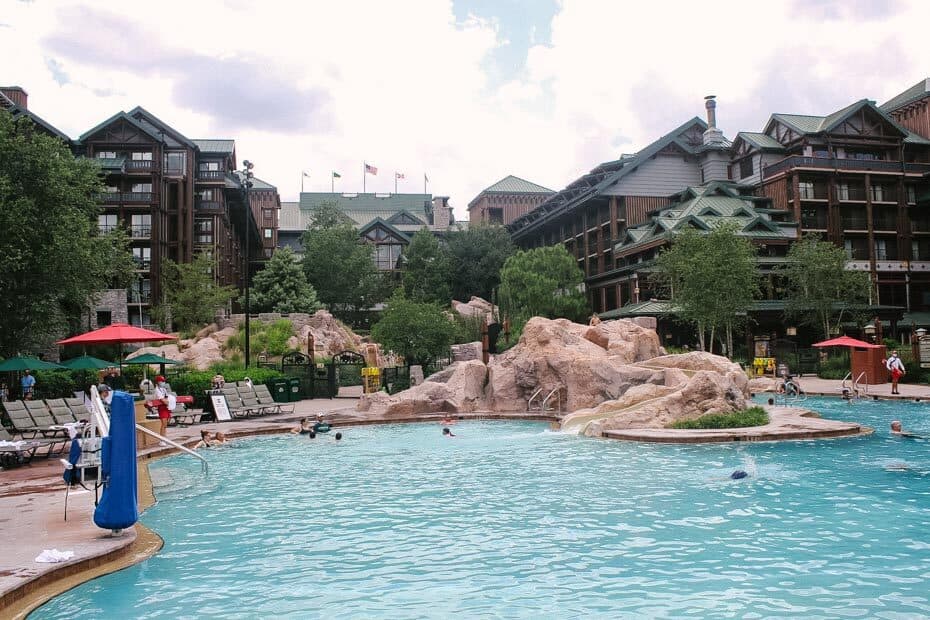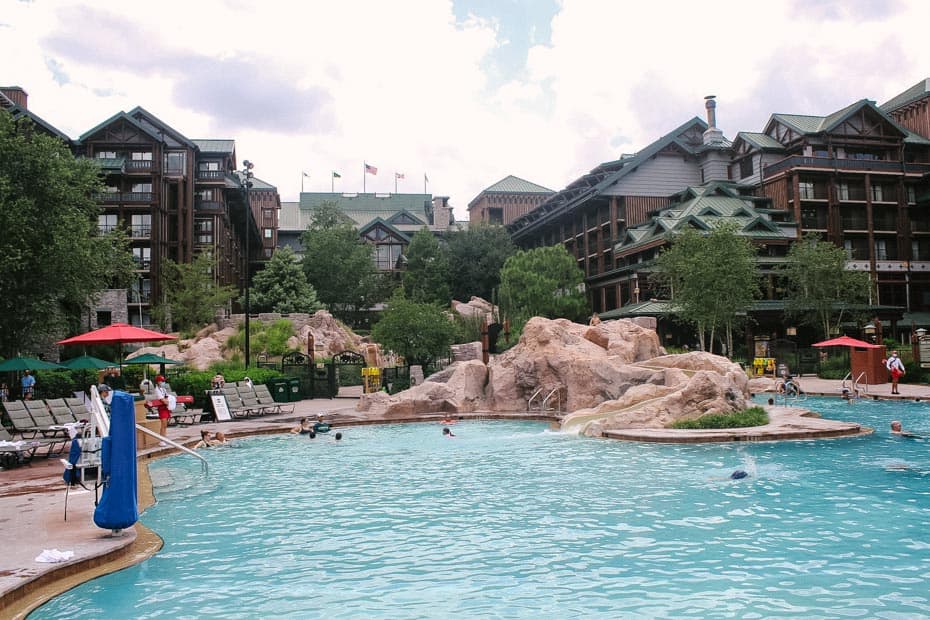 And a water play area for smaller children sits on the opposite side. These splash play areas are a nice option and seem to provide more fun than a kiddie pool.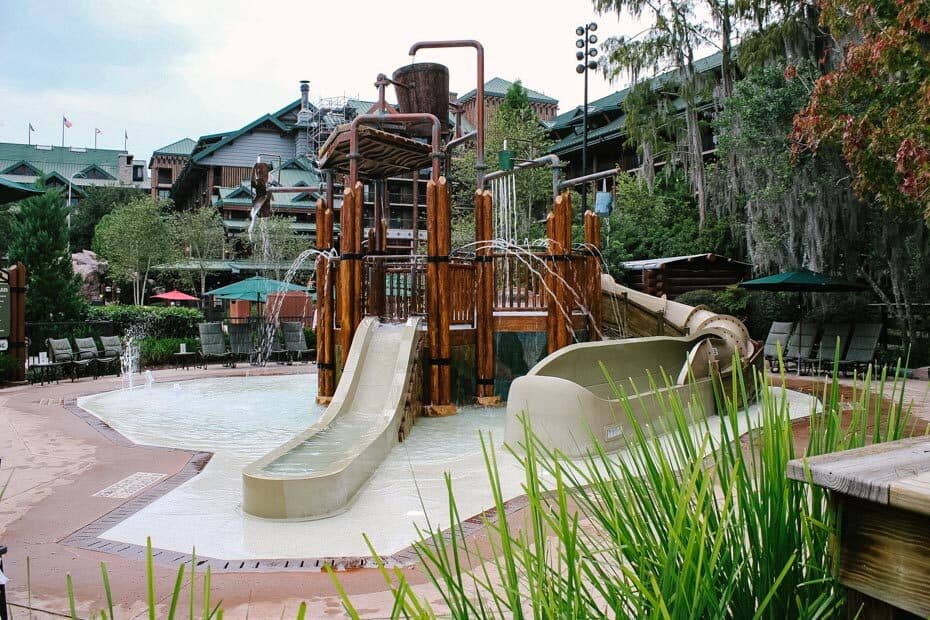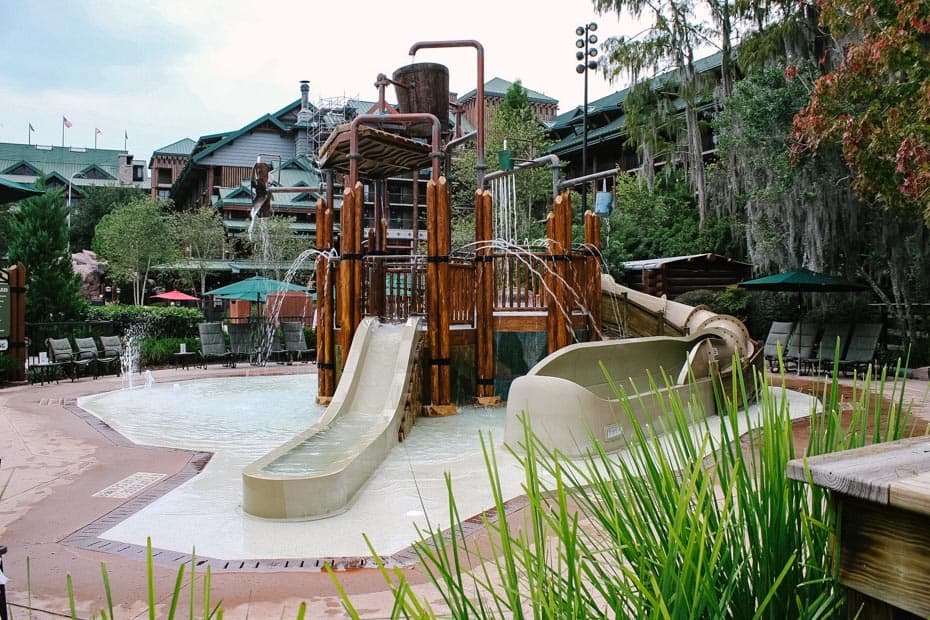 A hot tub sits to the immediate left of the splash area.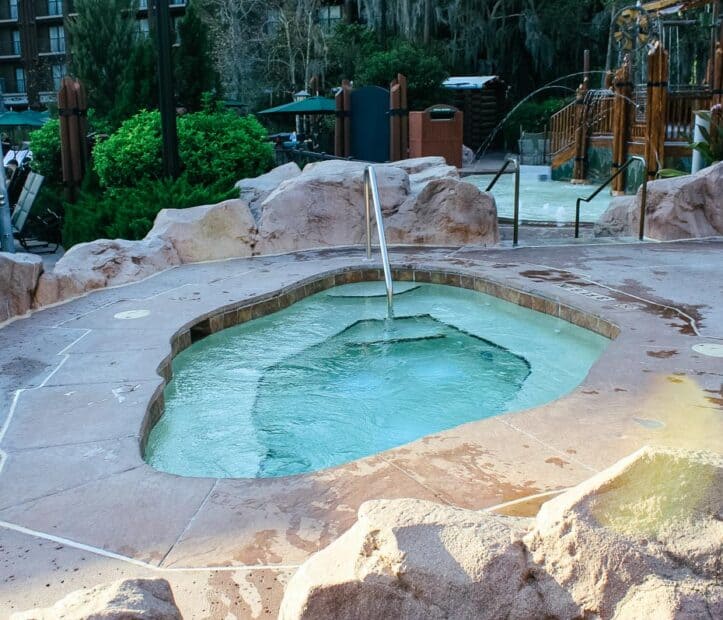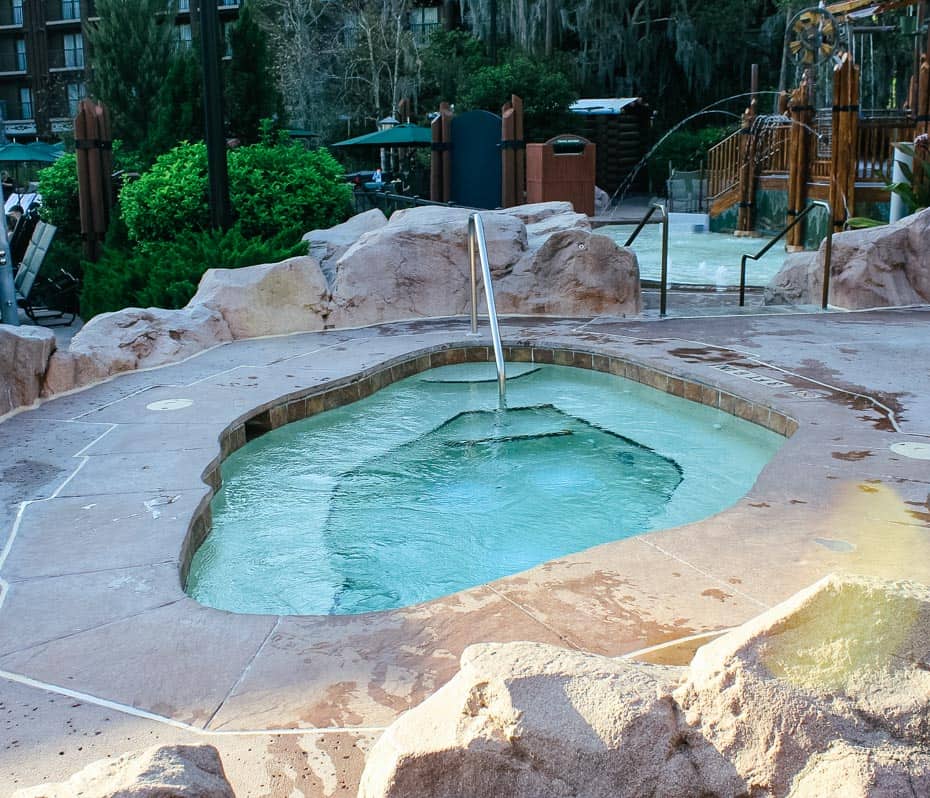 Between the feature pool and Bay Lake, there's a geyser (Fire Rock) designed to look like Old Faithful.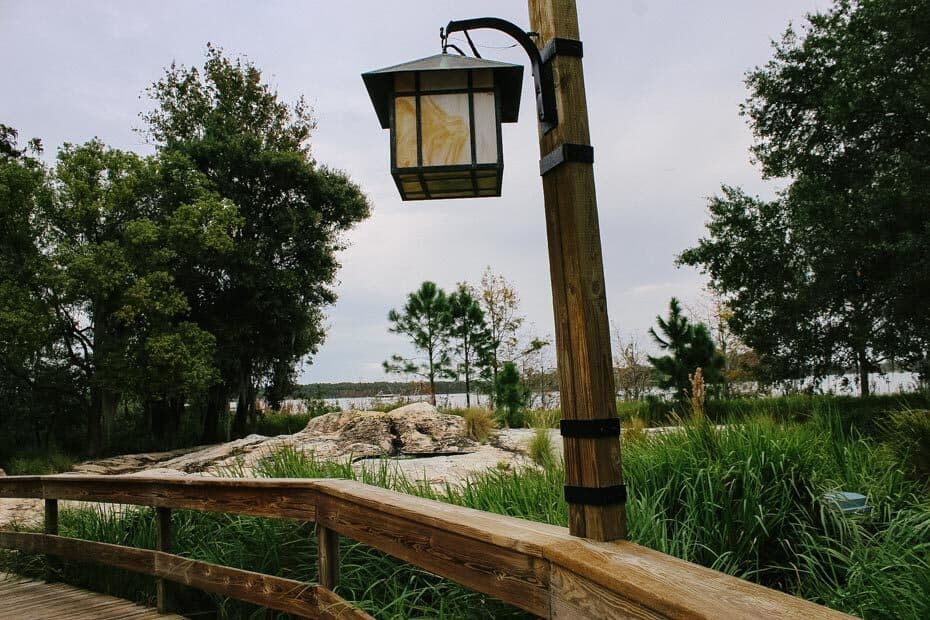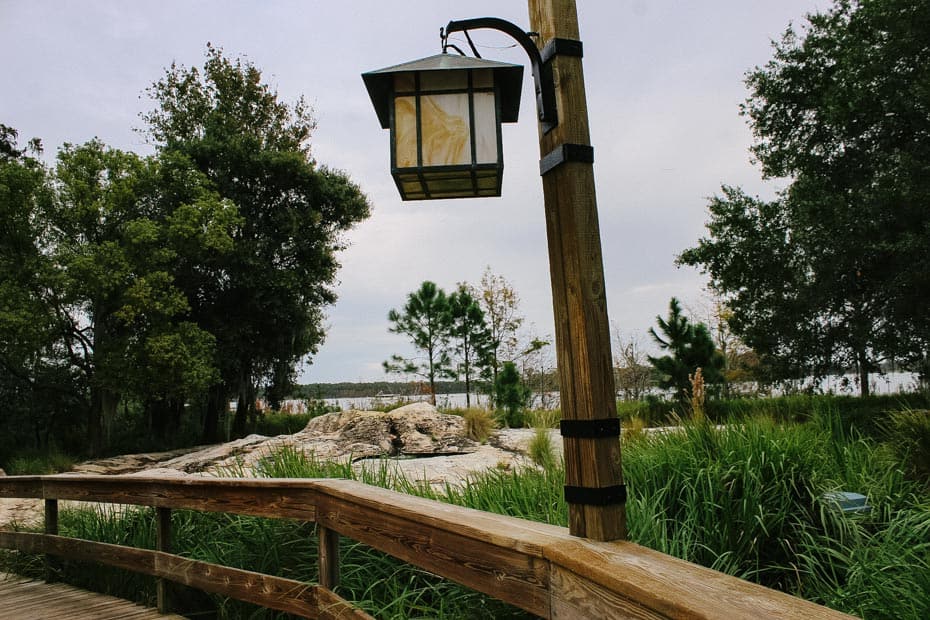 Fire Rock erupts on the top of the hour daily between 7 a.m. and 9 p.m.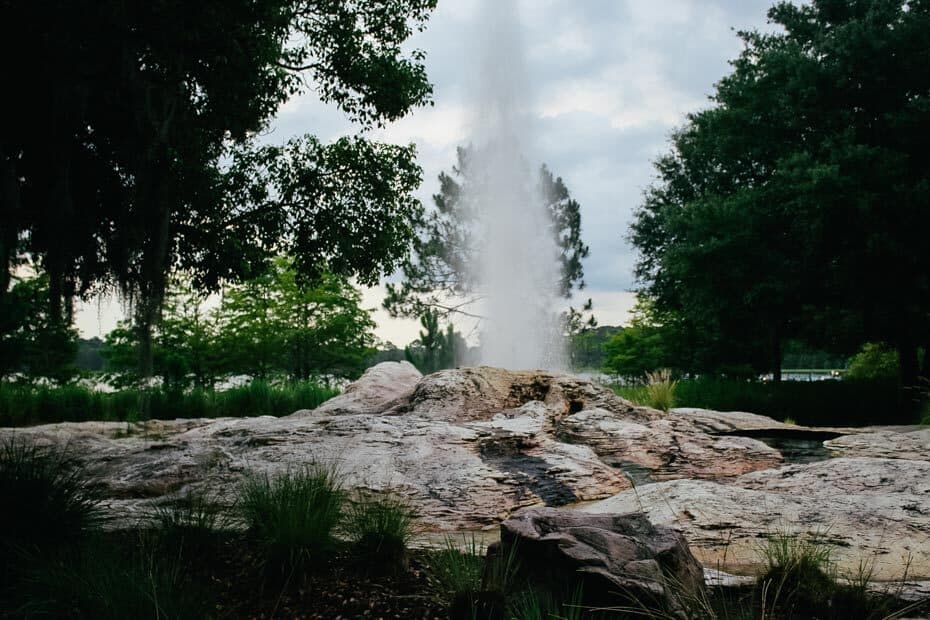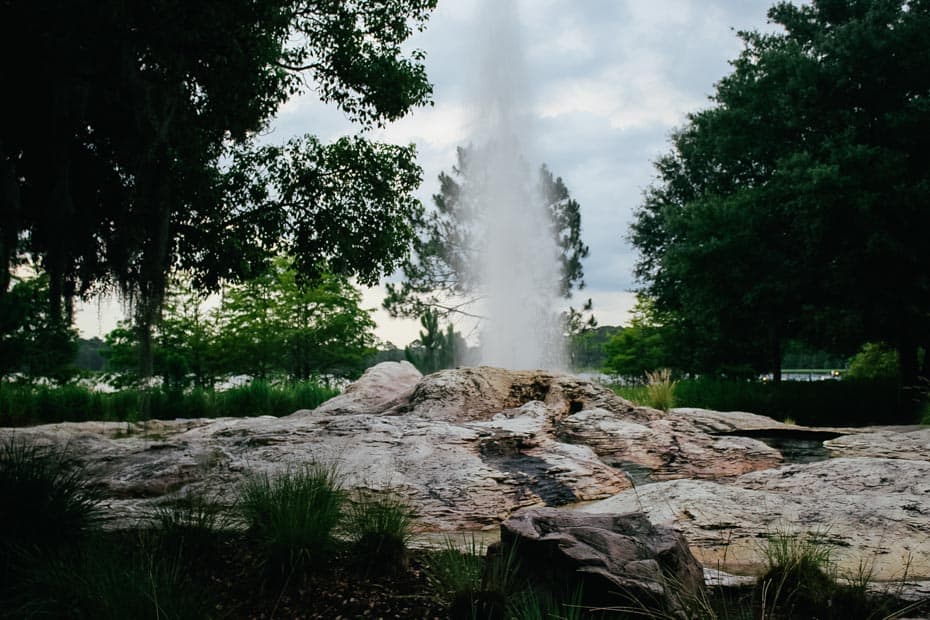 Additionally, the creek that we were following down from the resort's lobby flows through this area and eventually makes its way into Bay Lake.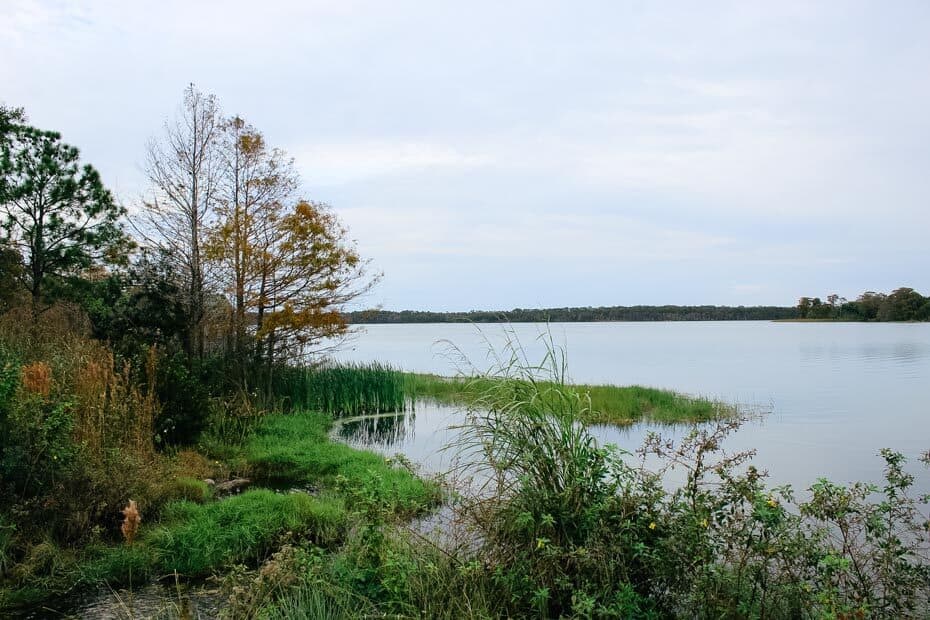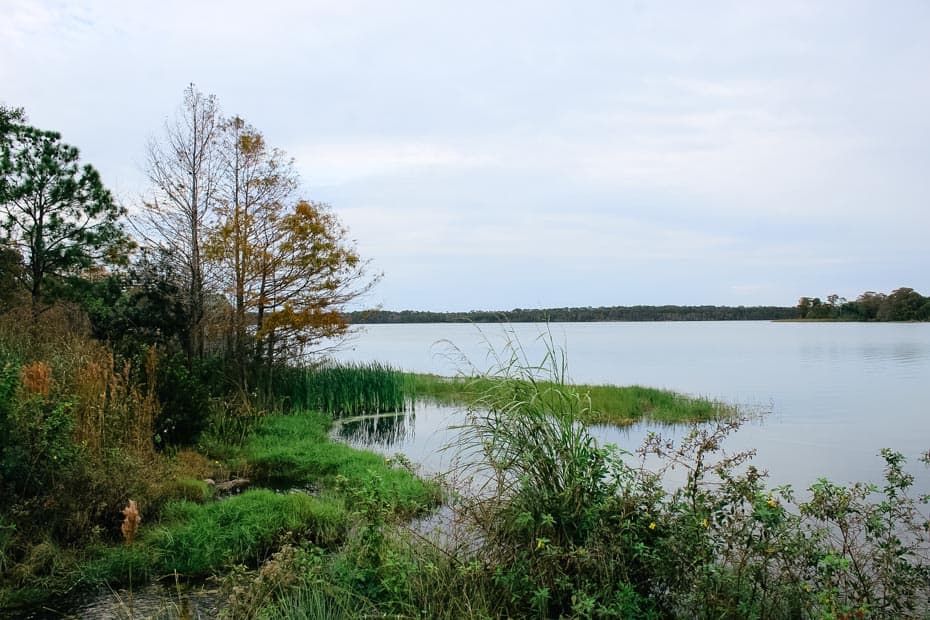 Down on the other end of the resort is the Boulder Ridge Cove Pool. This pool is a large, second feature pool that offers a zero-entry and a whirlpool spa.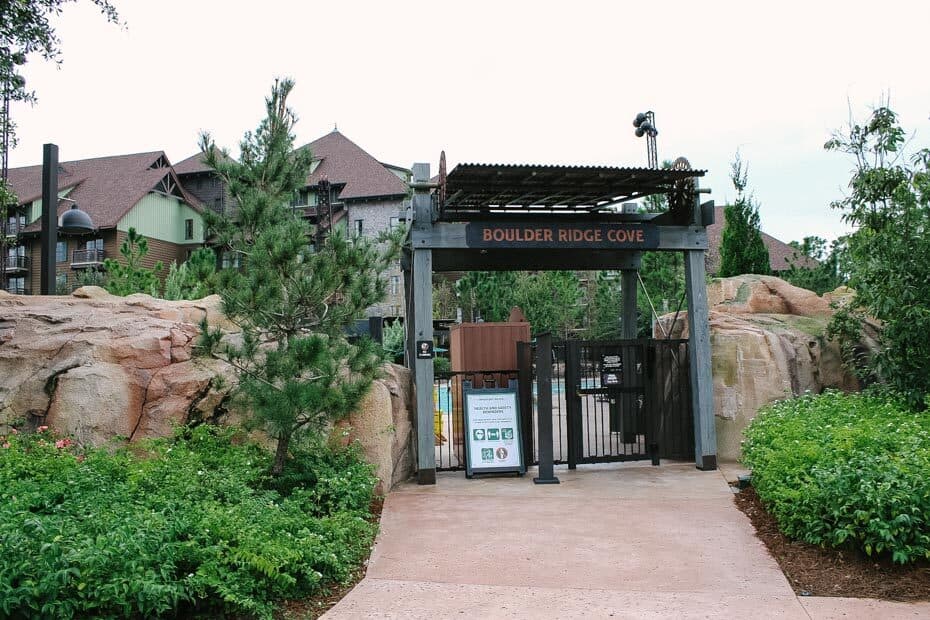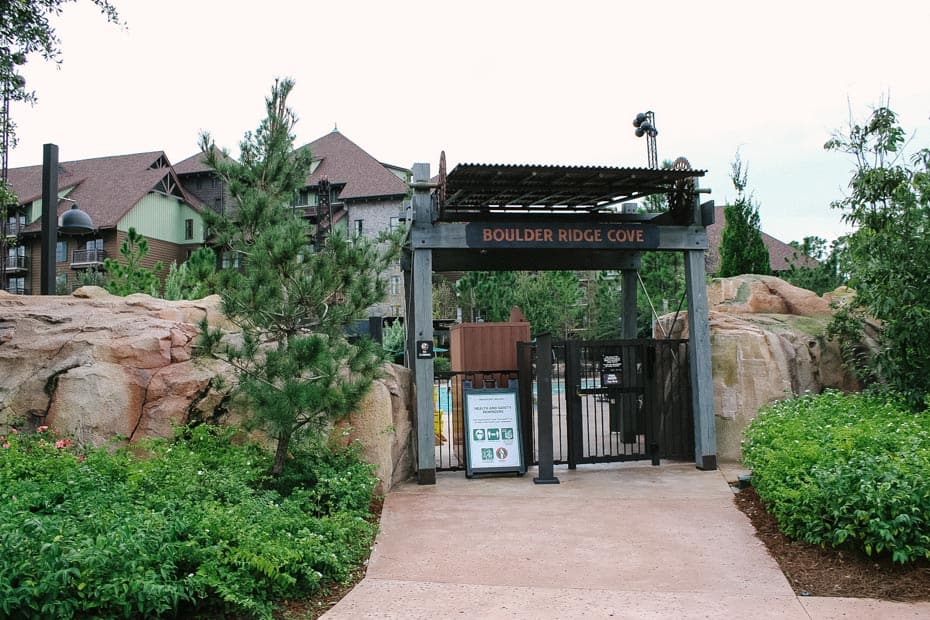 It has several nice shaded seating areas along with lounge chairs.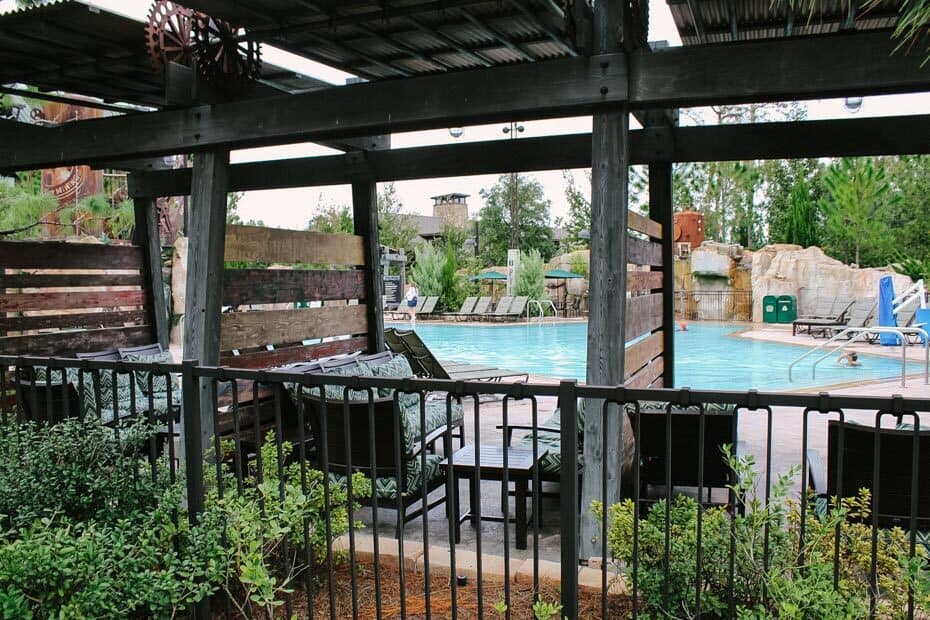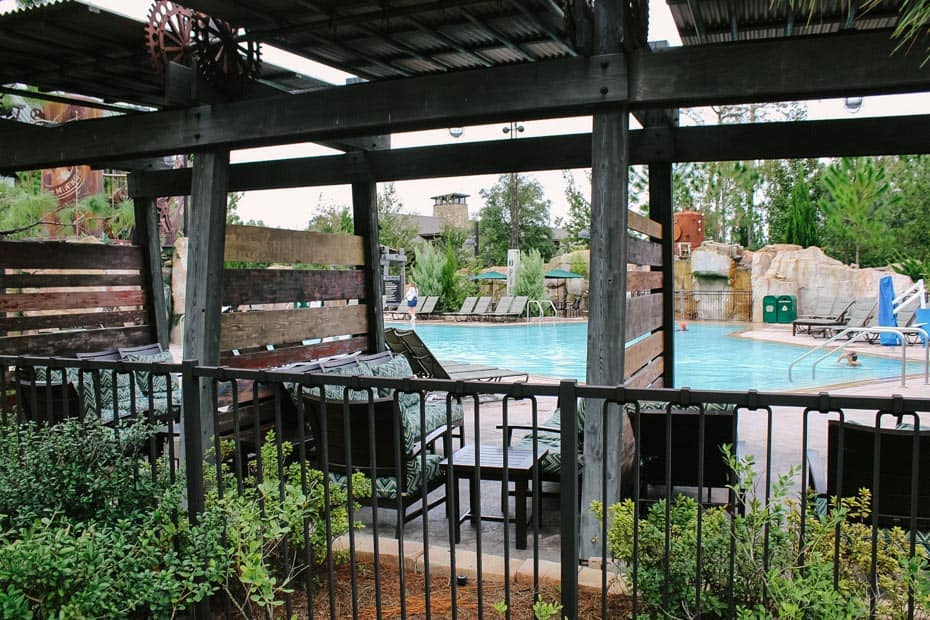 Behind the Boulder Ridge Cove pool area is the Sturdy Branches Health Club, also known as the Wilderness Lodge's gym or fitness center.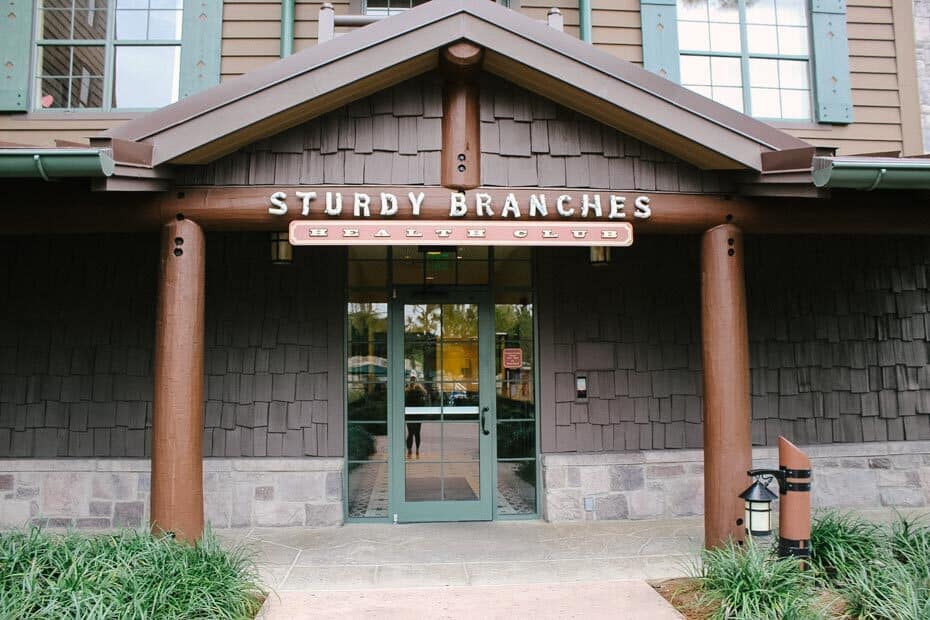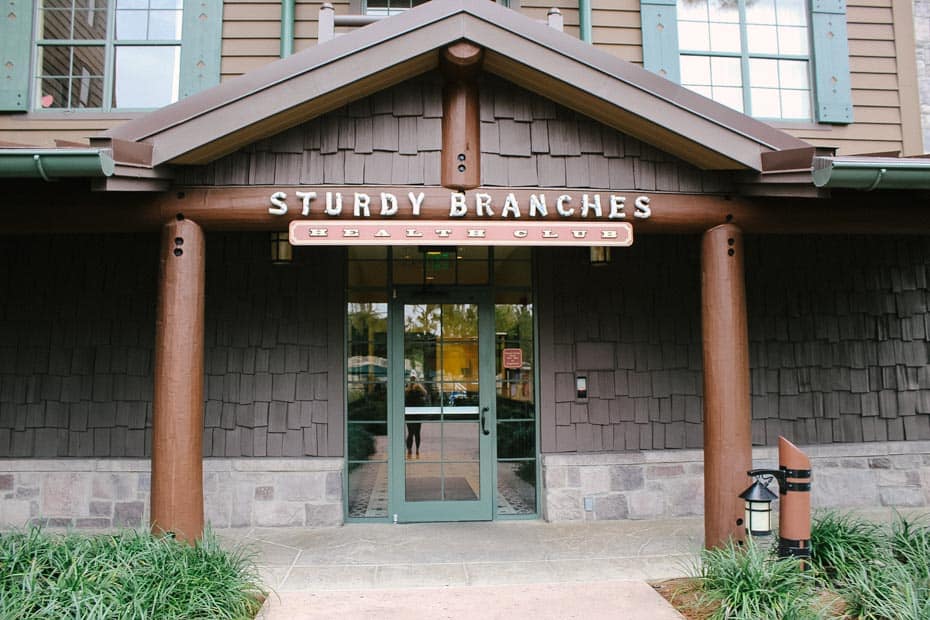 There is a large lounge and recreation area down in this area specifically for members of the Disney Vacation Club. It's kind of similar to Community Hall over at the Boardwalk Villas.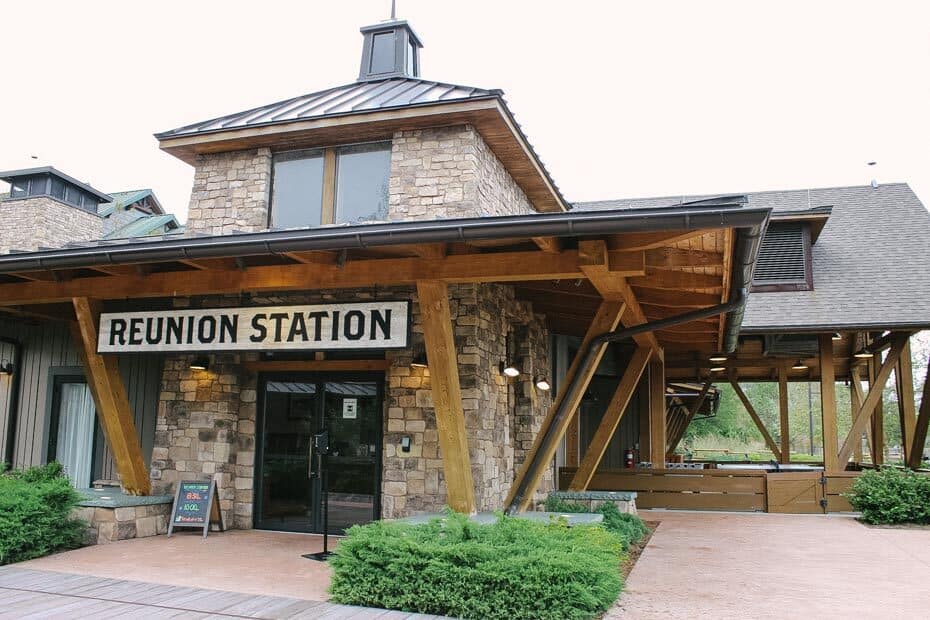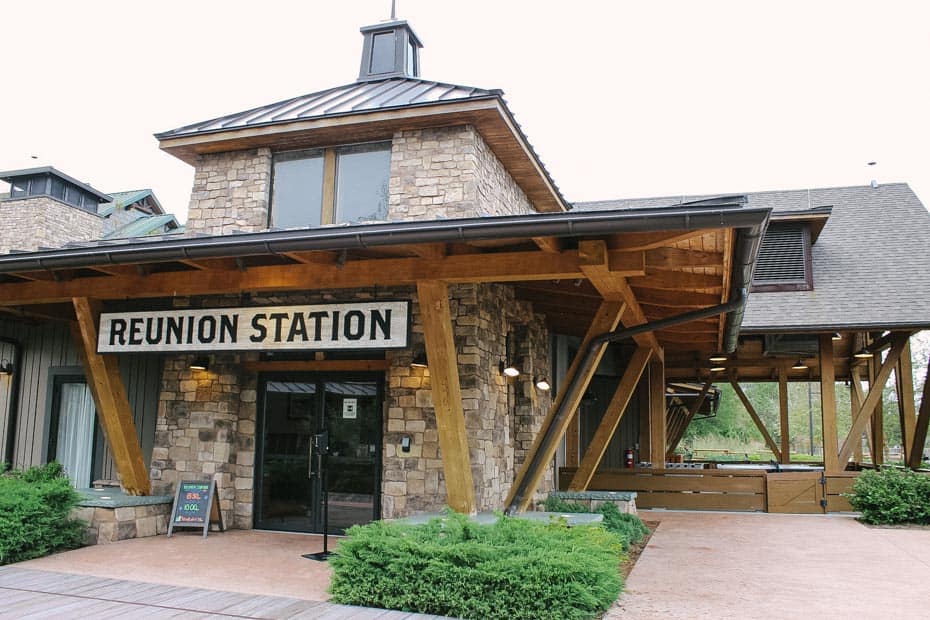 Out on the side of Reunion Station is where you'll find the resort's grilling areas.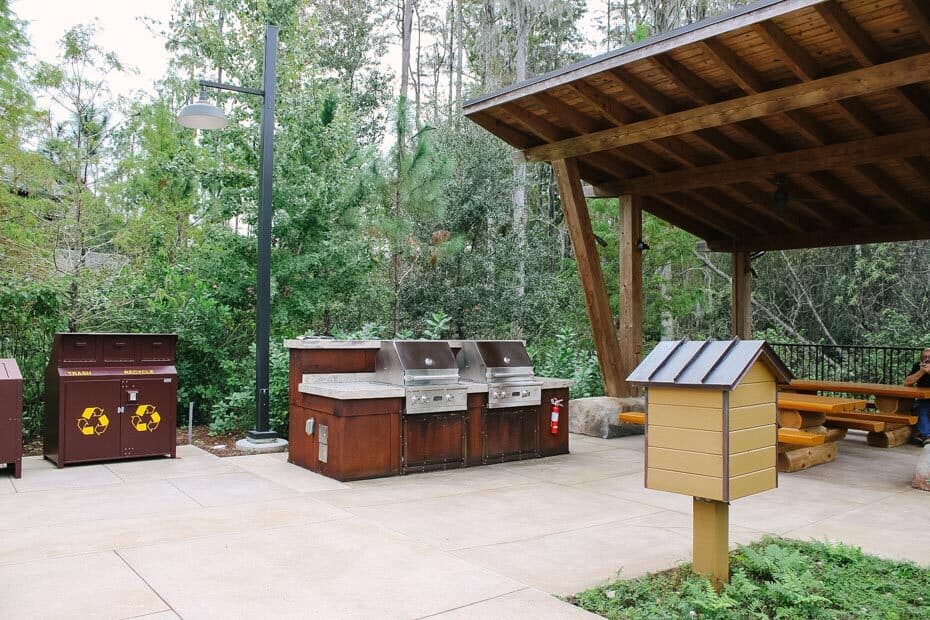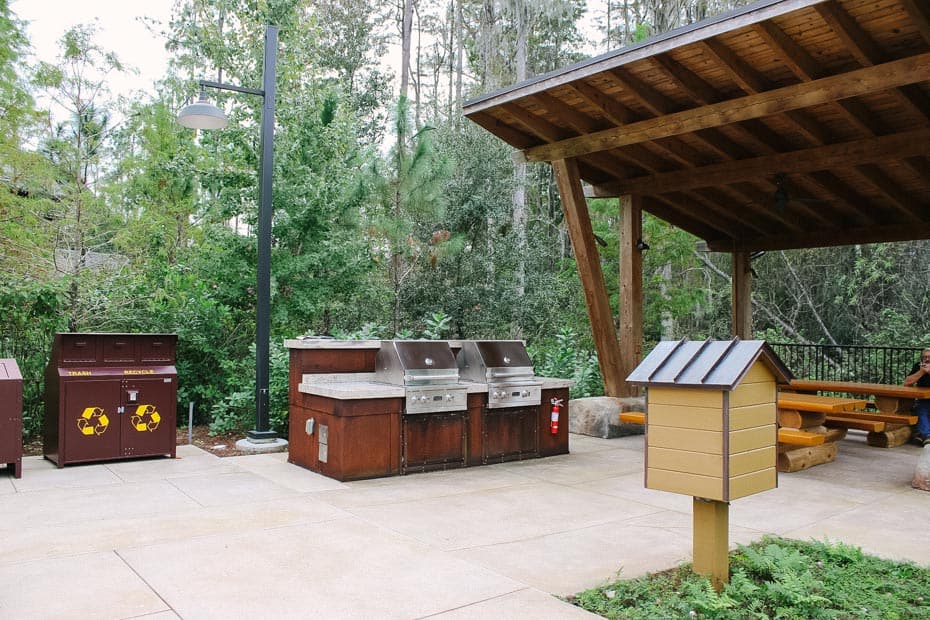 Across the way is the Teton Boat and Bike Rental. A lot of these extracurricular rentals and excursions haven't returned yet. Make sure to check for availability before your vacation if these kinds of things interest you. You can learn more about the boat rentals here.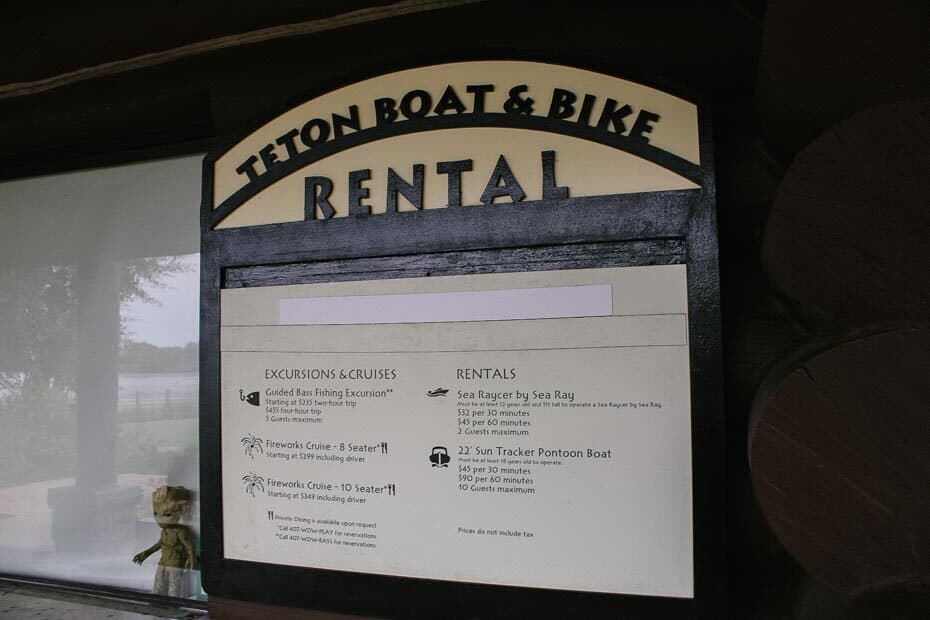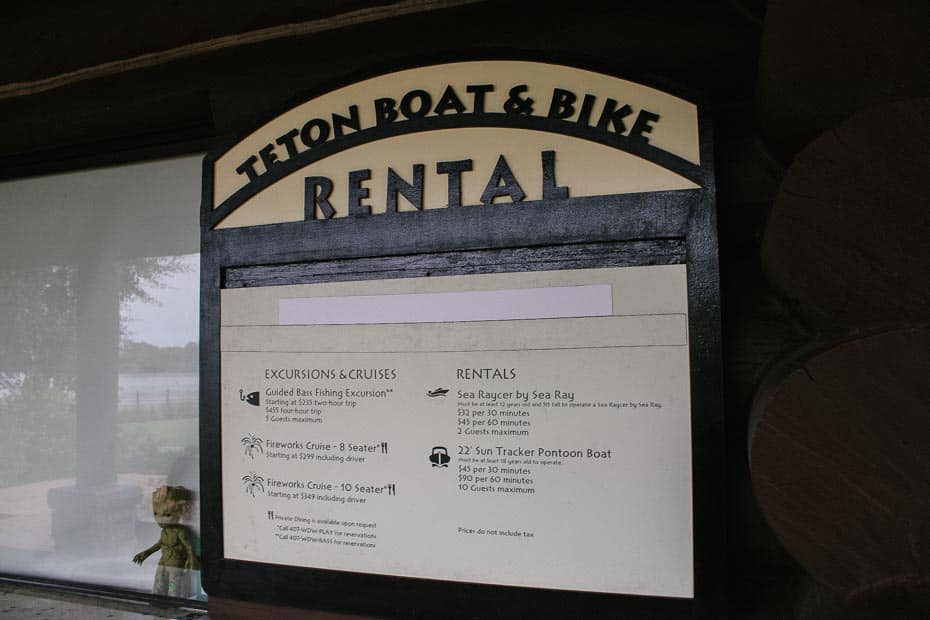 Bike rentals haven't been available for a while due to construction areas nearby. One of my favorite places to jog at Disney is the pathway between the Wilderness Lodge and Fort Wilderness. However, when construction began on Reflections Resort a few years back, that pathway closed.
Hopefully, the pathway will return to service in the future, along with bike rentals. In the meantime, the Wilderness Lodge does have a dedicated area to jog. But if you are looking for a long trek, you might want to take a boat over to Disney's Fort Wilderness Resort. There's plenty of trail area to run there.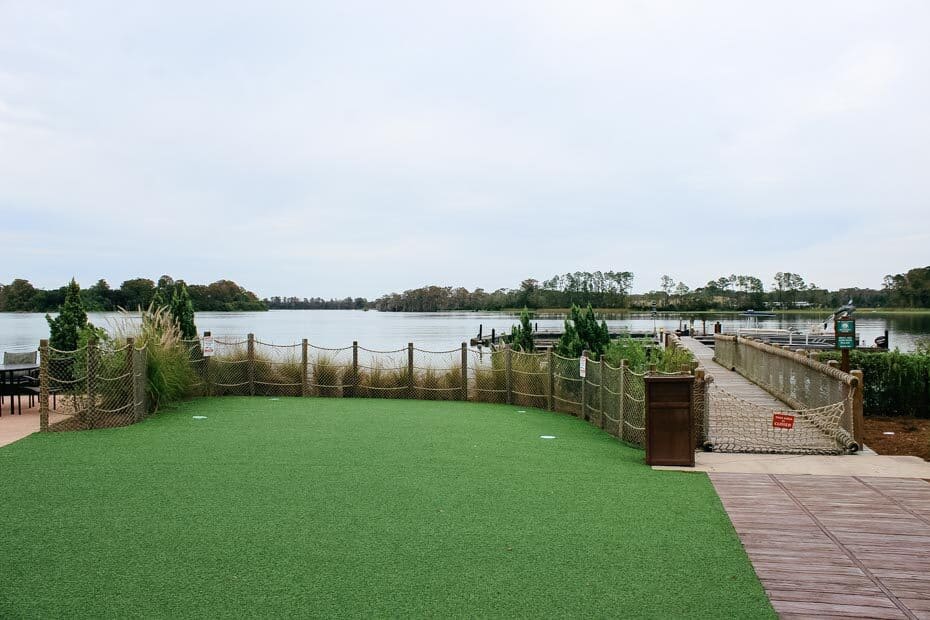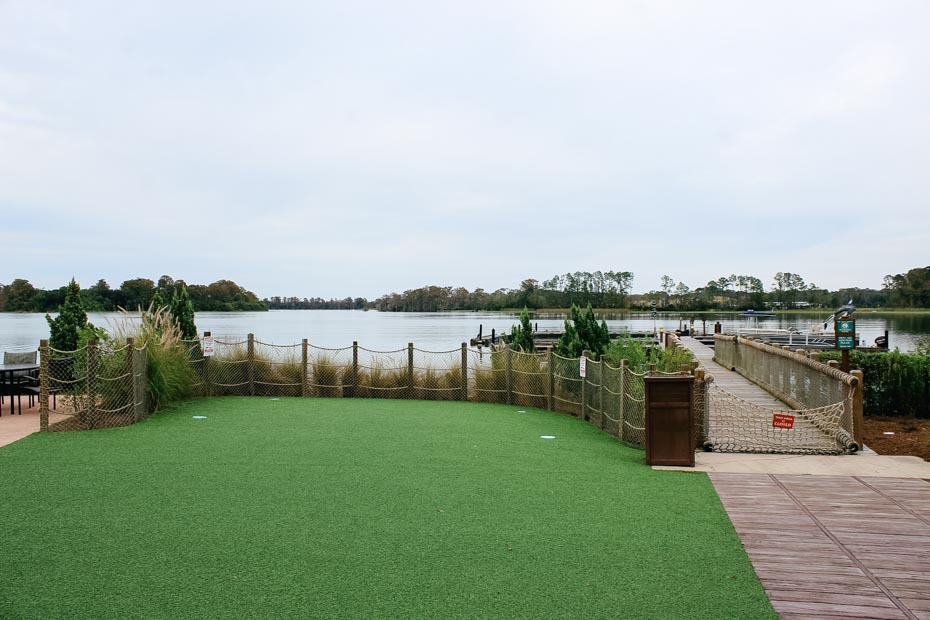 Dining
When it comes to dining, there are a plethora of options available at the resort. So many options that I have a full guide to the Wilderness Lodge restaurants here.
For the sake of this Wilderness Lodge review, I'll briefly cover each dining option. However, if you seek more in-depth information, make sure to check out the guide.
We'll first take a look at Roaring Fork, which is the resort's counter service dining location.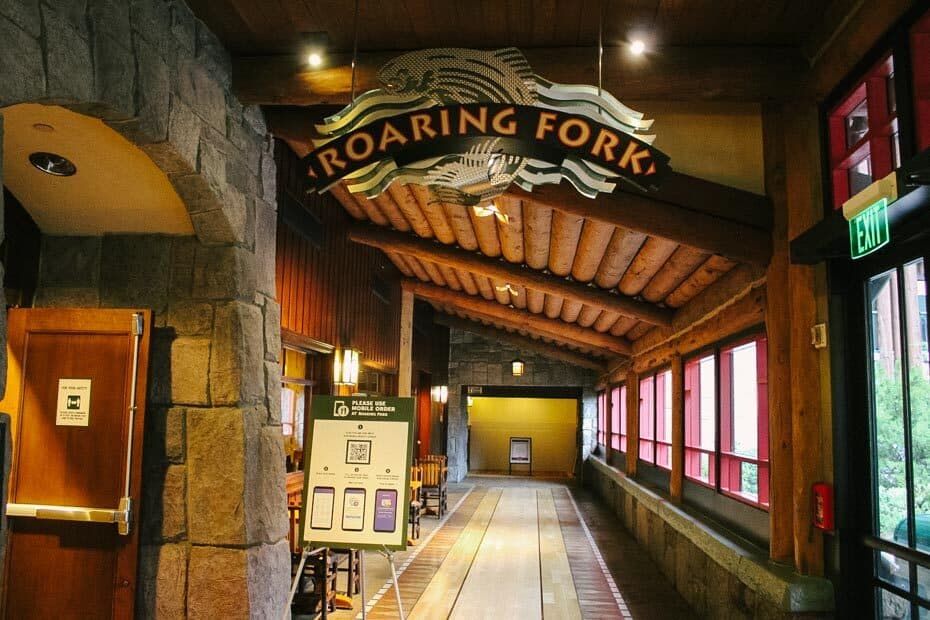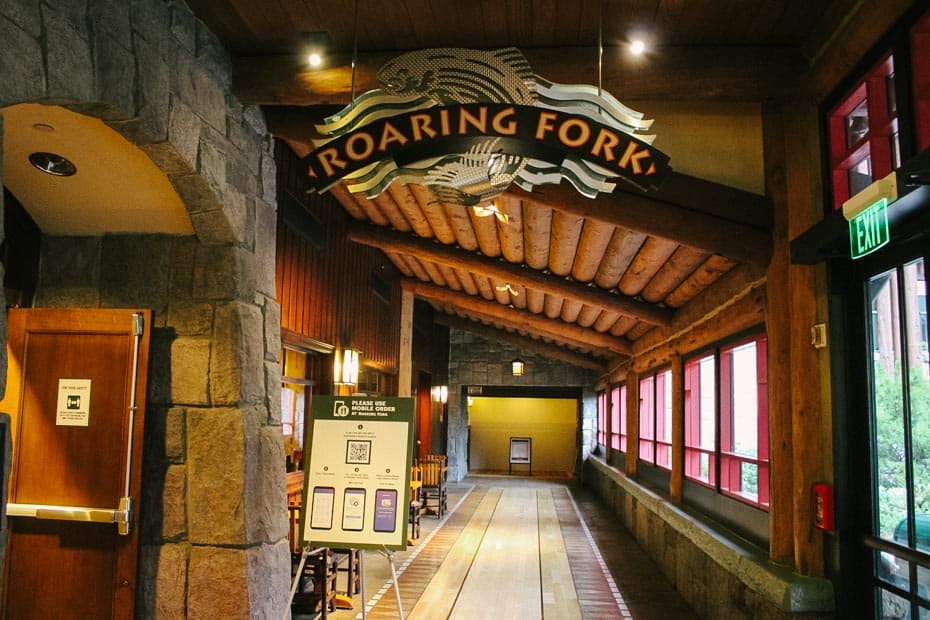 Roaring Fork offers mobile order service. Usually, you can go in and survey the cases to see what all is available. This is one of my favorite places at Disney to pick up a cupcake or magic bar.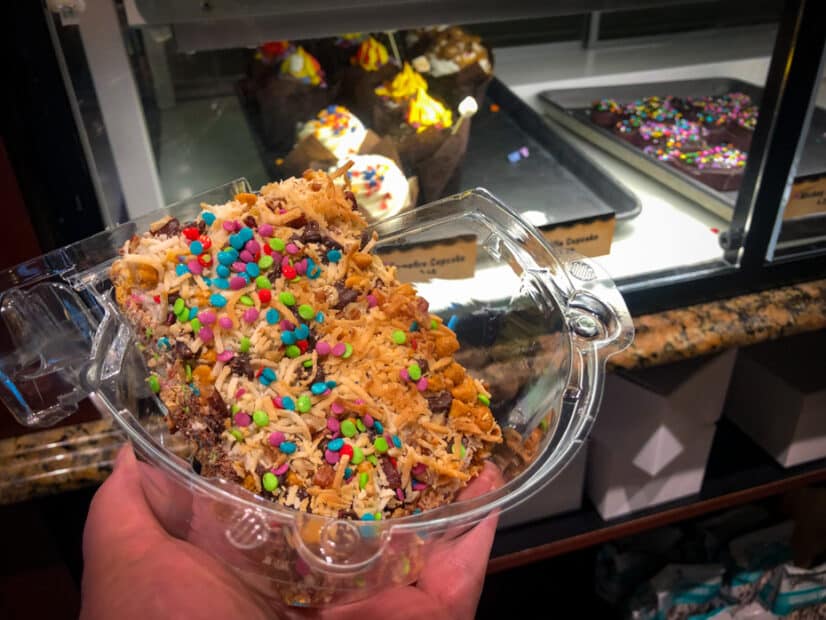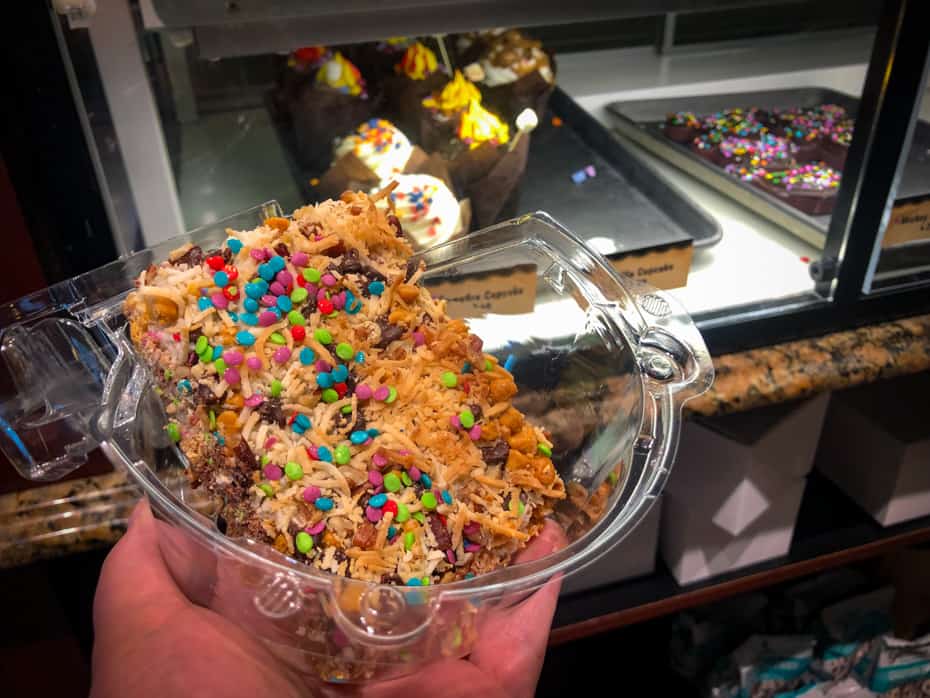 As for Roaring Fork, they serve breakfast, lunch, and dinner. So you can expect standard counter service food like burgers, chicken fingers, salads, and sandwiches from this location.
The Wilderness Lodge is also home to Geyser Point Bar and Grill (review), which serves as a lounge next to the pool. Many guests visit the lodge to dine at Geyser Point. The restaurant doesn't require reservations, but there could be a wait to be seated, given its popularity.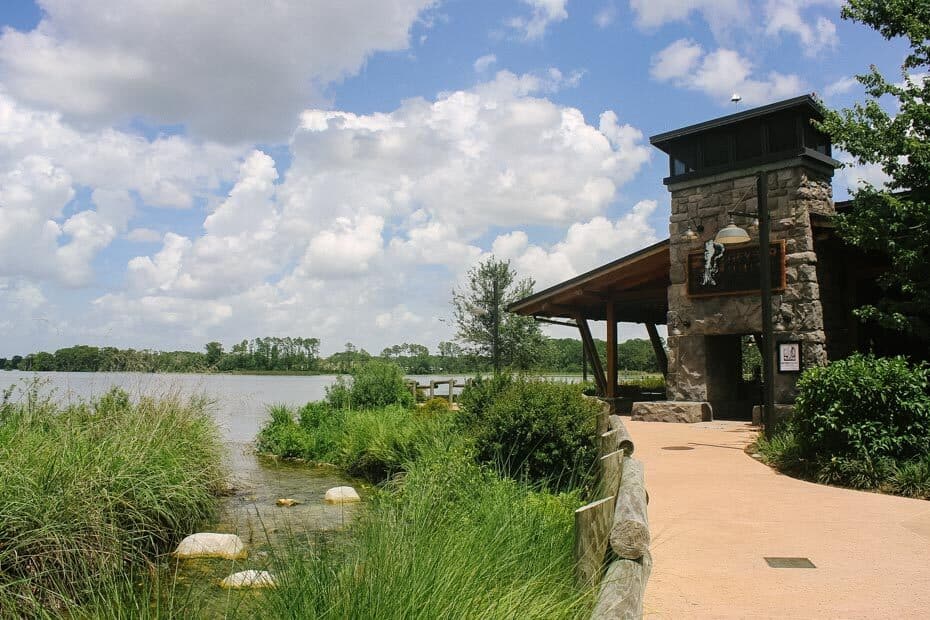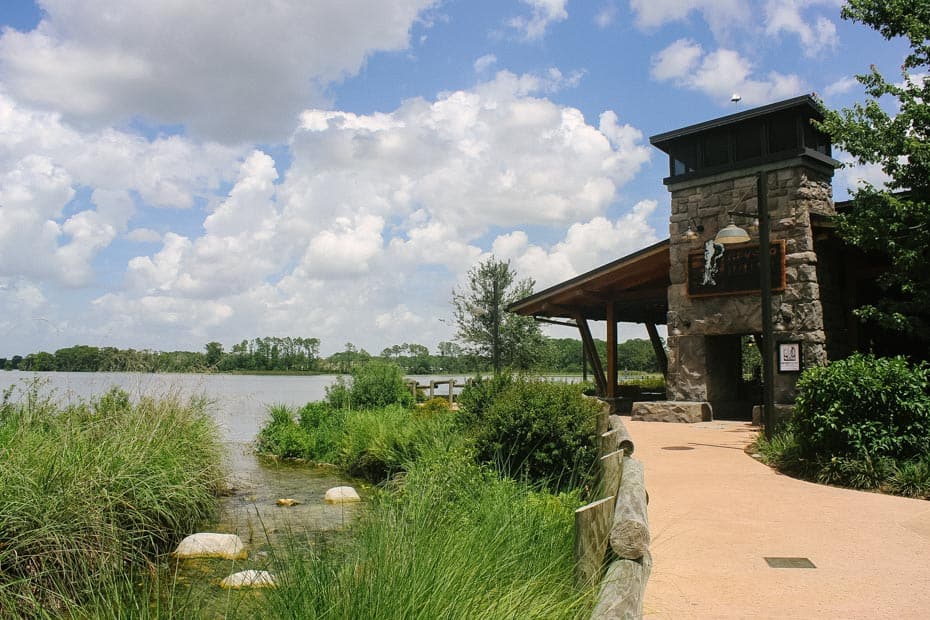 The restaurant serves anything from charcuterie platters and fried oysters to a fried chicken sandwich with a side of fries. It's a popular place, where typically everyone can find something to enjoy.
Around the back of Geyser Point, there's s a long concrete sidewalk with a few seating areas. It's a relaxing place to enjoy the scenic water views and a wonderful place to enjoy the Electrical Water Pageant as it floats by nightly. That's Bay Lake Tower (review) in the distance.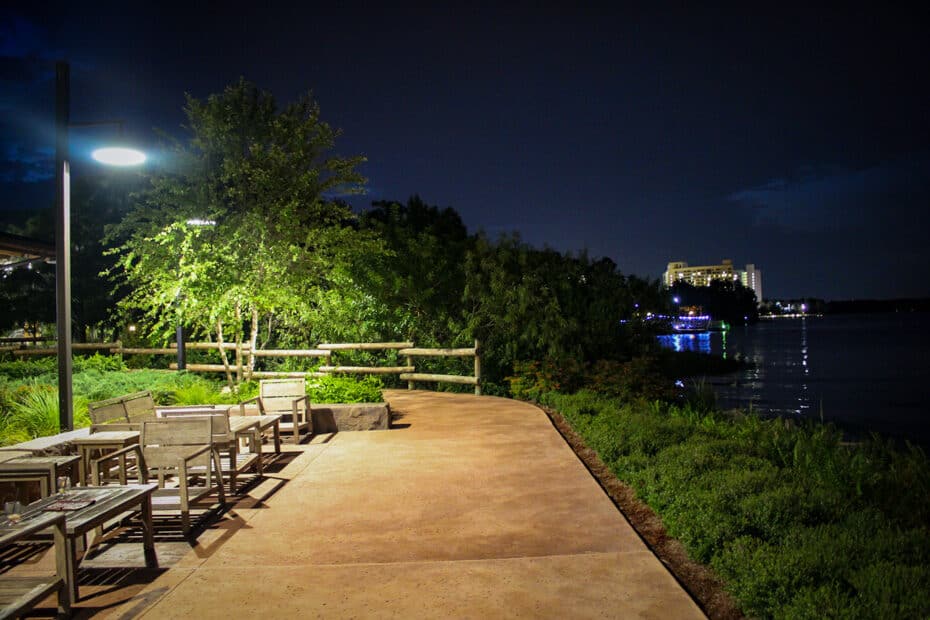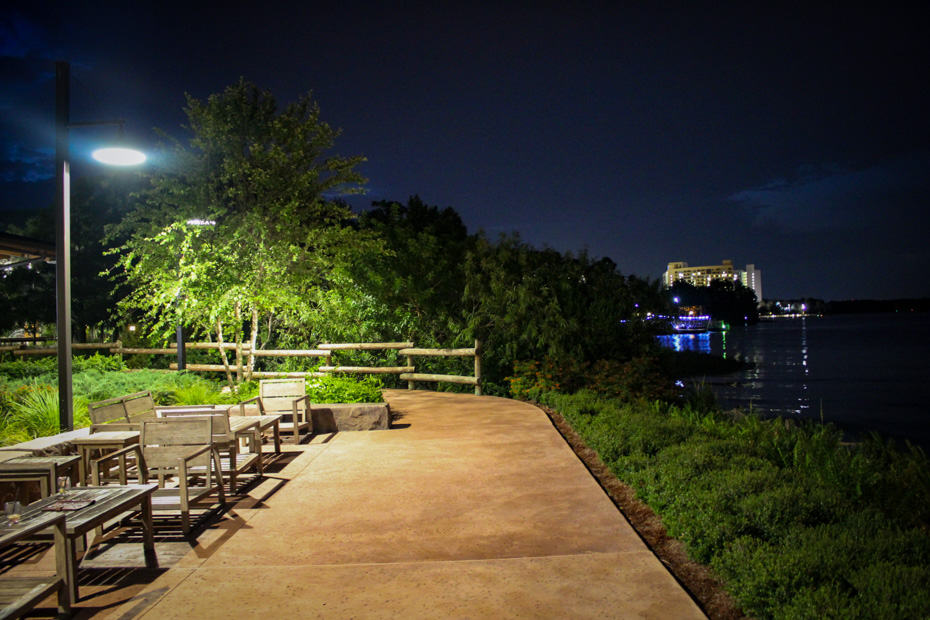 When fireworks are available, a speaker system broadcasts the performance, and you can see them in the distance. However, I wouldn't go out of my way to enjoy the fireworks, specifically from this viewpoint.
You might consider enjoying them from an observation deck at Disney's Contemporary Resort (review), the beach at Disney's Polynesian (review), or the boat dock at Disney's Grand Floridian Resort (review).
Back inside the lobby, Territory Lounge is an excellent place to partake in a meal. The bar and lounge are not only stunning but have delicious food offerings making it an attractive place to dine without reservations.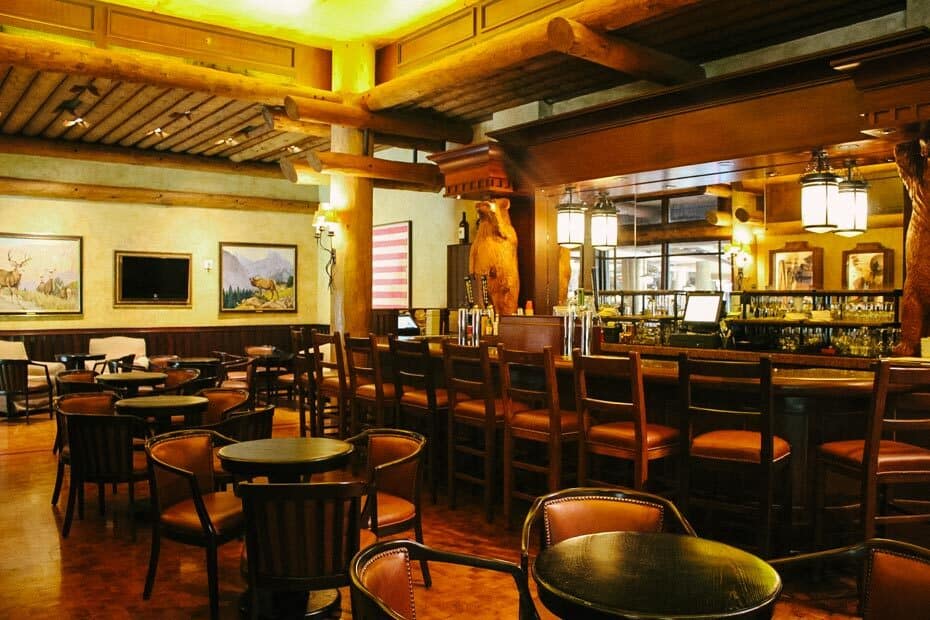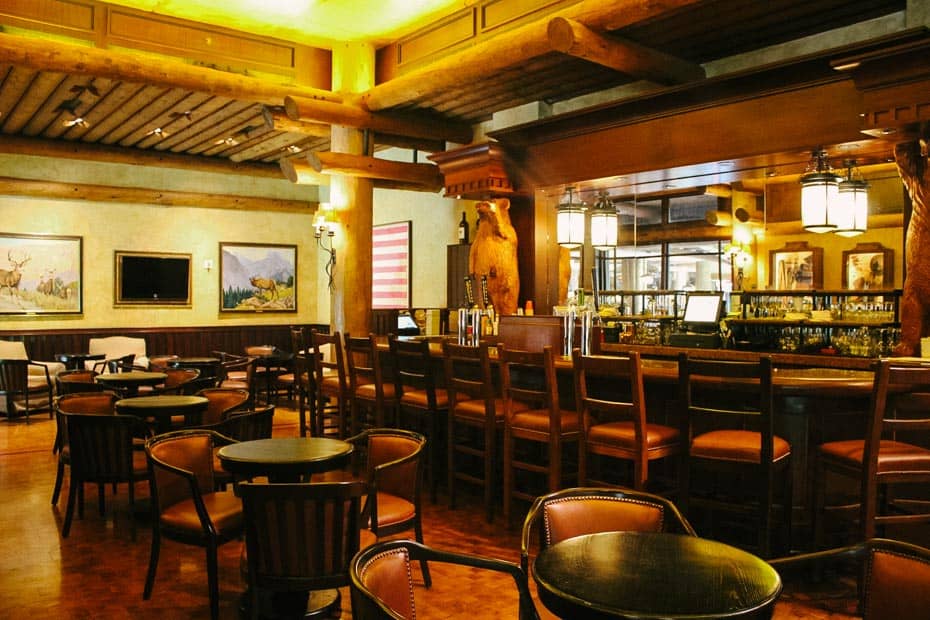 The former Artist Point sits adjacent to Territory Lounge. It's now a signature dining restaurant turned Disney character meal that goes by the name of Storybook Dining at Artist Point with Snow White (review).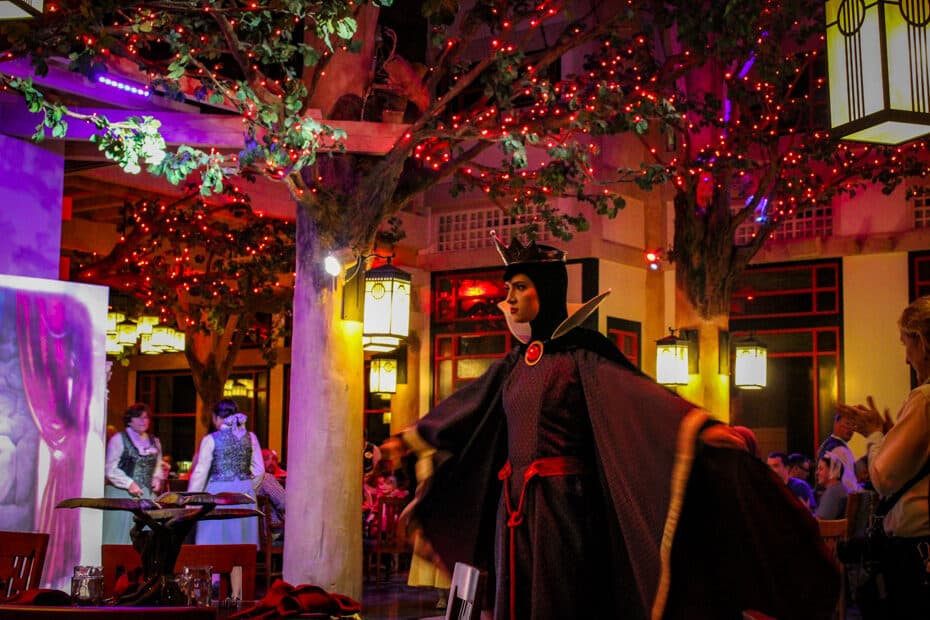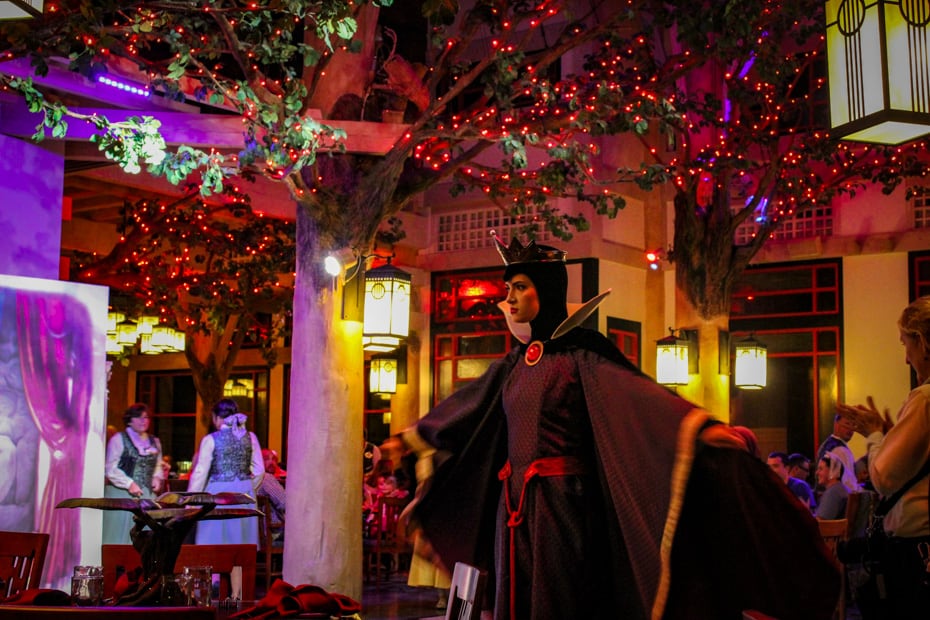 The food has had a range of mediocre to fabulous reviews since they first opened, including mine, which leaned more toward the mediocre side of things. However, the unique character experience featuring the Evil Queen is kind of hard to top. We'll see how the restaurant prevails after its extended closure.
Lastly, we have a look at the Wilderness Lodge's table service restaurant. Whispering Canyon Cafe faces out to the lobby and serves breakfast, lunch, and dinner. I have a full review of breakfast at Whispering Canyon Cafe that provides a look at their all-you-care-to-enjoy skillets.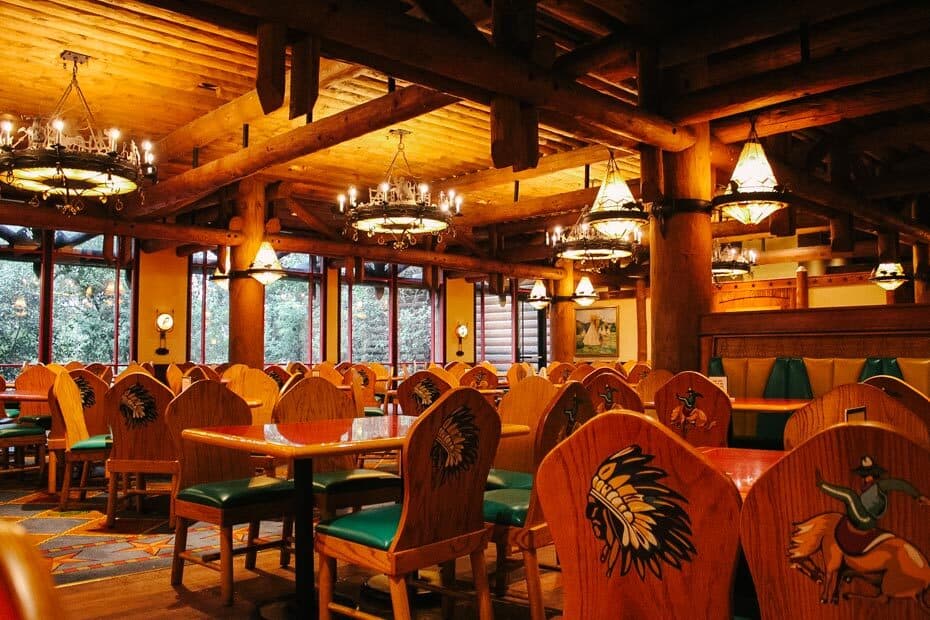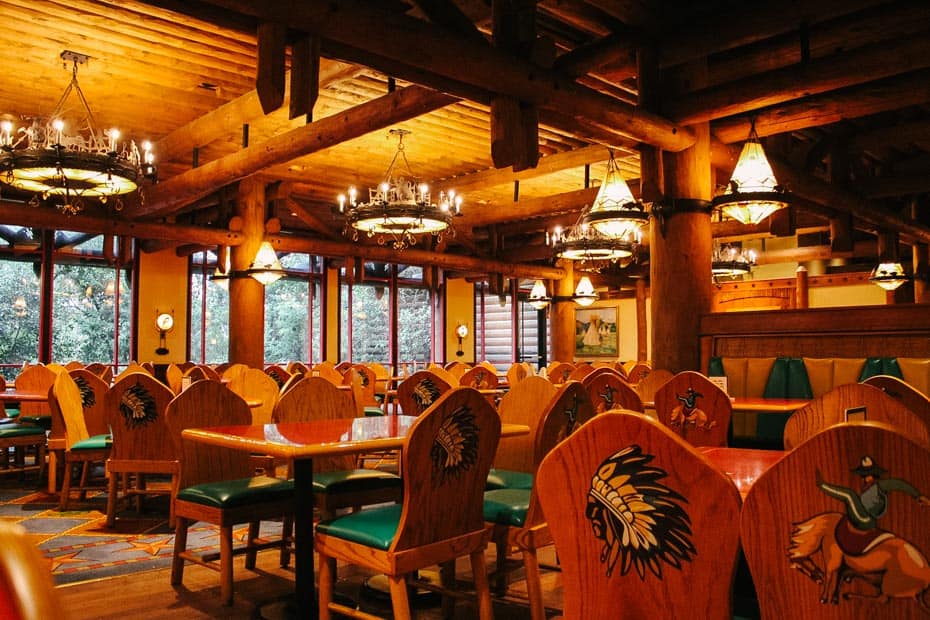 And if you've read my vegan Disney World guide, you know I'm looking forward to returning to try the jackfruit skillet with veggies at lunch.
Now I do have to warn you. This restaurant involves a little friendly horseplay and a few shenanigans. So make sure to go with a good attitude and be prepared. Oh, and don't forget to have someone in your party ask for ketchup at some point during your meal!
If none of these restaurants strike your fancy, you can always pick up a snack in the resort gift shop, Wilderness Lodge Mercantile. This store is another staple of the Lodge's lobby with a totem pole at the entrance featuring classic Disney characters.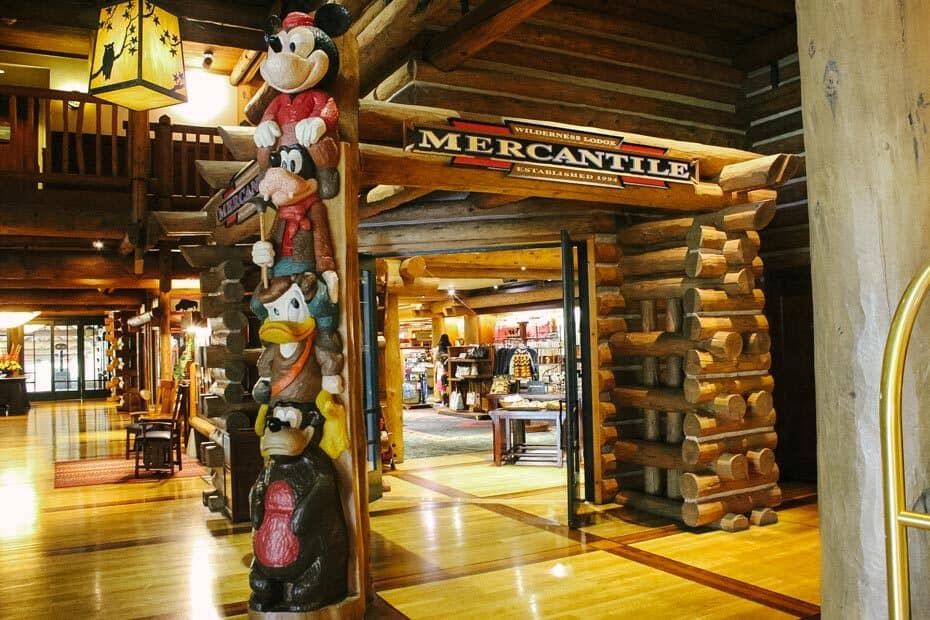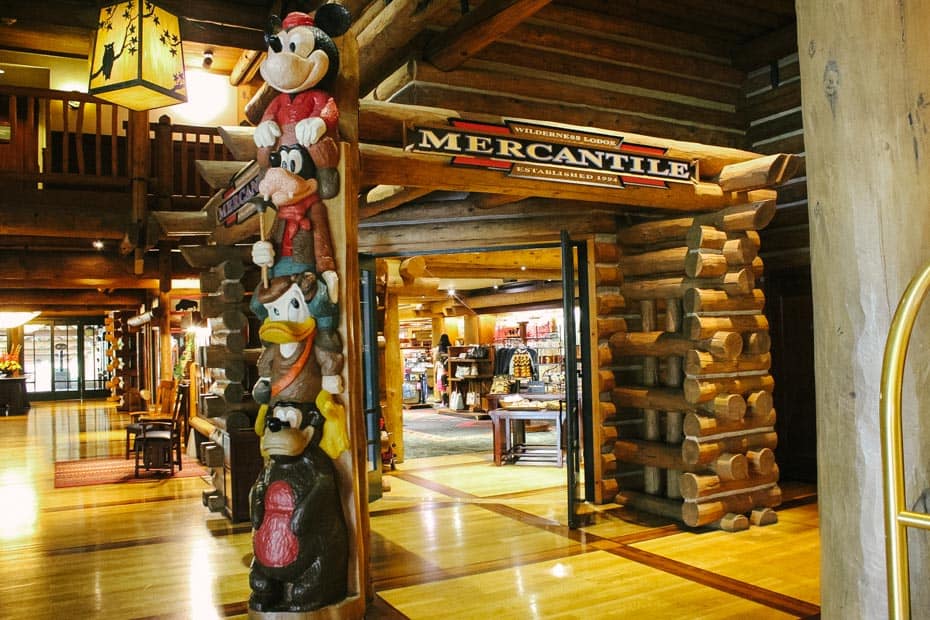 Wilderness Lodge Mercantile is a great place to pick up souvenirs and DVC resort branded merchandise. Rare is the day I stop in at the Lodge without browsing the gift shop.
In addition, the resort's arcades, Buttons and Bells arcade, is located in the breezeway directly behind Mercantile.
Rooms
As far as accommodations go, the Wilderness Lodge is home to 727 guest rooms, not including the two DVC resort editions.
Since the Wilderness Lodge's closure last year, the rooms have been under refurbishment. Disney has recently updated the room photos on their website. Here is the standard guest room.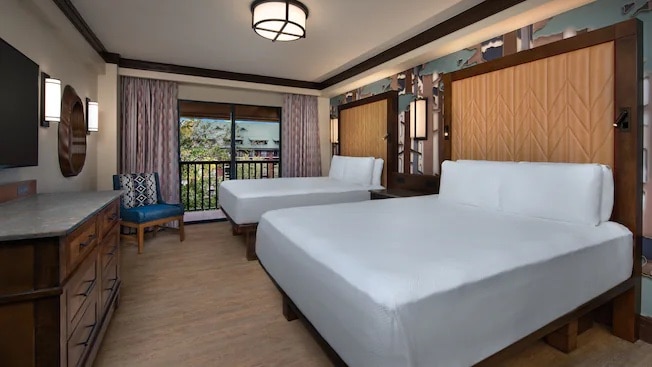 It appears they've added solid surface flooring, along with platform-style beds. The guest baths look nice, and I think the geodes artwork looks good from the photos.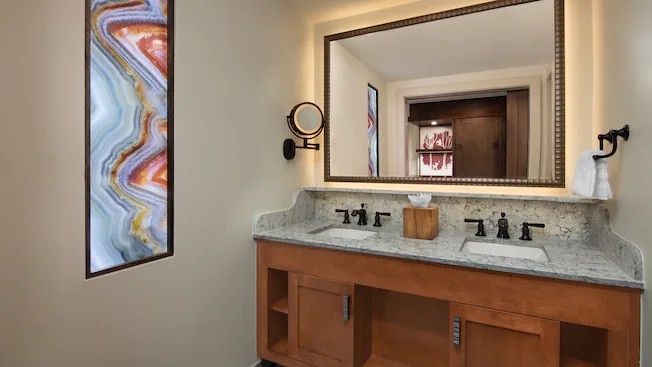 A standard room at Wilderness Lodge comes with two queen beds and sleeps up to four adults.
The following views are available
Courtyard View (pool, courtyard, waterfall view)
Standard (parking or rooftop view)
Nature (landscape or view of the villas)
Nature Fireworks (lodge and partial view of Magic Kingdom fireworks)
Additionally, there are options to reserve a Copper Creek Villa or Boulder Ridge Villa. Here is a photo of our Copper Creek studio. These rooms have one queen bed and an additional queen sofa sleeper.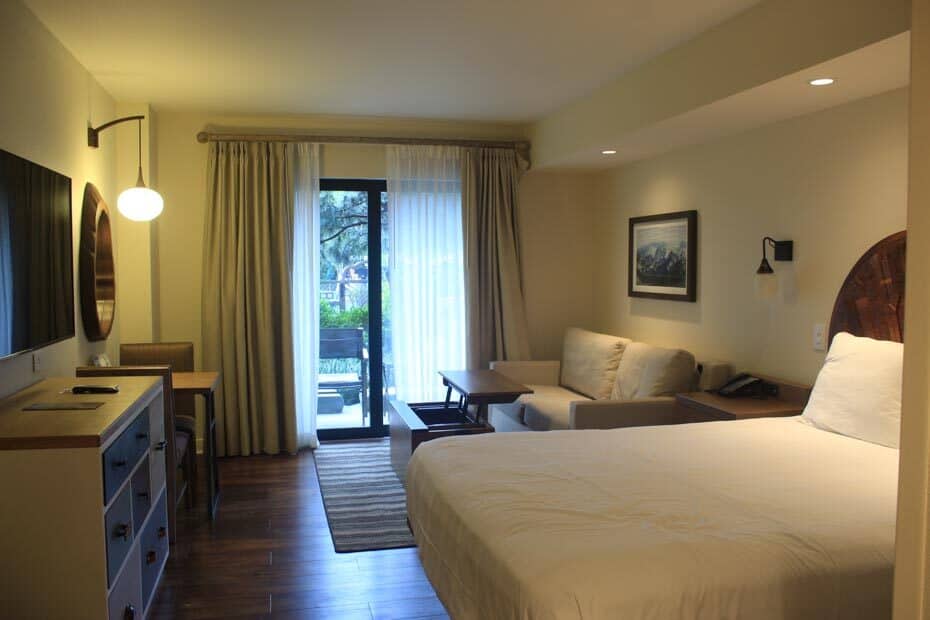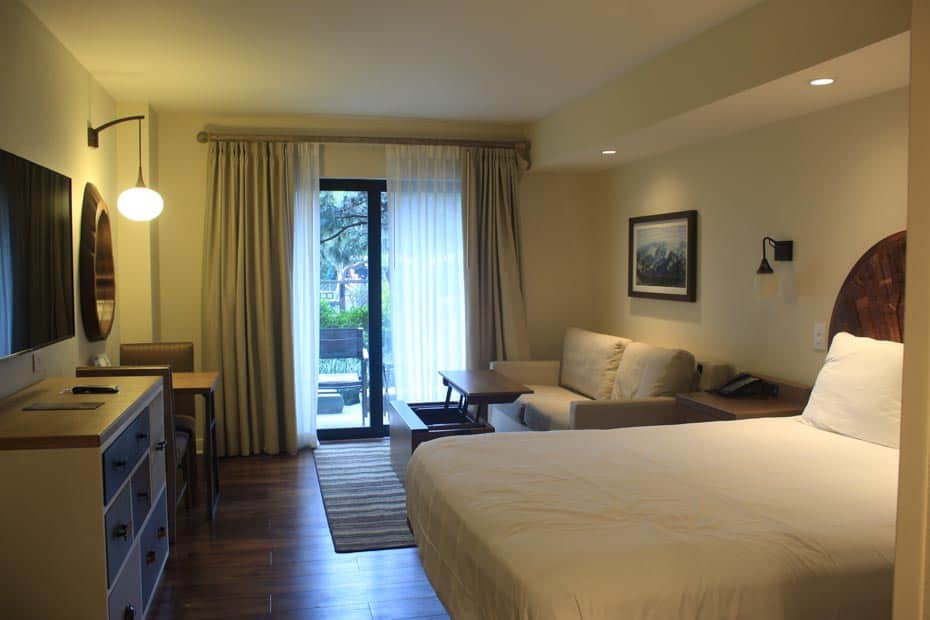 The main difference between the villas and standard guest rooms is that a villa comes with a small prep area, microwave, and the fridge is a bit larger than standard.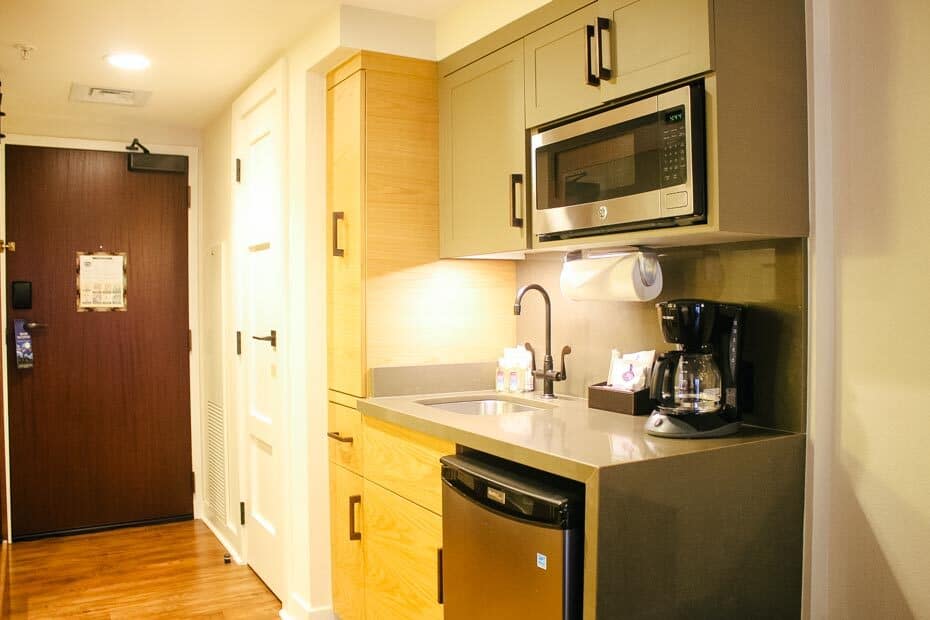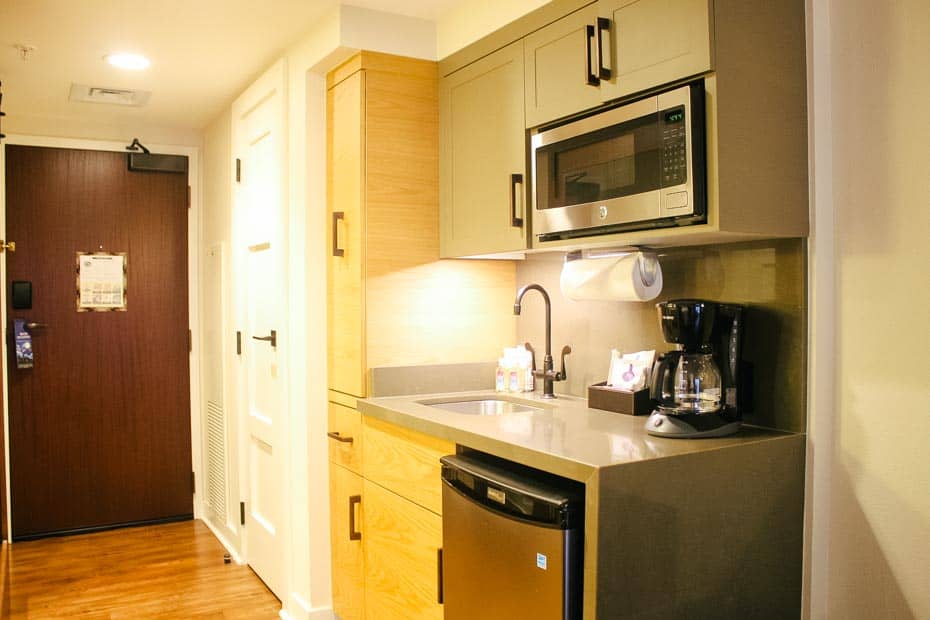 The link to that full review is here if you would like to compare more in detail.
In addition, Copper Creek offers cabin rentals for those in need of space. The cabins are two bedrooms and sleep up to eight guests. They have a kitchen and private patio that has its own private hot tub.
Unfortunately, my budget has not allowed me to stay here yet. I can't imagine there would be any complaints.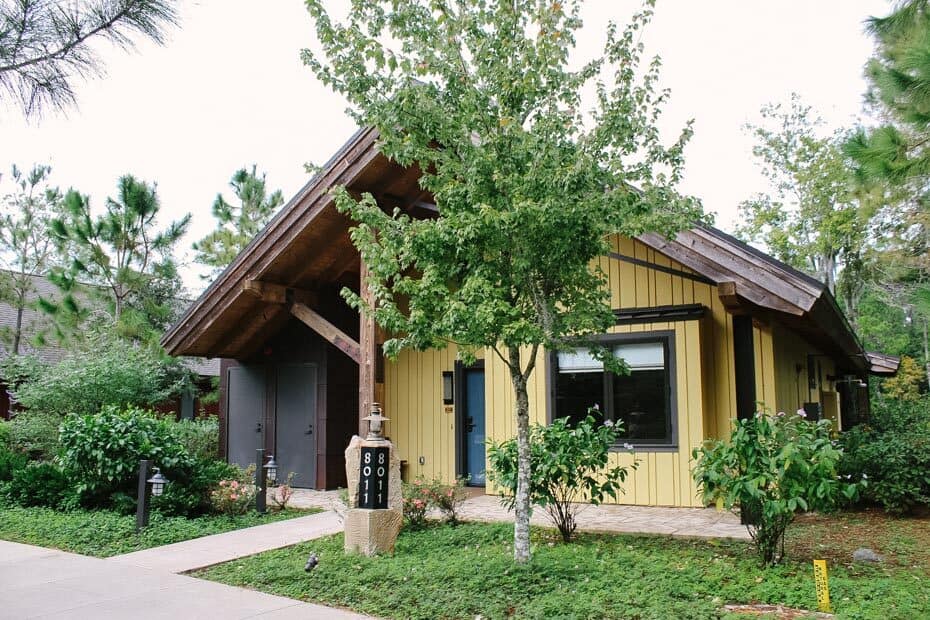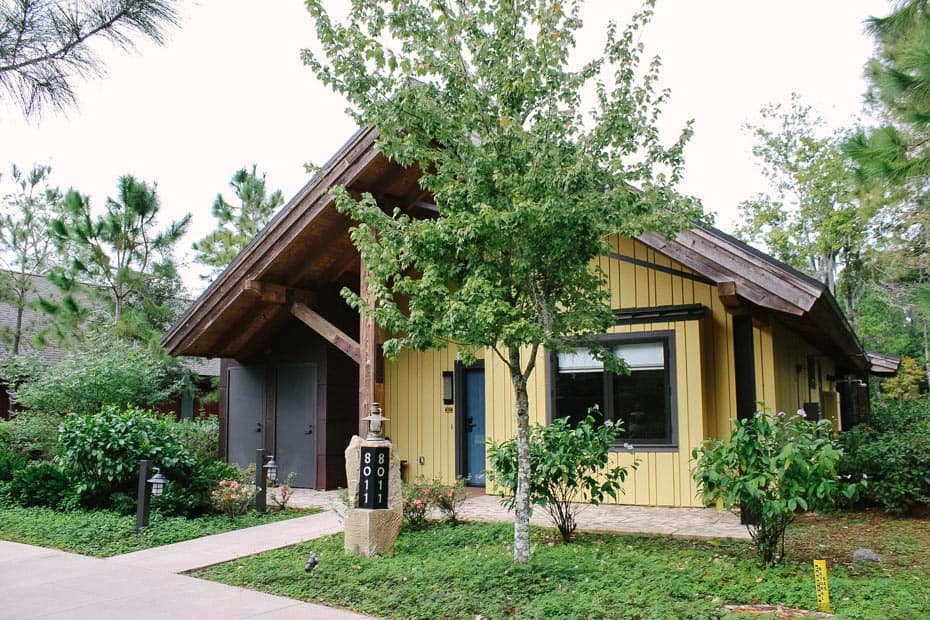 When you approach the boat dock for the Wilderness Lodge you'll notice one row of these cabins on the water as you pull up.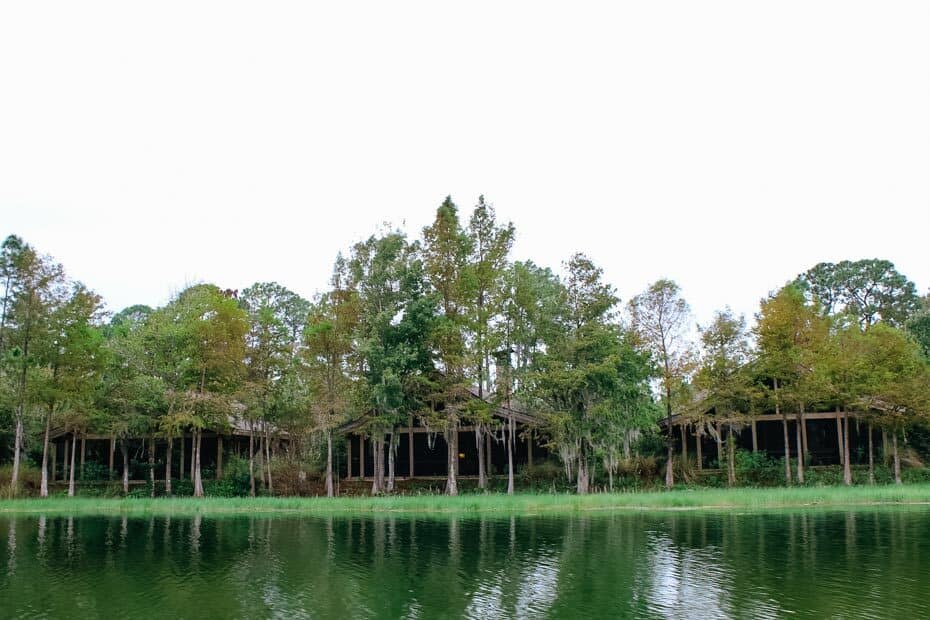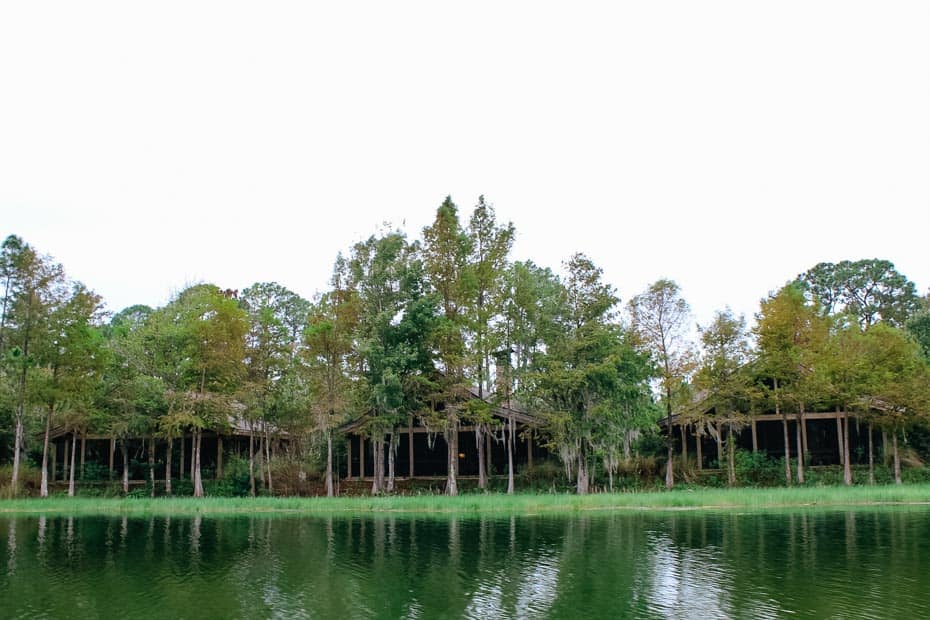 I'm not for sure how much time I'd spend in the parks if I were staying here.
Transportation
Since we are on the topic of the boats at the Wilderness Lodge, I wanted to go over the different transportation options you can expect. Disney's bus service is the main form offered. The buses travel back and forth daily to the following destinations:
Magic Kingdom
Hollywood Studios
Epcot
Animal Kingdom
Disney Springs
For those interested in having a meal or two at Disney Springs, I have a review of what I deem to be the top restaurants at Disney Springs.
In addition, the Wilderness Lodge provides boat service back and forth to Magic Kingdom. This service runs back and forth to the theme park and is an absolutely wonderful way to travel.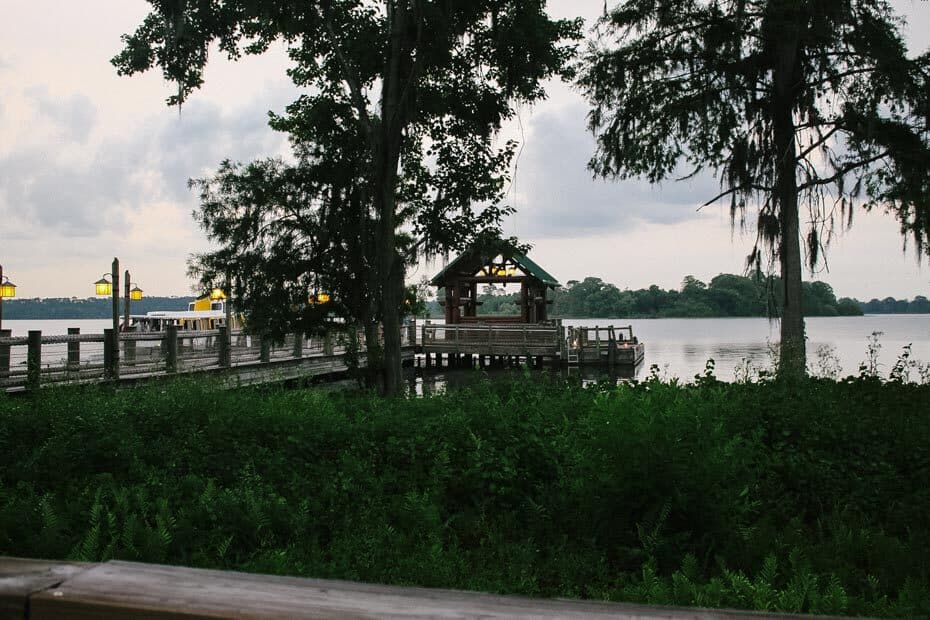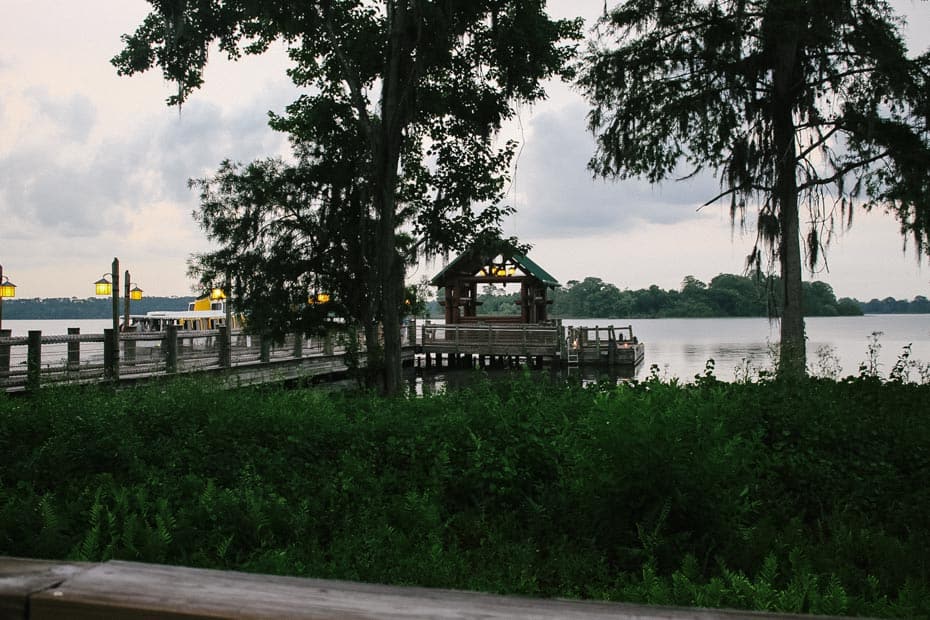 When available, there is an additional boat service on the right-hand side of the dock that takes guests to Fort Wilderness Campground or the Contemporary Resort. This boat service travels in a bit of a triangular pattern between the three resorts.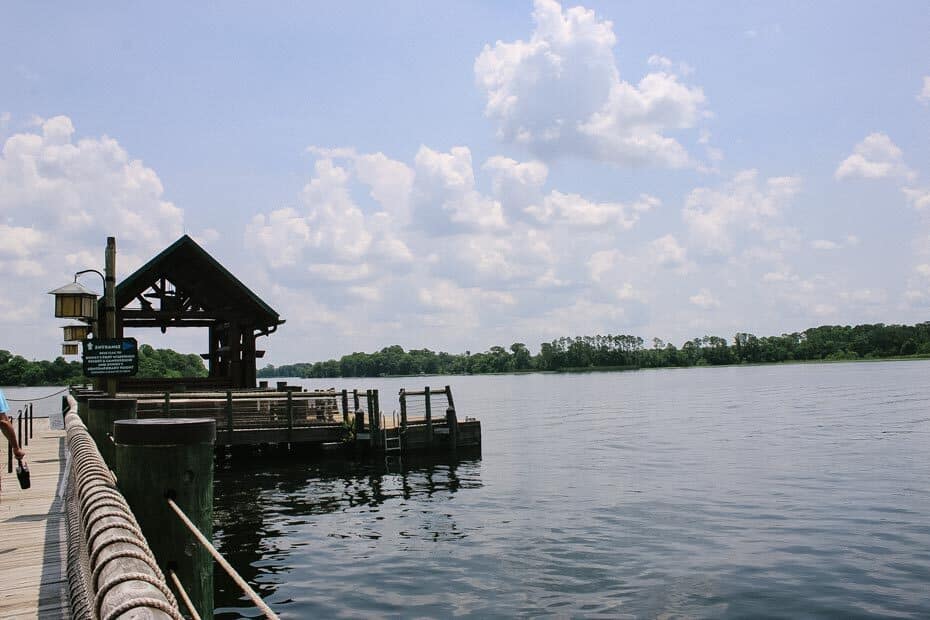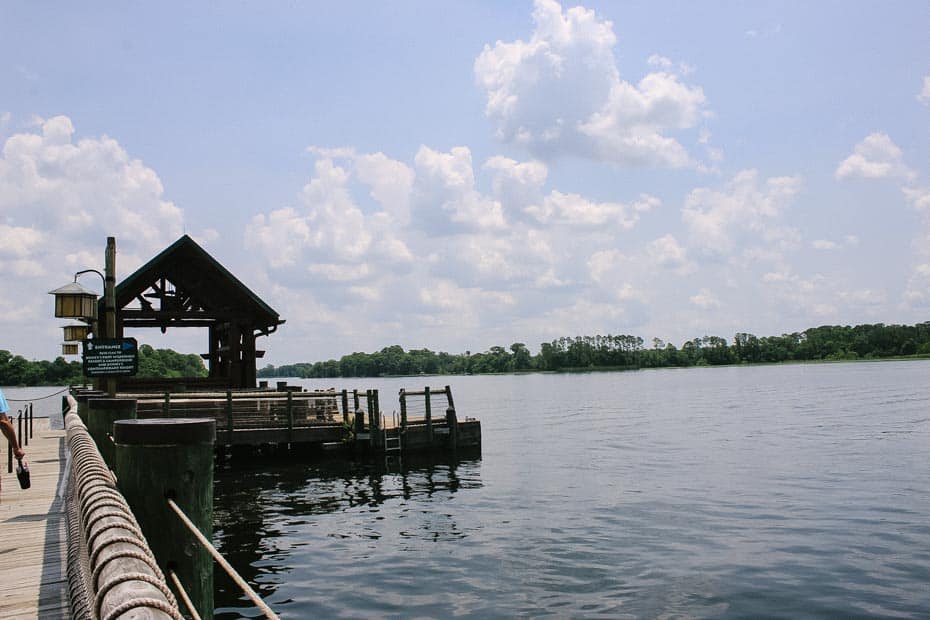 The extra boat service makes it nice for guests wanting to travel to the Contemporary for a meal. Or you could use it to travel to the Disney World monorail. Then take the monorail on around to the Poly or Grand Floridian.
You could also take the boat to Fort Wilderness for a jog or to see the newer horse stables. However, if you are visiting for a horse ride, that's done on the opposite side of Fort Wilderness. You'll want to take an internal bus to the front of the resort once you get there.
The horse stables that are open for touring (until about 3:00 p.m. daily) are on the boat dock side of the resort. That's also where Hoop-De-Doo Revue and Trails End is located. Unfortunately, those options haven't reopened yet.
Final Thoughts on this Wilderness Lodge Review
It's taken me quite a while to get to this review of Disney's Wilderness Lodge. I've been fortunate enough to stay at the resort several times over the years, and I'm always the better for it at the end of my stay.
When I'm not staying at the Wilderness Lodge, I do still visit on the regular. You might run into me reading a book by the fireplace in August on one of those higher floor galleries.
Or out at Geyser Point enjoying a hot drink on the coldest night Orlando has to offer. They put out space heaters when it gets chilly.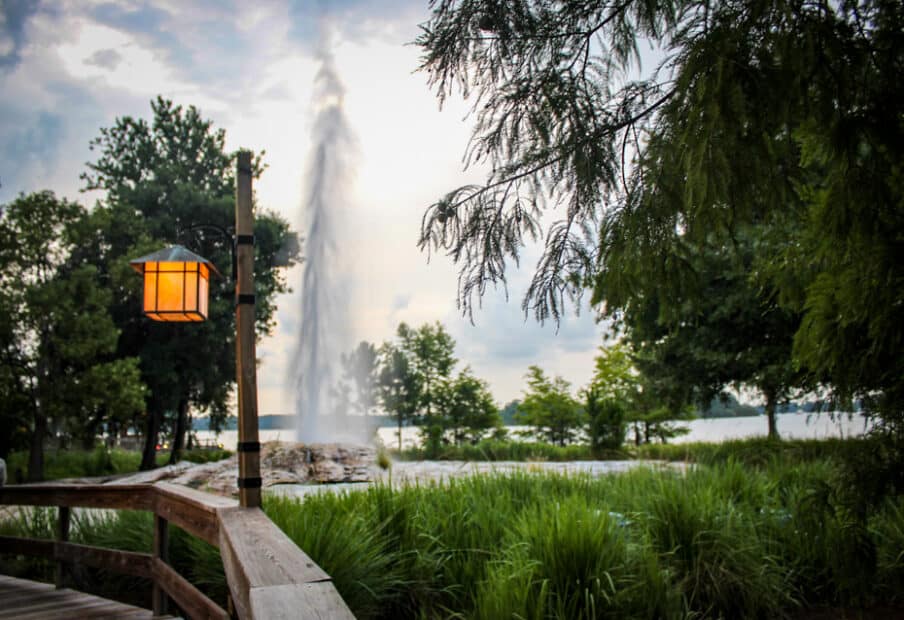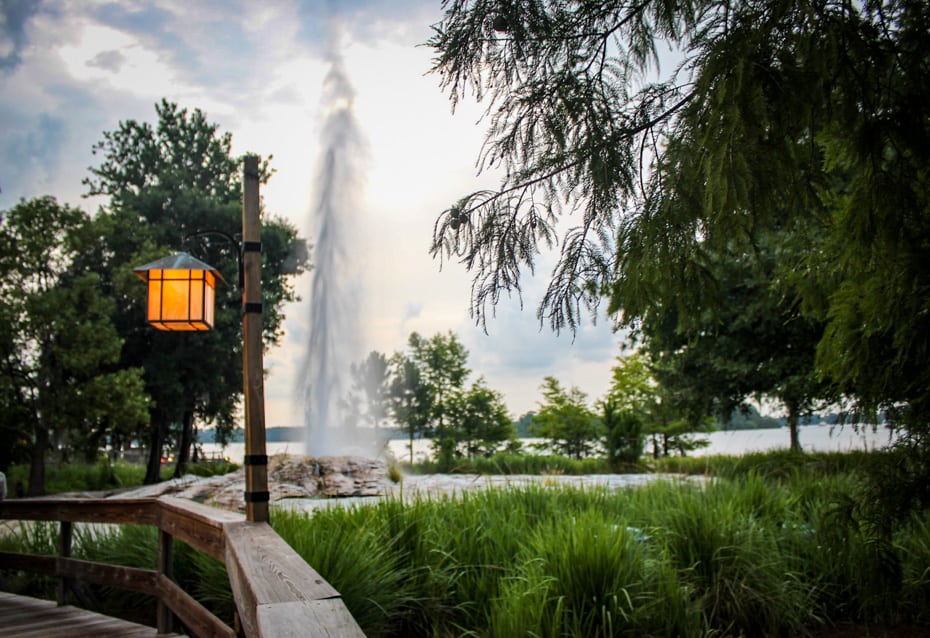 And if I'm in the mood for mushroom bisque, I'll most definitely be at Territory Lounge.
Can you blame me?
For those planning an upcoming stay, make sure to visit our entire list of Walt Disney World Resort Reviews. It links to every resort review we have available on the site and provides a brief summary of each one. In addition, you might enjoy some of these picks:
Additionally, you might like to browse an overview of the Disney Moderate Resorts or the Value Resorts for comparison.
Resorts Gal also specializes in Disney Restaurant Reviews and Character Dining at Disney World.
And if you are ready to make a reservation, check with our travel partner, Firefly Travels. They will be happy to provide you with a quote and help you put together an amazing Disney World vacation!
I hope this Wilderness Lodge review provided you with the information necessary to make a choice about staying here. And filled you in on the things you don't want to miss out on during your visit. Disney's a tremendous place, and the more prepared you are in advance, the more likely you are to have a successful vacation.
Leave a comment below and share your thoughts or any questions about the Wilderness Lodge. I'll be happy to answer them based on my personal experiences. Have you visited Disney's Wilderness Lodge yet? Are you planning a stay here?