Pricing Details for the Star Wars Galactic Cruiser (And What's Included!)
Pricing for the new Star Wars Galactic Cruiser is now available for voyages. The Star Wars Galactic Cruiser is expected to open in the Spring of 2022.
It comes as no surprise that these long-awaited details include a hefty price tag. But as it turns out, there's more than meets the eye when it comes down to the amenities included in your voyage.
For starters, let's take a look at pricing. The rates below are for a standard cabin. Upgraded suites are available at an additional cost.
Pricing for Star Wars Galactic Cruiser
Here is a screenshot provided by Disney of what pricing will look like for the new Star Wars Galactic Cruiser.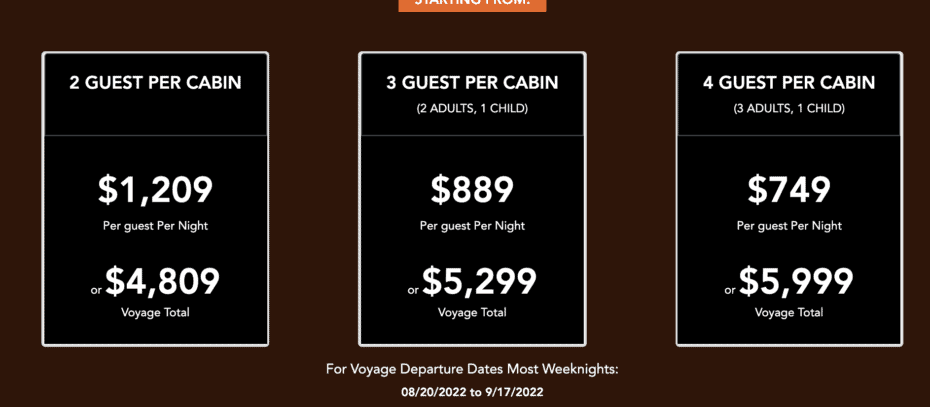 For a standard cabin with 2 guests, you're looking at $1209 per guest per night or a total of $4809 for the voyage.
At 3 guests per cabin (2 adults and 1 child) it will run you $889 per guest per night or a total of $5299.00 for your voyage.
Lastly, 4 guests per cabin (3 adults, 1 child) will cost $749 per guest per night or a total of $5999.00 for the voyage.
Wow! These are two-night voyages. But before you close out that browser tab, let's look at what's included.
What's Included with a Stay on the Star Wars Galactic Cruiser
The following items are included with your voyage on the Star Wars Galactic Cruiser.
All packages will be 2 night experiences.
Includes 1 day entry to Disney's Hollywood Studios (takes place on day 2 of the experience)
2 breakfasts
2 lunches
2 dinners (gratuity will be included with dinner)
1 quick service meal (choice of 1 entree and 1 non-alcoholic beverage) or (1 alcoholic beverage for guests 21 years of age or older) or (combo meal from the children's menu to be used in the theme park only)
Entertainment and Experiences on board the ship (subject to change per Disney)
Valet Parking is included
Exclusive Databand
*There is a note per Disney that the admission ticket to Hollywood Studios is only good for the designated day and will expire at midnight prior to your departure date. Additionally, it's non-everything, meaning you cannot upgrade, transfer, or refund it.
*The meals stated above are per guest. Breakfast and lunch on the first will be quick service meals enjoyed in the Crown of Corellia Dining Room. Dinner will be a table service meal, also served in the same dining room. On day two, in Hollywood Studios, you'll enjoy the included counter service meal at Docking Bay 7 Food and Cargo in Star Wars Galaxy Edge.
For more information on the hotel, we have a full guide to the resort started, The Star Wars Hotel at Disney World.
We'll have several more updates coming out over the next few days! If you are ready to begin planning your first Star Wars voyage make sure to check with our friends at Firefly Travels. They specialize in planning concierge-level Disney World vacations.
What are your thoughts on the Star Wars Galactic Cruiser pricing and amenities? Is this going to be a must-do, bucket list item, or possibly a no? Let us know in the comments.