Disney's Boardwalk Bakery Review
Disney's Boardwalk Bakery is one of those places that I've turned my nose up to for a while. If you've read any of my Disney restaurant reviews, you probably know I don't care for pre-made food items. And I really don't care for it when pre-made is the only option for counter service at a Disney resort.
Since I've stayed at Disney's Boardwalk Inn a few times in the last couple of years, I've had a good bit of experience trying to find a meal here. Going all the way back to 2017, I remember checking in late one evening and heading straight to the Boardwalk Bakery for a bite to eat. The pre-made sandwich I received was terrible. I had to replace it with a microwaveable frozen pizza that I picked up at the Screen Door store.
After that experience, I've been hesitant to return to the Boardwalk Bakery for a meal other than picking up a pastry. I can report that the menu, though still heavy with pre-made items, has improved. In this review, we'll look at two recent meals I've had and see what might interest you.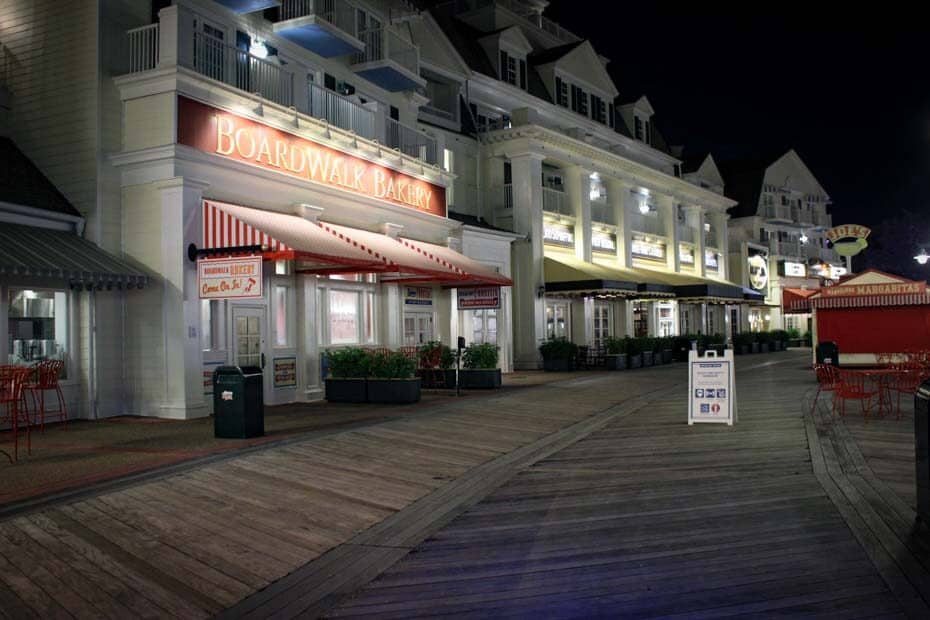 For starters, anyone planning a stay here needs to be aware that Disney's Boardwalk Bakery is the resort's dedicated quick service dining location. Additionally, pizza is available by the slice (or whole) at the Boardwalk's Pizza Window. And a kiosk called To-Go cart sells items like chicken fingers, hot dogs, and such.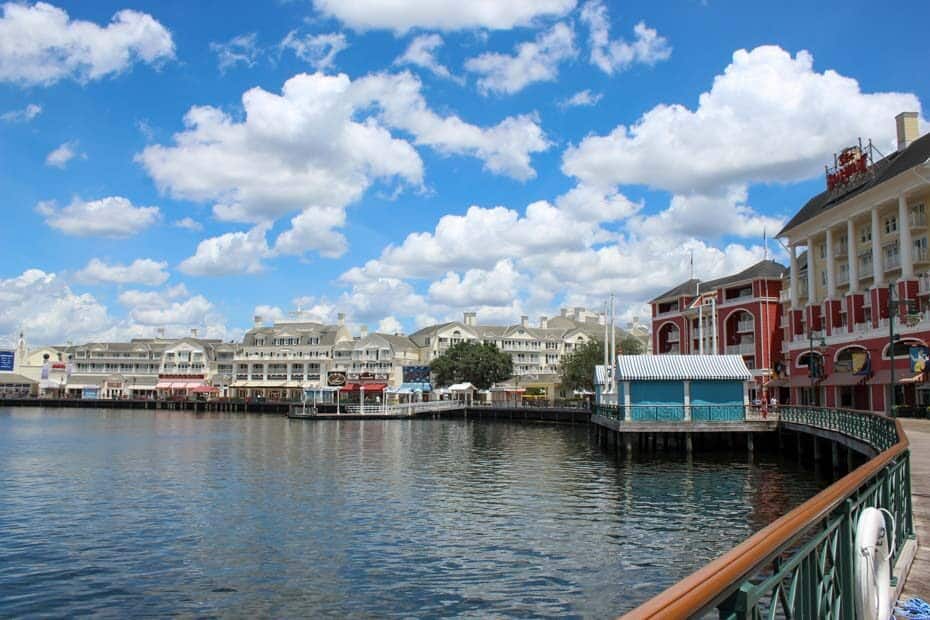 While that might sound like a decent amount of options for the area, it's really not. Lack of counter service dining is my main complaint about the Epcot Resorts Area. All of the resorts that sit on Crescent Lake have quick service menus made up of pre-made items.
I don't know about you, but if it's 8:00 p.m. and I've just arrived at my Disney hotel after a long day, I don't want to eat a sandwich that may or may not have been made at 7:00 a.m. that morning.
You are probably thinking, it isn't any wonder why I had my nose turned up to dining at the Boardwalk Bakery. Or you might have no qualms about eating premade food items.
It's not that I'm too good to eat something pre-made. But when paying several thousand to spend a week in a "deluxe" hotel, shouldn't we all expect more?
Anyway, the counter service is located on the Epcot-side of Disney's Boardwalk. It's one of those restaurants where you walk in on the left side, move along the counter to order, and then exit on the right-hand side.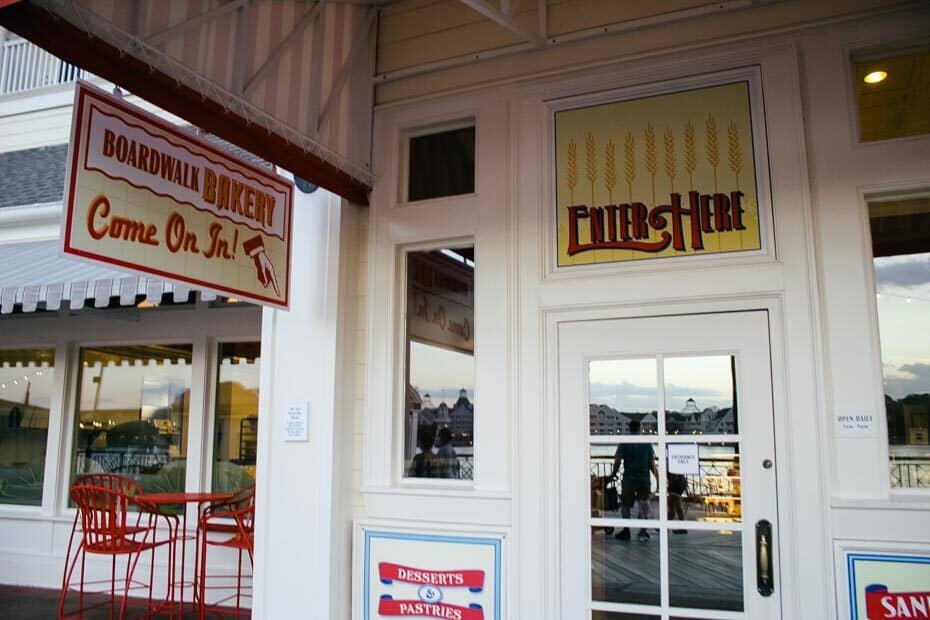 They do have a lot of treats, so it's a wonderful place to pick up a dessert. And some of the salad items are nice. We'll take a closer look at one in a minute.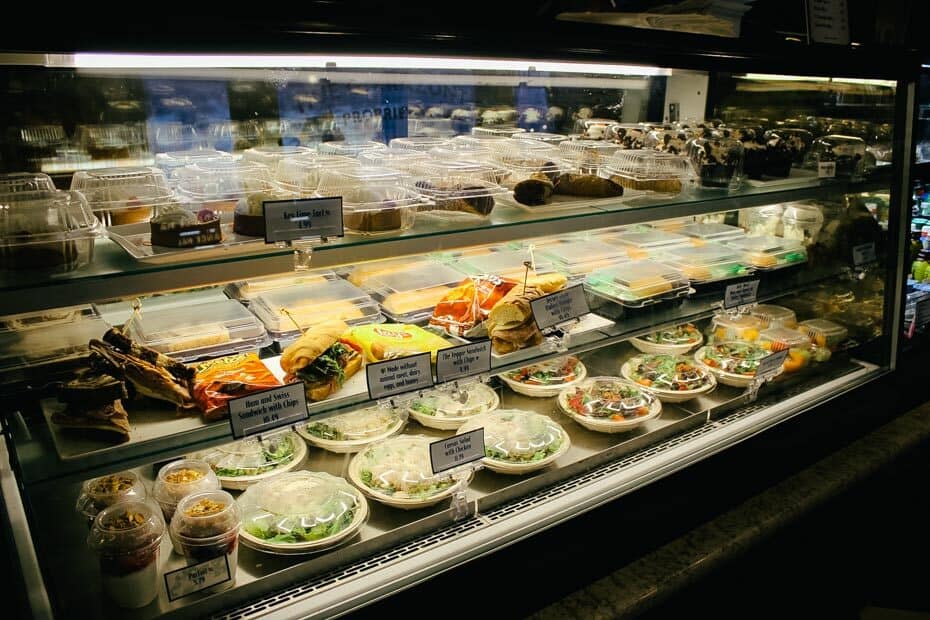 But as you can see a majority of the lunch and dinner selections are sandwiches that were pre-assembled "earlier in the day."
Here is a look at the veggie sandwich. Naturally, it's the same pre-made sandwich that's sold next door at Disney's Yacht and Beach Club.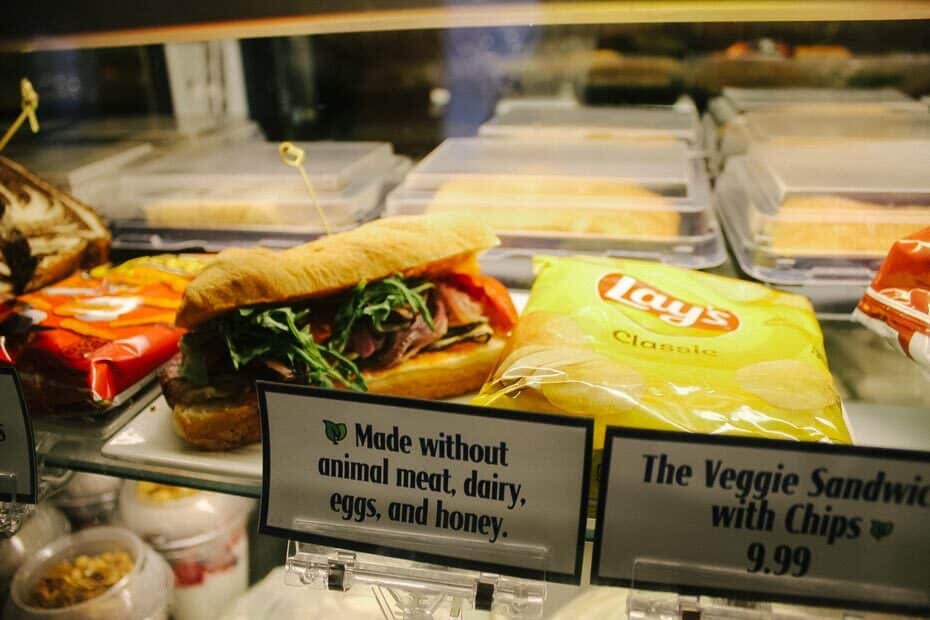 Here is an additional view of the case. The sandwiches include:
Ham and Swiss
Jersey-style Italian Hoagie
The Veggie Sandwich
Grilled Cheese
Since Disney has implemented mobile order at most counter services, I decided to pull up the menu one day to see what options I had. When I saw grilled cheese, I knew that it had to be made fresh since it was an item served hot. So I thought to myself, why not and ordered it.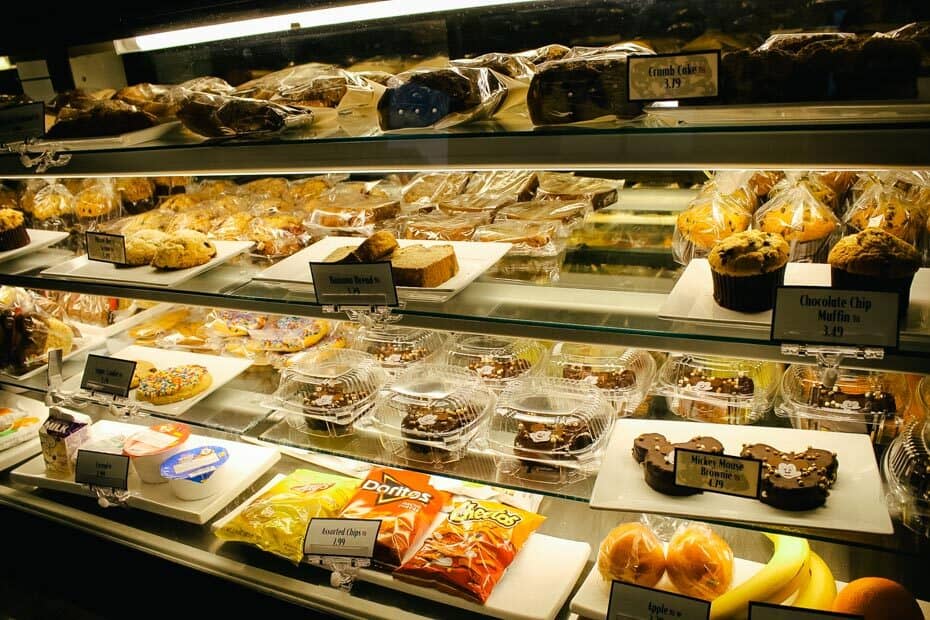 When I went to pick up my order, I noticed that they had a mixed berry salad that was not on the mobile menu. I asked the cast member about this, and she said that several of the items were not listed on the menu.
From my comings and goings at Disney, this is a bit unusual. Most of the counter services have everything on the menu down to the grab-and-go items in the cooler.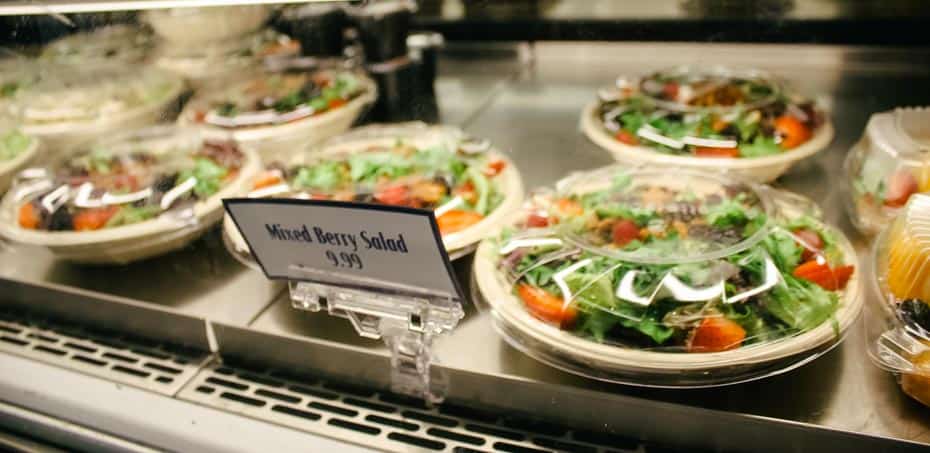 The grilled cheese ended up being an excellent choice. It was served on yummy grilled sourdough bread and came with a bag of chips.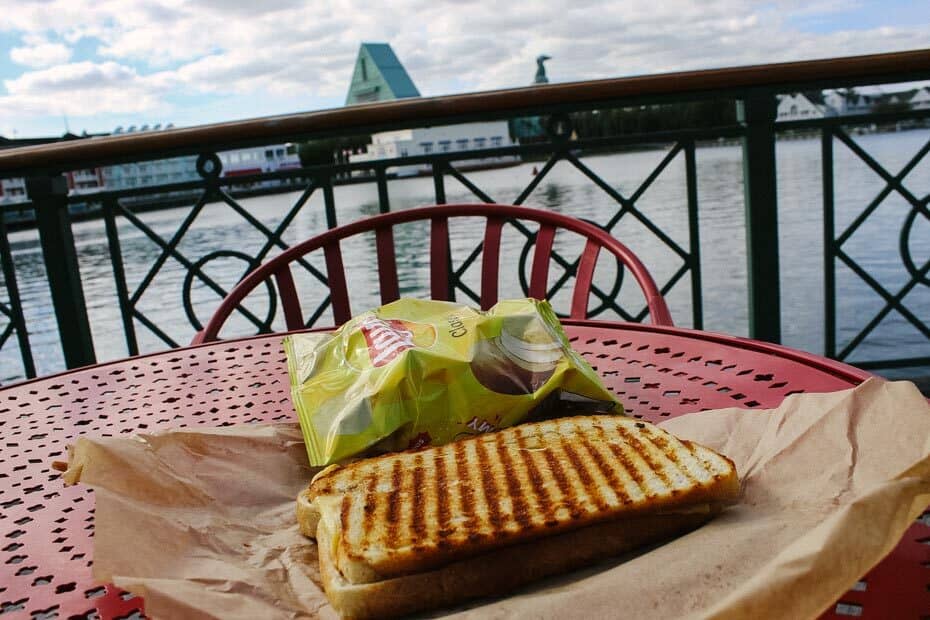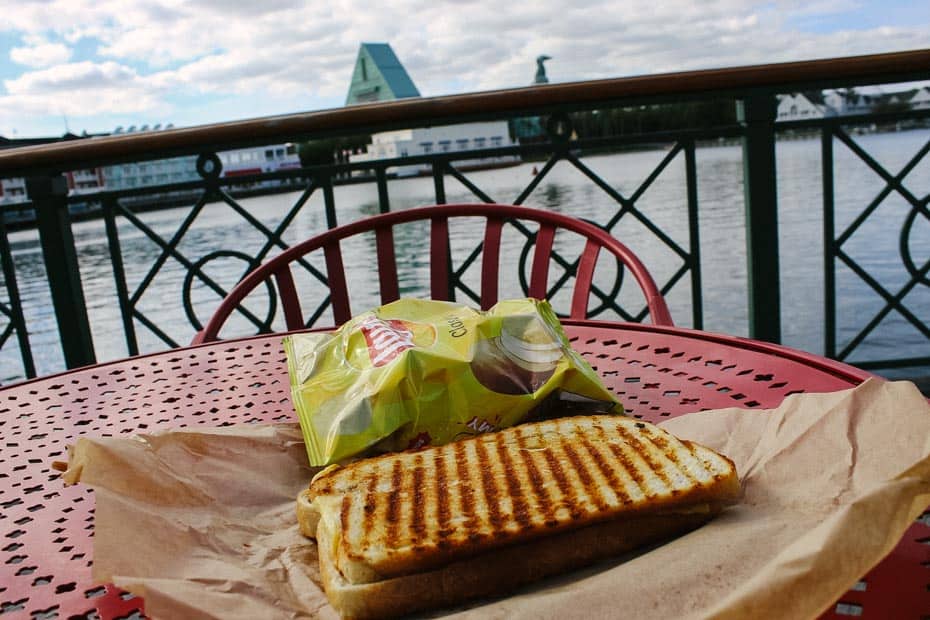 You can't tell from the picture, but a decent amount of cheese was involved between those slices. The grilled cheese was a good size, and I found it filling for the $9.99 price point. It was also pleasant to enjoy a meal out on the Boardwalk in the sunshine.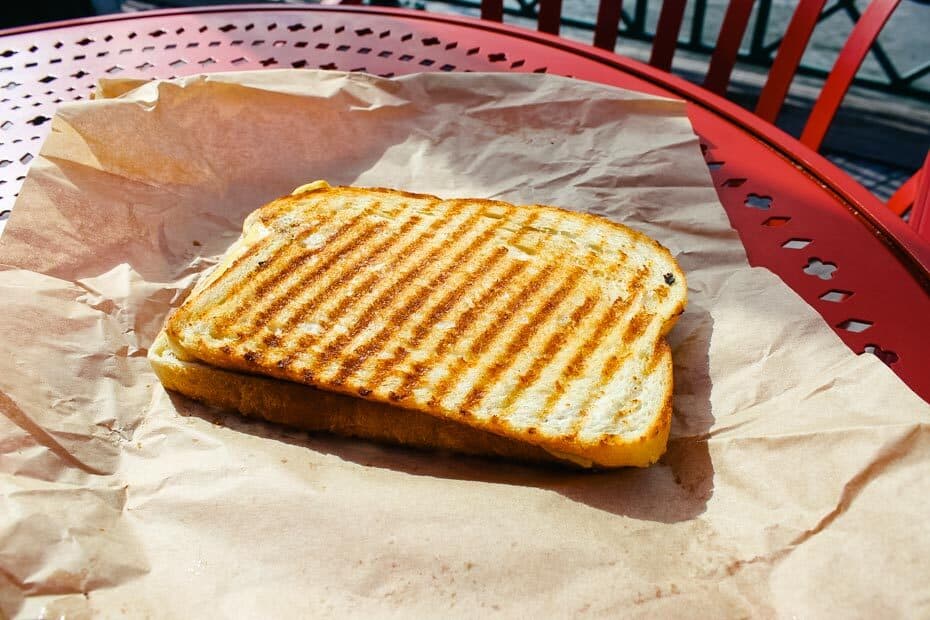 A few days later, while I was staying at Disney's Caribbean Beach, I decided to return to the Boardwalk via the Skyliner for another meal.
This time I picked up the clam chowder at Beach Club Marketplace and then walked over to the Boardwalk to see if the salad was still available. On my way back, I got off the Skyliner at Riviera and picked up a treat at Le Petit Cafe for dessert.
By the time I was finished I had a soup, salad, and dessert that I enjoyed back in my room. This is a fun idea and great way to utilize the Skyliner on a day or evening when you aren't visiting the parks.
The mixed berry salad turned out to be good. I was a little skeptical given the fact that it involved fresh fruit. But this is definitely something I would try again. Even though, it was pre-made.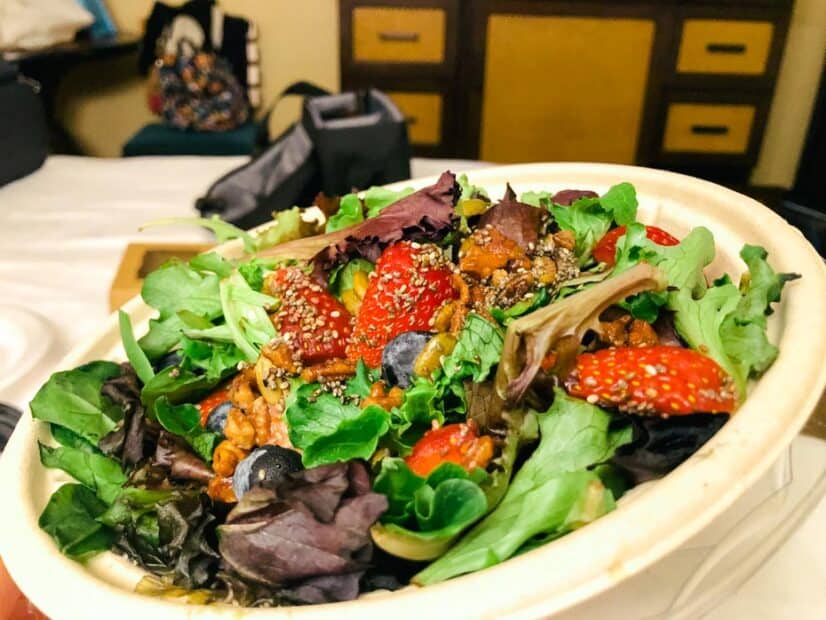 The salad was a mixture of strawberries, blueberries, pecans, and pumpkin seeds on a bed of spring mix. A raspberry vinaigrette came on the side.
As far as going out of the way for a meal at the Bakery, I probably wouldn't.
There are so many other good counter service options at the Disney resorts. For starters, you can't beat Primo Piatto at the Riviera. They are setting the bar for quick service right now. And Polynesian's quick service Captain Cooks has a great variety of options.
Hopefully, as time progresses, we'll see a better variety of counter service options at the Boardwalk Bakery.
Let me know your thoughts or anything you've tried here in the comments below.