Snapshot: Cookes of Dublin at Disney Springs
Cookes of Dublin is a counter service dining option located in The Landing section of Disney Springs. The restaurant predominately offers Irish-style food in quick-service form. The location is well-known for having a traditional fish and chips entree item.
Cookes of Dublin is next door to the trendy Raglan Road restaurant. There is also an outdoor bar called "The Hole in the Wall" between them.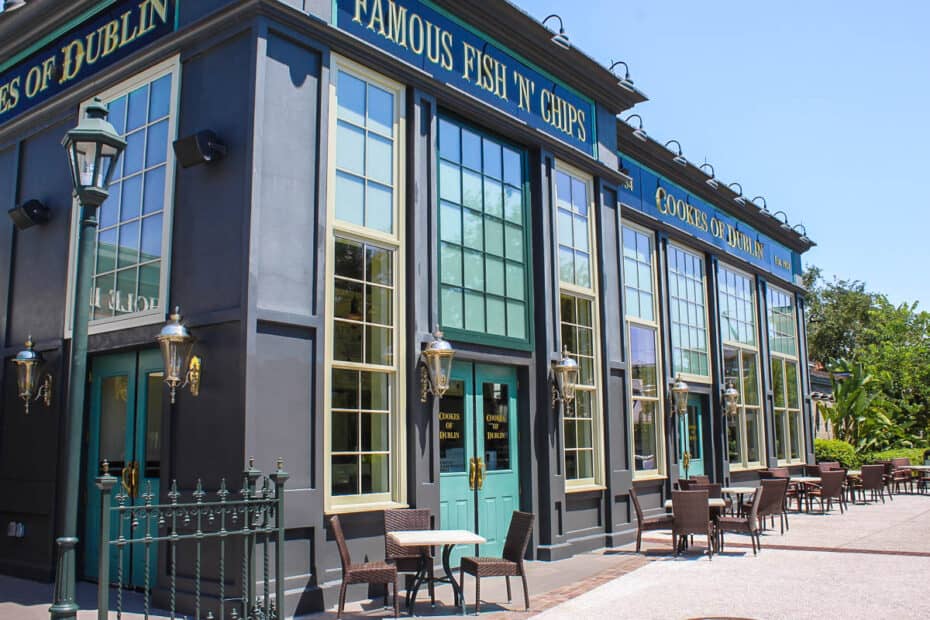 Here's all the need-to-know information for having a meal at this Irish quick service location.
| Disney Springs Restaurants: | Cookes of Dublin |
| --- | --- |
| Location: | The Landing |
| Type of Service: | Quick Service |
| Type of Food: | Irish |
| Price Range | $14.99 and Under |
| Disney Dining Plan | Unavailable |
| Tables in Wonderland | No |
| Annual Passholder Discount | No |
| Menu | View Here |
Cookes of Dublin Menu
Below is a look at the menu posted outside Cookes of Dublin, or you can click the link above to view the online menu.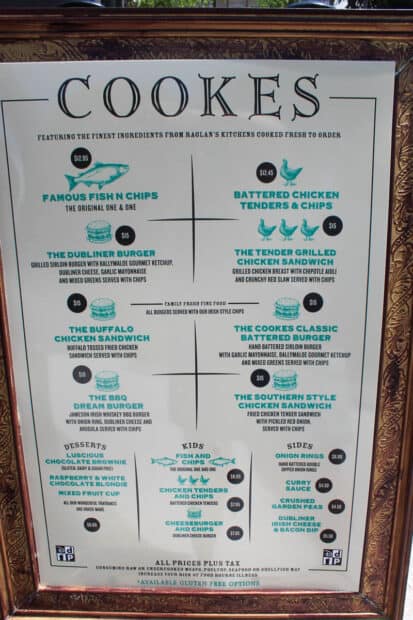 One of the fun things I always like to mention about this specific area of Disney Springs is that there are several counter service options in the immediate area. Most of them are connected to popular restaurants that require reservations.
If your group can't decide on a restaurant, everyone can pick up their own item. Then you can meet together at one of these outdoor dining areas and share your meal.
For instance, someone might like to pick up a meal at Morimoto Street Food. While, at the same time, another person will have a Mexican craving and pick up Frontera Cocina at their counter service window.
Related: Frontera Cocina Review
And the kids might even want to make their own pizza at Blaze while dad grabs a burger at D-Luxe Burger. Meanwhile, someone is picking up an order of fish and chips at Cookes of Dublin.
Designate a space to eat before you go your separate ways to pick up your food. All of these restaurants are located in The Landing and are literally steps from each other.
They even have a lovely space to dining outside. But I really prefer to eat under the awning at Morimoto Asia.
That's how I got this idea. One night I was eating there and saw a family meet up. Each one brought takeout from a different restaurant.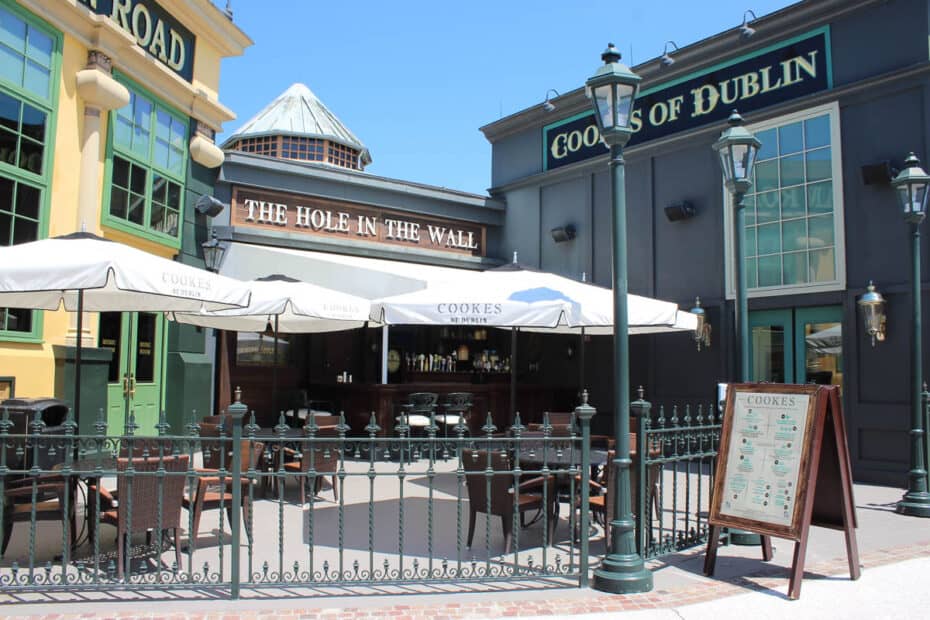 How fun is that?
Make sure to check out the best Disney Springs restaurants review. Or you might also be interested in checking out all of our Walt Disney World dining reviews.
And for learning how to get around this massive entertainment venue, try the Disney Springs transportation tips guide.
If you've had a chance to dine at Cookes of Dublin, what are your thoughts?