Haagen-Dazs at Disney Springs
If you are looking for a cold treat or ice cream, you might want to try Haagen-Dazs at Disney Springs on your next visit. The Haagen-Dazs kiosk is located at Disney Springs on the West Side next to Wetzel's Pretzels and Ye Sake.
This location offers hand-scooped ice cream, sundaes, shakes, and a few other treats. Below is a picture of the stand-alone kiosk. Additionally, it sits between the two bridges and Planet Hollywood.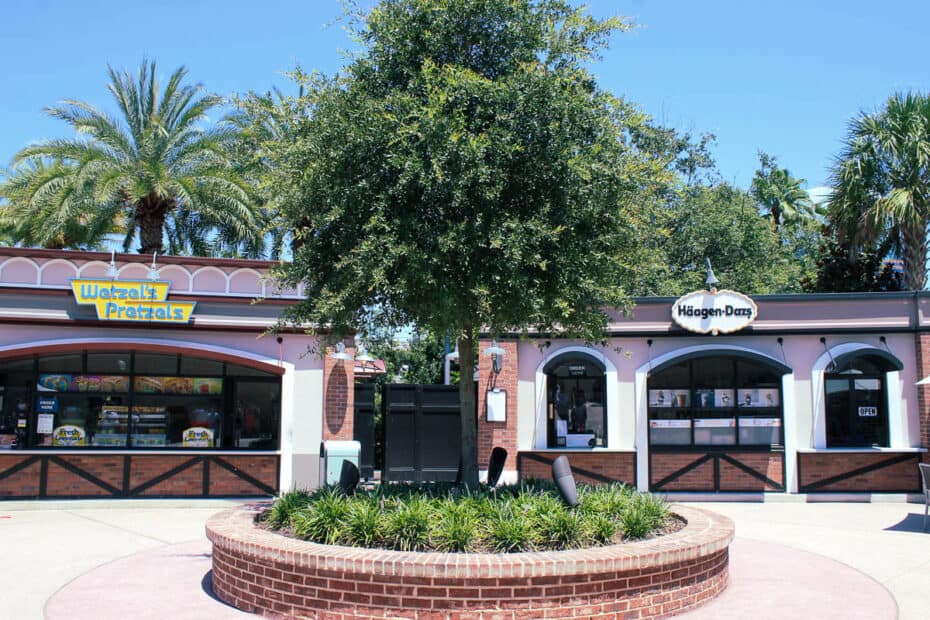 Below are the need-to-know details if you plan a stop at this location. Note that the Disney Springs Haagen-Dazs does offer an annual passholder discount.
Since it's tough to keep up with the different discounts, I always like to ask if they have one when making purchases.
| Disney Springs Restaurant | Haagen-Dazs Kiosk |
| --- | --- |
| Location: | West Side |
| Type of Service: | Quick Service |
| Type of Food: | Ice Cream |
| Price Range | $14.99 and Under |
| Disney Dining Plan | Unavailable |
| Tables in Wonderland | No |
| Annual Passholder Discount: | Yes, 10% |
| Menu | View Here |
You can view the Haagen-Dazs online menu by using the link in the table above. I enjoy all of the flavors I have tried, but peanut butter chocolate is pretty special.
If you are trying to decide where to grab a bite at Disney Springs, make sure to check out the review of the best Disney Springs restaurants.
And our Guide to Transportation at Disney Springs will help you learn how to get to, from, and around the venue on your next Disney vacation.
Or you might enjoy reading one of the following reviews:
You can also browse our entire list of Walt Disney World Restaurant Reviews
That article contains a list of every restaurant review we have available on the site.
So what is your favorite flavor of Haagen Dazs ice cream? Do you ever stop here for a scoop when you visit Disney Springs?