Disney's Hollywood Brown Derby Review
Disney's Hollywood Brown Derby is an iconic dining location in the Hollywood Studios theme park. The restaurant is also the only Disney signature dining location in the park.
In this Hollywood Brown Derby review, we will look at several items we've enjoyed at the restaurant to date. Additionally, I'll include a few things we've ordered at the Brown Derby Lounge.
If you are wondering, there are two options for dining at Disney's Hollywood Brown Derby. The first is to secure an advanced dining reservation and dine inside the restaurant.
This article includes several meals we've enjoyed at the Brown Derby. The article was updated on March 12, 2022.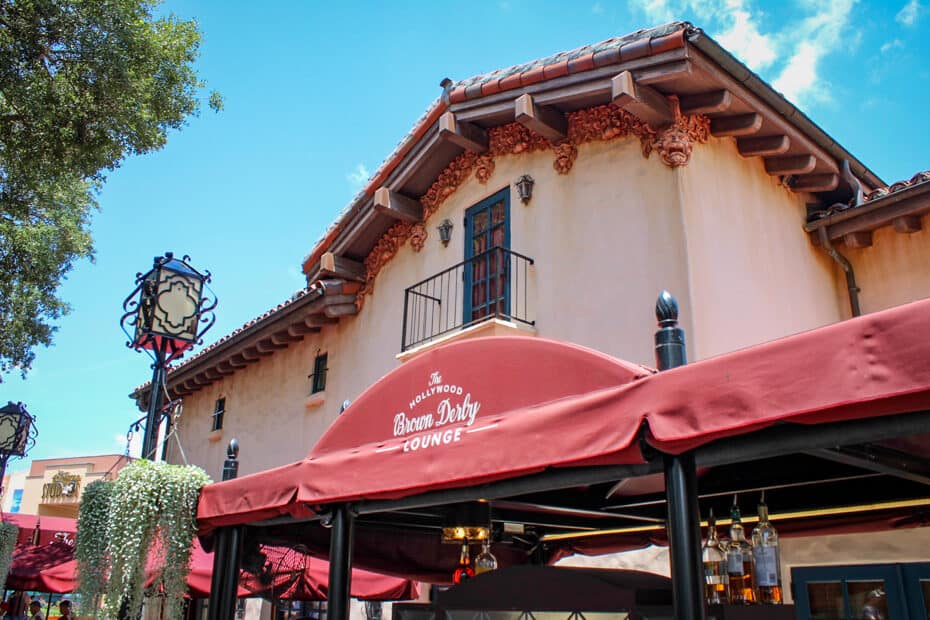 The second option is to dine outside at the Brown Derby Lounge. This option doesn't require dining reservations.
However, you will have to wait on availability for seating. We have eaten here a few times, and on a busy day, it's usually about a 30-minute wait.
Brown Derby is located in Disney's Hollywood Studios right off Sunset Blvd.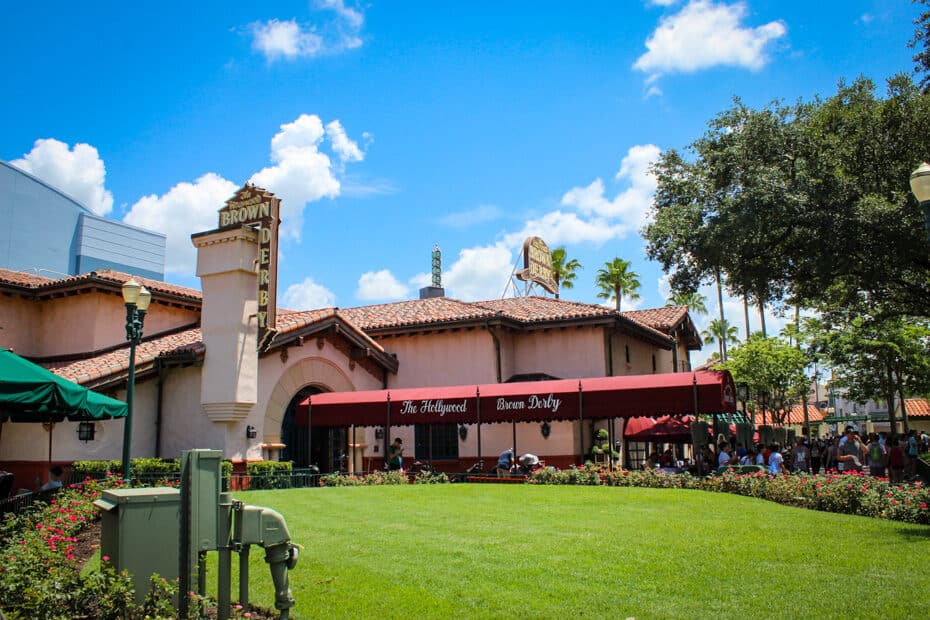 The restaurant is a replica of the infamous Brown Derby located in Hollywood. Inside, you can expect classic black and whites color tones. In addition, the walls are decorated with caricatures of actors and other famous faces.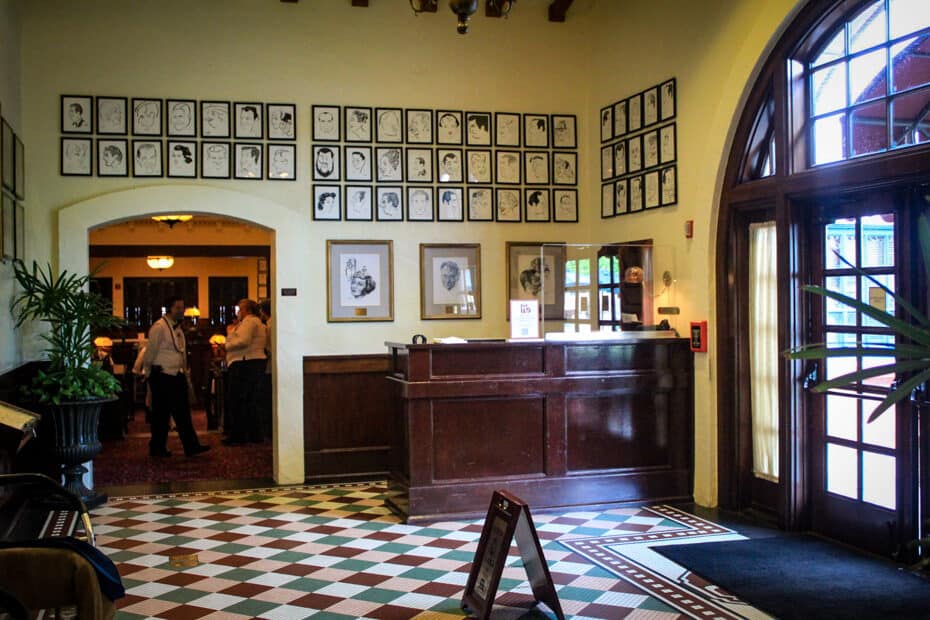 Below is the large dining room at the Brown Derby. There is a raised level around the exterior where some guests will sit.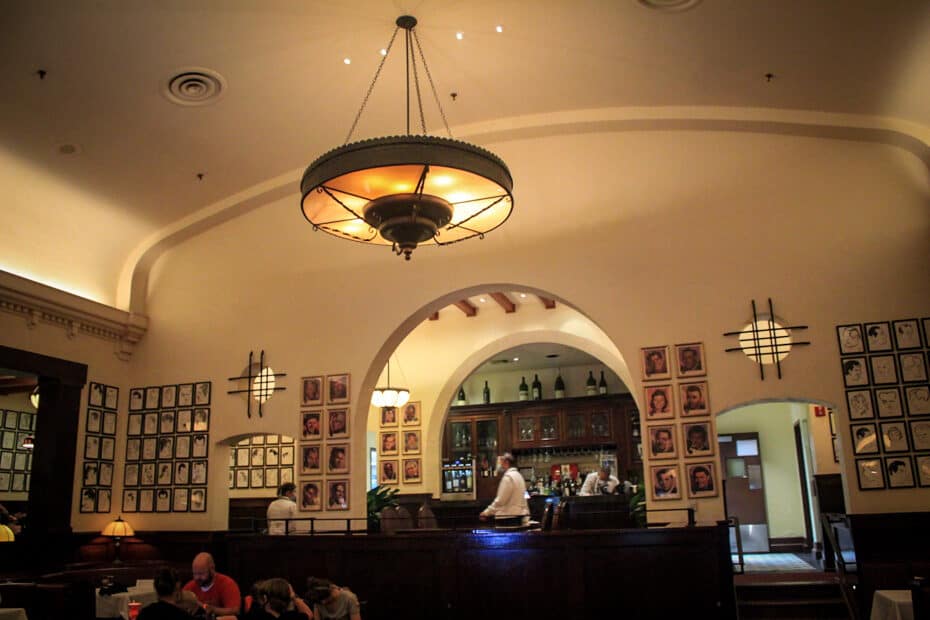 But the majority will sit on the lower main dining floor.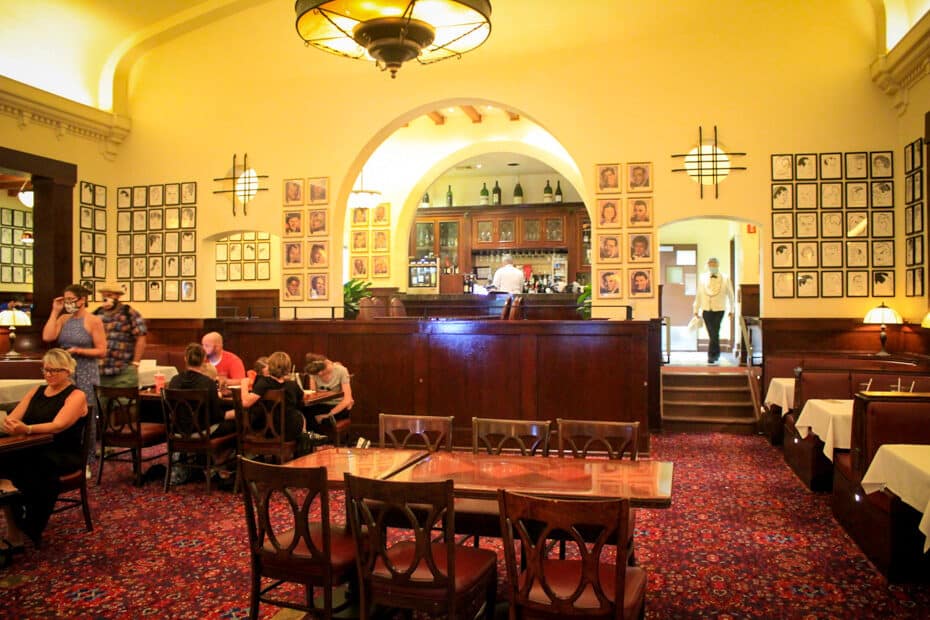 We sat pretty close to the exterior wall facing the Brown Derby Lounge on our last visit.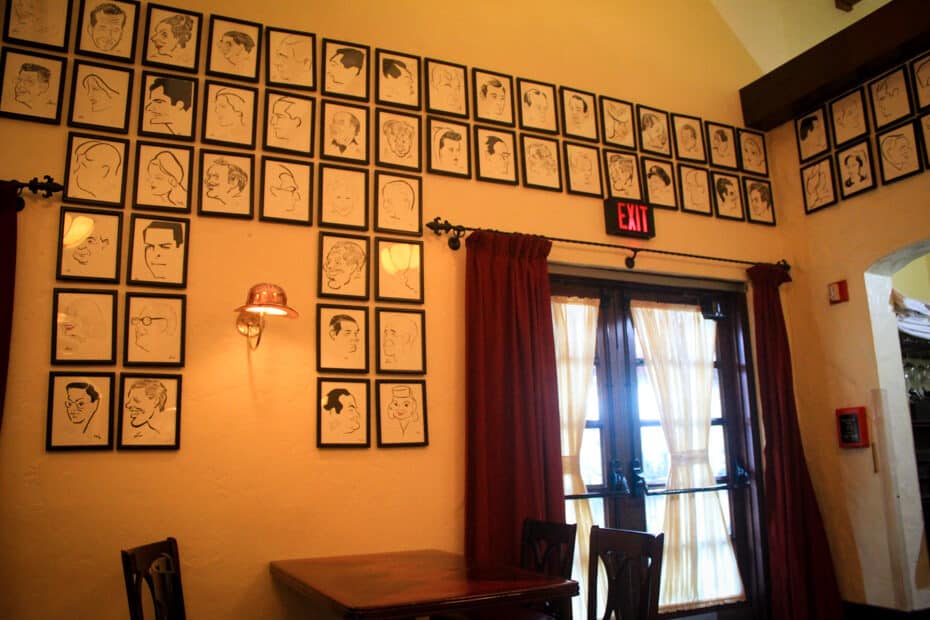 Disney World's Brown Derby menu is available here on Disney's site if you would like to review it. In addition, they have added many new items like:
Filet Mignon with Walt Disney's Roast Beef Hash
Shrimp and Scallops Newberg
Wild Mushroom Risotto
Free-Range Chicken à la King
I'm already contemplating what I'll have on a return visit. There's a chocolate-coconut plant-based cake that sounds appealing.
Anyway, you will scan the code with the photo application on your phone, and your browser will open with the current menu. If you don't want to use your phone or the internet on your phone, a server will bring you a disposable menu.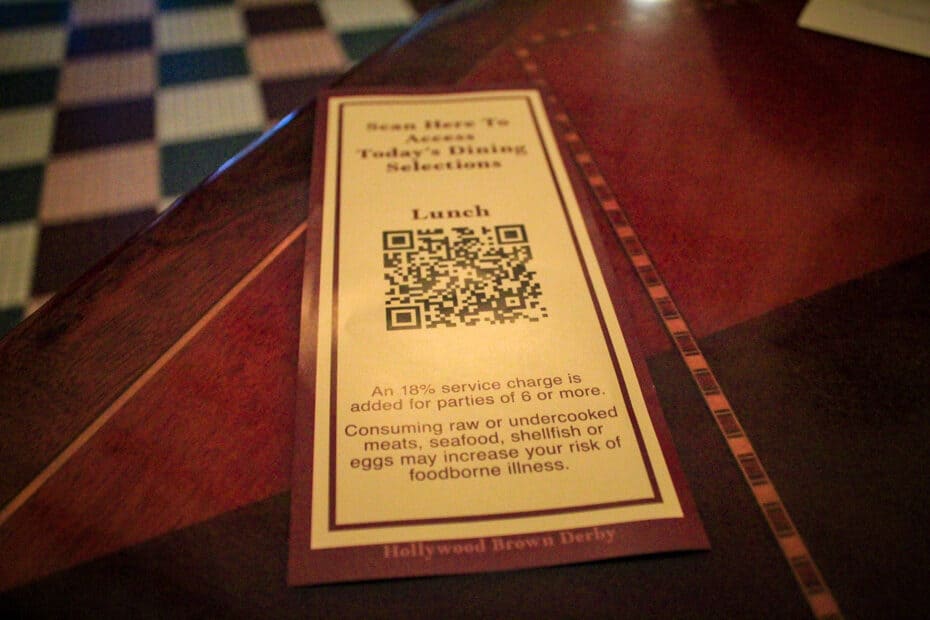 Bread service is included at the Brown Derby. These rolls are pretty standard, but the salted butter is delightful with them.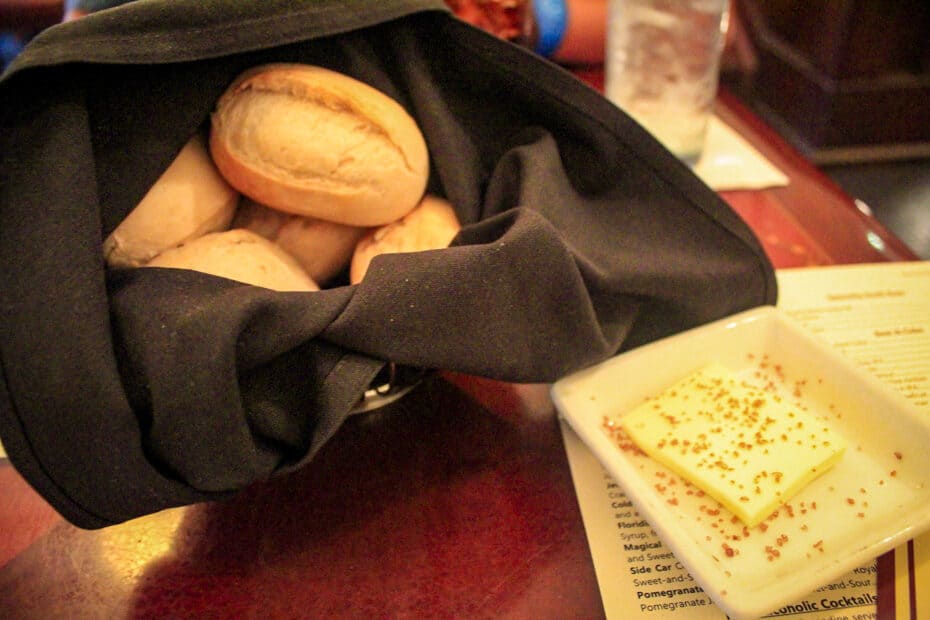 I've had the good fortune of eating at Brown Derby several times over the years. A few past meals include an Andouille-crusted chicken breast sandwich and the grilled Wagyu beef burger topped with a fried egg.
While I don't have a photo, I can say these are both excellent options. If you have any interest, I would highly recommend trying either.
On this visit, I decided to try a menu item that I've heard others rave about over the years. But, for whatever reason, I had never ordered it before. And I wasn't sure if I would care for it.
So I bit the bullet and ordered the famous Cobb salad. And since I was a little on the fence about the salad, I added the George Banks shrimp enhancement.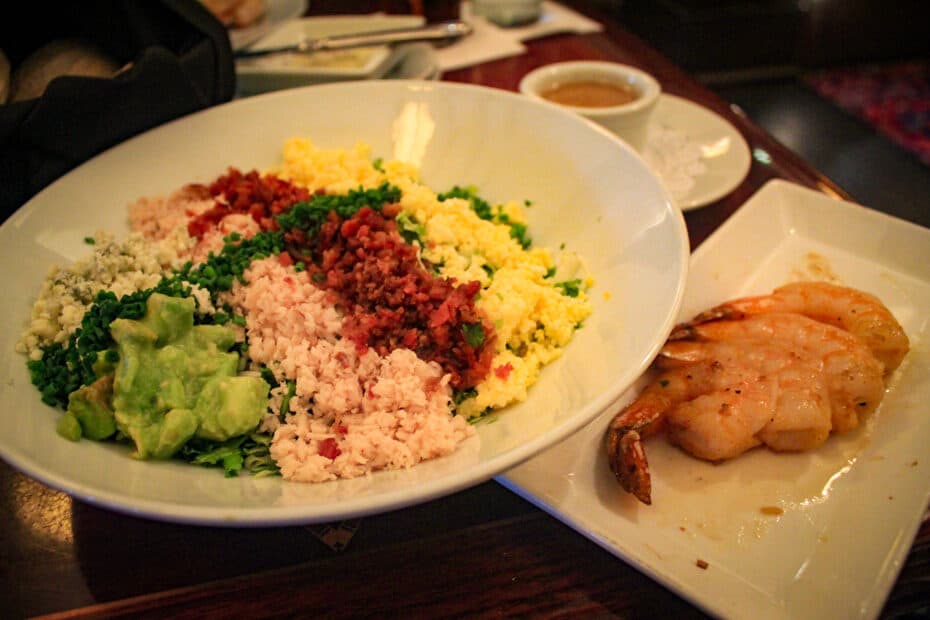 This salad left me wondering why I had never ordered it before. The Brown Derby Cobb salad comes to the table as pictured below. All of the ingredients are finely chopped, which is part of what makes it their signature dish.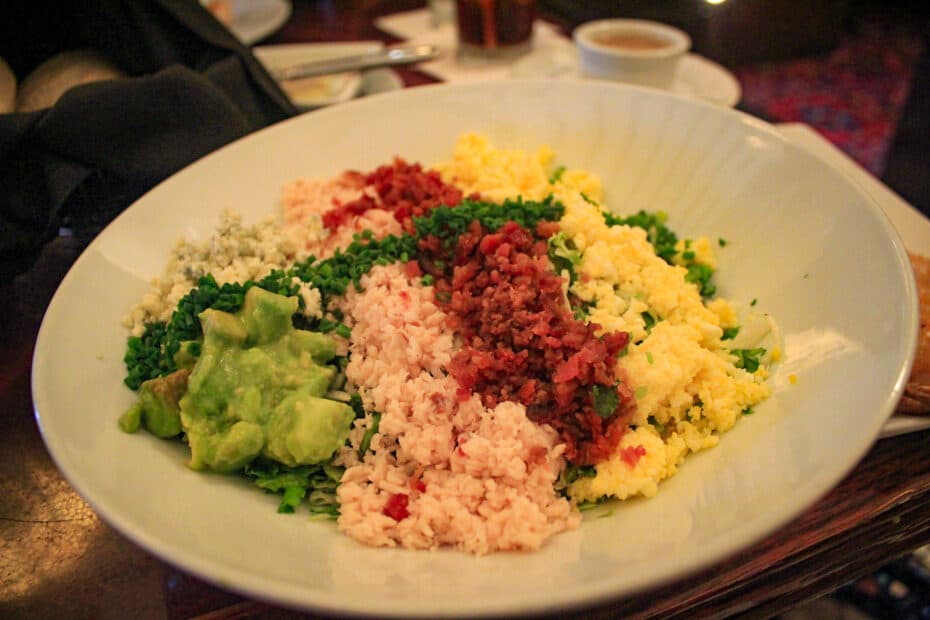 The salad comprises eggs, chives, bacon, turkey, avocado, blue cheese crumbles, and Cobb dressing. And yes, there's finely chopped lettuce underneath all of the toppings. (This salad typically comes with tomatoes, but I ordered mine without.)
When the Cobb salad is brought to your table, a server will come by with a pair of tongs and offer to toss it for you. It's all very formal.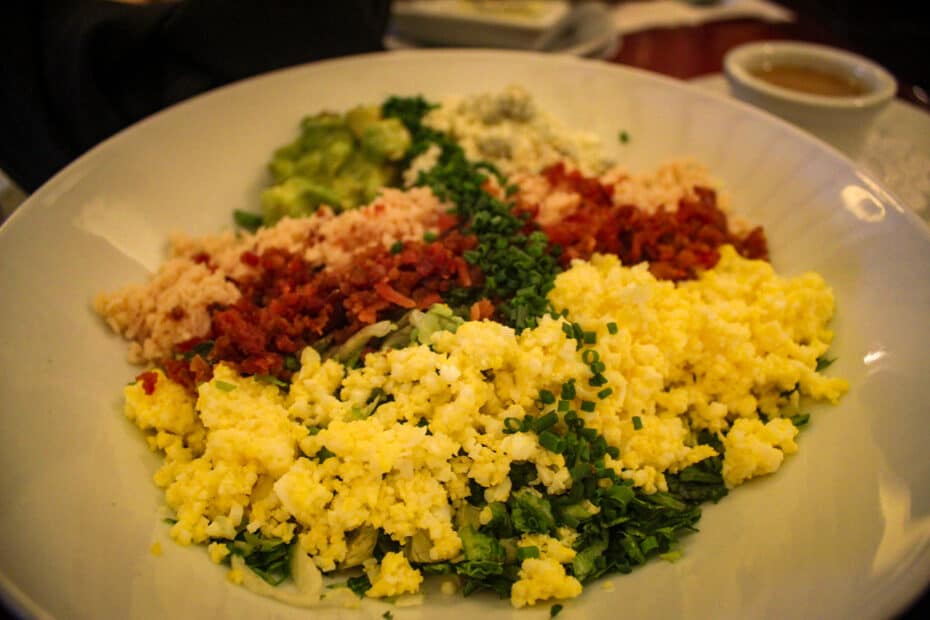 The dressing is comparable to a mustard and lemon vinaigrette and complements the dish well. As far as the Cobb salad goes, I will order it again in the future. It was a large portion and left me full without feeling guilty about eating it.
Since I tried this salad, I've created my own version at home. So it's now something we eat on the regular.
And the shrimp I ordered on the side was quite the treat. Upon first appearance, the shrimp didn't look great. But I can attest that these were high quality and expertly executed.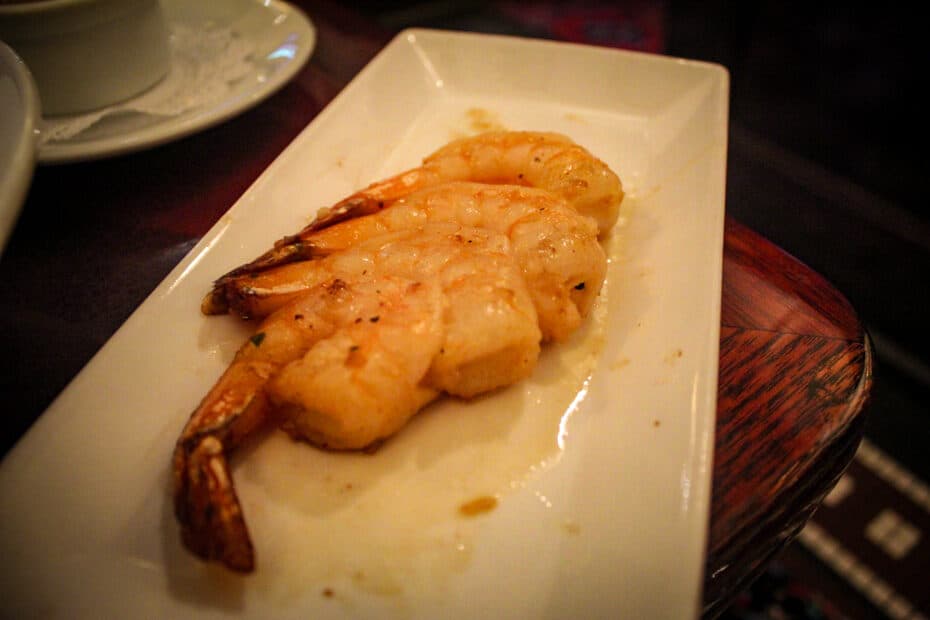 My son had already eaten a Ronto Wrap over at Galaxy's Edge earlier that morning on this visit. Therefore, he decided to order a grilled chicken kids' meal.
He is by no means a child, but some of these items are often easier to order due to his food allergies.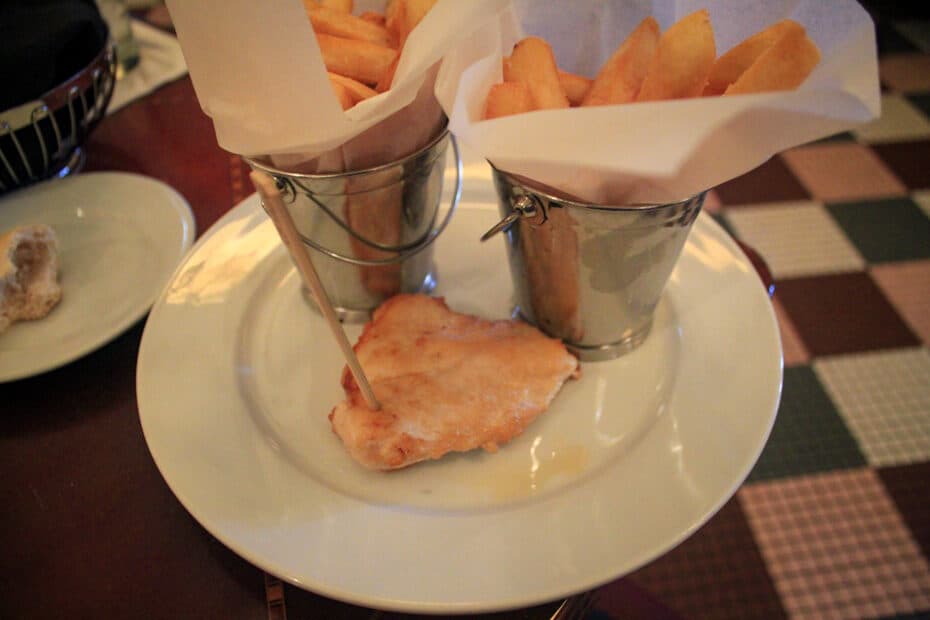 Usually, when we eat at Brown Derby, he orders the filet, and they prepare it with sides that will accommodate his food allergies. But on this visit, momma wasn't willing to fork over fifty bucks for a steak since he had already eaten.
Moving on, we'll take a look at a separate dining experience at Disney's Brown Derby Lounge. The lounge is one of my top spots to eat when I don't have reservations and want something a step above counter service.
The benefits of dining at the lounge are walk-up seating, good food, and a pleasant location. If the weather is nice, you can't beat an alfresco meal here.
The Brown Derby Lounge is also a fun place to do a little people-watching. It's enjoyable to sit out and observe the comings and goings of other park guests.
And the background music in the area is pretty special as well. Sometimes I like to listen to the park's background music videos while writing these reviews. You can't beat the classic tunes from Studios.
As far as securing a table at the Brown Derby Lounge, you'll need to walk up to the gate and ask the host for a table. They will seat you if there is something immediately available. Or they will take your number and text you when a table is ready.
There are plenty of places to sit and wait in the immediate area. You can also step inside Brown Derby if you need to use the restroom before being seated. When you enter the restaurant's foyer, walk around the hallway to the left, and you'll find it.
Once seated at the lounge, a menu is presented on the table. If you like, you can request the full menu from the Brown Derby restaurant. Both the Brown Derby and the Brown Derby Lounge share the same kitchen, making ordering from both menus possible.
The menu on the day of our last visit to the lounge offered several good options. The prices here are a bit more reasonable as compared to the regular Brown Derby menu as well.
Perhaps, the most popular item here is a smaller version of the famous Brown Derby Cobb Salad. Several of the tables around us had this option, and it was quite a sizable salad for the lower price point.
Some of the other offerings included:
Artisanal Cheeses and Charcuterie Board–featuring house-made pickles and French Bread for
Cochinita Pibil Steamed Buns–with green tomatillo, Habanero sauce, and pickled onions for
Andouille-Crusted Shrimp– Cotswold cheddar grits, microgreens, and lime juice for
Derby Sliders–Wagyu Beef with Cognac-mustard aioli, smoked Gouda cheese, Bacon, Tomato and Avocado
A drink list is available if you are looking for something a little different. Additionally, with a full bar, they can make almost anything you request.
Here is a look at the margarita flight that's pretty popular. It does look appealing.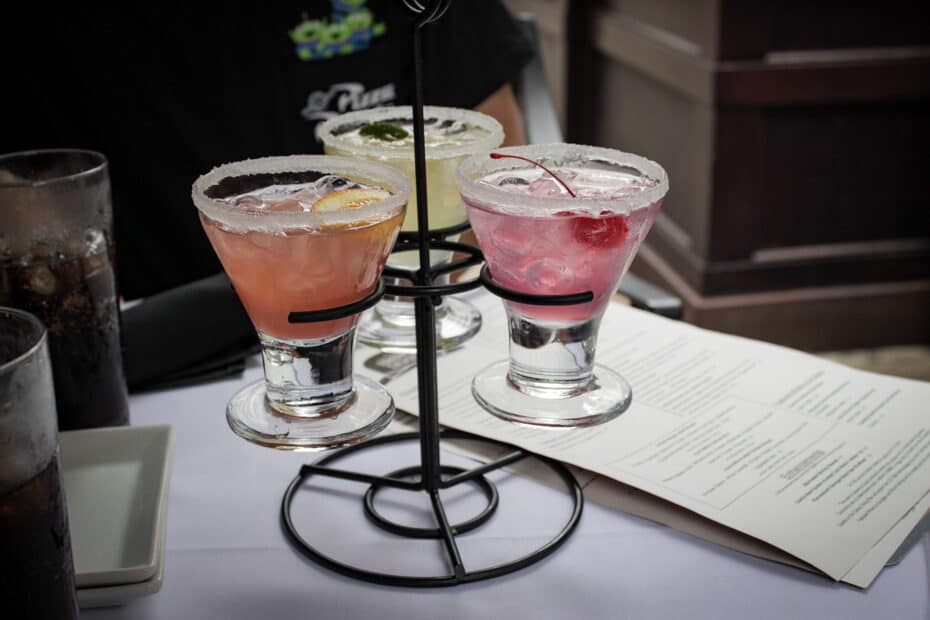 Per the menu: this Margarita Flight features Classic, Blood Orange, and Pomegranate Margaritas.
If you are looking for something light, flavored, and fun, it might be a good option. However, I felt that the blood orange and pomegranate came off as having a more artificial taste. Therefore, I would not reorder it.
This day, I also requested a copy of the Brown Derby's menu. I wasn't in the mood for a Cobb salad and wanted to see what other salad options were available. I went with the Local Greens and Baby Spinach Salad.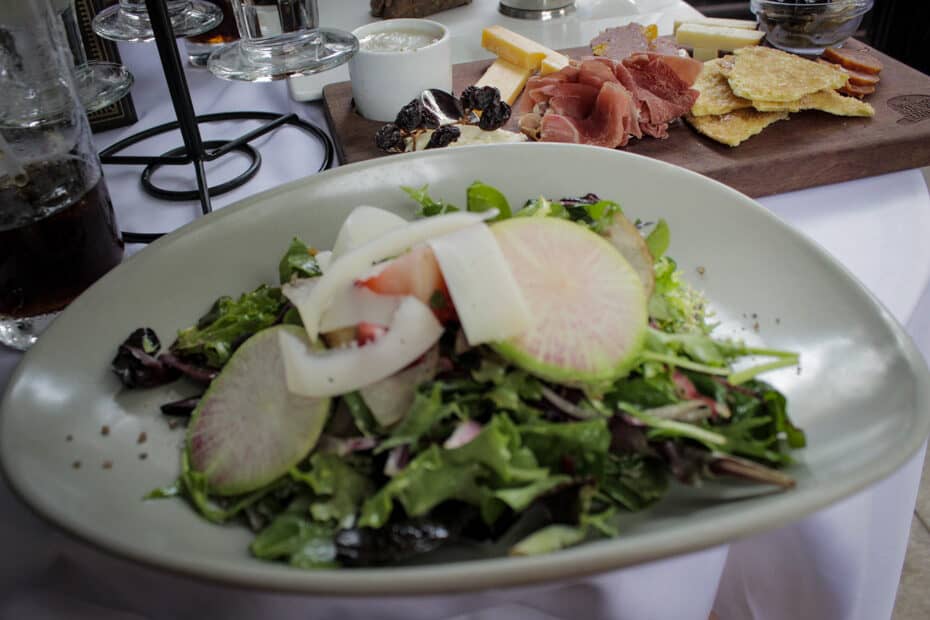 Local Greens and Baby Spinach Salad–described as warm bacon vinaigrette, Asian pears, strawberries, Midnight Moon goat cheese, and watermelon radish.
This salad was a definite winner and something I would order again. The greens were tossed in the light vinaigrette, and the fruit and vegetables were nice crisp slices that bound this whole dish satisfyingly together. I was quite pleased.
What can I say? The Artisanal cheese and charcuterie board was delicious as well. The cheese offerings were an excellent selection.
There were also three different types of meat, pickles and duck rillette. The rillette was ten times better here than the one I had over at Geyser Point Bar and Grill.
Related: Geyser Point Bar and Grill Review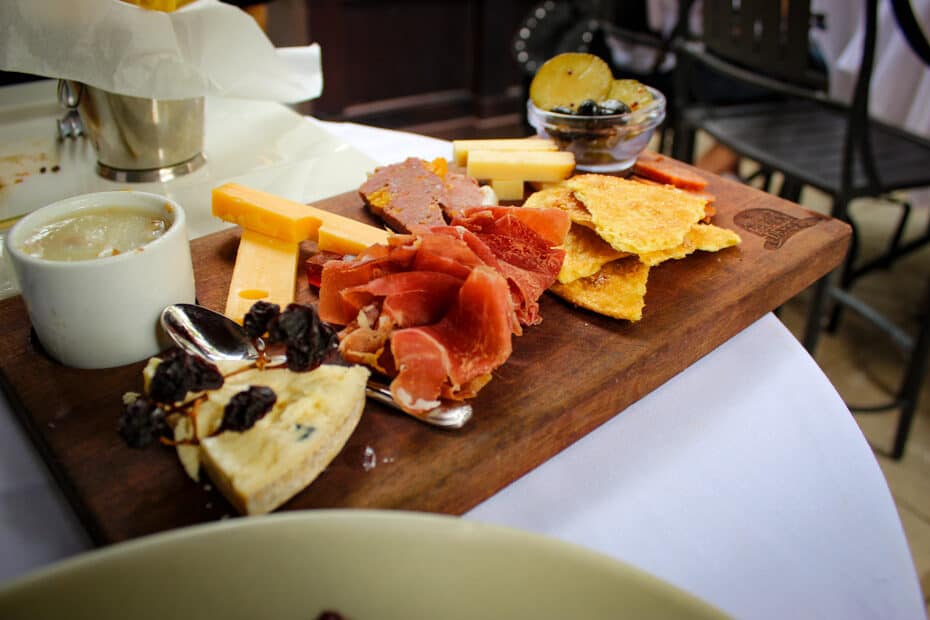 This was quite a large and perfect item for sharing or ordering alone as more of an entrée.
Overall, both Disney's Hollywood Brown Derby and the lounge offer many great choices. Both restaurants certainly keep us coming back with their unique menu options and the ability to order in different price ranges.
The restaurant and lounge also provide fun dining environments. Inside the restaurant, you can expect a flair of glamour associated with the Golden Age of Hollywood. And it's hard to complain about dining outside here on a pleasant day.
There's just a little something extra special when it comes to dining at the Brown Derby. So, I hope if you have an opportunity to partake in a meal here that you'll enjoy it as much as we do.
Make sure to check out the complete list of Disney Dining Reviews. You might also enjoy these specific reviews:
Additionally, you might enjoy learning more about dining with characters. We have a full review of Disney World Character Dining. That guide includes tips on the best meals, photos, and autographs at these dining experiences.
Are you planning a trip to Walt Disney World? Check out our tips for planning a split stay or you might like to familiarize yourself with transportation options like the Disney World Monorail or our guide to the Skyliner Resorts with travel times.
In the comments: Have you visited the Brown Derby or the Brown Derby Lounge before? Did you find this review helpful? What items interest you?