Takumi Tei Review at Epcot
2022 Update: Takumi Tei has yet to reopen as of early 2022. When it does reopen, I'll update this review. In the meantime, feel free to continue to read our review.
Takumi Tei is the latest signature dining establishment at Epcot's Japan Pavilion in Walt Disney World. The restaurant offers Japanese-inspired cuisine.
You might order anything from a high-grade sushi platter to a full-course tasting menu that compares American and Japanese Wagyu.
Takumi Tei has an extraordinarily subtle yet elegant interior. The mood is relaxed, and you will indeed be treated as an honored guest during your dining experience.
And yes, it is an experience, especially if you decide to go with the tasting menu.
For this Takumi Tei review, we'll take an overall look at the restaurant, menu, and the full Omakase tasting menu. So be prepared.
This early evening visit to Epcot turned into a two-hour-plus Disney fine dining experience. It was unexpected.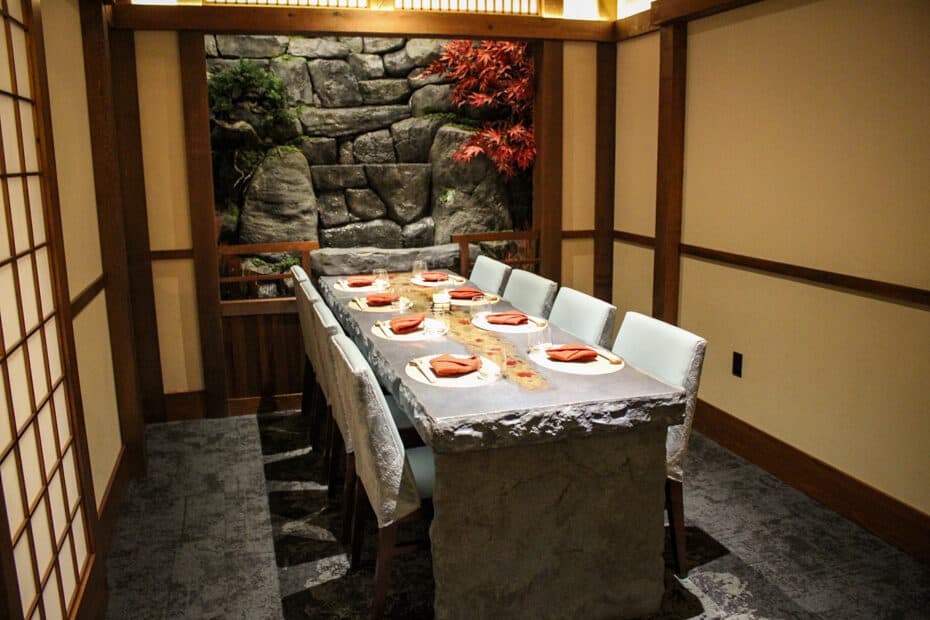 If you are familiar with the layout of the Japan Pavilion, you know the Mitsukoshi department store is located on the right side entrance of the pavilion. Takumi Tei's entrance is on the far right-hand side of Mitsukoshi.
When you first arrive at Takumi Tei, you will enter this hallway where the different elements and rooms are represented. The hostess will point out the earth elements and provide you with a mini-history before seating your group.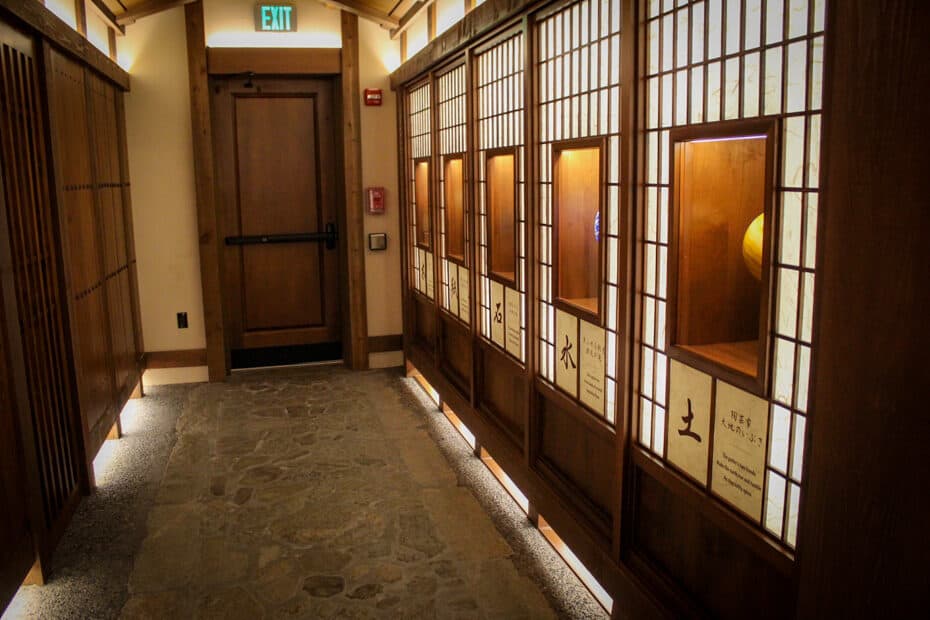 It is all well done.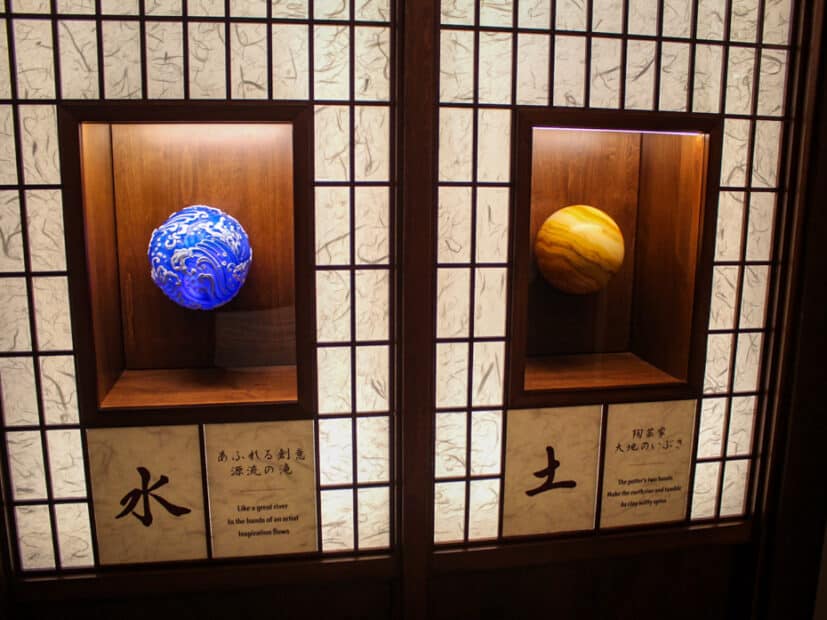 Furthermore, the restaurant has nice clean lines that provide a calming effect. I thought this Kimono display in the window was a lovely touch.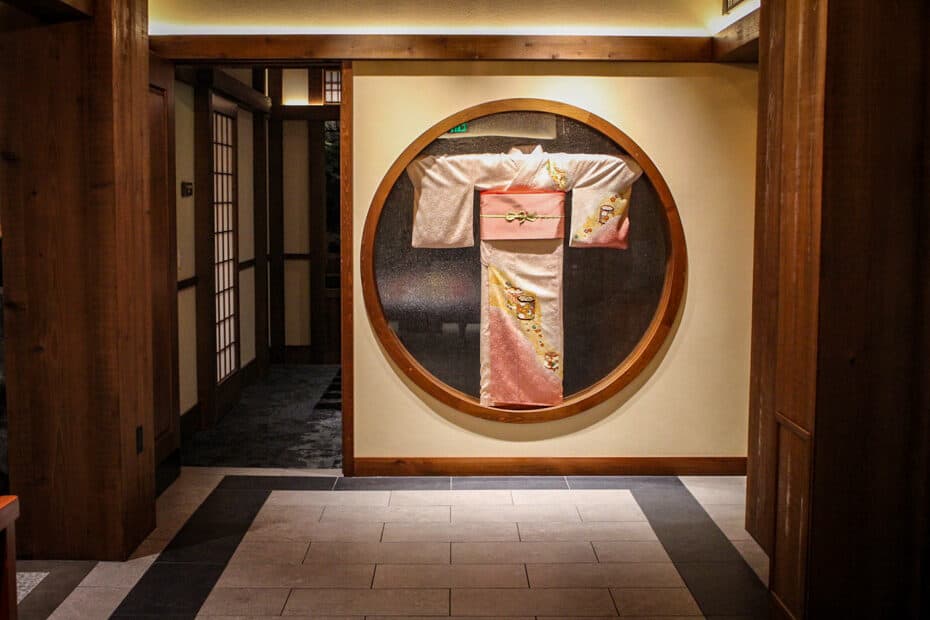 Below is the room where we were seated.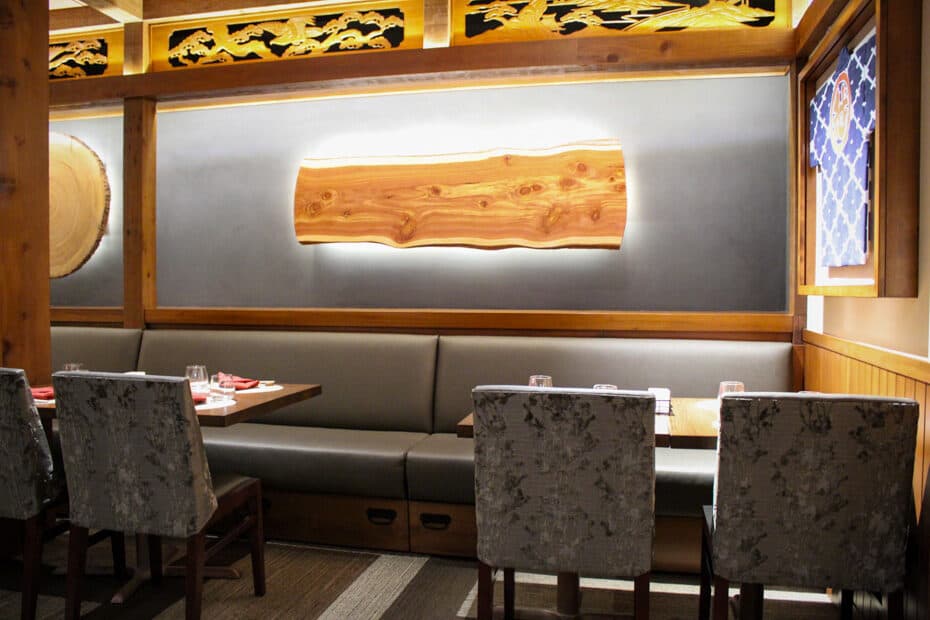 And a look at the room immediately behind us.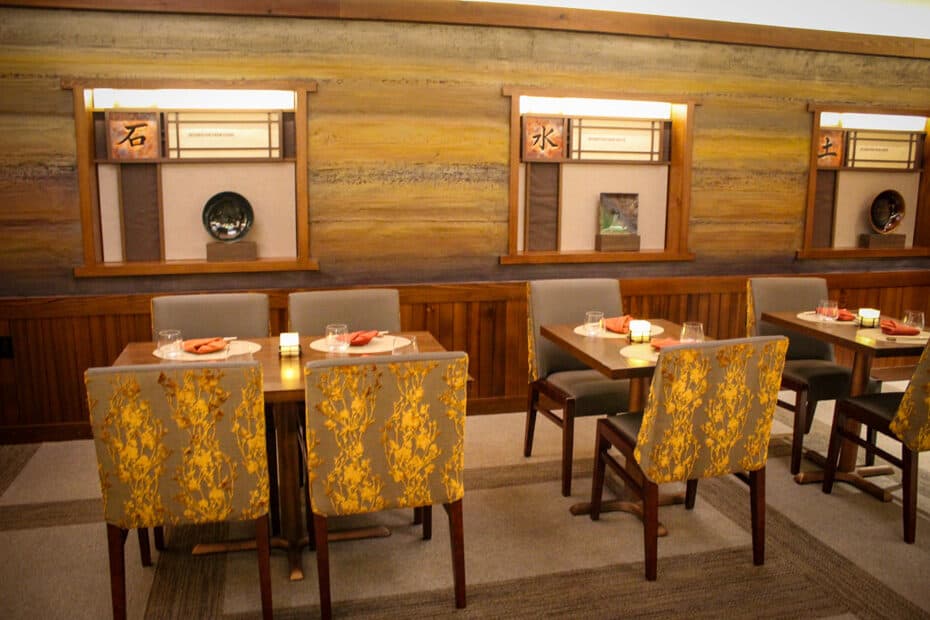 We have the Chef's Table and dining room in the following picture. Again, this room is a special request reservation that must be booked by phone.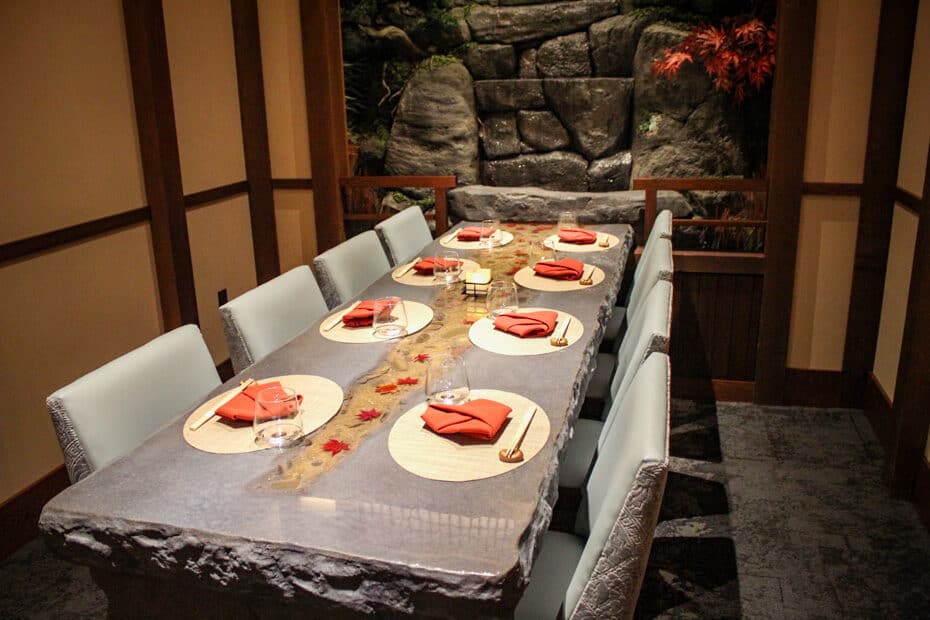 Takumi Tei only reserves this dining room to one group per evening. Therefore, they prefer to have six people present to secure it. However, they will accommodate special requests on a case-by-case basis at certain times.
It sounds like an excellent opportunity to have a once-in-a-lifetime type of dining experience.
When we arrived at the restaurant, the hostess gave us a little walkthrough and recognized us as honored guests. Then, we were shown to our table in the room that represented the element of earth.
There we were presented with a stylish menu.
If you would like to review the Takumi Tei menu, it's available here on Disney's site.
Inside the Takumi-Tei menu cover, the Japanese Whisky selections are listed. There were six different selections:
Yamazaki 12 single Malt
Ichiro Malt and Grain
Nikka Coffey
Kaiyo The Single 96
Hibiki Harmony
Hakushu 12 Single Malt
My friend Jordan was kind enough to join me for dinner. Our server discussed the options with him and recommended the Hibiki Harmony.
Below is a picture of that selection. The whiskey was brought out in a modern presentation with one large ice cube. Jordan noted it was a nice pour that went down smooth yet strong.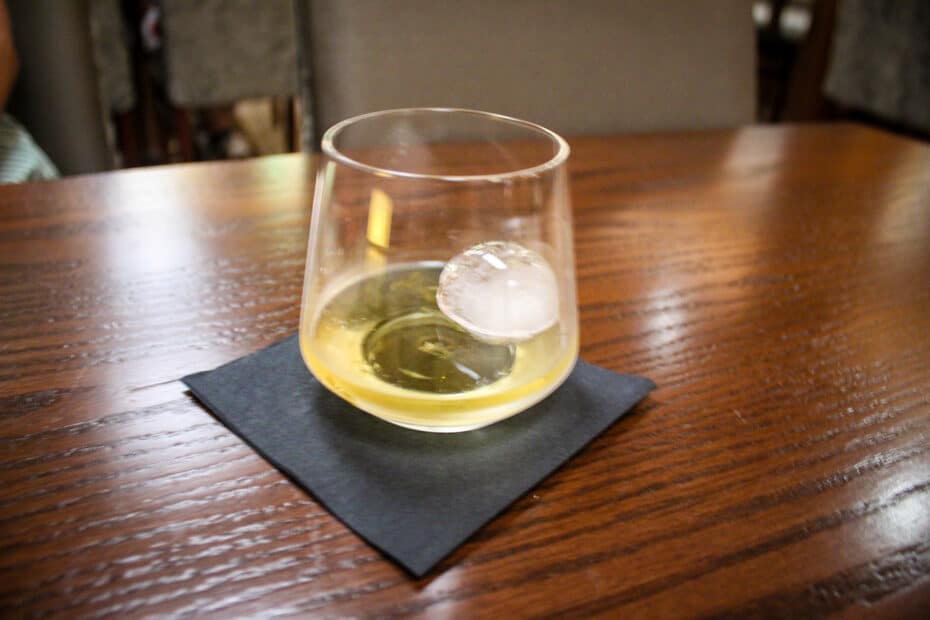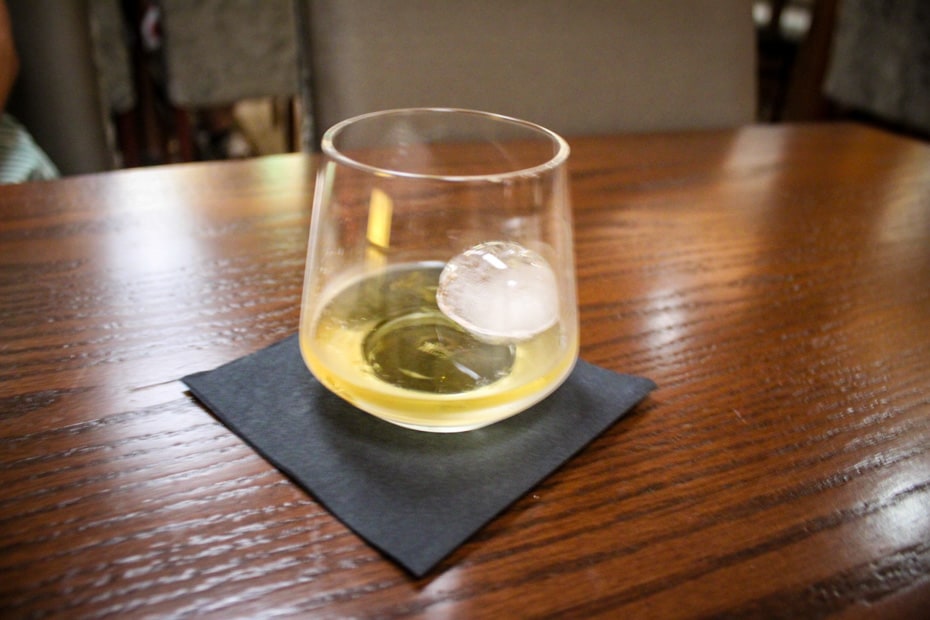 I went with a cocktail that is not listed on the menu. The server asked if I liked watermelon. And since I do like watermelon very much, she suggested trying the "seasonal watermelon cocktail."
This cocktail turned out to be an excellent option presented similarly to a margarita. It had a tad bit of salt on the rim, rind garnish, and a frozen watermelon ice cube floating in the center.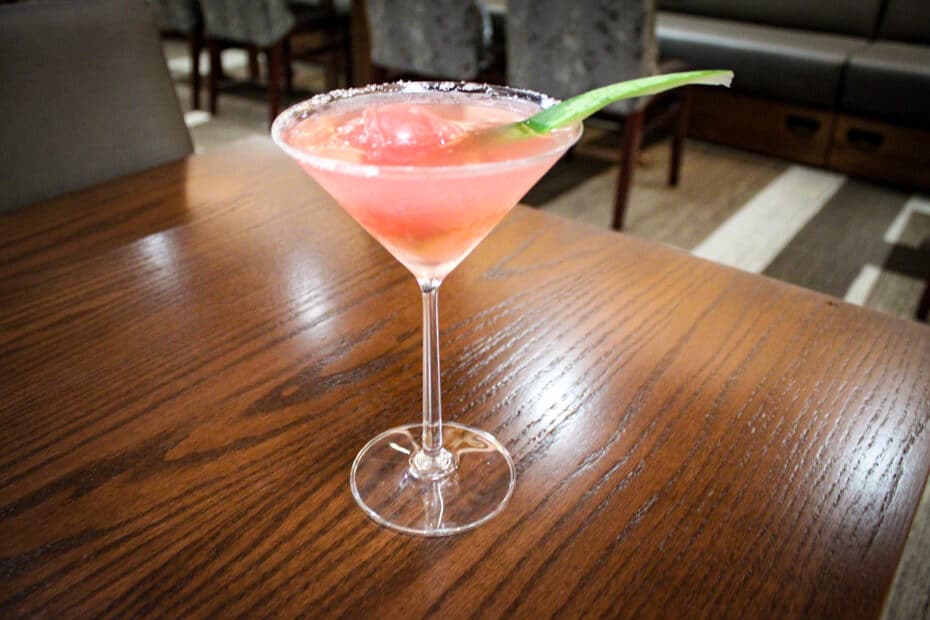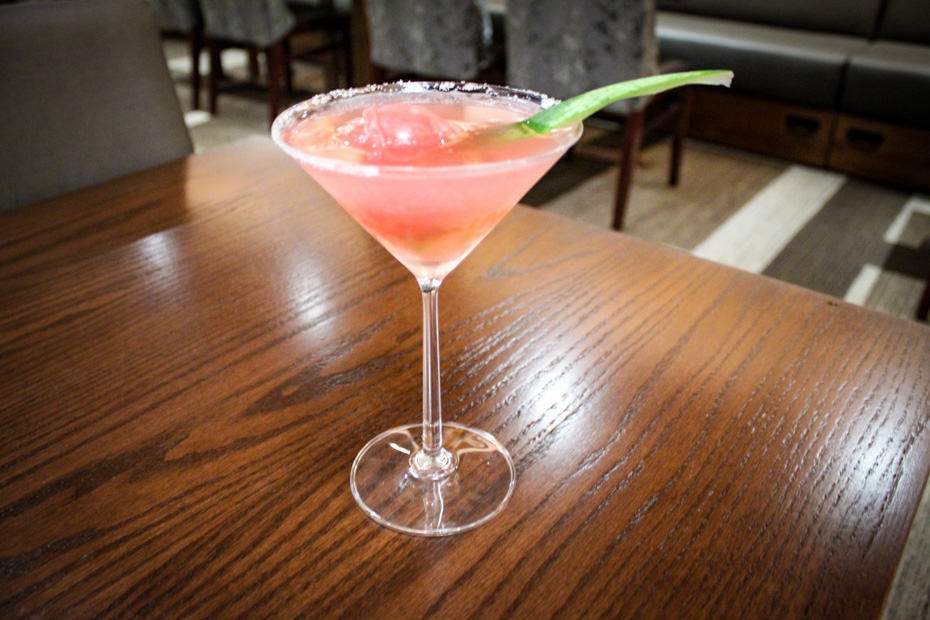 I don't drink often, but I found this one of the best drink options I've had in a long time. The drink was not too sweet, not too sour, and very pleasing to the taste buds.
Around this point of our meal, a server brought out warm washcloths to freshen our hands. This kind of attention to detail impressed me throughout the dinner.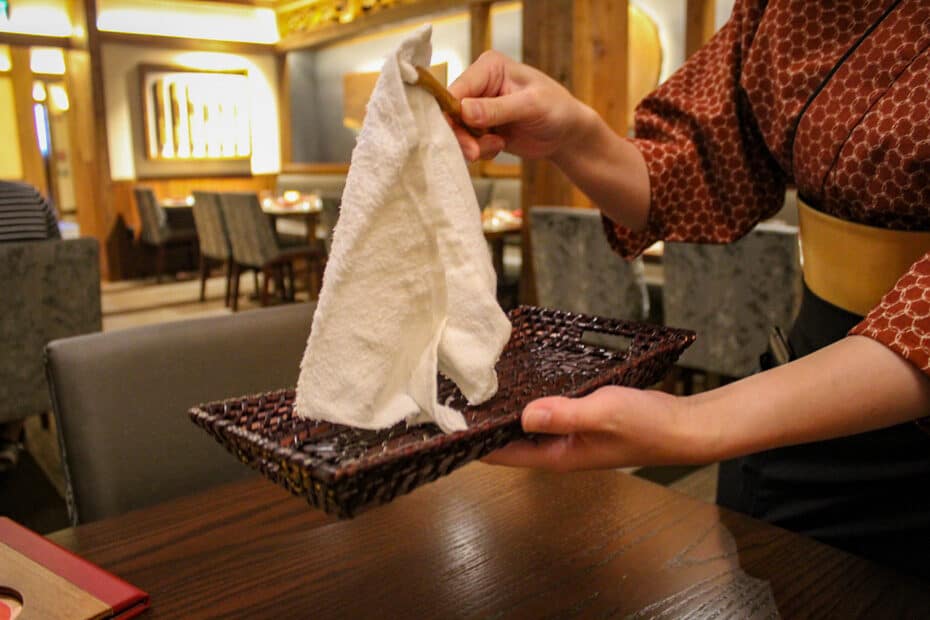 Before my visit, I reviewed the menu and was hoping my dinner companion would be interested in sharing the Omakase Tasting menu selection. Thankfully, he did.
I also cleared with the server that this was acceptable. She suggested that we might want to add one additional entree or appetizer, which turned out to be a great idea.
So, we ended up ordering an additional sashimi selection.
The tasting menu comes with seven different courses. It is a dining experience in itself.
The courses are as follows:
Otoshi — imagined daily by the chefs of Takumi-Tei
Temari Sushi — Chef-selected assortment of oceanic delicacies
Nikomi Wagyu — Roasted Bone Marrow, Braised Wagyu
Hashiyasume — Palate cleansing course
Wagyu Tabekurabe — Japanese and American Wagyu selections
Suiren Dani — Japanese Water Cake
Tea Ceremony — Traditional ceremony featuring Matcha Green Tea
Our meal was nicely paced and lasted a little over two hours. It is essential to have a slow pace when enjoying this amount of food. So allow plenty of time.
The first course of the tasting menu at Takumi Tei starts with an amuse-bouche. Since we were splitting the course, we were each given this potsticker-style appetizer. Usually, you would receive a more significant portion.
The potsticker was a tasty bite. The bottom of the portion was nicely seared. The filling was creamy and offered a nice texture.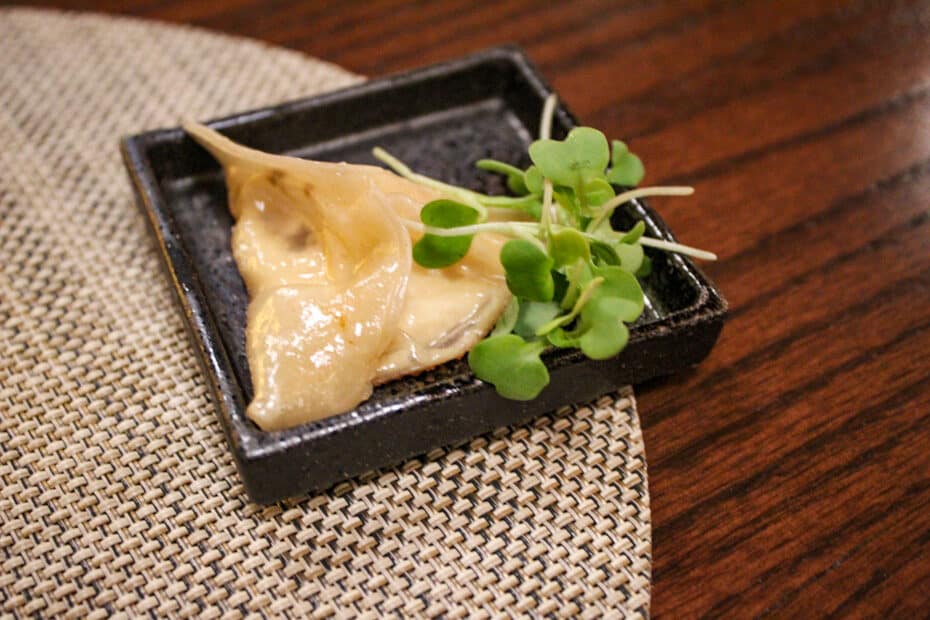 The second course of the Omakase tasting menu is Temari sushi. This sushi presentation is in the style where the sushi nicely drapes over rice balls with a garnish and the usual accompaniments.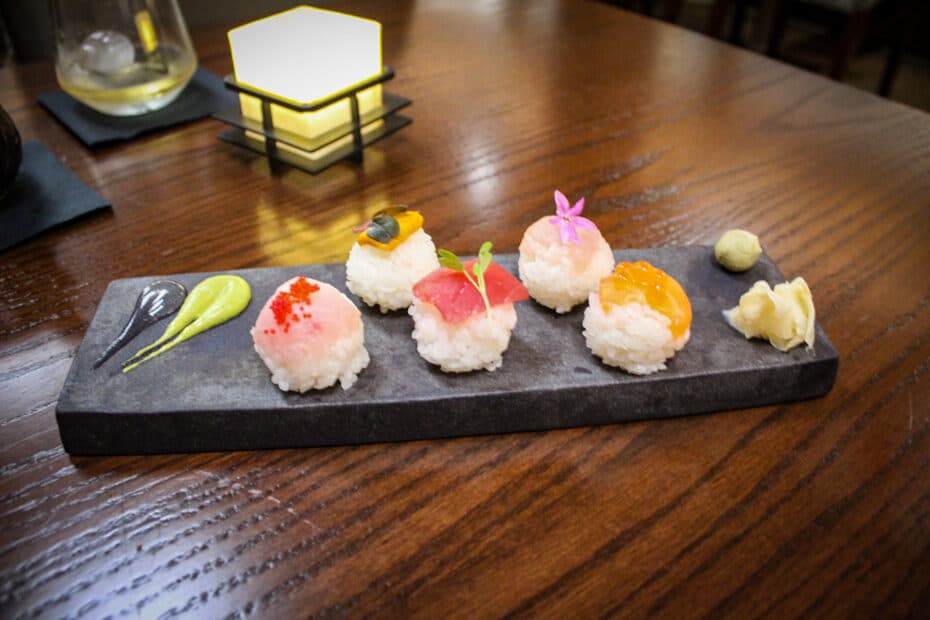 The presentation is exquisite. A warning here, the wasabi is high quality. So make sure to use it sparingly. It was a wonderful spicy-hot addition to the sushi.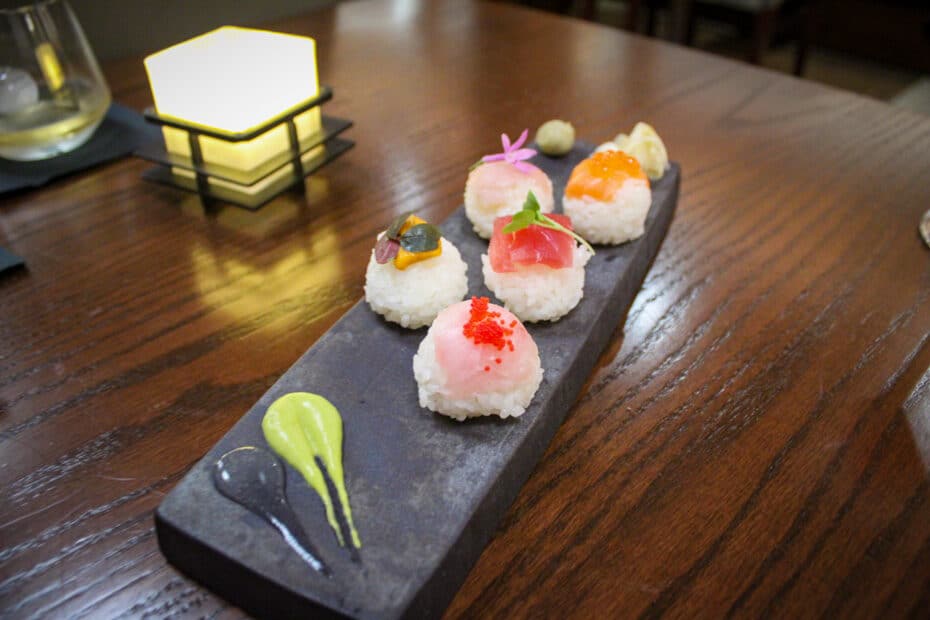 Our sushi was Tuna, Toro, Salmon, Yellowtail, Uni, and Ikura. I enjoyed the ability to try all the options offered on the regular menu.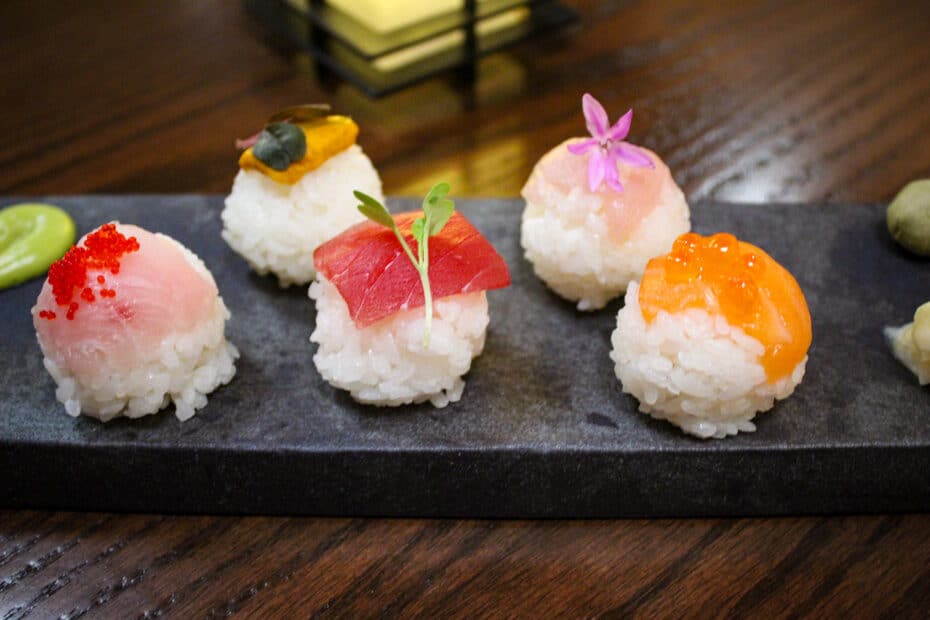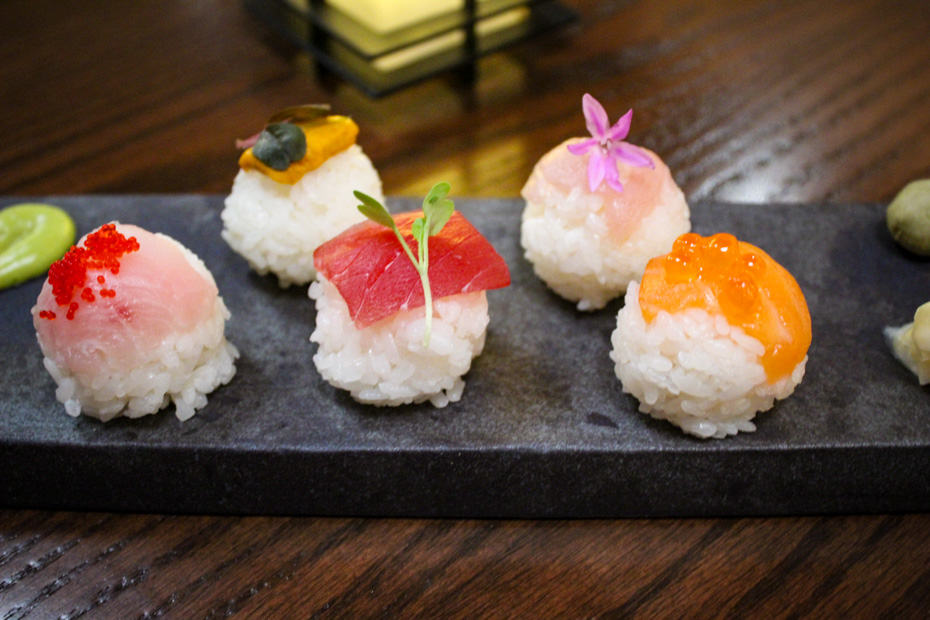 Our appetizer was the third course of the meal: the bone marrow short rib dish. It doesn't come with a side item, so I guess it counts as an appetizer. However, it looks more like an entree.
The short-rib is packed into a roasted bone containing delicious bone marrow.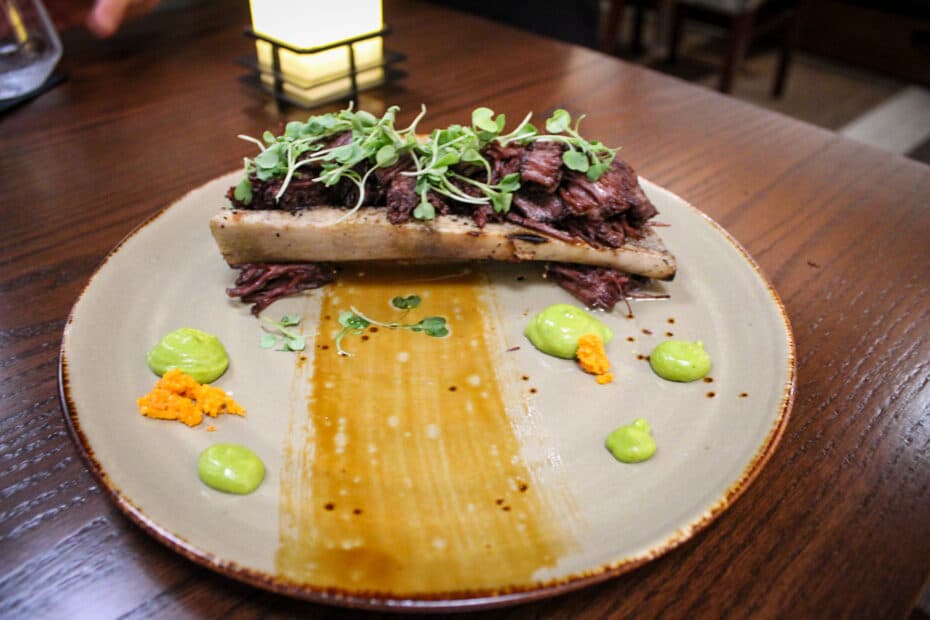 The preparation was stunning with the broth brushed plate, spicy sauce, and grated wasabi.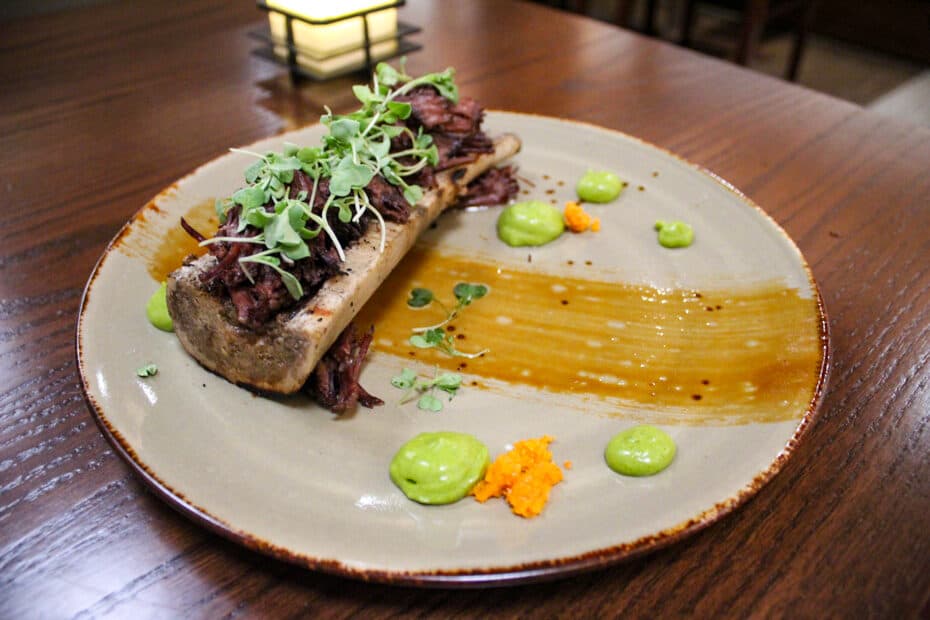 The short rib had a texture similar to a roast. But it did have a unique taste and was complemented by the bone marrow underneath. A serving spoon is brought to the table with the dish for scooping out the bone marrow.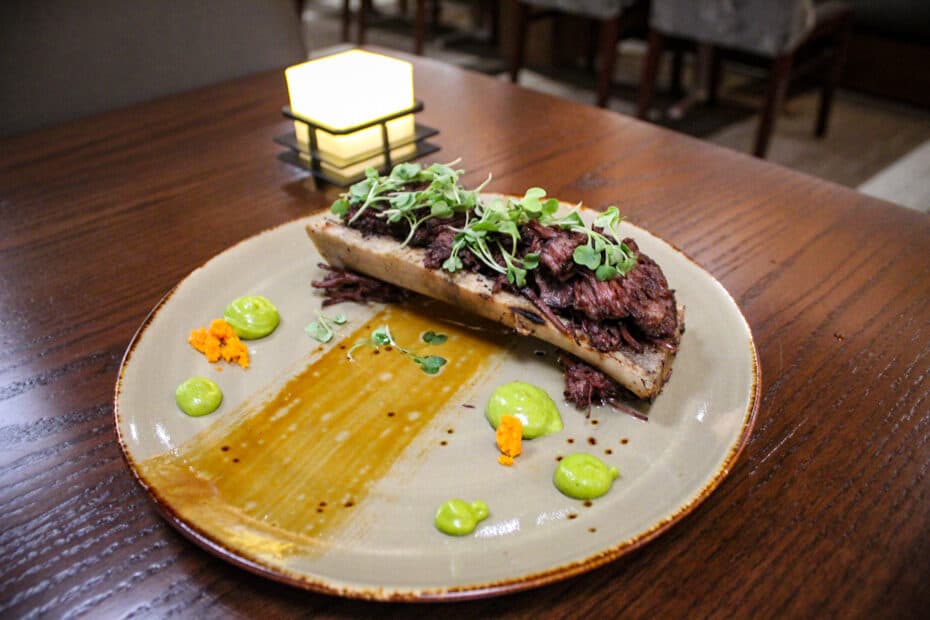 During the middle of the meal, a palate cleanser was brought to the table. If you are splitting the course with another person, you will only receive one.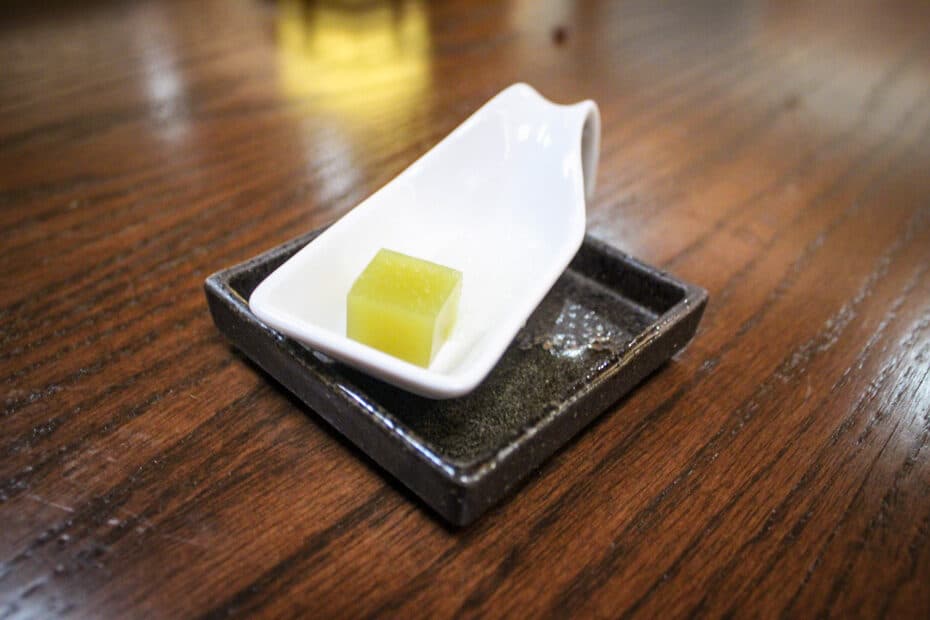 It's not a shareable item and not a necessary component of the meal. The palate cleanser is a cucumber jelly-style cube.
This course is meant to be consumed directly from the spoon brought to the table. It's very clear and cold. It does an excellent job freshening the palate.
Wagyu Tabekurabe
The entree is pretty much the star of the tasting course. After eating so much already, I wasn't expecting this large platter.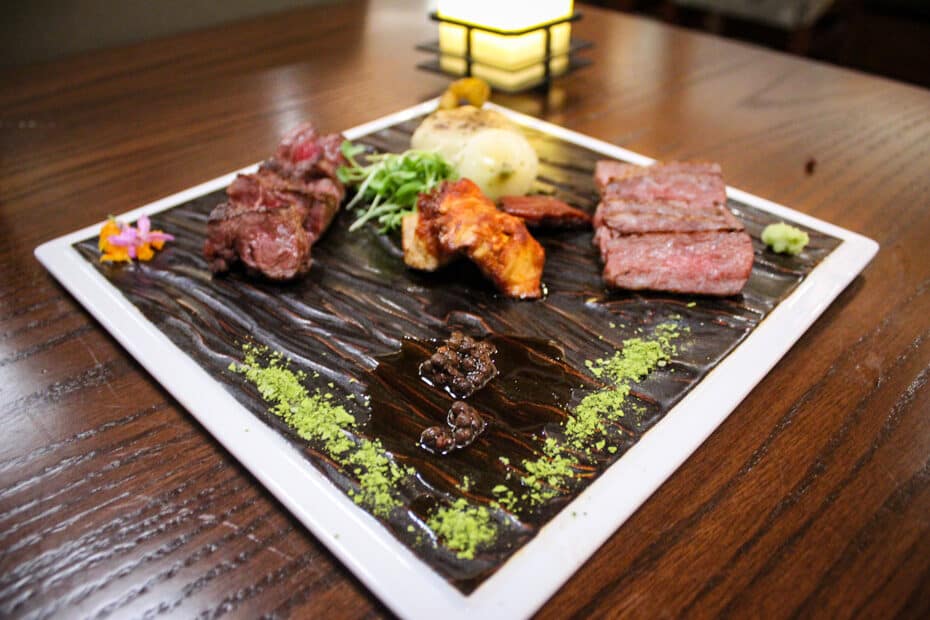 This entree is a play on comparing American and Japanese Wagyu Beef. The American here in the picture is the less fatty option on the left-hand side. The Japanese version is on the right and is heavily marbleized.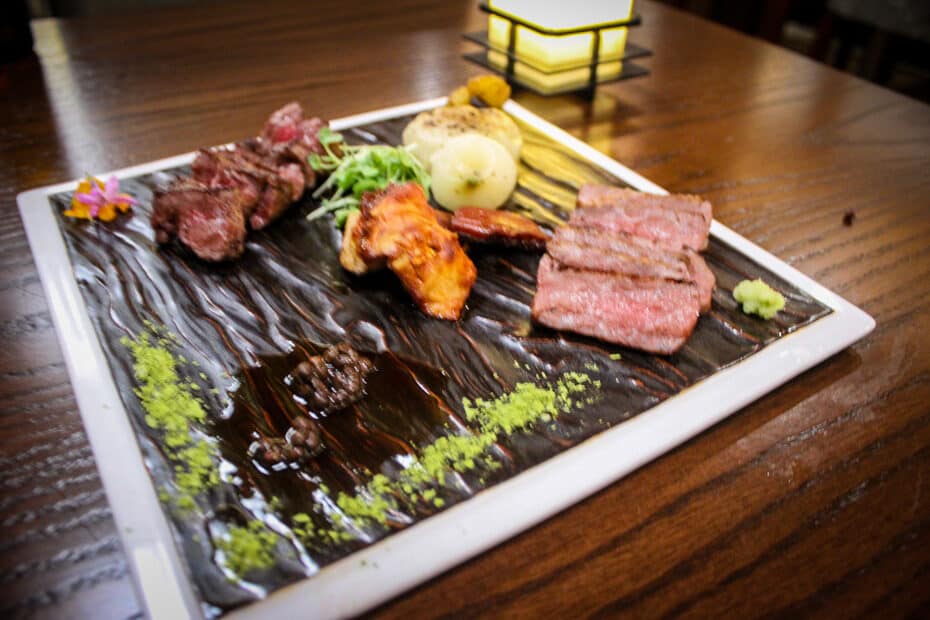 The chef prefers to cook this item medium-rare, but we were given a choice. So we went with the medium-rare per the server.
On the center of the plate, there were lobster mushrooms. They were out-of-this-world delicious. Additionally, toward the back of the plate, there were curried potatoes and onions.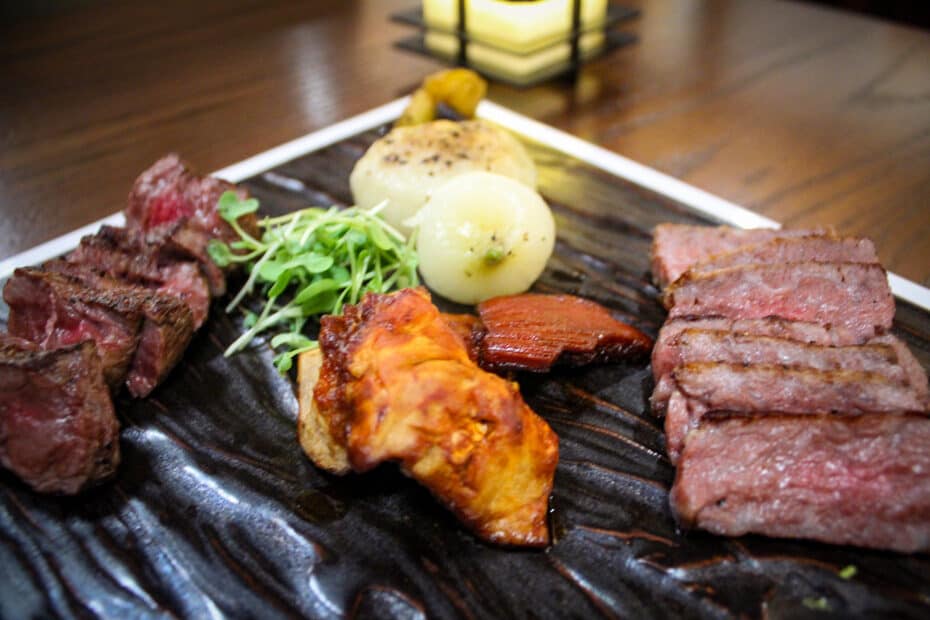 Toward the front of the plate, there was a pleasant reduction. It did not overpower the meat.
Moving on to the dessert course, we have the Suiren Dani. This dessert is a Japanese rose water-style cake with a crumb topping. The dessert is visibly appealing, and the rose petals are edible.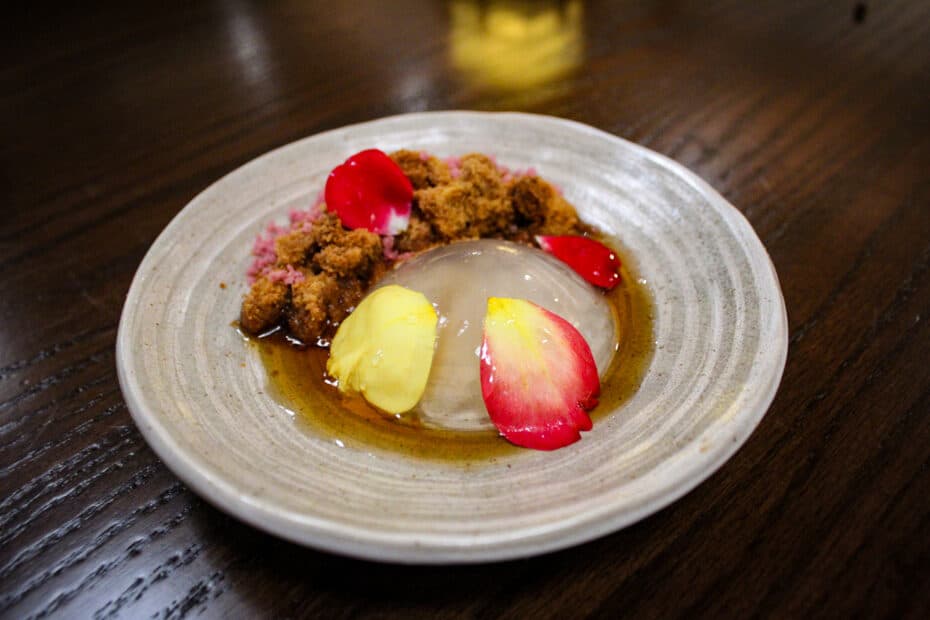 I want to give it points for being so unique, and I didn't feel let down by the dish because I was so full. However, it didn't provide that sweet indulgence feeling you get at the end of this type of meal.
I was grateful for not adding a ton of dessert calories after the fact. But I did end up at the Screen Door store about an hour later, picking up a slice of chocolate fudge.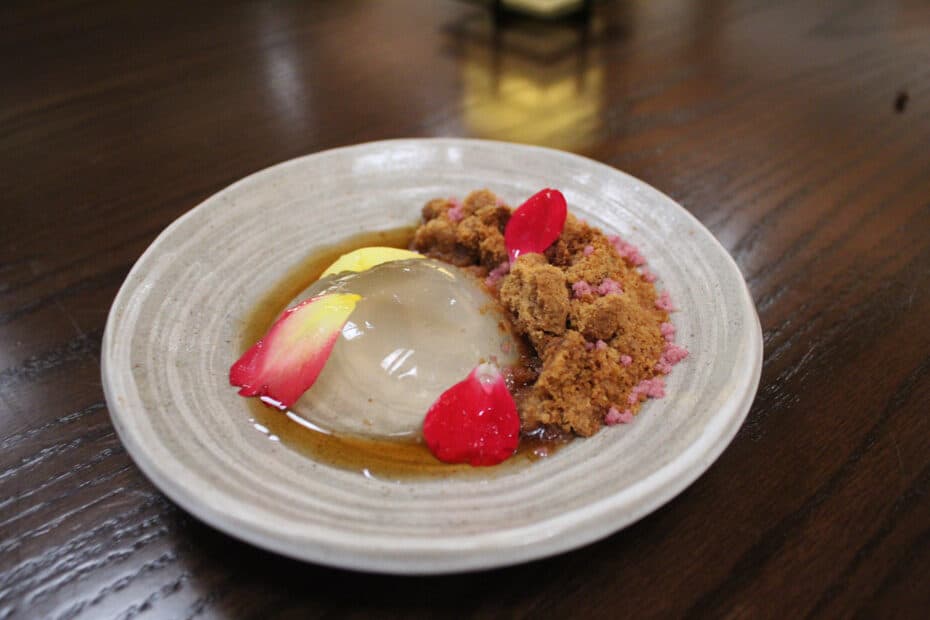 And after some thought, that shouldn't have happened. So it is my only complaint about the meal. However, it wouldn't keep me from returning in the future.
Takumi-Tei Tea Ceremony
Last but not least, there's a special tea ceremony that makes for a nice finish to the meal. Your server will bring out the tea and share a special presentation. Our server reminded us that she was honored to share the evening with us.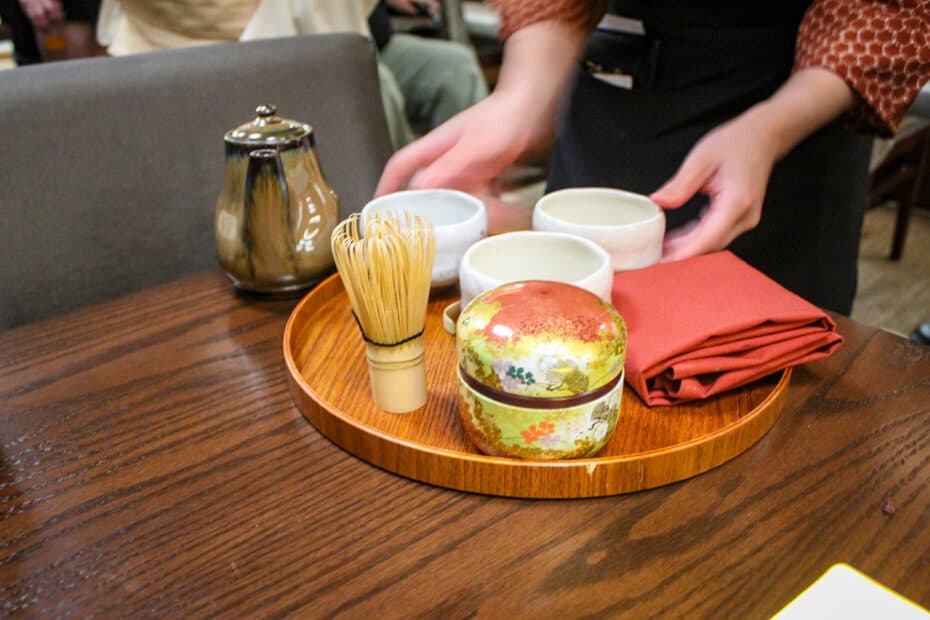 The ceremony provides one cup of tea, but if you are sharing, you can order another cup to be brought out for an additional cost ($7.00).
After preparing the tea, you will be presented with a beautiful clay cup. During the presentation, there was a mention about how they offered you the special cup to drink from and that it was a valuable ware. The cup had an intricate floral design and a lovely shape.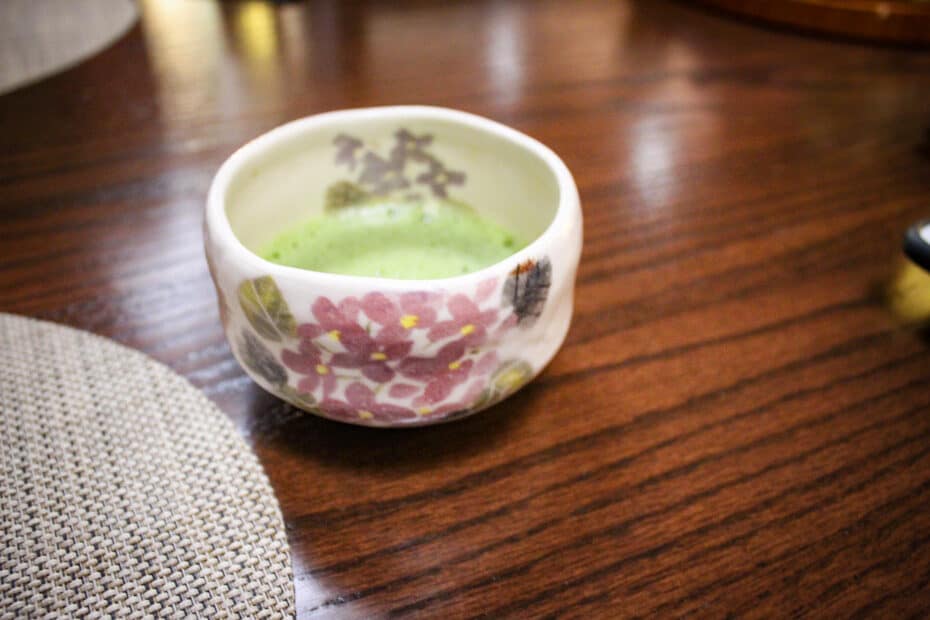 It is a Matcha green tea that might remind you of a cup of coffee more than an actual tea. The green tea is not sweet to the taste if you are unfamiliar with Matcha. It felt cleansing, though, and I couldn't imagine a better way to end the meal.
At the end of the meal, the server brought me a nice souvenir. I don't know if this is part of the entire experience. It wasn't mentioned on the menu. But it was the sweetest gesture.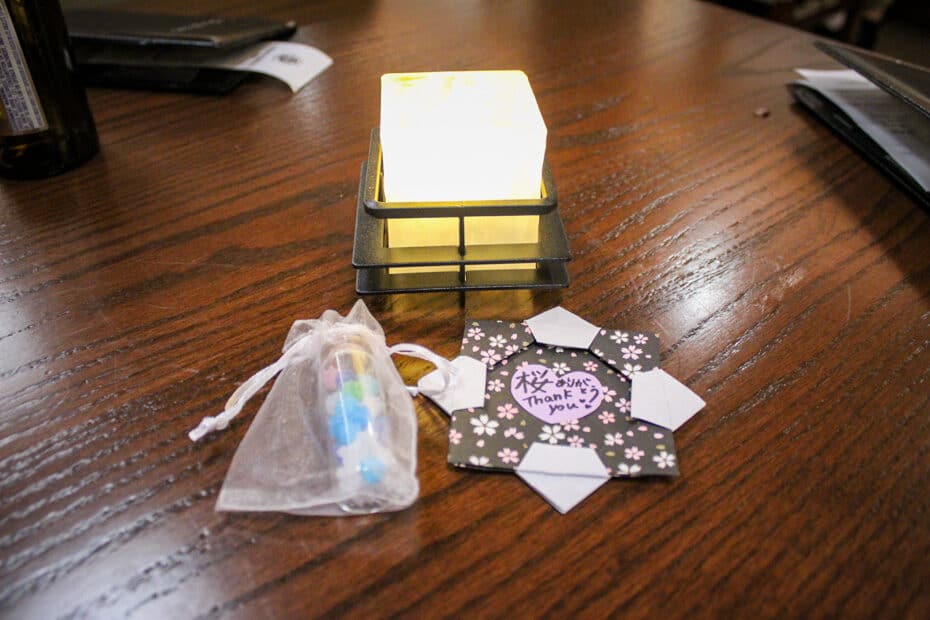 There was a tiny capsule of rock candy and a thank you note on the loveliest Japanese card.
If you don't elect to try the Omakase tasting menu, Takumi Tei's regular menu offers various appetizers, entrees, and selections. Thus, you could easily order an appetizer or sushi-style selection as a meal if desired.
Since we had ordered the tasting menu to share, we also ordered the Sashimi preparation off the regular menu. It came out in the most beautiful display.
The dish was very pleasing, not only aesthetically, but it tasted just as good as it looks. Perhaps, one of the most stunning orders of sushi I've ever been presented.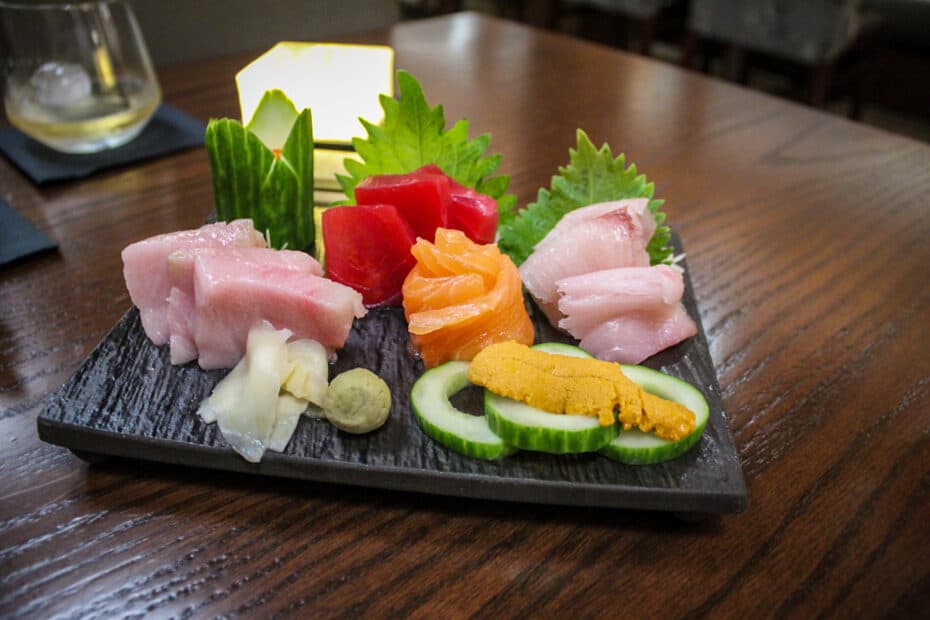 And I've got a lot of sushi covered in the Kona Cafe review and Morimoto Asia review.
Related: The Best Sushi at Disney World
The salmon looks like a rosebud in the center. And that's Uni draped across rings of cucumber. Yellowtail is towering toward the center along with Tuna, Ikura and Toro placed elegantly around it.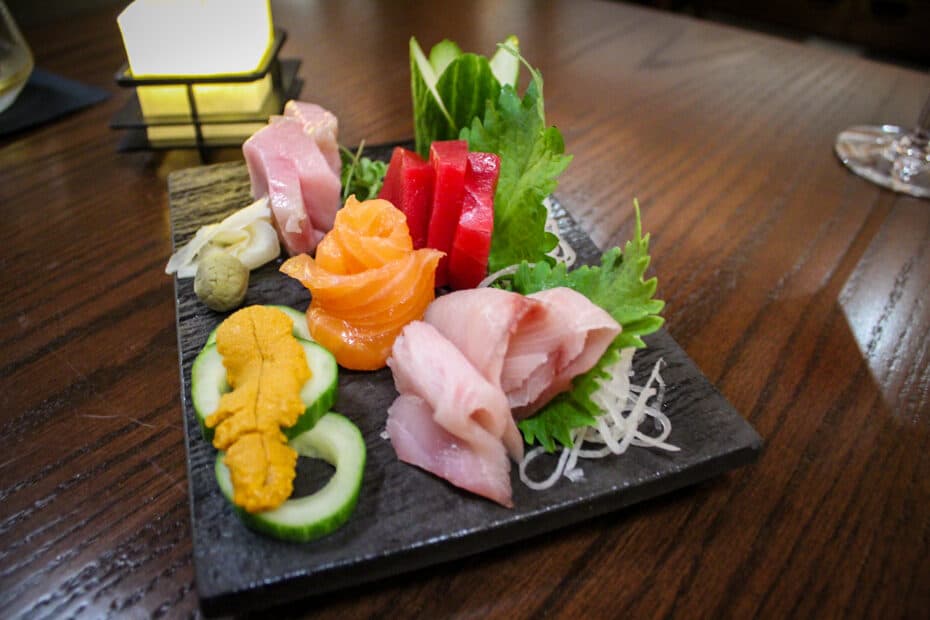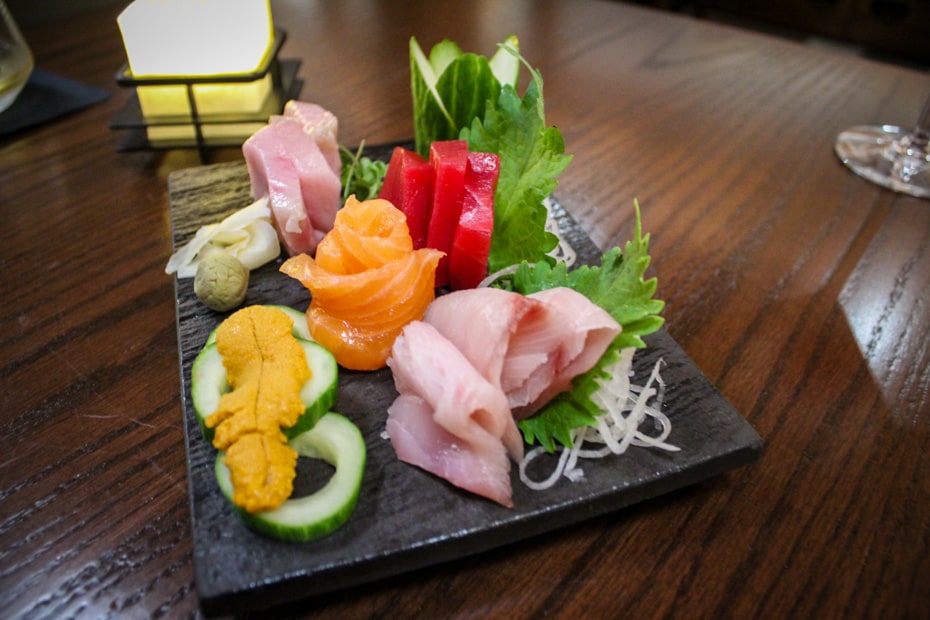 I could revisit Takumi-Tei and order this alone and be completely happy. And I probably will. If you are a fan of sushi, this selection will not disappoint.
We had a lovely evening at Takumi Tei, and I genuinely think that it's off to a great start at Epcot. Going into the meal, I was excited about trying the new restaurant and left feeling good about going back in the future.
If you have read any of our other Disney dining reviews, you will know I'm a big sushi fan. So it's nice to know there's a great new option at Epcot for sushi lovers.
You might also enjoy some of these other articles:
For other types of dining, you might like to read about every single character dining meal at Disney World. Or you might enjoy our list of the best Disney Springs Restaurants.
Are you planning a Disney World Vacation? You might want to learn more about planning a split stay at Disney World or compare all of the Disney World Resorts.
I hope if you have a chance to dine at Takumi Tei, that your meal will be just as pleasant as ours.
In the comments: Are you considering a meal at Takumi Tei? Did you find this review helpful? Would you try the tasting menu?