2022 Alice in Wonderland Dooney and Bourke
There's a new Dooney and Bourke featuring Alice in Wonderland coming to shopDisney and the Disney Parks in 2022. This collection will be released on Monday morning, January 24, 2022, on shopDisney. Additionally, it will be available the same morning in the Disney Parks.
This new Dooney and Bourke Collection featuring Alice in Wonderland will likely sell out quickly. It's a beautiful design with a white backdrop and a black sketch print with saddle-color trim.
Update: The following Disney Dooney and Bourke collection has sold out. Photos below are left to reference the styles released with the collection.
Disclosure: There are affiliate links on this page, meaning Resorts Gal may be compensated if you make a purchase. These come at absolutely no cost to you and help support our business.
This collection will have a wallet, crossbody, satchel, and tote available. The print features Alice in Wonderland, the Tweedles, the Queen of Hearts, Cheshire Cat, teacups, and florals.
Let's take a closer look at a few pieces.
Alice in Wonderland Dooney & Bourke Wristlet Wallet
Here is the wristlet wallet for this chic Alice and Wonderland collection.
Alice in Wonderland Dooney and Bourke Crossbody
This Alice and Wonderland crossbody is a unique style with rounded corners. It looks like the perfect size to take on an afternoon outing. Or maybe it can accompany you for a spot of tea?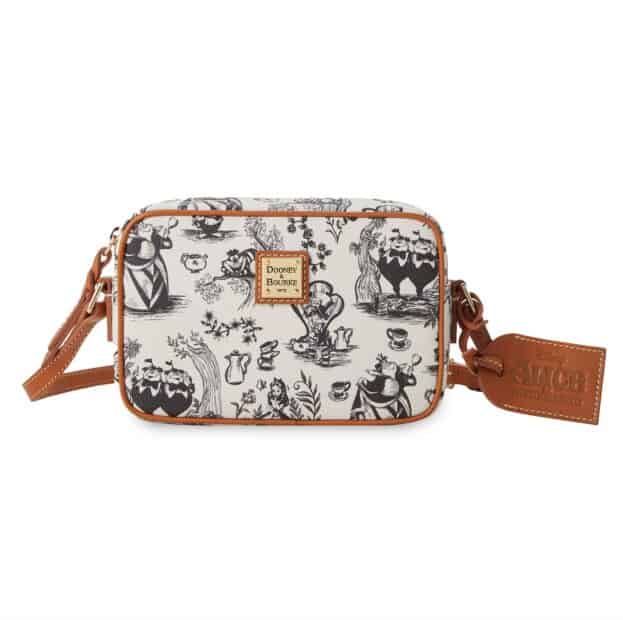 Alice in Wonderland Dooney and Bourke Satchel
What a gorgeous satchel! If you can't tell, I'm really in love with this print. It's English and reminds me of a toile print. What more could you ask for?
Alice in Wonderland Dooney and Bourke Tote
And lastly, we have the tote. I see this making a great weekend bag or perfect to take along on a full day of shopping. It will provide plenty of space to store your smaller purchases.
We keep a running timeline of all the different collections for more information about Disney Dooney and Bourke handbags.
Additionally, you may enjoy some of our other timelines:
So, what do you think about this new Alice in Wonderland Dooney and Bourke collection? Will you be securing any of the pieces? Leave a comment below and share.