Preview Limited Release Items of the Disney Castle Collection
Looking to add a little extra Disney magic to your home? The Disney Castle Collection series might be right for you! So far over this last year, there have been multiple series of the Disney Castle Collections released.
In addition, all of the series are limited-release collections. Therefore, every single item below might not be available.
To date we've seen shopDisney release the following Castle Collection series:
Merida (December 2021)
Ariel (June 2021)
Jasmine (April 2021)
Aurora (March 2021)
Tangled (December 2020)
Snow White (November 2020)
Mulan (September 2020)
Frozen (Spring 2020)
Cinderella (Spring 2020)
The following Disney Castle Collection series has yet to be released:
Does anyone want to guess when Belle's Disney Castle Collection will be released? At this point, I have no clue! As of right now, shopDisney says, "check back" for the final release. You can check that status here if you like.
As of December (6 months later!), we are finally seeing a new release, Merida. Unfortunately, as I'm working on updating this review (a few hours after the items were released) it appears the large castle has already sold out. I guess I know what someone is getting for Christmas!
As you probably know, it's often challenging to make purchases of new release items on shopDisney. Some of the Disney Castle Collection pieces have proven to be harder-to-get offerings.
Plus, due to the circumstances of the last year, most of the castle collection release dates have been delayed. It does appear that things are getting back to a more normal schedule.
When the new Disney Castle Collections do become available, I update this review. You'll find the newest items toward the top. This post was last updated in December of 2021.
In the meantime, you can check for new release dates to be listed here on shopDisney.
Disclosure: There are affiliate links on this page, meaning Resorts Gal may be compensated if you make a purchase. These come at absolutely no cost to you and help support our business.
Merida Disney Castle Collection
Wow! It's been a while since we've seen or heard anything from the Disney Castle Collection! When I woke up this morning and saw this new Merida collection had been released, I couldn't wait to share it with you!
Here is the ornament. I have a feeling this won't last long! What a unique and lovely castle it is for Merida's collection.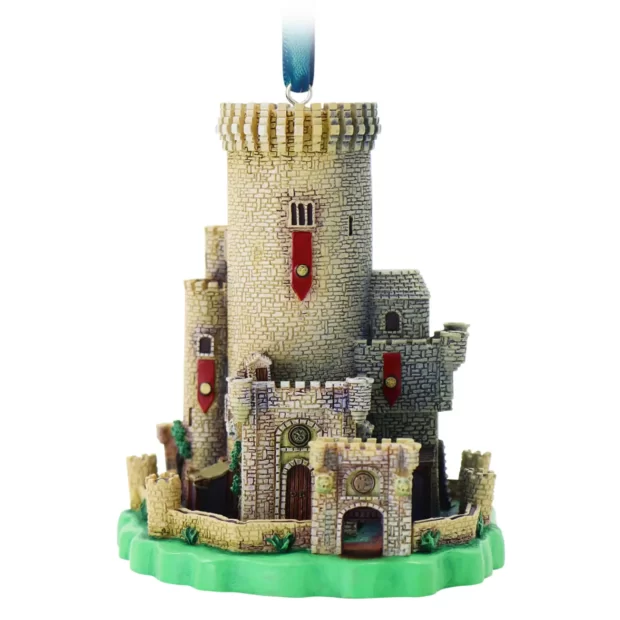 Find the ornament here on shopDisney.
And there's a pin available here as well.
Like the other collections, we see a journal.
The journal is available here on shopDisney while it lasts!
And there is a Ravensburger puzzle that was released! I'm still marveling over the castle!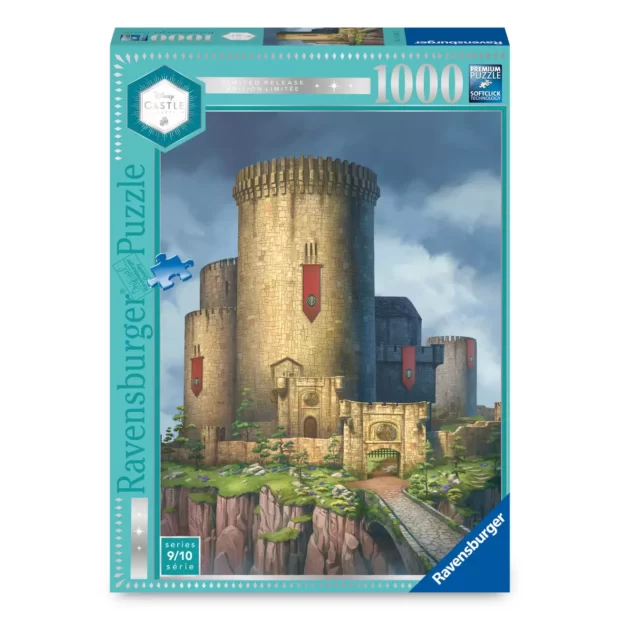 Find Merida's puzzle in the Disney Castle Collection here on shopDisney.
Finally, the largest piece, the light-up castle figurine!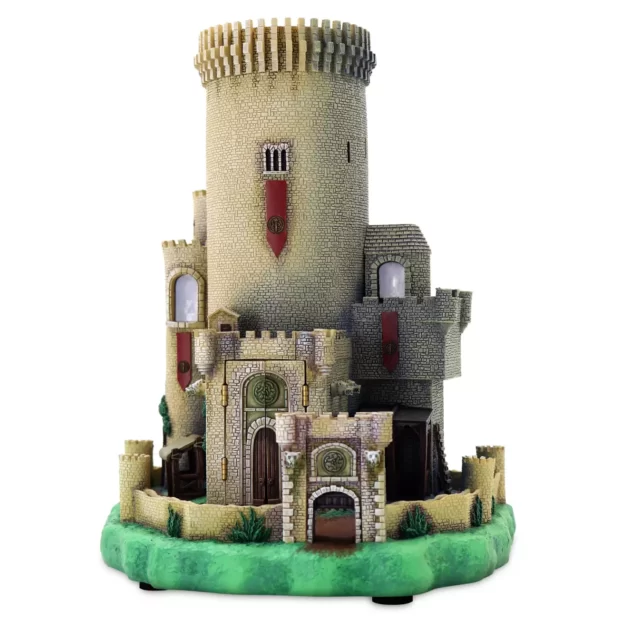 At the time of this update, this piece unfortunately has sold out. You can check for availability here on shopDisney.
Ariel Disney Castle Collection
Ariel's Castle Collection is coming to shopDisney very soon! You can expect to see it available on shopDisney on June 26th. Given the long-term popularity of The Little Mermaid, I feel that some of these pieces won't last long. I also love the uniqueness and that they went with the Atlantica "under the sea" castle.

Here are the pieces of the collection:
Ariel Castle Puzzle by Ravensburger (Find it here.)
Ariel Castle Journal (Sold Out)
Pin Ariel Castle – The Little Mermaid (Sold Out)
Castle Ariel Light-Up Figurine (Sold Out
Jasmine Disney Castle Collection
Jasmine from Aladdin is the upcoming Disney Castle Collection release. Currently, shopDisney has this item as "coming soon," so be on the lookout for it to pop up on April 27th!
Here is a teaser of the items that will be released. It sure looks like a nice one!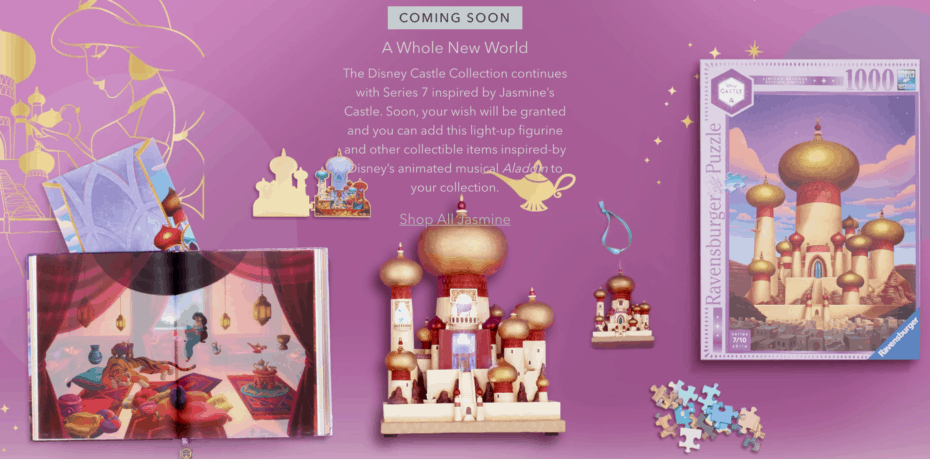 This collection will be available here when it's released.
Aurora Disney Castle Collection
The Disney Castle Collection released the Aurora Castle Collection in March of 2021.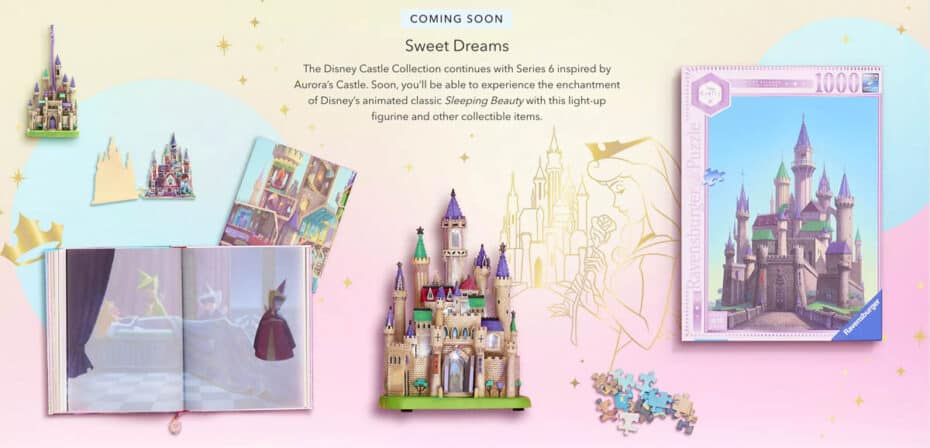 Here are the available pieces:
Aurora Castle Journal is available here on shopDisney.
Light Up Castle Figurine featuring Aurora can be found here.
Aurora Castle Puzzle by Ravensburger for Sleeping Beauty is here.
Available Disney Castle Collection Items
First, let's take a look at the release featuring Rapunzel's Corona Castle. This is also the only item left in the Tangled Disney Castle collection.
Rapunzel Castle Light-Up Figurine
This figurine is available here on shopDisney.
Next are the items available in the Snow White Castle Collection. Most of these items are limited to one per customer.
The journal for the Snow White Castle Collection is still available. Make sure to check out all the details if you are looking to purchase. These tend to have a few "extras" in designing the pages that make it special.
Snow White Castle Journal
Check availability of the journal here on shopDisney.
Snow White Castle Light-Up Figurine
Each of the different Disney Castle Collections came with a light-up figurine. Below is the version of Snow White's collection.
Don't you love how the drawbridge opens and closes? Find more details here on shopDisney.
Mulan Imperial Palace Journal
The Mulan collection still has the journal option available at the time of this update. It really has a beautiful cover.
You can check it out here on shopDisney if you like.
Mulan Imperial Palace Light-Up Figurine
Additionally, the Mulan Castle Collection light-up figurine is also still showing availability. These are all the most expensive pieces of each collection, in case you were wondering.
Find Mulan's castle figurine here.
Cinderella Castle Light-Up Figurine
Last but by no means least, the Cinderella Castle light-up figurine is also still available. She is a beauty and reminds me of the castle at night.
You can view more details about this Disney castle figurine here on shopDisney. Unfortunately, it has sold out.
It seems these things tend to pop up on shopDisney with little to no warning. So here is the link to the main Disney Castle Collection page.
If you are interested in more Disney products, check out the other reviews in the Disney merchandise section of the site. Or you might like these individual product timelines:
While we cover a good deal of information on the site, Resorts Gal specializes in providing detailed information about the Walt Disney World Resorts. Browse our Disney World Resort Reviews to begin planning your next Disney vacation.
Some of our favorite memories come from our stay at Disney's Grand Floridian Resort! If you get the chance to visit, definitely plan a meal at Grand Floridian Cafe. Or you can browse the entire list of restaurants at Grand Floridian for other options.
And if you are planning a trip to one of the Disney water parks, check out our full ride guide to Disney's Blizzard Beach.
And don't miss out on our full list of Disney restaurant reviews. They include character dining, signature dining, table service, and quick service.
Hope you are able to find the perfect Disney Castle Collection pieces for your collection! Leave a comment and share your favorite!