Chicago-themed Dooney and Bourke Featuring Mickey Mouse
A new Chicago-themed Dooney and Bourke collection featuring Mickey Mouse was released on shopDisney! If you are a fan of the windy city, you will love this new line of handbags.
For starters, this bag will wow you with its stark blue background. I think that's what sets it apart from so many others!
While I love the black background we've seen in many other "city-themed" bags, it was time for a change. And this blue provides the perfect pop for the Chicago references on the print.
Update: The following Disney Dooney and Bourke collection has sold out. Photos below are left to reference the styles released with the collection. 
Disclosure: This page has affiliate links, meaning Resorts Gal may be compensated if you make a purchase. These come at absolutely no cost to you and help support our business.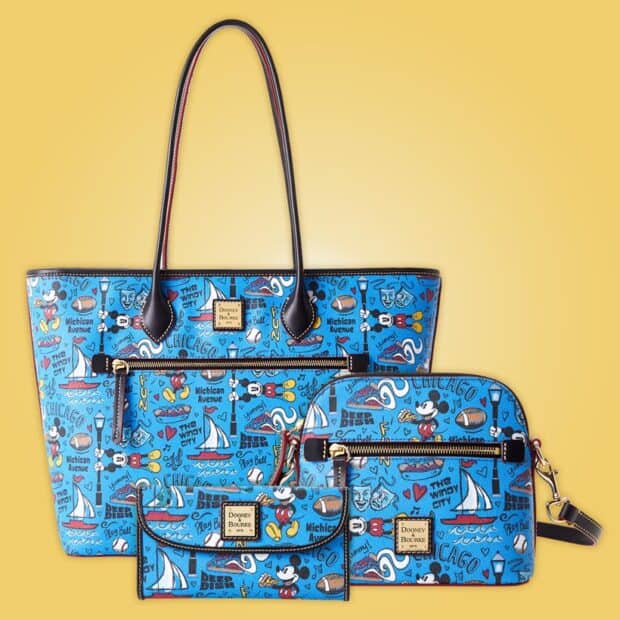 Looking at the print, it appears to feature the following:
A pair of comedy/tragedy masks representing the theater scene of Chicago.
Mickey is blown away as he holds onto a lamp pole with "The Windy City."
Pizza with the words "yummy" and "Deep Dish."
A Football
A Baseball with a "play ball" quote
"Michigan Ave"
A sailboat, probably sailing on Lake Michigan?
"Chicago"
Mickey eating a slice of pizza.
I feel like whoever designed this bag did a good job, but maybe didn't know that Chicago was nicknamed "the windy city" after a long-winded politician. Not because of the wind.
Anyway, this collection is now available on shopDisney. You might remember that it was released at Disney Springs a few months ago. That was not long after the New York Dooney and Bourke collection was released.
The pieces available in this collection include:
Mickey Mouse Chicago Dooney & Bourke Travel Clutch
Below is the travel clutch. I assume this is a little bit of an upgrade on the usual wallet. However, I haven't seen this collection in person, so it's hard to tell.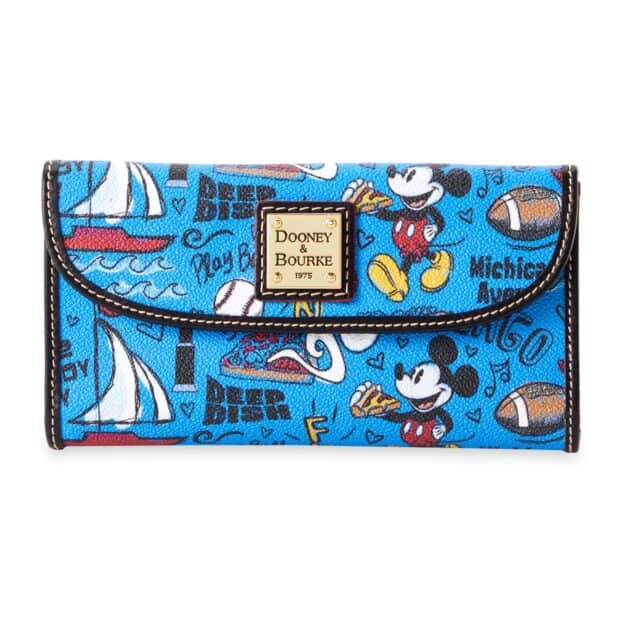 Find the travel clutch here on shopDisney. (sold out)
Mickey Mouse Chicago Dooney & Bourke Travel Satchel
Next, we have the travel satchel. I'm not always a fan of the satchel, but I like the looks of this one. It has a nice shape.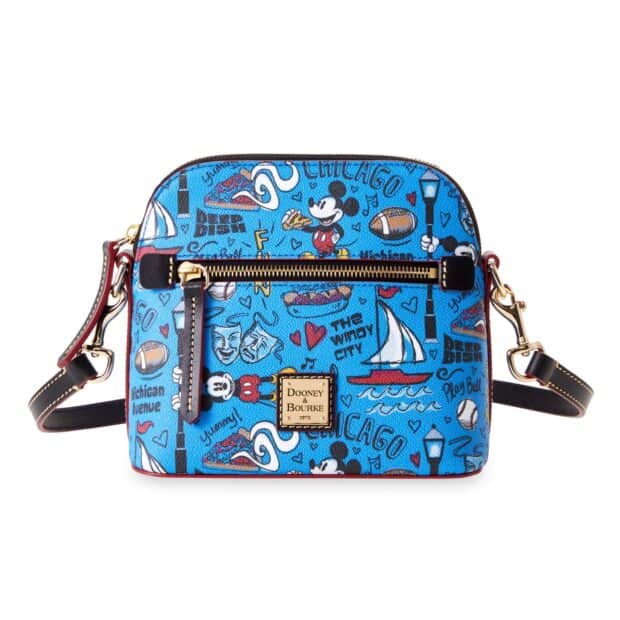 The travel satchel is available here on shopDisney while supplies last. (sold out)
Mickey Mouse Chicago Dooney & Bourke Travel Tote
Lastly, the travel tote leaves plenty of canvas for the print to be prominently displayed.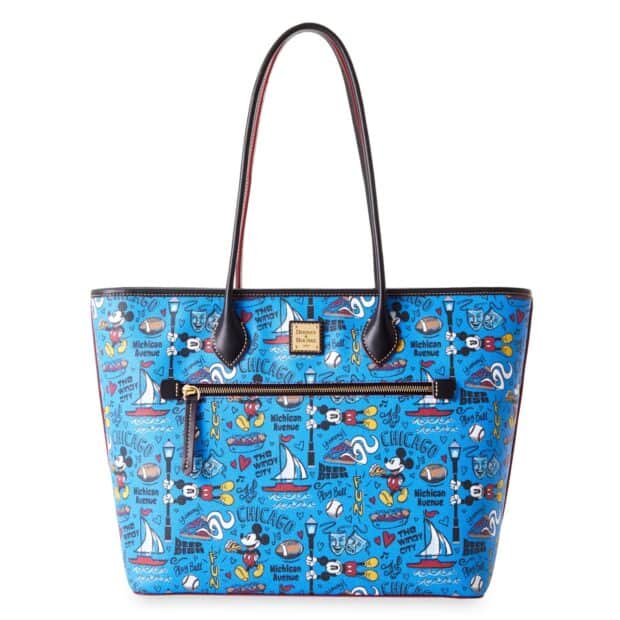 You can check for it here on shopDisney. (sold out)
For other Disney merchandise, you might enjoy our timeline of Loungefly Disney backpacks. And we've recently added quite a few Marvel Loungefly to our superhero list!
We're always excited to see what new Disney Dooney and Bourke handbag styles are in store for us. This time they've come out with a chic, stylish line of Chicago-themed bags that are perfect if you live in or love the great city!
And since this newest collection features our favorite Mickey Mouse on every bag, we love it a little bit extra! He's adorable!
What do you think? Will you be adding this Chicago Dooney and Bourkwith a side of Disney look to your handbag collection?