The Ultimate List of Disney Board Games
Disney board games have been popular for years now. Even Disney Monopoly is a classic game that's been around for as long as I can remember.
And you know that when you sit down to play it, you are in for the long haul. I mean, really, does anybody ever win? Does it ever end?
With school back in session and Fall approaching, I felt it would be a good time to share a list of a few popular Disney board games. Games, in general, have been all the rage over the last year.
And because most of us are likely spending more time at home with our families this year, what better way to enjoy it than with a fun Disney board game?
This review will examine the latest Disney board games, including several new monopoly editions. And I'll add in a few fun card games at the bottom.
Availability for everything has been a little all over the place these last few months, so please understand if you can't find one.
Disclosure: There are affiliate links on this page, meaning Resorts Gal may be compensated if you make a purchase. These come at absolutely no cost to you and help support our business.
*Most of the board games listed have sold out. They remain listed for reference.
List of Disney Board Games
Below I've updated the available Disney board games. You'll find most of these on either shopDisney or Amazon. Have fun browsing!
Hocus Pocus the Game
Looking to add a little Hocus Pocus to your Fall activity schedule? How about a full-on Hocus Pocus evening? You can play the new board game with the family and then watch the movie together after you're finished! Don't forget the popcorn!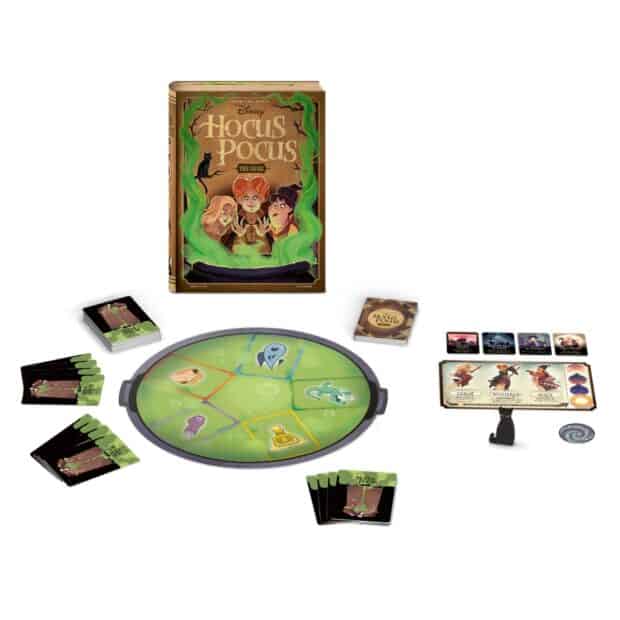 Find this game here with more details on shopDisney.
Marvel Villainous: Infinite Power Game
Marvel fans in your household? This new version of Villainous looks infinite! I wonder how long the game will last.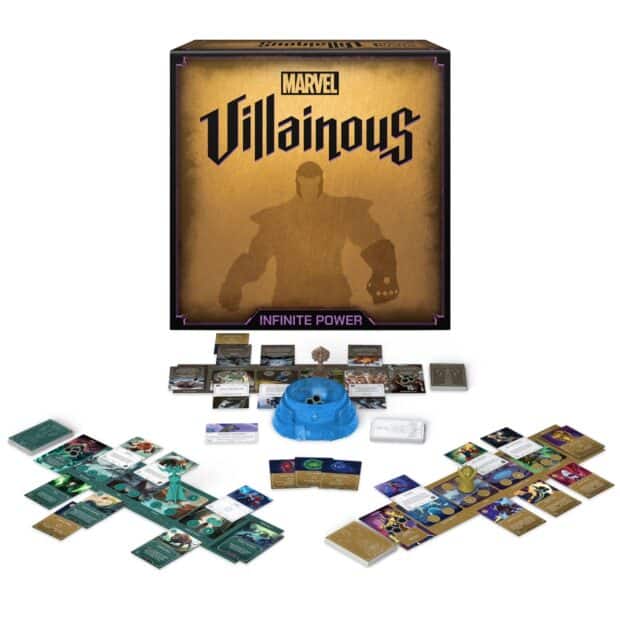 Sold Out.
Disney Villainous: Perfectly Wretched Game
Or you might prefer another "perfectly wretched" game of Villainous featuring the Disney villains! (Last year's version of this game is still available as well. I have it listed further down in this article.)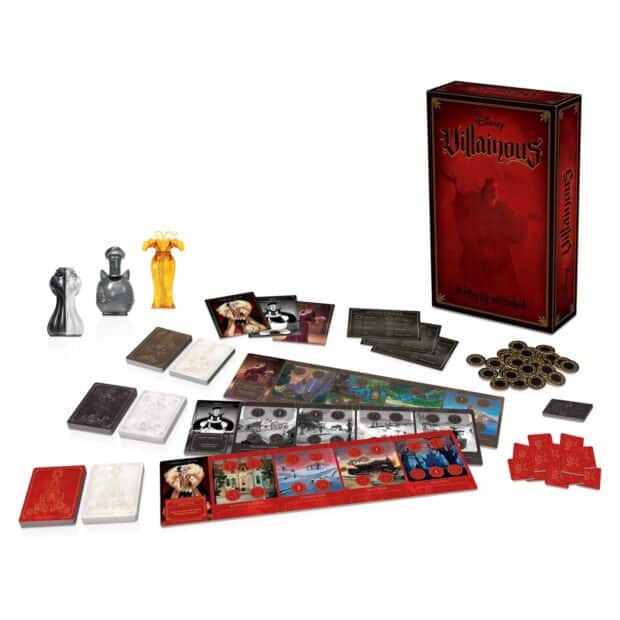 Sold Out.
Disney Villains Monopoly Game
Love Monopoly and Villains? This is the game for you! Make sure to be the very worst villain when playing this with others. You do want to win, right?
Sold Out.
Apples to Apples Game Disney Edition
Surely, you've played Apples to Apples before? But have you played this Disney edition? It looks like fun, and we have always enjoyed the game in general.
This would be a great pick if you have an upcoming birthday or holiday party. Up to eight players can play, and it's recommended for ages 7 and up!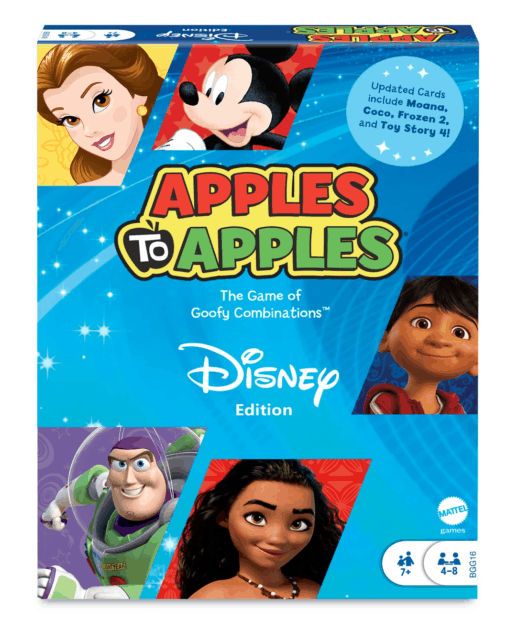 Sold Out.
Tim Burton's The Nightmare Before Christmas Yahtzee
I cannot tell you the last time I played Yahtzee! But after seeing this fun version featuring Jack Skellington, I'm definitely interested.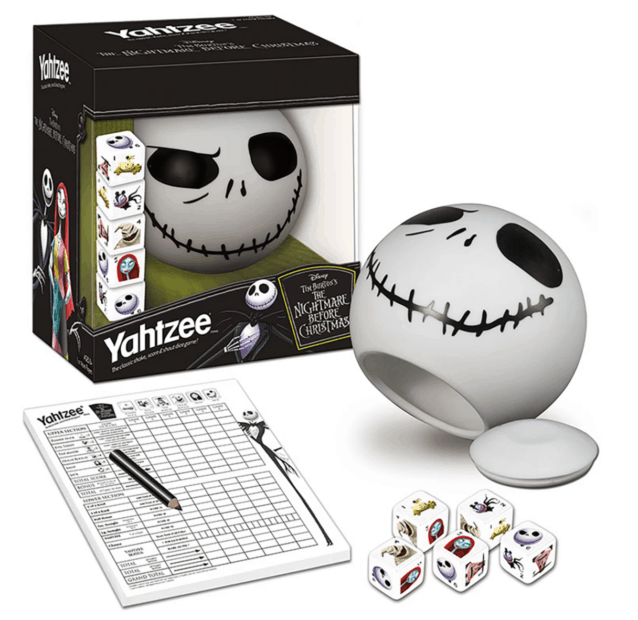 Sold Out.
The Game of LIFE – Disney Parks Theme Park Edition
Check out this latest Disney Parks edition of The Game of Life celebrating theme parks. Look close, and you'll find it comes with so many fun pieces like:
Game board
Six plastic PeopleMovers
Disney Park Pals
Ship
Two mountains
Sword in the Stone
Two castles
Three bridges
Main Street spinner base
And that's just to name a few!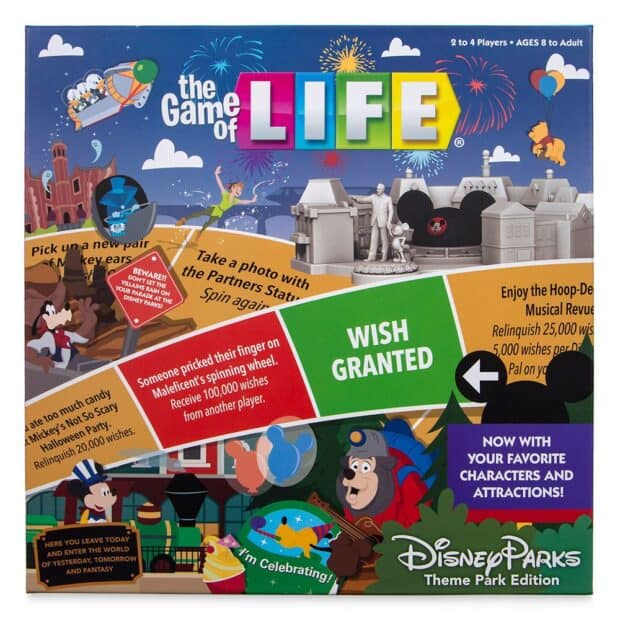 Sold Out.
Candyland The Disney Theme Park Edition Game
Candyland brings back so many fun memories for me as a child. And it's the perfect introduction to board games for children. What better way to celebrate this classic than with a Disney theme park edition? Some of the pieces include a teacup, train, and carousel horse.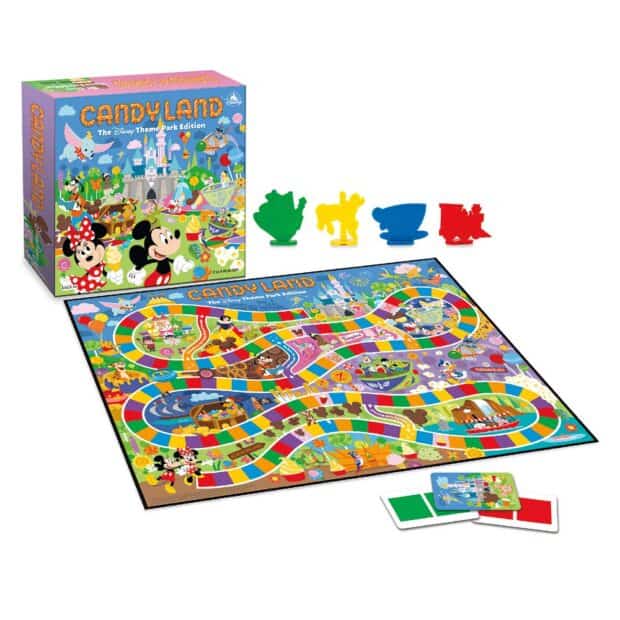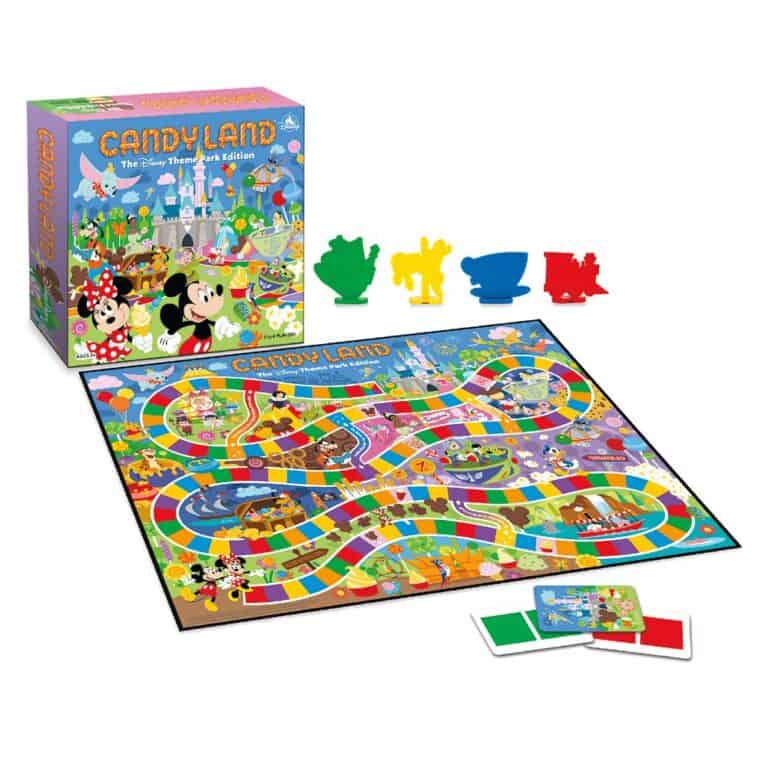 Sold Out.
Disney Villains "Villainous" Board Game
Apparently, this game is all the rage right now! I keep seeing mention of it everywhere. This one is recommended for ages 10 and up, and 2-6 players can play at a time. According to the specifics, the average game lasts 50 minutes.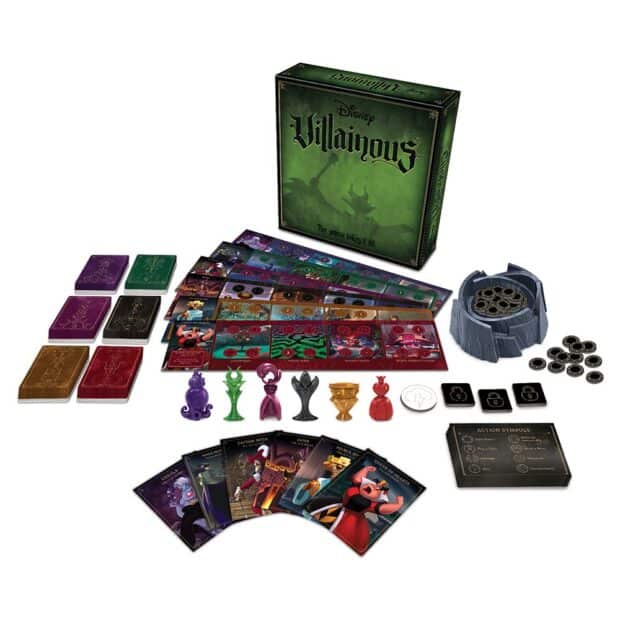 I guess we could all play the villain role for less than an hour. Find it here on Amazon.
Star Wars Disney Monopoly Game – The Complete Saga Edition
First, we have the new Star Wars Disney Monopoly game set. This is quite a good-looking board game. This set is called "The Complete Saga Edition" and has references from all three of the different trilogies.
The game includes the following pieces: 9 character bust tokens, 24 title deed cards, 16 Jedi training cards, 16 Holocron cards, 32 TIE Fighters, 12 X-Wings, two dice, 82 cardboard credits, and a game guide.
Sold Out.
Marvel Avengers Disney Monopoly Game
If you lean more toward the Avengers side of the galaxy, you'll enjoy this Marvel Avengers Monopoly game.
The following 12 tokens come with this set: Iron Man, Captain America, Thor, Hulk, Black Widow, Hawkeye, War Machine, Ant-Man, Nebula, Rocket, Captain Marvel, and the Infinity Gauntlet.
Sold Out.
The Lion King Disney Monopoly Board Game
You might not want to open this collector's edition of Disney monopoly featuring the cast of the 1994 animated film The Lion King. But what fun would that be? I noticed this one has a Pride Rock card holder that also plays music. You can belt out a verse of "Can you feel the love tonight?" every time you pick up a new piece of real estate on the Pride lands.
Tokens for this Disney monopoly board game include Timon, Simba, Nala, Mufassa, Pumbaa, and Scar.
To me, this is the most unique version of the different Disney Monopoly board games. The bright colors on the contrasting white add a lot of interest to an already challenging game.
Toy Story Disney Monopoly Board Game
Who doesn't want to have Toy Story Monopoly game night over the Thanksgiving holidays? This fun board features favorite Toy Story locations like Andy's backyard and Al's Toy Barn. (I really hope Pizza Planet is on there, but I can't tell from the picture.)
Toy Story's Disney Monopoly comes with these tokens: Woody, Buzz Lightyear, Bo Peep, Jessie, Alien, and Rex.
Operation Buzz Lightyear Disney Board Game
We have one more Disney monopoly game to get to, but since we were talking Toy Story, how about Buzz Lightyear Operation? Actually, it makes me a little nervous just thinking about it.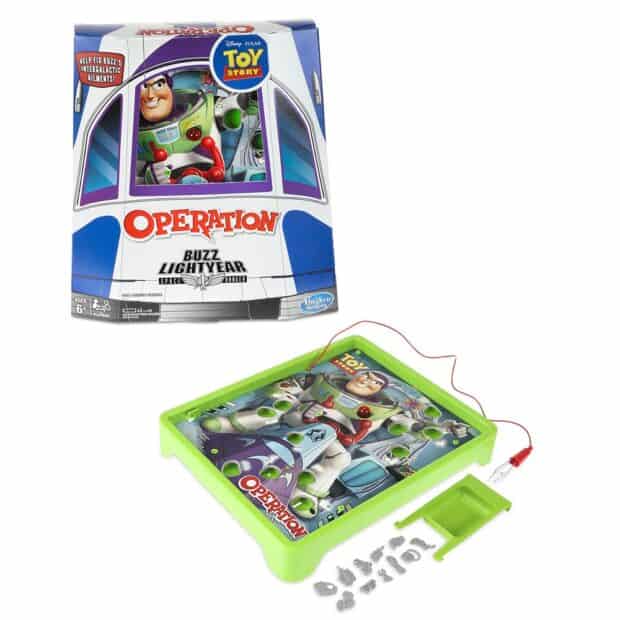 Anyway, this is sure to add a jolt to the kid's Christmas morning. Find this Toy Story version of Operation here on Amazon.
Frozen 2 Disney Monopoly Board Game
You already knew you wanted to own a little piece of Arendelle, right? Well, now you can start collecting real estate with this Frozen 2 version of Monopoly.
Character tokens for this Frozen 2 Disney Monopoly set include Elsa, Anna, Mattias, Kristoff, Olaf, and Sven.
Sold Out.
Olaf's Ice Adventure Trouble Disney Board Game
There's definitely a little Trouble in this Olaf's Ice Adventure board game. Game pieces include four Olafs in different colors.
Trouble tends to be a good game to play with children around the ages of 5 and up. My parents have always played Trouble with their grandchildren as an introduction to board games.
Sold Out.
Jungle Cruise Adventure Game
Here's a look at the new Jungle Cruise Adventure game. Naturally, the player pieces are tiny Jungle Cruise boats! Watch the movie and then play the game! It would make for a great movie night, wouldn't it?
Sold Out.
Lilo and Stitch Disney Monopoly
When I saw this new Lilo and Stitch Monopoly board game, I knew I had to add it to the list! Don't you just love it!
Sold Out.
Clue Villains Disney Board Game
If you like to play the Villain, or maybe just like Disney-themed board games, you'll likely enjoy this new edition of Disney Villains Clue.
Sold Out.
Battleship Disney Board Game (Pirates of the Caribbean Edition)
I don't know about you, but this review has brought back a lot of memories for me. Growing up, we had a game closet, and I would be willing to be we had at least 30 board games.
Unfortunately, Battleship was not one of them. And it's a great game. Not only that, but this one is the Pirates of the Caribbean edition!
Sold Out.
Disney Parks Version of Perfection
While I wasn't always crazy about Operation, I absolutely loved Perfection! It kind of reminds me of Tetris, which is my all-time favorite video game. Below is the Disney Parks edition of Perfection with fun pieces like the Tower of Terror, Teacups, Dumbo, and more.
Sold Out.
Disney Card Games
If I remember correctly, a classic game of UNO can last five minutes, or it can go on for hours. It's been so long since I played UNO that it's hard to remember. But how can you go wrong with this set of cards showing off the Disney Parks? They kind of make me homesick just by looking at them.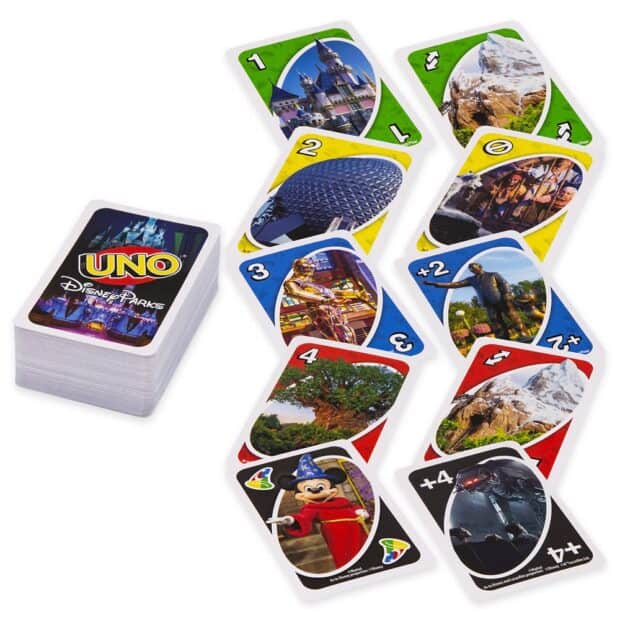 Sold Out.
The Mandalorian Cards
Speaking of card games, you might also enjoy a fun-themed regular set of playing cards like Star Wars: The Mandalorian, and The Child Playing Cards on BoxLunch.
Sold Out.
Disney Dominoes
Have you ever played dominoes? While this was not a game we played during our childhood, I remember having plenty of dominoes.
They were for lining up intricate designs and then finally getting the satisfaction of knocking them down. But as I got older, I began to play dominoes with friends. Seeing these now reminds me of how challenging a game of dominoes is.
Disney Rubik's Cube
A Rubik's cube makes for another nice stocking stuffer. They also are very challenging and can keep you busy for hours trying to figure the whole thing out.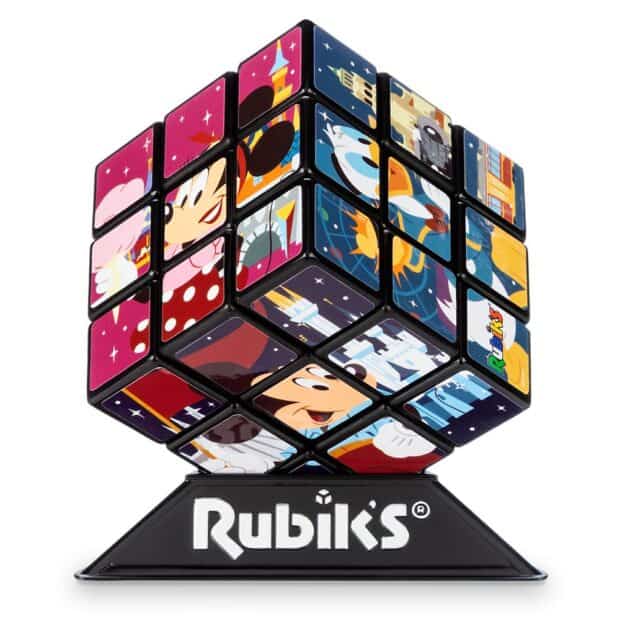 I actually purchased this for my son when it came out last year. Some of the reviews say it's a little hard to turn, but we haven't had any issues.
For now, this wraps up our look at the different popular Disney board games that are available. Anyone looking for other fun Disney-related items might enjoy these reviews:
While we cover a good deal of information on the site, Resorts Gal specializes in providing detailed information about the Walt Disney World Resorts. Browse our Disney World Resort Reviews to begin planning your next Disney vacation.
One of our top choices for moderate resorts is the review of our stay at Disney's Coronado Springs. It's an excellent choice and has gorgeous landscaping!
Related: Disney's Coronado Springs Review
Disney also recently opened the Gran Destino Tower on the same property. The tower is home to rooftop dining at Toledo, Tapas, Steak and Seafood. You can read all about the dining options at the resort in our Coronado Springs Restaurant Guide.
Related: Gran Destino Tower Review
And don't miss out on our full list of Disney restaurant reviews. They include character dining, signature dining, table service, and quick service. One of our top choices for Disney Character Dining is Topolino's Terrace breakfast with Mickey and Friends!
Now about those Disney board games! Between my son, nieces, and nephews, I'm always getting challenged to a good game. Leave a comment below and share with me your favorite games! I'm thankful for any recommendations.