The Best Disney Puzzles of 2021
These days Disney puzzles come in a variety of shapes, designs, and styles. You'll run into anything from huge starter floor puzzles for toddlers to dimensional masterpieces that turn out similar to a piece of artwork.
It's easy to say that there's a box full of puzzle pieces for everyone just waiting to be put together. And that's not even getting into the most popular Disney puzzles, the 1000 piece ones!
Puzzles are a great way to challenge your brain and spend time with your loved ones. A puzzle might have been something you did with your family around certain times of the year when you were growing up.
For instance, maybe you had a traditional puzzle that everyone worked on over the holidays around Christmas. We were always the type that put together puzzles on rare snow days when everyone was home. I remember a puzzle that had been put up for "just the right time" magically appearing and providing us with something new to do.
Since I spent so much time working on keeping this puzzle review updated, my family has been putting puzzles together again. This is our most challenging one to date.
Can you believe I found this one at a thrift store? It had been opened, but all the pieces were there. It took three of us several days to knock this one out over the holidays. But the result was stunning.
And the time we spent together was priceless.
In the many years I spent working in real estate before writing about Disney. I can't begin to tell you the astonishing puzzles I've encountered. Often, I helped families sell the home of a dearly departed loved one. It was always a privilege to get to see framed puzzles and have people share with me their memories of putting them together. I'm sure many can relate.
For this review, I wanted to share with you a few Disney puzzles that are perfect for us fans. Hopefully, the majority will still be available. I try to update this review quite often.
If you find a specific puzzle that you like and it shows sold out, bookmark it. I update this review fairly often and can tell you the inventory comes and goes. (Last Updated August 2021)
Several of the Disney puzzles I thought were gone forever seem to magically reappear. So what I usually do is add the newer puzzles to the top of this list as they come out.
2021 Disney Puzzles Timeline
You'll find quite a few popular brands that make some of the best Disney puzzles around. Of course, most of you are probably familiar with these well-known names.
Ravensburger
Ceaco
Thomas Kinkade
UGears
Below, we will take a look at some of the different puzzles made by these brands and more. The most current releases are toward the top of this review. In addition, there is a mix of Disney puzzles for adults, children, and a few 3D puzzles.
Disclosure: There are affiliate links on this page, meaning Resorts Gal may be compensated if you make a purchase. These come at absolutely no cost to you and help support our business—all product images courtesy of shopDisney.
Disney Classic Posters Puzzle
If you're ready for a challenge, you'll want to pick up this Disney puzzle! It features Disney classics movie posters. And it has 1500 pieces, which means it's going to take a while to put this one together.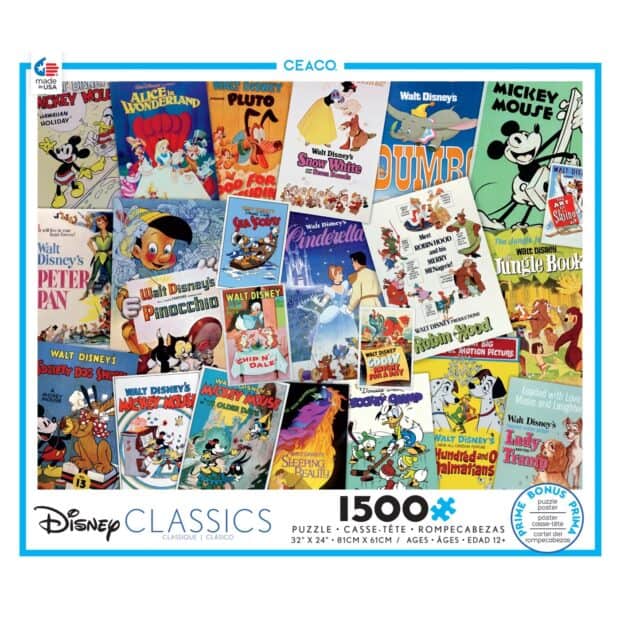 Find this one here on shopDisney.
The Haunted Mansion 50th Anniversary Jigsaw Puzzle – Walt Disney World
This Haunted Mansion has made a reappearance. I ordered this one as soon as I saw it come available. It sold out rather quickly when released last year, along with all the other Haunted Mansion merchandise.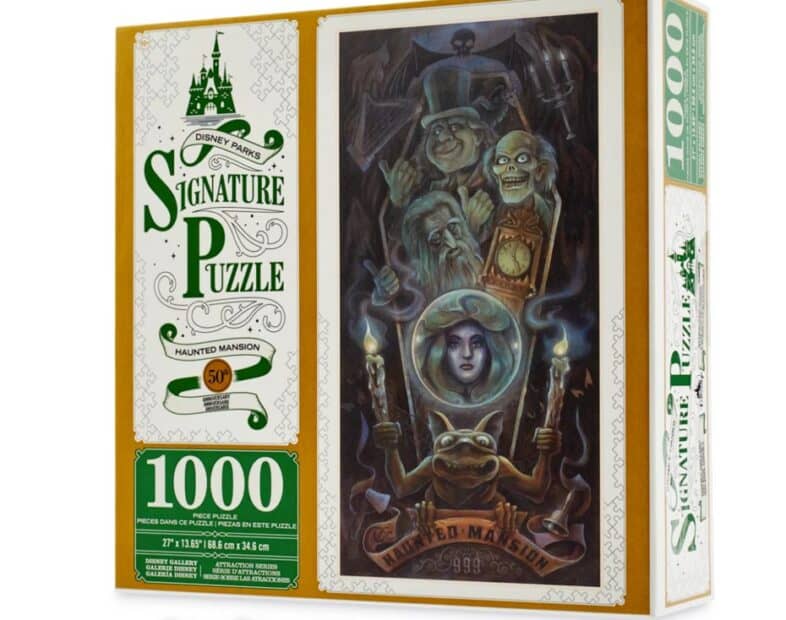 Find this Haunted Mansion Disney puzzle here on shopDisney before it disappears!
Disney Collector Pins Puzzle
These are fun to look at, and pick out all your favorite characters. But I have to admit I haven't tried putting one of these together yet. The pattern looks a bit intimidating.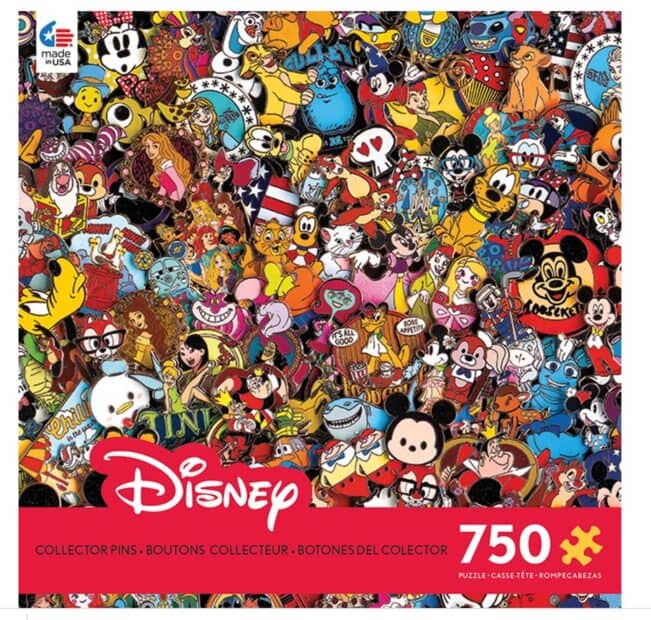 Pin collectors or puzzle enthusiasts, take on this challenge here on shopDisney.
The Princess and the Frog Puzzle by Thomas Kinkade Studios
This beauty will make a nice piece of art for your home if you decide to get it framed. I really enjoy so many different aspects of it. What do you think?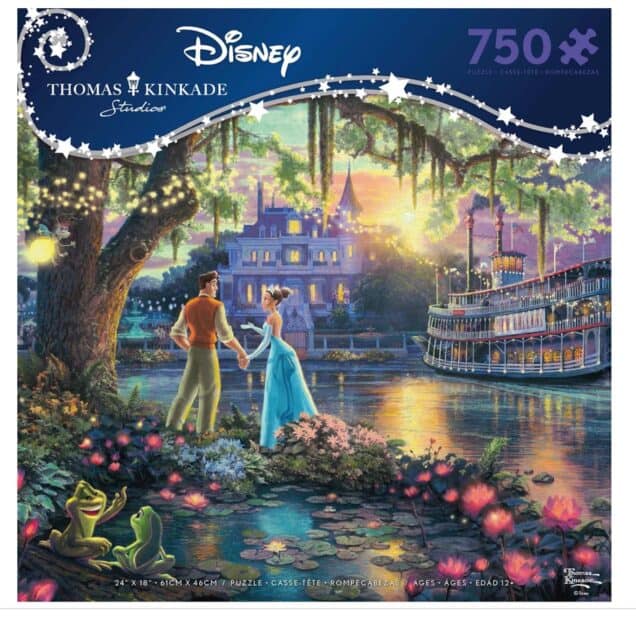 This stunning puzzle art can be found here on shopDisney while available.
Sleeping Beauty Puzzle by Thomas Kinkade
Next, we have Aurora returning in this dreamy dance scene with Prince Phillip. She is wearing her pink dress!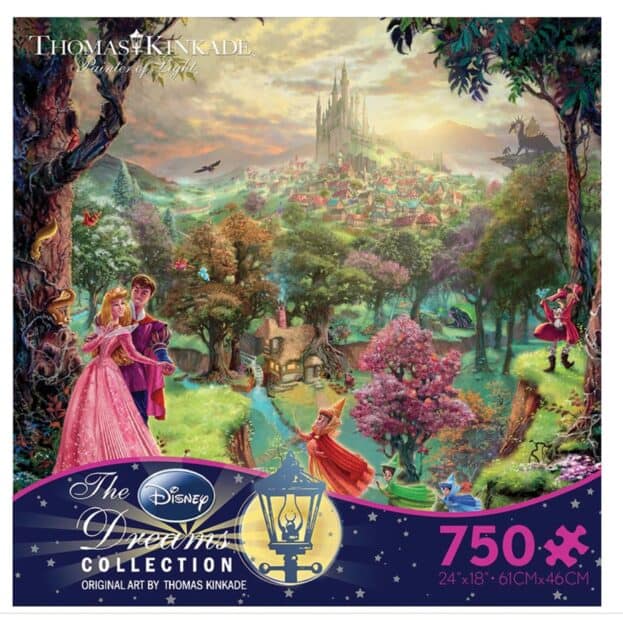 Another classic, this one is available here on shopDisney while supplies last.
Castle Collection Puzzles
There are currently three Ravensburger puzzles available on shopDisney at the moment that are part of the Disney Castle Collection series. These are all limited edition.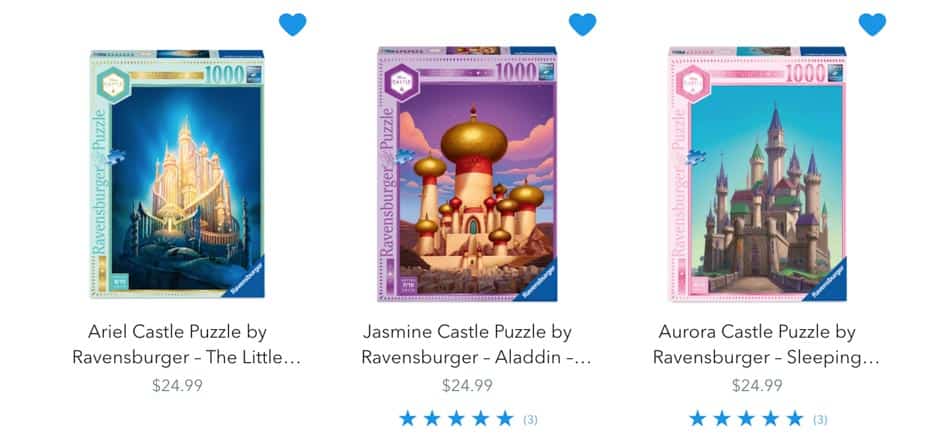 Aladdin and Jasmine Puzzle
"I can show you the world.' Is it just me, or does this puzzle have you humming the same tune? I absolutely love it.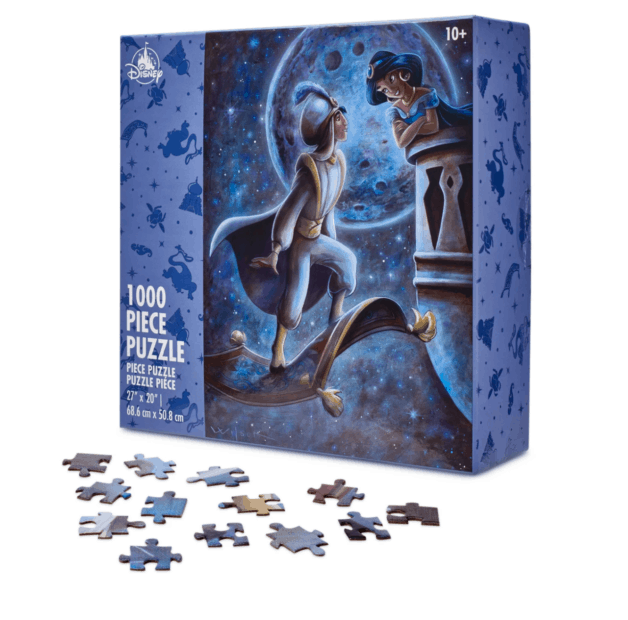 This stunning puzzle is available here on shopDisney. (This one is showing sold out, but I'll leave it up in case it comes back in stock.)
WALL•E and E.V.E. Light-Up Billboard Mini Puzzle
This 50 piece puzzle creates a light-up billboard to hang in your home! And how often do we see Wall-E merchandise? You can find it here on shopDisney.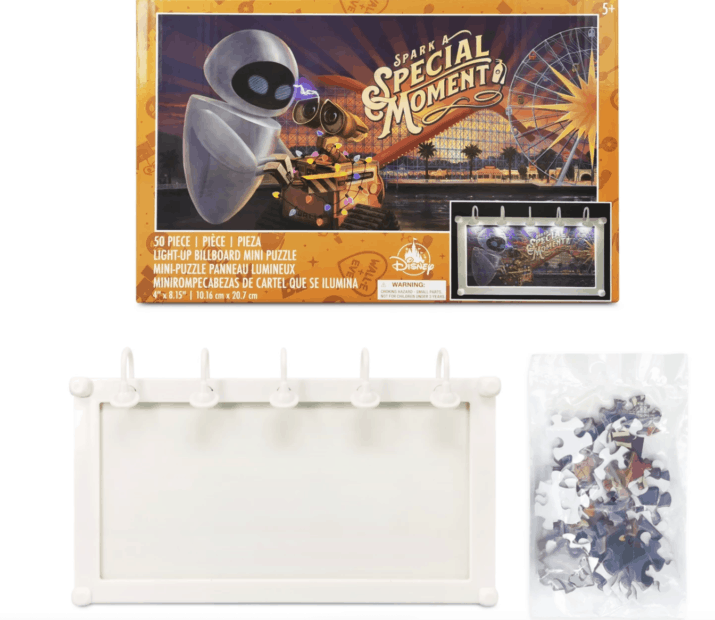 I saw this same billboard puzzle in a few other versions as well.
Coco Light-Up Billboard Mini Puzzle (Here)
Finding Dory Light-Up Billboard Mini Puzzle (Here)
Beauty and the Beast Falling in Love Puzzle by Thomas Kinkade
This puzzle is definitely worth falling in love with! From the rainbow sunset background to Beast asking Belle for a dance. It kinda says a lot all in one stunning design.
Find it here on shopDisney while available.
Mickey and Minnie Sweetheart Campfire Puzzle by Thomas Kinkade Studios
Mickey and Minnie Mouse are joined by Pluto as they roast marshmallows around the campfire in this charming scene. I sure do love the way they look at each other. It seems like they are enjoying a quiet evening together.
Make sure to check this one out here on shopDisney while supplies last.
Frozen Sisters Puzzle
This adorable Frozen sisters puzzle has made a return. Look closely, and you'll see Olaf in the middle of them.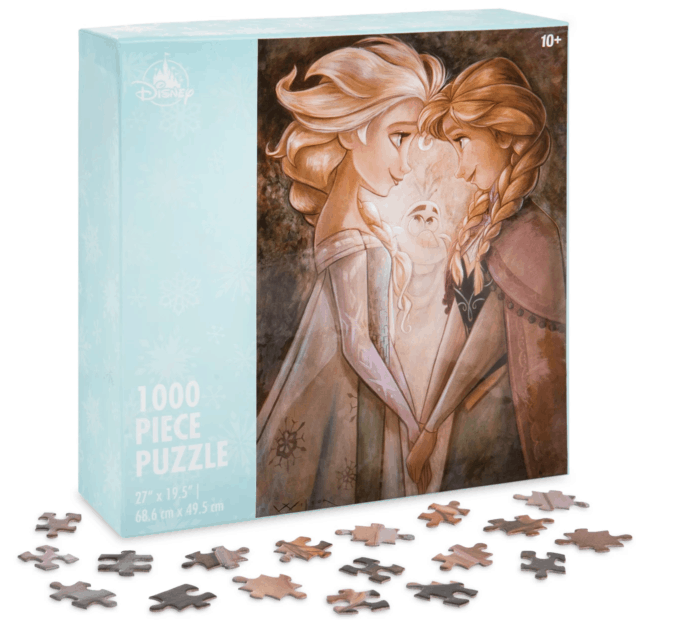 Grab this one in a hurry here on shopDisney. Warning it says the puzzle is low in stock.
Toy Story 25th Anniversary Disney Puzzle
Don't you love it? This darling Toy Story puzzle celebrated the recent 25th anniversary of the movie franchise. The artwork features favorite characters like Buzz Lightyear, Woody, Bo Peep, Rex, Slinky Dog, and more!
Find this one here on shopDisney while it lasts.
Dumbo Disney Puzzle by Thomas Kinkade
This Thomas Kinkade Dumbo Disney puzzle is absolutely vibrant. It reminds me so much of Storybook Circus in the Magic Kingdom.
Find it here on shopDisney.
Pandora Landscape Puzzle
Another hard to find puzzle is this landscape of Pandora, World of Avatar in Disney's Animal Kingdom. It's a beautiful scene coming in with 1000 pieces. In the past, this one has often sold out fairly quickly.
To check availability, try here on shopDisney.
Disney Signature Puzzles
There are several different puzzles in the Disney Signature collection available on shopDisney right now. For instance, there's also this Mickey Mouse Through the Years that is another puzzle in the Signature collection. This is a 1000 piece puzzle and represents ten different Mickey's from what I can tell.
It's available here on shopDisney. (Showing sold out as of this last update.)
The Child Puzzle Star Wars: The Mandalorian
Our next one is a very popular puzzle featuring "The Child" from The Mandalorian series that debuted with Disney+ a few years ago. From my understanding, season 3 will be released sometime in 2022.
As for this one, it definitely makes our best Disney puzzles list. You can currently find it here on shopDisney.
Mickey and Minnie Mouse Sweetheart Cafe Puzzle
This charming puzzle featuring Mickey and Minnie Mouse at the Sweetheart Cafe returns to shopDisney. It's from the Thomas Kinkade line and has 1000 pieces.
You can find more about this one here.
Pirates of the Caribbean Puzzle (July 2020)
Another popular puzzle is the Pirates of the Caribbean: The Curse of the Black Pearl by Thomas Kinkade.
I absolutely love this unique design. You can find it here on shopDisney.
Disney Castle 3D Puzzle by Ravensburger
Ever taken on a 3D puzzle? This Disney puzzle offers the opportunity to construct a beautiful rendition of Sleeping Beauty's castle. The pieces of this puzzle are a combination of curved, hinged, and flat.
And while this puzzle only contains 216 pieces, it must be pretty challenging with recommendations for ages 12 years and older.
This puzzle includes the following characters: Ariel, Belle, Cinderella, Rapunzel, Snow White, Jasmine, Pocahontas, Tiana, Aurora, and Merida.
For more information and specifics, check here on shopDisney.
The Lion King Puzzle by Ceaco
Another fun puzzle is this Lion King edition containing 1500 pieces.
Characters for this one include Simba, Nala, Rafiki, Timon, Pumbaa, Zazu, Scar, Mufasa, Sarabi, Hyenas, and more!
For more information click here. (This one is showing sold out as of this last update.)
Putting it all Together
I hope you enjoyed this round-up of Disney puzzles! Let me know which one is your favorite! These articles are definitely fun to put together, no pun intended.
Make sure to check out my Disney Loungefly and Disney Dooney and Bourke collections to check out the newest styles! Or you might also enjoy the Minnie Mouse Headbands timeline.
And if you are looking to plan a Disney vacation in the near future, feel free to check out all of our Disney World Resort Reviews.
We have a full review of Disney's Caribbean Beach which is home to Disney's Skyliner. And the newer Riviera sits next door. We loved our stay, and you can read more about it in our Riviera Resort Review.
And you might love a tropical stay at Disney's Polynesian Village Resort (review). The rooms there have recently received a full Moana makeover.
Have fun putting together your Disney Puzzle! Leave a comment and share your favorite puzzles.