Disney's Hocus Pocus Merchandise Releases
Looking for a little Hocus Pocus merchandise to spice up your life? With the way things are looking this year, it seems like we will all be running "Amuck! Amuck! Amuck!" by the time we get to October. And most of us probably are already!
Here's a preview of the newer Disney's Hocus Pocus merchandise. I'll add in a few returning favorites toward the bottom of this post as well. This review has been completely updated for 2021 featuring all the latest items! Happy shopping!
Disclosure: There are affiliate links on this page, meaning Resorts Gal may be compensated if you make a purchase. These come at absolutely no cost to you and help support our business.
If you would like to skip straight to the latest items on shopDisney, they are all available here. Let's get started!
2021 Hocus Pocus Spirit Jersey
There's a new Hocus Pocus spirit jersey, now available on shopDisney while supplies last! And just look at it! The bright colors on the solid black really stand out. This year's new Hocus Pocus merch is really stunning.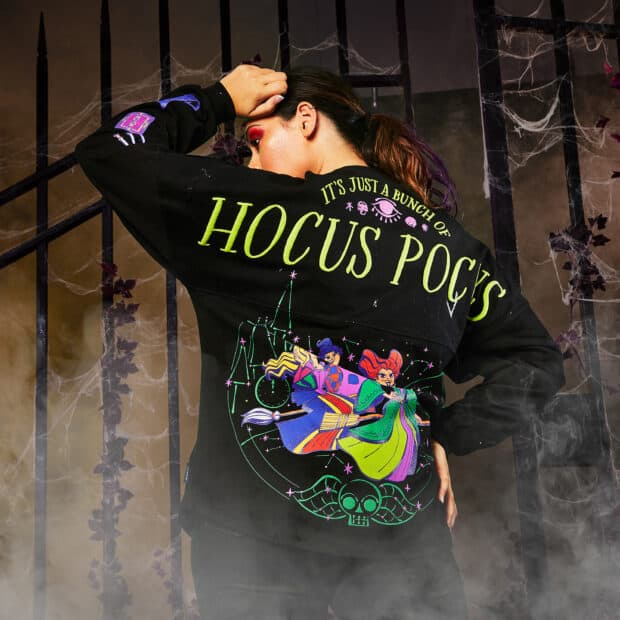 Find it here while it's available. Additionally, there's a matching spirit jersey here for your pet!
You might remember that last year's design sold out within the first few hours. If this is a must-have for you, set those alarm clocks early come Monday morning! You can find it here on shopDisney when it comes available.
New Hocus Pocus Merchandise (2021)
Here we are in August, with Halloween right around the corner! I sure didn't think I would have any more updates to add to this review. But this month brings a new Loungefly and a few new shirts that Hocus Pocus fans won't want to miss!
Disney Hocus Pocus Sanderson Sisters Mini Backpack by Loungefly
This Hocus Pocus backpack is so cute! It features all three of the Sanderson sisters and Binx is positioned above them so he can keep an eye on them.
You can find this one here on Fun.com.
Hocus Pocus Mug and Spoon Set
The Hocus Pocus cauldron mug has returned this year! You may remember that this mug was released last year and sold out within the first few days!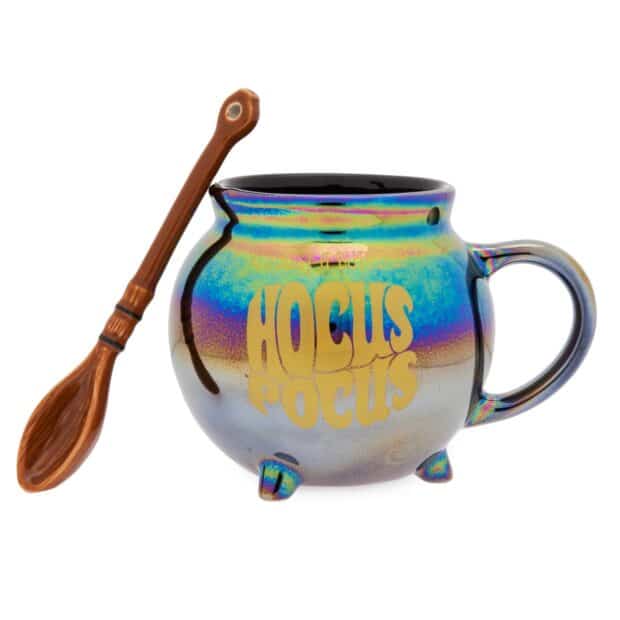 It was quite a popular item. Find it here on shopDisney.
Hocus Pocus Loungefly Wallet
This cute new Hocus Pocus Loungefly wallet features the Sanderson sisters sharing a broomstick! You can check out the link below to see the reverse side!
Find it here on shopDisney while it's available.
Hocus Pocus Loungefly Mini Backpack – Pre-Order
Wow! This new Hocus Pocus Loungefly is the perfect spooky mini-backpack for the upcoming Halloween season!
I thought it was new Haunted Mansion merch when I first laid eyes on it! You can pre-order it here while it's available.
Hocus Pocus Tie Front Shirt for Women by Her Universe – Pre-Order
Her Universe has released a sharp new look for Hocus Pocus on shopDisney. This cute button-down shirt features our beloved Binx on the front with the most adorable buttons.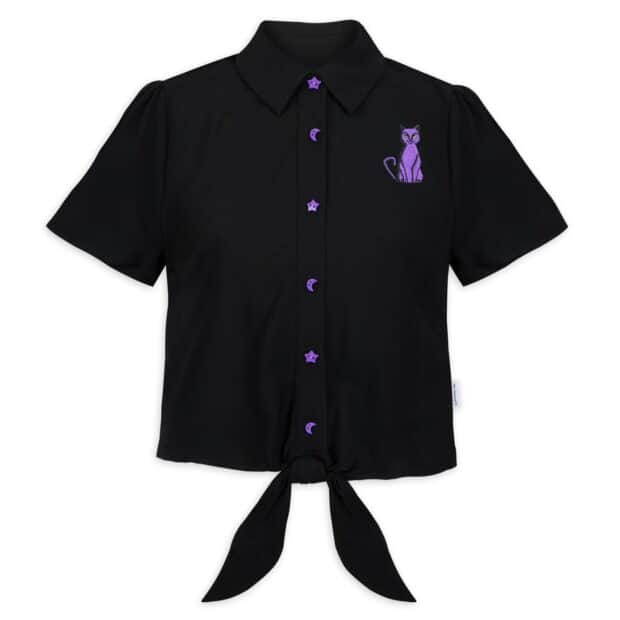 Make sure to check out the back of the shirt here on shopDisney.
Hocus Pocus Reversible Long Sleeve T-Shirt for Adults
Or you might love this larger-than-life printed long sleeve t-shirt better! It's giving me a major early 90s vibe, and I'm not complaining one bit!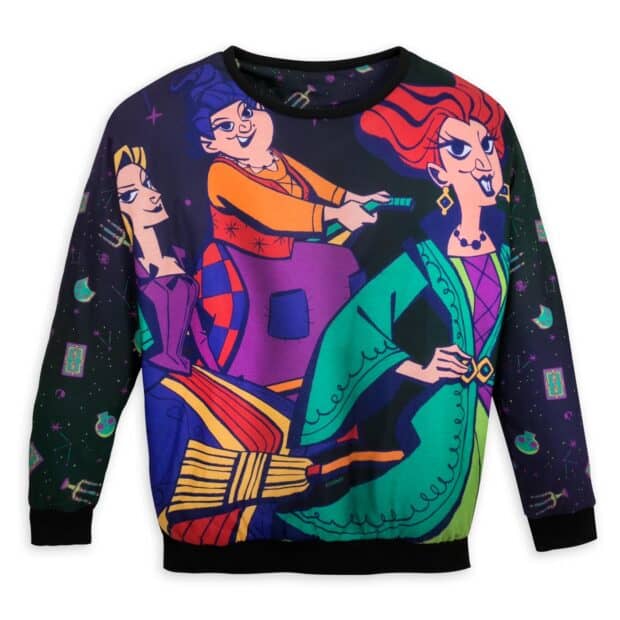 Find it here while available on shopDisney.
Hocus Pocus Clogs for Adults by Crocs – Pre-Order
If you're rocking clogs this year, don't miss out on these spell-tacular ones by Crocs!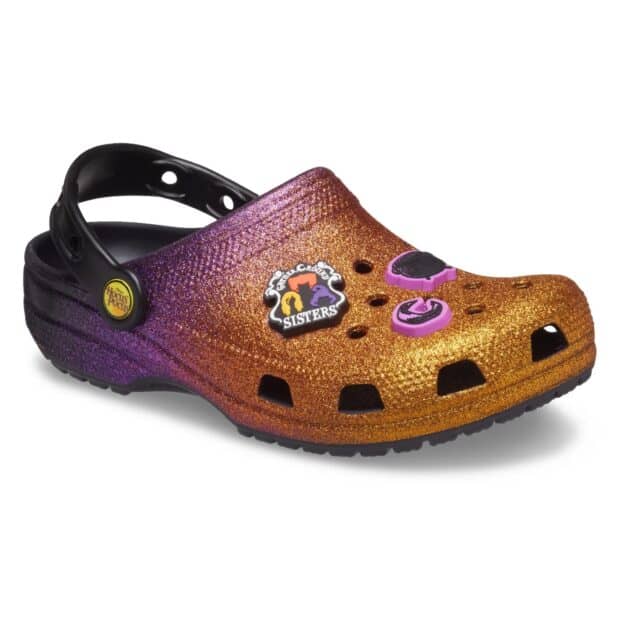 Pre-order them here on shopDisney.
Hocus Pocus Villain Spelltacular Mystery Pin Set Blind Pack – Limited Release
Need a new pin set in your life? This limited release has some fun designs, doesn't it?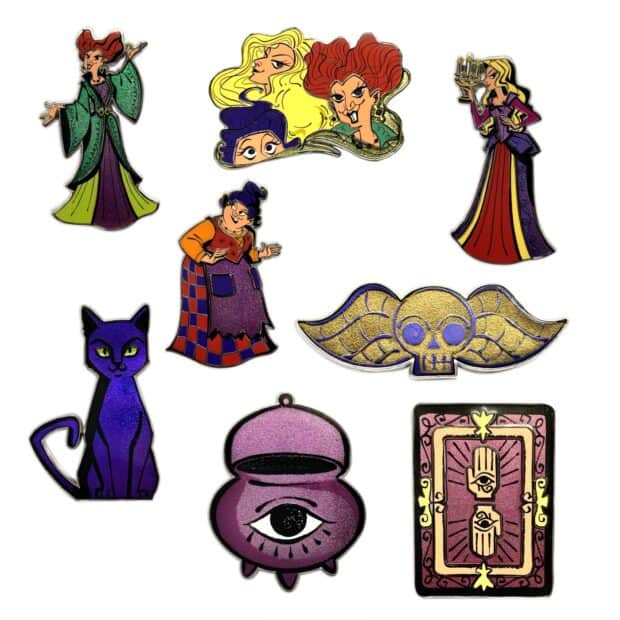 Find this pin set here while it's available.
Hocus Pocus Collectible Key Set
For all of you key collectors out there, don't miss the new Hocus Pocus edition. The key features all three Sanderson sisters prominently displayed! Will it be the right fit for your key collection?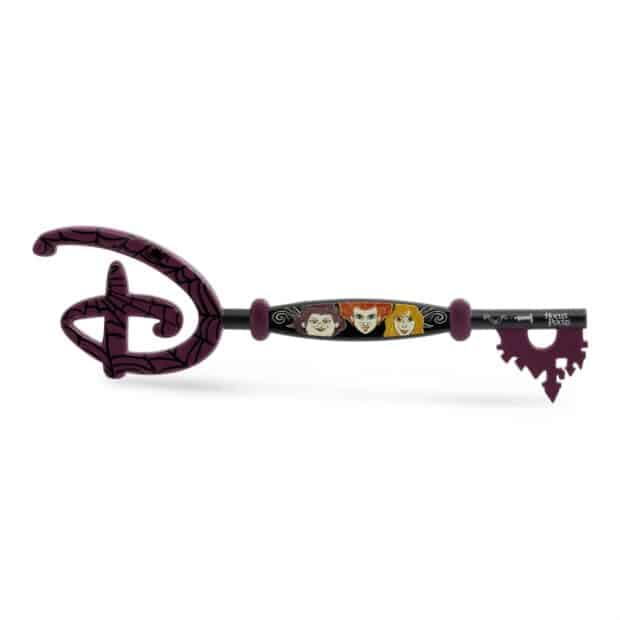 You can read all the details about the new key here on shopDisney. If you do collect keys, there is another new one in our Haunted Mansion Merchandise timeline.
Hocus Pocus Plush
What's more fun than Disney plush? Well, maybe Disney Hocus Pocus plush! It's hard to deny how cute these mini plush items are! I think Binx is my favorite, what about you?
Hocus Pocus the Game
There's a new board game in town and Halloween might be the perfect time to take on a new challenge. Even the actual playing board appears to be shaped like a summoning circle!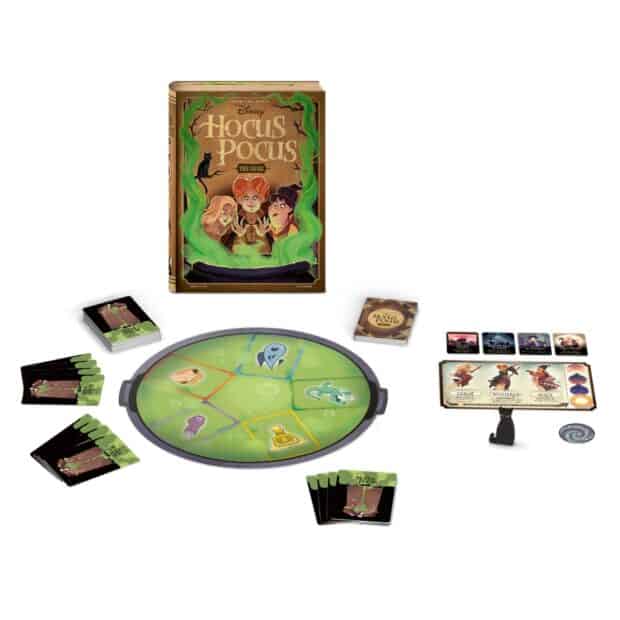 This board game with more details is available here on shopDisney. If you are looking for more games, make sure to check out our full list of Disney board games.
Hocus Pocus Merchandise (2020)
Below you can browse a few of the items that were released last year. Unfortunately, these items are no longer available. These are mainly left for reference.
Winifred Sanderson Pullover Sweatshirt for Adults – Hocus Pocus
If the weather is already showing signs of Fall where you live, you might be better off to purchase this "Another Glorious Morning" sweatshirt featuring Winifred Sanderson herself!
Hocus Pocus Black Flame Candle T-Shirt
Last but not least, in this update, we have the black flame candle t-shirt. It's the kind of tee that's always good for a laugh. Right?
It reads, "I lit the black flame candle."
Next up is the Hocus Pocus Cauldron, excuse me, coffee mug. Even the spoon appears to be wooden, but it's actually ceramic! So drink up your morning brew of coffee this winter in style with this fun and unique mug.
And there is a Hocus Pocus Fashion Bag by Loungefly. This is a shopper-style bag that appears to be roomy given the size. All three Sanderson sisters appear on the bag.
And there's a matching wallet available that was available originally.
For more Loungefly products, make sure to check out our Disney Loungefly backpacks timeline. In addition, we keep a running list of all the latest mini-Loungefly.
If you prefer to share your Hocus Pocus spirit on display in your home or are a collector of sorts, you might love this Sanderson Sisters Q-Fig by QMx. This collectible shows the Sanderson sisters merely escaping children on their…vacuum. If only we could make our vacuums perform such nonsense.
And if you are planning on running amuck! You might want to do that with a Hocus Pocus hoodie this Fall! I actually prefer the hoodie look over the Spirit Jerseys any day, but that's just my personal spin.
Speaking of spirit jersey's Disney dropped a Hocus Pocus one yesterday. Unfortunately, if this floats your broom, I hate to inform you it's already sold out.
While I'm not crazy about the contrast crew neck on this ringer t-shirt, I love the print. Especially the larger version on the backside of the shirt has the Hocus Pocus release date printed on it.
For more favorites, you might want to check out our list of Minnie Mouse Ears. Additionally, we keep a timeline of all the new Disney Dooney and Bourke Handbags. Finally, there have been several previews recently added of the new Walt Disney World 50th anniversary merchandise.
Here at Resorts Gal, we love sharing our experiences at Disney World. One of our favorite resources is our Disney World Resort Reviews. It includes a look at all our stays in the different Disney hotels.
Additionally, we have a full guide to our favorite recommendations for the best off-site hotels near Disney World. Some of them include our favorite choices for Marriotts near the Disney Parks.
Did you find an enchanting piece of Hocus Pocus merchandise? Let me know your favorites in the comments.