Italia Dooney and Bourke with Mickey and Minnie
This Italia Dooney and Bourke collection featuring Mickey and Minnie Mouse was released in February 2021 on shopDisney. If Italy is one of your favorite vacation destinations, or you just love the Italy Pavilion at Epcot, you will adore this new print.
The handbag collection features a crossbody, satchel, tote, and a limited-edition Magic Band. Below you'll find a closer look at the designs and the link to purchase or find more information.
Update: The following Disney Dooney and Bourke collection has sold out. Below, we've left photos to reference the styles released with the collection.
Disclosure: This page has affiliate links, meaning Resorts Gal may be compensated if you make a purchase. These come at absolutely no cost to you and help support our business.
Mickey and Minnie Mouse "Italia" Dooney & Bourke Crossbody Bag
First, we have the crossbody, which most of you know is usually the first style to sell out. A closer look at the print reveals fun Italian phrases like Ciao, Tiramisu, Amore, Arrivederci, Buon Giorno, Grazie, and more!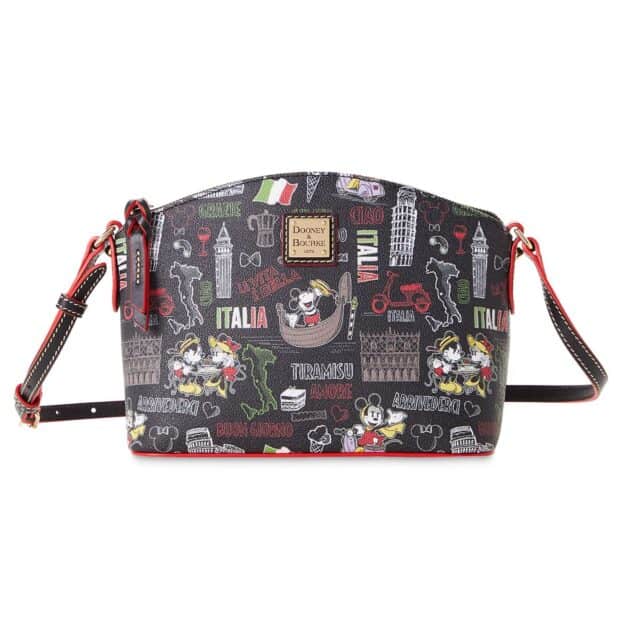 This crossbody sold out rather quickly. Pictures are left for reference.
Mickey and Minnie Mouse "Italia" Dooney & Bourke Satchel
The Italia print also features fun symbols representing all things Italy, including the boot shape of the country. You might also notice Venice's famous St Mark's Campanile, pasta, wine glasses, mopeds, and more!
Find the satchel here on shopDisney. Unfortunately, this bag has sold out.
Mickey and Minnie Mouse "Italia" Dooney & Bourke Tote Bag
But perhaps what I love most is the classic Italian colors of red, green, and white on the black background with bright red trim. There's even a bit of yellow thrown in the mix.
And if you look closely, you'll notice a few different scenes featuring Mickey and Minnie Mouse enjoying their best life in Italy.
Unfortunately, this bag has sold out.
Mickey and Minnie Mouse "Italy" Dooney & Bourke MagicBand
Additionally, there's a limited edition Magic Band available with this collection.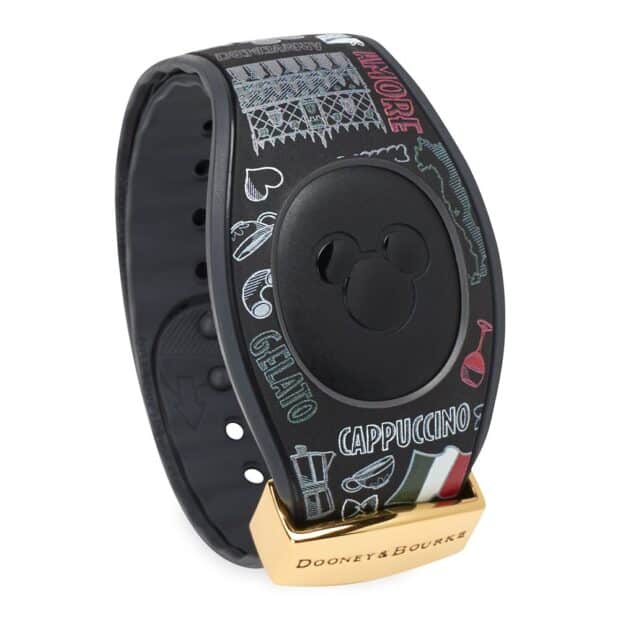 The magic band was not available long after it was released.
To preview the current Disney Dooney's available, you can do so here on shopDisney.
I hope you enjoyed this fun collection and were able to find the piece that was just right for you! If not, check out the full list of Disney Dooney and Bourke handbags.
Or you might enjoy these other popular timelines:
For more information about staying at Disney World, you might want to check out some of our popular articles, like how to plan a split stay at Disney and tips for finding the best travel agent.
What are your thoughts about this new Italia Mickey and Minnie collection by Dooney and Bourke? Did you snag a piece before it sold out?