The Latest Marvel Loungefly Backpacks
Marvel Loungefly has been quite the popular line of backpacks lately. Here's a look at a few of the styles that are available. These are some of the most fun and fresh looks I've seen in a while. And what would be a better time to sport your favorite superheroes than as we brave new adventures?
Additionally, there are several new styles of Disney Parks Loungefly Backpacks on the site as well. We keep that review updated regularly to include some of the new styles with favorite Disney characters!
As for this review, I try to keep it updated, but there aren't quite as many Marvel Loungefly releases as the Disney brand. So check back if your favorite Marvel character hasn't made it to the list yet. I'll make sure to add them in as I see them!
The article was updated on May 16, 2022. At this time, many of the backpacks below have sold out. Unfortunately, there aren't many new ones available. However, a few newer selections and coming soon options have been added below.
Disclosure: There are affiliate links on this page, meaning Resorts Gal may be compensated if you purchase. These come at absolutely no cost to you and help support our business.
Marvel Loungefly
Below you'll find our ongoing list of mini-backpacks.
Ms. Marvel Loungefly Mini Backpack
This new Marvel Loungefly came out in May of 2022. It's been a while since we've had a new backpack to add to our list. And this one has a sharp-looking design, don't you think?
Find it here on shopDisney.
Marvel Falcon Captain America Cosplay Loungefly Mini Backpack
Find this one here on Fun.com
Loungefly Marvel Captain America 80th Anniversary Floral Shield Mini Backpack
Have more than one favorite Marvel character? You don't have to choose with this cute-as-can-be new Marvel Loungefly. It has tons of characters! Even Groot!
More details are available here on Fun.com (Sold Out.)
Pop! Marvel Iron Man Light-Up Mini Backpack by Loungefly
This cute Pop Marvel Loungefly lights up! Don't you love it?
Find this one here on Fun.com
Captain America Loungefly Mini Backpack
Or maybe you would prefer to stick with one character? I don't think there's much to complain about with this Captain America Marvel backpack.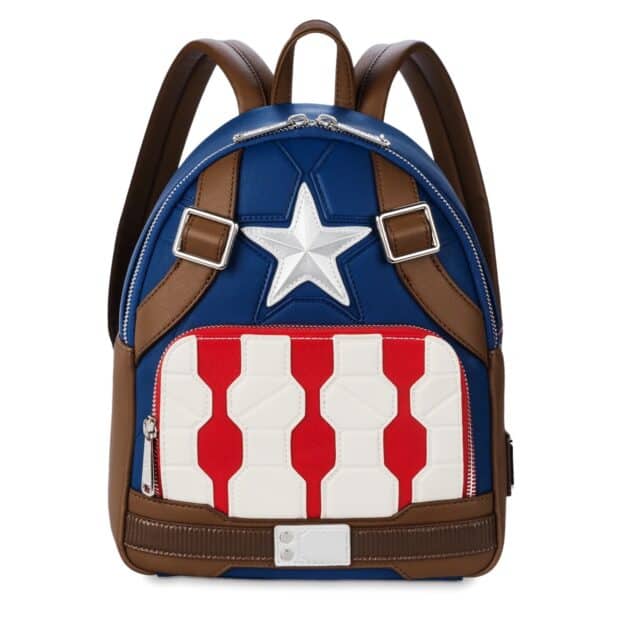 Find out more about this Captain America Loungefly here on shopDisney. (Sold Out)
Spider-Man Loungefly Mini Backpack
Every time I see Spiderman, I start singing the song, "Spiderman, Spiderman, through the neighborhood." I think you get the picture.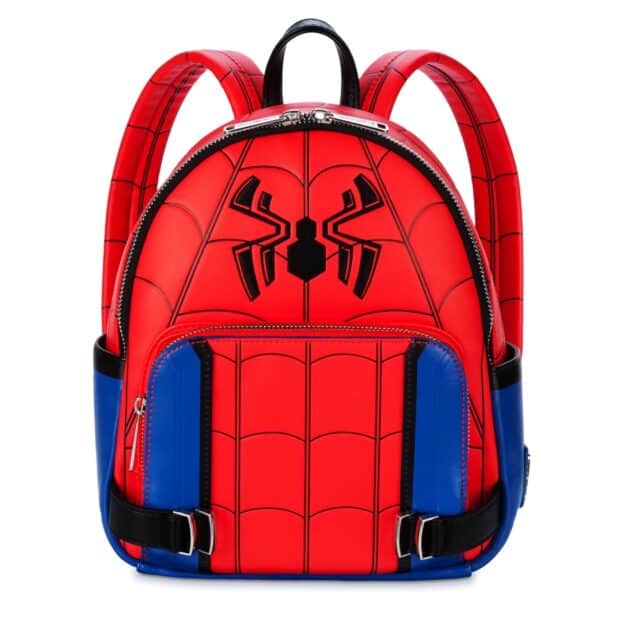 Find out more about the Spiderman Loungefly here on shopDisney. (Sold Out)
Captain Marvel Loungefly Backpack
In addition, Captain Marvel has a new mini-backpack too! This one has a little bit of a different style.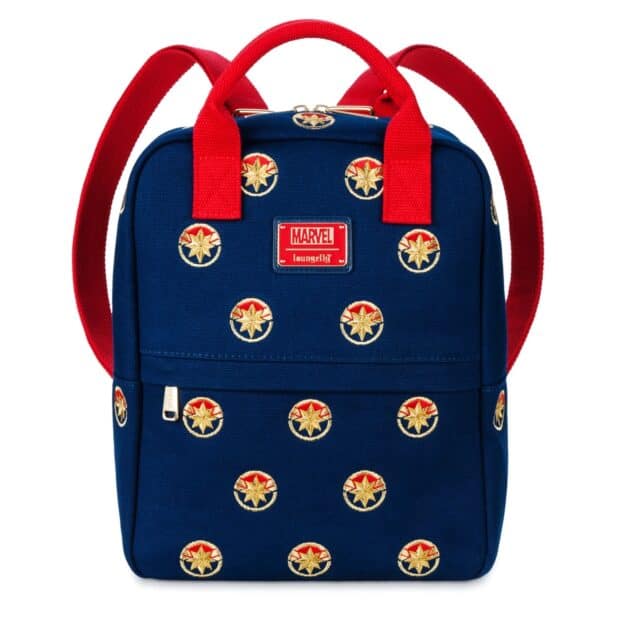 Find it here on shopDisney. (Sold Out)
Marvel Deadpool 30th Anniversary Unicorn Rainbow Pop By Loungefly Backpack
Deadpool, Unicorns, and Rainbows? Yes! This cutesy Marvel Loungefly backpack brings the fun factor to summer.
Sold Out.
Loungefly Marvel Comic Backpack
Love for all things Marvel Comics? This mini Marvel Loungefly is perfect for you. It has a bright pop of red, and I see a few of my favorites on the bag. And there's one not-so-favorite on there as well!
Sold Out.
Loungefly Marvel Falcon Mini Backpack
Falcon fans will want to sport this sharp Marvel backpack.
Sold Out.
Thor Backpack by Loungefly
Need a place to carry your trusty hammer? Or maybe just your everyday essentials and still look like a superhero? Look no further than this new Thor fashioned bag by Loungefly. It's pretty cute.
Sold Out.
Spider-Man Mini Backpack
Spiderman! Spiderman! All through your neighborhood, sport Spiderman with this cute new Marvel Loungefly Mini!
This one is showing availability here. (Sold Out)
Loungefly Marvel Avengers: Infinity War Chibi Character Mini Backpack
How adorable is this Marvel Avengers Chibi print Loungefly backpack?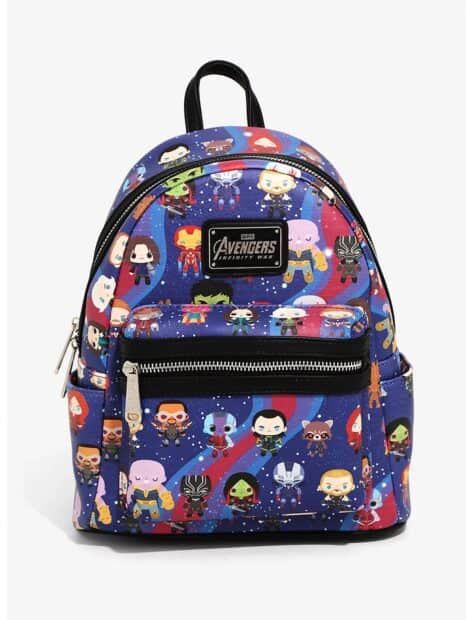 Unfortunately, it has sold out.
Loki Mini Marvel Backpack by Loungefly
The colors on this new Loki Marvel Mini backpack are complementary to the upcoming Fall season. So if you are a fan of that one Marvel character that keeps us constantly feeling undecided, this might be the bag for you.
Sold out.
Captain Marvel's Metallic Backpack
This shiny superhero of a backpack represents one of the newer Marvel films and female heroes! This one will add all the sparkle to your holiday outfits and more!
Sold Out.
I hope you enjoy these new product updates as much as I do! When I saw these Marvel backpacks, I knew I had to share them.
If you are looking for other Disney products, make sure to check out the Disney merchandise timelines:
While we cover a good deal of information on the site, Resorts Gal specializes in providing detailed information about the Walt Disney World Resorts. Browse our Disney Resort Reviews to begin planning your next Disney vacation. Some of our favorites include the Epcot Resorts Area hotels.
My personal favorite is the review of our stay at Disney's Beach Club. One of the main reasons we love the Beach Club is Stormalong Bay. There's plenty of reason it tops our list of the best Disney World pools if you can even call it a pool.
Related: Disney's Beach Club Review
And don't miss out on our full list of Disney restaurant reviews. They include character dining, signature dining, table service, and quick service.
Have fun with your Marvel Loungefly!