New! Pixar Maps Dooney and Bourke Collection (2022)
Surprise, surprise. We have another new line of handbags. This time it's the Pixar Maps Dooney and Bourke collection!
And it's a snazzy look for Pixar fans. Of course, aren't we all Pixar fans?
The following movies are featured on the Pixar Maps print:
Toy Story
Monsters University
Incredibles
Up
Cars
Ratatouille
Inside Out
This collection was released on March 14, 2022.
Disclosure: There are affiliate links on this page, meaning Resorts Gal may be compensated if you make a purchase. These come at absolutely no cost to you and help support our business.
Pixar Maps Dooney & Bourke Crossbody Bag
Unfortunately, we didn't get a wallet with this collection, but we did get this fun crossbody. It's perfect for those who like to keep it simple!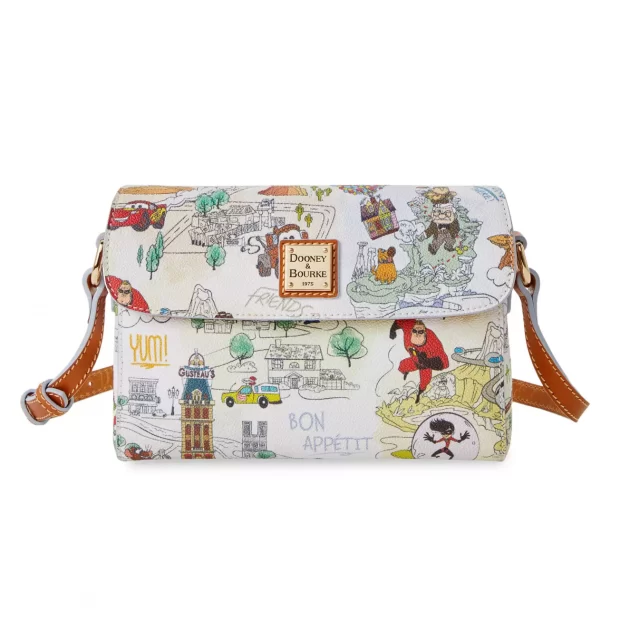 Find this one here on shopDisney while it's available.
Pixar Maps Dooney & Bourke Zip Satchel Bag
The traditional satchel is the next piece in the collection. If you look closely, you'll notice the fun placement details on this bag. There are so many favorites on this design!
However, the placement does vary by bag.
More details are available here on shopDisney while this one's available.
Pixar Maps Dooney & Bourke Tote Bag
My favorite of the group is the tote. I love the versatility of this style. You can easily take it on weekend trips, and it's a great style to carry on planes.
Check here on shopDisney for availability.
For more information, make sure to check out the entire timeline of Disney Dooney and Bourke bags. So far this year, we've seen several different releases.
Additionally, we keep a running list of Disney Parks Loungefly Backpacks and a Minnie Disney Ears timeline.
So, what do you think about the new Pixar Maps Dooney and Bourke collection? Will you add any of these looks to your collection?