Ultimate List of LEGO Disney Princess Sets
Disney Princess Legos are one of the best gifts you can give to help encourage children to learn new skills. Originally, this review was written to help located different princess Lego sets for the holidays. However, that season has passed, and I've come back to update with new sets and availability.
I was recently reading an article on the benefits of playing with Legos. Some of the benefits of building Legos include building conversation skills, perseverance, and learning patience. Not only that but the time spent putting together a set of Legos gives children a break from the use of electronics.
As a parent, I can say I've purchased probably more than the average amount of Legos over the years. The cons have been keeping up with the pieces and trying not to step on them. Ouch!
My best advice is to purchase a storage container every time you purchase a set of Legos. After that, try to get children in the habit of keeping the manual with pieces for each set in that storage container. If you decide to sell them down the road this will come in handy. You might be surprised at how quickly someone will purchase used Lego sets.
I actually sold the majority of my son's Legos locally to a grandparent who put them together with his grandkids. And I was more than happy with the use my son had gotten from them over the years, and the fact that I could resale them.
As for this review, we'll take a look at the Lego Disney Princess line. Each section below is broken down by Disney princess or movie with the available Lego sets underneath.
Disclosure: There are affiliate links on this page meaning Resorts Gal may be compensated if you make a purchase. These come at absolutely no cost to you and help support our business.
New 2021 Disney Lego Princess Sets
We are well on our way into 2021 with February rapidly approaching in the coming days. As time progresses, new Disney Princess Lego sets are coming available. Here are the latest releases I'm seeing available on shopDisney.
LEGO Anna and Elsa's Frozen Wonderland 43194 – Frozen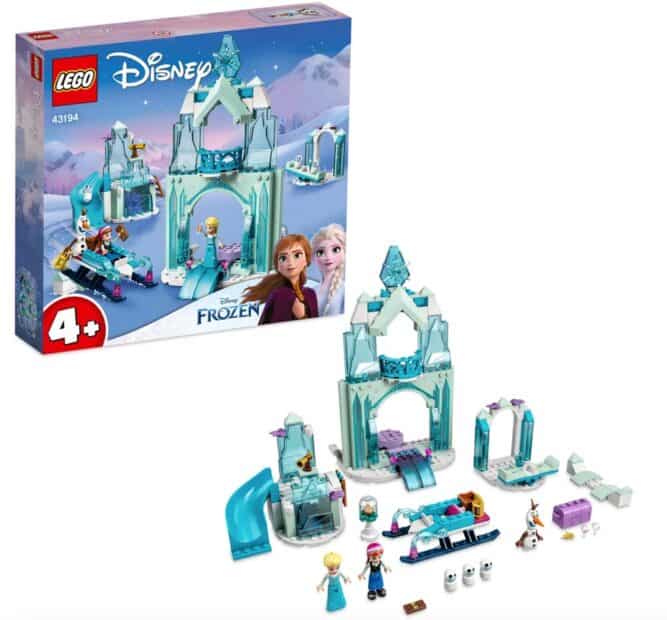 Available here on shopDisney.
LEGO The Ice Castle 43197 – Frozen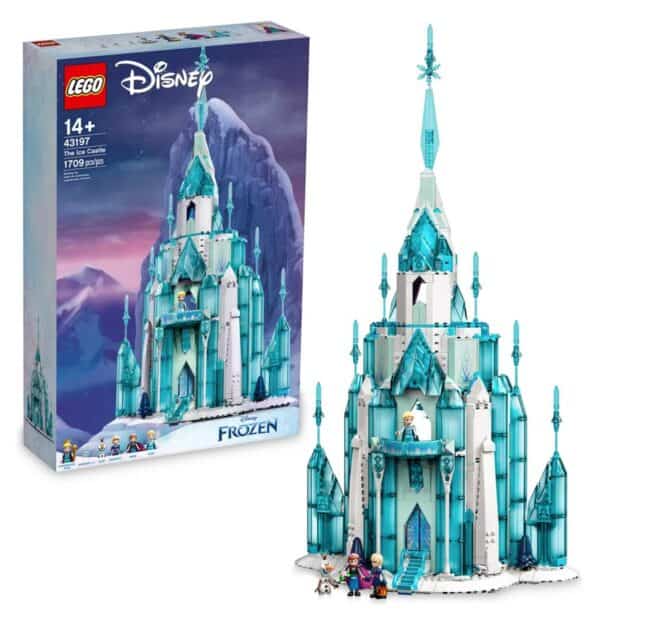 Find this stunning Lego Frozen castle here on shopDisney.
LEGO Raya and the Heart Palace 43181 – Disney Raya and the Last Dragon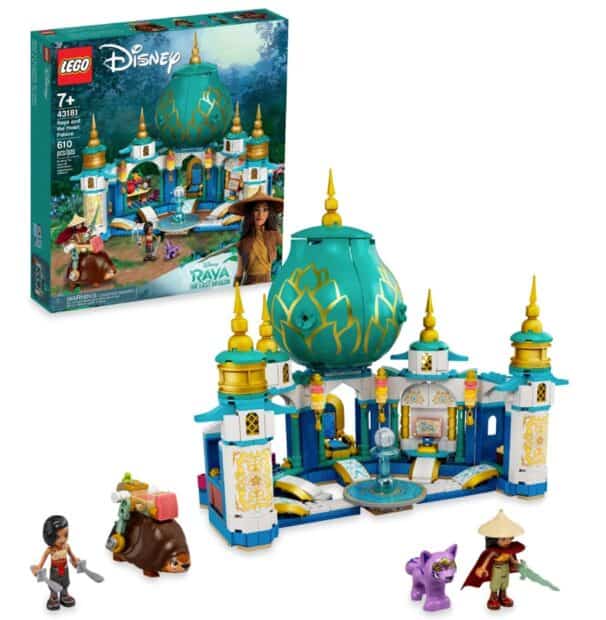 The heart palace can be found here on shopDisney.
LEGO Raya and Sisu Dragon 43184 – Disney Raya and the Last Dragon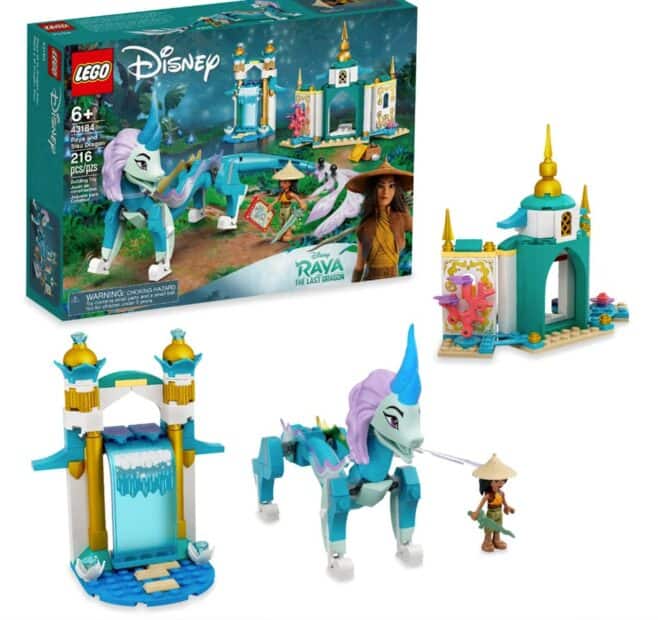 This set is available here on shopDisney.
LEGO Boun's Boat 43185 – Disney Raya and the Last Dragon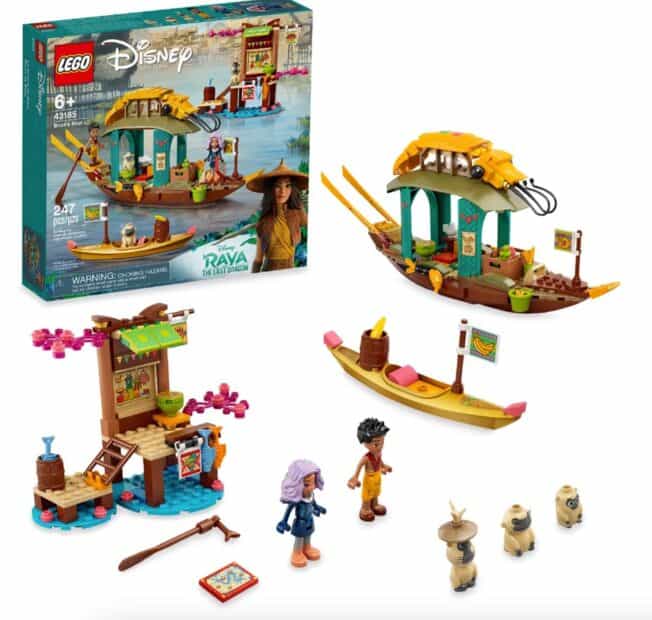 This Raya and the Last Dragon set is available here while supplies last.
Lego DUPLO Princess Sets
LEGO DUPLO Disney Princess Ariel's Undersea Castle 10922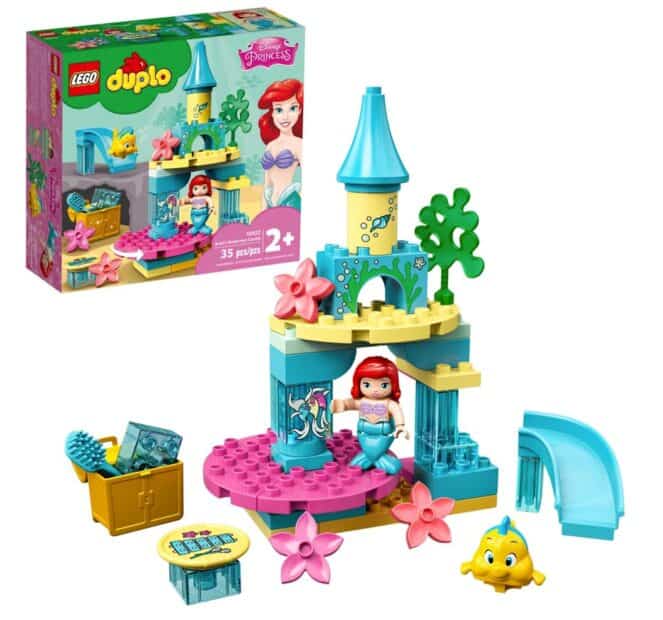 Find this one here on shopDisney.
Elsa and Olaf's Tea Party DUPLO Building Set by LEGO – Frozen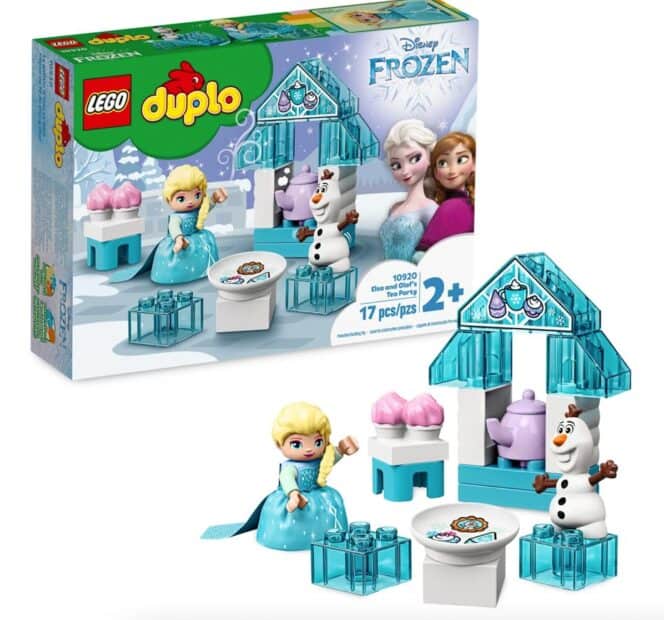 Find this cute Duplo set here on shopDisney.
LEGO DUPLO Minnie Mouse's House and Café 10942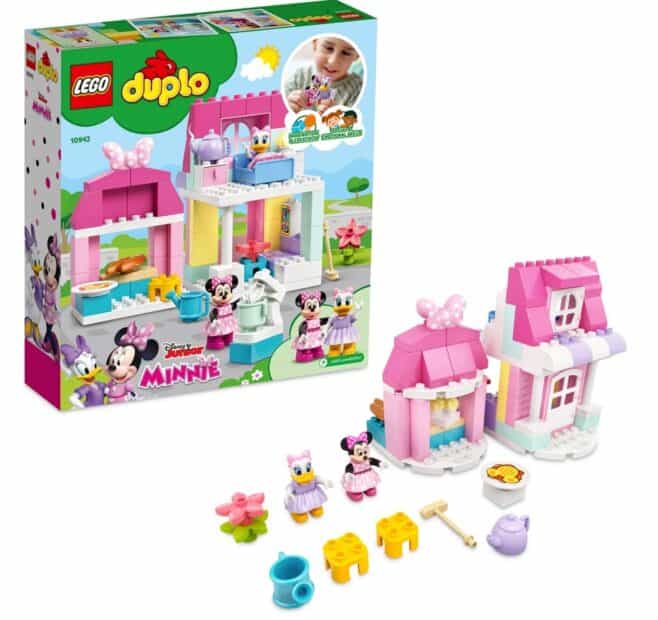 This one is available here on shopDisney while supplies last.
LEGO Minnie Mouse's Ice Cream Shop 10773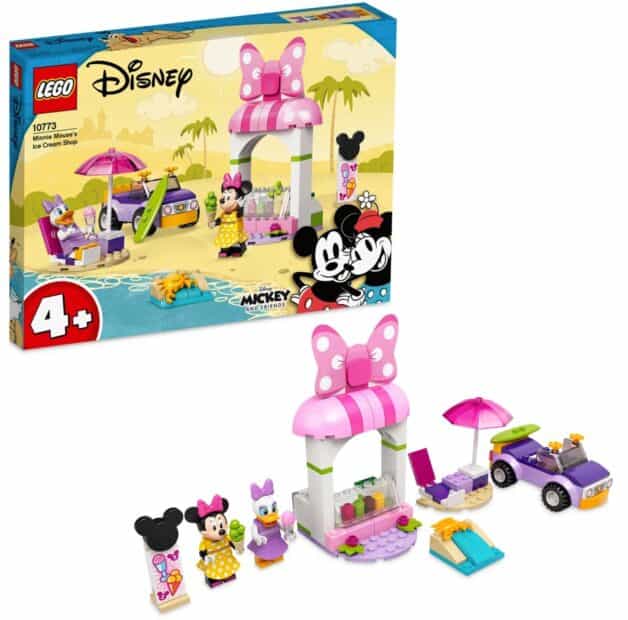 Check availability here on shopDisney.
LEGO Belle and Rapunzel's Royal Stables 43195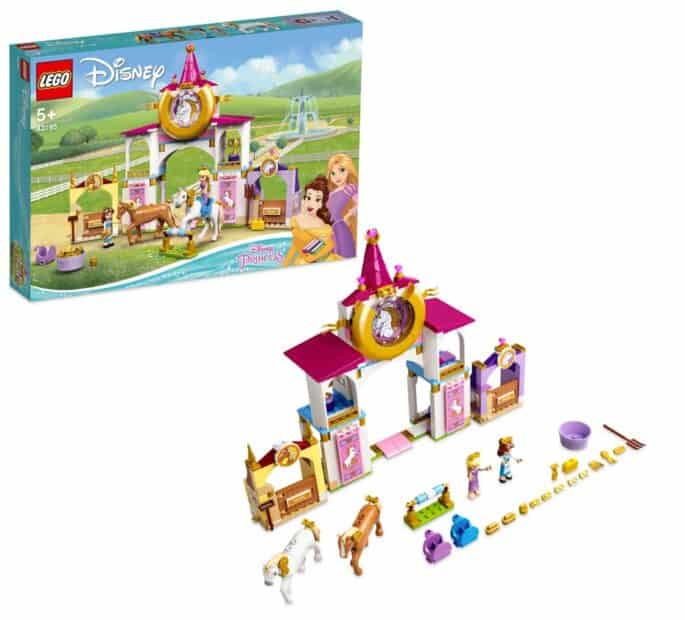 Find this stable set here on shopDisney.
LEGO Cinderella's Royal Carriage 43192
This Cinderella Coach Lego set contains 237 pieces and is recommended for children ages six years old and up. It's a really nice set that includes the Fairy Godmother and Cinderella figurines. And will you just look at the horses?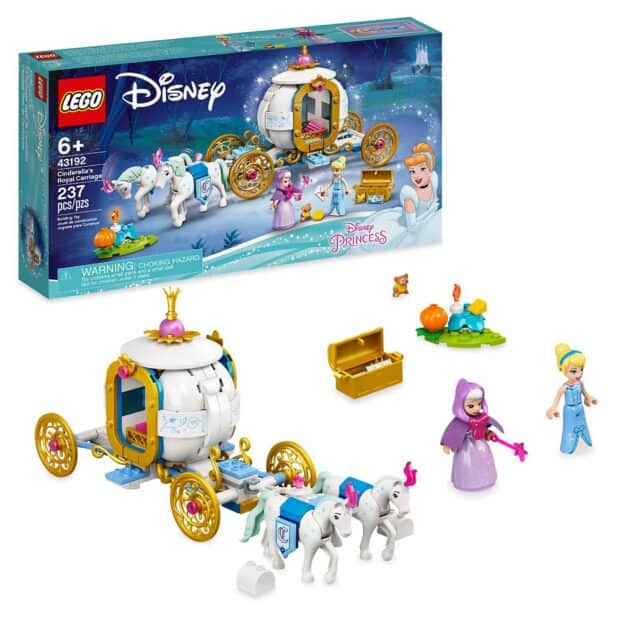 Find it here on shopDisney while available.
LEGO Ariel's Celebration Boat – The Little Mermaid – 43191
This next Lego set featuring Ariel would have been on my birthday list had it been available when I was a child. Look at the tiny Sebastian! Not only that there's also Prince Eric, Ariel, Flounder, and Max!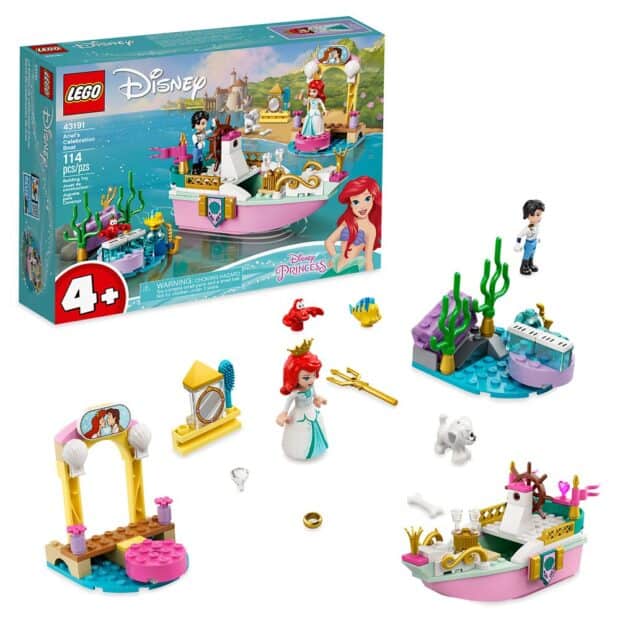 This set contains 114 pieces and is recommended for ages four and up. Find it here on shopDisney.
Lego Storybook Adventures Sets
LEGO Elsa and the Nokk Storybook Adventures – Frozen 2 – 43189
If you aren't familiar with the Lego Princess Storybook Adventures sets, then take a closer look. They actually fold up like a storybook making a convenient case for children to store their Legos when they are finished.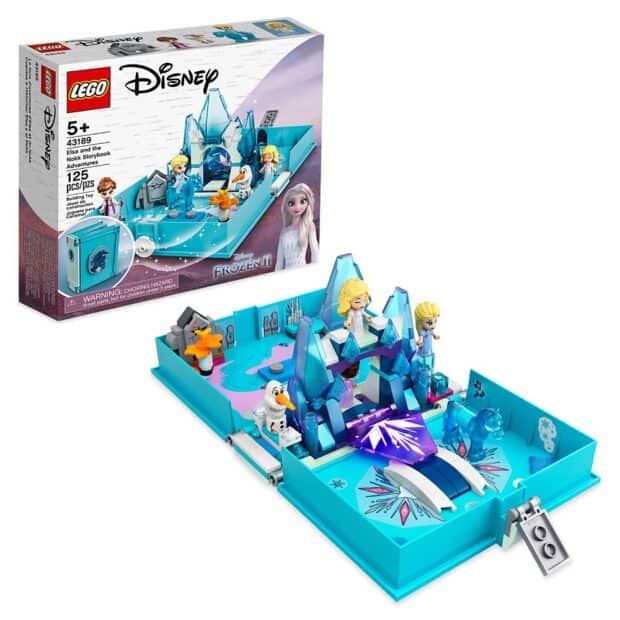 This set is available here on shopDisney.
LEGO Ariel, Belle, Cinderella and Tiana's Storybook Adventures 43193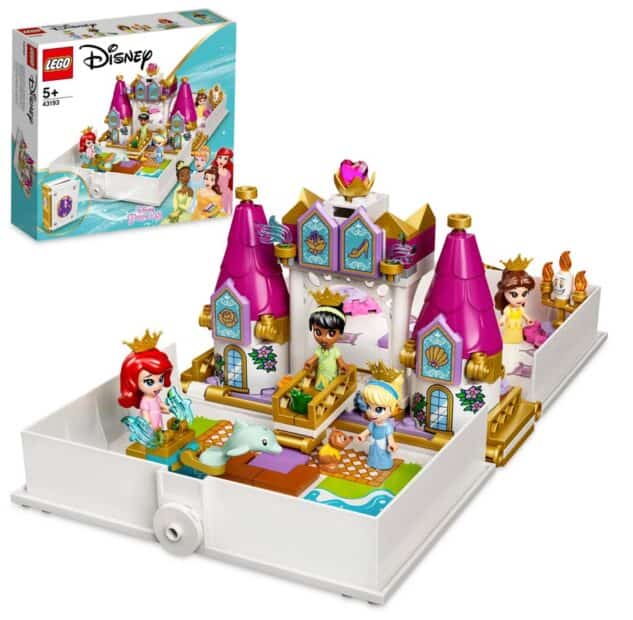 Find this one here on shopDisney.
Belle's Storybook Adventures
Belle's Storybook Adventure is good for children around the ages of five and up. It contains 111 pieces.
This set is also available here on Amazon.
Disney Princess Legos
First, we have a look at this Sleeping Beauty-inspired Lego set featuring Aurora in her forest cottage. The set includes 300 pieces and is suitable for children ages five and up.
Figures included: Aurora and Maleficent mini-figures, plus a raven, fawn, bunny, squirrel, and bluebird
Special Features: The water wheel on side of the cottage spins and lights magical sparks in the chimney.
More details about Aurora's Forest Cottage are available here on Amazon. (Showing Sold Out on Lego and shopDisney)
If you are looking for a smaller set or something that would compliment the cottage, there's also Aurora's Royal Carriage.
The carriage with figurines is available here on Amazon.
LEGO Rapunzel's Tower 43187 
Another fun Princess Lego is Rapunzel's Tower Lego set containing 369 pieces. Lego recommends this tower for ages six years and older.
Figures include Rapunzel, Flynn Rider, and Pascal.
Additionally, the set features a swing made from Rapunzel's hair and a cave with a secret entrance.
Details about Rapunzel's Tower are available here on shopDisney.
Lego Disney Princess
Any princess in training or future Lego builder will probably love this charming set featuring Belle and Beast. Geared for ages four years and older this set contains 238 pieces. This specific Lego collection goes by the name, Belle's Castle Winter Celebration.
Figures included with Belle's Castle are Belle and Beast, Lumiere, Chip, Mrs. Potts, Wardrobe, and Cogsworth.
Details about this set are available here on Amazon.
Lego Disney Moana
Moana's Island Home Lego set features 202 pieces and is recommended for ages six years and up. This fun build includes a waterfall with a spinning whirlpool disc.
Figures included in the Moana Island Lego set are the Moana mini-doll, Hei Hei, Grandma Tala Stingray, and two turtle animal figures.
Find out more details about this set here on Amazon.
And if you are looking for a less expensive option or something to compliment either of these, Moana's Ocean Adventure might be a good fit.
You should be able to find it here on Amazon. Additionally, there's a Moana Ocean Voyage Lego set here on Amazon.
Lego Cinderella Sets
Following Moana, we have this Lego Cinderella Castle Celebration. It looks like a lot of fun and is recommended for children ages four and up. The cute castle might even make a nice starter set.
Cinderella's Castle Celebration comes with 168 pieces including Cinderella, Lucifer, Bruno, and mouse figures.
The junior-size castle is available here on Amazon.
As far as Cinderella Legos there's a stand-alone piece that might compliment the celebration castle. The Cinderella's Carriage Ride set features Cinderella in her ball gown and has 91 pieces.
To check the carriage set details and availability try here on Amazon.
And those of you needing a more challenging set might take a closer look at Cinderella's Dream Castle Lego set. It comes with 585 pieces and is for ages 6-12 years old.
Check out more details for the dream castle here on Amazon. I wish this had been available when I was a kid. (Per the Lego store this product is retired so supplies might be more limited than usual.)
Lego Frozen 2 Sets
However, my favorite of the Frozen 2 Lego series is Elsa's Jewelry Box. It includes an Elsa and Nokk figurine. Both figurines can sit on a functioning turntable and spin when the project is completed!
Right now this one is available here on Amazon.
This Frozen Duplo Lego set is also available for those just starting out. Here's a look at the Frozen Ice Castle below. Duplo versions of Lego are for ages two and up with pre-assembled bricks.
You can read more about this style here on Lego's site. And it appears to still be available here on Amazon.
Next, in the Frozen lineup of Legos is Elsa's Frozen Ice Palace. This set contains 701 pieces and will be a bit more challenging since it's designed for ages six and up. It comes with Elsa, Anna, Olaf, Marshmallow, and 4 Snowgie mini-figures.
You can find the Frozen Lego ice palace here on Amazon.
And while we don't want to upstage Elsa's Frozen Ice Castle, we can still take a look at Arendelle's Castle Village. The village of Arendelle in this Lego version looks just as enchanting as it does in Frozen 2.
It comes with Elsa, Anna, Kristoff, and three animal figures.
Arendelle's Castle Village has a suggested age of five years and up with 521 pieces. Check availability for this set here on shopDisney.
LEGO Mickey Mouse & Minnie Mouse Buildable Characters 43179 Building Set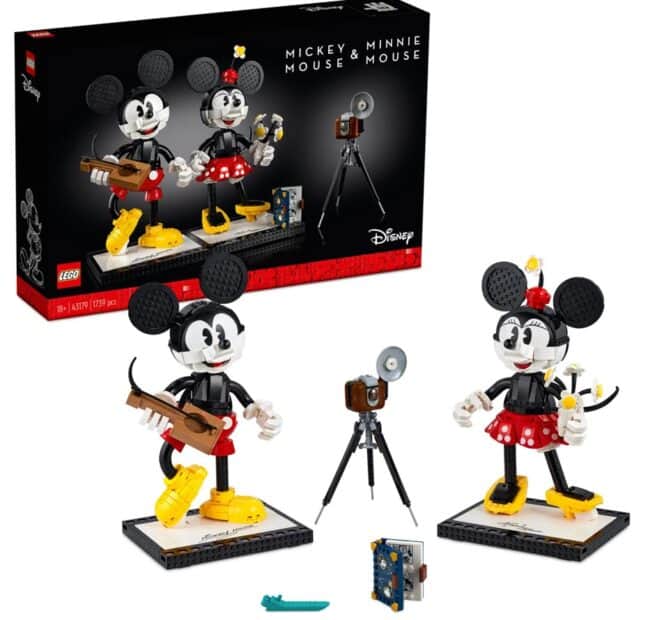 Find these here on shopDisney.
LEGO Disney Castle 71040 – Limited Release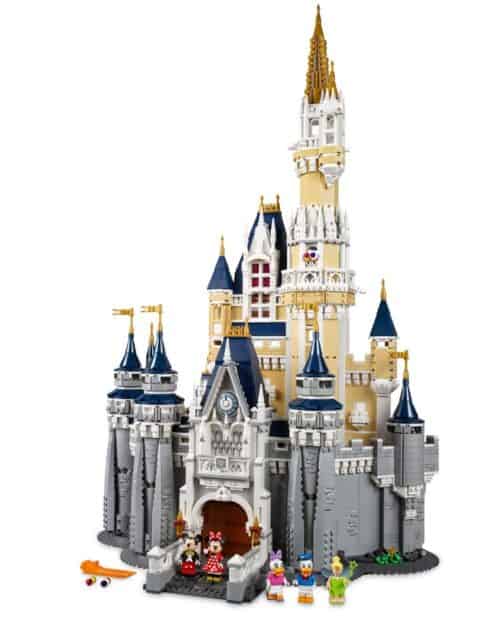 Find this one here on shopDisney.
Final Thoughts on Princess Legos
I hope you enjoyed this glimpse of Disney Princess Legos and found it helpful in discerning which set might be right for your child. Most kids these days have a favorite Disney movie and love anything related to the specific hero or heroine of the story. And what could be more fun than actually taking part in an activity related to a favorite movie? Like building a set of Legos?
So if you are looking for anything special in the Lego Disney Princess lineup bookmark this page and check back often.
And if I have time I plan to put together a few more reviews featuring Disney Lego products. If you visited the site before, you know I only share Disney-related products.
You can view all of my featured Disney merchandise reviews here on the Disney shop section of the site.
Or you might be interested in one of the following reviews:
While we cover a good deal of information on the site, Resorts Gal specializes in providing detailed information about the Walt Disney World Resorts. Browse our Disney Resort Reviews to begin planning your next Disney vacation.
And if you are planning a trip to one of the Disney water parks, check out our full ride guide to Disney's Blizzard Beach.
And don't miss out on our full list of Disney restaurant reviews. They include character dining, signature dining, table service, and quick service.