Chip and Dale Rescue Rangers Meet and Greet at Hollywood Studios
Unfortunately, Chip and Dale are no longer meeting as Rescue Rangers at Disney's Hollywood Studios. You can find out more about their other meet-and-greet locations in our guide: Where to Meet Chip and Dale at Disney World. We'll leave the photos of this meet-and-greet below in the meantime, in case it were to return.
In this article, we visit Disney's Hollywood Studios for Chip and Dale's "Rescue Rangers" character meet-and-greet. This character meet-and-greet debuted earlier this year but has recently changed locations.
Chip and Dale…..Rescue Rangers! Can't you hear that catchy tune? Those planning an upcoming visit to Disney's Hollywood Studios might be surprised to find Chip and Dale meeting in their Rescue Ranger outfits.
Below, we'll go over the details for this new character meet location. As always, you'll want to check availability for any meet-and-greet in the My Disney Experience app on the day of your visit.
Disney's app usually lists the exact times and locations for each meet-and-greet. So if by some chance a meet-and-greet is unavailable or the location changes, you'll have that up-to-date information.
However, there are always exceptions. So if you can't find the details in the app and a specific character meet is important to you, ask someone at the guest experiences kiosk. These are the small kiosks located under a blue umbrella.
Now, about Chip and Dale's Rescue Rangers character meet!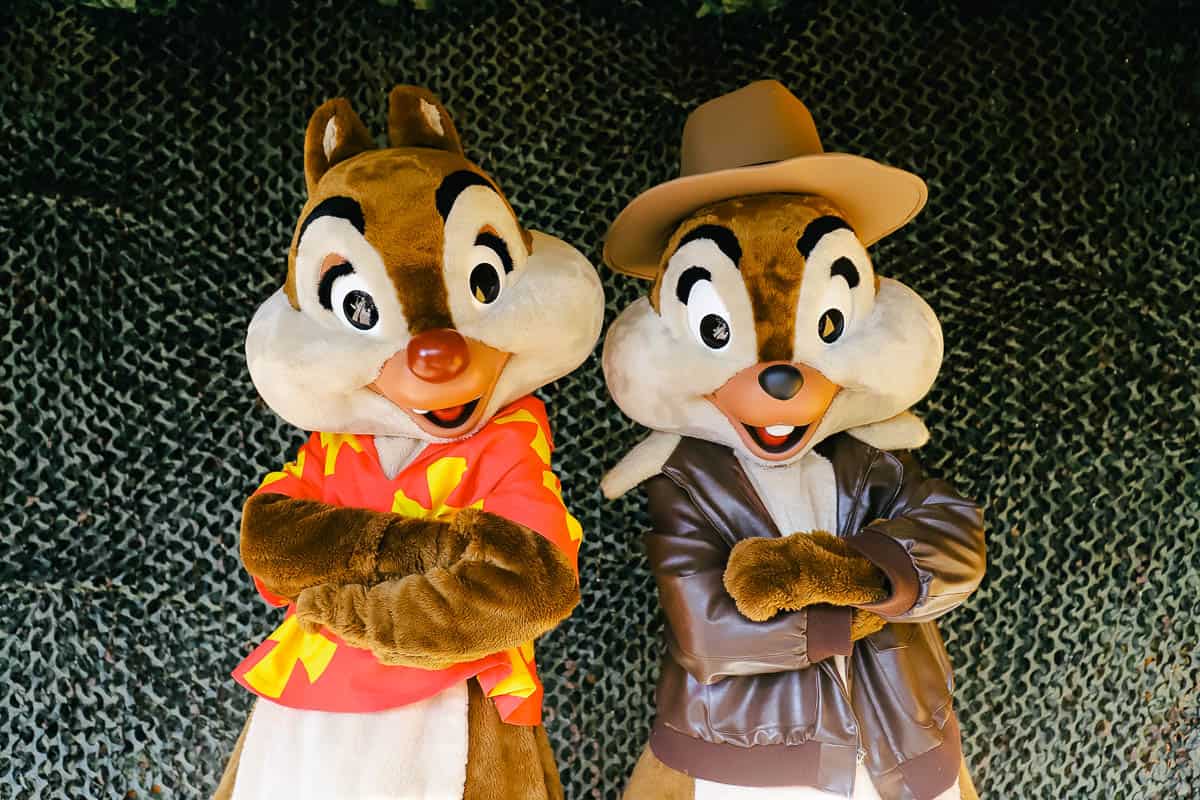 Earlier this year, Chip and Dale met as a character sighting in the grassy area in front of the Hollywood Brown Derby. (They have now returned to that location.)
Chip and Dale were then moved to the far left of the Indiana Jones Epic Stunt Spectacular. This location was past the attraction's gift shop, the Indiana Jones Adventure Outpost.
Note the gift shop has been closed for several years. However, with the release of the new Indiana Jones film, the gift shop has been converted into a bar with a few props from the movie.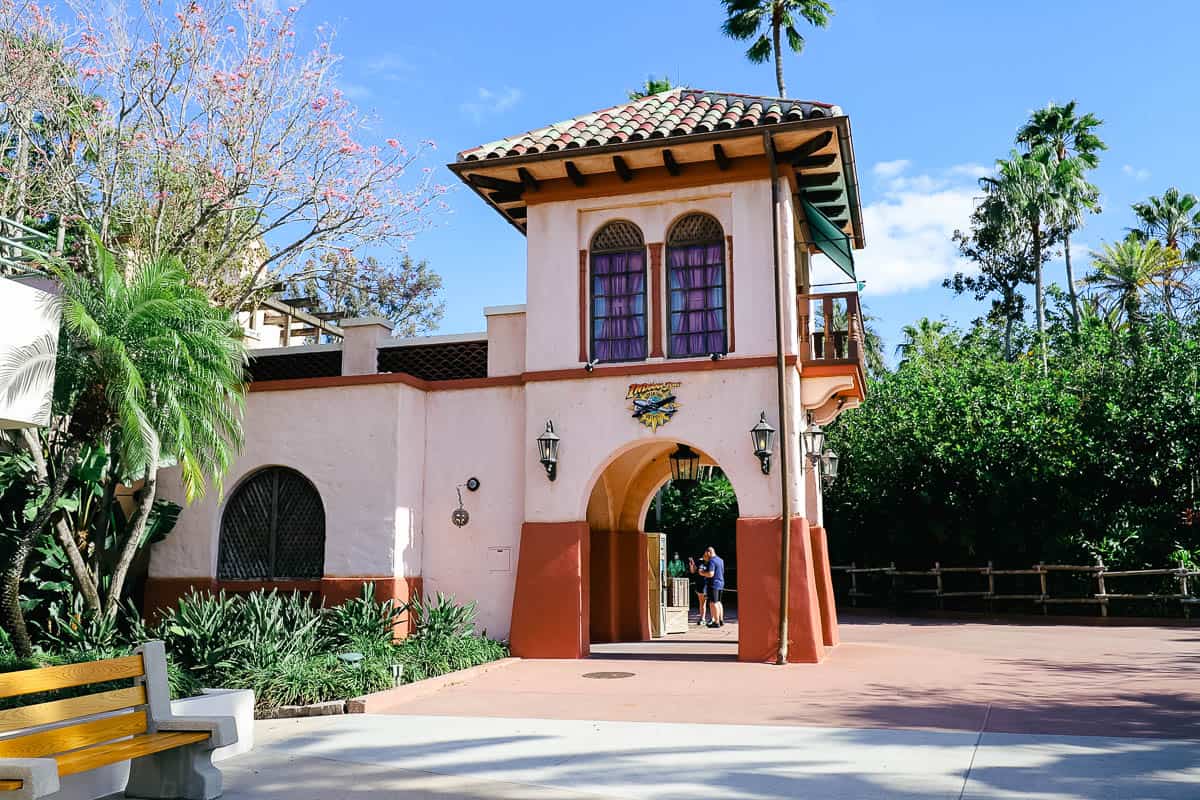 Therefore, Chip and Dale's Rescue Ranger meet-and-greet has been relocated to a covered area near the entrance of the Indiana Jones Stunt Epic Stunt Spectacular.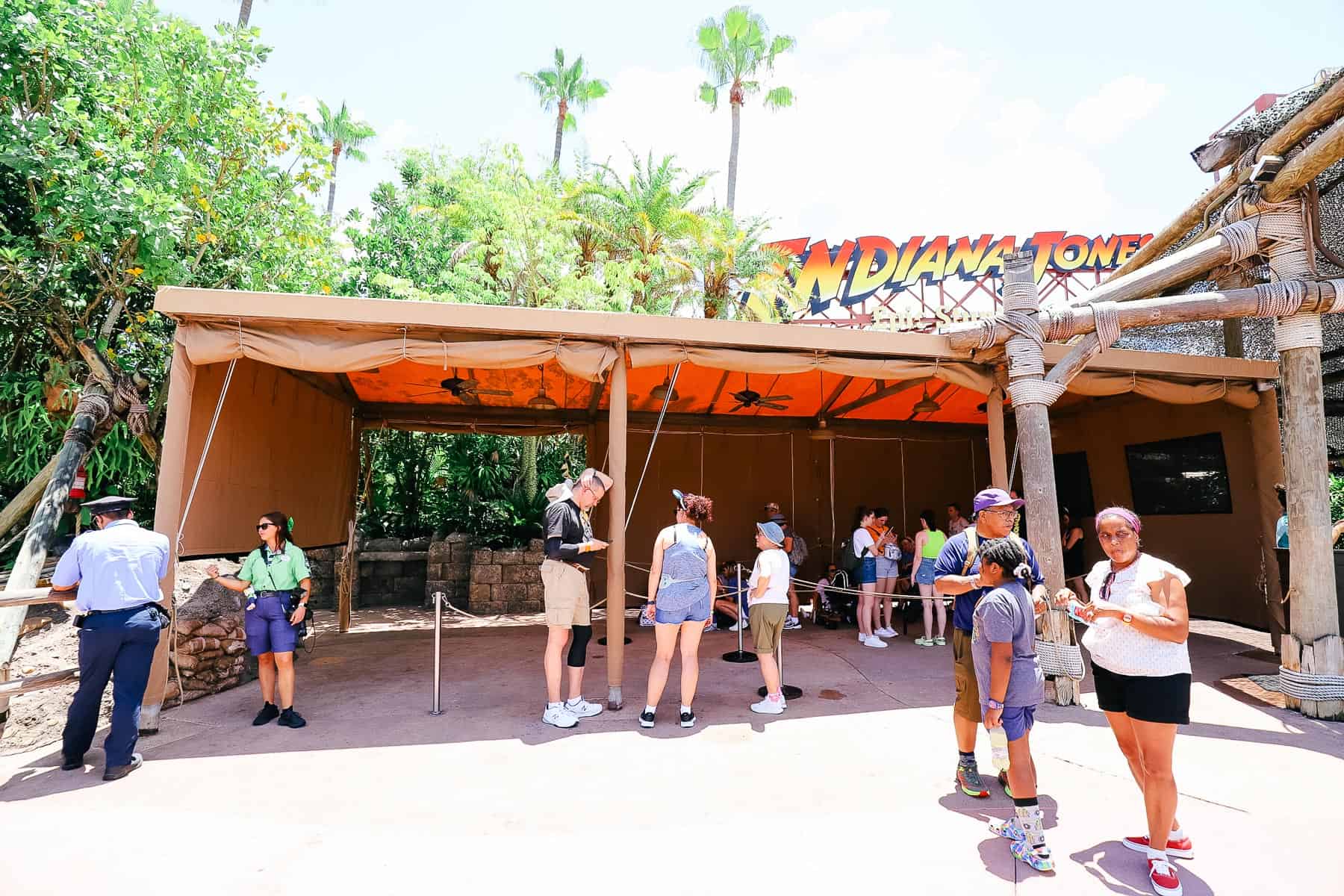 So technically, they have only been moved a short distance, and you should be able to easily find their new location if you're anywhere around the area.
Chip and Dale often hold long wait times. The biggest positive for this new location is that most of the queue is covered. So unless the line extends outside of the tent, most of your wait time should be in the shade.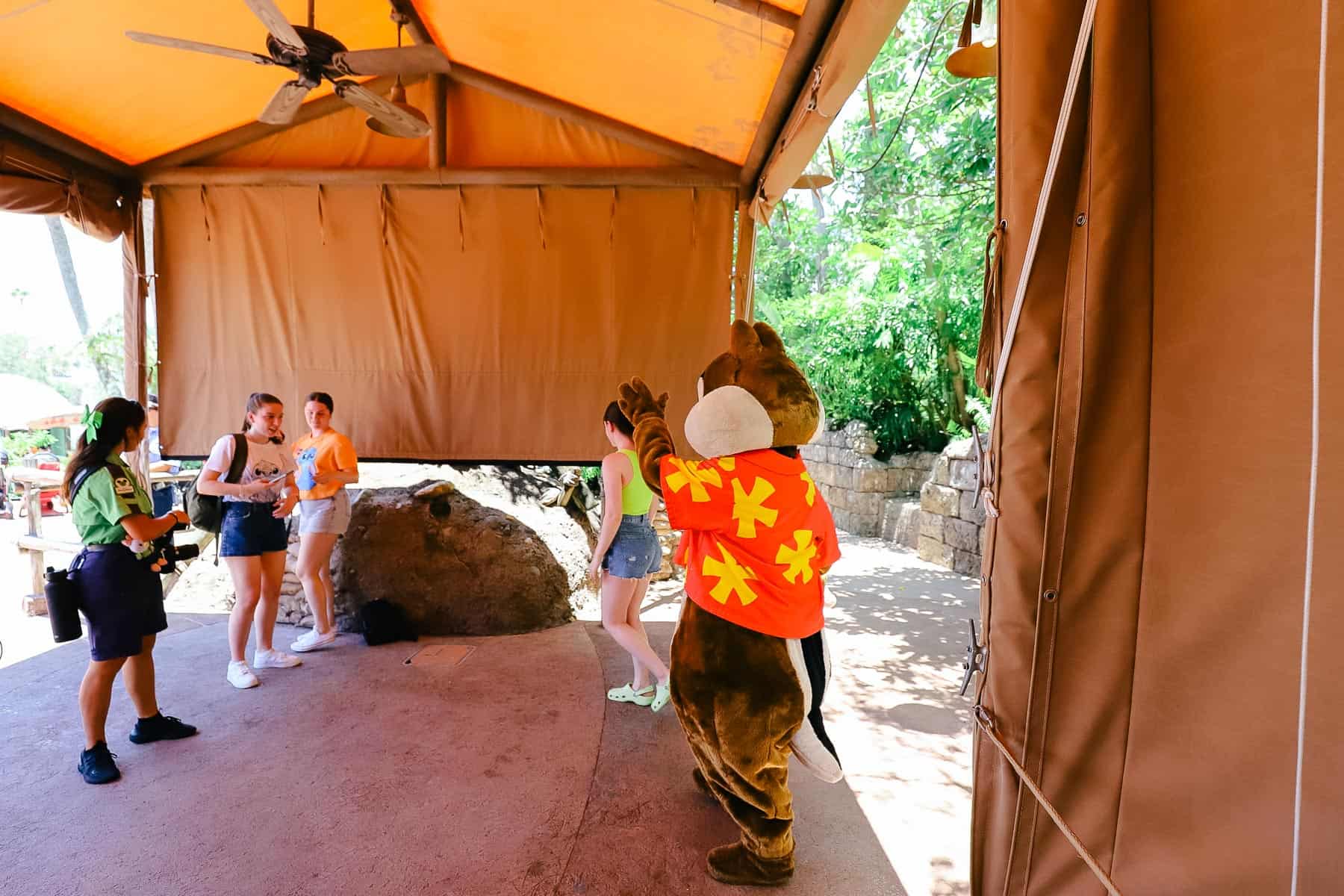 On our last visit, it was a 27-minute wait to meet Chip and Dale. On that afternoon, not too many guests were ahead of us. However, several groups took a good deal of time when it was their turn.
For example, a girl ahead of us was visiting with her mother, who had previously been in a terrible fall. So they expressed concern for her in their chipmunk way and posed for many photos.
Then, the couple immediately ahead of us, were visiting on their honeymoon. Chip and Dale had to show off the bride's ring to the camera and pose for some fun photos.
This is one of the reasons character meets take so long. None of these guests asked for special accommodations.
But like most characters, Chip and Dale treated everyone in line as honored guests. They even took time to pose for all these photos.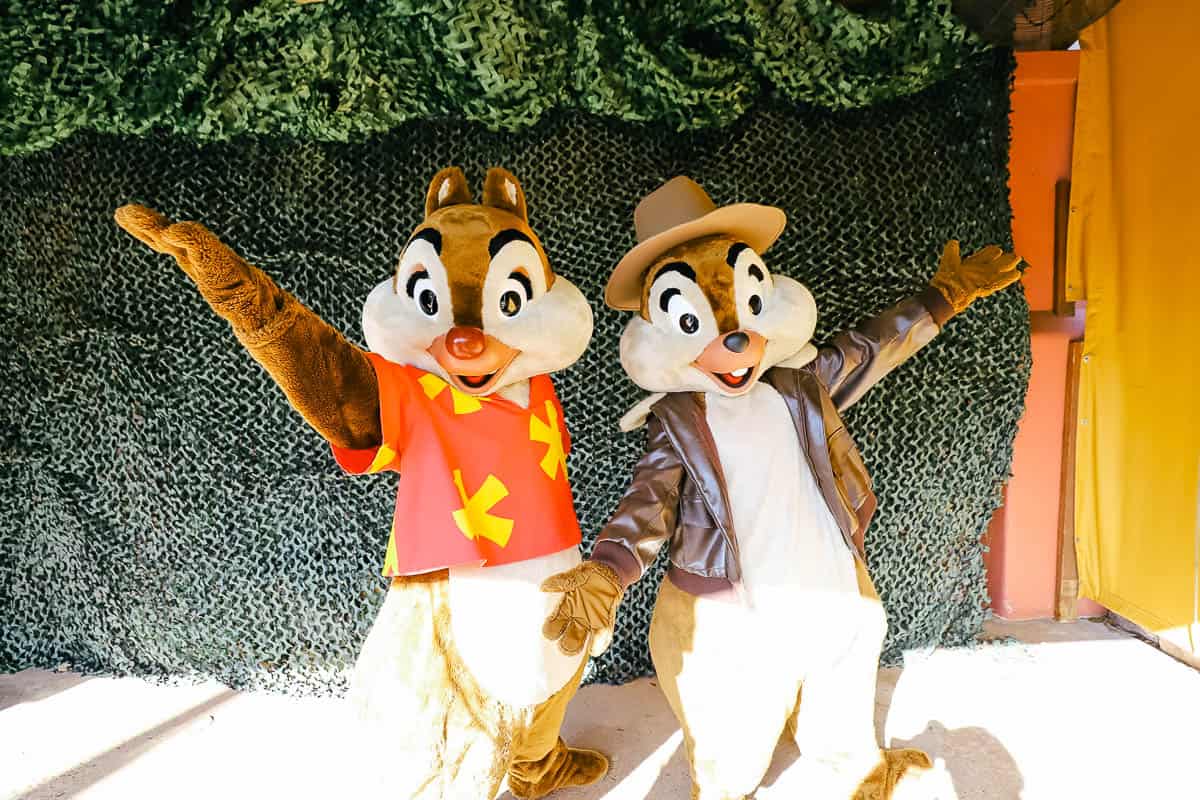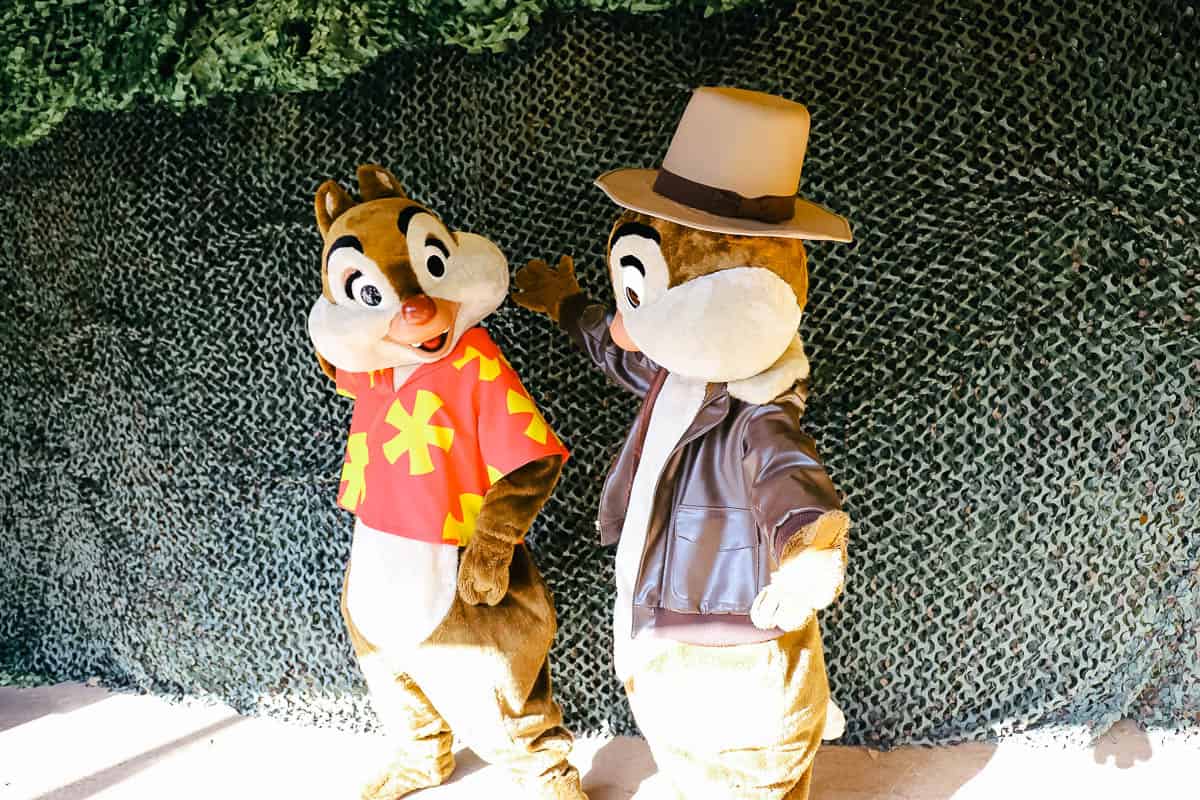 When I mentioned a photo shoot, Dale got a little excited and gave me this pose.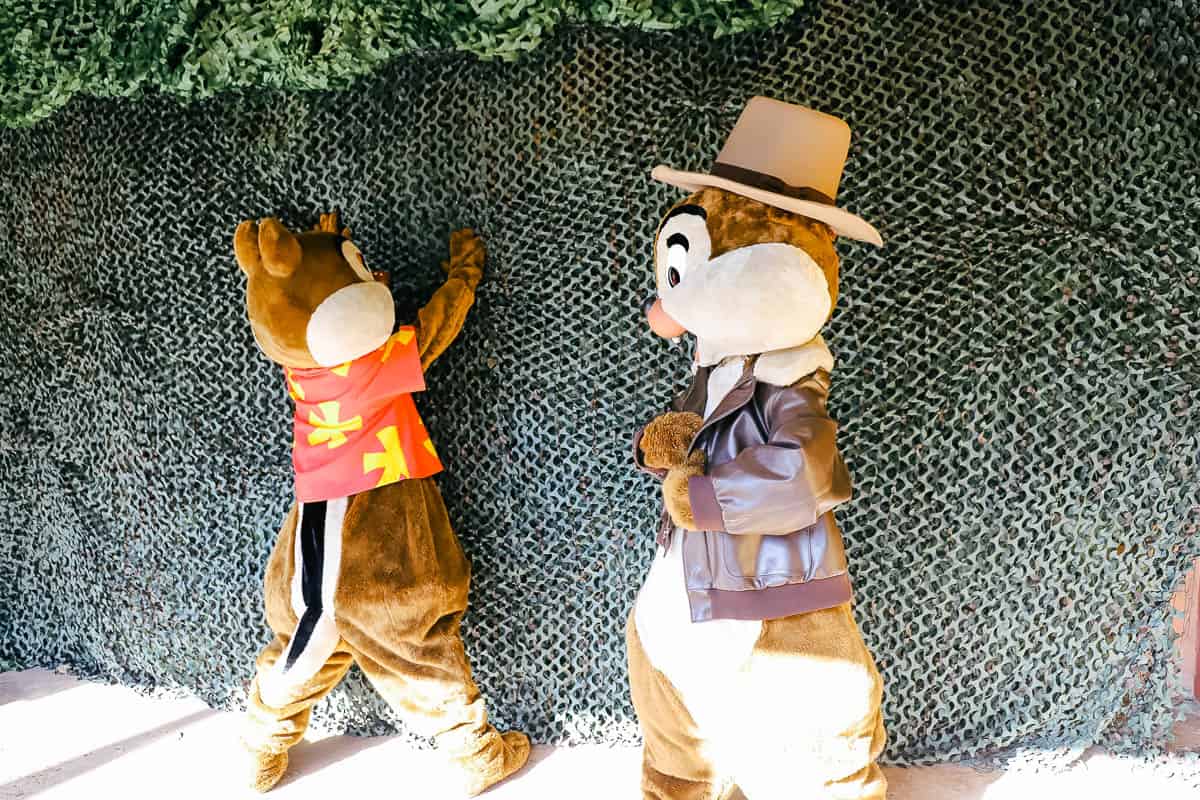 That pose turned into this fun photo. Everyone waiting laughed.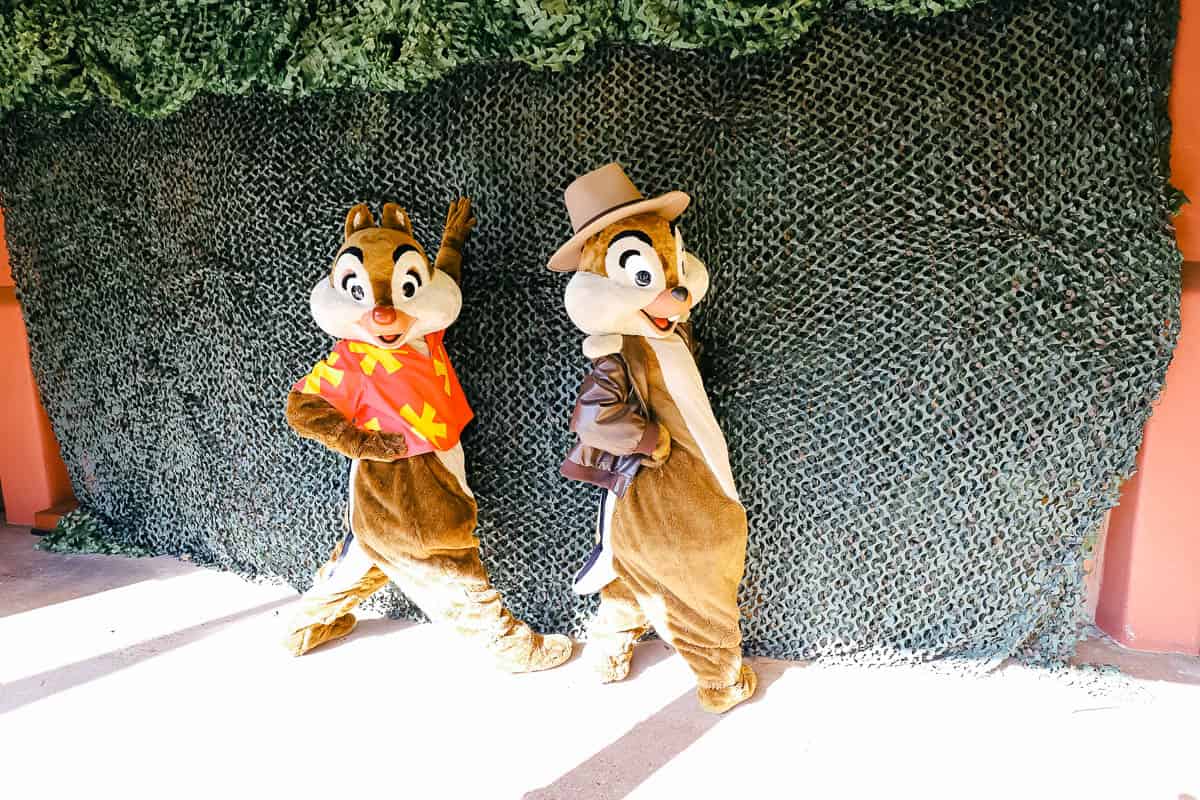 Dale was giggling too.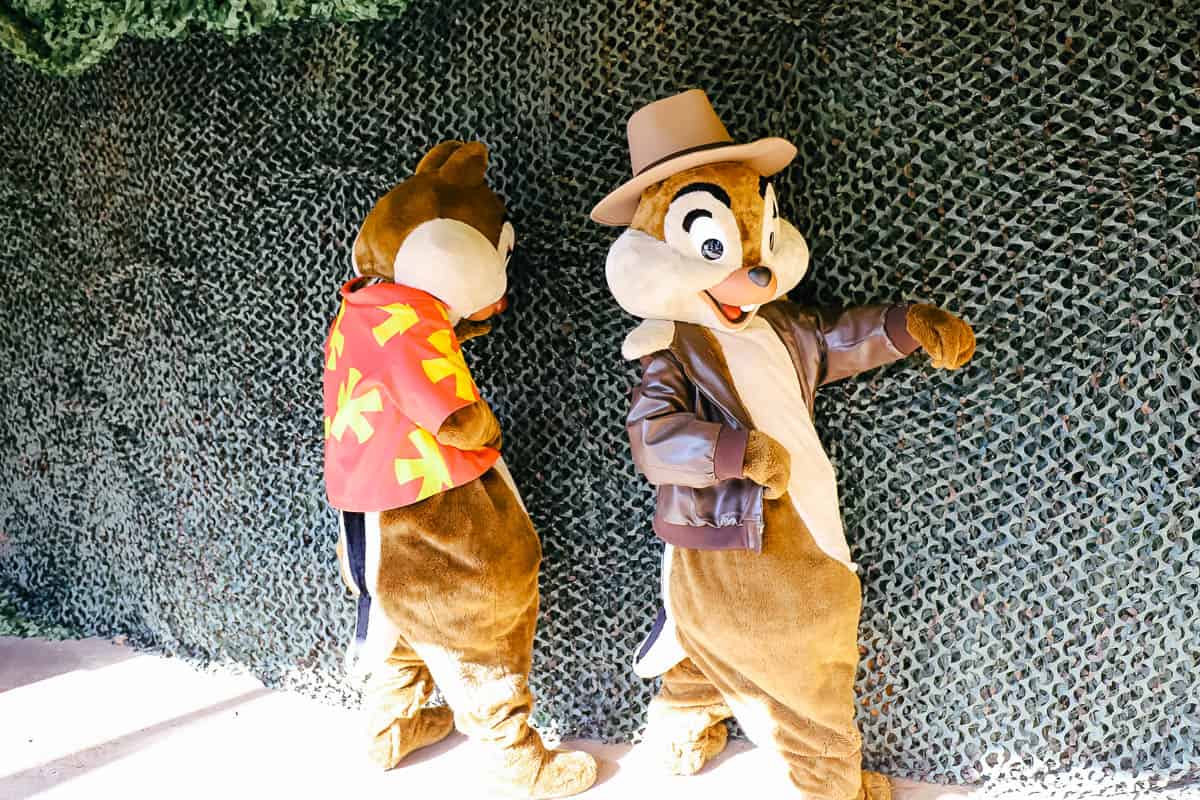 Chip and Dale give hugs and sign autographs at this traditional character meet. Additionally, there was a PhotoPass photographer at this location on the day of our visit.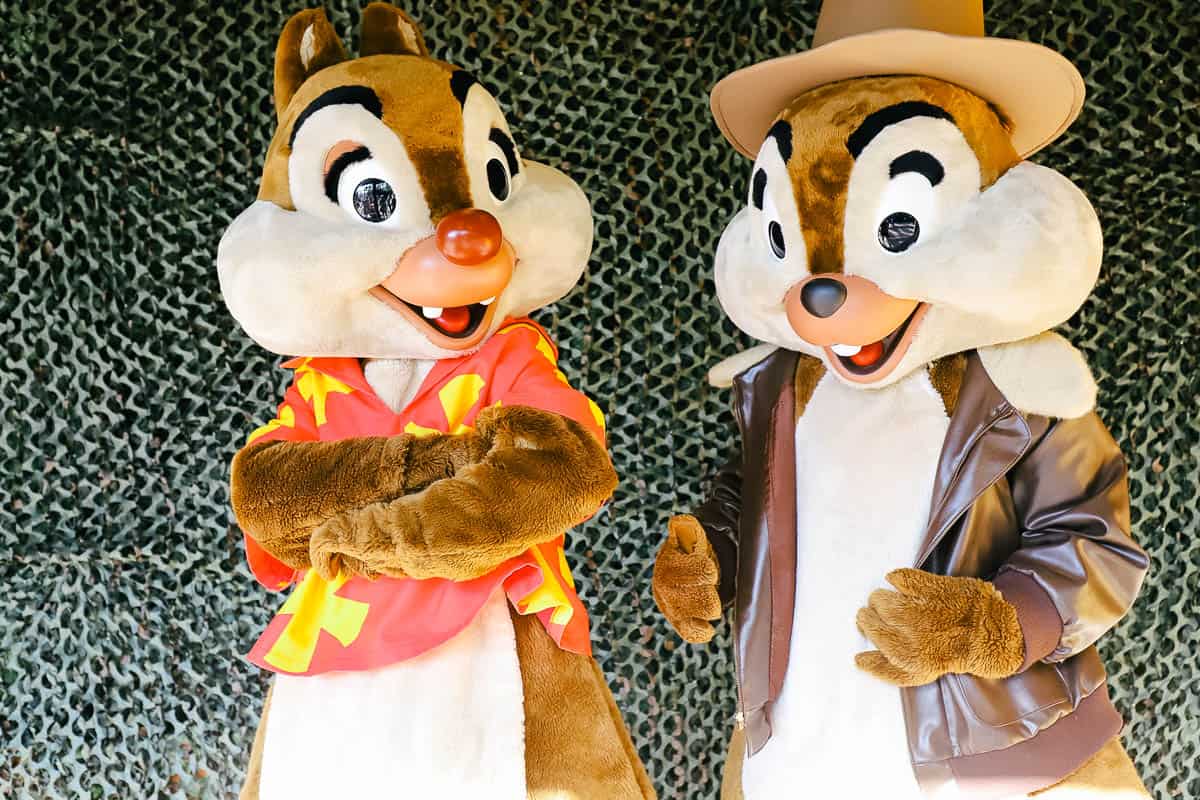 Here's a look at the line as we left the meet-and-greet. In most instances, it's always better to get in line for the character meet-and-greet before it starts.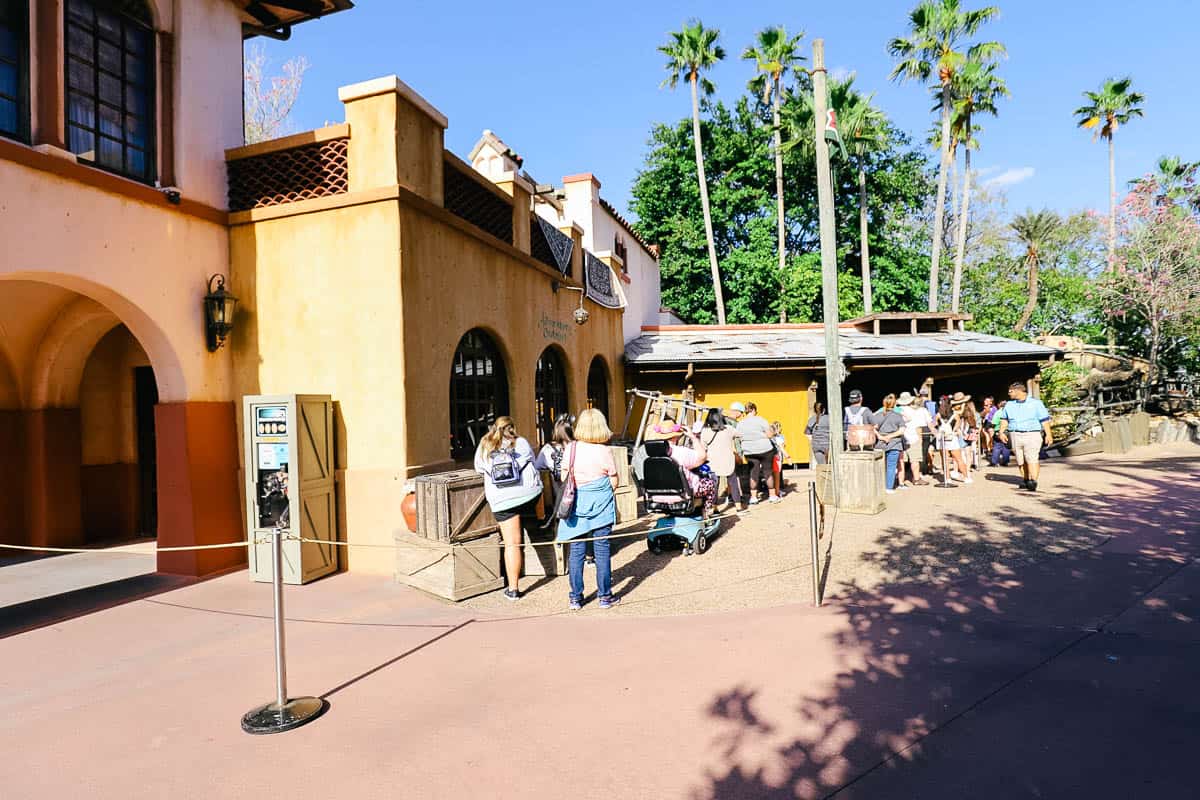 Here are a few photos from their new location.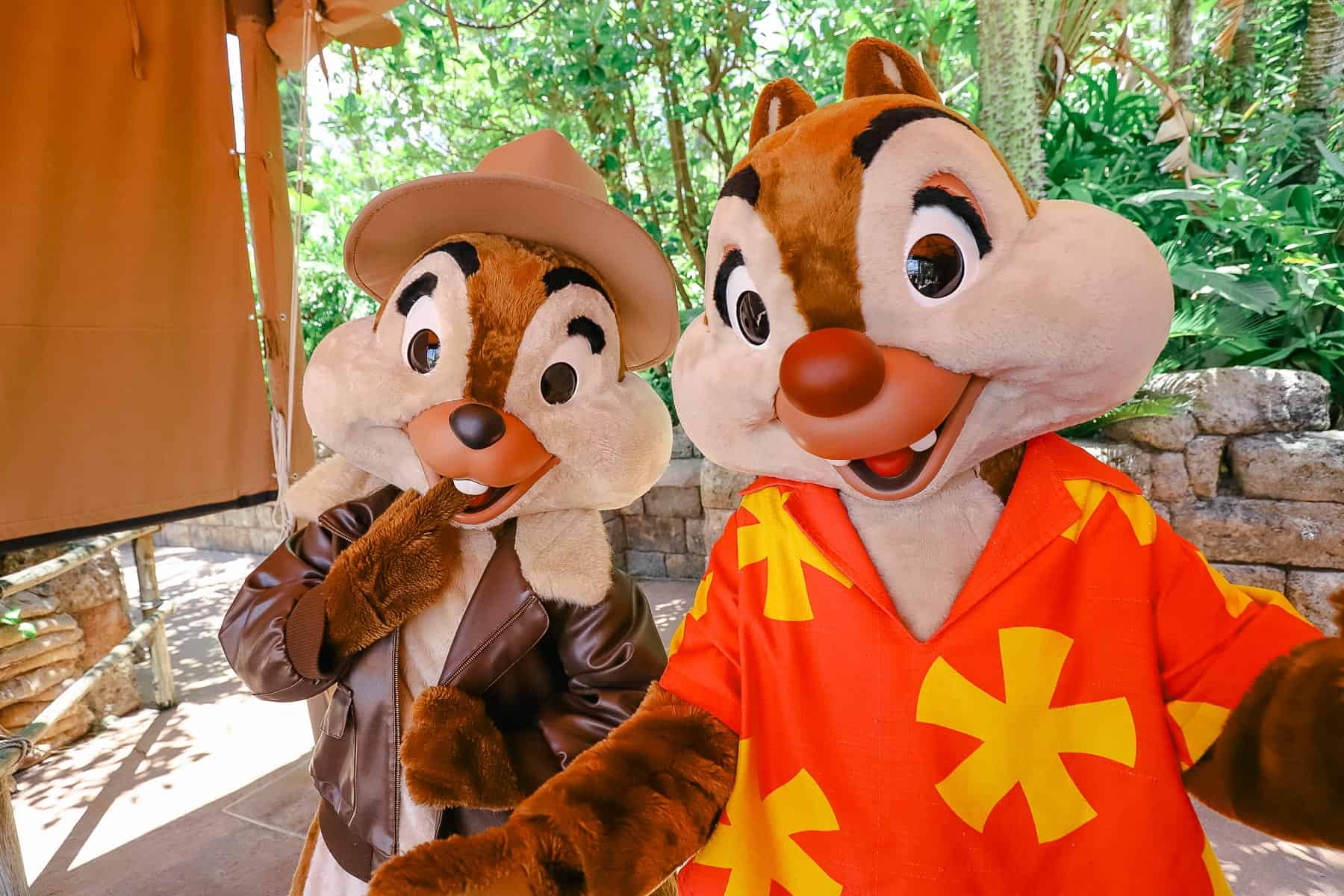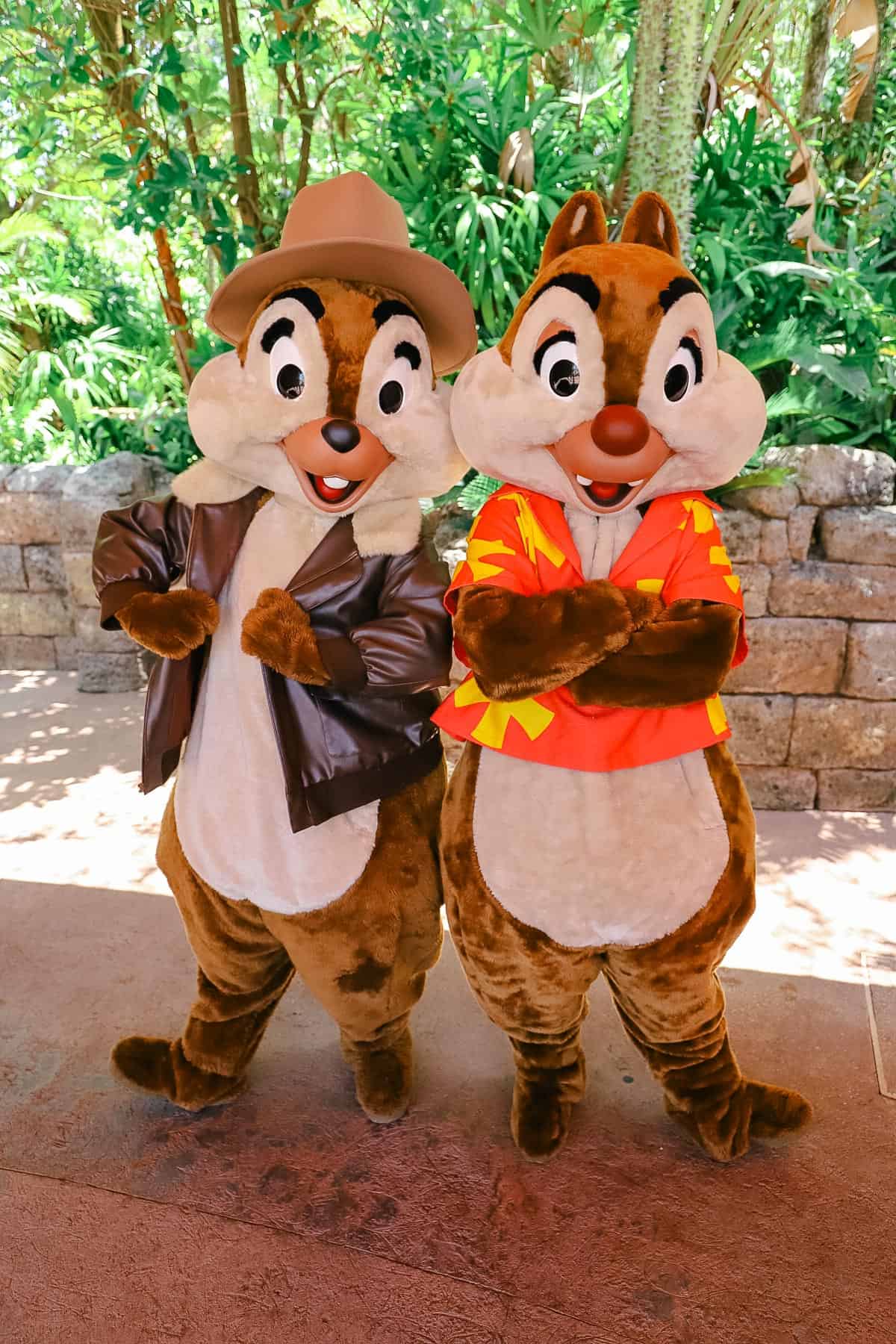 Overall, meeting Chip and Dale in their Rescue Ranger outfits was tons of fun! For more places to meet characters, browse our list of character meets at Hollywood Studios. Some of our favorites include:
In the Comments
What do you think of this Chip and Dale character meet-and-greet? Are you a fan of the Rescue Rangers television series or movie?