Chip and Dale Rescue Rangers Meet and Greet at Hollywood Studios
In this article, we visit Disney's Hollywood Studios for Chip and Dale's "Rescue Rangers" character meet-and-greet. This new meet-and-greet debuted mid-February 2023, and we hope it's here to stay!
Chip and Dale…..Rescue Rangers! Can't you hear that catchy tune? Those planning an upcoming visit to Disney's Hollywood Studios might be surprised to find Chip and Dale meeting in their Rescue Ranger outfits.
Below we'll go over the details for this new character meet location. As always, you'll want to check availability for any meet-and-greet in the My Disney Experience app on the day of your visit.
Disney's app usually lists the exact times and locations for each meet. So if by some chance a meet-and-greet is unavailable or the location changes, you'll have that up-to-date information.
However, there are always exceptions. So if you can't find the details in the app and a specific character meet is important to you, ask someone at the guest experiences kiosk. These are the small kiosks located under a blue umbrella.
Now, about Chip and Dale's new character meet!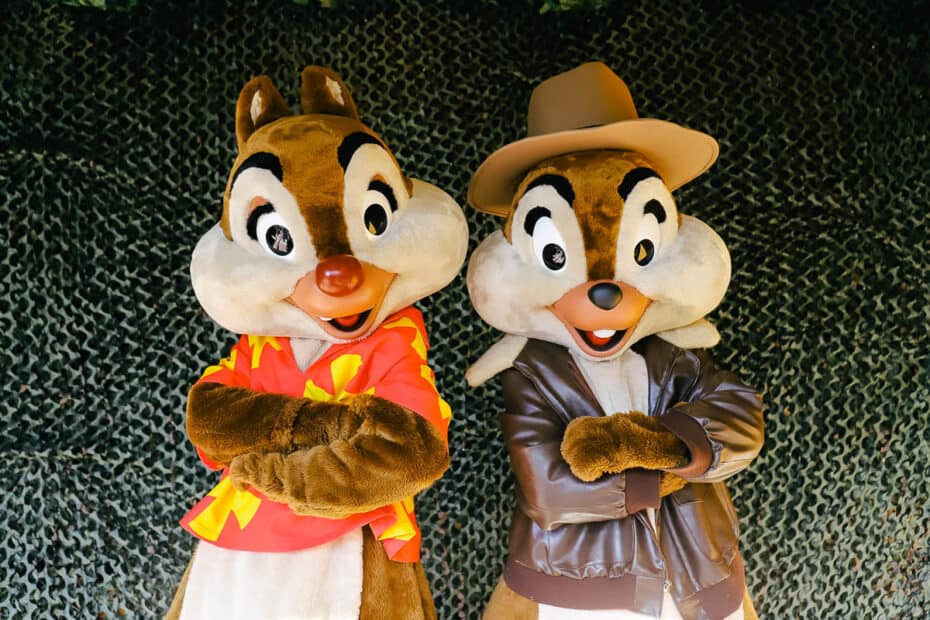 Chip and Dale were formerly meeting in the grassy area as a character sighting in front of the Hollywood Brown Derby. However, Donald and Daisy Duck have now moved to that location.
Related: Meet Donald and Daisy Duck at Hollywood Studios
Chip and Dale are now meeting to the far left of the Indiana Jones Epic Stunt Spectacular. You'll find their location past the attraction's gift shop, the Indiana Jones Adventure Outpost. Note the gift shop has been closed for several years.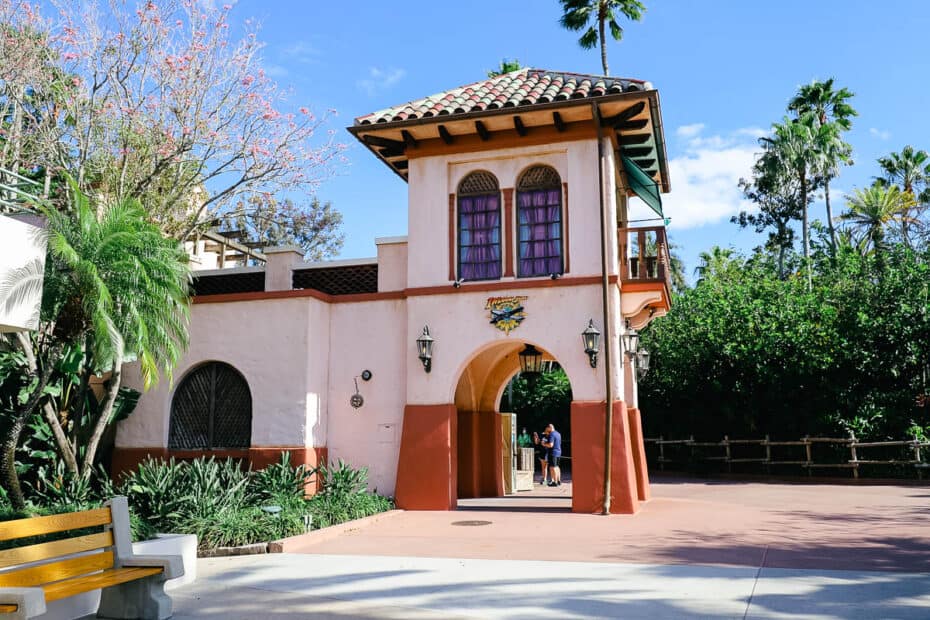 Unless you were specifically looking for the meet-and-greet, you'd probably never find it. However, that's probably a good thing because Chip and Dale are popular enough without being located in a high-traffic area.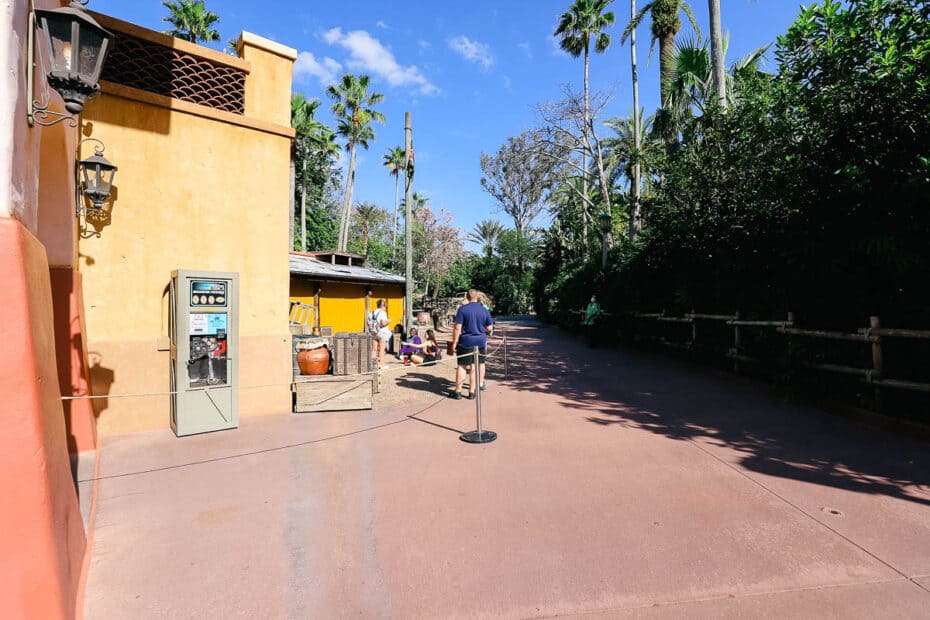 When we arrived at 3:01 p.m. for the 3:15 p.m. appearance, several guests were already ahead of us. Chip and Dale were a few minutes late, and guests were already grumbling because it was rather hot in the direct sunlight.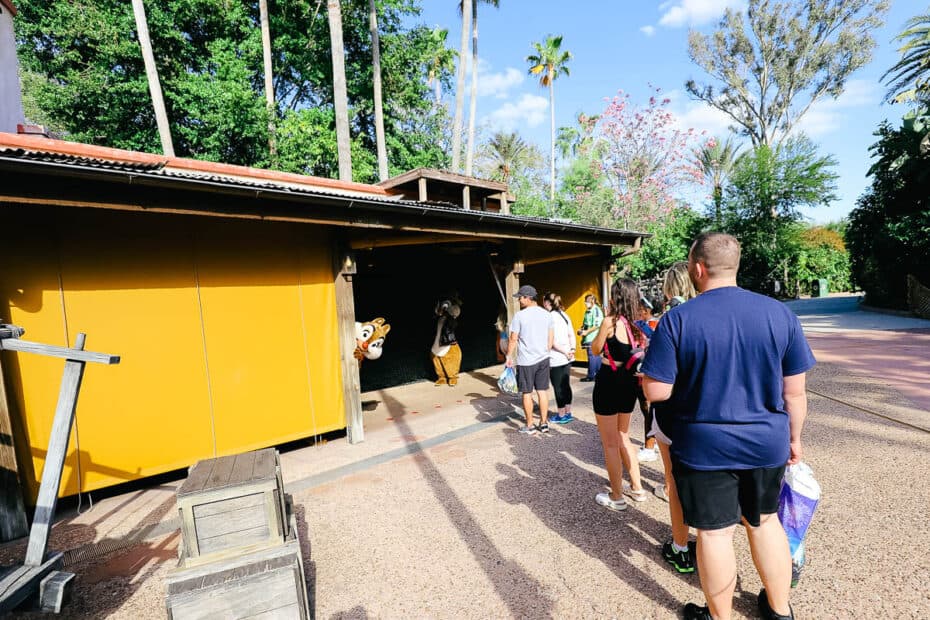 It was 3:28 p.m. when we met them. So we waited for a total of 27 minutes to meet Chip and Dale. While there weren't too many guests ahead of us, I want to point out that the pair took their time meeting with each guest.
For example, a girl ahead of us was visiting with her mother, who had previously been in a terrible fall. So they expressed concern for her in their chipmunk way and posed for many photos.
Then the couple immediately ahead of us were visiting on their honeymoon. Chip and Dale had to show off the bride's ring to the camera and pose for some fun photos.
This is one of the reasons character meets take so long. None of these guests asked for special accommodations.
But like most characters, Chip and Dale treated everyone in line as honored guests. They even took time to pose for all these photos.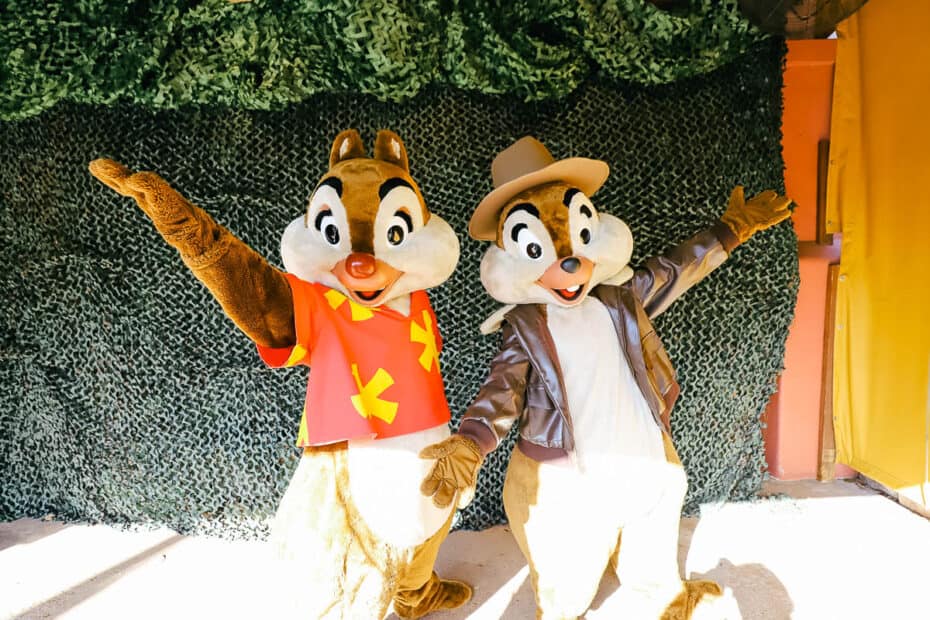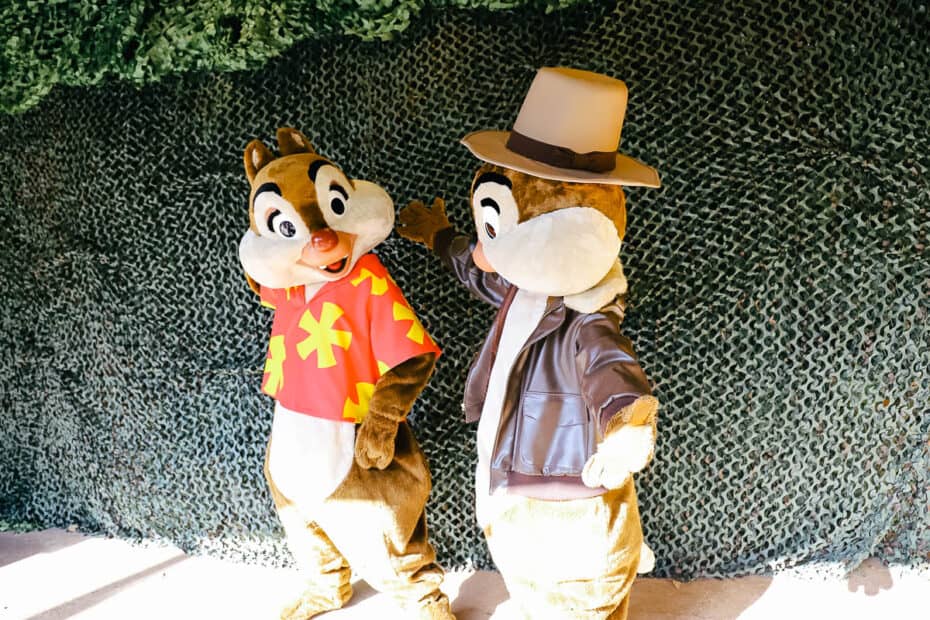 When I mentioned a photo shoot, Dale got a little excited and gave me this pose.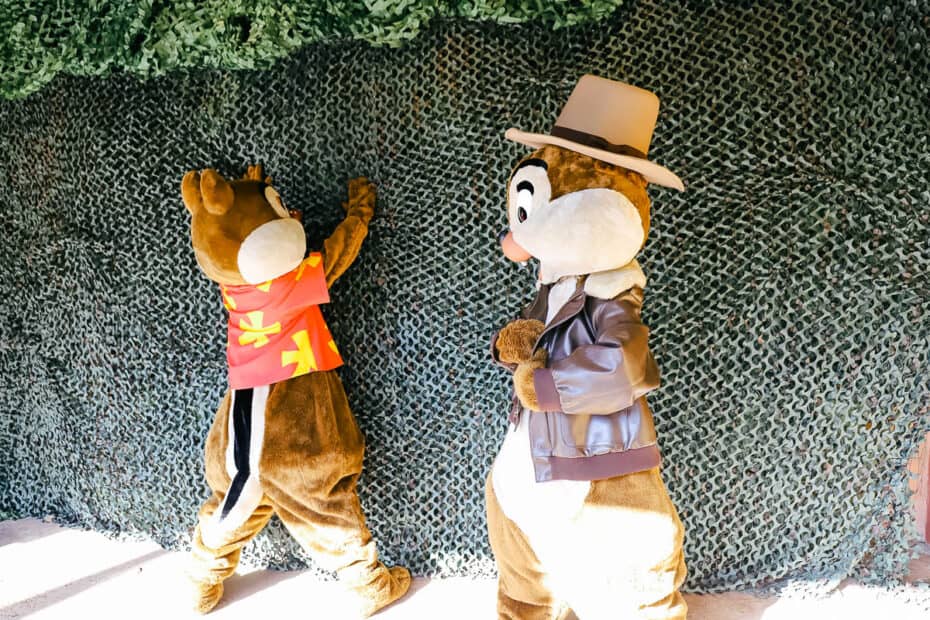 That pose turned into this fun photo. Everyone waiting laughed.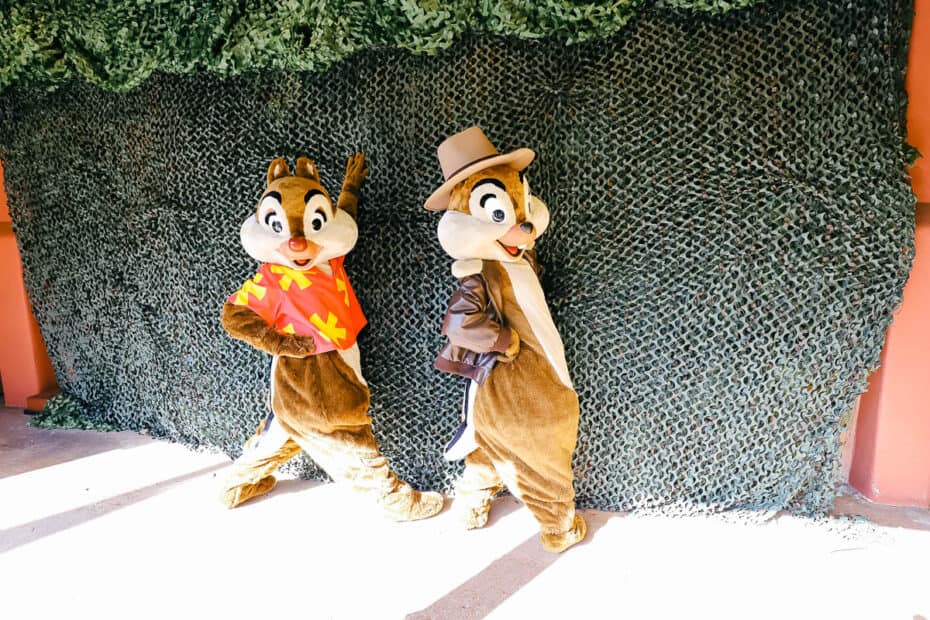 Dale was giggling too.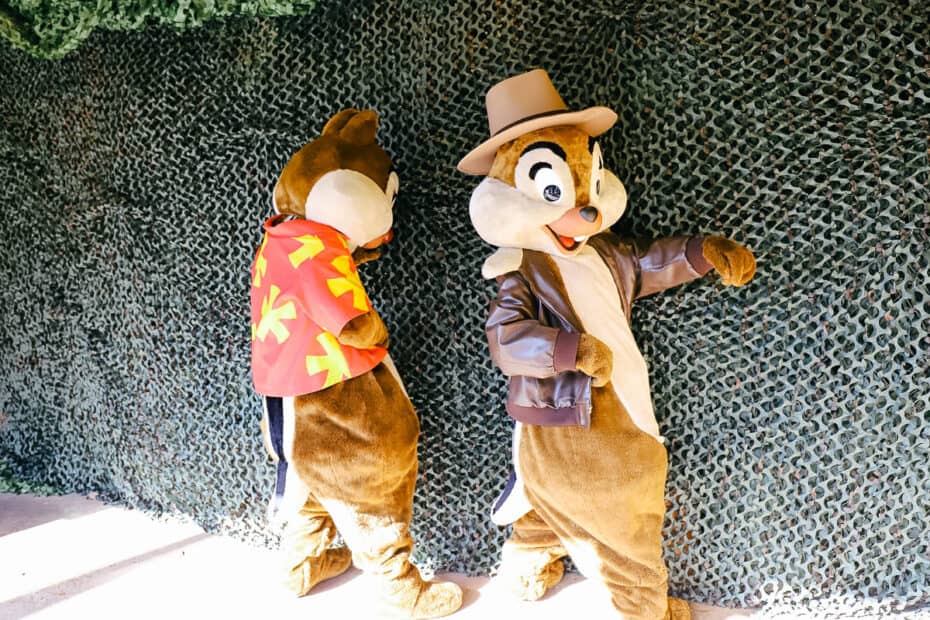 Chip and Dale give hugs and sign autographs at this traditional character meet. Additionally, there was a PhotoPass photographer at this location on they day of our visit.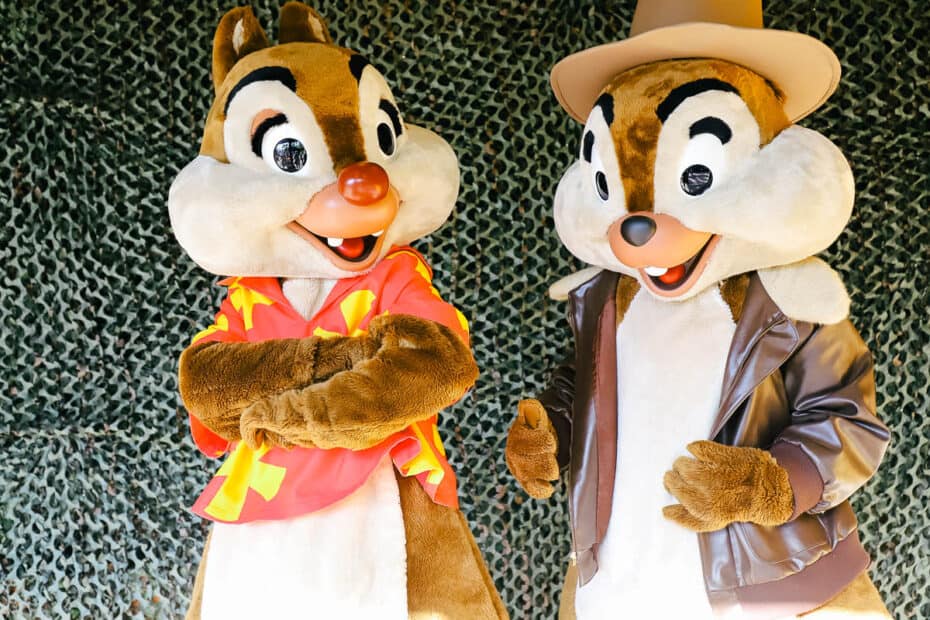 Here's a look at the line as we left the meet-and-greet. In most instances, it's always better to get in line for the character meet before it starts.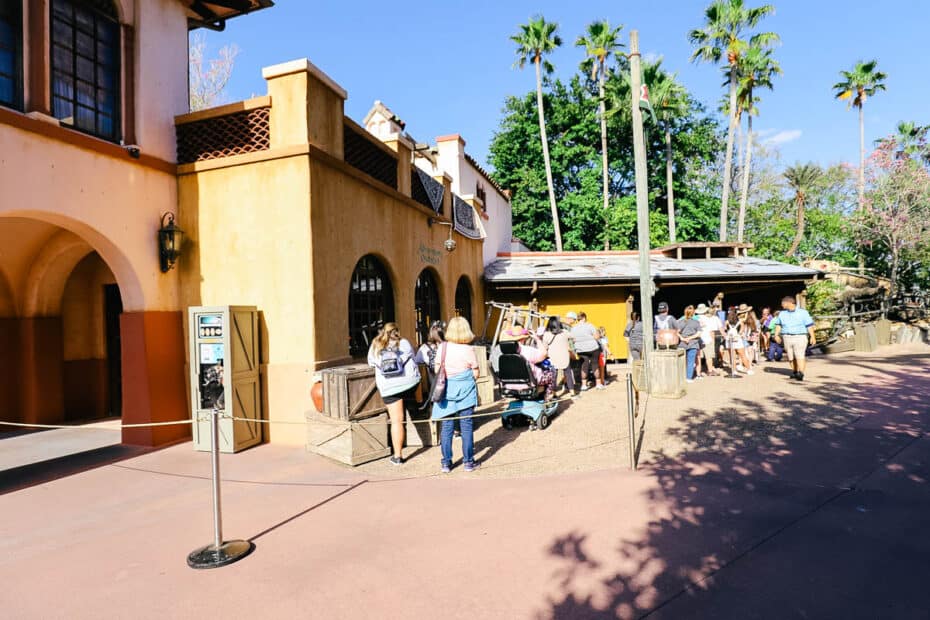 Overall, meeting Chip and Dale in their Rescue Ranger outfits was tons of fun! For more places to meet the pair, we have a list:
Or you might like to browse our list of character meets at Hollywood Studios. Some of our favorites include:
In the Comments
What do you think of this Chip and Dale character meet-and-greet? Are you a fan of the Rescue Rangers television series or movie?