When it comes to selecting one of the Walt Disney World Resort Hotels for your next vacation, there are quite a few choices. In fact, there are so many choices that it can get overwhelming. With those thoughts in mind, I've put together a list of every Walt Disney World Resort with links to their specific reviews where applicable. This list will help you locate any specific information quickly.
If you aren't for sure where to start, scroll a little further down and you'll find a brief overview of every Disney Resort Hotel. These mini reviews should help you narrow down your choices and decide which resorts you are most interested in staying at. I recommend choosing two to three options and then researching each one a little more in detail.
Often guests will select a Disney World Resort based on criteria like budget, dining options, accommodations, and even swimming pools. So start with your most important factor and continue from there. And have fun planning!
List of Disney World Resorts
All Stars Movies, Music, and Sports
Disney's Port Orleans French Quarter Resort
Port Orleans Riverside Resort
Disney World Deluxe Villa Resorts
Saratoga Springs
Old Key West
Kidani Village
Boulder Ridge Villas
Polynesian Villas & Bungalows
Beach Club Villas
Walt Disney World Resorts and Hotels Restaurant Guides
Walt Disney World Resorts at Christmas
Disney World Resorts and Hotels Areas
Disney Springs Resorts Area Hotels
Animal Kingdom Resorts Area Hotels
Walt Disney World Hotel Updates
Pools at the Disney World Resort Hotels
Disney Resort Hotels Photo Reviews
Related Disney World Resort Reviews (Near Disney)
For Fun:
Disney World Resort Reviews
As we delve into these reviews of the Disney World Resort hotels, I would like to make one major point upfront. This is a vacation you are planning. If your budget doesn't allow for the top Disney World resort, it is completely okay. You probably aren't going to spend much time in your room anyway.
The reason I'm sharing this information with you is simple. I have spent many years in various financial situations going back and forth over which resort I wanted to stay in versus which resort I could afford. I've spent unnecessary time and effort changing resort reservations because I needed to downgrade or wanted to upgrade.
I'm openly telling you these things because I've learned from my experiences at Disney World. And as they say, hindsight is 20/20. You do not have to stay at the high-end Disney World resort hotels to have a good time.
In fact, I have never looked back and said I wish we didn't stay at that All Star Resort after our vacation was over. And you probably won't either, unless you experience some abnormal incident out of anyone's control.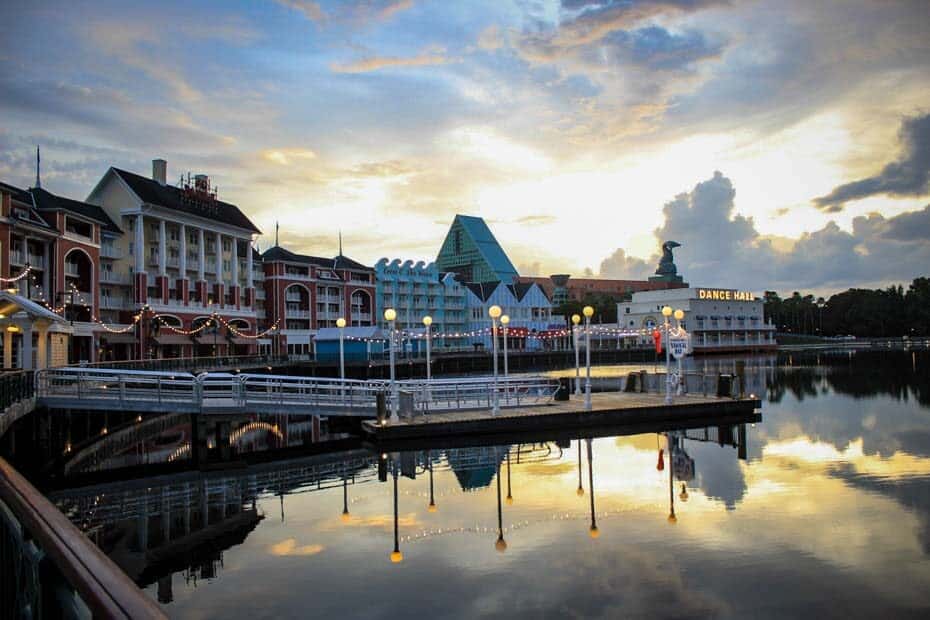 So for anyone researching the different Disney World Resorts, I'll share with you the facts along with my opinions of each one. Every single resort at Disney World has positives factors and a few negative ones.
Below, I've put together a summary review of every Walt Disney World Resort with pros and cons. These should help you narrow down which resort you are most interested in staying at on your Disney vacation.
We'll start with the values, then work our way up to the moderate resort category. Then we'll look at the deluxe resorts along with which ones have deluxe villa units.
In addition, I'll mention the resorts that offer the ability to walk to a Disney theme park. And I'll add any other special perks or amenities, but you'll want to check each specific resort review for full details.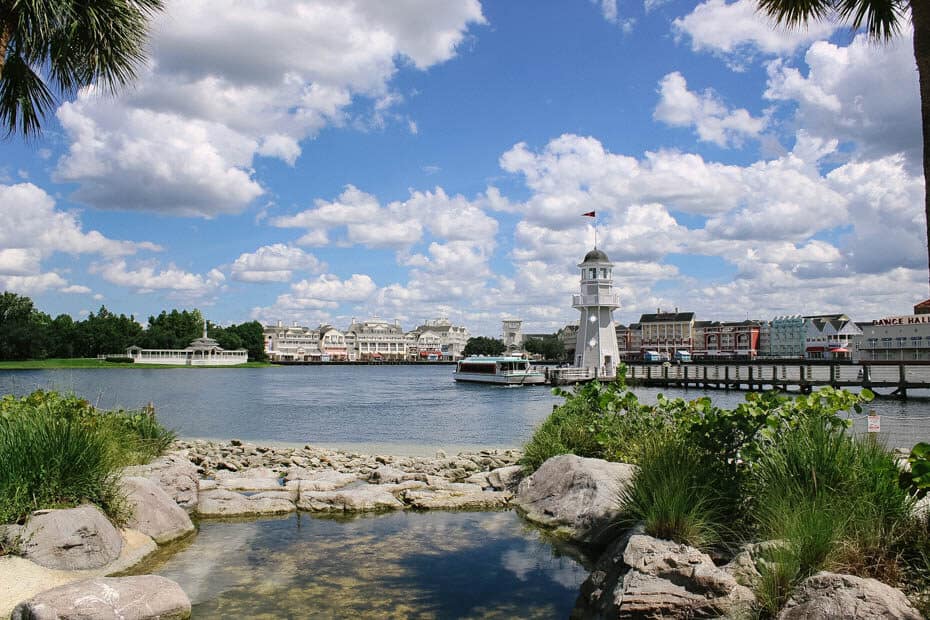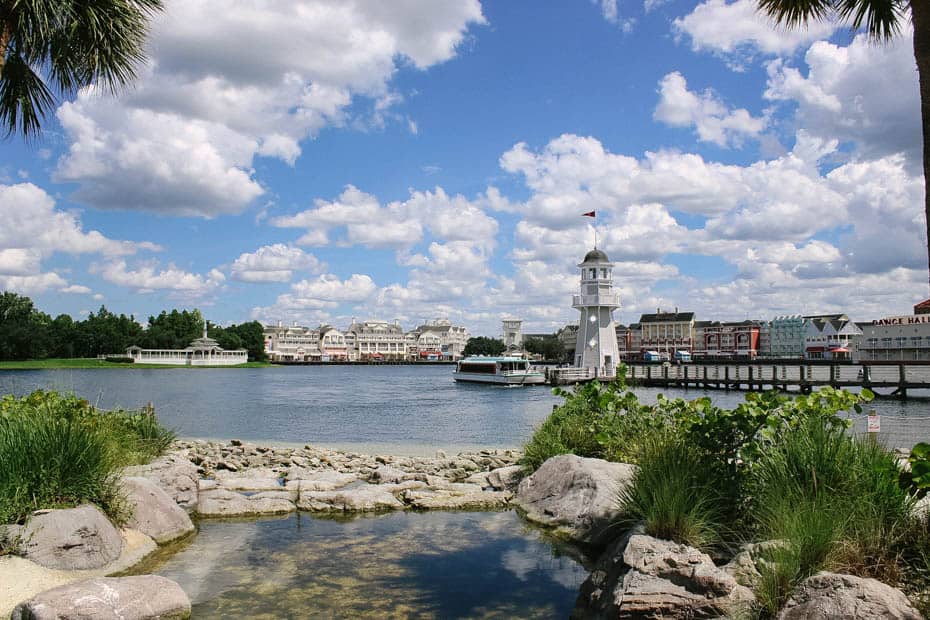 First we have the values in the Disney Resort categories. There are three different All Stars Hotels that are each uniquely themed. In addition, there are two other separate resorts in this category.
The All-Star Movies Resort is located in the Animal Kingdom theme park resorts area. Movies underwent a full refurbishment back in 2019. The refurbishment resulted in completely updated guest rooms that are extremely functional. Naturally, a Disney movie-themed resort features fun references to popular animated films. You might stay in the Toy Story section or run into the The 101 Dalmatians. That area is pretty darling too!
Pricing: Rooms at any of the All-Star Resorts should be the most reasonably priced on Disney property.
Pros: As mentioned above, the updated rooms are a tremendous plus. This Disney resort offers tons of fun movie references. Children and adults alike can't help but smile at the exterior theming of the resort. Movies provides plenty of great photo opportunities. You'll really feel like you're staying at Disney given the fun theming.
Cons: The rooms are smaller square footage-wise than an average hotel room. So expect a little tighter room space on your vacation. Free Disney transportation options are limited to buses only at this hotel. Dining options are limited to food courts and pool bars at all of the value-priced hotels.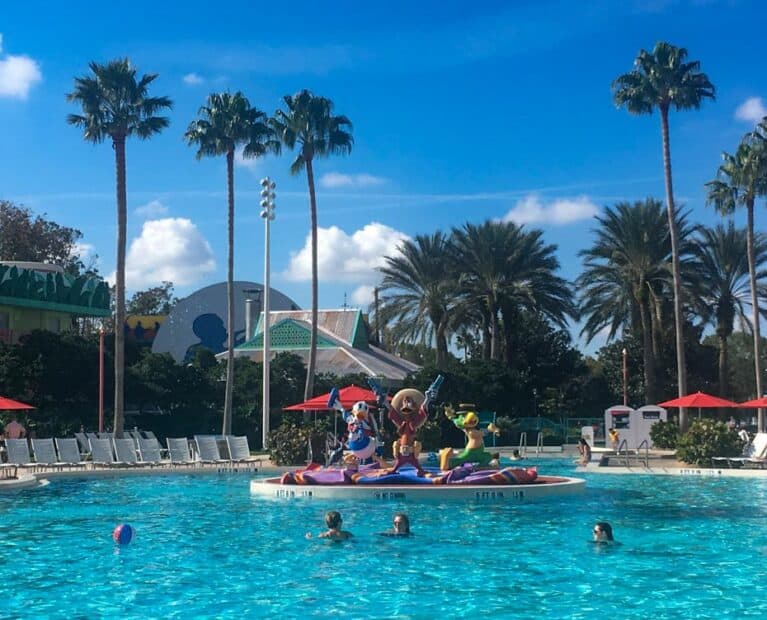 All-Star Music has recently undergone a refurbishment at Walt Disney World. The resort now offers completely updated rooms similar to the other value resorts.
Pricing: Rooms at any of the All-Star Resorts should be the most reasonably priced on Disney property.
Pros: Everything at All-Star Music is themed to popular songs and classic tunes. This is my favorite of the three All-Stars Resorts because I love the musical references. And they play great music on the buses!
Cons: Value category rooms are smaller, and space will be tighter for a long vacation. Free Disney transportation options are limited to buses only at these Disney resorts. Another con for these three resorts is that they are often booked by large school groups who are visiting the ESPN Wide World of Sports for various competitions. Meaning there might be a whole lot of children at the resort and only a few chaperones during the school year.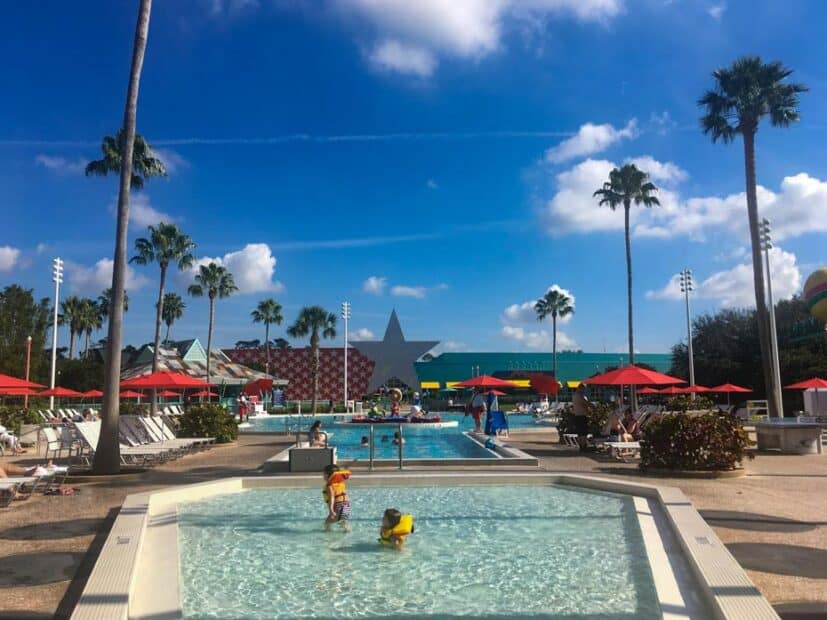 All-Star Sports was the last resort to receive room refurbishments similar to its sister resorts, Movies, and Music. If you are into athletics, you'll adore all the Disney character references playing their favorite sports across the property.
Pricing: Rooms at any of the All-Star Resorts should be the most reasonably priced on Disney property.
Pros: Sports fans will enjoy a stay at a resort that's themed after their favorite Disney characters making a touchdown or scoring a goal. Expect lots of sports trivia at the pool, and some of the cutest Disney theming around!
Cons: Value category rooms are smaller, and space will be tighter for a long vacation. Again, free Disney transportation options are limited to buses only at all of the All-Stars Disney World Resorts. Dining options will be limited to the large counter service food court.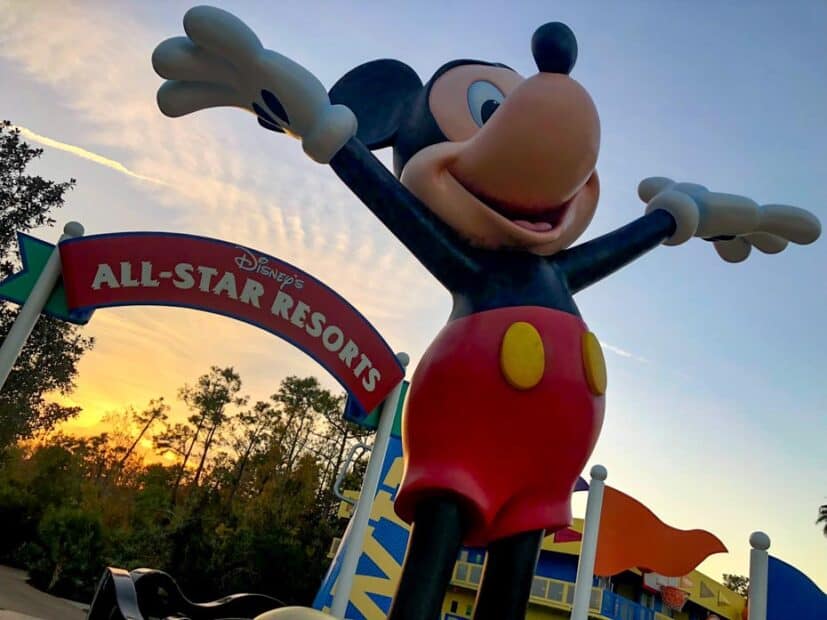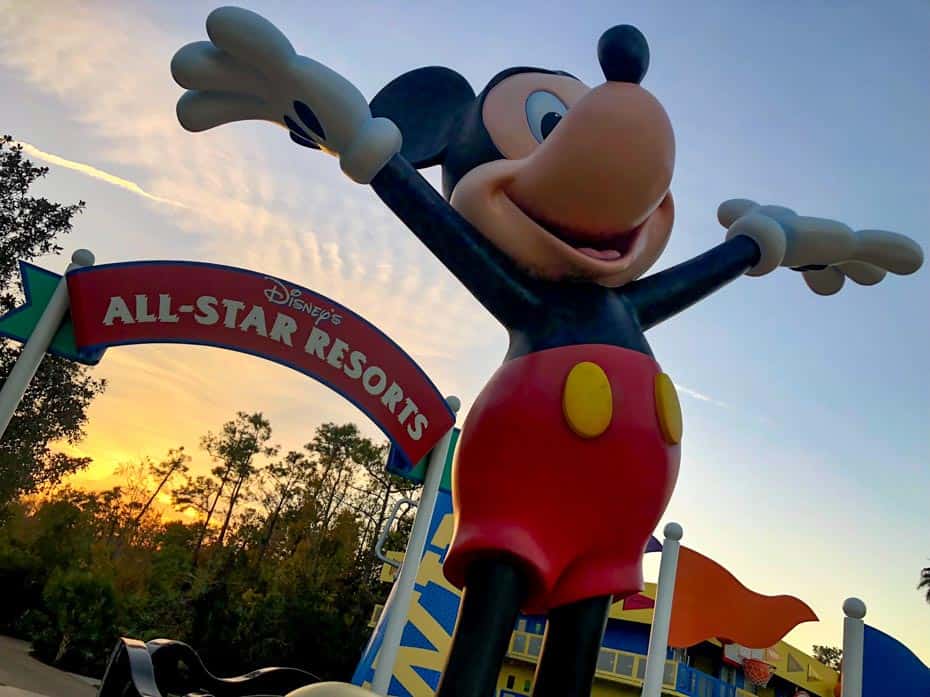 Pop Century Resort is themed to represent the different decades between the 50s to the 90s. The resort features large bursts of primary colors and oversized representations of everything "pop" from each decade.
Pricing: Room rates at Pop Century typically run higher than the All-Star Resorts but still lower than the next Disney Resort category.
Pros: Pop Century has two forms of transportation, the Disney bus system and the Skyliner gondola system. The rooms have been updated in the last few years. While smaller in size than some resorts, the rooms utilize good use of space and are extremely functional.
Cons: This Disney Resort can be very crowded, in general, given its popularity. Your room might end up being a fairly long outdoor walk from the resort's bus stop. All of the Disney value resorts have only one bus stop off the main lobby. So there is always the possibility of having to walk a good way to reach your room if its toward the opposite side of the resort.
Read the full Pop Century Resort Review here.
Art of Animation is located across Hourglass Lake from Pop Century. The resorts theming includes large-scale representations of The Little Mermaid, Finding Dory, Cars, and The Lion King.
Pricing: Art of Animation offers standard rooms along with a variety of family suites. Standard room pricing falls in line with Pop Century pricing. If you see higher than normal prices, you are probably looking at a family suite. Family suites cost significantly more than a standard room, but do offer decent value for the price.
Pros: The exterior theming at the Art of Animation is really fun. The resort offers two forms of transportation. You can take a bus to theme parks and use the Skyliner system shared with Pop Century where applicable. I have a full review of using the Skyliner with travel times here.
Cons: I personally don't care for the standard rooms at Art of Animation, and that's coming from a big fan of The Little Mermaid. They feel dark and dated. Thankfully, most of the sea-colored room carpet has been replaced with solid surface flooring (also sea-colored). I anticipate that making a positive difference on my next day.
Read the full Art of Animation Resort here.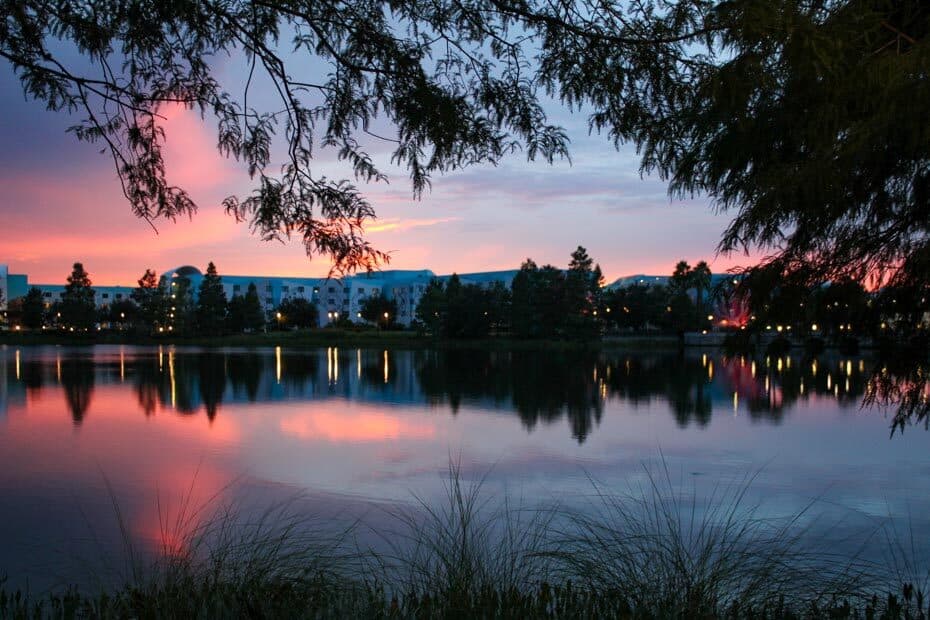 Now that we've wrapped up the value-priced resorts, we'll take a look at the next level of Disney Resorts, the moderates.
Coronado Springs is a wonderful resort hotel offering Southwestern flair and a recent full resort refurbishment. There are two options for staying here now. The first is the regular Disney's Coronado Springs Resort. The second option is the newer Gran Destino Tower hotel. The hotel sits toward the front of the property.
Pricing: Rooms at this Disney Resort will average around $250 per night, while fluctuating during different times of the year. The resort offers numerous room categories, so make sure to let a travel agent help you get the best pricing available.
Pros: Coronado Springs has beautiful grounds and provides a nice place to relax and enjoy leisurely strolls. The recreation area here is known as the Dig Site and it's pretty awesome! Make sure to plan a full day at the resort during your vacation. It has a lot to offer!
Cons: Coronado Springs is a large resort that has an internal bus system. While you can use the internal bus to travel to the front of the resort, it can be a lengthy wait. Additionally, you'll have to wait for the bus to stop at every available stop when coming and going from the theme parks. Extra stops can eat into valuable touring time.
Read the full Coronado Springs Resort Review here.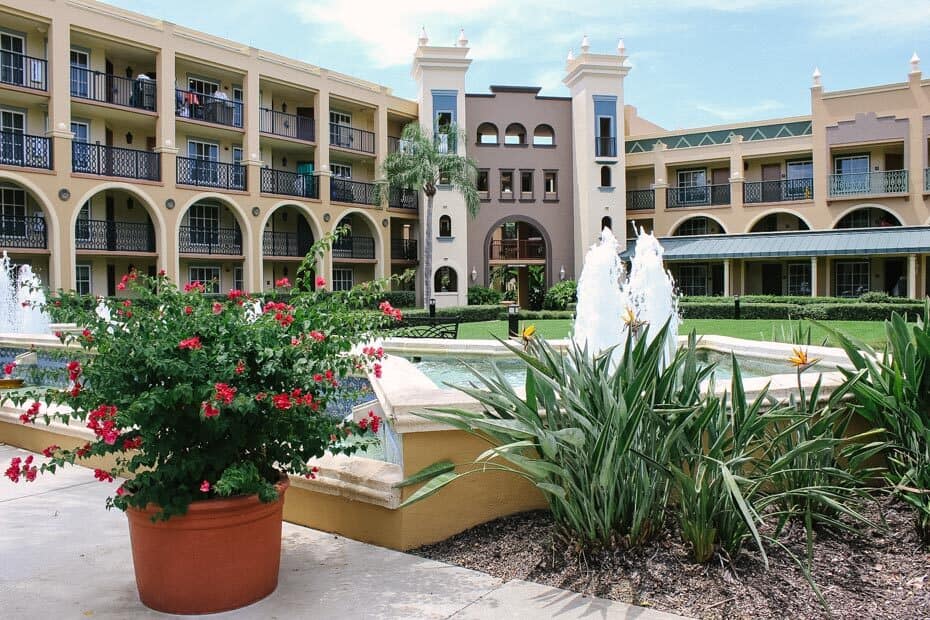 Caribbean Beach is themed to represent an exotic Caribbean island. You'll find fun theming that includes pirates! The grounds at this Disney Resort hotel are lovely. The newer addition of the neighboring Riviera Resort brings more dining options within walking distance to the table.
Pricing: Rates for this hotel are typically less than some of the higher-end Disney resorts. However, it might run a little higher than other moderates since the addition of the Skyliner gondola system.
Pros: Caribbean Beach offers two forms of transportation and is within walking distance of the new Riviera Resort. Having walkability to multiple resorts is a huge factor for accessing more dining and any shared amenities.
Cons: This is another vast resort. If walking long distances is a challenge, you might want to consider a smaller resort. There is an internal bus system that can alleviate long walks to the buses in some areas, but you can expect longer waits.
Read the full Caribbean Beach Resort Review here.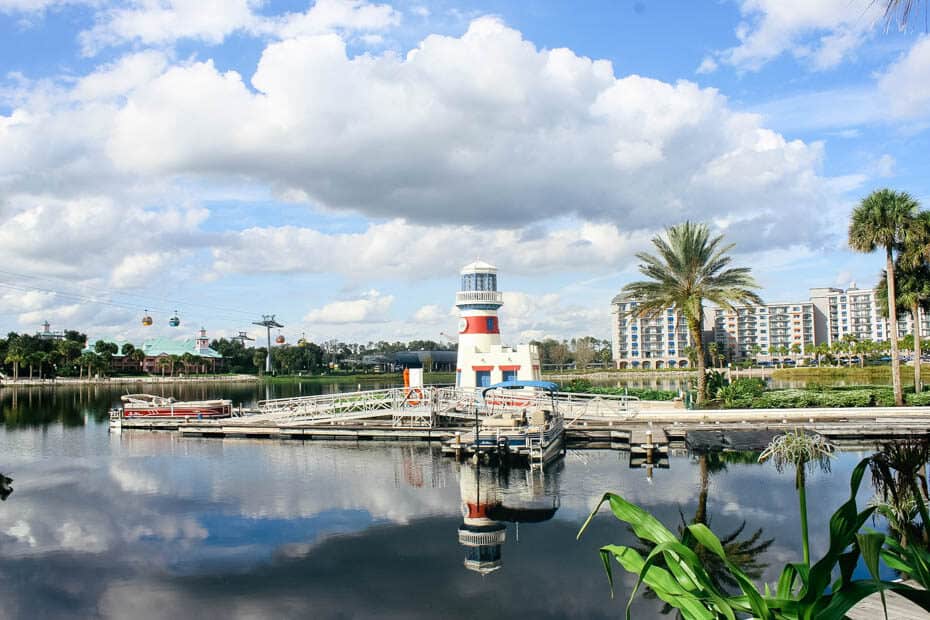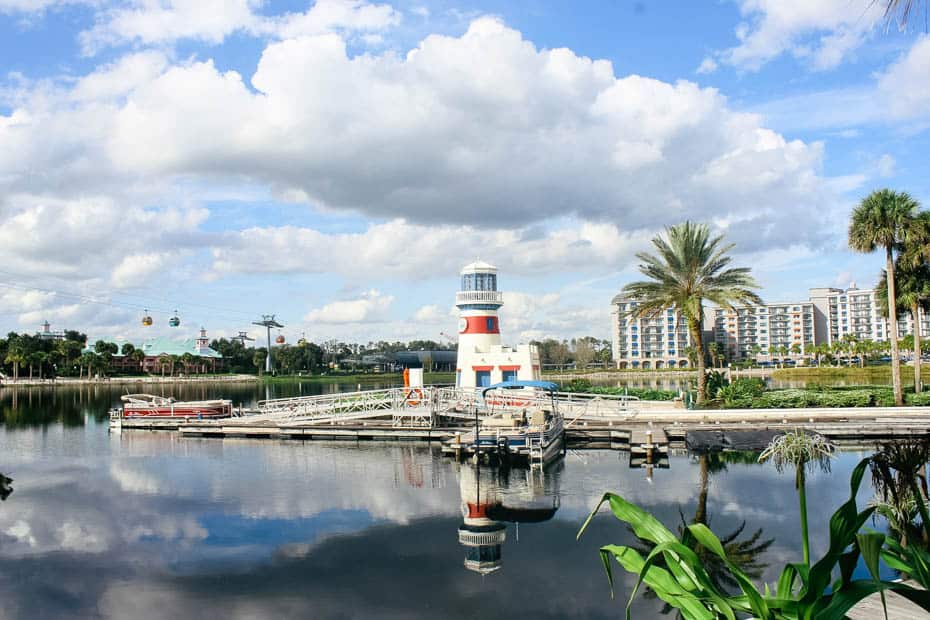 Port Orleans Riverside represents life in the South, with New Orleans being the primary influence. The landscaping is beautiful and true to what you would expect in this area of the United States.
Pricing: There are many different room categories at Port Orleans Riverside. Pricing falls in line with a standard middle ground resort. Make sure you are using a travel agent to obtain the best rates offered by Disney.
Pros: The resort is just down the "bayou" and offers a water taxi service to Disney Springs. The bus system transports to the theme parks. Anyone with plans to spend a decent amount of time at Disney Springs might enjoy this resort. You can learn more about Disney Springs Transportation here if you have plans to visit the venue.
Cons: This is, unfortunately, my least favorite mid-category Disney resort because of the overall layout of the property. It is beautiful, but I found it difficult to get around the property on a previous stay here. There is an internal bus system, and I have experienced the longest waits for buses at this specific resort. I would recommend staying at the French Quarter over Riverside.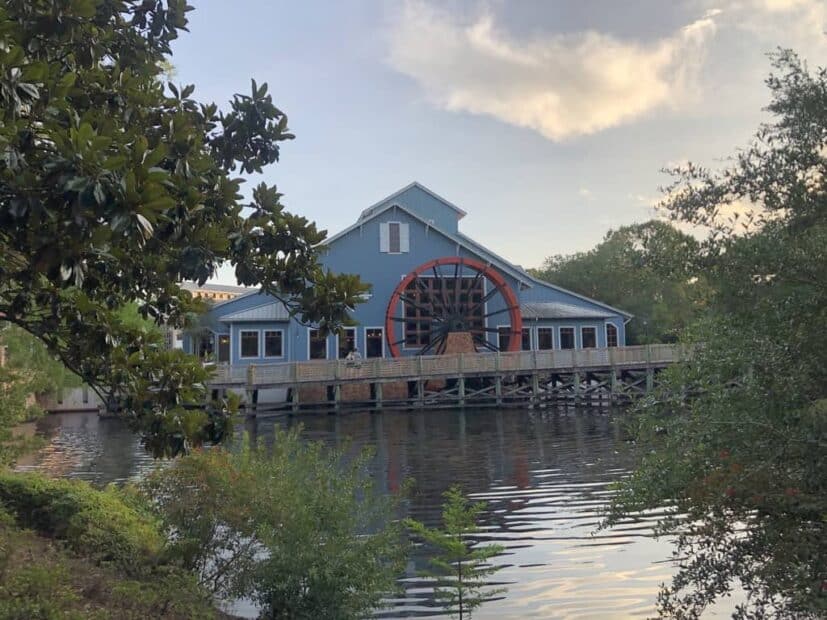 Port Orleans French Quarter is about half a mile down the bayou from Riverside and is designed to look like the French Quarter in New Orleans. I consider this resort to be "boutique" compared to the other moderates. Everything is neatly laid out across the property and easily accessible.
Pricing: Pricing here is usually about the lowest you'll see for the moderate category.
Pros: French Quarter offers two forms of transportation: Disney buses and water taxis to Disney Springs. A huge plus is that you can walk down the adjoining pathway to get to Riverside where more dining and amenities are accessible. If you have plans to stay here, you might want to check out the list of best restaurants at Disney Springs.
Cons: This Disney resort only has one bus stop. This might make the bus stop more crowded than average during peak travel times between resorts and theme parks.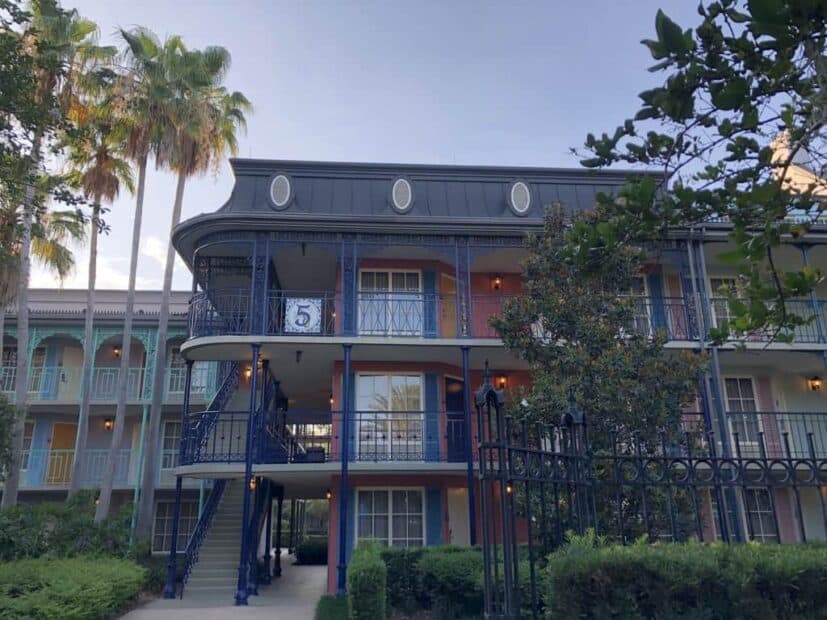 Fort Wilderness is only a boat ride away from Magic Kingdom and offers various cabins and campsites. The resort is massive, and anyone with a love for nature should enjoy a stay here.
Pricing: Pricing varies at Fort Wilderness due to the variety of categories you can reserve. A cabin is a nice option coming in just shy of $500 per night on average.
Pros: Fort Wilderness offers many extracurricular activities that you won't find anywhere else on Disney property. You can spend the entire day here participating in things like archery, horseback riding, fishing, and more. Most of these do come at an extra cost, but Fort Wilderness is a camper's dream destination.
Cons: Fort Wilderness is one of the largest pieces of property at Disney. Most guests bring their own (or rent) golf carts and bicycles to get around the property. There is an internal bus system. However, relying on it can take a little longer in some instances to get to the main bus stop and transfer to theme parks.
You can read the full Fort Wilderness Review here.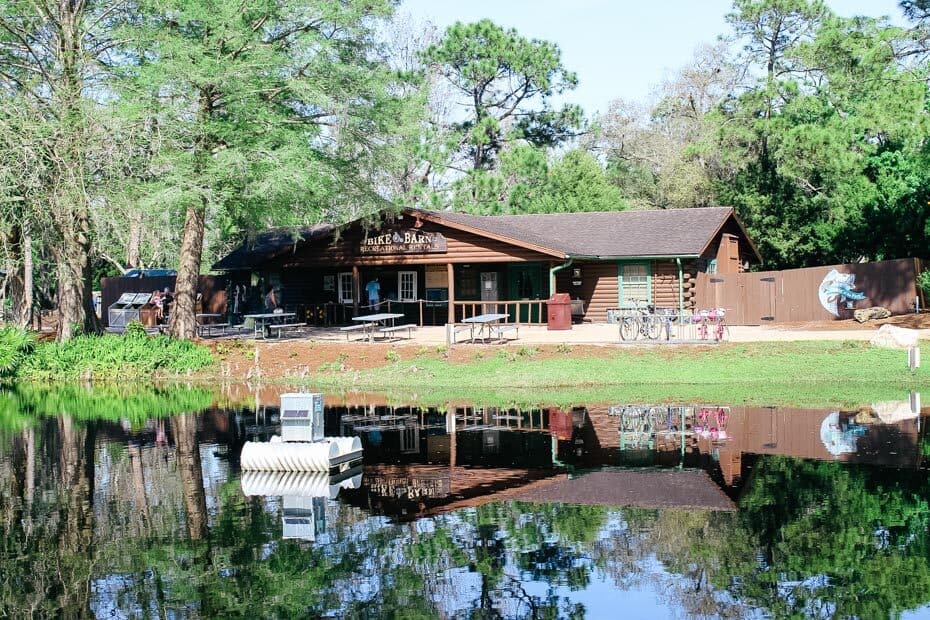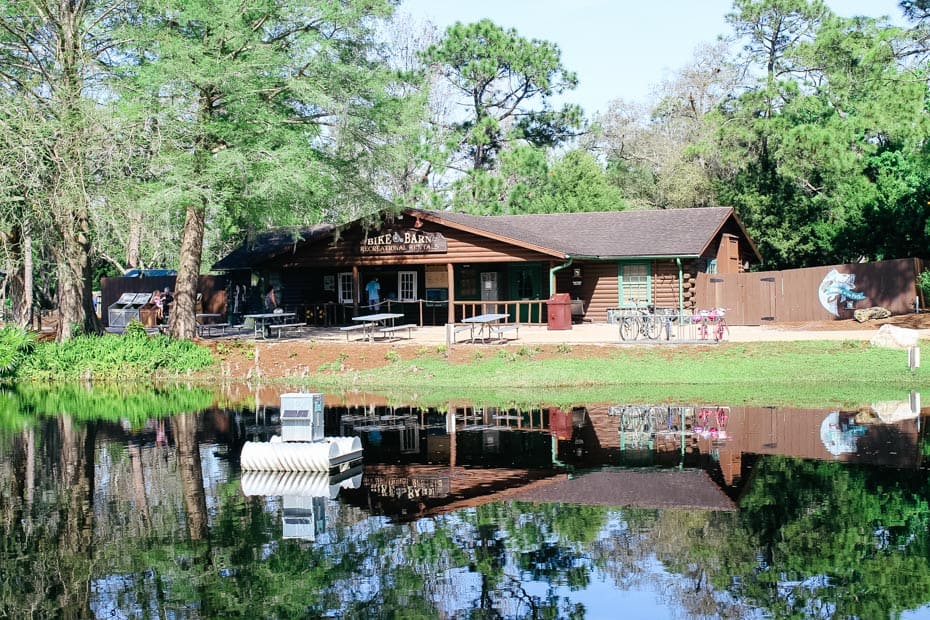 We have now reached the higher-end category of Disney World Resort Hotels. The following Disney resort reviews all fall under the deluxe category.
Grand Floridian Resort is the large red-roofed resort with white Victorian siding that you can see across the lake from Magic Kingdom. The resort has meticulously landscaped grounds and is laid out in large buildings that have interior access. You will definitely feel like you are living the high life when you stay here.
Pricing: Pricing runs high at any of these top Disney resorts. However, usually the Grand Floridian does come in as one of the most expensive resorts at Disney World.
Pros: I have found my stay's here to be more pleasant than I would like to admit considering the price tag. I have never seen a crowd here, except possibly in the lobby around Christmas. A lot of the staff I've encountered at the Grand Floridian have literally worked for Disney their entire careers. They do a wonderful job of making you feel welcome.
Cons: A stay here comes with a hefty price tag. If this is high on your "want to stay here" list, consider a split stay. Try to plan a few days here and a few days at a value resort to help cushion the cost. Have a travel agent help you select the lowest-priced weekdays for the nicer Disney resorts. Weekends will be considerably higher.
You might like to read the full Grand Floridian Resort Review here.
Additionally, the Grand Floridian has a separate Disney Vacation Club Resort, the Grand Floridian Villas. More information about the Villas is available here.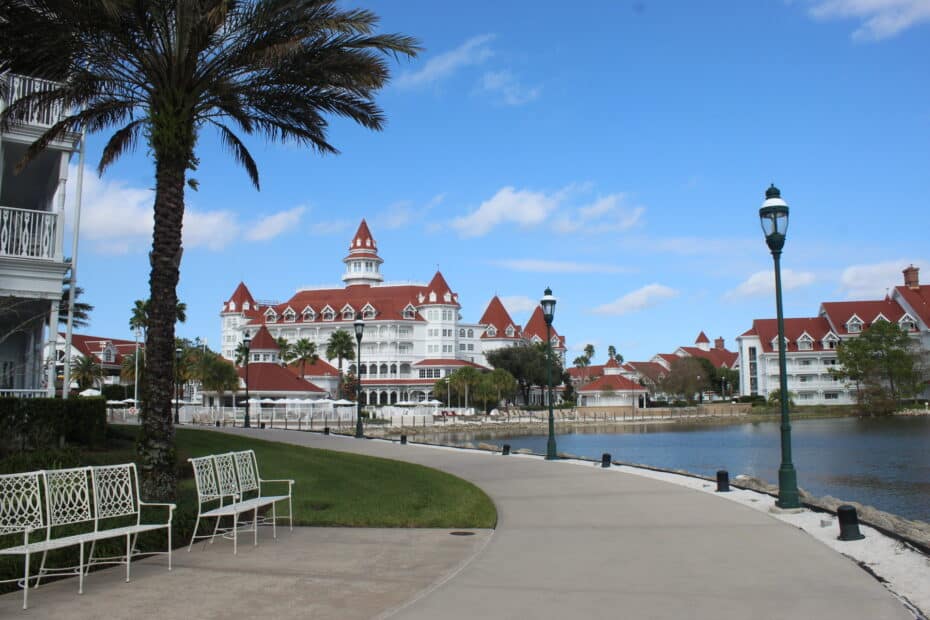 Disney's Polynesian Village Resort is situated next door to the Grand Floridian. This tropical get-away will probably leave you longing to visit a Hawaiian Island. Each building at the resort is considered a longhouse. Some room views include the ability to see nightly fireworks at the Magic Kingdom from your balcony.
Pricing: As you can imagine, this is another premium-priced resort. Make sure to get the best available rate and use a travel agent in case new discounts come out between making your initial reservation and actual trip dates.
Pros: The Polynesian is so unexpected in providing the feeling that it does right there in the middle of Florida. This is one of my favorite resorts to stop in for a meal, even when I'm not staying here. The Poly is an original resort that stands the test of time when it comes to vacationing at Disney.
Cons: My only complaint here, as with all the higher end Disney World Resorts, is the pricing. If the difference in staying here versus a moderate-priced resort means you could actually do two Disney vacations in one year, which would you choose?
Make sure to check out the full Polynesian Resort Review here.
The Polynesian does offer a separate Disney Vacation Club building on its grounds.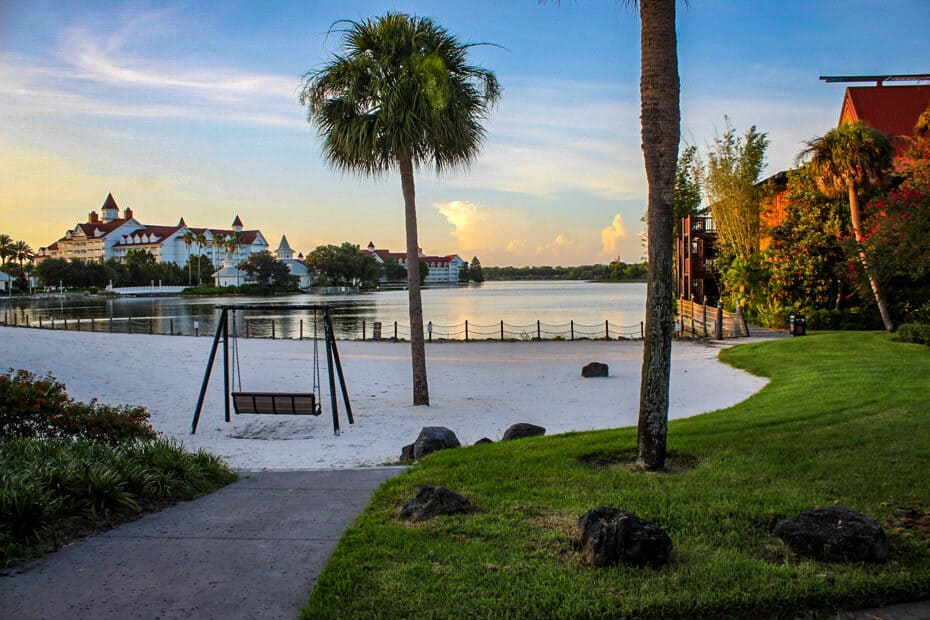 Disney's Contemporary Resort is located next door to the Magic Kingdom. The resort is named after its unique modern design. Most everyone is familiar with the Contemporary because it's the resort with a passageway that the Disney World monorail travels through.
Pricing: It's going to be expensive.
Pros: We actually stayed at the Contemporary Resort for the first time a few years back. While I knew the biggest amenity of staying here was walkability to the Magic Kingdom, I was blown away by the calm serenity of the resort. Make sure to read my full review to find out what all warrants a stay here. It's available here.
Cons: As much as I hate to harp on price, it's the only real factor that I can complain about at the Magic Kingdom Resorts. Other than the fact that rooms here are a standard hotel room like any other resort you might stay at. Granted, they do offer a little more square footage than a lesser category.
Bay Lake Tower, a Disney Vacation Club Resort, is connected to the Contemporary Resort. I have a full review of Bay Lake Tower here.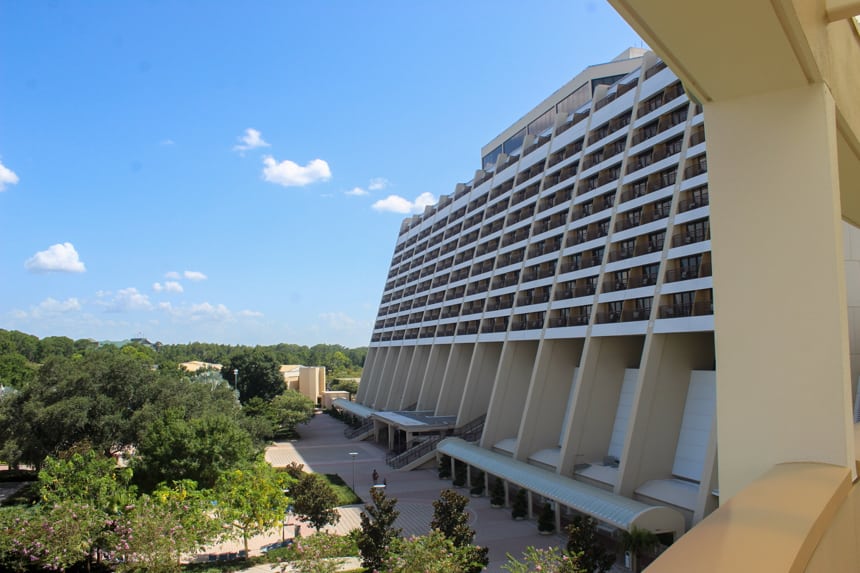 Disney's Wilderness Lodge represents America's greater Northwest-Pacific region. The lodge is stunning, the property absolutely breathtaking, and I can never wait to visit again. One of the great features of the resort is that it feels "cool" year-round. Even cool enough to have fireplaces blazing off the galleries of different hotel floors in the midst of summer.
Pricing: I find that pricing is often more reasonable at Wilderness Lodge than some of the other comparable deluxe resorts.
Pros: Wilderness Lodge is in the Magic Kingdom Resorts area, and only a short boat ride away from the theme park. You can also access Disney's Contemporary and Fort Wilderness by boat when staying here. This is a huge resort, but the layout is extremely accessible.
Con: If you really want to stay at a nice Disney resort, the price tag here will be high. But it is typically one of the more reasonable Disney resorts when it comes to this category. The Wilderness Lodge is fairly remote in some aspects, which might be a negative to some, but most will welcome the escape.
You can read the full review of Disney's Wilderness Lodge here.
Additionally, Wilderness Lodge offers two DVC Resorts, Boulder Ridge and Copper Creek. You can learn more about the Copper Creek Villas here.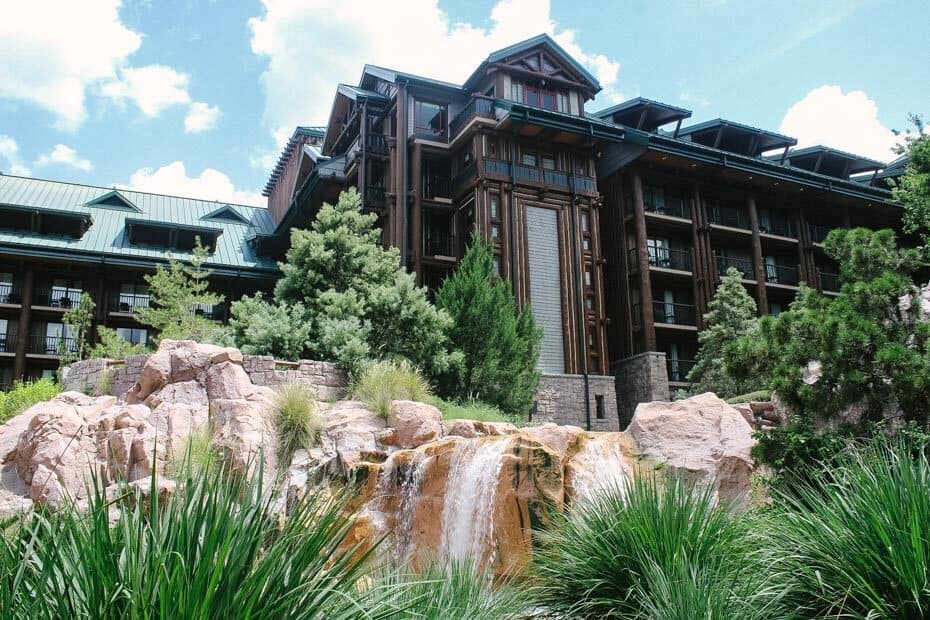 Animal Kingdom Lodge is my second personal favorite resort on Disney property. It is similar in many ways to Wilderness Lodge, but the resort offers the true feeling of escape to an African country. You'll experience guest rooms and common areas that look out onto a savanna full of wild animals. The full experience here is likely not found in many other places.
Pricing: Typically, you can always find the most reasonable rates at Animal Kingdom Lodge over all of the other Disney World Resorts in the same category.
Pros: If you or your children love animals, this is probably the place for your next visit. I could stay at the resort (and have) for a long time without even leaving to visit the theme parks. Prices here are the most reasonable when it comes to staying in one of the nicer Disney resorts. The dining options are excellent here as well.
Cons: I've personally stayed at Animal Kingdom Lodge numerous times in the last five years, and the bus service has been consistently slow overall. Bus service is the only transportation provided at Animal Kingdom Lodge. It's part of the tradeoff for having a safe habitat for the animals, so I'm not necessarily complaining about it.
You can read more about the Animal Kingdom Lodge here in our full review. This Disney World Resort hotel has a separate member resort, Kidani Village. Often Kidani will have the lowest priced rooms available.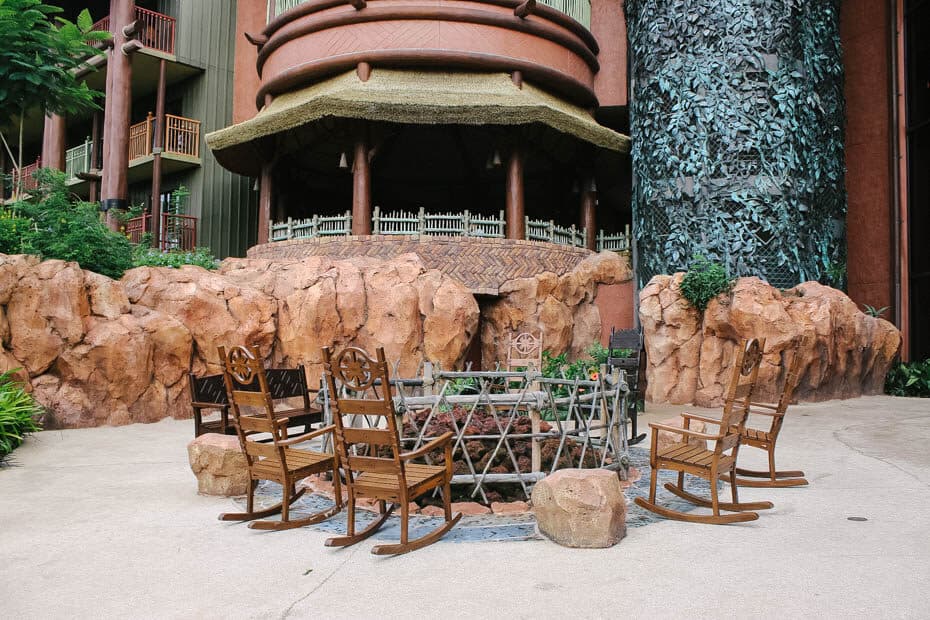 Disney's Beach Club Resort is our favorite resort at Walt Disney World. The Beach Club is located in the Epcot Resorts Area and is only a five-minute walk into Epcot. Expect soothing blues and aqua colors throughout the resort. Everything here has a subtle beach theme and serene feel.
Pricing: Given it's prime location, expect a hefty price tag when staying here.
Pros: The Beach Club's swimming area is known as Storm-Along Bay, and you'll find that it's actually a mini water park of sorts. If you stay here, make sure to plan a pool-only day, you won't find yourself bored here. The resort is located on Crescent Lake and shares its property with sister resort Yacht Club and is only a short walk away from the Boardwalk and Swan/Dolphin Resorts. You can easily walk to Epcot and Hollywood Studios here, take a Friendship boat or use the new Skyliner.
Cons: Like the other Epcot Resorts, you'll find that the Beach Club is in the higher price range. I love this resort so much for so many reasons, but I still have a hard time justifying the price of a week's stay here.
The full Beach Club Resort is available here. Additionally, the Beach Club has its own separate Beach Club Villas Disney Resort.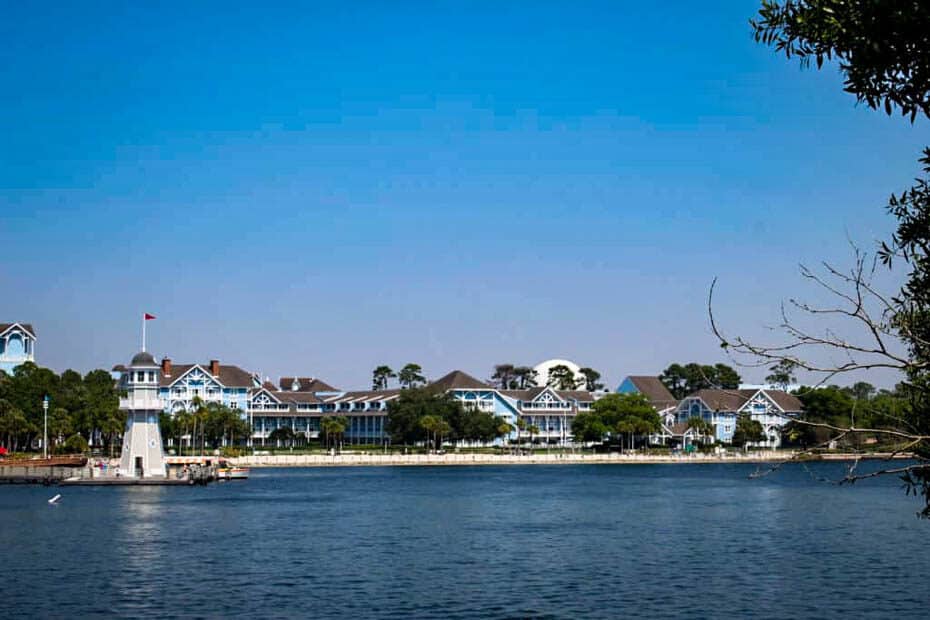 Yacht Club Resort is actually connected to the Beach Club. Yacht Club's theming changes entirely to more of a boating lifestyle featuring colors like navy, yellows, and reds. The Yacht Club feels more formal than the Beach Club, and it's common for people to say it's not as child-friendly due to hosting numerous conventions throughout the year.
Pricing: Similar to Disney's Beach Club, pricing is often expensive. This is a pet-friendly resort, so it might be worth looking into if you travel with pets.
Pros: The Yacht Club offers some of the best Disney views available from its water view room categories. You can't beat having access to Storm-Along Bay and the surrounding resorts for multiple dining options. And there's something to be said about all of these resorts and their multiple forms of transportation, including being able to walk to two theme parks.
Cons: As mentioned above, the Yacht Club often does host conventions throughout the years. This did affect our stay on one visit, where there was a group of college-age professionals on our floor. They were a little louder later at night than typical for a Disney resort. But I doubt this happens often. The price is also higher here than moderate or values.
Learn more about staying at the Yacht Club in our full guide here.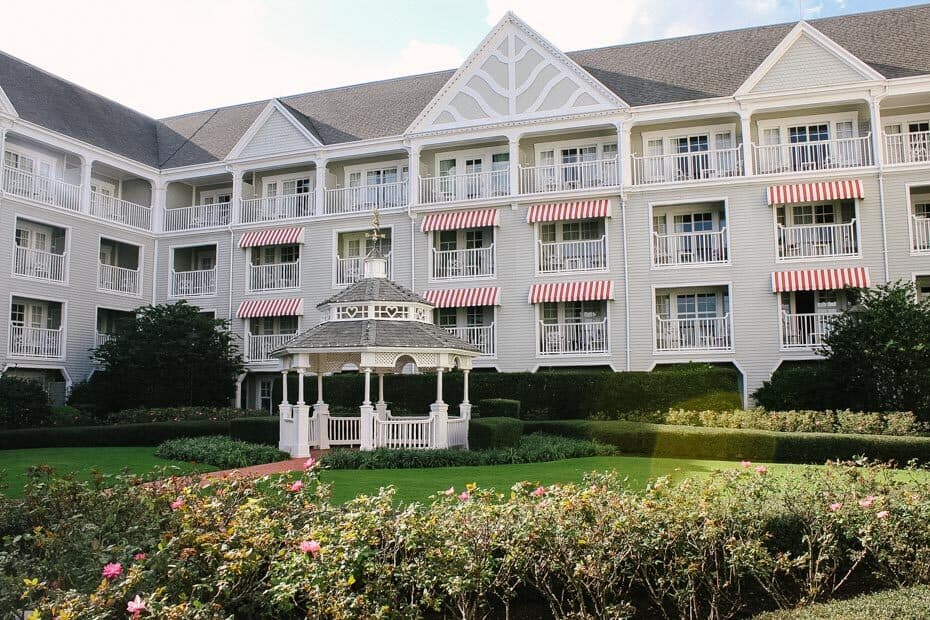 Disney's Boardwalk Resort also sits on Crescent Lake and is a destination within itself. Many guests visit the Boardwalk for dining and touring during their stay. It's a beautiful resort designed to represent common boardwalks found on the New England seaside.
Pricing: Like the other Epcot Area Hotels, pricing is fairly high here at the Boardwalk.
Pros: The Boardwalk offers a variety of activities that you won't find at other Disney resorts. You can walk to two theme parks, access the Friendship Boat service, Skyliner gondola, and Disney bus system.
Cons: As mentioned in all the deluxe Disney Resort summaries, pricing is high here. I also feel that Boardwalk is a more formal feel that won't agree with everyone's taste as much as a resort like Beach Club across the lake.
The full guide to staying at Disney's Boardwalk Inn is available here.
You might also like to learn more about staying in a deluxe studio at the Boardwalk Villas.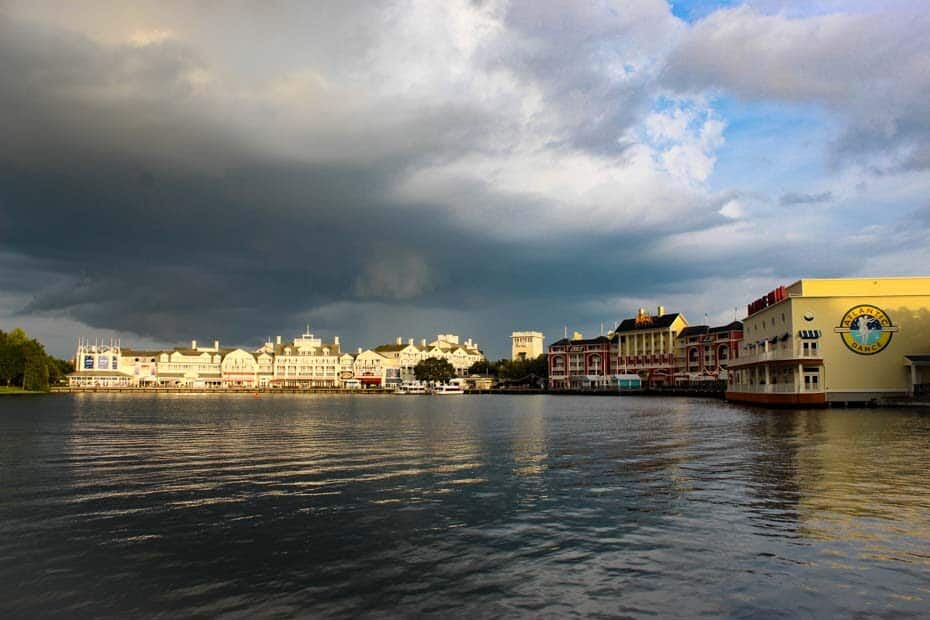 Disney's Swan and Dolphin hotels are not your average Disney Resort. The resorts are actually owned and operated by Marriott International. You can check out my full review here for all the differences between staying at the Swan and Dolphin versus a regular Disney resort.
Pricing: Pricing here can be more reasonable than the neighboring Disney World Resorts. However, you'll want to take into account a few extra fees that are charged here.
Pros: You cannot beat staying in this Disney Resort area with the ability to walk to Epcot and Disney's Hollywood Studios.
Cons: There are a few hidden costs at this resort, like daily resort fees. Make sure to factor these into pricing when considering a stay here. Transportation options are a little different at this hotel, make sure to be aware of this before your stay.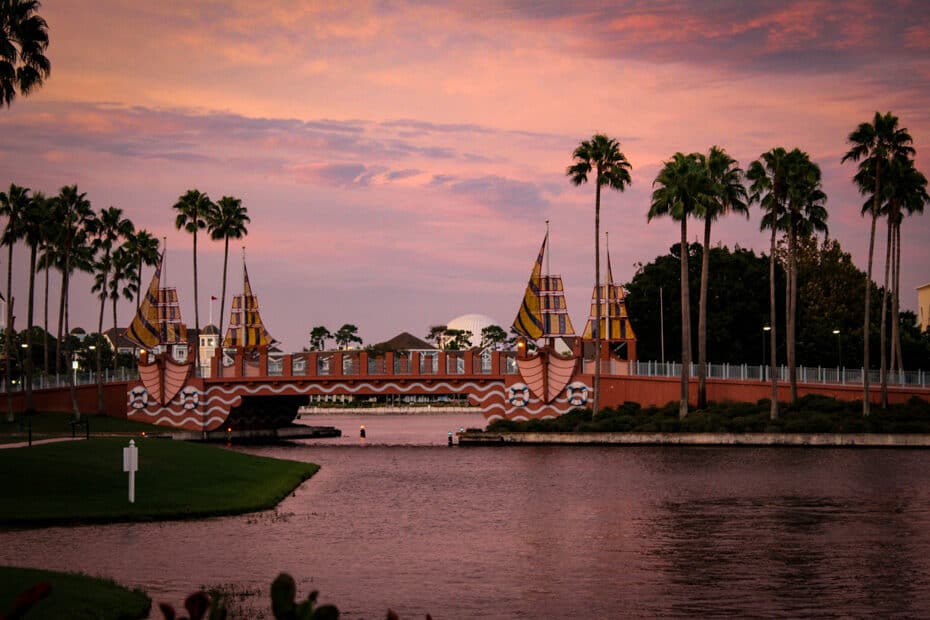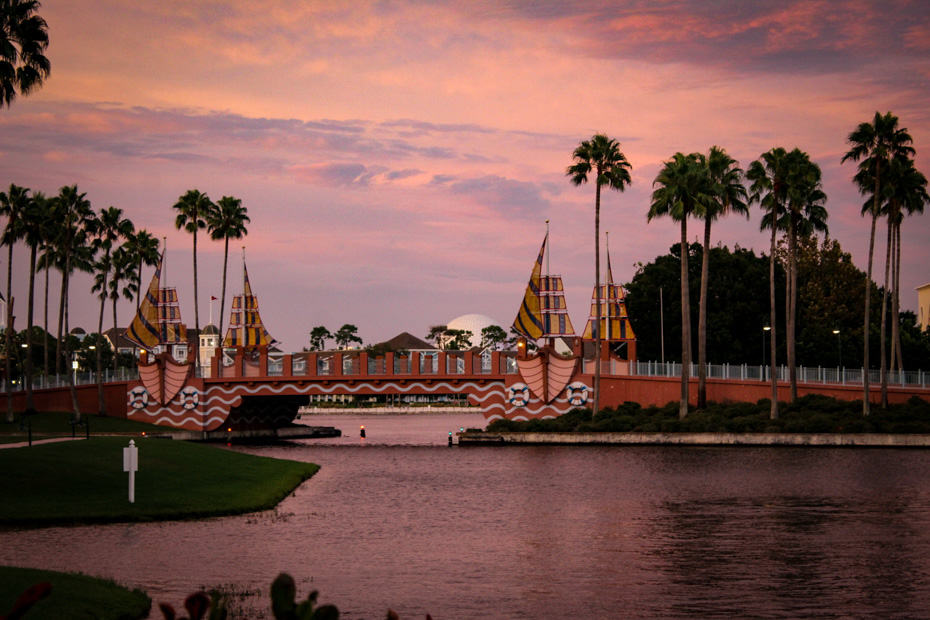 Disney's Riviera Resort is the newest resort at Walt Disney World. The resort falls under the Disney Villas category and is considered a dedicated Disney Vacation Club Resort. Riviera is modeled after the French Riviera and offers French and Italian influences.
Pricing: This is one of the most expensive resorts at Walt Disney World.
Pros: It's a brand new resort that offers Skyliner transportation to Epcot and Hollywood Studios. Each room is a villa, meaning at the very least a small kitchenette area is available. The dining options here are superb.
Cons: This resort is fairly pricy considering you cannot walk to a theme park.
Make sure to check out the full Disney Resort review for more details here.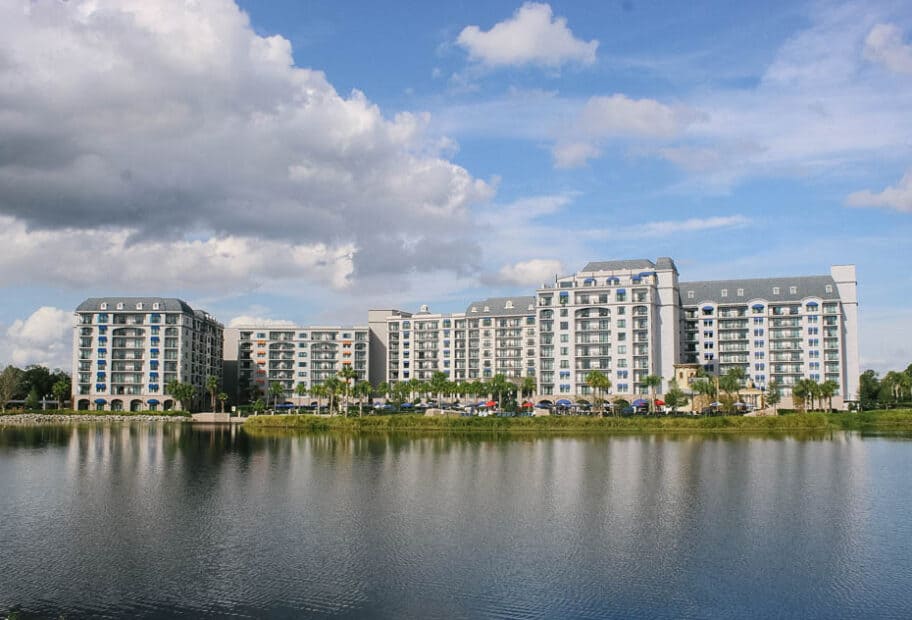 Saratoga Springs is a dedicated Disney Vacation Club Resort. The resort is inspired by New York's Saratoga Springs in the 1800s. Expect to find a comfortable retreat with a feeling like you've come in from a day at the horse races.
Pricing: Sometimes pricing here is higher due to the types of suites available with upgrades. If you plan to prepare meals in your room, you might end up saving money. However, there's a plethora of good dining options next door at Disney Springs.
Pros: The resort sits on the waterway across from Disney Springs. You can walk or take a water taxi over to the venue. The resort has a golf course and is home to Senses Spa. Saratoga Springs also has a variety of suites to accommodate larger families and provide modern conveniences.
Cons: Saratoga Springs is a huge resort. Depending on your room location, there could be a good amount of walking involved day-to-day. Due to the large size of the resort, waits for buses could be longer than at other resorts.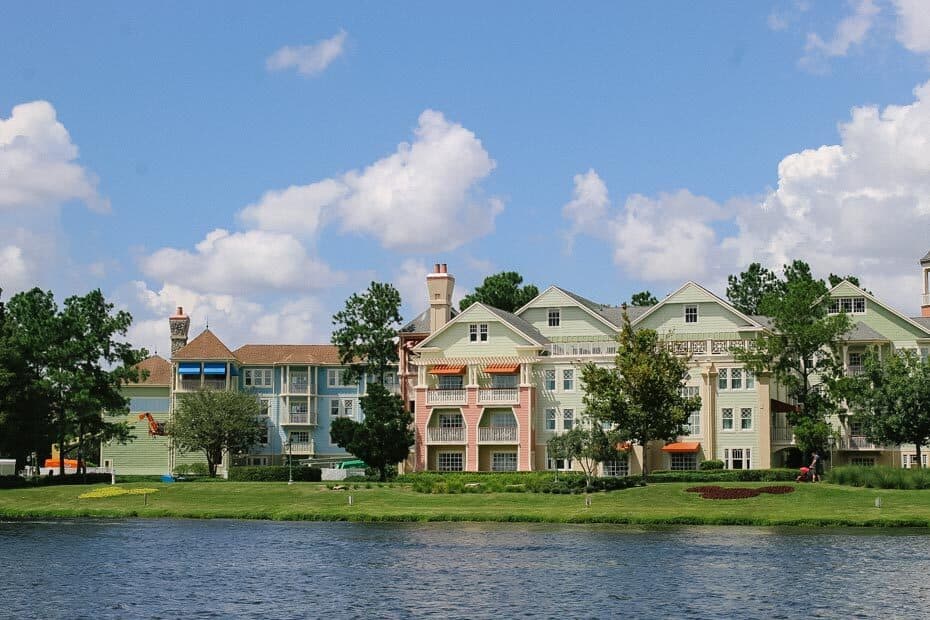 Disney's Old Key West is a beautiful resort inspired by the Florida Keys. This is a Disney Vacation Club Resort that offers a variety of different rooms and suites. Expect an island vibe with a friendly feel. And make sure to have a meal or two at Olivia's Cafe.
Pricing: This is usually the most reasonably priced DVC resort at Disney World.
Pros: This is a Disney Springs area resort that provides transportation to the shopping and dining venue. Similar to Saratoga Springs, this resort offers rooms with kitchenettes and other modern conveniences.
Cons: Old Key West is another sizable resort that will more than likely require extra walking.
This wraps up our mini-reviews of every Walt Disney World Resort Hotel. The main thing we didn't discuss is the Disney Dining Plan, which is not available at the time of this update.
And you might have already heard, Disney's Magical Express will not be provided after the end of 2021. I'll update when we know more about what services might work best.
The travel agent I use recommends a car service from the airport, and she will arrange this in your travel itinerary if desired. If you need help planning and booking your magical Walt Disney World vacation, contact our friends at Firefly Travels. Their services are always helpful, and their agents are highly trained in all things Walt Disney World.
I hope this review of the Disney World Resorts and Hotels was able to provide you with a good starting point for planning your next vacation. Resorts Gal specializes in providing information about the Walt Disney World Resorts, Characters, and Dining.
To plan dining, I recommend check out these Disney Restaurant Reviews:
If you would like to learn more about meeting characters, check out our full guide to Disney World Characters.
Make sure to check back often. I spend a good amount of time at the Disney World Resorts. That way I can provide the best tips possible to help you maximize your time at the resorts!