Discovery River Character Cruises at Animal Kingdom
Since Walt Disney World re-opened to the public, many different changes have come about. One of those is the way we interact with characters. The present socially-distanced world means greeting with characters from afar. Disney's Animal Kingdom provides, perhaps, the most unique way of seeing our beloved characters when visiting the park by implementing Discovery River Character Cruises.
This review discusses everything you need to know to prepare to see these character cruises around Discovery Island. Anyone visiting can rest assured that given good weather, you'll surely run into the majority of these while touring the park.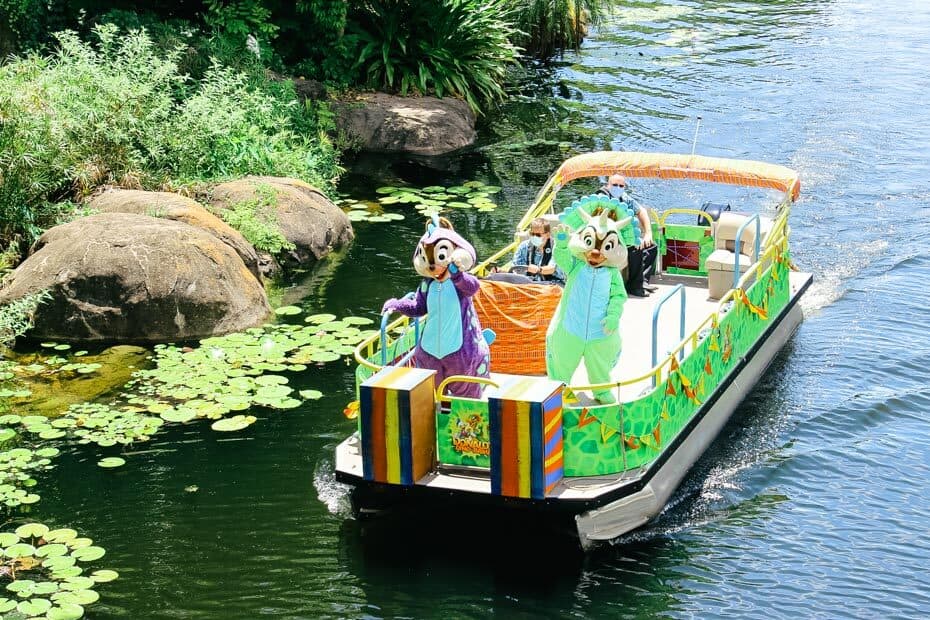 Discovery Island Character Cruises
Below are the different character cruises that currently circle Discovery Island at Disney's Animal Kingdom:
Discovery Island Drummers
Pocahontas and Meeko
Donald's Dino Boat Bash
Mickey and Friends Flotilla
How do I see the Character Cruises at Animal Kingdom?
The character cruises at Animal Kingdom circle the Discovery River. The main walkways at the park circle the outer portion of the Discovery River making it easy to see the characters from large portions of Africa and Asia. We also had good luck seeing the characters from a majority of the bridges. They can be seen from the bridge to Pandora, the bridge to Africa and Asia, the bridge between Expedition Everest and Finding Nemo, and the bridge in the Dinoland area.
Each character cruise is projecting music. This is also the best way to indicate when a character cruise is nearing your area. When you begin to hear different music playing in the background make your way over to the nearest waterway. You should be able to see the character cruise coming in the distance.
Discovery Island Drummers Character Cruises
We witnessed four different character cruises on the day of our visit. First, we'll take a look at the Discovery Island Drummers. To me these kind of represent the drummers you would normally find in Pandora, World of Avatar.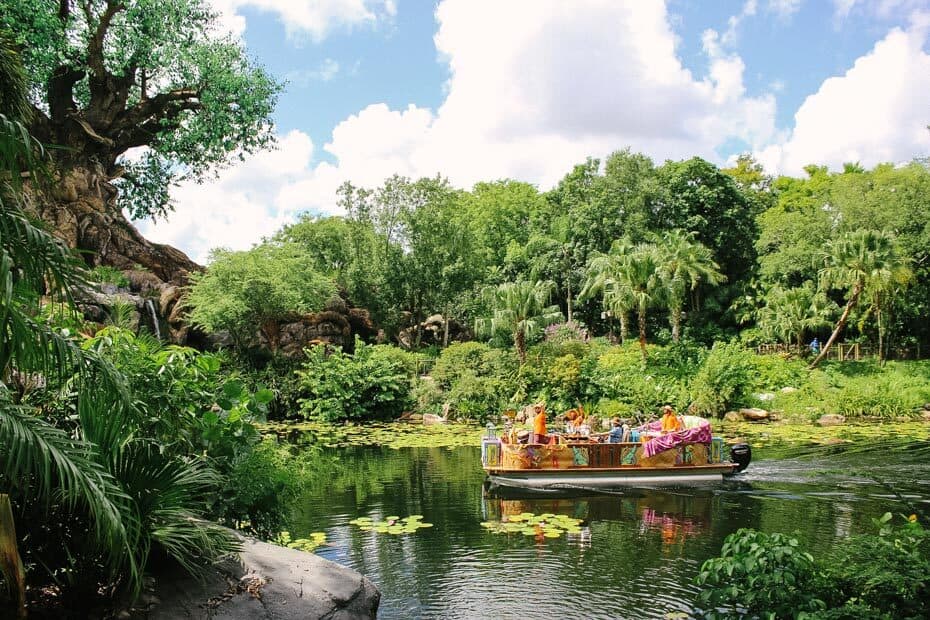 These were definitely the loudest and clearest of the different character floats. These musicians were definitely having a good time. They brought not only a fun beat, but plenty of smiles and cheer as well.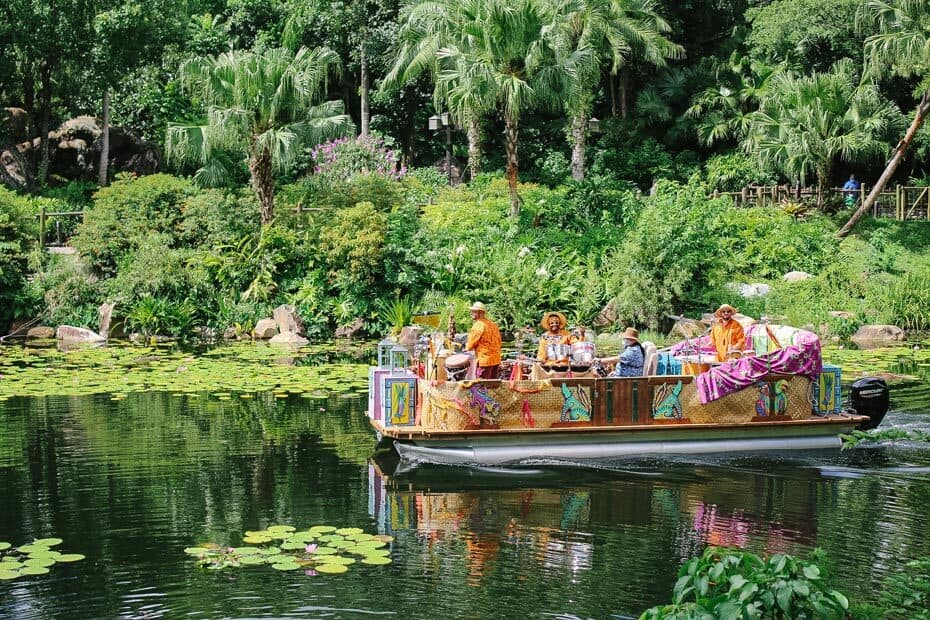 This location above was on the backside of the Tree of Life on the walkway from Africa to Asia. For reference we were headed from Kilimanjaro Safaris to Yak and Yeti restaurant when we ran into this cruise.
Pocahontas and Meeko Character Cruise
Next up, is another favorite set of characters that you can typically only find at the Animal Kingdom. Pocahontas and Meeko. Normally, Pocahontas meets on the Discovery Island Trail. But since characters are now offered at a distance, she is sharing a character cruise with Meeko.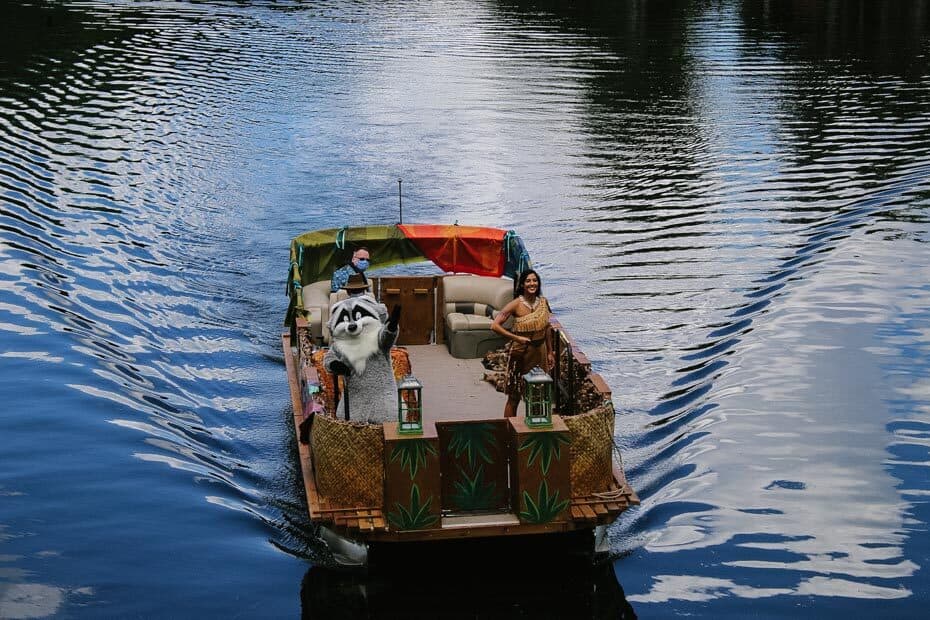 The children in the area were very excited to see these two as they passed underneath the bridge. At this point in the day, we were walking over the bridge from Expedition Everest toward Dinoland U.S.A.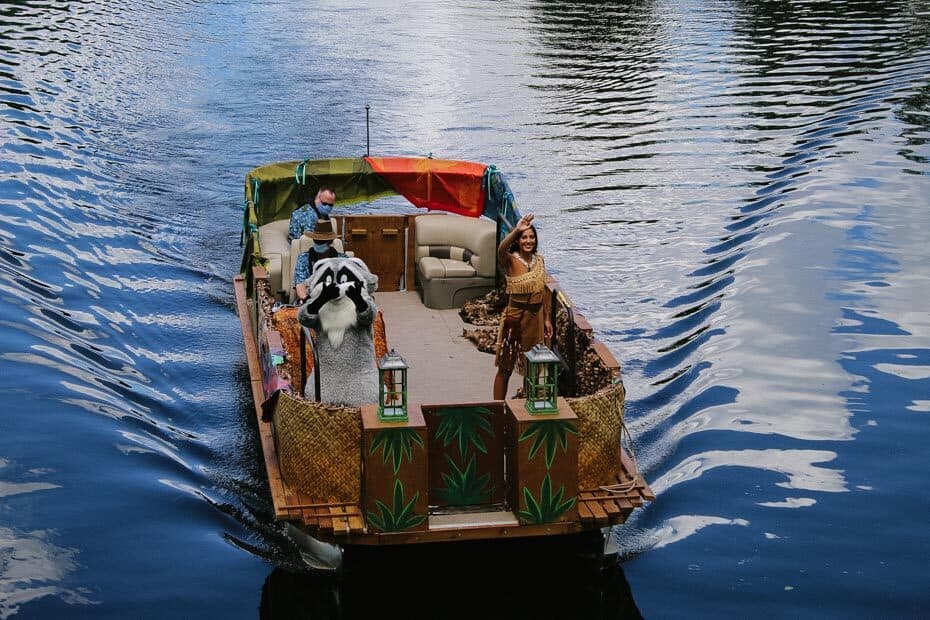 Another thing to mention is that we literally ran into all these character cruises in passing. We made absolutely no extra effort to see them. The only issue you might have is on a rainy day or when storm systems are passing through the area. Naturally, these character cruises wouldn't be available during inclement weather.
Donald's Dino Boat Bash
Later in our day we had been walking around the Tree of Life Trails and came back over the bridge to Asia. That's when we ran into this adorable pair. Chip and Dale are dressed in their Dinoland Bash outfits. You might even see other popular Dinoland Bash characters on the day of your visit.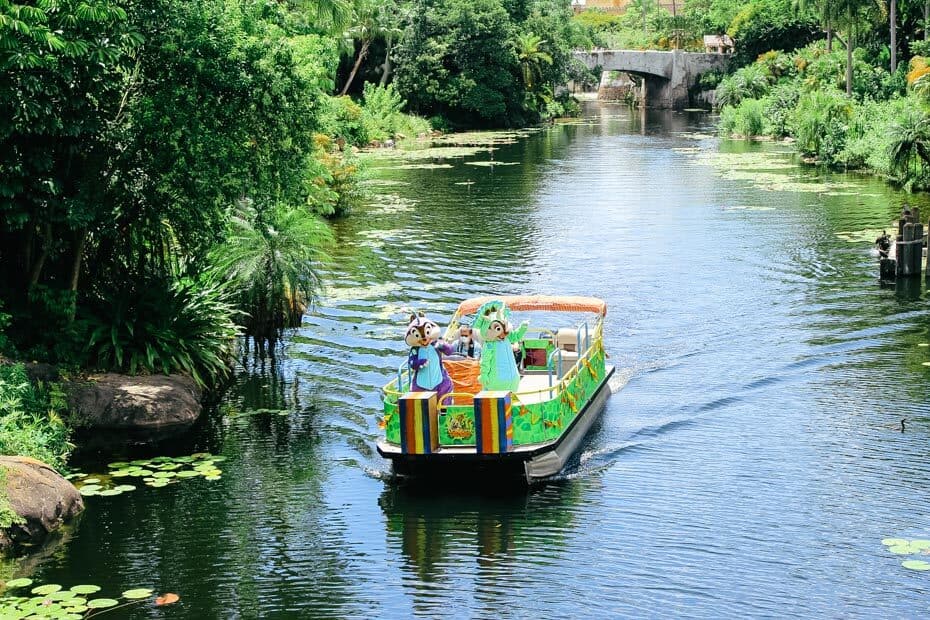 To date I've seen this float with Launchpad McQuack and Goofy also. So be on the lookout for whatever characters might be scheduled on the specific day of your visit.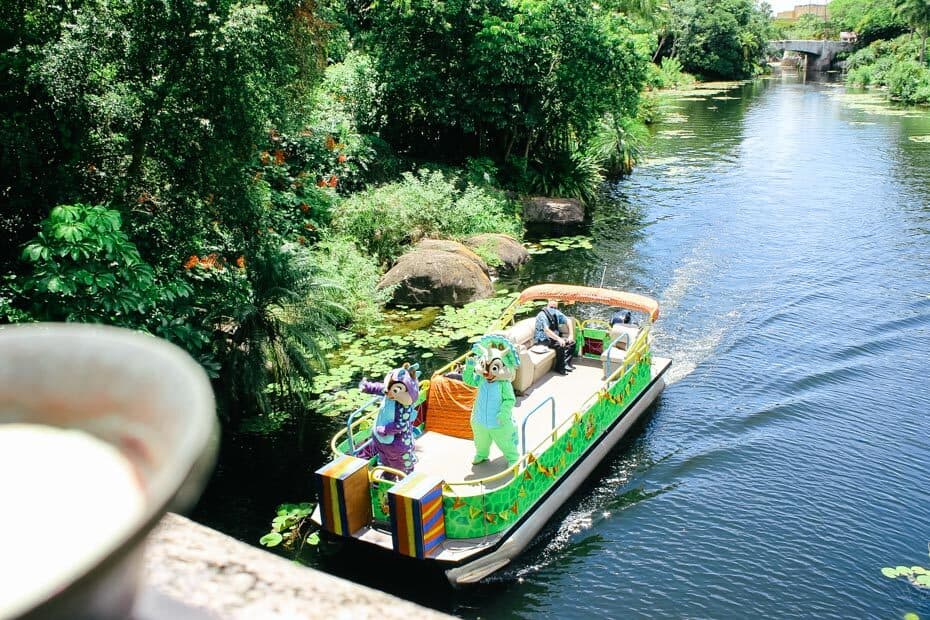 Above is a little reference from the view point as you see them going underneath you. If there's no one on the other side of the bridge, you can also walk over and see them come out on the other side.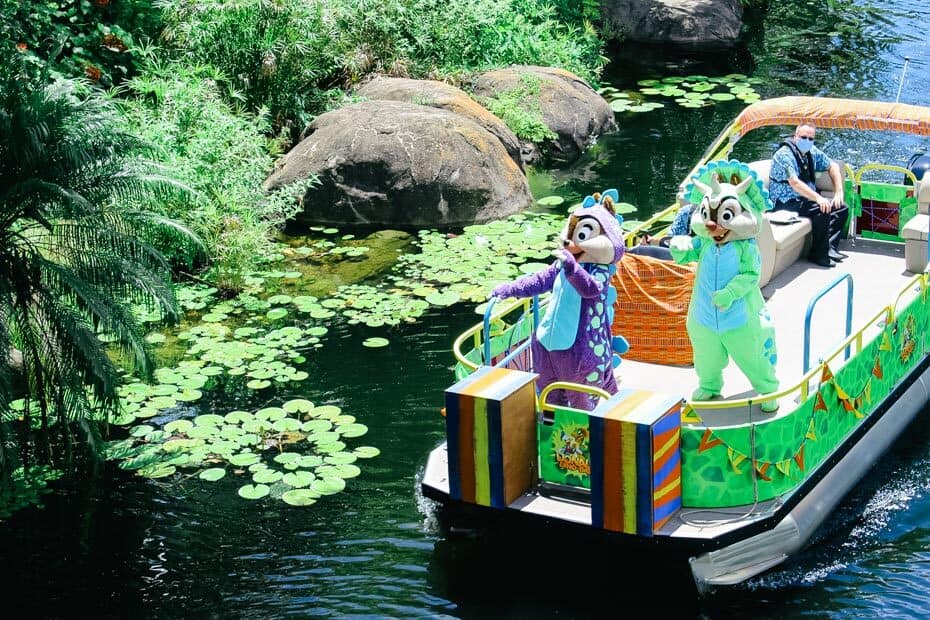 Mickey and Friends Flotilla
Finally, we have a look at the Mickey and Friends Flotilla. This super cute character cruise provides the opportunity to see classic characters. In fact, this is the very first float we saw on our initial return to Disney's Animal Kingdom.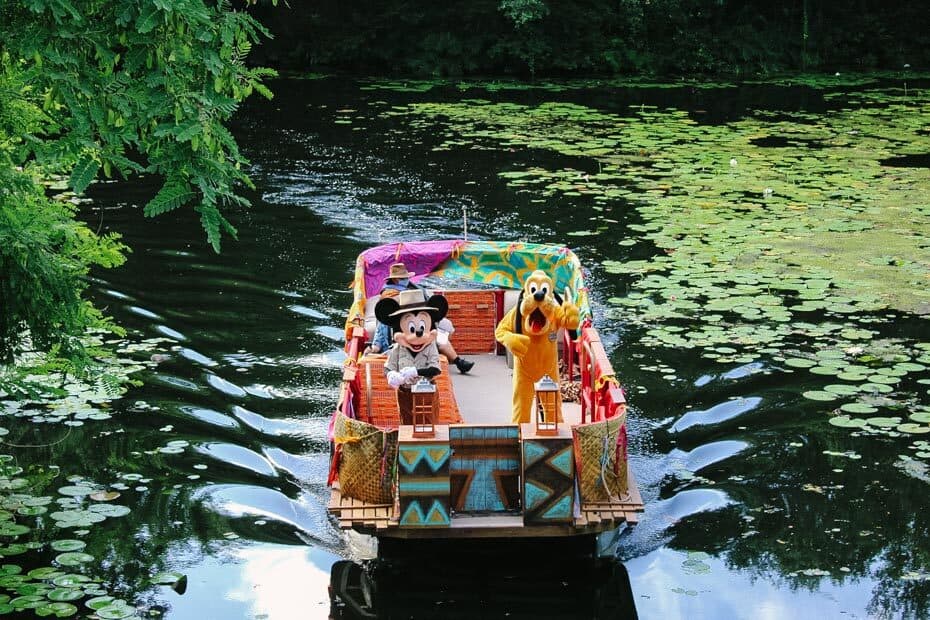 We were doing the usual walk over to Pandora to ride Flights of Passage, and here came Mickey and Pluto.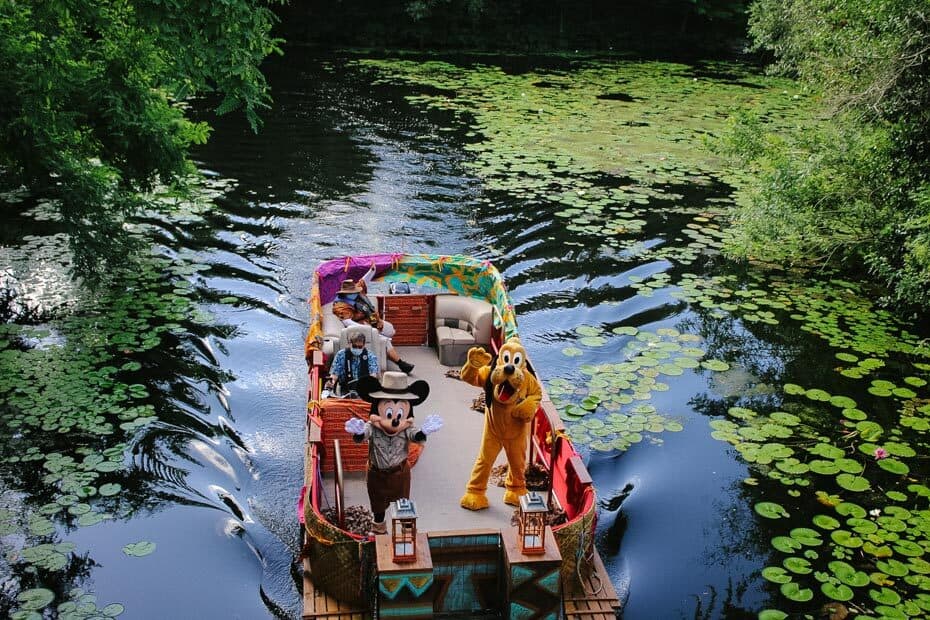 It made for a nice start to the morning, and I think that anyone would agree that these little appearances add so much value to your day. I really commend Disney on this one for coming up with such an inventive idea to accommodate characters and guests alike in the parks.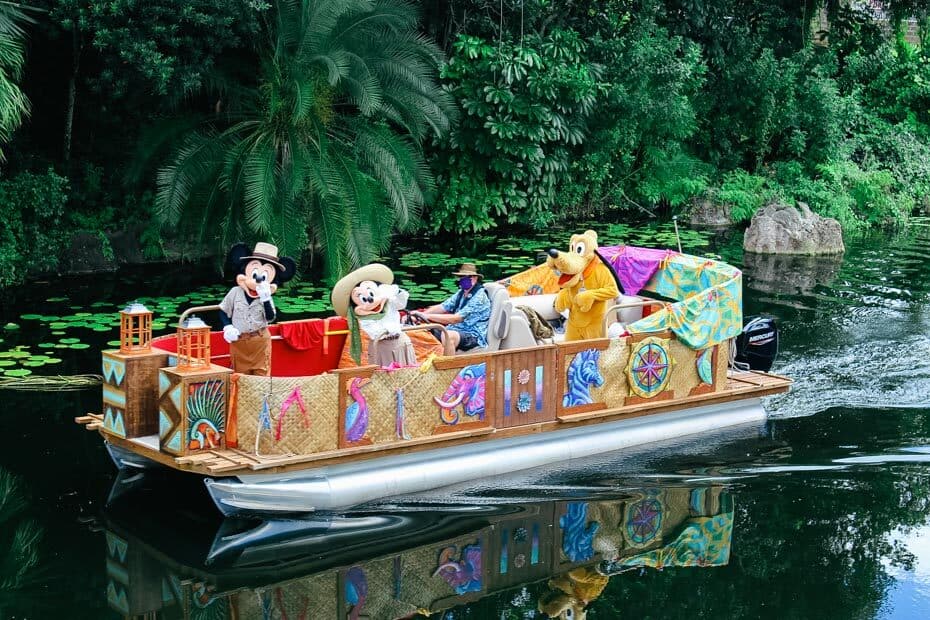 Later in the day, we saw Minnie Mouse join the trio in her safari suit. You might remember that prior to social distancing characters the only place to see these two together at Walt Disney World was at Adventurer's Outpost. Hopefully, in time, we will return to those types of interactions. But I also hope that these fun pop ups stay in the mix as well.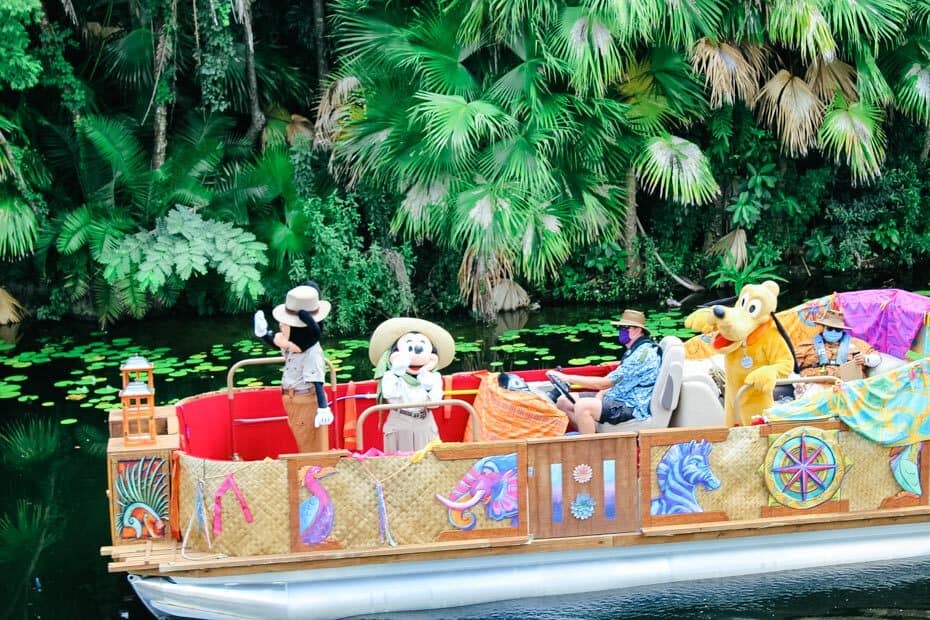 Minnie was so excited to see guests, she was blowing kisses and acknowledging everyone she passed the best she could. You might be surprised at how these kind of things really make your day or the day of a child. But if you have taken the time to read up on these events, then I'm thinking you might already know.
Final Thoughts
Character Cruises at Disney's Animal Kingdom are safe and fun. Given the world's current circumstances any added cheer can really make a difference. Disney has made sure to add these different types of interactions in to each park.
Additionally, many of the dining experiences have yet to re-open or have been heavily modified. We've got a full review with 2021 updates for Disney World character dining here.
We recently enjoyed the breakfast with characters at Topolino's Terrace.
If you are wanting to learn more about Disney World characters in each park, make sure to check out the following reviews:
And if you have any questions about the different character interactions, leave them in the comments below!