Here's How to Meet all the Disney Princesses at Epcot
Can you imagine visiting Epcot and not knowing that nearly all the countries in the World Showcase have meet and greets with the Disney Princesses? It's true.
Most countries offer the opportunity to meet a Disney Princess. However, each princess meet is restricted to specific times during the day.
So it's essential to know which princesses are available on your days at Epcot. Then you'll want to form a touring plan to meet the princesses that are most important to you.
In this article, we'll preview the different princess meet and greet locations at Epcot. Here is a quick list of the ones you should expect
Anna

Elsa
Mulan
Snow White
Belle
Aurora
Jasmine
*Additionally, Donald Duck meets in Mexico while Alice and Mary Poppins meet in the United Kingdom. These three aren't technically princesses, but I like to include them when I'm meeting characters in the World Showcase.
This article was updated on June 26, 2022.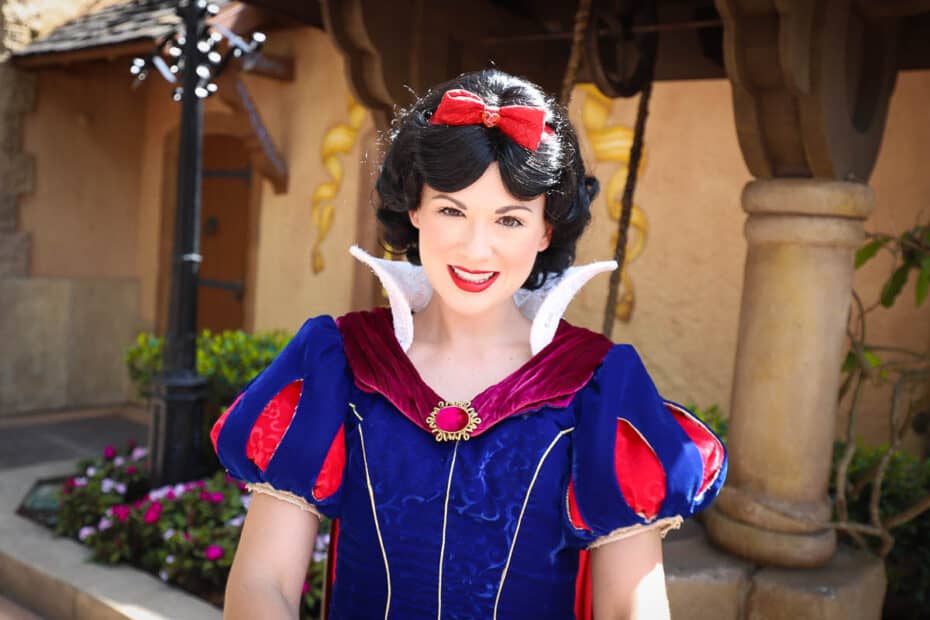 As things improve, more and more character meet and greet's have returned to the parks. It's been refreshing to see these characters return and even more so to see the long waits for them.
And the long waits are why you'll want to have a good plan to meet these princesses. So many guests take the extra time to wait for these meets.
While waiting in line, I've met many guests who have expressed that it's the first time they've brought their children to meet characters. Unfortunately, the past few years have put such a damper on many things.
Even Mickey Mouse has returned to meeting at Town Square Theater in Magic Kingdom. Minnie is scheduled to join him in the coming weeks. So if you have a visit planned, don't miss that unique opportunity.
Related: Meet Mickey Mouse at Magic Kingdom
Now back to our princesses at Epcot.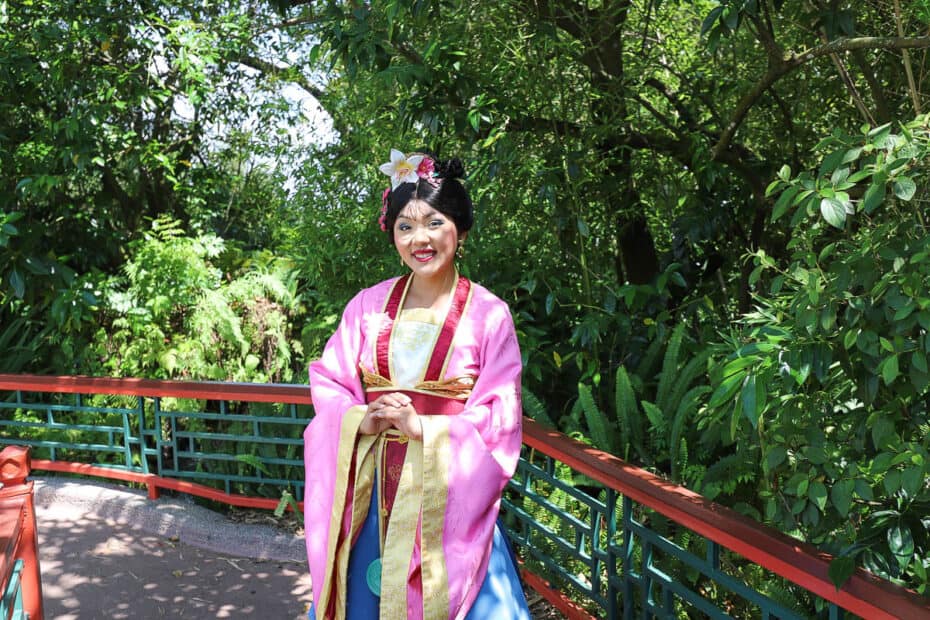 Location-wise, you'll find the different Disney princess meets at Epcot correspond with the country related to their animated film. For example, Anna and Elsa meet in the Norway Pavilion, which corresponds with their Norweigian palace from Frozen.
We'll start on this side of the World Showcase with the pair of sisters from Frozen. They have returned to their home inside the Royal Summerhus in the Norway Pavilion.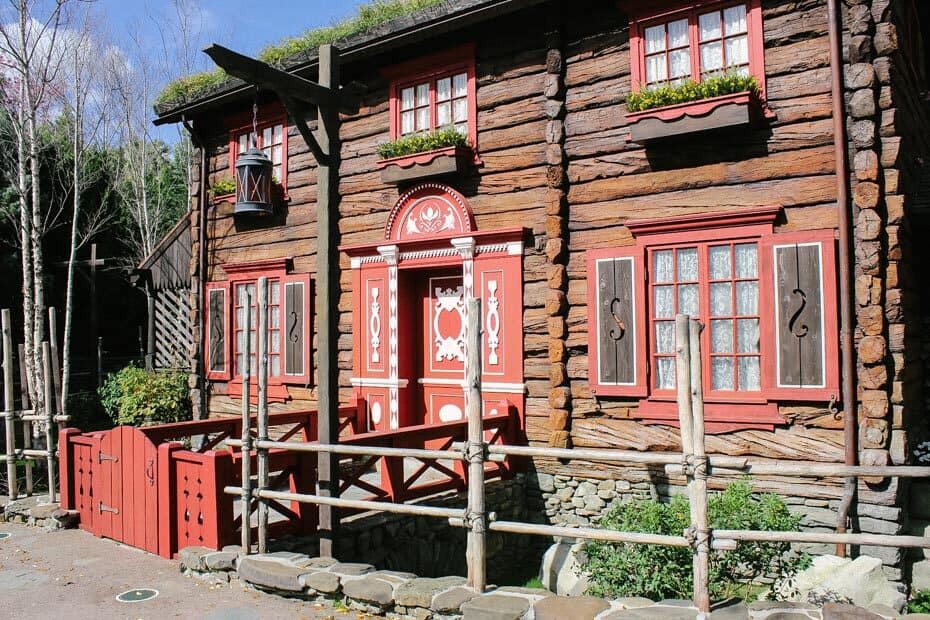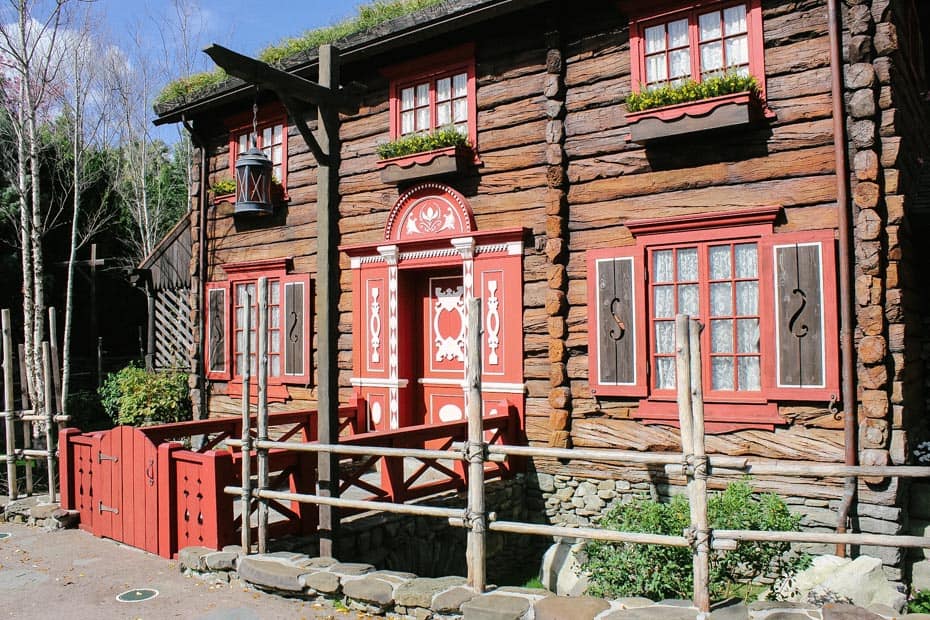 Anna and Elsa meet guests inside. First, you'll meet with Elsa, and then Anna is next.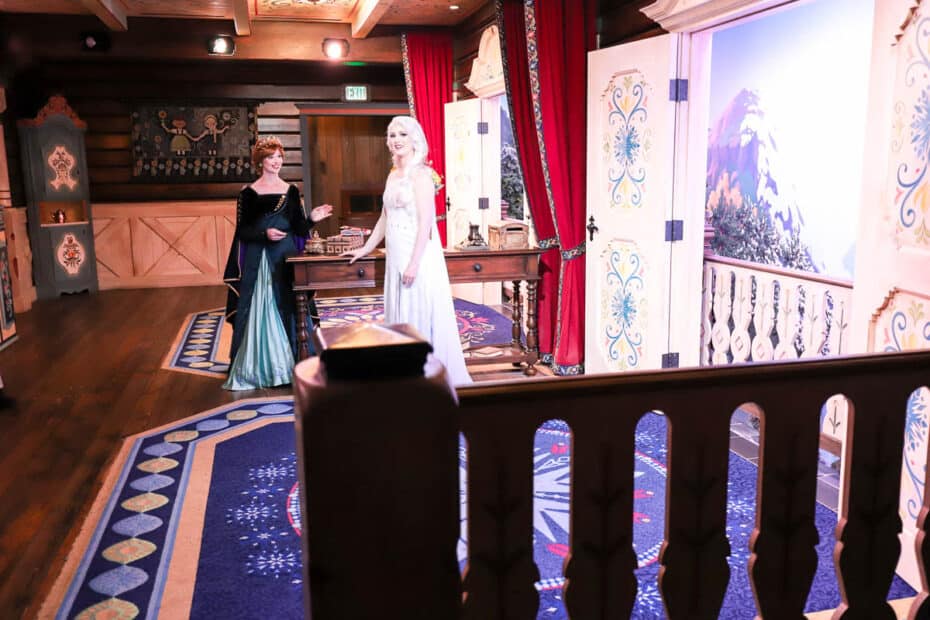 Anna and Elsa will sign autographs if you bring an autograph book.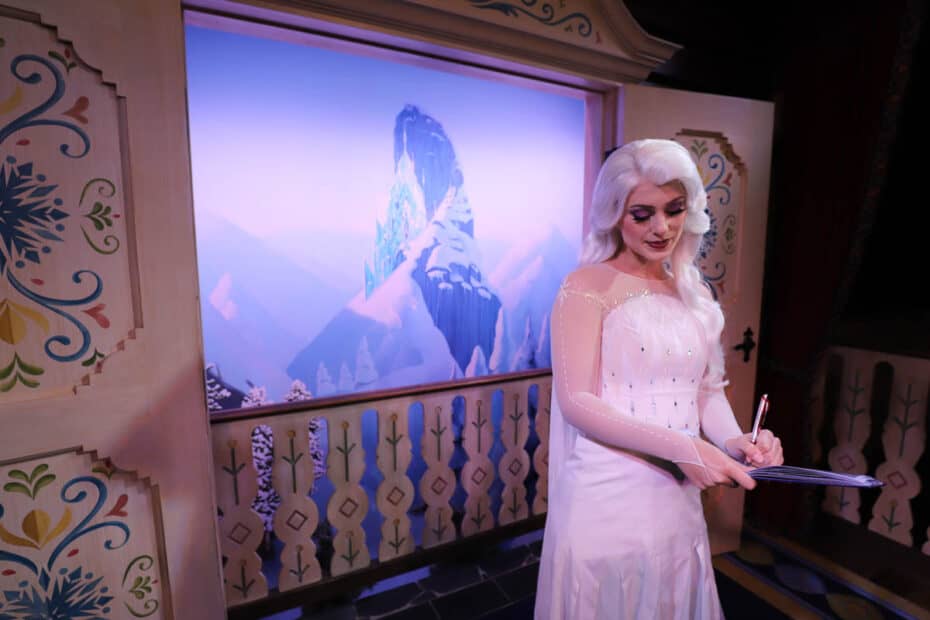 This meet and greet is the only one in the World Showcase available throughout the day. At this time, it's open from 9:45 a.m. to 6:45 p.m.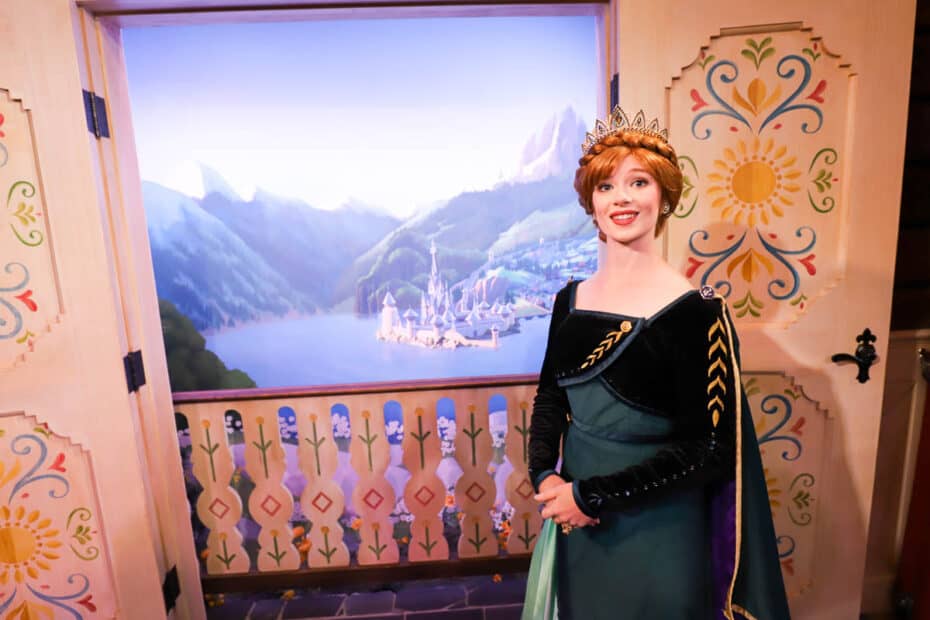 However, you'll want to check the My Disney Experience app for exact times on the day of your visit.
I prefer to save this princess meet for later in the day. Wait times usually drop after 4:00 p.m., and at that point, most of the other princesses have retired for the day.
As for conversation, you might ask Elsa how Olaf is doing or anything about Arendelle. Of course, you probably already know that Anna loves to talk about Kristoff and Sven!
Related: Meet Anna and Elsa at Disney World
Next, we'll stop at the China Pavilion for a visit with Mulan. Mulan is exceptionally popular.
Don't get me wrong. All the princess meets are very popular. But a few seem to have a little extra wait from time to time. Mulan is one of them.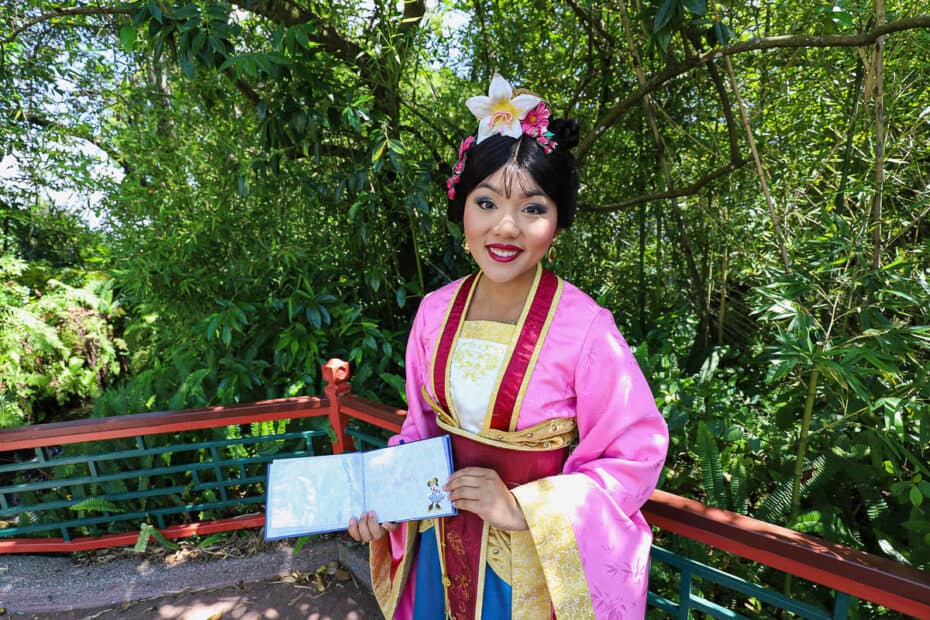 Mulan meets in the garden to the right of the replica of the Temple of Heaven. She is usually available during set times in the late morning up to mid-afternoon.
You'll want to get in line before Mulan's next scheduled time to secure a spot. It is not uncommon for her line to get cut off as soon as the meet time begins. '
Epcot is the only place to meet Mulan at Disney World.
Related: Meet Mulan at Epcot
As we make our way around the World Showcase, we'll stop at the Germany Pavilion to visit Snow White. This Disney princess meets at her wishing well on the outskirts of the pavilion.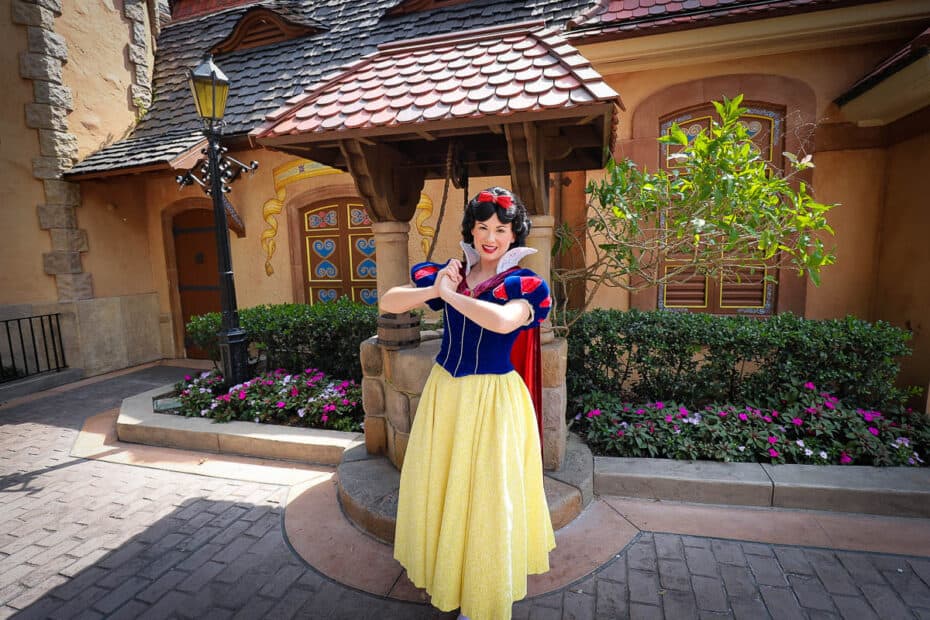 Snow White loves to daydream while she's doing her chores. You might ask her about her friends, the Seven Dwarfs. They are probably busy at work somewhere. I hear they have a mine at Magic Kingdom.
While we're on the subject of talking points, I will warn you that apples are a sensitive topic with this Disney princess. So, if apples are on your mind, you might be better off stepping inside the Karamell Kuche next door.
Don't forget to grab a bag of that delicious caramel corn!
Related: Meet Snow White at Disney World
After Snow White, we'll skip over a few countries to the Morocco Pavilion. Jasmine from Aladdin meets toward the back of the pavilion inside Lamps of Wonder.
Here is a look at her line extended outside the character meet location.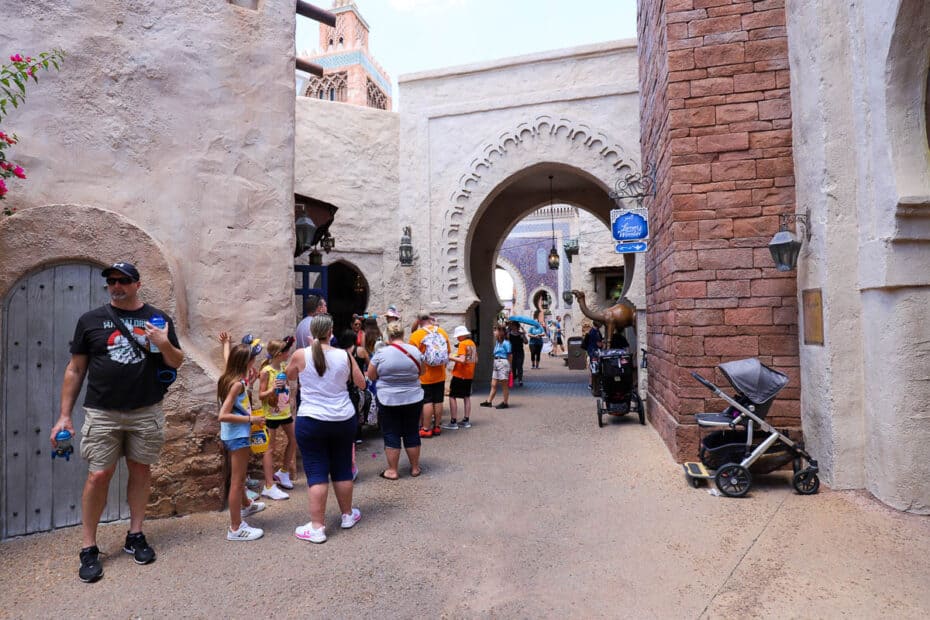 Jasmine loves to tell guests about her adventures with Aladdin on their magic carpet rides. She'll probably talk about how it's a whole new world.
And she might mention that you can take a spin on a magic carpet when you visit Agrabah, I mean, Adventureland over at the Magic Kingdom.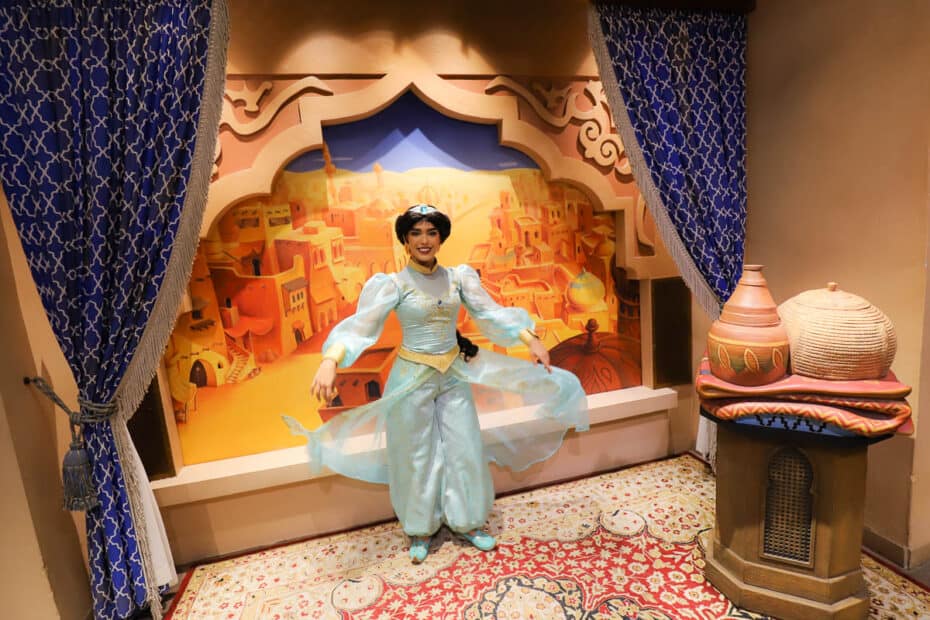 Jasmine meets here at Epcot by herself. However, her former character meet with Aladdin, is returning to the Magic Kingdom in mid-July of 2022.
Related: Meet Jasmine at Disney World
Nearby, you'll have the opportunity to run into two more Disney Princesses. First, we have Belle, our favorite bookworm. She meets in her village dress alongside the water in front of the France Pavilion.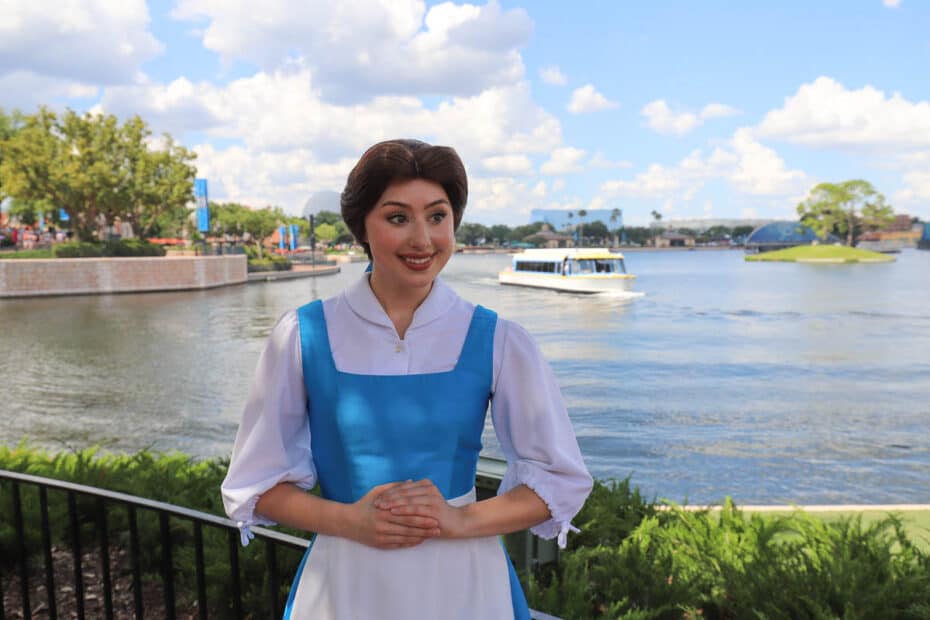 Belle loves chatting about the weather, the great wide somewhere, and the Beast. Although bringing up Gaston might become a bone of contention, she doesn't care for him.
Related: Belle's Character Meet at Disney World
Princess Aurora, from Sleeping Beauty, also meets in the France Pavilion. Her meet is at the gazebo toward the front right side of the pavilion. She meets in her pink dress, not the blue one.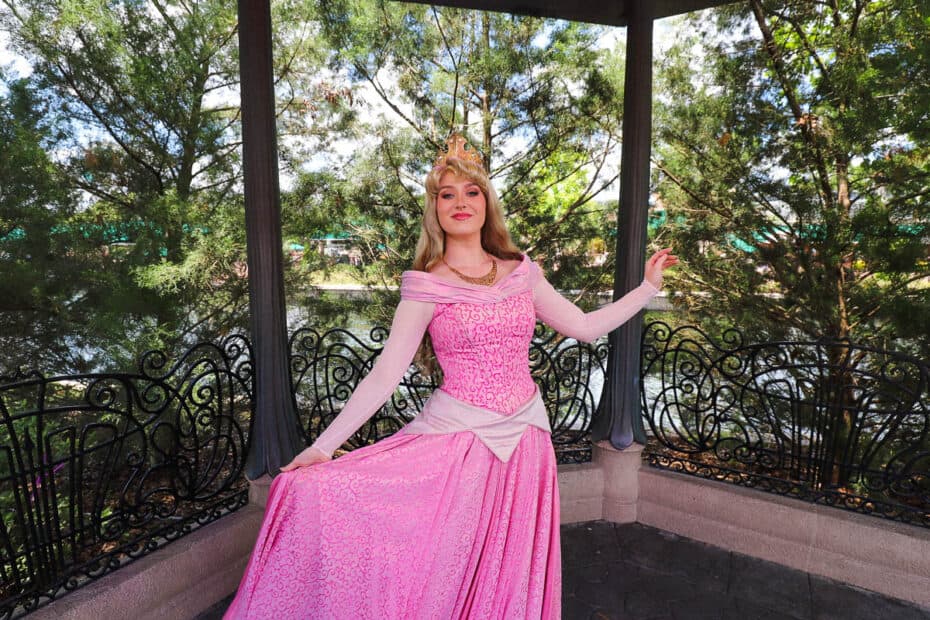 Princess Aurora is the most lively of the Disney princess meets at Epcot. She is always twirling and dancing, which is thrilling for the younger princesses who stop in to meet her!
Aurora enjoys talking about her fairy godmothers, Prince Phillip, and she loves dancing with her forest friends in the woods. You might not care to mention spindles, a finger prick, or the evil villain, Maleficient.
Related: Meet Sleeping Beauty at Disney World
Hopefully, this article gave you a good idea of where to find the Princesses at Epcot. Unfortunately, at the time of this last update, Epcot's Akershus Princess character dining meal has not reopened.
Related: Character Dining at Disney World
Lastly, remember the importance of confirming the character meets on the My Disney Experience app on the day of your visit. If a character isn't available on that specific day, their times will not show in the app.
To check their schedule:
Open the My Disney Experience App.
Select the location button at the bottom of the app.
At the top middle, change "wait times" to "characters."
Filter to "Epcot"
On the top right-hand of the screen, select list.
A list will then appear of all the character meets at Epcot. You can select the characters you want to meet to see their times.
As the day passes, characters will disappear from the app as their last meet-and-greet time passes. Additionally, if a character has to leave early, Disney will pull their meet.
For instance, one afternoon, I had plans to meet several princesses. So I wrote down their times, put them in order, and then saved the list in the notes section of my phone.
Things were going so smoothly until it was time to meet Jasmine. Unfortunately, I got to her location about five minutes early, and no one was there.
Since so many people get in line early, I knew this was odd. Plus, let's face it, I'm never the first person in line for anything.
Several other people came up for the meet within the next few minutes. Eventually, a cast member came over and told us that Jasmine had an emergency and that she'd had to fly her magic carpet home for the day.
A few minutes later, I discovered that Belle had a similar fate on this day. So I had to scramble to rework my schedule quickly.
For me, it wasn't a big deal. I returned on another day to get pictures to update our character articles.
For you, it could be your only day in the park. Thankfully, it's rare for characters to have these kinds of issues.
So if something like this happens, take a moment to regroup and see if there are any characters you can add to your schedule to fill in the missing time slots.
On this day, I met Mary Poppins, Alice, and then Pluto at the front of the park. I never intended to meet Mary Poppins or Pluto due to time constraints. But it ended up working out.
You can preview all of the characters at Epcot in our complete guide:
Additionally, extenuating circumstances, like the weather, can prevent a character from meeting guests. If one of these meets is a priority, get it out of the way early in the day.
For more character meets, you might like these articles:
And if you're visiting Magic Kingdom, the princesses have returned to Princess Fairytale Hall.
Lastly, we've updated our guide for meeting characters at Mickey's Not So Scary Halloween Party.
Are you planning to meet a few Disney Princesses at Epcot on your next vacation? Leave a comment below and share who you would love to meet!