Meet the Disney Princesses at Epcot
When you visit Epcot during your Walt Disney World vacation, you have the opportunity to meet several Disney Princesses. These princess meets are located in various countries throughout the World Showcase.
In this article, we'll preview the different locations at Epcot for each princess meet. At this time, you might run into the following Disney princesses at Epcot:
Anna
Elsa
Mulan
Belle
Aurora
Jasmine
Snow White
This article was last updated on January 23, 2022.
As things improve, it is likely that more and more character meets will return to the parks. I don't know about you, but I am looking forward to seeing more favorites.
While the different implementations of characters in the park have been a breath of fresh air, I do miss some of the traditional meets. Especially meets like Mickey Mouse and Tinker Bell.
Related: Meet Mickey Mouse at Magic Kingdom
Location-wise, you'll find the different Disney princess meets at Epcot correspond with the country related to their animated film. For example, Anna and Elsa meet in the Norway Pavilion, which corresponds with their Norweigian palace from Frozen.
We'll start on this side of the World Showcase with the pair of sisters from Frozen.
Currently, they are meeting outside of their former character meet, the Royal Summerhus, also known as their summer home. A few months back, Anna and Elsa were rotating characters at this meet.
However, it appears that they are now meeting simultaneously. And it has been reported that they are now meeting inside their Royal Summerhus cottage again in 2022.
Here is Anna in the photo below. She is usually standing on the front porch of the cottage.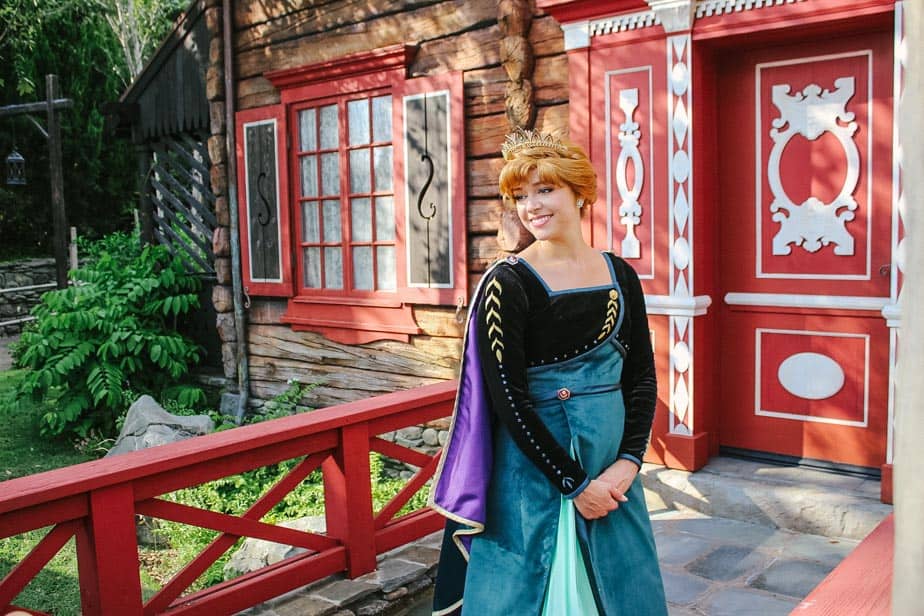 And Elsa stands in a shaded area over to the side.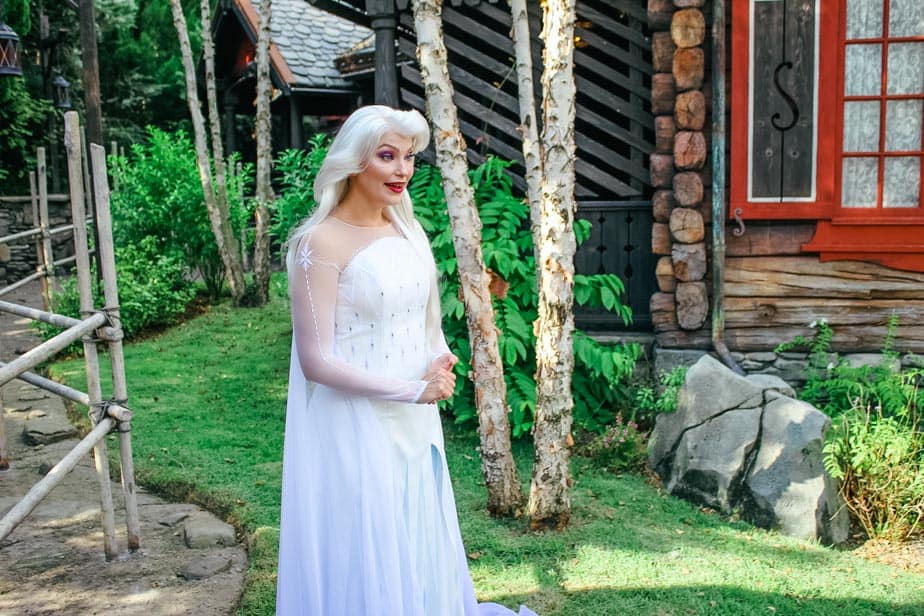 Both characters will pose for pictures from a distance. Additionally, they try to acknowledge everyone who comes up alongside the fence to greet them. Unfortunately, character autographs are not available at this time.
As for conversation, you might ask them how Olaf is doing or anything about Arendelle. Of course, you probably already know that Anna loves to talk about Kristoff and Sven too!
Related: Meet Anna and Elsa at Disney World
As we make our way around the World Showcase, we'll stop in at the Germany Pavilion to visit Snow White. This Disney princess meets at her wishing well on the outskirts of the pavilion.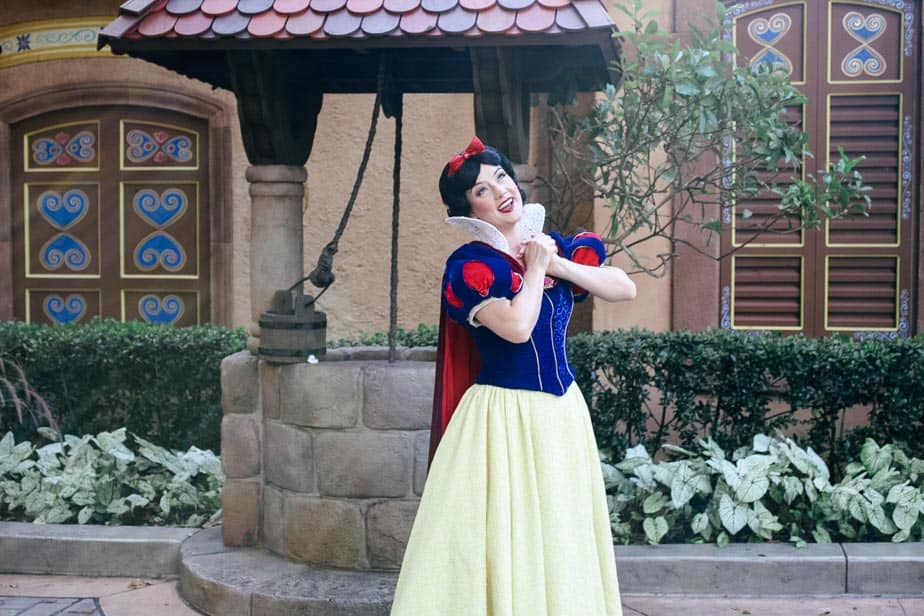 Snow White loves to daydream while she's doing her chores. You might ask her about her friends, the Seven Dwarfs. They are probably busy at work somewhere. I hear they have a mine at Magic Kingdom.
While we're on the subject of talking points, I will warn you that apples might be a sensitive topic with this Disney princess. So, if apples are on your mind, you might be better off stepping inside the Karamell Kuche next door. Don't forget to grab a bag of that delicious caramel corn while you're there.
Related: Meet Snow White at Disney World
After Snow White, we'll skip over a few countries to the Morocco Pavilion. The Disney Princess Jasmine from Aladdin meets here on a stage. You can easily see her if she's out as you approach the pavilion.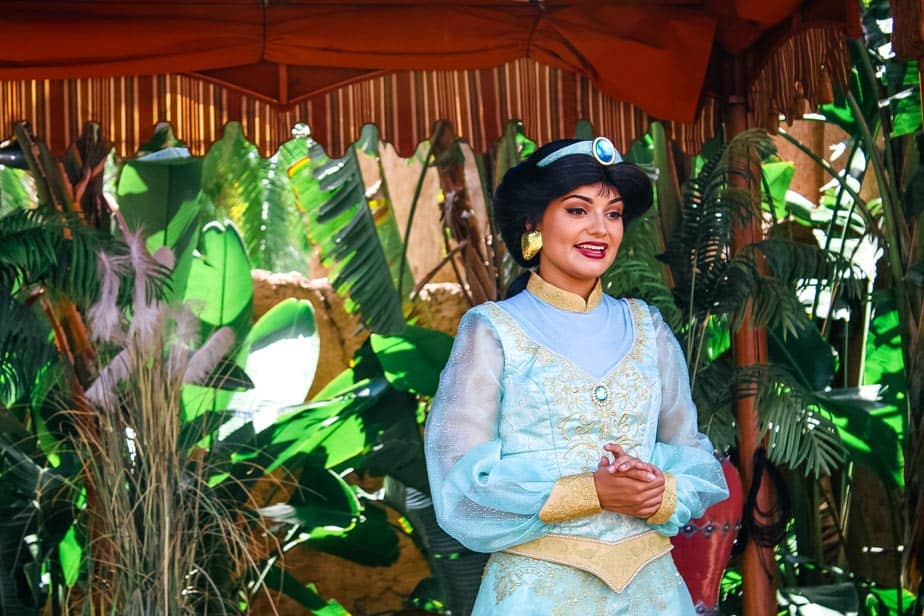 Jasmine loves to tell guests about her adventures with Aladdin on their magic carpet rides. She'll probably tell you that it's a whole new world. And she might even mention that you can take a spin on a magic carpet when you visit Agrabah, I mean, Adventureland over at the Magic Kingdom.
Related: Meet Jasmine at Disney World
Nearby, you'll have the opportunity to run into two very popular Disney Princesses. First, we have Belle, our favorite bookworm. She meets in her village dress alongside the water in front of the France Pavilion.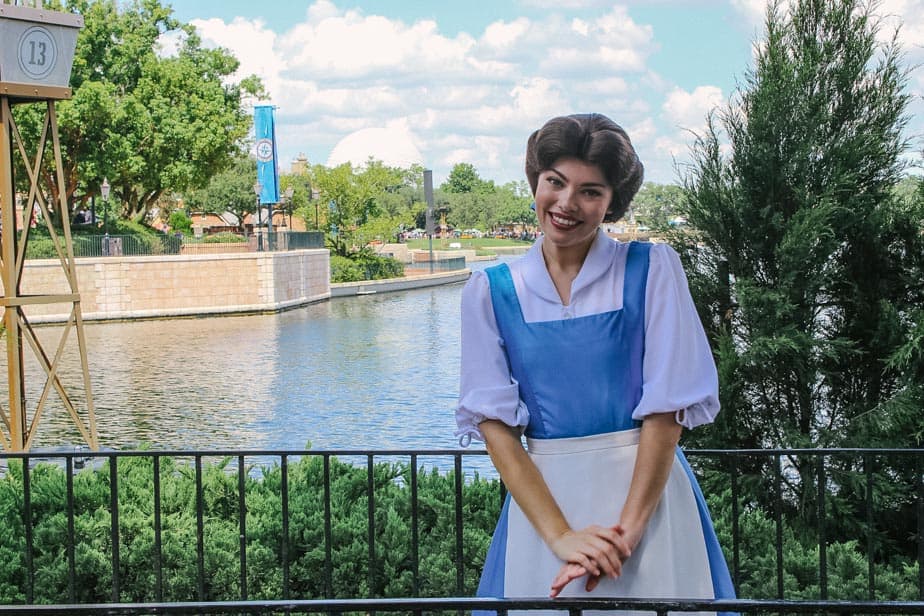 Belle loves to chat about the weather, the great wide somewhere, and the Beast. Although bringing up Gaston might become a bone of contention, she doesn't care for him.
Related: Belle's Character Meet at Disney World
When Belle is not meeting, another Disney Princess is usually in this exact location. Princess Aurora (in her pink dress) from Sleeping Beauty will be here instead.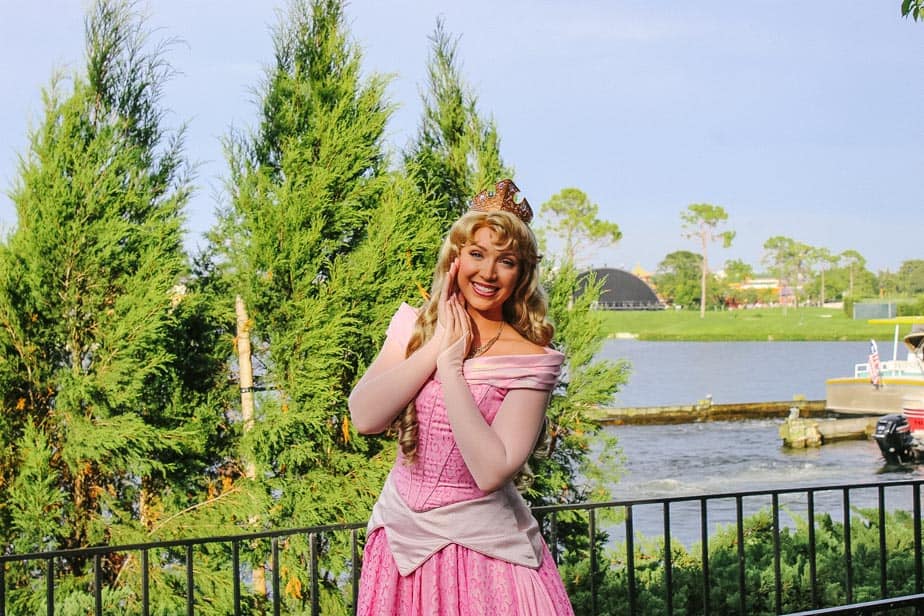 Aurora is probably the most lively of the Disney princess meets at Epcot. She is always twirling, and dancing, which I've noticed is genuinely thrilling for the younger princesses who stop in to meet her!
From my observations, Aurora enjoys talking about her fairy godmothers, Prince Phillip, and she loves dancing with her forest friends in the woods. You might not care to mention spindles, a finger prick, or the evil villain, Maleficient.
Related: Meet Sleeping Beauty at Disney World
The main thing we haven't touched on is the timing of these meets. At this time, there are no set times for character meets in the parks. And, unfortunately, these individual character meets are not listed in the My Disney Experience app.
However, you can always check the app to see if that's changed. You'll want to select entertainment and then filter by which park you are visiting. From there, I like to choose the "show list" in the upper right-hand corner and scroll through.
All of the princesses are usually out from around 11:00 a.m. and continue to meet off and on throughout the day until about 5:00 p.m. I have occasionally run into a few of them closer to 6:00 p.m. However, most characters meets conclude before dark.
In addition, extenuating circumstances, like the weather, can prevent a character from meeting. If one of these meets is a priority, I would try to locate it as early in the day as possible.
My best advice is to stop for character meets when you sporadically run into them in the parks. You don't want to make any promises that a specific character will be available. And then spend a ton of extra time trying to locate them.
You may remember from another recent article, how I had to visit Epcot multiple times to get pictures of Aurora to share with you. I had almost given up on running into her, and there she was, finally. And that's coming from someone who's in the parks considerably more than the average guest.
For more character meets at Epcot, you might run into the following:
And if you're visiting Magic Kingdom, several of the princesses are now meeting at Princess Fairytale Hall.
You might also enjoy learning more about character dining at Walt Disney World here.
Are you planning to meet a few Disney Princesses at Epcot on your next vacation? Leave a comment below and share who you would love to meet!