Meet Kevin at Disney's Animal Kingdom
Kevin is once again roaming Discovery Island at Disney's Animal Kingdom. This adorable character interaction is worth going out of your way to see, but simple enough that you might run into Kevin while touring the park.
I'll share a few tips for seeing Kevin from UP on your next visit to the Animal Kingdom in this article. We'll also look at a few photos of this endearing meet and greet.
The other day I visited the Animal Kingdom with the sole hope of finding Kevin. Unfortunately, when I arrived at the park, it was already a few minutes after 10:30 a.m., the next scheduled appearance for Kevin.
So I figured I would have to wait to find him at 11:05 a.m. However, I spotted Kevin in the distance as soon as the Tree of Life came into view.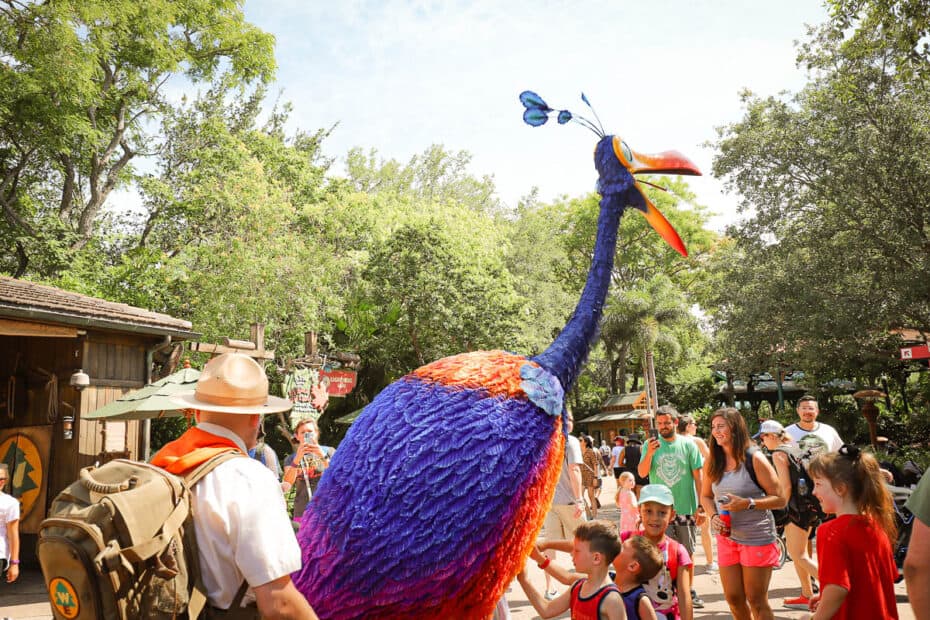 If you're anywhere in the vicinity of Kevin, you're not going to miss her. She is a soaring bird covered in a smashing coat of feathers.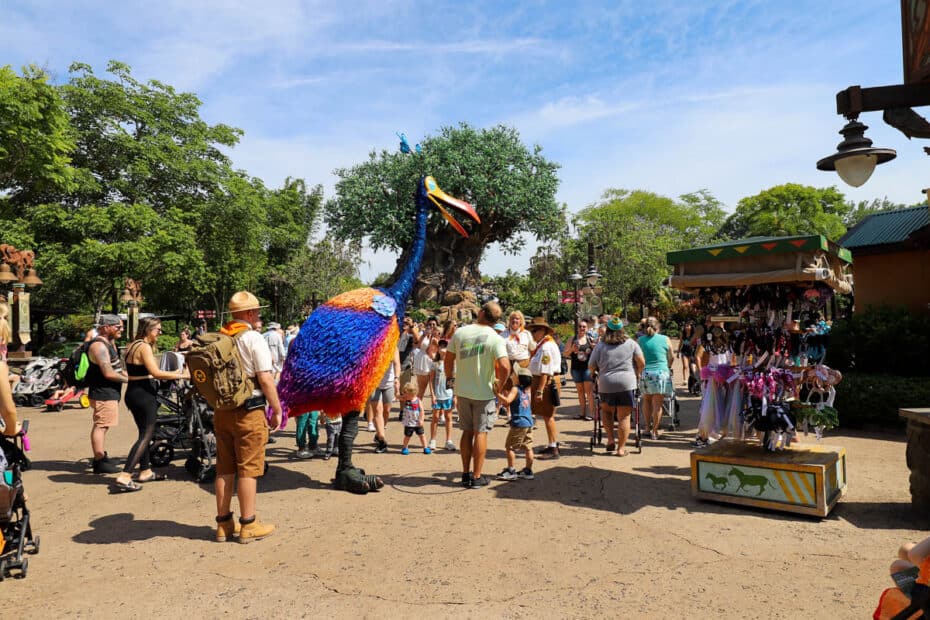 A crowd will form around Kevin. In addition, she's escorted by a couple of Wilderness Explorers. They ensure she has enough room to move around as needed.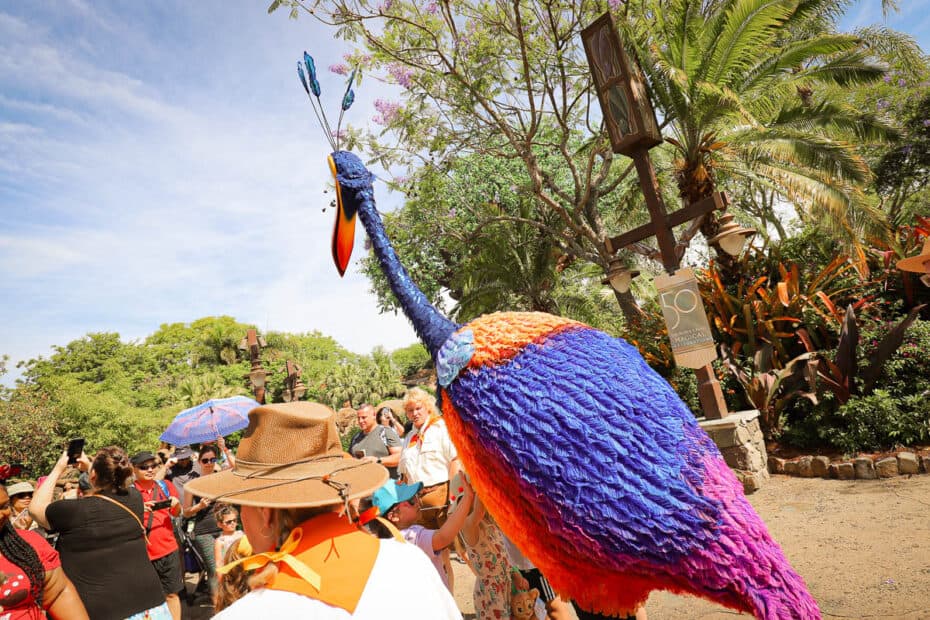 Occasionally, a child will approach the towering bird and ask to touch her feathers. Kevin will likely permit the child to do so, but you have to ask.
Given her height and complexity, she does have to move around a good bit. So in most instances, it's good to give her enough space to do so.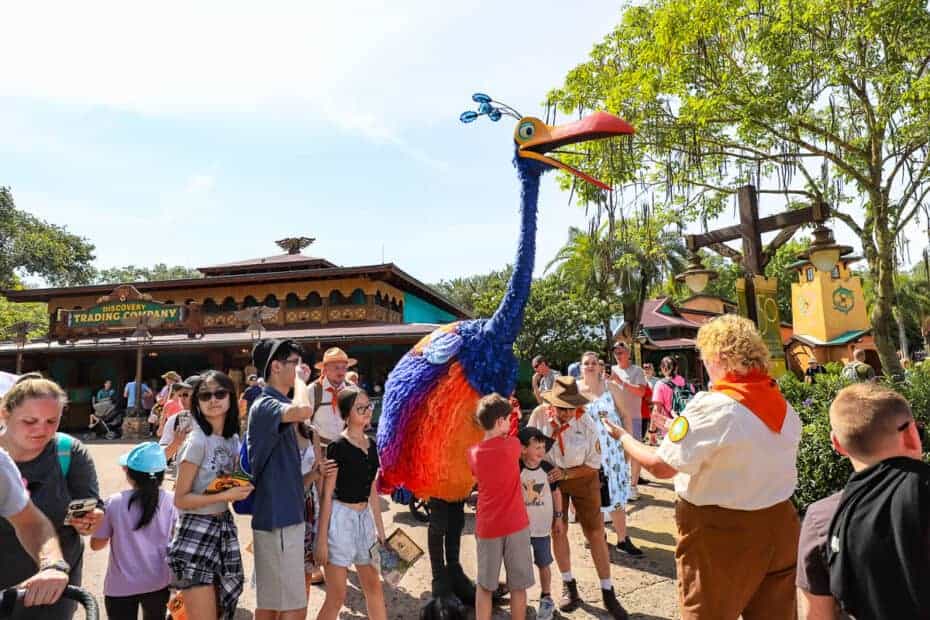 However, Kevin will pause to take a photo with a guest from time to time. Therefore, someone in your group would need to be ready to take the shot at a second's notice.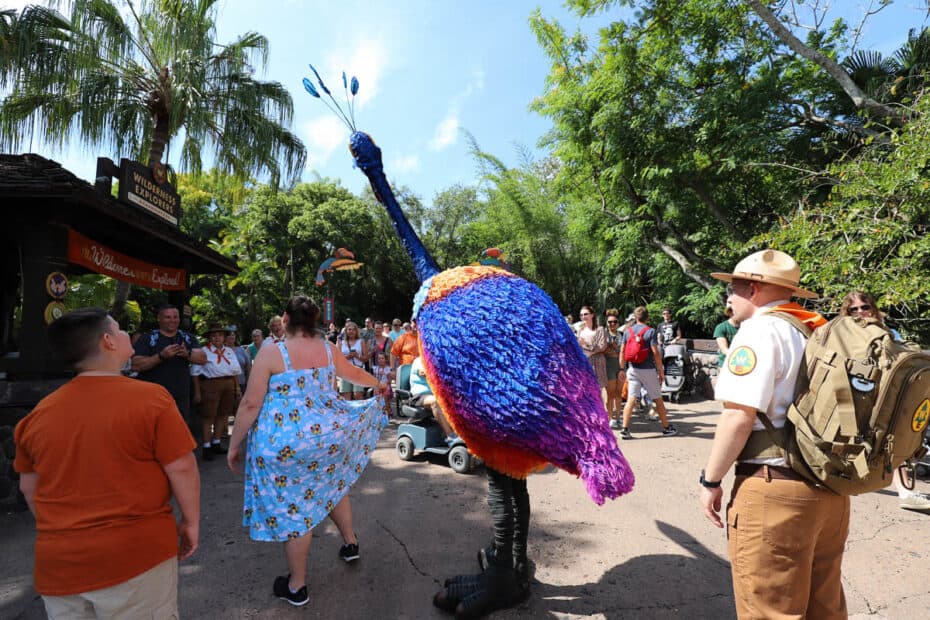 My best advice is to admire Kevin, grab a photo if possible, but don't be disappointed if she moves on quickly.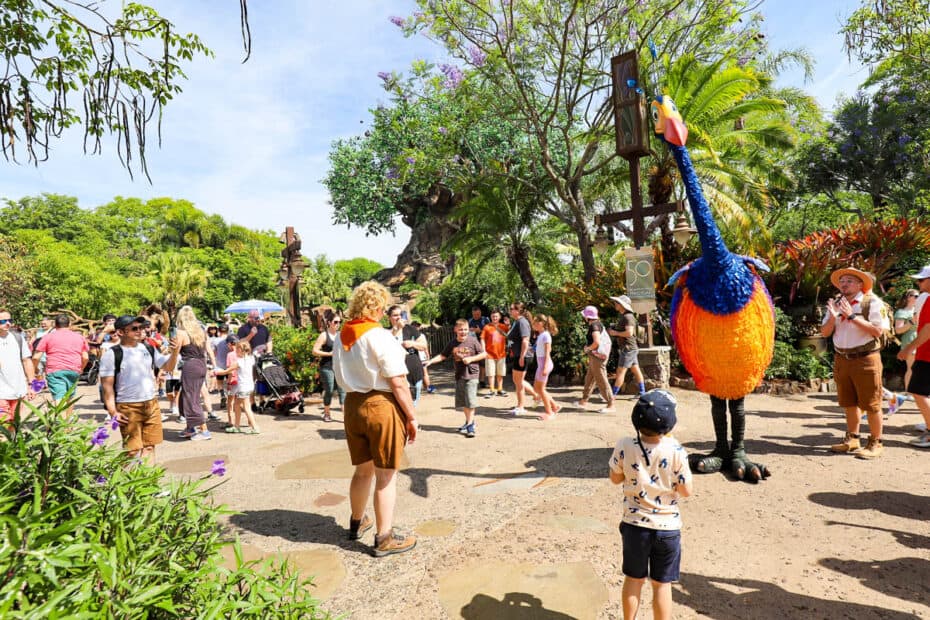 Kevin's wait times are listed in the My Disney Experience App. You can check them on the day of your visit to see if she's roaming Discovery Island and at what times.
Here is a sample of the times, for an example:
10:30 a.m.
11:05 a.m.
11:30 a.m.
12:05 p.m.
12:30 p.m.
1:05 p.m.
2:15 p.m.
2:50 p.m.
3:15 p.m.
3:50 p.m.
4:15 p.m.
4:50 p.m.
What does roaming Discovery Island mean? As far as Kevin's location in the park, it varies. Discovery Island begins when you come into the clearing at the front of the park's entrance past the Oasis.
You might find Kevin in front of the Wilderness Explorer's stand, the Tree of Life, and anywhere up and down the path to Asia.
Additionally, sometimes she's out toward the back of Discovery Island. She roams between the Feathered Friends in Flight bird show and Yak and Yeti.
Lastly, Kevin does not sign autographs, and there is not a PhotoPass photographer available with this roaming character.
For more character meets at Disney World, try these:
Additionally, you might enjoy our character dining guide. It covers everything when it comes to dining with characters at Disney World.
I hope you can meet Kevin when you visit Animal Kingdom! If you have any other questions, feel free to leave them below.