Meet Snow White at Epcot's Germany Pavilion
Snow White meets guests daily at the Germany Pavilion in Epcot. This location provides an excellent opportunity to meet the princess during your Walt Disney World vacation.
This article will discuss Snow White's meet-and-greet at Epcot. We'll discuss specifically where to find her location, look at her autograph, and share a few photos of what to expect.
Additionally, we'll look at what times she meets during the day and a few conversation topics. However, I probably wouldn't mention apples. They might be poisonous.
This article was updated on February 5, 2023.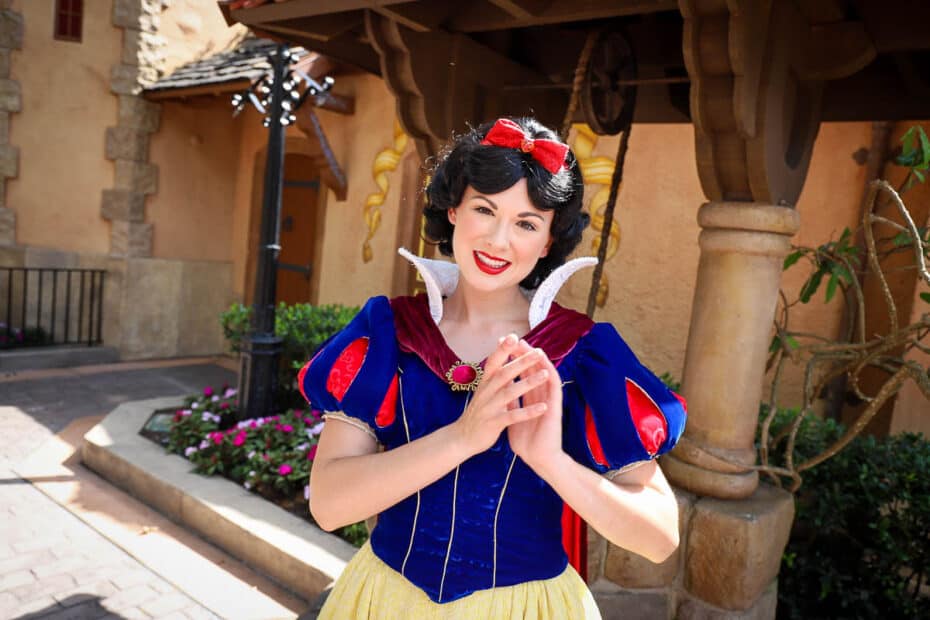 Snow White meets along the outskirts of the Germany Pavilion at Epcot. She is on the opposite side of the Karamelle-Kuche near her wishing well.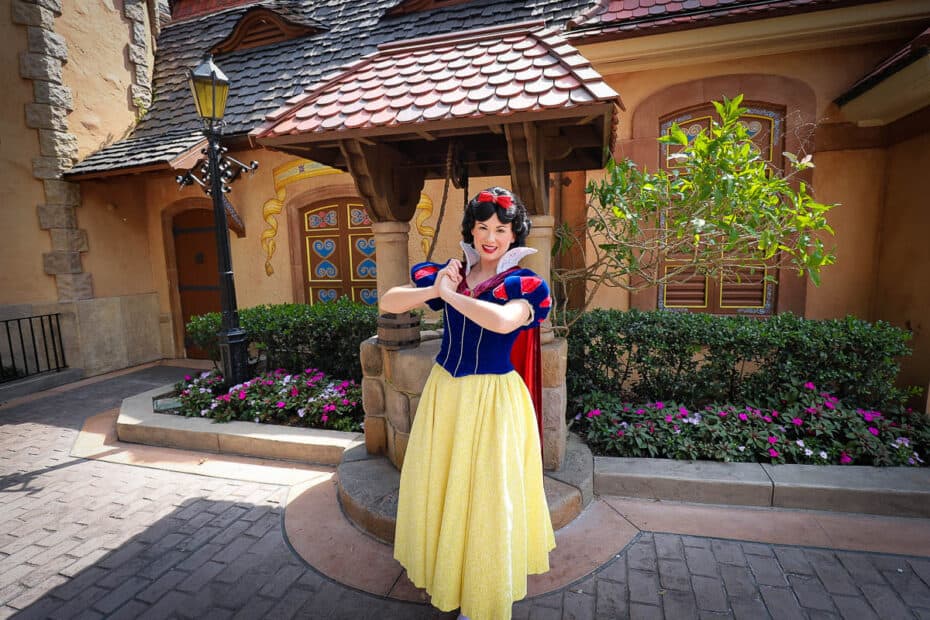 Like the other characters who meet in the World Showcase, Snow White will make several appearances throughout the day.
For example, on the day of this visit, she greeted guests at the following times:
10:00 a.m.
11:00 a.m.
12:00 p.m.
1:00 p.m.
2:50 p.m.
3:50 p.m.
*Check the My Disney Experience app for the exact times on the day of your visit. Times can change based on multiple factors.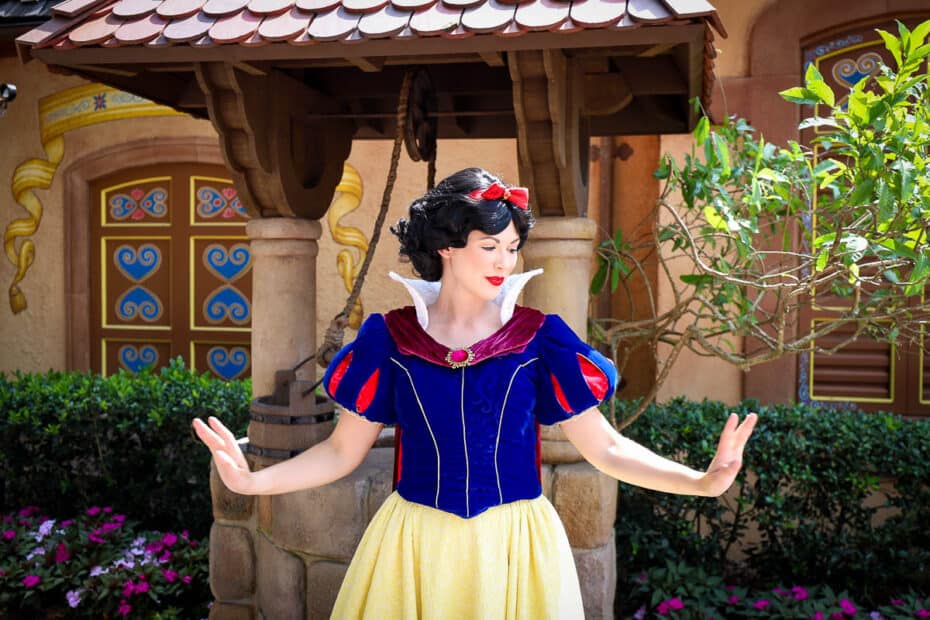 For this visit, I finished up meeting Pluto in the World Showcase Gazebo. Then, I had a little time before Snow White's next appearance.
So I stopped in Connections Cafe for a refreshment before heading to the Germany Pavilion. Unfortunately, Snow White's line was already exceptionally long when I arrived.
I joined the queue for her meet-and-greet at 3:48 p.m. She arrived promptly at 3:50 p.m.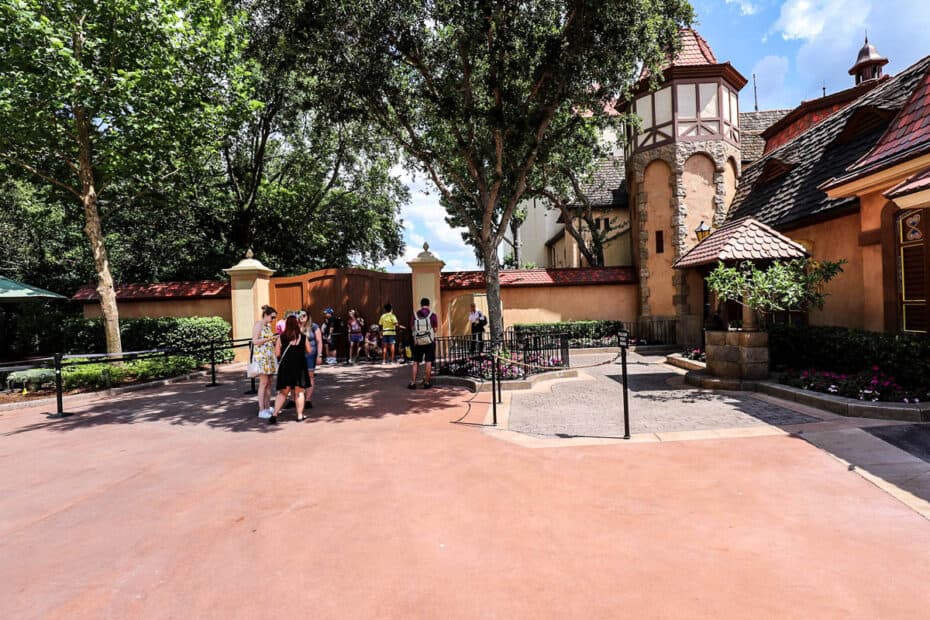 It was 4:03 p.m. when it was my turn to meet Snow White. So I waited for a total of 15 minutes.
Below is a photo of the line after my visit. As you can see, many guests were still waiting to meet her.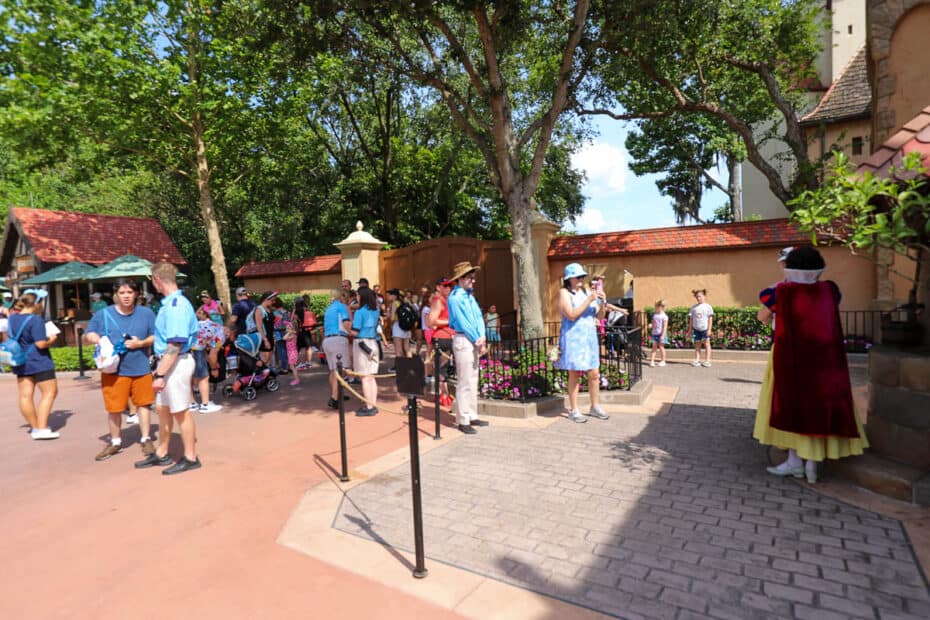 Unfortunately, at this point, the cast members attending the meet had already cut off the line for the day. So the moral of the story is to get in line before the scheduled time of the character's meet and greet.
Snow White is an autograph-signing character. So make sure to have your autograph book available. Additionally, a PhotoPass photographer is usually present at this meet-and-greet.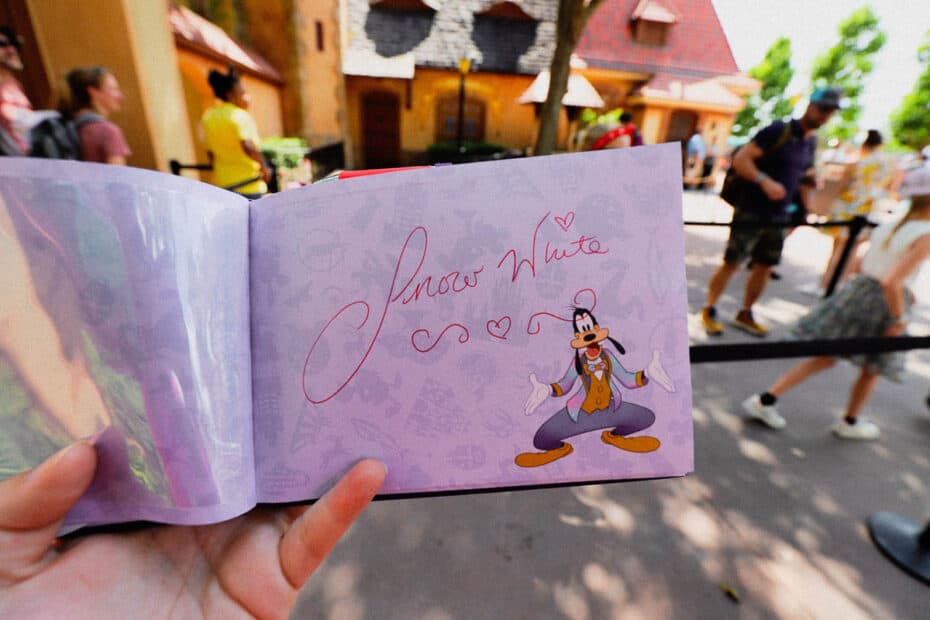 If you don't have the Memory Maker, you can always ask them to take a photo with your device.
Snow White enjoys talking about the Seven Dwarfs. She told me that Grumpy loved Gooseberry pie, and she was hoping to make him one later.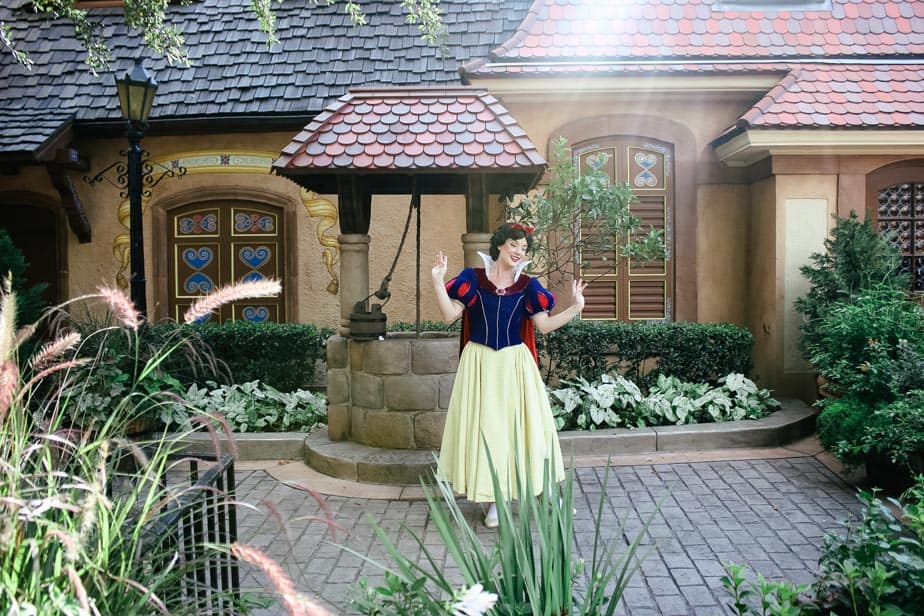 In addition to meeting Snow White in Germany by her wishing well, there are a few other places you might see her at Disney World. For instance, Snow White appears in the Festival of Fantasy Parade at Magic Kingdom.
Related: Festival of Fantasy Parade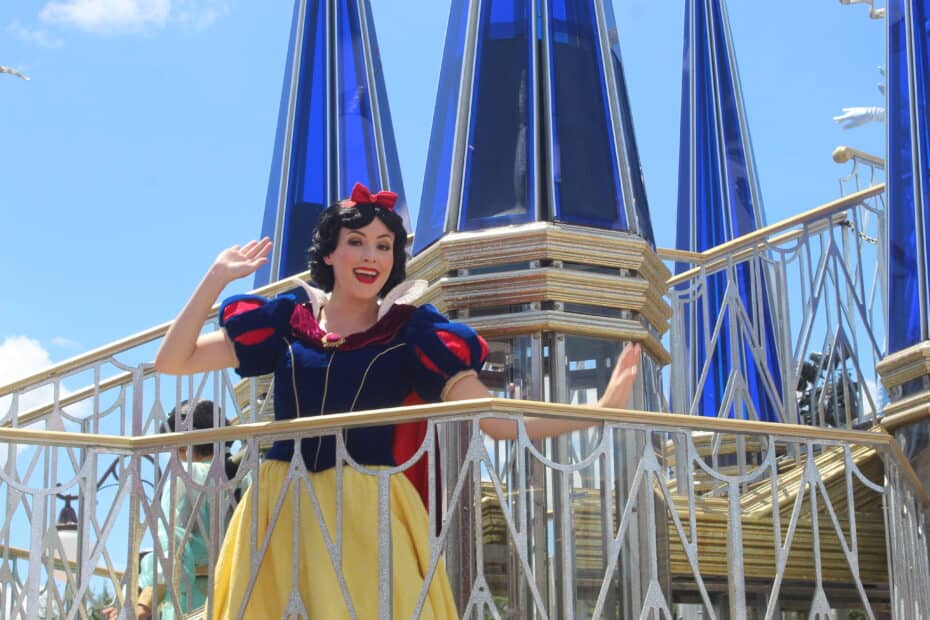 She also meets guests daily at Magic Kingdom on the porch off of Town Square Theater.
Related: Meet Snow White at Magic Kingdom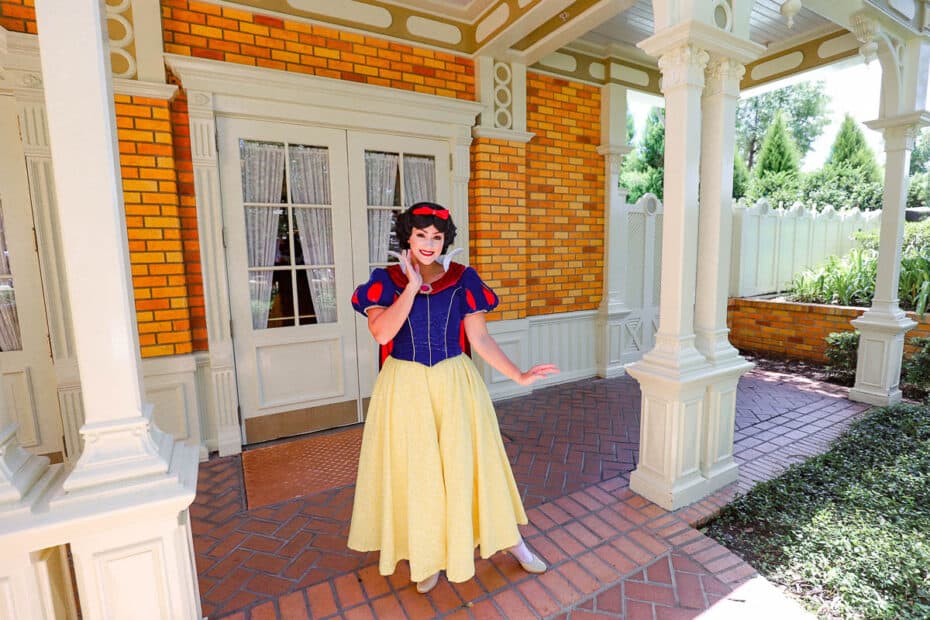 In addition, Snow White is available at multiple locations for character dining. For instance, she is one of the princesses that meets at Akershus Royal Banquet Hall.
Akershus is located in the Norway Pavilion at Epcot. This dining experience is currently open for dinner only.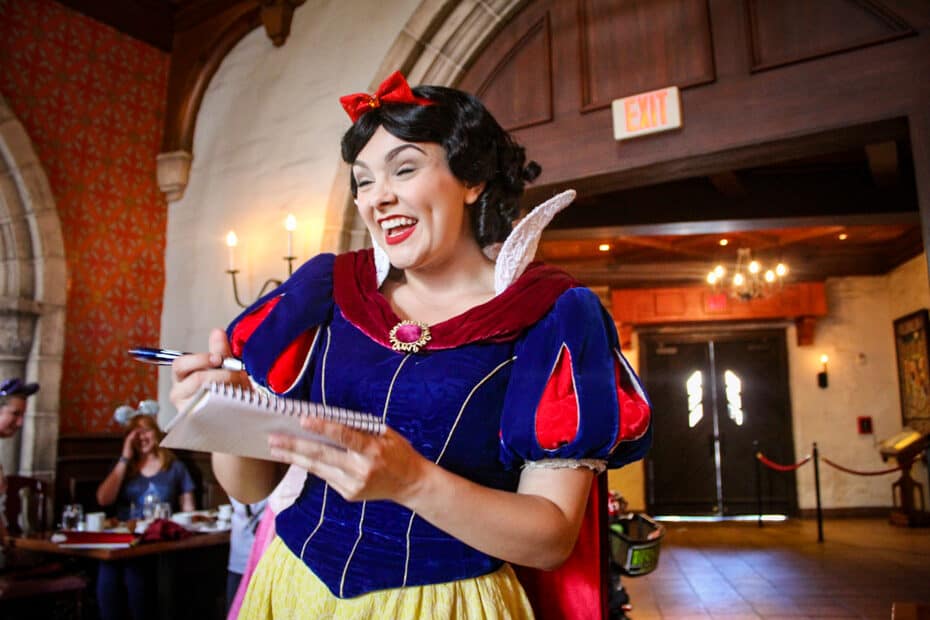 Here is Snow White's character autograph.
Related: Best Character Dining Meals at Disney World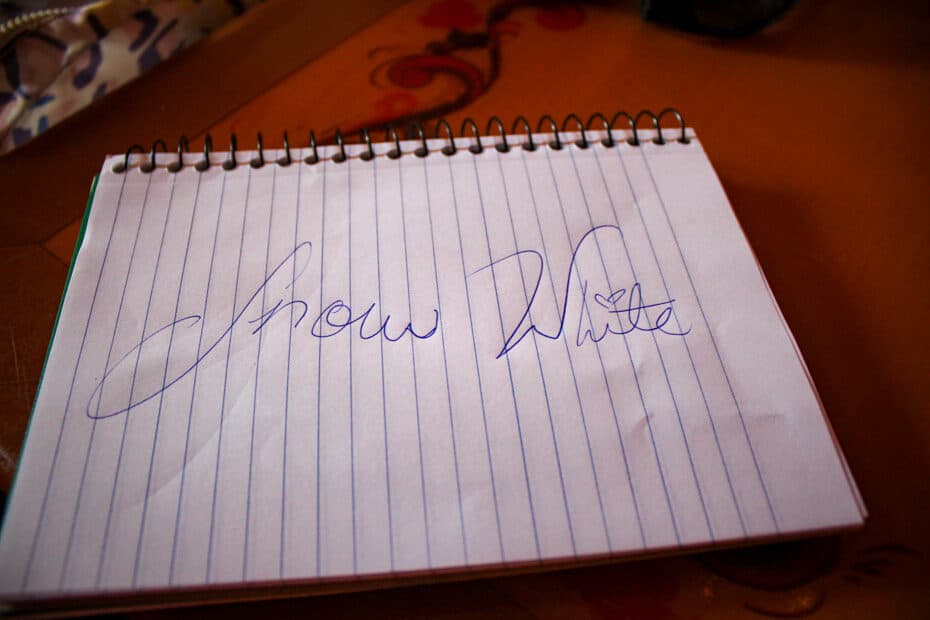 Lastly, Snow White meets with guests at Storybook Dining at Artist Point. Characters at this dining experience include Snow White, Grumpy, and Dopey. They come by tableside during your meal.
Additionally, the evil queen is present several times throughout the meal. Guests can have their photos taken with her.
Related: Storybook Dining with Snow White at Artist Point Review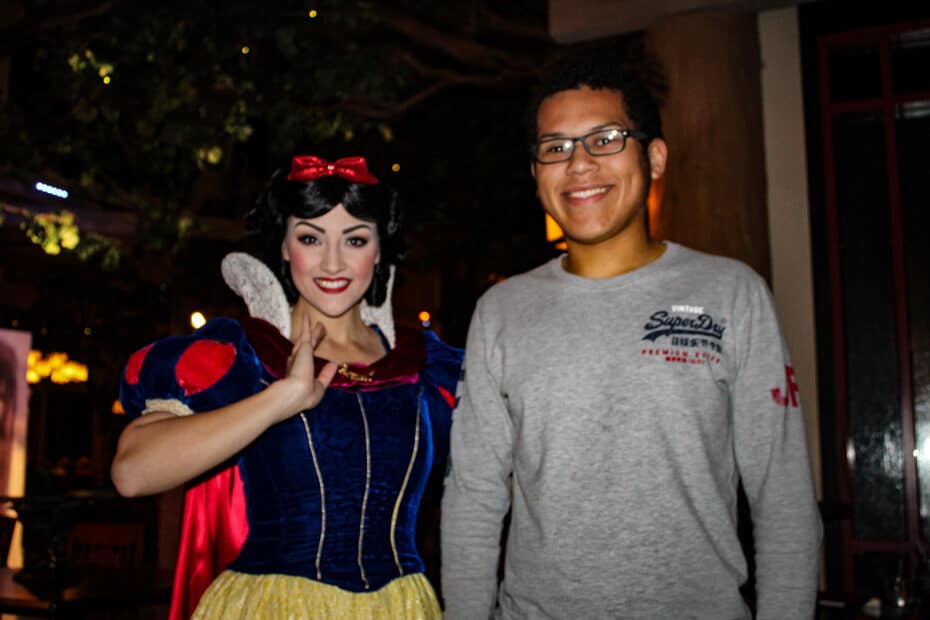 Hopefully, this article helped you locate Snow White's meet-and-greet at Epcot. This is a wonderful location to meet the princess. Just remember to get there early!
If you are looking to meet characters at Epcot, you might enjoy some of these other meets:
Additionally, we keep an updated list of all the locations to meet Disney World Characters in each of the four parks.
In the Comments
What do you think of this meet-and-greet location for Snow White? Do you like the wishing well in the background?