Disney's Blizzard Beach Water Park (The Ultimate Guide)
Disney's Blizzard Beach Water Park is one of two water parks at Walt Disney World in Orlando, Florida. This fun park is a great option for the whole family.
When it comes to Blizzard Beach, the water park offers numerous attractions, water slides, a lazy river, a wave pool, and so much more. I've even included a special Blizzard Beach rides section detailing what to expect on every ride.
If you have never visited one of Disney's water parks, you will be in for a real treat, no matter which one you choose. They provide unique experiences and are a little more relaxing than theme parks.
For the sake of this guide, we will take a long, hard look at Disney's Blizzard Beach Water Park.
As for Blizzard Beach, the park's story is that a ski lodge was constructed to accommodate a random Florida snowstorm. When the snow melted, and there was no hope for returning (given the warm Florida weather), investors decided to close it down.
That's when Ice Gator, Blizzard Beach's mascot, appeared splashing around in the melted leftover pools from the snow.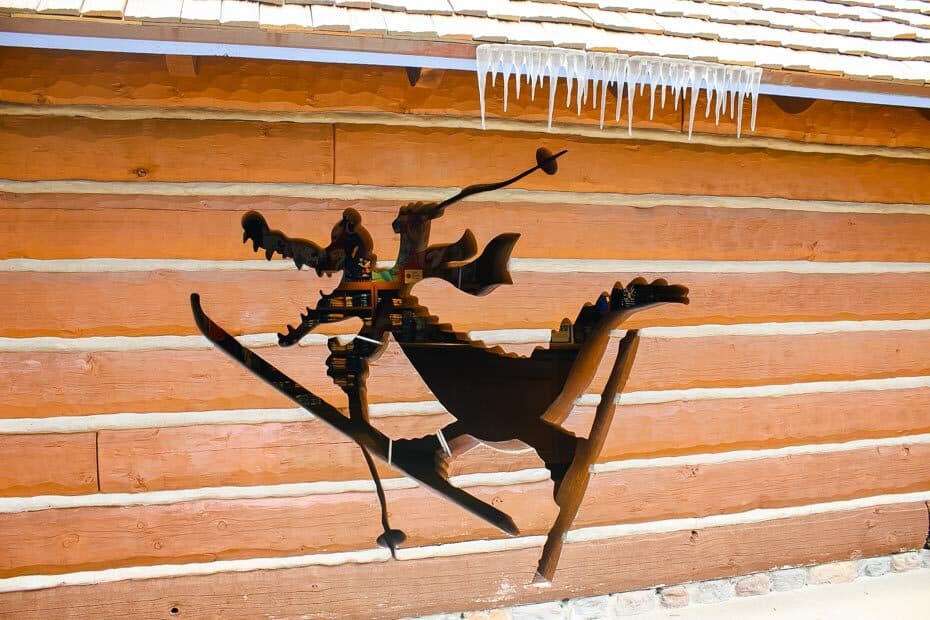 That's when the idea of converting the ski resort into a water park was born. Chair lifts could continue to take guests up Mount Gushmore. This time for water slides instead of skiing.
The former skating pond was perfect for a wave pool. Everything intended for the extreme cold temperatures became a refreshing summer fun feature.
It's a cute story, and the park is themed well to match the former ski resort look.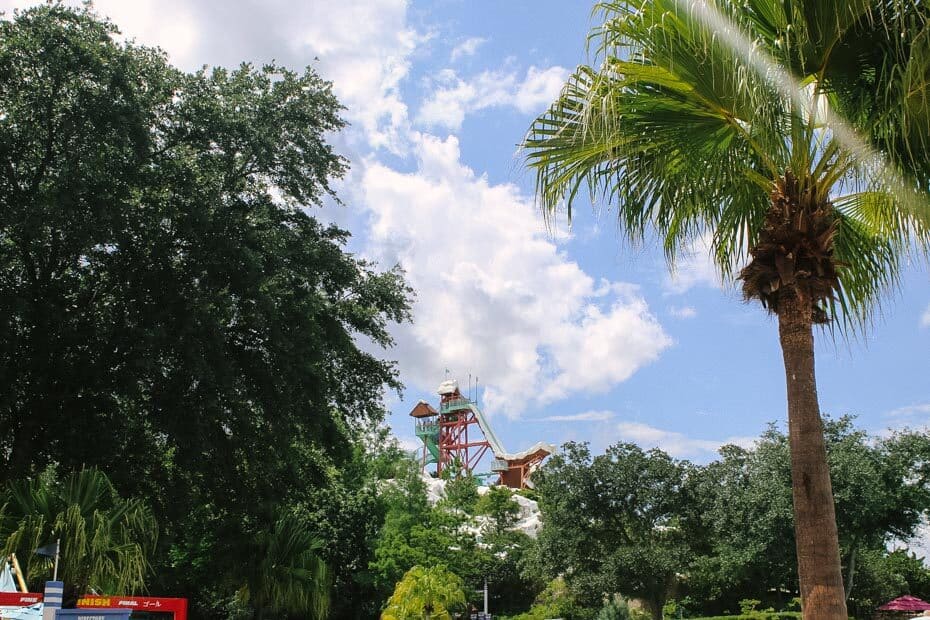 Here is a look at the Blizzard Beach Map. All of the attractions at this Disney water park are separated into locations by slopes.
If you are planning on experiencing all of the attractions, I recommend doing the slides on each slope first in the morning. It's good to get those out of the way before experiencing the larger items like the lazy river and wave pool.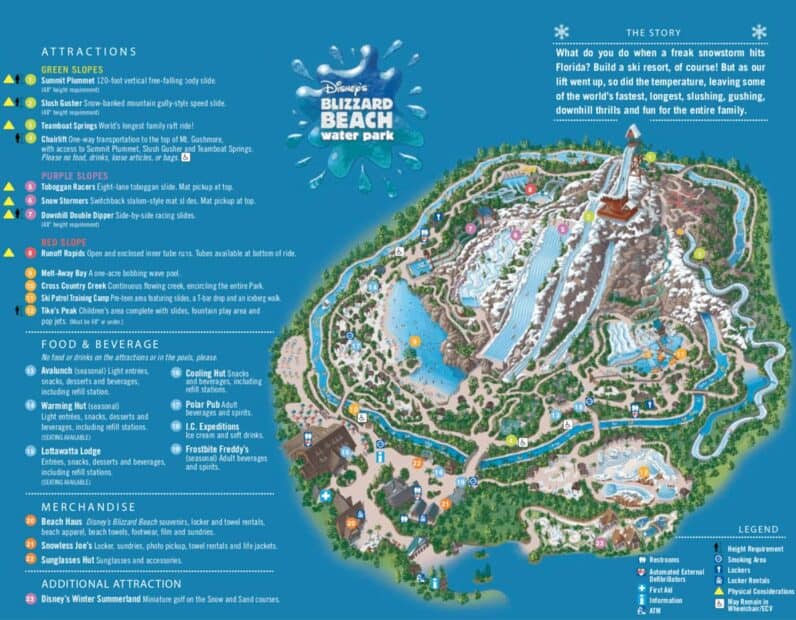 I'll add more tips for touring as we go along. While we are still looking at the map, I wanted to point out that Melt Away Bay is orange #9.
We usually like to grab a set of chairs here early on and make a base camp. This makes a good place for groups to meet back up if they separate to divide and conquer the park.
Additionally, I wanted to point out that Cross Country Creek (orange #10 on the map) is the lazy river that wraps around the park. For ease of touring, you can use the lazy river to circle the entire park.
Each landing will provide a place to enter or exit with signs indicating the closest attractions to the area. If you are trying to maneuver the park and get confused, you can float around the creek until you find your desired destination.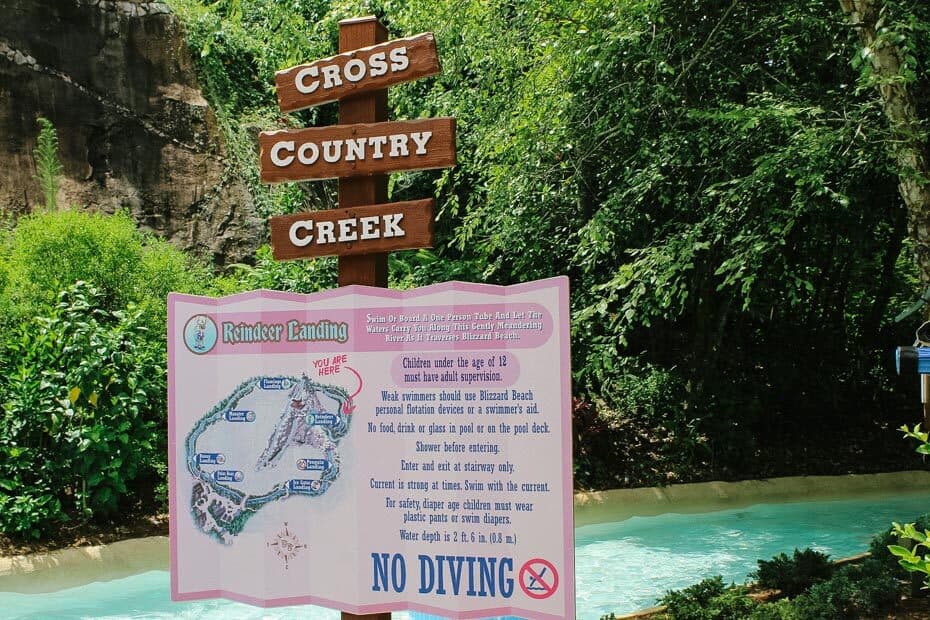 Make sure to remember where you originally started as well. It's effortless to float down the river, relaxing, and totally miss the place you are trying to get back to.
Blizzard Beach is located off W Buena Vista Drive, which runs through the heart of Walt Disney World property. For reference, it's almost diagonally across the street from Disney's Coronado Springs Resort.
Address: 1534 Blizzard Beach Drive, Orlando, FL 32836
Parking is free at Disney's Blizzard Beach for all guests. The large parking lot is shared with Winter Summerland, one of two miniature golf courses at Disney World.
Blizzard Beach Locker Rental
In most cases, you will want to rent a locker upon arrival at Blizzard Beach. There are two options for lockers. The first option is the small size locker that will hold one backpack. The second option is a large size that indicates it will hold two backpacks.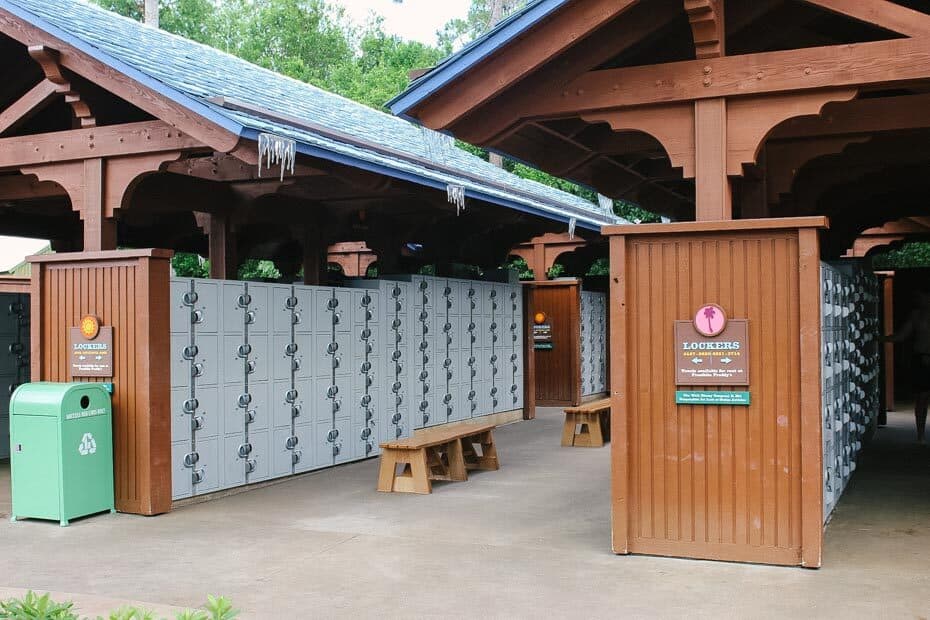 The locker cost is $10 for a small and $15 for a large size. We always go with the large size. Here is a cooler that I brought for this particular visit. I was a little concerned that it might not fit.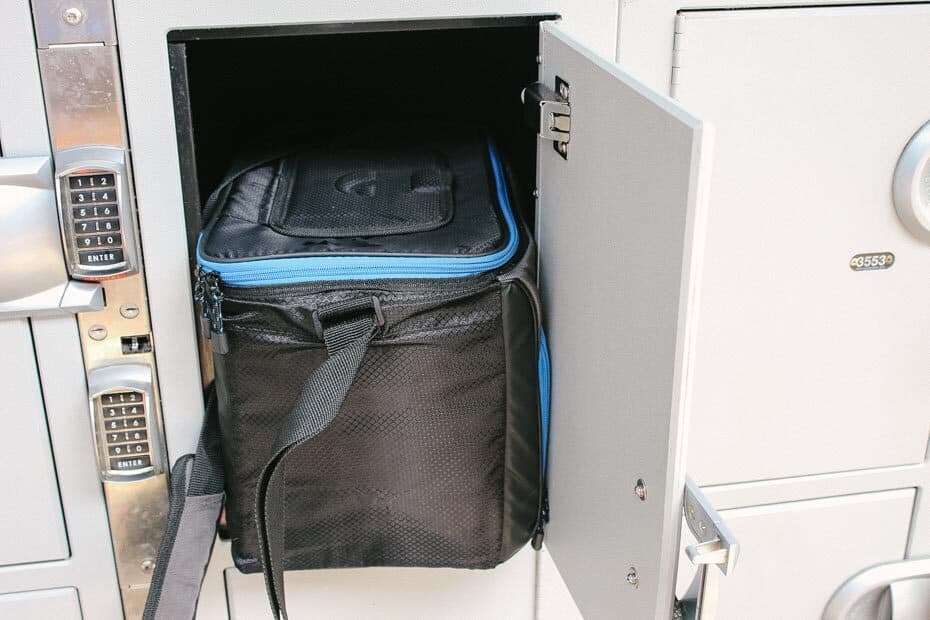 Fortunately, it slid right in, and I could slide my backpack on top of it. There was still a small amount of space at the back.
While you can bring a cooler to the water parks, you cannot bring loose ice anymore. Cast members suggest bringing ice in zip-lock bags if needed.
My reasoning in justifying the price of the locker is it provides enough space for my cooler. And this cooler holds about ten to twelve sodas and bottled waters.
Therefore by bringing in a reasonable size cooler, you can rent a locker and still save money by avoiding purchasing drinks. Drinks run about $4 each.
For a family of four who drinks two sodas or bottled water each, that could cost you upwards of $32 in drinks alone!
ForI had about three bottled waters and a soda during the day on this specific visit. That could have cost me $16, which is still more than the cost of the locker that also held my other valuables during the day.
There is a rental kiosk that sits outside the locker area. This is the first place we head after we enter the park. All you have to do is walk up to an empty kiosk and select your desired locker size. After that, the screen will prompt you to enter a payment.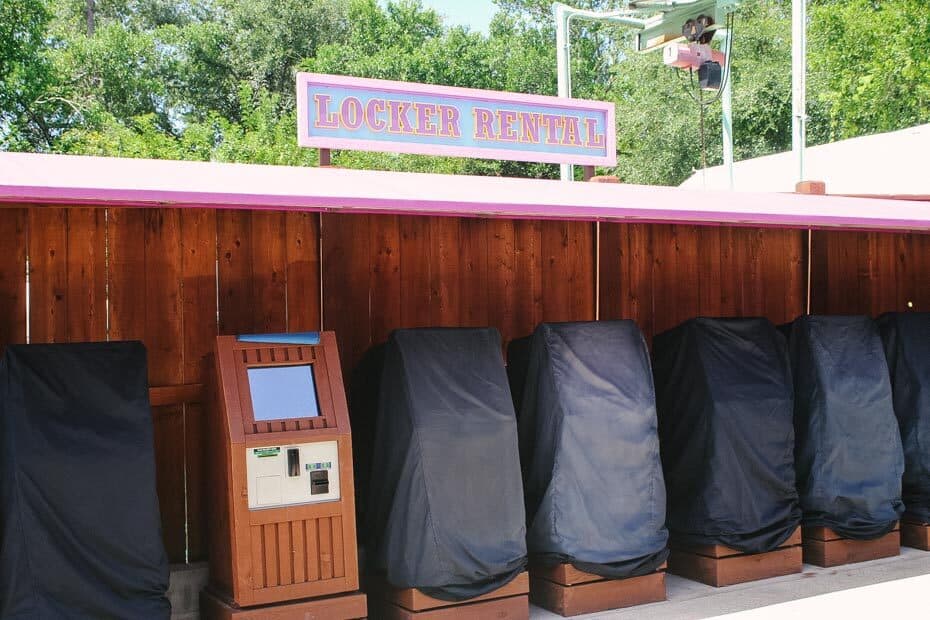 The locker kiosk takes a credit card or cash in $5 increments. After the payment process, you will be prompted to enter a code. The machine will then provide you with a receipt that indicates your locker assignment.
Towels At Blizzard Beach
Before we look at the fun part, I felt it was important to mention towel availability. For guests staying at a Disney resort, towels are complimentary.
Towels are a separate charge of around $2 for all other guests. If you forget a towel and don't want to pay, I recommend waiting until closer to the end of the day. From my experience, later in the afternoon, the towels are usually out for any guest to grab.
The towel kiosk is on the right window ledge of Frostbite Freddy's. This is near the locker rental area.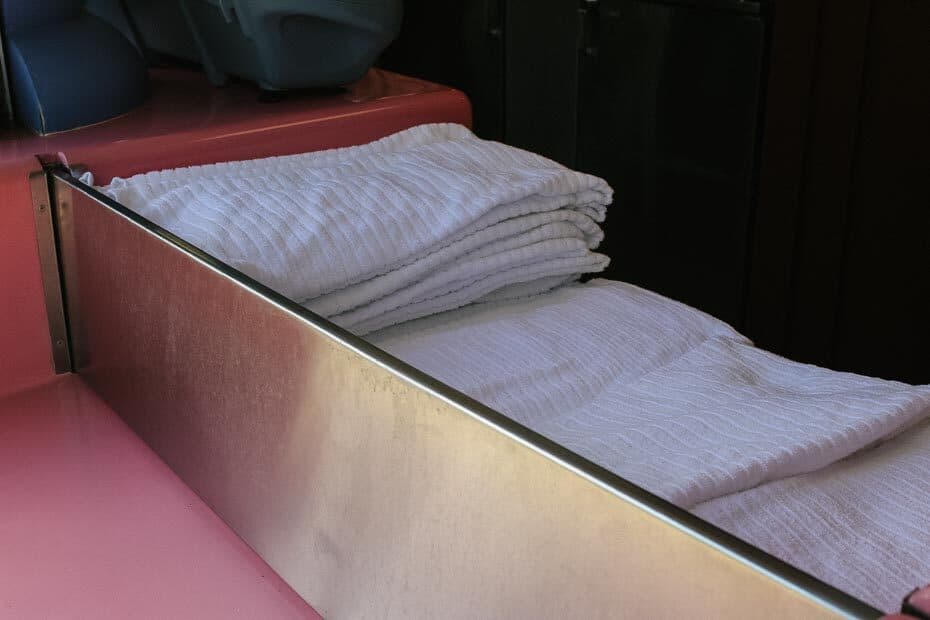 Make sure to deposit the towel in the return area when you are finished. Oftentimes they will let anyone have a towel if needed. But if you go first thing and ask for a towel, they could charge you.
Additionally, life jackets are available for children at no extra cost.
Blizzard Beach Rides
There is a lot to do in a day at Blizzard Beach. In fact, Blizzard Beach has a total of 12 rides, slides, and attractions. They range from a simple wave pool and a kiddie area all the way up to a family raft ride and extreme water slide!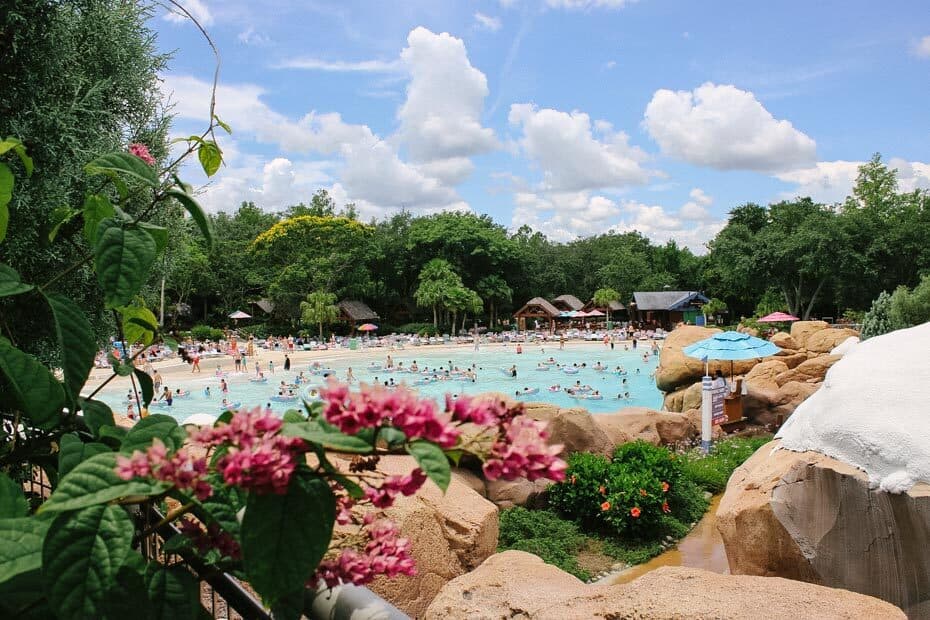 First, we'll take a look at the attractions located on the green slopes. These slopes offer thrill rides and Teamboat Springs, the family raft ride. This is where you'll find the park's central attraction, Summit Plummet, one of the tallest and fastest free-falling water slides in the entire world!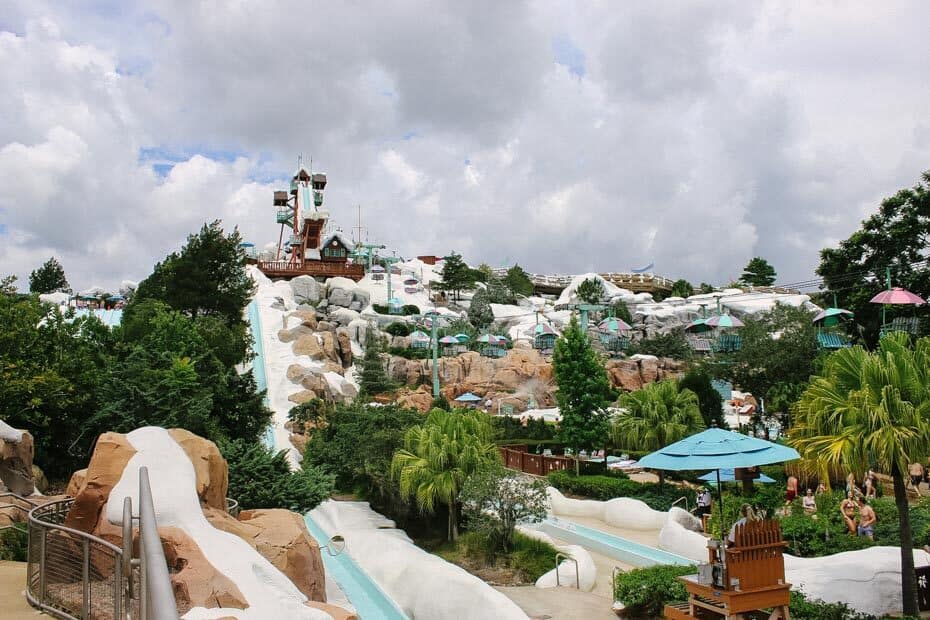 In order to access the green slopes, most guests will want to use the chairlift. By the way, how often do you visit a water park that's themed like a ski resort that has a chair lift to ride water slides?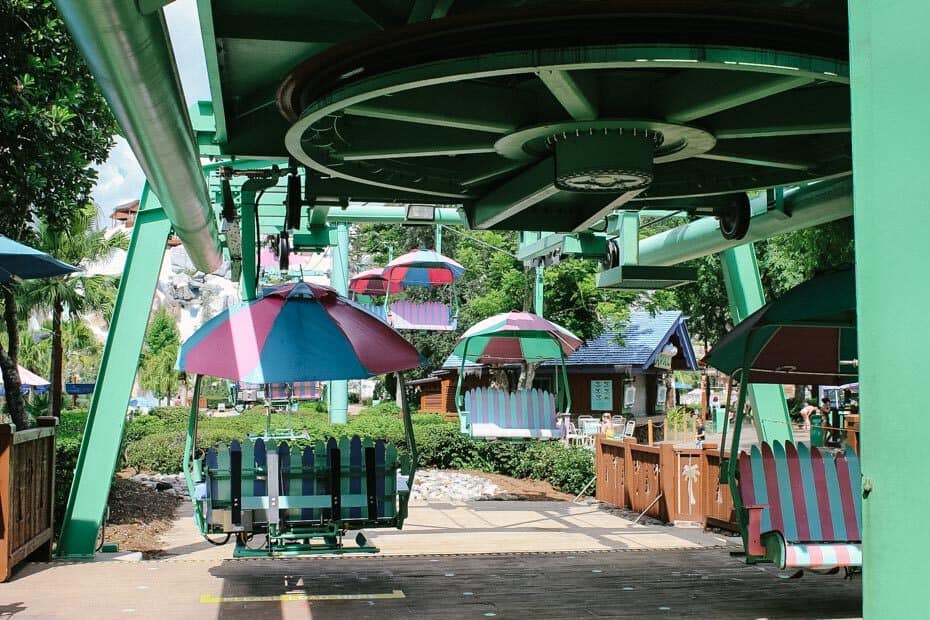 It really does all work thematically speaking.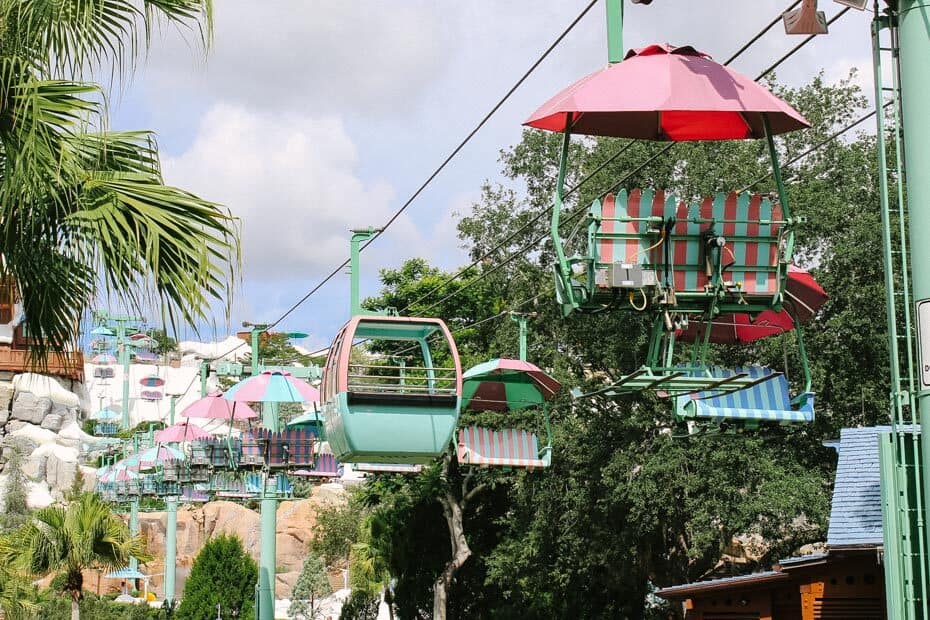 The chairlift is the major form of transportation up to the green slope. If the chairlift isn't working, the only other option is to climb the mountain yourself.
If you have to do that, you might want to take your time. It's 132 steps up to the top. There are a lot of landings, though, so you can easily stop along the way. Ask me how I know.
In the photo below, you'll notice the height requirements for each ride are at the bottom of the stairs.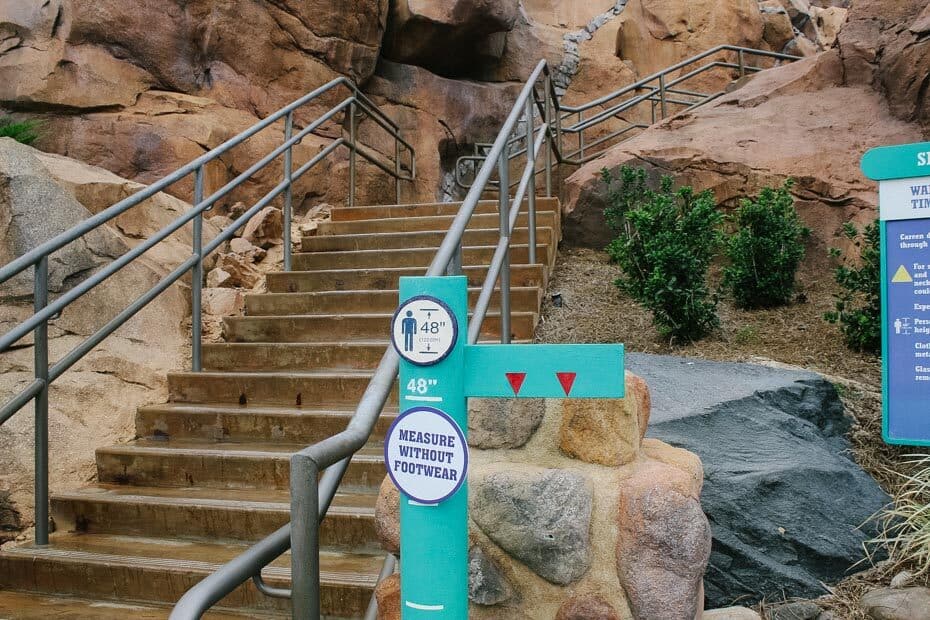 There are two different lines for the chairlift. One is for groups of two or more. The other is for single riders.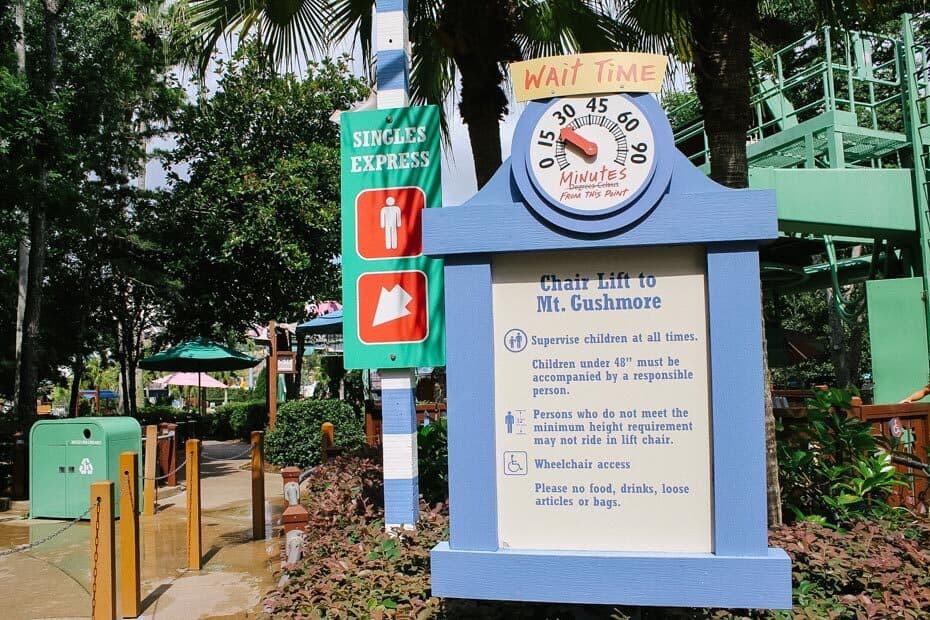 If there is a lengthy line (and children are over 48″ in height), I recommend breaking your party into singles. Join the single-rider line, ride up the mountain with other groups, and rejoin your group at the top. Normally, this is the quickest route up the mountain.
Note the chairlift has a 32″ height requirement; however, children under 48″ must be accompanied by a responsible person.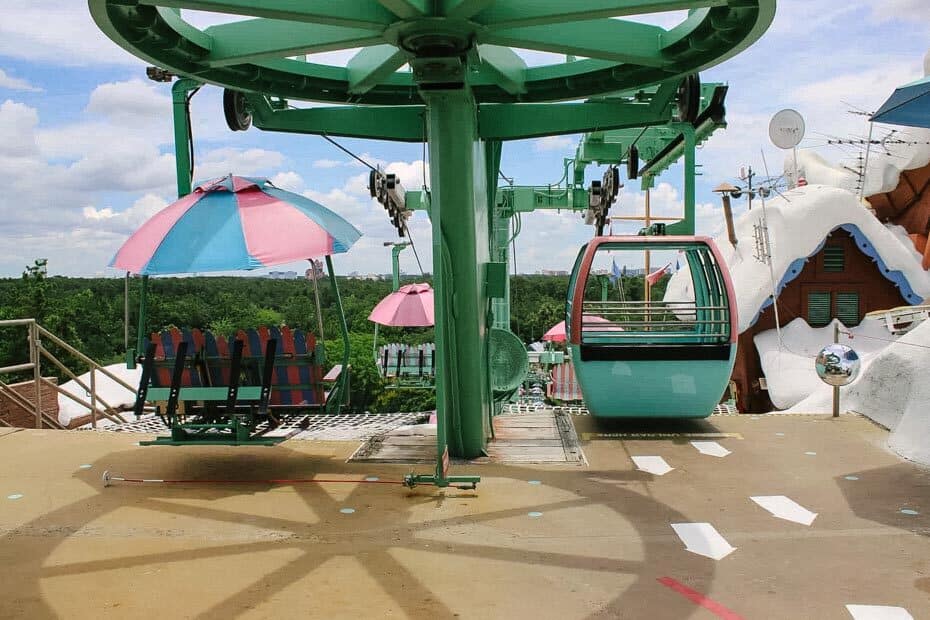 When you get to the top of Mount Gushmore, the bar will lift, and you will have a few seconds to stand and walk quickly to the exit. There will be a cast member at the top directing you to stand and walk toward them. It's a continuously moving process, similar to a standard chairlift.
Once you reach the top, you can move on to your choice of attractions. Just keep in mind that you will end back up at the bottom of the mountain once you choose an attraction.
It will take another chairlift ride or stairs to experience the other attractions here. That single-rider chairlift line is looking better and better.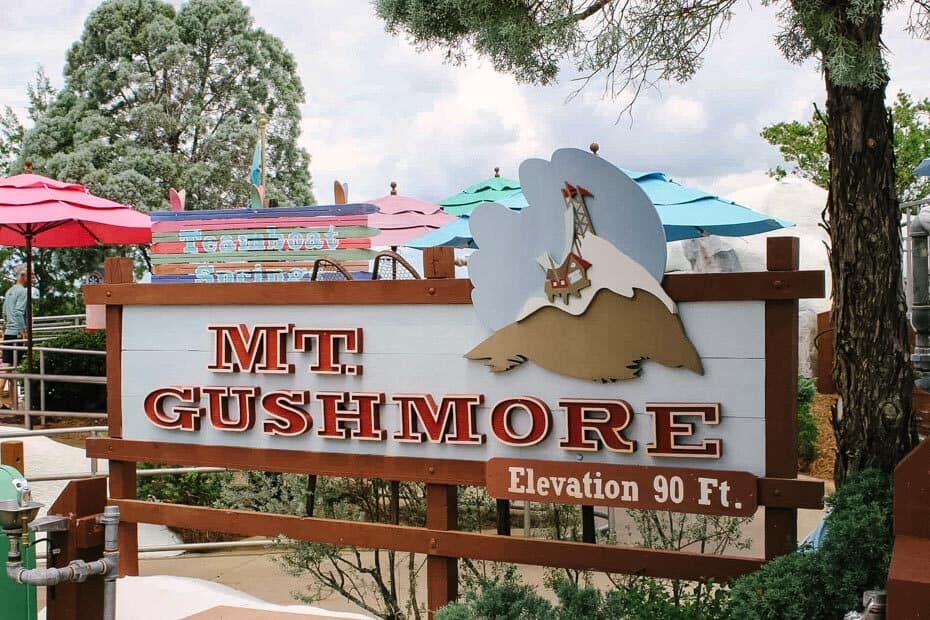 Our first actual Blizzard Beach ride is Teamboat Springs, the park's family raft ride. Up to six people can ride together in one of the world's longest raft rides.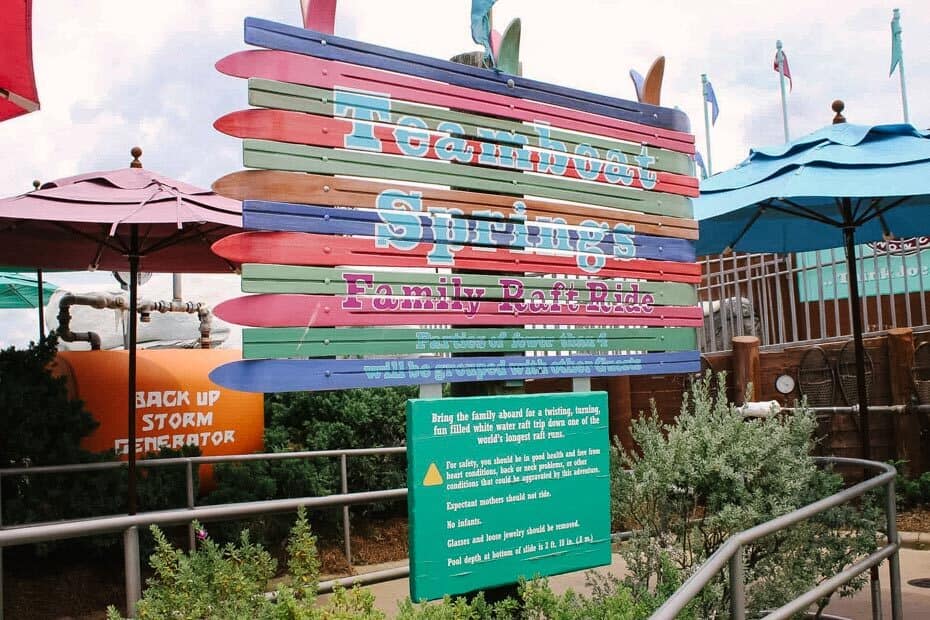 It's a fun ride to experience as a group, and there are some amazing views from the queue.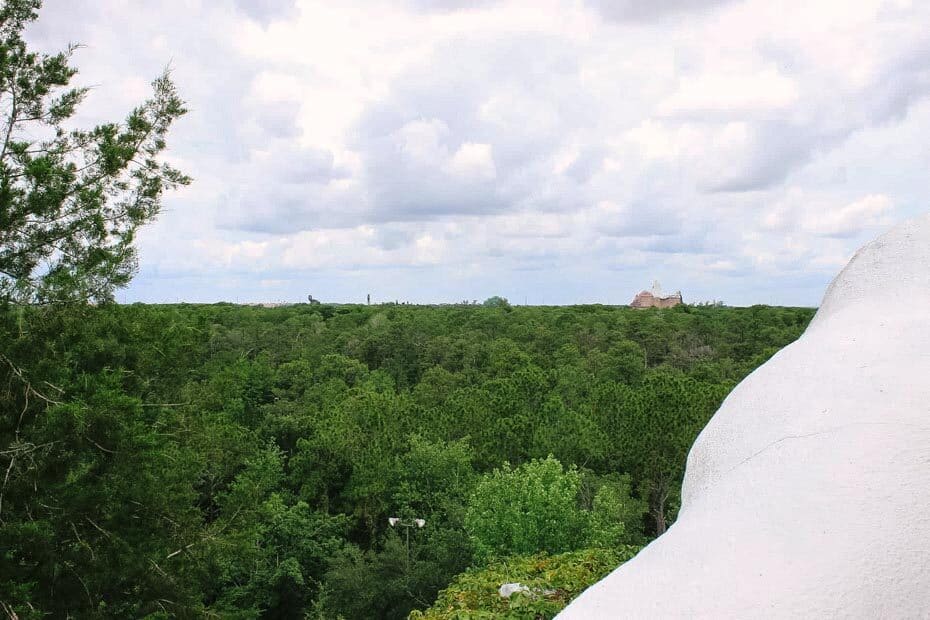 They also require a minimum of three people on the ride. So if you are a smaller party, you might be grouped with someone else.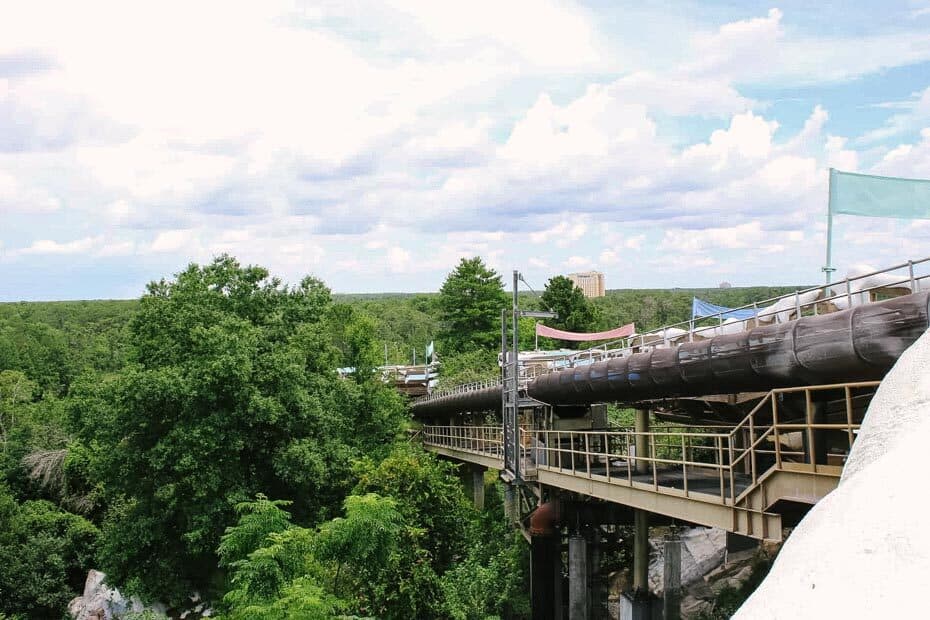 The raft comes out on a slow-moving conveyor belt. A cast member will stop the belt, and everyone will step inside and sit down. After telling everyone to grab their own handle, the cast member will restart the belt, and you will move on down the slide.
Next thing you know, you are back at the bottom. Sorry, the camera didn't take a ride. Teamboat Springs is one of those over before you know it rides, but it's still a lot of fun on the way down. The raft tends to ramp up the sides of the slide as it descends. There are a few tunnels with extra water features that ensure everyone gets wet.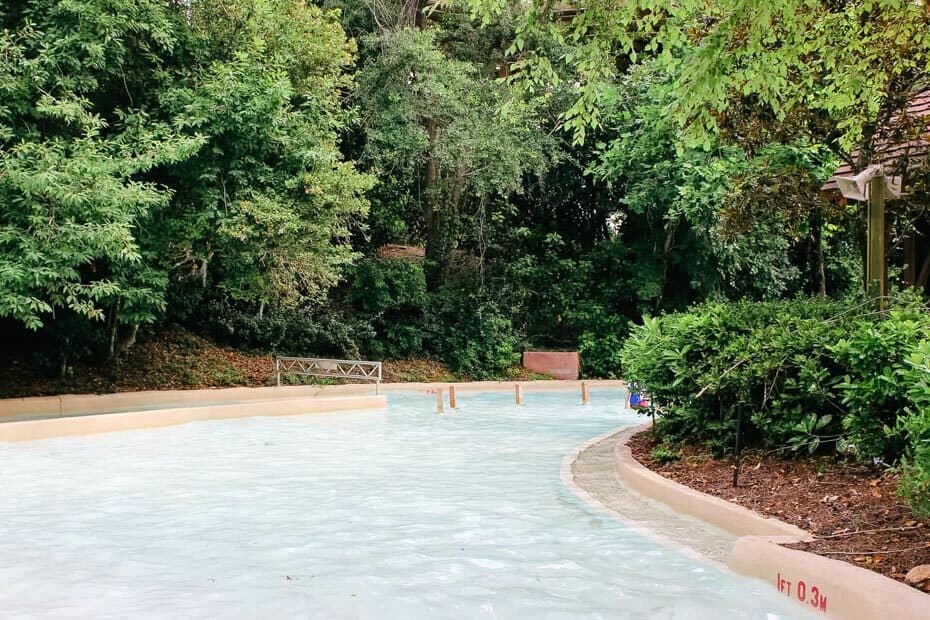 There is usually a PhotoPass opportunity here at the exit. It makes for a cute family photo to remember your ride on Teamboat Springs! All you have to do is walk over and pose with your family after you exit your raft.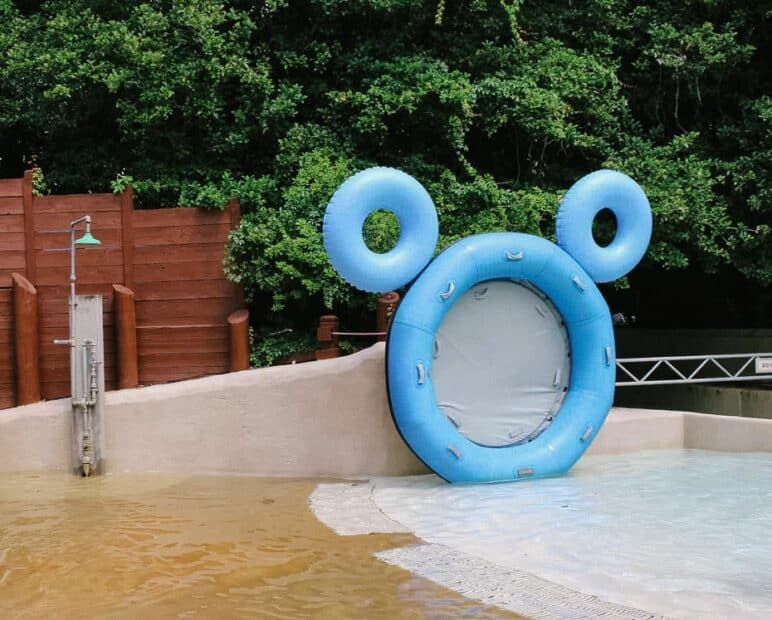 The next ride at Blizzard Beach is the Slush Gusher body slide. Slush Gusher has a 48″ height requirement. It is described as a 90-foot high-speed body slide.
It sits next door to sister slide Summit Plummet which is 120 feet for comparison. This might be a good starter as far as body slides go, but it's still a bit adventurous.
The slide on the left is Slush Gusher.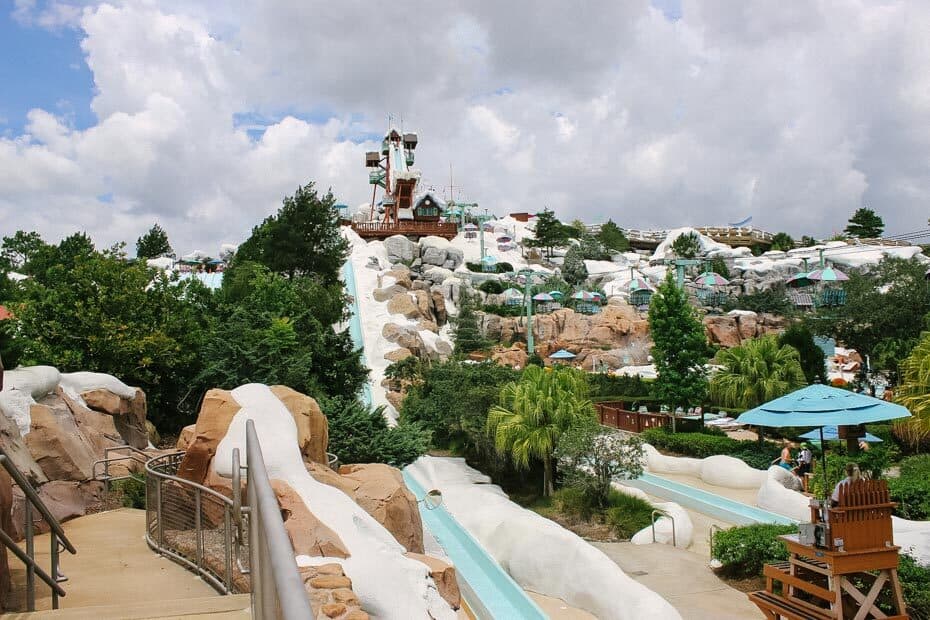 Summit Plummet is the larger of the two extreme body slides coming in at 120 ft and quoted to reach speeds up to 60mph. It is the headliner slide for Disney's Blizzard Beach. This water slide also has a 48″ height requirement.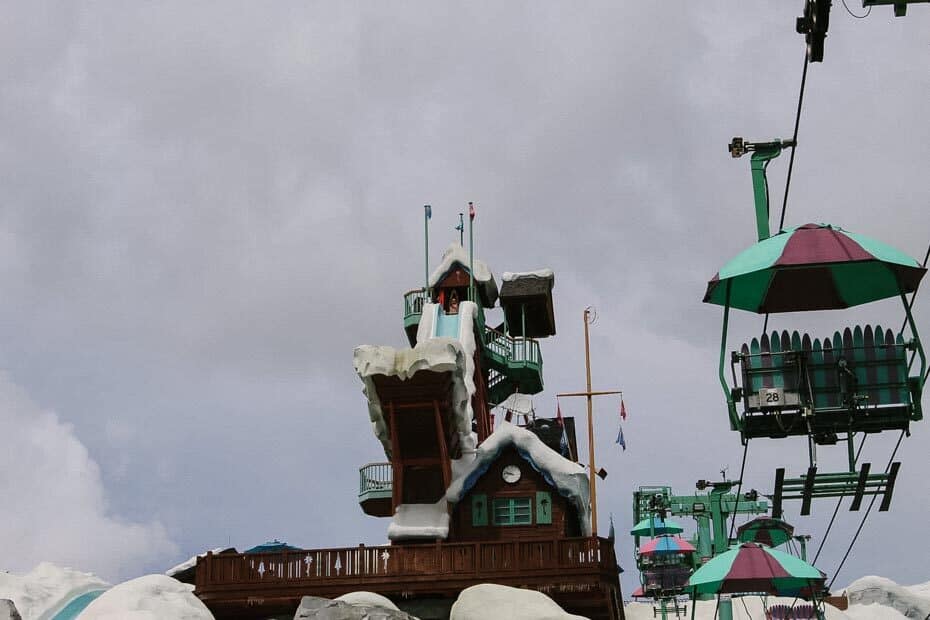 Here is a view from about two-thirds of the way down. If you happen to be standing in the area where I took this photo, I can confidently say you will miss it if you blink.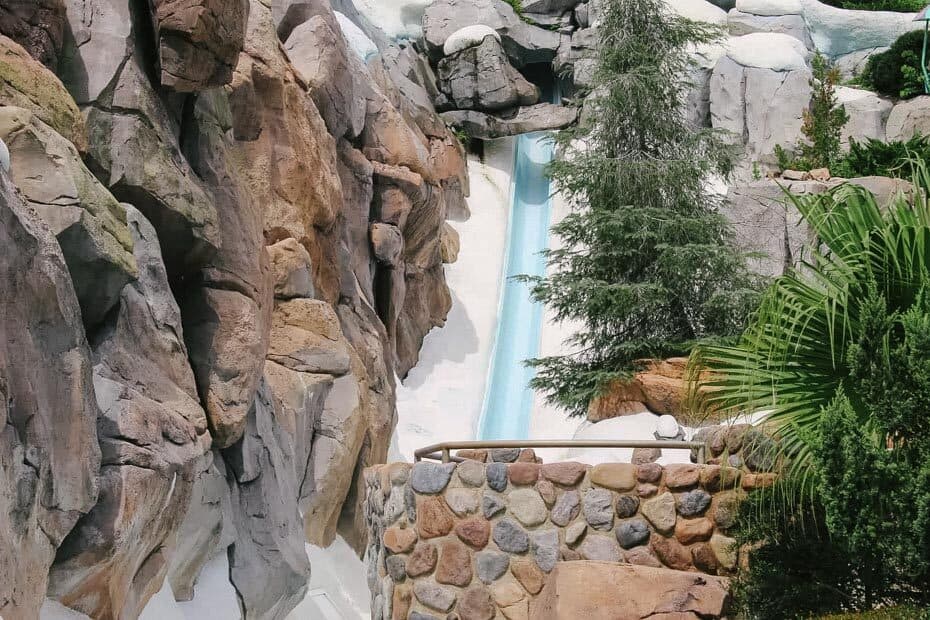 The person sliding goes by so fast that it's practically a blur. If you have a daredevil in the family, this is the water park attraction for them.
There is even a clock that registers your speed as you race down the mountain! I notice that many people doing the slide are aware and look for their number when they pop up at the end.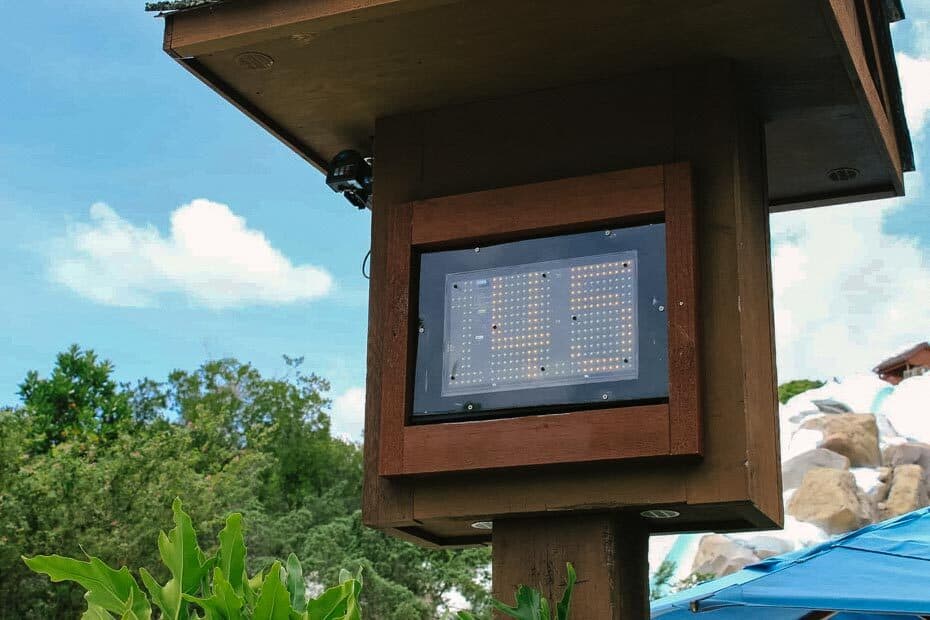 Maybe Florida would be a great place to host the Olympics after all.
While you are up on Summit Plummet, make sure to check out the observation deck.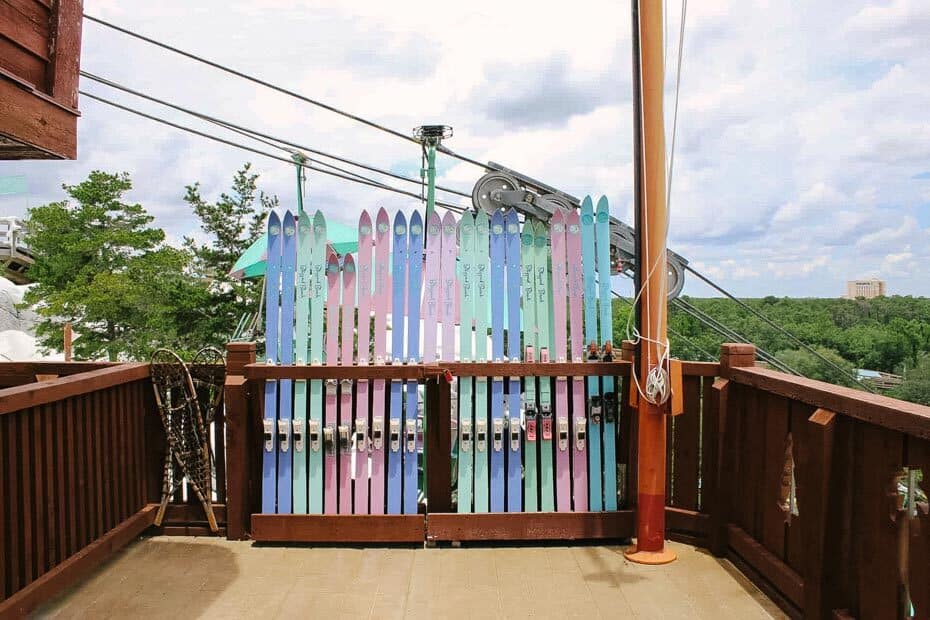 That big deck out there? You can go out on it and take in the extreme views. If nothing else, it's worth a chairlift ride up to take in the views.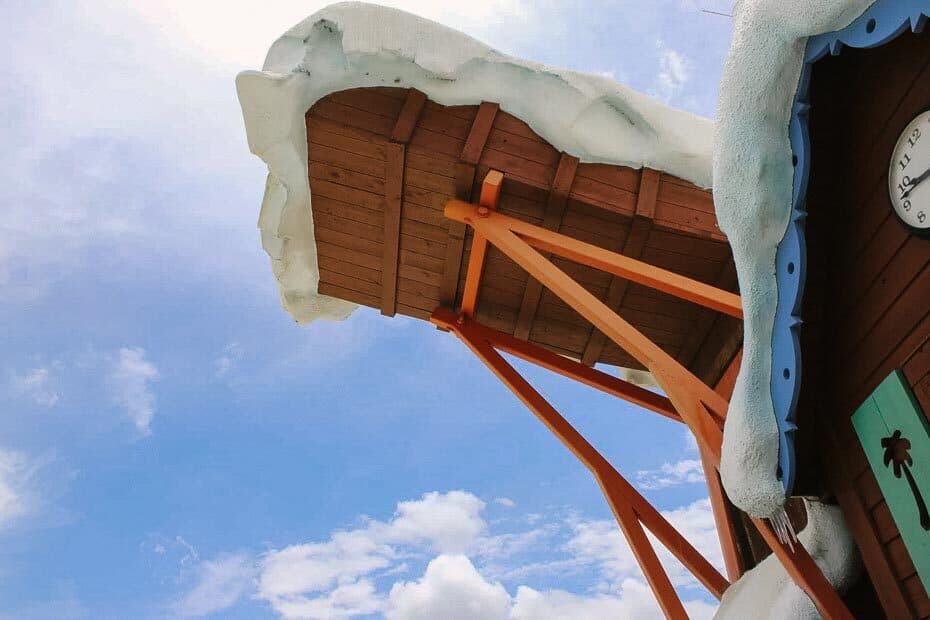 There are views for days.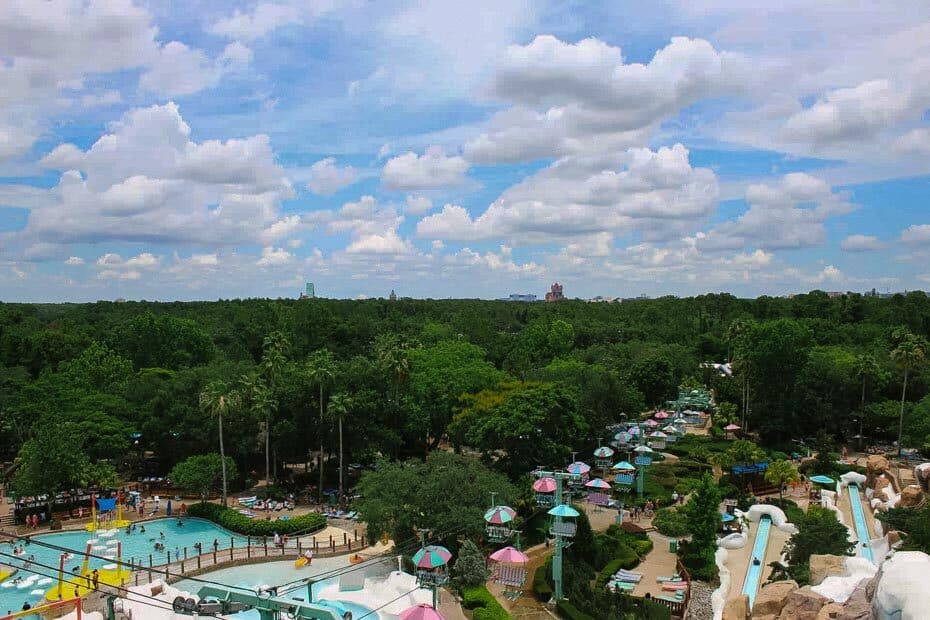 Next, we'll head over to the purple slopes. These slopes run adjacent to the green slopes and are on the left, facing Mt Gushmore from the front of the park. The water slides are the Toboggan Racers, Snow Stormers, and Downhill Double Dipper.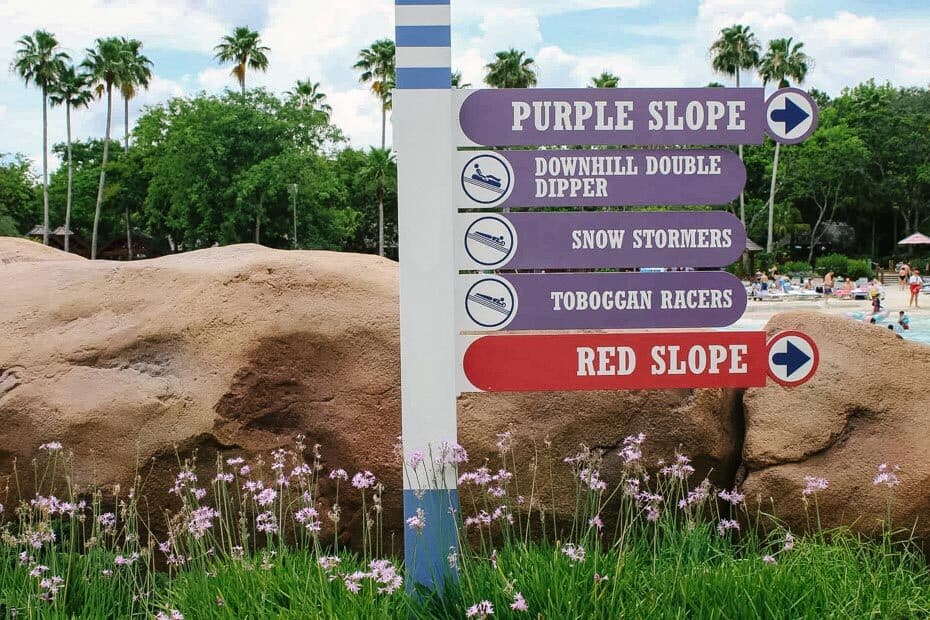 Toboggan Racers is a large-capacity water slide where you race others. It is described as a "race against your friends on this hilly mat slide." You will pick up a mat at the top of the ride. Racers place the mat on the slide and, when prompted, lay down face forward and push off.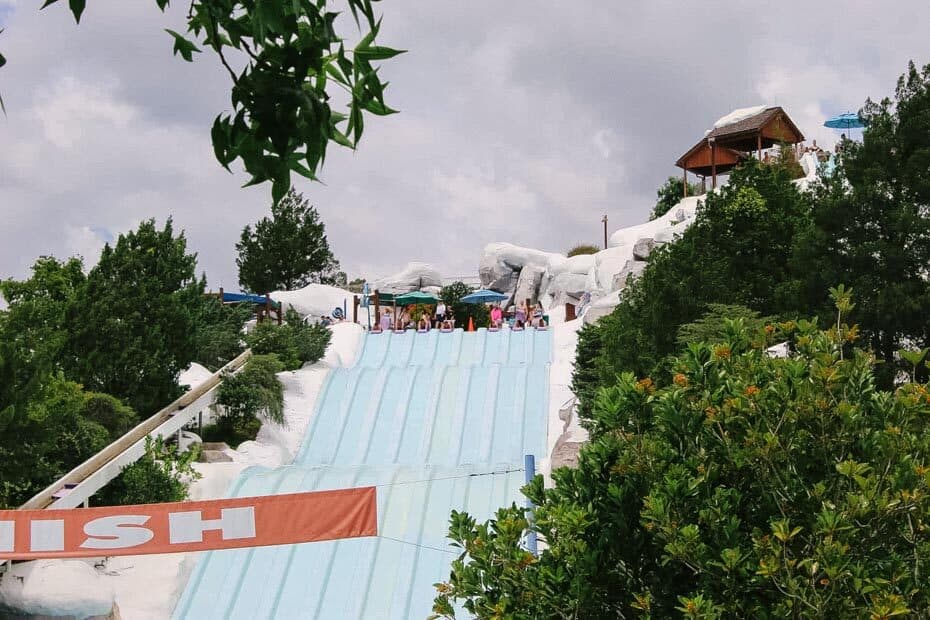 Here is a photo mid-race to the finish.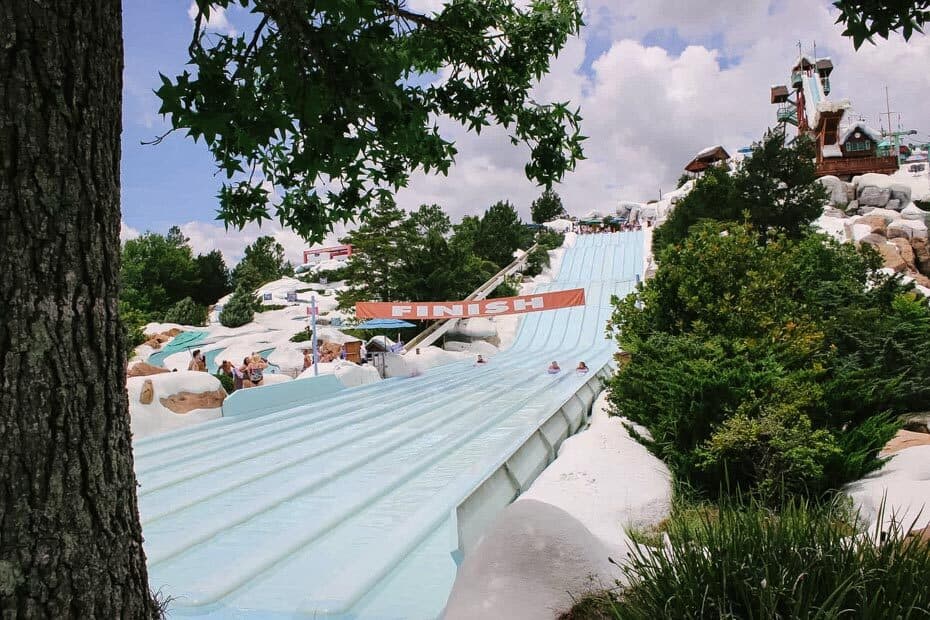 At the bottom, there's a list of times that you will probably never beat since they are permanently printed on this sign. You could always wear a t-shirt that says Ice Gator, and no one will probably ever know the difference.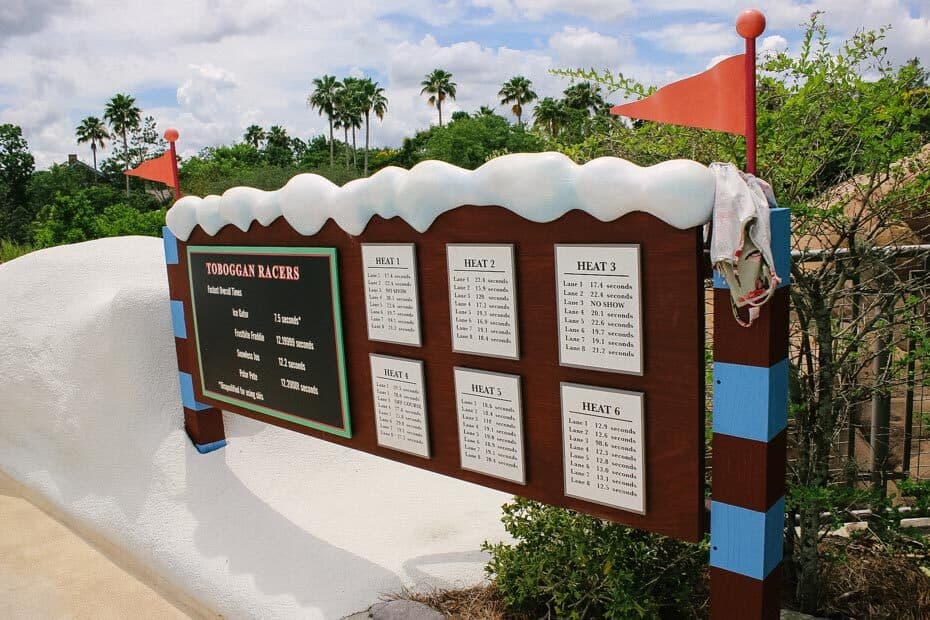 Next up on the purple slopes, we have the Snow Stormers. This is another grab a mat and slide down. This set of slides is not so straight and has a curve on the way down that makes it a bit slower. You will pick up a mat at the top for these as well.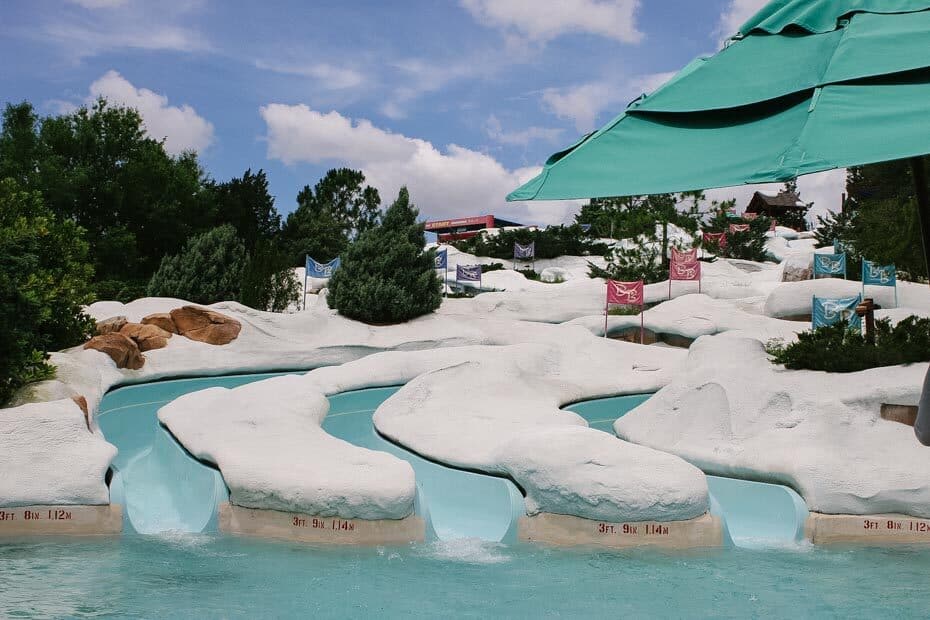 Moving on, we have the Downhill Double Dipper on the Purple Slopes. If you are up for a race, then you might like this set of slides. They will have you racing against the clock as you and your opponent fly down side by side on tube slides.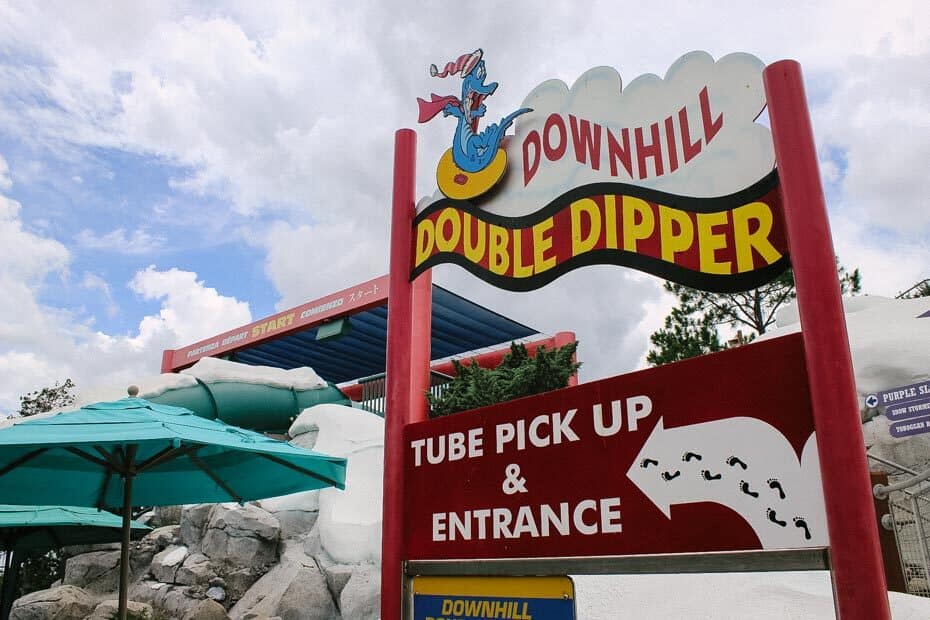 At the finish, a clock displays your time. Additionally, the Downhill Double Dipper has a 48″ height requirement.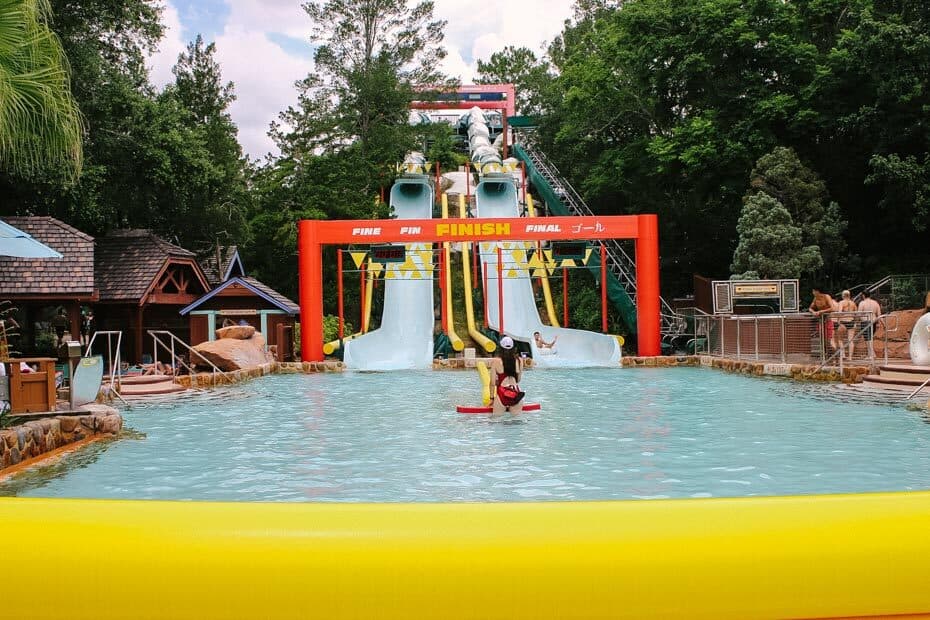 Our last set of slopes is the red slopes, which offer one water slide, Runoff Rapids. This is a fun tube slide that winds its way down the backside of Mt Gushmore. Guests must pick up an inner tube at the bottom and carry it up for this ride.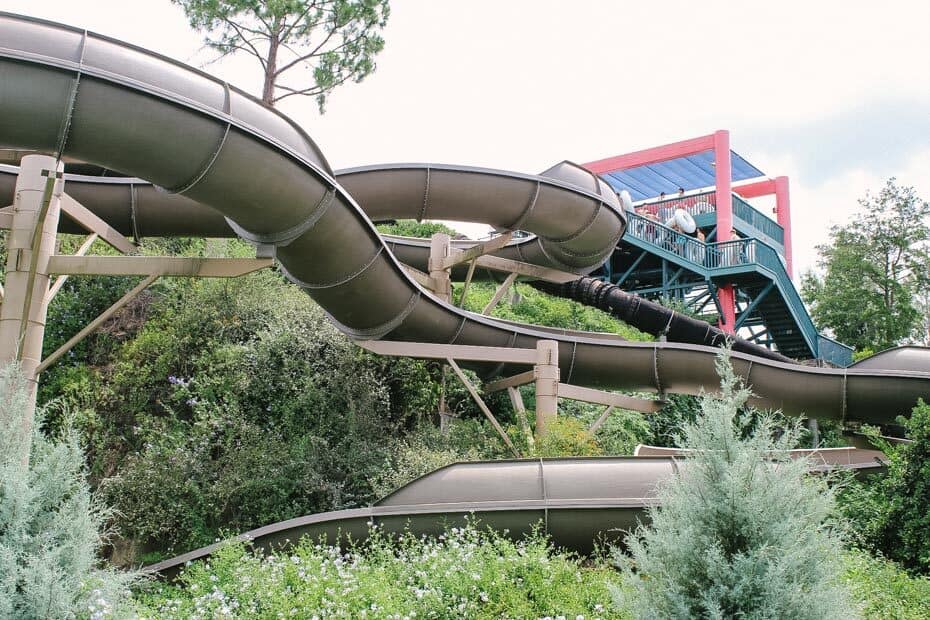 Blizzard Beach has a few other attractions that aren't slope-related, like the lazy river and the wave pool. These next attractions will be more family-friendly.
Blizzard Beach Wave Pool
Melt Away Bay is one acre in size. It is centrally located toward the front of the theme park. The waves are gentle and pretty consistent throughout the day.
This is an easy wave pool to float around compared to the stronger wave pool with sharp, abrupt waves at Typhoon Lagoon.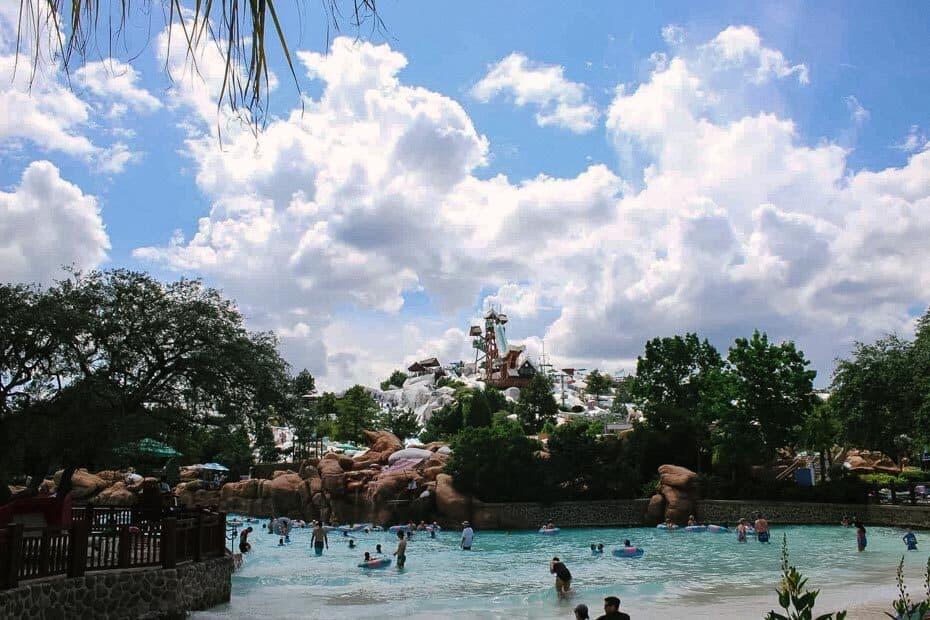 Inner tubes are available for guests to use. They are nice to float around in and enjoy your day. Also, there are multiple lifeguards on duty at various areas throughout the wave pool.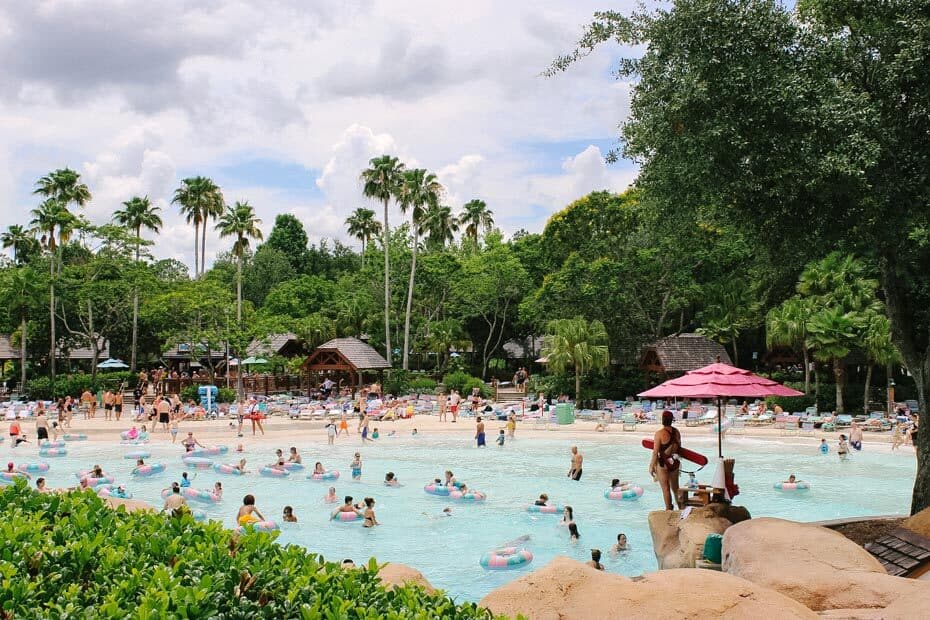 Blizzard Beach Lazy River
Cross Country Creek is the name of the lazy river that circles the entire theme park.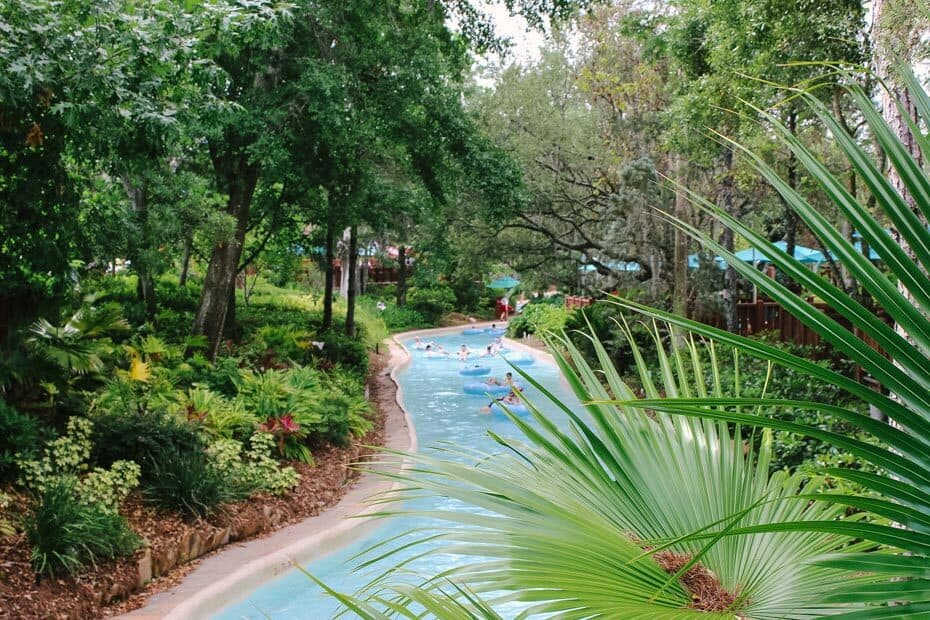 There are several entry points around the park to enter or exit Cross Country Creek. This sign references Penguin Landing, an entry or exit point at Cross Country Creek. This landing is located at the back of the park.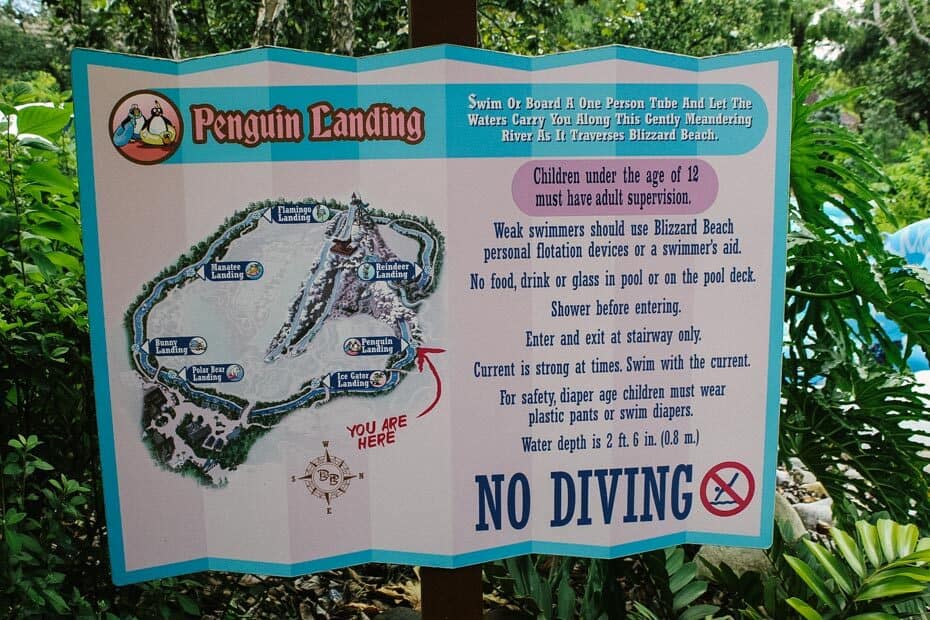 Here are the names of all the landings with some of the larger locations for each one:
Ice Gator (Locker Area and Chairlift)
Penguin (Ski Patrol & steps to Mt Gushmore)
Reindeer (Cave Area)
Flamingo (Runoff Rapids)
Manatee (Purple Slopes Slides)
Bunny (Far Side of Melt Away Bay)
Polar Bear Landing (Main Entrance & Lottawatta Lodge)
You will pass through a tunnel on your journey around the lazy river.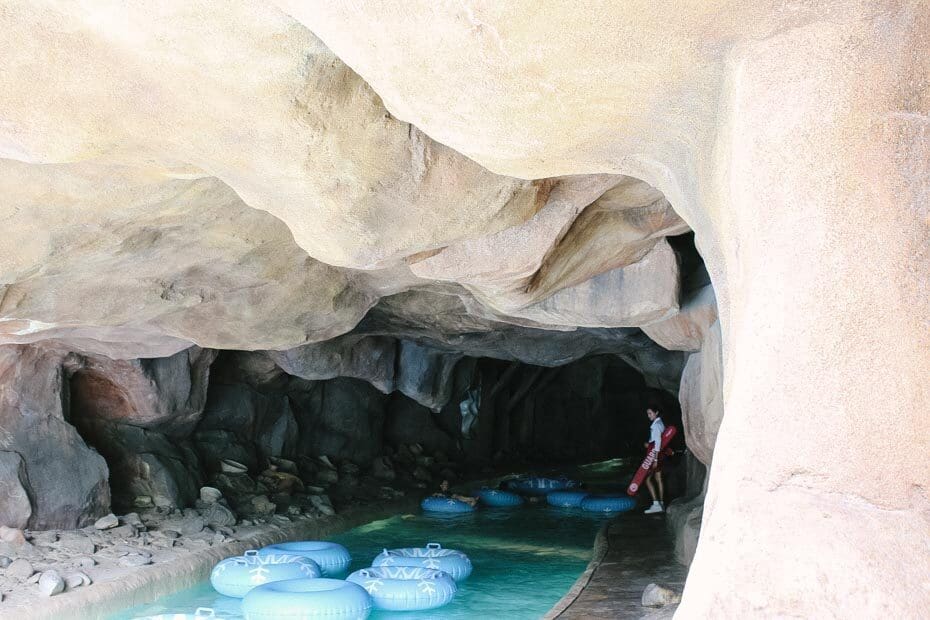 Cross Country Creek has a lot of fun elements. Ice Gator sneezes in his home when you pass by this area. Note the water feature coming from the chimney. It's not water, okay it is water, but use your imagination.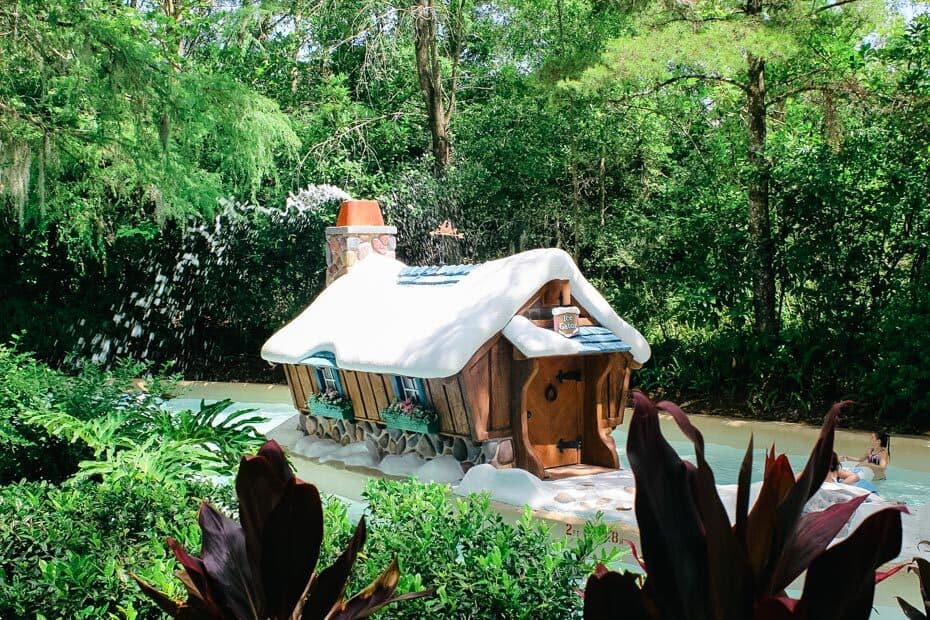 Next, we'll take a look at a few kid-sized waterslides and other fun elements for the younger members of the family.
Ski Patrol Training Camp is like a mini water park for kids. There are challenges, obstacles, and intermediate slides.
Often you will find kids between the ages of four all the way up to the tweens in this area. Usually, parents are in this area interacting with their children as well.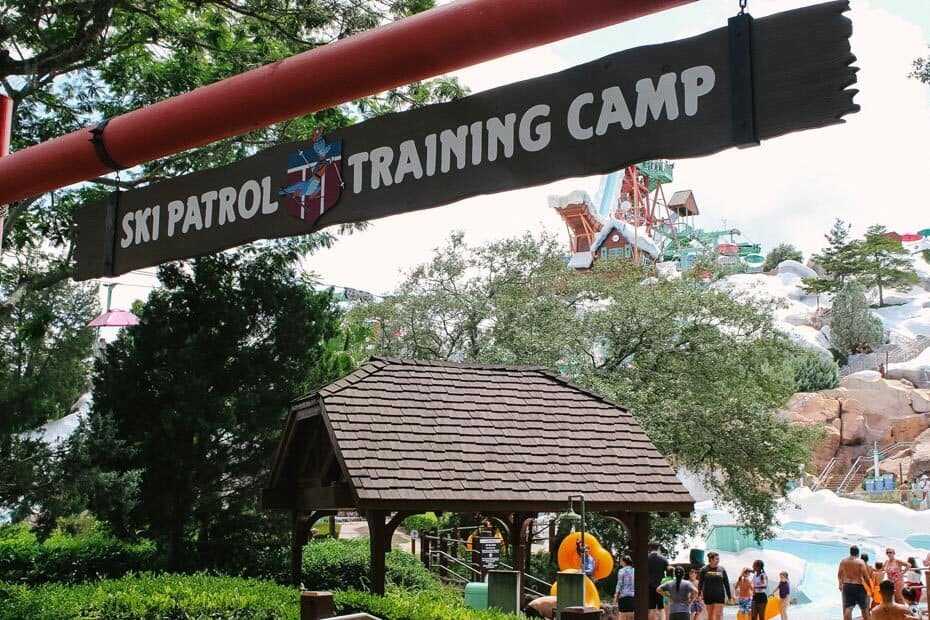 Here is the sign describing Ski Patrol Training Camp. It mentions that it is designed for pre-teens. It includes inner tube slides, a T-bar cable, body slides, and a challenging ice-flow walk.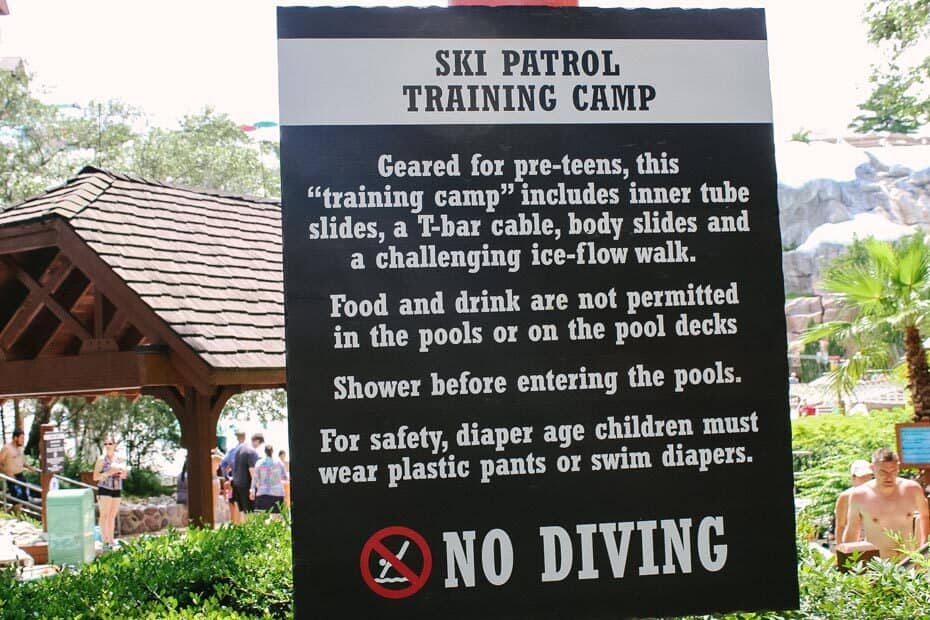 Here are those kid-sized waterslides.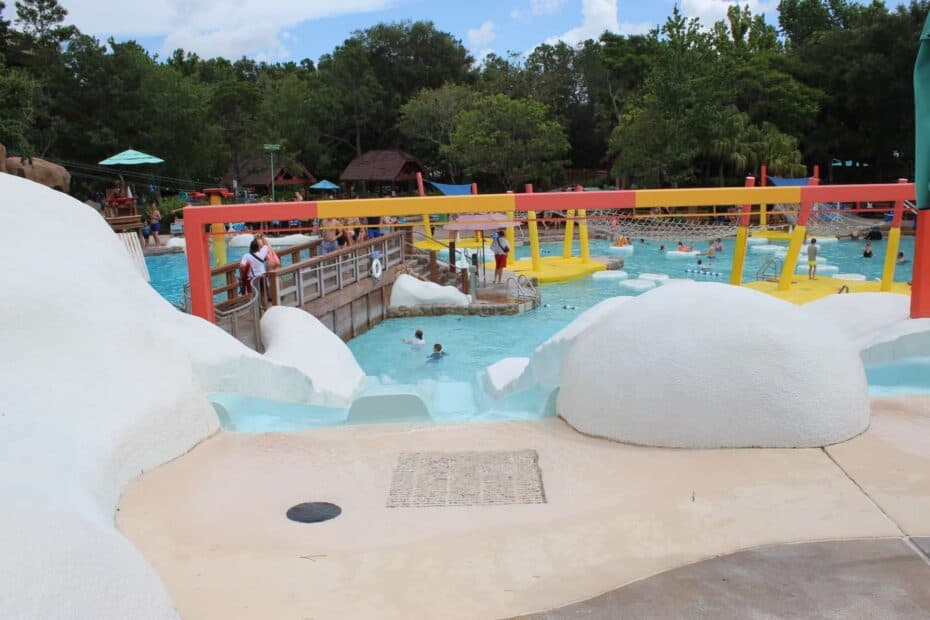 This area is very popular with the kids. If you notice in the background there are plenty of benches and seating areas for parents to sit and keep an eye on the kids while they play.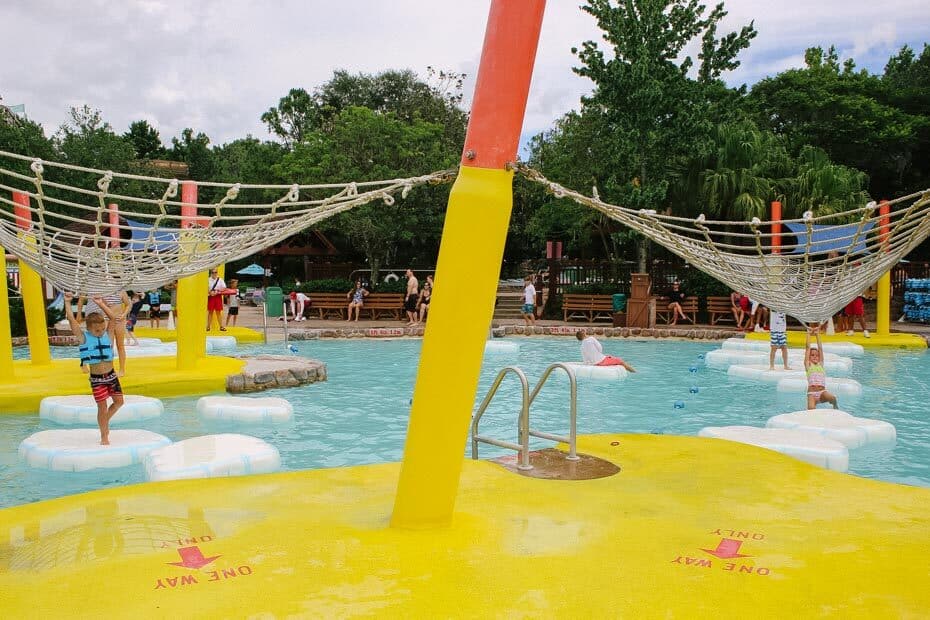 A few more curvy slides for children in this area as well.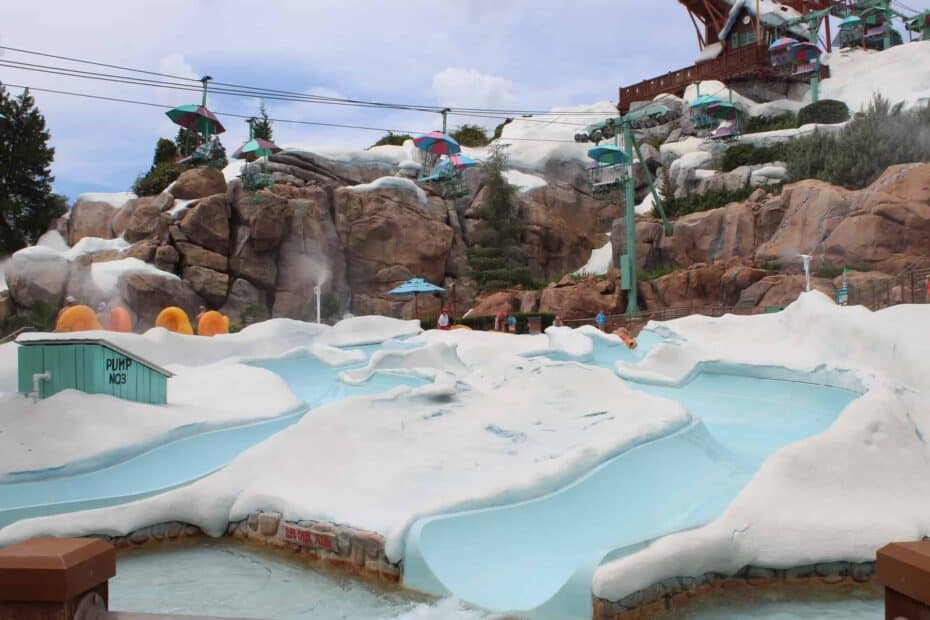 Finally, we have our last Blizzard Beach attraction, Tike's Peak. On the map, you will find this one to the right past the lockers area.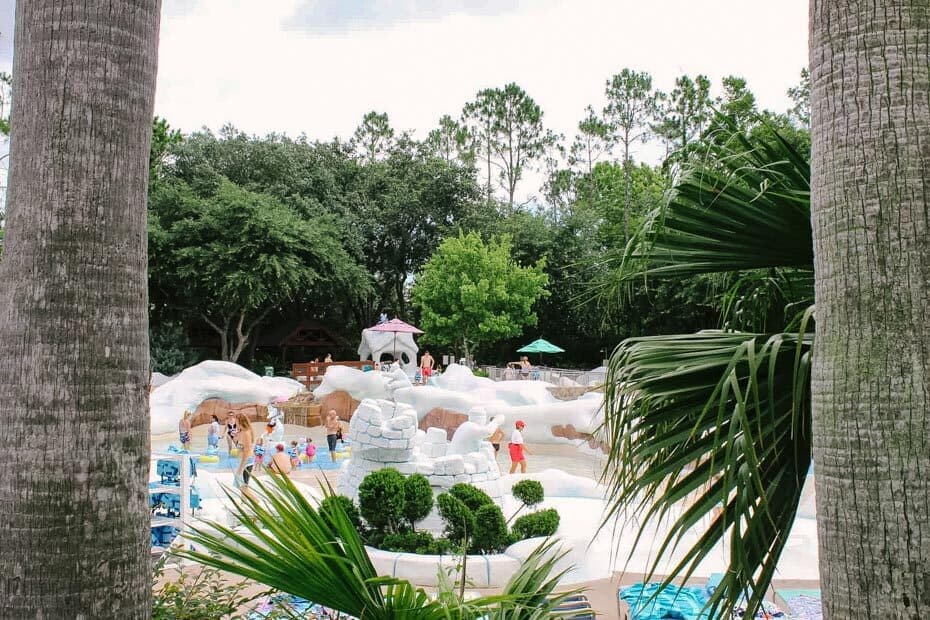 At Tike's Peak, the little ones can play and relax in shallow water. This area is for those that are 48″ or less in height. Little ones, of course, must be supervised by their parent or guardian. The area features water squirters and mini slides.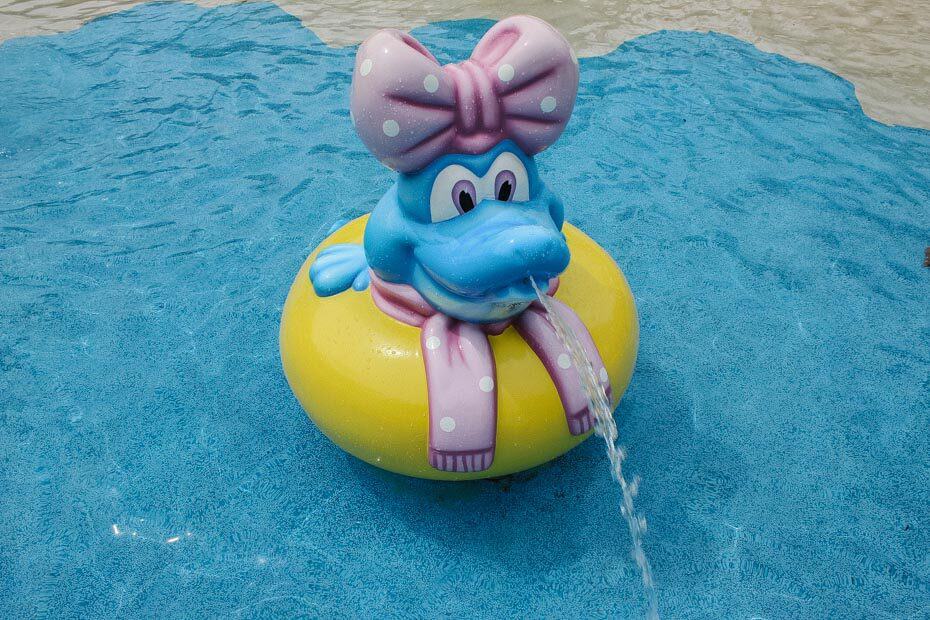 There are a lot of fun interactive elements for toddlers in this part of the water park. The area is similar to a child-friendly splash pad and allows kids to explore and have fun without too much action.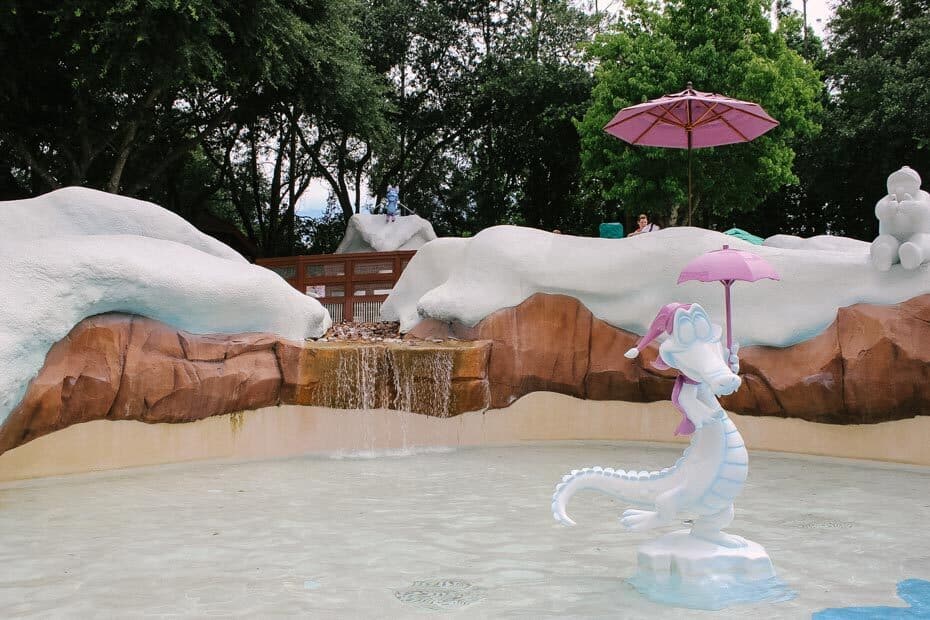 In my opinion, there are two ways to efficiently tour Blizzard Beach. They are arriving early or arriving later in the day. The water parks don't typically open until about 10:00 a.m. Therefore, it's easy to plan a day to sleep late, take in a nice breakfast, and then make it to the water parks by the time they open.
However, I know that many water park people drag during the morning hours of the day. I know this because I am often one of them.
Here is our ideal plan:
Enter the park at the opening.
Secure a locker and put all your items away. There is an abundance of chairs at the park, and no need to secure them unless you have a member of your party that intends to set up camp somewhere all day. If that is the case, you might want to consider a Polar Patio, which we'll discuss later on down the guide.
Head straight to Mt Gushmore–you can do this one of two ways. Take the chairlift and remember the single rider tip mentioned earlier in the post if a line has already formed. You can also climb the stairs.
If you are looking to do a family ride, then head to Teamboat Springs first. When you arrive at the bottom, repeat the last step to climb Mt Gushmore again.
Ride the family raft ride again or do Summit Plummet or Slush Gusher. These three should all be done before lines form or repeatedly until you are ready to move on to the next set of attractions.
After completing the Green Slopes rides, take the lazy river at Penguin Landing to the Red Slopes and do Runoff Rapids.
Next, take the lazy river around from Flamingo Landing to Manatee Landing and hit the Purple Slopes. I would do the Downhill Dipper, Toboggan Racers, and Snow Stormers in that order.
The most popular rides will post a wait time.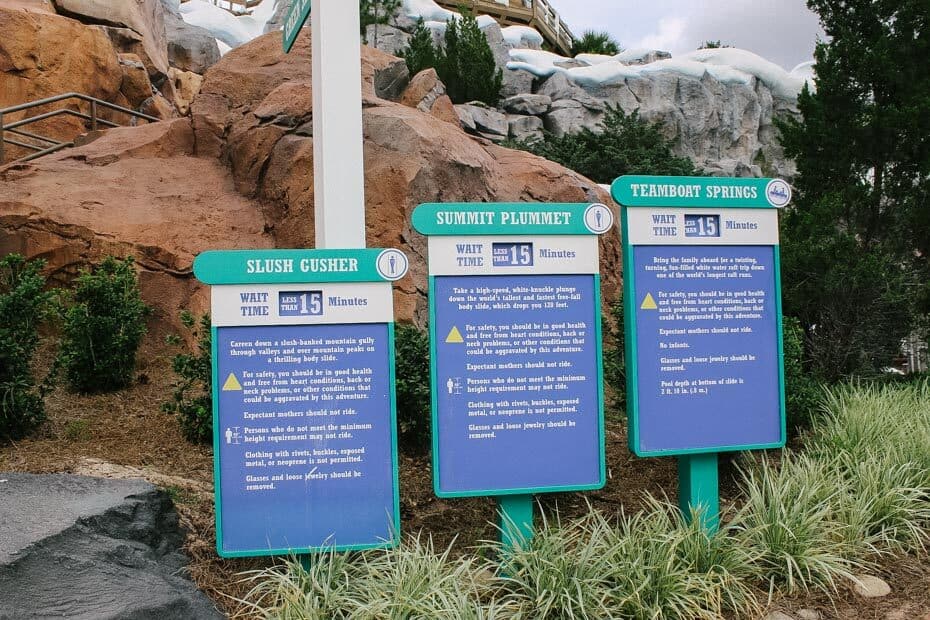 At this point, depending on how many times you experienced each attraction, it should be about lunchtime. I recommend eating a late breakfast and doing lunch at 1:15 p.m. or later. This allows the lunch crowds to have cleared out and makes it easier to find a shaded dining spot.
After lunch, do in any of the other attractions your family desires like Melt A-Way Bay, Ski Patrol Training Camp, Tike's Peak, or Cross Country Creek. We usually tour as a family before lunch, then break up and do our separate things with a plan to meet up at the wave pool later.
Blizzard Beach Restaurants
The counter service dining options at both Blizzard Beach and Typhoon Lagoon always seem to be superior to the regular Disney Parks. Below, we'll take a look at your dining choices.
Lottawatta Lodge is the main quick service dining establishment. It's located in a large covered area with the center kitchen just off the entrance.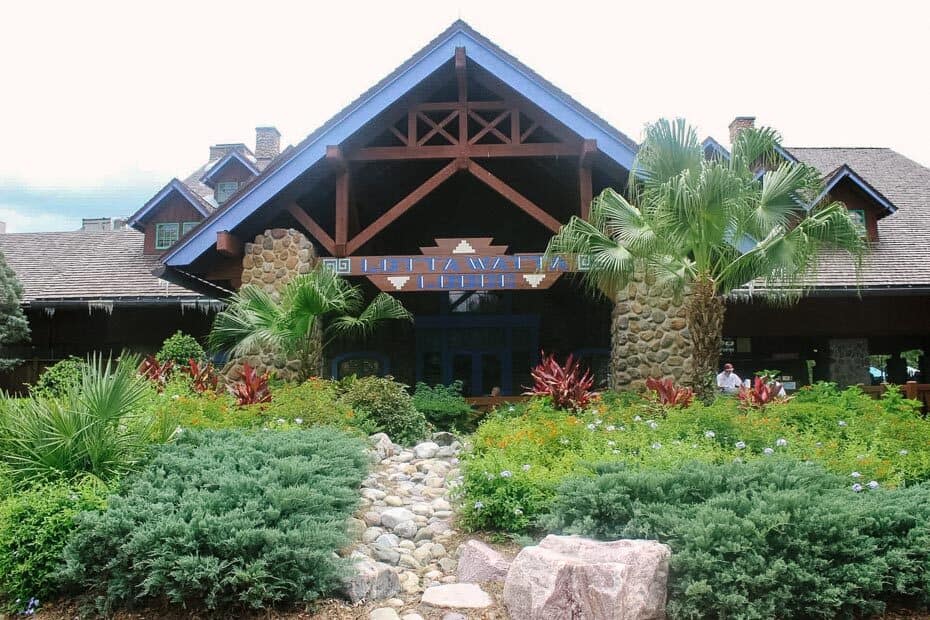 LottaWatta offers items like flatbread pizza, burgers, salads, and chicken nuggets. Additionally, they have a somewhat lengthy list of vegetarian options.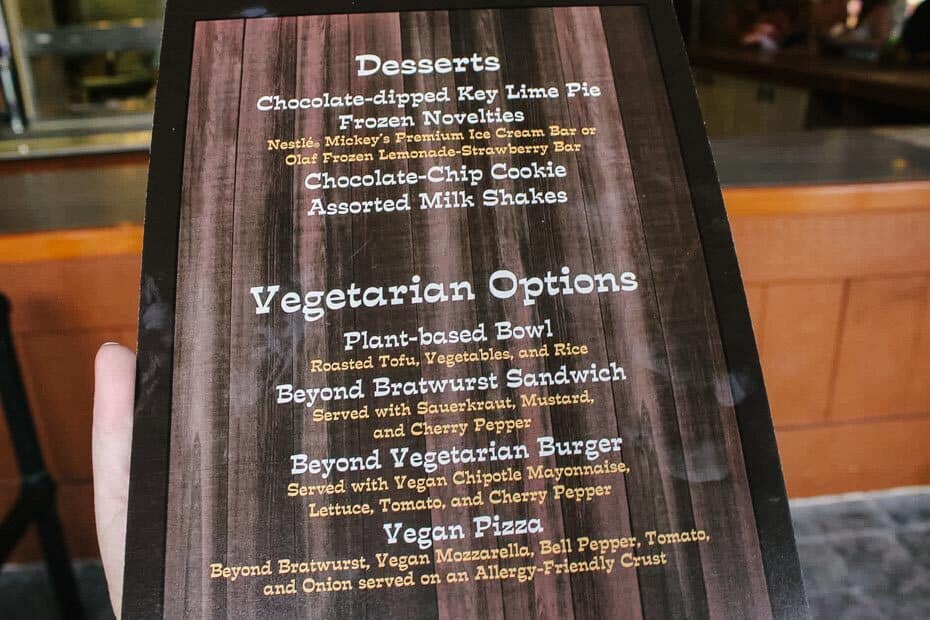 On my last visit, I had a chicken rice bowl.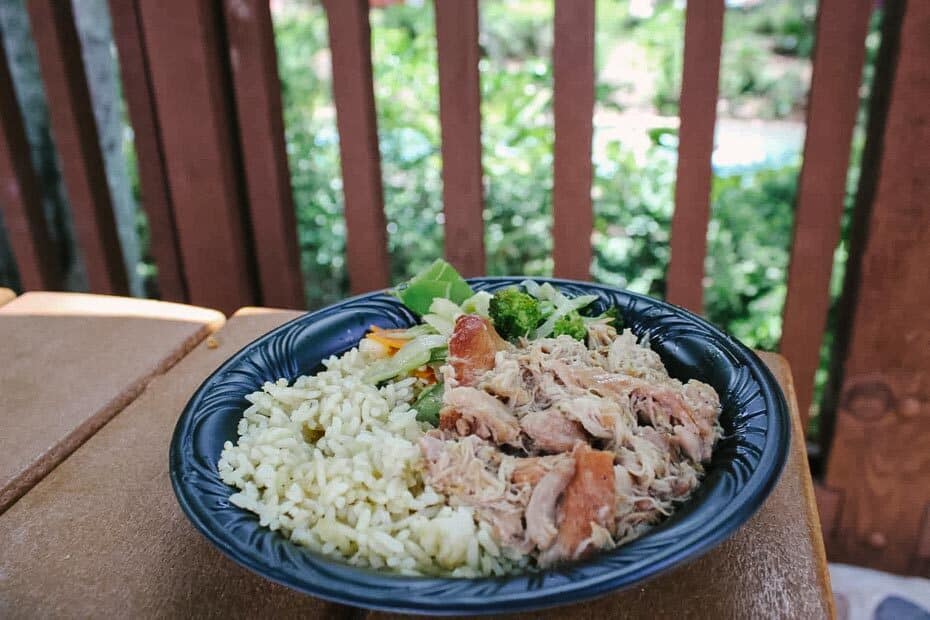 It was actually better than I could have hoped for and a really filling meal. The chicken could use a little improvement. While it wasn't dry, it was a little bland. The rice was rice and the veggies were a nice touch. It was also a really large portion.
Cooling Hut is one of the first stands you will encounter at Blizzard Beach. It is right at the main entrance area before the first bridge. They offer to-go sandwiches and snacks plus a few healthier items.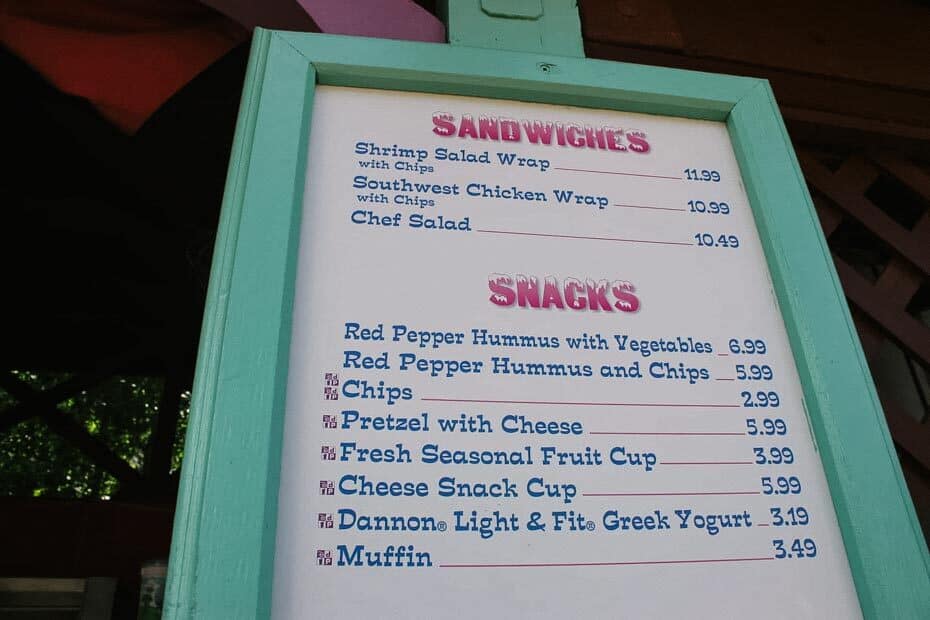 It's also the place you want to bring your refillable (length of stay) popcorn bucket or pick up a frozen treat. The popcorn bucket is actually for sale here if you are thinking about buying one for your stay.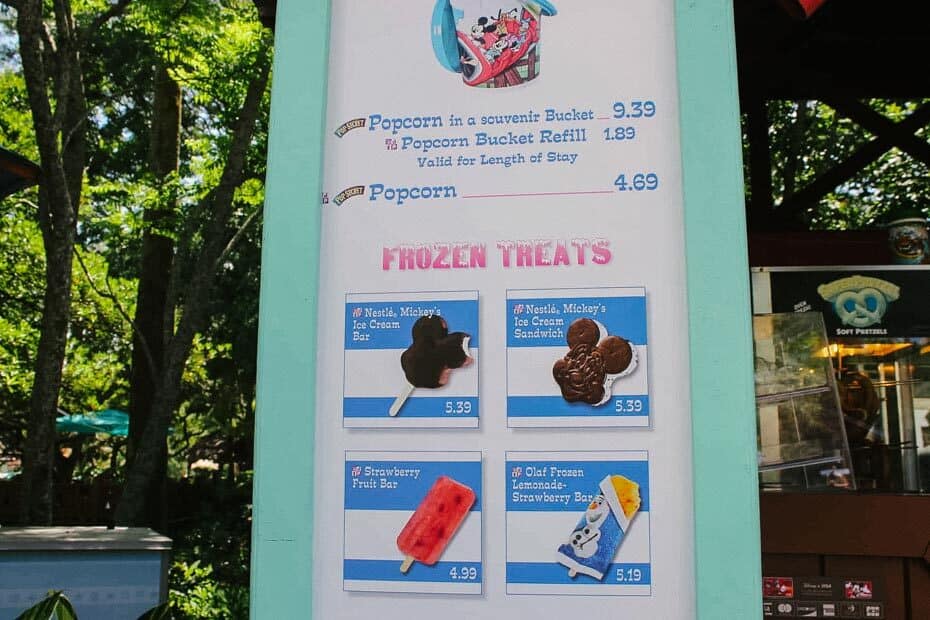 Snacks and fresh fruit options are available.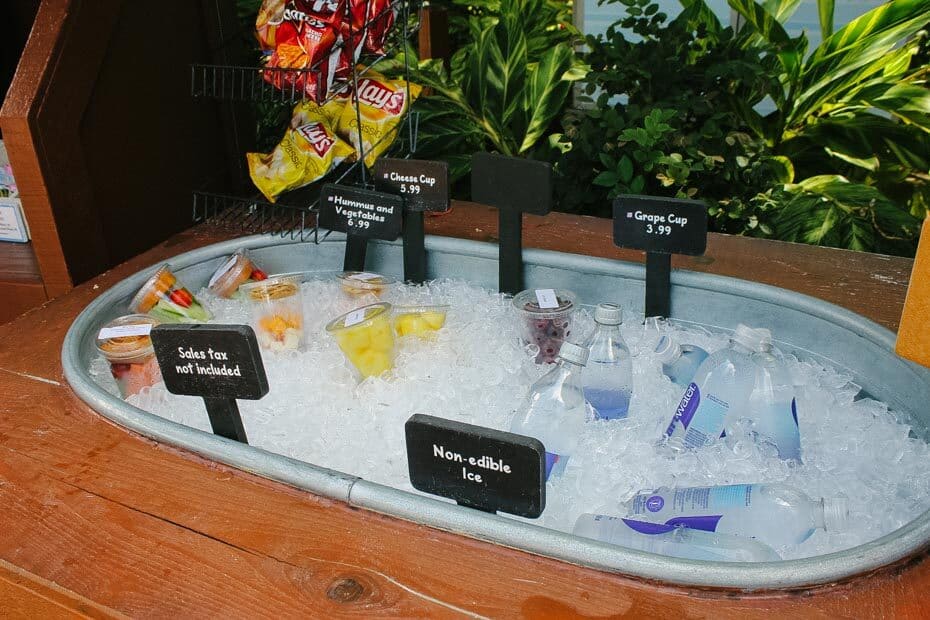 Frostbite Freddy's Freshments, mentioned earlier, is where you pick up towels. They have frozen drinks, including alcoholic and non-alcoholic lemonade items. The menu shows premium and craft beer is provided as well.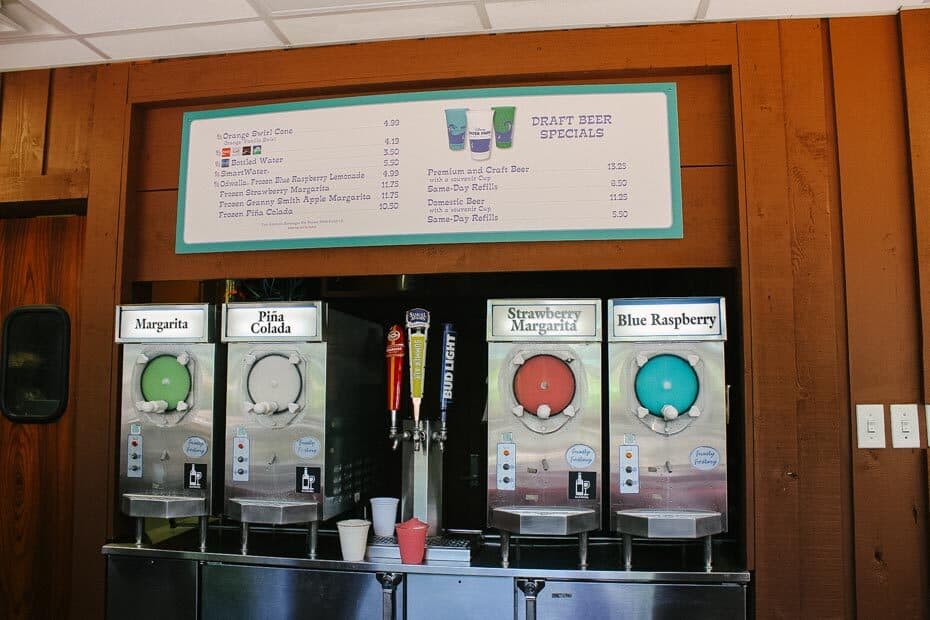 I don't know about you, but I always wanted a drink stand that looked like a snow excavator, and that's what you'll get with Arctic Expedition.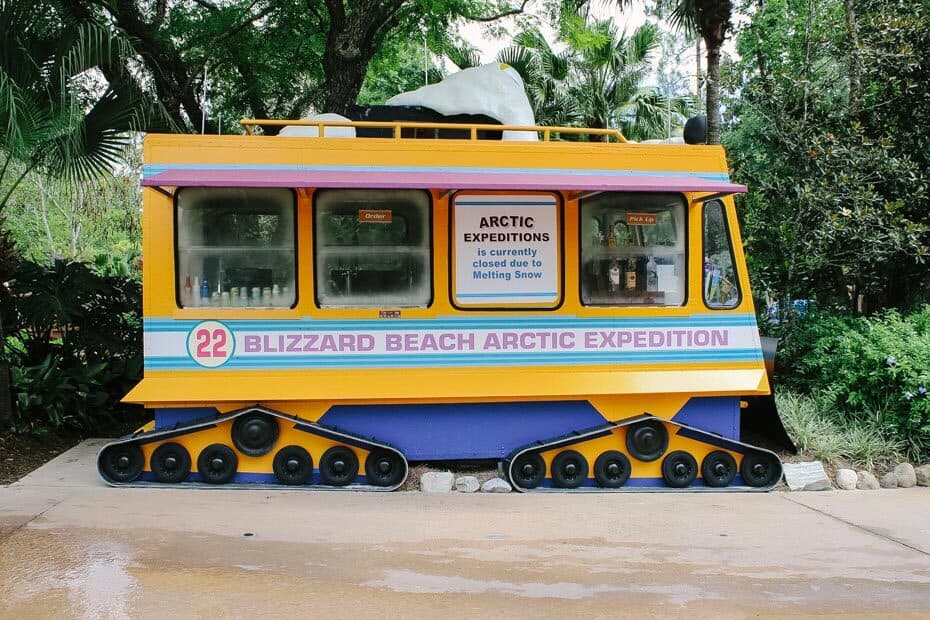 Below are the drinks available.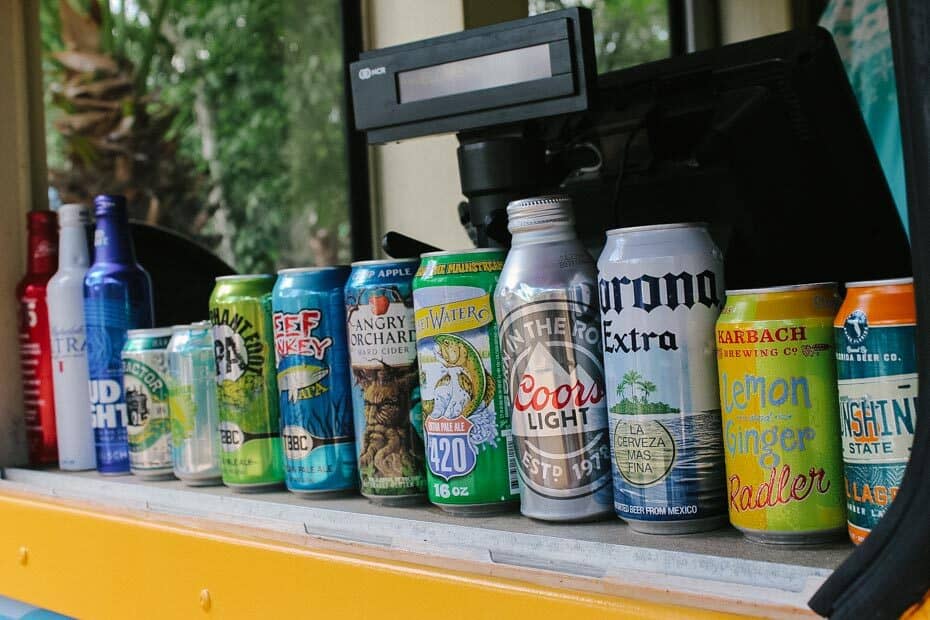 Avalunch is on the north side of the park. This stand offers things like hot dogs, sandwiches, and kids' meals. There is a salad option on the menu as well.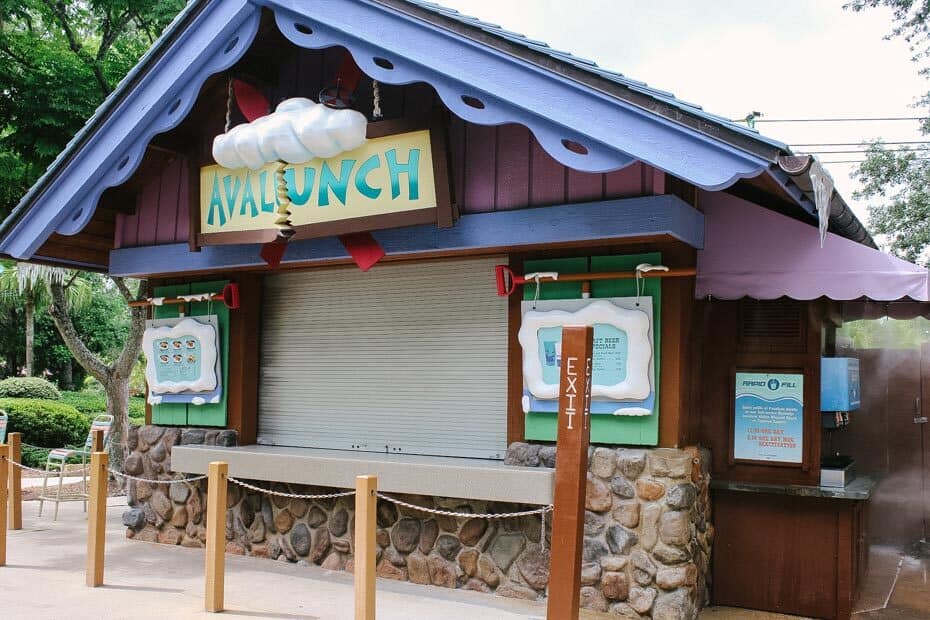 Here is a look at the walk-up window and menu below.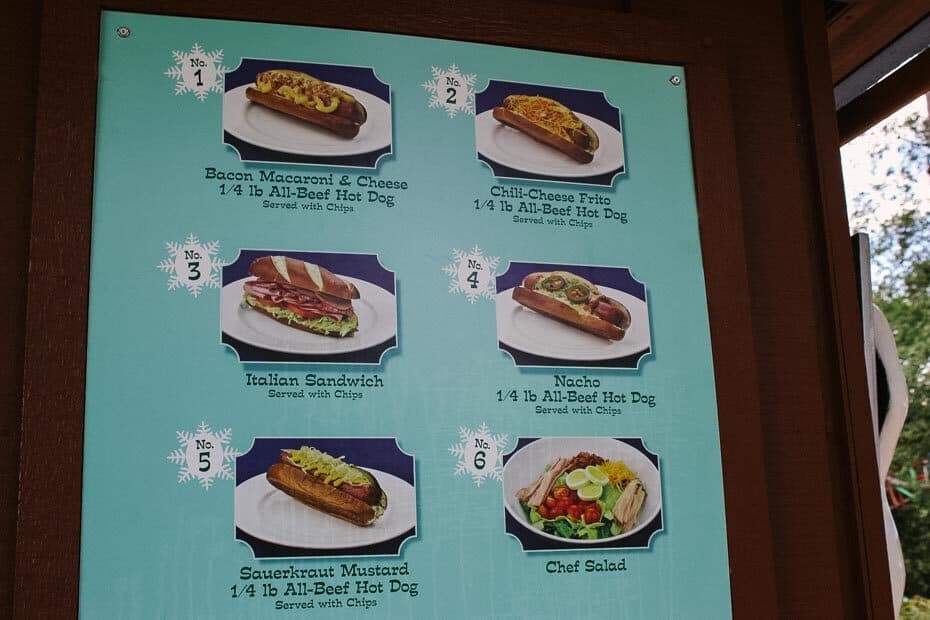 Kids Meals at Avalunch offer some simple choices like turkey sandwiches and macaroni-and-cheese. They come with Cuties, a Dannon Danimals Smoothie, and a choice of milk or water. It says in the finer print you can get a juice or a soft drink upon request.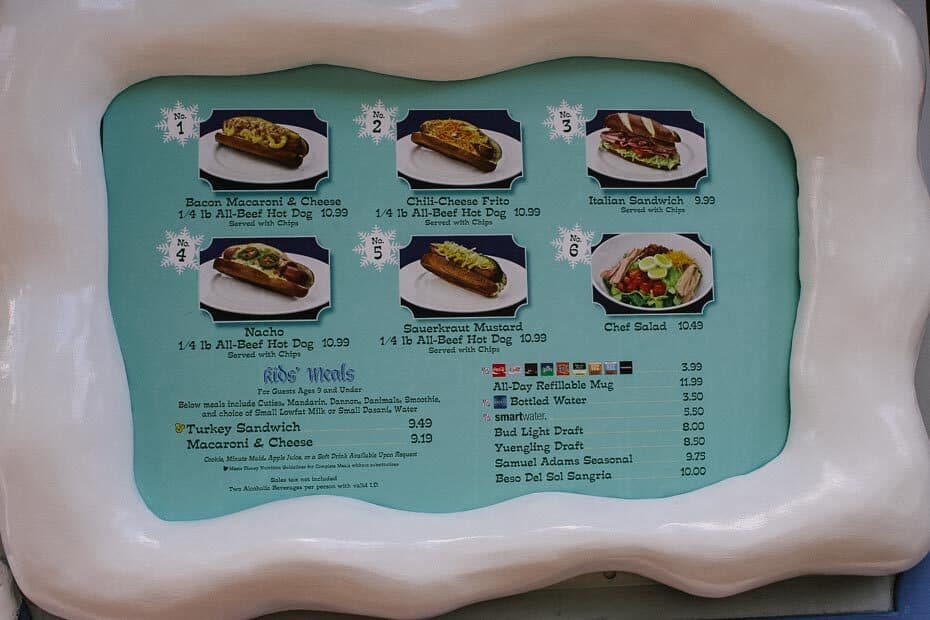 I.C. Expeditions is located across the way from Arctic Expeditions. This is your major ice cream stop at the park.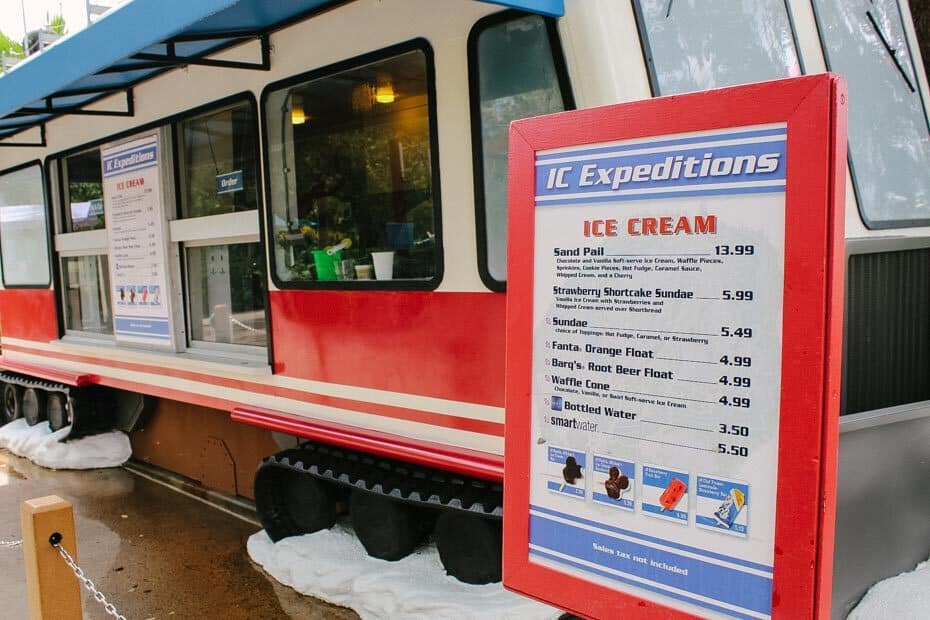 This is also where you get the infamous Sand Pail. That's a real sand pail full of chocolate and vanilla soft-serve ice cream, waffle pieces, sprinkles, cookie pieces, hot fudge, caramel sauce, whipped cream, and a cherry. Whew! For sure, you will want to share this one!
Warming Hut is off the beaten path and considered a hidden gem. The counter service is located past Lottawatta Lodge off Cross Country Creek. I had already had lunch this day when I got over to take these pictures. But I felt like they had some nice options to choose from.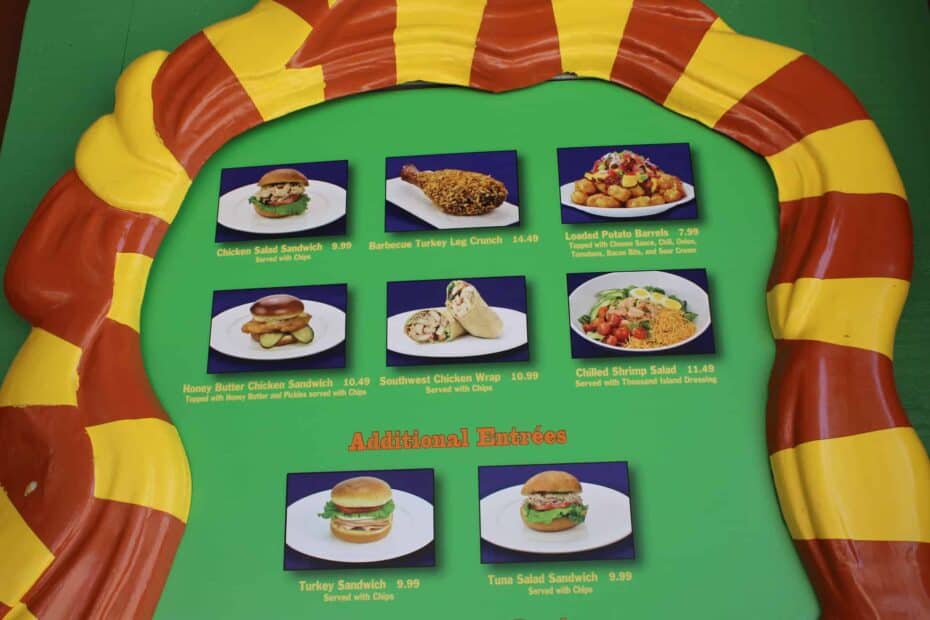 Polar Pub is the adult beverages bar located directly behind Melt Away Bay. There is a traditional bar and a walk-up area along with a few small high top tables and chairs.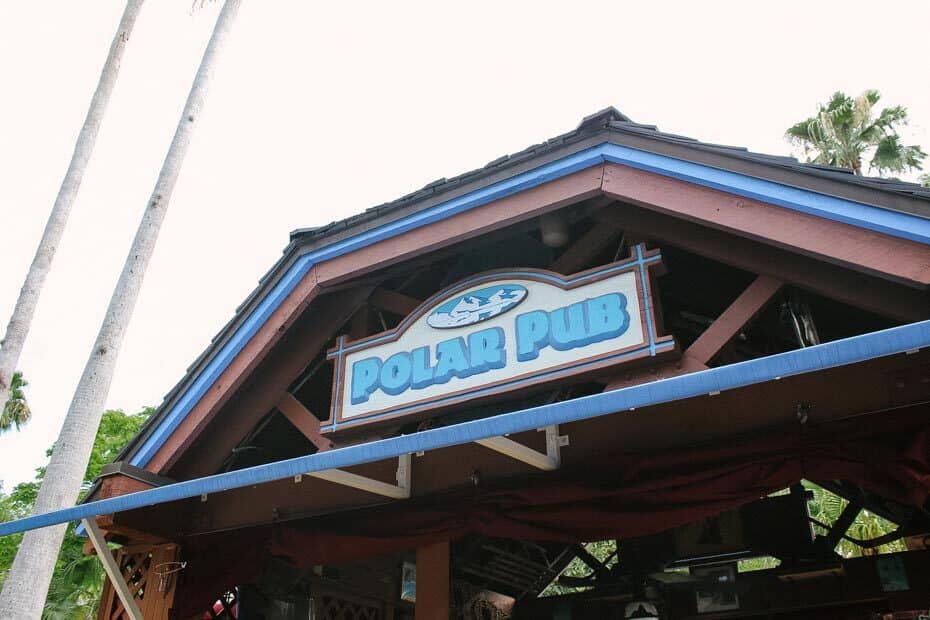 Menu items for Polar Pub include drinks on the rocks, frozen drinks, bottled water, wine, and bottle/can beer.
Other dining options include snack kiosks like the Joffrey's below.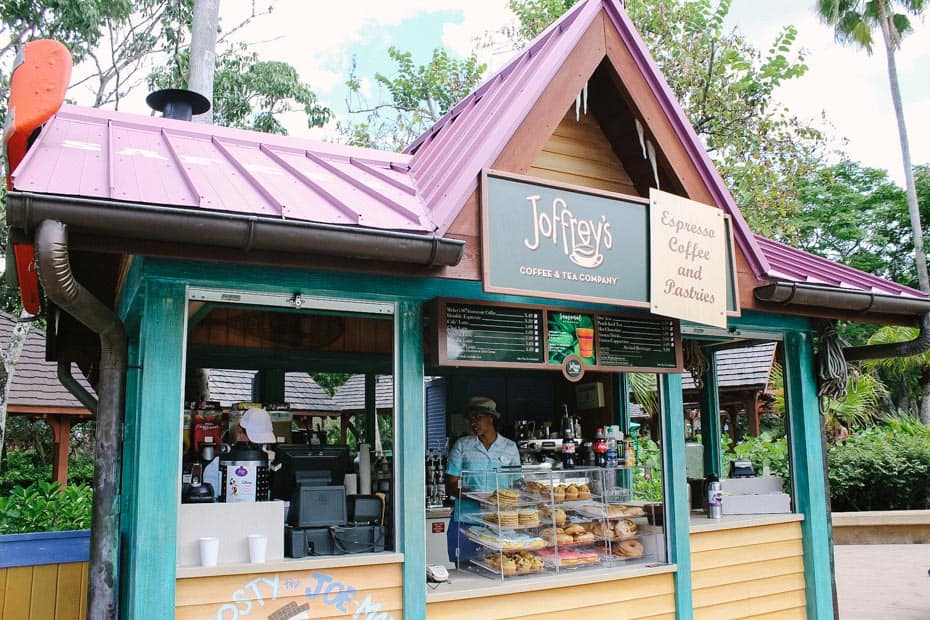 Funnel Cakes is also down close to the Melt Away Bay. They offer funnel cakes with the ability to add ice cream and chocolate on top. The menu includes fried ice cream, cotton candy, and bottled water.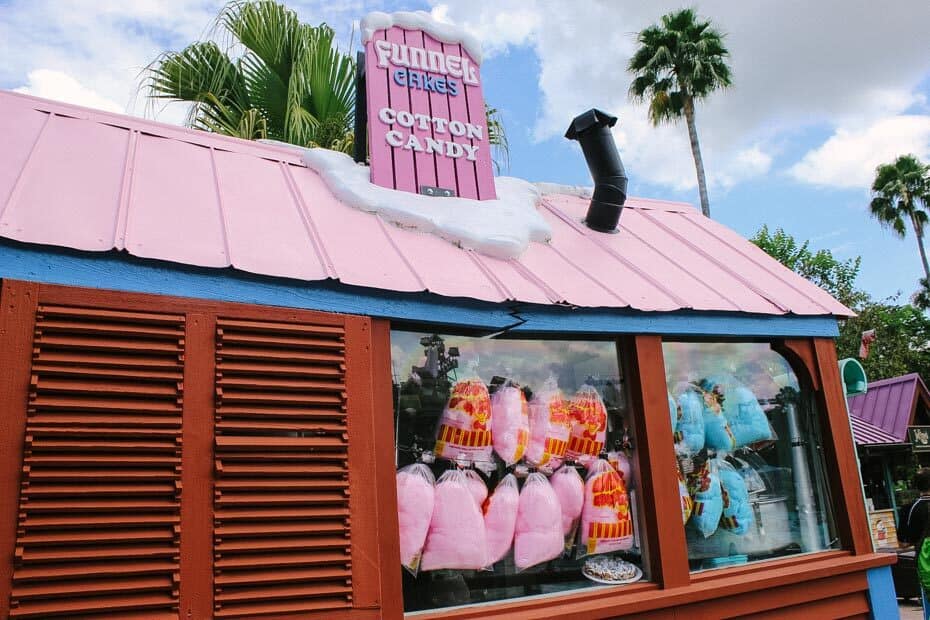 As far as shopping goes, both of the Disney water parks offer unique merchandise. Beach Haus is the retail store located at the front of the park. I highly recommend checking it out on your visit.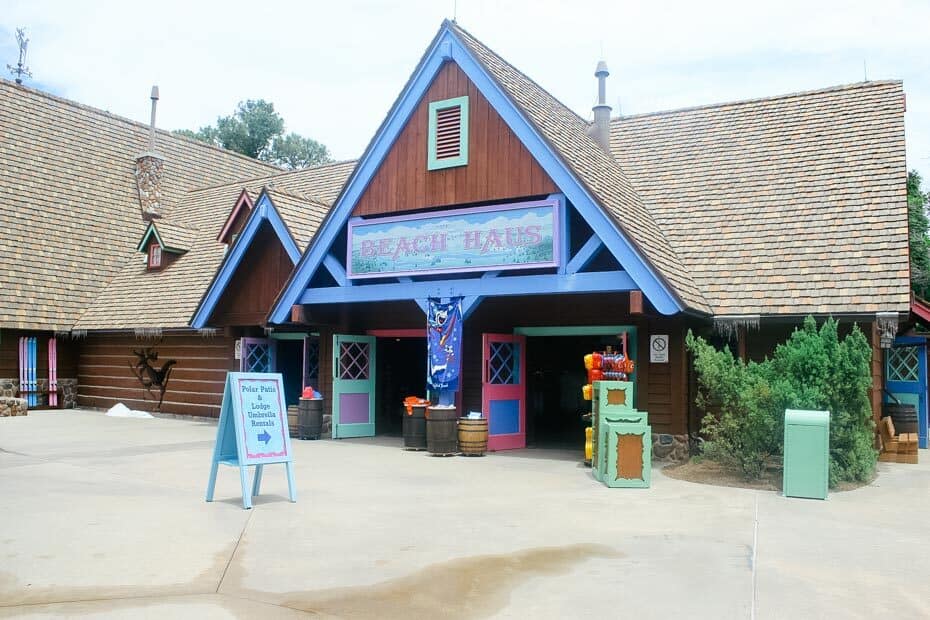 The resort store offers a good bit of swimwear items for all. I guess sometimes someone might forget to bring a swimsuit to a water park.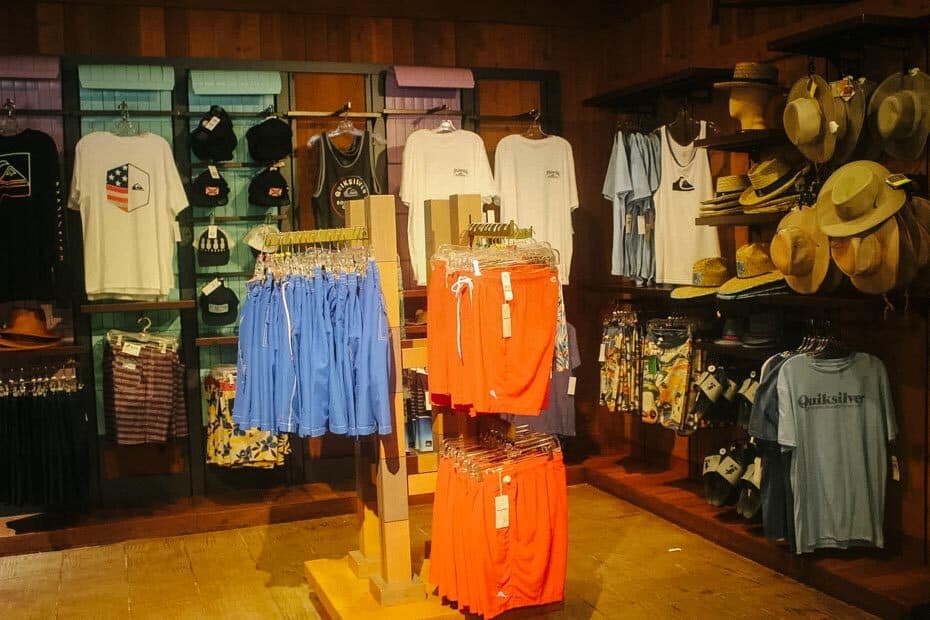 All jokes aside, life happens. I'm wondering what I will forget to take with me on my next visit. It's always something.
They have some cute Blizzard Beach themed merchandise as well.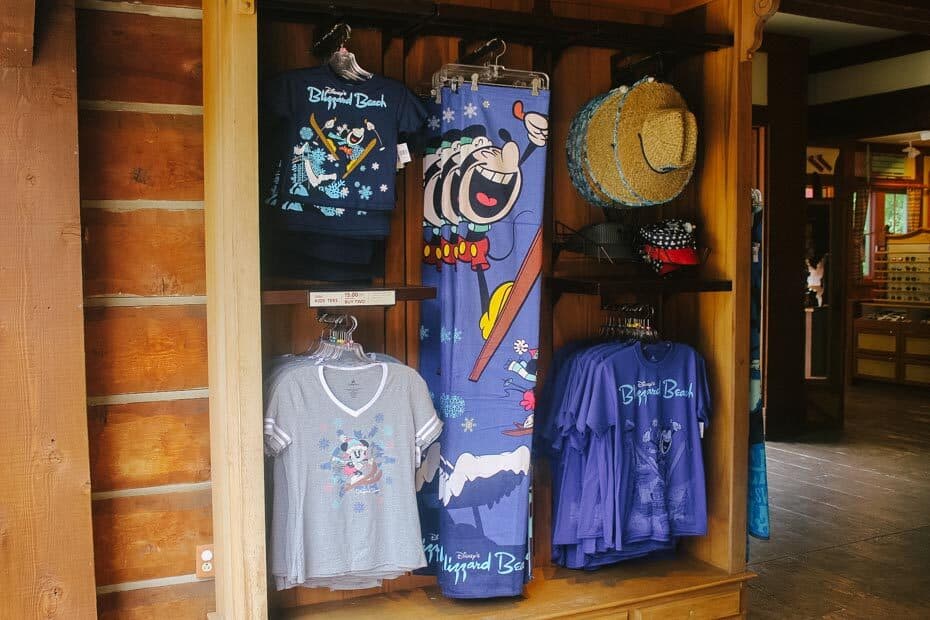 Most of the towels are displayed on the wall.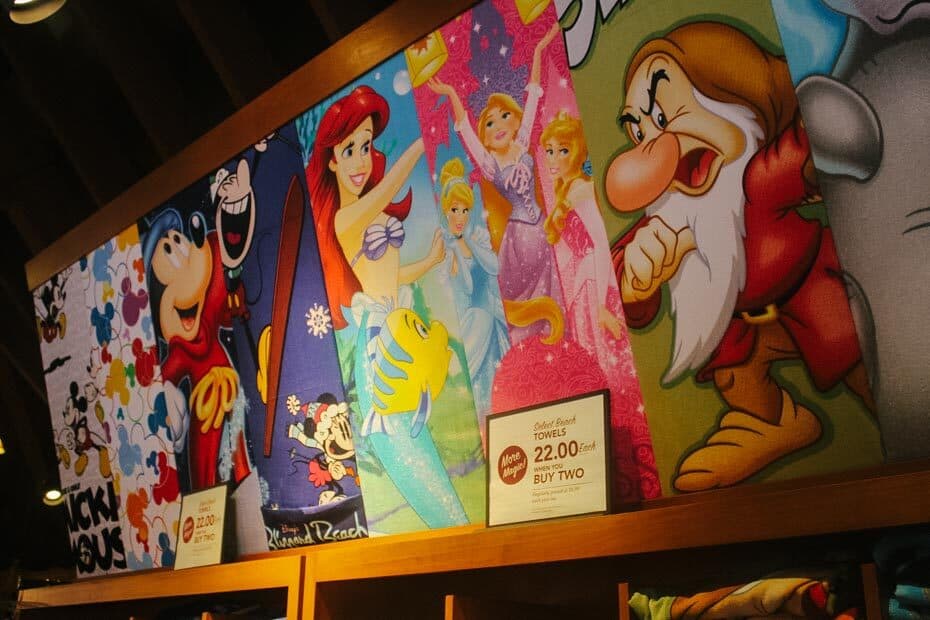 There are also some fun beach style toys available.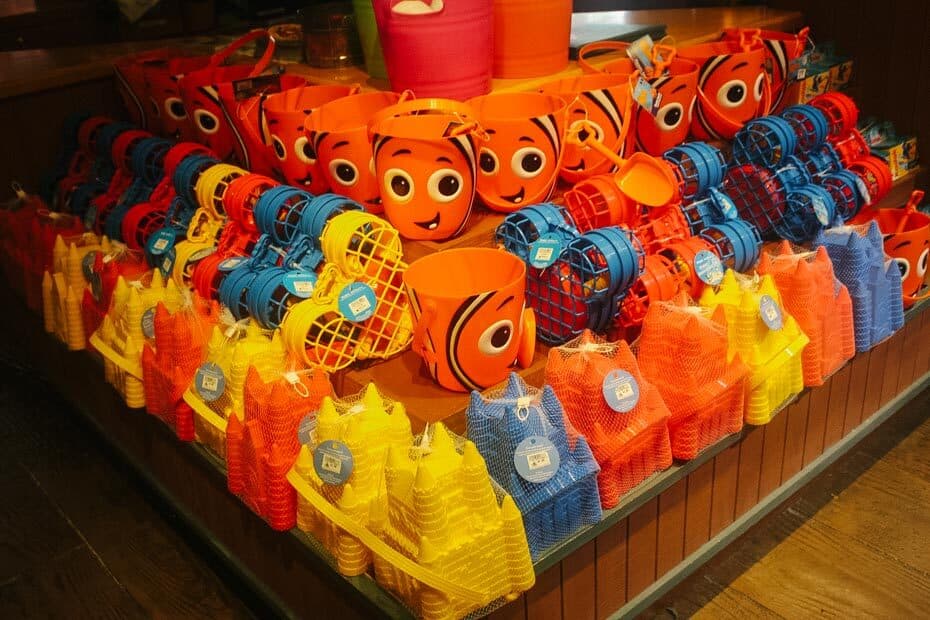 In case you break your sunglasses, there's a nice selection. I wouldn't know anything at all about that.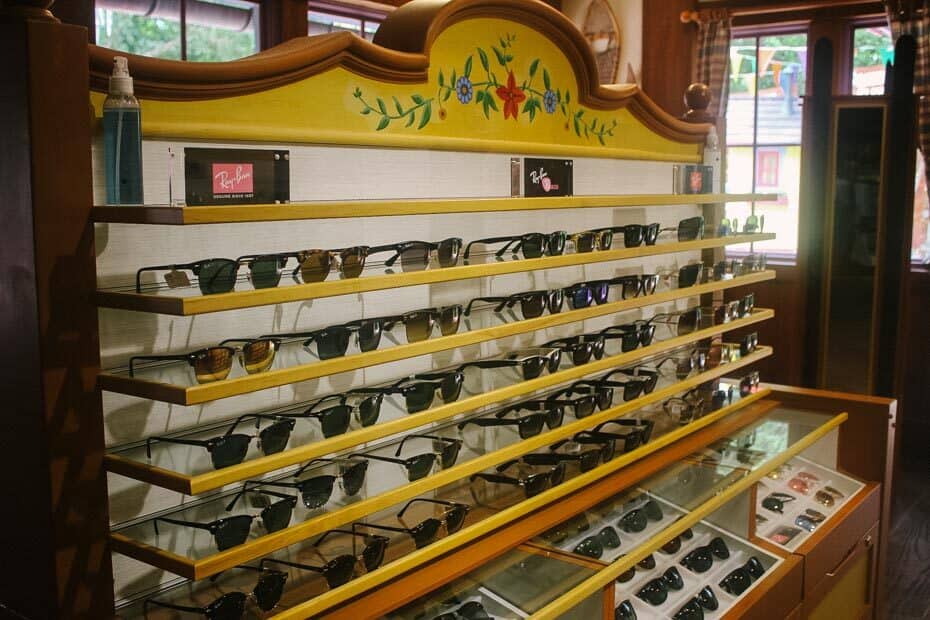 Characters at Blizzard Beach
Goofy is usually available in his bathing suit throughout the day. He is located in front of the Beach Haus retail store.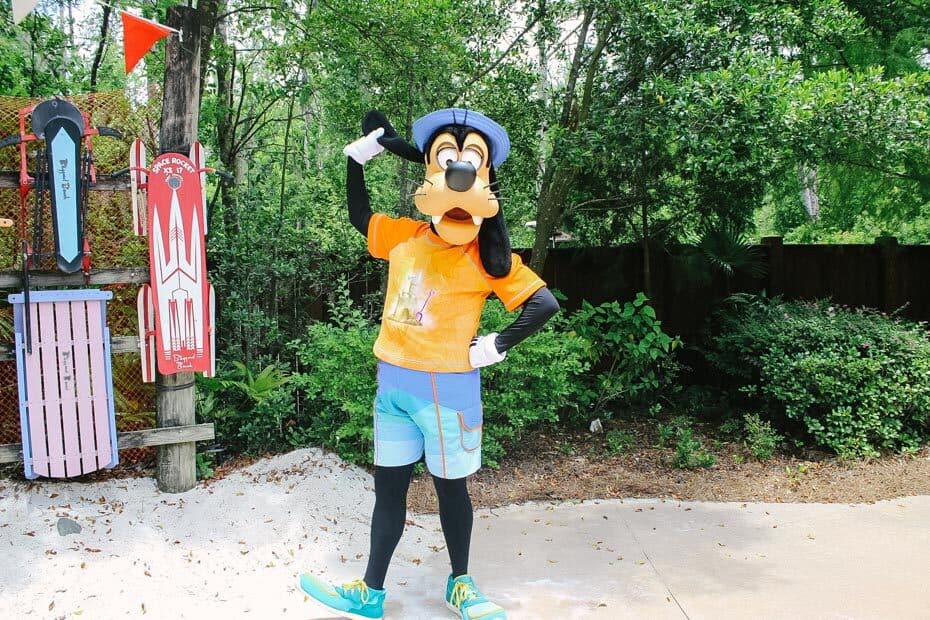 It is hot so Goofy usually comes out in 30-minute increments during the day. If you see him out and would like to take a picture make sure to do so then!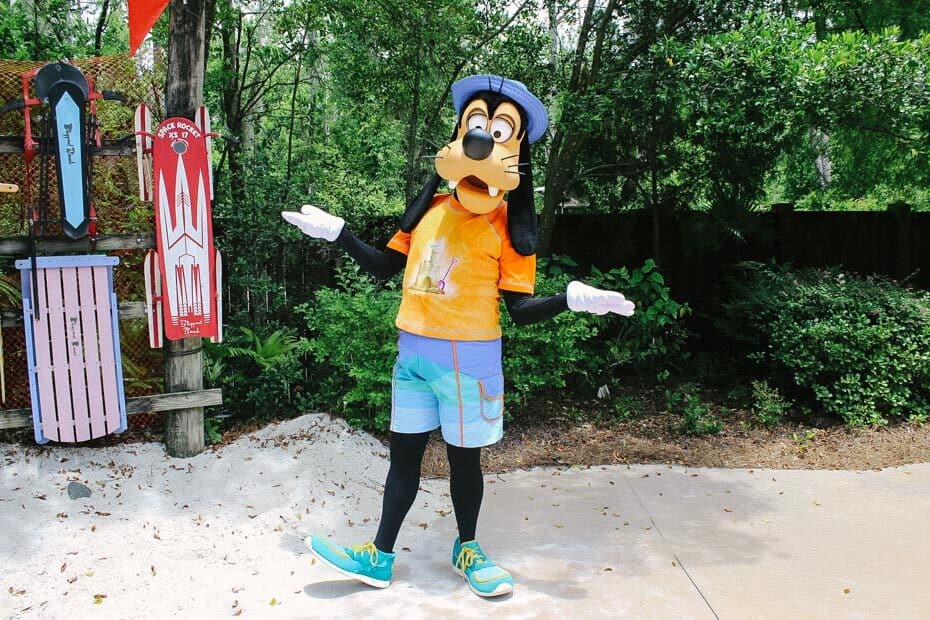 Here is another photo opportunity next to where Goofy meets at the park entrance.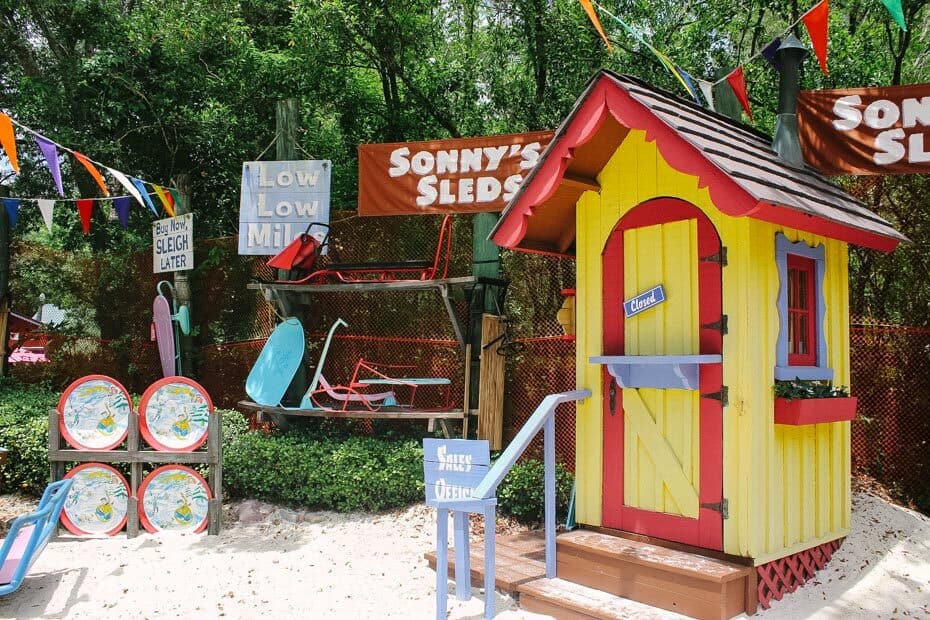 Blizzard Beach also offers some fun activities during the day. These are an extra cost. There is a tie-dye experience that will be announced over the intercom at some point during the day.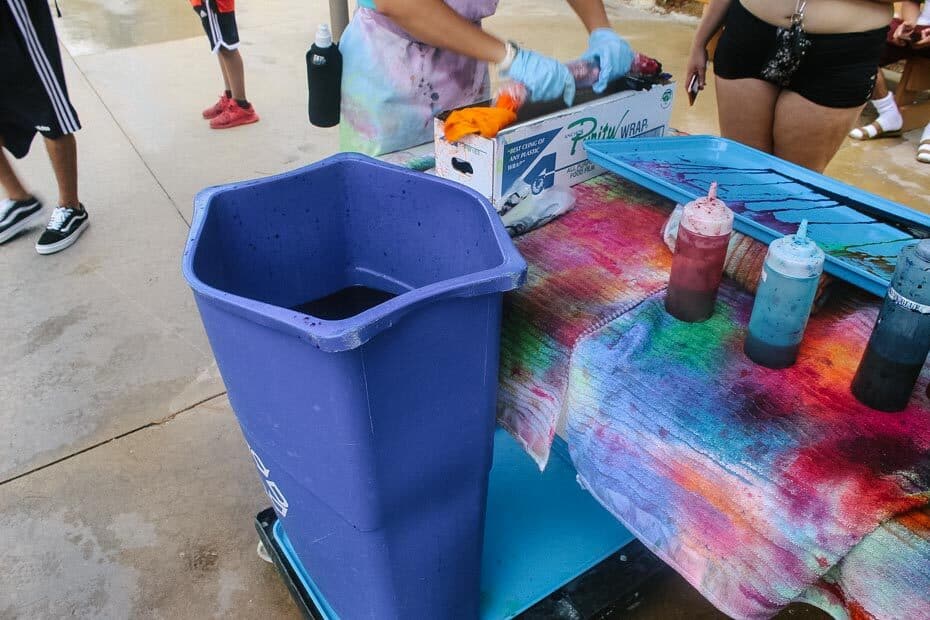 They have a hair wrap and tattoo station. Some of the tattoos are glow in the dark and last for over a week. They are glitter with neon style paint. The darker ones that look like a silhouette are a bit different.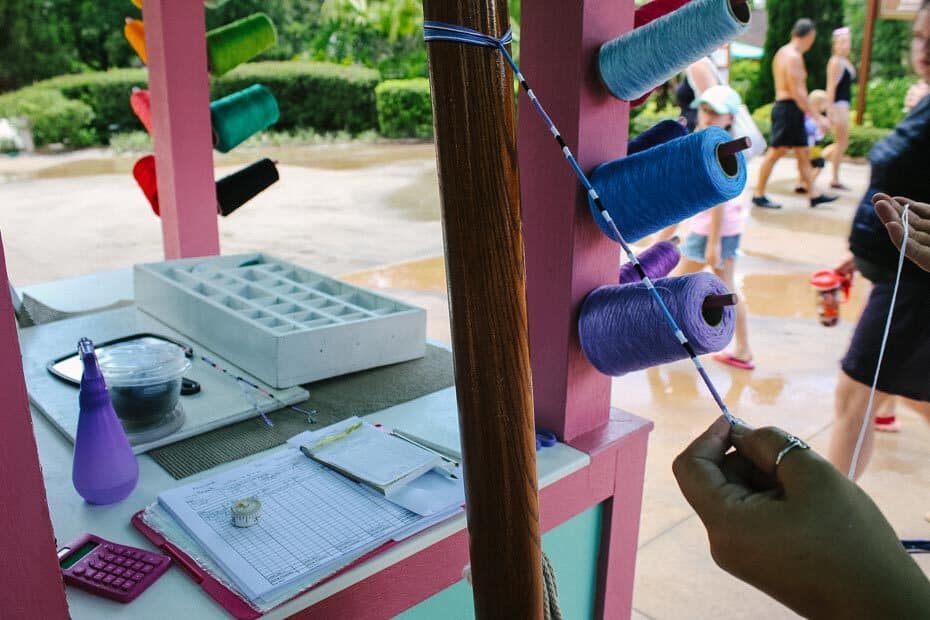 Polar Patio and Umbrella Chair Rentals
A common question guests ask is if they need a Polar Patio or an umbrella chair rental. In about 95% of instances, I would say no. However, there is a time and place for everything, and I can share my opinions on why you might want one.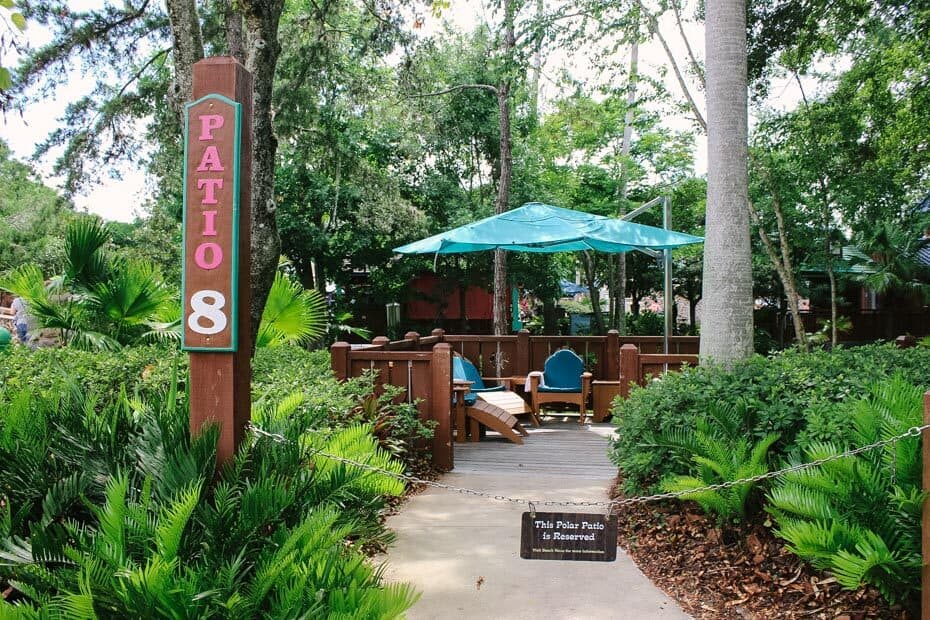 Groups with one or more who will not participate in the activities might enjoy the privacy of a polar patio. However, there is still an abundance of seating available.
Polar patios cost about $300 per day and include a variety of items like a private seating area, locker, refillable drink mugs, a cooler stocked with ice water, and cast members to take and deliver your food orders. You can find out more details here on Disney's site.
There is also the option to do two cushioned chairs and an umbrella. This runs about $50 per day and is available here.
I would like to stress again that there is an abundance of seating at the park. Renting a special area is by no means a necessity, even on a crowded day. There is also plenty of sunny and shaded area around the park for relaxing.
Things to Bring to Blizzard Beach
Lastly, I want to add a list of a few things you might want to bring on your visit.
Sunscreen
Sunglasses
Extra Towels (if not staying at WDW)
Goggles for the kids
Portable Phone Charger
Cooler with water/soda/snacks
Wet Wipes
Light change of clothes at the end of the day
Water Park Shoes
Plastic disposable bag for wet swimsuits at the end of the day
Lifejackets are provided at the parks for children.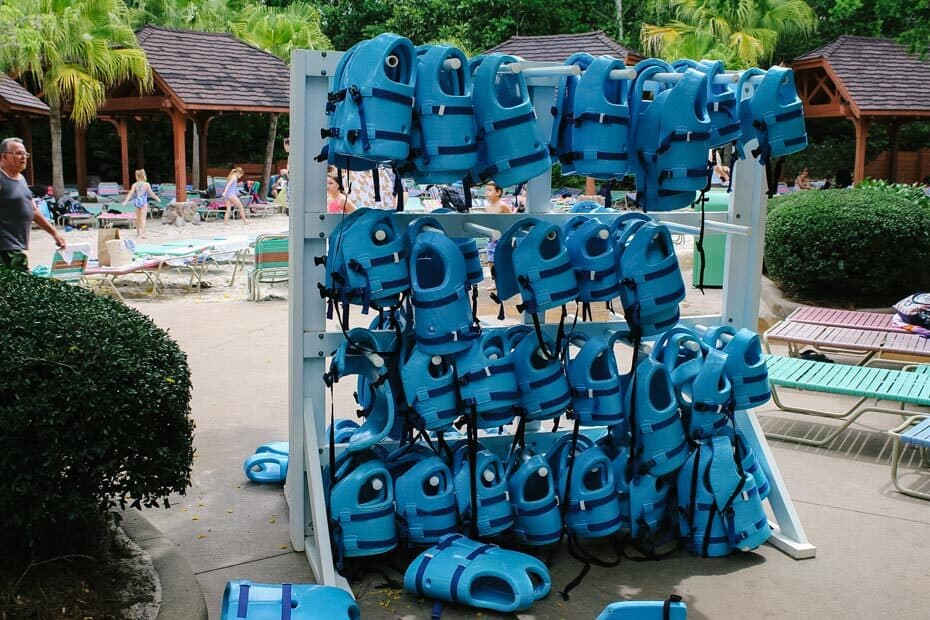 Hopefully, this guide has answered all your questions about Disney's Blizzard Beach water park! It's a fun park with a variety of active and relaxing activities.
For my family, my son's favorite water park has always been Blizzard Beach, and mine is Typhoon Lagoon I think this is the common trend from most of the feedback I hear about the two water parks.
Children and teens usually enjoy the thrill factors here a bit more. Meanwhile, adults enjoy the tropical relaxation vibe over at Typhoon Lagoon.
Whatever you decide, make sure to have a good time!
Let me know in the comments what you love about the water park! Are you a Typhoon Lagoon fan, or do you like the cold factor at Blizzard Beach more? What is your favorite ride at Disney's Blizzard Beach?