The Holiday Guide to Christmas at Disney World in 2022
Walt Disney World's 2022 Christmas season is upon us! For many of us, it's the most wonderful time of the year.
So if you have plans to visit Walt Disney World during the 2022 Christmas season, prepare for an exhilarating adventure full of holiday magic! Let's face it. No one does Christmas like Walt Disney World.
Our holiday guide for the 2022 Christmas Season at Disney World covers what's happening around the parks and resorts this upcoming season. From Mickey's Very Mery Christmas Party to the Festival of the Holidays at Epcot, we'll go over all the details.
Walt Disney World's Christmas season officially began on November 11, 2022. With that said, the first Mickey's Very Merry Christmas Party started on November 8th.
How long will the Christmas season last? Historically, most offerings will be available through the New Year holiday.
Decorations are usually left up through the first marathon weekend of the new year. If that practice holds, some Christmas decorations may remain through January 8, 2022.
However, Mickey's Very Merry Christmas Party ends on December 22, 2022. Also, Santa tends to disappear on December 24, 2022. But you already knew that, right?
Let's look at what to expect at Walt Disney World over the holiday season.
This article was updated on December 5, 2022.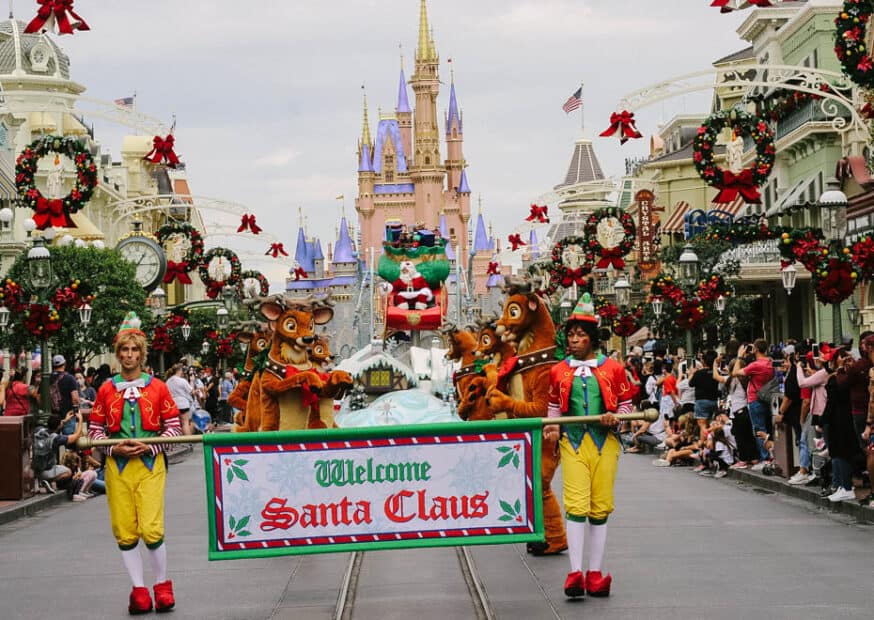 Christmas at Disney World
Below we'll look at the holiday offerings for each of the following locations:
Magic Kingdom
Epcot
Hollywood Studios
Disney's Animal Kingdom
Walt Disney World Resort Hotels
Disney Springs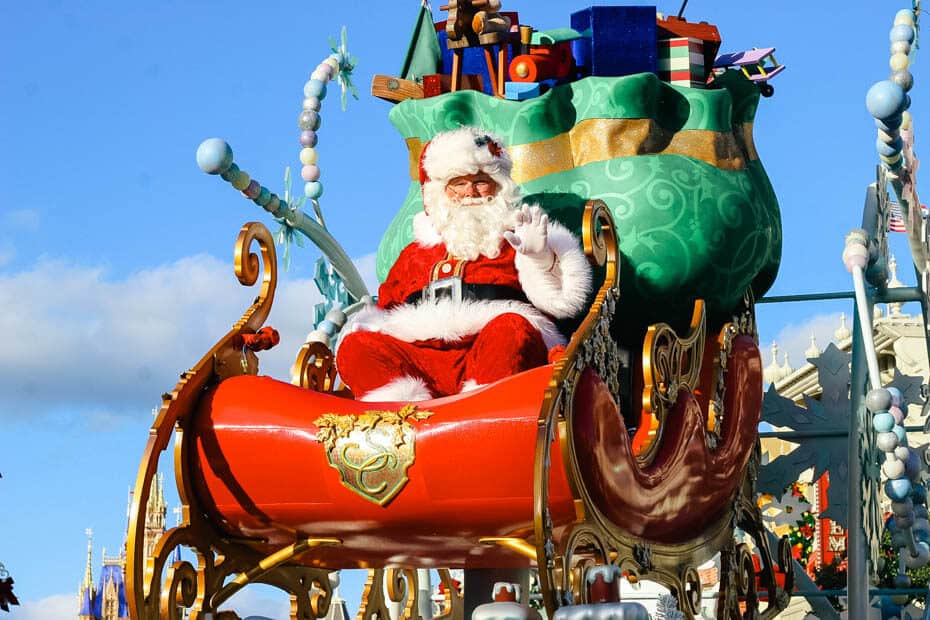 Christmas Offerings at Disney World's Magic Kingdom
At Magic Kingdom Park, guests can expect tremendous decorations down Main Street, U.S.A. Briefly, close your eyes and imagine making your way down the street.
In the background, the music transitions from one holiday melody to the next. There are bright red bows, Mickey-shaped holiday wreaths, and bells galore.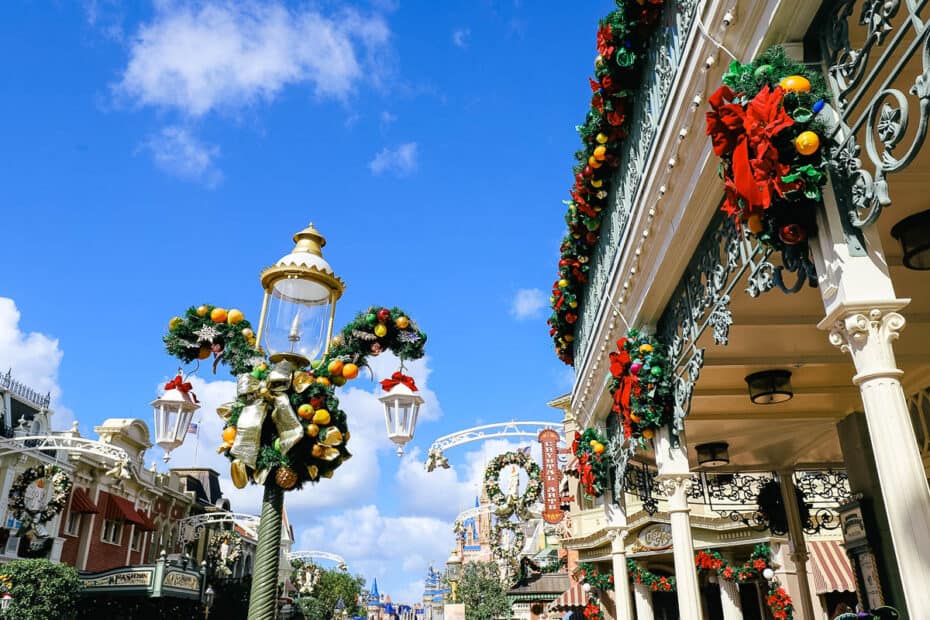 Between the trimmings and the sounds, you'll feel as though you stepped into a holiday wonderland. There's nothing like it.
At dusk, Christmas projections are displayed on Cinderella Castle. These holiday projections happen in rotation with the special 50th Beacon of Magic.
Additionally, Mickey's Very Merry Christmas Party returns in 2022! Mickey's Christmas Party is held on select evenings from November 8th through December 22nd.
Unfortunately, the entire event has now sold out. But if you've already purchased tickets, you might benefit from reading about our experience at this year's party.
Related: Mickey's Very Merry Christmas Party Guide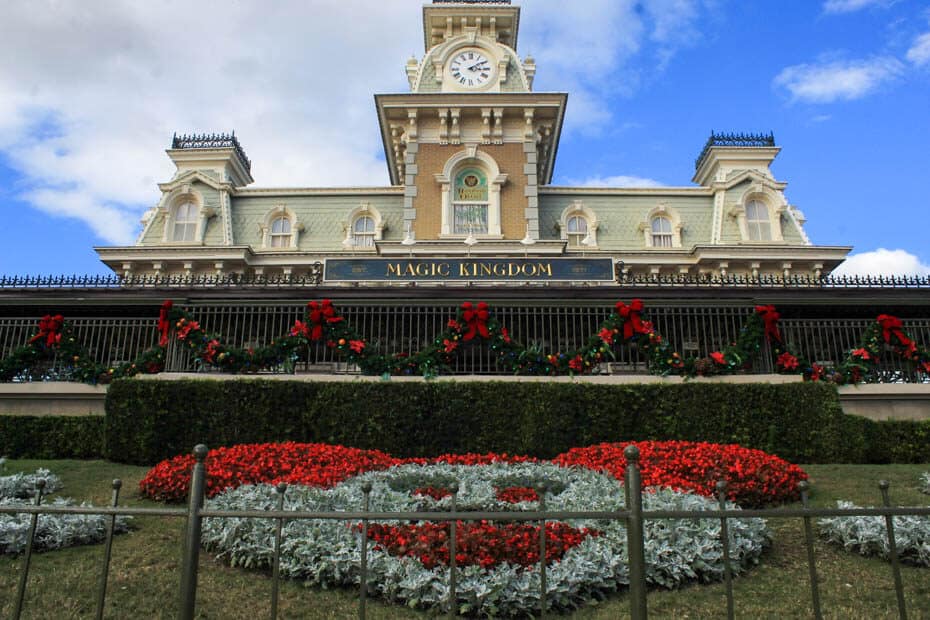 Some of the highlights of Mickey's Very Merry Christmas Party include:
Minnie's Wonderful Christmastime Fireworks Show
Mickey's Most Merriest Celebration Stage Show
Additionally, many rare characters meet during the Christmas Party. We attended the party twice and dedicated one evening strictly to meeting characters.
Related: Character Meets at Mickey's Very Merry Christmas Party
And don't forget Santa! Santa meets at Magic Kingdom during the day. Santa also meets at the Christmas Party.
Related: Meet Santa at Disney World
Unfortunately, Cinderella Castle will not receive the castle dream lights installation this season. However, this is understandable given the different decor added to the castle for the 50th anniversary.
If you are staying at a resort that offers early theme park entry, try to take advantage of it. That way, you can see the castle decked out first thing in the morning before it gets too crowded.
In addition to the festivities, limited-time Christmas treats will be available at select locations throughout the parks. One of those locations is the Main Street Confectionery, where you'll find plenty of tasty holiday sweets.
For a preview of the park during Christmas, we have a complete overview with extra photos and details from last season.
Related: Magic Kingdom at Christmas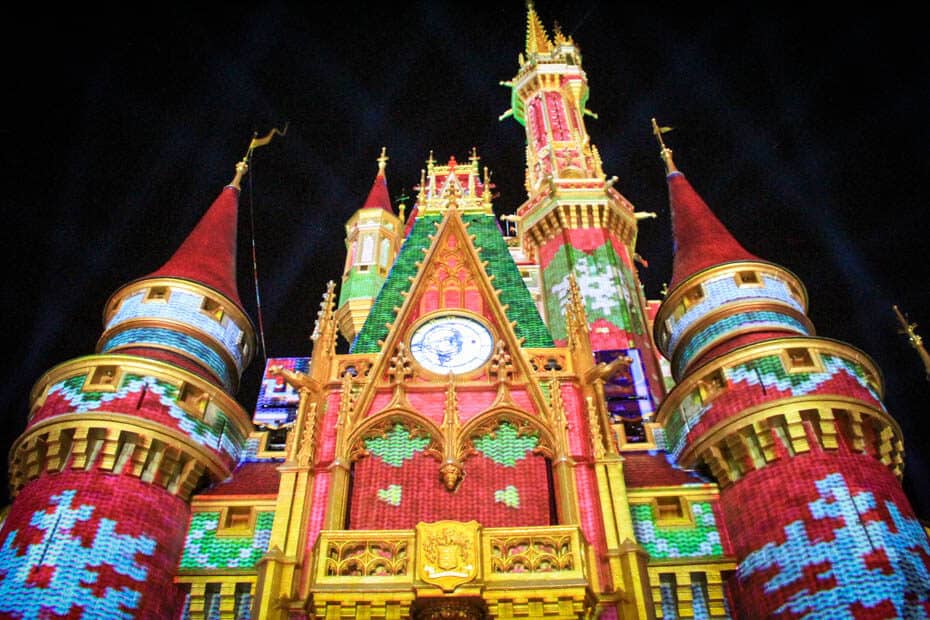 Christmas Offerings at Epcot
Over at Epcot, guests can participate in the Epcot International Festival of the Holidays. This year's festival dates are November 25th through December 30th.
Guests can enjoy treats from holiday kitchens scattered throughout the World Showcase during the Festival. And you'll have to decide whether or not to participate in this year's Cookie Stroll.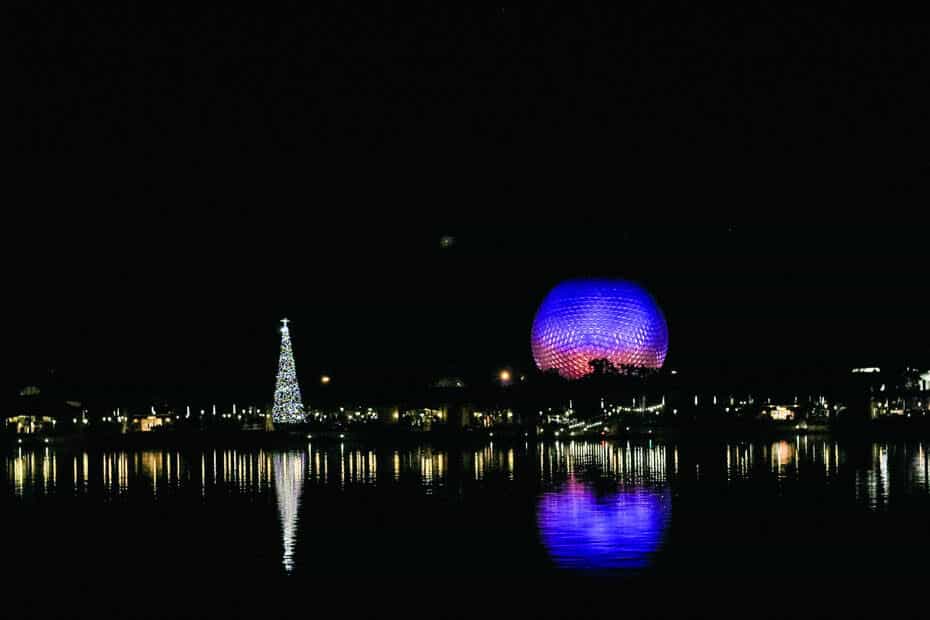 Epcot's popular Candlelight Processional returns during the Festival of the Holidays. Stay tuned for specific dates and a list of narrators.
In addition to the Festival, we saw the return of Merry and Bright Nights on Living with the Land. However, in 2022 this unique holiday overlay is called Glimmering Greenhouses on Living with the Land.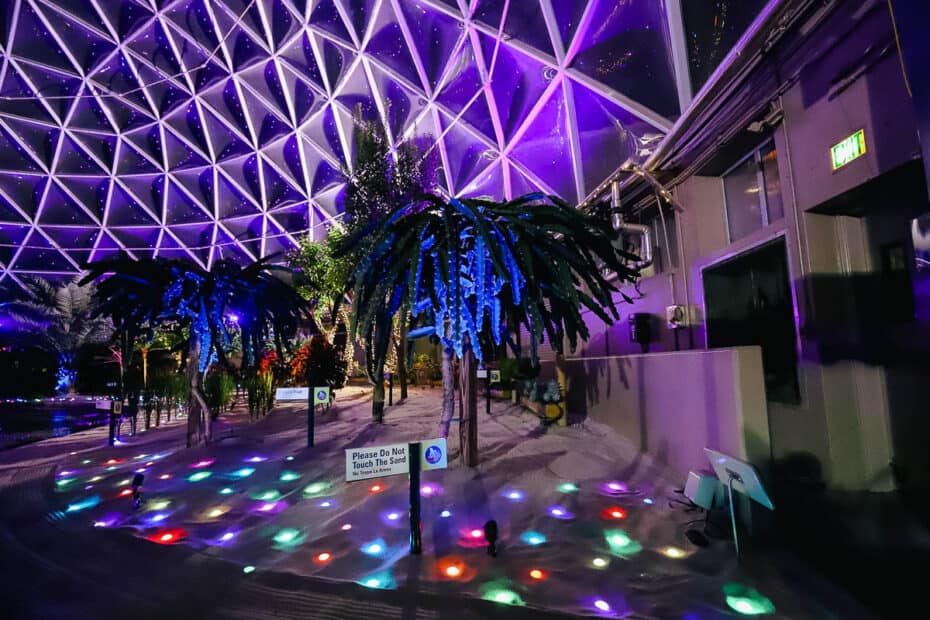 Guardians of the Galaxy: Cosmic Rewind received a holiday overlay. Expect to hear a fun seasonal jam on the attraction over the holiday.
Update-While the song is fun, it doesn't really add benefit to the attraction. I'd much prefer September or Rule the World.
Guests can also take the time to meet Santa Claus at Epcot this holiday season! He meets daily at The Odyssey building in a beautiful setting.
Related: Meet Santa at Epcot
Throughout the World Showcase, expect holiday musical performances and special storytellers. In addition, we will likely see the return of a kid-friendly holiday scavenger hunt.
We cover these items in full detail in our Epcot Christmas guide.
Related: Christmas at Epcot
Christmas Offerings at Hollywood Studios
Hollywood Studios has several Christmas offerings for the 2022 Disney World Christmas season. For starters, Sunset Seasons Greetings returns.
Sunset Seasons Greetings is a nightly projection show that displays fun holiday scenes on the facade of the Hollywood Tower Hotel. These will alternate with the Beacon of Magic projection, similar to the Cinderella Castle projections.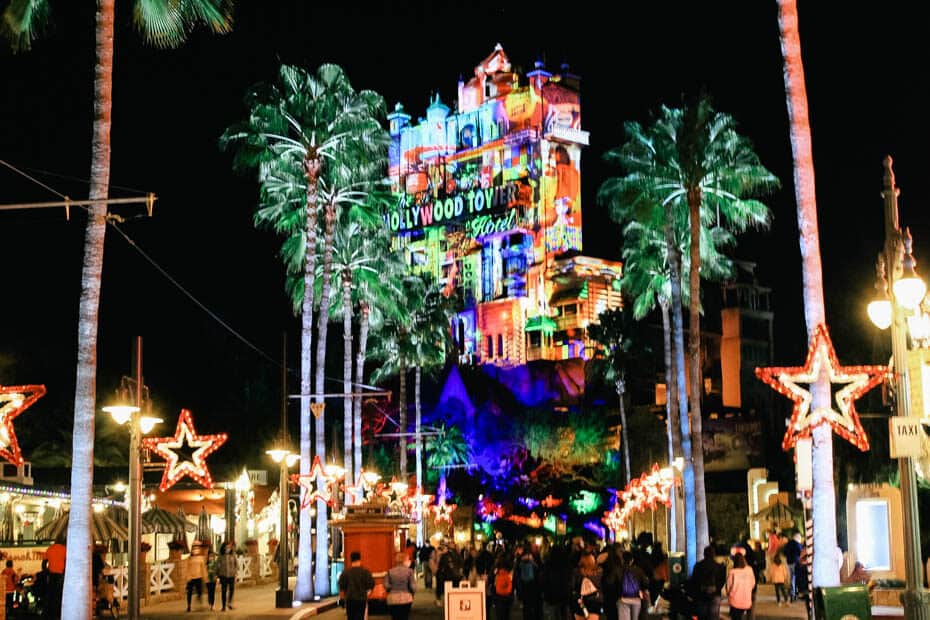 We see the return of the Santa Claus Merry Motorcade in 2022. Guests can see Santa when he comes through Hollywood Blvd in his bright red convertible. Times for this special motorcade will be listed in the My Disney Experience app.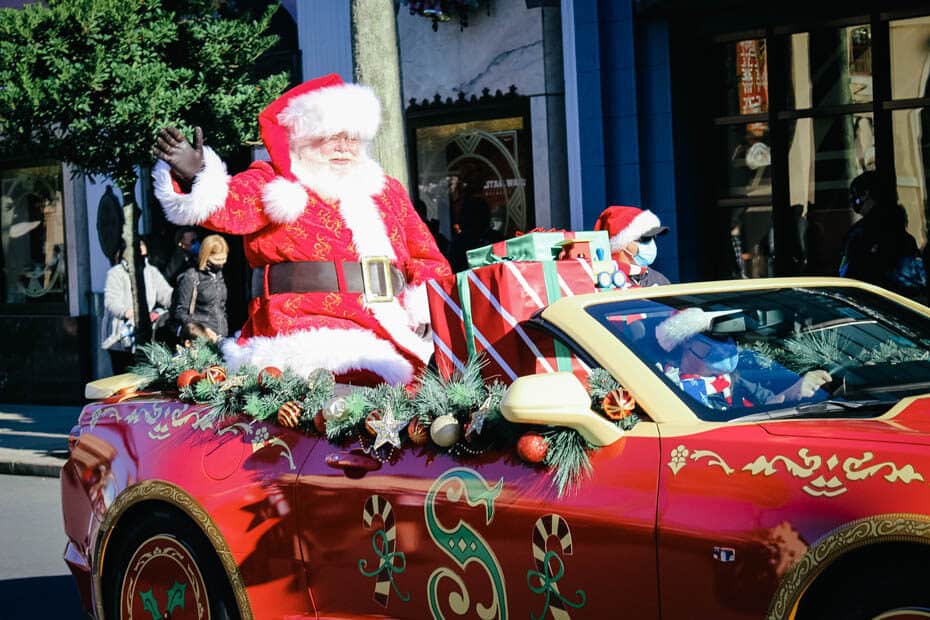 For the First Time in Forever: A Frozen Sing-Along will again offer a special holiday finale featuring Olaf. If you've never seen this performance, it's worth taking the time to see it, especially during the hotter portion of the day.
Those who enjoy dining with characters will want to check out Minnie's Holiday Dine at Hollywood and Vine. Characters at this dinner include Minnie and friends wearing festive holiday attire.
Related: Dining with Characters at Walt Disney World
In addition to the items we discussed, expect tons of holiday decor at Hollywood Studios. And we may see a few special touches in Toy Story Land.
Hollywood Studios is a charming park that you'll likely find even more special during Christmas, especially after sunset.
Related: Hollywood Studios at Christmas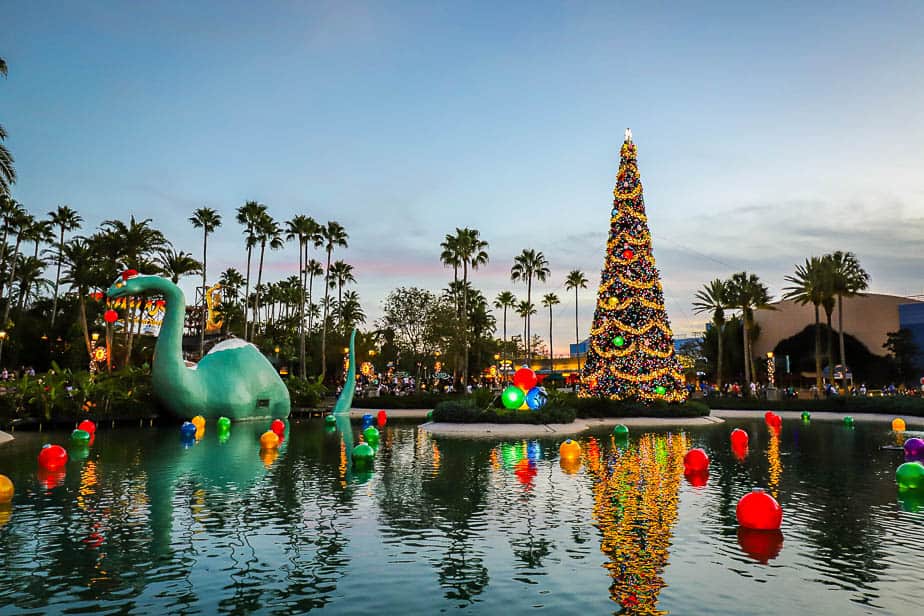 Christmas Offerings at Disney's Animal Kingdom
Last but not least, we have one of the most surprising parks at Christmas, Disney's Animal Kingdom. The park's holiday decorations are incredible.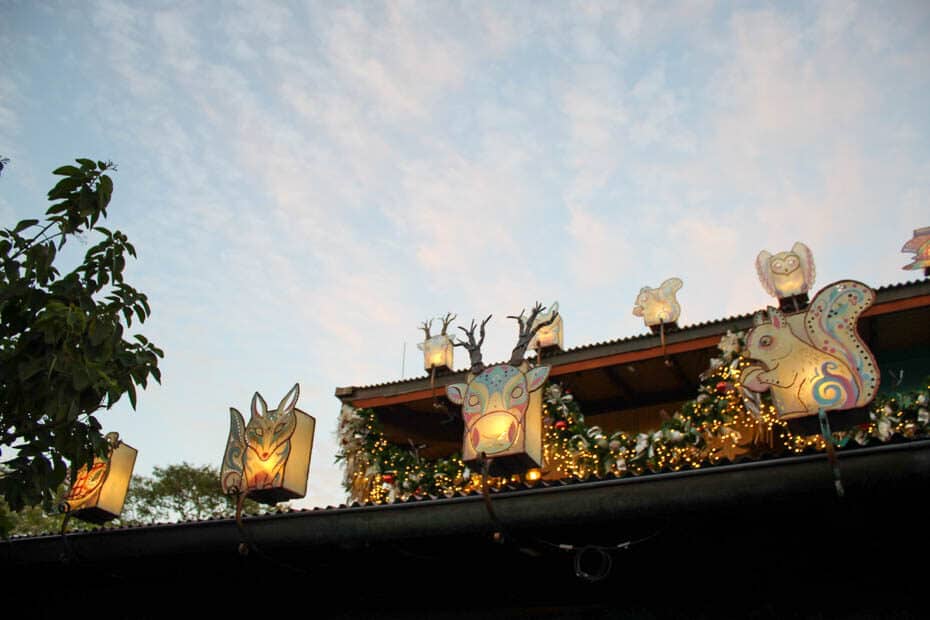 A Merry Menagerie returns to Disney's Animal Kingdom this season. This exceptional interaction consists of performers wielding artisan-sculpted puppets. Puppeteers are usually out around the Tree of Life most mornings of the holiday season.
Guests can expect to encounter Santa Claus and Discovery Island Drummer's Festive Flotillas during the holiday season. Character cruises sail down the Discovery River several times throughout the day. They are relatively easy to see while touring the parks.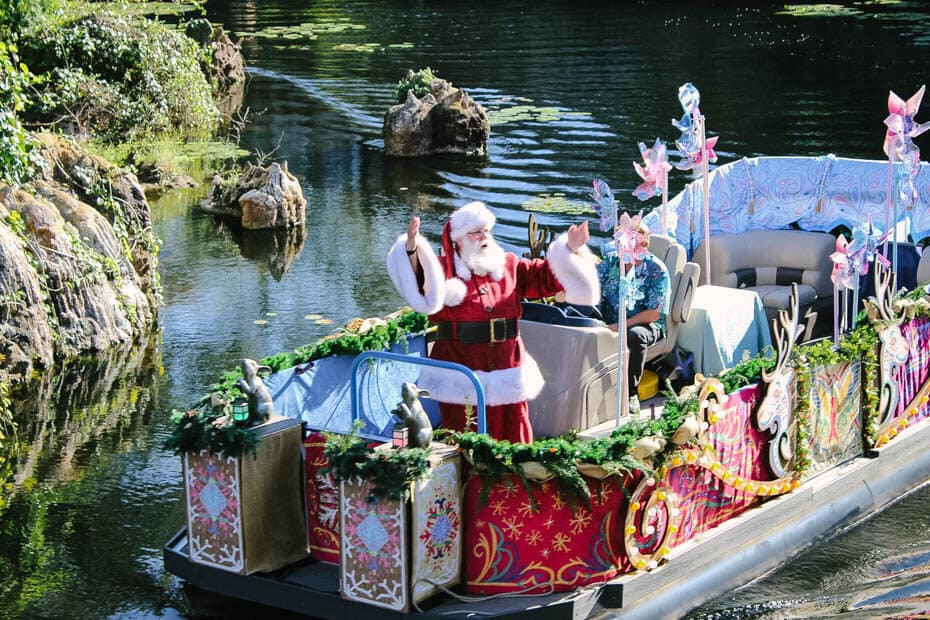 One of our favorite spots to see the flotillas is from the deck of Nomad Lounge. Parents, you can relax here while children watch for passing characters.
Related: Nomad Lounge Review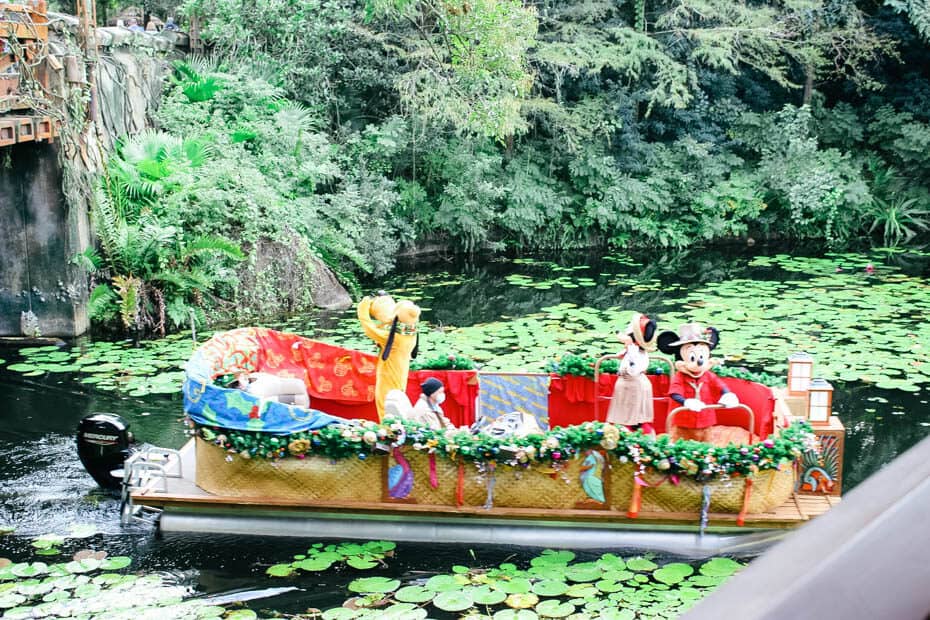 Additionally, there's a special holiday edition of the nightly Tree of Life Awakenings throughout the Christmas season. Like the other parks, the holiday awakenings will rotate with the beacon of magic celebrating the 50th anniversary.
Related: Disney's Animal Kingdom at Christmas
Resort Christmas Offerings
Christmas at Disney World wouldn't be complete without the seasonal decorations at the resorts. All of the deluxe resorts will have elaborate displays and massive Christmas trees.
In addition, select resorts will have holiday treats available for purchase. Some of those treats will include gingerbread.
Below is a preview of the gingerbread carousel that's usually on display in the lobby of Disney's Beach Club. Each year the carousel has a different theming. For example, last year's theme was The Little Mermaid.
Related: Little Mermaid Gingerbread Carousel at Disney's Beach Club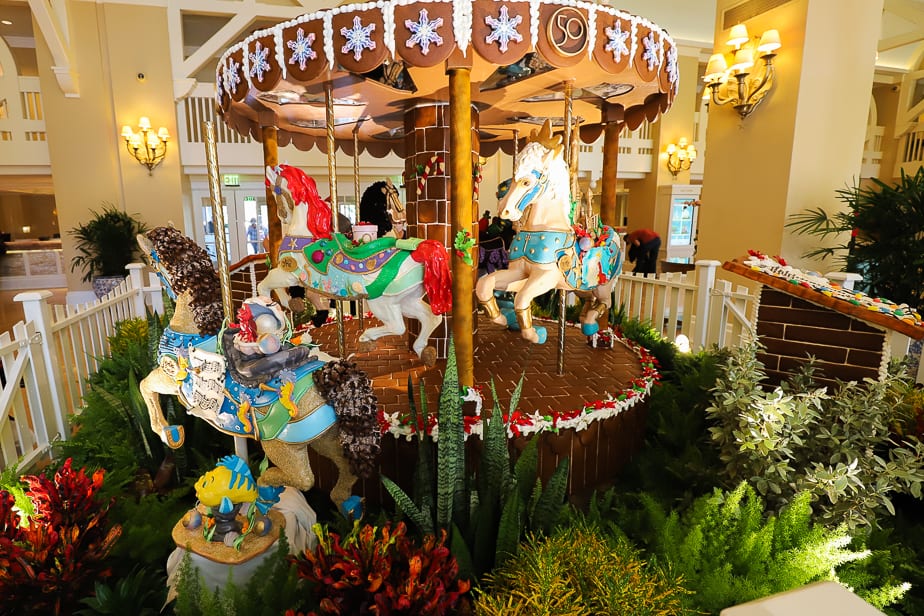 And this year's house features Disney princesses.
Related: 2022 Disney Princess Gingerbread at Disney's Beach Club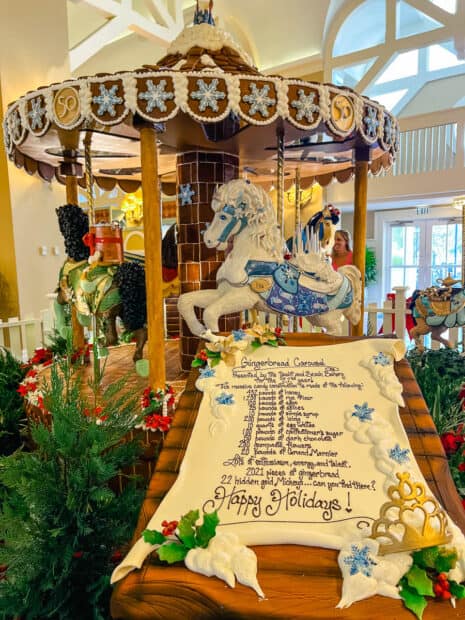 Additionally, Disney's Grand Floridian will have a gingerbread house on display.
Related: Gingerbread House at Disney's Grand Floridian (2022)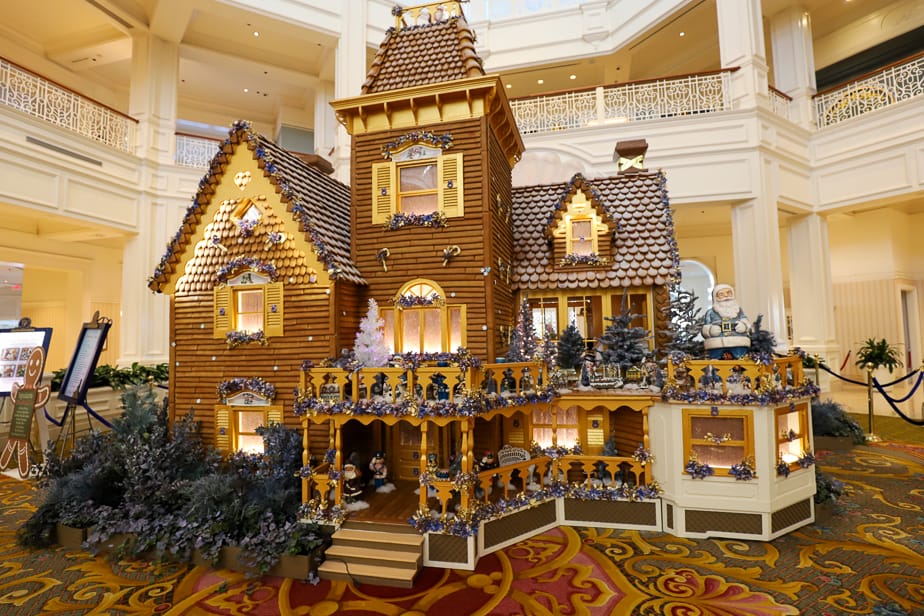 Here are the resort-specific Christmas guides if you're trying to decide where to stay or which resorts to visit during the holiday season:
You might also enjoy our list of the best resorts to visit at Disney World during Christmas.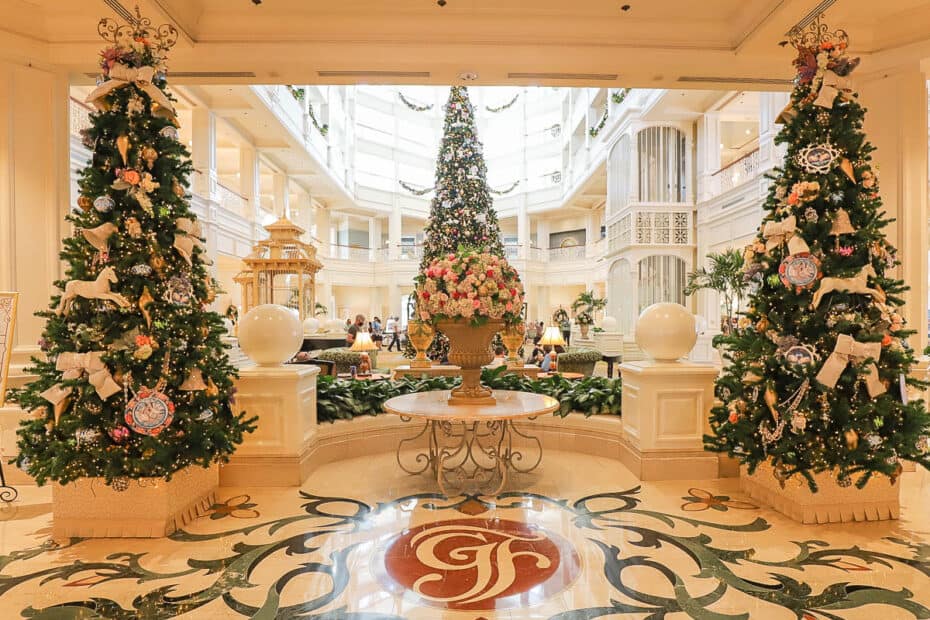 Additionally, there are several other gingerbread displays at Disney World in 2022. Don't miss these while touring:
Disney's Yacht Club also has a Christmas village with a train set up in their lobby.
Related: Train and Christmas Village at Disney's Yacht Club
Christmas Offerings at Disney Springs
Lastly, Disney Springs will have a few fun items to add to the mix of Christmas at Disney World. Aside from the beautiful decor, guests can participate in the Disney Springs Christmas Tree Stroll.
If you've never had the opportunity to see the trees at Disney Springs, it's worth considering. On one hand, Disney Springs will require a decent amount of walking. But on the other hand, so does everywhere else at Disney World.
Many of the trees are themed to various Disney movies and attractions. A special snowfall experience will be available in Town Center. The snowfall usually happens after dark and is a delightfully clean experience. I think Floridians call it snoap.
Additionally, a few unique entertainment offerings will be available at Disney Springs during the holiday season. Expect to see Toy Soldiers on stilts, holiday musical performances, and Snowflake Skaters.
Over at Jock Lindsay's Hangar Bar, you'll notice the transition to a holiday bar. A limited-time holiday menu will be available.
If you're planning a trip to Disney Springs, you may want to check out our transportation guide for the venue. In addition, we have a list of the best restaurants at Disney Springs.
Related: Disney Springs Transportation Options
Also, don't miss the special Santa Claus meet and greet at Disney Springs. You will need to join a virtual queue to get a return time for the meet, but it's super simple.
Related: Meet Santa at Disney Springs
Final Thoughts on the 2022 Disney World Christmas Season
As of December, these are all the updates available for the 2022 holiday season at Walt Disney World. When and if we know of new updates, I'll update our guide to reflect them.
For those who already have plans to visit over the holidays, remember that a Disney World vacation can be stressful. There will be long lines.
But for most, the season is a time to focus on other things outside the usual attractions. Everywhere you look, there's something fresh and festive to see.
Between the holiday decorations and the Christmas-y background music, most can't help but get a twinkle in their eye. Maybe it's pixie dust.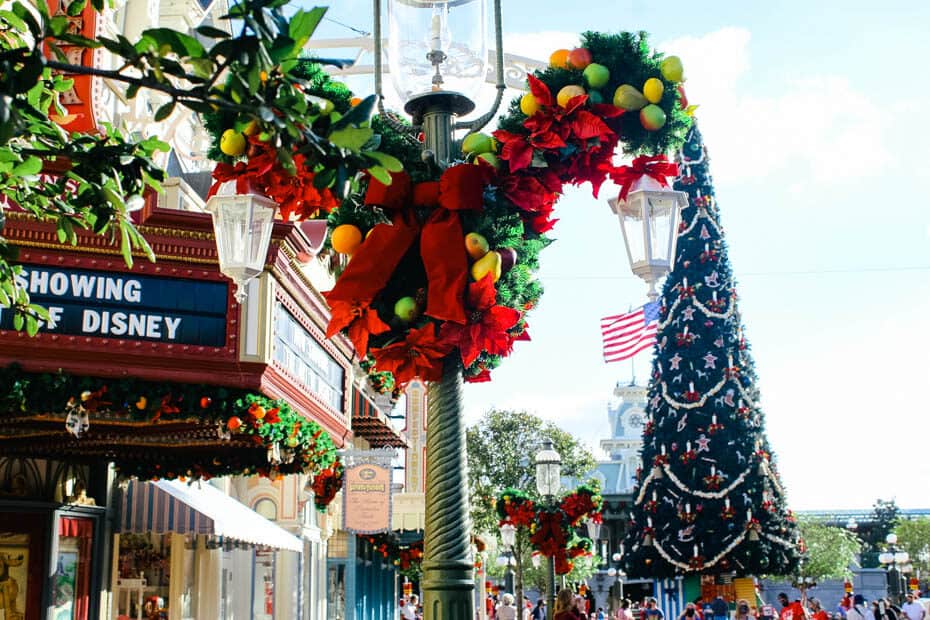 Regardless, the season offers the opportunity to pause and enjoy the surroundings. You can easily spend half a day hanging out on Main Street at Magic Kingdom, taking in the decorations and entertainment.
And if you don't want to deal with crowds, you can always organize a resort holiday tour. Don't forget to plan a few meals, treats, and transportation along the way. You're going to have the best time!
In the comments
What is your favorite thing to do at Disney World during the holidays? Or if this is your first time visiting at Christmas, what are you looking forward to the most? Share your thoughts below in the comments.