Christmas at Disney World (Dates & Holiday Guide)
Christmas at Disney World is right around the corner! Anyone visiting Walt Disney World during Christmas is in for an exhilarating adventure full of holiday magic!
Let's face it! No one does Christmas like Disney World! And you're not going to want to miss a single thing!
In this guide, we will look at what's happening around the parks and resorts for the upcoming holiday season. Disney has begun to release information regarding the holiday season this year, and there are several things we'll need to cover.
For starters, the Christmas season at Walt Disney World officially begins on November 12, 2021. But, more than likely, this year will be different than most. That's because Disney World began celebrating its 50th anniversary in October.
How long will the Christmas season last? Well, the majority of offerings will be available through the New Year holiday. In the past, most decorations are usually left up through the first marathon weekend of the year. If that practice holds, some Christmas decorations may remain up through January 9, 2022.
Below we'll go over what each park will be offering and add information about the resorts and Disney Springs. I can almost hear the faint tune of "We're simply having a wonderful Christmastime" in the distance. Can you?
Related: 2021 Disney World Christmas Photos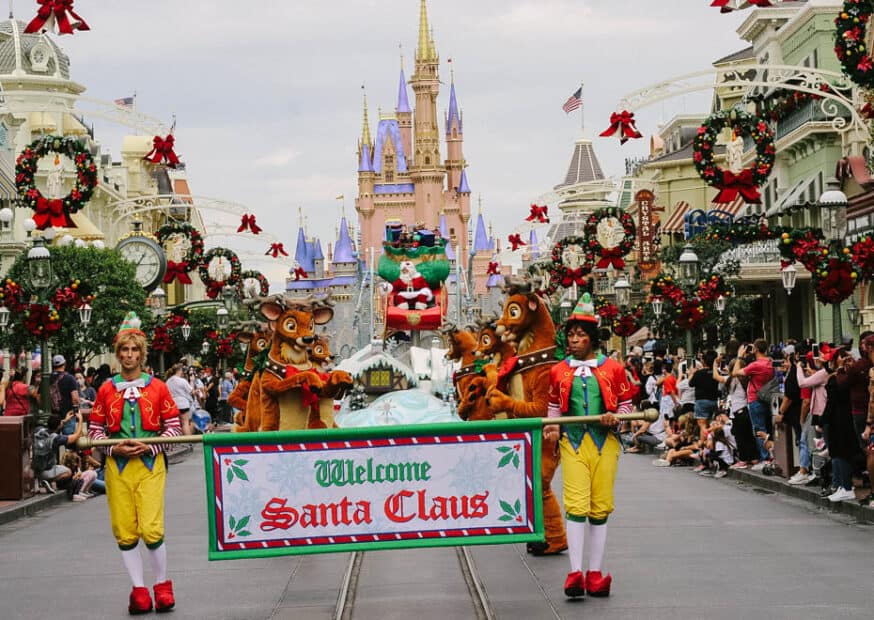 Over at Magic Kingdom Park, guests can expect tremendous decorations down Main Street U.S.A. The background music transitions from one holiday carol to the next, and you'll immediately know that you just stepped into the most magical place on earth.
At dusk, castle projections will be displayed on Cinderella Castle. These will happen in the evenings in rotation with the special 50th projection that turns the castle into a beacon.
This year, Disney is offering an extra-cost ticketed after-hours event instead of Mickey's Very Merry Christmas Party. This new after-hours is called Disney's Very Merriest After Hours.
Very Merry will be held on select evenings between November 8, 2021, through December 21, 2021.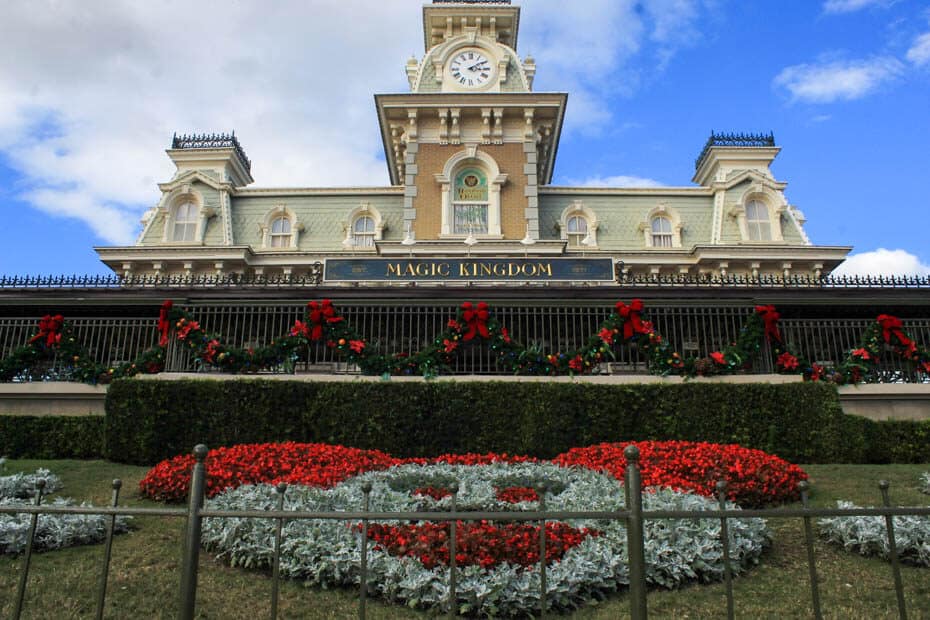 One advantage of attending the after-hours is that guests will see a performance of Minnie's Wonderful Christmastime Fireworks. Tickets will go on sale in August for this event and are limited.
Unfortunately, Cinderella Castle will not have castle dream lights this season. This is understandable given the different decor added to the castle for the 50th anniversary.
If you are staying at a resort that offers early theme park entry, try to take advantage of it. That way, you can see the castle decked out first thing in the morning before it gets too crowded.
Additionally, with the lack of dream lights, a Frozen Holiday Wish (nightly castle lighting ceremony over the holidays) does not return in 2021.
Additionally, Mickey's Once Upon a Christmastime Parade will be part of the Very Merry After Hours event. The parade will be available for all park guests starting December 22, 2021.
You might also run into Mickey's Celebration Cavalcade during your visit. It will come through the park several times per day. In addition, the new pop-up parade for Magic Kingdom begins in October to celebrate the 50th. That float will include classic characters like Mickey and Minnie Mouse.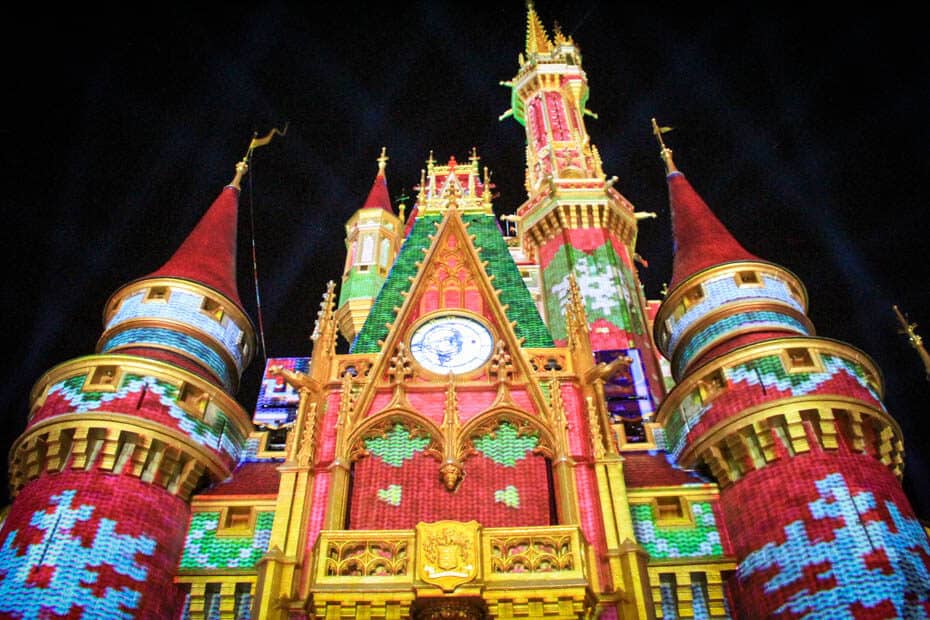 For a preview of the things you can expect, make sure to check out our Magic Kingdom at Christmas overview. It has tons of pictures and details on what to expect.
Over at Epcot, guests can participate in the Epcot International Festival of the Holidays. This year's festival dates are November 26, 2021, through December 30, 2021. In addition, guests can enjoy treats from holiday kitchens scattered throughout the World Showcase.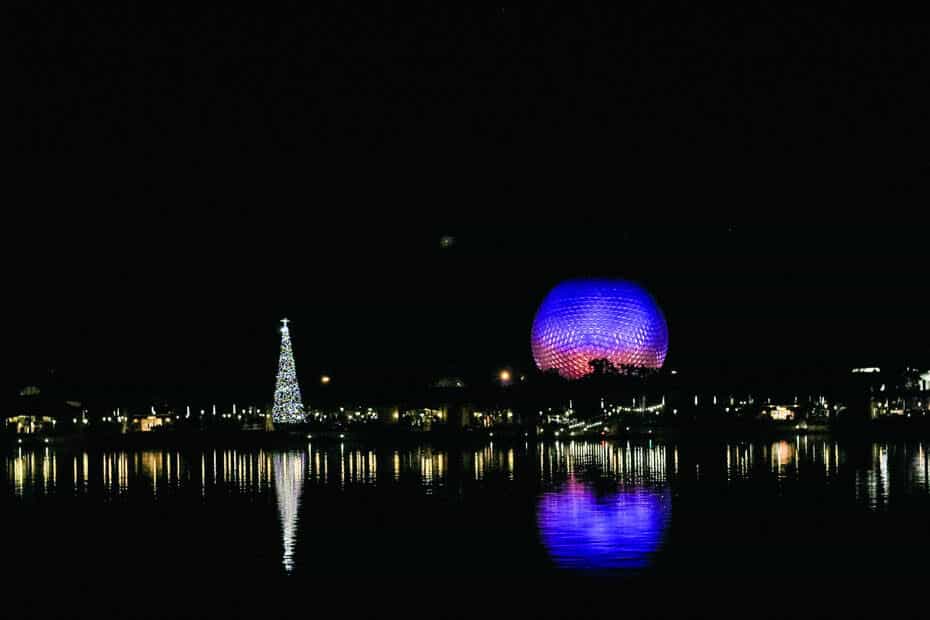 Additionally, the Voices of Liberty will perform during the holiday season.
For more information about the festival, check out our review of the International Festival of the Holidays from last year. Or you might enjoy browsing our full review of Epcot at Christmas.
My favorite thing at Epcot during Christmas is the Merry and Bright Lights on Living with the Land. Hopefully, that ride layover will be available this year as well.
Moving on over to Hollywood Studios, there are several items worth mentioning. For starters, Sunset Seasons Greetings will return. Sunset Seasons Greetings is a nightly projection show that displays fun holiday scenes on the Hollywood Tower Hotel attraction.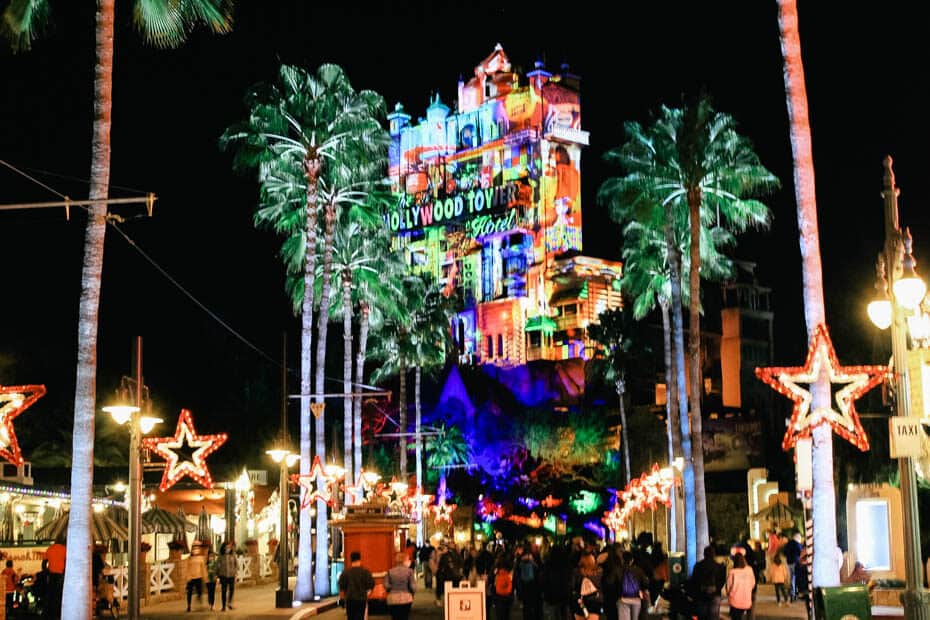 The projection performances will alternate nightly with the special Beacon of Magic transformation, similar to Magic Kingdom. The projection show can easily be seen from Sunset Boulevard, allowing plenty of space for guests to stop and enjoy it at their leisure.
Additionally, you can see Santa daily through the holiday season in the Christmas motorcade!
Related: Motorcades at Hollywood Studios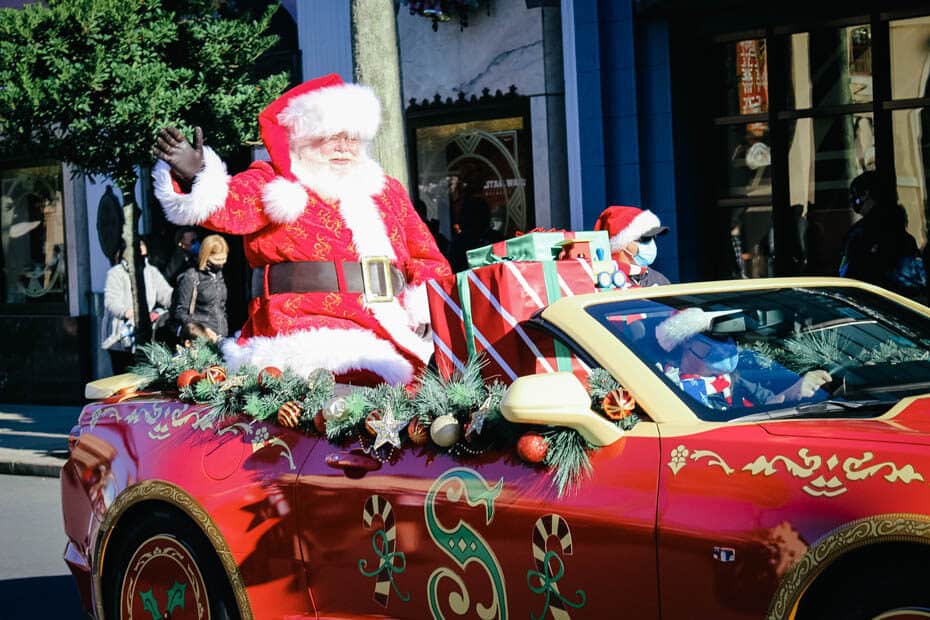 The good thing about the current line-up of characters at Disney World is that they are easy to see and don't require waiting in line. This allows more guests to see their favorite characters in the park.
Another new thing at Hollywood Studios is a special holiday ending added to For the First Time in Forever: A Frozen Sing-Along. The new finale features Olaf adding a bit of festive flair!
The Frozen Sing-Along is cute in and of itself. If you haven't had the opportunity to see it, this might be a good time!
Those who enjoy character dining at Disney World will want to look into Minnie's seasonal meal offering at Hollywood and Vine. Characters at this dinner include Minnie and friends wearing festive holiday attire, and Santa Goofy will be there. That alone probably makes the entire meal worth a visit.
You may or may not remember that Santa Goofy used to turn the Osborne Lights on in the evenings. It was a wonderful time to be a Disney World fan. Not that it isn't now. But sometimes, looking back on cherished times in the parks brings back a sense of longing for days far gone.
Anyway, Hollywood Studios is a park that definitely holds a lot of charm. And I think you'll find it even more special during Christmas, especially after sunset.
Related: Hollywood Studios at Christmas
Last but not least, we have one of the most surprising parks at Christmas. By incredible, I mean you're not going to believe how stunning Disney's Animal Kingdom Park is at Christmas! The decor will blow you away!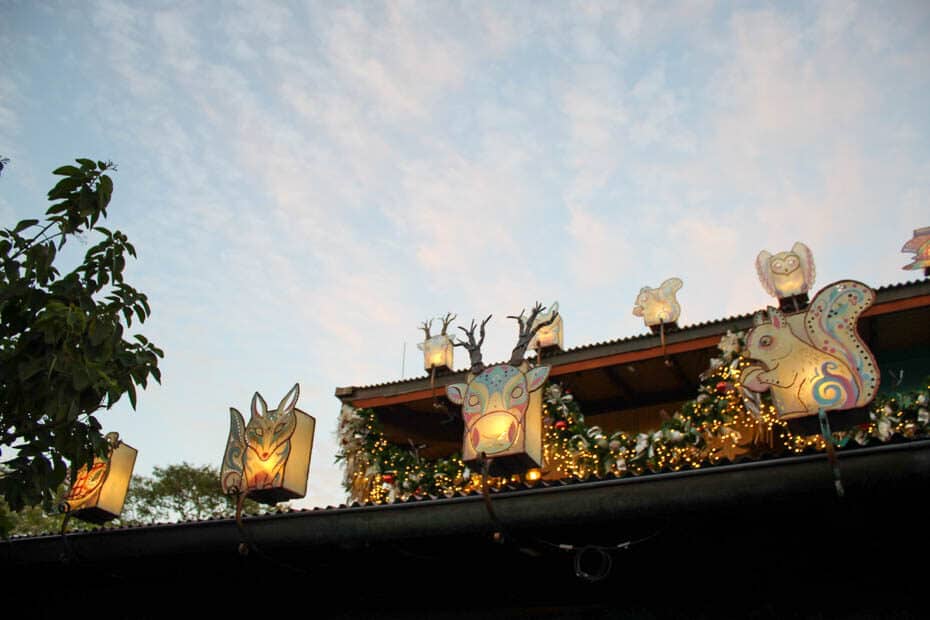 Like Hollywood Studios, guests can expect to encounter Festive Flotillas (including Santa) on the Discovery River during the holiday season. These character cruises come along several times throughout the day and are relatively easy to see while touring the parks.
One of our favorite spots to enjoy them is from the outside deck of Nomad Lounge. Parents, you can relax here, while children are eager to watch for passing characters.
Related: Nomad Lounge Review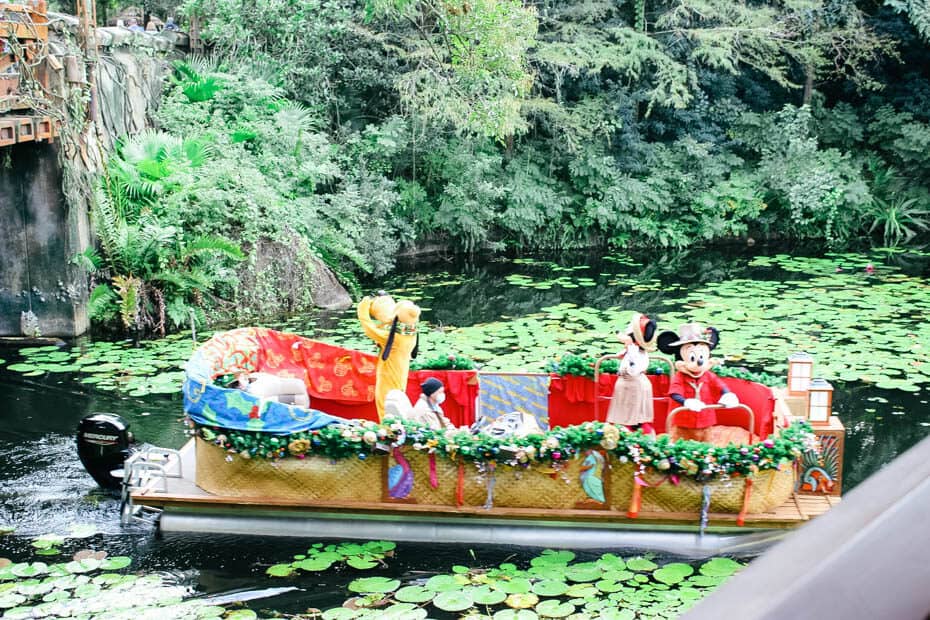 You can also enjoy a special holiday edition of the nightly Tree of Life Awakenings throughout the holiday season. Additionally, the Tree of Life will transform into a beacon of magic nightly celebrating the 50th anniversary.
Related: Animal Kingdom at Christmas
Christmas at Disney World wouldn't be complete without looking at the resorts. Given the anticipation of this upcoming holiday season, we recently published an article on The Top Disney World Resorts at Christmas.
Make sure to read it over if you haven't had a chance to yet. It details each Walt Disney World Resort we consider a must-visit at Christmas. And we included advice on how to spend a whole day of your trip doing a little resort-hopping.
As for Disney Resort Christmas news, you'll be happy to learn that select gingerbread houses will be returning to some resorts! Additionally, these select resorts will have special holiday treats available for purchase.
Below is a preview of the gingerbread carousel that's usually on display in the lobby of Disney's Beach Club.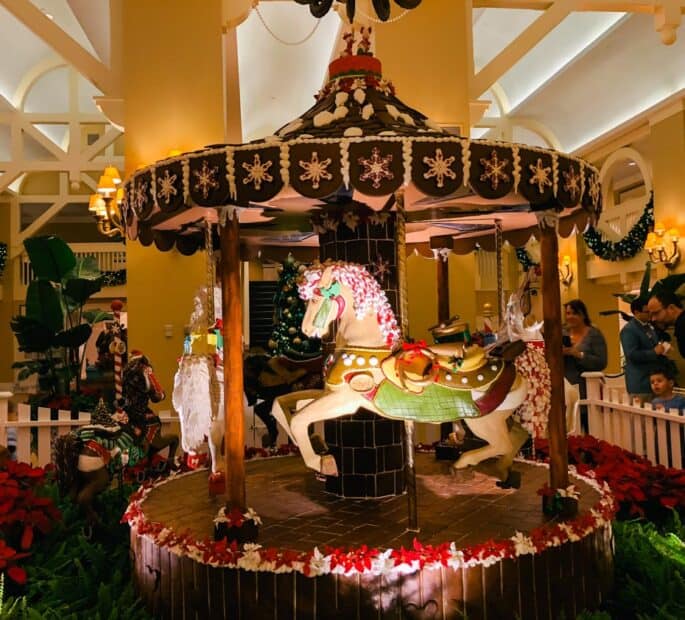 Related: 2021 Gingerbread Carousel at Disney's Beach Club
Disney's Boardwalk and Disney's Grand Floridian usually have a gingerbread house on display. Make sure not to miss the one at Disney's Grand Floridian. It's sure to put you in the holiday spirit.
Related: Gingerbread Holiday at Disney's Grand Floridian
Each resort will have its own unique Christmas trees on display as well. And the holiday decorations at each hotel usually have fun theming to match the resort. For instance, there are sailboats and rope knots in all of the decor at Disney's Yacht Club!
I'll list our resort-specific Christmas guides below if you're trying to decide where to stay:
Lastly, Disney Springs will have a few fun items to add to the mix of Christmas at Disney World. Aside from the beautiful decor, guests can participate in the Disney Springs Christmas Tree Trail.
If you've never had the opportunity to see the trees at Disney Springs, it's worth the visit over. Many of the trees are elaborately themed to different Disney movies and attractions. We always enjoy pointing out details on them and picking out our favorites.
A special snowfall experience will be available in Town Center as well. The snowfall usually happens after dark and is a delightfully clean experience. I think Floridians call it snoap.
Check out our Disney Springs transportation guide for tips on getting to and around Disney Springs. And if you are planning a meal there, you'll want to browse our best restaurants at Disney Springs guide.
Now, if you're planning a trip in what's considered the winter months (December-February) of Orlando, Florida, get ready to pack. Why? Well, the weather can be all over the place. It can even be all over the place during the week you are there.
On average, you can expect daily highs of around 75 to 80 degrees, with evening cooling off to the low 60s. The weather report is available here.
From experience, I've spent a week's vacation over Christmas at Disney's Beach Club, and we hit the 90's almost every day. We spent a reasonable amount of time at Stormalong Bay during that trip.
We've been there when it was super chilly too. On one trip, I remember bundling up in the evenings because it felt like it was near freezing. That's probably the upper 40's in Orlando.
This past December, it was hot upon my arrival, and a cold front hit on day three. The cold lingered for about 2 days before a warm front moved back through. And the last few days were extremely pleasant.
In my opinion, this is the most challenging time of year to pack for a Disney vacation. I know I always end up bringing way more than usual. The thing is, you hate for it to get cold and then have to buy long sleeves to endure the outdoor elements. Or if you bring too many long-sleeves, you might end up burning up and being miserable every day.
The best way to pack for Disney World at Christmas is to bring layers. That way if the day starts off cool, you can shed a layer after it heats up. Then when nightfall returns, you can add back to it. Usually, I bring a scarf, hat, and gloves in my backpack this time of the year.
And remember that children tend to get colder easily than adults. So make sure to bring a nice, warm jacket for them to wear in the evenings.
Sure a visit to Disney World during Christmas can be stressful. There will be long lines. But for most, Christmas is the most wonderful time of year at Disney World. The decorations go up, and everywhere you look, there's something new and fresh to see.
Between the holiday decorations and the Christmas-y background music, most can't help but get that little twinkle in their eye. Maybe it's pixie dust.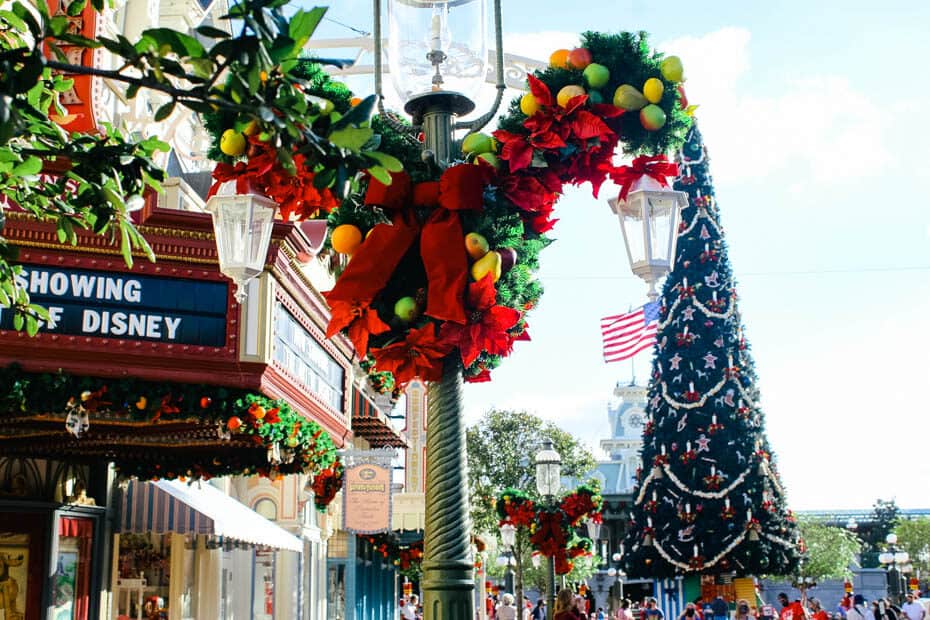 Regardless, the season offers the opportunity to pause and enjoy the surroundings. You don't have to hit Main Street, U.S.A., and run off to your favorite attraction.
Last year I spent an entire afternoon browsing the shops and the Confectionery. Then, every time a cavalcade came by, I would pop back out onto the sidewalk and enjoy the festivities.
And if you don't want to deal with crowds at all, make sure to do a little resort holiday tour. Plan a few meals, treats, and transportation along the way. You're going to have the best time!
What is your favorite thing to do at Disney World during the holidays? Or if this is your first time visiting at Christmas, what are you looking forward to the most? Leave a comment below and share your thoughts.