2019 Epcot Food and Wine Menus
The 2019 Epcot Food and Wine Festival is upon us! Many of you might know that there has been an extreme amount of activity at Walt Disney World lately. In addition, Epcot itself is in the midst of a significant renovation.
Additionally, Star Wars: Galaxy's Edge has opened recently, and the Skyliner gondola system has taken flight as Disney's newest form of transportation!
Related: Disney Skyliner Resorts
But what about the 2019 Epcot Food and Wine Festival? The website has been at Epcot covering the festival in great detail this year. To provide menus and prepare you for the next two months, I felt it best to put together a post and some festival details for you.
September 2019 Update–This post has been updated with the 2019 Epcot Food and Wine menu items reviews. There is a 1-5 Star rating system for every item we tried at the Festival. A rating of one is the lowest, and five is the best. A full 5-star rating is based on something we would reorder on a return visit.
2019 Epcot Food and Wine Details
The 2019 Epcot Food and Wine Festival will run this year for nearly three whole months. The dates for this year's festival are August 29, 2019–November 23, 2019.
Festival Booths open daily at 11:00 AM and stay open until the regular park closes. (You must have valid theme park admission to attend.)
Each item is an individual purchase–meaning it's good to plan. My tip is to preview the menus and read a few reviews before visiting. Then, use the notes or similar section on your phone and write out a list of your "must-have" items. For example, I would put the booth's name and then the thing underneath.
There are over 30 booths and additional items at unique locations this year! Meaning there's no way the average person can try everything. Keep this in consideration while making your list. A nice walk around Epcot, including 4-5 items on maybe two different days, is a great way to plan and feel like you experienced a lot on your visit.
Prices and menu items are subject to change at any time. For example, an unwanted item might be replaced or removed within a moment's notice. This doesn't happen too often but keep into account that we will try to keep our menu and pricing as up-to-date as possible.
Finally, have fun!
2019 Epcot Food and Wine Menu Guide
This guide is broken down into several sections. The first section provides a list of every booth. Looking at each booth, we have created a table that offers the food items listed at the top and the beverage items listed below. It is pretty self-explanatory.
If you want to bookmark this page and refer to it on your trip, it will provide an easy way to review the menu items while you are dealing with crowds or standing in line.
2019 Epcot Food and Wine Booths:
Active Eats
Africa
The Alps
Appleseed Orchard
Australia
Belgium
Brazil
Brewer's Collection
Canada
The Cheese Studio
China
The Chocolate Studio
Coastal Eats
Cool Wash (Debuts Oct 1)
The Donut Box (Debuts Oct 1)
Earth Eats
Emile's Fromage Montage
Flavors from Fire
France
Germany
Hawai'i
Hops & Barley
India
Ireland
Islands of the Caribbean
Italy
Japan
Mexico
Morocco
Shimmering Sips Mimosa Bar
Spain
Thailand
The Wine & Dine Studio
Additional Festival Locations
You might notice a few abbreviations listed within the menu items. These are what the abbreviations stand for if you look at specific dietary needs.
KA–Kid Approved
GF–Gluten Free:
V-Vegetarian
Active Eats
Active Eats is located near the Imagination Pavilion.
Here is a look at the salmon dish at the Active Eats booth. We give it 4 out of 5 stars.
If you are looking for something on the healthier side, give this a try! The salmon is served on a bed of light slaw and topped with a tasty avocado mixture.
The slaw is marinated in sherry vinegar, giving it a pronounced flavor. I felt like it was a great dish, but my piece of salmon was a bit dry, so there is some room for improvement.
Africa Marketplace
This booth is located between the Germany and China Pavilions in the World Showcase.
Here is a look at our first go-around at the Africa Food and Wine booth. We ordered the Kenyan Coffee Barbecue Beef Tenderloin and the wine flight.
This dish gets five stars! The beef came out at the perfect medium temperature and was incredibly tender. It sits on a corn mealie pap, a corn cake type similar to cornbread but softer. It's so good. I would reorder during the festival.
This photo shows that it's a nice-sized dish. It's an excellent value for the price, and I don't think anyone will be disappointed.
Wine Flight
In addition, I tried the $6.00 wine flight at the Africa Marketplace. Usually, I'm not too fond of items like this, but I felt it was an excellent opportunity to try a few wines for a reasonable price. The one on the far left (the white) tasted watered down, the middle sweet, and the pinotage on the far right was a basic pinot noir blend.
The Piri Piri is another 5-star dish! Again, it's a substantial portion for the $6.75 price tag. Additionally, you will find a lot of flavor with this one.
There is couscous on one side to help cool you off when you bite into this spicy hot dish. I would recommend keeping a drink nearby. My shrimp was well seasoned and set my taste buds on fire. If you don't like spicy food, it might be a pass.
The Alps
Unfortunately, the warm raclette cheese dish gets 3-stars from me. Here's the thing, the dish contains bread, a few potatoes, and cornichons. Oh yeah, and melted cheese (Raclette) draped over it.
It was good. But not great. It's like having fondue, except the cheese is on top instead of dipping. I would order it again if I were in a particular cheese-y mood, but that's it.
This item is something one can quickly put together at home or pick up in various restaurants.
Appleseed Orchard
The Appleseed Orchard is located a little off the beaten path. It is currently housed in the former O'Canada Circlevision theater. This location is a great spot to cool off during your travels around the World Showcase at Food and Wine.
The charcuterie platter and some beverages are on the left-hand side booth. The popcorn with other drinks is on the right-hand side of the theater.
Here we have the charcuterie and cheese plate. We gave this a total 5-star rating. The dish comes out on a paper board, and there's a lot to choose from, so you shouldn't be disappointed with the portion size for the price here.
The cuts of meat felt like quality, and the poached-style apples on the plate were delicious. There is also a sauce next to the blue cheese with great flavor. Pick one up for an early starter or late evening snack.
Australia
Okay, if you are looking for something sweet, refreshing, and not too heavy on the tastebuds, give the deconstructed Pavlova a try.
The dish is a creamy, almost pudding-like texture on the bottom layer. Then it is topped with three of the cutest and crispy meringues.
Sprinkled across the top are fresh berries that are very appealing during a hot Summer or Fall day in Orlando. This one gets 5/5 stars for me! Another item I would for sure visit again.
Here's another angle. It's a good-size dish and can easily be shared.
Belgium
Strolling through the World Showcase, you will find Belgium tucked in neatly next to the Brazil Booth. They are both situated between Japan and Morocco Pavilions.
Below is a look at the Belgium waffle with chocolate sauce. We gave this one a 3/5 rating. It is a soft, easy-to-eat waffle. The whipped topping comes out of a can, and a generic chocolate sauce is drizzled on top. The price is reasonable for the size, and I would also consider this extremely kid-friendly.
There's something extra special about the dish, but I doubt you will be too disappointed. It might be a good item to pick up for breakfast or a dessert on your journey.
Brazil
Okay, so this might be controversial opinion-wise. I didn't care for the cheese bread, called the Pao de Queijo.
However, many people around my area were trying it and seemed to think it was delicious. It did come out hot, perhaps almost too hot. I took several moments photographing the items here, and it was still scorching when I took my first bite.
It's not a bad dish. There just isn't any flavor. I called it a one-note number and unfortunately didn't care to reorder it.
Crispy Pork Belly
The pork belly-sigh. I wanted to love this one, but it came out piping hot as well. The piece of pork belly I was served was dry. Pork belly is typically full of flavor and not a serving of overcooked pork chop that no one wants. If you have interest, give it a try. This booth was jam-packed on this day, and that might have had something to do with it.
Also, note that this dish does come topped with pico de Gallo, and I requested mine be left off.
Brewer's Collection
I haven't tried anything at Brewer's Collection.
Canada
Read my thoughts on this booth in our review of the Canada Marketplace.
The Cheese Studio hosted by Boursin® Cheese
The black pepper Boursin souffle gets five stars! The Cheese Studio was one of the first booths I passed at the beginning of the festival.
I was looking for a late breakfast but saw "souffle" and thought eggs, in general, were a great place to start. My goodness, I have been craving this one since I had it later on that first festival day. It is scrumptious.
The dish reminded me of a warm, muffin-like cake with divine fig topping. But, of course, you probably already know that fig, in general, is a fantastic accompaniment to cheese. And this is The Cheese Studio. The souffle is a must-order and can easily be split with someone, but you probably aren't going to want to share.
Black Pepper Shrimp with Garlic Noodles
Over in China, you can find yourself a filling dish in the Black Pepper Shrimp with Garlic Noodles. I enjoyed this dish more than most. I wouldn't call it a favorite, but I felt like I was starving when I started here on this day, and it delivered.
I'll give this dish four stars. It's an okay dish and a lot of food for the money. However, I don't think it's a must. If you miss out on trying it, it won't be the end of the world.
Tastewise, the dish is spicy. However, I found it more one-note on flavor.
I decided to get a drink here on this sweltering day as well. China has quite a few mixed drink options. The cast member told me that I had to try the Year of the Piggy. And this one gets five stars! I would surely reorder this, and it gets bonus points for feeling like a true refreshment.
Additionally, I appreciated that it's a bit larger drink. The cast member said to mix it up before drinking it and gave me a straw. I have a hard time describing the flavor on this one, but I got a hint of lime and soda.
The Chocolate Studio
Dark Chocolate Raspberry Tart
This dessert is beautifully plated, isn't it? But, unfortunately, I didn't care for the taste.
The tart's taste reminds me of picking a chocolate candy out of a box and coming up with an unpleasant flavor. I love raspberry and did enjoy the fresh one here. But that was about it. The raspberry sauce came off as artificial on my dish and contrasted with the chocolate in a way, not to my liking.
I feel like this is an appealing dish. In addition, it's chocolate, so likely people will eat it, say they like it, and not give it much thought. I wanted to like it, but unfortunately, it was a miss.
Coastal Eats
Baked Shrimp and Scallop Scampi Dip
This one is pretty popular from what I can tell around the festival. It comprises bread, shrimp, and scallops in a cheesy garlic dip. I felt like my shrimp were nicely cooked, and the bread had a good texture.
I was disappointed in the scampi-style mixture on the bottom, though. It might have just been the portion I received, but it was extremely heavy on the garlic. And I love garlic, so it's rare for me to say that.
This one gets four stars, and I think it has the potential for five depending on how well yours is seasoned.
Cool Wash (October 1)
Earth Eats, Hosted by IMPOSSIBLE™ Foods
IMPOSSIBLE Burger
Here we have a look at the Impossible Burger from Earth Eats. When I reviewed items this year, it was something high on my list to try. Note here that I ordered mine without the creamy white sauce on it. Instead, I just got the bun, spicy slaw, and actual meatless patty.
I liked it, though, and wow, it had a lot of heat going on. It was much more than I expected. Don't order one without water or some form of drink nearby.
I'll give this one five stars for uniqueness, taste, size, and value! Bon Appetite!
Emile's Fromage Montage
Emile's Fromage Montage is a sampler where you pick up five specific items and collect the passport stamp. After doing so, you will be rewarded with an exclusive complimentary cheesecake.
*Make sure to pick up a Festival Passport and flip to the inside of the back cover. The last page provides an opportunity to collect each stamp when purchasing individual items. The list of participating menu items is also located next to it in the passport.
Flavors from Fire, Hosted by ESPN's Game Day Sports
What a fun bite of burger! If you want anything at the Flavors from Fire booth at Food and Wine, be prepared to wait! In fact, it was day two before I could make myself stand in this line.
Every time I pass by this place, the line is long. Not only that, but they even have an actual longer queue than most of the other booths at the festival.
The Steakhouse Blended Burger
This burger says it's a blend of beef and mushrooms. So the mushrooms are mixed in with the meat. However, don't expect to encounter any on top of your burger.
They top this burger with Brie cheese (fondue style), arugula, and chips. I enjoyed this dish. The chips add a nice crunch. And the peppery arugula highlights the meat.
Additionally, this is a good option if you like things more on the plain side.
Chocolate Picante
At first bite, I wasn't sure if I liked this chocolate Picante. But, going in on this luxurious bit of chocolate was interesting. So, I took a second bite and thought this was pretty good. More.
Then I added some of the mango and sauce. Towards the middle of the dish, I hit the heat. It was good. I wanted more.
That's when this dish tends to get you. Or maybe you get it. By the fourth bite, I could have wholly devoured the rest in an instance. The chocolate awakened my appetite to the point where it felt insatiable.
Make sure to pick this one up if you are a fan of chocolate and heat. It will leave you feeling as though all is right with the world, if only for a little while. (Okay, that might be a bit dramatic, but it does get five stars, so there's that.)
France Marketplace
Unfortunately, I didn't try this one yet.
Germany Marketplace
Hawai'i Marketplace
Hops and Barley Marketplace
India Marketplace
At the India booth, I tried the Madras red curry dish. Five stars. That's what I have to say about this dish.
If you like a good curry, make sure to try this dish. It comes with a spicy kick that packs a lot of flavor.
Additionally, the roasted cauliflower absorbed the curry and complemented the carrots. Note, the dish was heavy on chickpeas, and the rice made it filling.
It's a decent size portion and a great festival bite. I would give this one four stars. I found the dish to be child-friendly and more of a classic item. They aren't re-inventing anything here with this one, but that's okay.
I'm always on the lookout for a classic margarita, and this one fits the bill. It's close to a classic, and mine was a strong pour.
The tajin offers a bit of flavor plus subtle heat to the drink. Additionally, it's nice sprinkled on top of Dole Whip.
Morocco Marketplace
Oy Vey! Can I say that?
Though I was looking forward to this one in advance, it was a bit of a letdown. The problem? Too much price for the portion. Read that again. It's not the other way around.
These types of deals are typically prepared on the fly, so you might receive a more significant portion.
But for $9, it's a miss. Also, I initially decided to try and eat this with a fork. Unfortunately, a bite of the meat alone was not pleasing to the tastebuds.
When I tried it like a wrap, it was okay. However, it was too messy and runny to eat in that manner.
If it were $5, I would have given this one four stars, but we are going with two stars at the current price point.
Shimmering Sips Mimosa Bar
After reviewing the menu at Shimmering Sips, I decided the best value was probably the Mimosa Flight. The flight comes with three pours of mimosas, as shown in the picture below. I felt like they were decent pours, and it is an excellent offering to try three flavors at once.
The one on the far right is the Tropical Mimosa and the sweetest bunch. It is made with the passion fruit and guava mix similar to what you might receive at 'Ohana or Boma, except sparkling wine is added. This one indeed has a lot of sugar content.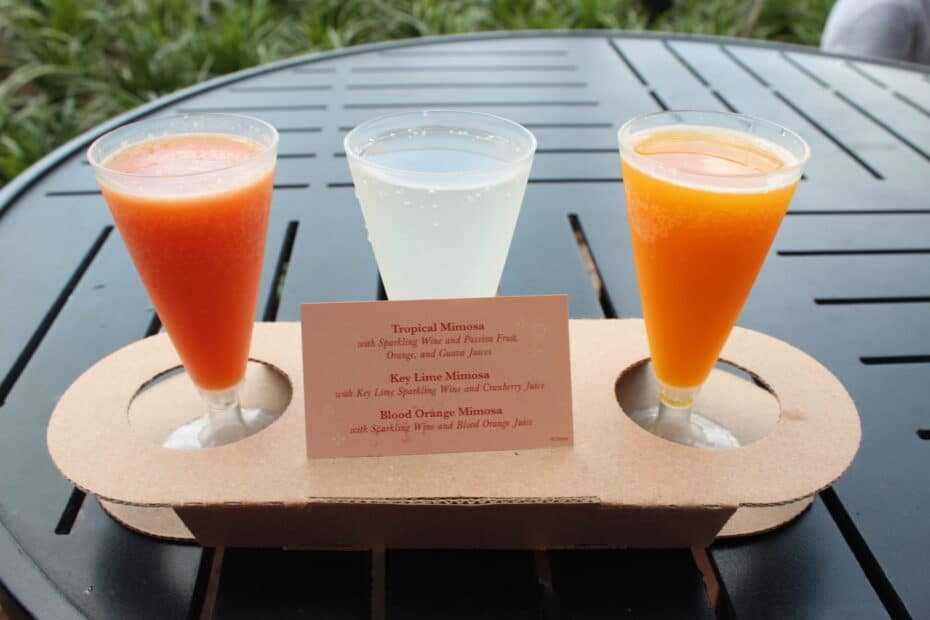 The middle is the Key Lime Mimosa, and while an excellent in-between option, it reminds me of a juice box. Possibly one of those that has the apple and grape mix. None of these drinks were strong by any means.
Finally, the more bitter of the bunch is the Blood Orange Mimosa on the far left. This one is your not-so-sweet option, as far as taste goes, but that's a good that's The blood orange and sparkling wine mix on this one is a good way to finish the number after trying all three initially.
Overall, I enjoyed the flight and was glad for the sweet to bitter mix. I give it four out of five stars for price, serving size, and taste.
Spain
Spanish Style Paella
So here's the deal with this one. The Spanish paella is full of flavor and comes in at $5.50, a reasonable price. The problem? There wasn't much of a line formed when I decided to try it. And I was immediately handed my portion from a group of already prepared paella's.
After my first bite, I realized the dish was kind of warm and not fresh tasting. It was okay, don't get me wrong. But the chorizo and chicken bite are just kind of laid out on top of the rice. So there was no crunch or crispiness to the rice like you would expect from a traditional paella.
Related: Jaleo Review Disney Springs
While I enjoyed the dish, I couldn't help but note these things were lacking. So, when I finished, I walked back over to this Food and Wine booth. Sure enough, about six paella's were sitting under a warming lamp.
The paella could have been a four or five-star dish, but it's getting three stars for lack of preparation effort.
The Wine & Dine Studio
Butternut Squash Ravioli
At The Wine and Dine Studio, I tried the butternut squash ravioli. It turned out to be a very pleasing dish. So pleasing, that I gave it five stars.
I would order this dish again in a heartbeat. Unfortunately, the portion wasn't significant. However, the pasta is tender enough to easily consume in small bites.
It has a bit of a sweet and savory taste all in one bite. The pumpkin seeds on top add a nice bit of crunch to this dish.
Word of warning here, don't tilt the plate too much, especially if you are trying to get a picture. You might end up with melted brown butter all over you in an instant. Ask me how I know that one. Thankfully, I carry a pack of wipes.
You can see the butter starting to run mid-picture below. Be careful!
Lastly, there are a few items for the festival at Refreshment Port in the World Showcase. However, we haven't tried any of these yet to date.
Hopefully, these menus and overviews helped provide you with several options to try on your visit. You might enjoy browsing some of our Disney World Resort Reviews. Here are a few that are within walking distance to Disney Parks.
Do you plan to visit the Epcot Food and Wine Festival in 2019? What menu items look good to you?