Beauty and the Beast Sing-Along at Epcot
The Beauty and the Beast Sing-Along is located in the France Pavilion at Epcot. Specifically, you'll find it in the Palais du Cinema as part of a shared theater experience with Impressions de France. The Sing-Along runs daily from 11:00 a.m. until 7:30 p.m., on a half-hour schedule.
Unfortunately, I have mixed feelings about this review. Generally, I like to state the facts and deliver upfront expectations about an attraction before your visit. That way, you can discern if it's right for you.
For starters, I am by no means an alarmist, but I find the fact that Disney allowed this sing-along in the first place a bit alarming.
There are several reasons I have such negative feelings about this attraction. First, let me give you the details, and then I'll explain.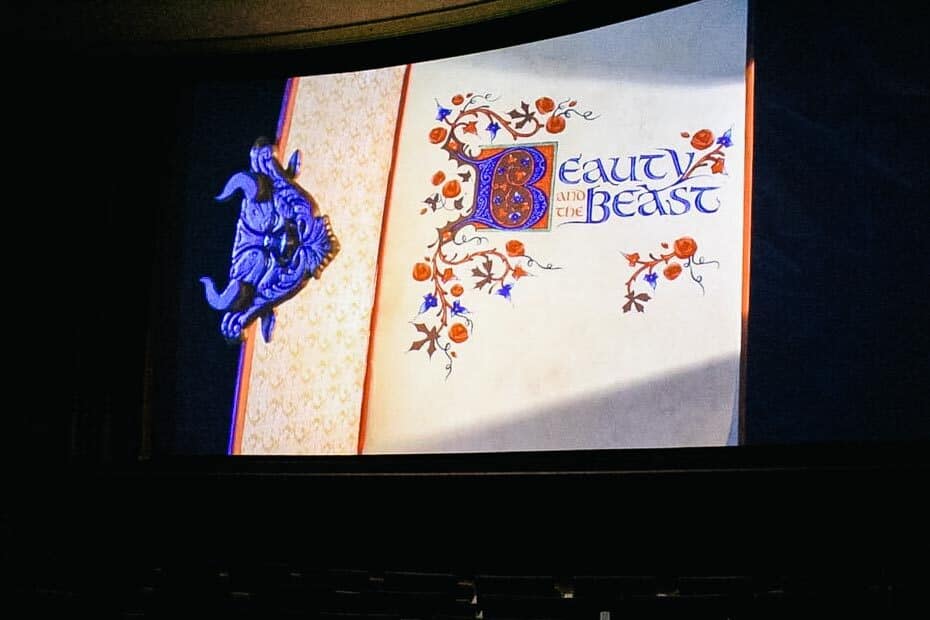 Below is a quick reference for adding the Beauty and the Beast Sing-Along into your schedule.
Beauty and the Beast Sing-Along
Epcot Attractions

Location:

France Pavilion


Height Requirement:

None

Type:


Theater/Cartoon


Duration:


15 minutes

Good For:

Questionable?

Scare Factor:

Cringe-worthy

Must-Do List:

No

Special Mention:

It's pretty terrible.
Runs between 11:00 a.m.–7:30 p.m.
Beauty and the Beast Sing-Along
Let me start by saying I had not heard much about this sing-along before seeing it for the first time. I had seen a few jokes about it on social media but had no idea the references being made.
Going into the theater, I thought I would leave feeling like, okay, it's a cute film. Maybe I would even think that it was great to have more things to interest children in the World Showcase, etc.
Unfortunately, I left thinking if I had a daughter, I wouldn't care for her to see it. Most people probably wouldn't bat an eye at the cartoon in today's modern times. However, I am a bit old-fashioned and believe that children should be allowed to be children.
A cartoon sing-along, I think most would agree, is intended primarily for children to enjoy. No matter how much we adults love and belong at Disney.
My major issue with the film happens toward the end of the cartoon. It appears that not only did Belle get ready for the ball, but she also swung by the plastic surgeon's office and got a botox injection along with a bit of a chest enhancement.
Probably, most people wouldn't notice it. But these are precisely the kind of things that little watchful eyes pick up on while adults are oblivious. The problem is that these kinds of things keep making their way into our children's lives unnoticed.
They show up in cartoons, video games, and all over the internet. And we leave our children with the impression that it's normal to go to extremes to alter their appearance. While we are all really beautiful people the way we were made.
It is said that "beauty is in the eye of the beholder." Do we really want our children growing up with the kind of pressures that modern-day technology is adding to be considered young and beautiful?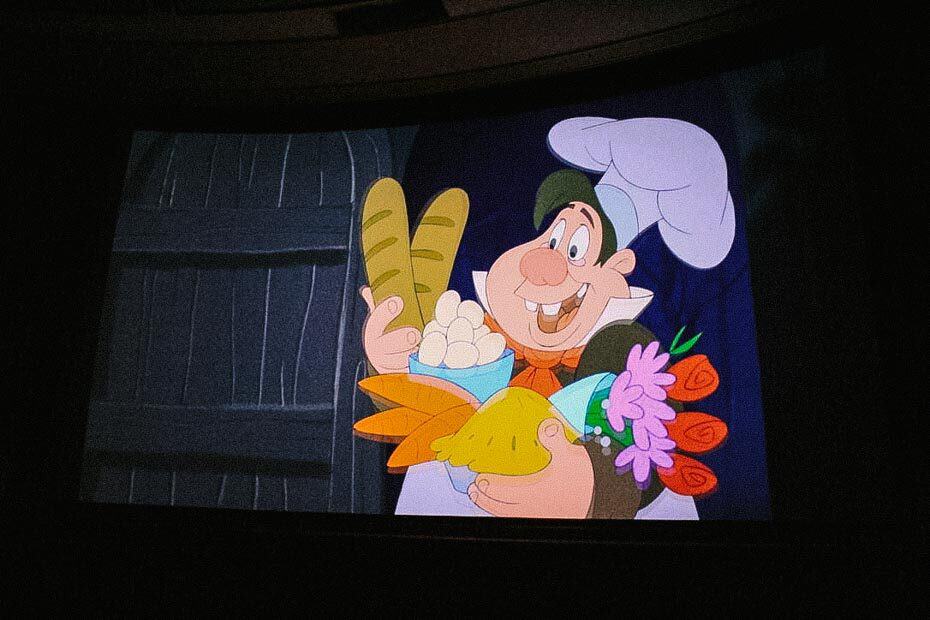 And while that small clip was enough in my book to ruin the show, there are a few other issues. The storyline is absolutely terrible. Lefou comes out clean as roses (and then some), playing the hero of the story. Have you ever seen any of the offspring Beauty and the Beast cartoons? This is worse.
Which leads to my next issue, who is in charge at Disney that signed off on this show? I can only imagine how horrified the French cast members were when they first saw what was replacing most runnings of the beloved Impressions de France. If you were going to add a new element to a theme park, shouldn't it be done in a way to improve customer experience?
Sure, not every single attraction has to be Test Track or Living with the Land. But even a theater show like the new Awesome Planet leaves the impression that we should all do our part in taking care of the earth. I can't imagine anyone leaving the Beauty and the Beast Sing-Along with any positive key takeaways.
And that's a missed opportunity for Disney and its partnership with France.
For anyone still interested, there is a nice costume display inside the foyer of the theater. It's nice to get there a few moments early and look around.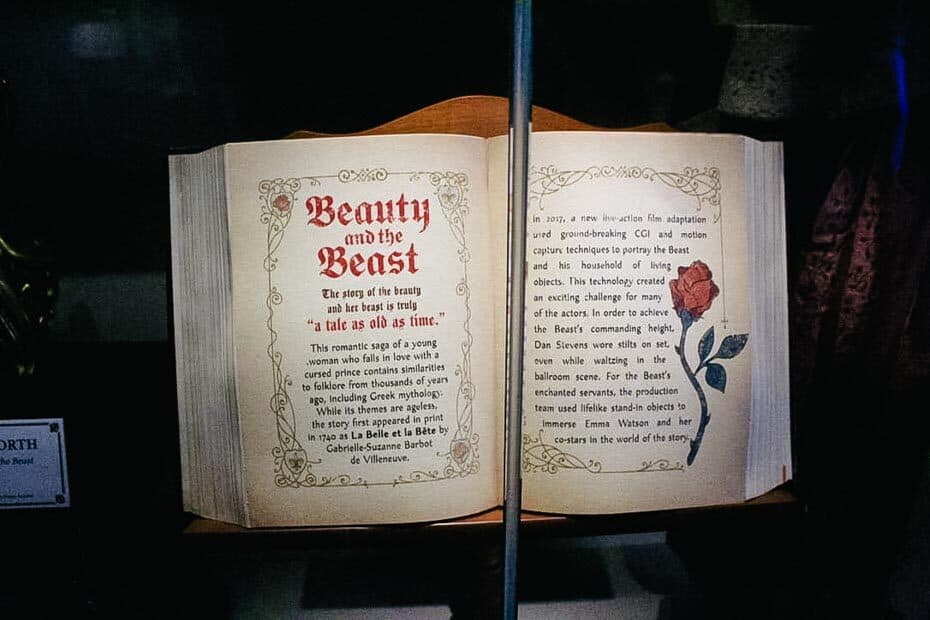 There are costumes from several different plays on display.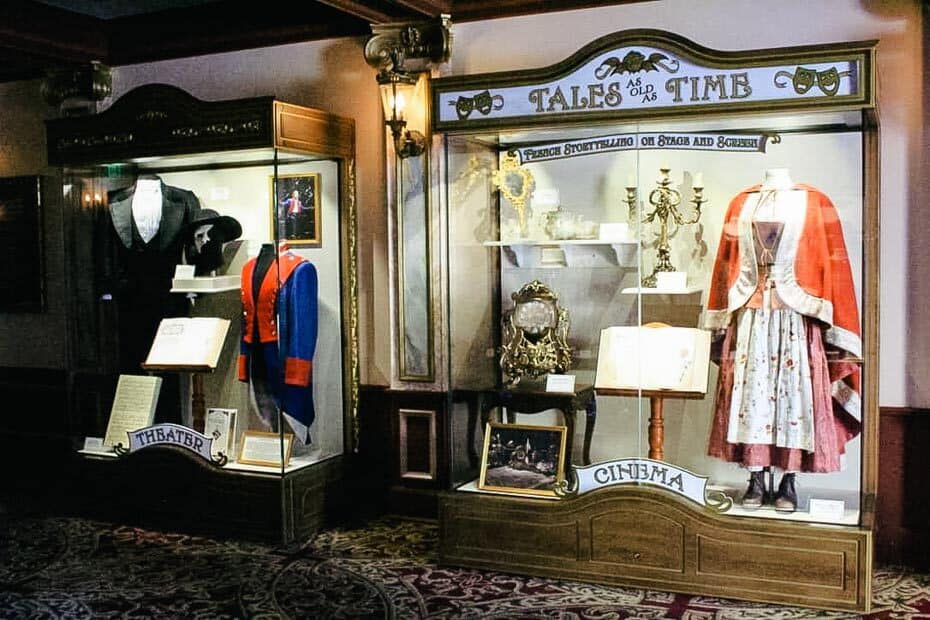 And here is a look inside the theater. Right now specific seats are marked for sitting and only every other row is available to help maintain distance between guests.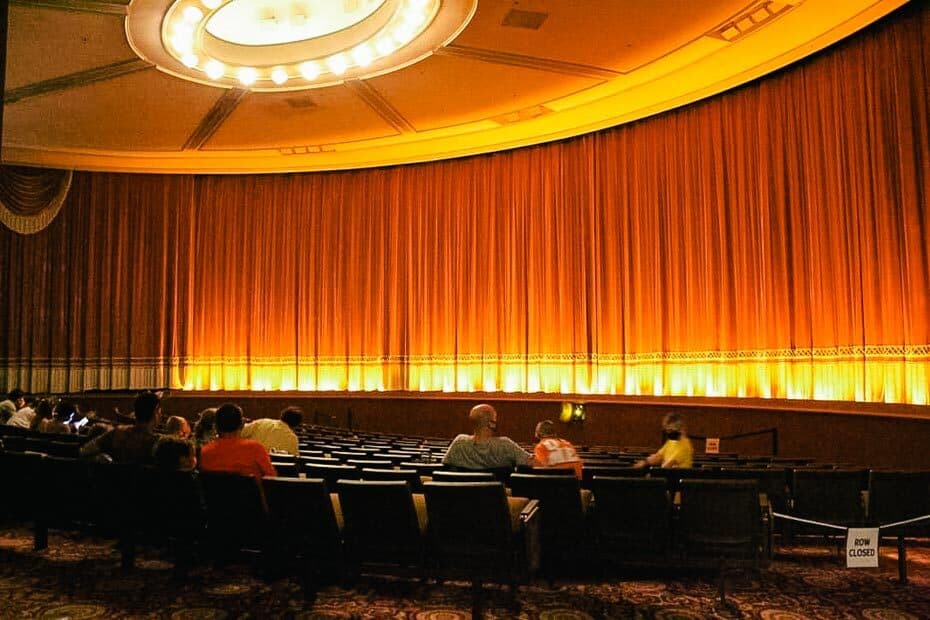 If it were me, I'd try to get by the pavilion to watch Impressions later in the evening or skip this one entirely altogether.
If you would like to meet Belle during your vacation, we have a full list of places to meet Belle at Disney World.
For other Epcot World Showcase reviews, check out these articles:
Or you might also enjoy the Disney World Resort section of the site. There you'll find reviews of all the different hotels near Epcot and the Skyliner Resorts including these:
If you do take the time to see the Beauty and the Beast Sing-Along let me know your thoughts in the comments below.