The Best Desserts at Epcot's International Food and Wine Festival in 2023
Sweet Tooth? Often I've heard that calories don't count on a Walt Disney World vacation. Unfortunately, my scale says otherwise after reviewing these Food and Wine items. To be fair, I'm not really on vacation.
Regardless, a few desserts at the festival always stand out. Some stand out so much that I look forward to trying them again.
With those thoughts in mind, I compiled a list of the best desserts at the 2023 Epcot International Food and Wine Festival. Additionally, I've included a few that fell in the "neither here nor there" category. So it's time to grab your favorite note-taking device and start a list of desserts to try at this year's festival.
Before we start, let me say one last farewell to last year's top choice for best dessert, the Capirotada de Chocolate from Mexico's Marketplace. Sadly, it was replaced with a much less enticing item.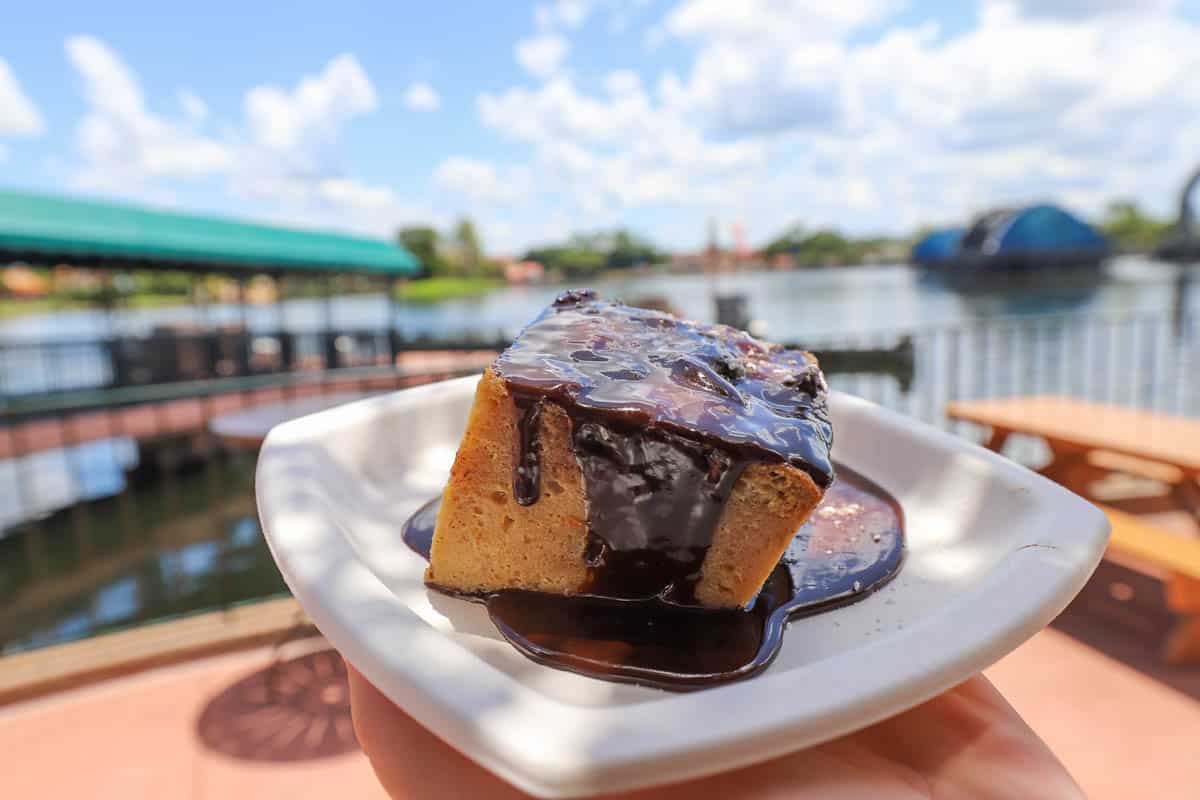 Best Desserts at Epcot Food and Wine
With no further adieu, here are the items we deemed worthy of being the best desserts at this year's Epcot International Food and Wine Festival.
Chocolate Spice Tart (Flavors from Fire)
Chocolate Pudding (Ireland)
Carrot Cake (Hops and Barley)
Creme Brulee (France)
Chocolate Fondue (The Alps)
Pistachio Cake (Morocco)
Apple Strudel (Germany)
Lamington Cake (Australia)
Guava Cake (Shimmering Sips)
Chocolate Spice Tart
We'll start with the chocolate spice tart, a new dish at the Flavors from Fire booth. This dish is SWEET! Please don't say I didn't warn you. While I loved the richness of this decadent dessert, I could not finish it. You'll want to share it with someone when possible.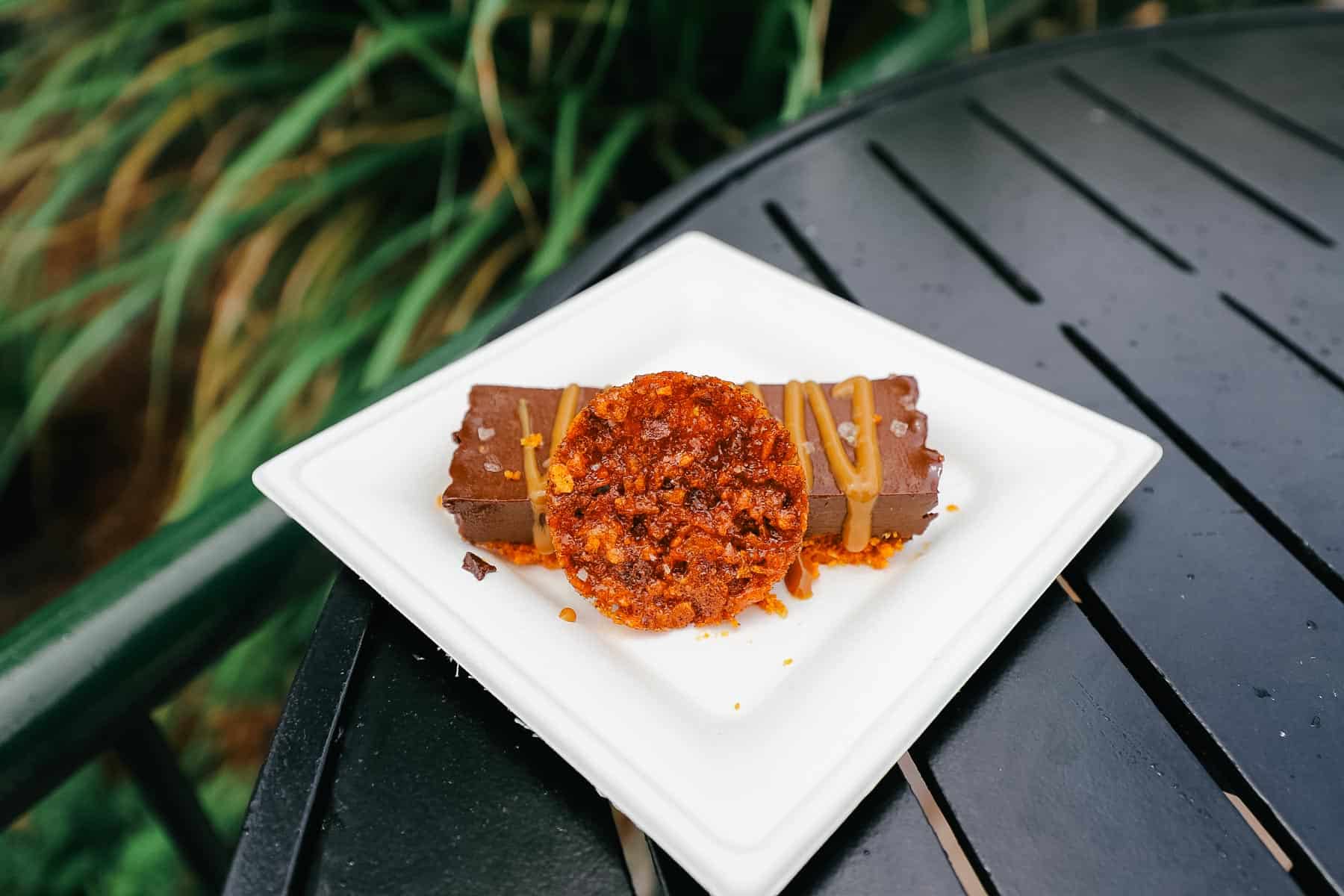 Chocolate Pudding Cake
We have a returning favorite for best dessert at Food and Wine, the warm chocolate pudding cake from Ireland. Underneath the sauce, the cake has a rich chocolate flavor. As for the sauce, it's an Irish cream liqueur custard.
You may remember in our review of the Ireland Marketplace that I mentioned the sauce had a hint of sweetened condensed milk. Seriously, who doesn't love a whiff of that?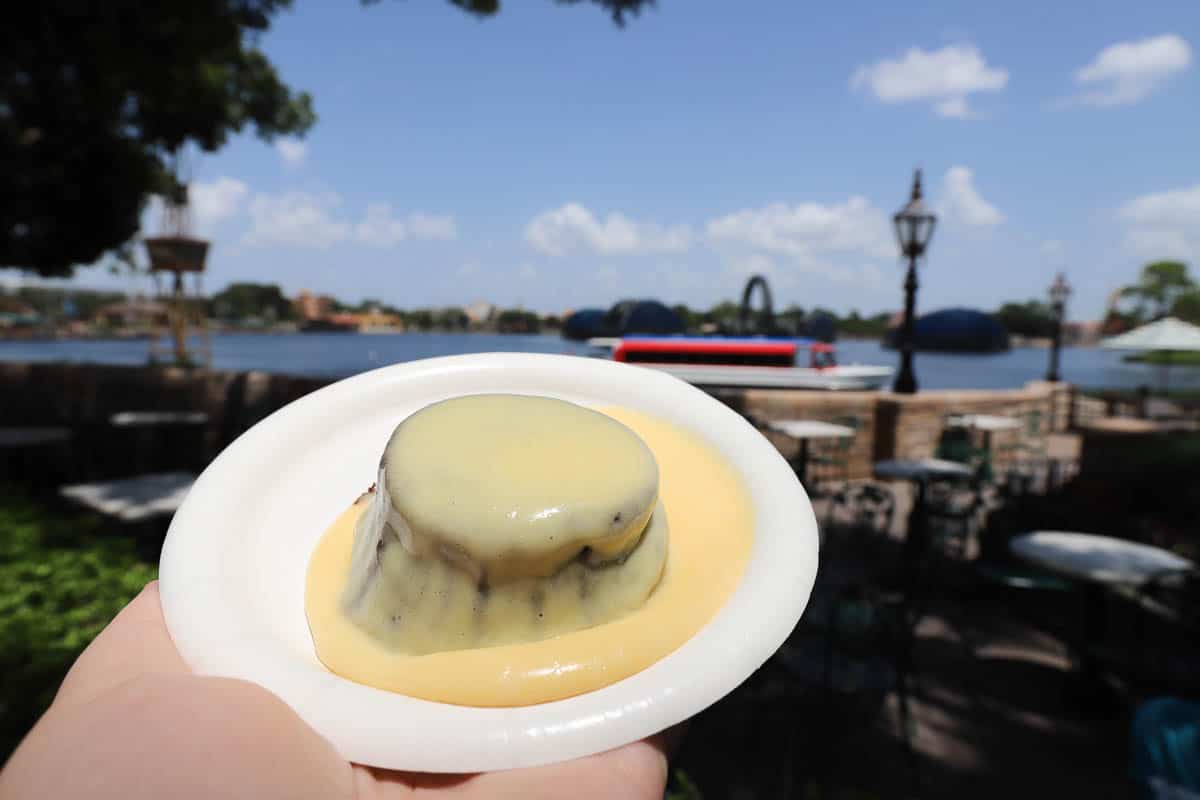 Carrot Cake
The freshly baked carrot cake with cream cheese returns this year. However, the booth has a new name. You can find the carrot cake at Flavors of America in the American Pavilion.
Not only was the carrot cake freshly baked, it was warm and almost falling apart (in a good way). The icing is like a sauce, drenching the cupcake and adding a touch of extra sweetness. However, this wasn't an over-the-top dessert or anything. It was just right.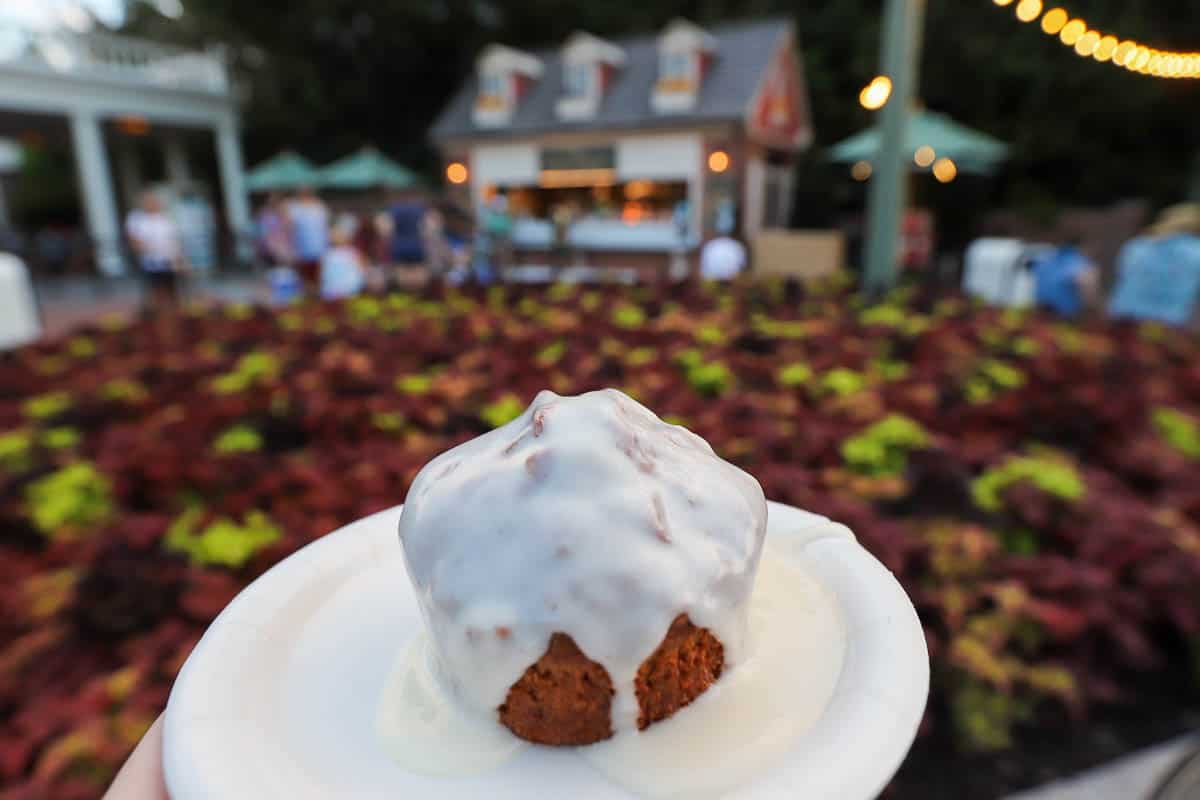 Creme Brulee
Next, we have the France Marketplace. France was one of the first booths I tried at this year's festival. But rest assured. I didn't forget about the Creme Brulee Vanille a la Confiture de Fraises. We'll call it creme brulee for short.
From the expertly prepared caramelized crust to the comforting custard underneath, I loved every bite of this dish. Make sure to pick up the escargot dish and the creme brulee when visiting the France Marketplace. Both are out-of-this-world good.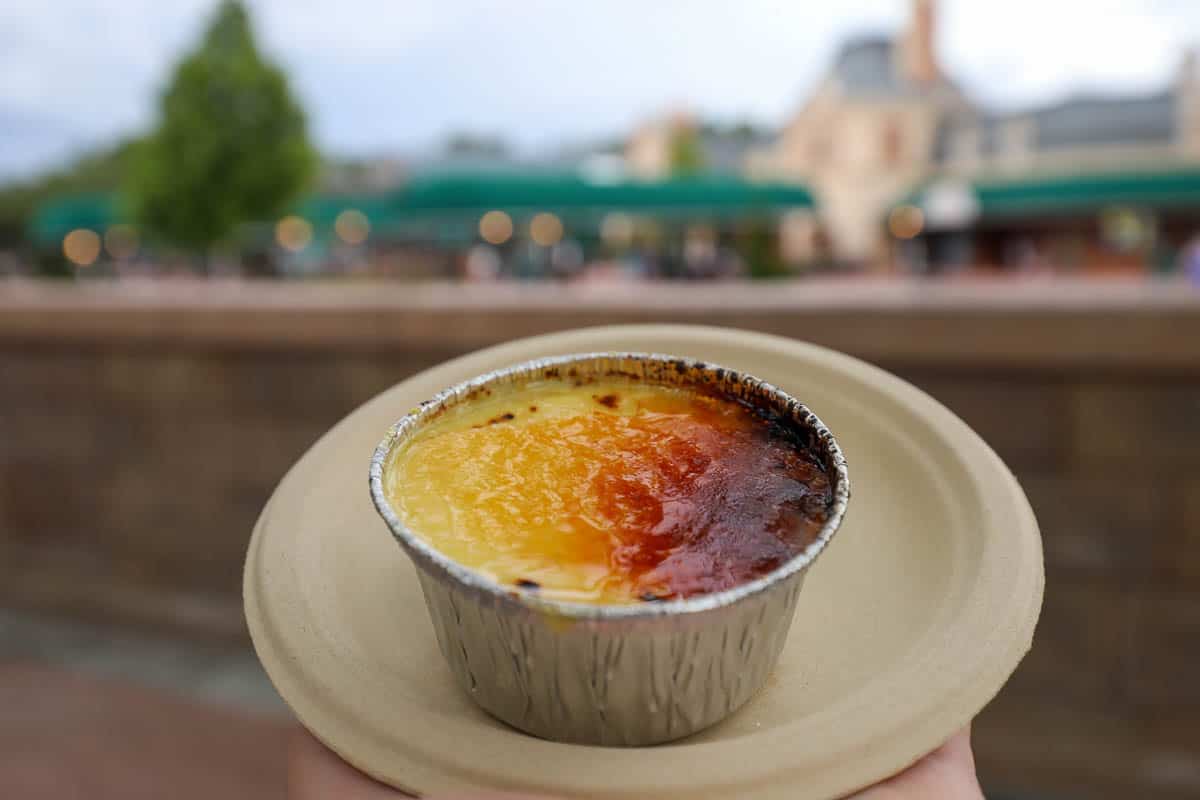 Chocolate Fondue
No one is more surprised than me to have a dish from The Alps Marketplace on our best-of-the-best dessert list. But here we are!
The Alps added a chocolate fondue to their menu this year, and it works! Our serving of chocolate was piping hot, and we had bites of berries, meringues, and pound cake for the dipping! It was fun and tasty.
It gets bonus points for being child-friendly. But don't let your children go wild. It could get very messy.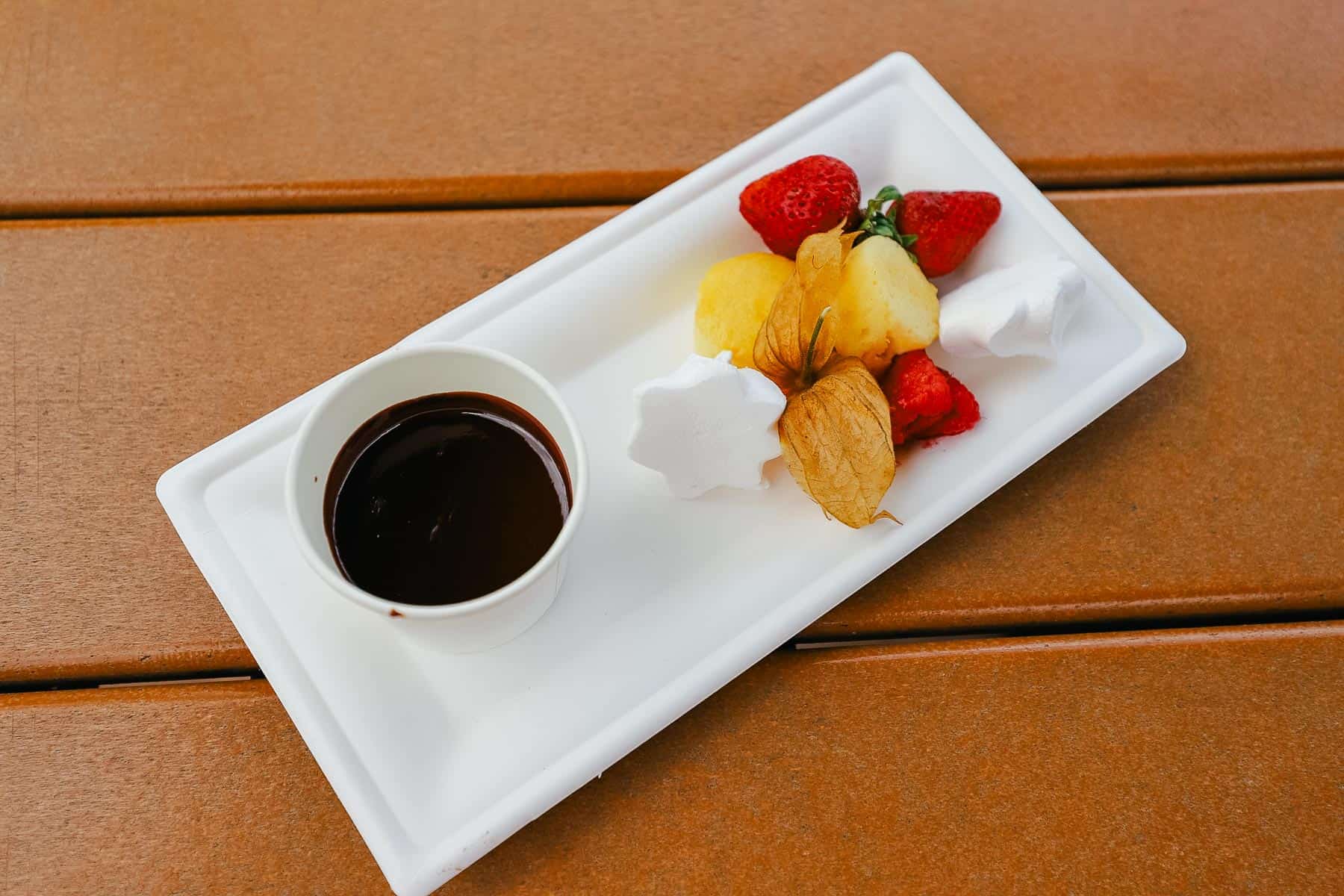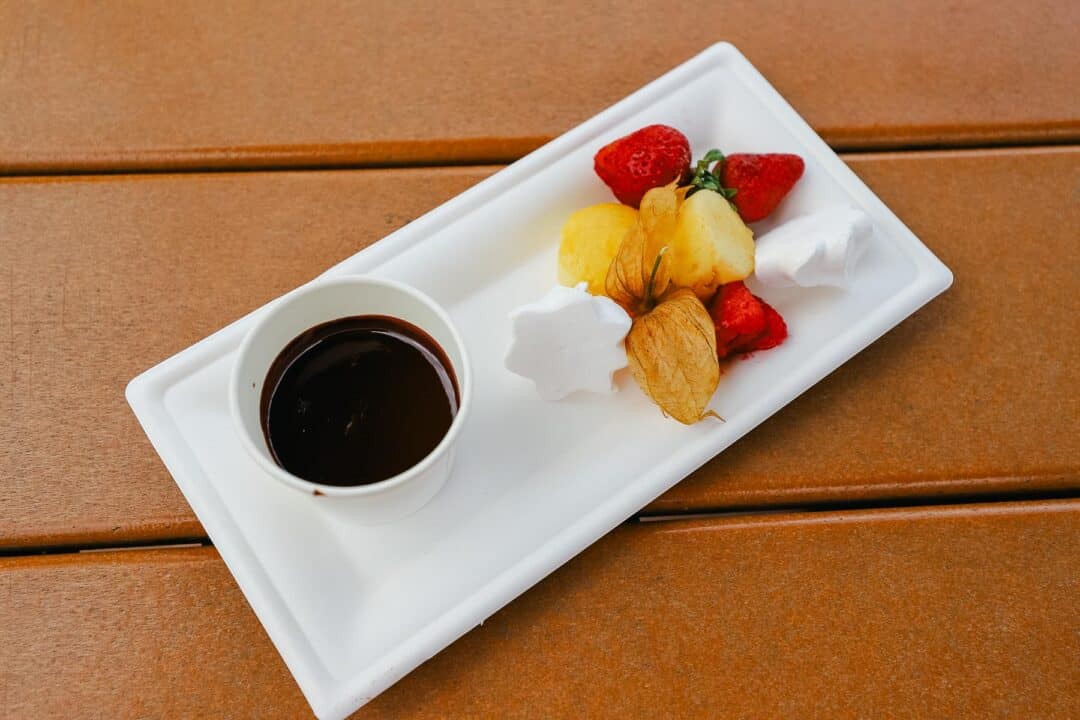 Pistachio Cake
Then, we have the Flavors of the Medina Marketplace, where the Pistachio cake returns. It's a green cake with layers of cinnamon pastry cream and candied walnuts. Our photo below shows a slice of cake from last year. However, this year the cake is round.
Not only is this cake pretty, but it's also delicious. Have you ever had a spice cake? That's what you have here.
Unfortunately, I didn't get much Pistachio flavor, but I assume that's where the green color comes into play. However, the pastry cream in the middle makes up for everything.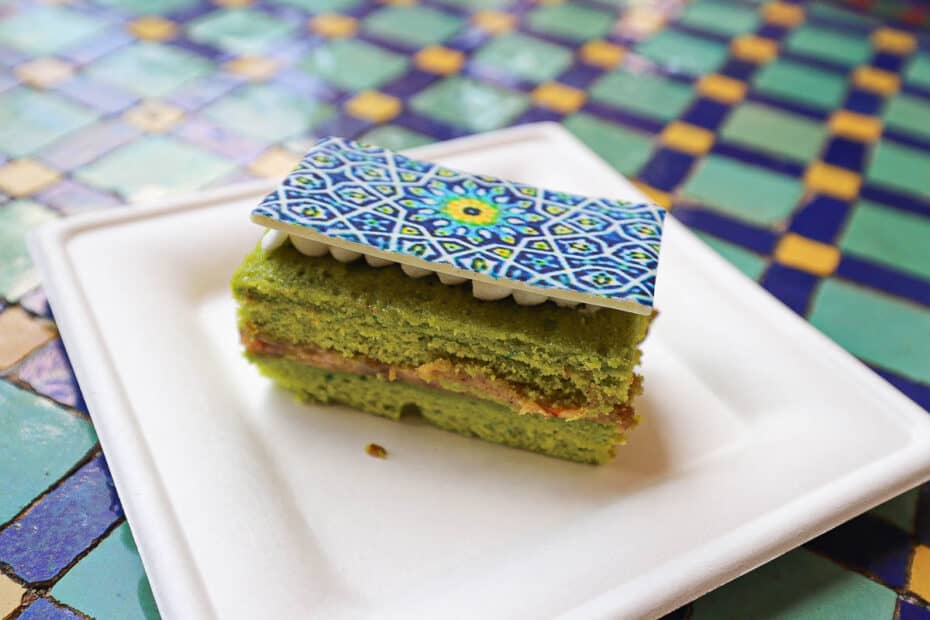 Apple Strudel
Those who have previously visited Food and Wine know that Germany's apple strudel is a simple dessert. But for this best Food and Wine dessert list, I had to include it.
This classic dish is served warm with a vanilla sauce on the side that mimics ice cream. Between the strudel, the sausage, and the gratin noodle dish, everything is a win at the German Marketplace.
Also, I wanted to mention that this simple apple dish is child-friendly.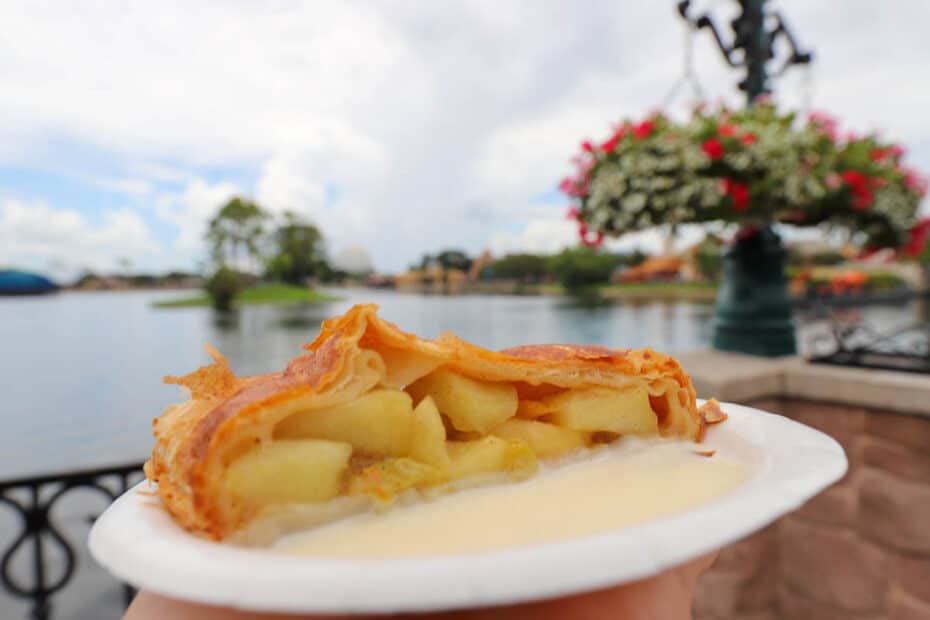 Lamington Cake
Okay, the Lamington cake from Australia gets rave remarks. However, in my original Australia Marketplace review, I noted that you might not enjoy this dish if you don't care for boxed chocolates.
The cake's top layer of chocolate and coconut is reminiscent of candy with a coconut center. Its middle layer tastes like the filling in a chocolate-covered cherry.
As far as the yellow cake, it's similar to a sponge cake. Expect a ton of flavor with each bite.
If, for some reason, you don't care for the topping or the center, the cake portion is usually large enough to eat around those spots.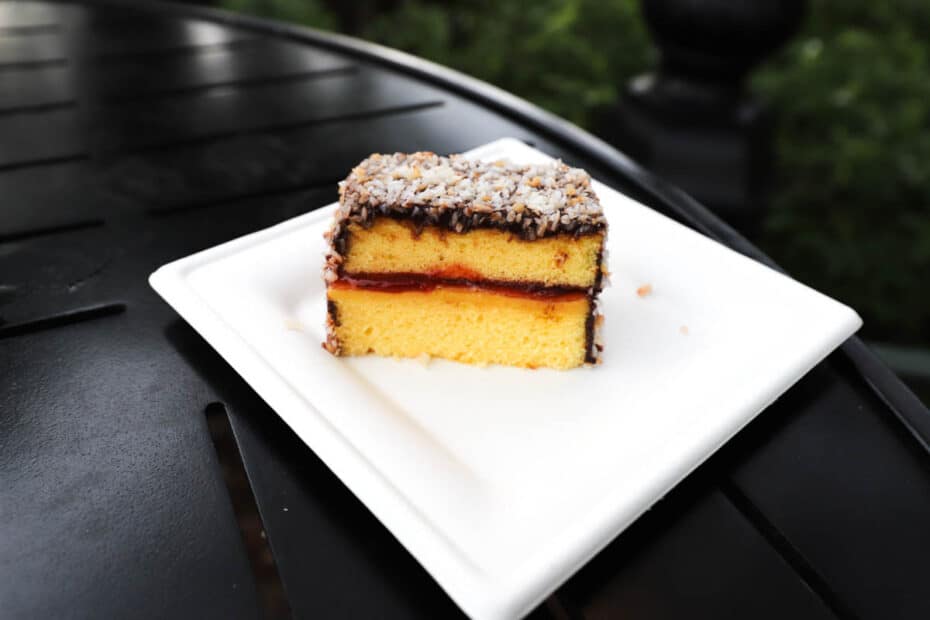 Guava Cake
Last, on our list of best desserts at Epcot's International Food and Wine Festival (but not least), we have the Guava Cake from Shimmering Sips. This dessert is refreshing and keeps you returning for more!
It's amazing how something so pretty and pink can taste so delightful. Ultimately, it's my top choice for the best dessert at the 2023 Food and Wine Festival!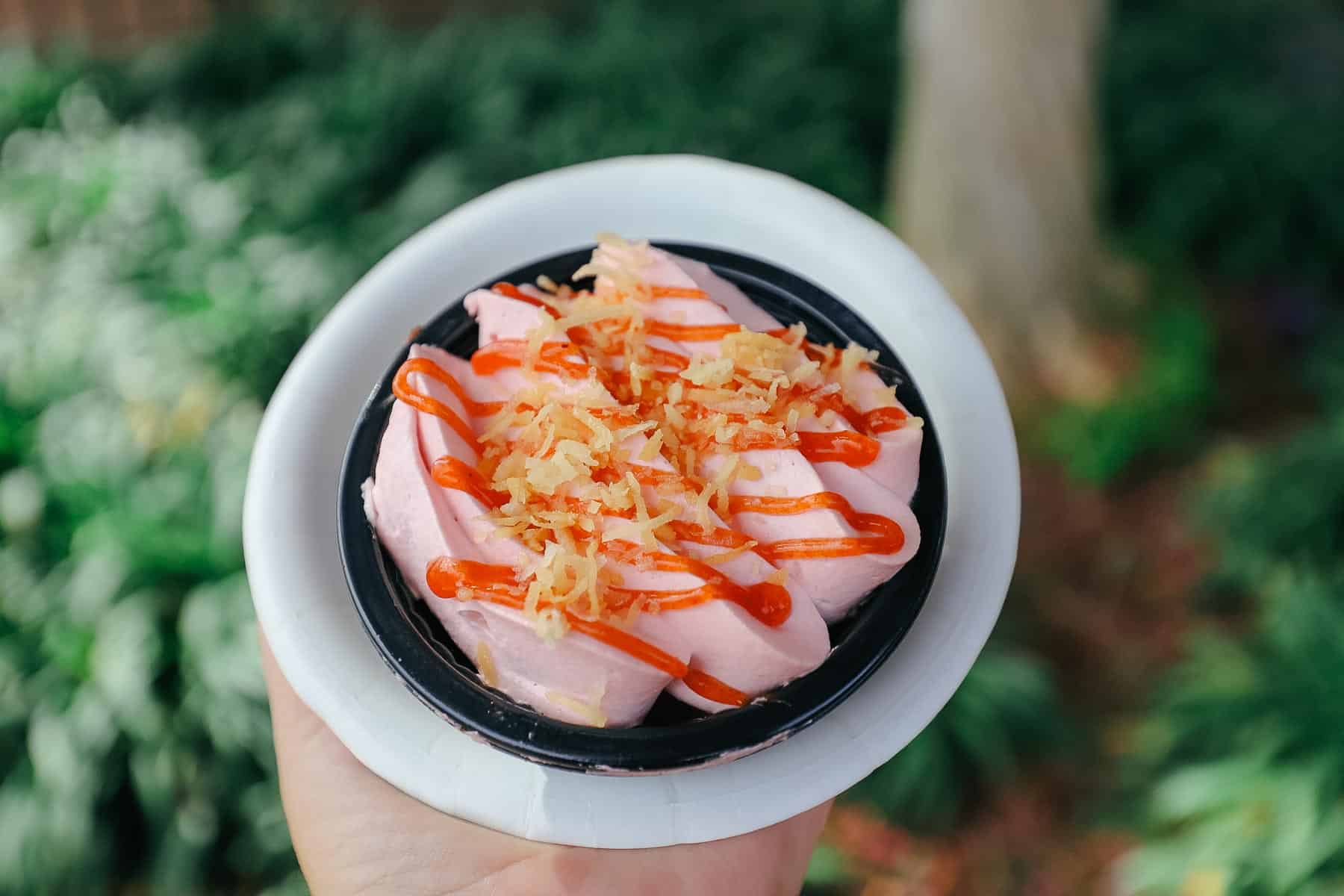 Here's a photo of the inside.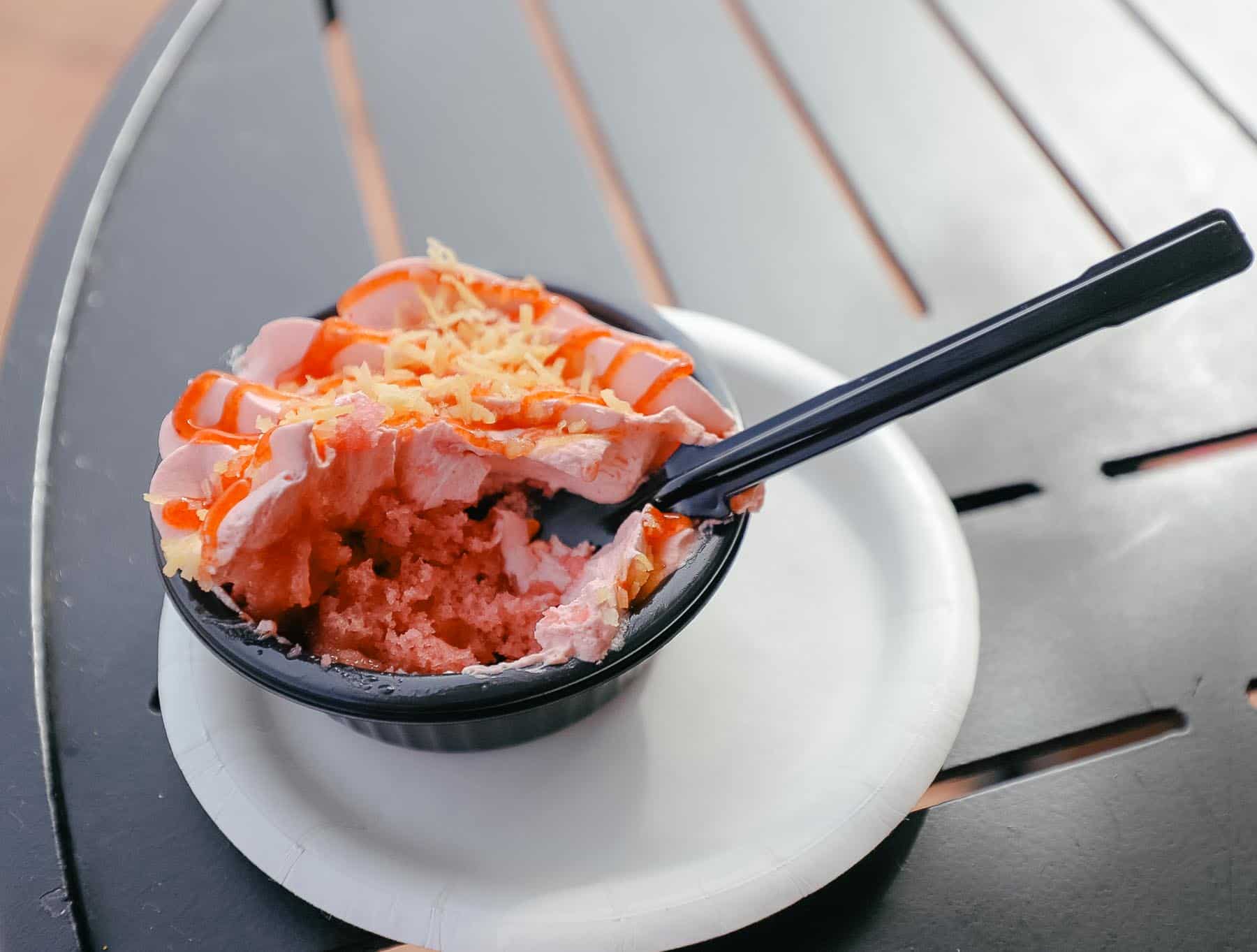 Other Desserts at Epcot's Food and Wine Festival
Last year, we made a list of the worst desserts at the festival. But this year, nothing stood out as terrible in the dessert category.
However, a few of the things we tried were just okay. They weren't bad, but they weren't worth raving over. At the very least, they are worth mentioning.
Waffles from Belgium
Lemon Ricotta Cheesecake
Pastel Impossible
Belgium Waffles
Here is the waffle dish from the Belgium Marketplace. This dish comes with the option to add chocolate or a berry compote.
Waffles are a very Belgium-like thing to have at a festival. Additionally, this dish is exceptionally child-friendly. However, I don't think they're necessarily anything worth bragging about. They are waffles, plain and simple.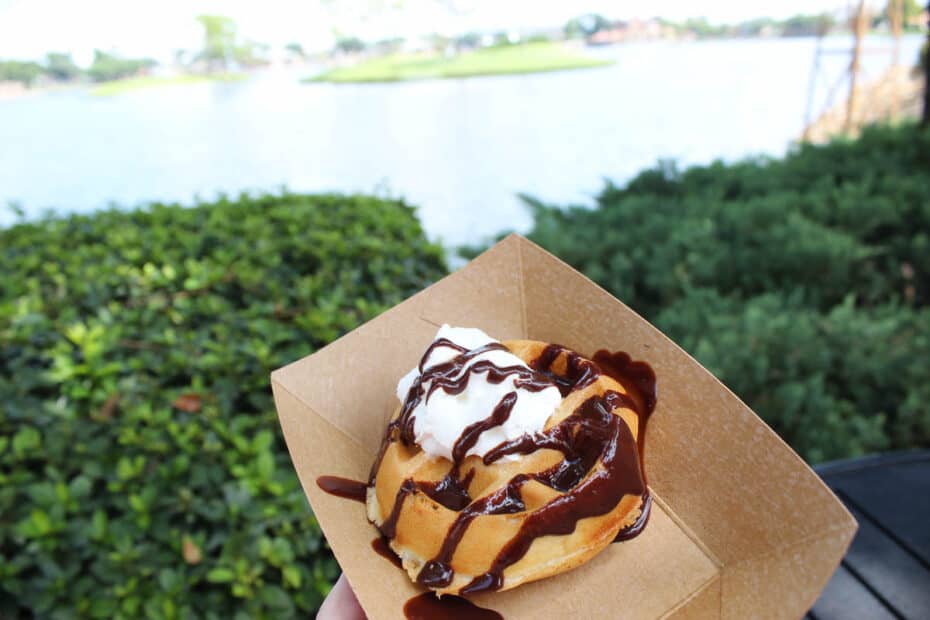 Lemon Ricotta Cheesecake
We have the lemon ricotta cheesecake from Epcot's Italy Marketplace. I was looking forward to trying this, but I felt it tasted like a cheap cheesecake from your grocer's freezer section.
Our cheesecake had no lemon flavor whatsoever, and the ricotta base was mild. Again, it wasn't bad. But it was boring to the tastebuds.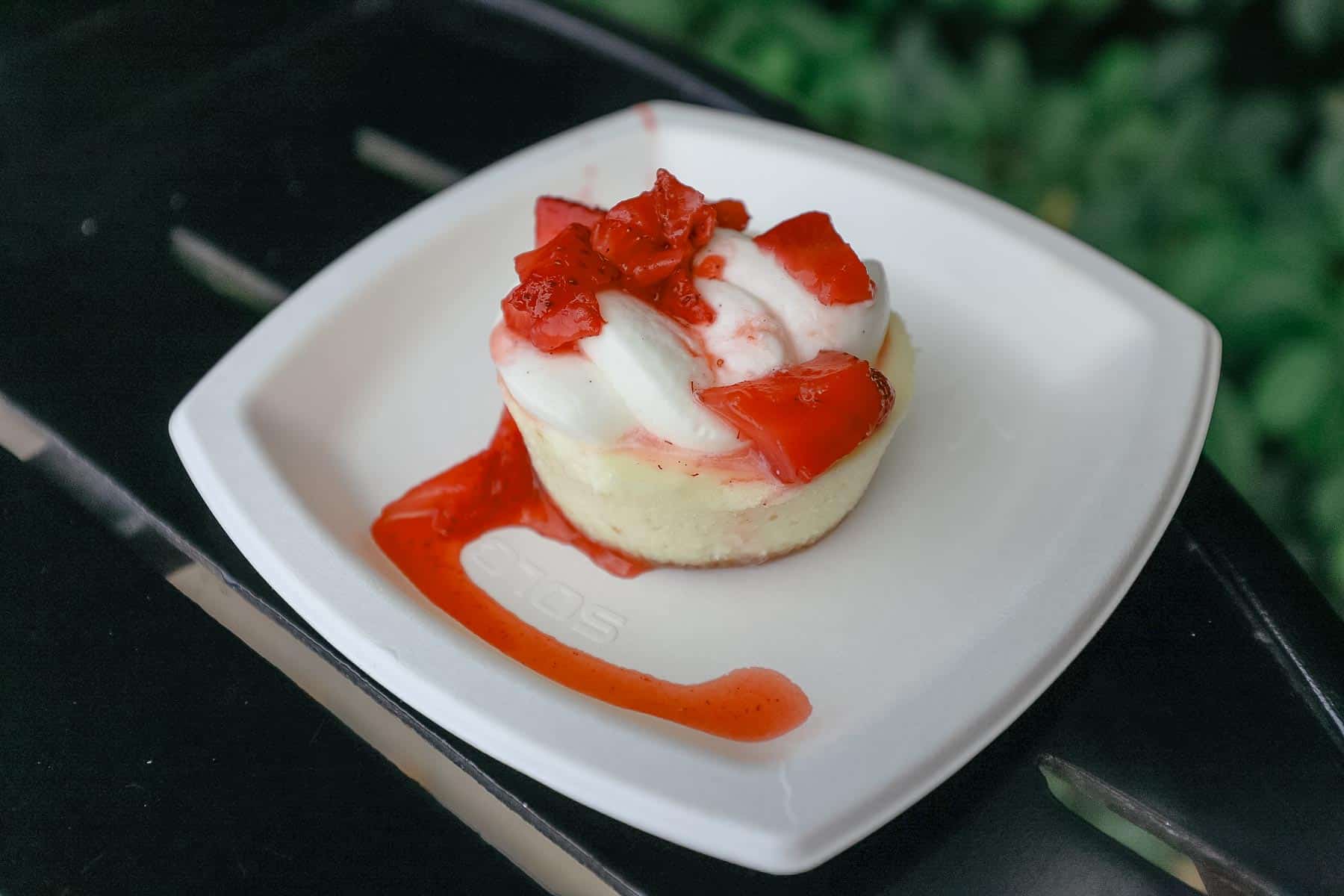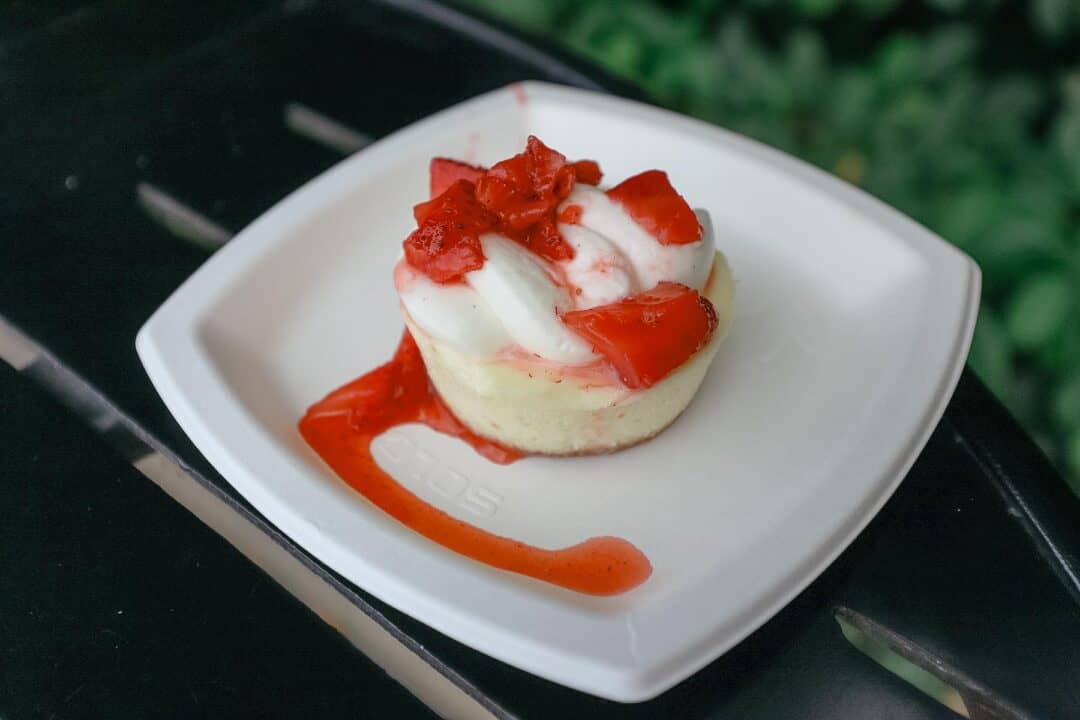 Pastel Impossible
Lastly, we have the Patel Impossible at Mexico's Marketplace. Like the previous two desserts, this one was also just okay. I wasn't fond of the mix of textures. The flan in our portion was a little too firm, while the cake portion was soggy. Yours might turn out better.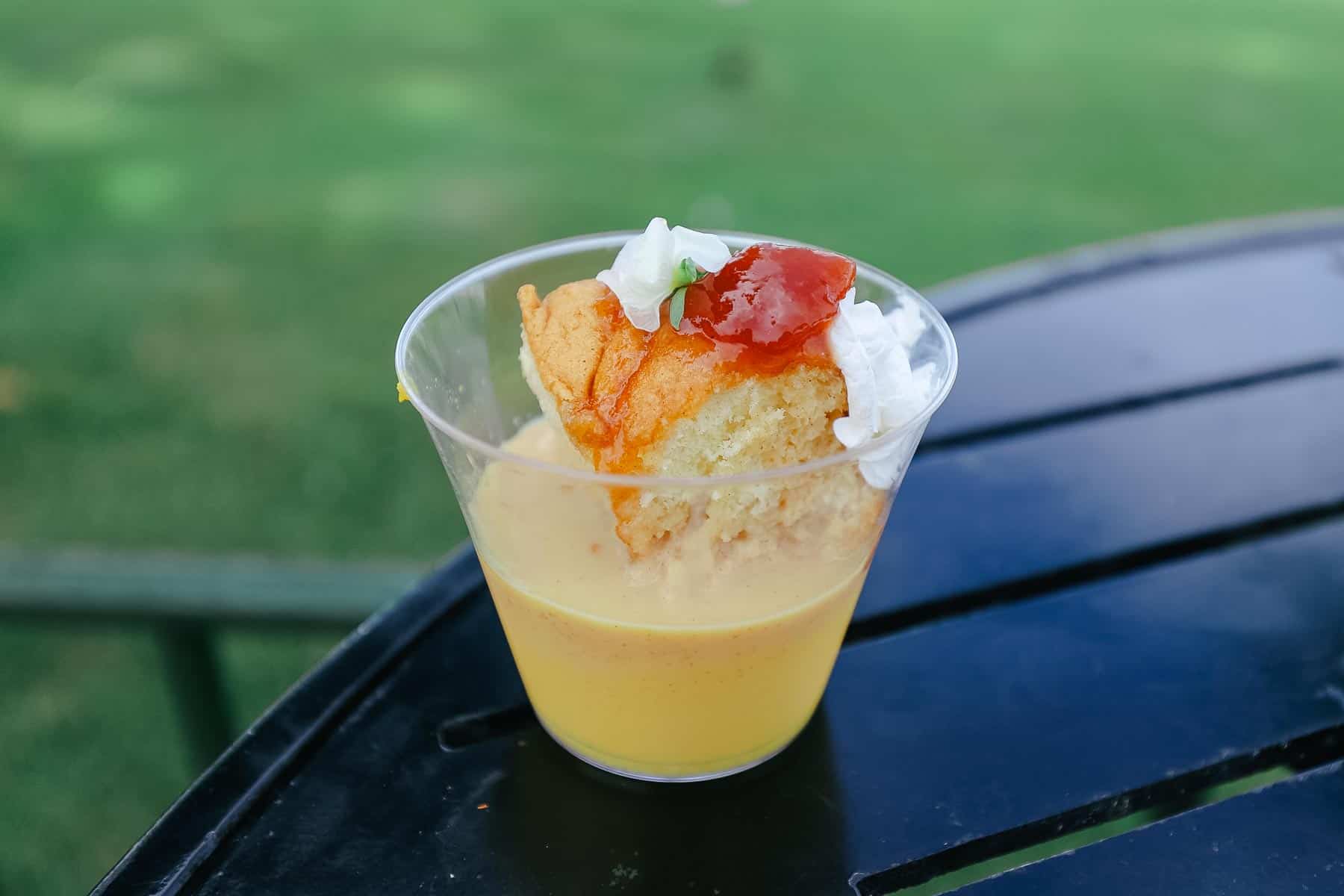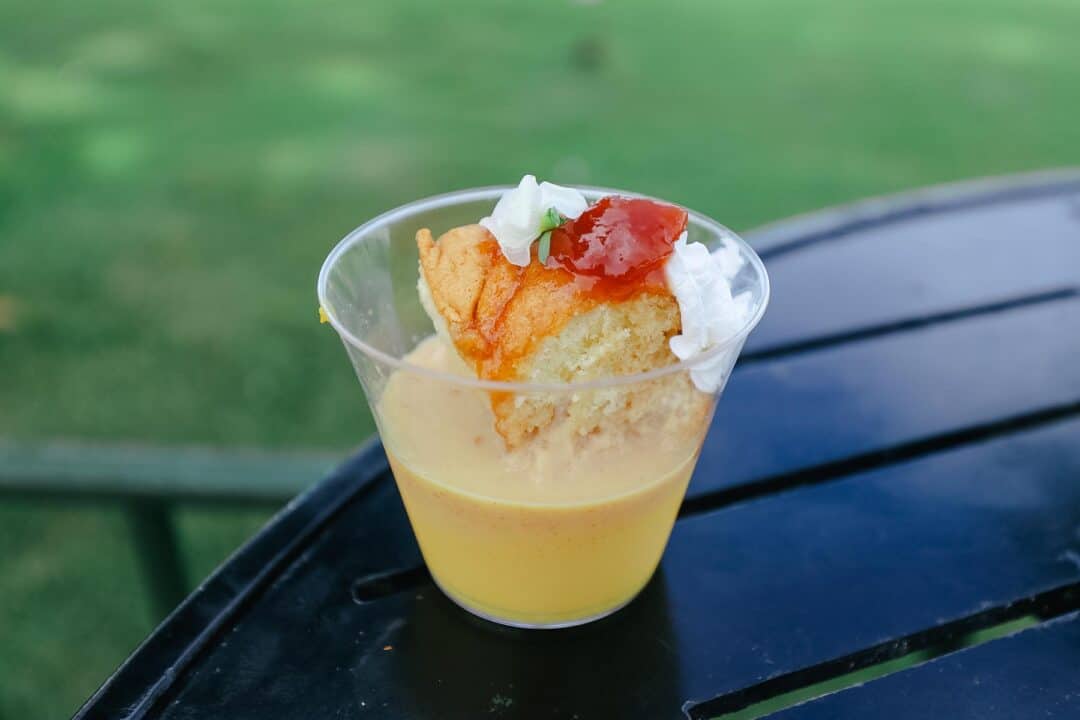 Overall, we enjoyed so many of the sweet treats this year, even though our favorite item didn't return. Hopefully, this list of the best desserts at Epcot's Food and Wine Festival gave you an idea of the best places to stop!
So, what desserts do you think you'll try this year? Do you have any returning favorites?