The Best Desserts at Epcot's International Food and Wine Festival (And the Worst! in 2022)
Sweet Tooth? Often I've heard that calories don't count on a Walt Disney World vacation. Unfortunately, my scale says otherwise after reviewing these Food and Wine items.
Regardless, there are always a few desserts at the festival that stand out. Some stand out so much that I look forward to trying them again.
With those thoughts in mind, I thought I'd put together a list of what I consider the best desserts at the 2022 Epcot Food and Wine Festival. I'll even do one better and include the worst desserts and a few that fell in the "neither here nor there" category.
So it's time to grab your favorite note-taking device and start a list of what sweets to try at this year's festival. You might also want to note the ones you don't want.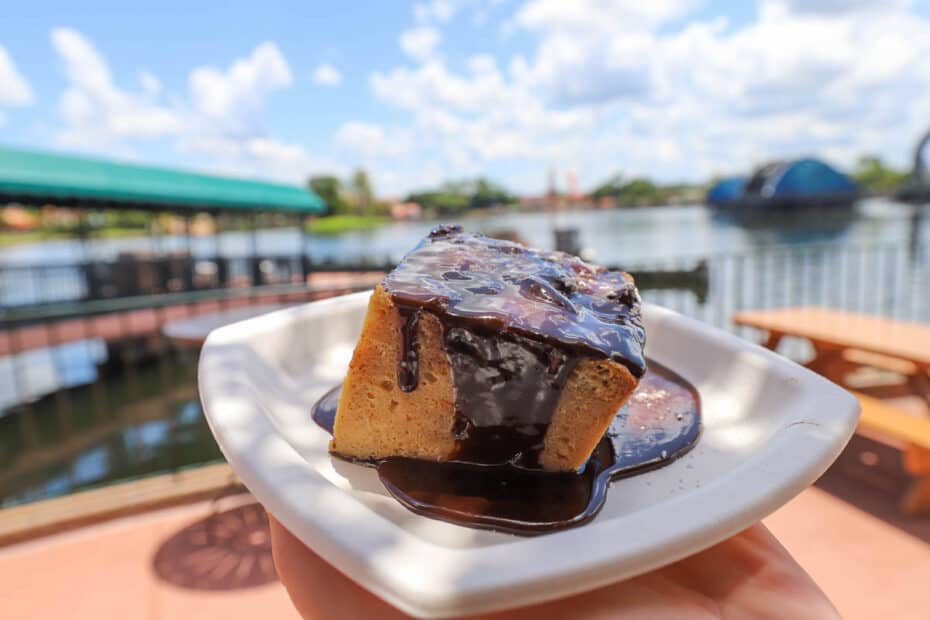 Best Desserts at Epcot Food and Wine
With no further adieu, here are the items I deemed worthy of being the best desserts at Epcot's Food and Wine Festival.
Bread Pudding (Mexico)
Chocolate Pudding (Ireland)
Carrot Cake (Hops and Barley)
Creme Brulee (France)
Panna Cotta (Italy)
Pistachio Cake (Morocco)
Apple Strudel (Germany)
Lamington Cake (Australia)
Guava Mousse (Shimmering Sips)
We'll start with the bread pudding in Mexico. Formally called the Capirotada de Chocolate, this dish will rock your world. It certainly did mine. So much so that it's my favorite dish of the entire festival.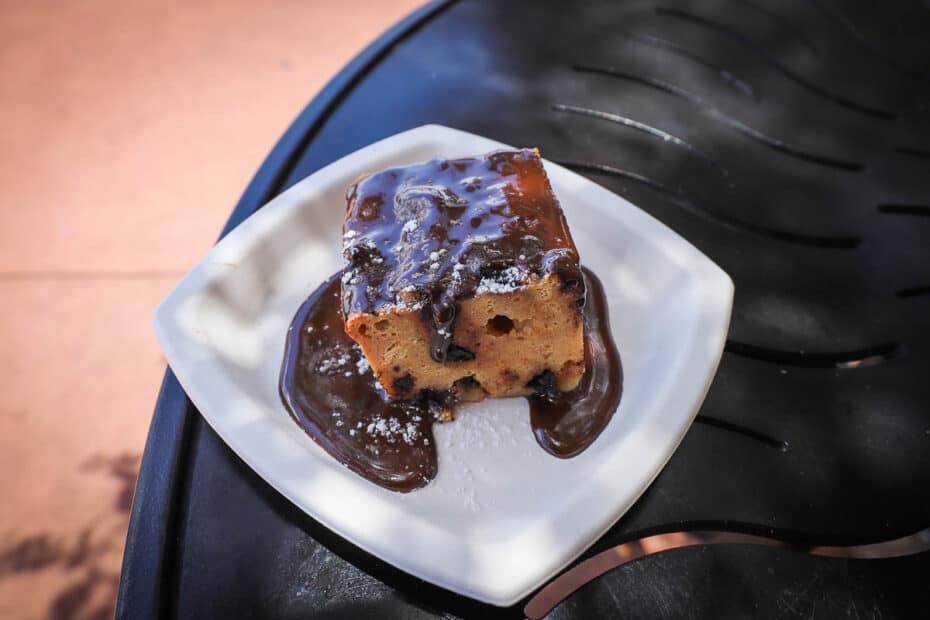 Imagine a large chunk of this cake-like bread pudding drowning in a creamy chocolate creme anglaise. That's what you have here at Mexico's Marketplace. Don't miss it!
Next, we have a close runner-up for best dessert at Food and Wine, the warm chocolate pudding cake from the Ireland Marketplace.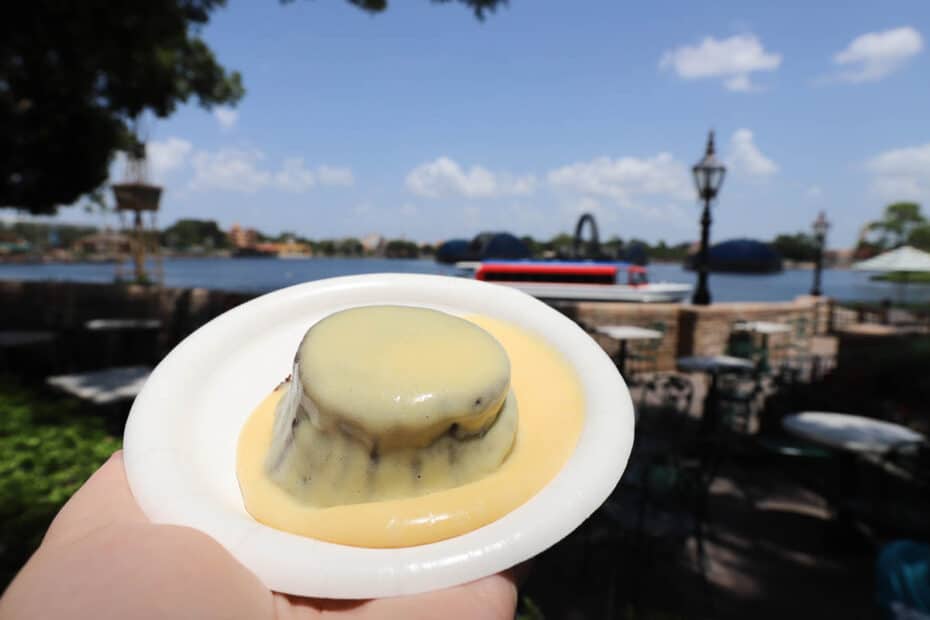 This dish is similar in texture to the bread pudding in Mexico. Underneath the sauce, the cake has a rich chocolate flavor. As for the sauce, it's an Irish cream liqueur custard.
You may remember in our review of the Ireland Marketplace, I mentioned the sauce had a hint of sweetened condensed milk. Seriously, who doesn't love a whiff of that?
Moving on, we have another favorite, the freshly baked carrot cake with cream cheese icing from Hops and Barley. Not only was the carrot cake freshly baked, it was warm and almost falling apart (in a good way).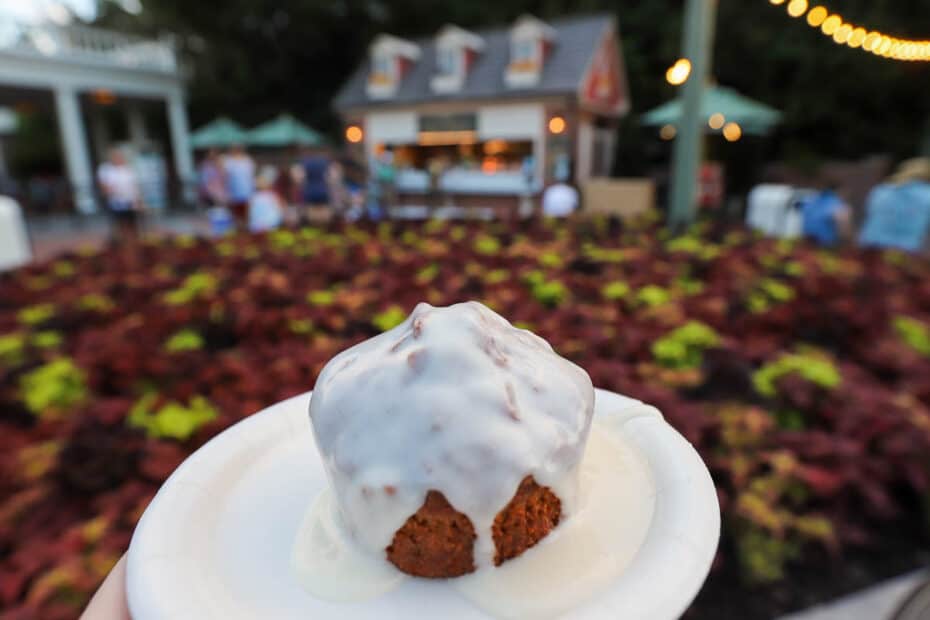 The icing was sauce-like, drenching the cupcake and adding a touch of extra sweetness. However, this wasn't an over-the-top dessert or anything. It was just right.
Next, we have the France Marketplace. France was the first booth I tried at this year's festival. But rest assured, I didn't forget about the Creme Brulee Vanille a la Confiture de Framboises.
We'll call it creme brulee for short.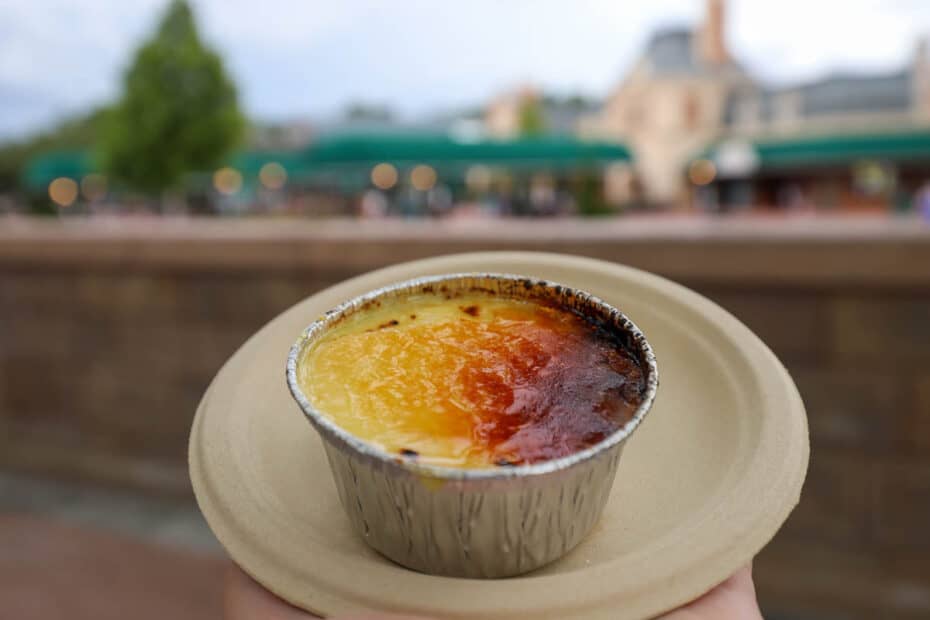 From the expertly prepared caramelized crust to the comforting custard underneath, I loved every bite of this dish. Make sure to pick up the escargot dish along with the creme brulee when you visit the France Marketplace. Both are out-of-this-world good.
Oh, Italy! Believe it or not, you made it on the list of best desserts at Epcot Food and Wine without pigs flying. At least, I'm not aware of any pigs flying. Of course, we can't be too sure of anything these days.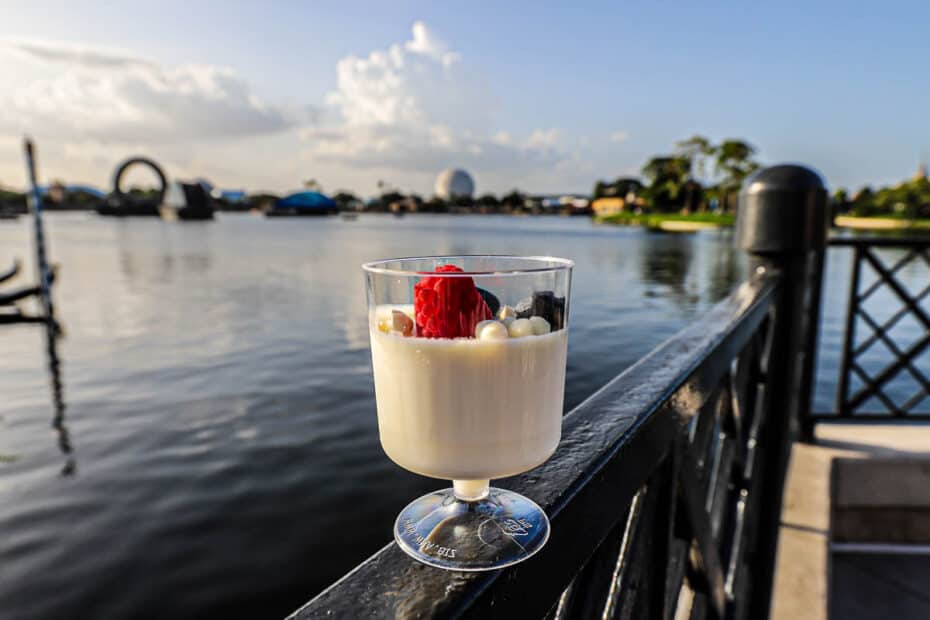 Refreshing is the first word that comes to mind with this light panna cotta. A topping of berries and white chocolate pearls positively accent the vanilla flavor of the pudding-like dessert.
Believe it or not, there is more than one item worth trying at the Italy Marketplace in 2022. Hint, the mushrooms with gnocchi are fine.
Then, we have Morocco, the Flavors of the Medina Marketplace, or whatever they call the booth these days. Here we have the Pistachio cake with a cinnamon pastry cream and candied walnuts.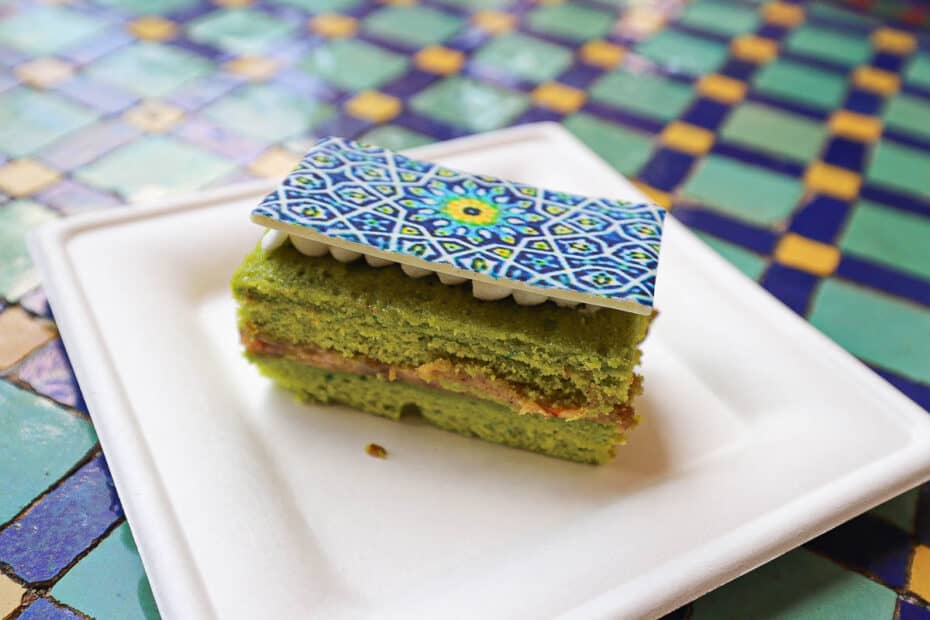 Not only is this cake pretty, but it's also delicious. Have you ever had a spice cake? That's what you have here.
Unfortunately, I didn't get much Pistachio flavor, but I assume that's where the green color comes into play. However, the pastry cream in the middle makes up for everything.
Those who have previously visited Food and Wine know that Germany's apple strudel is a winning dessert. But for the purpose of this best Food and Wine dessert list, I had to include it.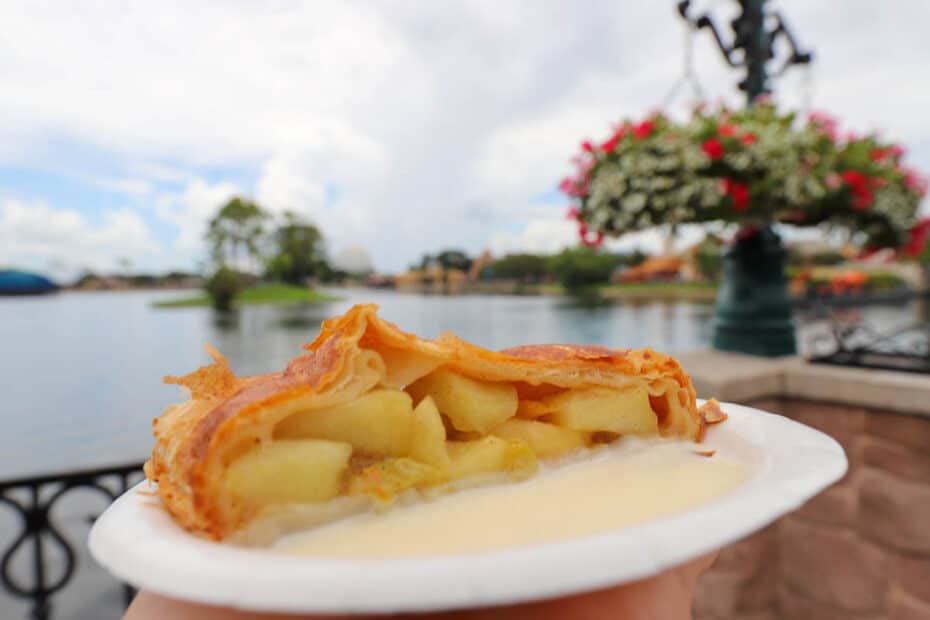 This classic dish is served warm with a vanilla sauce on the side that mimics ice cream. Between the strudel, the sausage, and the gratin noodle dish, everything is a win at the German Marketplace.
Also, I felt it's important to mention that this simple apple dish is very child-friendly. Every time I've walked through the area, I've noticed children enjoying it.
Okay, the Lamington cake from Australia gets rave remarks. However, in my original Australia Marketplace review, I noted that you might not enjoy this dish if you don't care for boxed chocolates.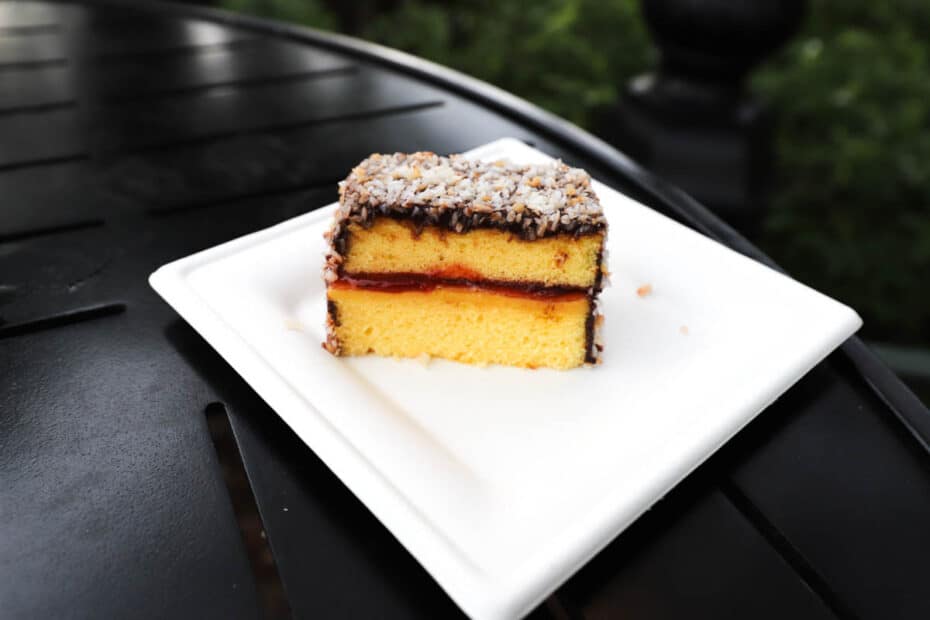 The cake's top layer of chocolate and coconut reminds me of candy with a coconut center. The middle layer tastes like the filling in a chocolate-covered cherry.
As far as the yellow cake, it's similar to a sponge cake. Expect a ton of flavor with each bite.
If for some reason, you don't care for the topping or the center, the portion is usually large enough to eat around those spots.
Last on our list of best desserts at Epcot's International Food and Wine Festival (but definitely not least), we have the Guava Mousse from Shimmering Sips. This dessert is as refreshing a dish as the panna cotta in Italy.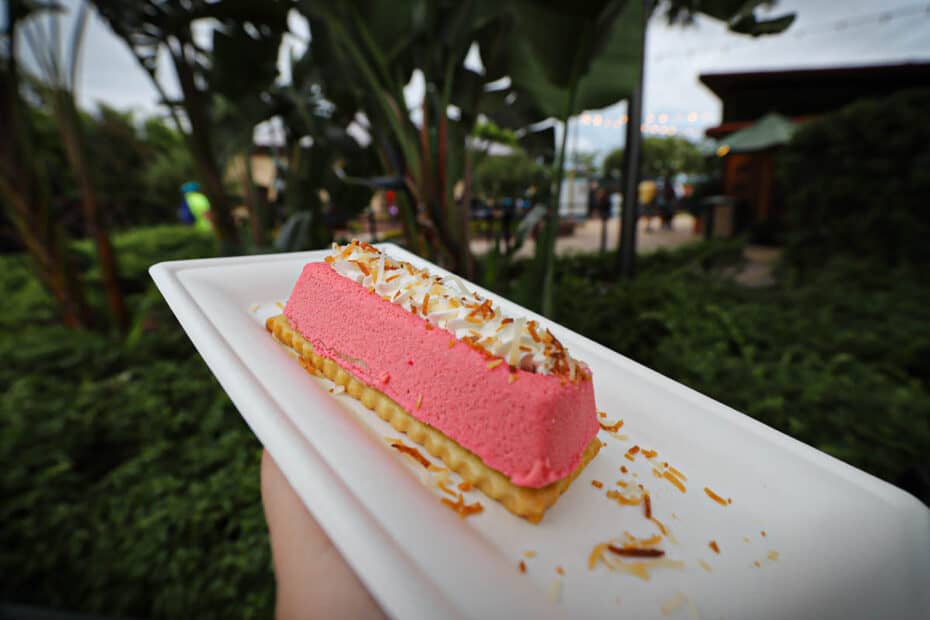 Here's what I said about the mousse in my original review, "The mousse is bright pink and served straight out of the refrigerator. After enjoying this on a hot July evening, I noted that I preferred desserts served cold this time of year."
It's amazing how something so pretty and pink can taste so delightful. Pick one up while you wander the World Showcase.
Worst Desserts at Epcot's Food and Wine
Like everything else in life, all good things must come to an end at some point. It pangs me to say that more than you know this time of year.
But there are always a few bad apples with so many good dishes. Well, we're mainly talking about a few not-so-great cheese desserts for this year's festival.
Here's what I considered the worst desserts:
Rocky Road Chocolate Cake (Flavors from Fire)
The Alps Raclette
Griddled Cheese from Greece
I had high hopes for this Rocky Road chocolate cake from Flavors from Fire. Unfortunately, the spiced almonds ruined it, and the chocolate syrup was reminiscent of Hershey's straight out of the bottle.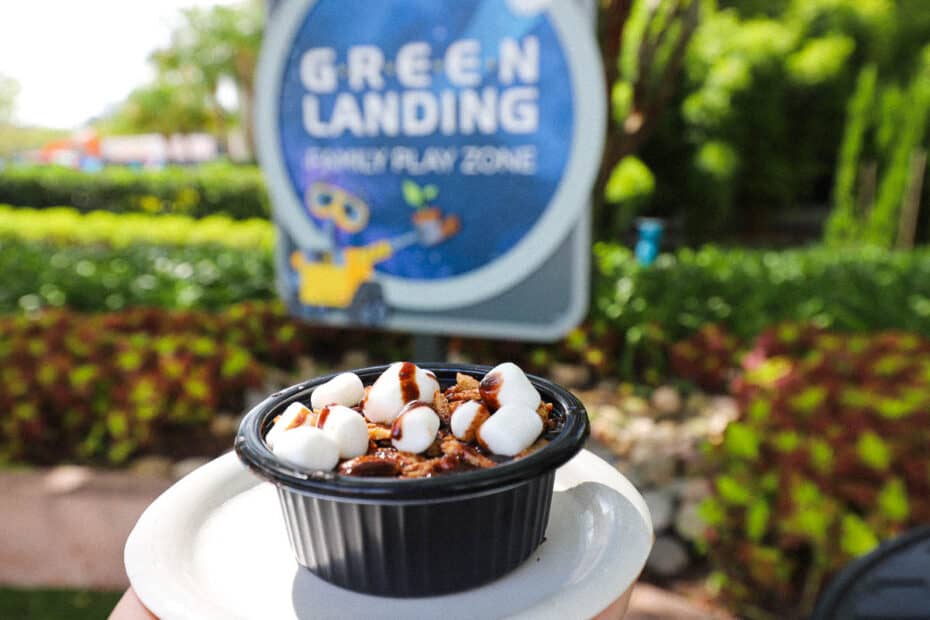 If you have to try this one, I get it. Rocky Road is my favorite ice cream flavor. But expect the dish to have a lot more chewiness than softness. And those almonds were just plain weird.
Every time I walk anywhere near The Alps Marketplace, I smell this gross burnt cheese smell. It's almost nauseating, and I've overheard many others complaining about it.
The other day I thought there was no way I could work at this booth and deal with the smell. But that's just the beginning of my problem with this dish.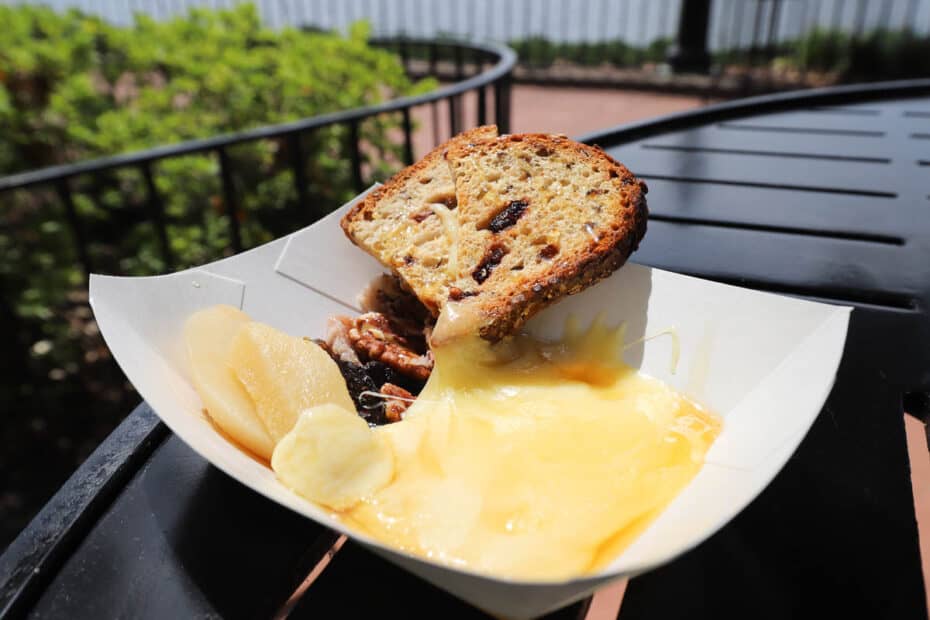 And if I would refuse to work at a booth serving food, you probably don't want to eat here. But if you do, expect a slice of unpleasant toast with a big dollop of stinky cheese.
The pears and nuts were okay, but not enough to warrant purchasing the dish. Unfortunately, the other items at the booth aren't any better.
Then, the Greece Marketplace comes in hot with another burnt cheese. Is burnt cheese a trend in 2022? I hope not.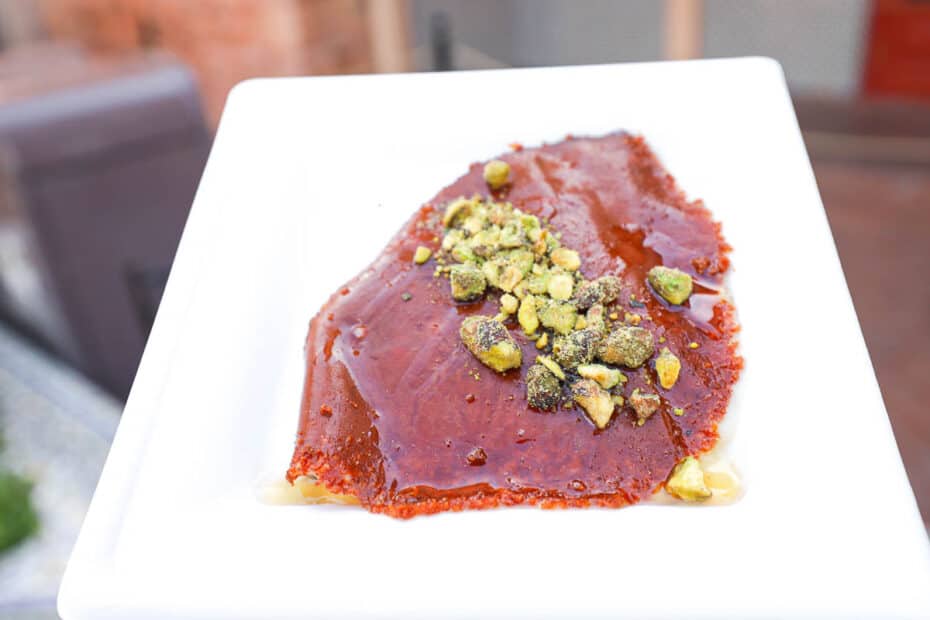 But that's precisely what you have here with this griddle cheese topped with pistachios and honey. This dish is supposed to have a unique crunchy texture. However, my serving was soggy and seemed generic.
Other Desserts at Epcot's Food and Wine Festival
Since there were two other dishes that I'd consider dessert at this year's festival, I felt they were at least worthy of a mention. These dishes are good, but I didn't feel they were tasty enough to make the list of best desserts at this year's festival.
Waffles from Belgium
Apple Tart from Appleseed
Here is the waffle dish from the Belgium Marketplace. You can order this dish with chocolate or with a berry compote.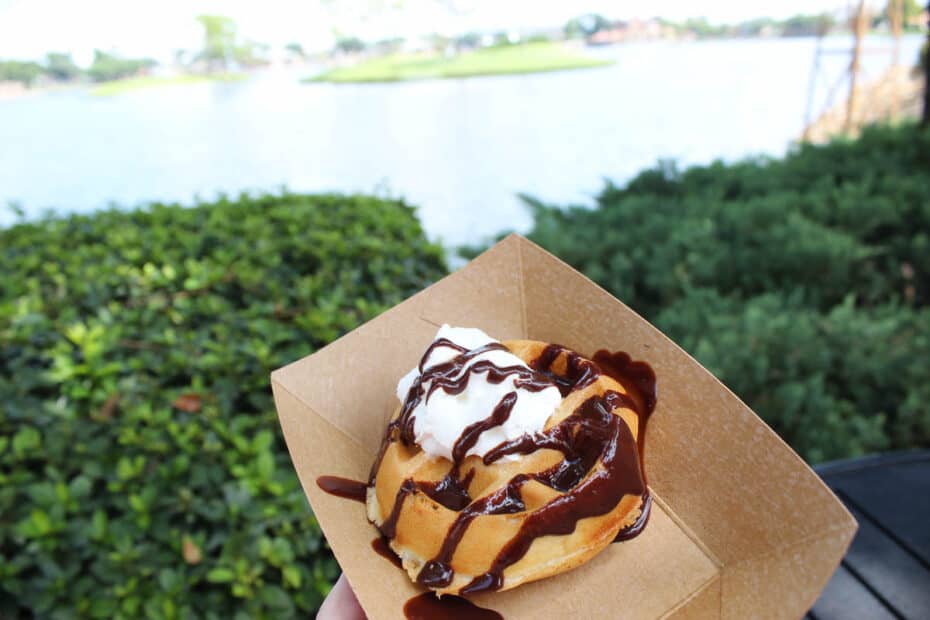 Waffles are a very Belgium-like thing to have at a festival. Additionally, this dish is exceptionally child-friendly. However, I don't think they're necessarily anything worth bragging about. They are waffles, plain and simple.
Then there's the apple tart at the Appleseed Orchard. When I made initial plans, this was one that I looked most forward to enjoying.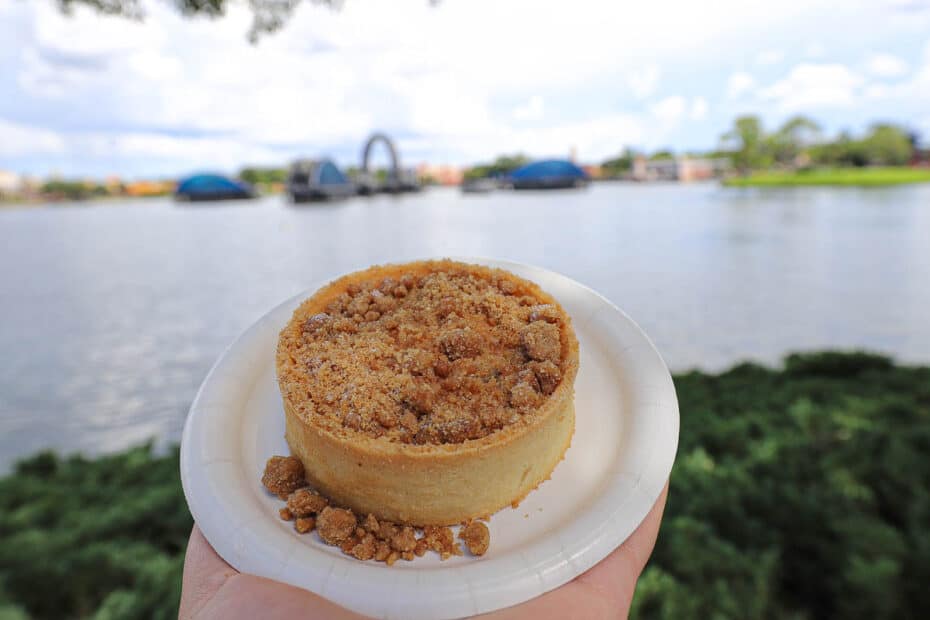 Unfortunately, the dish I was served came straight out of a pastry cake like it had been sitting there for days. It was fresh, don't get me wrong. However, it wasn't warm.
I don't know about you, but I prefer my apple tart, pie, or strudel to be served warm. The temperature of such a dish often dramatically affects how well it's received.
If you decide to go this route, hopefully, you'll score a tart fresh out of the oven. A warm tart would make for a nice size dessert with a reasonable price tag.
Whether you're looking to satisfy a sweet tooth or only want to pick up a few items, I hope this list of the best desserts at Epcot's Food and Wine Festival gave you a good place to start. So, what desserts do you think you'll try this year?